Benjamin Moore's Gray Paint Colors have garnered a reputation as a quintessential choice to instill an air of sophistication and modernity into your abode.
Nonetheless, those searching for the optimal gray paint hue may become confused by the myriad of options. Fret not, for you have stumbled upon the right place. This guide shall aid you in navigating through the profusion of choices and examining the top Benjamin Moore gray paint colors for your household.
Our range encompasses an array of cool-toned grays to warm undertones, catering to your proclivities and flair.
Why should you place your trust in our recommendations? As a preeminent figure in the realm of home design, Benjamin Moore has been delivering premium-quality paint for over a century. With a steadfast commitment to innovation and sustainability, be rest assured that your investment shall endure the test of time.
Factors to Consider When Choosing Benjamin Moore – Gray
Undertones
When confronted with the task of selecting gray paint colors from Benjamin Moore, one must take into account a multitude of variables. One crucial aspect to consider is the undertones present in the paint color, which can range from shades of blue, green, purple, or brown. The undertones must be evaluated with care to ensure that they complement the other colors and decor within the room in question. The incorporation of this assessment will assist in creating a harmonious ambiance within the space.
Lighting
You should also consider the lighting in the room. The type of lighting that you have present in the room, whether it be natural or artificial, and the orientation of the light source should be thoroughly assessed. These factors play a critical role in determining how the paint color will ultimately look and feel within the space. Thus, it is imperative to conduct a careful evaluation to achieve the desired outcome.
Existing Decor
Before settling on a hue for the walls of a particular space, it is prudent to consider the existing ornamental components such as the furnishings, floor coverings, and supplementary adornments. Opting for a gray shade that harmonizes with the existing decor will contribute to a cohesive and polished appearance. To establish a harmonious and seamless appearance, it is advisable to opt for a gray hue that not only supplements but also augments the existing decor.
Personal Preference
This is the final thought and most important thought to consider before selecting the ideal gray paint color for your home. it all comes down to preference, what would you like? What colors soothe you most? Also,  take your personal inclinations into account as well as the ambiance you aim to establish in the room.
When one contemplates these fundamental elements, one can ultimately determine the ultimate shade of Benjamin Moore gray paint that would impeccably match their spatial confines.
Top Benjamin Moore Gray Paint Colors – Recommendations
1. Lead Gray 2131-30
| | |
| --- | --- |
| RGB | 68 78 82 |
| LRV | 7.18 |
| Undertones | Green, Blue |
| Matching Colors | Gossamer Blue, Chantilly Lace |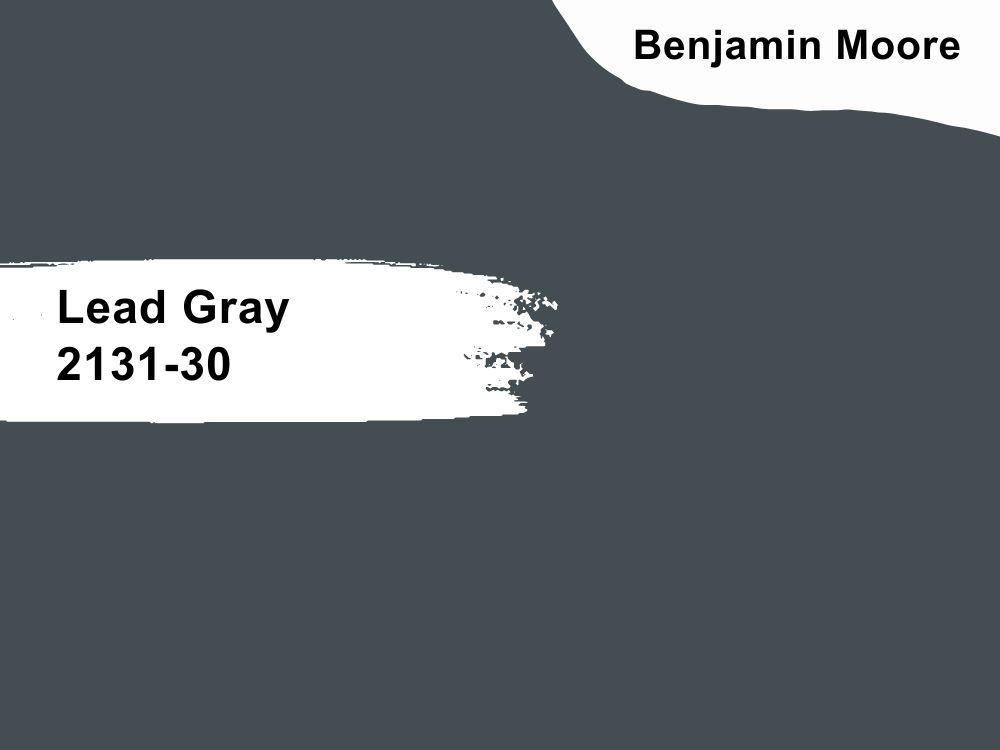 Lead Gray 2131-30 by Benjamin Moore is a darker version of gray as we all know it. This deep gray gives any space a clear coating of a masculine touch. This deep gray has undertones such as blue and green. While this might be one of the darkest shades of gray available, it gives off warmth and richness that is perfect for any household.
You can try this paint in an office or probably your living room, be sure to check our list of matching colors. The Lead Gray 2131-30 has an LRV of 7.18, note that this color would make the room dark even in the afternoon. Try something else if this shade seems darker.
2. Gray Owl OC-52
| | |
| --- | --- |
| RGB | 212 210 203 |
| LRV | 65.77 |
| Undertones | White, Off white |
| Matching Colors | Super White, Kendall Charcoal |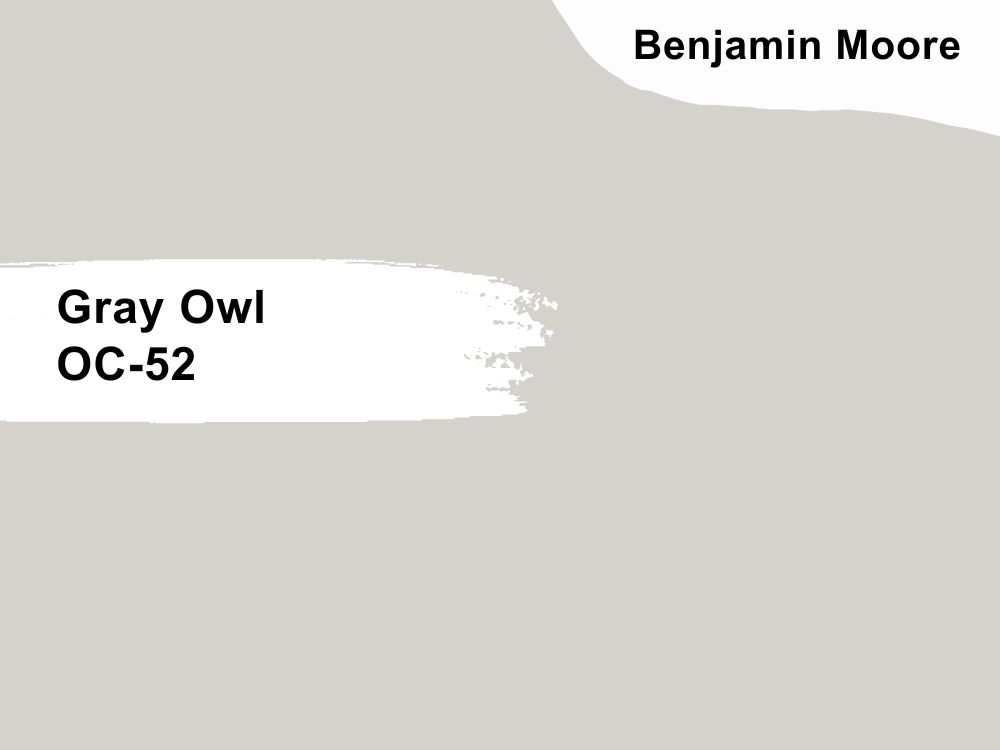 Gray owl is a nuanced and unembellished hue that exudes a welcoming and unpretentious vibe. The harmonious blending of Gray Owl with modern kitchen spaces is a visual feast, particularly when combined with the sleek and polished finish of stainless steel appliances. It is a brighter version of gray that is said to bring life to any household.
This paint would be a perfect fit for an outdoor patio area or probably a garage, while it may also be a perfect fit for the bedroom, we've seen a couple of people opt for an even lighter shade for their bedrooms. The LRV of Gray Owl OC-52 is 65.77 making it very bright when even only a little amount of light reflects on it.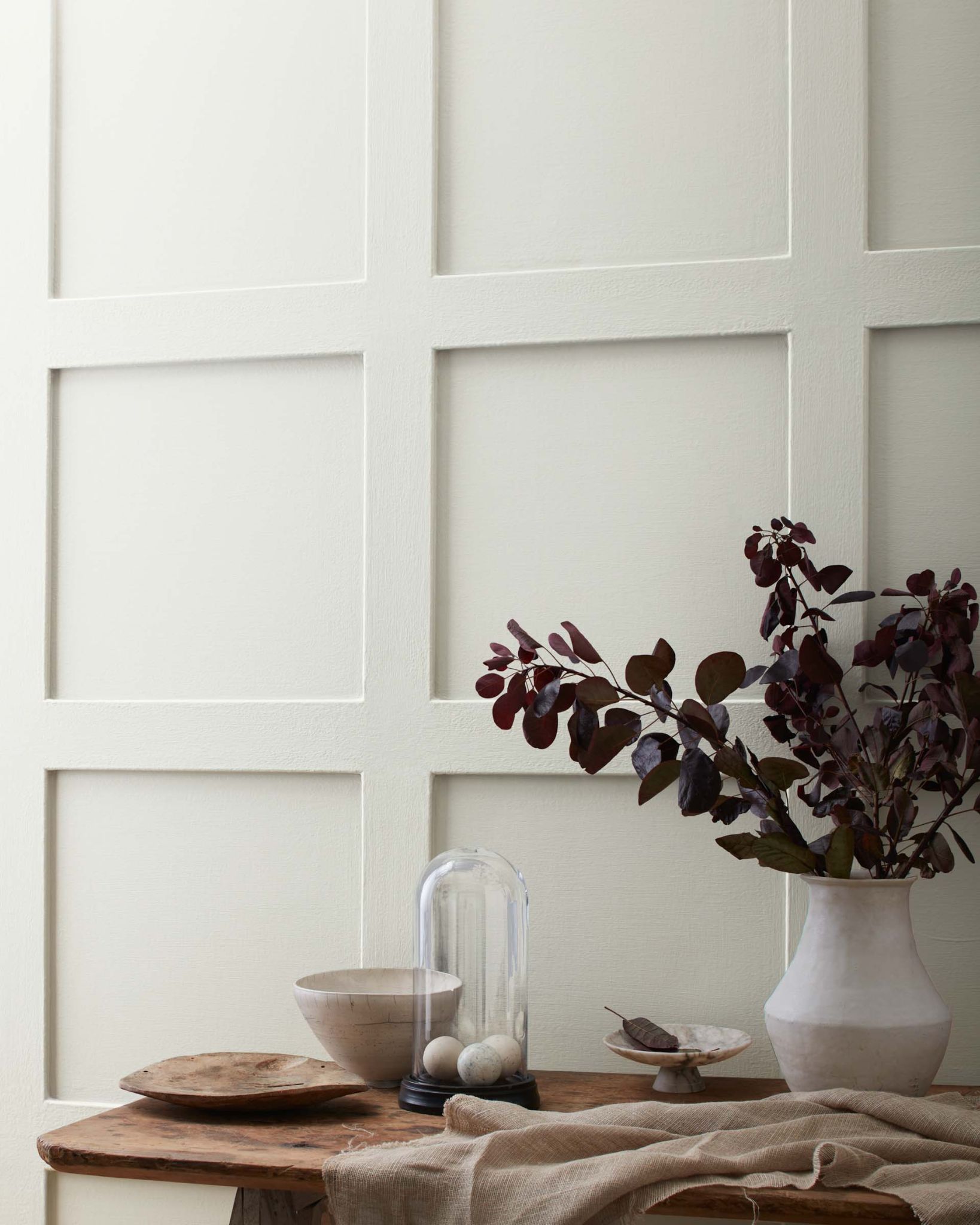 3. Gray Mist CC-80
| | |
| --- | --- |
| RGB | 89 87 82 |
| LRV | 73.96 |
| Undertones | White, Green |
| Matching Colors | Brandon Beige, White Dove |
This hue belongs to the revered Designer Classics Collection, a carefully curated assortment of shades that exude comfort and ease, providing a sense of security when selecting the perfect hue. You can use Gray Mist CC-80 along with a wide range of colors, perfect for enhancing the atmosphere and brightening the mood in any space.
The LRV for gray mist is 73.96, the perfect choice for bedrooms, living rooms, and classrooms too. It brightens up the place all day long. This is a versatile color you can play around with, it can match a wide range of other colors.
4. Gray 2121-10
| | |
| --- | --- |
| RGB | 86 86 87 |
| LRV | 9.38 |
| Undertones | Black, Blue |
| Matching Colors | Pale Moon, Lily White |
The Gray 2121-10 is a tantalizing, symmetrical shade of charcoal that exudes a gentler sensation than pure black, while still imbuing a defining element to any given area. Its undertones are jet black, blue, and a little bit brown. Feel free to interpret the Gray 2121-10 as a gentler replacement for the striking color black, whereby this lavish charcoal hue proffers a slight, yet perceptible undertone of warmth.
While this won't make your room as dark as a typical black would, it would still leave the room cool and cozy without sacrificing vision. It would make an ideal choice for an office or balcony. The LRV is 9.71.
5. Gray Horse 2140-50
| | |
| --- | --- |
| RGB | 187 186 176 |
| LRV | 48.81 |
| Undertones | Green, Beige, Brown |
| Matching Colors | Pure white, Dark Pewter |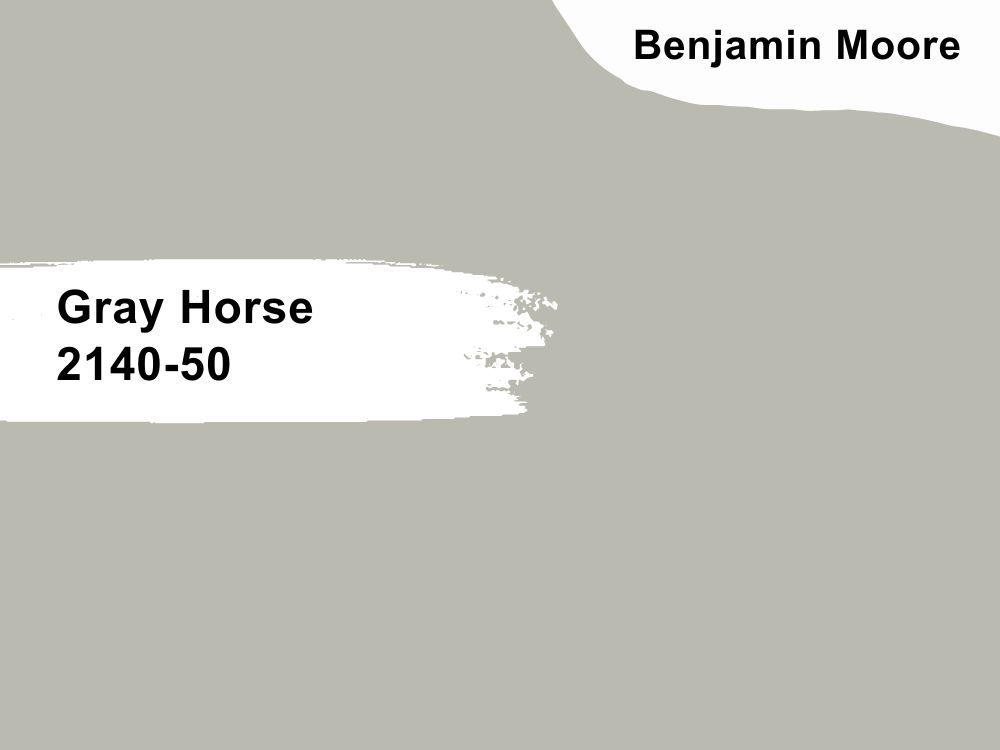 Meet the next favorite on our list of top-notch Benjamin Moore Gray Paint Colors. Incorporating a hint of sage into this medium shade of gray instills a captivating dimension to the color, adding an element of intrigue to its composition. This gray's mid-level tone is universally versatile, possessing the ability to craft a space that is simultaneously tranquil and refined in nature. The undertone of this painting by Benjamin Moore wreaks various shades of green.
It has a higher LRV of 48.81 as compared to the Gray 2121-10. This paint would be a perfect fit for your living room, and bedroom, especially if you are like me who is obsessed with bright colors. The Gray Horse 2140-50 is sure to add warmth and richness to any space.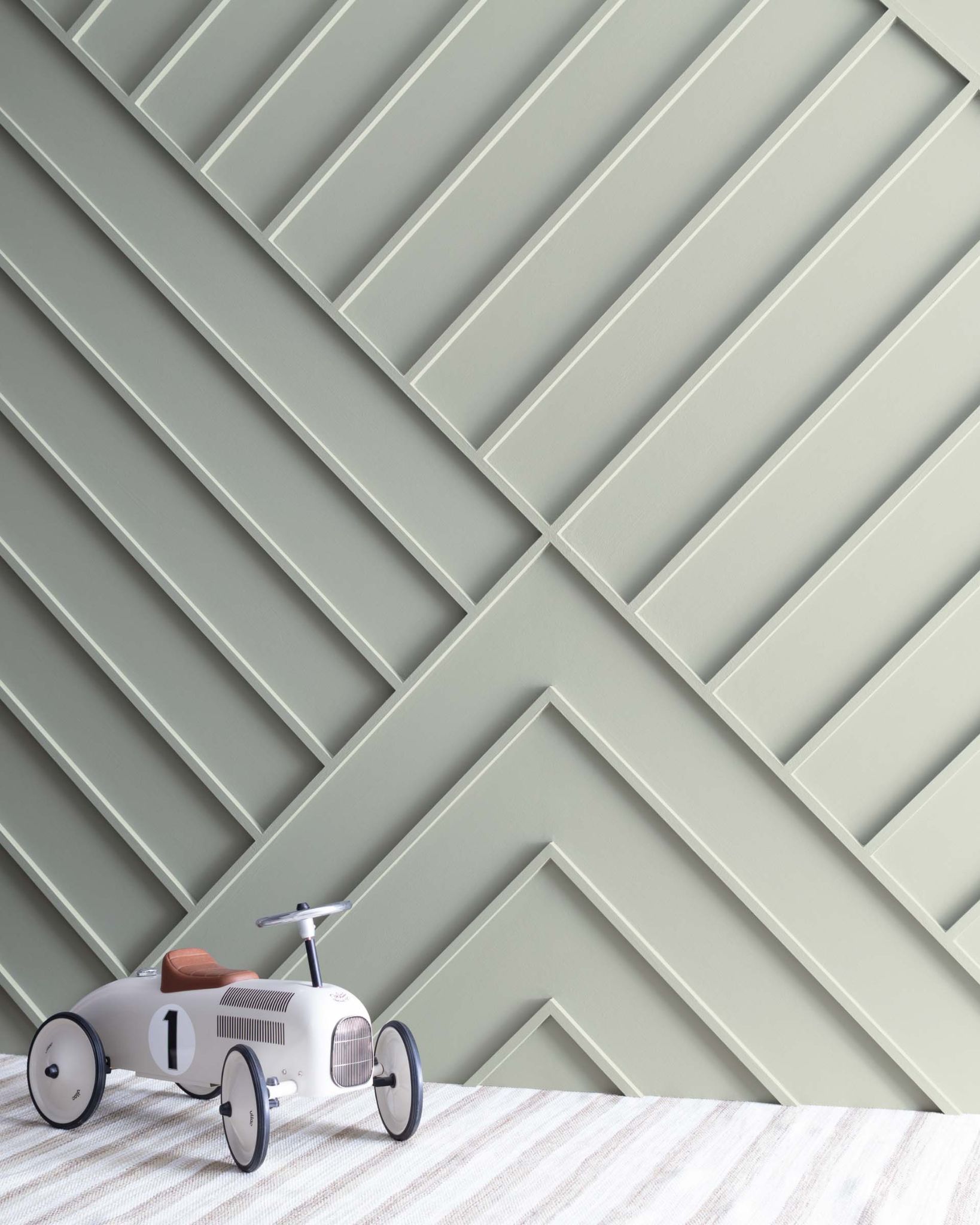 6. Gray Cloud 2126-60
| | |
| --- | --- |
| RGB | 216 220 221 |
| LRV | 70.78 |
| Undertones | Blue |
| Matching Colors | Dove Wing, Super White |
This specific color belongs to the esteemed Color Inspiration palette, a carefully curated assortment of bright and vivid hues that invigorate any space, intended for those seeking to illuminate their surroundings with the magnificence of remarkably pure pigments. The Color Inspiration palette encompasses an impressive range of 1,232 electrifying and motivating shades, spanning the gamut from dark to light, intended to create visually striking combinations.
A delicate and airy gray, illuminated with a subtle suggestion of blue, creates an overall brightness to the color's composition. The LRV of this gray paint from Benjamin Moore is
7. Vale Mist 1494
| | |
| --- | --- |
| RGB | 78 78 71 |
| LRV | 56.63 |
| Undertones | Green |
| Matching Colors | Dartmouth Green, Ipanema |
This particular color is included in the esteemed classic color collection, granting you the opportunity to incorporate your preferred hues into your living space. Vale Mist is found alongside a selection of timeless and refined classic colors that guarantees a consistent stream of stunning and contemporary color options, consisting of an impressive assortment of 1680 inspirational shades, adored by both clients and professionals alike, consistently on-trend within any decor.
If you ask me, I would say this is a great fit for your kitchen, and bedrooms and would also make a great fit for the living room. The Vale Mist 1494 has an LRV of 56.63. The color goes well with Weimaraner (AF-155).
8. Balboa Mist OC-27
| | |
| --- | --- |
| RGB | 218 213 204 |
| LRV | 66.79 |
| Undertones | Green, Blue, Gray |
| Matching Colors | Barista, Rock Gray |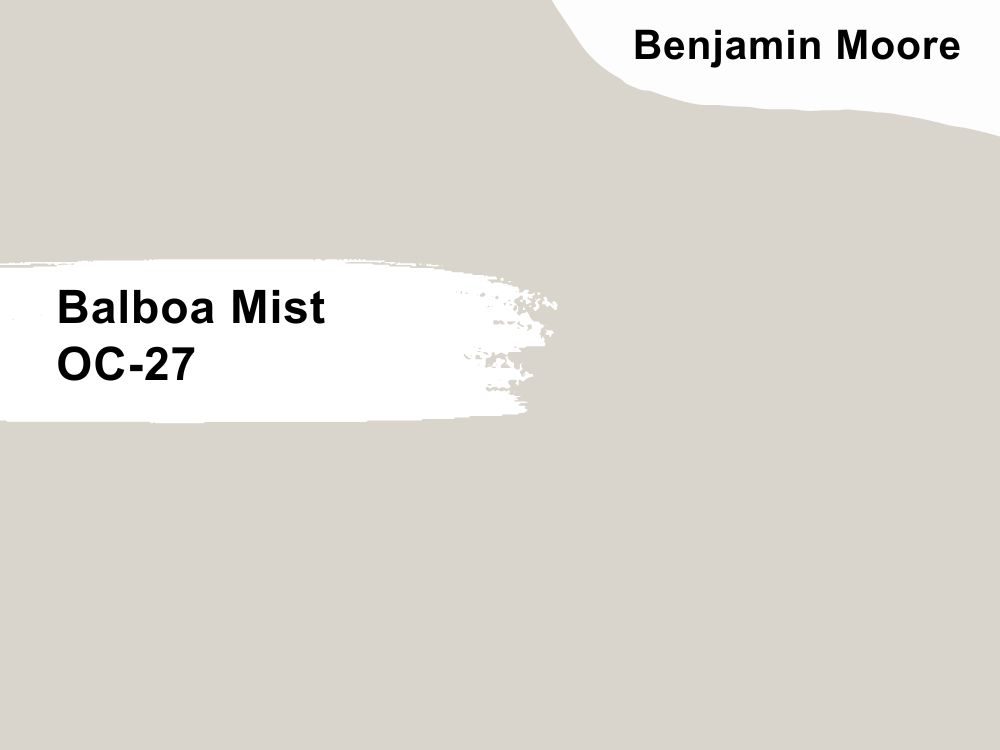 This color is a constituent of the ivory compilation. Innately polished and multifunctional, the ivory compilation proffers subtle hues of white that are suited for tranquil and restful milieus as well as vigorous spaces, facilitating the enhancement of color bursts. It is composed of a whopping 152 authentic ivories and off-ivories.
It has an LRV of 67.37, it has a little bit of dark essence, this would be suitable for a front porch area or the kitchen. This is one of those unique colors that seem dark but isn't so dim, it rather gives off a cool and warm feeling to the atmosphere of any room.
9. Gray Shower 2125-30
| | |
| --- | --- |
| RGB | 110 115 120 |
| LRV | 16.76 |
| Undertones | Black, Blue, Green |
| Matching Colors | Whitestone, Collingwood |
The hue in question is an integral component of the Color Inspiration palette, a compilation of vivid and intense hues that invigorate spaces and imbue them with liveliness. It caters to individuals who aspire to enliven their surroundings with the radiance of remarkably untainted hues.
The undertones include black, blue, and green. The LRV is 16.76. Perfect fit for a kitchen or bedroom on cold days. In summary, Gray Shower 2125-30 is a deeply shaded hue of slate gray possessing an alluring and refreshing coolness.
10. Early Morning Mist 1528
| | |
| --- | --- |
| RGB | 220 214 200 |
| LRV | 67.71 |
| Undertones | White, Green, Off White |
| Matching Colors | Tree Moss, Mountain Peak White |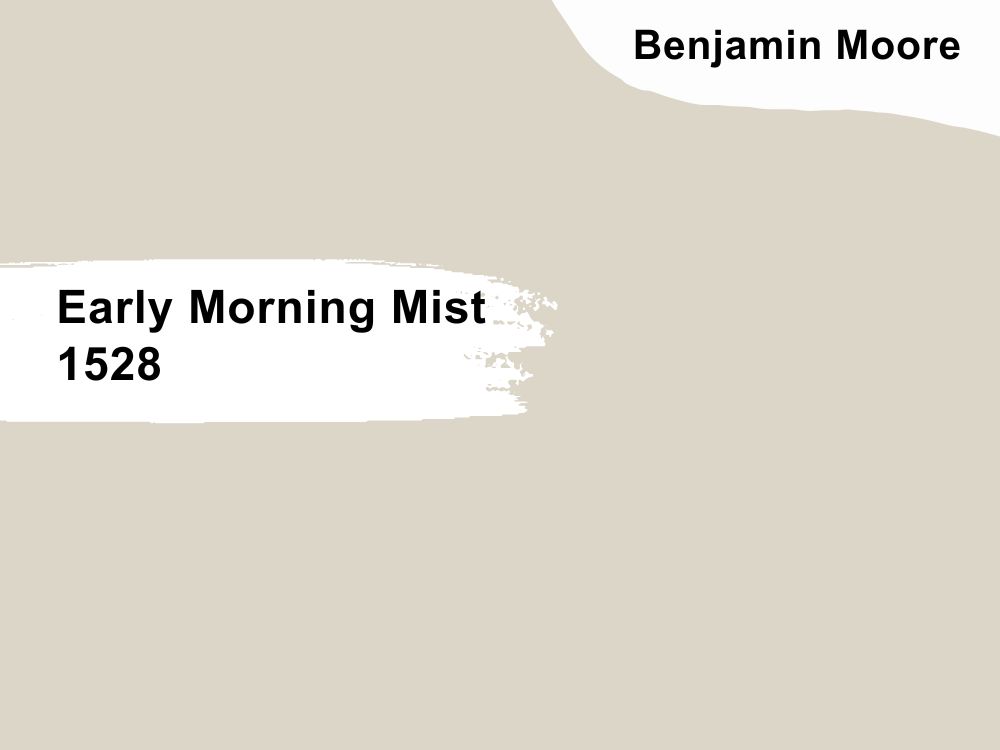 1528 Early Morning Mist, crafted by Benjamin Moore, is a timeless paint hue that seamlessly blends with both conventional and contemporary interior decoration themes. You could easily augment any style by selecting this enduring hue from Benjamin Moore's Classic® Collection.
The color is a neutral shade that lies somewhere between gray and beige. Its adaptable nature makes it an excellent choice, as it shifts with light or darkness, rendering it a failsafe color that meshes harmoniously with almost any interior decoration plan. It has an LRV of 67.71.
11. Meadow Mist 936
| | |
| --- | --- |
| RGB | 235 232 216 |
| LRV | 80.04 |
| Undertones | Green, Gray, Off-White |
| Matching Colors | Moonshine, Vale Courtland blue |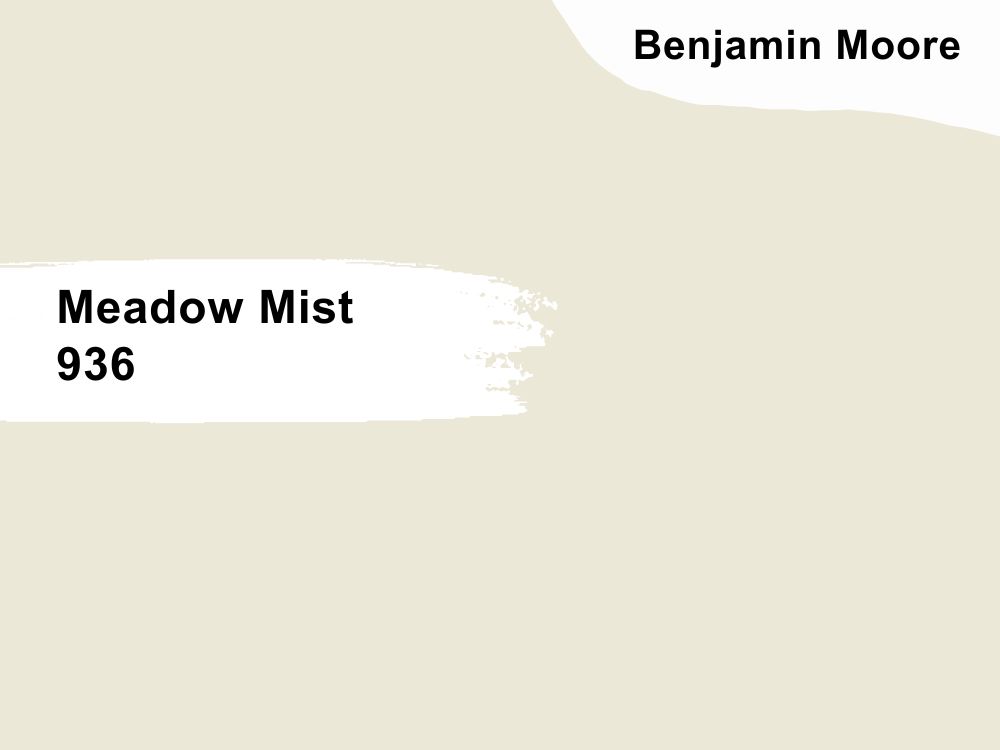 The subtle and gentle nature of this paint immediately rubs off on any room where it is painted in your home. The Meadow Mist 936 is a perfect combination of amazing undertones that give it a cool, warm, and welcoming color which is bright and ideal for living rooms, bedrooms, and also kitchens.
The Meadow Mist 936 features common undertones in bright paint such as green, gray, and off-white. It has an LRV of 80.04 making it one of the highest in all shades of gray. The RGB value is 235 232 216 respectively. An amazing choice any interior designer would love and be able to do wonders in terms of the overall decor.
12. Gray Gardens CSP-55
| | |
| --- | --- |
| RGB | 116 119 115 |
| LRV | 17.99 |
| Undertones | Green, Gray, Black |
| Matching Colors | Milkshake, Iced Mauve |
The ambiance at the presbytery is distinctly autumnal. Despite the frigid climate, its forlorn yet picturesque gardens exude hues that harmonize with the age-old estate's color scheme, imparting a remarkable warmth.
This darker shade of gray is a perfect fit for bedrooms, kitchens, and even basements, as long as you have a good power supply down there. It has an LRV of 17.99. The Gray Gardens CSP-55 paint works perfectly well with Vanilla Milkshake, Iced Mauve, and Stoneware.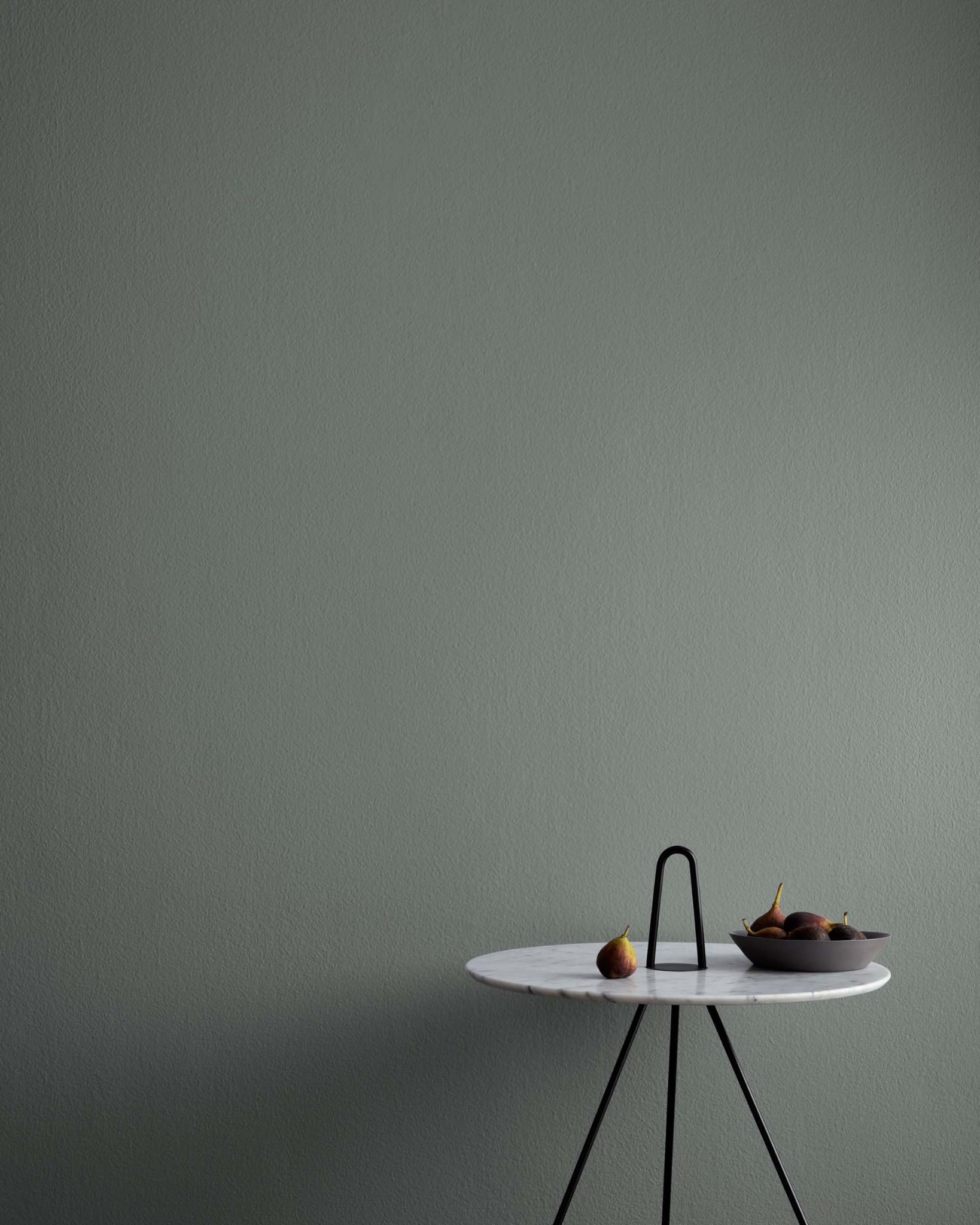 13. October Mist CC-550
| | |
| --- | --- |
| RGB | 71 72 64 |
| LRV | 46.33 |
| Undertones | Green, Blue, Gray |
| Matching Colors | Steam, Glacier White, Forest Floor |
October Mist is a softly shaded hue of sage that serves as a subtle anchor, while also inspiring imaginative color combinations. Similar to the verdant stem of a flower, it creates a canvas for the Color Trends 2022 palette – as well as one's imagination – to bloom and flourish.
It has an LRV of 46.33 and would be ideal for a home where the majority of decorating pieces are black, Forest floor, or Glacier white, another ideal color that works well with October mist is Steam.
14. Gray Pinstripe 1588
| | |
| --- | --- |
| RGB | 121 129 128 |
| LRV | 20.47 |
| Undertones | Blue, Green, Gray |
| Matching Colors | Indian Summer, Simply White |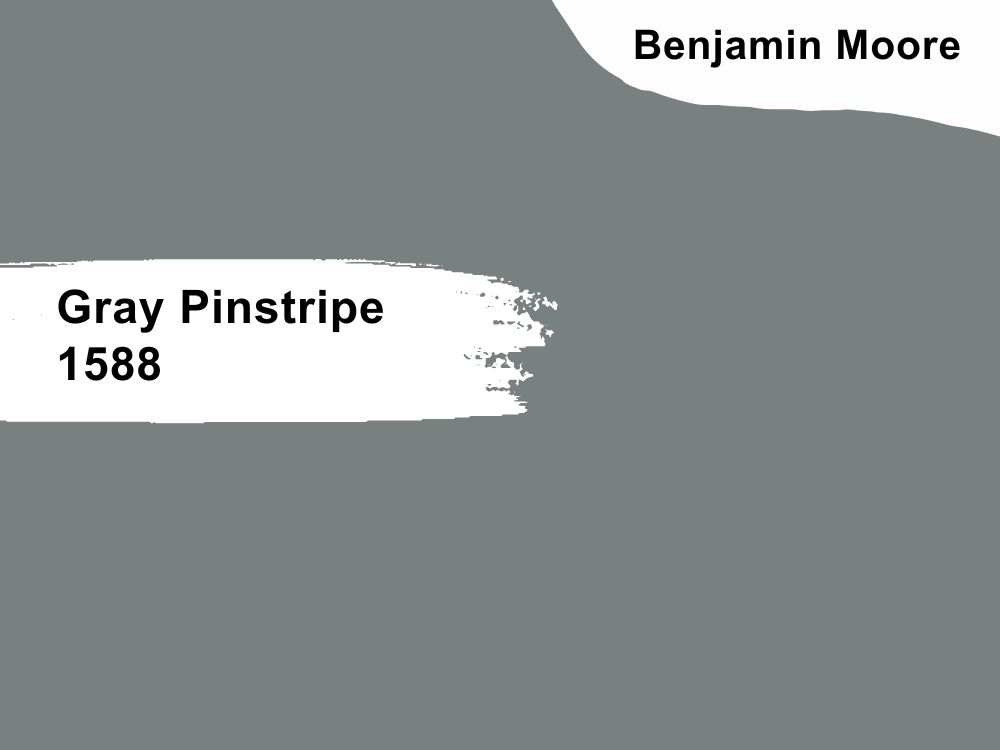 This dark gray hue is both classic and timeless, much like the pinstriped suits donned by businessmen. With its understated bluish undertones, it emanates a distinctly masculine aura. It is one of the darkest shades available in the Benjamin Moore collection.
After giving it a good thought, we figured this would look fabulous in a kitchen setting where you have cabinets in off-white or pure white, the pantry is yet another place that'll shine with the Gray Pinstripe 1588. The LRV is 20.47.
15. Gray Cashmere 2138-60
| | |
| --- | --- |
| RGB | 209 212 204 |
| LRV | 65.57 |
| Undertones | Gray, Blue, Green |
| Matching Colors | Flint, Mallard Green |
The Gray Cashmere 2138-60 hue boasts hints of both blue and green, adding a refreshing touch to its gentle and calming gray base. It is widely regarded as one of the most exceptional shades of gray found within the Benjamin Moore color palette.
This paint has a high LRV of 65.57 which is ideal for an office, bedroom, and classroom. This hue is a member of the Color Inspiration palette, which boasts a collection of vivid, intense colors that invigorate living spaces, designed for those who seek to brighten their surroundings with the radiance of remarkably pure colors.
16. York Gray CW-45
| | |
| --- | --- |
| RGB | 211 201 184 |
| LRV | 54.14 |
| Undertones | Gray, Neutral |
| Matching Colors | Randolph Gray, Mineral Alloy |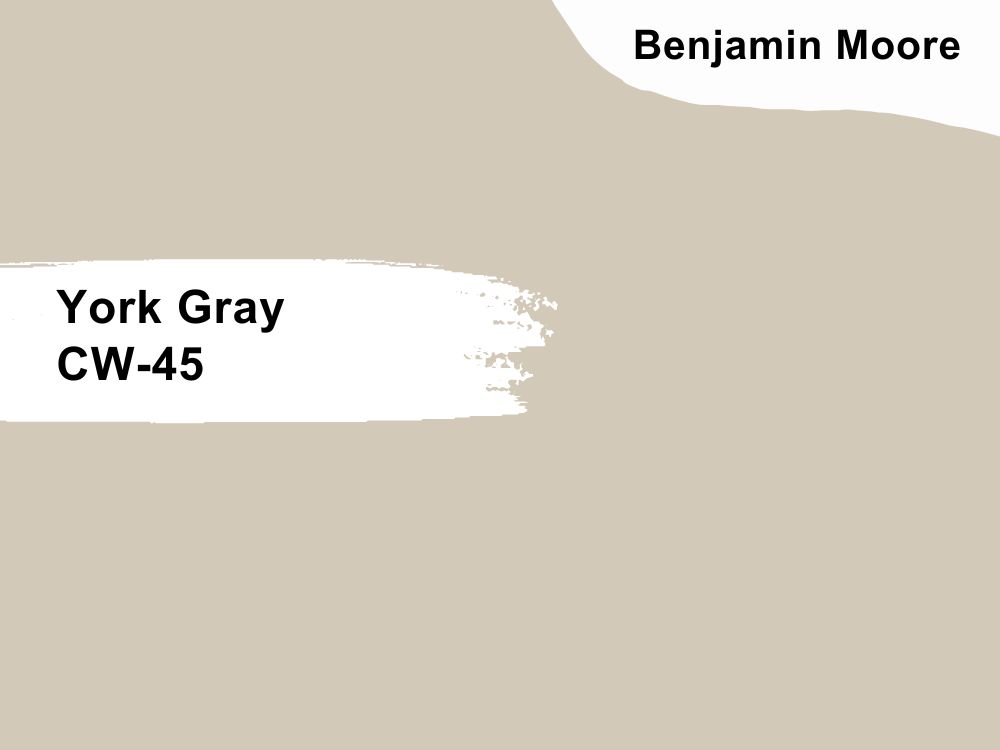 Introducing York Gray CW-45, an exclusive and unique shade of gray from Benjamin Moore. This soft and versatile pale gray has attributes that make it stand out, such as its resemblance to the stone color found in 18th-century British builders' manuals.
This would be an amazing color for a barn, or patio area, it is a warm color that brings about soothing ambience to any room. The LRV is 54.14.
17. Maid of the Mist CC-728
| | |
| --- | --- |
| RGB | 190 196 181 |
| LRV | 54.29 |
| Undertones | Green, Gray |
| Matching Colors | West Coast, Dewdrop |
The Maid of the Mist is a rare hue from the Designer Classics Collection that exudes an aura of comfort and confidence. This timeless beauty can effortlessly blend in with diverse design styles and decors, and is highly favored by both astute consumers and seasoned designers.
Integrating the Maid of the Mist into your living space is a surefire way to elevate the ambiance and create an everlasting impression. The LRV is 54.27.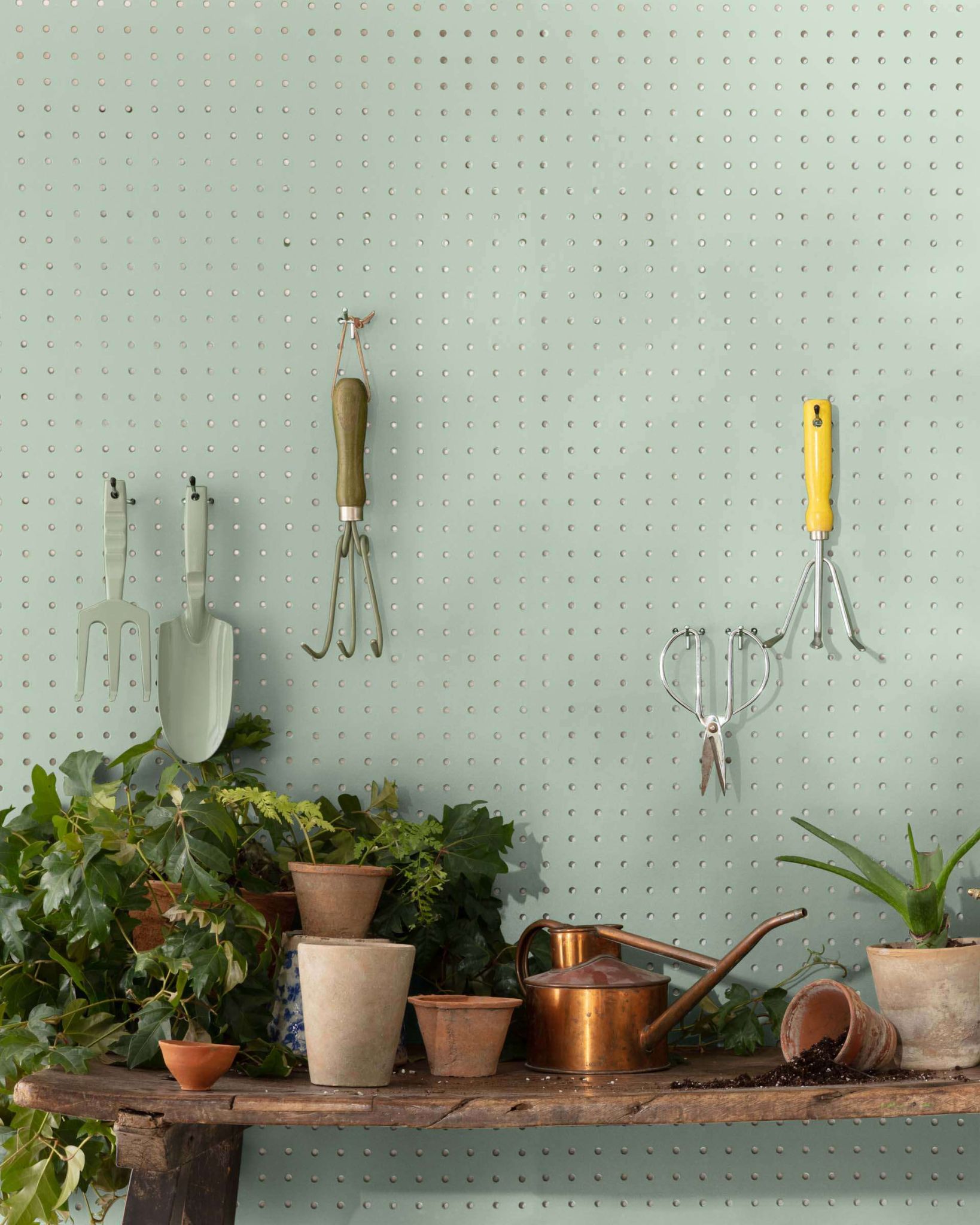 18. Tyler Gray CW-50
| | |
| --- | --- |
| RGB | 198 188 172 |
| LRV | 51.06 |
| Undertones | Green, Gray |
| Matching Colors | Chantilly Lace, Dovewing |
The inspiration for this gentle, medium-tone gray hue is rooted in the stone shade that was documented in British paint and builders manuals during the 18th century. The richness of this color can be spotted from miles away, indeed it is one of the amazing shades of gray from the Benjamin Moore Catalog.
The LRV of the Tyler Gray CW-50 is 51.06, this means if you would like your room to have a shade of gray that won't look overly dark but somewhere in between, this would be the best option to choose.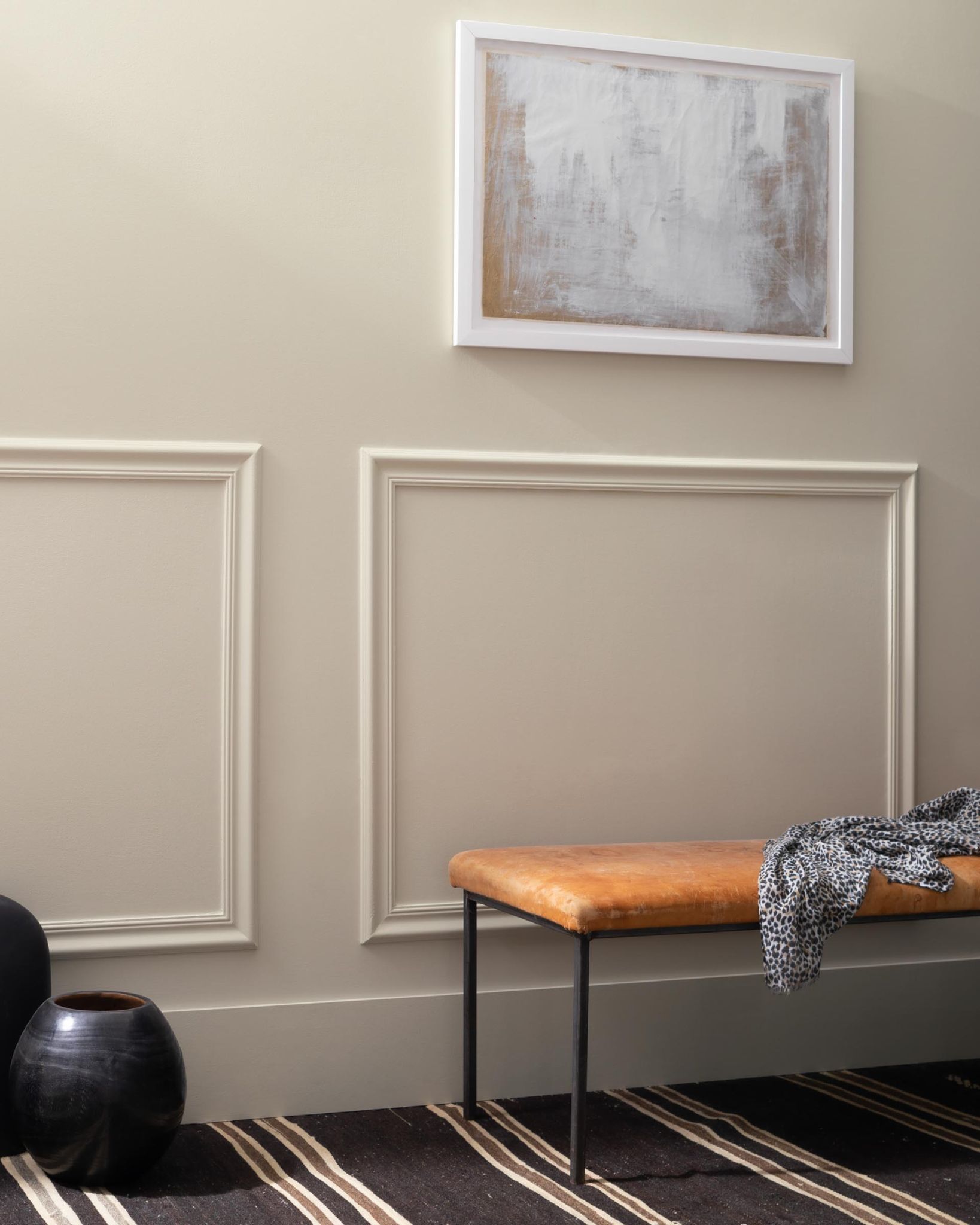 19. Pearl Gray 863
| | |
| --- | --- |
| RGB | 221 224 215 |
| LRV | 73.45 |
| Undertones | Gray, Green, Blue |
| Matching Colors | White Heron, Rhine River |
Meet Pearl Gray 863, an elegant and slender silver-gray color with a hint of blue. Pearl Gray 863 imparts a pleasing ambiance that suits both your living area and bedroom flawlessly. When it comes to pairing this color with a lighter shade of gray, blue tones such as Evening Blue or Boothbay Blue are commonly preferred. These colors can effectively complement Pearl Gray 863 and enhance its overall appearance.
The LRV of Pearl Gray 863 is 73.45, LRV is an acronym for Light Reflectance Value. This metric denotes the amount of light that a color reflects, expressed as a percentage.
20. Herbal Escape 1487
| | |
| --- | --- |
| RGB | 175 168 153 |
| LRV | 39.3 |
| Undertones | Green, Blue, Gray |
| Matching Colors | Refined, Blue Echo |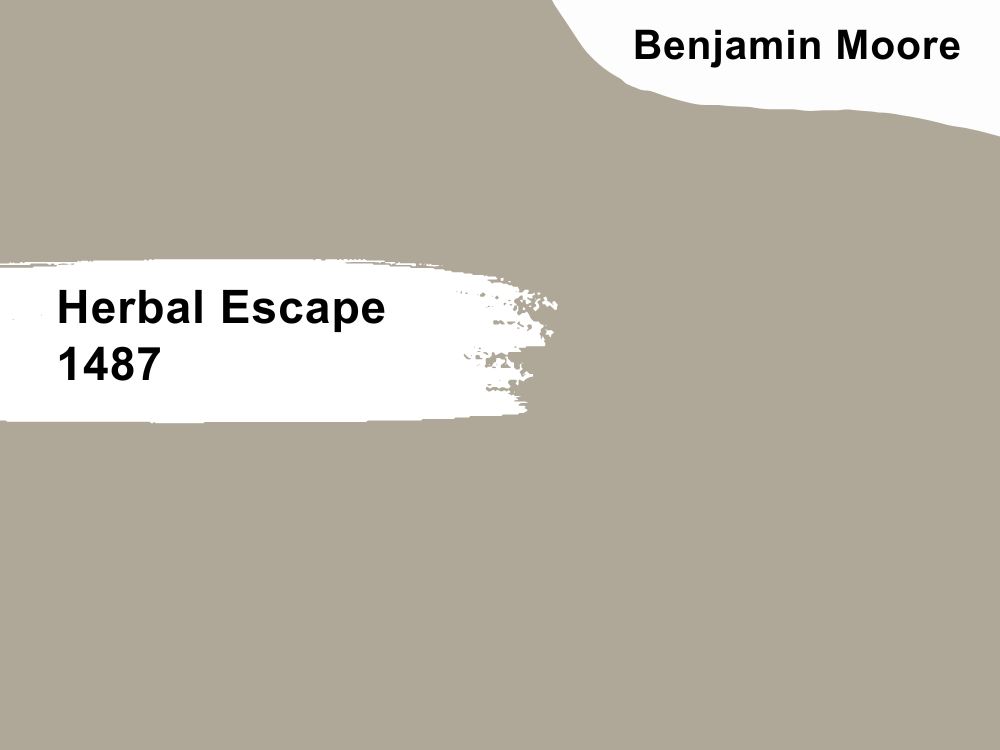 The incorporation of warm gray undertones imbues an impression of tranquility with the olive-tinged chromaticity of the Herbal Escape 1487 of the Benjamin Moore gray collection. While a lot of people might fancy this warm color for the living room or bedroom, I bet it would look better in a kitchen that has appliances in silver.
Benjamin Moore has set a benchmark for excellence through their broad selection of genuine colors, one of which is the Benjamin Moore 1487 Herbal Escape. This specific hue possesses an LRV (light reflectance value) of 39.41.
21. Devonshire Green 1489
| | |
| --- | --- |
| RGB | 123 115 99 |
| LRV | 17.84 |
| Undertones | Gray, Green, Blue |
| Matching Colors | Vintage, White down, Deep in thought |
Meet Devonshire Green 1489, it is a versatile shade of darkness with the ability to evoke the image of moisture-laden moss as well as the refined texture of wrought iron in its elegance. This is the end point after struggling between choosing deep green or dark gray.
The LRV is 17.84 and it matches well with Vintage, White down, Deep in thought and wind chime. Similar shades are Aegean olive and country life. This would indeed make an ideal paint choice for a bedroom, living room or office.
Conclusion
If one is in search of an ideal gray hue to adorn their abode, it would be remiss not to consider Benjamin Moore. This acclaimed brand boasts a vast spectrum of exquisite gray tints, ensuring that the individual's decorative inclinations and preferences are met with satisfaction.
Whether you prefer cool, neutral grays or warm, earthy tones, Benjamin Moore has got you covered. From classic shades to newer, trendier hues like Metropolitan and Kendall Charcoal, there's a gray paint color for every taste and design preference.
So why not give one of these 21 Benjamin Moore gray paint colors a try? You might just find your new favorite shade!
Quick question: Which of these Benjamin Moore gray paint colors are you most excited to try in your home? Let us know in the comments below!