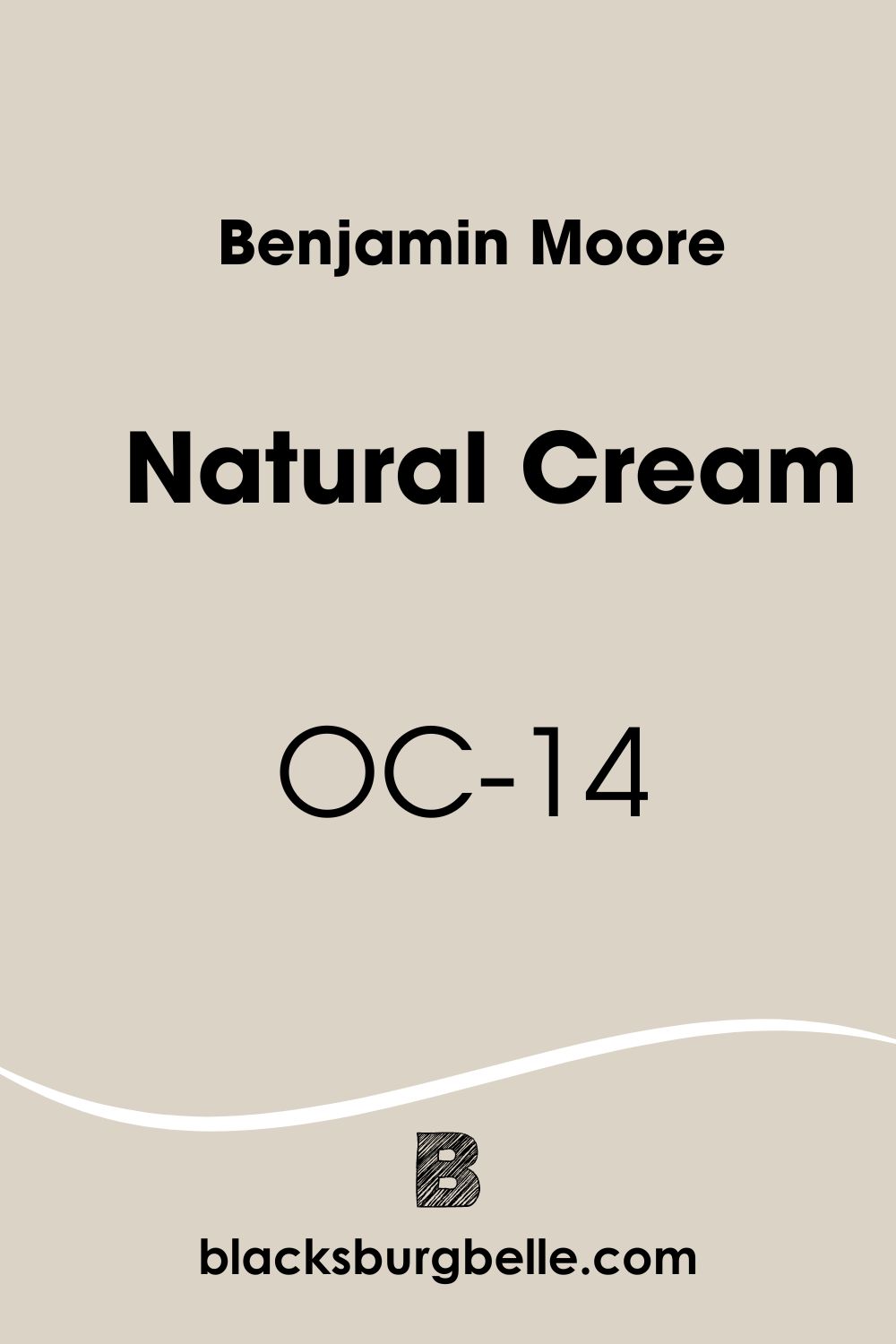 Charming colors like the Natural Cream from the Benjamin Moore collection never go out of style.
Here, I'll bring to your notice how much power this paint color holds, especially when you use it to revamp your space and redefine your interior decor.
Without a doubt, Natural Cream is one unique neutral with so many endearing qualities that I'll spotlight in this read. I'm sure at the end of this article, you will be able to decide for yourself if it is the best paint color for that project you are about to embark on.
When to Choose Benjamin Moore Natural Cream OC-14
The ability to identify what paint color will perform best in a setting requires research and in depth understanding of color schemes. For this reason, I've compiled scenarios where Natural Cream will be flawless.
You Need a Neutral Color?
If you need a neutral that can work with other color shades or you are in search of one that can stand-alone without overpowering existing decor, then look no farther than Natural Cream.
You don't mind a Hint of Greige in Your Space
Natural Cream combines elements of beige and gray to deliver an excellent and balanced Greige tone. This increases the versatility of the color in any space.
You Fancy a Medium-Toned Color?
Benjamin Moore Natural Cream has an LRV of 60+, this places it somewhat in the middle of the LRV scale. For this reason, it can work in any space and at any time of the day.
Minimalism is Your Vibe
If you don't like overpowering colors, you should add Natural Cream to your palette. This color works with black, white and even cream colors like itself.
Looking For a Great Accent Color?
Natural Cream will work well alongside other colors as a great accent wall because it's quite respectful and subtle.
What Color is Benjamin Moore Natural Cream OC-14?
Benjamin Moore Natural Cream's greatest strength lies in its ability to shape-shift between a neutral and a bold main wall color.
As a neutral it is a perfect backdrop for more colors, while as a bold main wall color, it can hold its own no matter the lighting condition.
This color is widely regarded as a "mushroom" tone, and it adds a perfect bow on top of the whole package by working perfectly with other soft cream colors and darker mushroom and taupe colors.
Natural Cream is medium-toned greige with lots of depth, which becomes more prominent when used in a smaller or darker room. It gives your space a cozy and tranquil touch.
Snapshot of Benjamin Moore Natural Cream Specifications
Learning about the details and specs of a paint color is crucial when determining how to put it to good use. I'll let you get acquainted with the numerical and statistical properties of Natural Cream.
| | |
| --- | --- |
| Color Name | Benjamin Moore Natural Cream |
| Undertone | Gray, Yellow, Slight Green |
| LRV | 64.78 |
| Hex Code | #DBD3C5 |
| RGB ratio | 219, 211, 197 |
The LRV of Benjamin Moore Natural Cream
Unarguably one of the most important terminologies in the color/paint world, LRV, short for Light Reflectance Value, is a measurement used by professionals and design experts to express the volume or percentage of light reflected by colors on a surface.
Although this unique scale should typically run from 0-100, with 0 tagged the darkest, while 100 is the brightest, it's been adjusted from 3-97, as there's no true black or white without subtle undertones.
Benjamin Moore Natural Cream holds its place with an LRV of 64.78, which means it's 4 points away from my lucky number (60).
This color tilts towards the medium to light category, and while I think it may work in any space, I don't necessarily recommend its use in small spaces as it can appear too dark and make the space feel much more cramped.
With that being said, using this color in a large space or even outdoors is a great idea, as it adds a very different but strong feel to the space, hence, blessing you with the freedom to add your personality.
Undertones of Benjamin Moore Natural Cream OC-14
Undertones give your colors life while at the same time introducing more solid tones, textures, and lighting to get a visually appealing result.
Benjamin Moore Natural Cream has a gorgeous mix of gray, yellow and green undertones.
This arrangement further bolsters my point that this color has a mix of warm and cold undertones and hence is a true neutral.
Let me dissect these colors further so you can get the message I'm trying to drive.
Does Lighting Condition Affect the Appearance of Natural Cream?
Your lighting choice has a direct effect on the appearance of your color. This is because some colors tend to be more sensitive to lights than others depending on the light source and direction..
Natural Cream isn't the dramatic one; if anything, this color stays very put and organized. But when used in a northern-facing room, you get a clear view of the gray side as the coolness of the blue light draws it out.
For southern-facing rooms, Natural Cream stays warm all day long and finally western and eastern facing rooms alternate their warmth and coolness based on the timing of sunrise and sunset.
With that said, you'll get to experience the golden tones and the beige side of this color more during the afternoons. In the evenings, things stay pretty neutral, which means the darker colors you pair with Neutral Cream will pop out more.
Does Benjamin Moore Natural Cream Appear Yellow?
Yellow is the warmest of the undertones. Hence expect to see this side when you pair Natural Cream with warm lighting and in the evening.
The image shown is still the best visual presentation of this phenomenon, and you can agree with my observation.
Does Benjamin Moore Natural Cream Read Gray?
Benjamin Moore Natural Cream can appear 100% gray, especially early in the mornings when used in southern and western-facing rooms or in spaces with the least lighting in the house.
Additionally you could choose to add artificial cool lighting to push out the gray in this color further.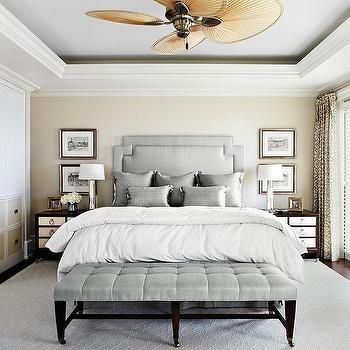 Can I Find Green in Natural Cream?
Yes, you can find hints of green in Benjamin Moore Natural Cream, but that'll only become obvious when you use it around green items or outdoors where there's a lot of greenery around.
Benjamin Moore Natural Cream: Is It a Warm or Cool Color?
I can't categorically tell you whether Benjamin Moore Natural Cream is a warm or cool color, but there's a reason why. This color works with three undertones- gray, green and yellow; these tones are cool and warm.
Long story short, Natural Cream is a neutral shade and will lean warm or cool depending on the lighting situation around it, so you don't know which side to get.
Benjamin Moore Natural Cream Color Strip: Lighter or Darker Exploration
Every color exists on a given color strip, and this allows you to understand how to combine these tones with other colors and their origin. I'll work with seven colors for this guide, including our focus color.
As you study that strip closely, you'll notice that these colors share similar undertones, base color and LRV range.
Benjamin Moore Natural Cream (OC-14)
Benjamin Moore Baby Fawn (OC-15)
Benjamin Moore Cedar Key (OC-16)
Benjamin Moore White Dove (OC-17)
Benjamin Moore Dove Wing (OC-18)
Benjamin Moore Seapearl (OC-19)
Benjamin Moore Pale Oak (OC-20)
Benjamin Moore Natural Cream Complementary Colors
Complementary colors exhibit a high amount of contrast around your anchor color. They're directly located opposite each other on the color wheel. The idea behind their combination is to ultimately cancel each other out to produce white, black or any grayscale color.
Benjamin Moore Angel's Wings is the perfect wingman for Benjamin Moore Natural Cream; it's a violet-gray color with soft lilac undertones and an LRV of 58.4. It's a dark color with depth that'll bounce off Natural Cream in the most beautiful way you can imagine.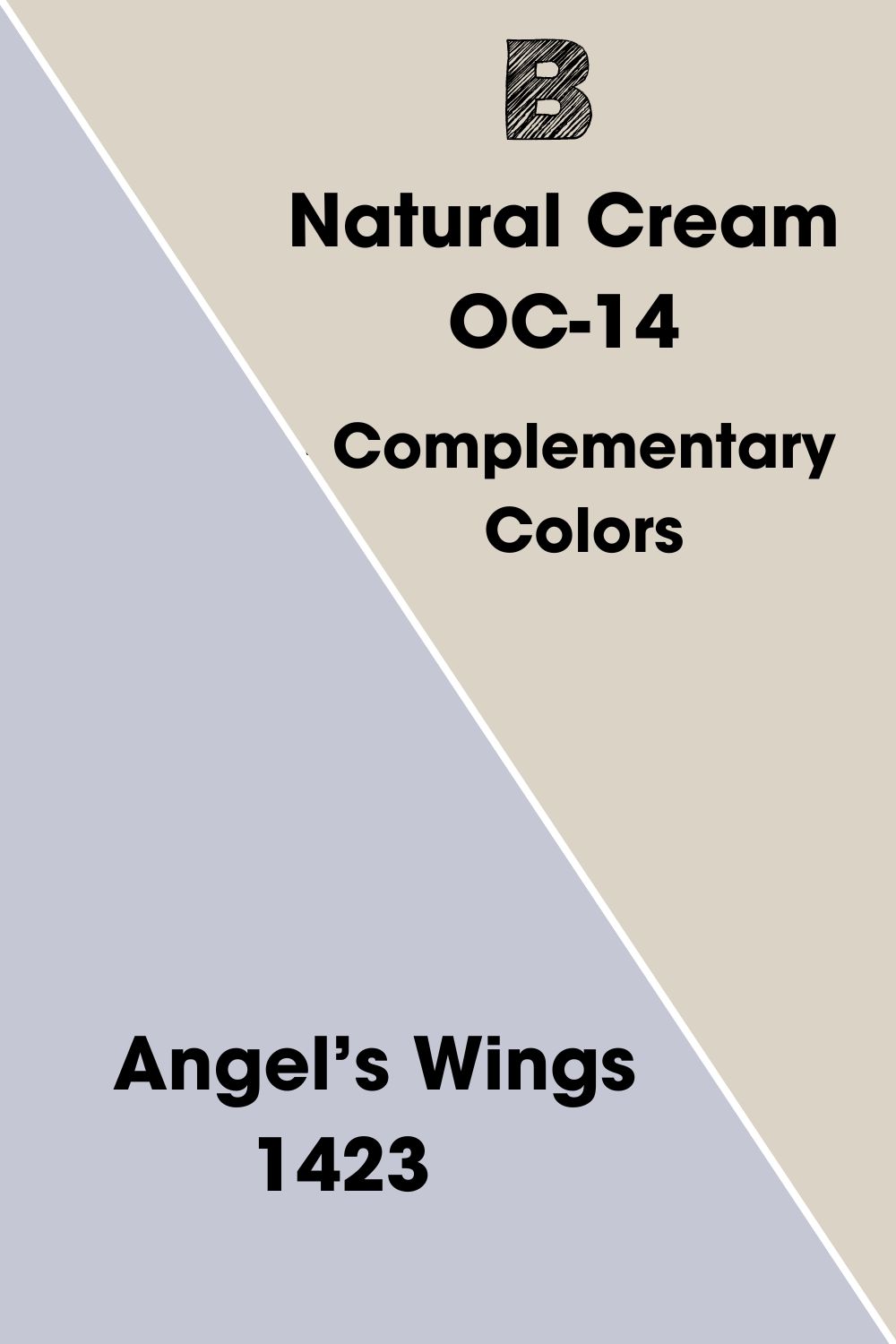 Benjamin Moore Natural Cream Coordinating Colors
Coordinating colors are not one-way traffic. They exist in different arrangements with the end goal of making your colors of choice make sense to all and sundry.
Following any of the themes listed below gives you a finely curated space with all colors exuding balance.
Complementary Theme: The two colors on this theme make each other appear brighter and can be blended for shadows or to create neutral hues.
Yellow and purple, blue and orange, red and green all complement each other. (Think the merry colors of Christmas).
Analogous Theme: Colors on the analogous scheme are usually three colors that stand next to each other on the color wheel.
The first is the main color, the second is the supporting color, and the third color stands in as the accent. You can also add black, white and gray to the color scheme.
Triadic Theme: A balanced triadic theme has one dominant color, and two other evenly spaced colors that serve as accents in a space.
Split Complementary Theme: This theme is very easy to work with as it only takes up a base color and two secondary colors on the color wheel.
Monochromatic Theme: Colors on the monochromatic scheme take their roots from a single base color and then gradually build up with lighter or darker shades and tones of the base hue.
Coordinating Colors for Benjamin Moore Natural Cream
The hues here are Natural Cream's biggest allies and can work as an accent or main wall color to create an aesthetic that is yours and yours alone.
Benjamin Moore Granite AF-660:This color is a dark gray with violet undertones and an LRV of 21.95. It's an excellent choice for an accent wall with Natural Cream or a trim color on a Benjamin Moore Natural Cream exterior.
You can also use Granite as a cabinet color for your kitchen or a door color to make your entrance pop. If you intend to add depth to your bright bedroom, include Granite on your color palette.
2. Benjamin Moore Thunder AF-685: Thunder is a gorgeous neutral that blends the beauty of warm and cool properties to deliver a balanced space to work alongside Benjamin Moore Natura Cream.
Thunder has an LRV of 47.58, with subtle undertones of green and purple, hence the warm and cool situation, and also a result of its GREIGE status. Overall this color adds a cozy feel to Benjamin Moore Natural Cream space.
3. Benjamin Moore Boothbay Gray HC-165: The blue undertones in Boothbay Gray goes according to plan with the idea of the perfect complementary color for Natural Cream, and then a hint of gray.
Boothbay Gray has an LRV of 48 and will cast a cool vibe on Natural Cream on your bedroom, bathroom or kitchen wall. If you're a fan of balance, then you should pair this color together.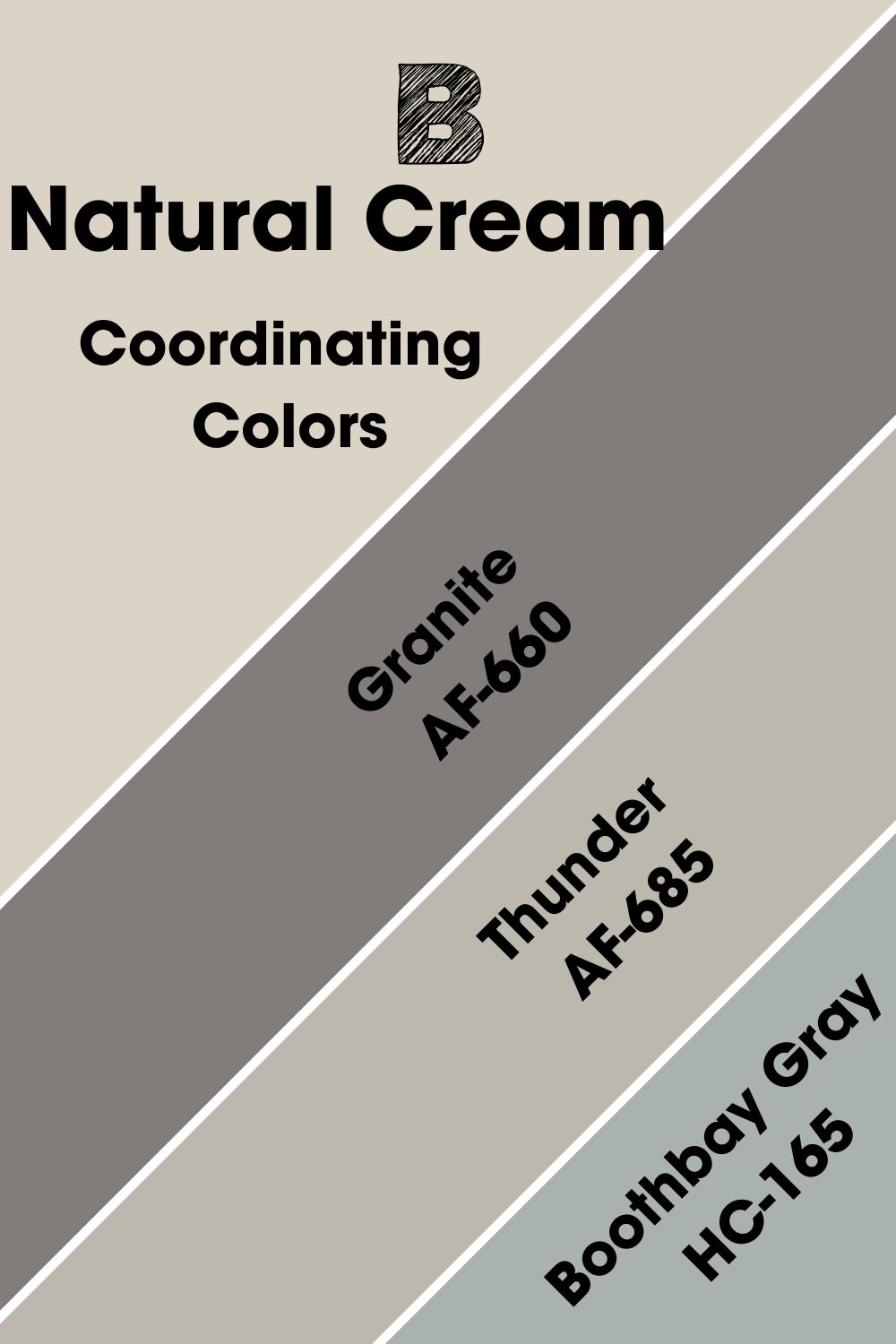 Benjamin Moore Natural Cream Color Palette
I've sourced actual colors from the Benjamin Moore line up to point you in the right direction on how to create your own color palette. This will surely take off the weight of picking decor on the shoulder of new homeowners.
Monochromatic Palette
Benjamin Moore Tapestry Beige OC-32: Tapestry Beige is neutral with warm and cool undertones. It's a light greige that can work with Natural Cream on a minimalist palette.
It has an LRV of 66, making it two points lighter than Natural Cream, with about 65; you won't notice much difference with these side by side, but that's the idea.
Benjamin Moore Thyme 2148-20: A strong earthy beige with yellow and green undertones and an LRV of 25.45 is the darkest color I've added to the monochromatic scheme for Benjamin Moore Natural Cream.
Benjamin Moore Elmira White HC-84: A soft shade of greige with hints of pale pink to warm things up when paired alongside Natural Cream. It has the same LRV as Natural Cream with less than 1 point difference.
Analogous Palette
Benjamin Moore April Showers 1507: The beauty of this green/gray color brings the perfect amount of warmth to work with Natural Cream. Use this color for your kitchen cabinets or trim walls alongside a Natural Cream wall and experience a soft touch of nature in your space.
Benjamin Moore Honey Hut 2102-60: The yummiest shade of pink with gray and lilac undertones for much-needed coolness to effect that cozy feel in your space.
Honey Hut will make the most beautiful kitchen island or vanity table color in a Neutral Cream bathroom/kitchen. While it has a lower LRV of 61, you'd be stunned at how bright Honey Hut truly is.
Benjamin Moore Parkside Dunes 568: Parkside Dunes is a very light and fresh mint green with an LRV OF 76.81. The combination of Natural Cream and this color in a space leaves a very visually appealing effect.
I highly recommend it for traditional spaces and homeowners who don't mind the overwhelming touch that Parkside Dunes bring to the room. Moreover, Natural Cream is neutral, which means it won't clash with PD in any way.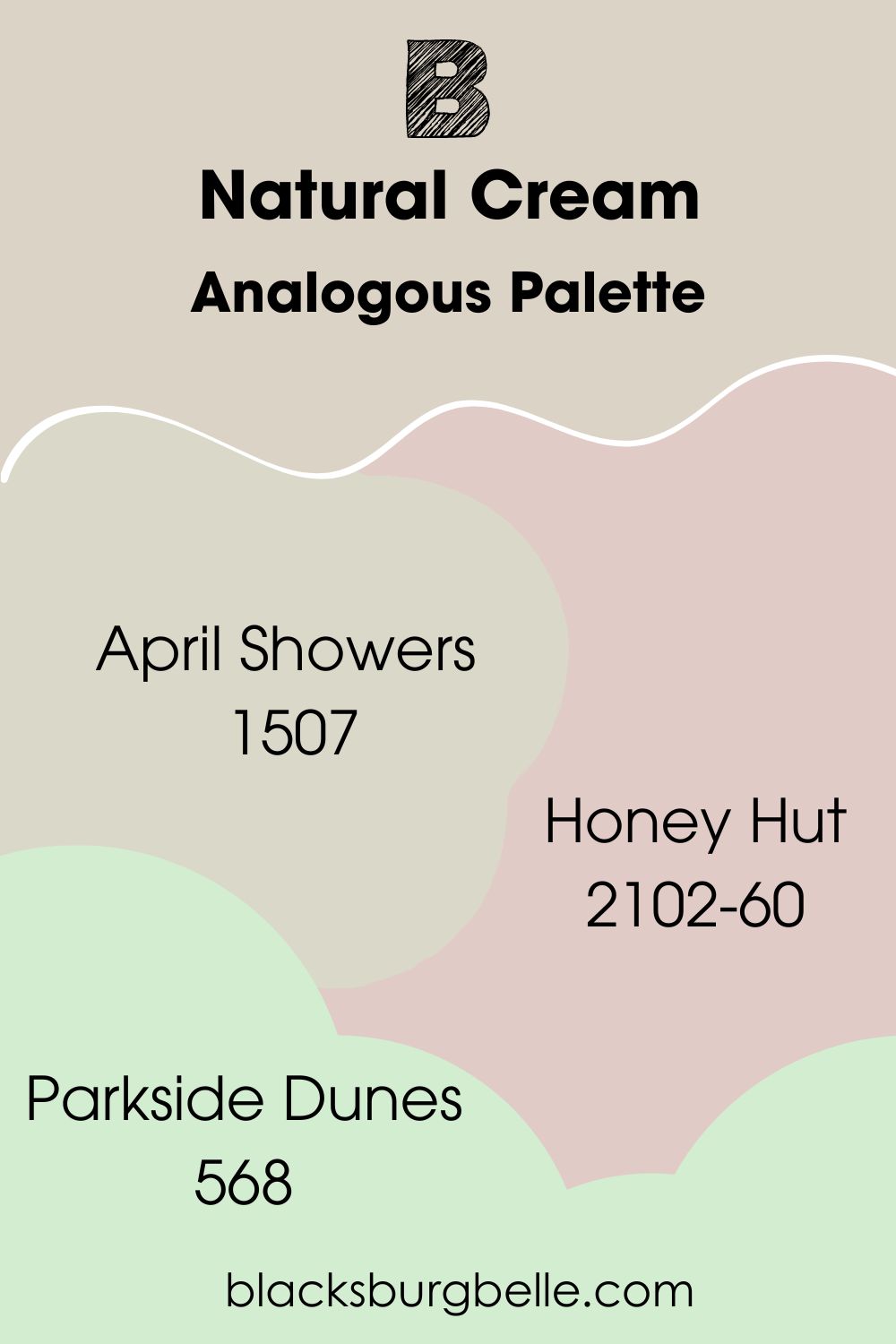 Triadic Palette
Benjamin Moore Serene Breeze 449: A wholesome cool blue color with a touch of gray and green to remind you of the ocean. Use this color alongside Natural Cream on a traditional palette, as it's bright and beautiful with an LRV of 68.55
Benjamin Moore Grape Ice 1395: Grape Ice is a gorgeous pastel purple color with a cool blue undertone that lights it up and extends its reach. You can use it as an accent wall alongside Natural Cream or Vice Versa.
It's four points behind Natural Cream; hence, it's darker than NC so you can spot the difference more.
Benjamin Moore Cloud Cover OC-25: Cloud Cover is a crispy white with blue and gray undertones and an LRV of 80.28. Use this color as a trim alongside Natural Cream and watch these beauties contrast beautifully.
Benjamin Moore Creamy White OC-17 vs Natural Cream
Between Natural Cream and Creamy White, the latter is the lightest with 70.95 LRV, 6 points far from Natural Cream's 64. Creamy White doesn't have many gray undertones like Natural Cream, which means it's generally warmer and creamier.
Benjamin Moore Pale Oak OC-20 vs Natural Cream
Pale Oak is a warm-toned gray color with an LRV of 68.64 and will appear lighter when paired with Natural Cream.
The major difference between them is that while Natural Cream is widely termed as neutral, Pale Oak is primarily a warm color with pink undertones against Natural Cream's gray.
Natural Cream vs Edgecomb Gray HC-173
Benjamin Moore Natural Cream resembles Edgecomb Gray but doesn't come with any purple undertones. It's more of a muddy-like cream color with gray undertones.
They also share similar LRVs and may look the same in terms of brightness but display slight differences in tone.
Natural Cream vs Revere Pewter HC-172
Revere Pewter is miles ahead of Natural Cream in the case of undertones. Revere Pewter has subtle green undertones accompanying the cool gray undertones, giving it a neutral touch.
It has an LRV of 55.51, which means it's way darker and more grounded than Natural Cream.
Benjamin Moore Natural Cream Equivalent in Sherwin Williams and Other Brands
Benjamin Moore Natural Cream has alternatives from other brands that may not necessarily give you the same result but at least bear a striking resemblance to the color in spaces. They may share similar undertones, LRV or even RGB composition.
Sherwin Williams Natural Tan, PPG's Cool Concrete, Dunn Edwards Fine Grain, Behr's White Frost and Valspar's Oatlands Subtle Taupe.
Where can you use Natural Cream OC-14?
Being a neutral, the possibilities of usage are endless with Natural Cream. This color is functional for indoors, outdoors, and even furniture purposes and allows you to pair it with other colors.
Natural Cream in the Entryway
Benjamin Natural Cream is the perfect choice for your entryway as it keeps things light and fresh, especially in the face of strong lighting. This color also works with bright white in such a lovely way that it doesn't rub its warmth on the white trims as in this picture.
This is a lovely example of using Natural Cream on a monochromatic palette and how it bounces off accompanying neutrals.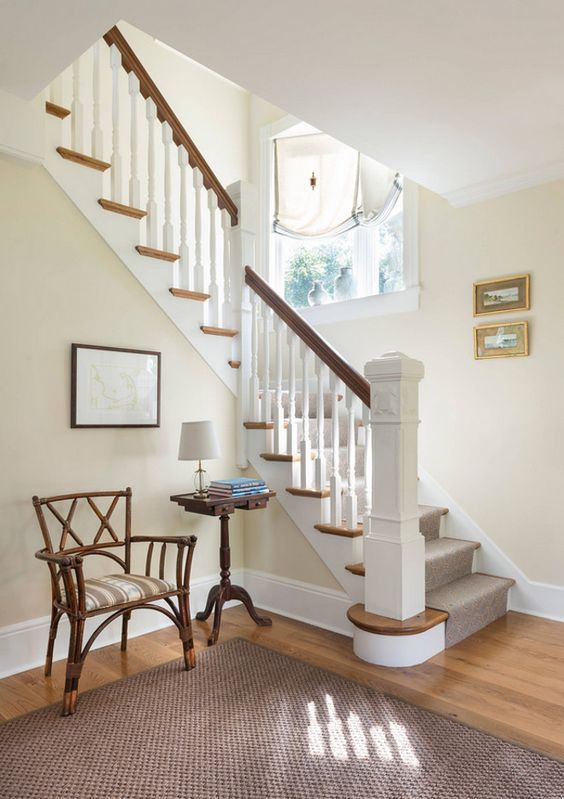 Natural Cream in the Kitchen
Keep things calm and collected in your kitchen with Natural Cream on the wall. You should keep the kids out of the kitchen, especially if you follow my inspo per the image, as it may get easily stained.
I recommend this color for spacious kitchens as it will open up the space if it gets plenty of light, appear cool when used in a northern-facing kitchen and stay neutral during evening time.
I love how the gray undertones in this color leave a very cool scent in this kitchen, and the dark flooring with the white ceiling just makes everything balanced. I'd add gold and lamp handles to make the colors pop, but that's just me.
Natural Cream on Cabinets
Most of the images I've seen have Natural Cream as their kitchen cabinet color and I understand why. It's a great neutral and keeps cabinetry right where they belong, as it mustn't overshadow the main wall color.
Natural Cream Living Room
Natural Cream is a great choice for a transitional living room that still wants to blend elements of modern and traditional aesthetics. I love how the beige side shows up and adds a warm golden touch to this living room.
You can create a dramatic twist by adding cool white trims on the wall and tone down the intensity and creaminess of Natural Cream.
Natural Cream in a Dining Space
Curate the perfect modern dining with Natural Cream on the wall. This color leans beige when exposed to sunlight. You can also pair it with brown-toned furniture and whites.
Introducing black chairs in this dining space adds a touch of vintage to the space and takes everything to a whole new level.
What Colors Go With Benjamin Moore Natural Cream OC-14
Benjamin Moore Natural is quite the versatile neutral color. It matches beautifully with some brighter and bolder colors, depending on how adventurous your color palette is willing to go.
Pair your Benjamin Moore Natural space with purple-grays, browns, whites, off-whites, soft blues, and blacks for a dramatic effect. You can keep things clean and monochromatic with dark browns, grays and even soft shades of yellow.
Conclusion
There's no denying that Benjamin Moore Natural Cream is a pleasant color, however while reviewing , I realized that it might become boring to work with, especially if you use it in an "everyday space".
However, if you feel very attached to Natural Cream regardless, it's best to pair it with bolder colors so you don't get pulled into its blandness.
Here're a few reminders to help you on the way.
Natural Cream is a neutral color that can pass as a GREIGE tone.
It has an LRV of 64.78, making it a medium-tone shade
Lighting has a varying effect on this color.
Don't forget to drop your suggestions and comments in the box below. It comes in handy for better reviews.