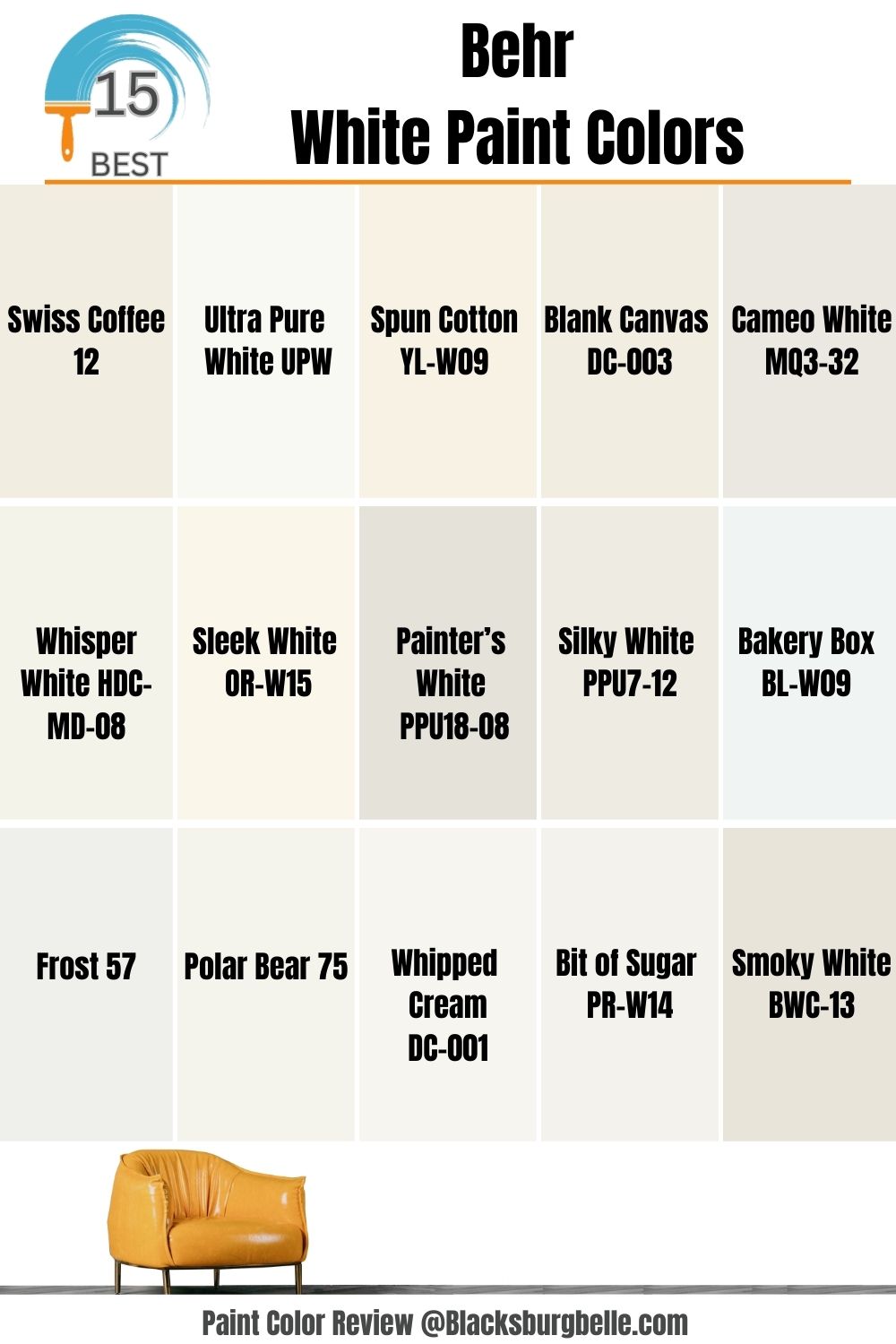 There are many Behr white paint colors, so how do you know the best one to select from the wide range available? White usually looks the same in any situation, and without a keen eye, you cannot tell the subtle differences between opinions.
Because of this, selecting the right Behr white paint color is crucial for the best results. Fortunately, you do not have to go through all the options to pick out the best one. We have taken the time to select the 15 best Behr white paint colors trending in 2023.
What Is Behr's White Paint Color?
Behr white paint color is a type of paint that comes in different shades of white. Are you surprised that white has shades? We are not talking only about- off-white, but also about the usual white that you know.
Behr excels in producing some of the best and finest paints on the market, and its white paint is no different. From the brand's selection, you can tell that white is far from basic. It is not as washed out as it may first seem, especially if you know how to combine it with other colors.
Interestingly, white is not just 'white', and this is where undertones become vital. So, there are two considerations when choosing one of Behr's white paint colors. You must consider the fact that no white is pristinely white, and there are usually undertones.
What Are the Undertones in a Behr White Paint Color?
Behr's white paint colors have a few undertones, which can characterize the type of paint you buy. White paint can be warm or cool, and the undertones separate the paint into these categories.
Cool white paint colors usually have gray or blue undertones. These undertones give them a crisp and cool feel and look. On the other hand, warm white paint colors have creamy or golden undertones. In such cases, the whites usually look inviting and feel intimate.
But while these are the typical undertones in Behr white paint colors, a few other colors may rise to the surface. Hints of green, yellow, pink, tan, or even violet may show through different white paint colors.
Simply looking at any Behr white paint may not immediately bring out the undertones for you to see. Also, using paint chips to find undertones is wrong because you may get the answer wrong.
The best way to determine undertones with white paint is to place different white paint chips side by side on white paper. Ensure you see natural light to compare the colors, and you will see a marked difference.
Is Behr White Paint Color Cool or Warm?
Behr produces different types of white paint colors, and each has different undertones. Consequently, Behr's white paint comes in both cool and warm. For example, Whipped Cream and Nano White are typical examples of cool whites, while Cameo White and Whisper White are warm whites.
What Color Goes Best with Behr's White Paint Color?
The type of Behr white paint you pick out will determine what color goes best with it. Warm whites select different matching colors from cool whites. Moreover, there is no single color that works best; each color blends differently with white paint depending on the undertones.
White paint colors like Ultra White work well with almost any color because it has neutral undertones. That means that the amount of red, green, and blue (RGB) in the paint is almost balanced. Note that the higher the red in a paint, the warmer it becomes. The higher the blue is, the cooler the paint becomes.
Where Can You Use Behr White Paint Colors?
White is such a versatile color, so it fits both interiors and exteriors. Use Behr's white paint colors in your bedrooms, living rooms, patio, workspace, and as trimmings inside and outside the house.
However, white usually works best when used in bedrooms, especially if it is warm white. This is because of the inviting and cozy feel warm white presents. For living rooms, cool whites may be your best bet because of the expansive and serene feel they present.
Offices and similar buildings also work well with cool whites if you want to present the look of having a larger space. But if you opt to use white paint color in bathrooms, restrooms, or powder rooms, it may be best to use a warm white.
What Is the Most Popular Behr White Paint Color?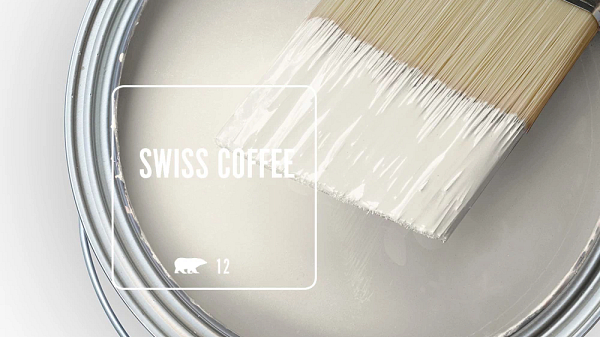 Swiss Coffee jumps to the top of the list of the most popular Behr white paint color, even in 2023. While it is a warm white, its look and feel is one of the best you will find in the market.
Ultra Pure White comes in as a close second because of its versatility. You can use almost every color shade with it since it has neutral undertones. We will discuss more about these paint colors as we go on.
15 Best and Popular Behr White Paint Colors Trending in 2023
The following are the best and most popular Behr white paint colors available in the market in 2023:
1. Swiss Coffee 12
Warm white with creamy and golden undertones
At first glance, Swiss Coffee looks a bit like cream. But it is usually too bright to be cream, so you know it is white paint. It has a warm and inviting look, one of the best and easily the most popular white paint colors from Behr.
It has an LRV of 84, and its RGB is 241, 237, and 224 respectively. This shade of white sits well in dining rooms, bedrooms, and living rooms because of how comfortable it feels as you can see in this bedroom with warm browns and Swiss Coffee.
Its coordinating color palette includes Seasoned Salt, Funhouse, and Palais White. You can see how it fits with different light colors in this cozy room with natural lighting.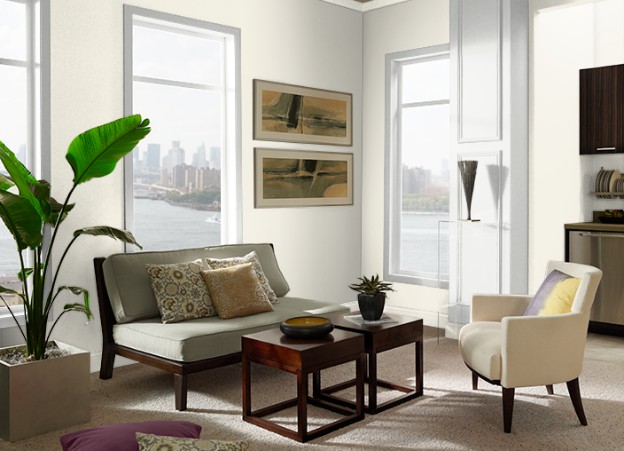 2. Ultra Pure White UPW
Neutral white
Ultra Pure White is the whitest white in the Behr white paint color collection. With an LRV of 94, you can guess how pure it is and how much light it reflects. This may be the reason it has such a neutral feel with no undertone jumping out at you. Or it may be because of its almost balanced RGB of 248, 249, and 243 respectively.
Whatever the case, Ultra Pure White is one of the best colors you can use on accent walls, walls, furniture, doors, and trims. Its softness is calming and soothing, which makes the paint an excellent choice for an entire room. It works even if you do not add any other colors to the walls.
It may work best if you use it only in a small space because of how much light it reflects. In other words, using it in a large space may be blinding, but this depends on the look and feel you want. The color also works for large rooms with splashes of color in the form of furniture, upholstery, or decorations.
Or this personal workspace setup with bits of color in different parts of the room:
3. Spun Cotton YL-W09
Warm white with creamy undertones
Spun Cotton is another popular and trending white paint color from Behr. Its popularity may lie with its similarity to Swiss Coffee or it may be because of how cozy it feels.
It does not give a feeling of starkness that white usually does. Besides, you can combine it with so many other colors without overwhelming it as you can see in this sitting room inspiration.
Spun Cotton has a light reflectance value (LRV) of 89, which is pretty high on the color spectrum. Its red, green, and blue codes are 247, 242, and 227 respectively. And its coordinating color palette includes Proper Temperature, Midori, and Cameo Stone.
This is why it fits so well on the trims, walls, and door in this cozy room with a myriad of bright and muted tones:
4. Blank Canvas DC-003
Warm white with creamy neutral undertones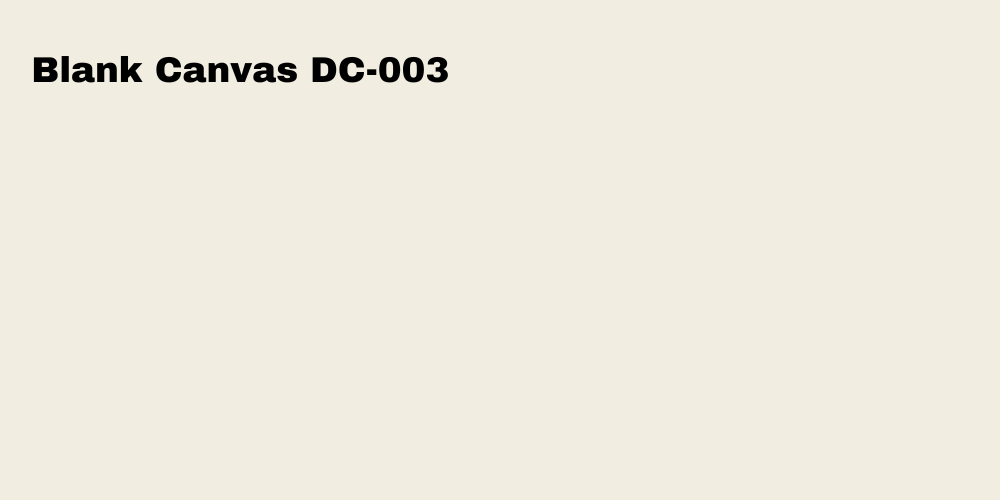 We love to see white paint colors that can shift their nature to fit anything. While Ultra Pure White has this ability, it is not as warm as the Blank Canvas option. Blank Canvas lives up to its name; it is a blank canvas that invites you to give vent to your creative side.
That means you are free to express your color fantasies white decorating with this color. This sitting room combines Blank Canvas with other neutrals and a few splashes of color.
Little wonder the white paint is Behr's color of the year for 2023. With an LRV of 84 and an RGB of 241, 237, and 225, it is not too bright to make a room look stark. Its coordinating color palette includes Palais White, Seasoned Salt, and Spring Valley.
5. Cameo White MQ3-32
Neutral white with ashen undertones
Cameo White tends toward the warm end of the spectrum but the RGB balance codes are too close to make the difference clear. With an RGB color balance of 235, 232, and 226, the color is not exactly warm, although in some lighting, it may appear to have golden undertones.
This slightly off-white paint color works for both the exterior and interior. You can use it for trimming or painting the entire house while you use another color for the trimmings. This bathroom may have looked stark except for how the colors complement each other.
Its coordinating colors include White Veil, Biking Trail, and Funhouse. Now, check out how the lighting changes the color of the paint to look almost cream or golden in this sparsely decorated bedroom: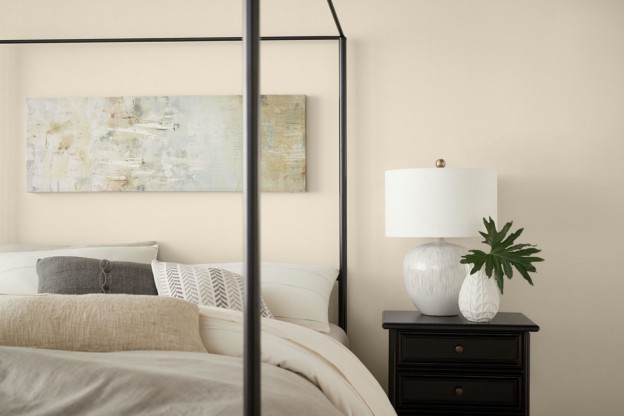 6. Whisper White HDC-MD-08
Warm white with slight beige undertones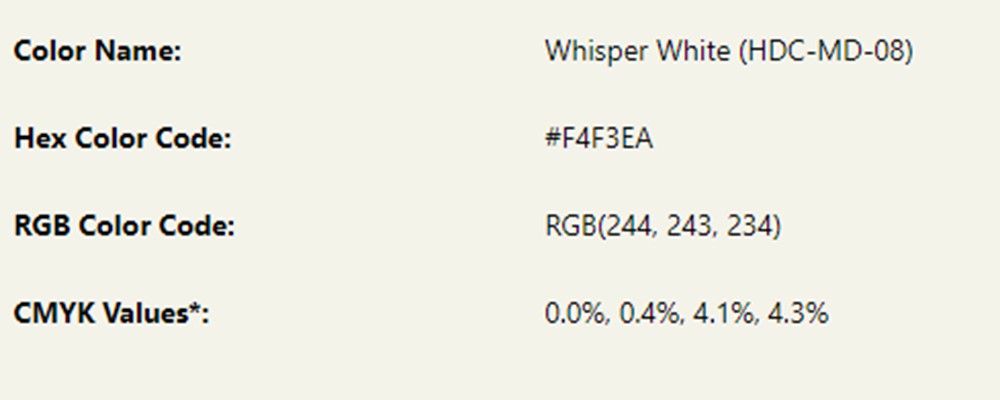 While Whisper White was the color of the month in January 2022, it is still highly popular and relevant in 2023. Many decorators and interior designers select Whisper White as one of the best white paint colors for walls, trims, and cabinets.
With an LRV of 89 and an RGB color balance of 244, 243, and 234, Whisper White is more warm than cool. Its light reflectance value is high enough to make the paint bright, but its undertones add warmth to it.
Check how the white paint matches with dark gray in this entryway:
Its coordinating colors include Dove, Dandelion Wish, and Intrigue. And this almost all-white kitchen stands out because of how it combines browns and blacks with Whisper White:
7. Sleek White OR-W15
Warm white with milk-white undertones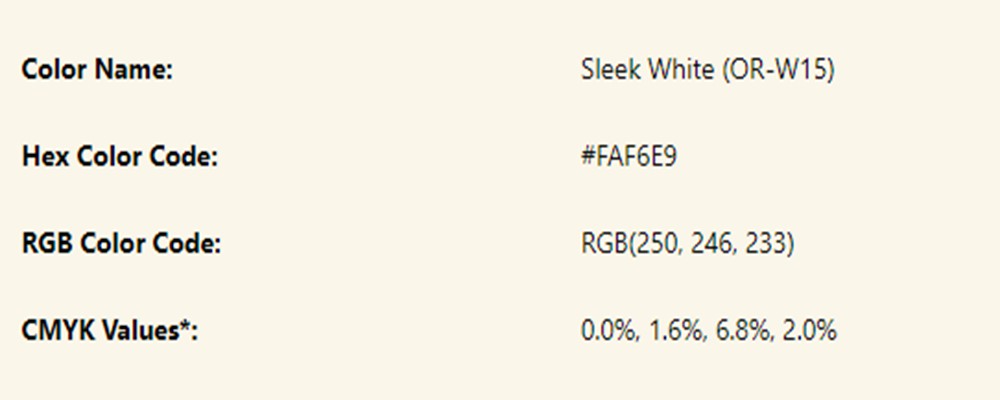 This shade of white paint looks like it is almost a light yellow. Without careful inspection, it may look like a light cream color. However, it has a pretty high LRV of 92, which is as stark as they come. With this value, it is clear that Sleek White is one of the whitest whites on the market.
Nevertheless, the color is not crisp or cold; instead, it is warm and inviting. This is especially true because of the milkiness you can see coming through the surface. This means the white paint color sits well with browns and oranges, as used in this modest bedroom decoration:
Or this vast living room space with different shades of browns and creams:
8. Painter's White PPU18-08
Neutral white with gray undertones
If you want a muted yet slightly warm white paint color from Behr, you should consider Painter's White. It has a warm gray undertone and an LRV f 76, which is pretty low for a white. However, it is still a neutral color because of the gray you can clearly see through all the whiteness.
Painter's White has an RGB balance of 229, 226, and 218 respectively. Because of this balance, the color needs a little boost to look alive. It blends well with vibrant colors, such as orange and peach.
It has many coordinating color palettes, including Polar Bear, Palm Desert, and Decanting. You must note that Painter's White can be cool or warm, depending on the lighting. Therefore, keep this in mind when selecting colors to match with it, especially if there is a lot of lighting.
9. Silky White PPU7-12
Shell white with neutral undertones
Just as the name suggests, this white paint color is silky and may look satiny on any surface. The look and feel of the color will depend on the lighting or the time of the day. Under a certain light, it looks warm with creamy undertones, but the paint is typically neutral.
It has an LRV of 83 and an RGB color balance of R 238 G 235 B 226. Interestingly, Silky White blends well with pastel colors like Behr's Helium and Light Granite. Did we tell you it works well in kitchens? Well, here you go:
And exteriors of a house, if you use darker colors to complement it:
10. Bakery Box BL-W09
Cool white with blue undertones
Although cool and crisp-looking, Bakery Box is soft and clean. It brings beauty and delight to any room, especially with the right afternoon light. The white paint has an LRV of 90, and its RGB is R 240 G 244, and B 242.
Want to work it into your living space? Try mixing up the colors in your kitchen like this one and see how it comes out. Bakery Box blends with so many vibrant colors, it is amazing.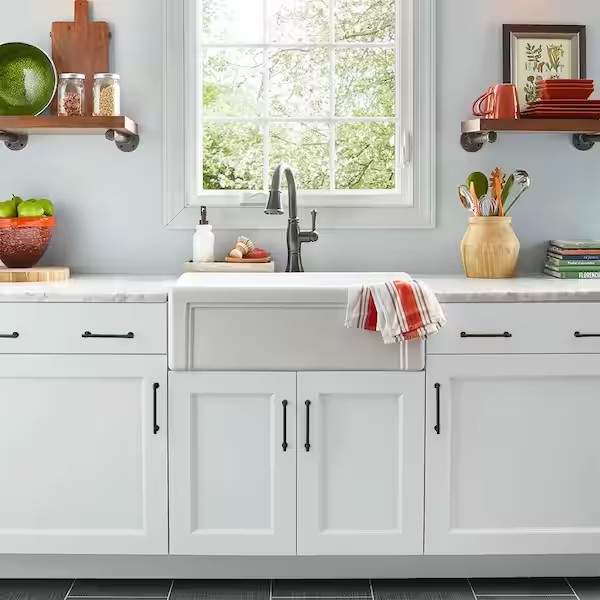 Or consider this delightful mixture of Bakery Box and other soft colors:
11. Frost 57
Cool white with neutral undertones
Ok, we said Frost has neutral undertones, but this paint color is intriguingly complex. But before we get into that, we would like to point out that Frost is truly cool but not icy. Therefore, it is an excellent choice for small spaces because it gives the impression of expanding the room.
With an RGB color balance of R 239 G 240, and B 236, and an LRV of 87, you can see why this paint is called a neutral white. However, when held close to your face or side by side with some colors, it may give hints of green-blue.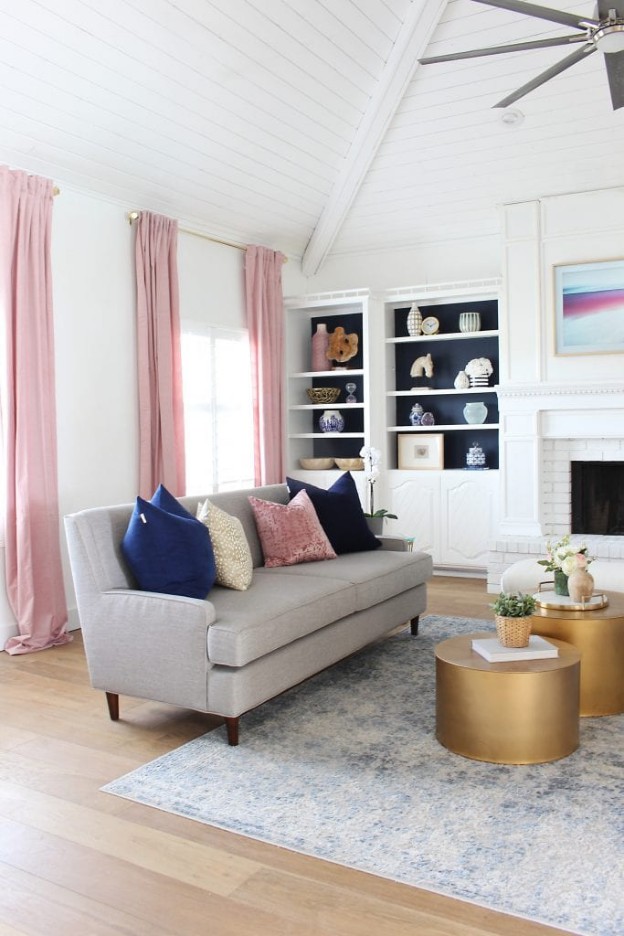 12. Polar Bear 75
Warm white with peachy undertones
It comes off as white, but Polar Bear white paint color has a peachy or yellowish undertone, depending on the lighting. A few times, the undertones come off as a soft pink, but this is rare. It has an LRV of 90, which is high, and an RGB balance of R 245, G 244, and B 236.
This paint is perfect for your porch or any other exterior walls, as you can see in this beautiful entrance:
Polar Bear has coordinating colors ranging from Off-White and Green Charm to Funny Face. It is also a good choice for rooms inside your house, especially if you want some warmth without too much color:
13. Whipped Cream DC-001
Cool white with blue-gray undertones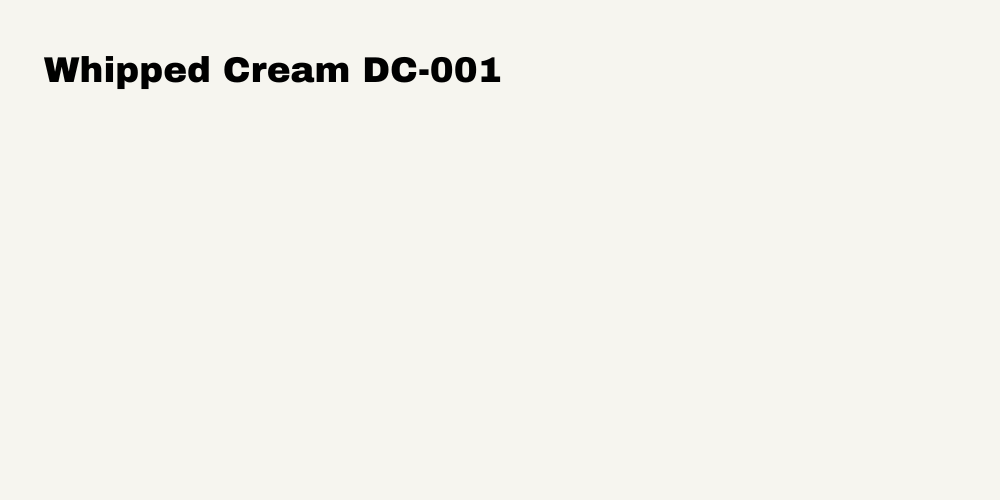 Whipped Cream creates a natural balance of purples and blues because of its undertones that hint at blues and grays. It is spectacular for neutral tones since its undertones become more obvious.
But while it is clearly highlighted by these colors, the white paint color is not overwhelming. Instead, it adds character to any room, especially when paired with the appropriate colors. See how it stands out against neutrals in this sitting room:
It has an LRV of 91 and an RGB color balance of R 246, G 245, and B 239. This means it can work well with warm and cool colors. Consider matching it with some of its coordinating colors, such as Whitened Sage, Morning Zen, and New House White. Or check out this well-lit study for color inspirations when using Whipped Cream: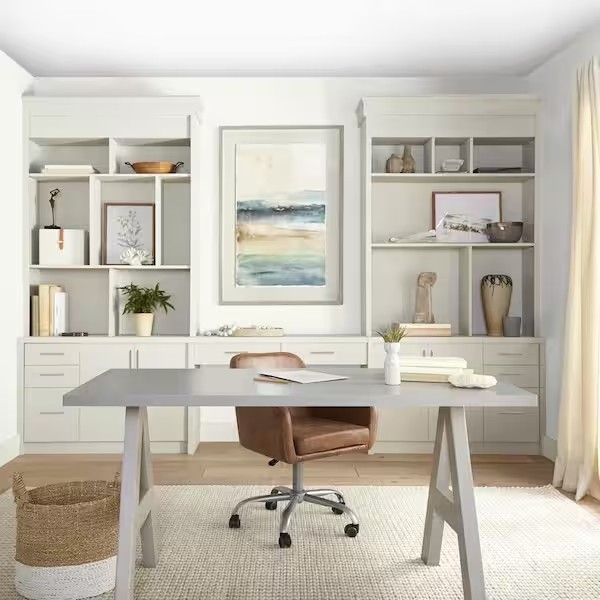 14. Bit of Sugar PR-W14
Neutral white paint with hints of silvery-gray undertones
If you are looking for a completely neutral white paint color, consider Bit of Sugar. It is right in the middle of the balance, not warm or cool. This may have something to do with its silvery-gray undertones, but the rest of the decor will determine the side toward which it leans.
Bit of Sugar has an LRV of 89 and an RGB balance of R 244, G 242, and B 236. Check out the contrast between these rooms painted with Bit of Sugar vs Polar Bear, but with different lighting. Bit of Sugar is to the left:
Bit of Sugar has different coordinated colors, including Dune Grass, Fresh Brew, and Moxie. See how it fits soft and bright colors in the same room:
15. Smoky White BWC-13
Warm white with dusty undertones
You may not know it, but Behr's Smoky White is one of the favorites for 2023. There is a reason it is called smoky; place it beside a patch of Ultra Pure White, and you will notice a stark difference. The paint looks warm and creamy, with a hint of dustiness that adds color to it.
It is best for cabinets, walls, and trim. However, your style may differ from the rest, so use it wherever works for you. It has an LRV of 78, which is pretty low, and an RGB balance of R 233, G 228, and B 218. In this living room, it looks almost cream, but you see its contrast against pale blue.
It has different coordinated color palettes, including Biking Trail, White Veil, and White Lavender. Now, compare it to the exterior of this house with dark window trims to see that Smoky White can also be used on the exterior of a house:
Conclusion
Choosing the most suitable Behr white paint color depends on your specific needs. While options such as Swiss Coffee and Blank Canvass are some of the most popular ones, consider how well they will fit in with the already-existing decor.
You also have other options, such as Cameo White, Ultra Pure White, Smoky White, and Polar Bear. our list provides excellent options, so you are sure to find what you need. If you have ever used any of Behr's white paint for the interior or exterior of your house, we would love to share your thoughts in the comments section.