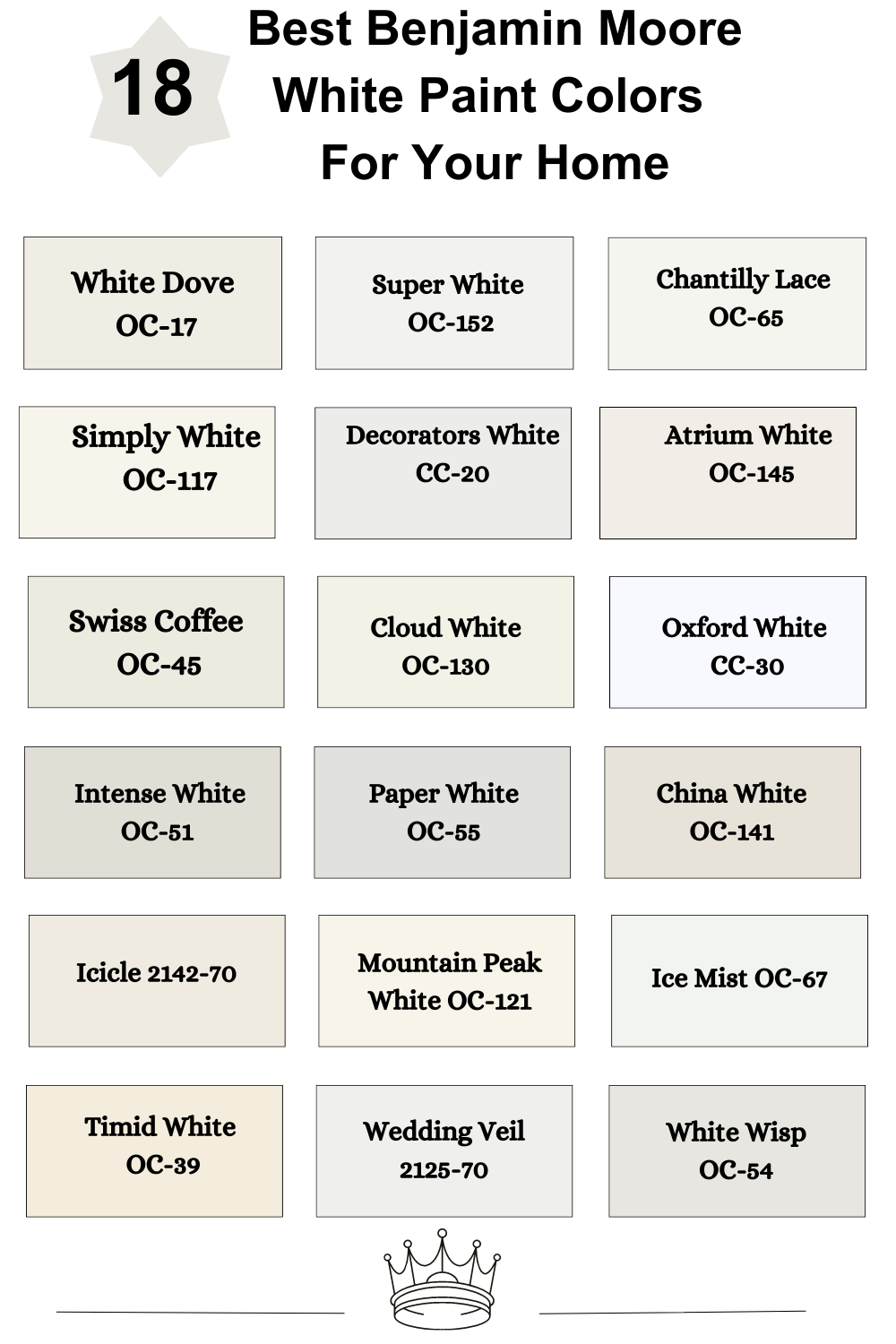 Everywhere you turn the color white stares at you. More than eighty percent of your phone's screen is white as you read this article. White is beautiful, and Benjamin Moore makes some of the best white paints in the country.
The color white is as diverse as any other color. This means the white paint on your living room wall isn't exactly the same shade as the one on your phone screen. The white on your tabletop, the one that trims the corners of your kitchen cabinet are shades of white. You have seen a plethora of whites in books.
Now it's your turn to paint your home and you need the almighty white to paint. You are at the paint dealership before you are samples. Which will you choose? We will present the 18 best white paints from Benjamin Moore.
How Light Makes It Whiter Or Less White
You must know the truth about all colors. All colors become brighter or less so, they throw up undertones, depending on the light that is falling on the color. Also, surrounding features that are close to the wall influence the appearance of the color too. Basically, this is what it means for your white color:
Objects like trees and green leaves will make the white wall have a green undertone.
If the wall is facing north, then the light that will be hitting it all day isn't direct sunlight. Consequently, the white color would be dull.
Conversely, if your wall is facing the south, the white color would be warmer and more appealing to the eyes.
And you can influence the appearance of the radiance of your white paint by installing electric bulbs that give off warmer light.
The 18 Best Benjamin Moore White Paints.
1. Benjamin Moore White Dove OC-17
| | |
| --- | --- |
| RGB | 240, 237, 228 |
| HEX | #F0EDE4 |
If you need a warm white color for your room, the Benjamin Moore Dove is the color to go for. It is not exactly a bright white like some of the other white Benjamin Moore on this list. That is why the LRV of Dove is around 83.16, which brings it as close as it can get to pure white.
And what is the undertone of Dove OC-17? Well, it has a yellow undertone with a creamy tinge to it. This means you won't look at your wall and see yellow. You'd see white, but you will sense the yellowish feel somewhere in there. There is a slight neutral feel to the Dove. It allows it to accommodate other colors perfectly. So it can be used in rooms, living rooms, showers, and kitchens. It can be on the wall, or be painted on the borders of your window and the ceiling.
2. Benjamin Moore Super White OC-152
| | |
| --- | --- |
| RGB | 242 243 239 |
| HEX | #F2F3EF |
This white color from Benjamin Moore takes the whiteness closer to the whiter side of the spectrum with an LRV of 89.09. This is a cool white that suits places like the hallway that leads up the stairs. Like Dove, the Super White has a yellow undertone. Because the super white is whiter than Dove you can actually have it on walls that are facing virtually every direction. However, the best lighting for Super White is the one coming in when the wall faces west.
Another way to make the brightness of super white show up significantly is by using it as trim on sidings and around windows amidst other warmer colors like Benjamin Moore's Chelsea Gray.  Of course, it's your house so you can go ahead and ditch the idea of having other warmer colors. Just paint the whole attic with the Super White.
3. Benjamin Moore Chantilly Lace OC-65
| | |
| --- | --- |
| RGB | 245 245 239 |
| HEX | #F5F5EF |
Chantilly Lace has an LRV of 90.04, which means this is one of the whitest white paints you can ever use. If you don't fancy undertones much, this paint comes without almost none. One thing though you should be ready for because the Chantilly Lace is so white, it mirrors other colors. It is advisable to use this white paint in the house rather than on exterior walls.
If the wall is facing north, Chantilly Lace will assume a grayish hue during the day which is cool if it's in your study. It would make a soothing aura for you. In a south-facing wall, you'll experience a warmth that catches your eyes and makes you want to stare at it. If this is a living room, it would make a lot of decor sense to hang up a painting here as the warmth would make the contrast more obvious.
The Chantilly Lace accommodates other colors well but remember that this white is not soft to the eyes like the other whites we've mentioned here.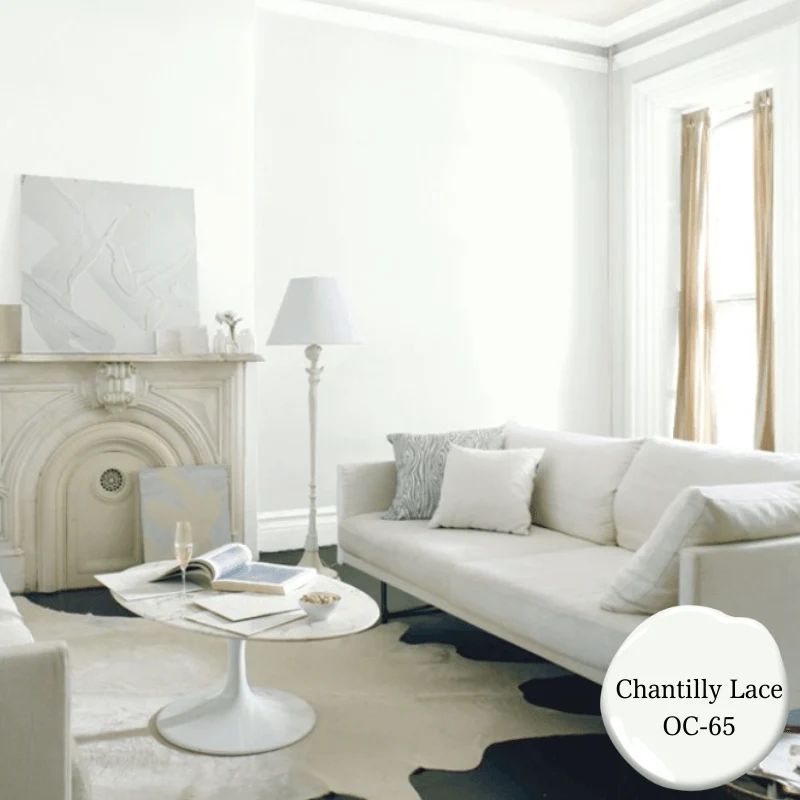 4. Benjamin Moore Simply White OC-117
| | |
| --- | --- |
| RGB | 247 244 235 |
| HEX | #F7F4EB |
The Simply White from Benjamin Moore takes the whiteness down a notch to bring you the yellow undertone, if you are into undertones, that is. This white paint has an LRV of 89.52. You can think of Simply White as the type of white you see in marble tops. The whiteness doesn't assault you with its warmth. This is what makes the Simply White ideal for kitchens.
Painting your cabinets with these white tones things down if you have other sharper colors in there. And where it's the only warm color in the kitchen, you can still enjoy its unobtrusive presence.
Avoid painting Simply White on walls where there's green, blue, or violet. These colors are capable of mirroring the white paint.
5. Benjamin Moore Decorators White CC-20
| | |
| --- | --- |
| RGB | 236 237 234 |
| HEX | #ECEDEA |
This cool white paint has an LRV of 82.68. This white paint has a gray undertone. To get the most beauty out of the Decorators White, it's best not to paint it alongside other whiter colors. Doing this makes the gray and violet undertone more obvious. This white is best used when you don't want to have too much white in the space so target places like bedrooms and maybe living rooms, depending on your preference.
Warmer white paints are best for trims. Decorators White isn't that paint for trims. It is too cool for painting window borders too. But you could use this white for the borders of doors that have been painted with deeper colors like charcoal gray or black. Decorators White would complement the other colors well in these circumstances.
6. Benjamin Atrium White OC-145
| | |
| --- | --- |
| RGB | 242 238 231 |
| HEX | #F2EEE7 |
If you have been thinking of the best white for your daughter's room, this is it. The Atrium White has an LRV of 87.04 and gives off a pink undertone. See why it's a great option for a young lady's room? If you love pink, this white paint is the best for you. On the flip side, you may not want all that pink at all, in that case, avoid using the Atrium White in surroundings where there are pink colors
Atrium White makes it to this list because it proves that even white paint can be pretty. The pinkness isn't so obvious when Atrium White is not in the midst of other white paints. To get the most out of this white paint, use it in a room where there is a mix of White and pink.
7. Benjamin Moore Swiss Coffee OC-45
| | |
| --- | --- |
| RGB | 237 234 224 |
| HEX |  #EDEAE0 |
With an LRV of 82.91, the Swiss Coffee OC-45 is almost the same as Dove White OC-17. What makes this white paint one of the best for you is its ability to fit into any light exposure, northern or southern. The Swiss Coffee OC-45 is the type of white paint you need for when you don't want too much watch but at the same time don't want too much cool. It is a white paint that balances the room with its passivity.
Avoid using Swiss Coffee on exterior walls where there are green trees and leaves because it is fond of mirroring green in its undertone. Also, you can use Swiss Coffee in kitchens provided the colors there don't include taupe or pink. Somehow Swiss Coffee is able to interact with these other colors causing confusing scenery.
8. Benjamin Moore Cloud White OC-130
| | |
| --- | --- |
| RGB | 243, 242, 231 |
| HEX | #F3F2E7 |
With an LRV of 85.05, Cloud White is one of the best white paints on this list for your trims and cupboards. This paint goes well with warm colors and earthy tones in the kitchen and living room. This white would be great to see in feature places in the living room like the fireplace. Think gray or pink depth and trim of Cloud White.
Note that this is definitely a warm, versatile white that works everywhere in your house. Earthy tones will bring out the warm tones in this white and it doesn't mirror much of the other colors around it. Users have reported a yellow undertone, especially where the light is cool, like in studies or hallways where natural light is scarce.
9. Benjamin Moore Oxford White CC-30
| | |
| --- | --- |
| RGB | 240 241 234 |
| HEX | #F0F1EA |
This white hovers between Benjamin Moore's Chantilly Lace and Decorators White. So if you can't find either of those two, go for this. If you need a versatile white paint solid enough to pair with most colors, it is Oxford White. It has been described as a classic white paint, which is why we suspect it's called Oxford.
Also, there is something present and modern about this white paint which is not present in the other white paints in its caliber. It has a reputation for brightening a room up. It is clean with a fresh aura to it. The Oxford White has an LRV of 88.69 so you know you will get real brilliance in this white paint. Oxford White can be a good trim for stairways. And with its undertone of green, it would complement gray paints that share the same undertone.
10. Benjamin Moore Intense White OC-51
| | |
| --- | --- |
| RGB | 225 222 213 |
| HEX | #E1DED5 |
The Intense White from Benjamin Moore is off-white with an LRV of 73. Intense White is not the most white on this list, and it's here because it is a white paint that's capable of making everything gorgeous when it is used along with its complementary colors.
This painting has an undertone like gray and light green. You can begin to imagine how these undertones play on the eyes when this paint is paired with deeper colors of gray as a trim.
For this reason, you can actually use the Intense White alongside other whiter Benjamin Moore paints. If you want to get the green undertone going more fully, pair this off-white paint with warm colors in a room.
11. Benjamin Moore Paper White OC-55
| | |
| --- | --- |
| RGB | 225 225 221 |
| HEX | #E1E1DD |
You will love paperwhite for its sophistication. It is the quintessential white paint because its gray undertone is just enough to show up only when you think about it. If you want a room with a calm, cool aura in it, this Benjamin Moore white paint is what you should go for.
It doesn't matter what type of light is coming, the Paper White OC-55 will maintain a neutral edge and give you a balance between gray and white that will both refresh and impress your optical senses.
Paper White has a versatility that allows it to stand alone in places like bathrooms, dining rooms, and even in certain light conditions, in living rooms where you yearn for a neutral beauty.
Benjamin Moore Paper White is also able to abide with all other colors, just like most white colors. But the thing about Paper White is, it compliments almost all other warm colors without interfering with their warmness.
Paper White is the white paint that can be complimented by a brighter white paint in the closest proximities. For example, Paper White can be used in a bathroom with white trims in the windows.
View this post on Instagram
12. Benjamin Moore China White OC-141
| | |
| --- | --- |
| RGB | 232 227 216 |
| HEX | #E8E3D8 |
This white paint was formerly known as the China White PM-20. It belongs among Benjamin Moore's off-white collection of paints. This is a dynamic white paint that can be used to set the desired mood you want in a place with complimentary colors. It has a definite gray undertone that can't be missed. We like to call this white paint, a color helper. This means other colors are enhanced when they are around the Benjamin Moore China White OC-141.
The China White has an LRV of 77.95 giving it the slightest cool appearance when used in the background for doors that are painted in very dark colors. It can be used as a trim too where there are no other whiter paints than the China White.
13. Benjamin Moore Icicle 2142-70
| | |
| --- | --- |
| RGB | 239 235 225 |
| HEX | #EFEBE1 |
This is an off-white color with an LRV of 82, which in our own opinion gives it brightness enough for it to stand alone in a room with warm lighting. But watch it, in north-facing rooms, this off-white paint will give off a subdued green and gray undertone. In south-facing rooms, it would be just as white and airy as other brighter whites.
Yet, this doesn't mean when you use this paint, it will show green or gray directly. If you have the eyes for colors as some people have for music, you will detect this grayish or greenish undertone when the right or wrong light lands on the wall. You can use this white on walls in most living rooms and kitchens.
Where the light is warm enough, the icicle will be bright enough to serve as the trim for your doors or cupboards. And where you want your small bedroom to have a bigger feel to it, this paint can come in helpful.
14. Benjamin Moore Mountain Peak White OC-121
| | |
| --- | --- |
| RGB | 248 244 233 |
| HEX | #F8F4E9 |
This white paint is one of the crispy ones on this list with an LRV of 88.64, yet it is part of Benjamin Moore's off-white collection. It is a dynamic white paint that can be relied upon to be versatile when you need it to be. It can be matched with the Ballet White, the Dorset Gold, the Gray Mist, and Wild Orchid. Mountain Peak White is similar to Cloud White.
Use the Mountain Peak White for rooms that face east and north for the best results as the lighting here will give tinges of warm undertones. The Mountain Peak White is also great for trimming your cupboards and doors where there are darker grays around. It also sets off the beauty of doors painted with very dark grays.
15. Benjamin Moore Ice Mist OC-67
| | |
| --- | --- |
| RGB | 242 244 239 |
| HEX | #F2F4EF |
The Ice Mist OC-67 is another tranquil, dynamic white paint from Benjamin Moore. It is one of the most versatile from the company because it can be used in any room and doesn't let you down in most lighting conditions. It is part of two collections from Benjamin Moore: the Colors and Off-white Collection.
If you are looking for white paint that lights up all by itself even in a poor light while giving off that distinct icy, bright blue undertones, this is it. The Benjamin Moore Ice Mist OC-67 has an LRV of 88.84. With that percentage of light reflectiveness, you have the perfect off-white for all rooms and the kitchen. This off-white also pairs perfectly with other darker colors. It matches with the Super White, the Chantilly Lace, the Constellation, and the Aegean Till.
16. Benjamin Moore Timid White OC-39
| | |
| --- | --- |
| RGB | 244 236 220 |
| HEX | #F4ECDC |
If you need to compliment other shades of gray in your room or kitchen, the Timid White from Benjamin Moore is the right white paint. The Benjamin Moore Timid White OC-39 gives off the exact creamy tones to set off the rest of the aura in your rooms. It has the exact LRV to accomplish this—82.45. Since the white in this painting has shades of gray it belongs among the off-white collection from Benjamin Moore.
This white paint matches well with Gentle Cream and Ashwood Moss. It also matches well with the Sharkskin Gray and Monroe Bisque.
The Timid White is also a versatile white because, given the right light, it can also have undertones of lavender, or lilac gray. It can also throw up yellow undertones.
17. Benjamin Moore Wedding Veil 2125-70
| | |
| --- | --- |
| RGB | 239 240 237 |
| HEX | #EFF0ED |
Benjamin Moore's Wedding Veil 2125-70 is a superlative preference for indoor spaces, predominantly those that are basked in ample natural illumination. This white paint has a perplexing intricacy, ascertained by its perplexity rating. Its intricate nature, coupled with an LRV of 84.44, causes it to reflect a vast magnitude of light, rendering it an optimal preference for invigorating and creating a refreshing, breezy ambiance.
What distinguishes Wedding Veil from other white paints is its obscure undertones. This color has an icy, pristine, and elegant tone that conveys a sense of refreshment and sophistication. Moreover, it encompasses a suggestion of blue and gray undertones that turn more conspicuous as the light intensifies on the paint. This perplexing interplay of color engenders profundity and dimension in a room, making it appear more fascinating and visually captivating.
18. Benjamin Moore White Wisp OC-54
| | |
| --- | --- |
| RGB | 231 230 224 |
| HEX | #E7E6E0 |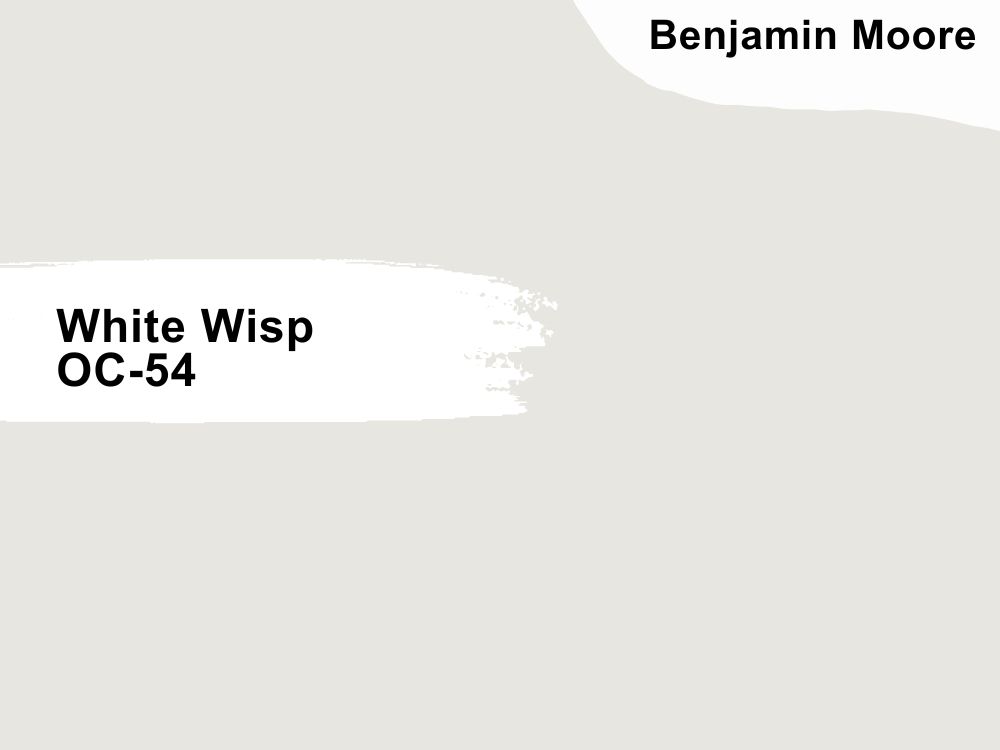 This white paint has an LRV of 78.4 but still lights up a room refreshingly well. It belongs in the Off-white and Vinyl Collections from Benjamin Moore. In south and west-facing walls this white paint would give off gray undertones. The White Wisp will match well with soft gray colors and other warm white colors.
The White Wisp can also give off a blue undertone when paired with much whiter paints. And also when paired with Coventry Gray and Hale Navy respectively.
Conclusion
It can be difficult to make a choice of the white paint that best suits your needs. You have to worry about the lighting and colors to pair with.
In this article, we have presented 18 of the best Benjamin Moore white paints. It is recommended that you get a sample of the paint that you like before making a bulk purchase. Also, have a professional check the rooms and places you need to paint first. Then have the person accompany you to make these purchases too if you don't trust your eyes for the right colors.