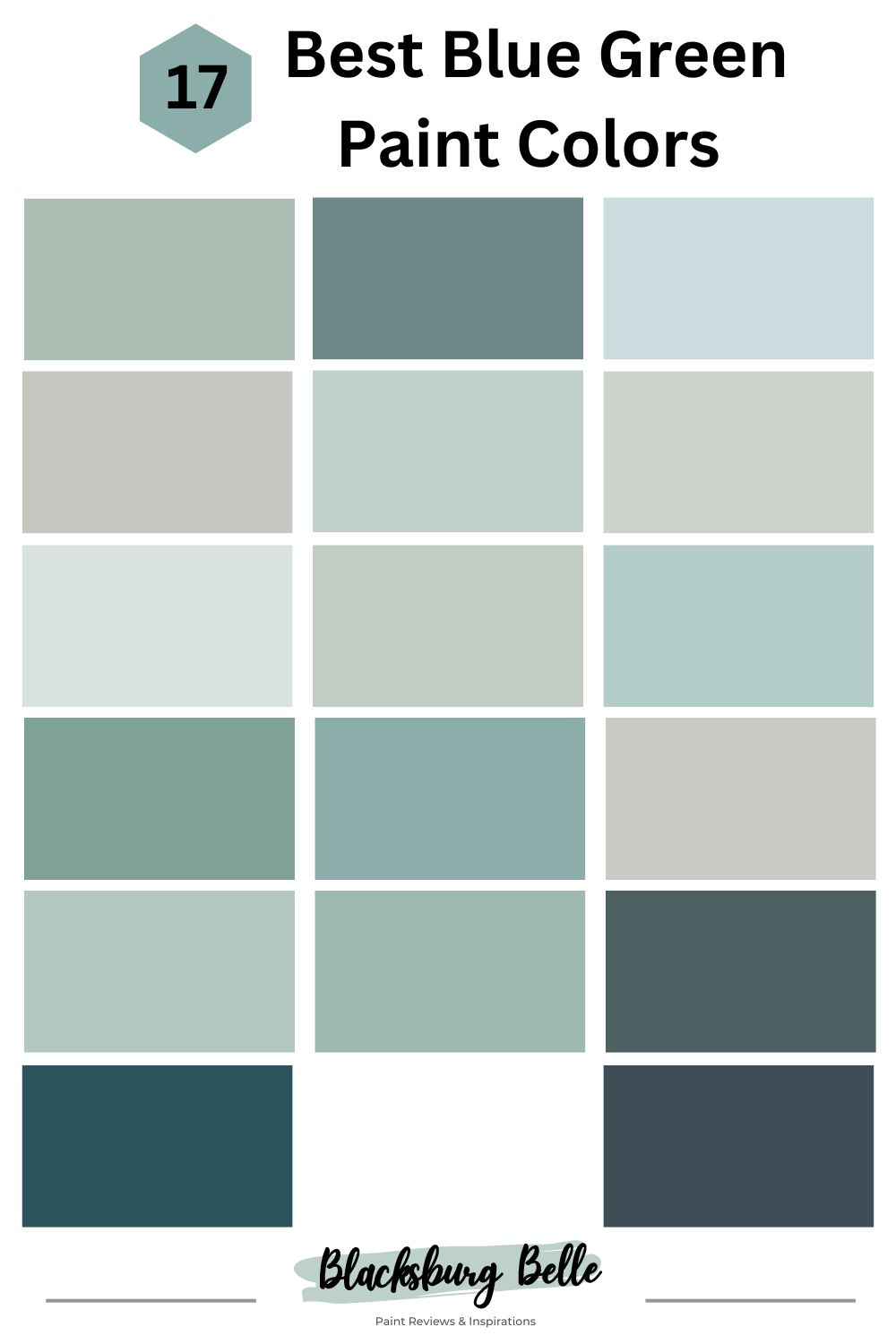 Green and Blue colors go hand in hand, like peanut butter and jelly, and what better way to get the best of both worlds than by having them on the same palette, so much so that when you apply them on your wall, you get a hint of blue or green all at the same time.
Lucky for you, we mean what we say, so we're curating a list of the 17 best blue green paint colors in 2023 for you to virtually experience the magic of blue green and ultimately find the inspiration for your own space.
What is the Blue Green Paint Color?
Blue Green is also regarded as "teal". While both pigments are close and share the same "coolness," their combination births a sharp, earthy, and beach tone- think the clear waters of the Maldives.
The feeling you get from blue green on your wall is nostalgic and would instantly remind you of nature's gentle touch. You must also remember that these blue green hues exist in both light and dark as per their projection and intensities.

Colors That Work Best with Blue Green
Another good news about blue green paints is that they work in both modern and traditional spaces, so you don't ever have to choose when the push comes to shove. However, it's also important to find their complementary shades to prevent a distorted and tasteless outcome.
Blue greens work well with orange and reds- this reason is not far-fetched; orange and green have had a solid relationship since the beginning of time, the same applies to red and blue; plus, it's a classic case of warm + cool color, so it works.
You can also pair your blue greens with neutral ones like gray and white, especially with the darker and bolder variants of blue green paints.
Factors to Consider Before Choosing a Blue Green Paint
Before we dive into the best Blue Green paints of 2023, this article will be incomplete if we don't provide guidelines to help you make an informed and professional decision on picking the best Blue Green paint colors in 2023. Here are some things to consider.
Study The Undertones
Undertones are an integral part of any color; you can hardly find a color without undertones. Simply, it takes blending a few colors before arriving at a certain pigment, so you'll find hints of these shades in the final product.
Taking time to study the undertones of your desired color helps you plan where to use them and, most importantly, how to pair them with other textures.
Consider the Existing Decor
Another very important factor to consider is the existing accessories in your space; except you're ready to dispose of everything and start your space decor afresh, this point doesn't apply to you. If otherwise, you must understand your accessories will dictate the trajectory of your paintwork.
Take Note of the Size of your Space
Due to the strong influence of colors on the appearance of your home, the size must then be duly considered. Here's the gist, colors with light LRV will open up your space as they reflect a great deal of light received from the sun or any artificial source. If it's dark, best believe it'll absorb all the light and make your room appear very intimate; you can almost feel the walls closing in.
So don't get things twisted; if you don't have the luxury of space, stick to the lighter end of the scale, and if you can't let go, you can use it as an accent wall and throw in white trims.
What's The Light Situation
You can get light from the good old sun or all these fancy light sources; either way, they affect the appearance of your paint color. For example, colors used on home exteriors appear very washed out due to the strong feedback from the sun; it looks cooler in the evenings.
The Finish
For this one, it pays to see the end from the beginning. Decide if you want a matte, eggshell, satin, semi-gloss, or high-gloss finish. If you have kids and you've decided to use a bright color- say one of the precious whites, it's best to stick to any of the gloss as they're easier to clean with water without the fear of it coming off
Matte gives a velvety finish, adding that luxurious finish to your paint. We recommend it for living room and dining spaces. Satin has a sheen-like finish, making it more reflective and durable enough to withstand years of dirt and grime as it's easier to clean.

17 Best Blue Green Paint Colors
Here, you'll get familiar with the trending blue green paint colors across different brands in America. Furthermore, you'll learn about their statistics and composition, accompanied by spectacular pictures breaking down how to use and accessorize them.
Benjamin Moore Brand
Benjamin Moore paints are quite renowned for their cutting-edge paints and impeccable finish on home walls- they have over a decade to back up the claims. Here you'll learn about some of their most popular blue greens with real life applications.
1. Wythe Blue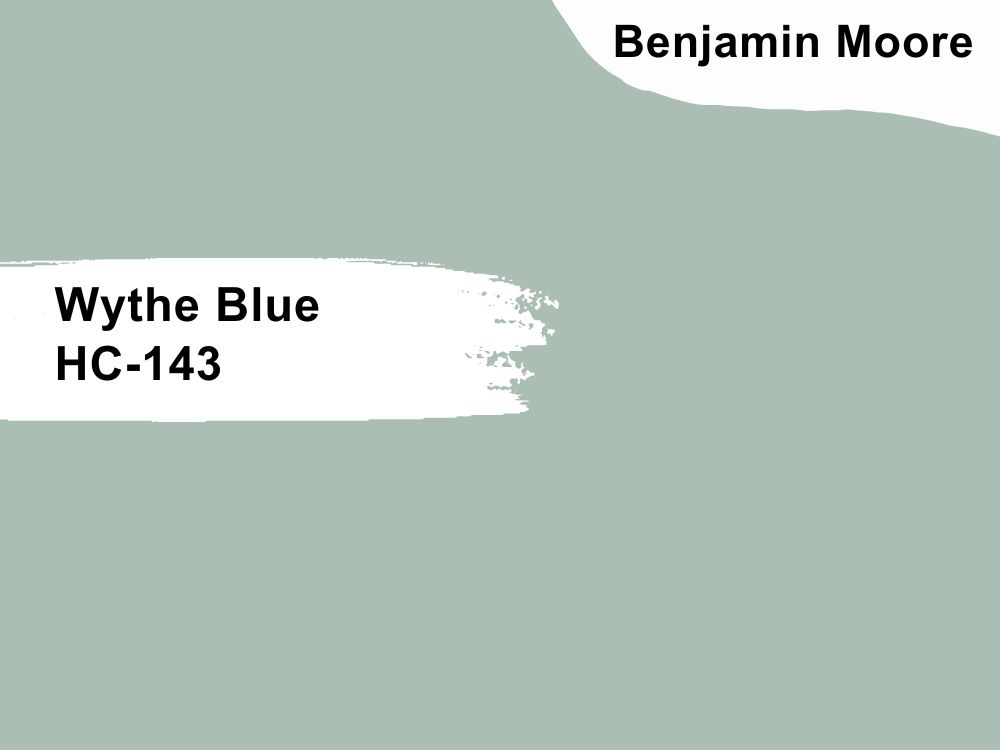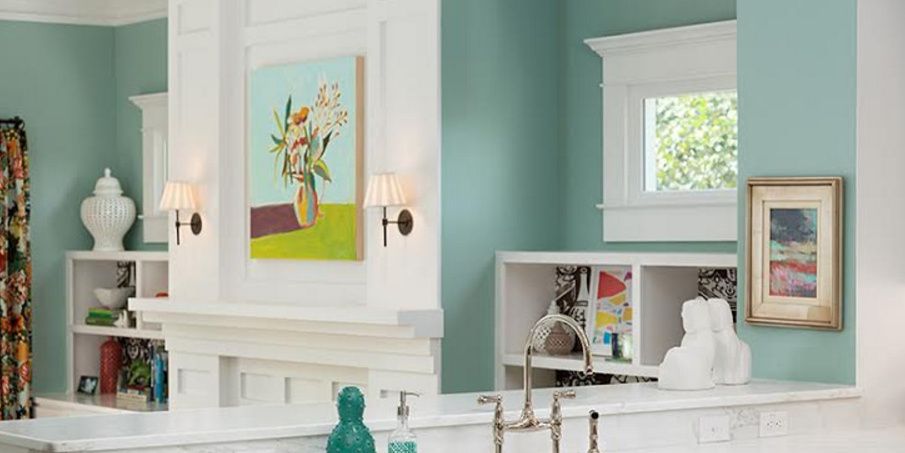 Benjamin Moore Wythe Blue is easy and gentle on the eyes. It's a clean blue green with a cool gray undertone making your space appear calm and, most importantly, balanced as it's neither too warm nor cool plus, its LRV of 48.69 is a big bonus.
Light plays a major role in the appearance of Benjamin Moore's Wythe Blue; there's a high chance that this color will feel very blue, just like the first image. Incorporate white in the mix and watch your color blossom.
You can literally feel the gray pouring out of Benjamin Moore Wythe Blue in the second image; blame this dynamic on depth and the lighting in the space, but we're not complaining. Add light gray and wooden tones for more projection.
2. Aegean Teal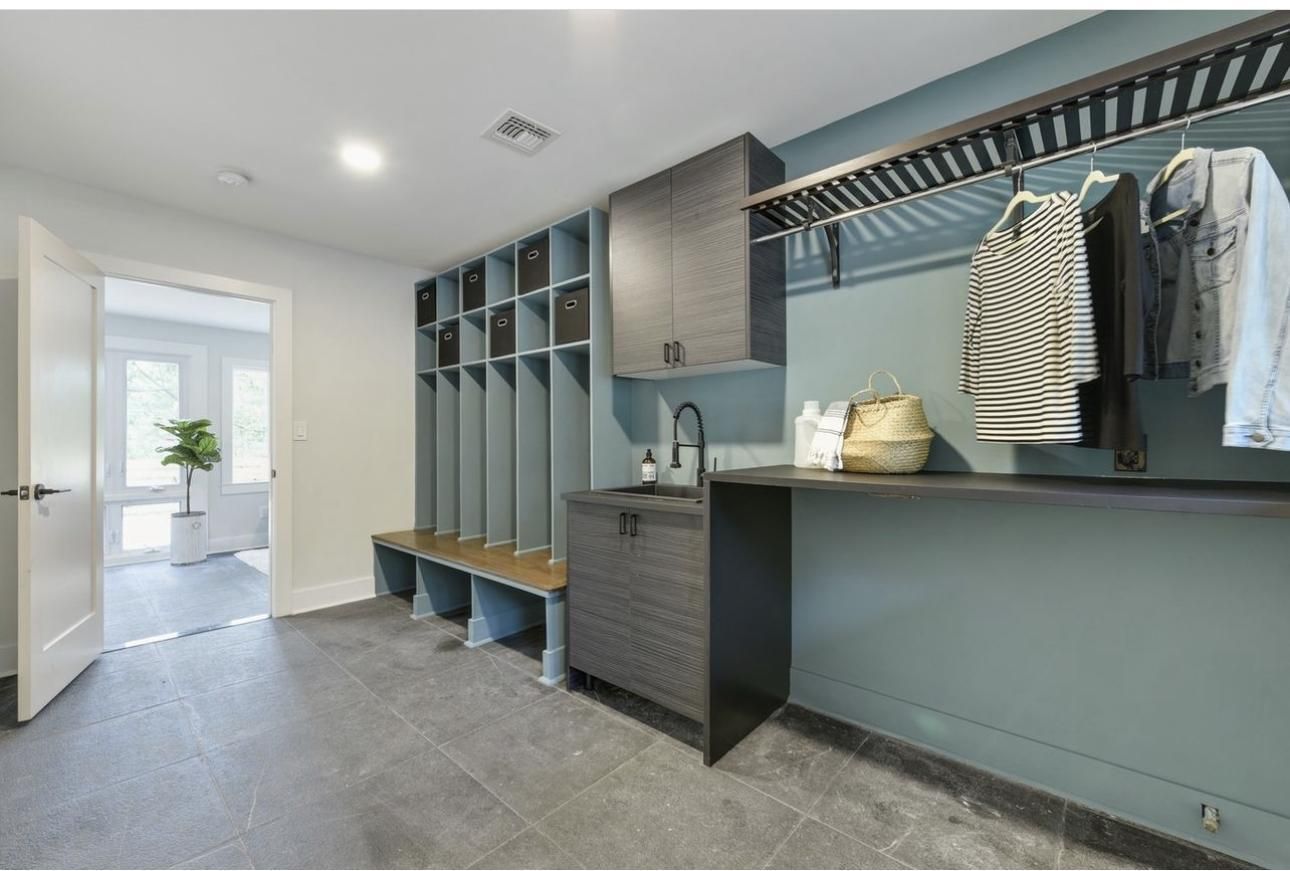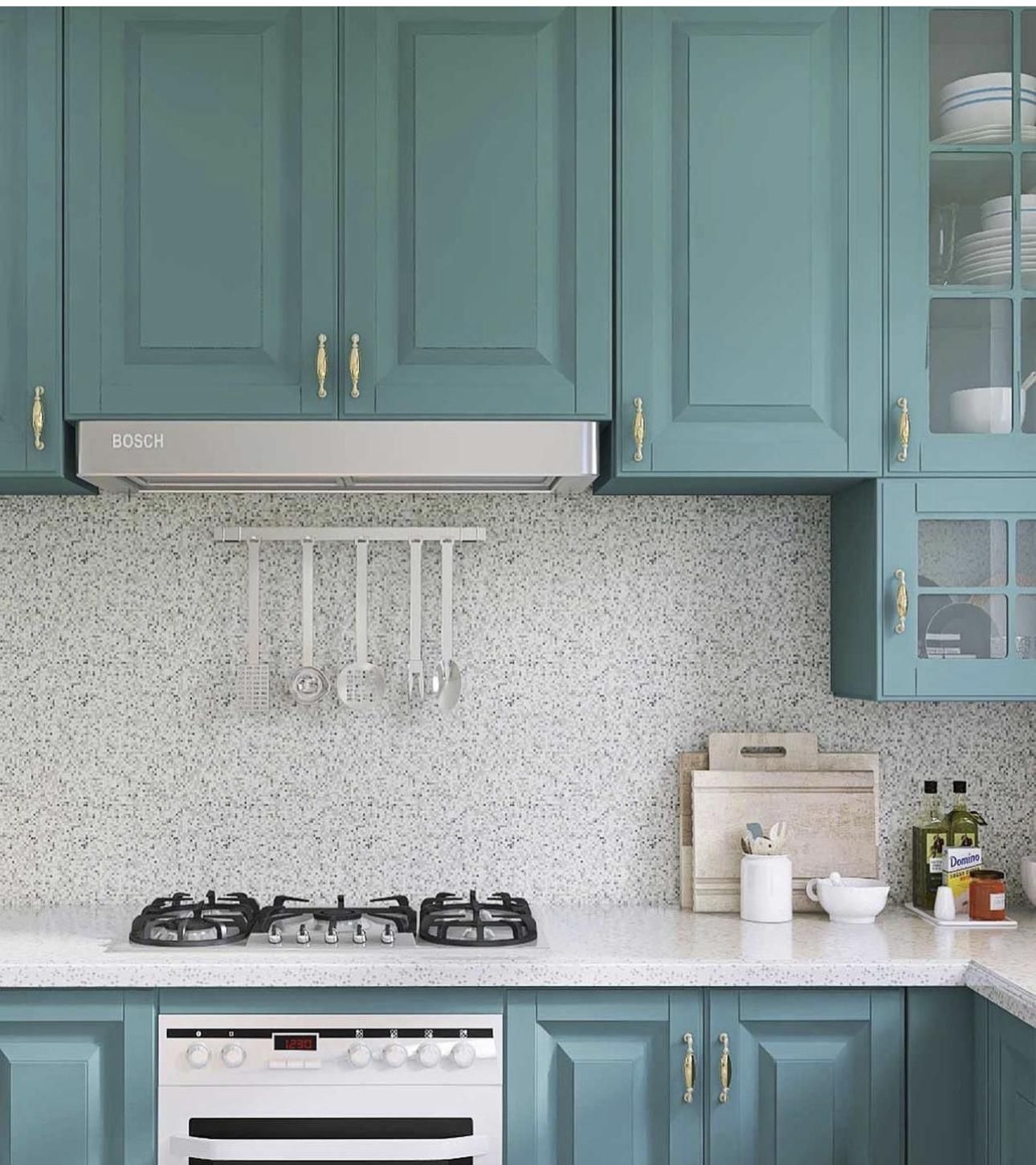 Benjamin Moore Aegean Teal is that blue with cool green and gray undertones that are very pronounced. This color has an LRV of 23.96, which means it's dark. It feels like a cool winter evening filled with haze in this huge walk-in closet built to perfection with an Aegean Teal shelf. The gray flooring and complementary white walls/ceiling create balance.
While light blue greens are not really kitchen colors, you can take the worthy risk and make them work by incorporating more solid and dark tones. We love the creative splash on the wall tiles in the second image as they work perfectly with the blue-looking Aegean Teal, Big shoutout to the gold handles for bringing the needed warmth.
3. Blue Haze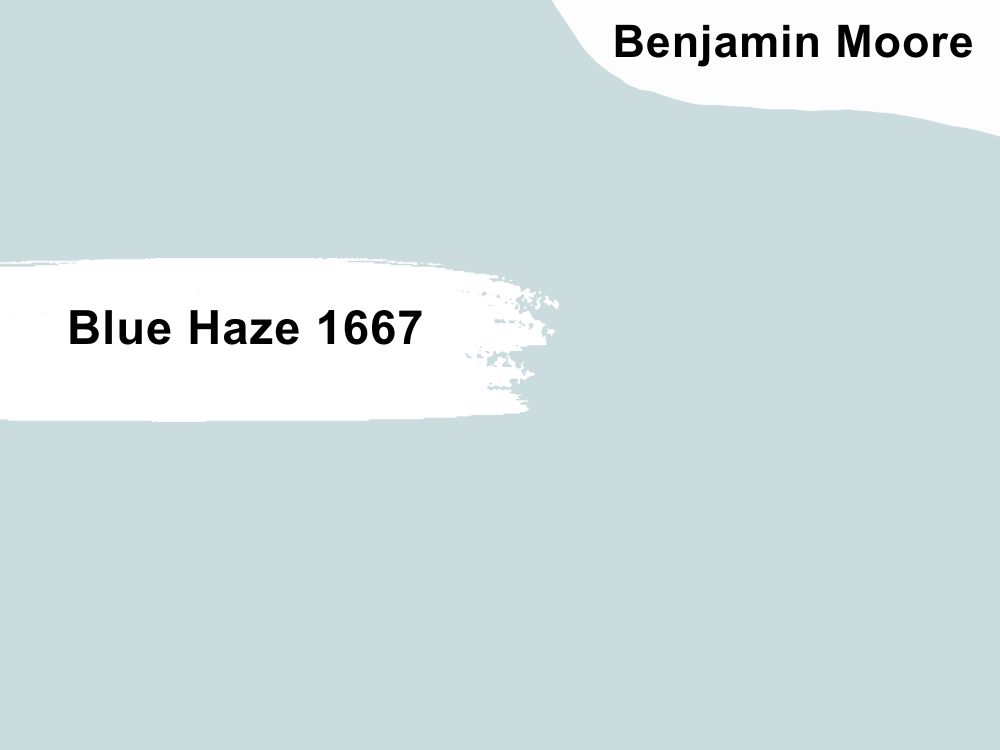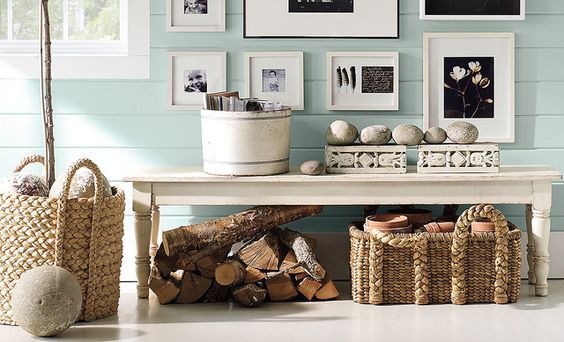 Benjamin Moore Blue Haze is really that girl! This color is a fresh tone of blue with a subtle green undertone that leaves a trail of heavenly bliss and quiet. It has an LRV of 68.59 and reflects light perfectly when used in a space.
This color instantly reminds you of a long lonely walk down the mountainside on a hazy morning with the blue sky as the perfect backdrop. Blue Haze delivers a unique twist when paired with beige, taupe, and creamy whites, like the first image.
This entire space is covered in Blue Haze, and we have no words really! Peep the gray undertones living it up in the second image.
4. Silver Marlin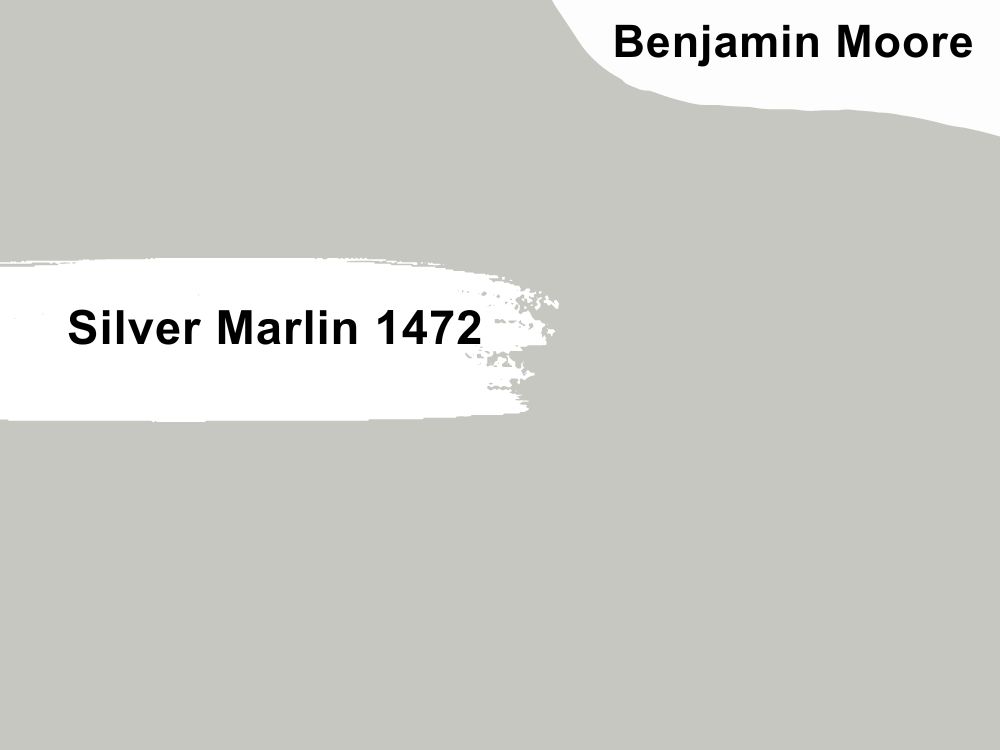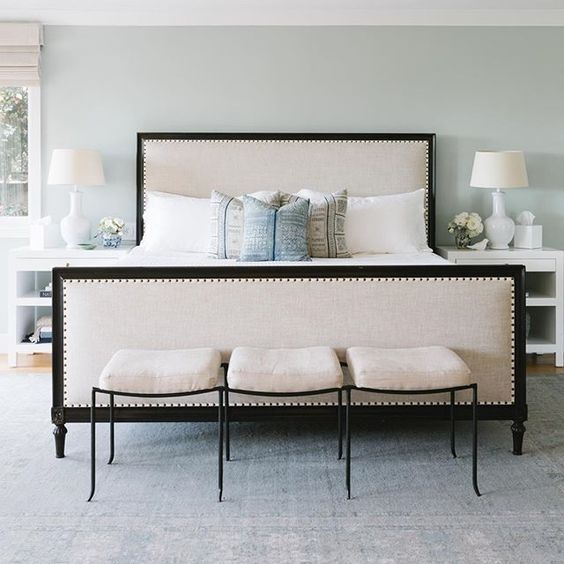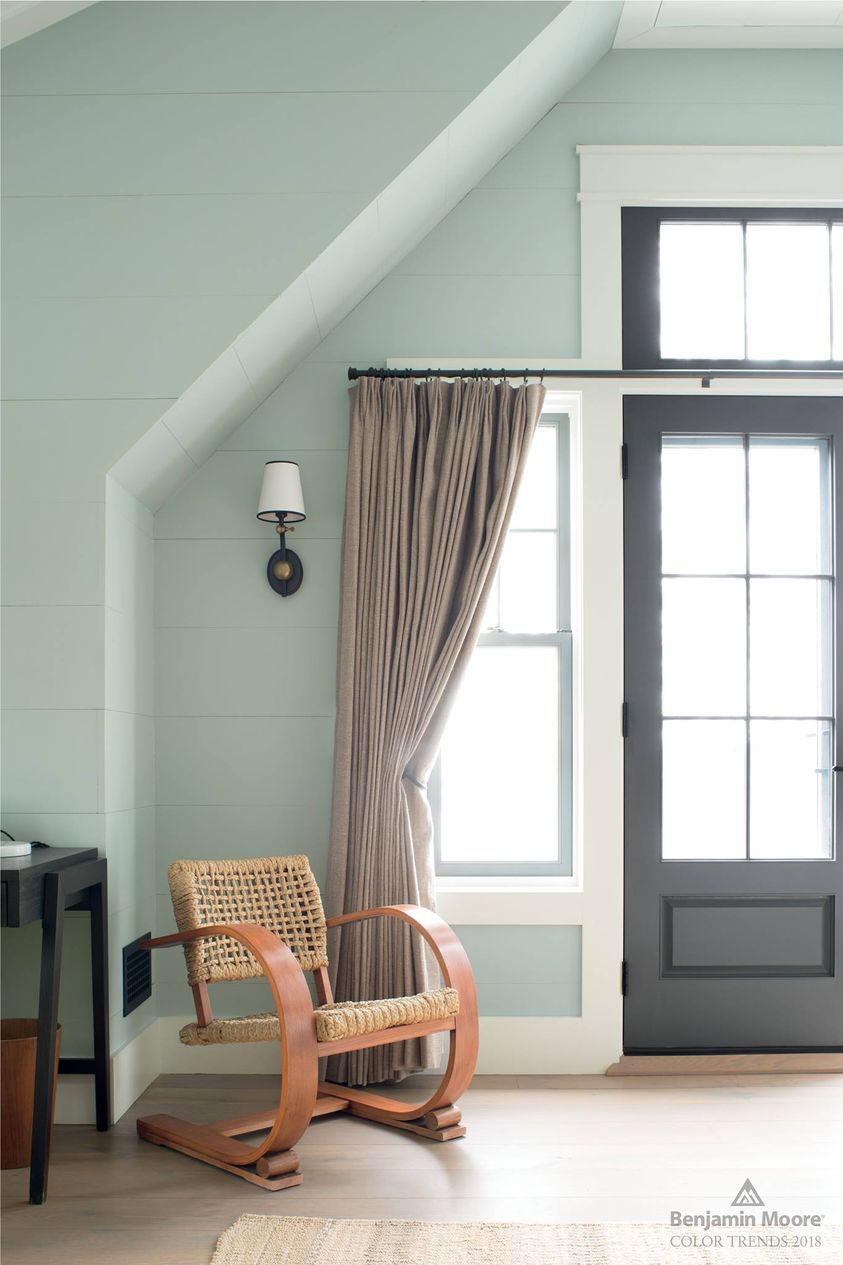 Benjamin Moore Silver Marlin is a blue, green color with gray undertones and an LRV of 55.99. A lovely medium color that works with monochrome themes like the first image. The bed adds all the flair to this gentle color and stands bold.
Kee things on the minimalist side like the second image and pair your Benjamin Moore Silver Marlin wall with gray and wooden tones.
5. Palladian Blue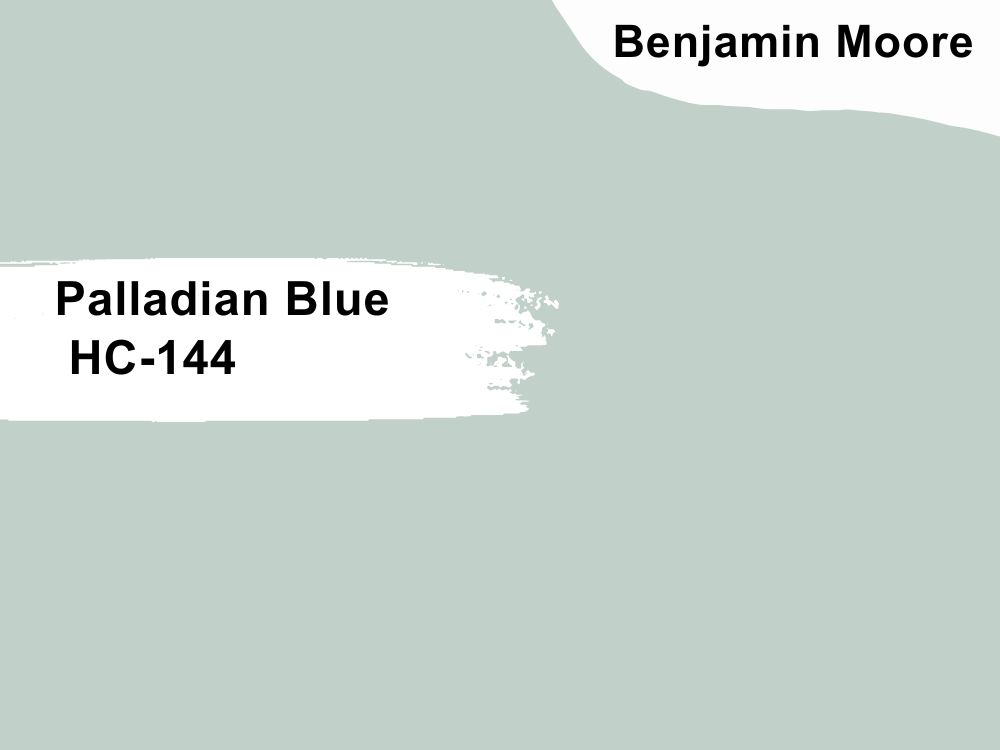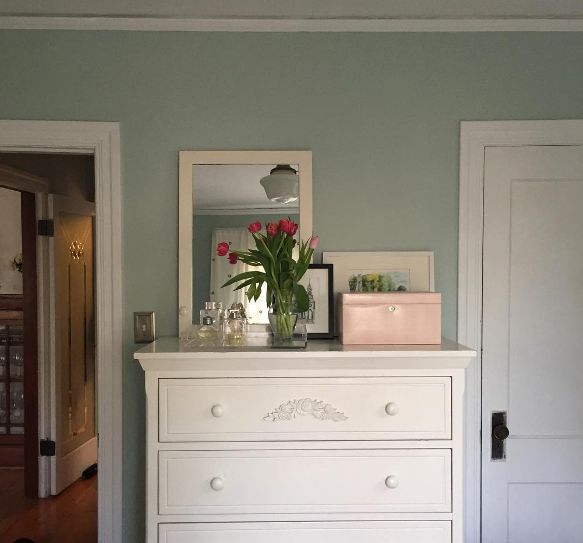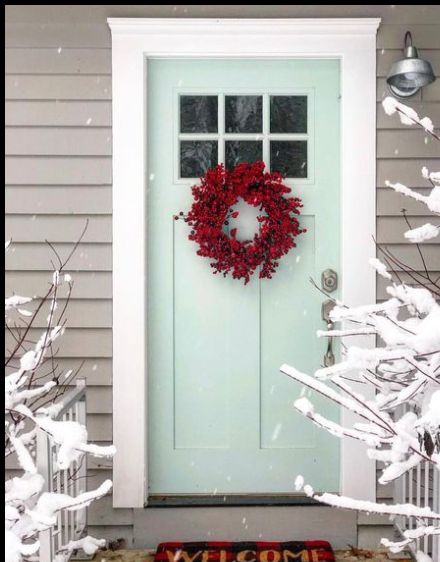 It's only fair that we round things up with this super sweet color that just turns everything around with its blue green. Benjamin Moore Palladian Blue has an LRV of 61.17, which means it is a light color.
Palladian Blue leans very blue in the first image due to the relatively low light it's getting; this color connects deeply with its depth. When used on the exterior, Palladian Blue will appear lighter than it originally is. The decision to pair this bright blue front door with gray walls, white trims, and the big red flowery details just makes total sense.
Sherwin Williams Brand
Expect nothing less than perfection when you use paint from Sherwin Williams. No wonder they're the most expensive on this list, but their impressive color range and durability (up to a decade after application) makes up for their prices.
6. Sea Salt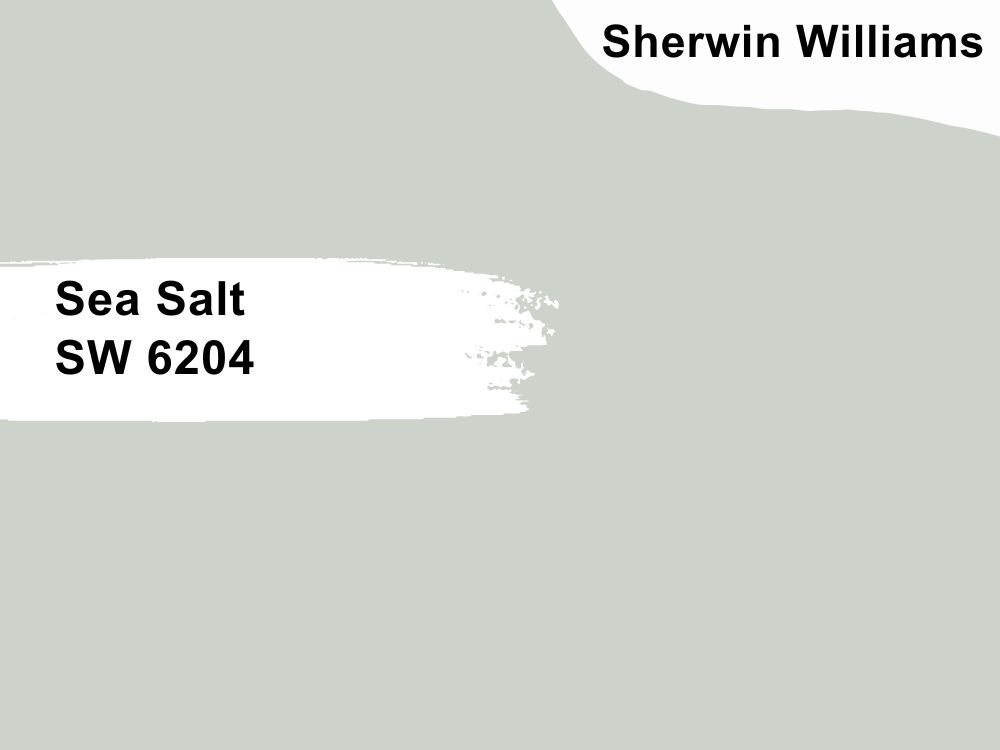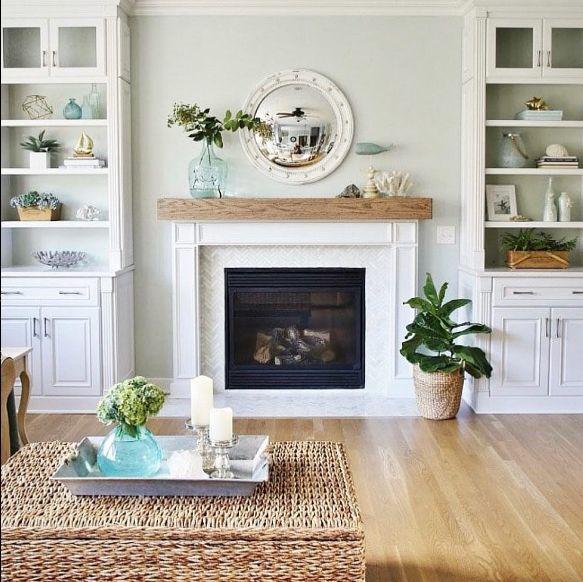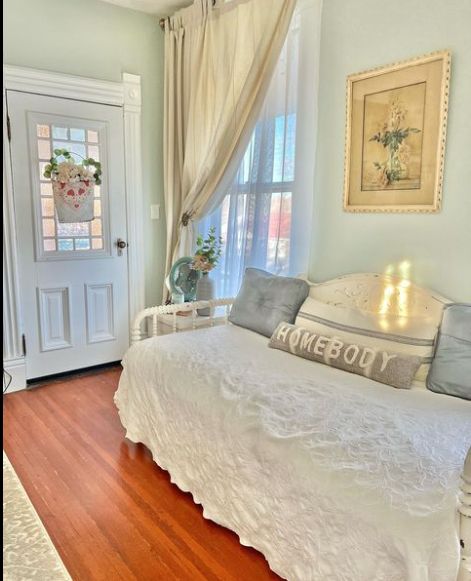 Come rain, come shine; Sherwin Williams Sea Salt is never beating the allegation of being one of the most versatile colors on the market. Quite the veteran, too, this light blue green has an LRV of 64 and undertones of gray and green- in simpler terms, this color is a confluence of gray, green, and blue, which come to the surface depending on the lighting at that time.
Sherwin Williams Sea Salt has us green with envy in the first image, and it works perfectly as an accent wall, diligently flanked by bright white moldings and trims. The black fireplace and green plants are the perfect cherry on top.
Introduce a breath of fresh air into your bedroom with Sherwin Williams Sea Salt as the wall color. In the second image, it looks a bit bluer and grayer as the green flashes a weak wink, but we'll take it.
7. Topsail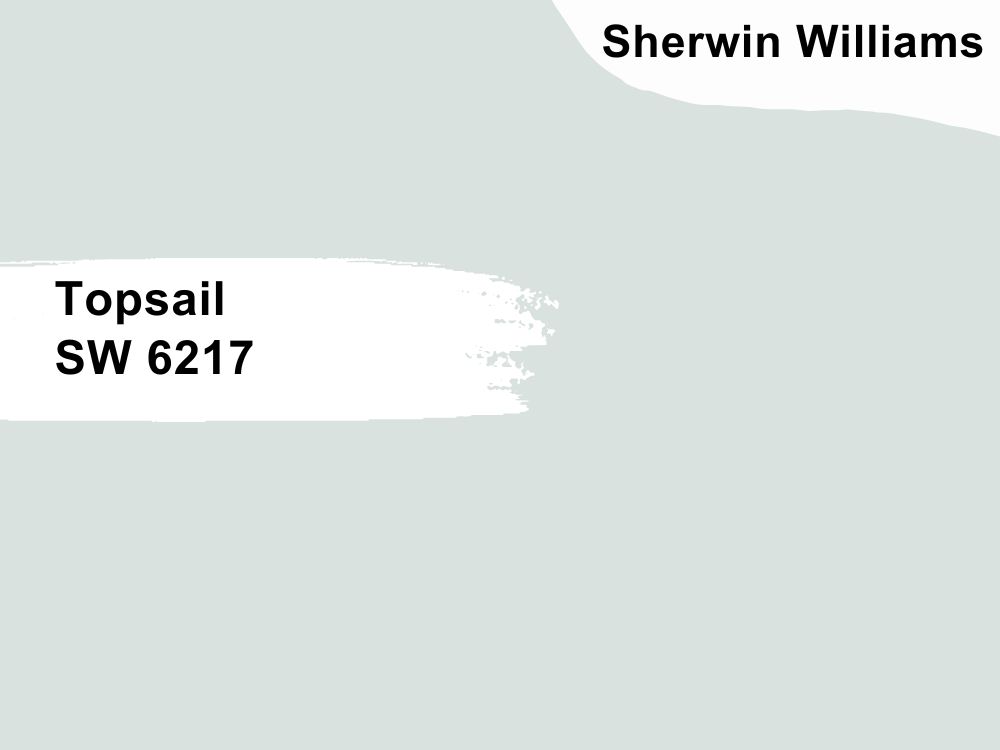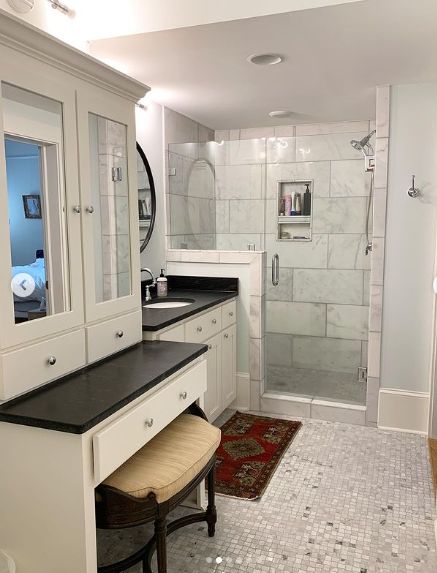 Sherwin Williams Topsail is a calm, light color with an incredibly high reflectivity of 75. This fresh and clean color has rich deep blue and green undertones, leaving soothing trails in your home.
Topsail will showcase depth in a northern-facing room as the blue cast leaves a cool cast on the color. This bedroom enjoys the green in Topsail, further encouraged by the wooden bedframe and floors.
8. Rainwashed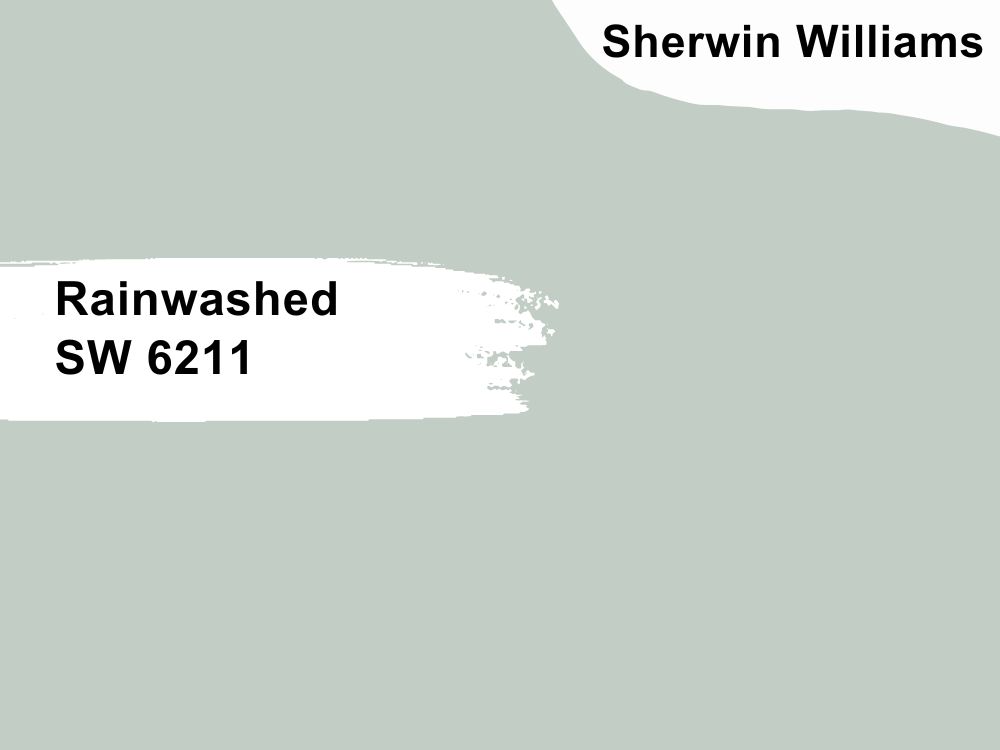 Rainwashed is a strong blue green with a wink of gray undertone, making it extra cool. This color can multi-task on main or accent walls, and be rest assured it'll deliver beyond expectation. Sherwin Williams Rainwashed has an LRV of 59, putting it in the medium to light-end of the spectrum.
See how Sherwin Williams Rainwashed works with the rush of bright incoming light to open up that space- it, however, strays far away from green and appears blue in this simple living room, thanks to the warm white accessories and all of the party going on in the fireplace.
Throw in a big deep blue couch in your minimalist Sherwin Williams Rainwashed living room to draw out the gray undertones, and brighten it with a bright floral-inspired throw pillow and a monochrome throw pillow.
9. Watery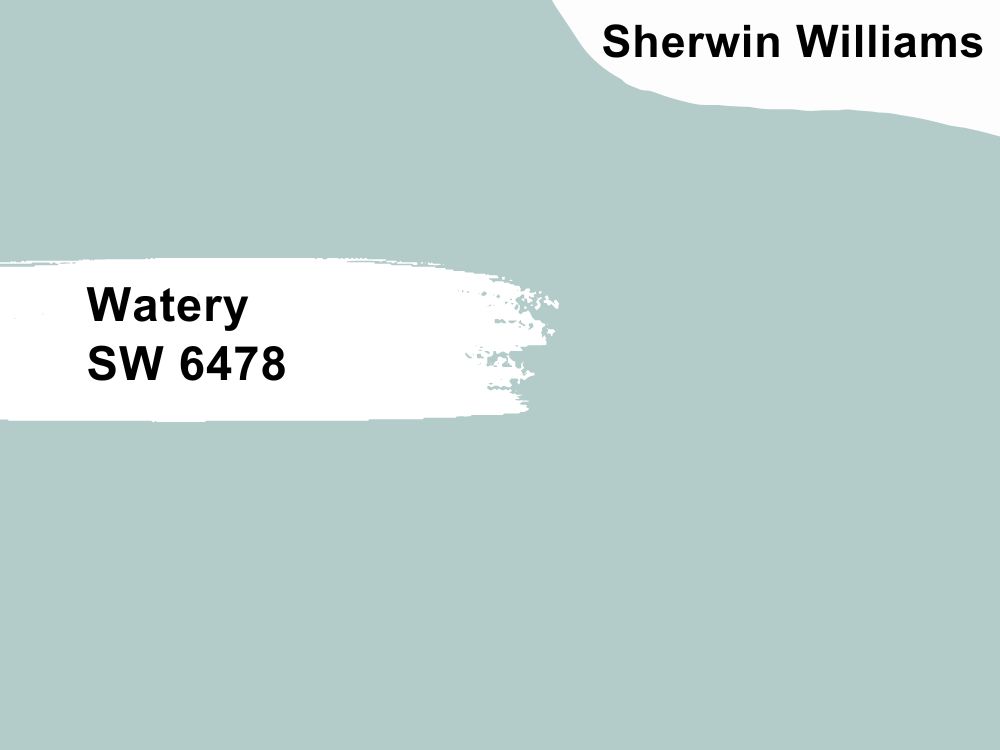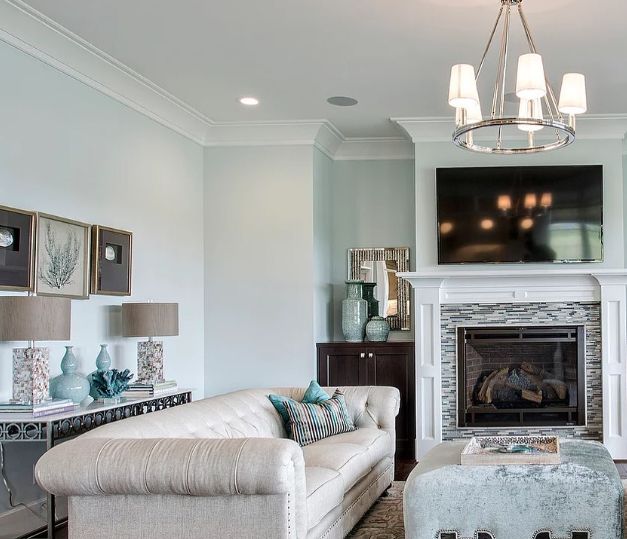 Sherwin Williams Watery has cool undertones of green. The light blue will turn your home into a coastal beauty and make it feel like summer, especially when you throw in a bright pink tone like the door in the first image. The white trims do absolute justice to the outcome of this gorgeous color which leans green.
Watery has an LRV of 57, which implies that it's a medium to light color, which will open up your space to receive more light during the day; the introduction of artificial light can also help the situation like this ultra-modern living room in the second image. We love the blue vases and that large warm white couch.
10. Composed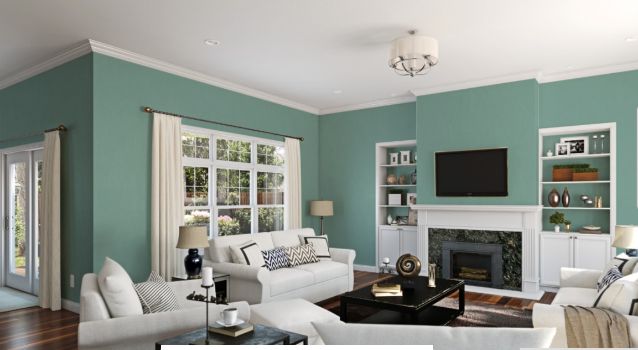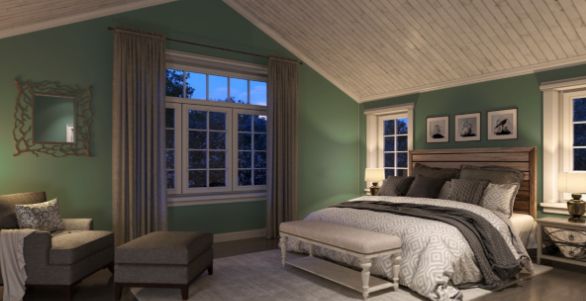 Quite an interesting name, Sherwin Williams Composed is a blue green color with an LRV of 32.55, putting it in the deep category. The chameleonic nature of this color comes out under varying lighting situations.
This attractive color shows off as blue in the first image and works hand in hand with the white trims and details in the living room; what the white does is help the space look bright and lively.
You can almost mistake Sherwin Williams Composed for the green in the second image, but if anything, this just confirms our claims earlier that this color is a double-edged sword. Throw in some gray upholstery like the image and see how impressed you'll be.
11. Drizzle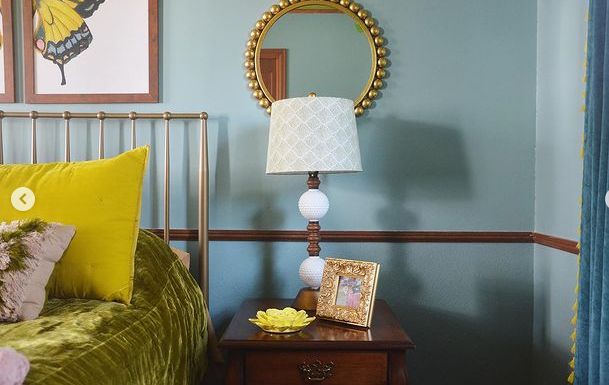 Sherwin Williams Drizzle is very dear to our hearts; This color is not so popular but very beloved amongst few. Drizzle is the ultimate blue green example, and how it flaunts this dual personality is mind blowing. With an LRV of 39, which means it's kind of dark but can also work in a small space if you use it as an accent wall.
This color looks incredible in the first image and is very pronounced as it receives a great deal of light; the pink details on the throw pillow just work magic on the entire appearance of the color. Drizzle is a superb choice for your bedroom; apart from the fact that it looks bluer in the second image, it also exudes deepness due to the low amount of light it receives. However, the yellow and gold accessories open this color up in a very amusing way.
12. Silver Strand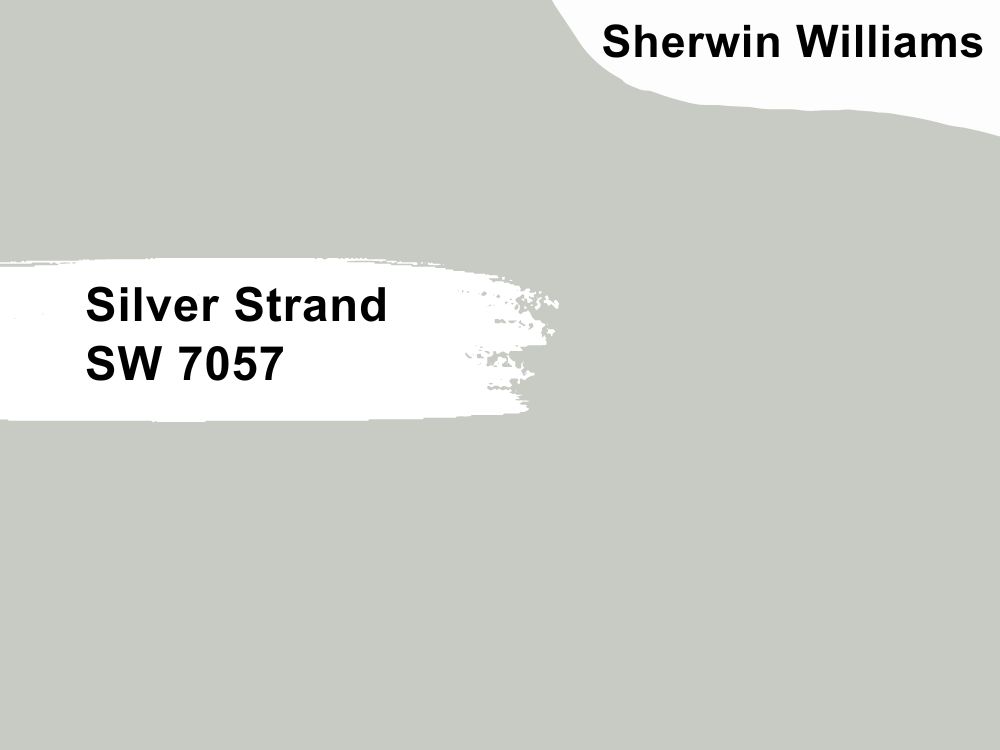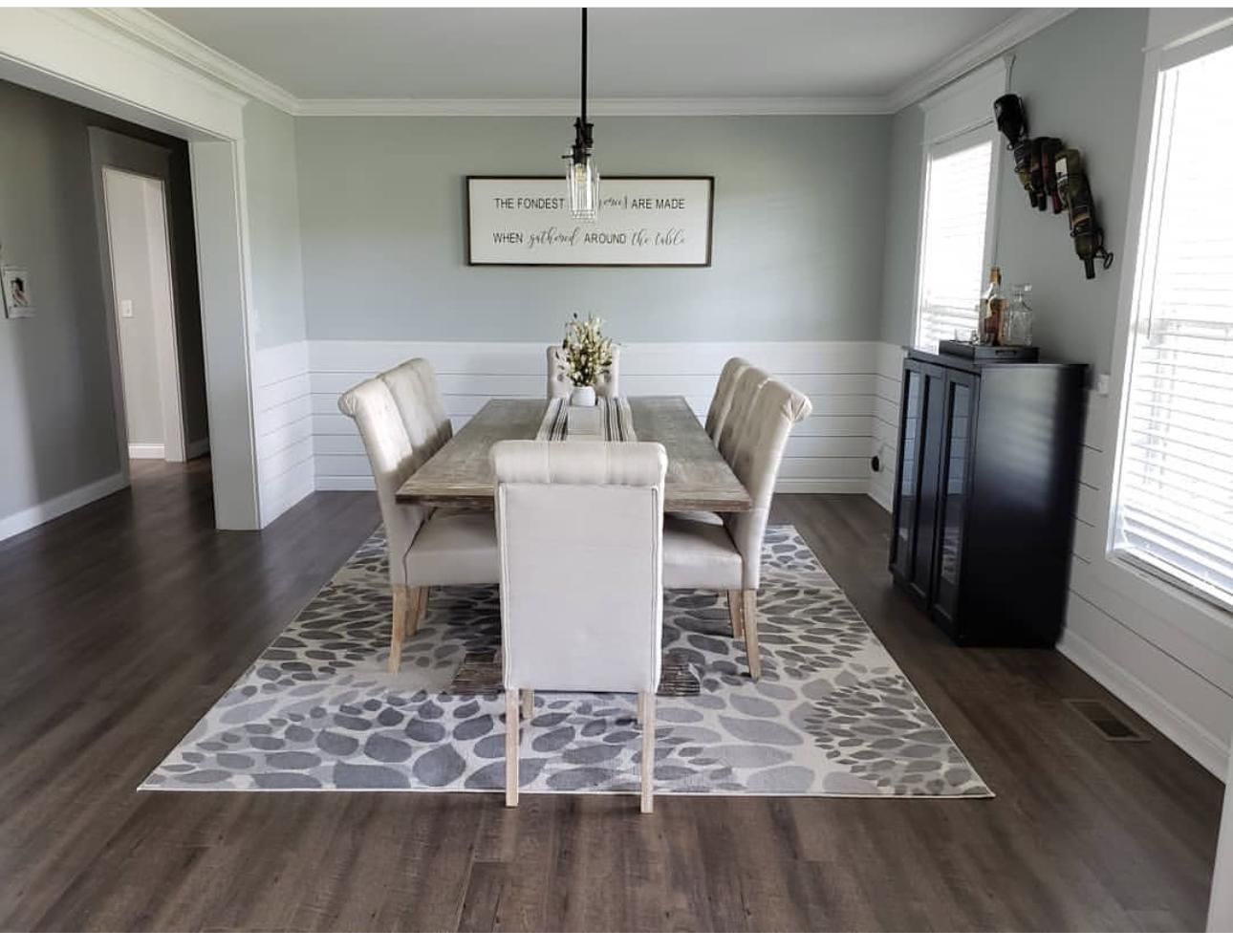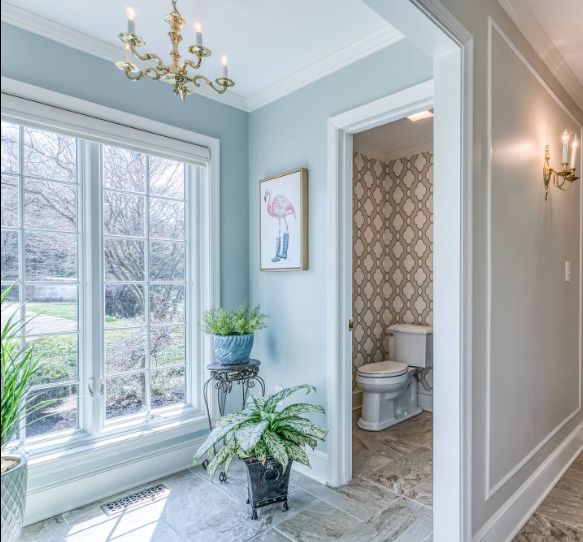 Silver Strand is a cool color with green and blue undertones; you may also see drops of gray depending on the light situation. One thing is sure about this color- its great personalities come to play at different times of the day.
Sherwin Williams Silver strand has an LRV of 60 and will appear almost baby blue-gray in an area with lots of lighting; you can make yours an accent wall like the first image and pair it with accessories you like. Sherwin Williams Silver Strand is a very welcoming color, so be rest assured you're in safe hands.
Introduce Silver Strand into your bathroom color part and experience freshness all year round; the details and accessories add an extra spark to this color in the second frame.
Behr Brand
Behr is not a stranger to lovers of quality paint color with great intensity and excellent application. They're also not as expensive as Sherwin Williams, and will work great for home owners on a budget.
13. Fresh Tone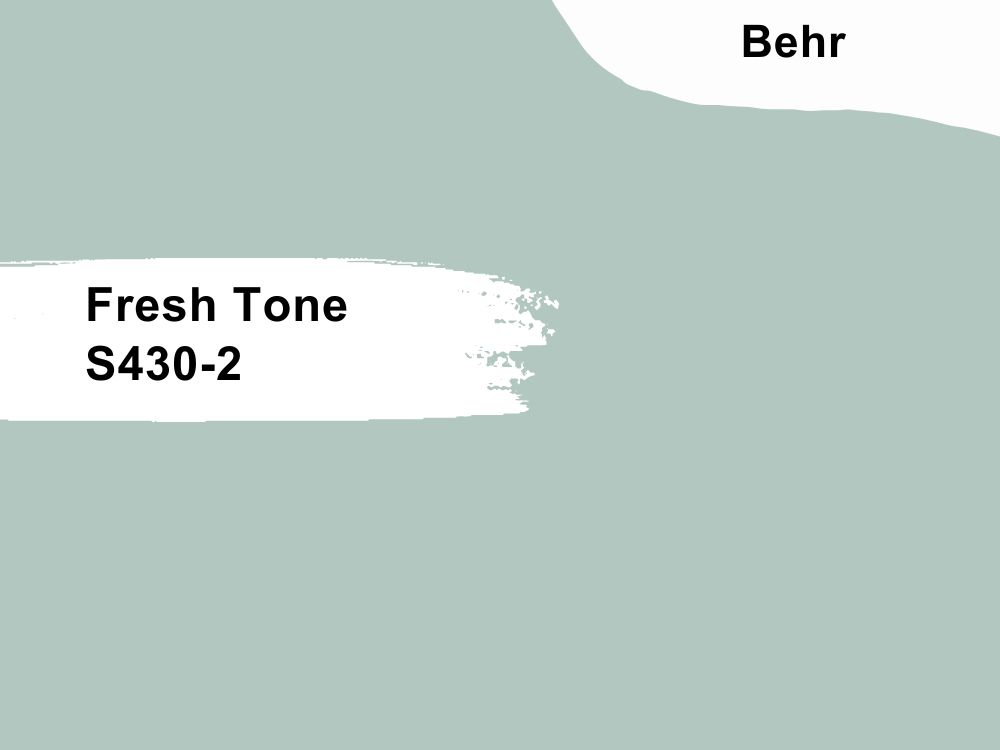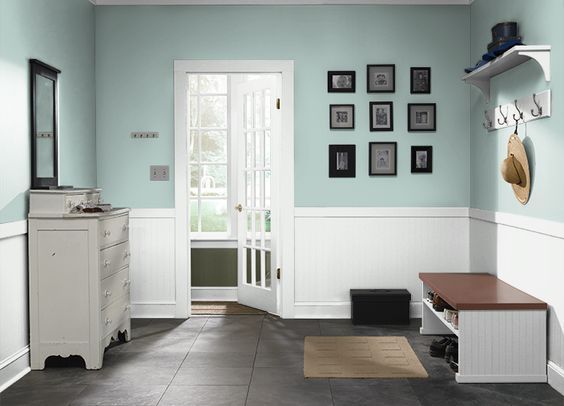 Behr Fresh Tone is not any foot far away from its name. It's a cool cloud-like color that gives your home that gentle touch all day long. Expect to walk into a calm space with Behr Fresh Tone, thanks to its LRV of 54.
Peep the blue peeking out of Fresh Tone as it brings its best game while staying modest as an accent wall beside a bright white. Behr Fresh Tone looks green in the second image and works well with the off-white, creamy accessories.
14. Opal Silk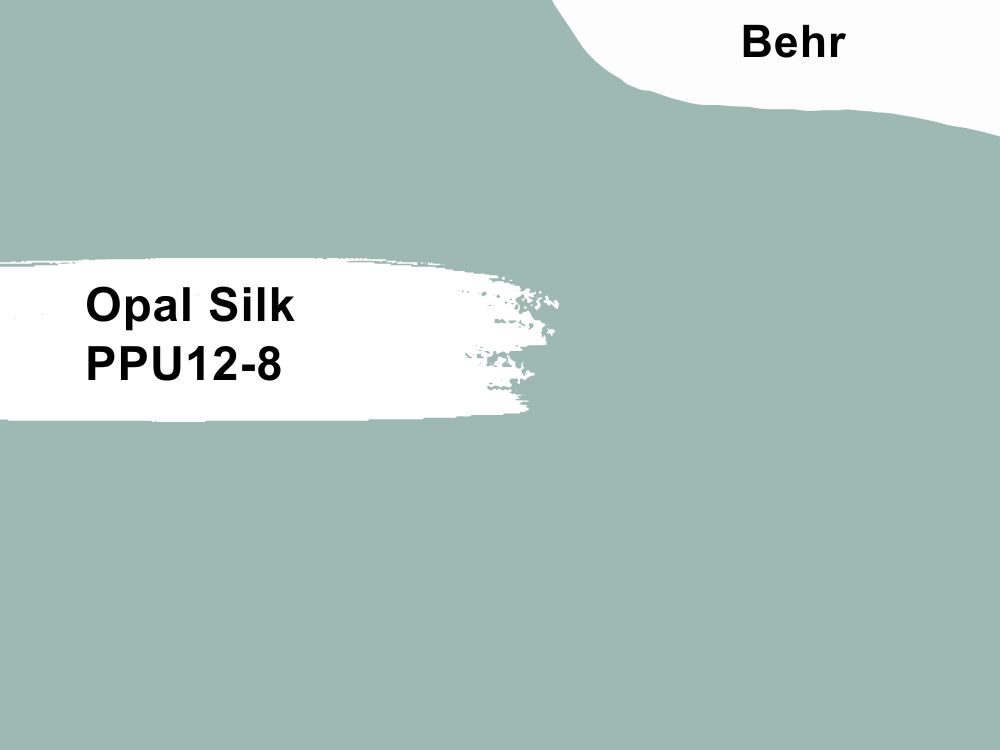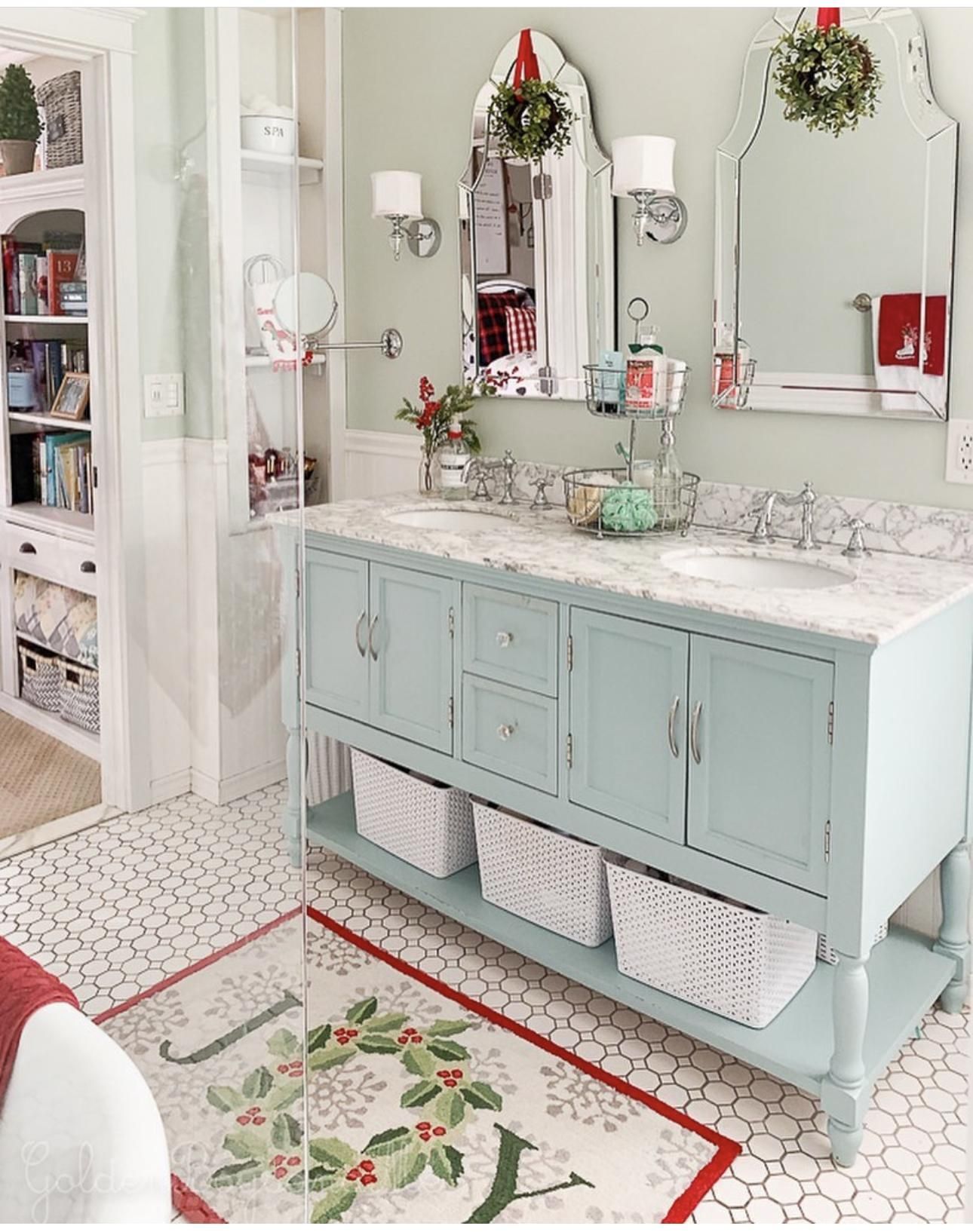 Behr Opal Silk is a blue green with the gentlest touch that shows off its cool blue side during the day and goes all green as the sun returns home. This medium-light blue green has an LRV of 45.
Welcome summer by the beach into your own bathroom using Behr Opal Silk as a cabinet color; this hue works well with the much lighter blue green on the bathroom wall, and you'll surely have the most relaxing time ever in that bath.
We know colors mimic their environment, and introducing one or more properties can alter the entire direction a paint color takes. The green decor tree in this living room is all Behr Opal Silk needs to showcase the hint of green in it. Complete your arrangement by adding wooden textures and some off-white/gray upholstery for a well-balanced space.
15. Underwater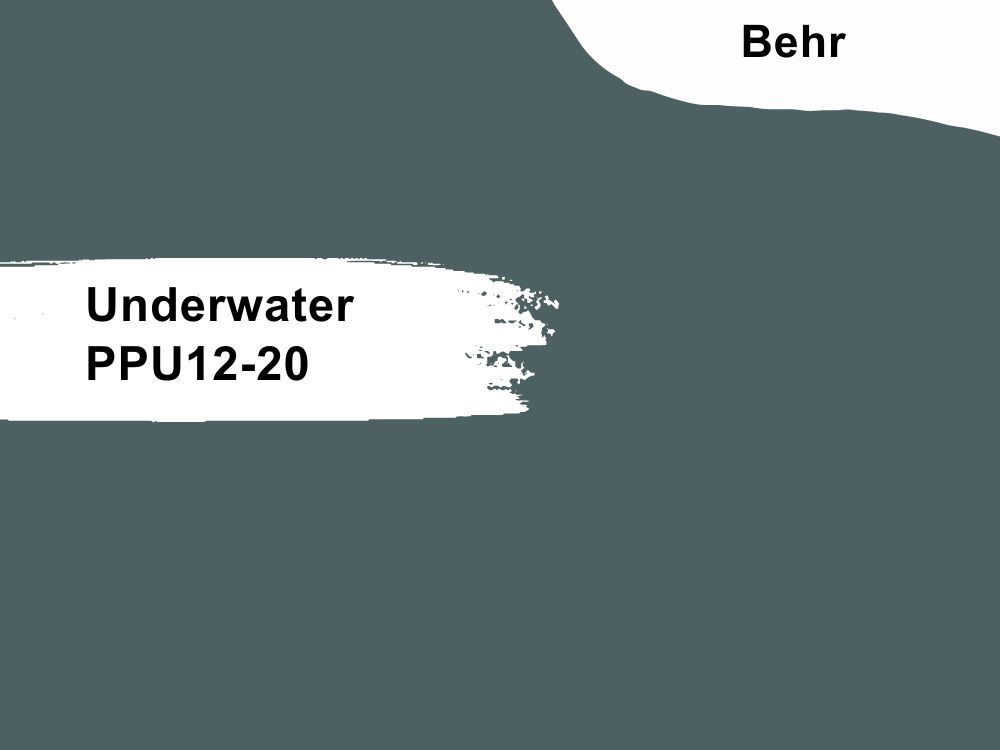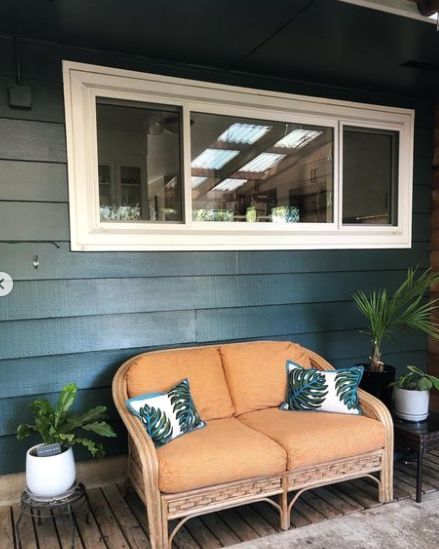 Behr underwater comes in strong with an LRV of 11. This rich blue with dark green undertones from Behr works magic in your homes and feels like the deep blue sea under the starry clouds at night.
We love the pairing of white and wooden accessories with this color and how Underwater itself introduces a deep intimate vibe into this space. Throw an interesting centerpiece and brightly colored artwork on the wall to ease the tension and add more color.
Behr Underwater is perfect for the outdoors; the brown couch and throw pillows are the main character in the second image, while our favorite Behr blue green shines brightly as the backdrop. Always remember that colors appear washed out, especially when used on exteriors.
16. Ocean Abyss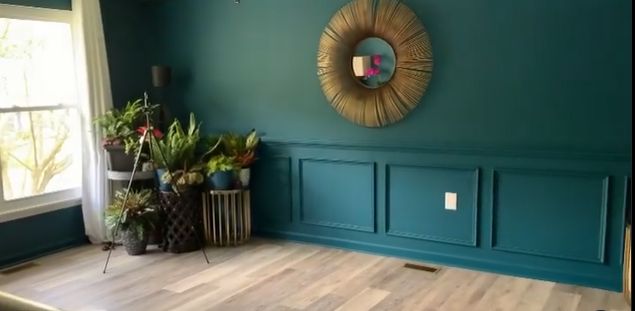 Behr Ocean Abyss is rich with its teal color and may decide to showcase it's blue or green, largely depending on the lighting in the area. This paint helps maintain tranquility and an overall calm vibe in your space with its LRV of 8.
Ocean Abyss shows off greener in the first image. Our gaze is fixed on the round woven piece and floral details in this space that just adds spice to the depth of this painting. Take your bath game to the next level in the coastal-inspired bathroom in the second image. The white details make the perfect contrast for this space.
Farrow & Ball Brand
Farrow & Ball is well ahead of its peers on this list with their adoption of eco friendly production methods. However, they can't boast of range with their color options compared to BM and SW.
17. Hague Blue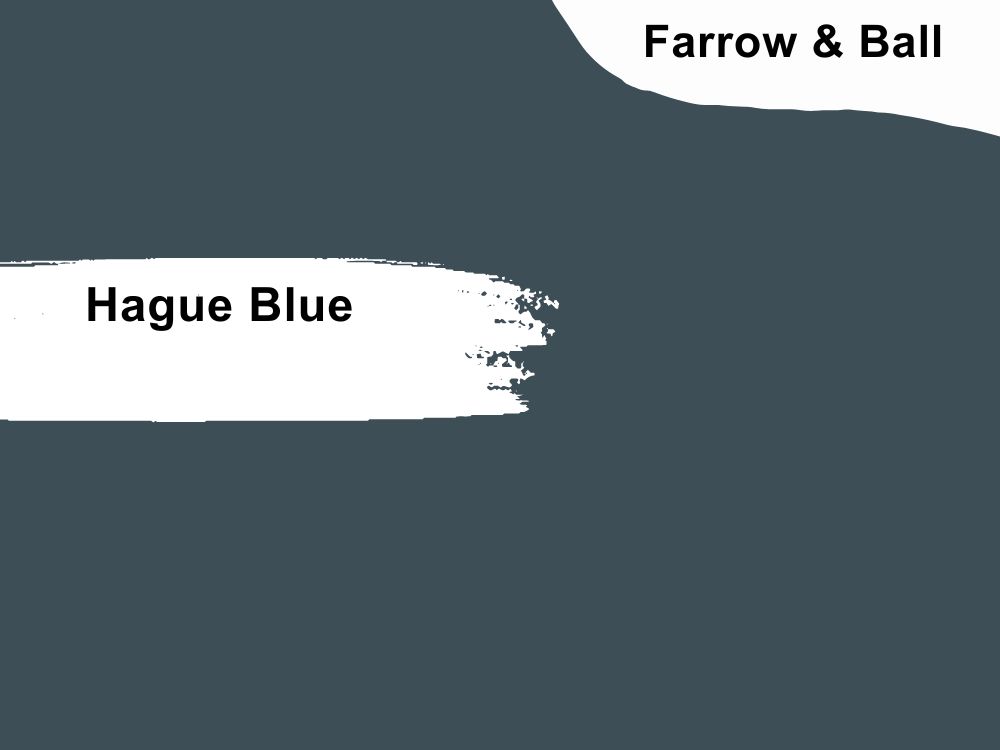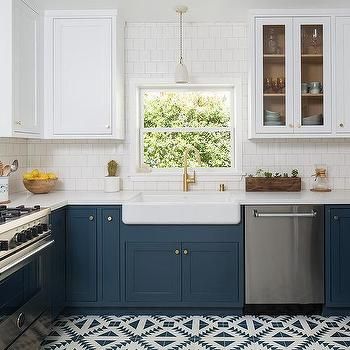 Farrow & Ball is a dark blue with strong blue undertones and an LRV of 7, which makes it perfect for large spaces. This color makes a bold statement and creates a cool, deep ambiance in any room.
Create a traditionally inspired bedroom with Hague Blue walls like in the living room; You can see the deep green undertones in this color, especially with the introduction of warm lighting and a green couch.
Hague Blue connects more with its blue side in this modern kitchen. Create drama by complementing it with white, as in the case of this cabinetry, and stick to the white and blue theme with matching flooring.
Conclusion
After all is said and done, the versatility and brilliance of blue green has been heralded. But before you go, we encourage you to sample your paint with the ready-made and easy-to-use SAMPLIZE paint strips. They help you understand your desired color's specifics and possible outcomes without breaking a sweat or the bank.
All you need to do is leave them on your home wall for a few days, and if you're satisfied with the feedback, proceed to get your walls done.