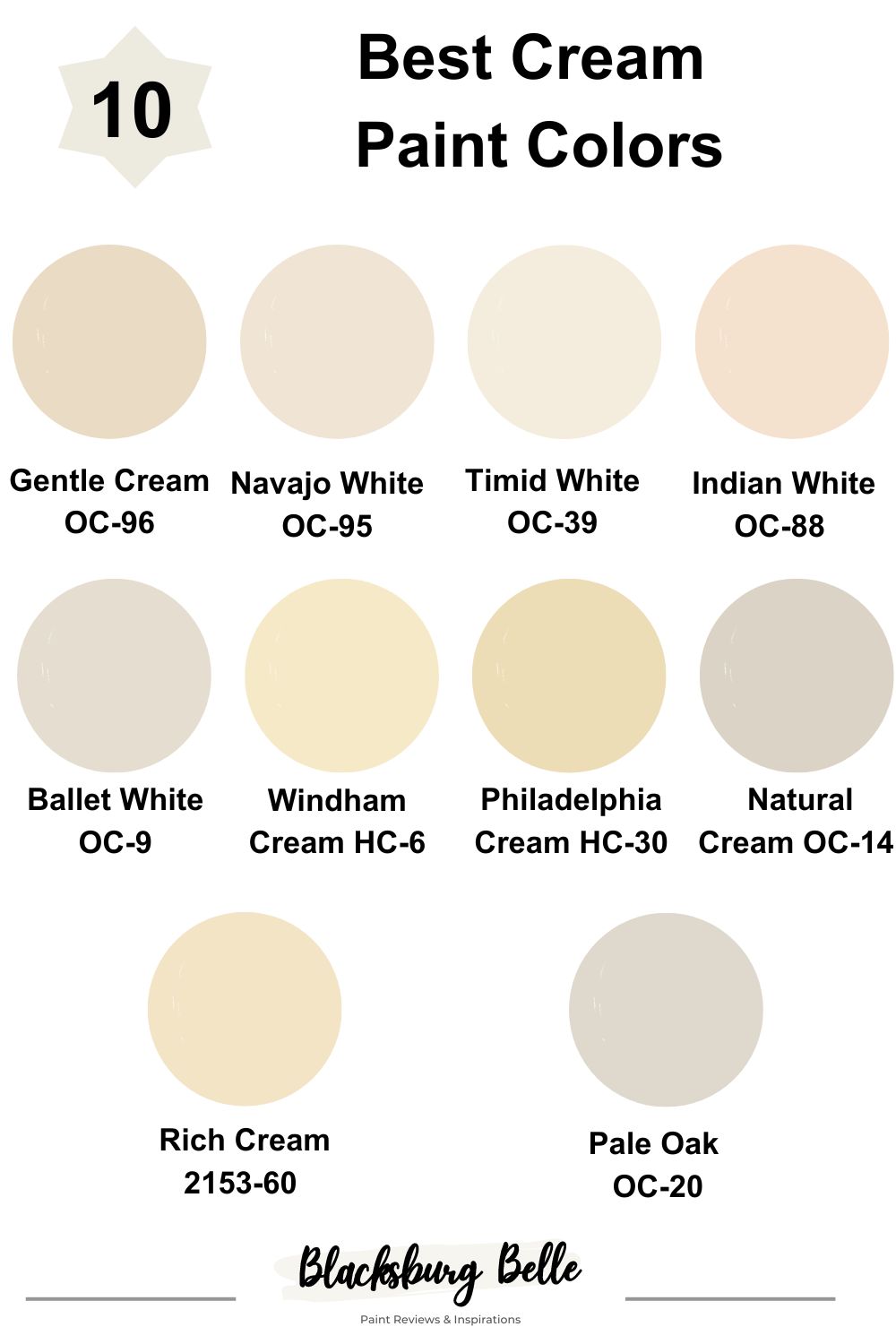 You have to be able to pair a color with other colors. This is one of the criteria for the best cream colors. In this article, you will be presented with the best cream paints. Not just anyone, but cream paint colors from the best paint makers Benjamin Moore. Since the late 1800s, Benjamin Moore, with headquarters in Brooklyn, has been making some of the best paint colors—even though the first reported use of the color cream dates back to the late 1500s.
Everyone loves cream paint color because they have an abiding presence, a timeless aura, and cool undertones that make interior decorators use it in combination with other paint colors. There is hardly a house in the country without at least a hint of cream in either the interior or exterior walls.
If you are preparing to paint your home, you are probably wondering if the cream paint color isn't already superfluous. The truth is, you don't have to use cream paint. But if you must, use the best. Here are two reasons to use cream paint color from Benjamin Moore:
Why Use Benjamin Moore Cream Paint?
Unlike white paint, you can't go wrong with a cream color. These are the reasons why:
Versatility
Cream paints are versatile. This means they fit in almost every corner of your house. They match almost all other paint colors. The cream color makes some of the best trims.
Unimpeded Warmth
The warmth that cream paint color brings to rooms, kitchens, corridors, and hallways is always impeached by any other colors around it. While most white paint colors would experience variations all day, cream colors maintain warmth that hardly changes.
Still, Lighting Is Important
The foregoing doesn't totally remove the effect of light on colors—all colors. Before choosing a paint color, think about LRV, or Light Reflectance Value. Every paint color has an LRV value that falls between 0 and 100. The closer to 0 the darker, the closer to 100, the lighter the paint color. Most very white paints with little undertones are around 80 or more LRV.
Also, the direction from which light hits your wall influences the undertone and level of warmth the paint color emits. This is why you need this article to guide your buying decision. In this article, there are 10 best cream paint colors from Benjamin Moore. Now read about them.
Best Cream Paint Colors From Benjamin Moore – Our Top 10
1. Benjamin Moore Gentle Cream OC-96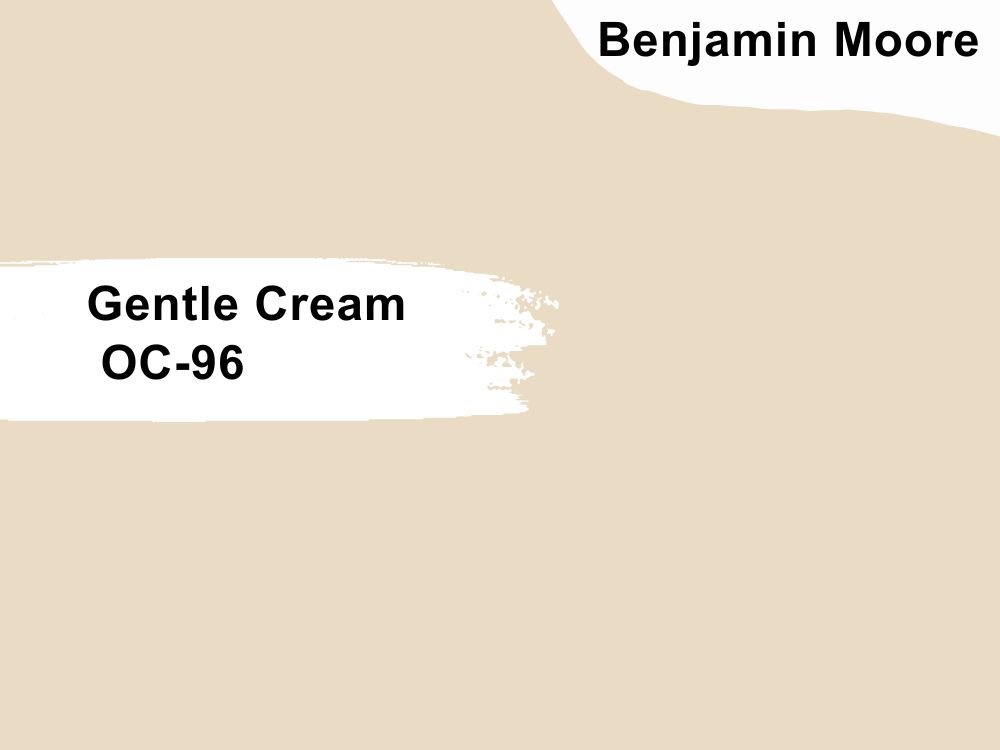 | | |
| --- | --- |
| RGB | 234 219 196 |
| LRV | 71.32 |
| Matching Colors | Golden Straw, Brookline Beige |
| Undertones | Cream, Beige |
If you want depth in the room or hallway, you should use this cream from Benjamin Moore. It has a bisque shade to it, a warmth that makes you want to linger in that space. This is one of the best paints for rooms. You'd love it too for living rooms when paired with Benjamin Moore's
Golden Straw and Brookline Beige. The LRV of the Gentle Cream OC-96 is 71.32.
When making your purchase, note that this cream is also called the 1066 and CC-140.
Also, consider pairing this color with other earthy colors like chocolate brown or charcoal gray.
Hallways with poor lighting will benefit much from the warmth and distinct aura that the Gentle Cream will bring to them. This paint color will also make a perfect trimming for your exterior walls and windows.
2. Benjamin Moore Navajo White OC-95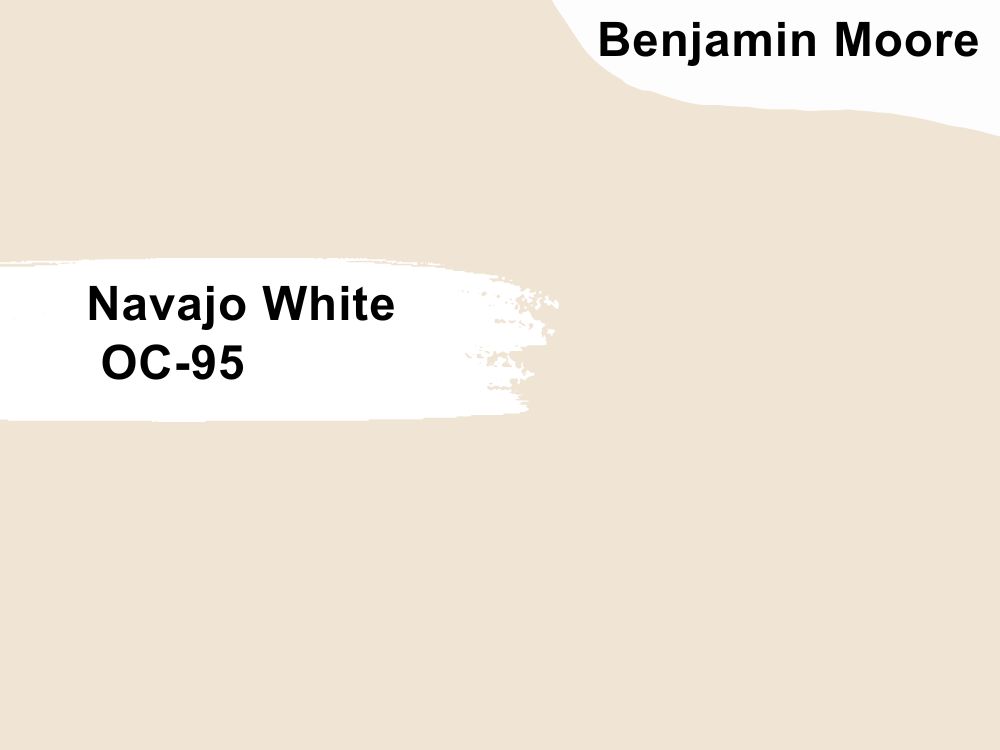 | | |
| --- | --- |
| RGB | 240 229 212 |
| LRV | 78.26 |
| Matching Colors | Thicket, Bennington Grey |
| Undertones | Greey, Gray, White |
The Navajo White is so called because it has less warmth and a delicate shade, unlike the Gentle Cream. Yet, this is the cream you'd want to have as an off-white option for that timeless and pervasive appeal in living rooms.
Paint this color on one wall and hang up your beautiful, colorful paintings. The LRV is 78.26 and it is part of Benjamin Moore's off-white collection. It matches well with Benjamin Moore's Thicket AF-405 and Bennington Grey.
This is a light cream color with shades of yellow and orange in it, depending on the lighting. It can be used in any room of your choice because it has a lightness to its presence, an unobtrusive one. Also, if your room is small and you want it to appear bigger, this is your paint, the Benjamin Moore Navajo White.
3. Benjamin Moore Timid White OC-39
| | |
| --- | --- |
| RGB | 244 236 220 |
| LRV | 82.45 |
| Matching Colors | Ashwood Moss, Sharkskin Gray |
| Undertones | White, Green |
Think of this paint as a chameleon color that is able to be what you want it to be. And don't let the White at the end of its name fool you. This paint actually has a delicate cream touch to it. It has an LRV of 82.45 which makes it our favorite for rooms where the light is muted all day or most of it.
This is also a color from Benjamin Moore's off-white collection that pairs well with Ashwood Moss and Sharkskin Gray, both also from Benjamin Moore.
Like all cream colors, the Timid White has a yellowish glow only dimmed a little by a gray that is detectable in low lights. Even with all these tones going on, the Timid White still has enough time to dish out some warmth. You can have Timid White on the walls and white color on the ceiling.
4. Benjamin Moore Indian White OC-88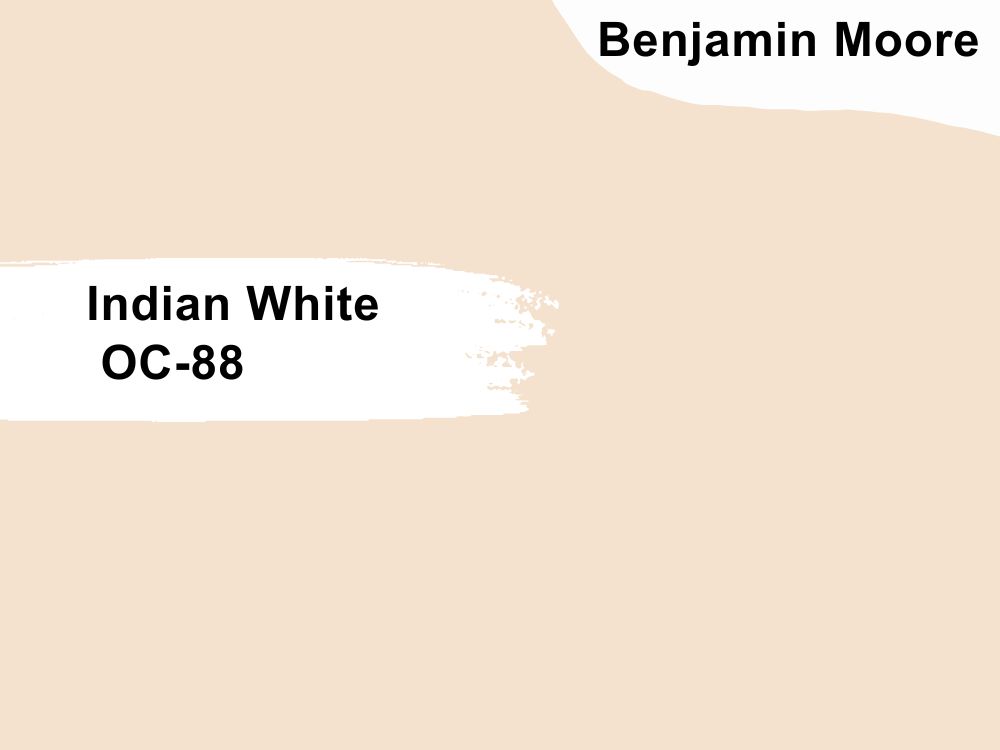 | | |
| --- | --- |
| RGB | 238 226 207 |
| LRV | 75.44 |
| Matching Colors | Soft Cranberry, Province Blue |
| Undertones | White, Green, Blue |
Match this cream color with Soft Cranberry or Province Blue and experience the subtle, shaded beige tones of the Indian White OC-88. Unlike the almost lavish yellow of Navajo White, this cream color serves a color undertone that hovers between orange and beige. To know what this really means, you have to be there to see. You have to paint a room with this cream to see the amazing undertones.
You'd love the undertones where the Indian White is the main color on your wall and the trimmings up and below it are any of the other white colors from Benjamin Moore. It is also the color suited most for painting the whole home. Paint this color on feature places in the home and as a subtle neutral on accent walls. This paint has an LRV of 75.44.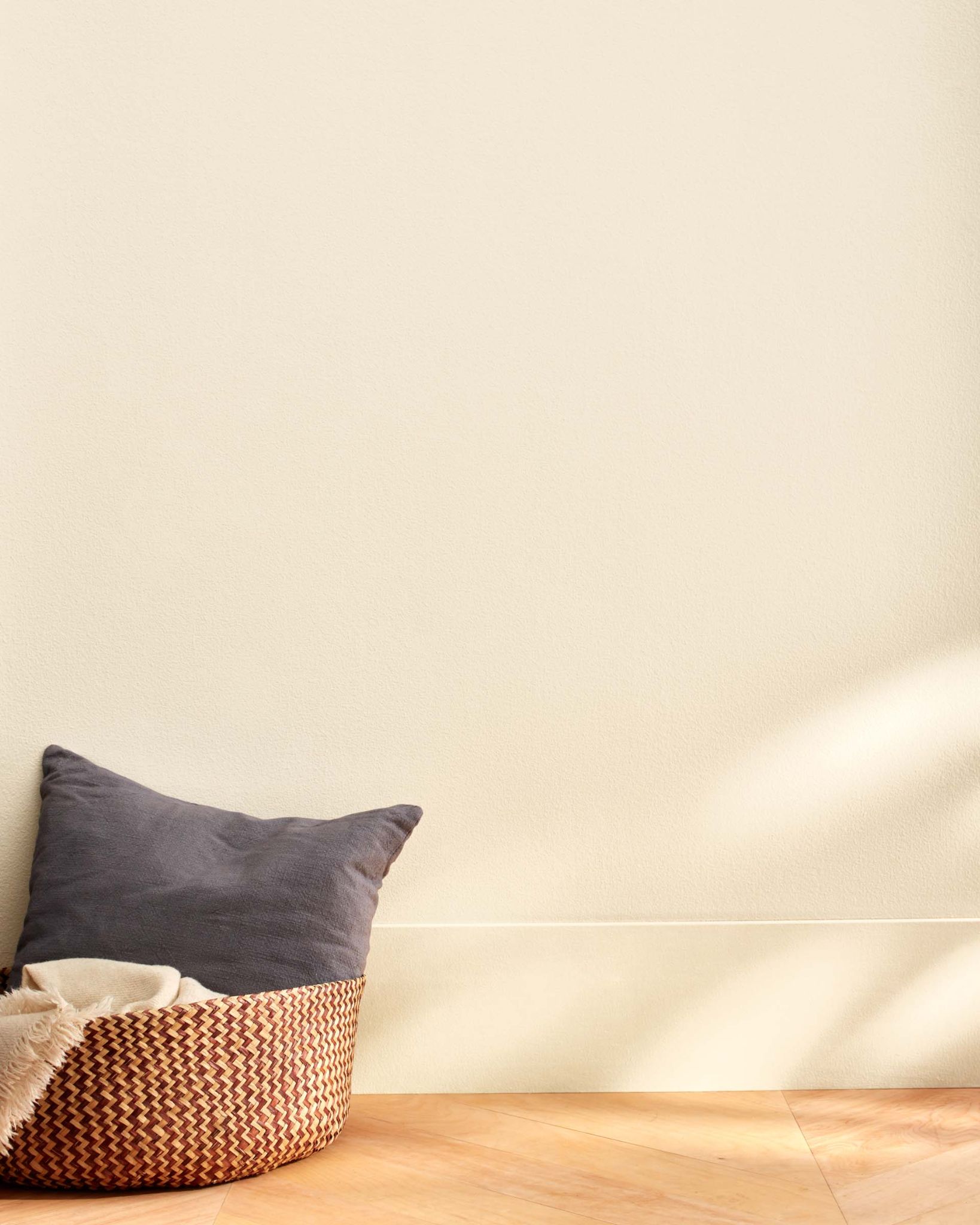 5. Benjamin Moore Ballet White OC-9
| | |
| --- | --- |
| RGB | 229 222 208 |
| LRV | 71.97 |
| Matching Colors | Pashmina, Puritan Gray, Kendall Charcoal |
| Undertones | Green, White, Blue |
With an LRV of 71.97, you have cream paint that pleases anyone who sees it. This paint is not as creamy as the ones mentioned above because of the touch of beige and gray that it gives off. It is more neutral than the others, making it one for trimmings in the kitchen and exterior parts of windows and doors.
It is also a great choice for painting all the walls in your home while pairing it with Pashmina, Puritan Grey, and Kendall Charcoal.
Also if your house is facing the north or south and getting lights from this direction, this paint will suit you just fine. The Ballet White also suits your well-lighted room with the shaded hallway.
6. Benjamin Moore Windham Cream HC-6
| | |
| --- | --- |
| RGB | |
| LRV | 79.04 |
| Matching Colors | Richmond Bisque, Rushing River |
| Undertones | |
With this cream color, we dial things up a little on the creamy and peachy sides. The LRV here is 79.04, a cream color that lights up when hit by sunlight. When using this cream from Benjamin Moore, target places that get natural sunlight, like bedrooms, and living rooms that are east and west facing.
This very beautiful cream belongs in the Historical Colors collection by Benjamin Moore. It can be matched with Richmond Bisque and Rushing River.
Your lighting can make Windham Cream have a deep yellow undertone or a creamy shade. If you have abundant light coming into the room at all times of the day, you can control the undertones by drawing or dropping your curtains. Windham Cream also pairs perfectly with Simply White or Sugar Cookie where these two colors are the trimmings of course
You will love this cream in your bathroom where it's painted over the tub and in your kitchen where it is the dominant color and bordered by any of the colors mentioned above.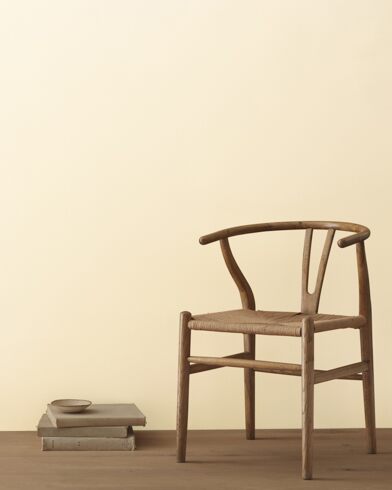 7. Benjamin Moore Philadelphia Cream HC-30
| | |
| --- | --- |
| RGB | 247 229 198 |
| LRV | 69.12 |
| Matching Colors | Georgian Brick, Mannequin Cream |
| Undertones | Yellow, White |
There's some peach tone served in the Philadelphia Cream. It has an LRV of 69.12 making it a deeper and warmer cream than the ones mentioned before. It is from the Historical Colors collection of Benjamin Moore.
You won't have a hard time matching this cream with other colors. And not just other colors, but also your general decor down to your furniture. It also pairs well with colors like Georgian Brick and the Mannequin Cream because of its neutral base.
This is a warm cream color so you should enjoy a bright experience with it even in north and south-facing rooms.
8. Benjamin Moore Natural Cream OC-14
| | |
| --- | --- |
| RGB | 219 211 197 |
| LRV | 64.78 |
| Matching Colors | Thunder, Granite |
| Undertones | Green, White |
This cream is different from the others on this list because it is able to flatter your walls with warm and cool tones. It is a greige with a lighter shade than most. It has an LRV of 64.78, an off-white paint that pairs well with gray colors like Thunder and Granite. This cream has been described as a paint that straddles three colors, namely: white, gray, and yellow.
Depending on the lighting you might also notice a muddy undertone in shaded places like hallways and bedrooms. The great thing about this cream that's made it one of the most popular creams is that it can be used to paint the whole house. Trimmings for this cream can be either Cloud Cover or Boothbay Gray, both from Benjamin Moore
9. Benjamin Moore Rich Cream 2153-60
| | |
| --- | --- |
| RGB | 245 225 196 |
| LRV | 76.61 |
| Matching Colors | Silver Fox, Prescott Green |
| Undertones | Yellow, Green, White |
It is raining peaches with this cream named Rich from Benjamin Moore. It is one of Benjamin Moore's neutral paints with a solid undertone of peach and custard. It has an LRV of 76.61. This cream can be paired with the Silver Fox and Prescott Green. If used in an east-facing room the warmth of this cream will be toned down by natural light.
Whereas the rich cream of this paint will throw itself up where the light is not as bright. This neutral paint will match well in the bathroom with Mountain Peak White and Chantilly Lace.
10. Benjamin Moore Pale Oak OC-20
| | |
| --- | --- |
| RGB | 222 216 205 |
| LRV | 68.64 |
| Matching Colors | Dinner Party, Chantilly Lace |
| Undertones | Green, White, Gray |
This cream from Benjamin Moore comes with a rare warm and cool tone, which is something rare for a cream paint. Unlike the previous ones on this list, this cream doesn't have a much yellow undertone. Its neutral nature makes it a versatile cream color that matches several gray colors like Timber Wolf and Wrought Iron. It matches with Dinner Party and Chantilly Lace too.
In your kitchen, this cream color can create a striking appearance on your cupboards as trim with Dinner Party AF-300. Pale Oak is a light greige with a soft tone in certain exposures. Generally, Pale Oak would have a taupe undertone in most lights making it for the color to further pair perfectly. In living rooms, it will pair perfectly with furniture and floors of warm colors.
Features like green vegetation outside your room have little effect on this color because of its taupe undertone.
Conclusion
As you have learned by now, light is what helps us see and appreciate the beauty of any color. Cream color can be warm or cool depending on what kind of light falls on it. North and south-facing lights are different from west and east-facing lights. Before choosing any of the cream colors on this list, find out which angle on the compass your room is facing.
Next is deciding on colors for trims, features that stand out in your living room, and the like. Your paint dealer usually has charts showing these colors. Or better still, purchase samples from Benjamin Moore.