As simple as they may look or sound, paints are one of the easiest ways to completely transform a room or space, and dark rooms are no exception.
If you have a dark room and want to make it brighter, there are some very important things to do. These include:
Adding more artificial lights, adding lighter furniture, and most importantly
Using light paint colors to brighten and widen your space.
Besides the fact that a dark space can be made bright, light, and fresh by using light paint colors, you will need the right furnishings to visually support and complement it, else the entire space will look pale and boring.
One of the easiest ways to make a dark room look brighter is to use light paint colors. But besides using light paint colors, if you don't have enough natural or artificial lighting, the light paint colors will fail or struggle to bring life and brighten up the space.
In this blog post, we will be reviewing 15 of the best light paint colors that are perfectly suitable for dark rooms in 2023. These light paint colors are some of the best and most popular light paint colors for dark rooms used by homeowners in 2023.
Choosing The Right Color For A Dark Room
When it comes to dark rooms, it's very important to choose carefully whatever you're going to use or add to the space as decor or furnishing. From artificial or natural lighting, the size of the room matters, and most importantly the paint color.
Picking the right paint color is one of the most critical tasks. You can do others properly, but if the wrong paint color is used, it automatically ruins every other thing.
Sampling
Don't forget, no matter what you've read on blogs, websites, or photos you've seen online, it's really important to sample paint colors in your home before committing! This will save you the stress of going back and forth due to mistakes of mismatching colors.
LRV
This means Light Reflectance Value and is usually measured in percentage if you have a darker room, you would want to go for colors that have a high reflectance value. 50%-80% is fine depending on how dark your room is. If you have artificial lighting in the room, the paint color should help make the room brighter.
15 Best Light Paint Colors for Dark Rooms in 2023
In this list, we have included 15 light paint colors with warm undertones that can work well in both well dark rooms with enough or a limited amount of light. Let's get started!
1. Benjamin Moore Silver Marlin 2139-50
| | |
| --- | --- |
| RGB | 194, 198, 192 |
| LRV | 55.99 |
| Matching Colors | White Diamond, Sea Life, Caliente, Opulence |
| Undertones | Blue, Green |
Silver Marlin is among the light paint colors on this list that can be used on dark rooms that don't have enough lighting. Unlike some grays that can look dull and flat, Silver Marlin has enough color to make it stand out in a low-light space.
It is saturated with a tiny hint of sea glass green, which of course brings a satisfying quality to this light medium gray paint color. Silver Marlin has a subtle color that is flexible, simple, soft, and perfect for different home decor.
As a versatile light paint color, you can use it for either your bathroom, living room as well as darker bedrooms, it will definitely give an overall elegant look.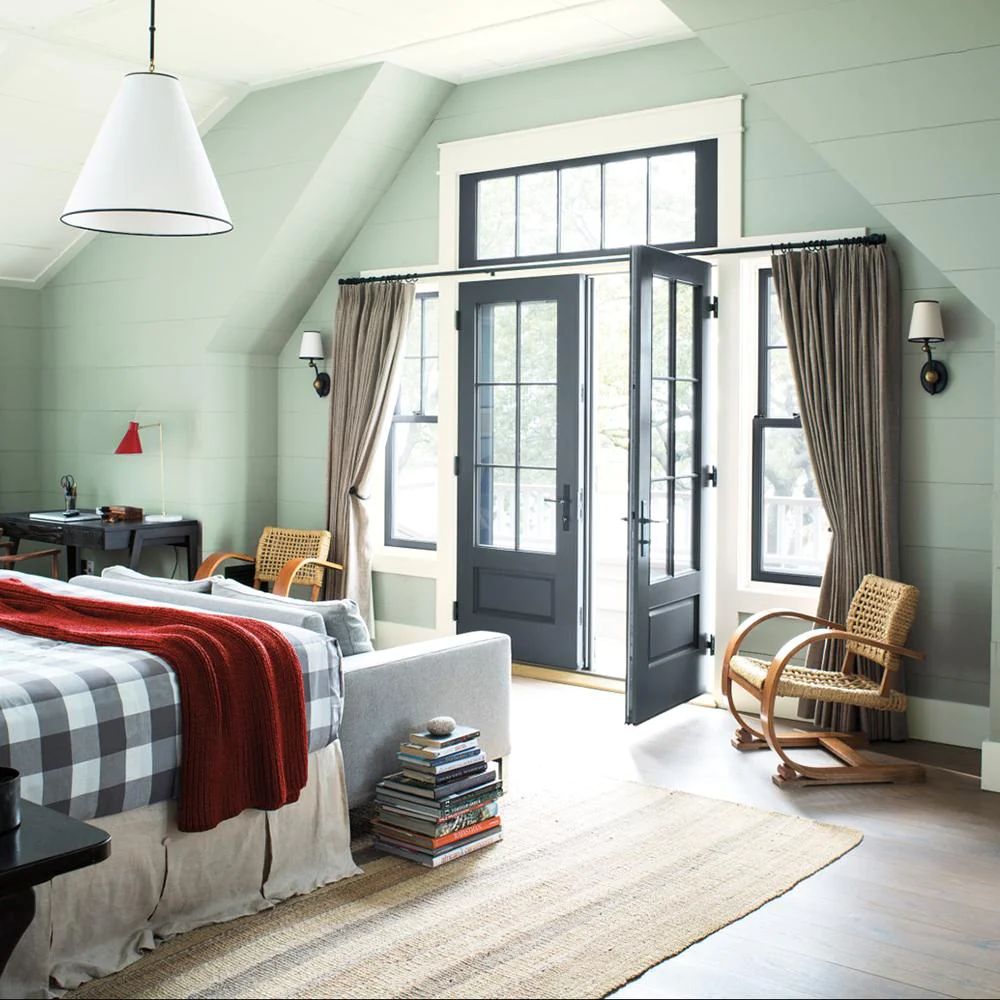 2. Sherwin Williams Creamy SW 7012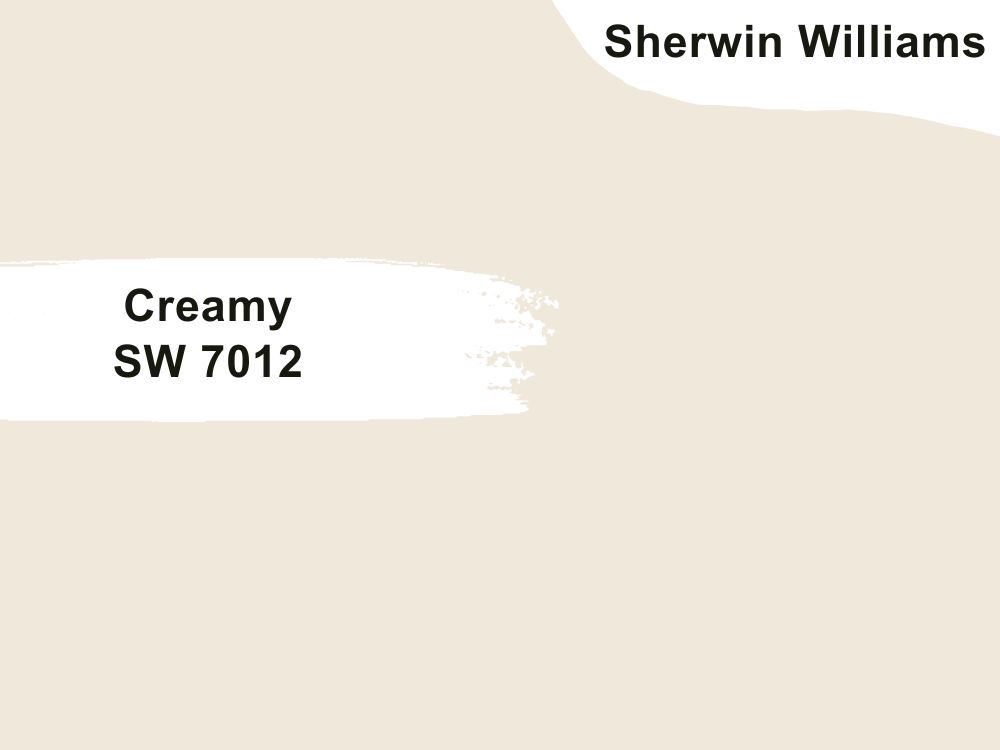 | | |
| --- | --- |
| RGB | 239, 232, 219 |
| LRV | 81 |
| Matching Colors | Studio Taupe, Reynard |
| Undertones | Yellow |
In a dark room, it's important to consider using a bright paint color that will lighten up your space without it being moody. Now, this Sherwin Williams Creamy White is a perfect light paint color to consider for dark rooms.
It's an off-white neutral color that makes a great warm backdrop. With its soft yellow undertone, this color is capable of creating a subtle warmth and also brings life to any dark space, especially when paired with soft warm hues like itself.
Another notable characteristic of SW Creamy is its versatility. You can use it in almost any space, be it in your bedrooms, trim, walls, cabinets, kitchen, furniture, bathrooms, window shutters, etc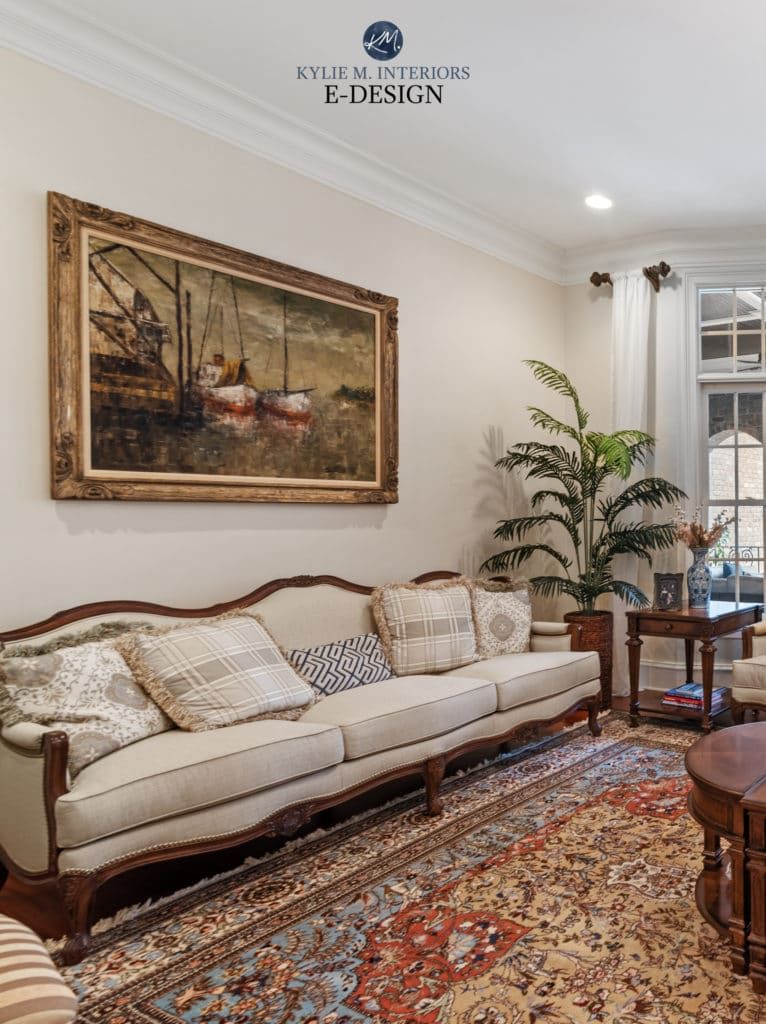 3. Sherwin Williams Tidewater SW 6477
| | |
| --- | --- |
| RGB | 195 215 211 |
| LRV | 65 |
| Matching Colors | Shell White, Endless Sea, Glimmer |
| Undertones | Green, Gray, Blue |
A very cheerful and beautiful aqua blue with green and gray undertones won't be a bad idea for your dark room. When looking for colors that add fresh beachy vibes, whether you live by the coast, this Tidewater paint color is the answer.
Although this might not be one of those popular colors being reviewed by paint color review websites, I personally found this while researching light paint colors for dark rooms. So, sometimes it's okay to try something new and, maybe, it will trend later.
Tidewater SW 6477 has deep blue-green undertones which are hardly noticeable, together with its LRV of 65, it is a perfect light color, but not so light to brighten an entirely dark room. To wrap it off, this paint color will always make your space feel lively and welcoming, and if you really would love to use this color in a dark room, you might want to add a little more artificial lighting.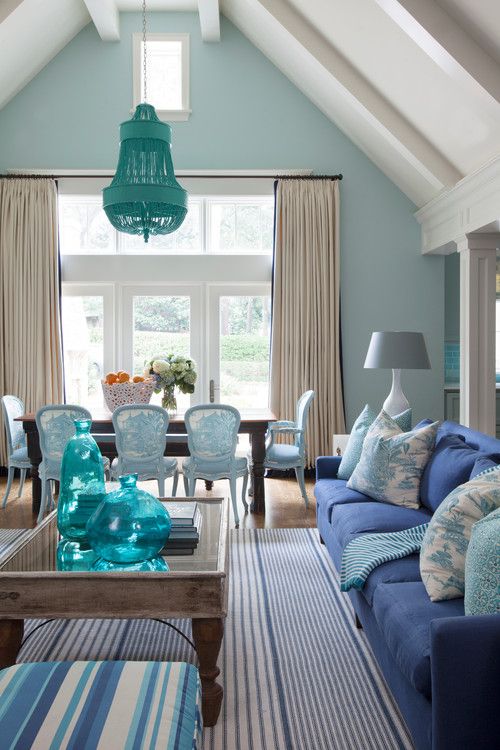 4. Benjamin Moore Concord Ivory HC 12
| | |
| --- | --- |
| RGB | 231, 205, 141 |
| LRV | 60. 04 |
| Matching Colors | Dry sage, Cotton Balls, Lancaster White, Mascarpone |
| Undertones | Yellow-gold, Apricot |
Wondering what is the best light paint color that will suit your dark room or space, well the Concord Ivory is a perfect light paint color that won't leave a mess wherever you decide to use it.
This sophisticated yellow-gold color with a calm apricot undertone can be an anchor for a variety of home styles. If you want to add a warm and fun-loving touch to your space, Benjamin Moore Concord Ivory is a great choice and should be on your shortlist.
To get an even more balanced tone in your room, you can pair Concord Ivory with other warm colors like orange, red, yellow or pink even if these matching colors aren't saturated.
The higher the LRV of a color, the lighter it is and the more light it can reflect. Concord Ivory passes the median mark of 50 and with an LRV of 60, this is a light color that can easily reflect enough light across the room.
5. Benjamin Moore Conch Shell 052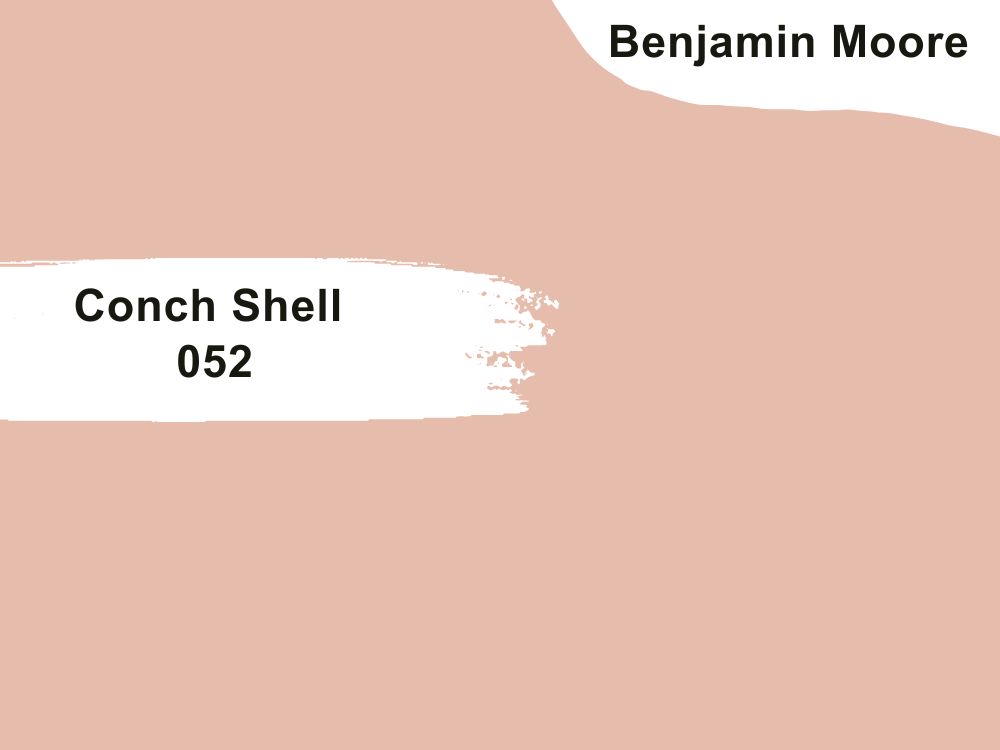 | | |
| --- | --- |
| RGB | 231, 190, 173 |
| LRV | 54.26 |
| Matching Colors | Ancient Ivory, Flint, Cosentino Chardonnay |
| Undertones | Beige, Peach |
Here's another beautiful light paint color that will make any space, especially interior rooms, feel calm due to its soft pink splash of color. According to Benjamin Moore, it's not recommended for exterior painting projects.
I highly recommend this light paint color for colder rooms with little or no natural light.
This paint color reminds you of the early morning sunset. Its gentle mid-tone pink with sepia tone will bring warmth and calmness to any small dark space. If you intend to boost the brightness, consider coating your walls with Benjamin Moore's Conch Shell. Although its LRV of 54 isn't very high, it's enough to be used in a dark room with a decent amount of lighting.
6. Sherwin Williams Casa Blanca SW 7571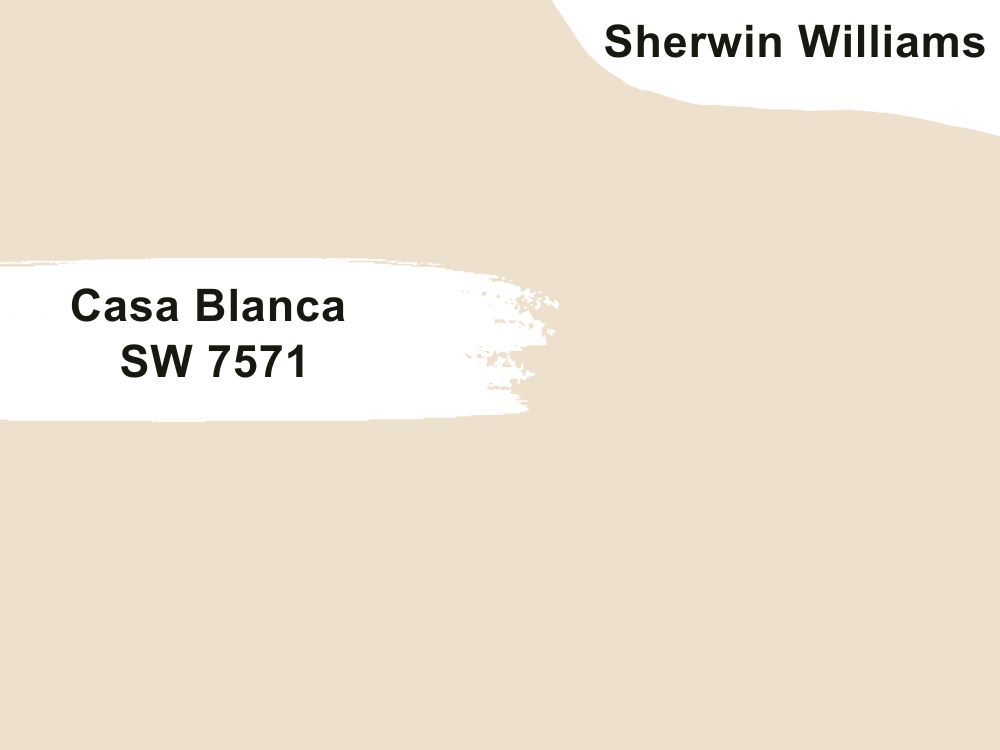 | | |
| --- | --- |
| RGB | 237, 225, 206 |
| LRV | 76 |
| Matching Colors | Creamy, Black bean, Melang green |
| Undertones | Yellow |
Sherwin Williams Casa Blanca SW 7571 is another great light paint color you can try on any dark room.
It has a yellow undertone that gives it a bright white a romantic, faraway place kind of vibe. If you want, you could pair it with a dark brown, like Black Bean, to emphasize its warm shade or pair it correctly with cool furnishings and see what this color will do with your lights and shadows in your dark and unique space.
Another interesting thing about this light paint color is that it has little or no rules and restrictions, so it's worth a trial and does justice to any living space, either dark or bright.
Lastly, Sherwin Williams Casa Blanca SW 7571 has a high LRV (76) which makes it a good color to brighten up a dark room with or without too much lighting.
7. Sherwin-Williams Macadamia SW 6142
| | |
| --- | --- |
| RGB | 204, 183, 155 |
| LRV | 49 |
| Matching Colors | Moderate White, Classic Light Buff, Roycroft Adobe |
| Undertones | Orange, Brown, Warm beige |
Just like Casa Blanca, Macadamia is yet another cool name for a paint color, right? Sherwin Williams Macadamia is a smooth, perfect warm neutral beige with orange and brownish undertone that is bound to make any dark room feel comfortable and mild. This softly muted brown color will wake up any dark space anytime.
This paint color is one of the best paint colors in 2023 with a rich natural effect of positive vibes, and is most suitable for interior decors. If you have some wood furniture around and are wondering if Macadamia SW 6142 will fit in or not, you need not worry, this paint color pairs wonderfully with wood and metals as well.
Sherwin Williams Macadamia can make your space feel extra warm, comfortable, and mild. It's neither too bold nor too subtle, but just the perfect balance! To get the most out of this hopeful color, don't use it in smaller rooms, since they can tend to appear dull. Also, make sure there are enough windows to allow ample natural light or add some artificial light, and you're ready to enjoy your space.
8. Sherwin Williams Retro Mint 9036
| | |
| --- | --- |
| RGB | 159, 205, 177 |
| LRV | 34 |
| Matching Colors | Spare White, Rocky River, White Mint |
| Undertones | Gray |
Sherwin Williams Retro Mint 9036 is one of the prettiest colors on this list. I personally loved it from the moment I found it on the official Sherwin Williams website. It's just a perfect color to be honest.
Whether it is the bedroom, kitchen cabinet, bathroom, living room, kids room or even exterior, this color will feel absolutely delightful. Sherwin William Retro Mint is a unique pastel mint color that works best in any part of an interior.
This paint color can be a bit confusing due to its bluish and greening look. But such characteristics gave it a vibrancy that will help bring designs in dark rooms to life. Don't be carried away by the calmness of this color, it might not be the brightest color for a dark room, but is light enough for the same purpose. Just make sure your room has a good amount of natural lighting if you want it to be really bright.
Apart from its low LRV (light reflective value), this paint color made it to our list of the best light colors for dark rooms in 2023 because it's unique. We would really want you to try it and give us your feedback in the comments section.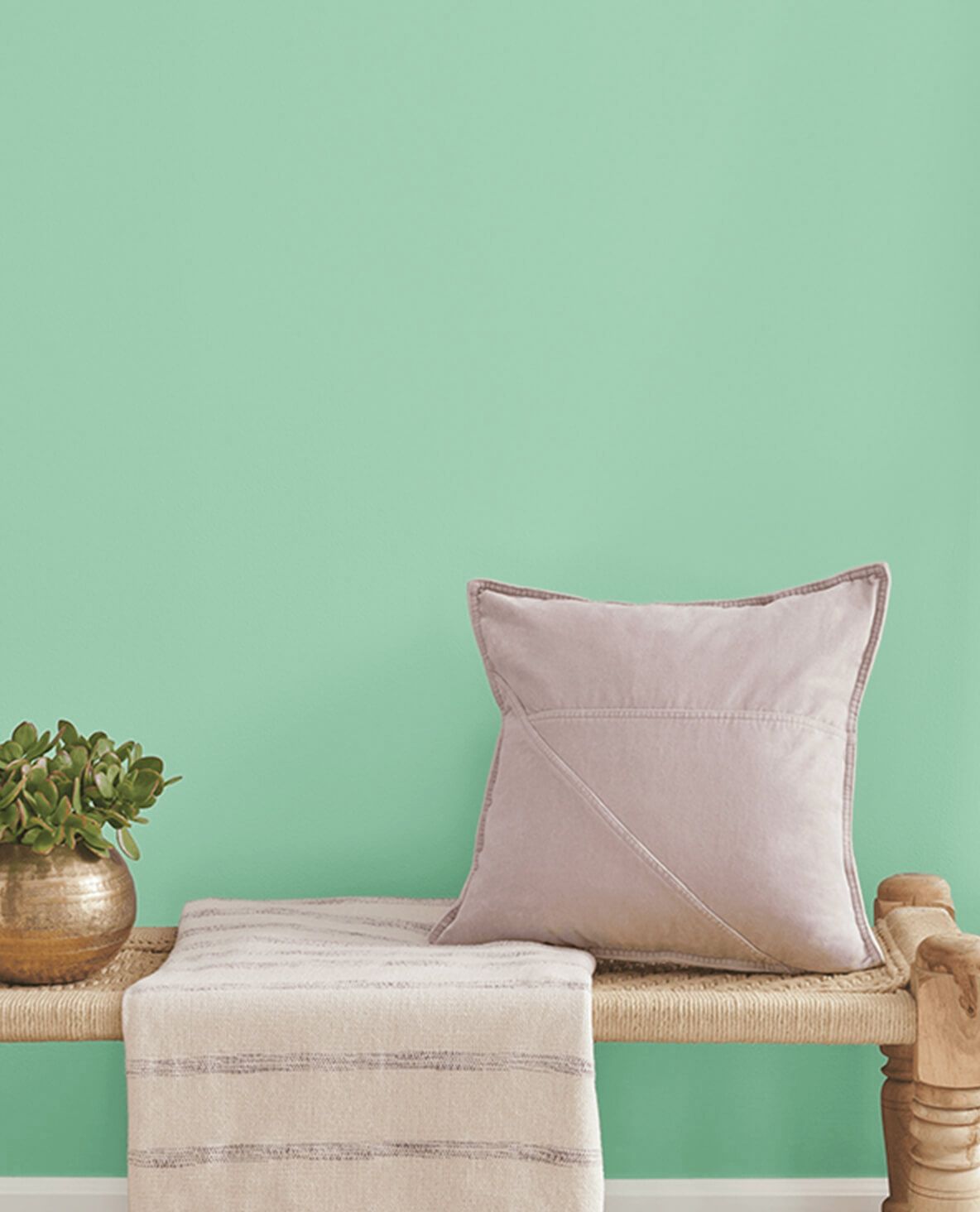 9. Sherwin Williams Warming Peach SW 6338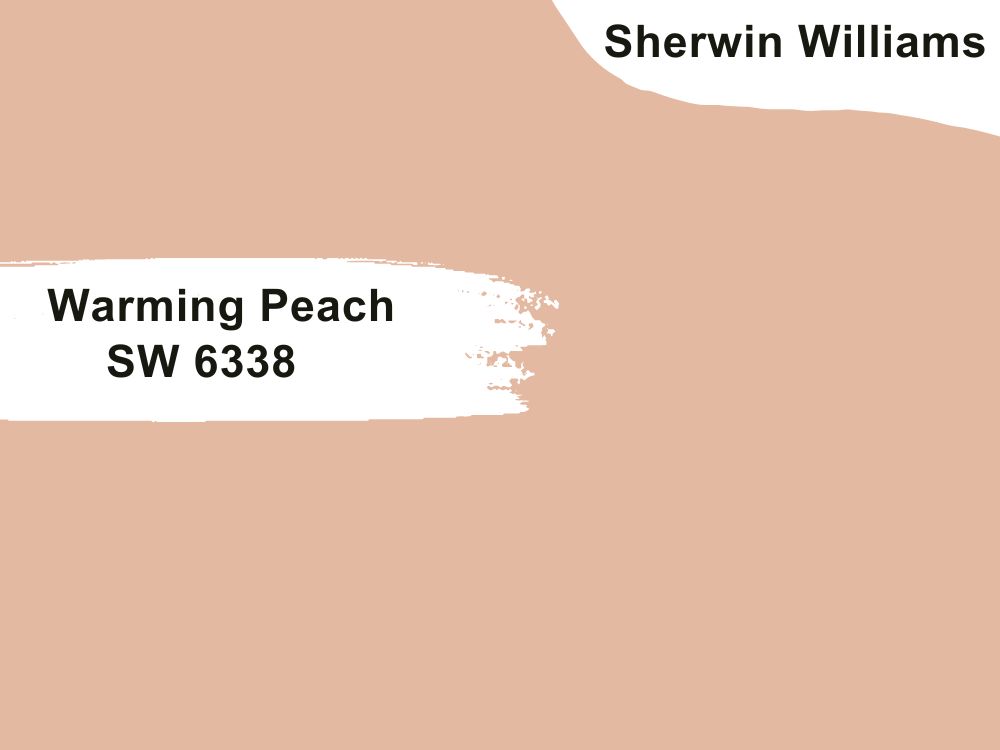 | | |
| --- | --- |
| RGB | 228, 185, 162 |
| LRV | 54 |
| Matching Colors | Nearly Peach, Roman Column, Cachet Cream, Fragile beauty |
| Undertones | Orange |
While compiling this list, another cool light paint color that actually caught my attention is this Warming Peach by Sherwin Williams.
Sherwin Williams Warming Peach is an orange paint color but a very light and subtle shade of orange. You can't be looking for a light paint color for dark rooms in 2023 and not fall in love with this majestic neutral paint color. This color always makes a statement in any room it is used in.
Since dark rooms tend to feel cold and depressing to some people, trying out this color on your walls will help brighten up and also bring back the positive feeling your room would want to have.
With an LRV of 54, Warming Peach is light enough to brighten up a dark room. Even with a very little amount of light, it is capable enough to bring your room closer to the sun.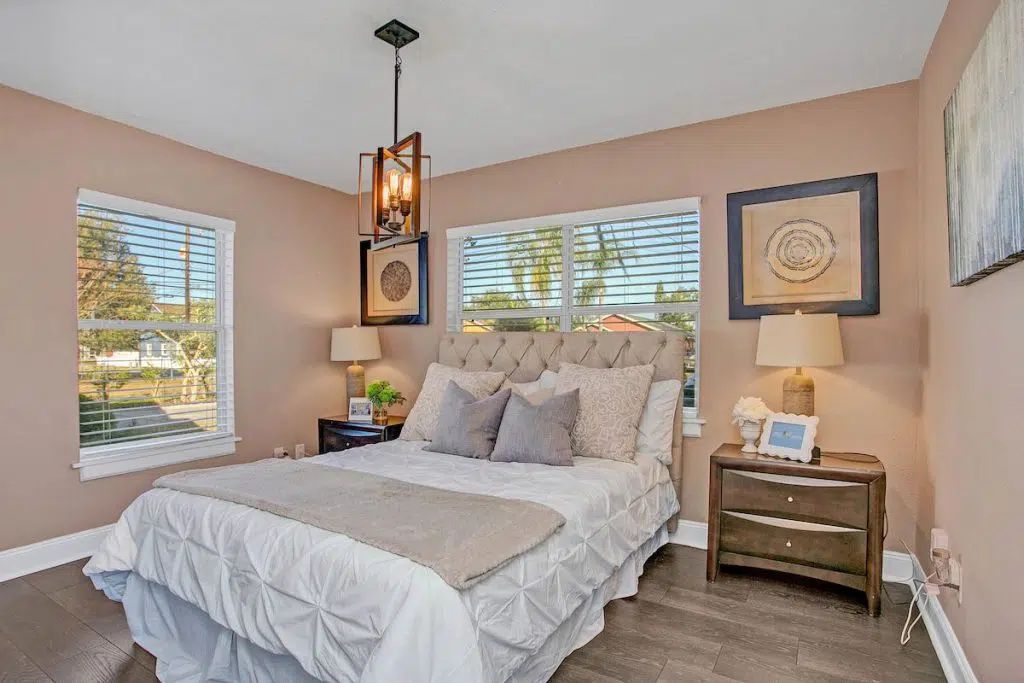 10. Sherwin Williams Fun Yellow SW 6908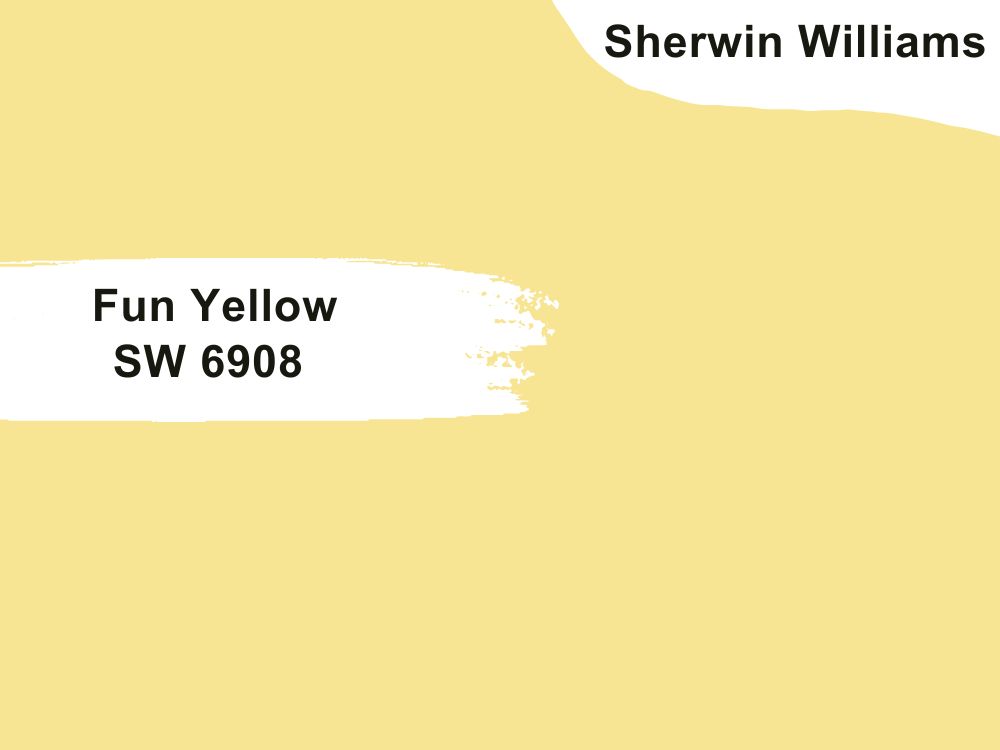 | | |
| --- | --- |
| RGB | 247, 229, 148 |
| LRV | 78 |
| Matching Colors | Pure White, Gray Screen, Alabaster |
| Undertones | Slight Gray, Yellow, and Green |
Will yellow look good on my wall? Definitely yes. Yellow color goes beyond aesthetics. Using yellow paint is like infusing your interior space with a drop of sunshine. A space filled with energy, delight and charm is what this light paint color entails.
Just as its name implies, the Fun Yellow adds an unmatched brightness and inner glow to any dark space. For an absolutely delightful feel, the right tint or tone for this yellow should do the trick.
11. Sherwin Williams Repose Gray SW 7015
| | |
| --- | --- |
| RGB | 204, 201, 192 |
| LRV | 58 |
| Matching Colors | Pavestone, Eider White, Coral Clay |
| Undertones | Greige, Violet |
Repose gray by Sherwin Williams is an iconic light greige paint color. If you're wondering if this is still a cool color in 2023, yes, it is and will be for a longer time.
Because white walls can be difficult to decorate, and most times are not very suitable for dark rooms, a warmer neutral like Repose Gray can be a good alternative. You might only need to worry about other areas in the space like floor tiles, carpets, decors and furnishings.
When it comes to reflecting light, this color is okay when you have enough light, whether natural or artificial. At the end of the day, it's a perfect color for dark rooms, but should be matched properly with other colors and enough light to bring life into the space.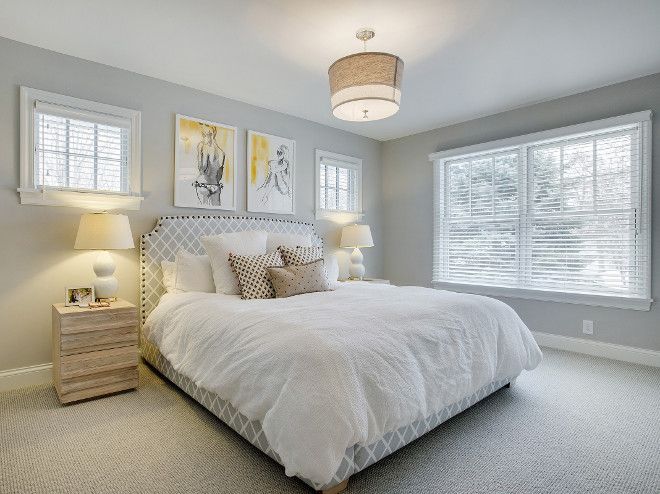 12. Benjamin Moore Raspberry Blush 2008-30
| | |
| --- | --- |
| RGB | 210 95 87 |
| LRV | 22 |
| Matching Colors | Chantilly Lace, Ecru, Alabaster, Sail Cloth |
| Undertones | Coral, Orange, and Pink |
When choosing a bright color for a dark room, it is important to consider the window position and the amount of natural light flowing into the room. Unlike most of the colors we are used to, like whites, beiges, greiges, or neutrals, Raspberry Blush is different.
This is one of the most eye-catching colors on this list. According to Encycolorpedia, "Raspberry Blush is a joyful shade of radiant red and orange coral with a juicy splash of pink".
If you are wondering if Raspberry Blush is a good light paint color for dark rooms with little light, then my answer is yes! Although it has a low LRV, which can't reflect enough light in the room, but, if you need a soft colorful splash on your walls, you should definitely give this a try.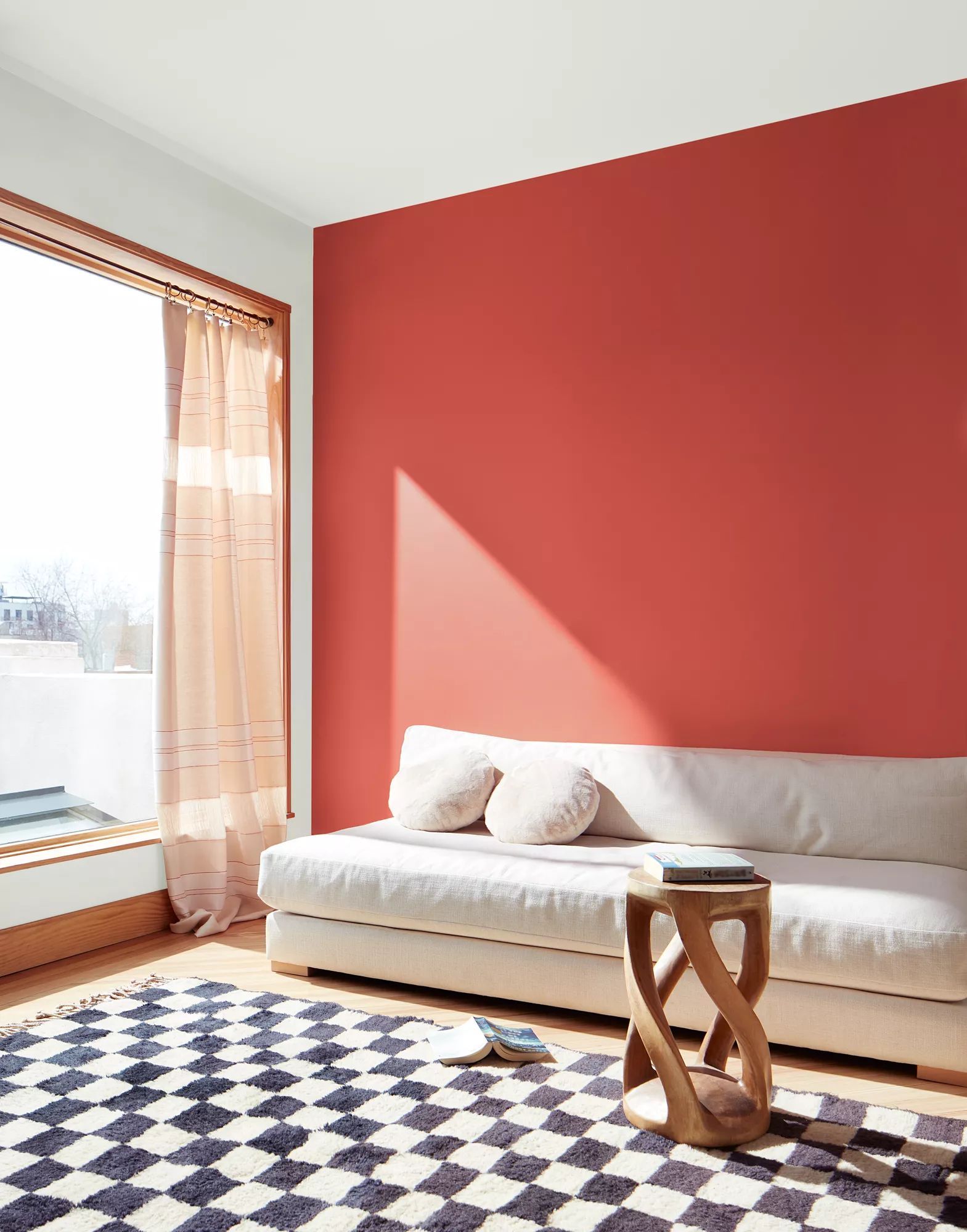 13. Sherwin Williams Elation SW 6827
| | |
| --- | --- |
| RGB | 223, 220, 229 |
| LRV | 72 |
| Matching Colors | Original White, Extra White, Peppercorn |
| Undertones | Red |
Sherwin Williams Elation is another popular color you would see on a lot of colors reviewing sites. That's because this color is a soft, light violet color that is sweet and playful.
Since purple paint colors aren't always recommended for dark rooms, Elation is a great light paint alternative for dark rooms that need a little more pigment on the wall.
With its LRV of 72, this color will reflect light moderately, unlike normal colors like whites which will reflect everything around. This color isn't just perfect for dark rooms, it can also be used for the bedroom walls, kitchen or kitchen cabinets.
14. Sherwin Williams Romance SW 6323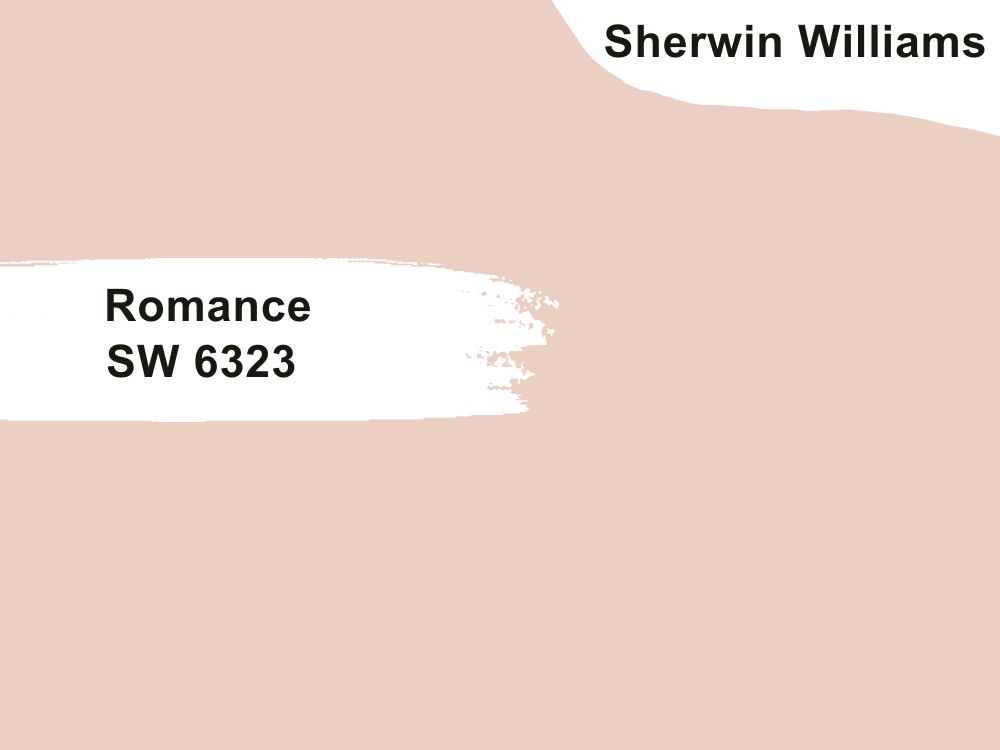 | | |
| --- | --- |
| RGB | 235, 207, 195 |
| LRV | 66 |
| Matching Colors | Intimate White, Rojo Dust, Requisite Gray |
| Undertones | Red |
Sherwin Williams Romance is one of the most popular, neutral best-selling wall paint colors from
Sherwin Williams. Romance has an LRV of 66 thereby making it a light pink color. It is from the red family, and as its name implies, is flirty and charming.
This beautiful light pink color is mostly used as a paint decor for female kids, this is due to its friendly, feminine and subtle disposition.
With an LRV of 66, Romance will be reflecting a good amount of light, which makes this a suitable light paint color for dark accent rooms.
15. Tranquility AF-490 by Benjamin Moore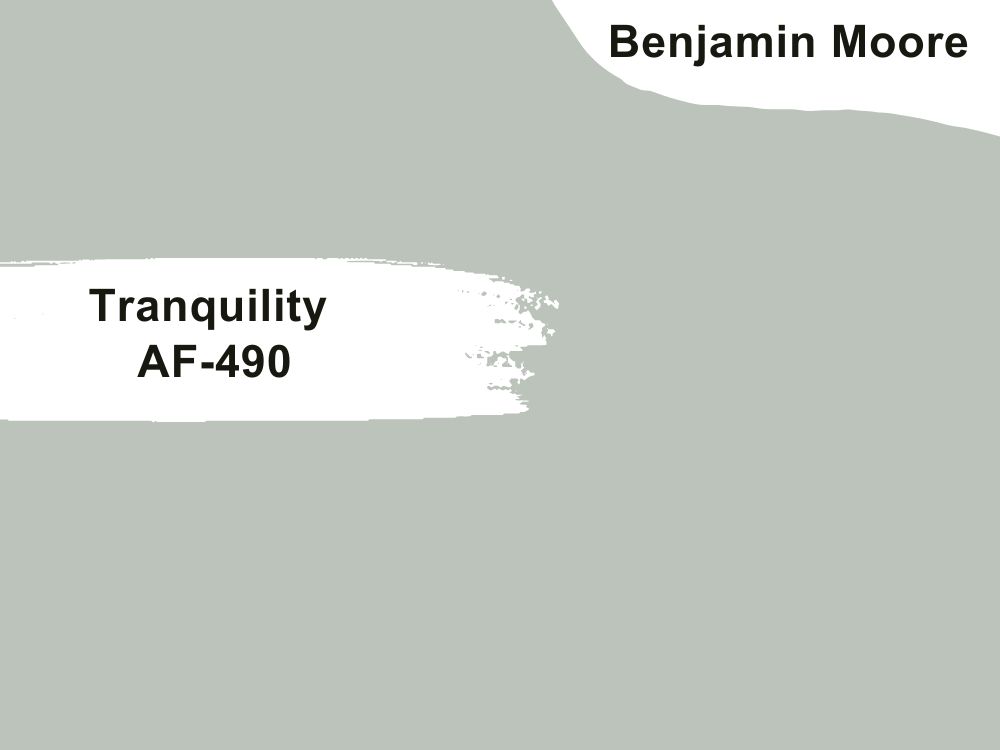 | | |
| --- | --- |
| RGB | 187, 195, 187 |
| LRV | 53.31 |
| Matching Colors | Fondant, Head over Heels, White Diamond, Purple Lotus |
| Undertones | Sage and chic gray, Blue-Green, Gray |
Tranquility means quietness, and that's a cool name for a color. Tranquility by Benjamin Moore is a beautiful light paint color that can work well in a dark room. It has a soothing shade of blue-green with a gray undertone that creates a calming and relaxing atmosphere in any room.
It is a perfect choice if you want to add a touch of light color to a dark room without being too bold or overwhelming.
With an LRV of 53.31, Tranquility by Benjamin Moore can reflect enough light to help brighten up a dark room and make it feel more spacious.
Because this is a versatile color, you won't have issues pairing it with other colors, and it works well whether your decor style is modern or traditional.
Overview
We have been able to handpick some of the best light paint colors in 2023 that will fit any dark room. These light paint colors are very popular amongst designers or decorators including homeowners, and will certainly give you that desired outlook. The colors above range from light paint colors that can reflect light and brighten up dark rooms, as well to lighter colors with cool and warm undertones that can still go well with a dark room with limited lighting.
If you're looking for how or where to buy, we've made that easy. This list is made up of popular and recommended colors from reputable brands like Benjamin Moore and Sherwin Williams. Find your desired light paint color from the list above and give it a try.