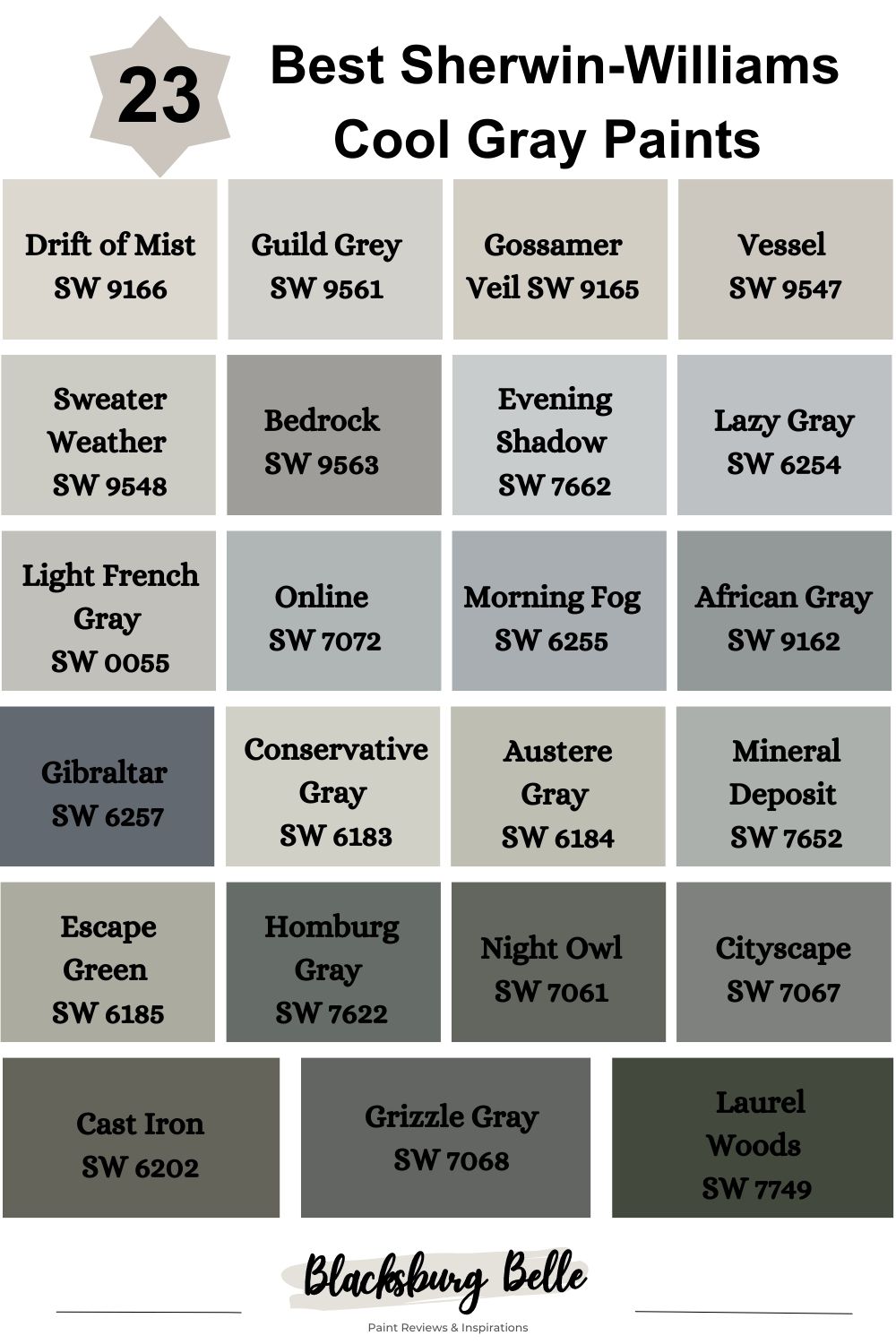 Have you ever wondered why some gray paints appear warm or cold despite being neutral colors? Gray paints come in different shades, but the cool gray hues that lean towards green and blue are the most popular.
Cool gray is relaxing, stable, aesthetically pleasing, and a versatile neutral shade that stands out in any theme. You can use it in contemporary modern designs for clean, oceanic, natural auras or as an anchor for your Victorian-era decor.
Knowing when to use light or dark, cool gray paint can be tricky, but it'll be a breeze with the correct information.
Steps for Choosing the Right Sherwin-Williams Cool Gray Paint
Selecting the ideal cool gray paint includes a careful analysis of the intended space, its lighting, size, position, and the time frame of its usage.
Step 1: Analyze the Space and Lighting
Before choosing any cool gray paint, survey your space and the amount of natural lighting it gets. Use dark, cool gray shades for furniture (cabinets, tables, shelves), accent walls, and complete wall coloring in large spaces.
Small rooms with poor or dim lighting require high LRV cool gray paints for illumination and the illusion of being larger than its reality. Also, this is the time to analyze if the room already has some decor or if you're making a fresh start.
The latter is easier since you can get as creative as you like, but with already-designed rooms, you must coordinate your cool gray shade with the existing colors.
Step 2: Measure the Room's Size and Position
Get a tape rule, paper tape, and pencil to measure your room and establish whether it's small, standard, or large. Standard room size is 14 x 20 ft making large rooms 16 x 24 ft and small rooms 12 x 14 ft.
Use a compass to get the room's coordinates and identify the sun's position on your windows and doors. North-facing windows receive a consistent glow throughout the day, so it's the best position for maintaining a cool gray paint shade.
West-facing windows receive the least sunlight, while South-facing sunlight reflects the brightest in the morning. Once you've identified your room's position and size, it's time to decide whether you need additional lighting options.
Step 3: Evaluate Your Lighting Options
High LRV cool gray paints don't need extra lighting, but you can augment the space with white, blue, or green light as their cool tones. Matching like hues to lighting helps to highlight its relaxing features and dim, cool gray paints.
If your interior decor is a contrasting theme, you can use warm lighting to intensify your cool gray paint.
Step 4: Conduct Sample Area Testing
Sherwin-Williams offers three sampling options for its customers depending on their economic strength. Ten 2" x 3" Color Chips come free for every customer before purchase, while you have to pay $3.95 for 8" x 8" peel & stick adhesive strips.
Color to Go paint sample is the most expensive yet affordable at $10.19 per quart tub. You can leave them on the desired surface for a whole day to see their reaction to light and wash it off the following day.
Step 5: Analyze the Long-Term Value of a Paint Color
Don't use high LRV paints in places with heavy traffic as it'll easily attract dirt and lead to quick wear and tear. However, if you can afford to hire help, get someone to clean the cool gray paint daily.
Alternatively, use low and medium LRV paints for a longer-lasting look as they're less tedious to maintain.
Step 6: Apply Finishing Touches
Your paint finish adds to the color's beauty, maintenance, and translation. Satin, Silk, and Luster finish are shiny and ideal for highlighting spaces like front doors, accent walls, and trims.
Softer finishes like matte, flat and eg-shel work best in heavy-traffic spaces as they're easy-to-clean and great backdrops for other colors to shine.
Understanding Cool Gray Paints
Cool gray paints come in three forms: neutral, blue-gray, and green-gray. These shades are the results of the undertones, which often come in either the two primary and secondary colors in the color wheel or a blend of green and blue hues.
Learn more about these types of cool gray paints and when to use them below.
What Are The Undertones?
Every color is a unique blend of red, blue, and green pigments into an absolute black hue resulting in the existence of secondary tints. These tints are called undertones as they are embedded beneath the color's surface.
Light interaction with cool gray paints determines the degree of undertone reflection you'll get from the color known as Light Reflectance Value. Some shades absorb light (3 – 49 LRV) while others reflect it (50 – 97 LRV).
Types of Cool Gray Paints
The final step in choosing the perfect cool gray paint is deciding which type you want, and that's a question of taste. If you want your color to create an airy and relaxing aura or a moody and calming vibe, you must curate your palette based on LRVs.
Light Cool Gray Paints
Light cool gray shades range from 60 – 70, as the color is typically mid-toned. If the light shade exceeds 70 LRV, it becomes white or any of its undertones, as that'll overtake the charcoal element that makes it gray.
Use light cool gray paints as trims or complete wall coloring as they reflect enough light and illuminate spaces without additional lighting. Popular Sherwin-Williams shades include Intrepid Gray (SW 9556), Drift of Mist (SW 9166), and Windchill (SW 9636).
Dark Cool Gray Paints
Unlike light cool gray paints, dark shades often absorb light with the exception of medium-dark tones which have bright undertones. This shade of gray is moody thus adding elegance and eclectic energy to its surroundings.
Use dark cool gray as accent walls and furniture to add style in your homes and offices. Examples of Sherwin-Williams dark cool gray paints include Night Owl (SW 7061), Cyberspace (SW 7076),  Sea Mariner (SW 9640) and Forged Steel (SW 9565).
Soft Cool Gray Paints
Soft cool gray paints can either be dark or light, as their defining factor is the subtle look of their overtone. They're the best types for soothing themes, as the hues often satisfy your senses and keep you relaxed all day.
Some options to use include Gossamer Veil (SW 9165), Evening Shadow (SW 7662), Silverplate (SW 7649), Unusual Gray (SW 7059) and Magnetic Gray (SW 7058).
23 Best Sherwin-Williams Cool Gray Paint Colors (2023 Trends)
We've taken the liberty of breaking the 23 best Sherwin Williams cool gray paint colors into 3 distinct categories based on the intensity of the undertones
Neutral Grays
Blue Grays
Green Grays
Neutral Gray Paints
Undertones add character to gray paints, but sometimes you want a dependable clean slate with little to no undertones. Neutral gray colors provide that untainted backdrop you need for your modern or vintage-themed home.
Check out the top gray shades from Sherwin-Williams.
All pictures sourced from Sherwin-Williams
1. Drift of Mist (SW 9166)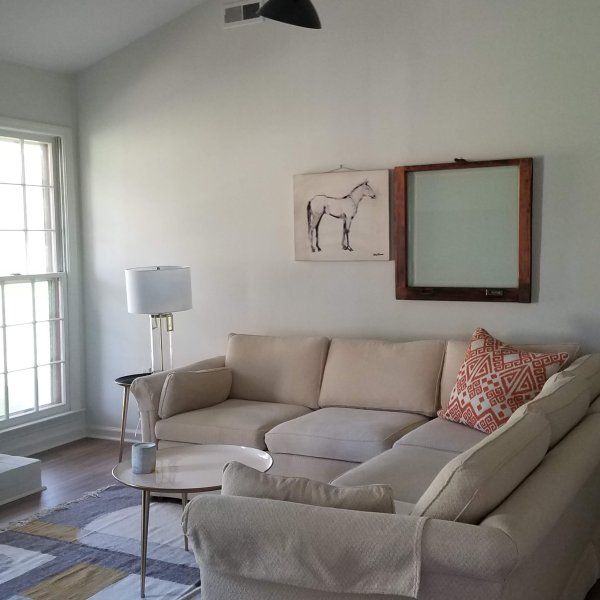 Brighten your space with Drift of Mist (SW 9166) 's 69 LRV outlook, which has an airy and inviting presence. This color is a great blank canvas for creative expression through interior decoration.
Keep your bathroom classic with a Drift of Mist wall paired with white tiles, or switch up the design by adding a darker hue like Perle Noir.
2. Guild Grey (SW 9561)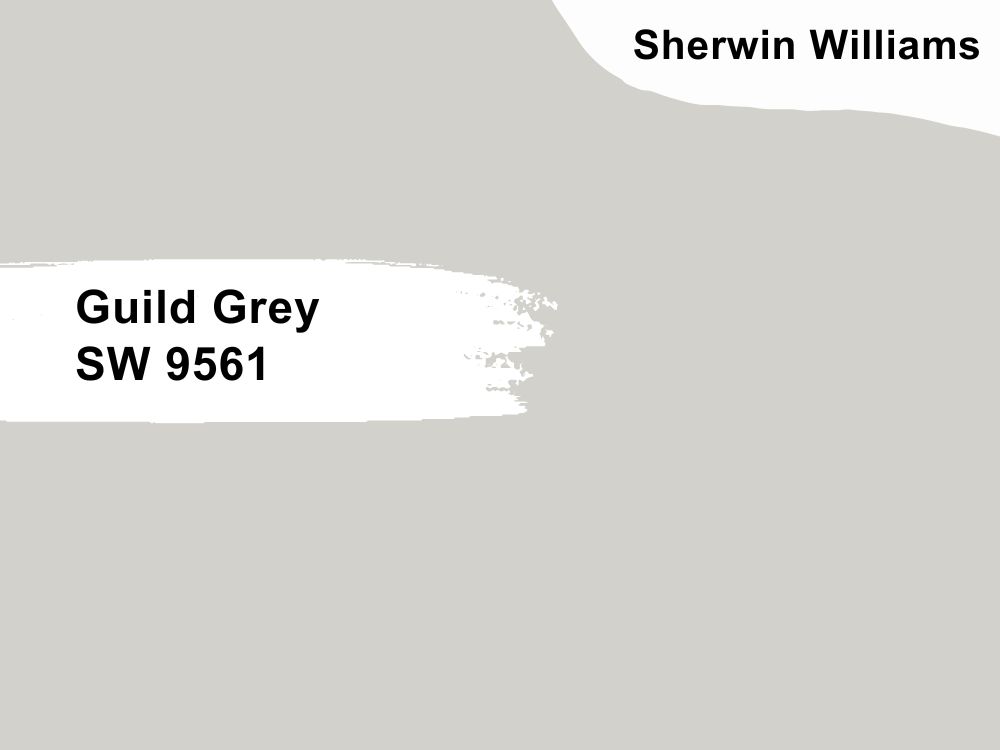 Using Guild Grey (SW 9561) gives you a breezy, light, neutral gray background with an LRV of 63. This color is clean without definite undertones hence its preference as an alternative to traditional crisp white trims.
Curating a palette with Guild Grey as the centerpiece is a walk in the park as it's a versatile shade. Your only limit is your imagination.
3. Gossamer Veil (SW 9165)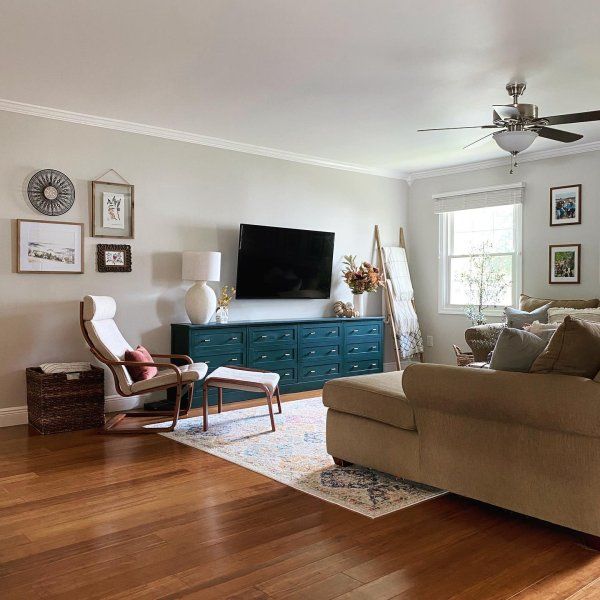 Gossamer Veil (SW 9165) has a filmy exterior like a cobweb hence the name. As a medium-light tone with an LRV of 62, this hue ranks among the Top 50 Sherwin-Williams colors.
It's ideal for bedroom and living room walls when paired with earthy tones from alternate colors to wooden furniture and floorings.
4. Vessel (SW 9547)
Maintain a modern yet minimal look with Vessel (SW 9547) 's aura, which stays unchanged at a mid-toned 58 LRV. This neutral tone is ideal for family and dining room walls in homes with young children.
As a soft gray shade, it's best to pair Vessel with other soothing and pastel hues, especially cool ones like cornflower blue, lavender, lilac, and green.
5. Sweater Weather (SW 9548)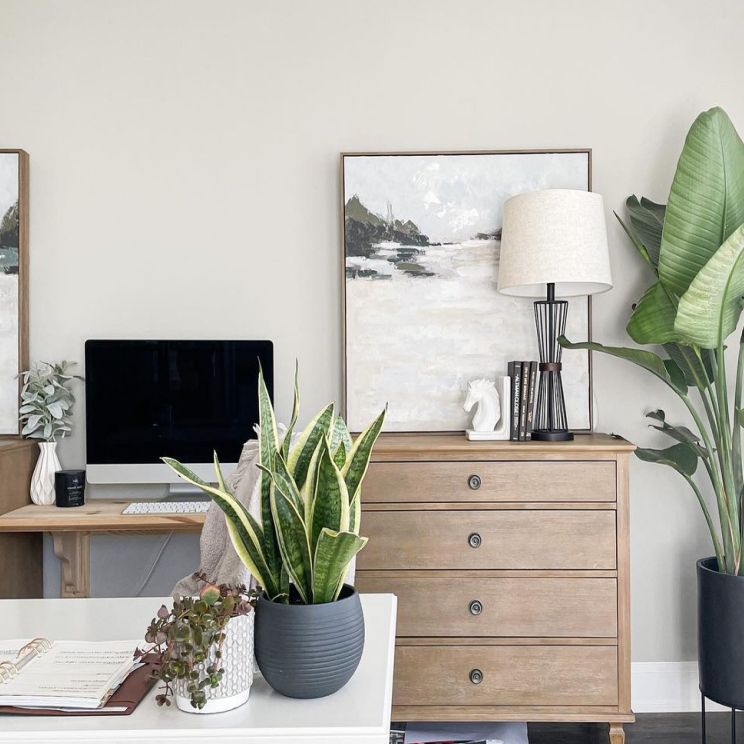 Keep your bedroom cozy yet bright with a medium-light gray paint like Sweater Weather (SW 9548). It's the perfect gray shade for modern minimalist home decor as it presents an effortless aura in its surrounding.
This color has an ash undertone which shines when paired with cool paints like teal, blue, and even dusky hues like plum.
6. Bedrock (SW 9563)
Bedrock (SW 9563) is a medium-dark gray paint with an LRV of 34 and a cloudy exterior. This beautiful gray paint remains neutral at all times of the day, making it a mood stabilizer for managing stress.
Use Bedrock on your bedroom walls and kitchen cabinets against faint white walls. Alternatively, you can use this gray paint on your outer walls and porches.
Blue-Gray Paints
When you think of cool grays, blue-grays are often the leading shades as they're the most popular among designers. This shade could be soft, as is seen in light grays, or intense, as you'll get with darker hues.
Whichever shade you choose, know that the best ones are often versatile and unique.
7. Evening Shadow (SW 7662)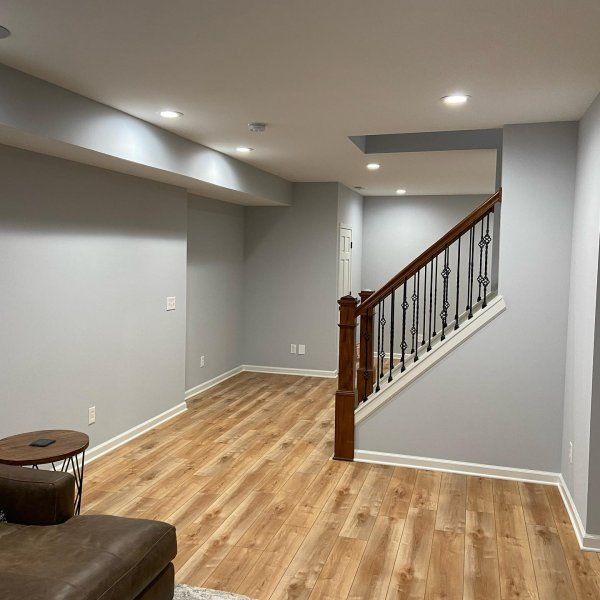 Crisp gray paints exist, which you'll get with Evening Shadow (SW 7662), with a soft blue undertone that keeps it clean. It mimics the sky's appearance on a bright summer evening.
Evening Shadow reflects some light into the surrounding as its LRV stands at 60; hence it doesn't need additional lighting to brighten a room.
8. Lazy Gray (SW 6254)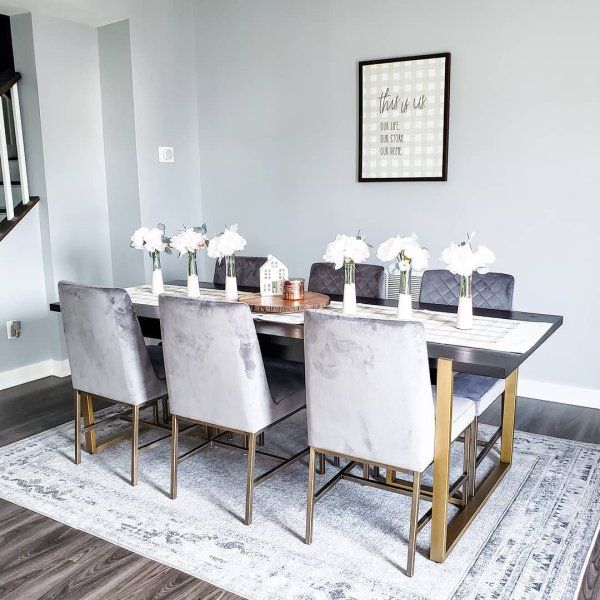 Is it blue or gray? That's the question your guests would always ask once they gaze upon your Lazy Gray (SW 6254) paint. It's a beautiful two-toned 53 LRV hue that flits between a cool blue in the morning and soft gray as the sun sets.
Use Lazy Gray in a blue-themed palette on your bedroom and pool walls, bathroom cabinets, or accent walls.
9. Light French Gray (SW 0055)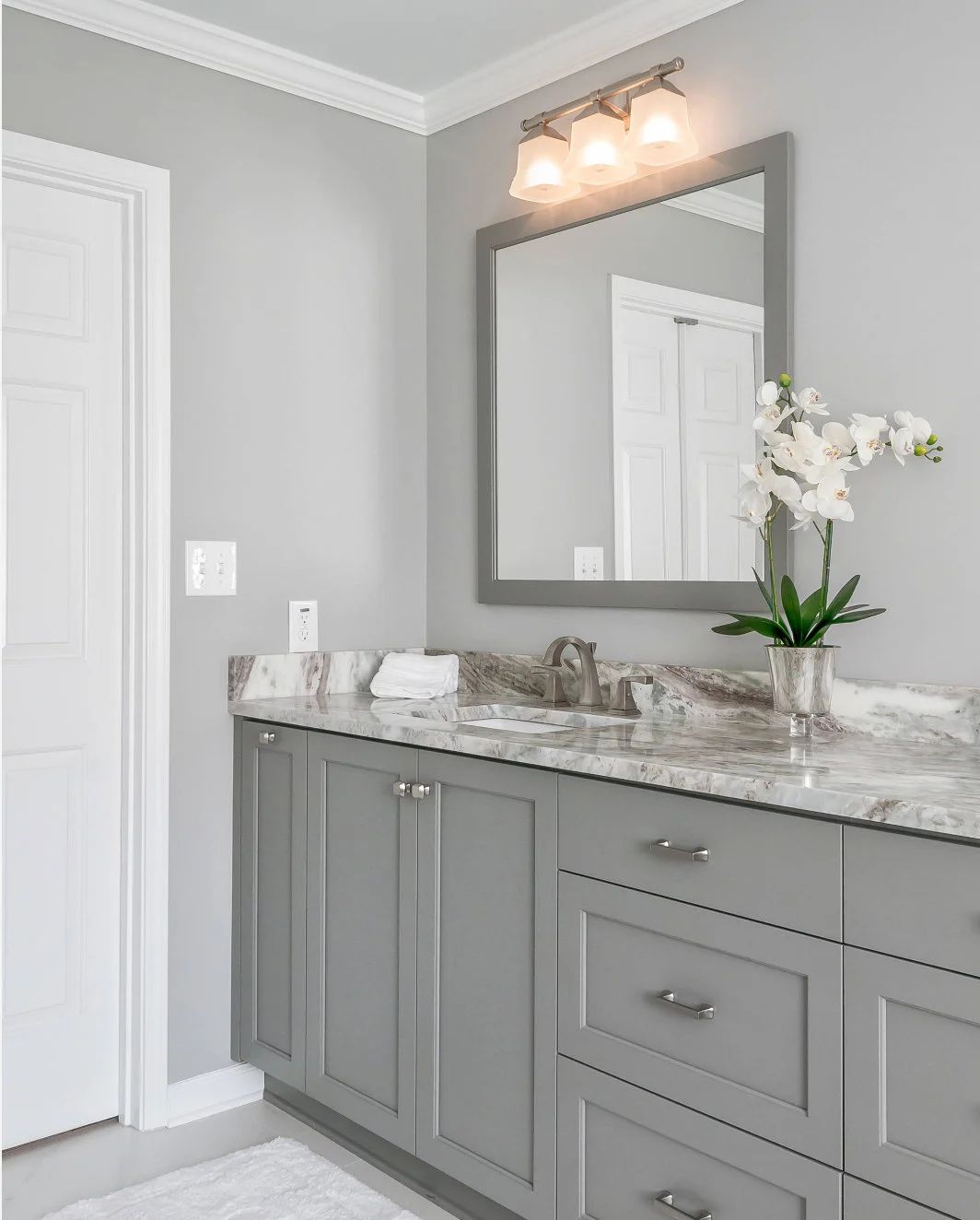 Most cool gray paints are exclusively so, but Light French Gray (SW 0055) fuses a warm brown tint beneath its bluish-gray overtone. At its natural state, this color stays neutral with an even-toned LRV of 53.
Light French Gray is a pale and soft historic hue used for overall coloring and as trims for darker shades.
10. Online (SW 7072)
Take a modern approach to decorating with gray using Online (SW 7072). It's a clean, attractive shade with a definite blue undertone that seeps out under dim lighting.
Most designers pair this bluish-gray with white trims for light palettes and foggy gray decorations for darker themes. Paint Online in your bedroom for a perpetual relaxing vibe and in your office juxtaposed with black furniture to keep your daily decisions level-headed.
11. Morning Fog (SW 6255)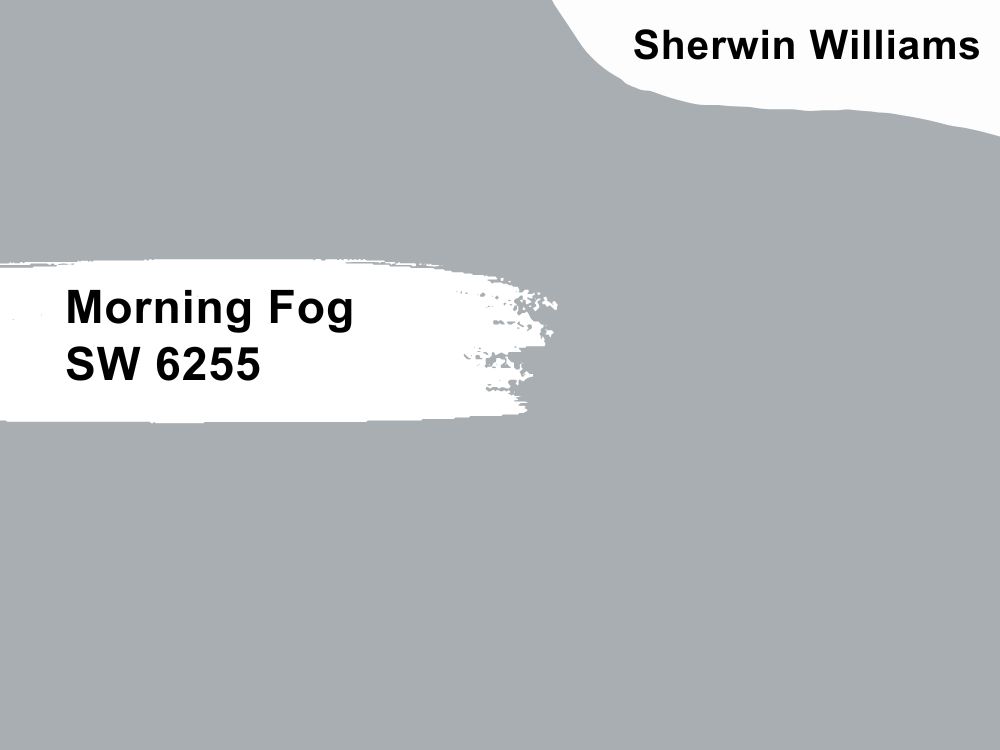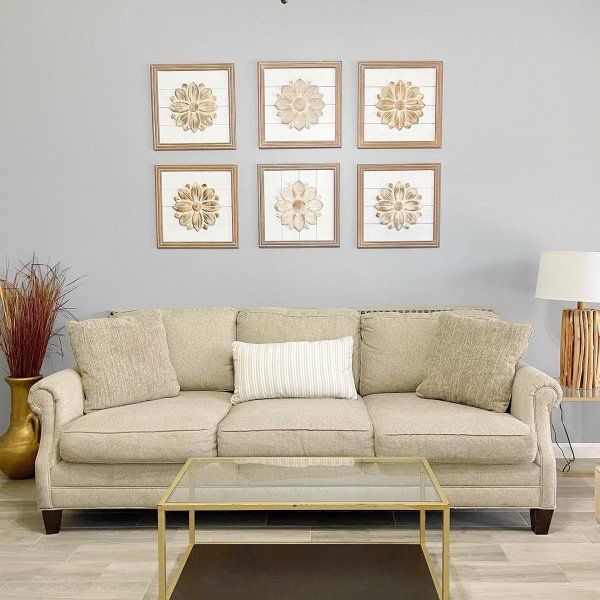 Curb your anxiety and nerves by waking to Morning Fog (SW 6255) daily. Its soft gray overtone shrouds a cyan and blue tint miming a misty cloud. Use this color in your bathroom for a vacation mood, bedroom, and living room.
Highlight Morning Fog's 42 LRV mistiness with crisp white and blue-white trims like Ice Cube and Extra White, or keep it gray with Sedate Gray.
12. African Gray (SW 9162)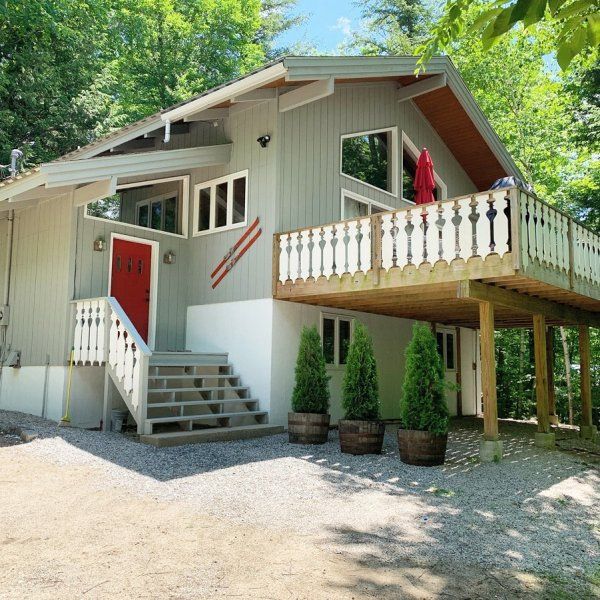 Inspire tranquility in your environment with the stoic blue-gray look of African Gray (SW 9162). It's a steely hue with cooling blue tints that take over in the dark hence its ability to create a calming vibe.
13. Gibraltar (SW 6257)
Gibraltar (SW 6257) is a beautiful charcoal gray paint with a rich blue tint that presents a cool 14 LRV surface. Highlight this color's beauty with light tans like Folksy Gold on complementary furniture and accent walls.
Accentuate Gibraltar with light wood floorboards and island tables.
Green-Gray Paints
Using green-gray is a great way to switch up gray themes since the traditional cool undertone is blue. You can pair this shade with blue-grays for a cool mixed feature or stick to green pieces to highlight its lush nature.
14. Conservative Gray (SW 6183)
Open up your space with the airiness of Conservative Gray (SW 6183), which illuminates an area without additional lighting. Its 63 LRV makes this color ideal for highlighting dark walls and rooms, whether as an accent wall or a trim.
Conservative Gray is a soft neutral shade for overall interior coloring and a blank canvas for imaginative designers.
15. Austere Gray (SW 6184)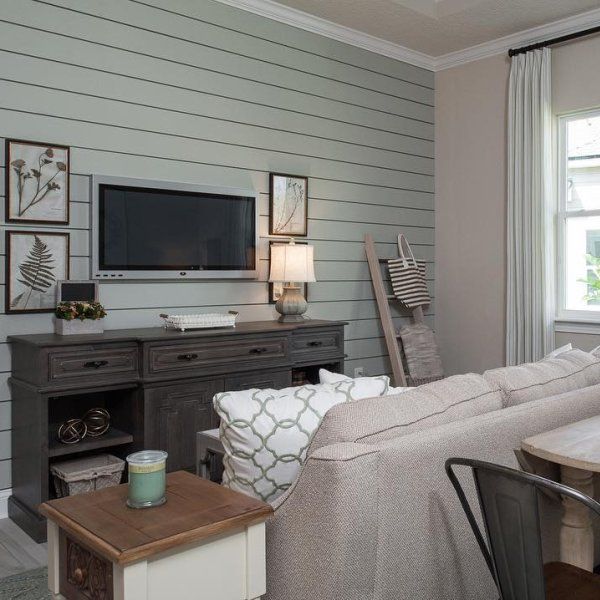 As a 51 LRV paint, Austere Gray (SW 6184) is often unchanging in its tone, but it has a unique green-blue undertone that reflects under South-facing light. Once the sun sets, the color transforms into a severe gray fitting for your study, library, and office.
Use Austere Gray if you struggle with anxiety; its steady tone will stabilize your mood throughout the day.
16. Mineral Deposit (SW 7652)
Create a restful vibe with the 43 LRV Mineral Deposit (SW 7652), which combines cyan and green tints. Without adequate lighting, Mineral Deposit appears as a stable, gray hue. Still, its dual-toned nuances make it a recipe for nature-themed decor.
Add potted plants inside your bedroom or bathroom to accentuate Mineral Deposit. Plant a full garden around your house to beautify your exterior walls.
17. Escape Green (SW 6185)
Escape Green (SW 6185) creates a utopia of coolness in your space, as its green undertone also has a subtle blue tint. Its teal nuance thus appears as mid-toned gray (41 LRV) color underneath bright morning sunlight.
Paint your living room and bedroom Escape Green to get a space for unwinding daily.
18. Homburg Gray (SW 7622)
No other Sherwin-Williams gray paint is unapologetically green like Homburg Gray (SW 7622). This calm tone has a prevalent cyan tint amounting to a reflective strength of 15.
Hence, Homburg Gray wouldn't absorb every ray of light it catches but would subtly reflect it into your space for a mysterious aura. Your bookshelf would stand out when painted Homburg Gray against a tan wall with wooden and dark brown leather accessories.
19. Night Owl (SW 7061)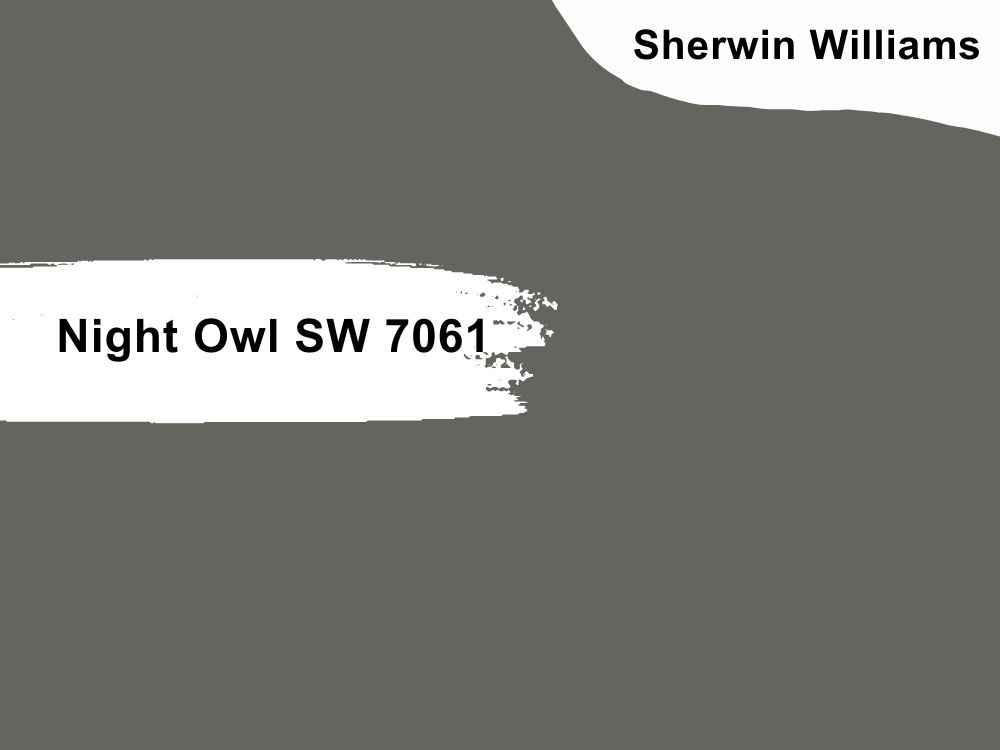 Charcoal has a delicate face with Night Owl (SW 7061), which embeds tints of cyan and green beneath its gray exterior. Make its 13 LRV presence stand out with mid-toned gray paints like Drift of Mist or deepen its moodiness with a darker color like Carnelian.
Use Night Owl as a complementary wall in your living room, particularly on the fireplace or TV organizer, and elevate its beauty with warm wooden trims.
20. Cityscape (SW 7067)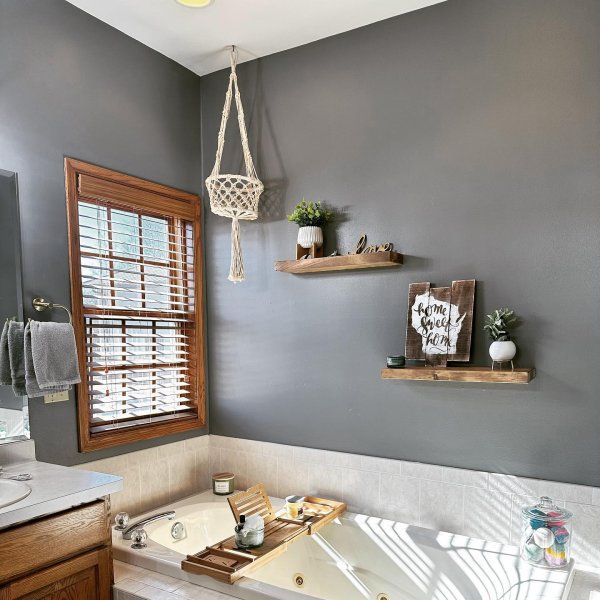 Get classy and embrace contemporary themes with Cityscape (SW 7067). Its 22 LRV overtone is layered over a cool green hue which reflects faintly as the sun rises. Don't let its steady dark look discourage you from exploring the possibilities of this color.
Paint Cityscape in well-lit rooms to highlight its deepest green undertone in your bedroom and an accent wall in a family room, dining room, or guest lounge. It'll indeed have your guests guessing as the green hue gently seeps through its gray surface.
21. Cast Iron (SW 6202)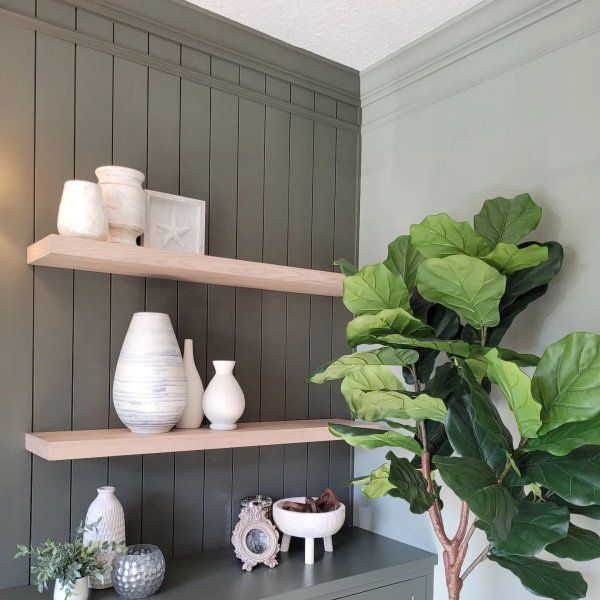 The solid green content in Cast Iron (SW 6202) almost eclipses the slate gray undertone. At 12 LRV, this color mainly retains light, but underneath a hot South-facing sun, it transforms into a cold gray.
Use Cast Iron on your kitchen cabinets and exterior walls for a sturdy backdrop to softer and brighter pastels like Champagne (yellow) and Smoky Salmon (Rose pink).
22. Grizzle Gray (SW 7068)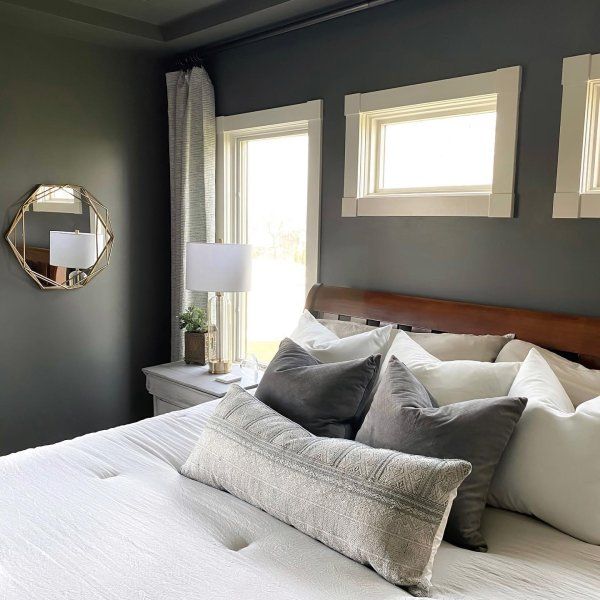 Create a moody, dramatic vibe with the elegance of Grizzle Gray (SW 7068)'s green-gray presence. Its 13 LRV overtone is the perfect background for your bedroom, especially when you're looking to avoid black.
Accentuate Grizzle Gray with light green grays for a minimalist theme, or get creative with lighter green paints from sage to mint. Use the high LRV hues for your decor, including bedding, floorings, drapery, and art.
23. Laurel Woods (SW 7749)
Laurel Woods (SW 7749) is a game-changing gray paint blending cyan, green, and charcoal into an exotic gray paint. This combination creates a 6 LRV lush neutral paint used ideally as an accentuating tone.
You can highlight its three undertones with lighter neutrals on the upper part of the half wall or as a complementary wall. At the same time, Laurel Woods shines on your furniture. This shade of gray would have guests talking about your space for days.
Conclusion
With this guide, your only dilemma should be deciding between neutral, green, and blue-based cool gray paints. Remember that neutral shades have undetectable undertones, bluish grays are cooler and greenish grays favor nature-themed styles.
Use blue-gray paints for contemporary designs, green-grays for vintage themes, and neutral gray for both styles. Step into your fairytale relaxing utopia with cool gray and experience a new zen mood in your daily activities.