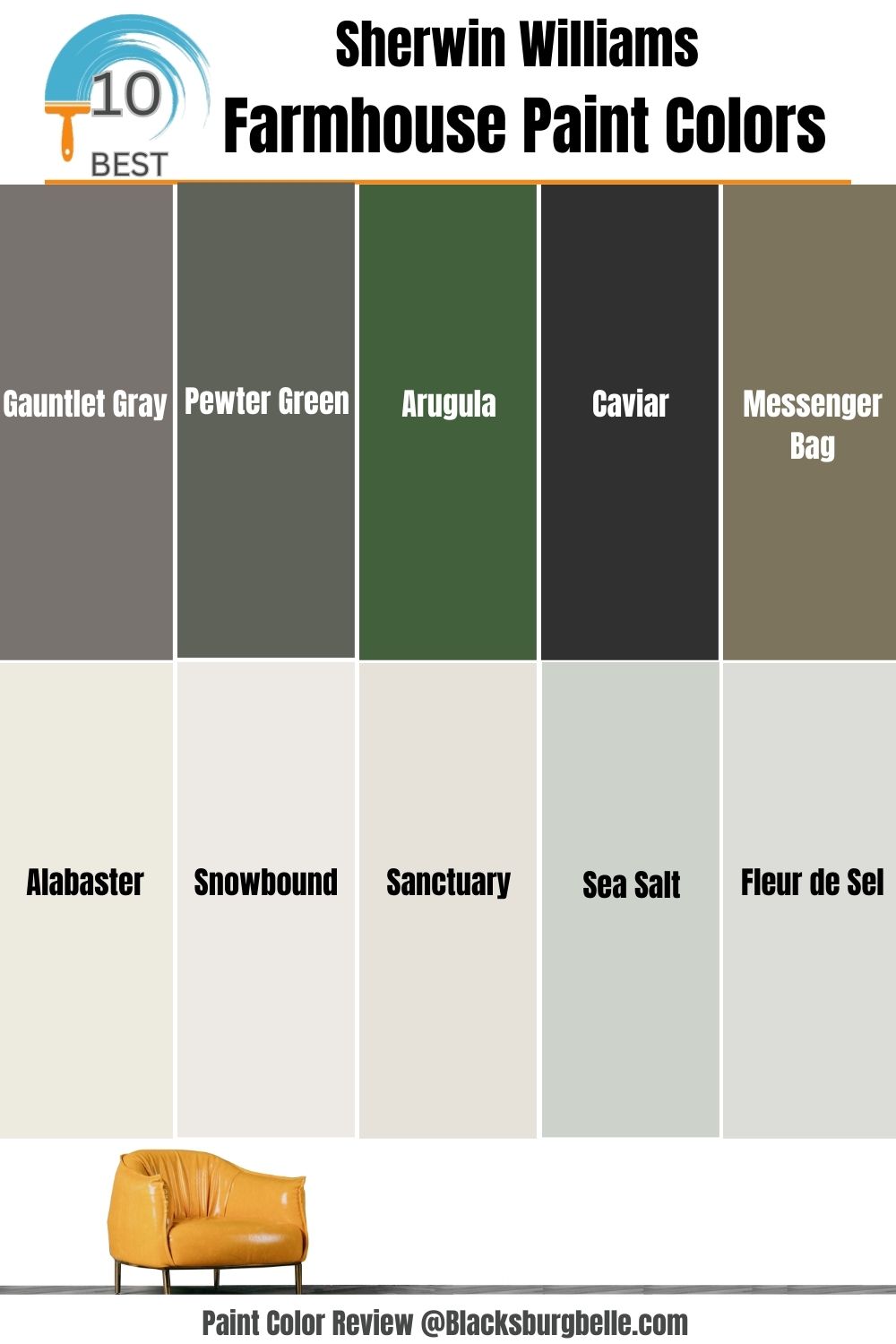 It is said that a home is a reflection of its inhabitants, and nothing brings personality and charm to a space quite like the right paint color. If you're a fan of the popular farmhouse style, you know that a warm, inviting color palette is key to creating that cozy, lived-in look.
That's why we've done the legwork to bring you the top Sherwin-Williams farmhouse paint colors that will add character and charm to any room. From Gauntlet Gray, Snowbound, Sea Salt, Caviar, to Arugula and Fleur de Sel, there are plenty of options depending on your style and the mood you want to create in your space.
How To Select The Best Sherwin Williams Farmhouse Paint
Before we jump right into the listicles, understanding the key factors that determine the best Sherwin-Williams farmhouse paint to choose is crucial. Taking these factors into account will allow you to make an informed decision and achieve the desired look for your farmhouse.
Consider The Purpose of the Room
Before choosing a paint color, think about how the room will be used. The purpose of the room can have a big impact on the type of color that will work best. For example, a soothing color like Gauntlet Gray might work well in a bedroom, while a bold color like Arugula might be better suited for a dining room.
Look at Existing Décor
Taking note of any existing décor in the room can also help in choosing the right color. If there are already dominant colors or patterns, it is best to choose a complementary color that will enhance the overall look and feel of the room. Look at furniture, accessories, and artwork to determine which Sherwin Williams farmhouse paint color will complement them.
Different colors have their different complementary palettes. For example, Sherwin Williams Snowbound pairs well with earthy textures, while Sherwin Williams' Caviar and Messenger Bag complements wooden fixtures due to their dark hues.
Pro tip: Consider using a color wheel to choose complementary colors to create a cohesive look. This will make your design visually appealing and help you avoid clashing colors that can be distracting and unprofessional.
Examine Light Sources
Lighting can play a huge role in how a paint color appears, from the brightness to the undertones. Natural light, artificial light, and even the direction of the light can all affect how the color illuminates the room.
Sherwin Williams Sea Salt, for instance, evokes a calm and relaxed space with plenty of natural light while Pewter Green may feel more muted when illuminated with artificial light sources. It is essential to test your chosen colors in different lighting conditions to ensure they look how you want them to.
Select a Finish
The finish you choose can also impact the overall look of the room. A glossy finish, for example, will reflect more light and produce a more dramatic effect, whereas a matte finish will absorb light and produce a softer, more subtle look. When choosing a finish, consider the type of room you're painting as well as the overall look you want to achieve.
Pro tip: For high-traffic areas like hallways and kitchens, choose a more durable finish, such as satin or semi-gloss. For a more subtle and sophisticated look in bedrooms or living rooms, opt for a matte or eggshell finish.
Test Out Color Samples
Once you've narrowed down your choices, it's important to test out color samples in the actual space where you plan to paint. This will give you a better idea of how the color will appear in different lighting conditions and against other elements in the room.
Buy sample pots of the Sherwin Williams farmhouse paint colors you're considering and paint small wall sections to visualize their overall feel in your intended settings.
Make a Final Decision
After testing out the color samples and examining the existing décor and lighting in the room, it's time to make a final decision by purchasing the full-sized cans of the chosen Sherwin-Williams farmhouse paint colors. Follow the manufacturer's instructions carefully and prepare the walls properly before painting to achieve the best results.
Sherwin Williams 10 Best Farmhouse Paint Colors
Now that you've grasped the fundamental concepts regarding the selection of Sherwin Williams Farmhouse paint colors, it's time to introduce you to a pool of fantastic options. Here are 10 of Sherwins Williams best Farmhouse paint colors
Sherwin Williams Gauntlet Gray (SW 7019)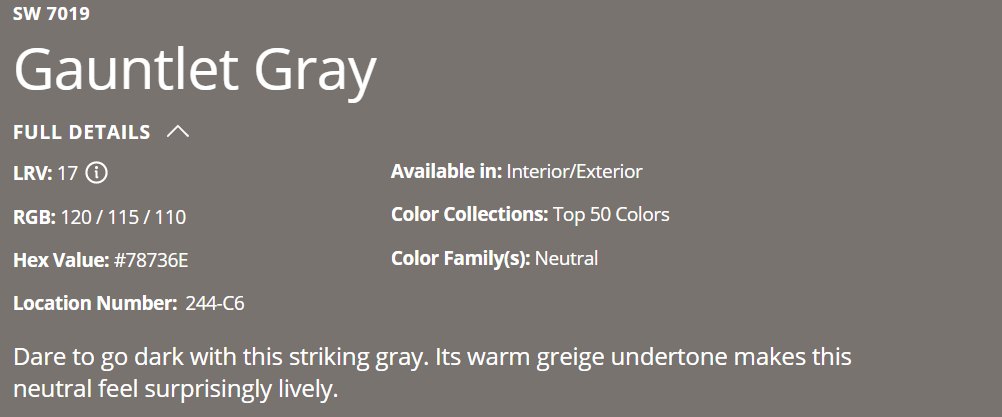 Gauntlet Gray is a classic, versatile color that blends perfectly with any farmhouse setting.  With 17 LRV, it is a dark, warm gray with brown undertones, reminiscent of a weathered stone wall or rustic barnwood that can add depth and richness to any room.
One of the best ways to use Gauntlet Gray in a farmhouse setting is by pairing it with natural materials and textures such as raw wood, stone, and natural fibers. This will create a warm and inviting environment for a farmhouse kitchen or living room.
Gauntlet Gray can also be used to create a striking accent wall in a bedroom or dining room, particularly when combined with lighter colors and natural light sources. It will give your space an intimate and sophisticated feel while maintaining a rustic charm.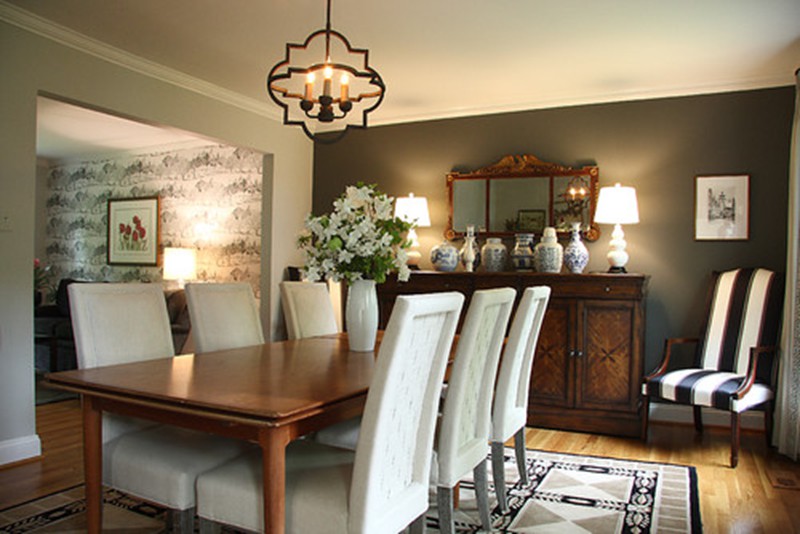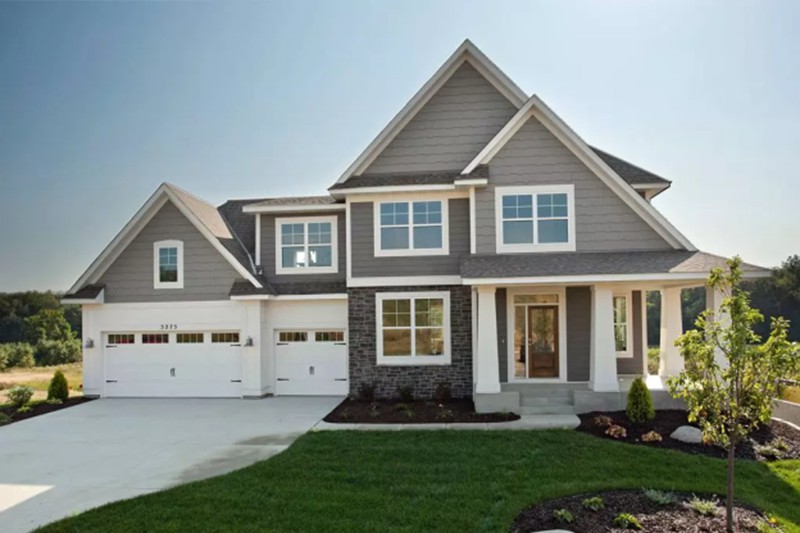 Sherwin Williams Snowbound (SW 7004)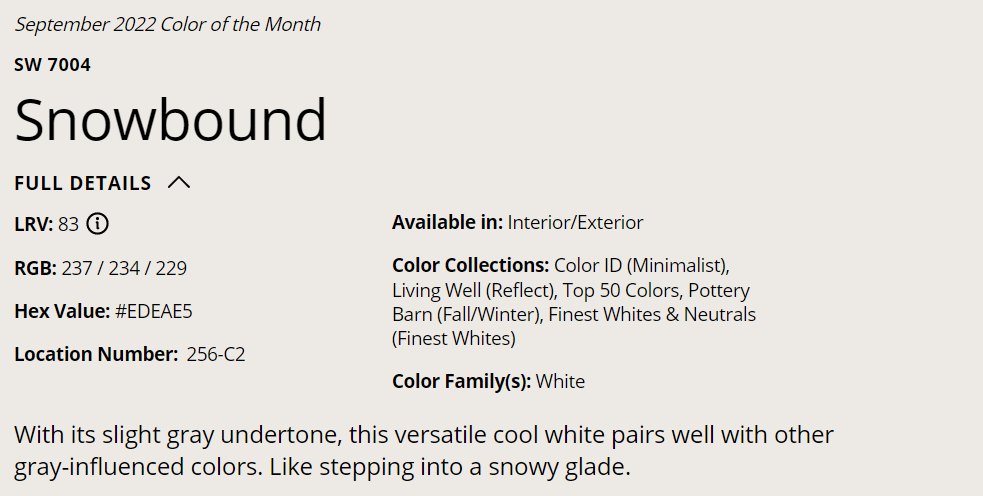 The Sherwin Williams 2022 September color of the year, Snowbound is a cool and calming white hue that evokes serenity and simplicity. It is a versatile color used in any room or design style to create a fresh and modern look.
With an LRV of 83, Snowbound is a light and airy color that reflects a lot of natural light, making it ideal for rooms with less natural light. Its RGB values are 237 / 234 / 229, which gives it a subtle warm undertone that is the ideal paint color for a farmhouse style to create a balanced and harmonious look.
Snowbound complements earthy textures, natural wood tones, and other neutral colors to create a timeless and inviting atmosphere in interior and exterior spaces.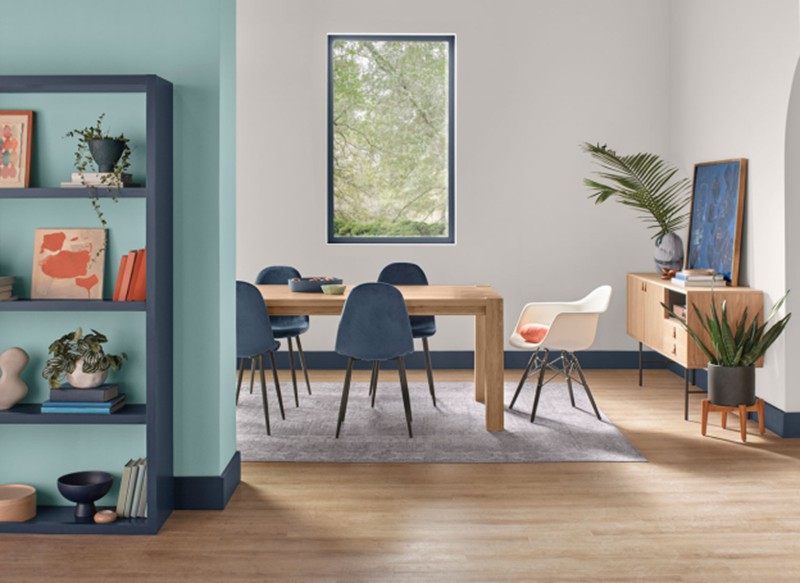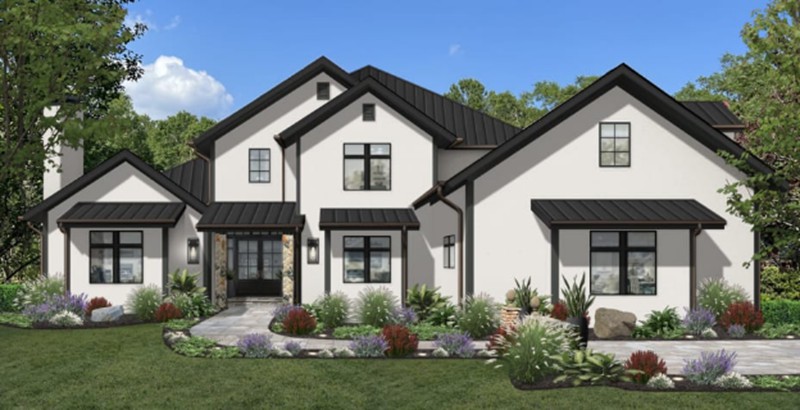 Sherwin Williams Sea Salt (SW 6204)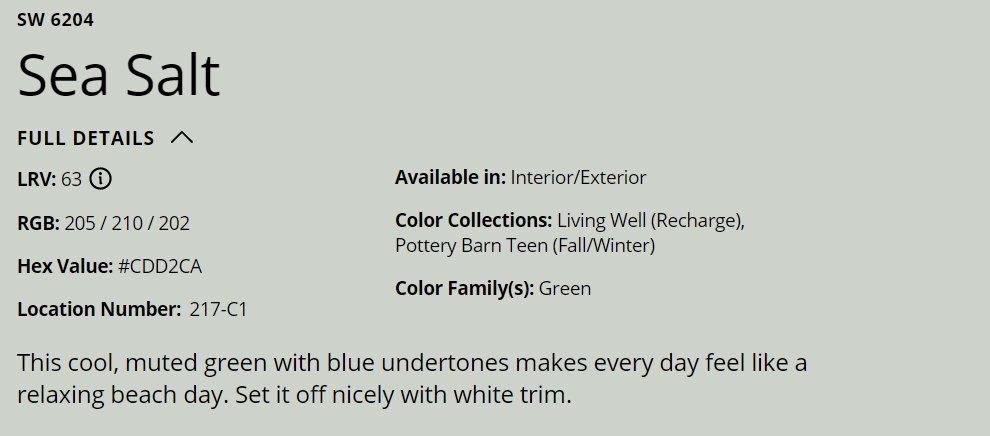 One of the most popular Sherwin-Williams paint colors, Sea Salt has a soothing and calm hue that complements a farmhouse theme. This soothing, pale green-blue hue is ideal for creating a relaxed atmosphere in any room.
The LRV of Sea Salt is 63, reflecting a decent amount of light but not so much that it feels stark or sterile. It has RGB values of 202, 215, and 203, correlating to its pale, muted green-blue undertones.
In a farmhouse home decor, pair Sea Salt with crisp white trim and natural wood accents to create a fresh, inviting space that will envy your guests.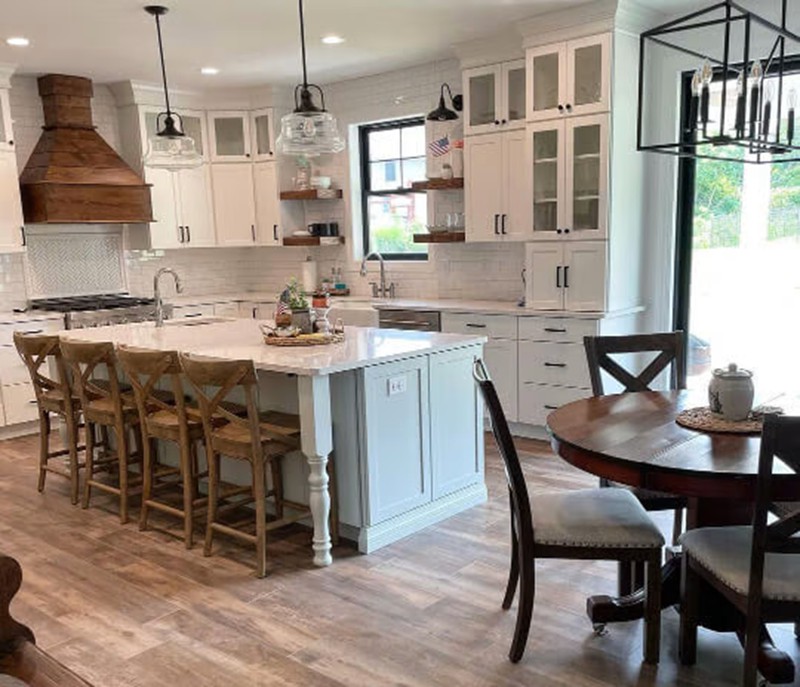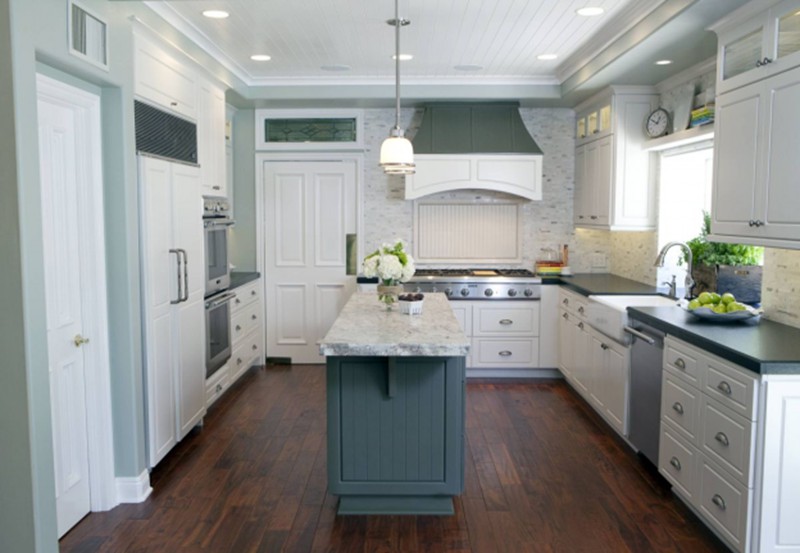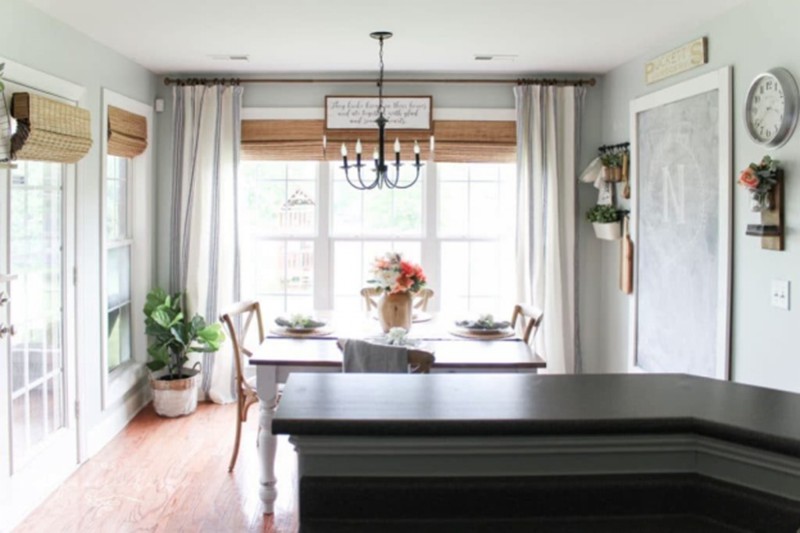 Sherwin Williams Caviar (SW 6990)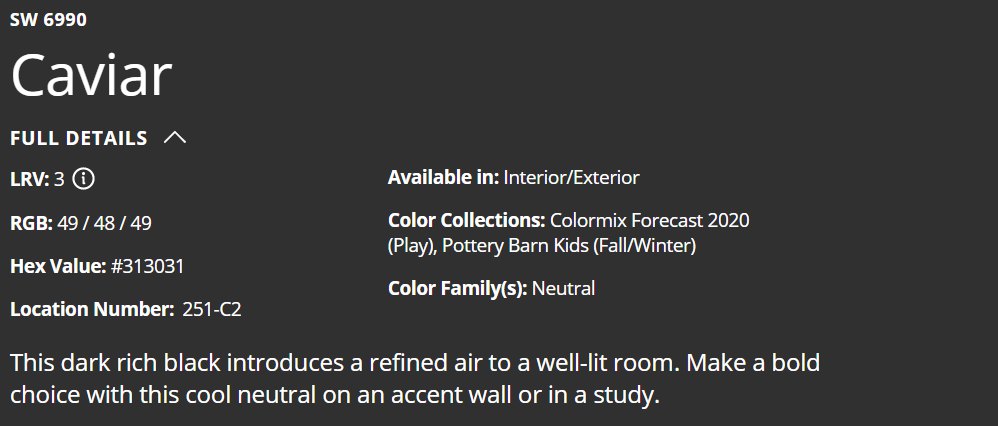 If you're looking for a paint color that can add a touch of boldness and richness to your farmhouse, look no further than Sherwin Williams Caviar. This color has a classic, timeless feel that works well in traditional and modern farmhouse interiors.
The LRV of Caviar is only 3, which means it absorbs almost all light and can create a moody, intimate atmosphere in a space. When using Caviar in a farmhouse setting, balance the dark color with lighter elements such as white trim, natural wood accents, and plenty of light sources to keep the space warm and inviting.
Sherwin Williams Messenger Bag (SW 7740)
Sherwin Williams Messenger Bag, the 2021 May color of the month, is another excellent farmhouse paint color option that adds a warm and cozy feel to any space. Its rich brownish-green hue complements white trim and natural wood accents, making it an adaptable choice for any room in your home.
While it is a darker color (18 LRV), it can still create a warm and inviting atmosphere when paired with the right décor and lighting. It pairs well with cream, beige, or light gray shades.
Use Messenger Bag as an accent wall color in a living room or bedroom, or apply it to paint kitchen cabinets for a bold statement. For an exterior farmhouse theme, it works its magic to create a timeless and classic look.
Sherwin Williams Alabaster (SW 7008)
Sherwin Williams Alabaster is a popular off-white paint color frequently used in farmhouse-style homes. Its LRV is 82, which means it reflects a lot of light and can make any space feel bright and airy.
One unique aspect of Alabaster is that it can complement warm and cool tones, making it a versatile option for farmhouse interiors. It pairs well with natural wood accents, white trim, green trees, and natural hues. In addition, it can be used on both walls and cabinetry to create a cohesive look throughout the space.
If you want to create a picturesque farmhouse home, Alabaster is definitely one to consider. This will enhance the farmhouse feel and make the space feel more welcoming.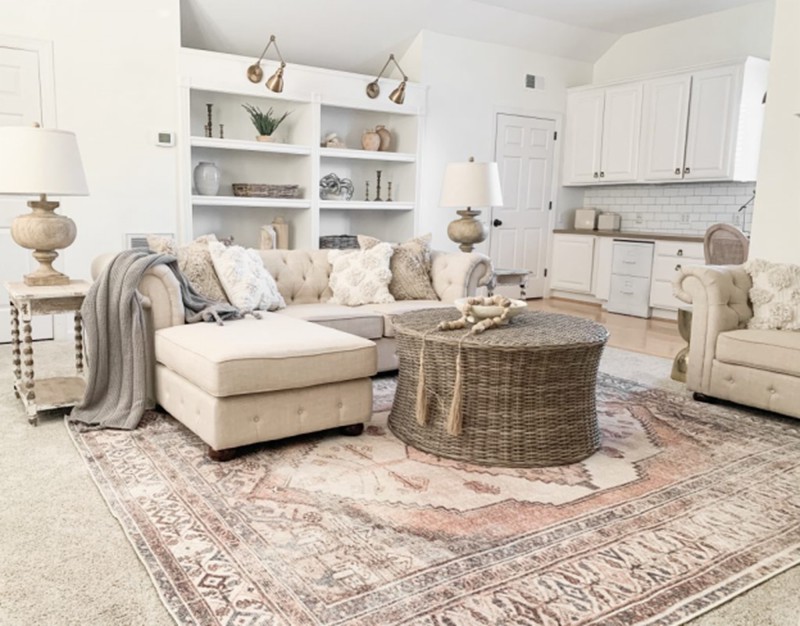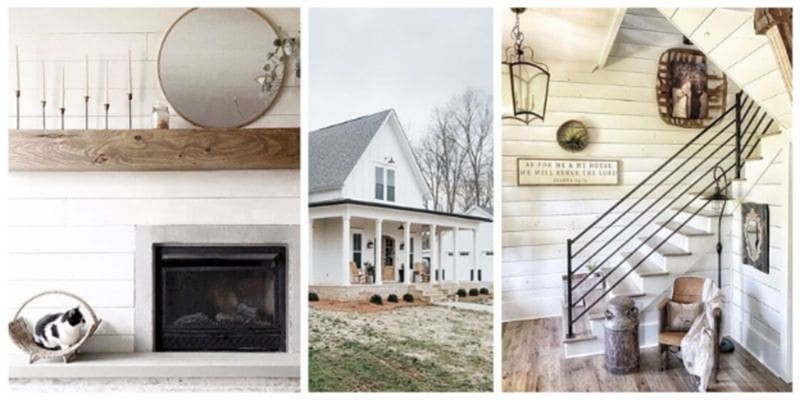 Sherwin Williams Pewter Green (SW 6208)
If you want to add a splash of color to your farmhouse without going overboard, Pewter Green is the way to go. This color has a soft green hue that gives any room a sense of warmth and coziness.
Pewter Green can work well in farmhouse kitchens, particularly with natural wood accents and black or white cabinetry. It can also be used in living rooms or bedrooms to create a calming and relaxing atmosphere.
The color has an LRV of 12, which means it absorbs moderate light and can create a cozy feeling in a room. Pewter Green's RGB values are 94,98,99, which gives it a slightly muted and earthy tone.
Sherwin Williams Sanctuary (SW 9583)
Sherwin Williams Sanctuary is a soothing and serene color that can create a calming atmosphere in any space. As its name implies, Sanctuary evokes a sense of peace and relaxation, making it a perfect color for bedrooms, bathrooms, and other areas where you want to feel at ease.
Sanctuary can be used on walls, kitchen cabinetry, or the farmhouse in a farmhouse setting. It can create a warm and inviting ambiance when combined with natural materials such as wood, linen, and pops of color.
Sherwin Williams Arugula (SW 6446)
Inspired by deep green hues, Arugula can add a touch of nature and warmth to any room in an interior decor. It has a rich, earthy quality that makes a bold statement and adds energy to any space, even when used as a single stripe.
Arugula can add depth and character to walls, furniture, and accessories in a farmhouse setting. It looks great with natural wood and white or cream accents. Use warm lighting and soft textiles to create a rustic and welcoming ambiance in any room.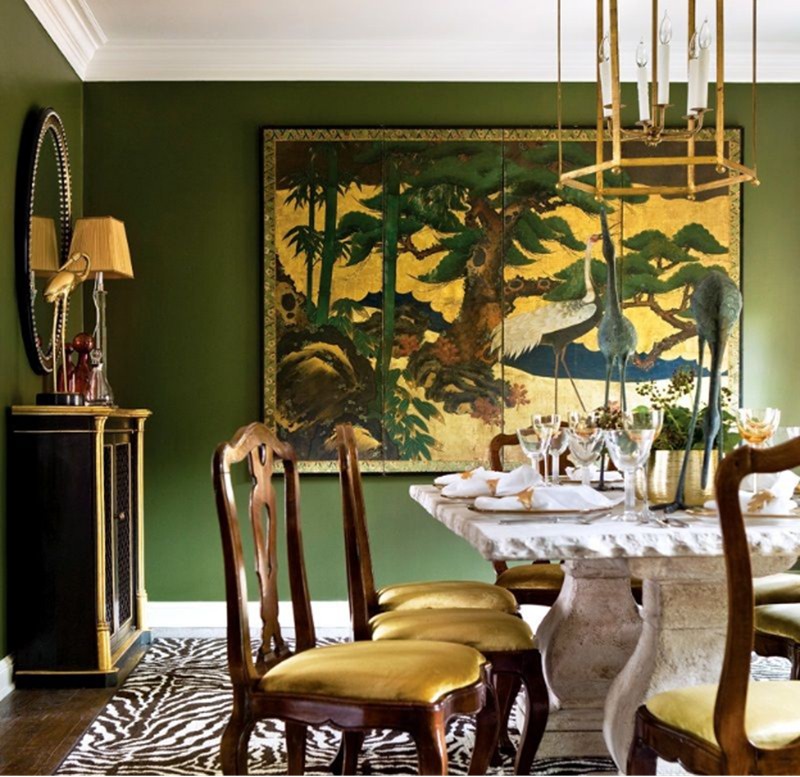 Sherwin Williams Fleur de Sel (SW 7666)
Fleur de Sel is a beautiful light gray with muted undertones, creating a serene and calming ambiance in any space. The name itself, which means "flower of salt" in French, evokes a sense of delicacy and refinement, making it a popular choice for a farmhouse-style home.
The subtle nature (72 LRV) of Fleur de Sel makes it a versatile choice as the main color in a monochromatic farmhouse scheme. It works best with natural wood accents and greenery to bring nature indoors or with bold pops of color for a more eclectic look.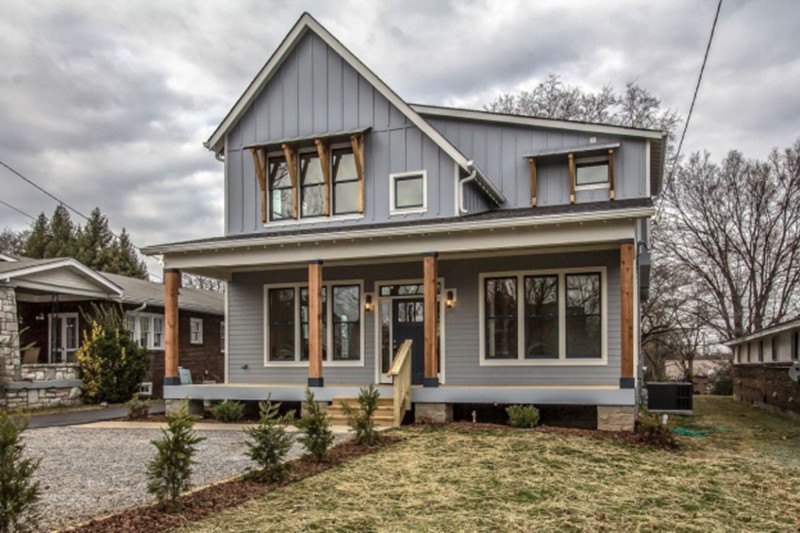 Pro tip: If you're still unsure which Sherwin Williams farmhouse paint color to choose, consider consulting a professional painter or interior designer who can offer helpful advice and guidance. This might save you time and money in the long run, as they can help you avoid costly mistakes and ensure that your farmhouse paint job turns out beautifully.
To wrap it up, here are a few tricks to make your farmhouse paint job stand out:
Get inspired by nature
The farmhouse style is about rustic charm and simplicity, so draw inspiration from the natural beauty around you. Look to the colors of the landscape, such as earthy browns, soft greens, and warm yellows, for guidance on which Sherwin Williams farmhouse paint colors to choose.
Consider the mood you want to create
A paint color can significantly impact the mood and feel of a room. Do you want a cozy, intimate space? A bright and cheerful one? A calming retreat? Keep this in mind when selecting your Sherwin-Williams farmhouse paint colors.
Use accent colors to add depth
A monochromatic color scheme can look flat and uninteresting. Consider using accent colors in your farmhouse paint palette to add depth and interest. This can be achieved by selecting a bold color for a statement wall or incorporating pops of color through decor and accessories.
Don't be afraid to mix and match
The farmhouse style is all about mixing and matching, so don't be afraid to experiment with different Sherwin-Williams farmhouse paint colors. Try combining warm and cool tones, light and dark shades, and different finishes to create a unique and personalized look.
Trust your instincts
At the end of the day, the most important factor in selecting the best Sherwin-Williams farmhouse paint colors for your home is your taste and style. Trust your instincts, choose colors that make you happy, and create a space that feels like home.
With these pointers in mind, you can confidently select the ideal Sherwin-Williams farmhouse paint colors to complement the beauty and character of your home. Don't be afraid to have fun while renovating your home, and remember that every successful project begins with a bit of inspiration and lots of creativity. 
Final Thoughts
With a variety of Sherwin-Williams farmhouse paint colors to choose from, we've narrowed it down to these 10 unique colors that can help you achieve your desired theme. Ultimately, the best choice will depend on your personal style and the specific aesthetic of your farmhouse space, so test it out and find your perfect match.