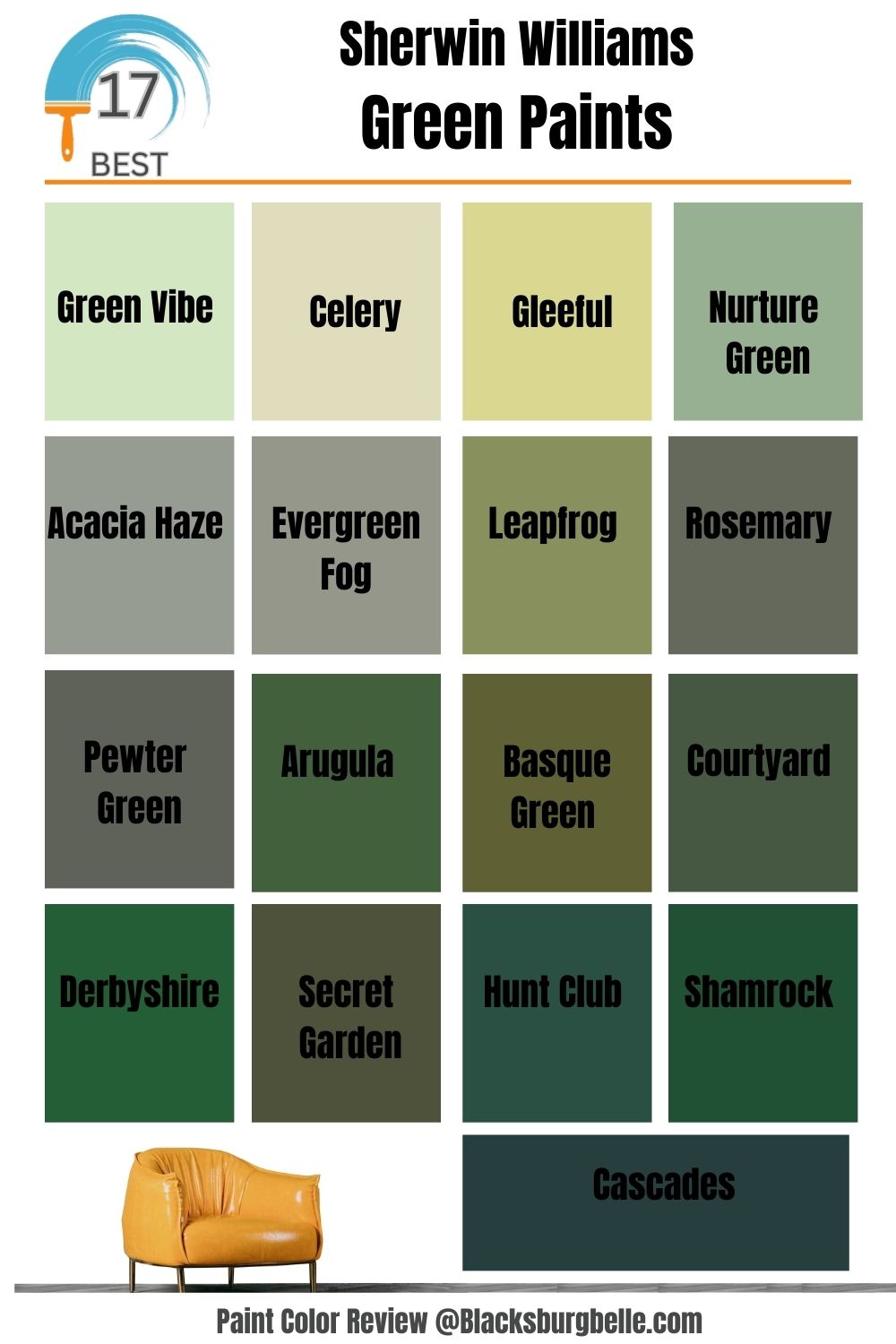 Using green paint around your space should be your top priority if you want to stay grounded and centered. Besides using the color as your interior decor, including houseplants, why not explore its versatility on your walls, furniture, and ceilings?
Using green paints around your space tells visitors there's prosperity, health, and new beginnings. Its reference to nature oozes a relaxing aura and centered vibe for managing anxiety.
The best part of using Sherwin-Williams Green paints is their diversity; the shades range from traditional cool greens to vibrant warm hues. The versatility is so vast that you can find neutral Sherwin-Williams green paints with other hues on the overtone.
Here's a list of the 17 best Sherwin-Williams Green Paint Colors, including pre-painting tips.
Pre-Painting Tips For Choosing The Best Sherwin-Williams Green Paint
Painting is a process that goes beyond rolling color onto a surface. It requires careful thought about the space's lighting, position, size, and shape. The results would tell you the best shade and color combination for the best aesthetic.
Analyze the Space and Lighting
Before choosing your desired Sherwin-Williams green paint, analyze the room's space and lighting. Observe the sunlight entry points from the windows to the doors and roof to determine whether you need a high or low reflective green paint.
Light Reflective Value (LRV) tells you how much your paint will absorb or reflect natural and artificial light. You can measure this value on a scale of 3 – 97 (not 1 – 100 because there's no absolute black or pure white paint), with white being the brightest at 97.
Use low to medium LRV green paints to give the illusion of a smaller space, while medium to high LRV green colors make areas appear wide.
Note that the higher the LRV, the brighter the green paint; the lower the LRV, the darker the green shade. Once you've understood lighting and its relationship with space, the next step is measuring the room's size and marking its positions.
Examine the Room Size and Position
Get a compass to determine your room's direction, as it'll tell you where the key points are positioned. Certain spots receive more light than others because of the sunlight's direction.
Knowing whether your room is wide or small would help you make an informed choice when picking a Sherwin-Williams green paint. As mentioned earlier, light green illuminates dark green and shrinks space.
Once you've established the room's size, the next step is deciphering the position. Where would you get the most or least light?
A Southern-facing window receives the most sunlight and is at its peak between mid-morning (9:00 a.m.) and early noon (2:00 p.m.), while East-facing windows receive the best morning light, which dissipates into shadows by late morning till noon.
Conversely, a West-facing window receives the brightest sunlight from mid-noon (3:00 – 4:00 p.m.) until sunset (6:30 – 7:00 p.m.) However, if you want a consistent medium glow, use the green paint in a Northern-facing window.
Keep that in mind when painting a small room with a high LRV Sherwin-Williams green paint.
Evaluate your Lighting Options – Natural and Artificial
The final pre-painting tip is evaluating your lighting options based on the last two steps — analyzing your space, size, and lighting. Knowing the amount of sunlight that enters the room compared to its purpose helps you see whether you need extra artificial illumination.
If the answer is yes, the next dilemma is deciding the kind of light you need and its amount. A high LRV green paint doesn't need many artificial supplements as a dark LRV shade. Note, though, that lightning comes in different glows and colors.
Green comes in predominantly cool shades, but its undertones can turn it into a warm and vibrant hue. You'll learn more about undertones, but before then, let's distinguish between warm and cool lighting.
Warm light is any illuminant that reflects fiery glows (red, orange, or yellow), while cool light does the opposite by reflecting calm tones (blue, purple, green, and white.)
The rule of thumb says you should pair colors with matching lighting (warm to warm and cool to cool) to create a balanced view. However, note that warm lighting highlights warm undertones but makes cool colors duller.
What are the Undertones?
If the last tip was your first interaction with undertones, don't panic because this segment would make you an expert on the concept.
Picture this — you visit a Sherwin-Williams store for green paint and pick the first one which catches your eye without sampling it. Upon getting home, you excitedly prep the walls for your color and slather the liquid.
At first, it appears slightly different from the shade you saw in the store, but it still looks familiar, so you don't care. However, when night falls, you get the biggest shocker seeing your green paint turn blue or gray. That's the power of an undertone.
Undertones are secondary colors existing at the base of every paint due to the RGB mixture forming the unique shade. These undertones reflect under certain lighting conditions and when placed around other colors.
RGB combines red, green, and blue with pure black paint to create a unique color.
Best Sherwin-Williams Green Paint Colors
Choosing the best Sherwin-Williams green paint colors is hard because every shade has a unique appeal for different purposes. However, of the hundreds available, some shades are in higher demand than others due to their versatility and beauty.
Here's a list of the 17 Best Sherwin-Williams Green paints for you.
| | | | | |
| --- | --- | --- | --- | --- |
| Number | Name | Code | LRV | Color |
| 1 | Green Vibe | SW 6928 | 77 | |
| 2 | Celery | SW 6421 | 71 | |
| 3 | Gleeful | SW 6709 | 66 | |
| 4 | Nurture Green | SW 6451 | 40 | |
| 5 | Acacia Haze | SW 9132 | 32 | |
| 6 | Evergreen Fog | SW 9130 | 30 | |
| 7 | Leapfrog | SW 6431 | 26 | |
| 8 | Rosemary | SW 6187 | 14 | |
| | | | | |
| --- | --- | --- | --- | --- |
| 9 | Pewter Green | SW 6208 | 12 | |
| 10 | Arugula | SW 6446 | 11 | |
| 11 | Basque Green | SW 6426 | 10 | |
| 12 | Courtyard | SW 6440 | 9 | |
| 13 | Derbyshire | SW 6741 | 9 | |
| 14 | Secret Garden | SW 6181 | 8 | |
| 15 | Hunt Club | SW 6468 | 6 | |
| 16 | SW Shamrock | SW 6454 | 6 | |
| 17 | Cascades | SW 7623 | 4 | |
All pictures are from Sherwin-Williams
1. Green Vibes (SW 6928)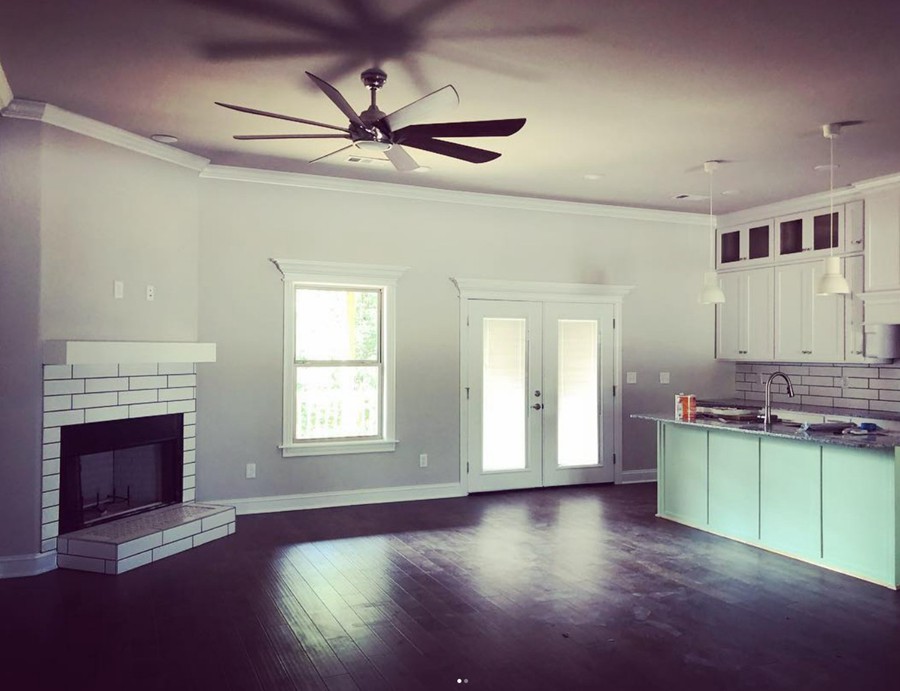 There aren't many white-green paints like Green Vibes (SW 6928), making it a unique Sherwin-Williams creation. It's a high LRV pastel mint green shade with a slight gray overtone that shines underneath natural light.
Hence if you're using Green Vibes in a position that receives much sunlight, it's best to contrast it with a darker tone. However, crisp white paints like Pure White are suitable trims in neutral spots.
Paint Green Vibes anywhere from the living room to the bedroom, kitchen, bathroom, and exterior. You can embrace its softness by pairing the color with other neutrals or get creative with bright paints like Tantalizing Teal (SW 6937).
2. Celery (SW 6421)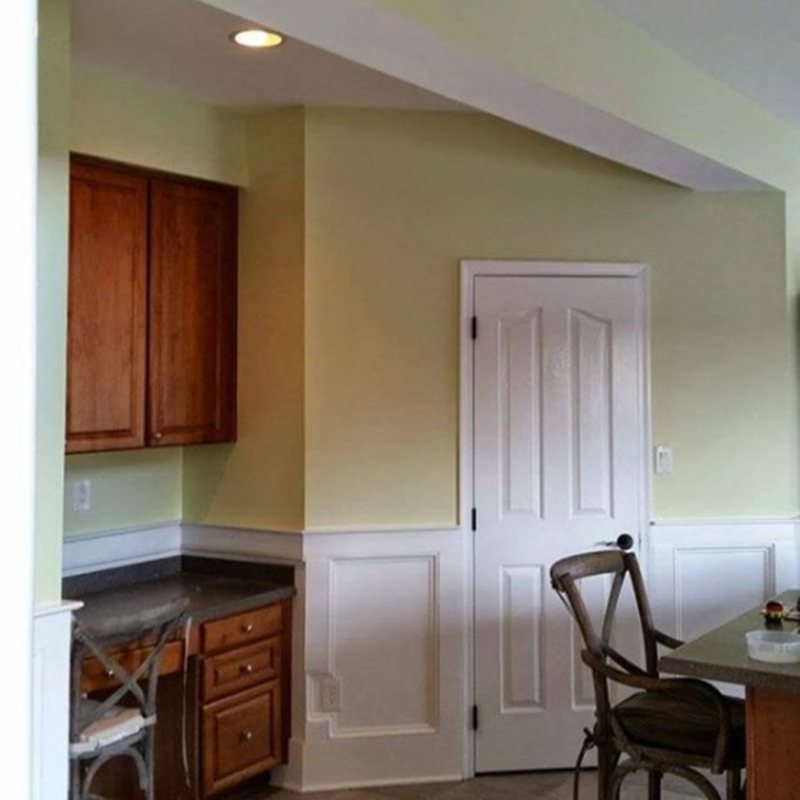 When you think of green, non-designers hardly consider shades with alternative overtones like Celery (SW 6421). This lighthearted green paint has a rich yellow tint that makes it appear beige, a feature that qualifies Celery as a harmonizer.
This green paint creates an airy vibe and opens up stuffy spaces. Sherwin-Williams made it strictly for interior coloring, so use it as a highlight (accent wall on the patio or trims) for your exterior.
Add texture to this color with a dark earthy tone or other mid-toned nude colors like Queen Anne's Lace (SW 6420), Lemongrass (SW 7732), and Enduring Bronze (SW 7055).
3. Gleeful (SW 6709)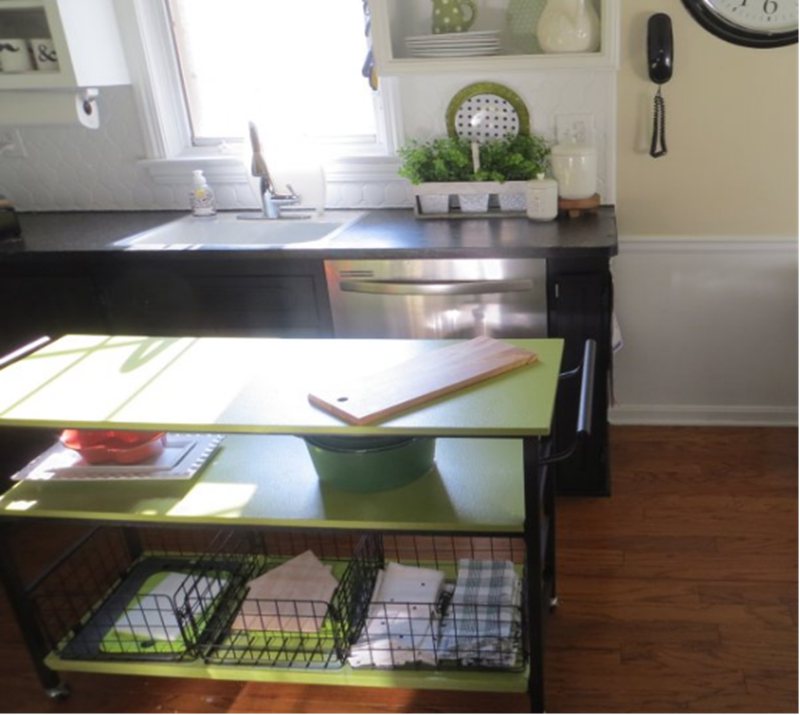 Gleeful (SW 6709) is a beautiful yellow-green blend that switches between the two tones depending on the lighting circumstances. Gleeful has a soft medium-light tone of 66 LRV, which makes it suitable for decorating children's spaces.
Explore your creativity by coordinating this tone with as many colors as you want, inspired by your child's taste and interest. Note, however, that Gleeful shines best as an accent on accessories and furniture.
4. Nurture Green (SW 6451)
With Nurture Green (SW 6451), we're veering toward a greener territory on the median end of the LRV spectrum at 40. Its soft green shade illuminates a room without being imposing and overwhelming.
You'll get the best of Nurture Green when paired with a brighter color like Pineapple Cream (SW 1668), a yellow hue, or plain white like Pure White (SW 7005). Alternatively, you can explore other palettes and pair Nurture Green with purple, blue, or green hues.
5. Acacia Haze (SW 9132)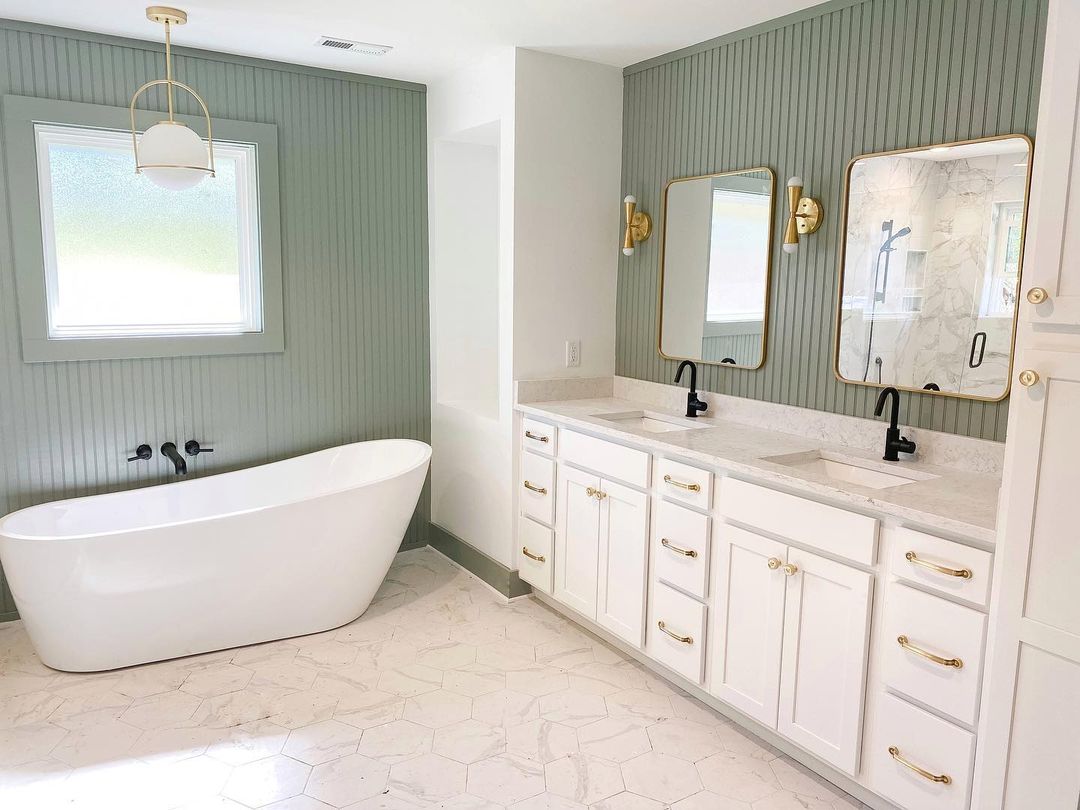 Another stony green paint like Pewter Green is Acacia Haze (SW 9132), but it's the brighter alternative at 32 LRV. Sherwin-Williams describes this shade as an embodiment of a "lazy Sunday with a touch of sophistication."
It's a soft medium-dark green-gray with an overwhelming gray overtone. However, you can highlight its green notes with lighter green paints, specifically those with green overtones.
Also, tone the color down with tan colors like Favorite Tan (SW 6157) and Dover White (SW 6385).
6. Evergreen Fog (SW 9130)
Evergreen Fog (SW 9130) gained popularity last year when Sherwin-Williams named it the Color of 2022. Since then, it's become a designer favorite for its versatility and nuances.
This gray paint blends an almost equal amount of green and blue in its undertone, amounting to a 30 LRV medium-dark shade. Evergreen Fog is part of the 2023 Forecast Biome collection and is suitable for Fall/Winter weather.
Use Evergreen Fog inside for a peaceful and soothing aura, especially in your relaxation rooms from bedrooms to bathrooms and poolsides. Highlight this green shade with earthy tones like Dried Edamame (SW 9122) and Neutral Ground (SW 7568).
You can also accessorize Evergreen Fog with dark brass or bronze from the sconces to the knobs and other affixes.
7. Leapfrog (SW 6431)
Another camouflage color reminiscent of military green is Leapfrog, with its 26 LRV medium-dark tone. This color is unapologetically green yet mellow enough to remind you of a fading leaf. Hence it pairs beautifully with earthy neutrals like green-yellow, cream, and tan.
You can also improve your aesthetic with a subtle medium-dark blue hue like Blustery Sky (SW 9140). Other colors to explore include Springtime (SW 6708), Moonraker (SW 6701), Moth Wing (SW 9174), and Latte (SW 6108).
Leapfrog is suitable for exterior coloring and accenting cabinets and furniture. It's best to pair it with brighter hues for living room and bedroom paintings.
8. Rosemary (SW 6187)
Sherwin-Williams Rosemary (SW 6187) was the month's color for November 2022. Its deep organic sage green overtone highlights a soft gray tint sure to come out in the winter.
At 14 LRV, Rosemary is closer to dark than medium, yet it's not solid enough to consume every light. Under the right circumstances, you can tease the soft sage embedded in its DNA.
Use this paint to accentuate cabinets and furniture to highlight brighter hues like Ethereal White (SW 6182) or darker colors in studies like Deep Forest Brown (SW 9175).
9. Pewter Green (SW 6208)
Pewter Green (SW 6208) embodies neutral green due to its predominantly gray overtone and subtle green undertone. This stony green paint shines best in fall/winter as its muted hue blends into the snowy and rainy weather.
With an LRV of 12, there's no question about Pewter Green being a dark color, but you can tease out the green tint.
Pair this hue with wooden and metal accessories for a complete earthy aesthetic. It also works well with other blue-gray, green-gray, and gray paints like Silvermist (SW 7621), Shoji White (SW 7042), and Ripe Olive (SW 6209).
10. Arugula (SW 6446)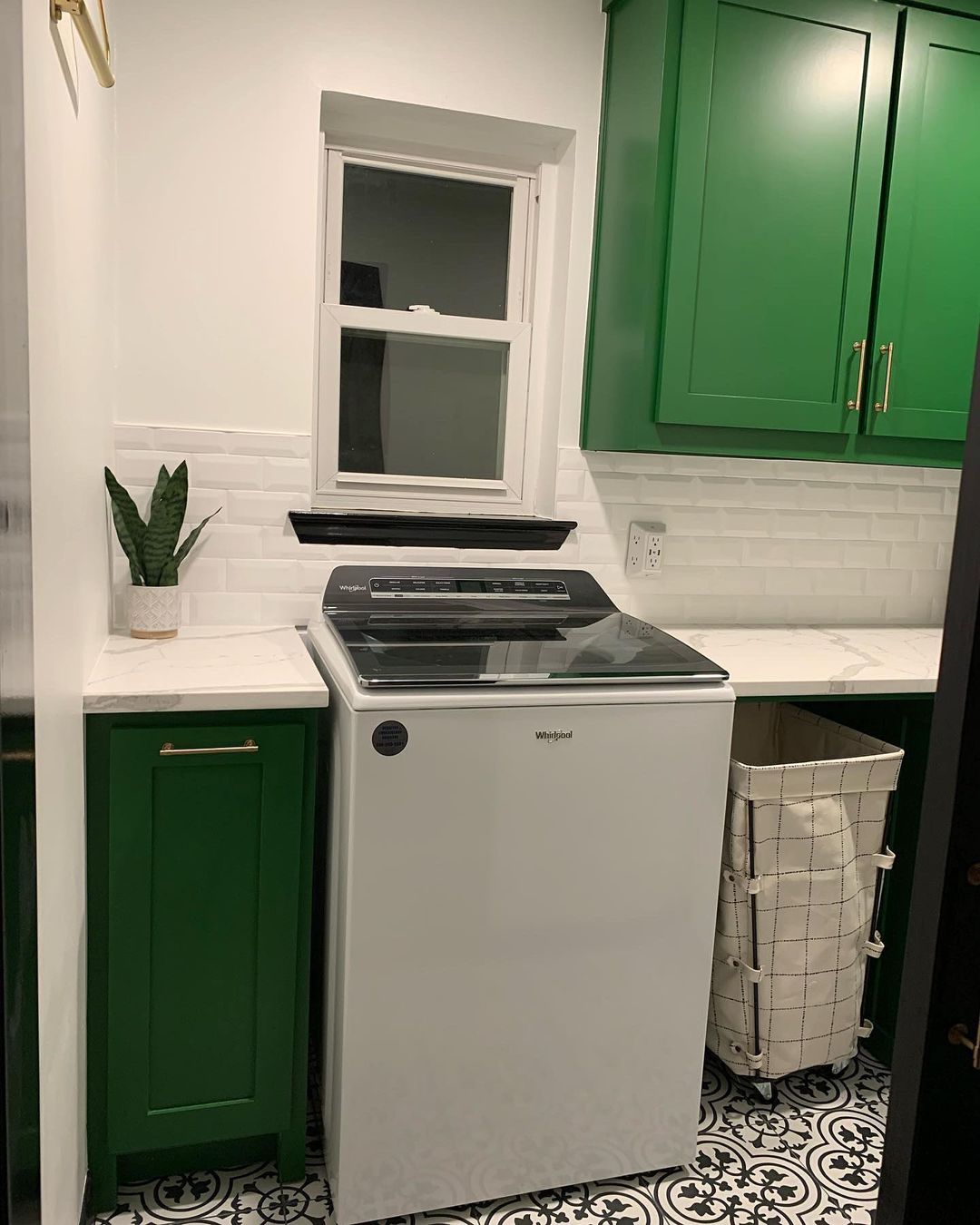 Arugula (SW 6446) is another traditional leafy green any interior designer would imagine. It's a soft dark paint with a 10 LRV; hence it's best to pair it with vibrant hues like Cardboard (SW 6124) and Chopsticks (SW 7575).
Arugula's beauty and subtle brown undertone make it a whole wall coating or partial accent.
11. Basque Green (SW 6426)
One glance at the beautiful olive Basque Green (SW 6426) is all you need to convince you to buy it. It has an LRV of 11, which comes alive around brighter paints like white, cream, beige, and golden brown. Throw in some navy decor for elegance and beauty.
Don't use Basque Green alone anywhere; add more color with draperies or furniture inside and lean into brick walls for your exterior.
12. Courtyard (SW 6440)
Military green paints like Courtyard (SW 6440) have a subtle elegance that comes out with other bright colors like yellow and tan. It's a dark shade with an LRV of 9, so using it inside small rooms is not advisable.
However, it works excellently as an accent wall against white paints like Spinach White (SW 6434) and Origami White (SW 7636).
13. Derbyshire (SW 6741)
Lovers of traditional dark green paints would love Derbyshire (SW 6741) with its solid 9 LRV overtone and faint undertones. This nature-inspired green paint is an excellent reminder of the countryside and its tranquility.
Transfer that aura into your living rooms and bedrooms, then beautify it with brass, copper, and gold accessories. You can either coordinate Derbyshire with white trims or pair it with lighter green paints like Stay in Lime (SW 9032) for a monochrome palette.
14. Secret Garden (SW 6181)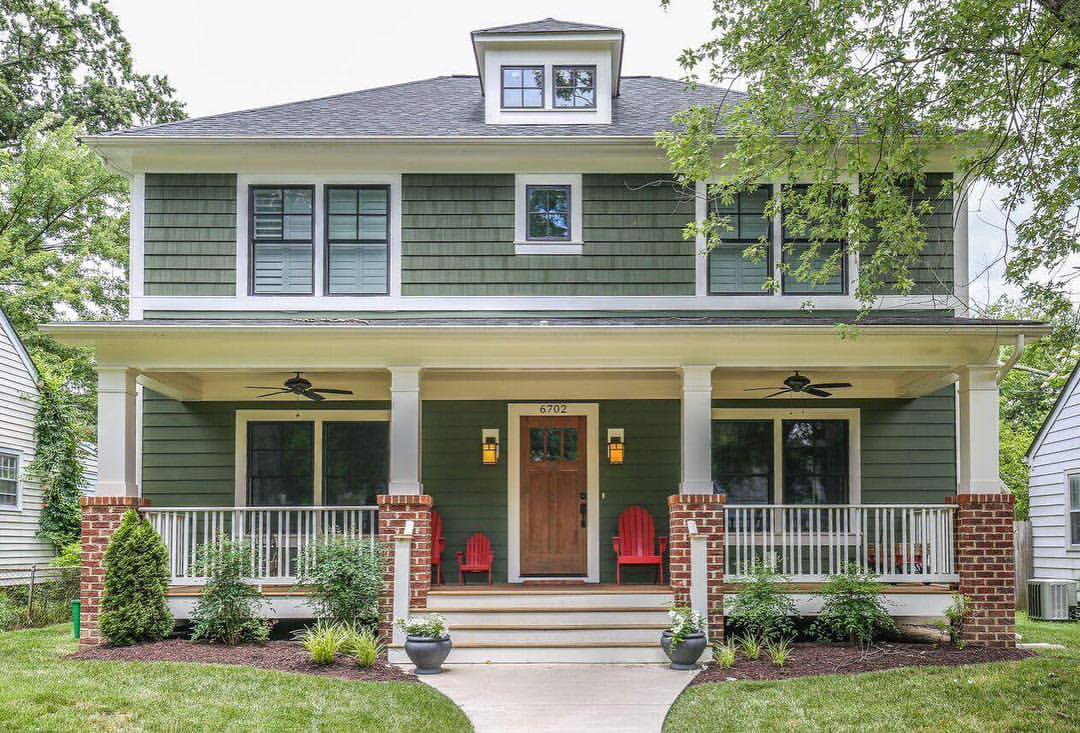 Secret Garden (SW 6181) is the shade to choose if you want dark green paint with a hint of brown. Its 8 LRV overtone is scarcely penetrable by sunlight, so there's no fear of it changing day to night.
However, its green shade is reminiscent of changing leaves when the season transitions from Summer to Fall. Hence Sherwin-Williams sells Secret Garden as part of its Rejuvenation (Fall/Winter) collection.
Due to its overwhelming moody vibe, there are better options than using this color alone. Pair it with lighter greens like Green Sprout (SW 7728), white — Sagey (SW 6175), and bright brown accessories. Throw in a hint of yellow for extra beauty.
15. Hunt Club (SW 6468)
If you need green paint for your front door, look no further than Hunt Club (SW 6468). This rich emerald green paint transports you into a fairytale woodland and enthralls visitors with the hope of fruitfulness.
Hunt Club is a solid green paint with an LRV of 6, so don't expect it to reflect light into your surroundings. However, you'd tease out its beautiful blue undertone when paired with light blue paints and accessories.
You can also complete the fairytale look with a tan — Latte (SW 6108), nude — Divine White (SW 6105), and yellow — Springtime paints.
16. Shamrock (SW 6454)
It's vibrant, charming, confident, and visible — it's Shamrock (SW 6454). Nothing says "Look at me, I'm here" like this bottle-green dark paint with its 6 LRV overtone. A cool blue hue is embedded deep underneath its surface that only comes out when hit with bright light.
Due to its vibrance despite being a dark green paint, you can use Shamrock as a complete coloring anywhere – however, it's best in living rooms and studies or front doors. Highlight the color with brighter tones like White Mint (SW 6441) and Oyster White (SW 7637).
17. Cascades (SW 7623)
Can we discuss top green paint without highlighting a classic blue-green color like Cascades (SW 7623)? The most exciting part about this green shade is its unique blend of blue, yellow, and gray undertones — imagine that.
With such a blend, there's no limit to the coordinating colors in your chosen palette. However, consider its sturdy 4 LRV when using it for your interior painting. Use it sparsely in the living room, bedroom, and kitchen but generously in your study, game room, or laundry room.
Extra White (SW 7006) trim is the best highlight, while bright woods are the best flooring and furniture. Other coordinating colors include Hearty Orange (SW 6622) and Oak Creek (SW 7718).
Choosing the Right Sherwin-Williams Green Paint
With so many options, how do you know the best Sherwin-Williams green paint for your space? The answer is to follow the next three steps and pick whichever green colors from the top 17 above fall into your categories.
Sample Area Testing
Don't choose green paint at face value, no matter the temptation. It'll help you avoid the grave mistake of spending money on the wrong shade. You can test Sherwin-Williams paints in three ways — color chips, color strips, or Color-to-Go lightweight paints.
Place the sample on your chosen area and leave it from day to night or vice versa to see how it reacts to light. You can also place multiple samples together and see how they synergize before settling on a palette.
Long-Term Value
As a rule of thumb, lighter green paints last the least because they're susceptible to stains, while dark colors withstand dirt and debris. However, some dark green pigments have lighter undertones that attract dirt.
If you're willing to commit to maintenance, use light green but stick to dark shades if you don't have the time.
Finishing Touches
Finishes contribute to the outlook of every painting, as some are shinier than others. Use a gloss finish for your front doors and accents so the shine can highlight the spaces. Matte paints are the best for interior walls, especially in light tones.
For trims, you can use an eggshell finish and a matte and glossy finish.
Conclusion
2023 is the year to get into Green paints and its multiple shades for your homes, offices, and furniture painting. It's a way to tell your guests that there's fruitfulness and growth in their environment.
As a homeowner, using green paints on your walls keeps you in touch with the environment all year round regardless of the weather outside. Get painting today and share your creation.