The kitchen is the heart of the home and where serious business goes down. With that in mind, selecting the best colors for this invaluable space is crucial. We'll update you on 15 of Sherwin WIlliams' Best kitchen paints..
These colors will elevate your quality family time and all-round cooking experience in your kitchen. Get ready, set and let's build the kitchen of our dreams.
Things to Do Before Choosing a Kitchen Paint Color
Before proceeding to choose any of the fifteen Sherwin Williams kitchen paint colors that will be suitable for your kitchen, here are a couple of things you should know. This section covers these must know and, strictly abiding by these rules will not only ensure that your space looks good, but it'll also create a balanced color scheme.
Study The Undertones
First off, start by dotting your I's and crossing your T's once you've found a paint that you like. One way to ensure this is by studying the undertones. It's not far-fetched as to why we place so much emphasis on this step. It's simply because those peeks of colors you see in your anchor hue help you determine the kind of accessories you go for in your space.
Failure to pay necessary attention to the undertones in the paint color you choose can make you pair the wrong tones, resulting in unpleasant outcomes.
Think About The Lighting
Every paint responds uniquely when exposed to diverse lighting conditions, and this greatly affects the outcome of your anchor color. Be meticulous enough to decide whether you want to stick to warm or cool lights for your color.
The location of your room can also determine how much influence the light coming from any direction would have on your anchor hue. If you use white paint in northern-facing kitchens, it'll appear very cool. However, the same cannot be said about south-facing spaces; the heavy afternoon sunshine can make your white appear warm but very balanced.
Size Matters
Yes, the size of your kitchen can make or mar your outcome of your paint color choice.
For small kitchens, a color with dark LRV will not do justice to the project as it'll make the walls cave in, so, we recommend you go for colors with high light reflective value instead, as they make your space airier and draw in natural light. If, however, your kitchen is spacious, you can experiment with low LRV colors as the depth will help give the illusion of a well-utilized space.
Finishing Touches
This is the last one on the list, especially if you're committing to your color for a long time. Decide between a matte, eggshell or semi-gloss finish for your paint. Of course, this is determined by varying external factors like kids, pets, and neighbors, but it's best to go for a paint finish that allows you to easily wipe stains off.
15 Best Sherwin Williams Kitchen Paint Colors
Whether yours is a traditional or modern kitchen or perhaps you're transitioning from one palette to another, these 15 Sherwin Williams colors will help build a firm foundation for your aesthetics. Cool colors in the kitchen can relax the nerves that come with fixing a meal, while brighter hues can create a warm, lovely atmosphere for your activity.
1. Sherwin Williams Extra White
The Extra white has an LRV of 86 and while it's not pure white, this color is a great choice for your kitchen cabinetry. It works with neutral elements in your kitchen like the wooden floors and stools.
Although it is not as bright as Sherwin Williams High Reflective White, it will still shine bright when you place it side by side with warm whites due to its lack of yellow or creamy undertones. In addition to this, you will find that this color pairs well with blues and grays due to its coolness, and it proves that in the first image with the blue and white center rug. The black marble top gives a sweet, sharp dimension to the white cabinets in the kitchen, making it more artsy and less boring.
Extra white adds its coolness to the warm cabinetry as it sits on the walls of this minimalist kitchen. The wooden floors and metal lamps affirm our claims that extra white works greatly with neutrals and sharp colors.
2. Sherwin Williams Repose Gray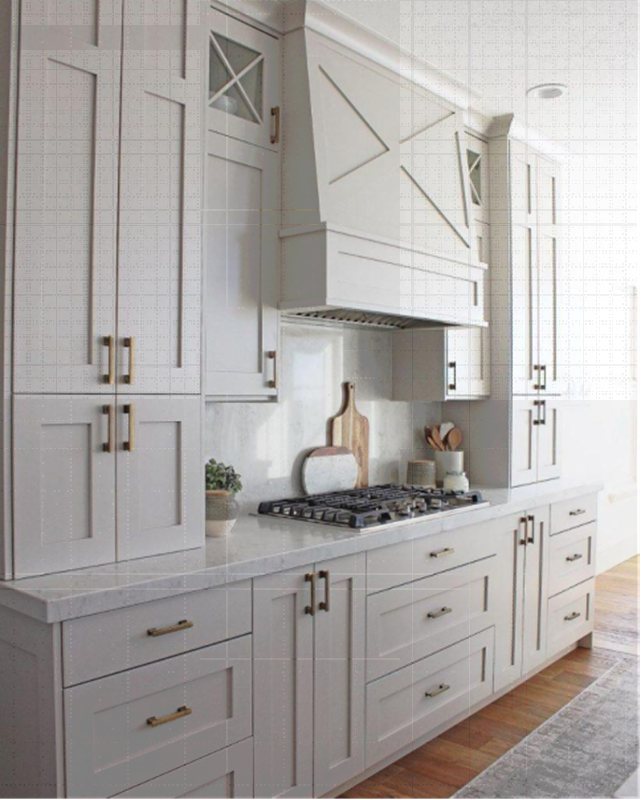 Gray has long been an ally of kitchen cabinets and marble tops for the longest time, so it's no surprise the Sherwin Williams Repose Gray is on this list. Sherwin Williams Repose Gray is famous for its neutrality and ability to serve as the perfect backdrop for brighter colors in the home.
It has a rich collection of green, yellow and brown undertones, adding warmth and kindness to other colors. Compared to some deep grays, this color is a pale variation, and you may confuse it for green or yellow under very bright lights.
This versatile color has an LRV of 58, placing it in the medium category. Its RGB ratio is 204/201/19, so we recommend that you pair it with earthy tones, whites, and coral decors for more definition.
Repose gray performs excellently on the walls of the images above. We're obsessed with the choice of gold accessories in the second image, which adds a warm aura to the space and opens it up to more air.
3. Sherwin Williams Monorail Silver
Thanks to the lavender and blue properties in this paint color, you get all the coolness you can find in your kitchen. We love Monorail Silver because it's super easy on the eyes and lets you add different layers of textures in your space without making it appear too crowded.
This color is the main character in the wall of this kitchen, and during the daytime, it tilts towards the blue side, looking striking against the white cabinets and black details. By nightfall, the lavender hints come out in full glare. Monorail Silver is a true chameleon that has a perfect grasp of its assignment.
You'll discover it has an LRV of 50, putting it in the medium category with RGB details of 184/188/187. Embrace this neutral hue and add as much personality as you want.
4. Sherwin Williams Alabaster
This white is one of our all-time favorites for kitchen walls and cabinets. Its neutral undertones make any room warm and inviting without looking too creamy or yellow. Alabaster has an LRV of 82 with an RGB of 238, 234, 224.
We picked these two images to show you why people love Alabaster, and it's simply because it's not an "all up in your face" white. It can pass as a warm or cool color, depending on the lighting. You can agree with us that the Alabaster white cabinets in the first image are as cool as cool can get while being surrounded by wooden tones and accessories.
In the second image, the creamy side of Alabaster is in full glare on the cabinetry. We love the black handles and backsplash marble tiles that embrace the warmness of Alabaster and are complemented by the warm lights.
5. Sherwin Williams Naval
Thanks to the cool gray-green undertones in this deep blue, you'll experience a serene and calm feel in your kitchen.
Naval has an LRV of 4. Oh, that's a dark, dark color. Still, it looks amazing on the cabinetry in the first image, especially with the shiny gold accessories and white marble tiles (we don't gush about the perfect unison between wooden textures and blue colors enough).
The second image is where the green undertone in Naval comes to play, it's too profound to ignore, and it works with the white cabinets and black marble tops. This is truly the kitchen of our dreams.
6. Sherwin Williams Ivory Lace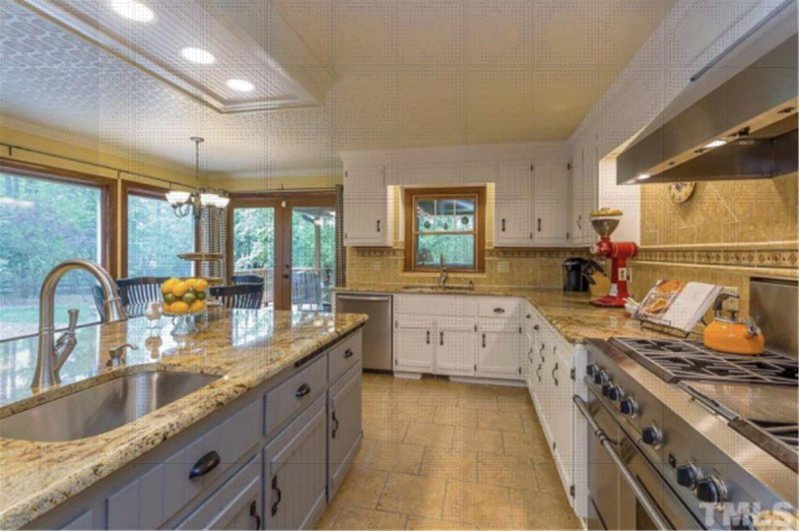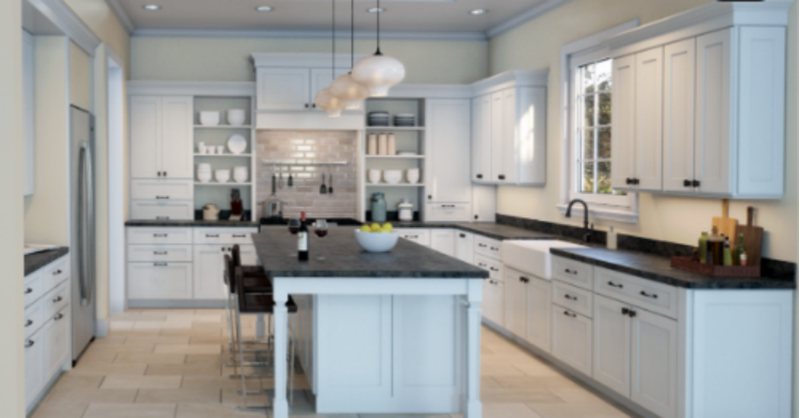 This one is a bright, creamy white with an LRV of 79. Ivory is the one for you should you decide to tilt towards a more modern vibe in your cooking space. It has a cool pink undertone that throws a delicate touch on your kitchen wall or cabinets (peep the wall cabinets in the first image agreeing to our statement, that's such a lovely pink hue).
Ivory lace will hold its own even beside a bright white. The sharp contrast between ivory lace and the white cabinets in this kitchen is proof that if you are careful enough with white on white pairing, it can actually work.
7. Sherwin Williams Online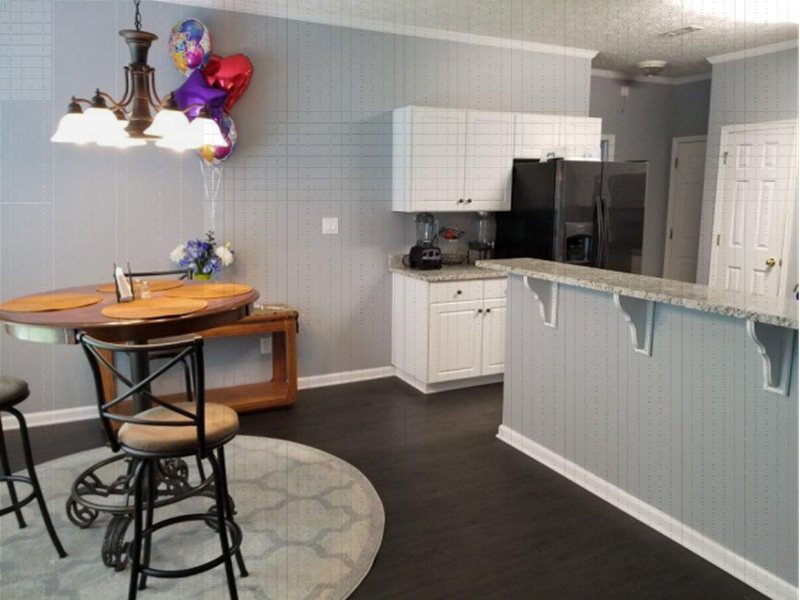 Sherwin Williams Online has pretty blue-gray undertones that bestows upon this gray a dark nuance that maks it look gorgeous in any kitchen. This color is awesome for people who want a very pronounced pop of neutral dark color.
Sherwin Williams Online is sharp, modern and enticing, with an LRV of 45 and an RGB of 176/181/181 and is excellent for interior and exterior use.
The first image shows the blue gray in Sherwin Williams online on the kitchen walls. You can blame this on this kitchen's lack of natural light, but we're not complaining because it looks breathtaking either way.
It's all gray on the walls for the second image, and it works with the warm light and surrounding white cabinets. This color should definitely be on your palette for this year if you plan to revamp your kitchen.
8. Sherwin Williams Coastal Plain
Coastal Plain is your assured partner in progress for your neutral-colored kitchen. This dusty green adds a pop of color to your cooking area, removing nothing from its natural state. This shade is perfect for modern and traditional decor and pairs well with any décor of choice. It has an LRV of 37, which puts it in the dark category, and an RGB arrangement of 159/166/148.
For sharper contrast, throw in some bright whites and wooden tones. The high amount of incoming natural light in this kitchen washes out the depth of Coastal Plain, especially when paired with the bright wooden floor, white wall tiles, and pretty silver handles like the first image.
Of course, white would work with this one. It's also neutral enough to accommodate the black marble top and not look chaotic. Coastal plain is so dear to our hearts, and we won't skip this color any time, any day.
9. Sherwin Williams Honeybees
Your kitchen doesn't have to be boring just because you cook there. Turn up the heat with Sherwin Williams Honey Bees on your cabinet. This bright, golden yellow with an LRV of 70 will bring all the vibrance and glow to your kitchen.
Sherwin Williams Honey Bees on the kitchen wall draws warmth in, and the choice of cool white for the cabinetry with the matching black top takes this space to a whole new level- striking a balance between modern and traditional décor.
For the next image, we love the patterned tiles, which add a bit of fun to the Honey Bees cabinetry. The white details on the doors and drawers are to die for. We can't ignore the oven and wooden elements on the walls that bring it all together.
10. Sherwin Williams Pewter Green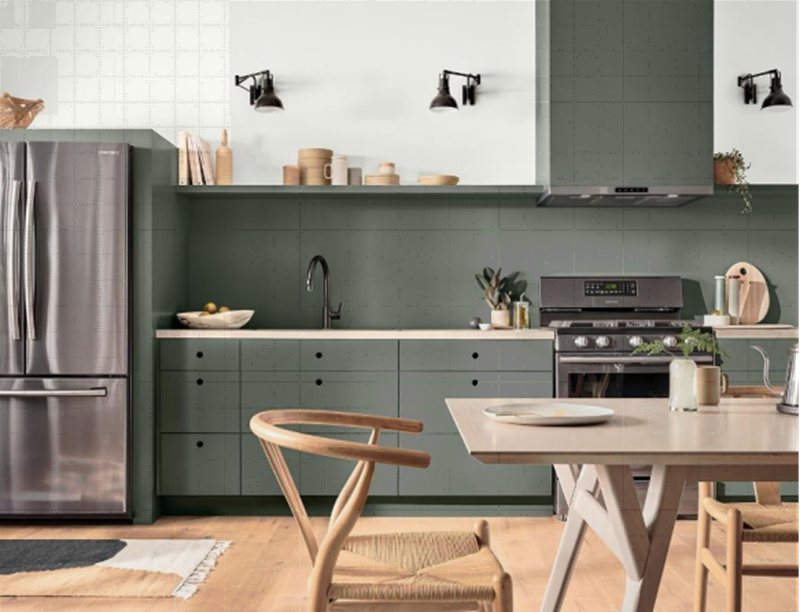 Pewter green is a mysterious cool dark green with an LRV of 12 and RGB of 94/98/89. If a dark kitchen is your jam, this color is the right fit for you. This shade works excellently when combined with whites, metals and wooden accessories, just like the images above. We've taken the time to show you the versatility of this color both as a full wall color or cabinet stain.
The black marble top in the first image and the wooden furniture in the second picture is literally making us fall in love with this color in a whole new way.
11. Sherwin Williams Tavern Taupe
Tavern Taupe represents a neutral tone and deep undertones of brown and changes its appearance depending on the incoming natural light. This color has an LRV of 27 and will make your space appear smaller and warmer if it's big.
The images above focus on how Tavern Taupe reacts under varying lighting conditions. The strong undertones of this color come to play with the warm colors of the night. We love the white cabinetry and its added pop of color to this kitchen- the black marble top is also a worthy accessory.
12. Sherwin Williams Let It Rain
This blue gray introduces calmness to your kitchen and is a great palette to introduce wooden floors. Let It Rain is a perfect alibi for marble top kitchens and white accessories as the beautiful tone reflects on the marble top.
There's not much of Let It Rain going on in this kitchen, but it stands out on the kitchen island, surrounded by white cabinets and wooden textures. This inspires you if you love a very traditional and simple kitchen setting.
What's better in a kitchen than a touch of blue with slate-gray undertones on your kitchen walls? Let It Rain can perform well on a kitchen island and kill it as a main wall paint, pair it with cool whites and black accessories like this one, and you're good to go.
13. Sherwin Williams Lazy Gray
Don't fall for the name; this color is nowhere near lazy with its cool tone and traditional finish. You may spot shades of blue and lavender that shine through in different lighting situations and the surrounding color scheme in your space.
The LRV of Lazy Gray is 53, putting it comfortably in the medium range. Lazy gray is a neutral that performs wonders in the bedroom, living room and bathroom- whether in a traditional or modern setting, this color delivers.
Lazy Gray in the first image receives less natural light and appears very muted while showing more of its blue side on the wall. The red chair is an excellent and thoughtful addition to this space.
While it's not exactly different from the first, Lazy Gray in this second image receives more natural light, instantly shutting off the blue undertones, making it look nice, chill and balanced. We love the gold lamps and handles on the bright white cabinets.
14. Sherwin Williams Poised Taupe
Sherwin Williams Poised Taupe has an LRV of 22 which makes it a dark cozy and warm color. It has rich purple undertones which give it a very inviting touch in your kitchen. Contemporary, modern and Art Deco kitchens can also pick this paint as an accent color on the walls.
The RGB of Sherwin Williams poised taupe is 140/126/120. However, due to the depth in this color, we strongly advise you to avoid this color if your kitchen is small as the walls may likely cave in with this one.
The rich purple undertone in this color takes center stage in the first image, especially with the wooden floors, chairs, and table in the kitchen. We love the bright white cabinetry and matching brown curtains that bring this minimalist space all together.
It's the chameleonic nature of this unique color for us and how much lighting has a deep impact in the final appearance of your paint. The center light is a statement piece that we could get used to. This kitchen has enough space for incoming natural light, and the warm white on the ceiling matches perfectly with the yellow on the side of the kitchen island.
15. Sherwin Williams Aquitaine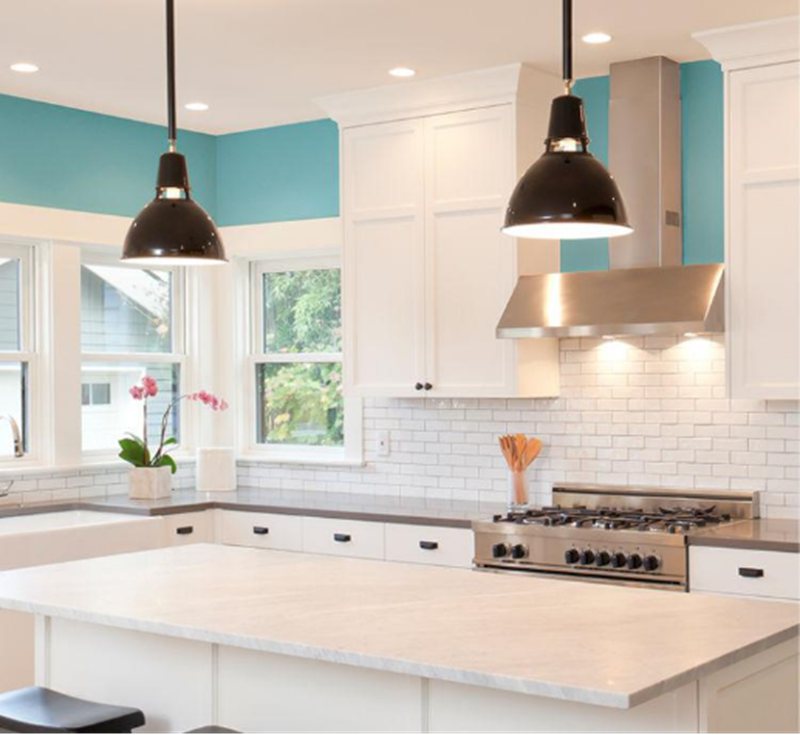 Aquitaine is a lovely turquoise color that brings a fresh splash to kitchen walls or cabinets. It has blue undertones with an LRV of 38 and RGB of 136, 171, and 180. The first image shows you can use Aquitaine as an accent wall in your kitchen and pair it with white cabinets and accessories.
Aquitaine is the main character in this kitchen, as it was used for the main wall. We bet you'll have a tranquil experience in this space, making it perfect for family dinners and indoor date nights. The bright white cabinetry and cool lights go with the white ceiling and black marble top.
Conclusion
Sherwin Williams has crafted a wide range of fine kitchen paints in business, and we're here to intimate you with these amazing hues and how they can turn your cooking space into the most entertaining space ever.
White paints are essential in a home and any painting job because apart from serving as main wall colors, they also work well with darker colors as trim walls for exterior and interior décor.
Remember the golden advice- always sample your paint before committing to go with it. You can achieve that with SAMPLIZE paint strips.