Sage Green has grown in prominence over the last decade, thanks to their calming effects in homes and the way it welcomes the fresh vibe of nature into your living space. We'll check out the 10 best Sherwin Williams sage green colors and even give you authentic life interpretations of these colors so you can get inspired.
What Color is Sage Green
Sage Green is a muted color and the warmer side of green due to its overwhelming yellow undertones. The color is said to stand for wisdom, intelligence and experience.
When you use sage green in a room, it reminds you of the tranquility and innocence of nature inspired by the warm lights of the early mornings and late evenings- soft yet very loud. Green walls in a home are popular for reducing anxiety and stress, so we highly recommend that you get with the program.
How do you Choose the Right Shade of Green Paint
Painting your space is a serious business; you must ensure everything is in place for an excellent and impressive result. The steps listed below are driven towards that and curated to ensure you get the space of your dreams.
Undertone is Very Important
The first thing you must consider is the undertones of your anchor color. Due to the makeup of paints, you're bound to see hints of other tones in them that go on to dictate what accessories you may use so they don't clash.
If you get hints of blue, gray, green and purple in your anchor color, you're surely on the cool side of life. You can, however, discover touches of yellow, red, and peach undertones, this means you're working with a warm shade.
Consider Your Space
Due to Light Reflective Value in paints, it may become tricky to use them in some spaces. For example, a color with a low LRV may not do so well in a small space due to the depth and how it will make your space appear smaller (claustrophobia alert).
High LRV paints will open up your space, making it brighter, airy and more calming; these paints are perfect for houses with small living spaces, letting you maximize your resources.
Put Existing Décor Into Perspective
You must consider what your home looks like before taking the big step, especially if your plan is to partially remodel the house. This will help you ultimately decide whether sage green is right for you and whether you should do warm or cool.
Finishing Touches
Deciding which finish you want your paint to come in is an essential step in the whole process. This means you can use a gloss, semi-gloss or satin finish. Usually, we advise homeowners to go for semi-gloss, especially for colors that are a bit on the light side- they're easier to clean and work with.
10 Best Sherwin-Williams Sage Paints
You're finally here. Check out 10 of the finest and most versatile Sherwin Williams Sage Paints perfectly crafted for you and your amusement.
Sherwin Williams Retreat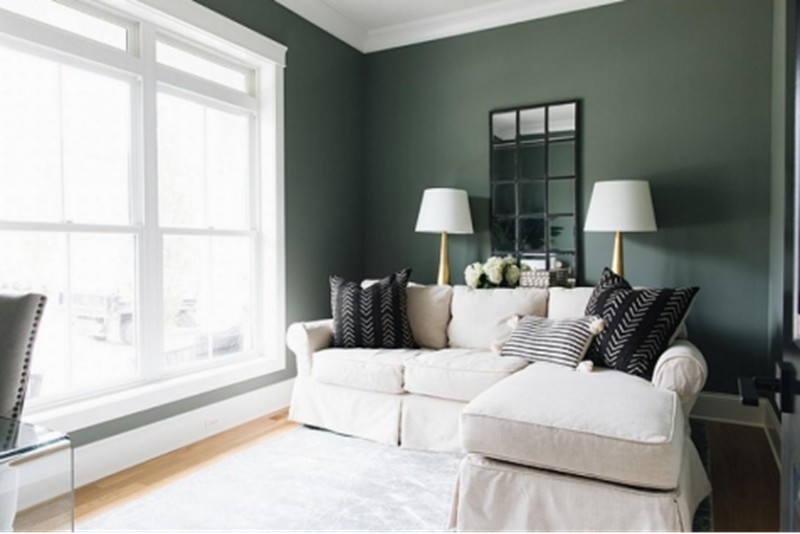 This color is fantastic and one of our personal favorites for numerous reasons. It screams versatility, comfort, and sophistication at first glance. This color is a unique way to introduce nature into your home if that's more of your style.
Sherwin Williams Retreat is a medium-toned green paint color with deep green-gray undertones making it muted compared to other bright greens. It has an LRV of 21, making it perfect for use in small spaces and as accent walls.
Retreat is an excellent color choice for this living room as it adds a new depth to the walls, thanks to the rich green undertones. This is a practical example of how the low LRV of this paint color affects its usage in space and the amount of light a space gets.
Throw in some blues and plant elements in your Retreat bedroom to set a relaxed, neutral tone for your bedroom. You can never go wrong with extra hints of bright, creamy whites in your bedroom.
Sherwin Williams Clary Sage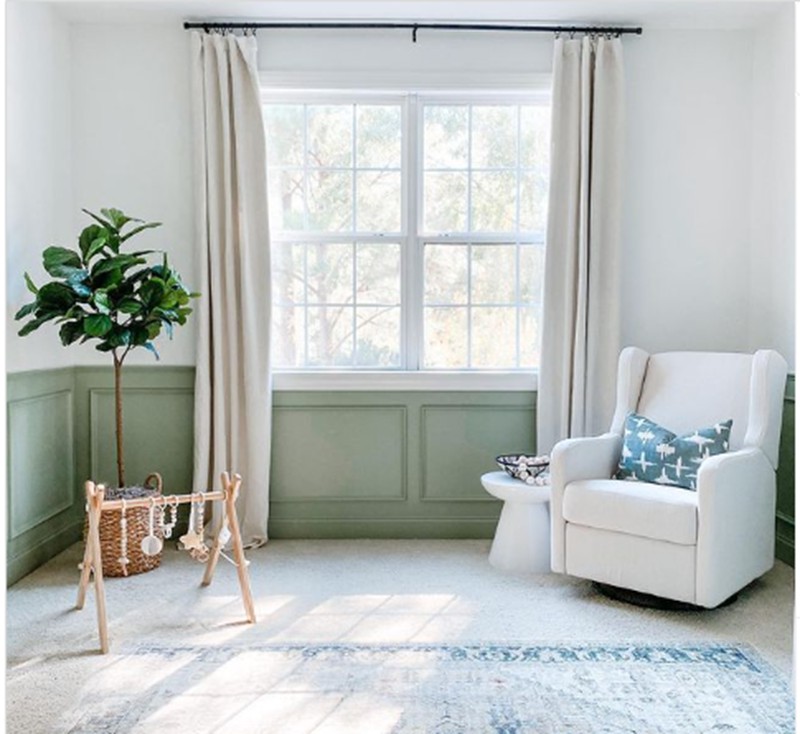 Clary Sage is one of the most popular sage greens from Sherwin Williams, and this didn't happen overnight. This is warm gray-green with soft whispers of soft yellow. Clary sage in your hallway reminds you of a freshly plucked sage from the backyard garden.
The beauty of this color is the different outcomes you see in different lighting situations. Its superpower of striking a balance between cool and warm making makes it a medium-toned color. The LRV of clary sage is 41, meaning using this color in a small space may show depth and cause your walls to cave in.
This first image is quite busy, but the beauty in the chaos is how accommodating Clary sage while still showing all out. The golden accessories and wooden textures in the kitchen further improves the quality of the space.
Clary sage can work as an accent wall in the living room like the second picture and if you're a fan of the minimalistic effect, simply add white accessories sparingly and watch this color morph into your exact personality.
Sherwin Williams Svelte Sage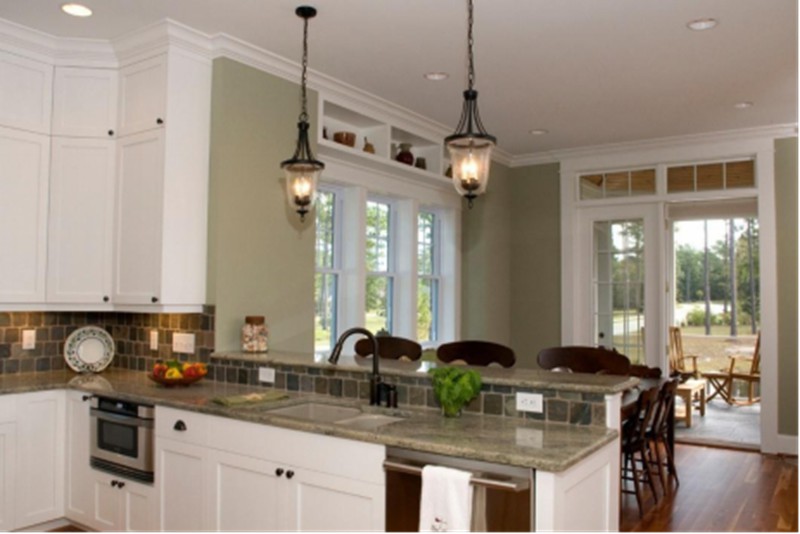 Svelte sage is an excellent green with subtle gray undertones that make your space extra inviting and close to nature. You can also find yellow-brown tones in this one that makes it warm and shows its fun side, especially in a north-facing room.
The LRV of Sherwin Williams Svelte Sage is 41, which puts it in the medium category. It's perfect for exterior and interior design purposes.
In the first image, we explore the versatility of Svelte Sage, especially on the kitchen walls. Due to the rich depth of this color, it can contrast nicely with the white trims and cabinetry, appealing to its warm side.
Curate a nature-inspired sitting room by adding wooden tones and earthy accessories to your Svelte Sage walls. We love the beige couch and how it adds a pop of color to the entire setting.
Sherwin Williams Coastal Plain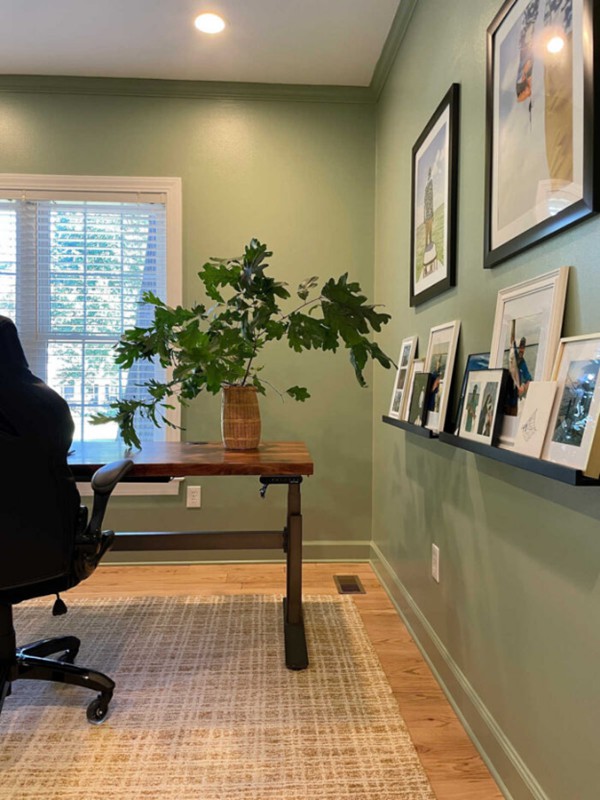 Sherwin Williams Coastal Plain is another important member of the sage green family. This warm-toned green has undertones of gray, making it very muted and almost considered neutral by experts, but interesting enough to switch things up in your space.
This color has an LRV of 37, closer to the line's darker end. Coastal plains perform wonders in any capacity and will make a bold statement.
We love this traditional kitchen setting featuring Coastal plain walls, white ceiling trims and wooden elements. The bright wooden floor brings the arrangement to a new level and adds warmth to the coolness of the coastal plain.
Create a cheerful environment in the home of your dream by adding warm lights to this muted color and giving it a whole new dimension.
Sherwin Williams Acacia Haze

Acacia Haze is as interesting as the name. This sage green hue from Sherwin Williams is the ultimate truth. Thanks to its LRV of 32 making it a medium shade. It has rich blue and gray undertones making it a breathtaking warm neutral that pairs excellently with light or dark wood textures, white trims, marble, stone and loads of other neutral elements in a home.
Sherwin Williams Acacia Haze works well in any space like this bathroom. We love the introduction of warm, bright whites for the cabinetry and bath, showcasing how Acacia Haze performs magic in a minimalist setting.
The next picture showcases how acacia haze pairs the warm tones of gold and patterned tiles on the wall to deliver a gorgeous space without overwhelming the owner or viewer.
Sherwin Williams Softened Green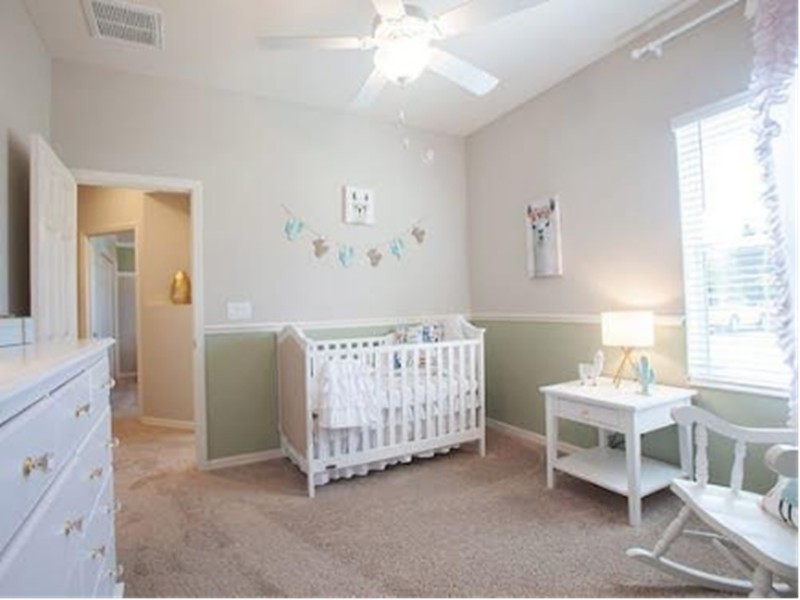 Sherwin Williams softened green is a sage green that's both gorgeous and versatile to introduce peace to any space. This one has a subtle muted appearance making it very easy to work with other colors.
Softened green has an LRV of 49, making it a medium-toned sage green that can work in large and small spaces. You can also use it as an accent wall, like in this nursery, where the homeowners pair softened green with creamy white accessories.
The bedroom is also an excellent place to use Sherwin Williams softened green as it draws you in by creating a cozy atmosphere around you. Throw in some white and wooden details to create a perfect contrast.
If you care to relate to the warmer side of the spectrum, pair your softened green with yellow and red. Think purple or blue to go deeper into the calm and luxurious side of life.
Sherwin Williams Artichoke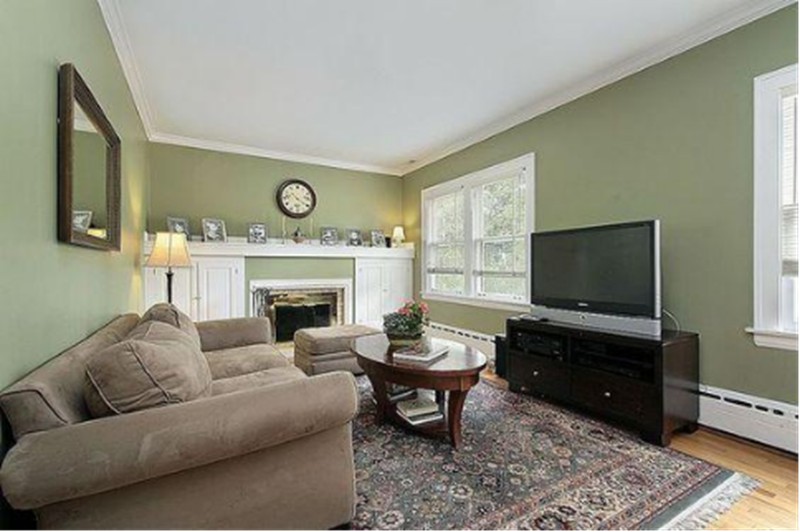 Sherwin Williams's Artichoke works wonders in spaces with soft lighting or a fireplace due to its low LRV of 21. Thanks to its yellow, and gray undertones, you can combine it with warm details and get impressive results.
One thing about artichoke is its range and how perfectly it works even in the most unusual places. This cabinet works great with the backsplash table top and creamy off-white wall in the kitchen.
Light up your life with Sherwin Williams artichoke living room and white trims on the wall and ceiling. Throw in co-neutrals like the brown couch to add a bit of an edge and enjoy your luxurious space.
The center rug and white cabinetry are an excellent idea for the living room. Those warm lights give it an extraordinary personality too.
Sherwin Williams Green Onyx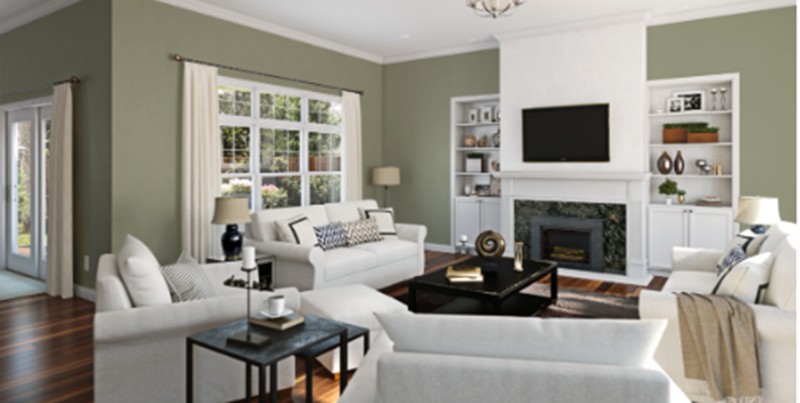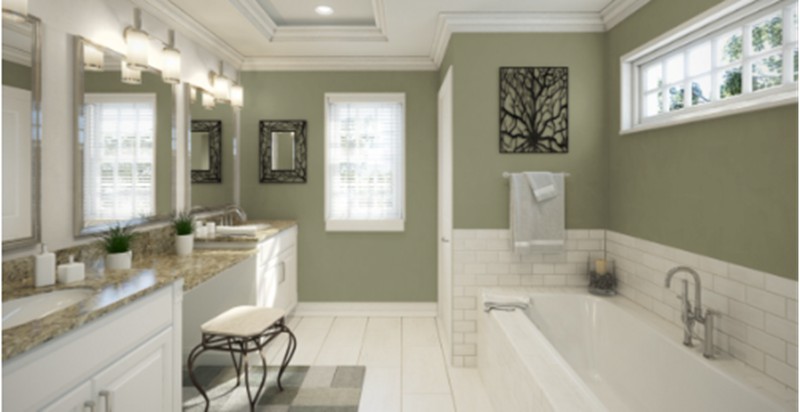 Sherwin Williams Green Onyx has warm yellow-gray undertones that add to the versatility of the neutral color, enough for it to win your heart over with its cool charm and still quiet enough to make you feel at ease with your soul and spirit.
This color has an LRV of 31, which means you'll get dark/deep feedback from it courtesy of its gray undertones, which came out to play in the first picture. It's important to note that this color will only make your space appear smaller, so only use it if you have enough space to experiment.
Embrace the natural vibe in your bathroom and connect deeper with the yellow undertones of this hue by adding warm lights and introducing earthy tones like the backsplash marble top on the bathroom cabinet.
Introduce white details for a striking contrast, or add a twist of black accessories for a bold effect like the piece on the wall.
Sherwin Williams Cornwall Slate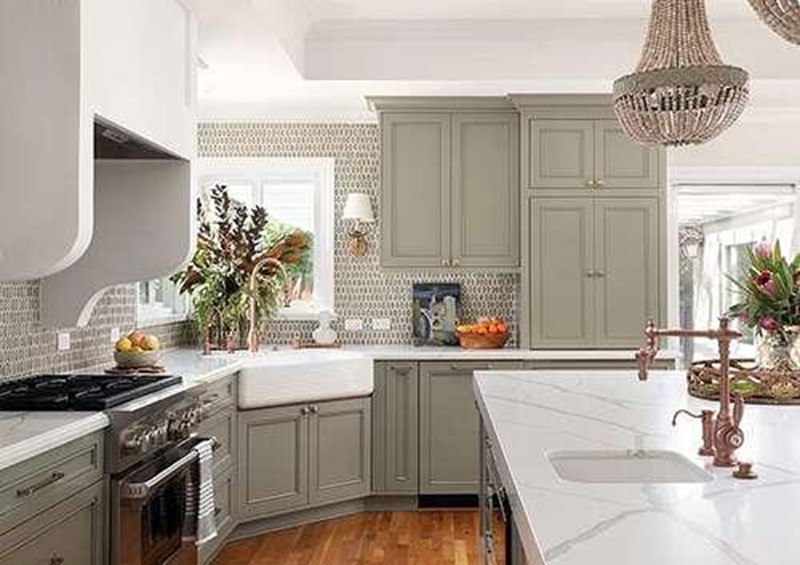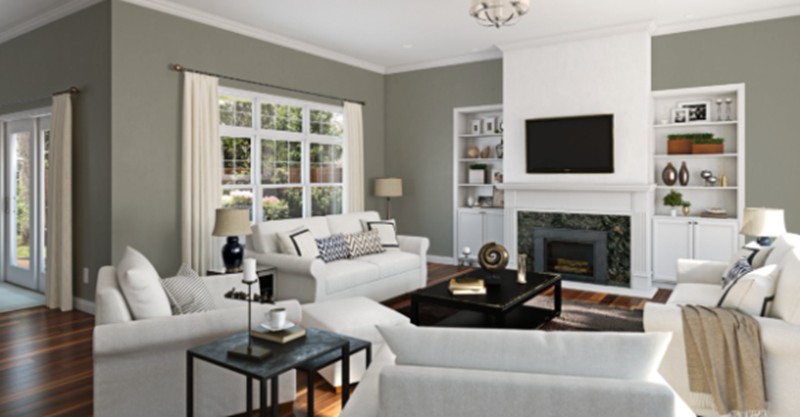 Cornwall slate is one of the coolest neutrals you can find. It inspires the feeling of an undisturbed, soft and pure nature experience in your space. Thanks to its LRV of 29, this is a really dark color and a great choice for your expansive living room and bedroom.
This color's calming effect isn't discussed enough, but all that will change now. Cornwall Slate looks gorgeous on this kitchen cabinet. You could almost confuse it for gray due to its overwhelming touch of gray. We love this monochrome kitchen and how they kept things simple with the choice of white trim and wooden accessories.
Cornwall slate introduces an intimate vibe into your home like this living room which also connects to the color's gray side. We love the complimenting cool white couches and ceiling in this space.
Sherwin Williams Sensible Hue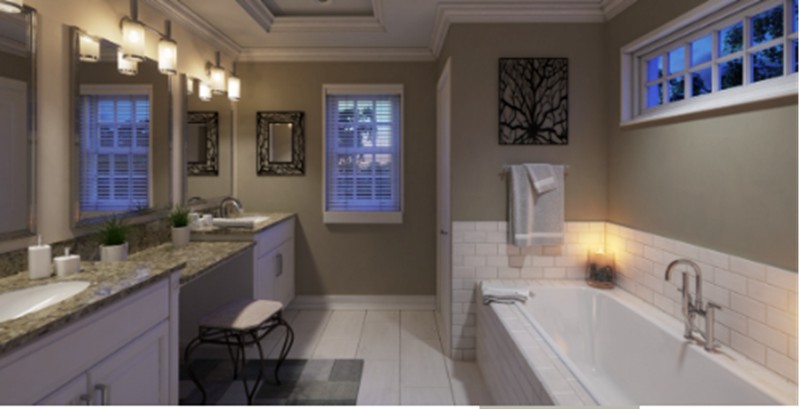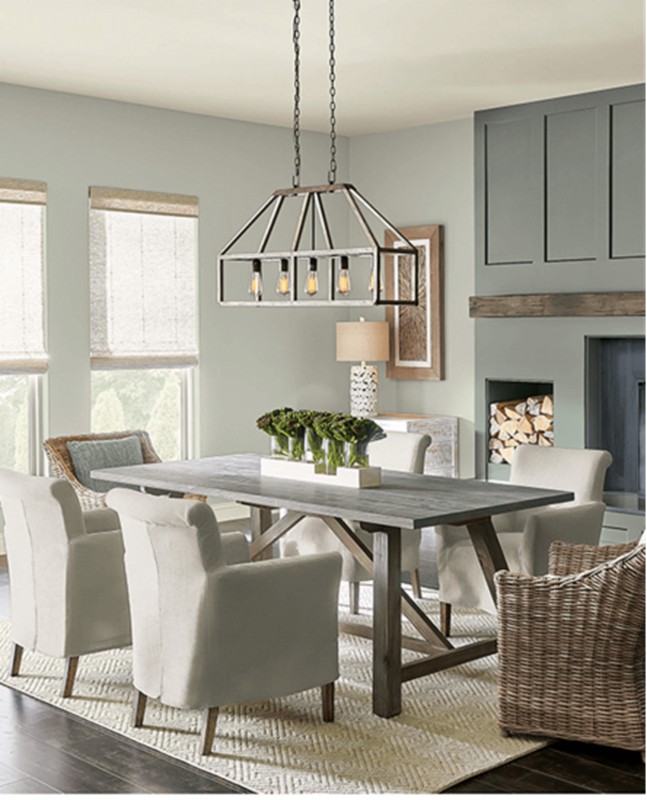 Sensible Hue is a desaturated green that can easily pass for a gray hue under some lighting conditions. While this is a relatively unpopular color, it doesn't change the fact that it adds a mysterious and peaceful touch to whichever space you decide to apply it.
Sensible Hue has an LRV of 46 putting it in the medium category. Use this color in an airy and bright space like the second picture. You'll most likely get a washed-out version of this color as it'll appeal to its gray side, especially with the inclusion of other natural elements like the white couch and wooden textures.
It's crucial to emphasize examining your light under different lighting conditions. Sensible hue showcased its green and cool side in this bathroom, especially at night. You can feel the coolness just by staring at the screen. Throw in other cool whites to add that extra fresh vibe.
Advantages of Sage in a Space
Sage green is a popular choice among lovers of minimalist vibes in their spaces. This color can be neutral in any room and welcome other vibrant hues to create a modern or traditional setting.
Bright sage green paints give your space an airy and beautiful feel due to the high LRVs.
These colors can pass as neutrals to help you work with other colors.
Sage greens are easy on the eyes, quiet at home and peaceful. But this feedback can vary depending on the location of rooms they're used.
Because sage green is a cool color, they're commonly used in bathrooms, bedrooms and kitchens, making small spaces appear more prominent.
Lighting and Sage Green
The incoming light from all directions in the house drastically affects the appearance of your paint, and it's best to pay rapt attention to how they react to help you make a balanced decision regarding accessorizing your home.
South-facing rooms get the warm yellow light from the afternoons, and they will make your sage green walls look warmer and more yellow.
North-facing windows absorb the cool-toned light that will make your paint colors appear cool. If your wall is a cool sage, this light may cause it to appear teal or blue. However, if you want your color to appear warmer in a North facing room, opt for a sage green with more yellow in it.
Western light will get the orange-red light from the sunset towards late afternoons and early evenings. This means you'll get a cool low light in the morning and warm, bright light in the afternoon & evenings. (the greens in your sage green will become much more evident in the morning and gradually switch to yellow towards evening.)
Eastern-facing rooms will enjoy the sunrise view and plenty of morning light, which means you'll get warm, bright light in the morning but with the softest touch and cool low light in the afternoons. Your sage green wall will show off its brightest side in the morning (except for the yellow in this to come through).
Sampling Your Sherwin Williams Sage Green Paints
One of the most effective ways to choose the right sage green for your space is to get samples and test them on multiple walls at different times. The idea behind sampling is to enable you to analyze how your sage green will fare under the varying light conditions in your house.
You must do this on a clean wall to rid it of influence from surrounding colors, so you can see the undertones and pick the perfect accessories to match.
Lucky for you, SAMPLIZE paint strips are readily available and affordable for you to run a quick test and get desired results in minutes. Goodbye to the days of trial and error and wasting paint. These strips are removable so you can check them out in different places.
Conclusion
Sage green paints are one of the most unique hues in the market. They can multitask as solid and neutral colors, which means you can layer other colors with this one and get glamorous results. Remember to always sample your paint before deciding to apply it in your space.
While you may have different conclusions on sage green so far, we all can agree that this color leaves a calm, satisfying and relaxing in the mind of its users, and its popularity can only continue to soar as the years go by.