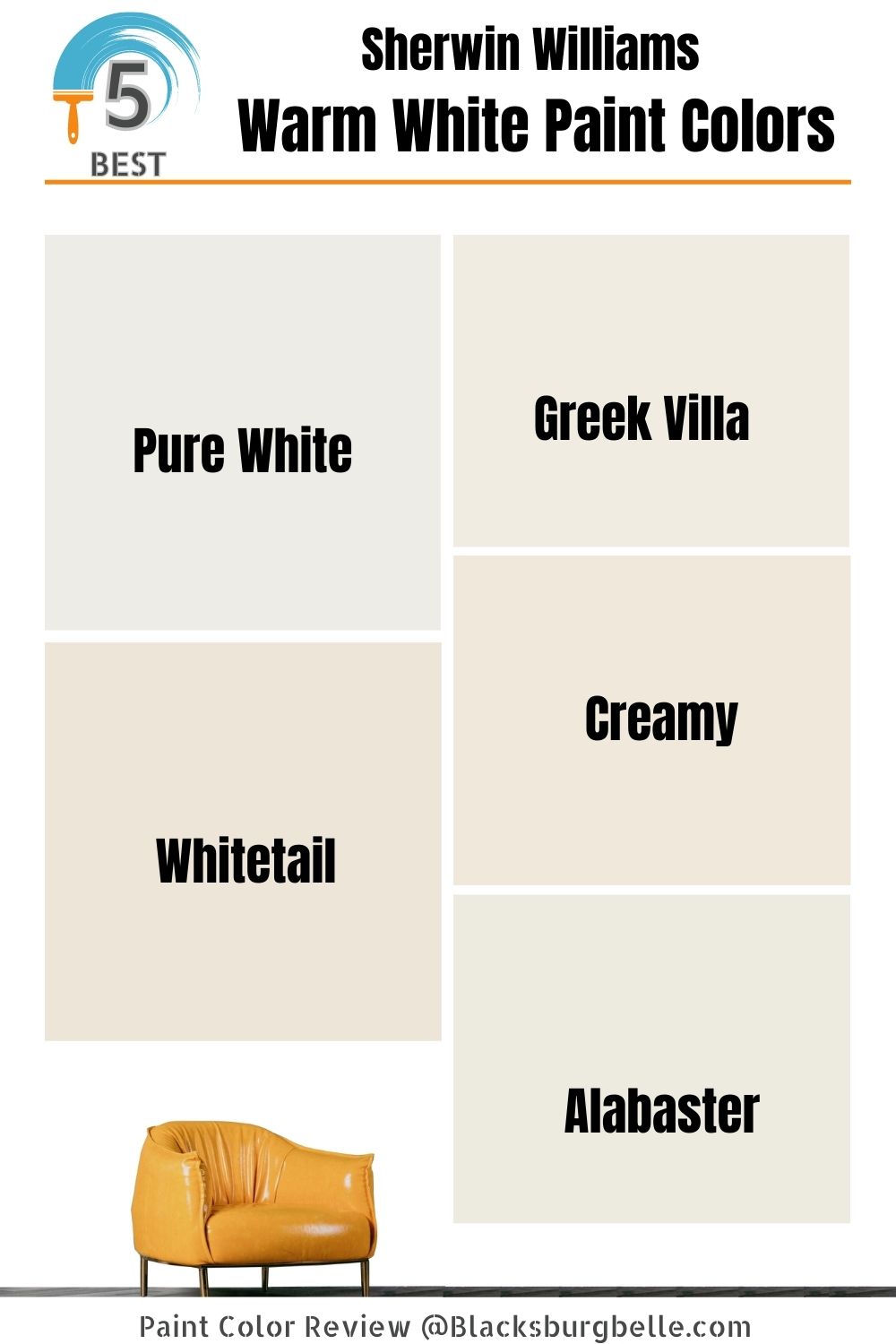 White is a staple color for many interior and exterior designs. It's renowned for its versatility and the clean and brightening effect it brings to spaces. Generally, using white paint in your home makes it feel like something straight out of a catalog.
However, white paint colors come in different shades, tones, and hues, and it can be very overwhelming for many homeowners to decide what white paint color they should pick.
Luckily for you, the article guides the average homeowner on picking out the most suitable warm white paint color and the best Sherwin Williams warm white paint colors on the market.
What are Warm White Paint Colors?
White paint colors fall into different categories based on their temperature. A warm white paint color mimics that natural glow you notice from the sun on a cool summer day. They are ideal for giving your living space that nice homely look.
With reds and yellows as its undertone, a warm white suits just about any living space, regardless of lighting. Besides having more of a deep undertone, warm white paints will still have a high light reflective value like any other white paint of a different temperature or undertone.
Types
Based on temperature, White paint colors can be typed into two; warm and cool
Warm White Paint Color
View this post on Instagram
Warm whites are excellent if you want to create a cozy atmosphere in your living space. Like other warm paint colors, they tend to have some yellow or reds/pinks in their undertones which gives them that 'the sun at dawn' glowy effect, especially under natural light.
Speaking of natural light, for a north-facing room that gets predominantly cool natural lighting, a warm white might be the best option for softening the space up and bringing in more warmth.
You'll absolutely love a nice warm white in your space if your design theme or decor is filled with earthy organic elements or if you have natural hues and texture on your furniture.
Cool White Paint Color
If you don't like the traditional aesthetic that warm whites tend to radiate, then perhaps a cool white is the way to go. Cool whites are lovely if you're looking for something a bit more modern and edgy. They brighten without being warm, making your home look more refined and elegant.
Cool whites are literally the opposite of warm whites because while a warm white will work best in a room that doesn't get enough light, a cool white will be perfect for a room that does get enough natural light as its coolness can help to neutralize the glow radiating from the outdoors.
This type of white, like other cool-toned colors, has some greens, blues, and sometimes even a bit of gray in its undertones.
Pros and Cons of Using White
Paint colors have upsides to using them and, at the same time, some downsides to them.
Pros
One of the major pros of painting your walls white is the brightening effect that white gives. Whether a cool white or a warm white, as long as it's white, it's going to be bright.
The only difference is that warm whites tend to give off a soft yellow glow especially under natural light while cool lighting gives off an even softer and milder brightening effect not necessarily as glowy but just as beautiful depending on your taste.
Also, white paint colors can open up your spaces, making them feel less congested.
Cons
Probably one of the greatest flaw of white paints is how easy it is for them to stain and pick up dirt. If you have little children, you might want to pause on painting your walls white until your children have at least grown up a bit.
Another downside to white paint is the aging process. Over time, you might notice your white paint starts to take up more of its undertone, especially in the case of warm whites, as they look more yellow than white.
How to Pick the Right White Paint Color
Before rushing into the store to pick any white paint color, you must first consider certain factors. Also, you must ensure that the white in question fits into the color palette you're going for because you'd want the finished product to be cohesive and nothing to seem out of place.
Factors that Influence Color Choice
Several factors can change (either positively or negatively) how a color is perceived. These factors are worth considering when picking out any paint color.
Room Size
Room size can influence your paint color choice, and for good reason. Have you ever noticed how a seemingly large/small room can look much smaller or bigger (as the case may be) when some colors have been added?
This is a technique that many designers use to alter the visual perception of a space.
For example, lighter and cooler paint colors can make the room look larger and airier than it actually is, while darker colors can make it appear smaller.
Taking this into account, you can use white paint on the walls of your home to make that particular space look larger.
Lighting (Natural and Artificial)
Lighting is another factor that greatly impacts how a paint color will look in a space. And this is because of what is known as the LRV or the Light Reflectance Value of the paint color.
A paint color's LRV indicates how much light (natural or artificial) it can reflect and absorb. This vital paint color property runs on a scale of 0-100, with 0 being pitch black and 100 being pristine white.
Paint colors like whites (either warm or cool or off-whites, etc) will have high LRV because they reflect more light and absorb very little. That's why many home designers use whites and other bright paint colors to lighten up a space that might look dull otherwise.
This attribute also makes them suitable for both dark and bright spaces. You can also pair them with paint colors that have low LRVs to prevent dim-lit rooms from appearing moody.
Room Orientation/Room Function
Unsurprisingly, geography also has a role to play in how a color might appear and thus makes it to this list of factors too.
Room orientation is basically where your room is facing. Your room can be north-facing or south-facing. It affects how much light you'll receive in a room and whether or not it will fall on the warm or cool side of the spectrum.
Natural light tends to generally fall on the cool side in north-facing rooms. As a result, the cool undertones of the paint color will show up stronger than any warm ones. Using cool colors in a north-facing room isn't advisable because the colors might end up looking icy or even cold. However, a warm white will look magnificent in a north-facing room. The reason is that the cool natural light will balance out the warm look of the paint color.
On the other hand, a south-facing room tends to get warmer natural flood of light and you'll notice that your paint color will look much brighter and warmer than normally looks. In times like this, it's important to be cautious about what paint color you use because, with so much natural light seeping through, the undertones will start to pop, and you may see less of the color you actually bought.
Overall Decor (Theme, Underlying Color, Complementary Color)
To make a truly stunning and appealing space, every design element must be cohesive. From decor to style, complementary colors, etc, they all must complement each other and contribute to the bigger picture to elevate the appearance of your living space.
If your home decoration feels too congested or clustered, then maybe incorporating a lighter color can work wonders in creating space you didn't even know where there. And if you feel your space is too open, a darker color can refine and make your space feel smaller.
That doesn't mean you need to paint your home one color, utilize complementary colors to get the best out of these visual perspectives. You can make the walls of your home feel expansive or small. It all depends on what paint color you use and how you place it.
Long or Short Term?
Over time, due to the natural elements, we're all subject to, you will notice your paint color starting to fade. As they fade, they tend to take up a little bit more of their undertones than usual. Meaning regardless of the lighting, you'll notice the undertones might show more than before.
With colors that you plan on using long-term, it's worth knowing that even if the paint color does fade, it will fade to a color you would not completely dislike.
Take, for example, a warm white. Warm whites have yellows and sometimes reds as their undertone,s but since yellow is usually the dominant undertone, over time as the color starts to fade, the warm white might start to lean more on its warm yellow undertone. Now you can ride this wave for a bit longer or get a repaint; it's all up to you.
Swatch Tests (in Natural and Artificial lights)
Picking a paint color is a big commitment. That color is going to grace the walls of your home for a very long time, and it won't be great if you end up disliking it.
That's why before you actually pick a paint color, even if it looks amazing in the store, you must always request a swatch test.
Paint colors tend to look different on walls than they do in catalogs and pictures. Requesting a swatch test can give you an idea of what this color will look like under different lighting in various living spaces within your home.
Only when you've done a swatch test can you know for certain that this is the right move to make.
Trim Color
A trim color honestly ties the whole look of your house together and adds a lovely finish.
If you're doing a house remodeling and it's the wall colors that need changing then it's worth considering the trim color when picking a paint color for your walls.
Always remember that it makes for a clean finish if you create some form of contrast between your trims and wall to distinguish them clearly. That being said, some paint colors from Sherwin Williams excel at functioning as trim colors. For example, Sherwin Williams Pure White and High Reflective White.
5 Best Sherwin Williams Warm White Paint Colors
1. Sherwin Williams Pure White (SW 7005)
View this post on Instagram
Sherwin Williams Pure White is a warm white paint color. It's one of the most versatile and popular white paint colors from the manufacturer, and for good reason. The bright white works well in any part of your home. From your walls to the trims and even as a cabinet paint color.
Although it's not a 'true white', its passive white is very appealing as it adds a glowy and cozy effect wherever it's used. SW Pure White has an LRV of 84 which means it's more on the high side, and it has a brightening effect like all other white paint colors. But due to its warmth and creaminess, it's not a stark white like other paint colors of a similar LRV.
Sherwin Williams Pure White has a lot of yellow in its undertone and a little bit of black to mute the intensity of the yellow. But muted down or not, that doesn't in any way stop Pure White from picking up other paint colors in its surroundings sometimes.
In a south-facing room, you can really see the glowy yellow of Pure White come to life with all the reflecting warm light, but you might not enjoy the same benefits so much in another room.
| | | | | |
| --- | --- | --- | --- | --- |
| Paint Color | LRV | RGB Value | Undertones | Reading |
| Pure White | 84 | R: 238 G: 237 B: 231 | Yellow and a tiny bit of Black | Warm |
Due to its warmth, Pure White doesn't look stark against the walls of this living room.
Sherwin Williams Pure White lights up this passageway, contrasting with the darker color.
2. Sherwin Williams Greek Villa (SW 7551)
View this post on Instagram
Sherwin Williams Greek Villa is a creamy white paint color that often tethers the line between being a warm white and an off white paint color. This color is often referred to as a farmhouse white because of its yellow finish.
Like in the case of Sherwin Williams Pure White, Greek Villa also has an LRV of 84, meaning it's a very bright white, but because of its warmth, it will never appear stark, regardless of lighting and room location.
Greek Villa has some yellows and oranges in its undertones, not to mention the light amber that's also present, but mostly hidden. The paint color is perfect in interior spaces, but not necessarily as an exterior color, especially if you're staunch about having white walls.
That's because Greek Villa can read as more of a creamy white than an actual pure white under bright light.
Nevertheless, it will still make an excellent color.
| | | | | |
| --- | --- | --- | --- | --- |
| Paint Color | LRV | RGB Value | Undertones | Reading |
| Greek Villa | 84 | R: 240 G: 236 B: 226 | Yellow and Orange | Warm |
Greek Villa is used here as a wall color, contrasting with the cooler color used on the cabinet.
Here Greek Villa is used as a living room wall color.
3. Sherwin Williams Whitetail (SW 7013)
Sherwin Williams Whitetail is a bright, creamy white paint color. It has a gorgeous yellow-beige undertone that really sets it apart from other warm whites, and yet it bears a certain similarity to Sherwin Williams Alabaster.
SW Whitetail being a warm white belongs to the White Paint Color Family although some people might take it a step further and describe it as an orange-white. Depending on the lighting, you might catch a hint of yellow when you use it on walls.
Sherwin Williams Whitetail is what you'll call a true warm yellow. Although it can appear true white in dull lighting, it never appears grayish like other whites. That's why it would be perfect in a room that doesn't get as much light.
View this post on Instagram
| | | | | |
| --- | --- | --- | --- | --- |
| Paint Color | LRV | RGB Value | Undertones | Reading |
| Whitetail | 86 | R: 244 G: 239 B: 228 | Yellow and Beige | Warm |
Here SW Whitetail is used as a kitchen cabinet color.
Here is Whitetail being used as a cabinet color, pairing nicely with other colors in this bathroom.
4. Sherwin Williams Creamy (SW 7012)
View this post on Instagram
Sherwin Williams Creamy is a warm white that borders between white and off-white. Its deep yellow undertones are responsible for throwing people off thus having it grouped as an off-white.
However, even though it majorly has that creamy yellow as its undertone, it also possesses a neutral undertone that calms it down a teensy bit enough for it to pass off as a warm white but not so much so that it starts to look like a true white.
A south-facing room will enhance the warm glow of this color. You can expect to see its creamy texture pop out more. In a north-facing room, it's the complete opposite as the natural light makes this color appear less warm. That's what makes colors that have such a nice creamy texture ideal for rooms that don't get enough natural light.
| | | | | |
| --- | --- | --- | --- | --- |
| Paint Color | LRV | RGB Value | Undertones | Reading |
| Creamy | 81 | R: 239 G: 232 B: 219 | Soft Yellow | Warm |
Creamy is used on the walls of this bedroom.
On the walls, SW Creamy creates a soft glow that makes every other decor element pop.
5. Sherwin Williams Alabaster (SW 7008)
View this post on Instagram
Sherwin Williams Alabaster is often described as a soft warm white. This means it has just about enough of everything without being too warm or too creamy compared to some of the colors mentioned on this list.
The paint color has a soft creamy texture. Its warmth will increase in intensity with enough warm light coming through in a south-facing room and in a north-facing room, you'll notice that the warmth of Alabaster creates a soft balance with the cool natural light.
SW Alabaster has an LRV of 82 which means it's still within the white range but will never look stark.
It has a soft yellow undertone, which makes it look good, even in really bright lighting as no matter what, it won't look too yellow or loud.
| | | | | |
| --- | --- | --- | --- | --- |
| Paint Color | LRV | RGB Value | Undertones | Reading |
| Alabaster | 82 | R: 237 G: 234 B: 224 | Soft Yellow | Warm |
Regardless of the strong natural light, Alabaster still doesn't look too yellow.
Alabaster is used here as a cabinet color and you can spot the slight yellow undertones.
Conclusion
If you want your home to constantly feel cozy like those homes you see in the movies, then a warm white should do it. Pair it with some nice earthy and organic elements to really bring out that lovely glow effect that makes warm whites so popular.
However, before rushing to your local store to get the first warm white you can get your hands on, don't forget to request a swatch test. That way you familiarize yourself with the paint color and confirm that it works well with other elements in your home and the overall theme of your design.