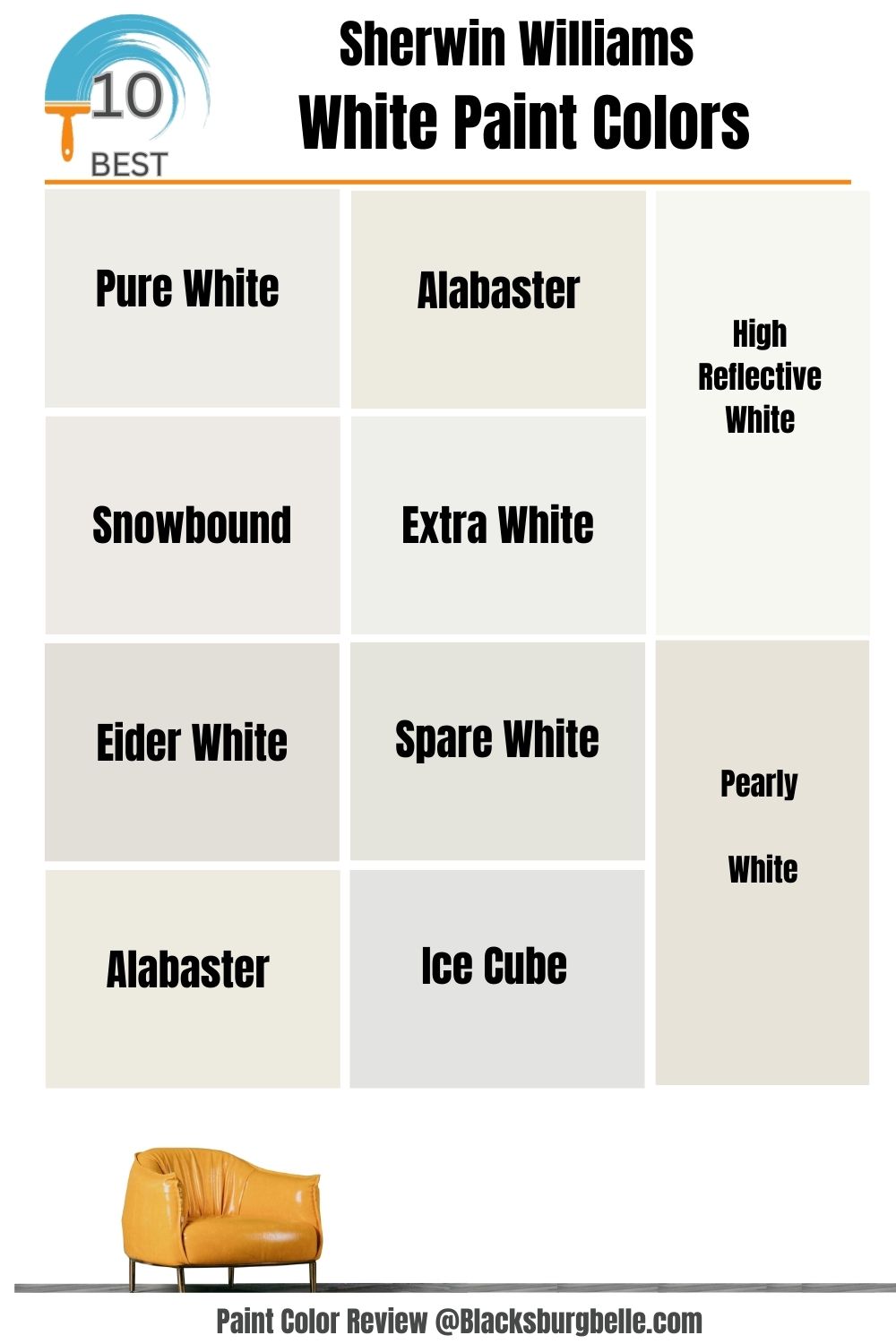 One thing that sets white paint apart is its overwhelming versatility! This bright and exciting color has held an important position in the decor sphere for decades, and Sherwin Williams has formulated some of the best and most trendy whites you can find on the market today.
This article will examine the 10 best Sherwin-Williams white paint trends for 2023. These colors have become a staple among homeowners and have weathered the storms to emerge as the most preferred ally for producing tasteful and timeless spaces.
Benefits Of White Paint Color
Wondering why they're so popular? This is directly connected to the immense benefits homeowners get from applying them on the walls.
The first benefit of this color is how it helps calm your mind and set the mood by relaxing those tensed-up nerves that come with picking a color choice. In the absence of any other color, whites rise to the occasion, making it easier to pick complementary colors and explore them further.
White paint opens up your space to create an illusion of a large living area. If your space is small, consider applying bright white paint to trap in light and make the most out of your space. If you're also working with a large space, white will open it up even more.
White is synonymous with peace. It makes you feel good. In the psychology of color, it's associated with purity and loads of other health benefits.
Picking The Best White Colors For Your Space
It doesn't matter where you're getting your inspiration from. White paint is the go-to color of choice for an updated space. Due to our expansive library of whites on the market, we've drafted an easy guide to help you sift through and make a definite choice.
Prioritize Lighting
If you fail to plan, you plan to fail. One of the most important things to consider when picking a white paint color is the existing lighting in your home. Be it artificial or natural sources.
Whether warm or cold, the temperature of your light will reflect on your paint color and either draw out the undertones or leave it in its original state. More natural light options may play major roles in the outcome of your space.
Northern lights leave a blue cast on colors that appeal more to their cool side. If your room faces this side, you may see the blue hints in your color come out to the surface or other cool tones.
For east-facing rooms, the yellow-orange tones from the sun leave a soft, warm touch on your white color. The beauty of this color will appear in the early hours of the day.
Western light is for early evenings. Your white paint gets the crispy, golden touch of the red-orange rays of the sun. If you use white paint on the exterior of your home, this illustration will get clearer.
Southern-facing rooms also get warm light from the sun, and warm whites would surely thrive with this one. Watch out for the yellow undertones in your whites, as they'll make a grand appearance with this one.
Check The Undertones
Yes, even white colors have undertones. This isn't rocket science; as we stated earlier that colors are divided into warm and cool categories. For the cool whites, they usually showcase a few blue undertones that are very soothing on the eye. The warm whites show off a hint of yellow; when you mix the two, you won't like the result. This is why you should always sample your paint to closely study what you're working with.
If you've decided to work with a warm or cool white, follow up with matching surrounding décor from floor to windows and even backsplashes. A uniform and consistent undertone screams expertise and skill.
Size Of The Room
How big or small your room determines what kind of white color you'd go for. Warm whites will make your space feel closer, so you must stay away from them if you have a small space- instead, stick to the cool side of whites as it'll help open up your space, catch more air and introduce a tranquil vibe.
Finish Touches
Always think long-term when picking paint colors. This will buy you more time to settle for the best option available on the palette. The paint finish is really about what goes on after you're done picking your color of choice,
You can decide to settle for a semi-gloss finish, matte white wall or a beautiful eggshell finish depending on factors like children, pets and other entities in the house. We advise homeowners to go for a glossy or semi-glossy finish because they're easier to wipe off and clean in case stains get on them.
10 Best Sherwin-Williams White Paint Colors
We've compiled this list with you in mind along the way. These white colors are rich, flexible, and exude a great deal of kindness that instantly accepts brighter colors while staying true to their purpose.
Before proceeding, LRV is short for Light Reflectance Value, a scale from 0 to 100, with the brightest hue of 100 and the darkest at 0. The purpose of this scale is to determine just how much a color reflects.
1. Sherwin Williams Pure White
This one is top on our list and can easily be the crowd favorite. It's been around for a while, and while it's not a crispy clean White (don't get fooled by the name, it can appear yellowy or creamy depending on the external features and the time of day.)
It has an LRV of 84 and RGB of 237, 236, and 230. The first image shows the cool side of Pure White on this wall and the relationship it maintains with the big black door and railings. The next image is a Sherwin-Williams dining room made complete with different earthy tones and warm lights. The yellow undertones come to the front, making this space very inviting.
2. Sherwin Williams Alabaster
Alabaster takes us on a jolly ride to the warm side of whites that serves yellow undertones without making an extra effort to give more than expected. Its LRV of 82 makes it very bright and noticeable and also causes it to look sharp against a range of contrasting colors.
Wondering what the warmth in this color is meant for? Well, it helps it bring that pop and soft glow that prevents it from looking too basic.
Sherwin Williams Alabaster performs excellently on the kitchen cabinets in the first image. We love this color switched from the usual usage as accents and trims on walls to become the main character on these cabinets. Introducing rich black details (handles and tap) takes the whole contrast game to a new level.
Wooden tones and textures are great allies for warm whites as per the kitchen and living room floor, plus the pretty chairs in the room, which bring everything together. We can't ignore the green plants in the vase that draws out the yellow undertones in the color.
3. Sherwin Williams Snowbound

Talk of a bold, bright white color, Sherwin Williams Snowbound reigns with an LRV of 83 and is an excellent choice for trims, moldings and accents. It's unique because it pairs excellently with neutrals and bright colors.
Snowbound has grayish undertones that only pop out when you use it alongside other whites like Extra White and Pure White.
The two images show how well this color and its gray undertones work well with black metals and the surrounding wooden textures.
4. Sherwin Williams High Reflective White
Talk about probably the most balanced White around. This one is neither cold nor warm, has no peeking undertones, and has an LRV of 93 and RGB of 247, 247, 241. The tricky part about this color is that it'll pick up on the surrounding colors in the house.
For the first image, there's no denying that this crafty color on the cabinetry brilliantly picked on the gray in its surrounding, giving it a cool demeanor. We assure you if there is any other bright color around, it'll adjust accordingly.
The beauty of white colors is just how they hold their own in a sea of options and help you perfectly combine other colors to give a beautiful outcome. We'll take a cue from this second image for our next minimalist-inspired living room. Notice how the main hues here are all neutrals, and the bright white on the wall brought this project to a gorgeous end.
If anything, Sherwin Williams Reflective White has lived up to its expectation as the company's brightest white paint.
5. Sherwin Williams Extra White
This is a clean, crisp, bright neutral white with zero undertones. It has served for years as the trusted trim of choice for households, thanks to the sharp contrast it gives to any color used against it.
It has an LRV of 86, making it unarguably the brightest White on this list. Extra White also performs wonders as accents both indoors and outdoors.
Sherwin Williams Extra White isn't trying to hide its heroic deed in the first image. The impact of this color on the doors is instantly felt and seen as it beautifully contrasts and complements the surrounding neutrals. This color is a smart option if a minimalist palette appeals to you.
6. Sherwin Williams Eider White
Sherwin Williams Eider White has enough gray to place it in the warm category. You can also notice undertones of purple or pink. Thanks to the trickiness of this white, it may also be a curse that sends people away.
Eider White has an LRV of 73, placing it on the high side. While it may appear very white on its own, the contrast shows when placed side by side with white trims. Regardless of how they may appear, this color is amazing in bedrooms, living rooms, dining rooms and the kitchen.
The cabinet in this kitchen perfectly showcases the beauty of eider white, and it's hard to ignore the pink hints in this color, thanks to the lighting of this space. One noticeable difference in the final appearance of the color is how the area with the most light causes the pink in eider white to take the back seat.
Like the second image, you can incorporate eider white into your minimalist living room. The idea of a minimalist setting is to pick colors from the same theme and use them in a way that they agree and still maintains beautiful contrast. Sherwin Williams Eider White sits pretty on the walls of this sitting room and shows off its cool side with hints of purple. The sharp white accessories, like the cabinet and chairs, create an artistic balance.
7. Sherwin Williams Spare White
Spare White is a cool white that is subtly bright but not overwhelming. Under some lighting conditions, this color appears like a true white, but gray and green undertones show off occasionally. It has an LRV of 77 and an RGB of 228/228/221.
Check it out on the wall of that bathroom. Because it's such a small space, the gray in this color makes a strong appearance- we recommend spare White for people who desire that coastal vibe in their homes. The fun tile backsplashes on the wall and the interesting choice of tiles gives enough personality to this tone.
The green in Spare White comes out to play when the sun is down, adding extra coolness to the color. We love the matte black roof and the white garage door that brings more dimension to this color, and it's not a bad performer on the exterior as well.
8. Sherwin Williams Pearly White
Pearly White is a muted creamy white paint color but doesn't look yellow. It's an almost neutral color that goes well with everything and has invisible green undertones, making it go well with just about anything.
The color gracefully sits on the sitting room wall, showing the sharp contrast between the wall and the white chairs. The dark center table and fireplace are the perfect highlights in this space.
The warmth of Sherwin Williams Pearly White is everything in this gorgeous bathroom. It matches the white tiles, and the black frames on the wall do justice.
9. Sherwin Williams Alabaster
Alabaster is an impressive warm white color with an LRV of 82 and RGB of 237/234/224. It has strong hints of yellow and gray in it. The yellow in it makes it a perfect match for spaces with wooden textures, like how this bedroom wall complements the rug and wooden drawers.
Alabaster works in this sitting room with the cool whites on the chair and beige curtains. The bright white paint on the ceiling also gives the living room sharp contrast. This color is best for minimalist bedrooms, and you can pair it with
10. Sherwin Williams Ice Cube
Sherwin Williams Ice Cube is cool, crisp and bright white with blue undertones. It pairs well with cool colors like grays and blues. Ice Cube has an LRV of 77 and RGB of 227/228/225.
One thing that sets Ice Cube apart is its versatility in exterior and interior colors, like in the bedroom, where the homeowner sticks to the minimalist theme and combines the color with gray and wooden textures. You can pair your ice cube with a brighter white and black, just like the exterior of this house.
The Five Types Of White Paint Colors
If you think white is a one-way color, well, think again. This hue has range, and we'll show you just how.
There are five types of white you'll find everywhere in the world, thanks to their undertones and how they react in spaces with varying light conditions.
Warm White
Cool White
True White
Bright White
Soft White
Cool Whites
Cool Whites come with blue, green or purple hints in them and come in two sub-categories; you can work with bright cool white or soft cool whites, each with an LRV of 90 and 82-89, respectively.
You can use cool white paints with other cool paint colors or finishes. Always make sure the undertones match. They offer immense balance to the warm southern and western light. You can also use them on marble surfaces.
Avoid using cool whites in a north-facing room. The incoming blue light from this light source may complicate things for you and make the room look gloomy.
True White
This one is the most popular of all the whites and usually has a high light reflective value. True whites make the best partners for many white accessories in the house. They also perform best with cabinets, trims and ceilings.
However, due to their apparent lack of undertones, they can easily be influenced by surrounding colors which can pose a big problem to your space as it will get oddly confusing.
Warm White
Warm whites have undertones of yellow, orange, red and hints of green. These whites may not appear bright because the higher their LRV, the lesser the orange and greens will show. It's also highly likely you get more definition with the yellow and red undertones- the reason is not far-fetched. It's simply because these colors are primary colors, and their formation has not been altered in any state.
Warm whites are best partners to gray paint colors. The interesting contrast they share is why they help each other pop. Warm, bright whites are excellent for dark spaces and help ease the incoming northern light for rooms routed in that direction.
Bright White
Bright whites stand between LRV of 90 and above. This color has hints of yellow, but it's almost noticeable due to its very high Light Reflective Value, especially if applied in bright rooms with plenty of natural light.
The incoming light enhances the brightness of the white so much so that all undertones disappear. You can only spot the obvious difference between bright white and other true whites when you place them side by side. Bright whites perform wonders in dark rooms, but you may still want to work on your lighting.
Soft White
This color is exactly like its name; it's a brighter white, especially without a true white for direct comparison. Soft whites have an LRV of 82, and they can increase to 89. For their undertones, they edge closer towards gray or any dirty hue.
Soft whites are excellent on any palette, given that it's not too cool. We advise you to pair soft whites with matching temperatures- like warm with warm and cool with cool. They're an excellent match with southern/ western light in the afternoons, and warm, soft whites clean out the cool northern light by adding needed warmth.
Conclusion
Whether they function in the house as main wall colors, accent walls or trims, expect perfection from these carefully selected versatile paints. Before proceeding with any paint job, always endeavor to do proper sampling, as this will help you make smart, artistic decisions with your home, especially if you're thinking long-term.