Tan paint colors are becoming a popular paint color of choice for many homeowners, and we can all see why. From light tans to dark tans, the list is endless. But with many options available, how do you select the best ones for your decor?
You are not alone if you have difficulty picking tan paint colors because there are many beautiful options. Also, some have such similar hues that telling the difference between them is almost impossible. The good news is that we have the 13 best tan paint colors from light to dark to inspire your interior designs.
What Is a Tan Paint Color?
Tan is a color gotten from a mixture of a little brown with a lot of white. Brown is typically a saturated color, especially if it is a dark brown. Adding a little white softens the color to a lighter brown, and the more white you add, the lighter it becomes until you have a perfect tan shade.
For different hues, you can add red or yellow. Dark tan paint colors usually have a bit of red, more red than green or blue, according to the red, green, and blue color code (RGB). The darker the tan color gets, the more red and brown you will find in it.
Light tan paint colors have more white and yellow in them and less red. But while there is less red in it, the color code still shows more red than green and blue.
Is a Tan Paint Color Cool or Warm?
Tan is a naturally warm paint color because of the brown and red in it, especially the darker tan colors. However, it can also be cool because of the white in it. So, tan paint color can be cool or warm, depending on the elements in a room and other colors around it.
You may also find mid-toned tan colors because they are neutrals that make a perfect background for other colors, especially earthy tones.
What Undertones Do Tan Paint Colors Have?
First, note that tan paint colors do not have extremely dark shades. There is a reason they are called tan. Second, they will typically remain light or medium-toned instead of lean towards the dark end of the color spectrum. Finally, they are different from beige, even though the colors are very similar.
With this in mind, tan paint colors usually have yellow or yellow-green undertones. They may also have red/orange undertones, although this type is not as common as you would think. Some may have blue-green, gray, beige, or taupe undertones, but what you see will depend on the lighting or colors with which you match it.
13 Best Tan Paint Colors to Inspire Your Interior Designs
The following are the best tan paint colors from Sherwin Williams and Benjamin Moore to make your interior designs pop:
7 Best Tan Paint Colors from Sherwin Williams
1. Canvas Tan SW 7531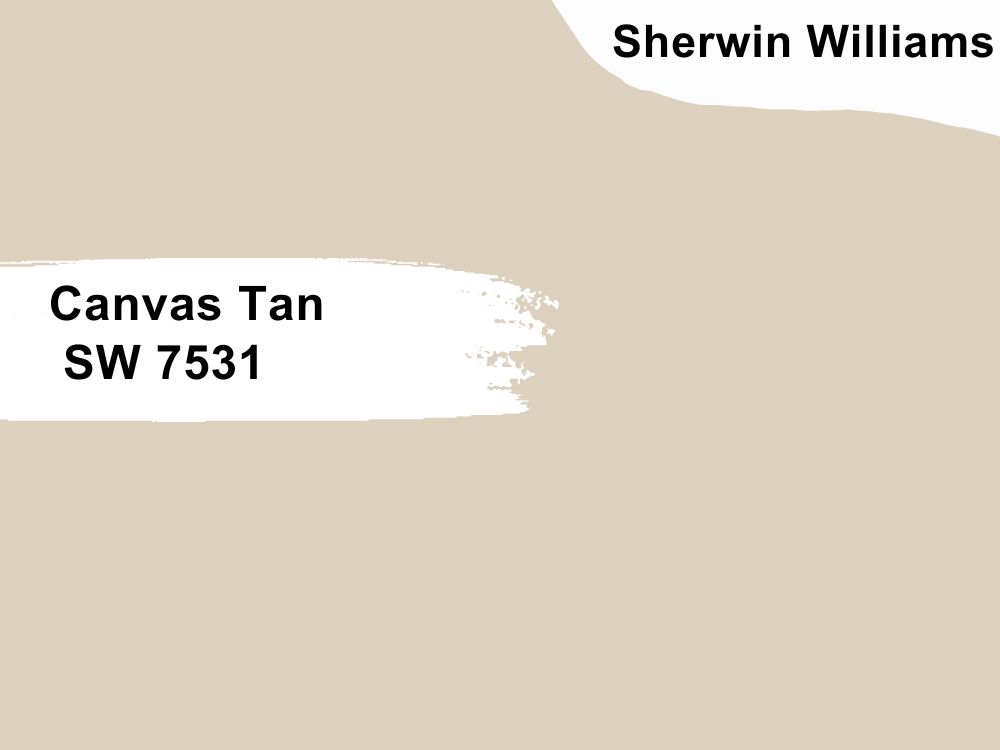 Light tan paint color with hints of khaki
This neutral tone is wonderful for living rooms or visitors' rooms because of how universal and versatile it is. Canvas Tan is a warm color that act as the background for other colors and blends well with elements in a room.
With an LRV of 64, this light tan color is one of the best neutrals to grace our page. It has an RGB color code of 20, 209, and 191 respectively. Coordinate it with Redend Point, which is the color of the year for 2023, Attitude Gray, or Panda White.
2. Natural Linen SW 9109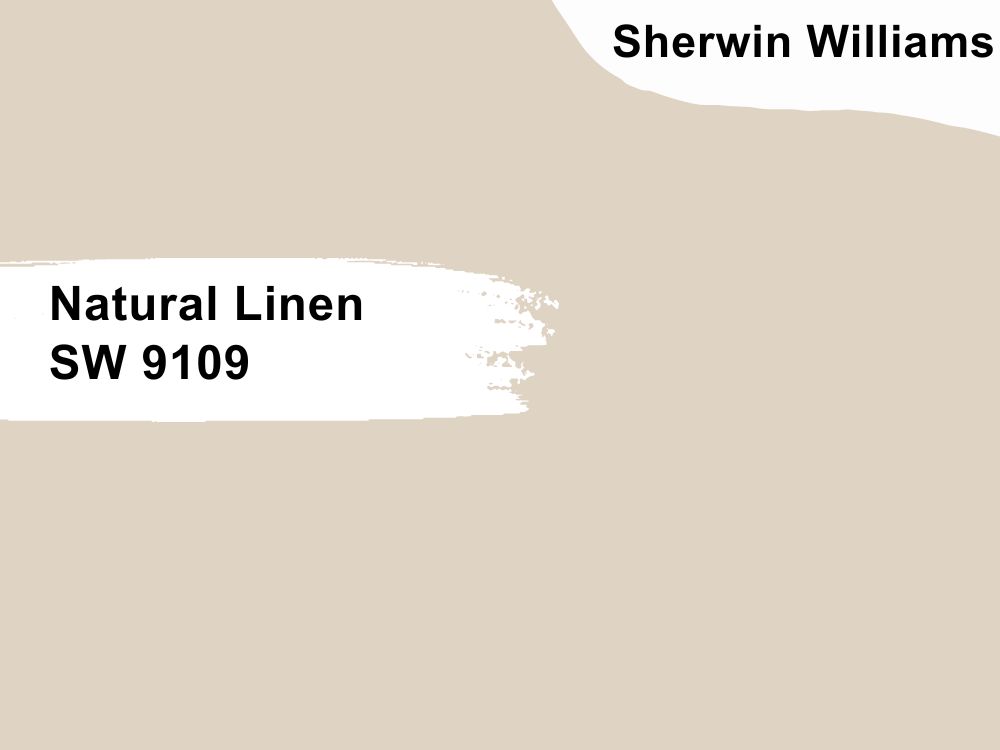 Light tan paint color with greige undertones
Natural Linen is such a happy color that adds amazing warmth to any room. In artificial lighting and with wood tones, this color really performs well. You will be amazed at how it changes to a slightly lighter color in natural lighting, although it is a neutral color.

With an LRV of 66, it is no surprise that Natural Linen looks almost cream. But you cannot ignore that touch of color that goes beyond the soft color of cream. It has an RGB color code of 223, 211, and 195 respectively. Coordinate it with colors such as Gris Morado, Antler Velvet, and Divine White from Sherwin Williams.
3. Natural Tan SW 7567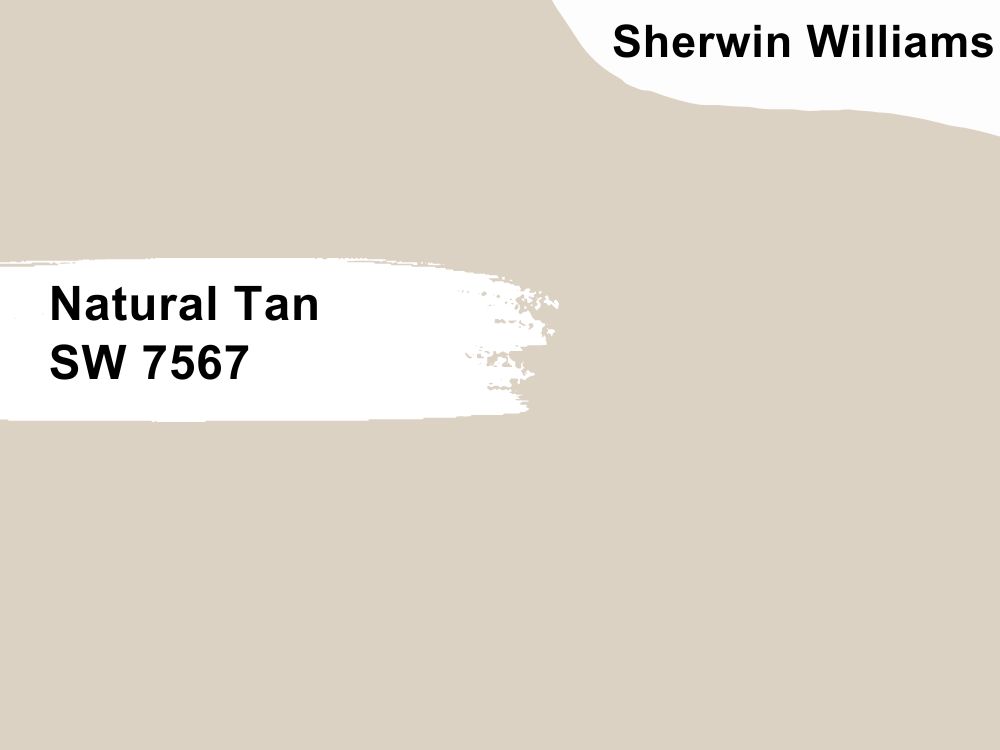 Slightly warm tan paint color with green-gray undertones
A hint of green and gray in this tan paint color spices it up and adds a bit of crispiness. It would have been too warm a color, but these undertones rein it in and give it a balance that makes it one of the most sought-after neutrals on our list.
It has an LRV of 65, which is above the mid-point of the light spectrum, and an RGB color value of 220, 210, and 195 respectively. This color pops when paired with wood tones or coordinated with colors such as Alabaster, Rare Gray, and Westhighland White.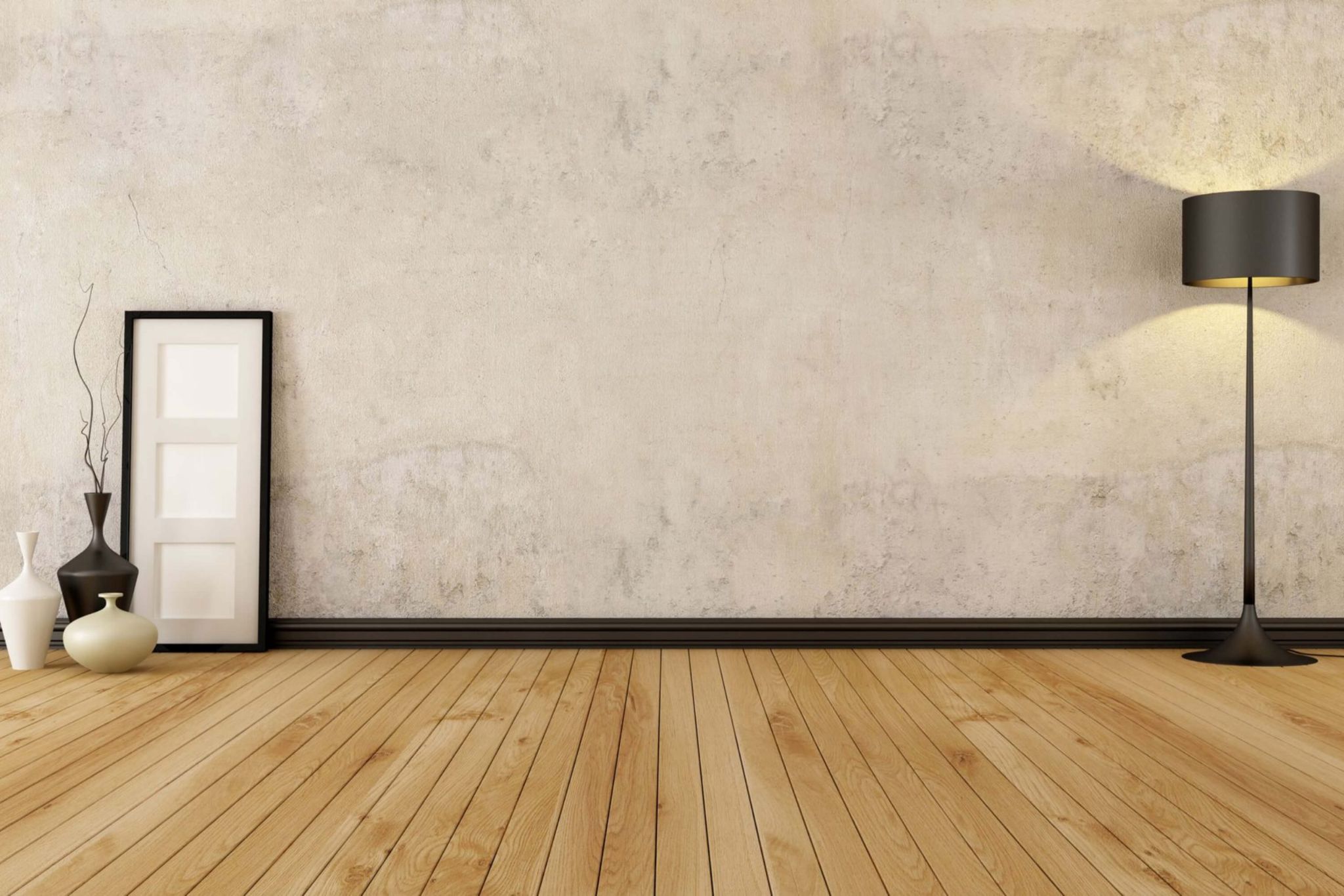 4. Sand Dollar SW 6099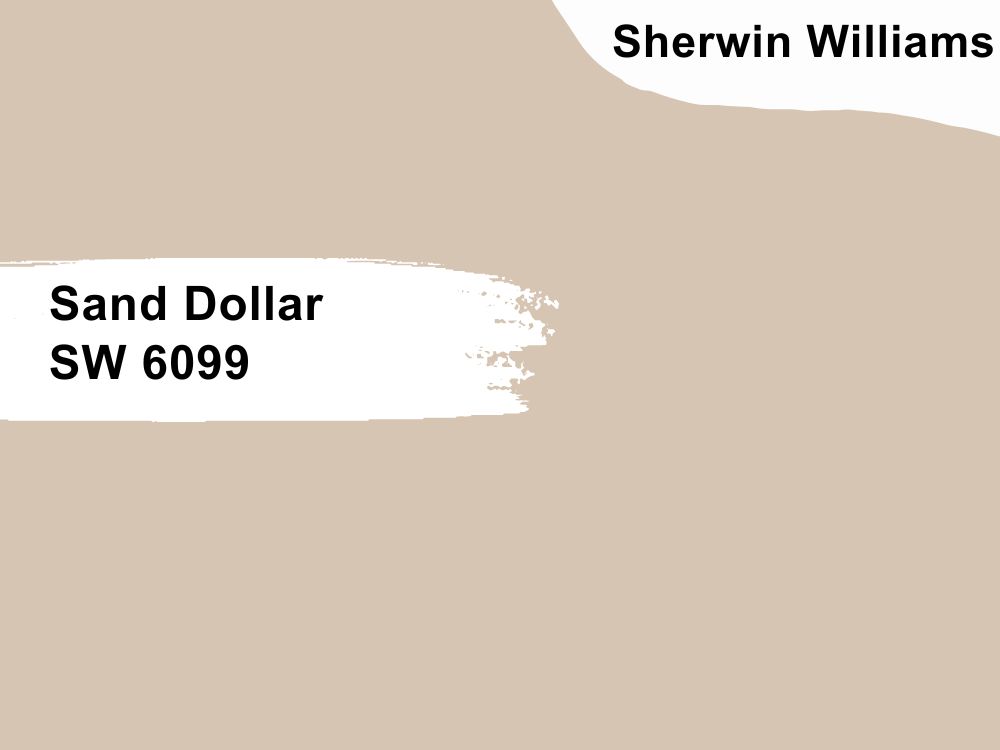 Warm tan paint color with yellow/beige undertones
What's not to love about Sand Dollar? It is an absolutely warm delight, especially with its ability to accept other warm colors. Its soft undertones of yellow and beige make it sparkle even more. It glows under any type of lighting.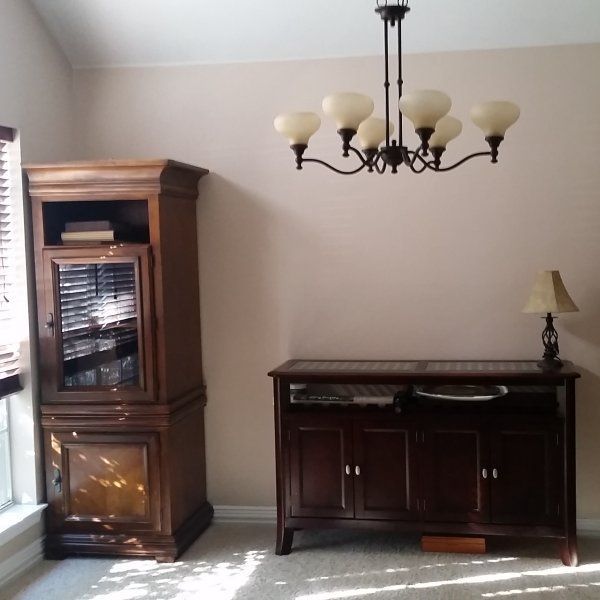 If your style is neutral with a pop of color, Sand Dollar is one option to try. It has an LRV of 58, making it a light choice even with its warmth. With an RGB color balance of 215, 197, and 179, it is not difficult to see why it has such a beautiful hue. Consider coordinating it with Dark Brown, Mexican Sand, or Pacer White for the best results.
5. Universal Khaki SW 6150
Mid-tone tan paint color with yellow undertones
We like how Universal Khaki seems mercurial, changing its tone with different lighting. That explains its mid-tone status; it is not warm or cool but fits with any color scheme. If you are unsure of what neutral paint color will work for your living room or dining area, this option always pays off.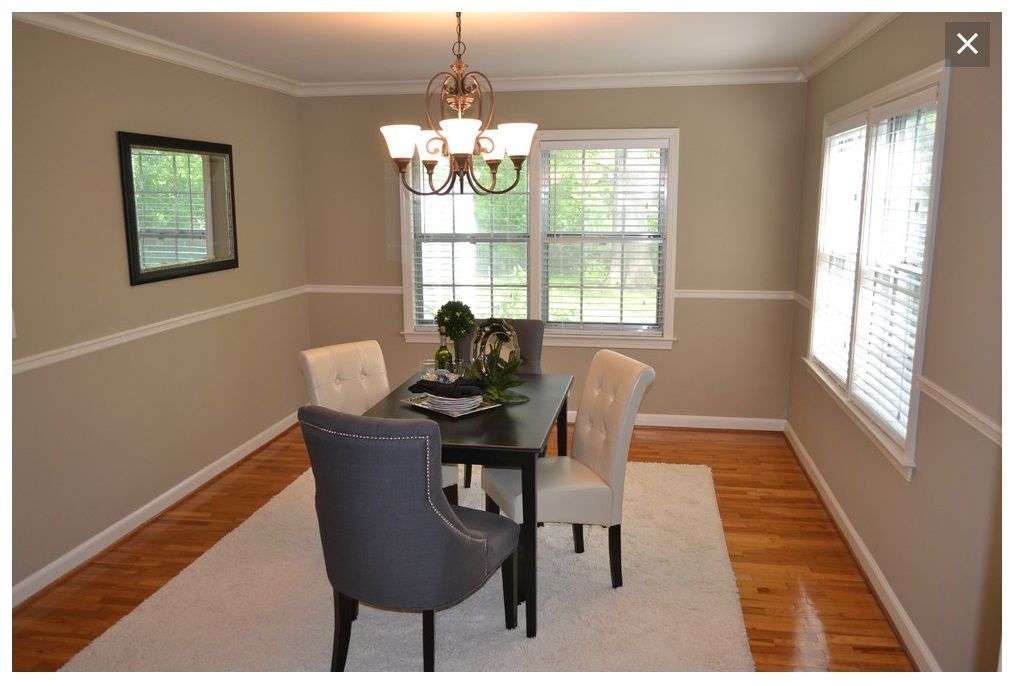 With white trim, as shown above, Universal Khaki will bring out its best face. Consider coordinating with light colors like Panda White, soft tans like Wool Skein, or darker hues like the Mediterranean. Universal Khaki has an RGB color code of 184, 169, and 146 respectively, and an LRV of 40.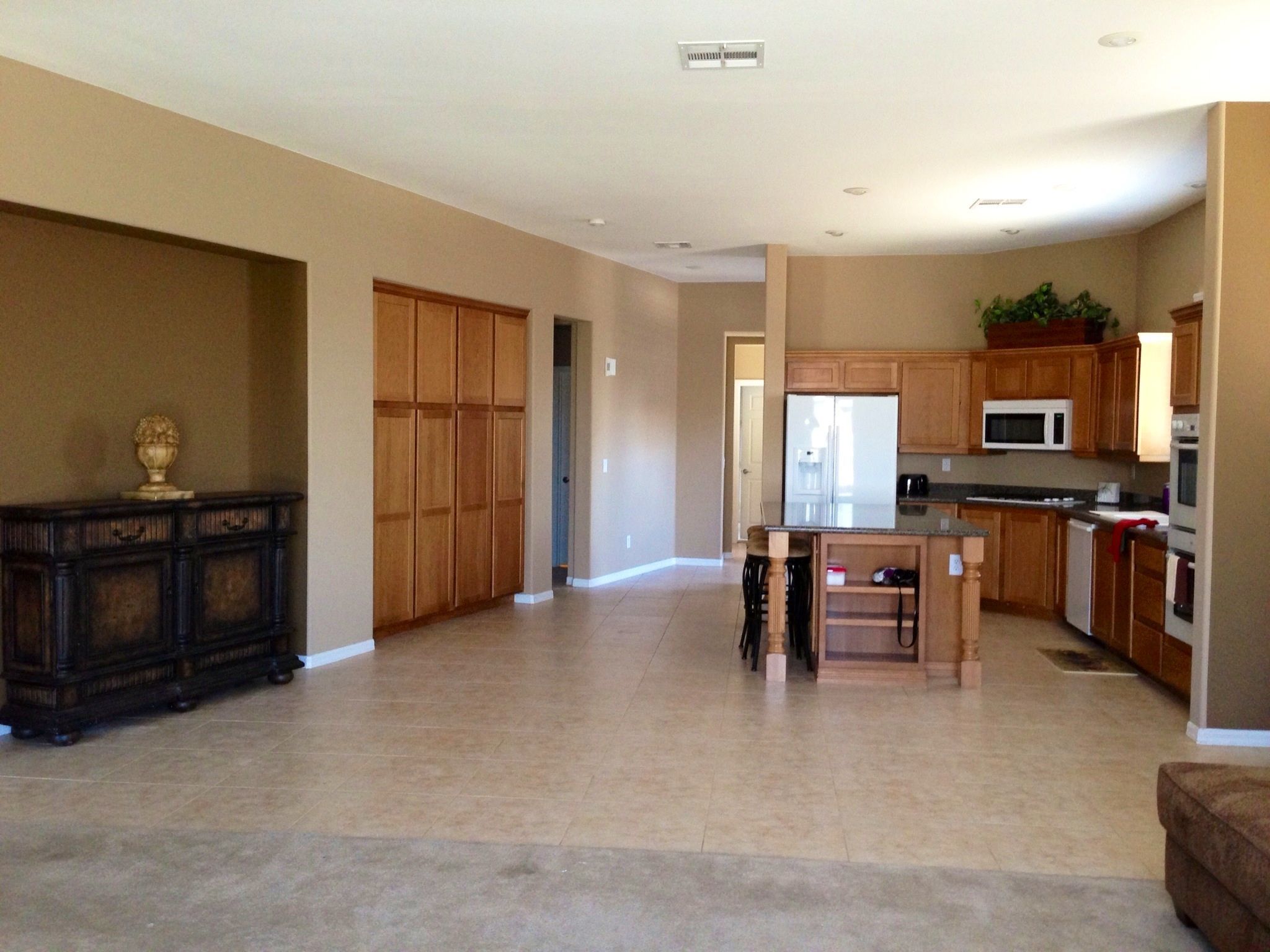 6. Tamarind SW 7538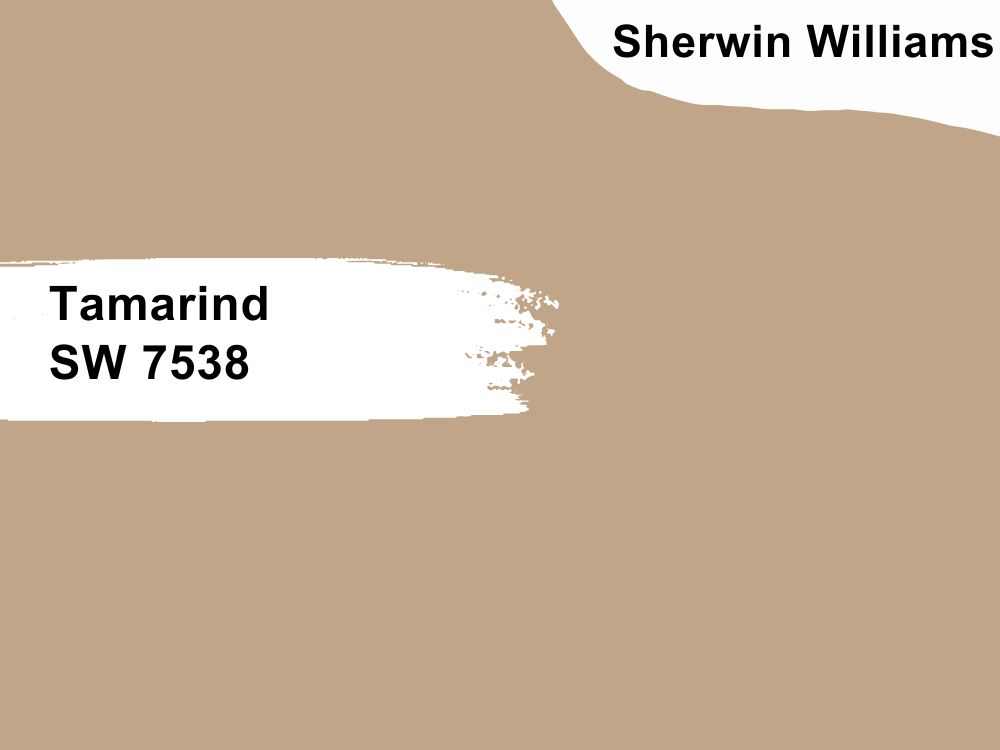 Warm tan paint color with yellow/orange undertones
They say that the darker the berry, the juicier the fruit, right? The same applies to paint colors. While we love light neutrals, it is not every day that you see darker neutrals that can hold their own with others and can even take the place of lighter ones. Check out this sitting room decor and how well Tamarind pairs with earthy tones and burnt orange.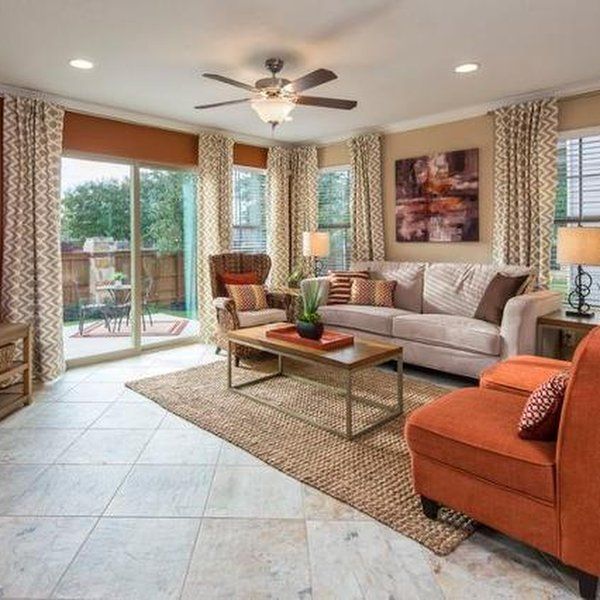 Tamarind has an RGB color code of 192, 165, and 136 respectively. This explains the deep and muted hues, especially with an LRV of 40. Pair it with Sherwin Williams colors such as Blustery Sky, Aged White, and Creamy, or add wood tones and other shades of brown for a rustic look.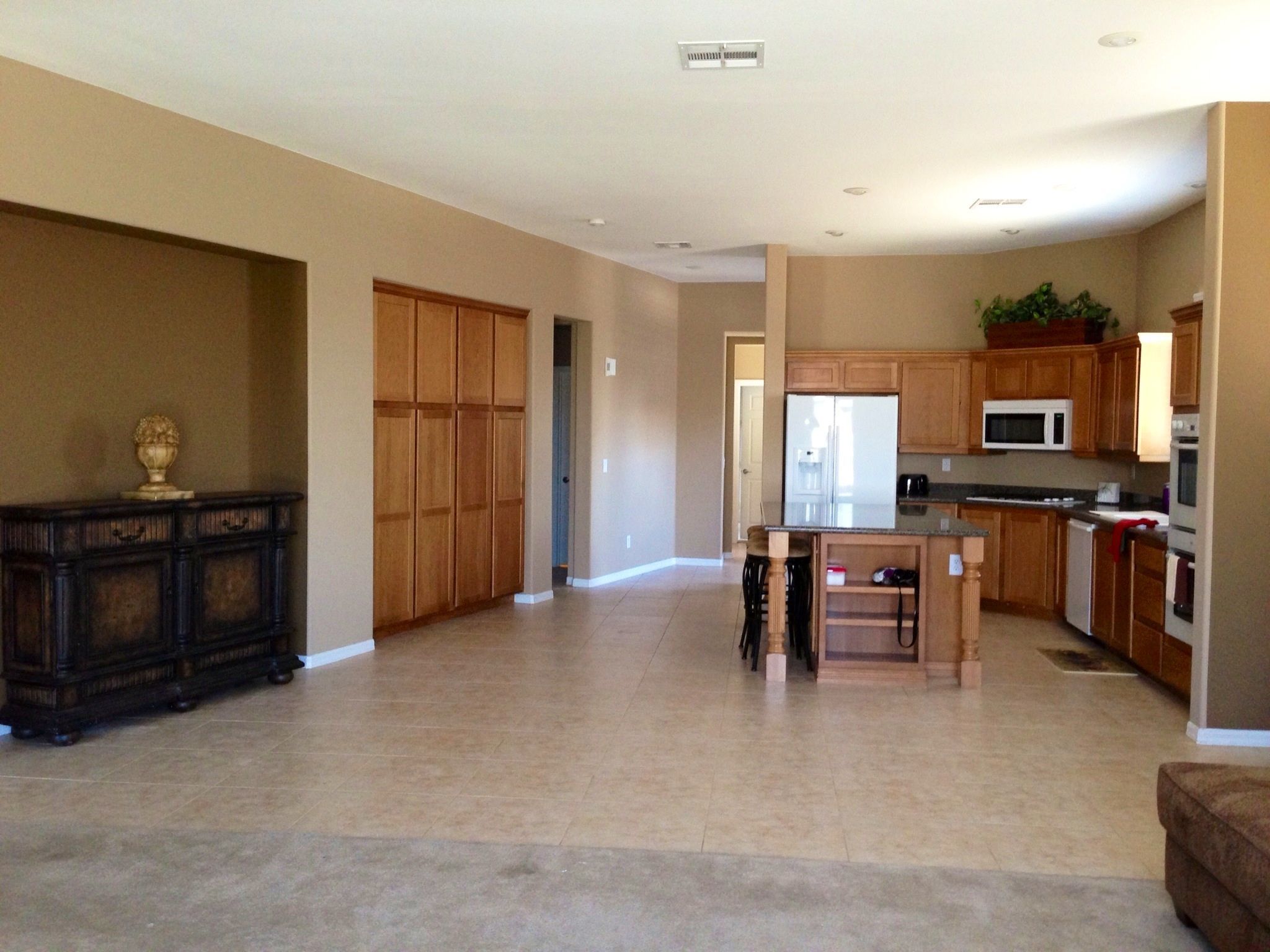 7. Caramelized SW 9186
Deep tan paint color with golden tones
Caramelized is a bold color that feels saturated in any space. It is such a rich color that makes any space look sophisticated and warm at the same time. With a mid-tone neutrality that works well anywhere, Caramelized is the perfect hue to add some vibrance to an otherwise plain decor.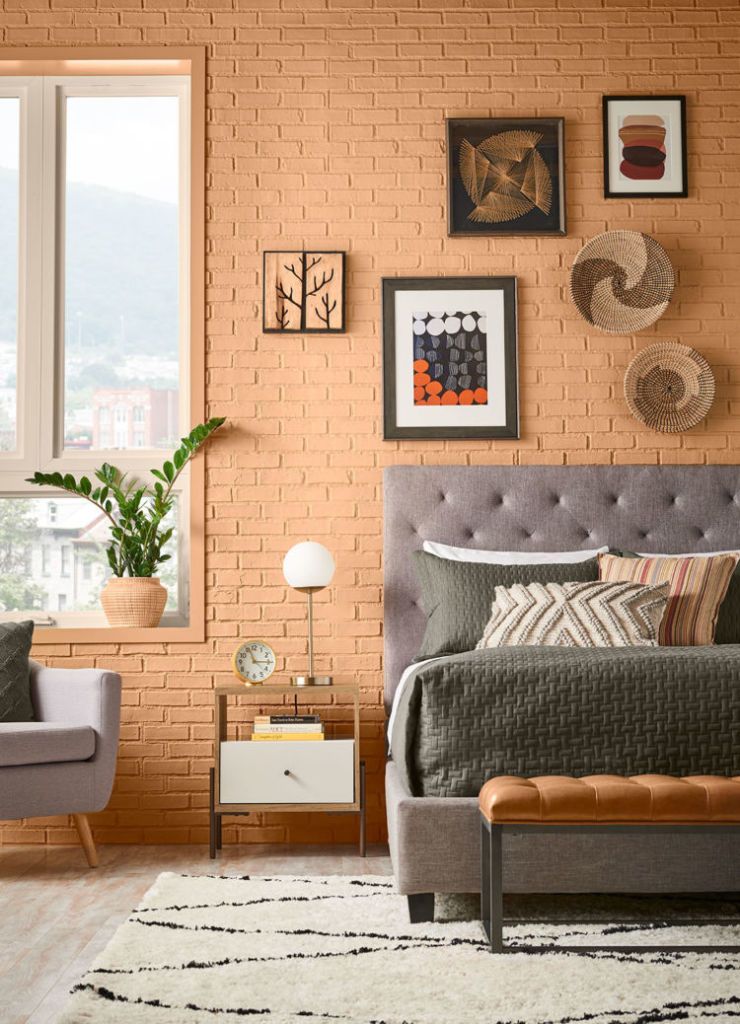 It has an LRV of 35, which is relatively low on the light spectrum, and an RGB color code of 194, 152, and 113 respectively. Because it is such a saturated color, consider pairing it with light neutrals like Dover White and Biscuit. You can add a slightly darker shade like Blonde to the mix.
6 Best Tan Paint Colors from Benjamin Moore
1. Shaker Beige HC-45
Warm mid-toned tan paint color with a hint of orange
Shaker Beige is a great color to consider if you are looking for that perfect shade between tan and beige. We like it because of its neutrality in any setting, regardless of other elements around it. The color screams elegance and beauty, especially when paired with white or off-white.

It has an RGB color value of 209, 194, and 167 respectively, and an LRV of 53.53. Consider matching it with Benjamin Moore colors that include Tate Olive, Bone White, White Dove, and Mountain Peak White.
2. Coastal Path AF-380
Warm tan paint color with greige undertones
The versatility of this paint color can only be experienced. In some lighting, it looks like nuanced greige, but in others, you notice how light and tan it appears. The undertones are not readily visible, so it will depend on the decor and lighting to determine the specific undertone you see. Check out how warm it looks in this kitchen.

With an LRV of 45.4, it is difficult to see why it appears so full, coupled with an RGB color code of 194, 179, and 147 respectively. Therefore, it is best to coordinate it with light neutrals that will add some airiness, such as Sweet Innocence, Wedding Veil, Secret, and Fossil.
3. Manchester Tan HC-81
Light tan paint color with green undertones
While it is described as beige, Manchester Tan is a light tan with hardly visible green undertones. Neutrals like this do not easily reveal their undertones, so don't worry if you can't see them. While it is a warm-toned color, you can see its beauty in this dining room decor by Zhush when paired with wood tones.

It has an LRV of 63.24 and an RGB color code of 219, 210, and 188 respectively. And although it is a light color, Manchester Tan works well with white and other light neutrals. So, consider pairing it with colors like White Ice and Constellation, or others like Georgian Brick and Bleeker Beige.
4. Muslin OC-12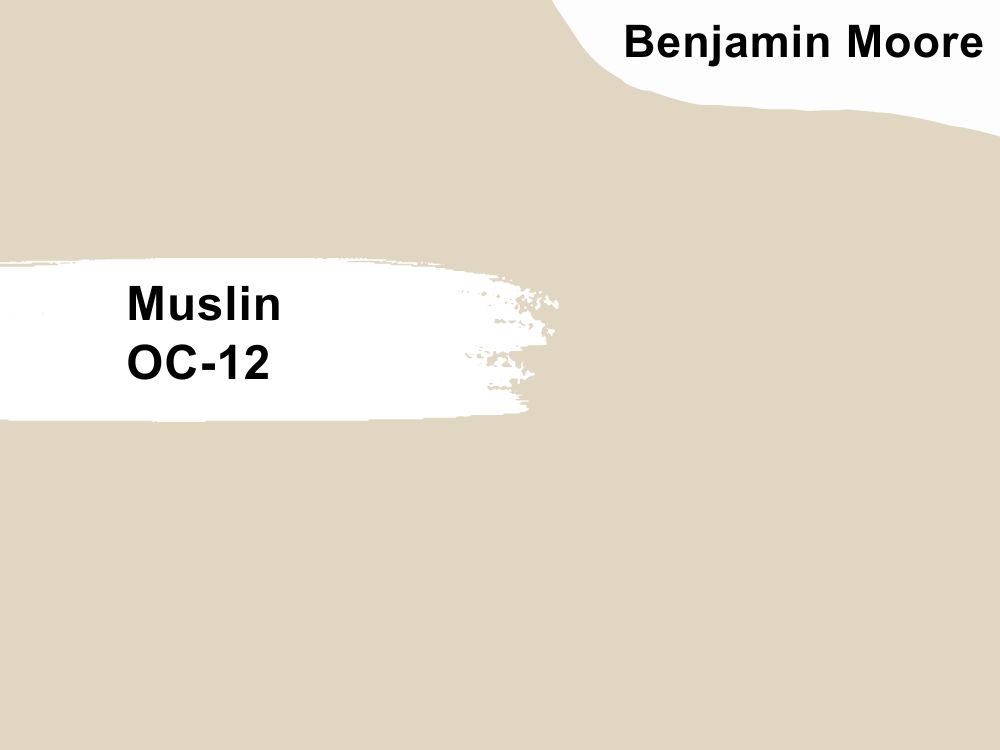 Light tan paint color with slightly pink undertones
Muslin is a classic neutral that mimics an off-white color. You cannot go wrong with this color, even if you use it in place of white. We know that it gives a hint of green-yellow, but that depends on the lighting and setting.
If unsure of the type of neutral that works in your decor, consider sampling a patch of this sweet color on a wall. Match it with colors such as Lafayette Green, Fairway Oaks, Aegean Teal, or Mayonnaise. Muslin has an RGB color code of 225, 214, and 193 respectively, with an LRV of 66.54.
5. Pale Almond OC-2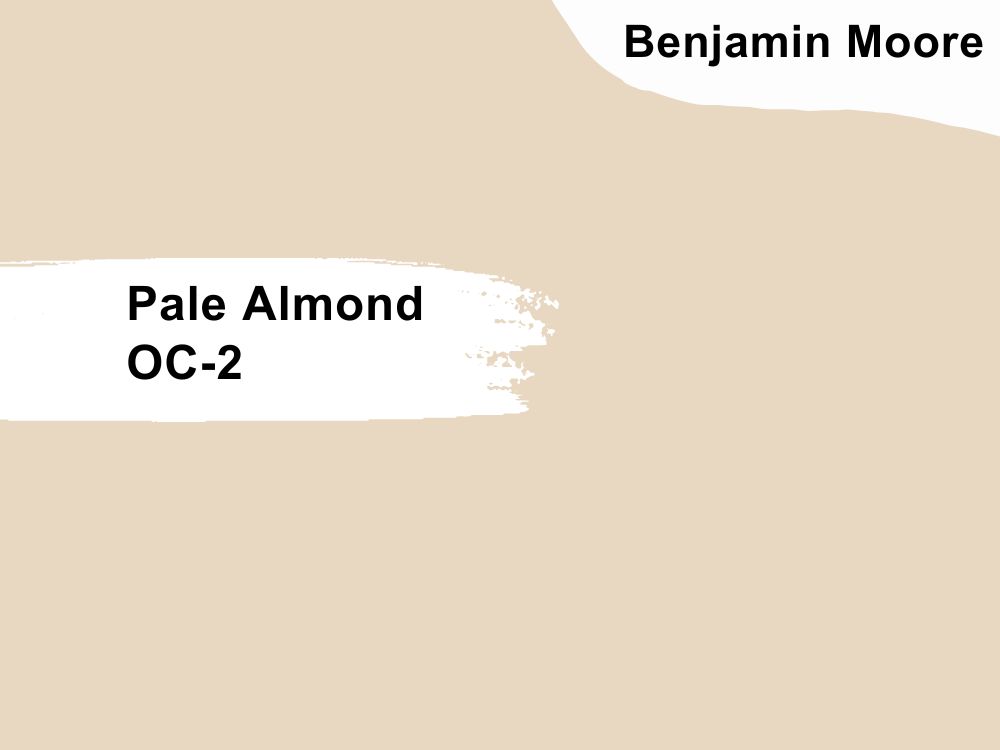 Warm tan paint color with peach undertones
The amount of red in this tan paint color, evidenced by its RGB color code of 232, 216, and 193 respectively, explains the peachy undertones. These undertones make the neutral color warm and inviting. Paired with white, wood tones, and light brown, Pale Almond pops with color.

Pale Almond has an LRV of 69.46, a high light reflectance value that shows how well the color works with different lighting. And because it is light, darker hues like Benjamin Moore's Rustique and Gibraltar Cliffs coordinate well with it. You can also use Butter Pecan and Interlude to match the color.
6. Golden Retriever 2165-30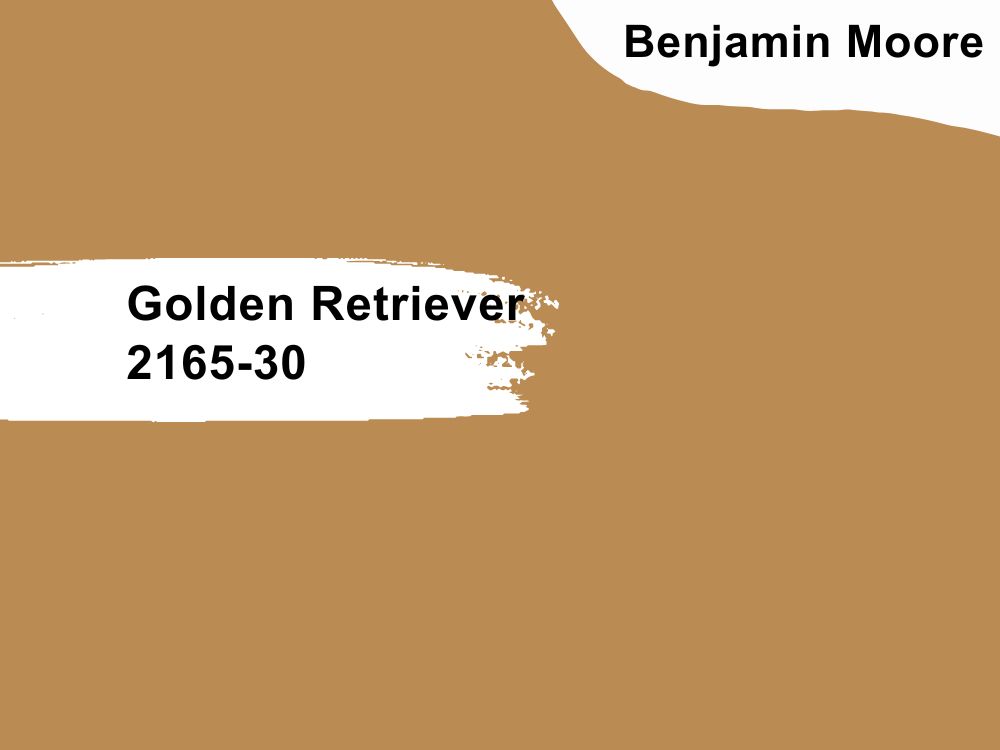 Dark tan paint color with gold hues
This color is full-bodied as a golden brown. But its neutrality makes it passable as part of the tan family, and that is why it made our list. Under excellent natural lighting, Golden Retriever looks like a bright greige as you can see in this decor by Houzz.
But in artificial and warm lighting, it appears dark and saturated. You can use it in living rooms and dining rooms for that stately effect.

Golden Retriever has an LRV of 29.42, which is closer to the dark end of the color spectrum than the light and explains its deep color, as does the RGB color code of 186, 139, and 82 respectively. Coordinate it with Cloud White, Moonlight White, Caliente, or Silken Pine.
Final Thoughts
Tan paint colors are some of the best neutrals that go with just about any color or decor. You just have to know how to pair them, and our review shows you some excellent ideas to complement them. We have light to dark tan colors on our list to make selection easier for you.
The bottom line is that the darker the tan paint color is, the better it will look with dark tones or saturated colors. This means tan colors with low LRVs. However, mixing light colors in the matching color palette is ideal to keep a decor from looking too somber or moody.
Therefore, it is best not to overdo the dark tones without adding a bit of lightness to make it airy. We would like to share some of your tan paint color experiences with you. Feel free to share with us in the comments section.