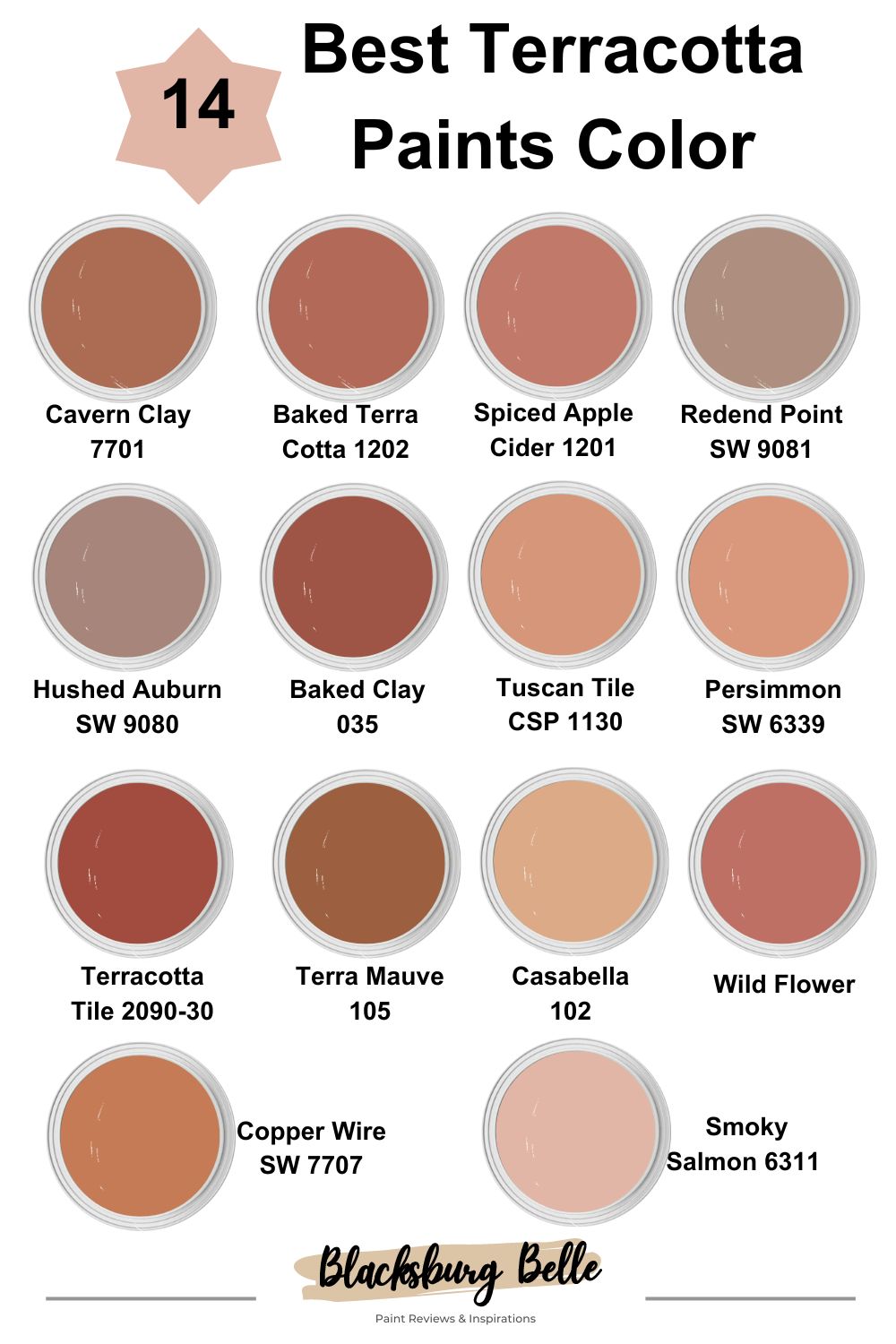 When you're thinking of a warm, yet boldly vibrant color that feels earthy, looks modern, and yet still manages to maintain that touch of ancientness we all love, you're thinking of terracotta.
More people are moving away from the white and gray trends, and daring to apply more colors to their home painting projects.
Terracotta quickly became a favorite and continues to remain one because its versatility and several shades give people more leeway to add beauty to their surroundings while still maintaining a timeless and elegant feel.
Why Choose Terracotta Paint?
Aside from residential uses, many more designers are recommending terracotta for commercial buildings to evoke that warm, and natural feeling that makes people so comfortable.
Terracotta brings a rusty sexiness to the table that not many colors can boast of. Most terracotta colors are great because they are mid-toned and can help your rooms achieve the perfect balance between sophistication, elegance, and playfulness.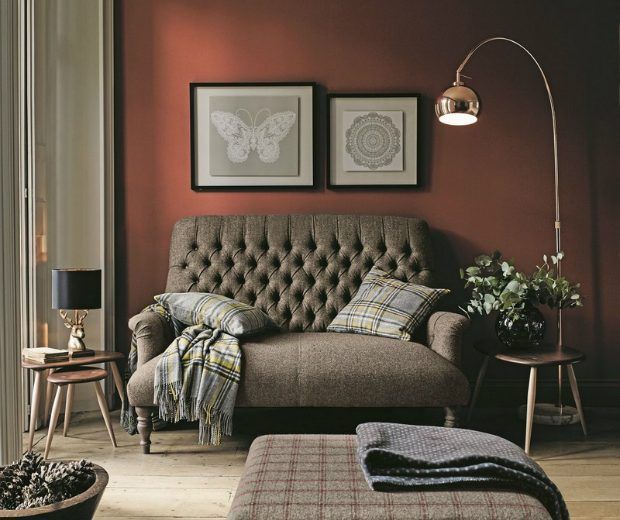 It has slowly but surely gained the attention of many interior decorators, and designers and it's not quite difficult to imagine why. Its rich, vibrant hue is both evocative and comforting.
Terracotta paint derives its root from terracotta itself which is a form of baked clay, or as some would say, cooked earth. More people who are tired of neutral Grays and white are turning to terracotta colors to give them the same calming and natural effects. Terracotta colors have been in style for years because they instantly lift the mood and feel of any space they are used in.
Is Terracotta Red Or Brown?
There's always the question of whether terracotta colors are red or brown. While most terracotta colors have orange (which has red) in their constitution, terracotta colors are more likely to be orange or brown, although they may read as red in some spaces.
In fact, most burnt orange colors are terracotta colors as you would see from the colors mentioned in the list below.
Here's some advice;
For larger rooms or open area rooms, it's advisable to use lighter shades of terracotta colors in order to achieve the same neutral and natural feeling with just the right amount of warmth. And yes, Terra cotta is a warm color, just in case you were wondering. If you are ardently in search of warmer colors to match some of the cooler highlights in your home, then you are on the right track with the colors in this list.
If you're looking for a vibrant color that would bring an earthy feel to your home, and still look modern and stylish, then feel free to try out any of the terracotta paint colors listed below.
14 Best Terracotta Paints Color
1. Sherwin Williams Cavern Clay 7701
| | |
| --- | --- |
| LRV | 20 |
| RGB | 172 / 107 / 83 |
| Undertones | Brown, orange |
| Matching colors | Ligonier Tan, Creamy, Slate Violet |
Say hello to this stylish, mid-tone terracotta color. It's warm, pleasant to look at, and great for both interior and exterior projects. A member of the Timeless colors collection, this reddish-orange paint lives up to its name as it continues to trend with designers and remains a go-to for many people looking to use a darker terracotta shade. This color is great because it's not so bright (just in case you're looking to avoid a lighter shade of terracotta), and goes easy on the eyes.
This color looks stunning as an accent wall, can be used for your kitchens, and would also do well for exteriors as well. In fact, feel free to use it on any wall. This Cavern Clay is as popular as it was in the 2019 COTY (color of the year) from Sherwin Williams.
Sherwin Williams describes it as "a warm terracotta color with ancient, elementary roots" and as an allude to the 70s.  Want to know another reason why this color continues to steal hearts? Smoky Salmon doesn't wash out easily and can maintain its color and undertone under different lighting conditions.
2. Benjamin Moore Baked Terra Cotta 1202
| | |
| --- | --- |
| RGB | 179, 105, 87 |
| LRV | 20.93 |
| Undertones | Rosy pink |
| Matching colors | Classic Gray, Chelsea Gray, Acadia White, Straw Hat |
As design trends move slowly away from Grays, more colors are picking up top spots as the colors to look out for and terracotta is one of them. This Baked Terracotta color is just the right thing for people who want a warm, earthen color that doesn't feel too saturated. It's playful, neutral, comforting, and neutral enough that it's not too orange or brown.
It's also a pretty warm color that would be great both for your interiors and exteriors. Gray lovers who aren't entirely ready to do away with gray would love this terracotta as it coordinates quite nicely with some shades of gray, like the ones in the list below. If you love terracotta but are afraid to go all the way, let this beautiful color come to the rescue for you.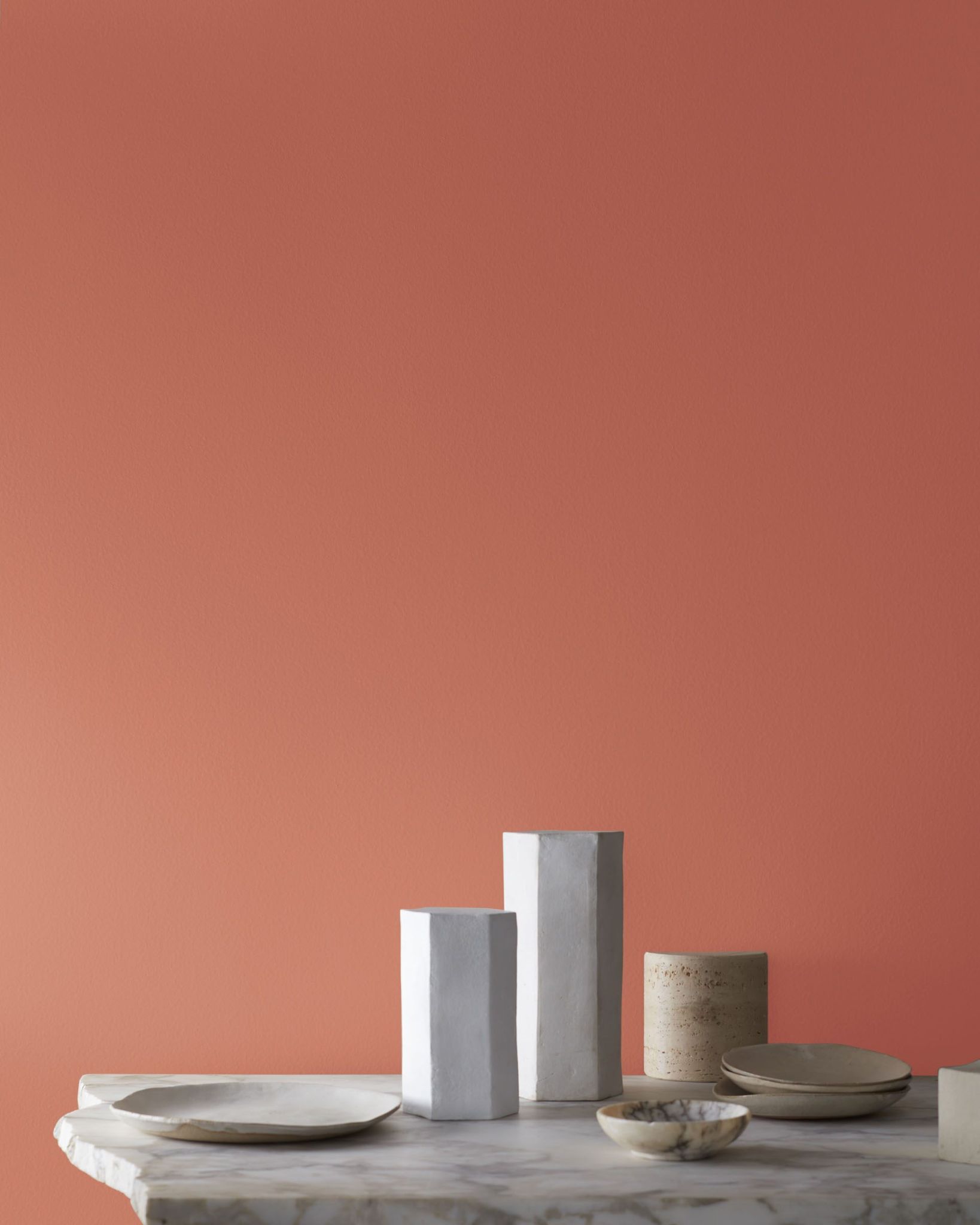 3. Benjamin Moore Spiced Apple Cider 1201
| | |
| --- | --- |
| RGB | 191, 120, 106 |
| LRV | 26.56 |
| Undertones | Copper, beige, gray. |
| Matching colors | Timid White, Fresh Brew, Pristine, Wood Grain Brown |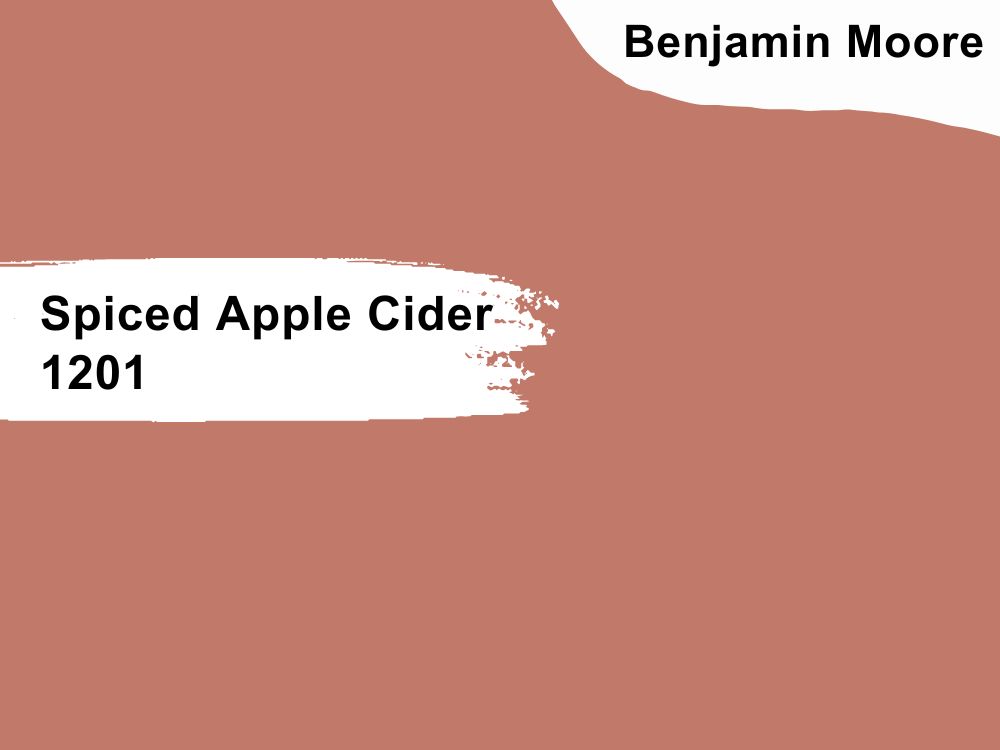 A member of the Benjamin Moore Classic collection, this color definitely lives up to its title. The vibrant warmth of this spiced red color makes it so amazing.  Although it tends to be on the darker shade of terracotta, this color pulls off being alluring and welcoming. This premium terracotta color is closer to red and has a tinge of pink too.
Use Spiced Apple Cider if you're sure you want a color that's beautiful, arresting, and warm. It can also help to give your rooms that cozy and airy feeling, making them appear larger than they actually are. This color is sure to generate positive buzz and conversations, in fact, Sherwin Williams recommends using this color for the living room area or your kitchen walls, and as a "Pep for social events".
4. Sherwin Williams Redend Point SW 9081
| | |
| --- | --- |
| RGB | 174 / 142 / 126 |
| LRV | 30 |
| Undertones | Brown, red, blue |
| Matching colors | Polite White, Kestrel White, Canyon Clay |
Give it up for this 2023 Sherwin-Williams color of the year! SW Redend Point is a breathtaking earthy color with a vibrant hue that makes it look both warm and bold. It's a lighter shade of terracotta and is closer to red.
This color is a clear winner because of its ability to look great across many spaces. It's suitable for both residential and corporate settings. Although its LRV is 30, this color is still a mid-toned color that may appear darker in rooms that are not well-lit. For best results, this color should be used in rooms with Northern or Eastern light exposure.
In North-facing rooms, the warmth of the Redend point blends quite nicely with the cool light. However, if you have a South-facing room that's already so warm from all that Sunshine, you may want to avoid using too much of a red end point as it's sure to take the warmth in the room up by several notches. This isn't to say it won't look good, though. So if you're okay with a really warm room, knock yourself out with this delightful color.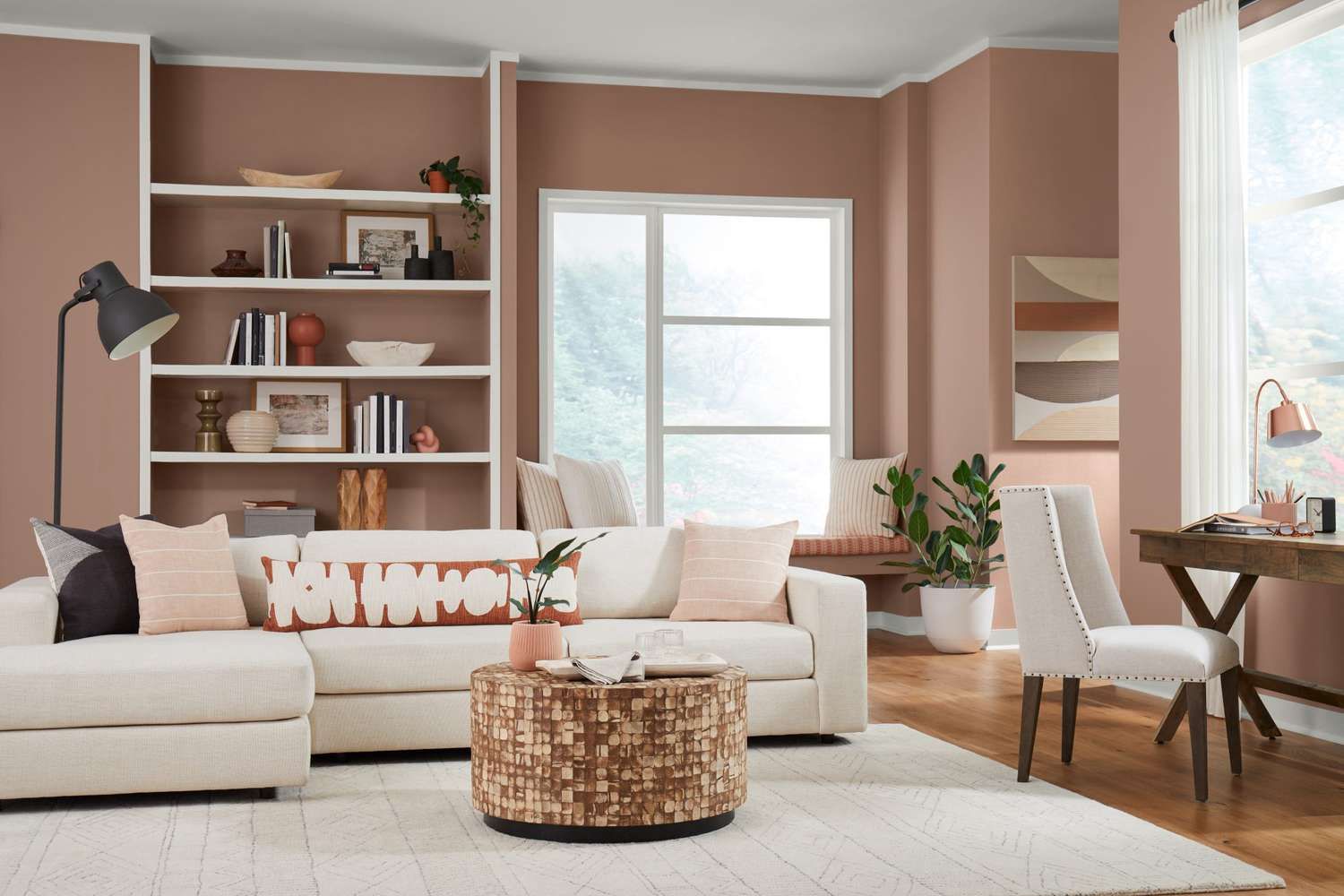 5. Sherwin Williams Hushed Auburn SW 9080
| | |
| --- | --- |
| LRV | 26 |
| RGB | 168 / 133 / 122 |
| Undertones | Brown, pink |
| Matching colors | Versatile Gray, Heron Plume, Gorgeous White |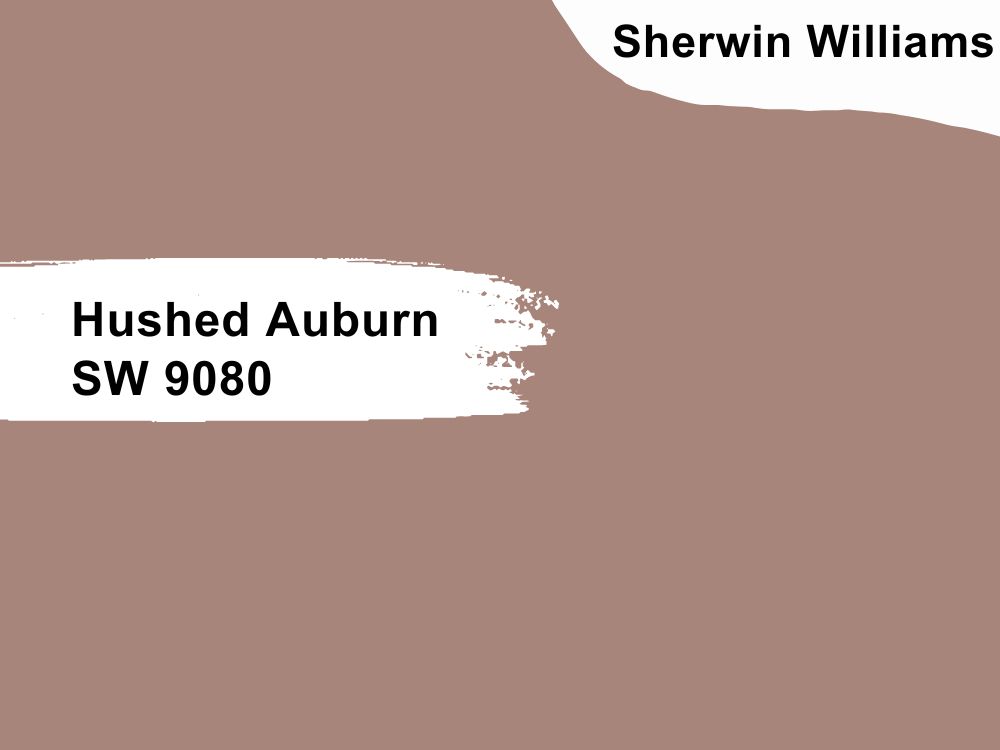 This medium-toned terra cotta color makes the list. It's pleasant, impressive, and possesses the kind of warmth that only earthy hues can give. This warm color is gentle and rich and will make your spaces appear soothing.
Whether you are aiming for a retro style or something much more contemporary, this color will work like magic. Go for an easy, comfortable, and neutral look with this color. If you're not entirely over gray, then this color will help you keep your love for gray intact as it pairs amazingly well with some whites and gray colors to give that classy yet soothing feeling you definitely would want.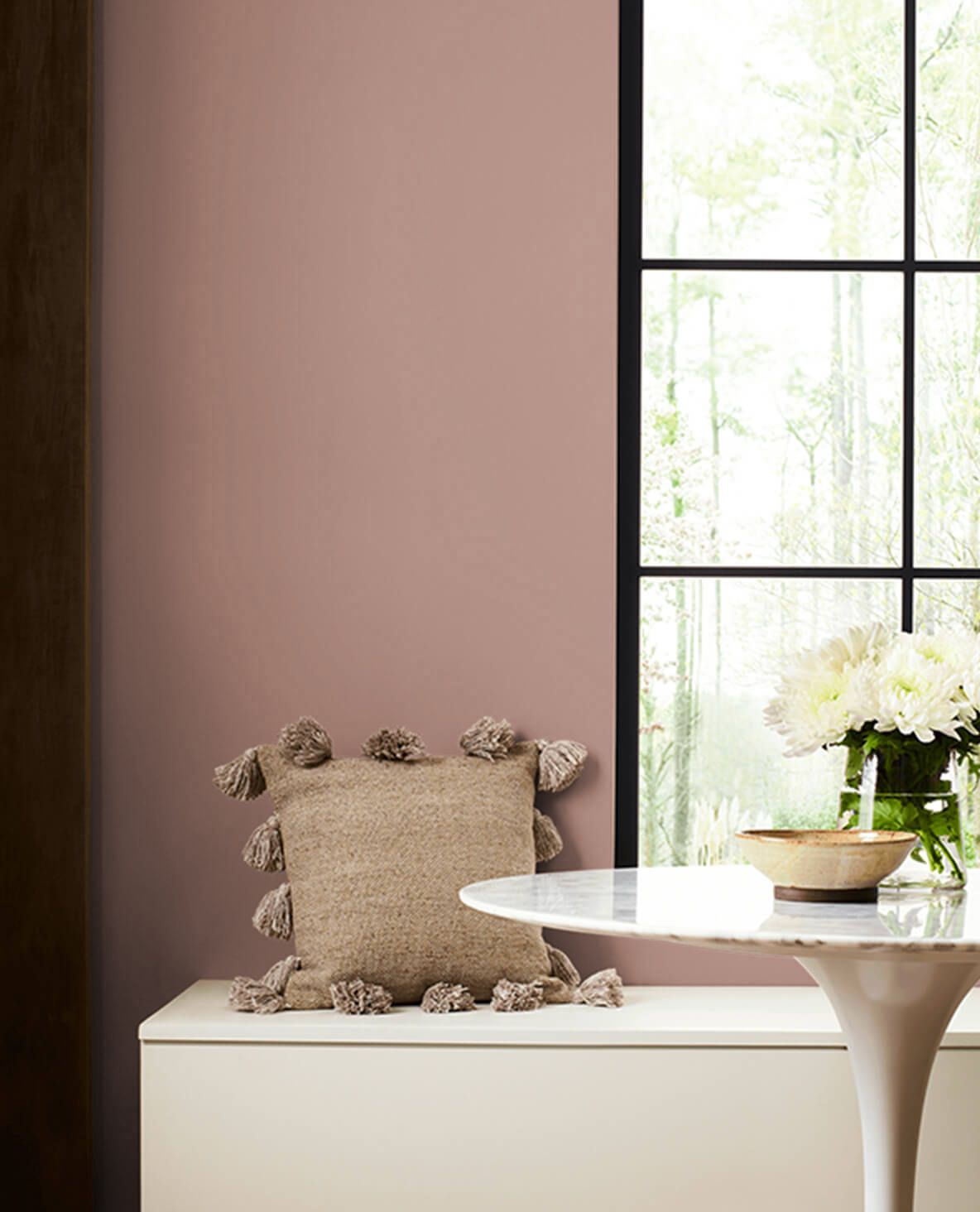 6. Benjamin Moore Baked Clay 035
| | |
| --- | --- |
| LRV | 13.85 |
| RGB | 156,84,70 |
| Undertones | Red, orange, brown |
| Matching colors | Maritime White, Gray Cashmere, Chantilly Lace, Woodcliff Lake |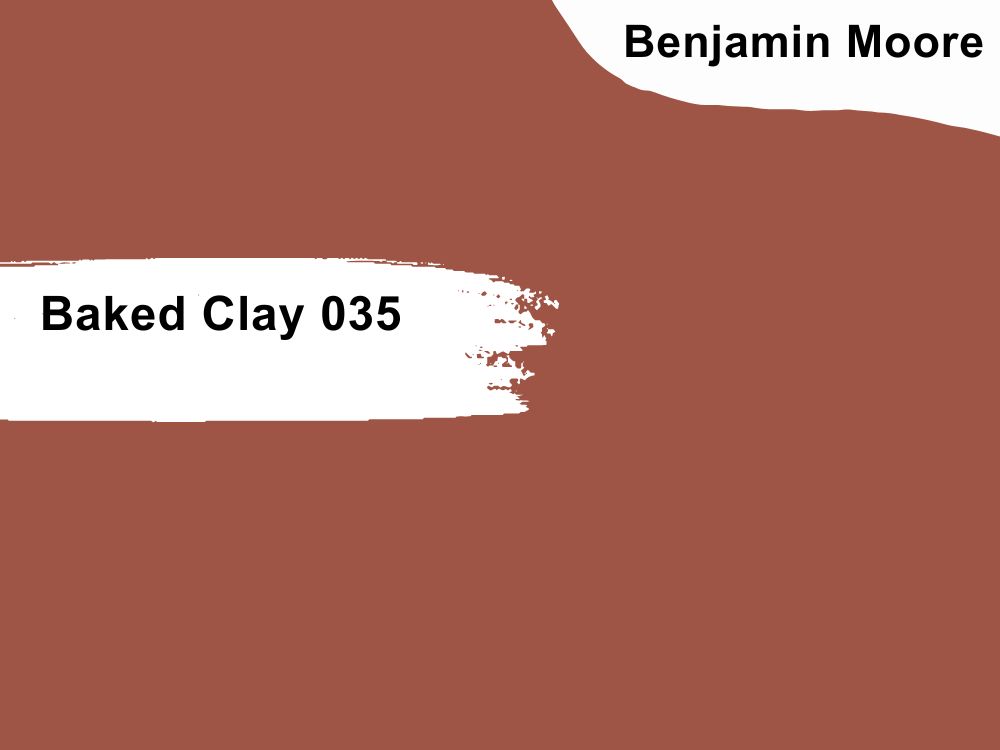 This dark terracotta shade is everything! This brick color will look amazing in your home. Whether you have modern, or traditional decor in your home, trust this earthy tones color to give your rooms a stylish and homey feeling. Its mid-red toned feel makes your walls appear more attractive.
For best-trimming results, you can pair it with bright whites or creamy whites. Try this color more in South Western-style rooms and be careful around using it for exteriors as it can appear really dark  (as its LRV clearly indicates). Amazingly, Sherwin Williams has a color named Baked Clay as well, although, unlike this BM color, it isn't classified as a terracotta at all.
7. Benjamin Moore Tuscan Tile CSP 1130
| | |
| --- | --- |
| RGB | 212, 147,121 |
| LRV | 36.18 |
| Undertones | Red, orange, brown |
| Matching colors | Stoneware, Notre Dame, Cotton Balls, Frappe |
This bold BM terracotta color is unique, and eye-catching, and does very well with softer colors. A member of the Aura Color collection, this earthy color is what you need to give your interiors a light and refreshing look. This color is quite warm, so you may have to use some cooler color accents to balance it out.
You may want to be careful about using it for your exterior projects. Because of its color, it's a lot easier to clean and is often used in places like bathrooms or kitchens, but can actually be used for any part of your home.
8. Sherwin Williams Persimmon SW 6339
| | |
| --- | --- |
| RGB | 217  152  124 |
| LRV | 39 |
| Undertones | Gray |
| Matching Colors | Nearly Peach, Cachet Cream, Roman Column |
Thinking of an orangey terracotta color that would be just the right fit if you're not looking to go too dark? Then you are thinking of Persimmon! This color is a beautiful, vibrant terracotta that would give such a nice boost to your smaller rooms. If you're wondering what colors to compare Persimmon with, then think of it as a chilled, and shyer version of Orange.
Because of its lighter shade, it does really well with creamy colors and neutrals as well. To keep things light and simple, pair with whites, and creamy colors but if you're aiming at a contrast, you can attempt to pair it with deeper/darker shades of gray. Whatever you do, please remember to sample first.
If you're not too keen on pink, you may want to avoid using it in spacious rooms with bright lighting. Choose this color if you want to keep things light, and happy. Although some would argue that it's more orange than terracotta, it actually is. To get the best out of this nicely faded terracotta, try some of the matching colors below.
9. Benjamin Moore Terracotta Tile 2090-30
| | |
| --- | --- |
| RGB | 157,75,61 |
| LRV | 14.14 |
| Undertones | Red |
| Matching Colors | Barren Plain, Mountain Peak White, Silver Gray, Wythe Blue |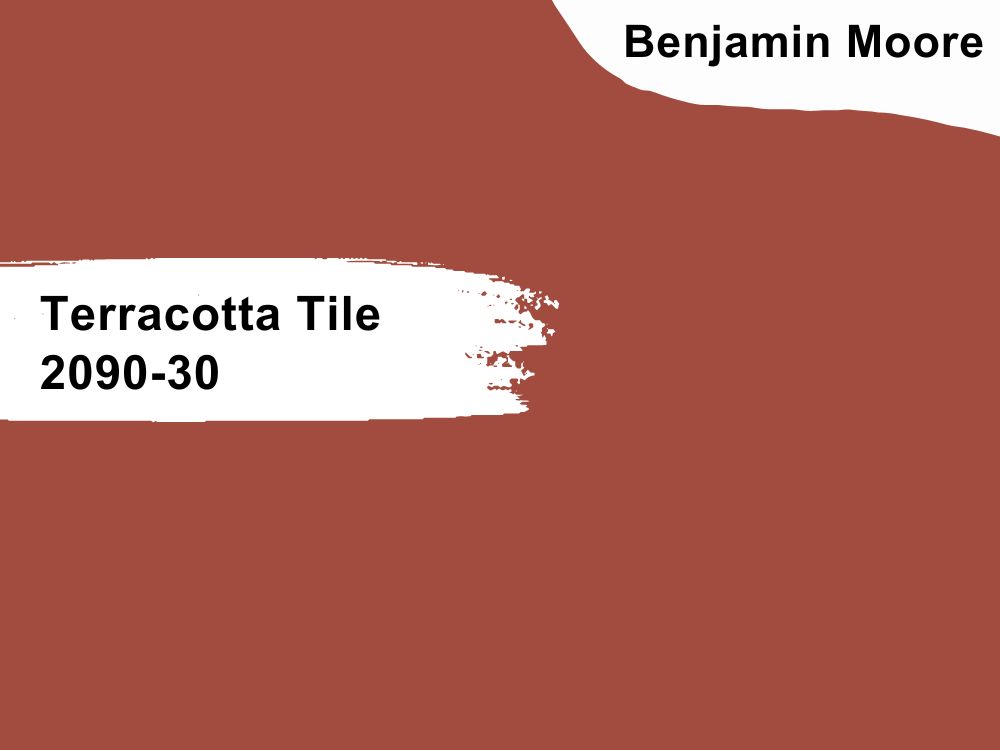 Make a bold color statement with this rich and inviting terracotta color. It is attention-grabbing, yet soothing, and just the right blend of rustiness and stylishness. From its LRV, you can tell that this is quite a dark shade of terracotta. However, this doesn't stop it from being the warm, dramatic, and beautiful color that it is.
Among designers, it's known to be a super luxe color with a richly vibrant hue. If you are looking to avoid the red undertones, then you may want to look away from this color as it is well known for its distinctive red.
However, this color is sure to deliver the right blend of class and comfort to your rooms. If you're interested in this color but aren't sure you want it looking so warm, you can always compliment it with artificial lighting.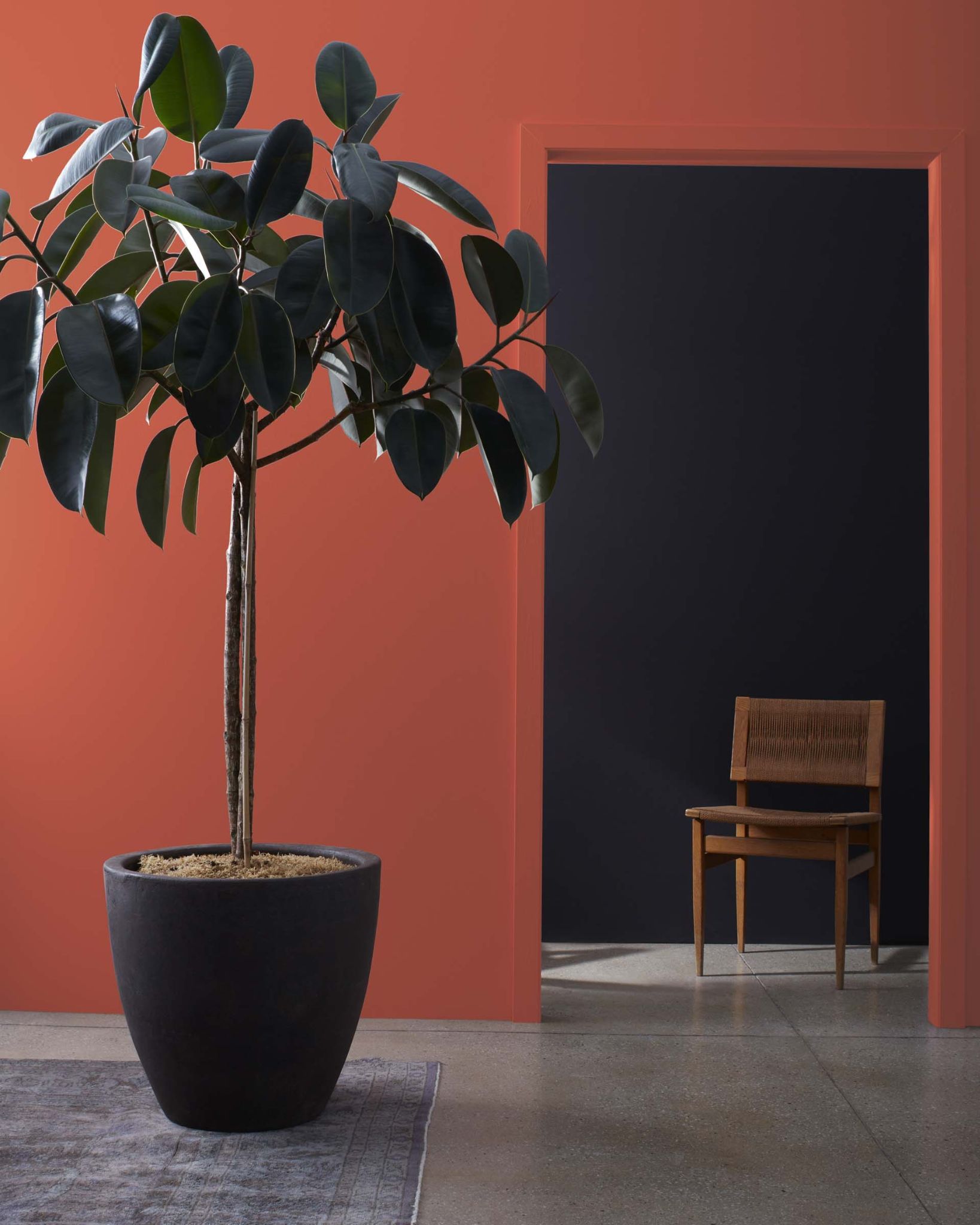 10. Benjamin Moore Terra Mauve 105
| | |
| --- | --- |
| RGB | 154, 93,64 |
| LRV | 15.67 |
| Undertones | Orange, Gray. |
| Matching Colors | Swiss Coffee, Cloud White, Weston Flax, Basking Ridge Beige |
This subtly luxurious, classy shade of terracotta is just what you need if you're looking to find a deeply arresting shade of terracotta. It's so dark and warm that it almost looks brown, and would totally work for you if you're more partial to a toned-down shade of terracotta.
It's also a great color for most surfaces because of how well it sticks, and the fact that it's easy to clean to get rid of stains and dirt if you're looking to use it for surfaces in your home. You can use it for your kitchen cabinets, and on wooden surfaces as well. If you're looking for a neutral shade of terracotta with some gray in it, then this color will do the trick.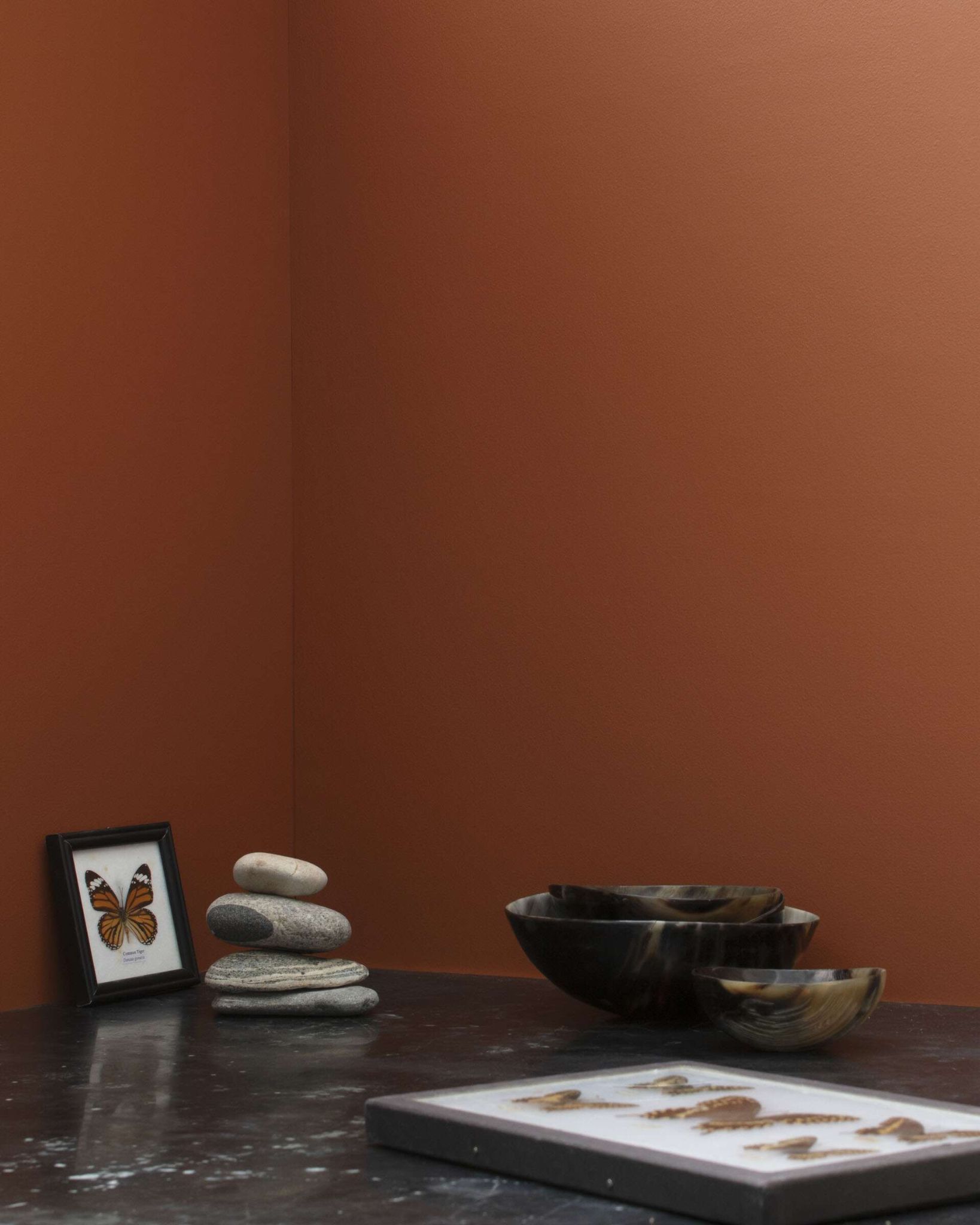 11. Benjamin Moore Casabella 102
| | |
| --- | --- |
| RGB | 220,170,134 |
| LRV | 45.21 |
| Undertones | Peach |
| Matching Colors | Simply White, Dried Parsley, Cloud White, GreenMount Silk |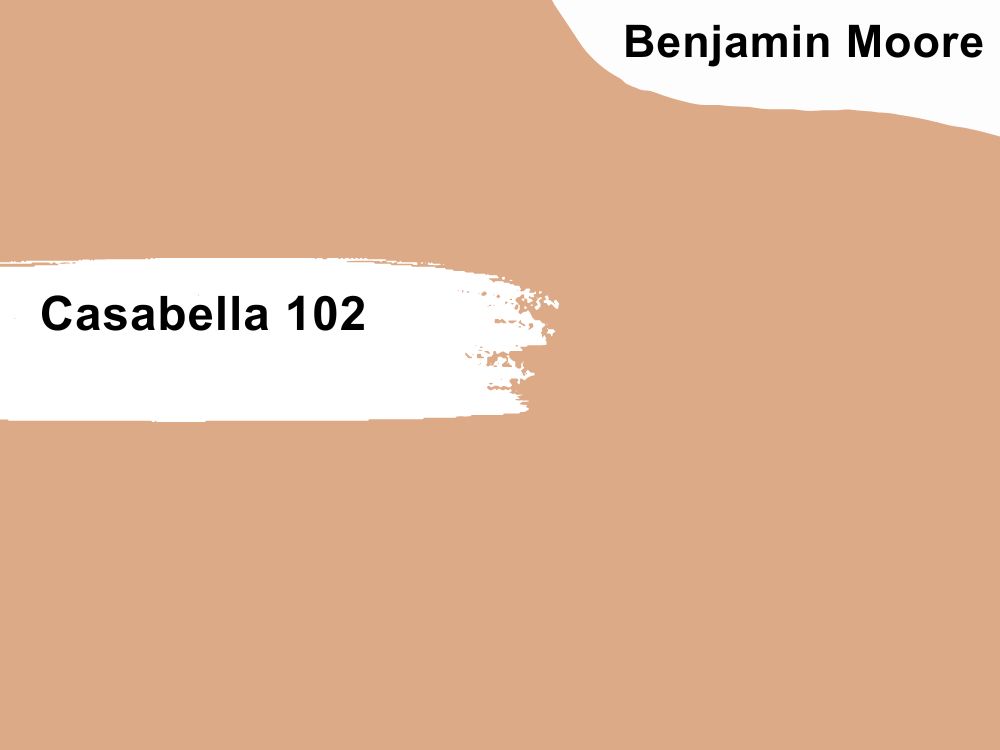 The Peach color is a very beautiful color, I agree. But practically nothing comes close to this rusty peach shade of terracotta. Easily a member of the Benjamin Moore Classics collection, this wonderful shade of terracotta is reminiscent of summer.
Its alluring and soothing feel makes a perfect color for those looking for a much lighter shade of terracotta. Whether you are exploring a traditional or modern decor style, you are safe because this light terracotta shade works just fine with any of those styles. Use Casabella if you're happy to have things looking bright, light, and gleeful in your home. You can match with white to keep your rooms looking crisp, and clean.
12. Benjamin Moore Wild Flower
| | |
| --- | --- |
| LRV | 24.33 |
| RGB | 191,112, 101 |
| Undertones | Pink, Orange. |
| Matching Colors | Mayonnaise, Straw, Mysterious, Steam |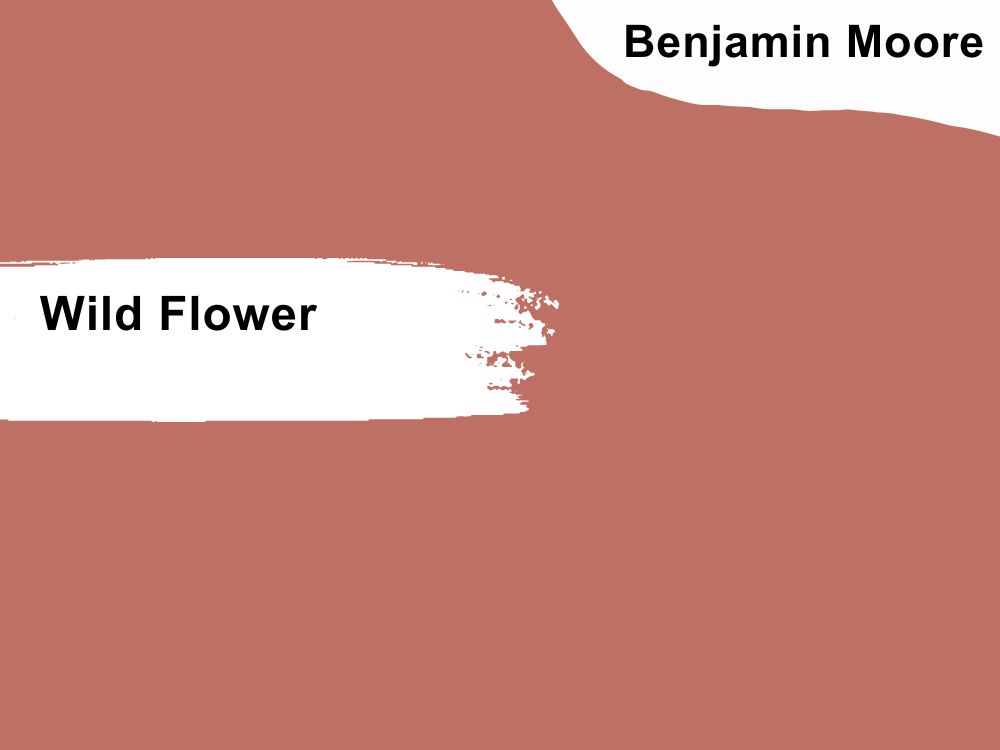 This popular Benjamin Moore color was a beloved choice for many designers in the year 2022, and it's definitely a color to add to your top choices for your painting projects. This Wildflower terracotta shade definitely had designers going wild, and the craze around it continues. I
If you're worried about terracotta shades that are too dark, especially in a room that gets mostly cooler lights, this light shade of terracotta is sure to be the absolute bang for you. Let this vibrant color loose in your home and watch your walls thank you.
Stylish and bold is what you're angling at if you choose this light terracotta shade for your projects. It's a lot more pinkish than most terracotta colors which are mostly orangey. Because of its richness and vibrancy, this color looks really great in small spaces with toned-down neutral colors like gray and even white. It looks great both in interior spaces like bathrooms and exteriors.
13. Sherwin Williams Copper Wire SW7707
| | |
| --- | --- |
| RGB | 196 121 84 |
| LRV | 26.15 |
| Undertones | Orange, Yellow |
| Matching Colors | Natural linen, waterloo |
This lush terracotta shade emits a perfect radiance of yellow and orange undertones, The Sherwin Williams Copper Wire paint is one of those unique shades that makes one marvel at the finished work. With an LRV of nearly 27, you are sure to have any room brightened up. This paint works well with Natural linen, Waterloo, and Creamy.
Just like in the image below, you could decide to use the Sherwin Williams Copper Wire for just one section of the wall in your bedroom or living room, be sure to have decor available that would compliment the orange undertones.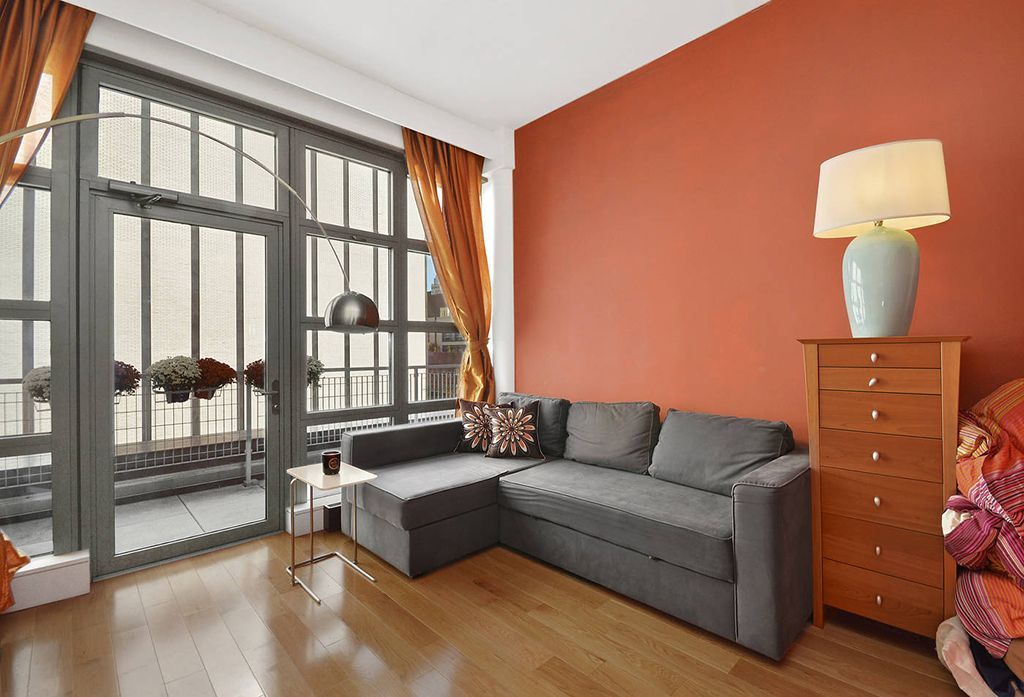 14. Sherwin Williams Smoky Salmon 6311
| | |
| --- | --- |
| RGB | 226, 182, 167 |
| LRV | 53 |
| Undertones | Pink, |
| Matching colors | Westhighland white, Faint Coral, Jersey Cream |
Terracotta has a way of making a room feel both vintage and modern, and the Smoky Salmon is no different. This color will make your rooms feel more airy, spacious, and comfortable.
This color is great for both the interior and exterior. This means you can use it for your living room walls, your kitchen walls, entryway, and lots of other spaces as well.  Terracotta on its own is quite versatile, and this shade of it is no exception. The peachy hues of this color give it a warmth that is hard to ignore. It's no wonder this color has been taking the design world by storm.
If you're looking for a pinkish terracotta color that looks great and appears inviting, then the Smoky Salmon is one of your best bets.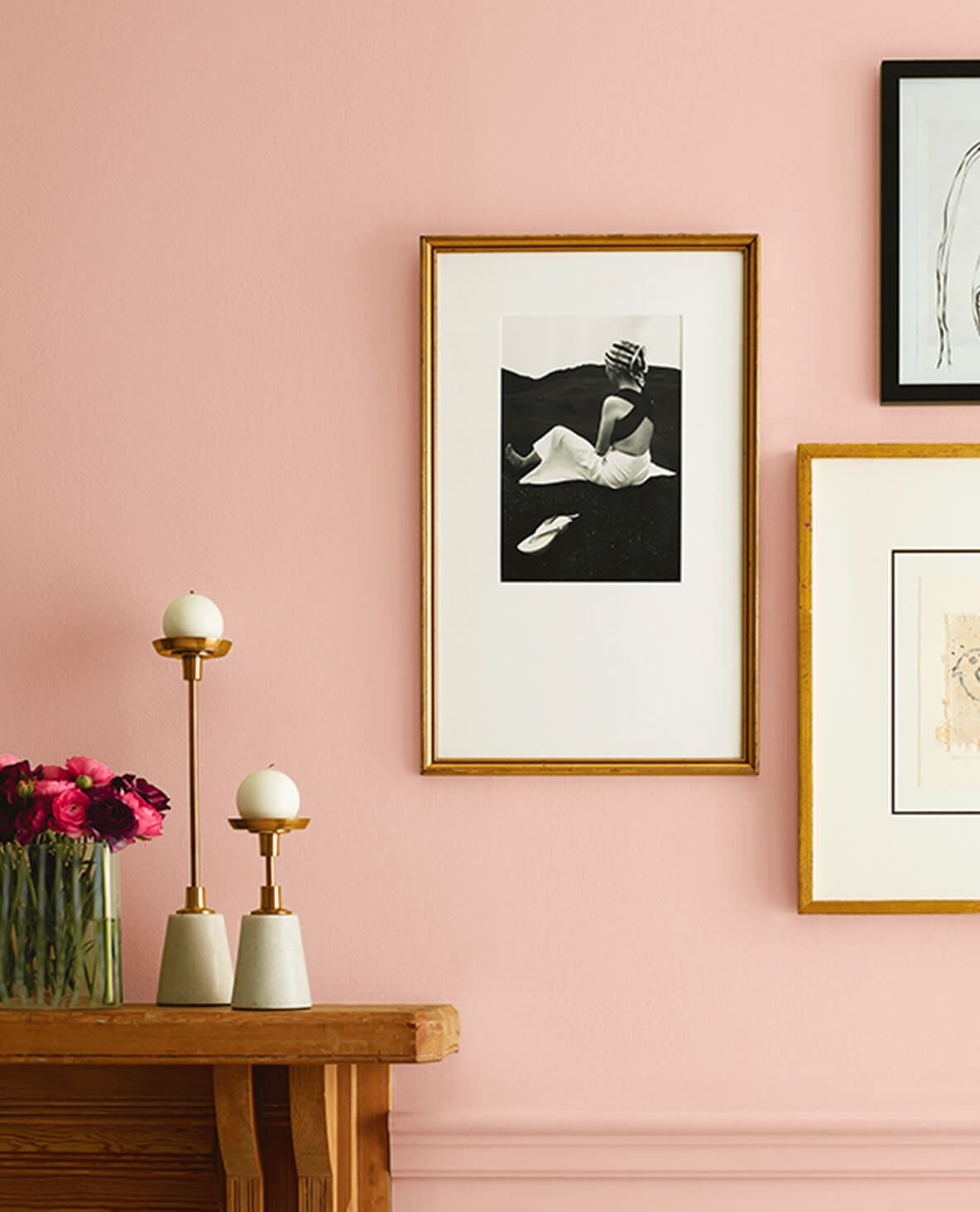 Conclusion
Various factors often affect how paints turn out, and in order not to be disappointed or even surprised, you definitely should test your paints before using them. Essentially, apply the colors you have chosen under different lighting conditions, and in different rooms before attempting to use them as a whole house paint.
While pictures and online reviews may guide you on making the right paint choice for your projects, please note that there may still be differences in what you get and you still need to do your own research.