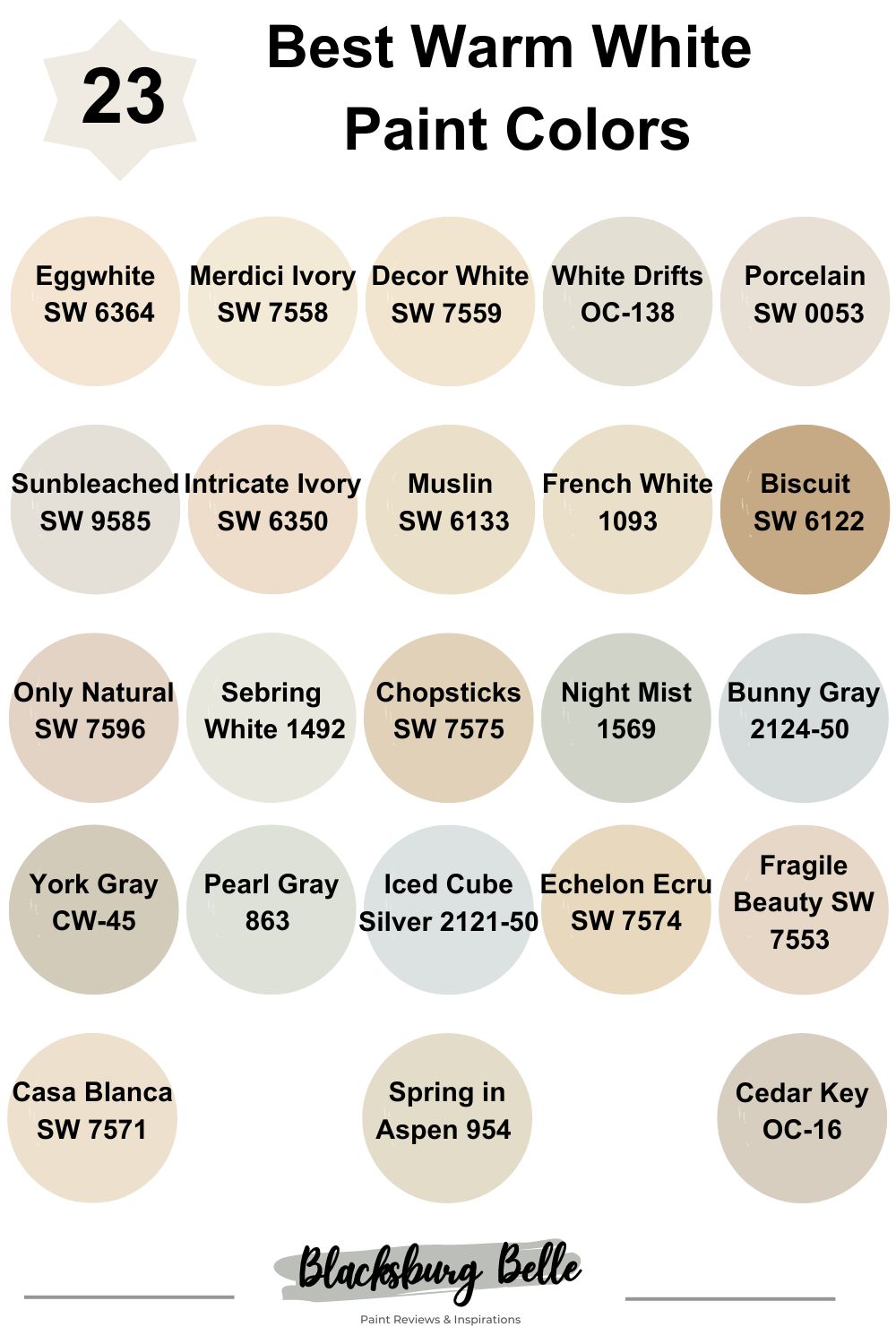 Colors have always been a gateway to expressions, an appearance of ideas, thoughts, and self. Varieties of colors have become inherently associated with a concept or an emotion. If a space needs to infuse a soft, feathery happy feel, then light yellow or warm cream would be the go-to color. And if the need is for a peaceful space with the objective of it evoking a timelessly elegant feel, then the go-to choice of paint would be white.
White color is a timeless classic in the home décor space. It represents a clean, elegant, and open idea. One of its best-selling qualities is its ability to make any space seem larger while being neutral. Color tones and undertones proffer character to the color white.
There are various white color tones and undertones. Cool white and warm white are part of the color tones. In this article, the 23 best warm white paint colors for space will be discussed.
Undertones – What Are They?
Undertones in color are subdued colors that proffer mild color changes to the parent color. An example is the gray undertone in metallic blue. A fun way to infuse depth and attribute character to white paint is by choosing a color with an undertone that represents the vibe that should be achieved.
For a calm breezy experience, using a blue undertone in white paint will create that. A happy upbeat white color is better achieved with a yellow or an orange undertone. Whatever the emotion that must be displayed, knowing and choosing the right undertone will help achieve that.
White is a neutral color that immediately becomes more versatile with an introduction of a secondary color as its undertone.
Tips For Choosing The Perfect Warm White
In choosing the perfect warm white color, factors like its undertone, LRV (Light Reflective Value), and matching colors are key. The undertone as was explained above, gives it the differentiating characteristic. If the space is going to portray a playful vibe, then going with warm white that has a pink undertone would be ideal.
Want a cooler masculine touch? A color with a gray or brown undertone would fit perfectly. When choosing a color, a match must be made between the purpose of the space and the emotion the space needs to convey.
For warm white colors that need to convey a deeper modern or masculine feel, going with colors that have their LRV within the ranges of 60-71 would suffice. But for colors that should appear warm and open, paints with a higher LRV within the ranges of 72-90 would be best.
23 Best Warm White Colors
1. Benjamin Moore Winter Wheat 232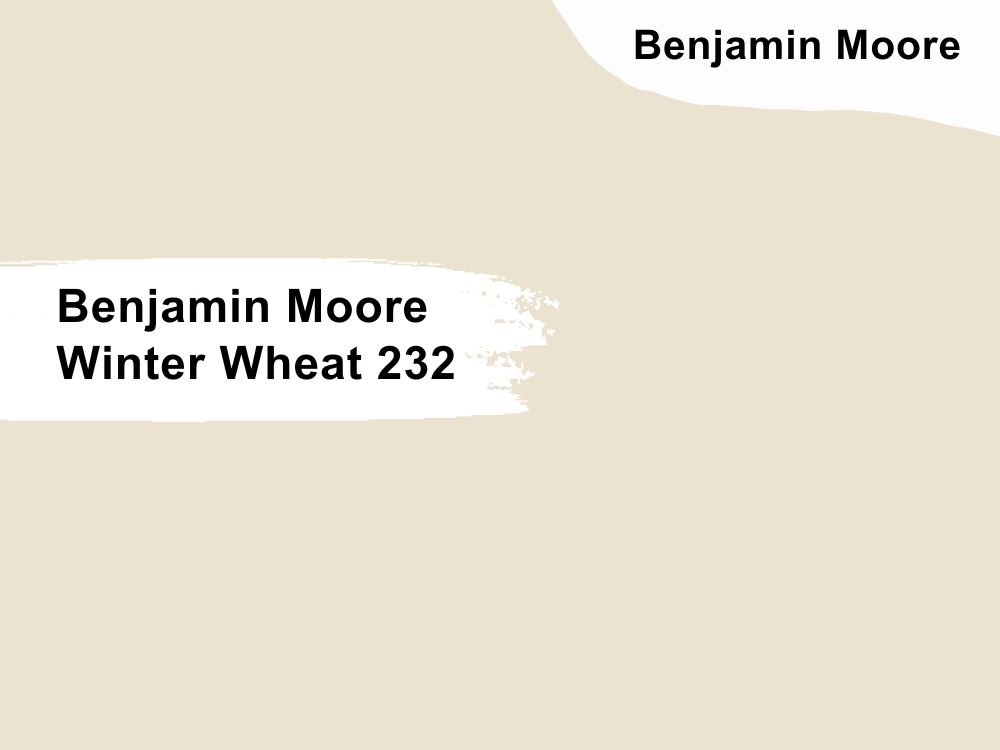 | | |
| --- | --- |
| RGB | 246 242 232 |
| LRV |  76.06 |
| Undertones | Yellow |
| Matching color | Cape Blue 1642, Simply White OC-117 |
With an LRV of 89, this warm white color is the right reflective paint for your home. It will confer brightness on any dim space and create the illusion of a larger space. This white hue appears cream with a yellow and light gray undertone. For a "dim-white" painting or a more modern feel, Benjamin Moore's 232 is the best painting choice. This color can be used in painting living rooms to get a warm airy feel.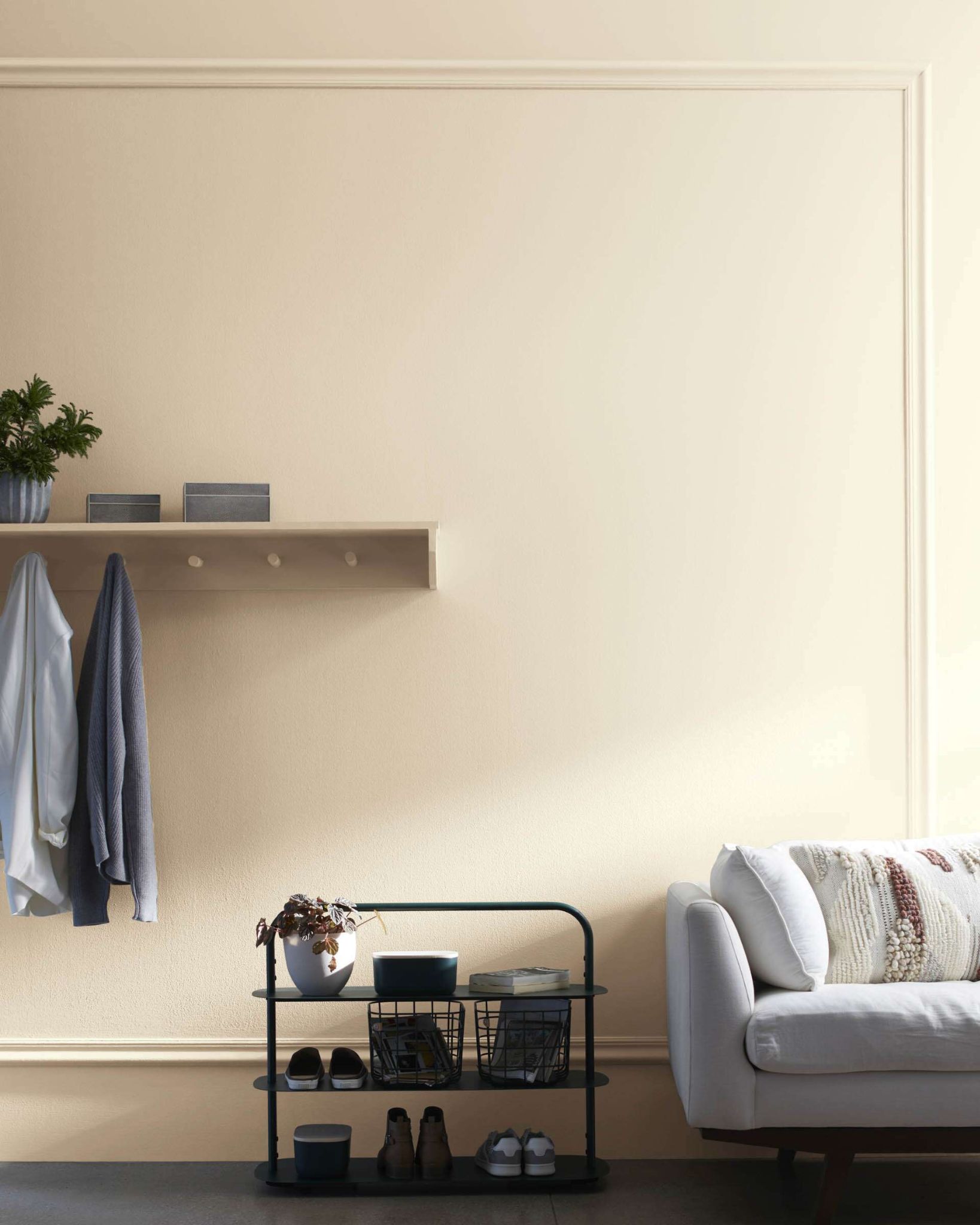 2. Benjamin Moore Papaya CC-248
| | |
| --- | --- |
| RGB | 248 238 219 |
| LRV |  68.75 |
| Undertones | Brown |
| Matching color | White Dove OC-17 |
Benjamin Moore's Papaya paint is a color that appears sweet and can add warmth with a calm masculine feel to your home. This can be used as a paint color for your living room or bedroom. Its brown undertone allows the warm white color to exhibit a warm male energy and project a calm elegant emotion to any space. With its brown undertone and an LRV of 68.75, the Papaya CC-248 paint color is the best choice if the space is for an office that needs to project stability and reliability.
3. Benjamin Moore Stone White 2120-70
| | |
| --- | --- |
| RGB | 237 236 231 |
| LRV | 76.8 |
| Undertones | Gray, Green, Blue |
| Matching color | Chantilly Lace OC-65, Santorini Blue 1634 |
This warm white with a gray undertone is the perfect fit for your beach house. Its light reflective value of 76.8, like all white colors, is high. This brings brightness, freshness, and a cool calm feeling to any space. The Stone White paint color appears fresh, windy, and cool. Matching colors that could be used in complementing this cool warm white tone are blue and gray.
This color can also be grouped in the modern warm white category. The gray undertone creates an easy attribute of versatility and modernism. Places like the office or even the exterior of buildings can be painted with this color.
4. Benjamin Moore Floral White OC-29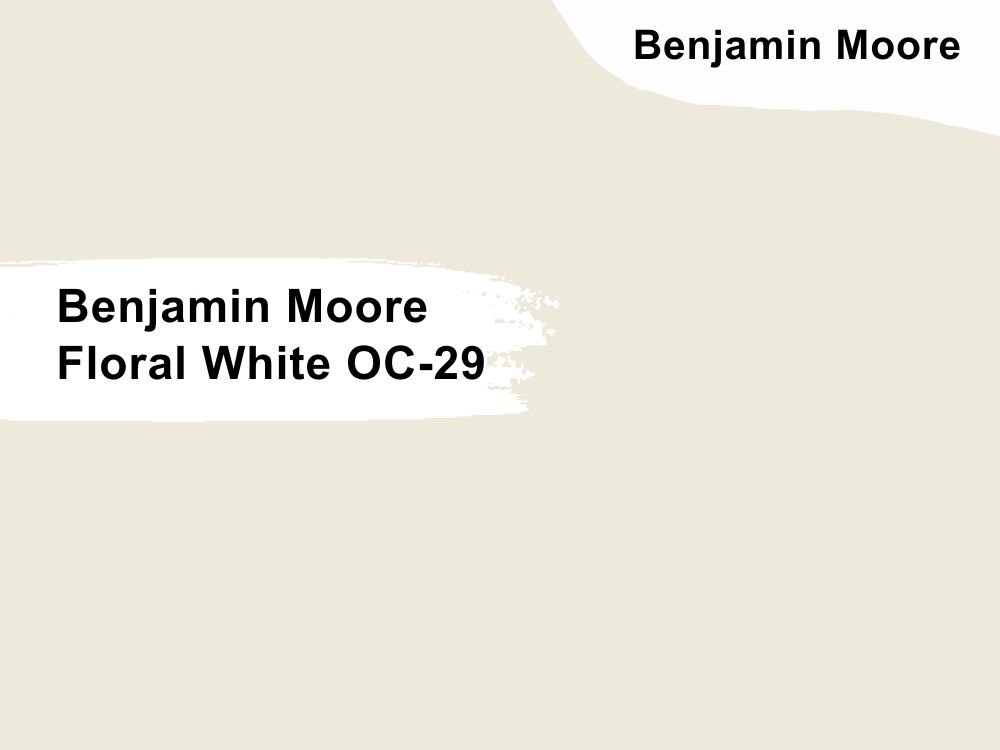 | | |
| --- | --- |
| RGB | 237 233 219 |
| LRV | 81.78 |
| Undertones | Blue and Yellow |
| Matching color | Abingdon Putty HC-99, Amherst Gray HC-167 |
This is another great perfect color that creates an airy, cold feel. It has the characteristic yellow, blue, and gray undertone depending on how light falls on it. It is one of the colors that introduces a sense of airy coldness in the viewer's gaze.
It is an alternative white color if you do not want to paint your space with the Stone White 2120-70. Colors you can match Floral White with are yellow and brown. It would also be a good paint choice for offices, showing rooms, stores, and many other places.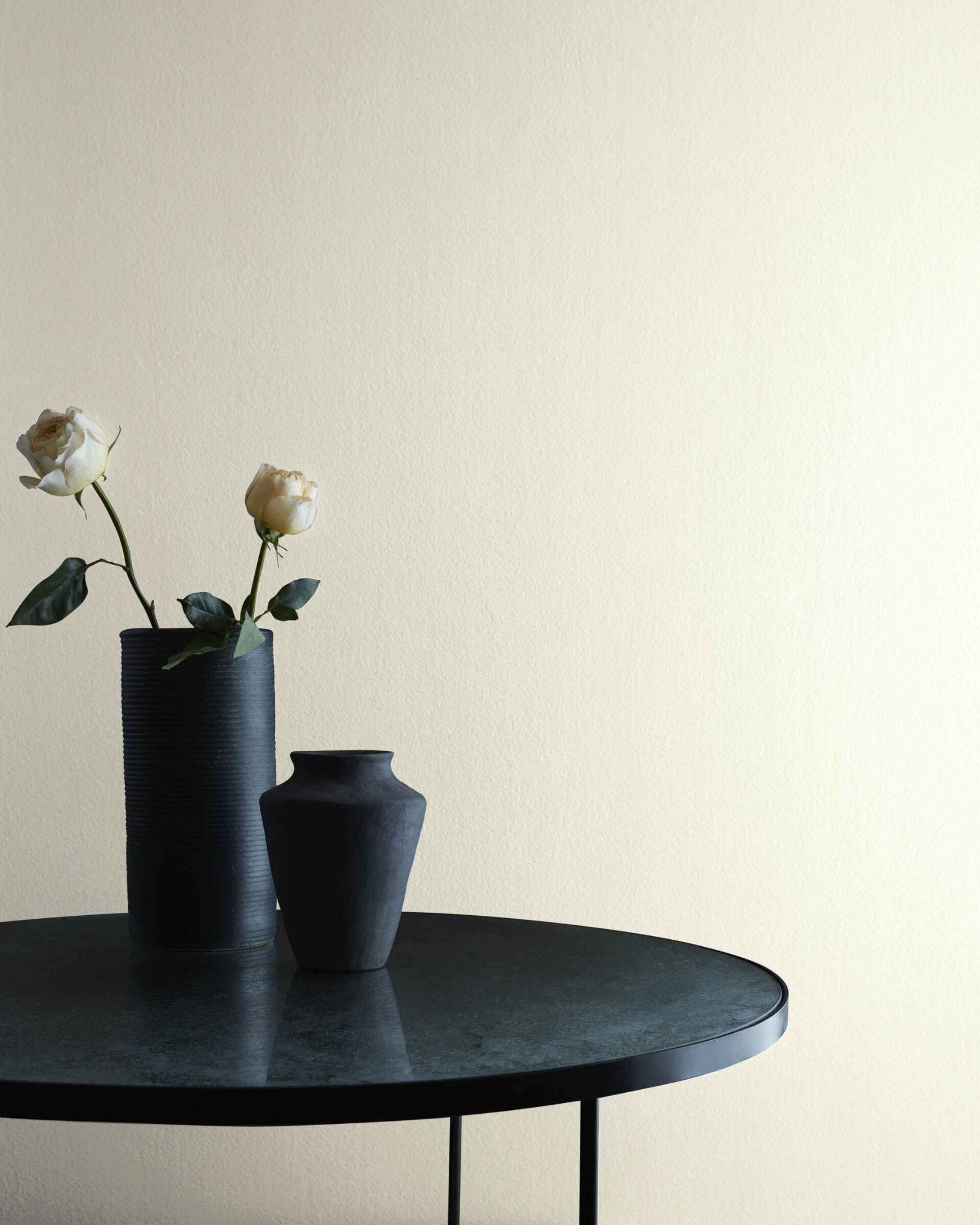 5. Benjamin Moore Cameo White 915
| | |
| --- | --- |
| RGB | 244 228 206 |
| LRV | 79.17 |
| Undertones | Yellow |
| Matching color | |
A classy vintage color that never loses its essence is this Benjamin Moore Cameo White. It is a well-known classic in the world of interior decor. It has an LRV of 79.17, when compared to other warm whites this is still considerably high. If your interior decorations lean towards a vintage look, then this paint color is the best fit.
Kitchens are one of the many places this color can be used in painting. To attribute that classiness vintage colors always seem to carry. This color easily accentuates bright colors like Yellow or orange.
6. Sherwin Williams Eggwhite SW 6364
| | |
| --- | --- |
| RGB | 243 229 210 |
| LRV | 80 |
| Undertones | Brown and Yellow |
| Matching color | Creamy, Llama Wool and La Luna Amarilla |
Another classic warm white color with popularity in the home decor industry is the Egg White color paint. It is a timeless classic that takes away from pure white's strong presence and presents an interesting soft-toned color that is engaging. The Egg White color matches the brown colors of wooden furniture, gold trimmings from frames or decors, cream-colored flooring or objects, and lots more. One thing to note is that the Egg White paint compliments darker color shades.
So, when utilizing the Egg White paint, it is important to note that the other décor should have deep dark color tones so that a perfect complimentary balance can be reached. This is because using similar warm whites or pale warm colors can easily get your space to look washed out and dull. If paired well, this can transform any space into a beautiful classy timeless experience.
7. Sherwin Williams Merdici Ivory SW 7558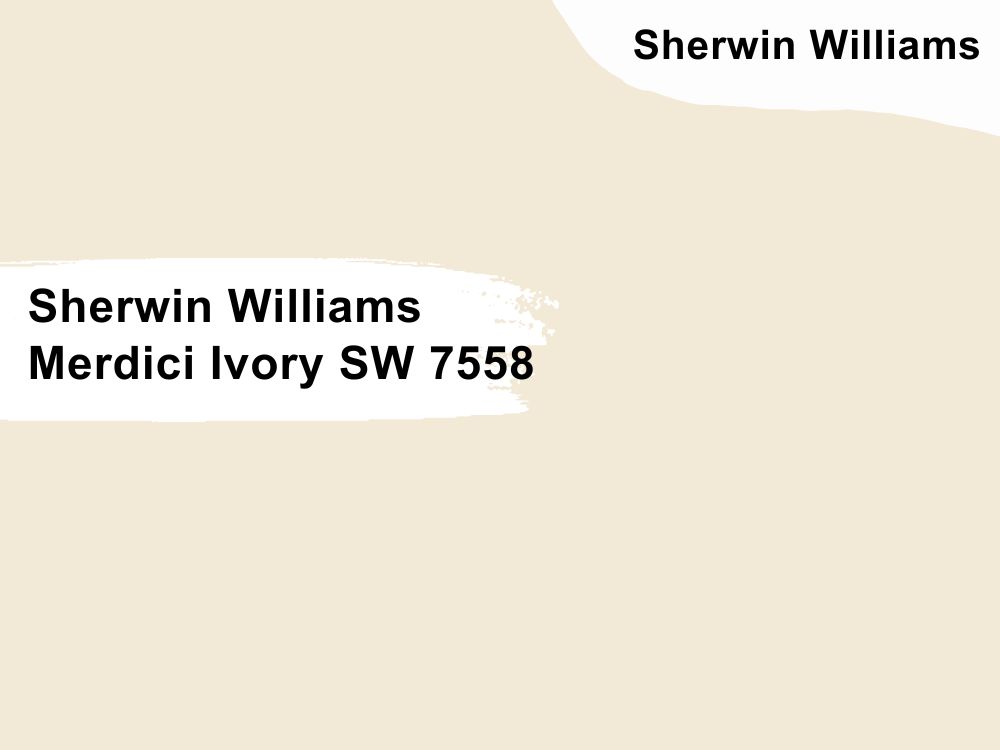 | | |
| --- | --- |
| RGB | 243 233 215 |
| LRV | 82 |
| Undertones | Brown and Yellow |
| Matching color | Coral Clay, Dover White and Playa Arenosa |
This color holds a close resemblance to the Egg White paint. It has the same undertone, yellow and brown, but it is a more modern color type. For an underwhelming Egg White paint color, the Medici Ivory is the best choice. It has a modern classy look that pairs well with decors of brown, cream, gold, and yellow colors.
Its matching colors Coral Clay, Dover White, and Playa Arenosa are paint colors that can be used to highlight Medici Ivory's warmth and bring character to any room it occupies. It is also much easier to pair colors with this when compared to the Egg White paint.
8. Sherwin Williams Decor White SW 7559
| | |
| --- | --- |
| RGB | 242 229 207 |
| LRV | 79 |
| Undertones | Brown |
| Matching color | Dover White, Quinoa and Half-calf |
The LRV of this warm white color is 79, this means it is slightly less reflective thus its attribute in creating a bigger brighter space is slightly lower. It's got a brown undertone that allows complementary pairings of objects or decor with brown tones to appear beautiful. Half-caff and Quinoa are matching colors that complement this paint color.
A great paint for family living rooms and walls is this decor white. However, if the emotion you want a space to convey is easy relaxation, pairing this color with green would help achieve that effect.
9. Benjamin Moore White Drifts OC-138
| | |
| --- | --- |
| RGB | 232 227 216 |
| LRV | 75.48 |
| Undertones | Gray |
| Matching color | Hint of Mauve 2097-50, Chantilly Lace OC-65 |
When you need a chalky off-white color with gray undertones, Benjamin Moore's White drifts paint is the best pick. It makes any space appear clean and proper. White drifts can be used to paint your living space and all areas of your home.
This is one paint color that provides a welcoming contrast to brown hues in decor. However, this color will richly complement dark gray, black, and metallic hues, so that must be noted. It has an LRV of 76.71, which for a warm white color leans slightly into dimmer light-absorbing hues. If your space will possess metallic and dark-toned decors, then this paint is the best pick for you.
10. Sherwin Williams Porcelain SW 0053
| | |
| --- | --- |
| RGB | 233 224 213 |
| LRV | 76 |
| Undertones | Brown and Dark Gray |
| Matching color | Classic Sand and Morris Room Gray |
This warm white color can be grouped in the "deeper warm white tone". It is one of the long-lasting white paint classics. Interiors and decors with the Porcelain color exude a classy, elegant feel. For a timeless look, painting the interior or exterior of a room or building with Porcelain will help achieve that.
Porcelain goes well with black and silvery metal. Some more matching colors that can be used in decor are the Classic Sand and Morris Room Gray. This is the best recommendation if the aim of the space is to reflect finery and effortlessness. Places like dining rooms, restaurants or artistic buildings can spot this color.
11. Sherwin Williams Sunbleached SW 9585

| | |
| --- | --- |
| RGB | 229 224 215 |
| LRV | 75 |
| Undertones | Gray and Green |
| Matching color | Zurich White and Green |
This white color as its name implies looks like a sun-bleached white coral shell. It is warm, surfy and welcoming. Colors like black and earthy tones compliment this paint perfectly. This white color has green and gray undertones which allows bold dark colors like black, green or complimentary colors like Morris Room Gray stand out. Nothing says clean and intriguing with the littlest hint of hip like the Sherwin Williams Sun Bleached paint. If a space needs to bring surfing vibes and create a sense of open mindedness, then this paint will do the job.
12. Sherwin Williams Intricate Ivory SW 6350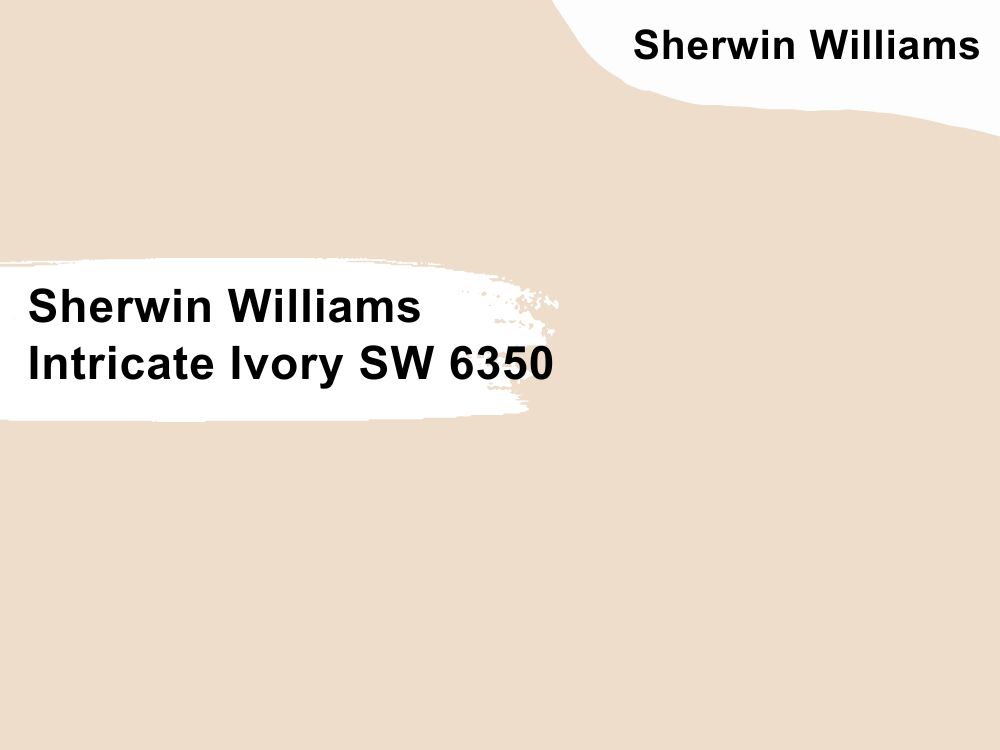 | | |
| --- | --- |
| RGB | 237 221 202 |
| LRV | 74 |
| Undertones | Orange |
| Matching color | Creamy, Chivalry Copper and Pavillion Beige |
Intricate Ivory says elegant, fun and exciting like no other. With a warm white color, an orange and green undertone, the Intricate Ivory paint can be used in your space decor if you want to add a hint of intrigue and playfulness. It is the best choice to elevate the moodiness of empty spaces and bring a dash of creativity into an otherwise bland environment. A great coordinating color to pair Intricate Ivory with is the Chivalry Copper. Emerald green can also be paired with this color to create the best uniquely intriguing color setting in a space.
13. Sherwin Williams Muslin SW 6133
| | |
| --- | --- |
| RGB | 234 223 201 |
| LRV | 74 |
| Undertones | Green |
| Matching color | Creamy, Relaxed Khaki and Tin Lizzie |
Want a relaxed natural warm white paint that communicates good energy and natural vibes? The Muslin paint color is the answer. Muslin is an all-time favorite for spaces that convey growth and learning. It has a green undertone that makes it a sought-after paint choice for people who want to infuse nature and planting with their decor.
This is a good color to paint your green rooms, school classrooms, bathrooms and balconies. Some matching colors like the Relaxed Khaki paint color and the Tin Lizzie paint color elevates Muslin to appear finer with a brighter feel which can be attributed to an earthy feel.
14. Benjamin Moore French White 1093
| | |
| --- | --- |
| RGB | 234 220 202 |
| LRV | 74.12 |
| Undertones | Warm yellow |
| Matching color | Burnt Russet 042 and Dill Weed 481 |
In the list of classy vintage white hues, the French White color will occupy one of the top 10 spots. This color, like the name implies, is a true old-world classic. Spaces like the living room, study or art galleries can be painted this warm white paint color with yellow undertone.
French White has coordinating colors like Burnt Russet and Dill Weed; which would create a minimalist matching effect to any space. It is no wonder this color clinched up a top spot in the vintage whites' collection. It adds a dreamy quality to whatever space it rests on.
15. Sherwin Williams Biscuit SW 6122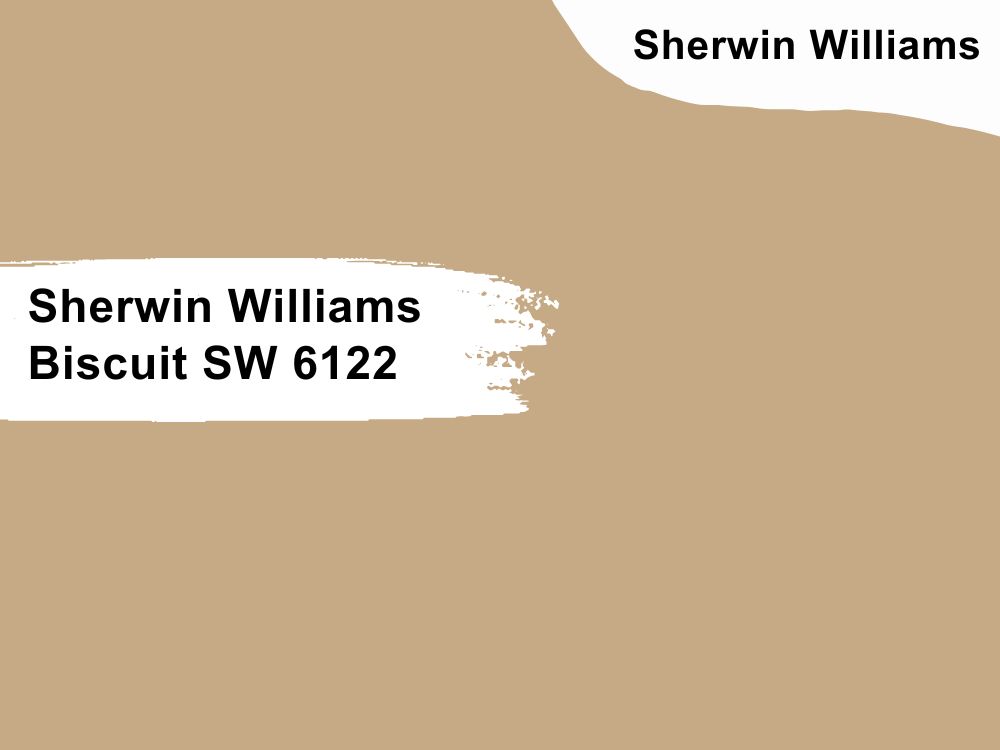 | | |
| --- | --- |
| RGB | 235 221 203 |
| LRV | 74 |
| Undertones | Orange |
| Matching color | Creamy, Interactive Cream and Subdued Sienna |
Biscuit is a soft warm white paint with orange undertone that is best for creating a bright cheeky feel in any space that it is used. This warm fun neutral is just what a kitchen or a playroom needs to add depth to the space.
Nothing says 'I am fun and ready to play' like the Sherwin Williams Biscuit paint color. The Subdued Sienna is a great fit for a complementary secondary color that decors in the painted space can possess.
16. Sherwin Williams Only Natural SW 7596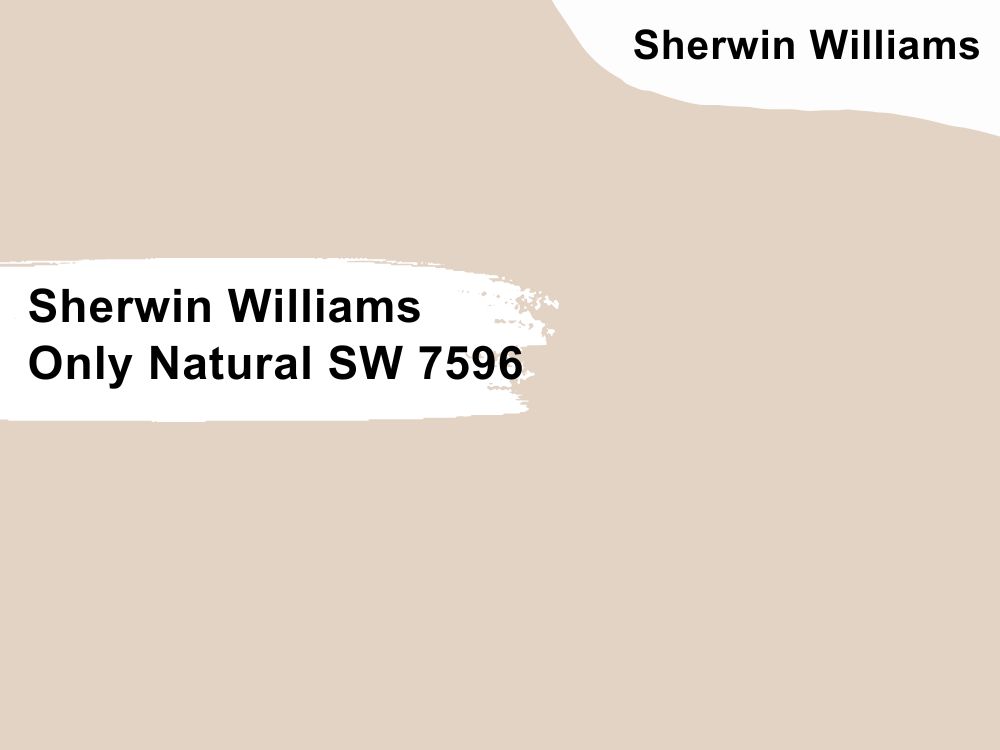 | | |
| --- | --- |
| RGB | 226 221 196 |
| LRV | 67 |
| Undertones | Orange, Gray |
| Matching color | Marshmallow, Reddened Earth |
Sherwin Williams's Only Natural paint is the best pick for your offices. The orange and brown undertones douse the bright reflectiveness of the pure white color and produce a natural white which is neither too warm nor cold.
For spaces looking to hold up a strong front of neutrality, this is a great color choice. Reddened Earth color gives a great matching contrast to this neutral white. Decor colors for objects around the house or space can also have a black, red or brown color as the Only Natural color also compliments these perfectly.
17. Benjamin Moore Sebring White 1492
| | |
| --- | --- |
| RGB | 231 230 220 |
| LRV | 79.48 |
| Undertones | Green |
| Matching color | Nimbus Gray 2131-50, Deep Space 2125-20 |
This interesting green undertone color, Sebring White, looks just exquisite. It evokes a splash of modernity merged with the simplicity of older times. It may not be a classic, but it is on its way to becoming a renowned warm white color in modern times.
The green undertone gives it a free, trustful appearance. This color can be used in painting living rooms, therapy rooms, conference rooms and more.
18. Sherwin Williams Chopsticks SW 7575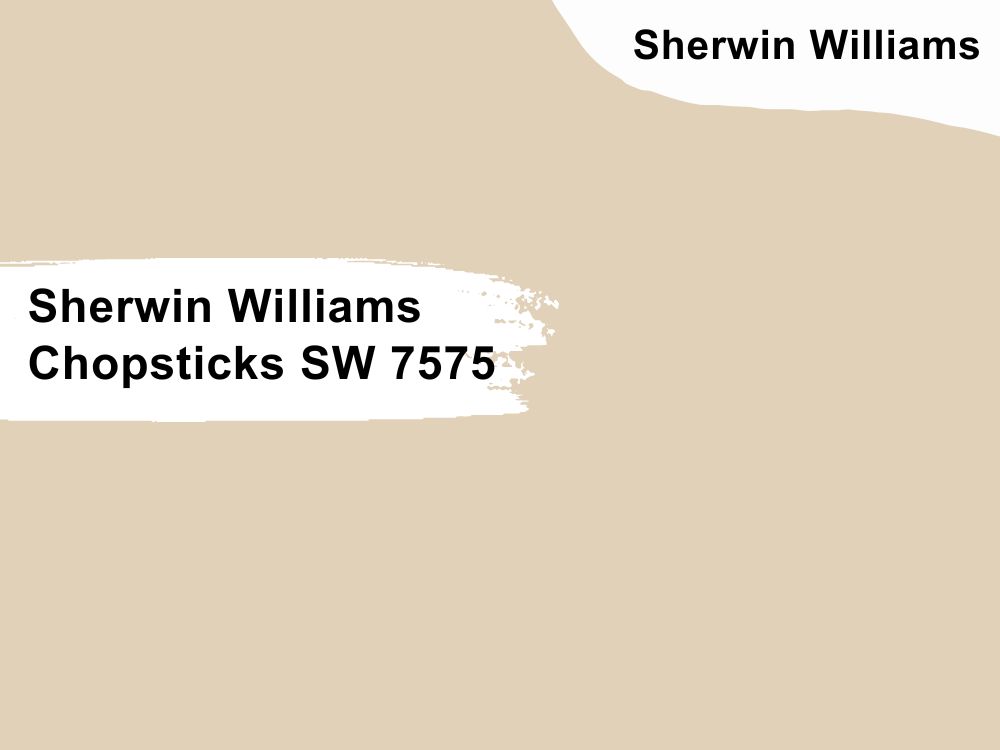 | | |
| --- | --- |
| RGB | 224 209 184 |
| LRV | 65 |
| Undertones | Yellow and Brown |
| Matching color | Creamy, Villa and Universal Khaki |
This color gives off an evening setting vibe. This could be attributed to its considerable low light reflective value (LRV), 65, when compared to other warm colors. Nevertheless, this color would look great on the walls of the bedroom or bathroom. It pours out solemnity and calmness into any space it covers. Spaces like the bedroom or bathroom can be painted with this color.
19. Sherwin Williams Echelon Ecru SW 7574
| | |
| --- | --- |
| RGB | 231 216 190 |
| LRV | 70 |
| Undertones | Green |
| Matching color | Creamy, Pavillion Beige and Bonsai Tint |
For a seemingly cool warm white color, the Echelon Ecru takes the crown. Green undertones in warm white colors give a calm engaging attribute to the color. Living rooms, studies and even bathrooms can be painted with this color. For decorations in the space, using the Bonsai Tint color will be the best match.
20. Sherwin Williams Fragile Beauty SW 7553
| | |
| --- | --- |
| RGB | 231 215 198 |
| LRV | 70 |
| Undertones | Yellow |
| Matching color | Marshmallow, Aleutian and Downy |
This Fragile Beauty color gives just that. The yellow undertone creates a feeling of frail magnificence. Mixing coordinating colors like Aleutian is a great way to put focus on the artistic quality of this paint. Fragile Beauty can be used in painting living rooms, vanity closets and kitchens. One more attribute that this color exhibits is that it appears fresh and creates a sense of youthfulness in the space it covers.
21. Sherwin Williams Casa Blanca SW 7571
| | |
| --- | --- |
| RGB | 237 225 206 |
| LRV | 76 |
| Undertones | Yellow |
| Matching color | Creamy, Black Bean and Melange Green |
Sherwin Williams Casa Blanca SW 7571 is a beautiful, warm color that has an airy and calming presence in any space it covers. This light and slightly whimsical shade is perfect for creating a relaxed and serene atmosphere in any room.
To really make the most of this stunning color, you can pair it with other shades that complement its soft and gentle nature. For example, matching Casa Blanca with the muted greens of Melange Green or the rich earthy tones of Black Bean can create a truly unique appearance that adds depth and character to your space.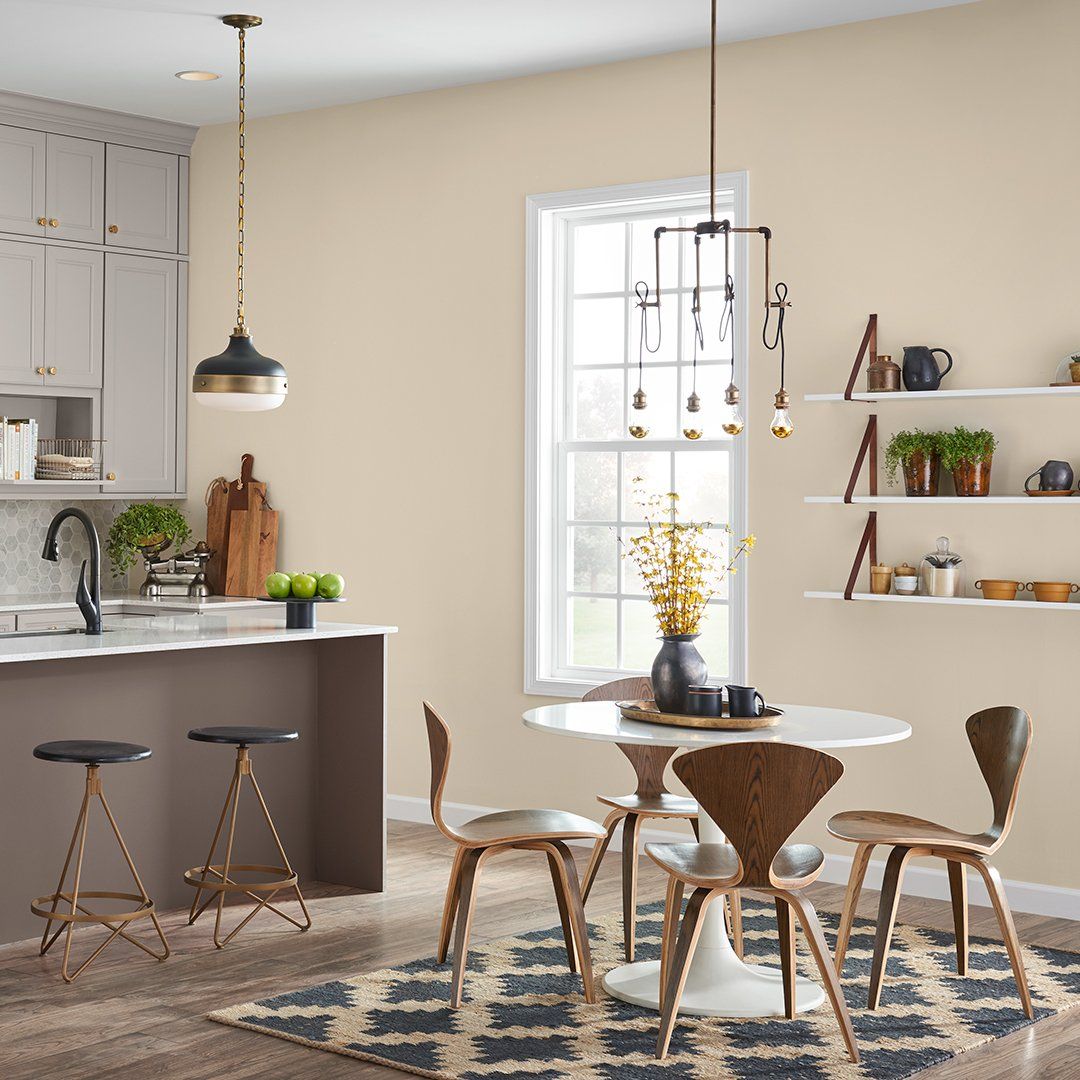 22. Benjamin Moore Spring in Aspen 954
| | |
| --- | --- |
| RGB | 228 222 207 |
| LRV | 72.35 |
| Undertones | Yellow |
| Matching color | Red Rock 2005-10, Polaris Blue 1649 |
In bright lighting, this color has an obvious yellow tint, but at nighttime, Spring-in-Aspen provides a cooler tone that leans towards warm white with a gray undertone.
Dark colors like black and deep brown will create a high contrast that shows the versatility and warmth of this uniquely named color. Similar colors with these characteristics are Feather Down 953, Natural Wicker 950, White Sand 964, Ivory Porcelain 239 etc.
23. Benjamin Moore Cedar Key OC-16
| | |
| --- | --- |
| RGB | 217 205 190 |
| LRV | 62.13 |
| Undertones | Yellow and Pink |
| Matching color | Dorset Gold HC-8 and Yellow 2022-10 |
This color has a pale pink undertone that is so subtle it appears to be overwhelmed by the yellow undertone also present. Cedar Key color can be used in the living room space and all over the home subject to personal preferences.
Conclusion
Having seen the different warm white colors and looking at characteristic properties of each, deciding on the best color for spaces should be an easy feat. Although white colors may be viewed as blank slates and unimportant color paints that do not need exploration, reading through this article will change every thought. Warm Whites have a staggering number of tones with a high complexity that caters to every individual's expectation. Which warm white color choice stood out the most?