For as long as we can remember, white cabinets have been the rage. Judging from what we can see all around the internet, the hype doesn't seem to be piping down anytime soon.
White has a way of making our kitchens look crisp, clean, and alluring to the eyes. When done well, we can have elegance and warmth, and some coolness as well.
Does this mean picking a white color for your cabinet is easy? Regrettably, no. Picking the perfect white color that compliments the furniture in your kitchen, adjusts well to the light, and doesn't look so sterile can be quite a chore.
Especially if you're not sure where to start from. And that's why this list is here to guide you on the quest to pick the best white color for your cabinets.
Before You Paint – Picking The Right Color
One important thing to note is that Whites like other colors have different classes. There are warm whites, neutral whites, and cool whites. Each of these categories has its undertones which may occasionally flash depending on light conditions.
The key to picking the suitable white for your kitchen is knowing what sort of white fits your decor style, knowing what undertones you don't want, or do want, and having the patience to paint and test till you find what you want.
The good news is whatever way you choose to go, whether it's with a perfect white, a cool white, or an off-white, the colors in this list below will definitely make a great choice.
15 Best White Colors For Kitchen Cabinets
1. Sherwin Williams Aesthetic White SW 7035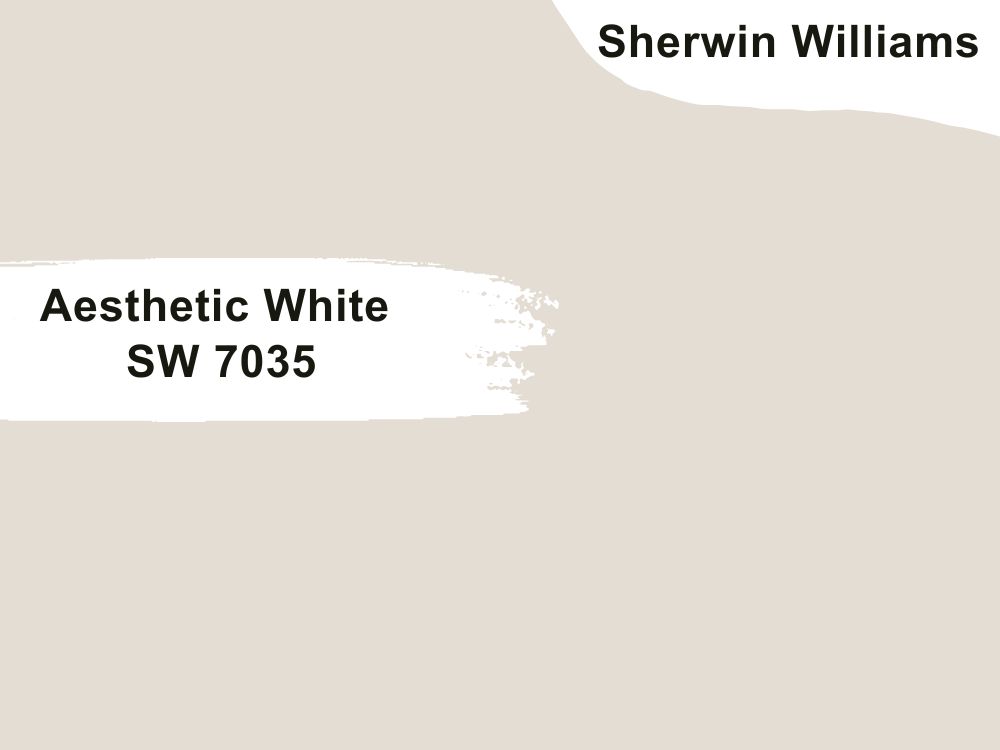 | | |
| --- | --- |
| RGB | 227 221 211 |
| LRV | 73 |
| Undertones | Violet |
| Matching colors | Chelsea Gray, Pure White, Aquaverde. |
This beautiful off-white color is just the thing you need to make your kitchen cabinets look great, warm, and classy. It works very well for cabinets if you don't want a white, sterile kitchen. This color compliments well with whites that aren't too soft or creamy.
This color is great for your cabinets because due to it slightly being off-white, it's more likely to hide slight stains and scuffs than a true white will. In a brighter room, aesthetic white comes to life as bright, clear, and beautiful, but in a darker room, it may appear to be a tad dingy.
The image below shows this amazing color in real-time, the color of the cabinets looks ideal for any modern kitchen setup. You could choose a different matching shade for the walls while the cabinets use Aesthetic White.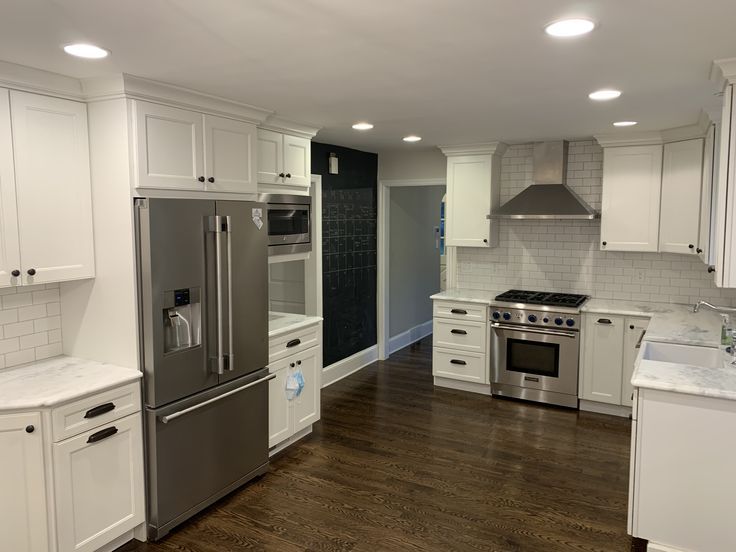 2. Sherwin Williams High Reflective White SW 7757
| | |
| --- | --- |
| RGB | 247 247 241 |
| LRV | 93 |
| Undertones | Slight blue |
| Matching colors | Favorite Tan, Underseas. |
Bring brightness into the room with this very white Sherwin-Williams color. With an LRV of 93, this color is as white as white can be. Although this is a very bright white, you can still achieve that homey feeling by complementing it with Tuscan-style furniture and introducing other cooler elements as well.
This color will leave your cabinets looking extra clean and bright. The color is a great choice for cabinets because of its versatility. Its subtle blue undertones make it a cool white paint that will match a marble top perfectly.
As you can see in the image below, the white is glossy and would most likely reflect lighting from the bulbs in your kitchen thus creating an amazing effect in your kitchen space.
3. Benjamin Moore Chantilly Lace OC-65
| | |
| --- | --- |
| RGB | 245 245 239 |
| LRV | 92.2 |
| Undertones | Slight gray/blue (Northern light exposure) |
| Matching colors | Edgecomb Gray, Seapearl, Horizon, White |
Feel the sizzling beauty of this silky white in your kitchen. This off-white is one of the best colors you can use for your kitchen cabinets because it has just the right blend of warmth and crispiness.
Amazingly, this is the whitest Benjamin Moore white color. Use this color on your cabinets to give your kitchen a spacious and airy feel. This white is so white that it practically has no undertones, but Northern light exposure may cause it to flash a little blue or gray. However, if you have a room with southern light exposure, the warm light will cause it to maintain its color.
As you can see in the image below, Chantilly Lace OC-65 looks amazingly outstanding on kitchen cabinets, you could go for the spray option. Be sure to have professionals carry out the painting task for you to ensure a neatly done job.
4. Benjamin Moore White Dove OC-17
| | |
| --- | --- |
| RGB | 240, 237, 228 |
| LRV | 83.16 |
| Undertones | Gray |
| Matching colors | Balboa Mist, Kendall Charcoal, Country Redwood, Revere Pewter |
Are you looking for a white that's clean, warm, and classic for your kitchen cabinets? Then add this delectable Benjamin Moore color to your list. Although this color is one color that can be classified as a warm white, it's not overly white and perfect if you're trying to avoid your cabinet looking overly creamy or yellow. In fact, it has a good balance of warm and cool tones. To get the most from your White dove, avoid pairing it with whites that are whiter than it.
The image below shows that the white dove OC-17 is not necessarily white but sort of creamy white, it works well with kitchen cabinets. I would highly recommend this amazing white shade for your kitchen cabinets, especially if you are looking for something warmer.
5. Sherwin Williams Alabaster White SW 7008
| | |
| --- | --- |
| RGB | 237 234 224 |
| LRV | 82 |
| Undertones | Subtle beige |
| Matching colors | Townhall Tan, Dakota Wheat |
This 2016 color of the year is one color that continues to stun! This wonderful color is great for your cabinets because it creates a beautiful contrast with your furniture and other parts of your kitchen.
The softness of this white makes it a suitable color because it's not warm enough to be yellow but has just the right amount of warmth to make your kitchens feel inviting rather than sterile. It's also a neutral white color with muted tones. What's more? This color is great for helping your kitchen look modern. Looking to have the most fun? Pair your alabaster white cabinets with gray and black colors.
6. Sherwin Williams Greek Villa SW 7551
| | |
| --- | --- |
| RGB | 240 236 226 |
| LRV | 84 |
| Undertones | Subtle yellow, gray, beige, pink |
| Matching colors | Illusive Green, In the Navy |
Give your kitchen cabinets a unique, and exquisite facelift with this amazing white color. You should especially jump on this if your finishes are a warmer white.
This color has beige undertones that will make your kitchen that inviting and cozy feeling we all want. Your home is a home and it should feel as such, this white helps you achieve this. It's also a very versatile color as there are lots of colors you can pair it with.
With the image below you can sort of notice the presence of pink undertones, with Greek Villa 7551 from Sherwin Williams, home owners can add a subtle pink shade to their kitchen.
7. Benjamin Moore Decorator's White CC-20
| | |
| --- | --- |
| RGB | 236 237 234 |
| LRV | 82.68 |
| Undertones | Gray, slight purple, blue |
| Matching colors | Oxford White, Raindance, Chantilly Lace, Blue White |
Looking for a bright white to use for your kitchen cabinet? Then you should try out the Decorator's White. It's a perfectly bright, white paint with just the very teeny weeny bit gray undertone. It usually pairs very well with marble tops.
Whether you have a modern, transitional, or coastal kitchen, this color would look great in your kitchen. If you're looking to highlight the coolness in your kitchen,(maybe your walls are painted in colors with cooler undertones), then this white works just fine for your kitchen cabinets.
8. Benjamin Moore Swiss Coffee OC-45
| | |
| --- | --- |
| RGB | 237 234 224 |
| LRV | 81.91 |
| Undertones | Gray, yellow, green |
| Matching colors | White Drifts, Lush, Fossil, Newburg green |
This off-white color definitely deserves to be on this list! Use this color to give your kitchen cabinet a warm, and sophisticated edge. This color is clearly a warm off-white and would be perfect if that's what you're angling for.
This color will leave your kitchen feeling crisp, serene, and yet inviting. If you're not looking to bring out the most of its creaminess, avoid pairing it with cooler colors as this may make it flash a little yellow. This color comes out really well in traditionally styled kitchens.
Don't use this color if you're looking for an extremely clean-looking kitchen as its creaminess comes through quite well, especially in rooms with southern light exposure.
9. Sherwin Williams Pure White SW 7005
| | |
| --- | --- |
| RGB | 237 236 230 |
| LRV | 84 |
| Undertones | Slight yellow |
| Matching colors | March Wind, Perle Noir |
This soft white color brings out the beauty of whatever space you put in it by bringing the space to life. Although it can't be classified as a true white, this color is astonishingly versatile and is fit for many purposes including your kitchen cabinets and walls. Its LRV makes it to be that perfect mid-point between the creamy and stark white.
This white is perfect for your cabinets if your kitchen isn't located in a spot that gets a lot of southern light exposure (if you're not looking for a warm white, that is). If you don't mind things looking quite cool, then you can use the Pure White even if you get lots of northern light exposure. Whatever the case, this is one of the safest white colors you can pick for your cabinet because it compliments a lot of countertops and walls as well.
10. Sherwin Williams Snowbound SW 7004
| | |
| --- | --- |
| RGB | 237, 234, 229 |
| LRV | 83 |
| Undertones | Slight gray, violet-pink, cream |
| Matching colors | Autumn Orchid, Colonnade Gray |
Keep your kitchen looking clean and friendly with this soft, fine white. Again, this isn't one of the perfectly true whites, if that's what you're after, however, it is a gorgeous warm white to use for your cabinets.
Maneuvering Snowbound for your cabinets might be a little tricky because you have to pick the right finishes, and wall color and make sure it suits your countertops, however, this doesn't in any way suggest you can't. A great idea might be to match the cabinets with the walls, and other trimmings by painting them in Snowbound as well.
11. Benjamin Moore Cloud White OC-130
| | |
| --- | --- |
| RGB | 243, 238, 225 |
| LRV | 85.05 |
| Undertones | Slight taupe |
| Matching colors | Yosemite Yellow, White Down, Champion Cobalt, Pale Oak |
This perfectly balanced white definitely makes the list of favorite colors for your kitchen cabinets. This popular white color has warm and nearly invisible taupe undertones. A wonderful white you can definitely enjoy looking at all day long. In a well-lit kitchen, Cloud white looks absolutely marvelous and also looks great in kitchens that aren't so bright but have some shadows as well.
Use this color to accentuate the beauty of your kitchen's architectural designs. With this color you can avoid green and yellow undertones altogether (if this is what you want) and still have white that doesn't look stark white. Thinking about what colors to match with this soft white? Check out the colors below.
12. Benjamin Moore White Diamond OC-61
| | |
| --- | --- |
| RGB | 236 239 236 |
| LRV | 83.37 |
| Undertones | Slight blue, gray |
| Matching colors | Distant Gray, Buxton Blue, Frostine, Silver Lining |
Look out for this cool white color that's going to rock your world! With slight blue and gray undertones, this color is a gorgeous cool toned white that would leave your cabinets looking extra clean, especially when paired with other cool toned colors.
White Diamond will help your kitchen attain that sense of being modern while still maintaining its crisp beauty. The blue undertones in this color will help to brighten your kitchen. In North-facing light, you can expect to see White diamond in all its coolness.
13. Benjamin Moore Simply White OC-117
| | |
| --- | --- |
| RGB | 247 244 235 |
| LRV | 89.52 |
| Undertones | Slight yellow |
| Matching colors | Dove Wing, Summerville Red, Silver Satin, Casco Bay |
This 2016 Benjamin Moore Color of the Year is popular for all the right reasons. This off-white color really leans into its creamy side with lots of yellows. Expect this color to brighten up your kitchen and give it an elegant twist.
Because it's a warm white, it will leave your kitchen feeling more inviting which is an important feeling in a home. If your kitchen has a lot of southern light exposure, the yellow undertones won't come out too strongly, it however will in a northern light exposure.
Even if your kitchen is all white, this beautiful color will help to introduce the much-needed warmth and yet still keeps its gorgeousness. If you're trying to achieve a beautiful contrast, and you can pair this color with darker cabinet colors, you might find yourself pleasantly surprised as it does very well with these darker colors as well. If your kitchen is Tuscan styled or has lots of earthy finishes, you may want to avoid this color.
14. Sherwin Williams Extra White SW 7006
| | |
| --- | --- |
| RGB | 238, 239, 234 |
| LRV | 86 |
| Undertones | Slightly blue |
| Matching colors | Smoky Azurite, Charcoal Blue |
Another cool white makes the list! Use this color if you're looking for a brilliant cool white for your kitchen cabinet that will rarely ever read yellow. Due to its slight gray undertones, Extra White appears to be a muted, and more neutral white but it still looks so great. In kitchens with Northern light exposure, expect to see Extra White look quite cool. Under southern light exposure, it will look a lot more warm but not warm enough to appear creamy or yellow.
15. Benjamin Moore Chalk White 2126-70
| | |
| --- | --- |
| RGB | 234 237 235 |
| LRV | 82.44 |
| Undertones | Slight blue, gray |
| Matching colors | Distant Gray, Stormcloud Gray, Gray Owl, Chantilly Lace |
Although not as popular as some whites on this list, Chalk White is a great color to include in your list of kitchen whites from now on.
Does your kitchen feel small, and stuffy? Use this scintillating white color to brighten up your kitchen. Because of its cool tones, it will light up your kitchen and make it seem more airy and beautiful. Use this color if you're looking for something bold and aiming at a clean, crisp and cool look. With this color on your cabinets, your kitchen can maintain a modern yet timeless feel to it.
Overview
White kitchens not only look glamorous, but they also give off a modern, sophisticated, and crisp aura. This explains why so many people opt for white when deciding what color to go for. With white kitchen cabinets, dirt can be easily spotted, your kitchen looks classy and it also feels more spacious. We know and get it. But how do you choose the perfect white for your kitchen?
Choosing a white paint color should be easy, after all, white is white. Unfortunately, this is rarely the case as white has several shades and no two whites are exactly the same. While we may feel that picking a white color for our cabinets should be a breeze, there are several factors that often complicate the whole affair.