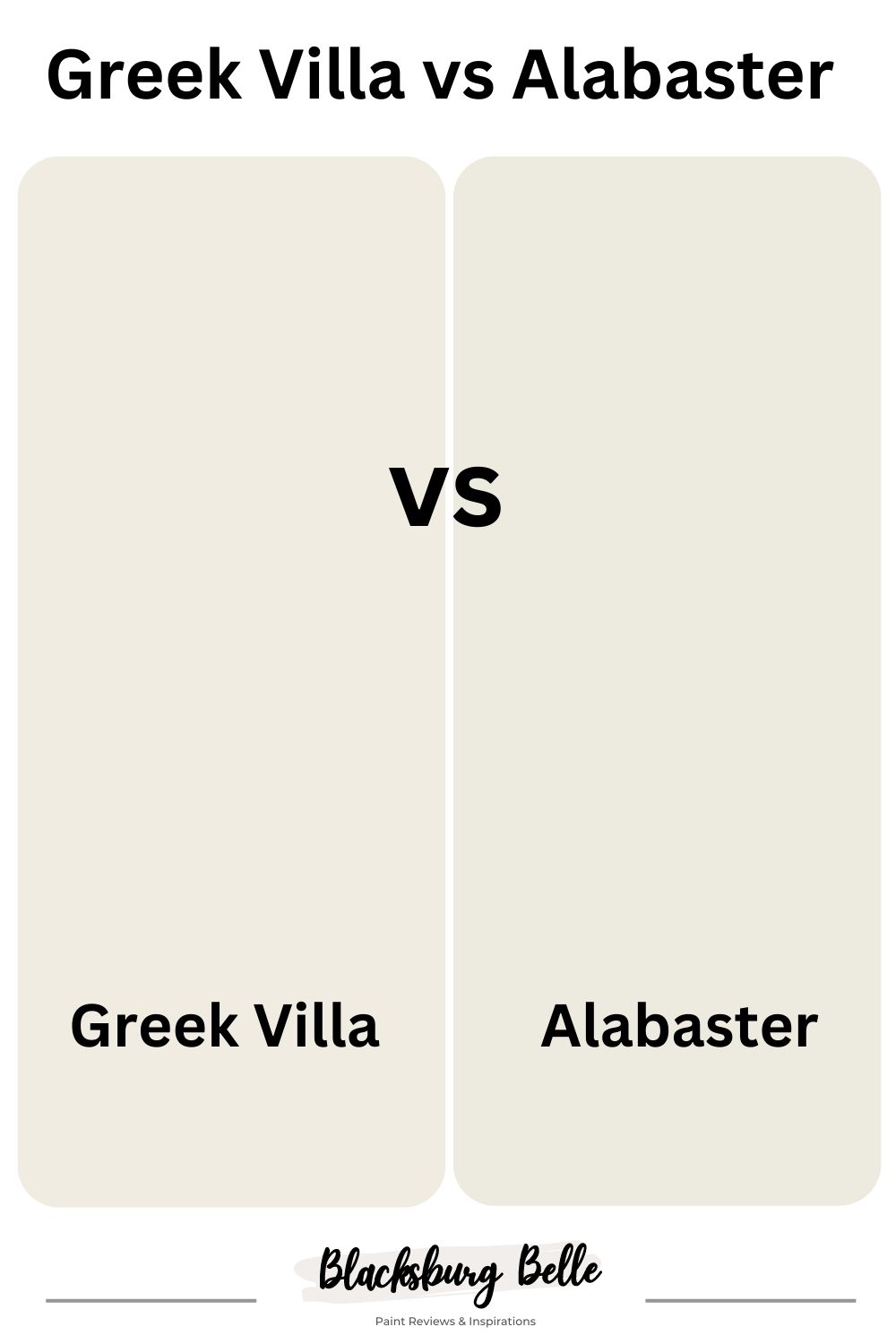 White is the go-to color for a fresh and chic interior. But it might be a challenging color to choose. It has a plethora of intriguing shades, especially with the warm-toned creams that have been a favourite for a while.
It is definitely not easier when your options are Greek Villa vs Alabaster. They are two amazingly warm off-whites that do well in a room so it is often harder to choose one. However, Greek Villa has more yellow tone than Alabaster which is darker.
You're in luck! We are here to lend you a helping hand so you can make a choice between them that will better impact your space. So read on as we compare both colors from their characteristics to their character on a surface. Let's get into it!
Greek Villa Vs Alabaster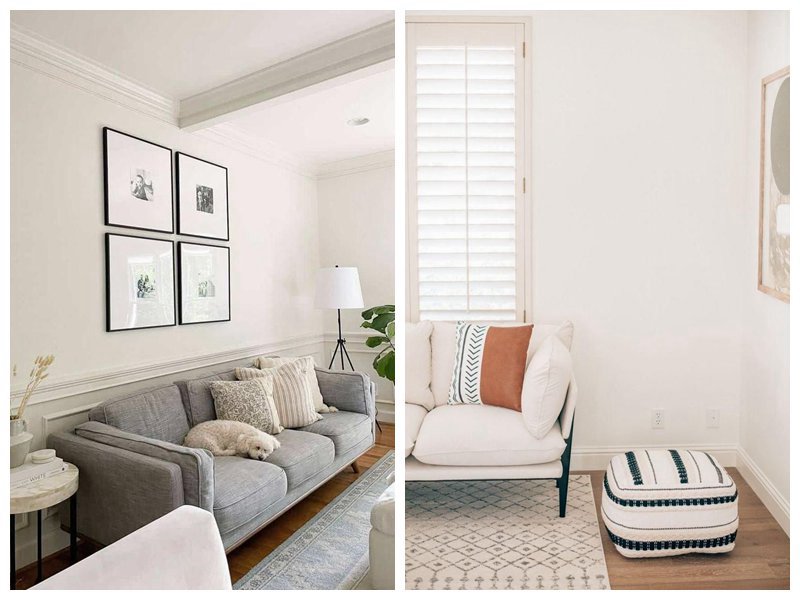 Greek Villa and Alabaster are two of the most popular warm-toned off-whites from Sherwin Williams. They are soft, clean, and simple colors that still scream luxury and elegance. They are the perfect go-to colors to cozy up a white space.
SW Greek Villa is something of a star in the paint world. It has featured in the Top 50 colors, Finest Whites, etc,. It is a creamy, soft, sunny, and neutral color (a typical "farmhouse white"). You can use it on cabinets, trim, entire walls and as an interior/exterior color.
SW Alabaster was Sherwin Williams' Color of the Year in 2016 and Color of the Month for April 2022- another star. This color has white brightness but doesn't sacrifice the coziness of warmth. It can work well in any room.
Greek Villa appears summery and blends with the rust, wood, and beige decor. Alabaster appears foresty and combines well with grey, black, wood, and greens.
What are the Similarities between Greek Villa and Alabaster?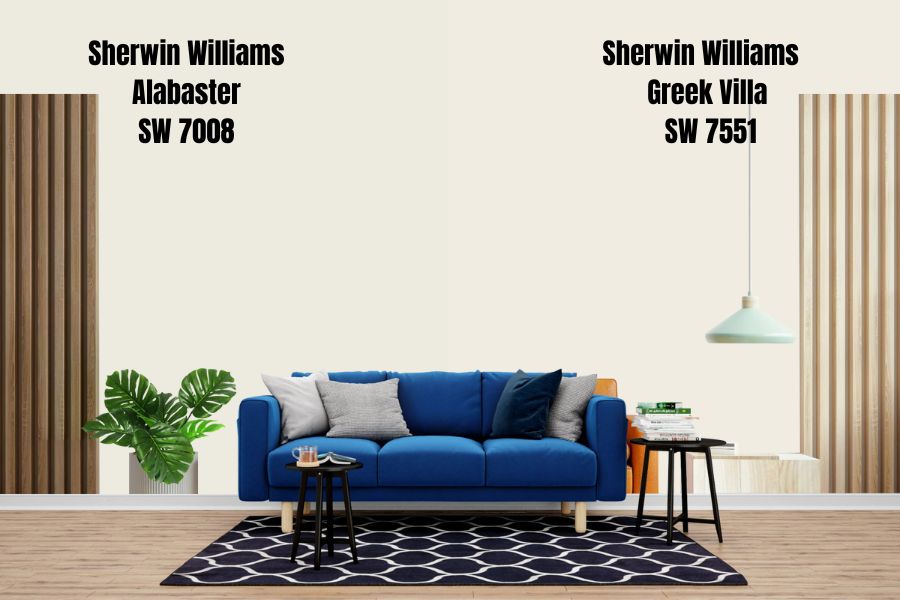 Greek Villa and Alabaster are warm off-whites from Sherwin Williams with yellow undertones that keep them from being stark or cold. They are not too bright whites and can even be called neutrals.
Quick Comparison: Greek Villa Vs Alabaster
The similarities between Greek Villa and Alabaster are obvious and so are their differences. We would compare them using their Light Reflectance Value (LRV), undertones, RBGs, and Hex Value to see how they differ as off-white shades.
| | | |
| --- | --- | --- |
| | SW 7551 Greek Villa | SW 7008 Alabaster |
| RGB | 240,236,226 | 237,234,224 |
| LRV | 84 | 82 |
| Undertones | Yellow and beige undertones | Neural beige undertones |
| Hex Value | ##F0ECE2 | #EDEAE0 |
Greek Villa Vs Alabaster RGB( Red, Blue, and Green)
RGB are the primary colors that combine in varying proportions to create any color. Every color we see has these three component colors, but their amount is what gives the color its identity. When the values of RGB are similar, then you have a neutral-like shade.
R: Greek Villa and Alabaster have more red in their makeup, making it the most prominent. However, the value of red in Greek Villa is 240, higher than Alabaster's 237. So it's visibly redder.
G: Green has the second highest value in Greek Villa and Alabaster. The combination of red and green make yellow, so we see how they get their warmth.
B: Blue is the lowest of the three primary colors but is still relatively high since RGB ranges from 0 – 255. This means that B balances out the warmth with a touch of coolness without affecting the neutrality.
Greek Villa has higher values for RGB, so it is more yellowish than Alabaster. Therefore, when compared side-by-side, Alabaster, which is warmer, will look cooler than Greek Villa.
LRV of Greek Villa Vs Alabaster
Technically, Greek Villa and Alabaster are white colors (LRV higher than 80 is considered white). The Light Reflectance Values (LRVs) of Greek Villa and Alabaster are 84 and 82, respectively, on the high side of a scale from 0 – 100.
LRV tells us how much light colors reflect. Greek Villa and Alabaster reflect a lot of light. For the white family of colors, they are both on the "creamier" side but Greek Villa reflects more light than Alabaster. This also shows that Greek Villa is whiter than Alabaster.
Greek Villa Vs Alabaster Undertones
Greek Villa and Alabaster have yellow tones that bring out warmth and softness compared to shades like SW Extra White. Their yellow and beige tones give them a neutral or tan look.
Looking at them side by side, you will notice that Alabaster is the cooler option, but as a standalone, it is a warm shade of white. However, Greek Villa has more yellow and beige undertones, making it appear warmer than Alabaster, which is grayer.
Relationship With Lighting
In certain lighting situations, a color's undertones are either muted or highlighted, which can be in a good or bad way. Light is a key player in the way a color looks. Hence, you need to be familiar with the lighting situation of whatever room you want to paint.
Greek Villa and Alabaster are similar in their Light Reflectance Values and undertones, so examining how they react individually to lighting will give similar results. However, there are also differences that allow their reactions to light to differ when in contrast.
Light entering a North-facing room is softer, making dark colors appear darker and light color appear a bit subdued lighter. Greek Villa and Alabaster are on the lighter side of the spectrum, so will both be muted. So Greek Villa is better here since it's lighter than Alabaster.
In South-facing rooms, the light is consistently bright all day. Its intensity brightens all shades of color, which can make lighter colors wash out. Alabaster, the slightly darker option, will be a better choice for a room like this.
East-facing rooms receive their brightest light with warm undertones in the morning. That means a warmer color would be best if it's used mostly in the evenings. So Alabaster will be better if you primarily use the room in the mornings and vice versa.
While morning light in West-facing rooms is indirect and subdues, afternoon light is direct and stronger. Greek Villa and Alabaster will both appear warmer if you use the room in the afternoon, with the former possibly being too yellow.
| | | | | | |
| --- | --- | --- | --- | --- | --- |
| Direction of Sunlight | Light Temperature | Color of Light | Duration of Light | Use of Room | Better SW White(Snowbound vs Pure White) |
| South | Warm | Yellow-orange | All day | All day | Alabaster |
| North | Cool | Bluish | All day | All day | Greek Villa |
| East | Warm | Yellow | Before noon | Evenings | Alabaster |
| West | Warm | Red-orange | After noon | Mornings | Greek Villa |
Greek Villa Vs Alabaster Complementary Colors
Greek Villa and Alabaster are great color shades that work well with almost any color scheme. They especially look good with tans and browns that create a uniform neutral, but layered vibe. Bolder, accented colors like bronze and gold make them pop.
Coordinating colors for Greek Villa are Illusive Green and In the Navy, which are really bold and dark colors. Other colors include Rosemary, Hopsack, Little Blue Box, Accessible Beige, Sashay Sand, Black Fox, Dove Tail, Peppercorn, Sea Salt, etc.
The coordinating colours for Alabaster are Townhall Tan and Dakota Wheat, both Tans. For a great contrast, Urbane Bronze and Gray Area are perfect colors. Other colors include Kilim Beige, Dorian Gray, Worldly gray, Accessible Beige, etc.
You can coordinate these colors with either light or dark and soft or bold colours. When used with warm tones, it creates a warm and airy look. They elevate them when used with darker/cooler tones, making them a tad warmer and softer.
Greek Villa and Alabaster are whites that go together, so yo can use them together. Shoji Whites and Extra White can also pair well with either of them.
What Trim Color Complements Greek Villa Vs Alabaster on Wall?
Greek Villa or Alabaster on walls will look their best when paired with the same color for the trim. This is because of their closeness to white. A different sheen type will add a bit of contrast; the higher sheen will reflect more light.
Also, you can find a lighter cream shade for the trim for a layered look. If you don't wish to highlight their warmer shade, using a lighter white will only make them look dingy to you.
SW Pure White is a great trim color to highlight the warmth of Greek Villa or Alabaster. It is the perfect midpoint between white and neutral to make either one shine on the walls.
Other white trim colors are Benjamin Moore Simple White, SW Extra White and Behr Ultra Pure White.
Greek Villa looks good paired with SW Little Blue Box and a deep brown for trim. Amazing Gray is used as the trim for Alabaster (right) has a neutral theme.
Greek Villa Vs Alabaster on Cabinets
Greek Villa is a fantastic color choice for your kitchen cabinets. Its warm, creamy look can transform your kitchen into a homely and comforting space. With the right kind of light, Greek Villa will make it look like it's from a magazine.
Alabaster on cabinets feels fresh and modern with a minimalist style since looking neutral is more emphasized. It can light up your kitchen without being too warm in bright light while being warm enough in cool light.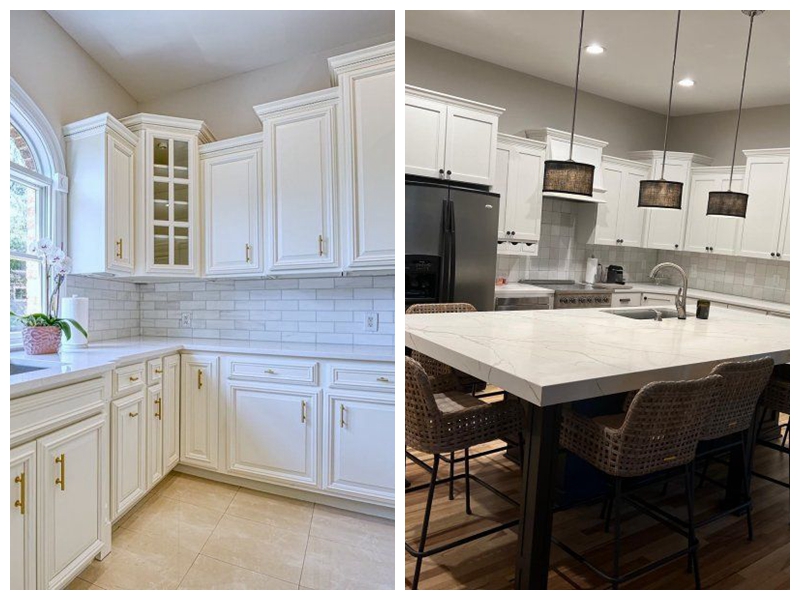 Notice how Greek Villa looks with the natural blue light streaming in and the warm glow of the artificial light. Alabaster looks 'white' in that light while maintaining warmth.
Greek Villa Vs Alabaster on Exterior Wall
When in use outside, colors are directly exposed to natural light, and depending on the region, the color can be slightly different. Greek Villa and Alabaster are great choices for exterior paint. Both look warm and inviting without being too white.
Greek Villa Exterior
Greek Villa is a beautiful color for outside walls, especially in coastal states. In cooler climates, it can appear stark. Because of its exposure to that much light, it'd look whiter, brighter, and not as warm and creamy as it looks on interior walls.
Alabaster Exterior
Alabaster looks great on exterior walls, especially if there are warm toned and earthy accents around it. As a cooler shade of white, it will not look as bleached as other lighter shades when exposed to lots of sunlight.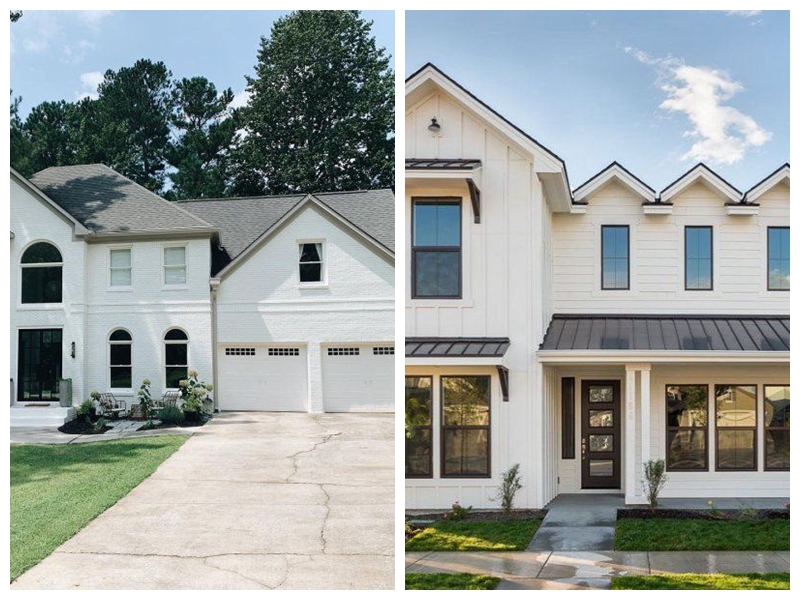 How To Choose: Greek Villa Vs Alabaster
With the deep dive into Greek Villa vs Alabaster, choosing one is easier. depending on what you have in mind for your space. However, if you're still not sure which will be better, here are some things to look out for and do to help you come to s decision.
If you want a warm look cooler than Greek Villa, Alabaster is your go-to and vice versa.
Depending on the lighting of your room. Greek Villa is lighter, so it'd be better in a darker room with less natural light. In contrast, Alabaster will be great when your room is very bright, and you want to tone it down a little bit.
Get the color chips from Sherwin Williams, place them on your walls and see how they fit with the room. Observe the sample of both throughout the day to see how it changes with natural and artificial light.
Alabaster is slightly more neutral than Greek Villa. If you want a neutral look that pops, Greek Villa will be better, but if it's a muted neutral look you want, go for Alabaster.
Final Words
Finding the best white colour for your walls, trim, cabinets, and exteriors is usually challenging, but you can hardly go wrong when the options are Greek Villa and Alabaster. These colors are acclaimed for a reason.
These two colours look perfect on the surfaces mentioned within the article, keeping the vibe of your space warm, soft, and cozy. Your decision is left to the degree of warmth you want your space to have.
Please leave any comments or questions in the comments section; we'd love to hear from you.