Kitchen cabinets are a must-have in every kitchen. And while they are practical, functionality should not take the place of beauty. Without the right paint colors, your kitchen cabinets may mar the entire decor, especially if you have white appliances that clash with the chosen color.
If you are in the market for the right cabinet paint colors to match the white appliances in your kitchen, you are not alone. Fortunately, we have researched and found the best colors that complement white appliances and still make the cabinets pop. Our paint color choices are from Sherwin Williams and Benjamin Moore.
What Paint Colors Go Best with Kitchen Cabinets and White Appliances?
The best paint colors to use on kitchen cabinets to complement white appliances are green, brown, ood tones, black, blue, white, mint, gray, and other neutrals. Most light neutrals complement white appliances because of how light white is and how it has subtle undertones in most cases.
You can use different shades of this color on the kitchen cabinets, but ensure you check their undertones. White is usually a cool color, but some appliances may feature a warm white color, which may clash with cool color schemes. Keep this in mind when selecting a paint color or color scheme for your kitchen.
17 Kitchen Cabinet Colors that Complement White Appliances
Without wasting more time, let's look at some of the best paint colors from Sherwin Williams and Benjamin Moore for kitchen cabinets that complement white appliances.
1. Peppercorn SW 7674
Peppercorn is one of the truest gray paint colors you will find from Sherwin Williams. This is because of its perfect red, green, and blue (RGB) color code of 88,88, and 88 respectively. Only a few other colors have this perfect balance, so you understand how neutral the color is.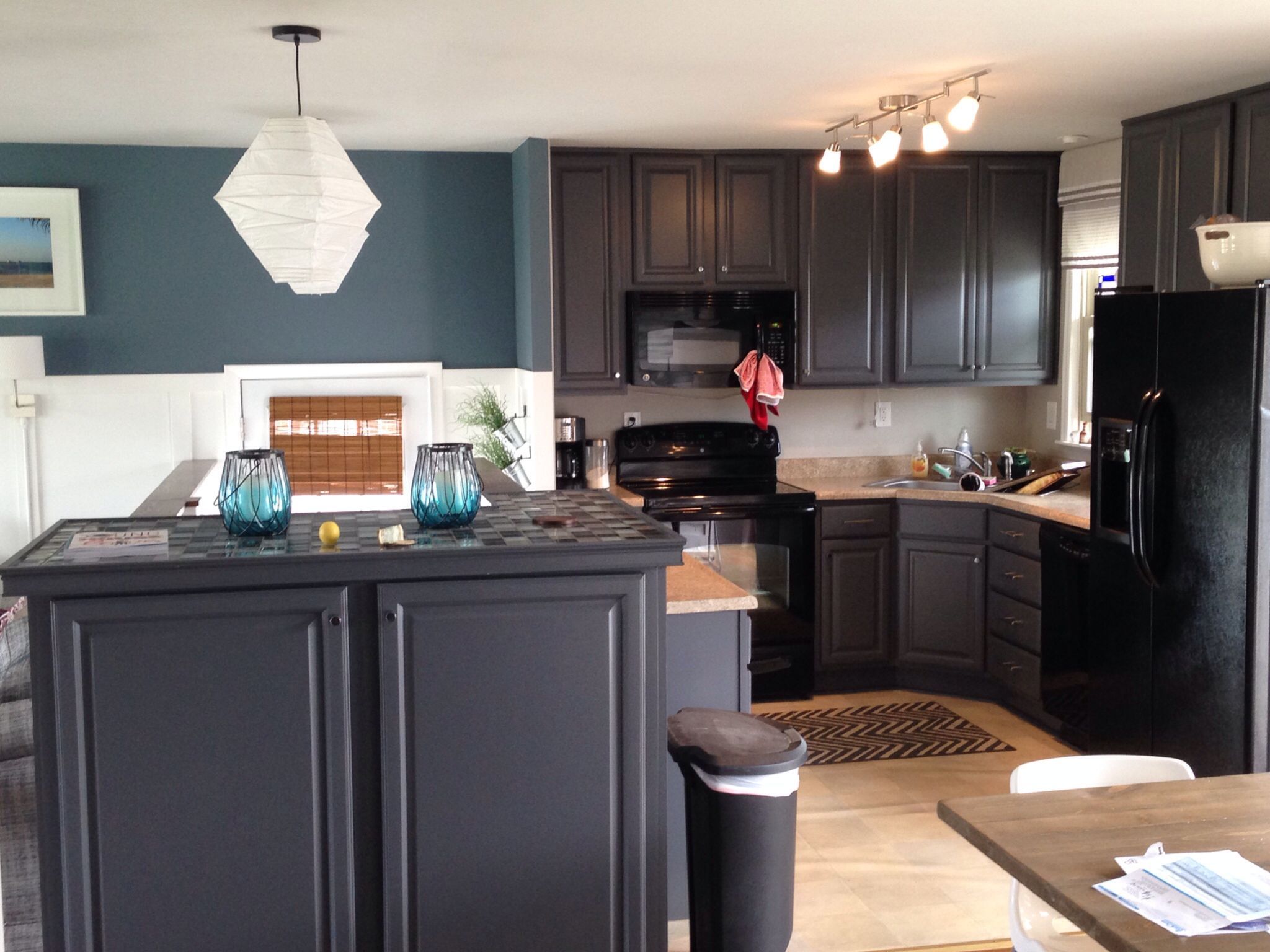 Because of this, Peppercorn hardly has any undertones. You may notice a bit of green or blue in certain lighting, but it is rare. That is why it is about the best dark and saturated color to complement other colors, including white. With an LRV of 10, coordinate Peppercorn with Willow Tree, Windfresh White, or Nebulous White.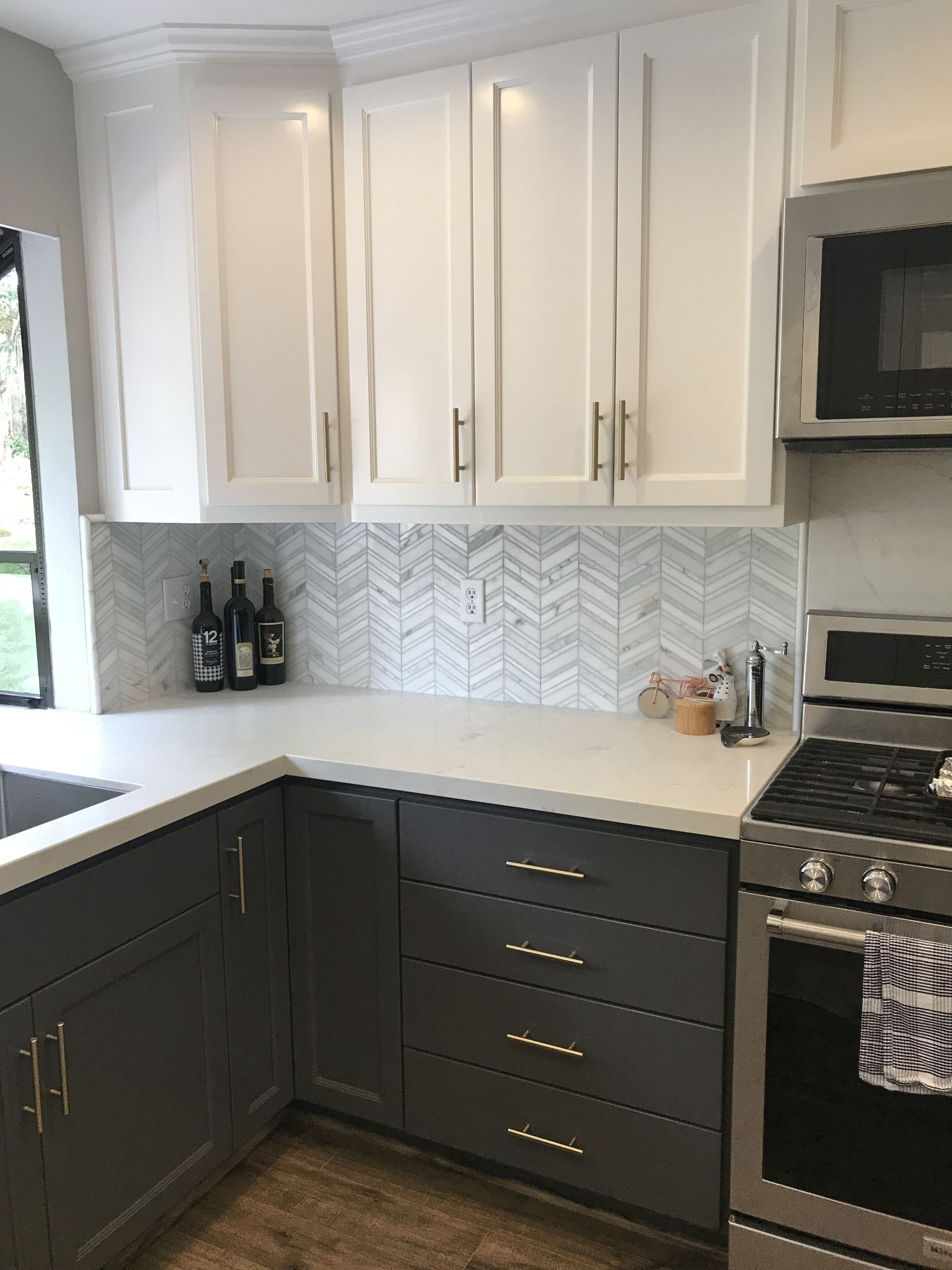 2. Black Magic SW 6991
Black Magic is another favorite for kitchen cabinets because it is true black. It has a true black undertone and shows no hues in different lighting. This may be because of its RGB color code of 49, 50, and 49 respectively. It is almost as perfect as Peppercorn, so it plays well with white appliances and other colors.
Black Magic has an LRV of 3, which is pretty close to the darkest end of the light spectrum. You will find that the paint color also works well with stainless steel appliances, and you can add soft pastels in other parts of the kitchen. Coordinate it with Anjou Pear, Lemon Meringue, or Snowbound.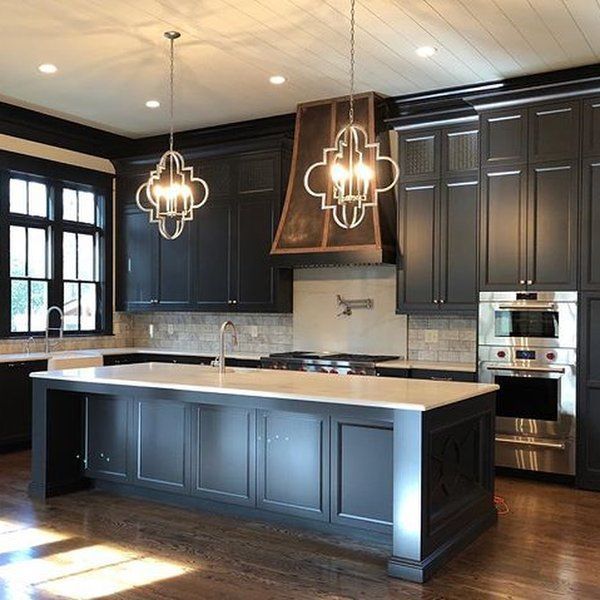 3. Alabaster SW 7008
Alabaster is a bright white paint color that throws a lot of light into a room. This is possible because of its pretty high LRV of 82. While it is a warm paint color, it still works well with white appliances because of its brightness. So, you can get that classic all-white kitchen without compromising on color or warmth throughout the room.
Alabaster has an RGB color code of 237, 234, and 224 respectively. From this code, you can tell that this paint color is a great neutral color option. Because of this, coordinate it with colors such as Dakota Wheat and Townhall Tan, or look for other similar colors to create a unique color palette.
4. Gauntlet Gray SW 7019
Keep your kitchen decor striking and appealing with this choice of color for the cabinets. It may not be your first choice, but you would be amazed at how well it turns out. Gauntlet Gray makes white pop, and the white kitchen appliances will look all the better for it.
As mentioned, neutrals always complement other neutrals. So, white and Gauntlet Gray are a formidable pair unless you want a bit of color. Then, use other accessories to spice things up. With an LRV of 17 and an RGB color value of 120, 115, and 110 respectively, match this paint color with Armagnac, Repose Gray, or Eider White.
5. Pure White SW 7005
You can choose to go all-white in your kitchen with Pure White on the cabinets. It is one color that you cannot go wrong with, even if you have white appliances. Pure White would have been a typical stark color except for the subtle yellow undertones. So, it is a warm color that keeps your kitchen cozy for the family.
Coordinate it with Perle Noir or March Wind, especially because of its LRV of 84. That is a pretty high value, so you know the kitchen will be bright and airy. Pure White has an RGB color code of 237, 236, and 230 respectively.
6. Naval SW 6244
We all know how gorgeous blue in all shades can be. But navy blue is one of the most beautiful dark colors on the market. Although it is saturated, Naval pairs well with white to give your kitchen a striking balance. Do not take our word for it; try Naval on your kitchen cabinets and you will never go back.
Is it a surprise Naval is the color of the year for 2020? It is still one of the experts' picks for various purposes. This paint color has a low LRV of 4 and an RGB color code of 47, 61, and 76. Coordinate it with Roycroft Suede, Ramie, or Icicle.
7. Sable SW 6083
Sable is a luxurious brown color that complements different colors. Because brown is neutral, it is perfect for white appliances and other light neutrals. Its slightly orange-red undertones only add to its depth instead of making it the wrong color.
Sable is an excellent color for interiors as well as interiors. So, apart from your kitchen cabinets, you may want to try this color on your entryway, front door, porch, or entire exterior. With an RGB color code of 95, 75, and 63 respectively, and an LRV of 8, coordinate Sable with Utaupeia, Realist Beige, or Everyday White.
8. Coastal Plain SW 6192
Coastal Plain is a light green paint color with cool tones. Because it is neutral, the paint color plays well with other colors. So, it is one of the best options for complementing white appliances in your kitchen.
You will find that wood tones, grays, whites, blue-greens, and other neutrals are perfect for this color. With an LRV of 37 and an RGB color code of 159, 166, and 148 respectively, coordinate Coastal Plain with Copen Blue, Moderne White, or Opaline.
9. Sensible Hue SW 6198
Sensible Hue is another neutral that complements white appliances. It is a soft gray that has obvious green undertones. This paint color would have been a dull color except that the green brings it alive. Keep your kitchen decor muted and elegant with Sensible Hue.
Sensible Hue has an LRV of 46 and an RGB color balance of 182, 181, and 171 respectively. Coordinate this color with Retreat, Origami White, or Frosty White.
10. Retro Mint SW 9036
Mint will always work well with white, so consider painting the cabinets in your kitchen a bright and shiny mint. If green is not your favorite but you want a touch of the unusual, Retro Mint is an excellent option to try.
Retro Mint has an LRV of 54, bright enough to keep your kitchen fresh and crisp. And with an RGB color code of 159, 205, and 177 respectively, coordinate this rare paint color with Rocky River, Spare White, or White Mint for the best results.
11. Stained Glass CSP-685
Stained Glass would have been an overwhelming color because of its depth but for the gray undertones. The undertones mute the paint color to a less vibrant teal, but it is not less powerful. The result is usually spectacular when paired with white.
It is not commonly used on kitchen cabinets, so you may be the first to try it on your color palette. Match it with Paper Doll and Lilac Hush or Cloud White and Sag Harbor Gray. Stained Glass has an LRV of 13.15 and an RGB color code of 68, 100, ad 109 respectively.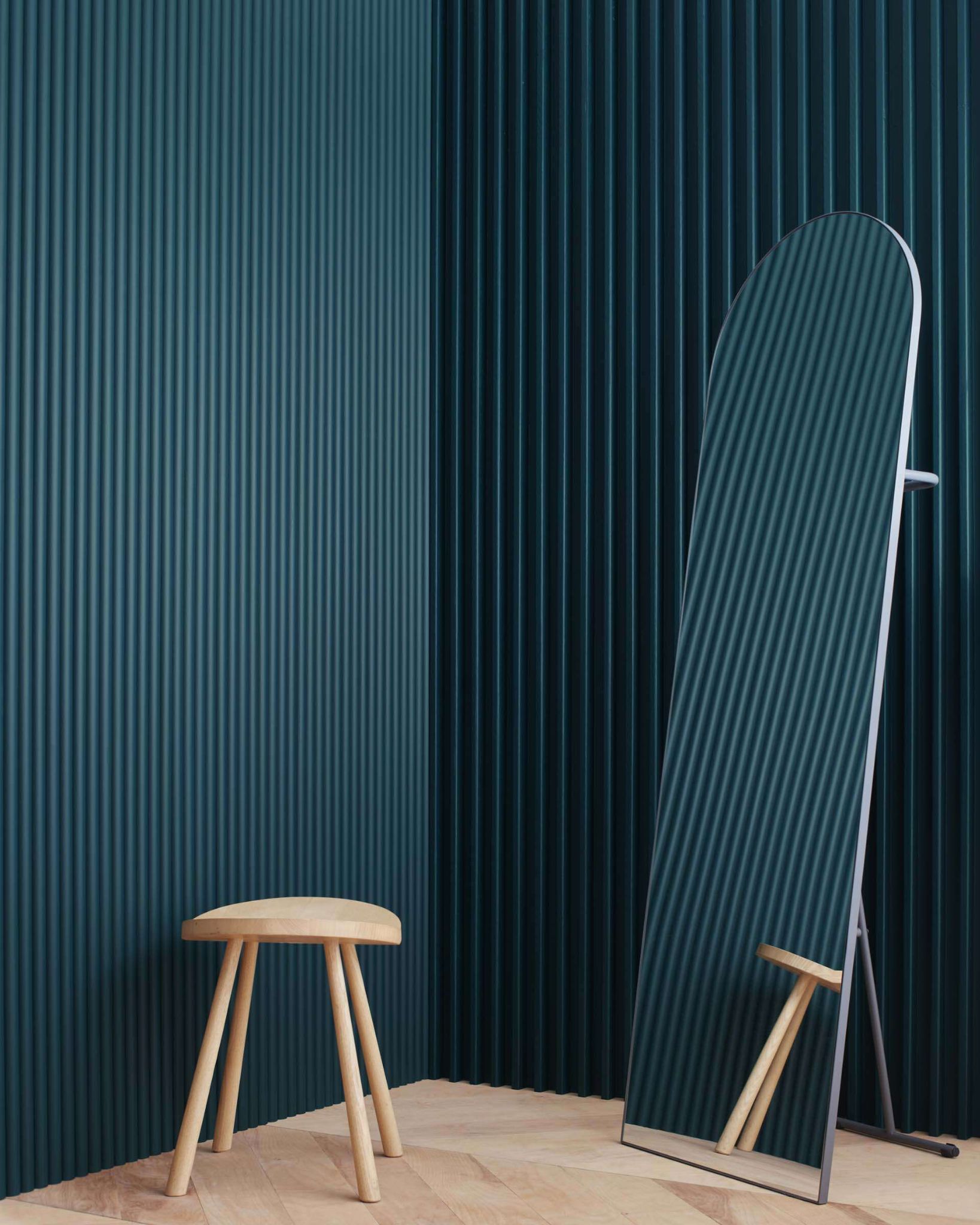 12. Chantilly Lace OC-65
Nothing can ever be wrong with an all-white kitchen. It is one of the easiest color schemes to achieve in any decor, and kitchens love this theme. If you are unsure of what color to use to complement the white appliances, go with Chantilly Lace.
It is a neutral color with almost no undertones. That means it cannot clash with the existing decor. Chantilly Lace has an LRV of 90.04, about the highest on our list, and an RGB color code of 244, 246, and 241 respectively. Coordinate it with White and Horizon or Seapearl and Edgecomb Gray.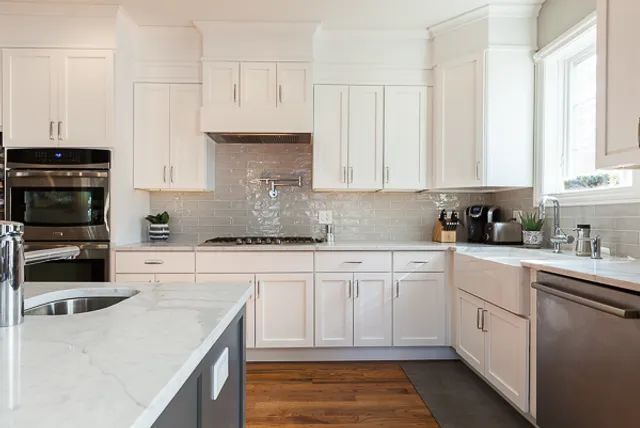 13. Lake Placid 827
This soft blue color is what every kitchen needs to add freshness and originality. Lake Placid is an excellent complementary color for white appliances if you use it on kitchen cabinets. Add white curtains and some vibrant colors to the decor to complete it.
With an LRV of 64.8 and an RGB color code of 197, 211, and 223 respectively, match Lake Placid with colors from Benjamin Moore such as Gray Mist and Brandon Beige or Dune White and Puritan Gray.
14. Wrought Iron 2124-10
Go dark on your cabinets with this paint choice. Wrought Iron is a truly dark gray paint color that shows hints of blue in certain lighting. Keep its usage minimal because it is saturated and may overwhelm the decor if used excessively.
Interestingly, Wrought Iron has an LRV of 8.17, higher than some on our list and what you would expect. Its RGB color value is 73, 74, and 75 respectively. The difference in the amount of red, green, and blue in this paint color is not much, so it is an almost perfect neutral. You may want to pair it with White Cloud and Jack O'Lantern or White Ice and Wedgewood Gray.
15. Alexandria Beige HC-77
It is not every day you find a beautiful taupe paint color that fits anything, and we mean anything. Alexandria Beige is both cool and warm, so it fits every color scheme. And that is why it made it to our list of suitable colors to pair with white appliances in your kitchen.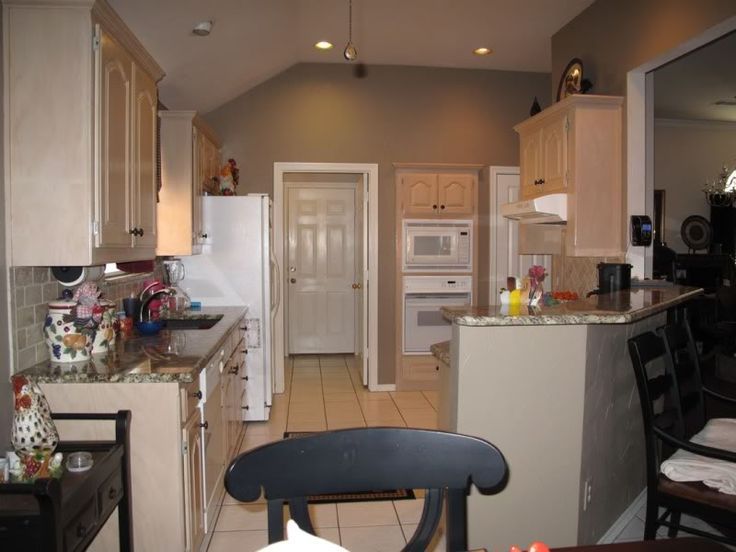 The paint color has an LRV of 29.03 and an RGB color code of 163, 146, and 124 respectively. It is not quite perfect when it comes to its color code, but you cannot go wrong with it in your kitchen. Alexandria Beige is a pop color in an otherwise white kitchen. Coordinate it with Distant Gray and Wickham Gray or Linen White and Farm Fresh.
16. Gray 2121-10
Gray is similar to Chelsea Gray, which is the most popular gray paint color from Benjamin Moore. It is a rich charcoal shade that fits white, off-white, light gray, medium gray, and other neutrals. The paint color on your kitchen cabinets will make a significant difference in your decor.
With an LRV of 11.51 and an RGB color code of 88, 88, and 88 respectively, Gray is the perfect neutral with the perfect color code. Nothing can beat that. Match it with Lily White and Winter Lake or Mountain Peak White and Pale Moon.
17. Hunter Green 2041-10
Let your guests go green with envy with this paint color. It is a gorgeous shade of green that will simply make everything better. Check out this kitchen decor by Interiors by Color to see what your kitchen may look like.
Think of it as bringing nature into your home. Hunter Green has an LRV of 6.39 and an RGB color code of 42, 69, and 61 respectively. It is clear the color has a lot of blue in it; some even call it blue with a rich green undertone. Match it with Simply White and Old Prairie or Cloud White and Grant Beige.
Conclusion
Using too many colors in your kitchen can overwhelm it, and you do not want that. That is why we selected only a few colors to guide you in finding the right color palette for the kitchen cabinets to match your white appliances.
Green, black, white, brown, and gray are only a few of the colors on our list, and they are in various hues. Pick Sherwin Williams' Naval or Alabaster or check out Benjamin Moore's Lake Placid or Alexandria Beige. All the colors are beautiful and right for your kitchen, even more so since most of them are neutral.
Let us know your thoughts and experience in the comments section.