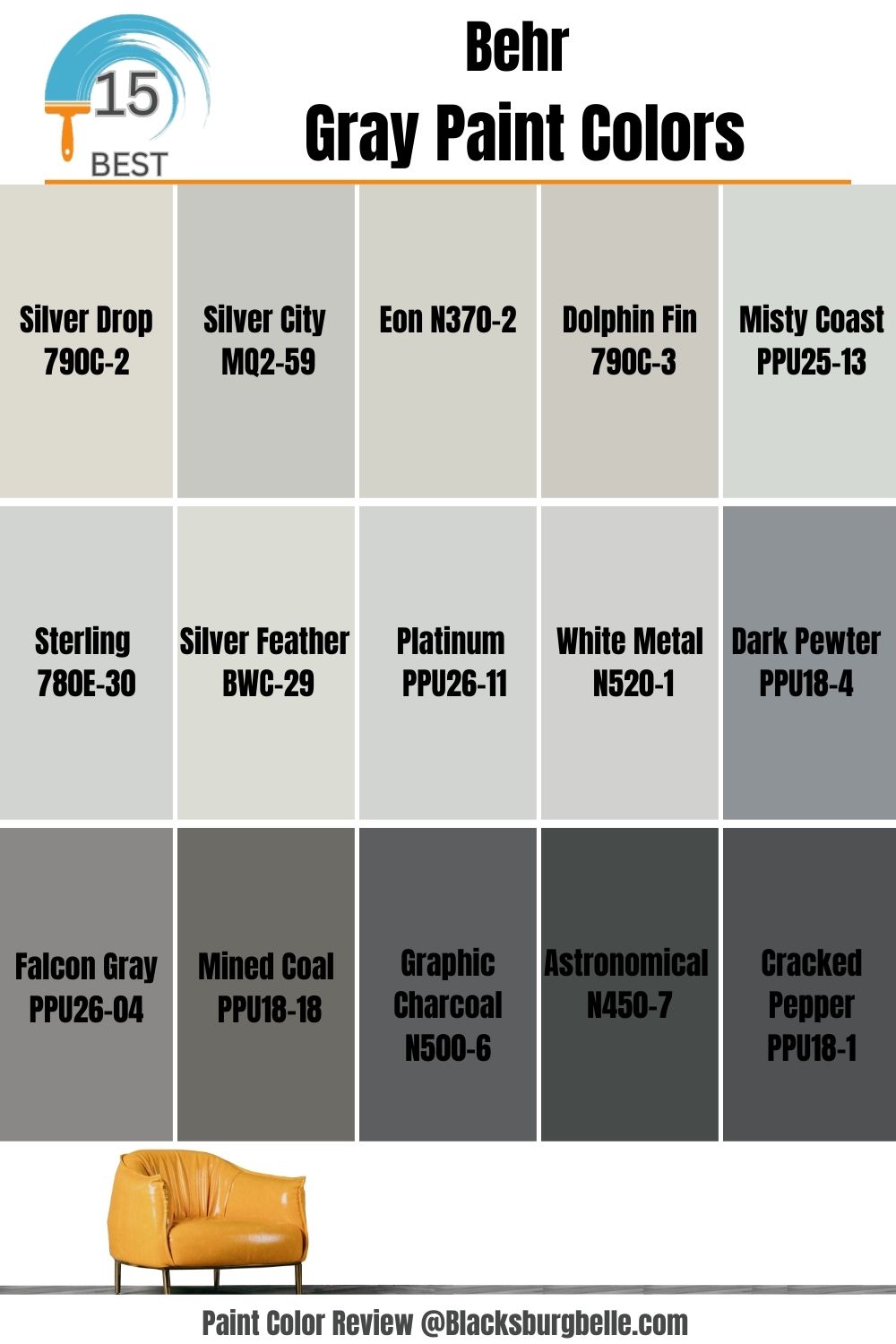 Are you considering giving your home a makeover but do not know the right paint? Picking out the right paint colors can be more demanding than we expect. However, it does not have to be a tedious task if you know how amazing Behr gray paint colors can be.
There is a wide array of gray paint colors from Behr to select from, but you do not have to do it yourself. We have taken the time to check and find the 15 most popular Behr paint colors to use in any area of your house, ranging from light to dark. Follow us as we explore these colors and where you can use them.
What Is Behr's Gray Paint Color?
Gray is usually one of the most overlooked colors in the color world. It is a shade between white and black, which are at the extremes of the colors spectrum. It is typically called achromatic or neutral, which means that it has no color, but is that the case with gray paint colors?
It may surprise you to know that gray has undertones. These undertones can affect how well the color blends with other colors, which is why you may find such a seemingly neutral color clashing with bright shades.
What Are the Undertones in a Behr Gray Paint Color?
Behr has a great selection of gray paint colors, but you will find warm and cool grays among them. The brand has undertones that show forth, depending on whether the paint is cool or warm.
If your Behr gray paint is cool, it will typically have a green, purple/violet, or blue undertone. And if it is warm gray, it will typically have a brown, red, or yellow undertone. However, gray paint colors do not usually have all of these undertones, so they may be unique to Behr.
Gray paint has three primary undertones: blue, green, and violet. In some cases, you may find that gray paint has another undertone different from the three already mentioned. Taupe is the fourth undertone that gray paint may have, but it is not common.
On its own, gray looks clear and innocent. But when you use it in a room with other colors, the undertones tend to rise to the surface to create a perfect or not-so-perfect blend. Checking the undertone of any gray paint color of choice is crucial to determining how well it will blend with the decor.
Apart from the already-existing or new decor, the lighting and natural environment also affect the gray paint's effect in any setting. Moreover, people see colors differently. You may get a different perspective from what another person sees.
Where Can You Use Behr Paint Colors?
Since we are talking about light and dark Behr gray paint colors, you can use them in different areas of a house. These colors work for interiors and exteriors, so it depends on the look and feel you want.
Dark gray paint colors work better for exteriors and doors than for interiors. Light gray paint colors give a room a larger look than it may have. However, this depends on individual preferences; you may love the look of Behr's dark warm gray paint color in your living room or study, especially because of how well it blends with other earthy tones.
Behr gray paint colors give kitchens, living rooms, bedrooms, and entryways a spectacular look. Kitchens are usually the best places where you can use gray paint, especially if you have matching islands and cabinets.
You will also find that gray paint colors are popular with garages and other external buildings because of how well they hold up without looking worn out. Simply put, you can use Behr gray paint colors in different rooms and on different walls.
What Is the Most Popular Behr Gray Paint Color?
Several Behr gray paint colors are popular with interior decorators and retailers. But White Metal N-520-1 seems to top the list for most decorators. This may have something to do with how well it works on surfaces or how it opens up a room to make it look bigger. Yet, its vibe is mellow and sophisticated.

The shade is more silvery than dark gray, and you can opt to blend or contrast it with different color shades. Light lavenders create an amazing blend, while vibrant yellow or oranges give a stark but beautiful contrast.
15 Most Popular Behr Gray Paint Colors Range from Light to Dark
The following is a carefully curated list of the most popular gray paint colors from Behr, ranging from light gray to dark gray:
1. Silver Drop 790C-2
Light and warm gray paint color
Have you ever wondered what color will work with any decor apart from white? Look no further than Behr's Silver Drop gray paint color with a warm undertone. It looks white because of its LRV of 70 but is not as clear or washed out and RGB of 221, 218, and 207.
Its warm undertone adds a bit of character to give it a sharper look than normal light gray paint colors. The shade has coordinating colors that include Dusty Lilac, Seedling, and Night Blooming Jasmine.
One cool feature of Silver Drop is that it can mimic a cool gray because of its ability to pick up any of the three cool undertones. But any keen eye can see that it leans toward green more than others. You can get a hint of how warm the gray paint color is in this sitting room featuring different colors:
Now, compare it to this contrast against white in this entryway decor. It does not look so washed out, right?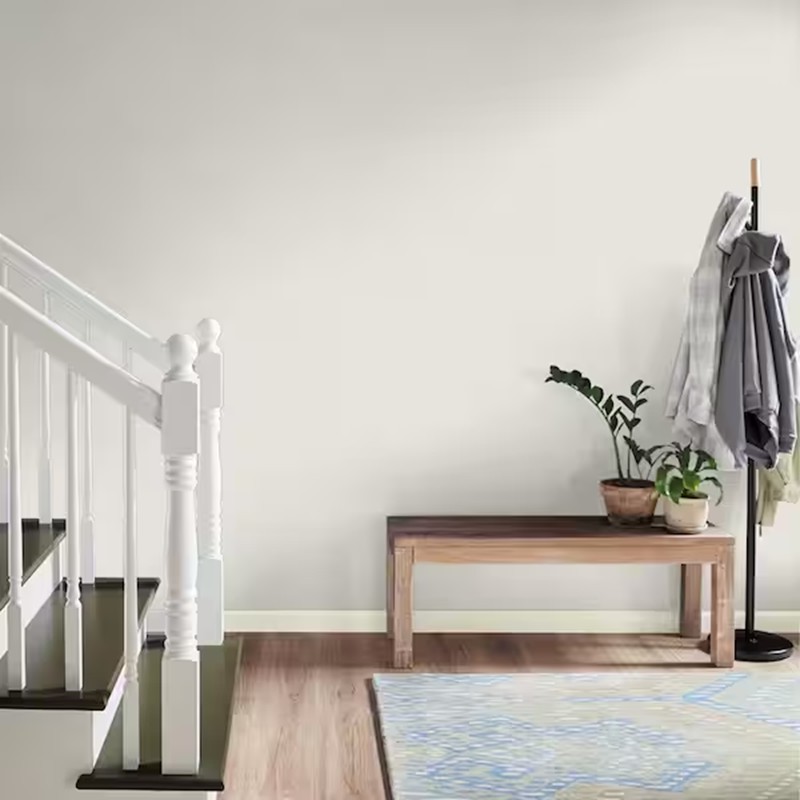 2. Silver City MQ2-59
Light and cool gray paint color
If you want a Behr light gray paint color with some substance or meat consider the Silver City option. This color has an LRV of 57, which means it is slightly darker than the Silver Drop. it also means the paint may not be the best choice for a dark room if you want a good light reflection.
A cool gray with subtle green undertones, Silver City has a certain flexibility that makes it look neutral. In some lighting or decor, it may be difficult to tell where it favors. The good news is that this feature makes it fit anywhere, regardless of the color blend.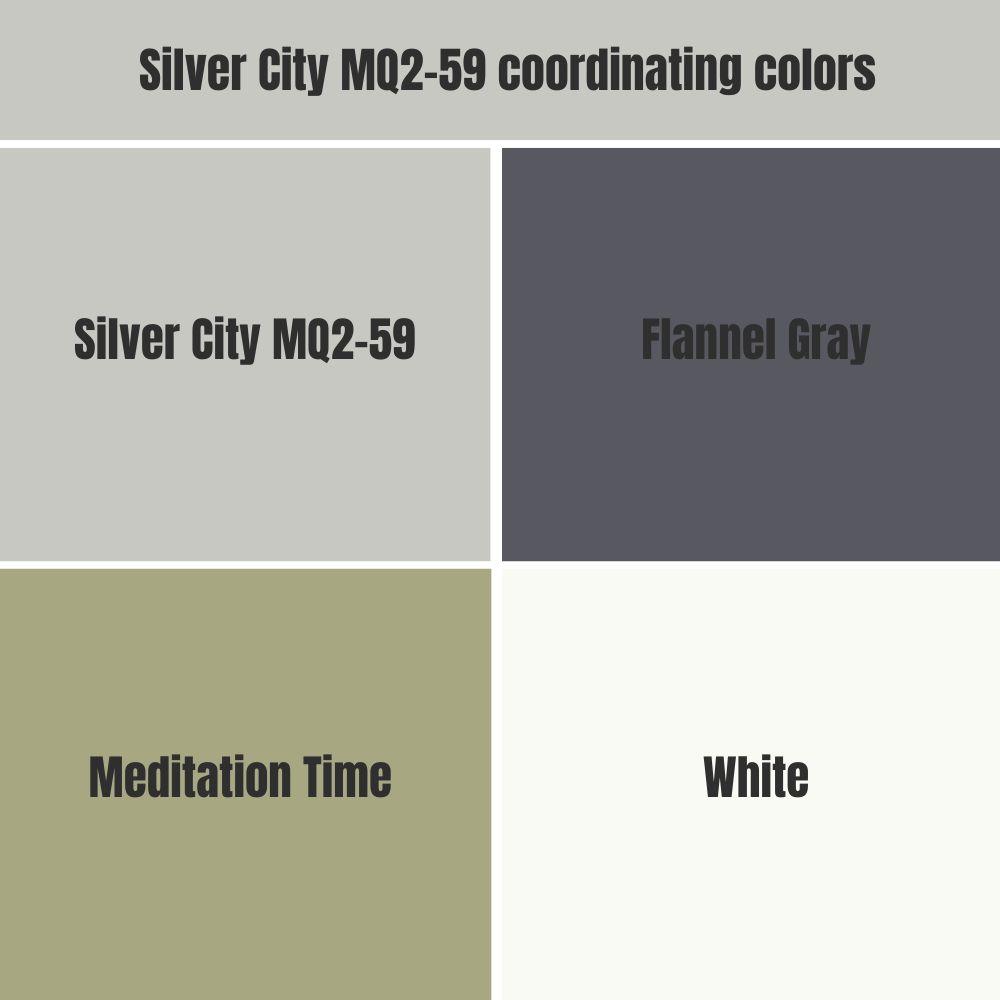 It has an RGB of 200, 200, and 194 respectively. And its coordinating colors include Flannel Gray, Meditation Time, and White.
Check out this visitor's room decor that looks almost all-white with splashes of other colors:
How about this dining room setting with touches of beige, greige, and tan? See how well they all blend with Silver City: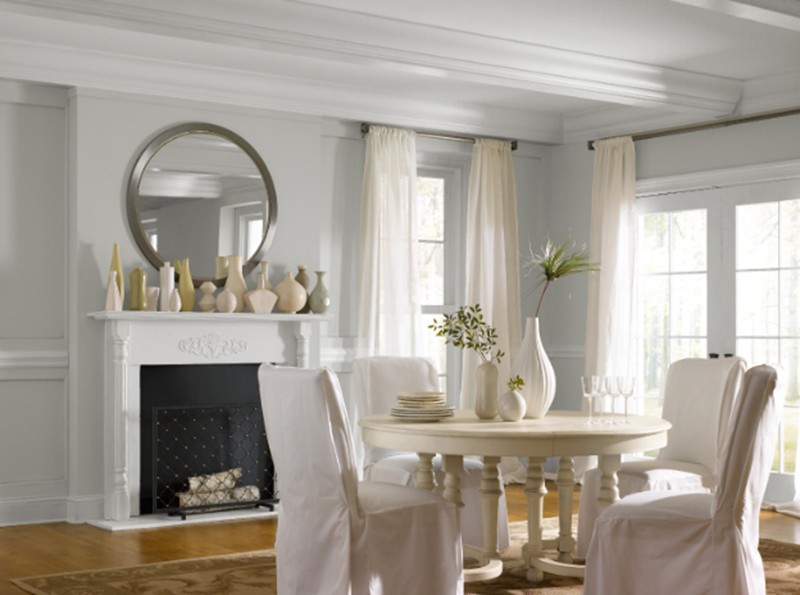 3. Eon N370-2
Light and cool gray paint color
This gray paint color is cool, calm, and collected, as they say. It is inviting and pretty, with a feel that makes you feel welcome. Its subtle green undertones give it a balance that tends to lean toward a warm gray in some lights.
You will find Eon with a slightly blue-green undertone, which can affect the decor of a room. Nevertheless, it is still a great light gray paint color that should match any room. The color works well inside a house because of its lightness.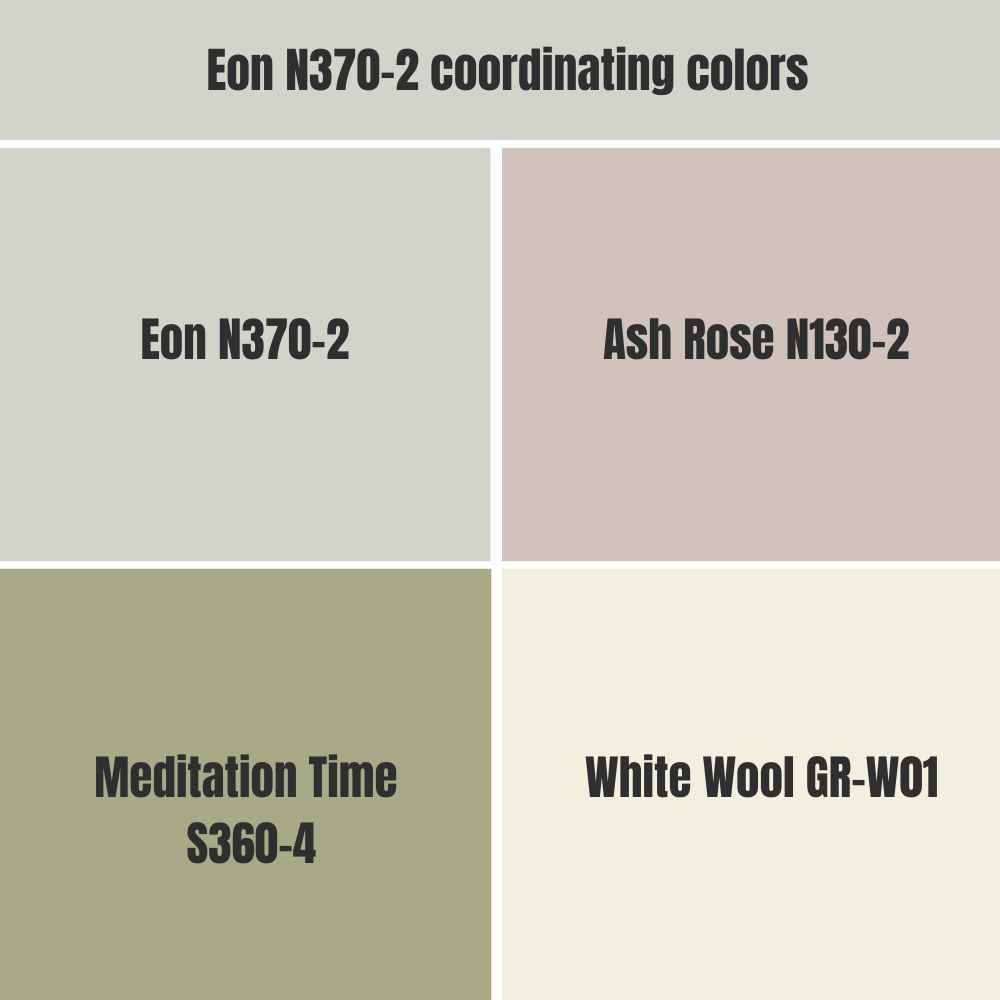 It has an LRV of 65 and has several coordinating color palettes. Top on the list is the palette that contains Ash Rose N-130-2, Meditation Time S 360-4, and White Wool GR-W01. Its RGB is as follows: R=212, G=211, B=201. Eon N370-2 fits like a glove in a sitting room, dining, bedroom, and kitchen, like this lovely setup:
Or this powder room with a bit of natural lighting:
4. Dolphin Fin 790C-3
Light and warm gray paint color
The popular Dolphin light gray paint color has an LRV of 59. It is light enough to capture and reflect light but not too light as to be uninteresting. It is a bit warm but not excessively so because it can get away with playing it cool in some lighting. Some call it a stormy gray.
Dolphin Fin has an RGB of 204, 202, and 193. Its coordinating colors are Mulberry Stain N110-2, Jungle Camouflage N350-4, and Silver Ash GR-W11.
See how it holds up against other similar colors in this dining room setting, especially against white:
Dolphin Fin seems to blend in well with silver and black, as you can see in this room with various shades of neutral colors: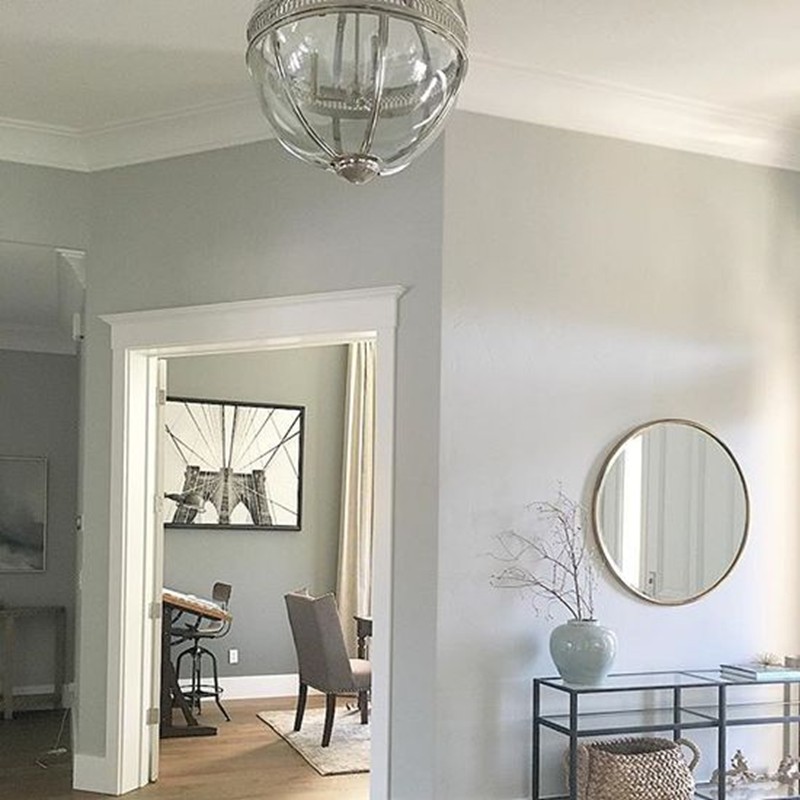 5. Misty Coast PPU25-13
Light and cool gray paint color
Behr's Misty Coast is a sophisticated color that looks flat at first glance. But on closer inspection, you will notice that it is only a very cool gray with a blue undertone. It works best in a powder room because of its cool look, even though it has an LRV of 68.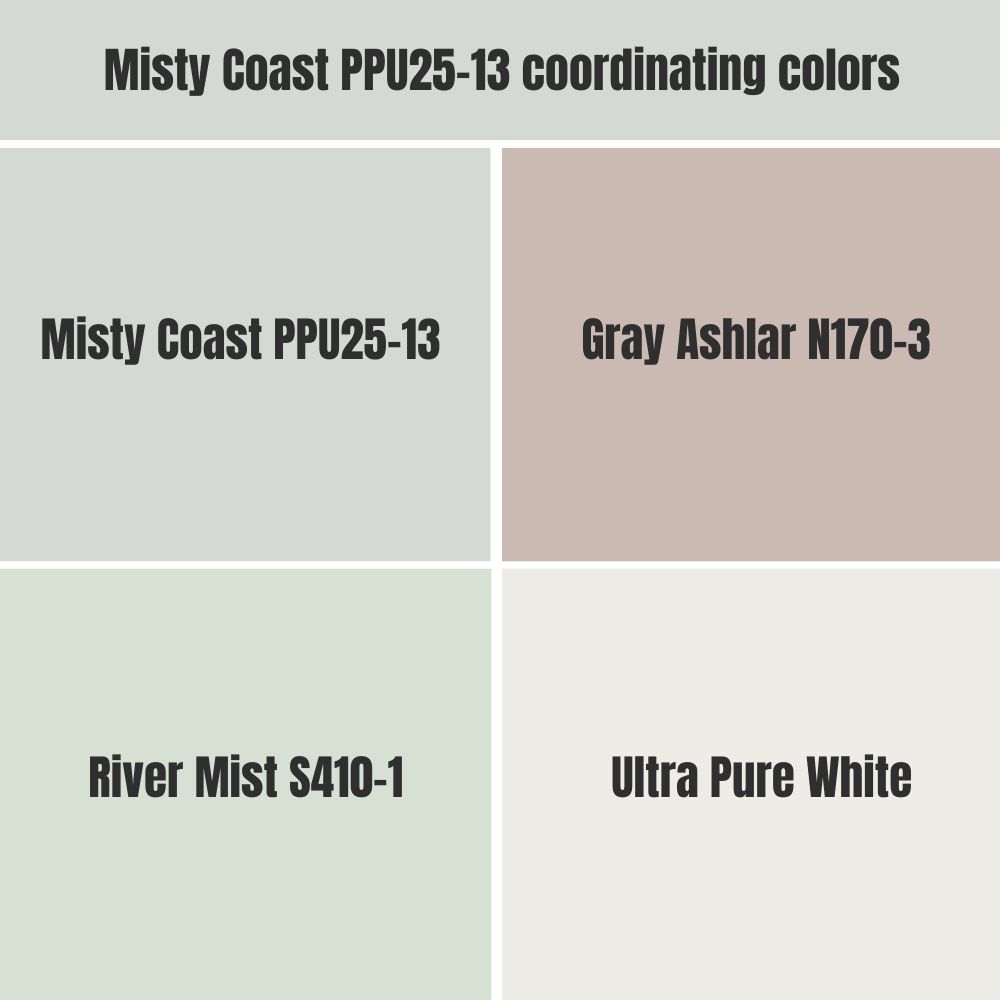 Misty Coast has an RGB of 213, 217, and 211. Its coordinating colors come in different palettes, but top on the list is the palette that contains Gray Ashlar N170-3, River Mist S410-1, and Ultra Pure White UPW.
Here is another look that you can recreate in your kitchen if you opt to use the Misty Coast PPU25-13: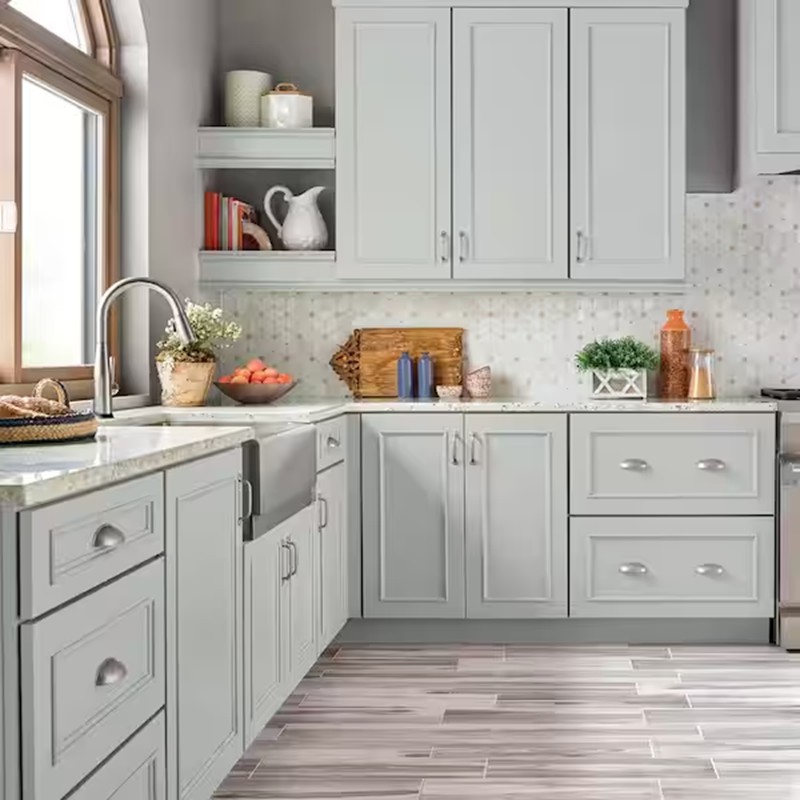 6. Sterling 780E-30
Light and cool gray paint color
Sterling is quite similar to the other light gray paint colors on our list. It is a cool gray with a blue-purple undertone that stands out in any setting. Instead of looking stormy, however, this color has a bit of iciness that changes the look of a room or surface.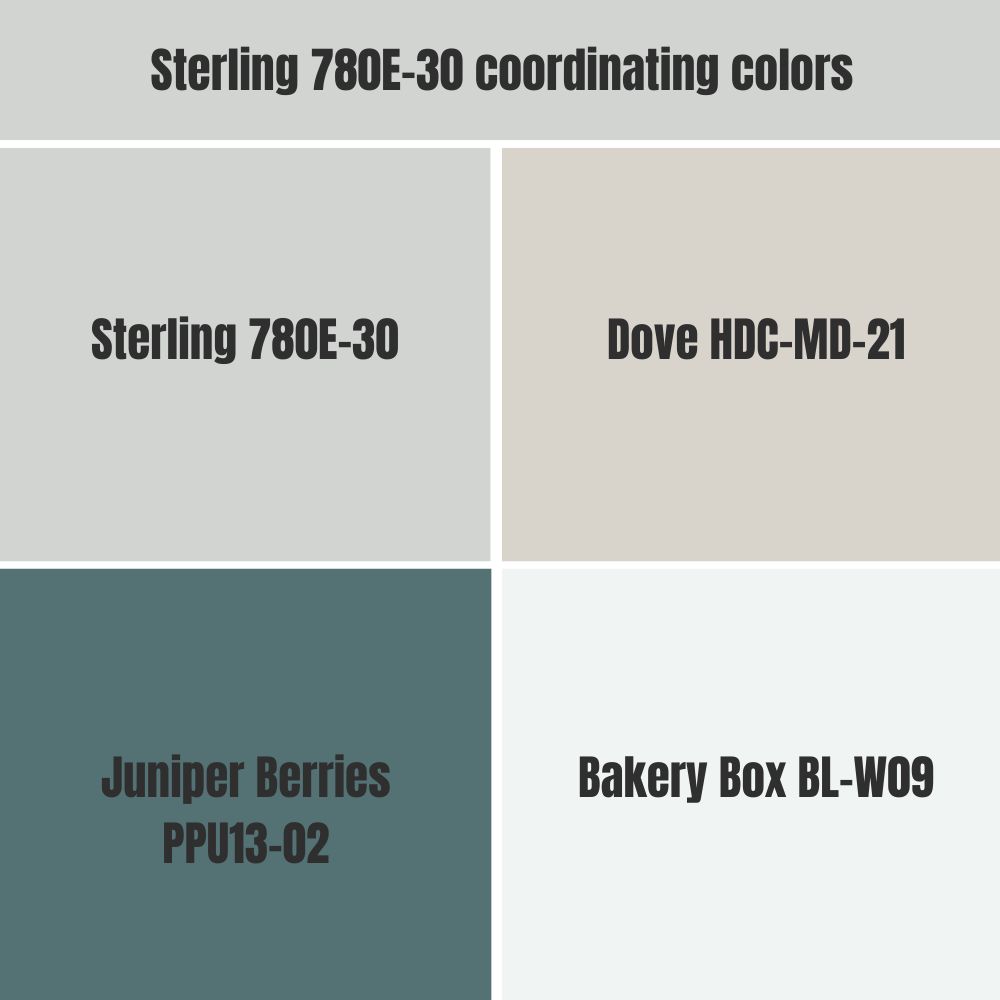 It has an RGB of 209, 212, and 209, with an LRV of 65. Its coordinating colors range from Dove HDC-MD-21 to Juniper Berries PPU13-02 and Bakery Box BL-W09. You can see how it blends in with the wood floor in this bare living room, giving it a hint of purple undertone: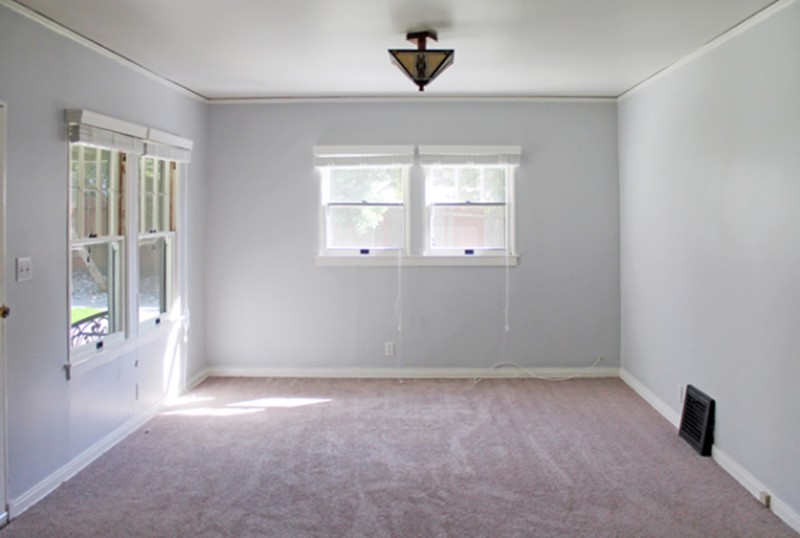 Also, check out this room that contrasts the paint against white doors and trimmings in a guest bedroom: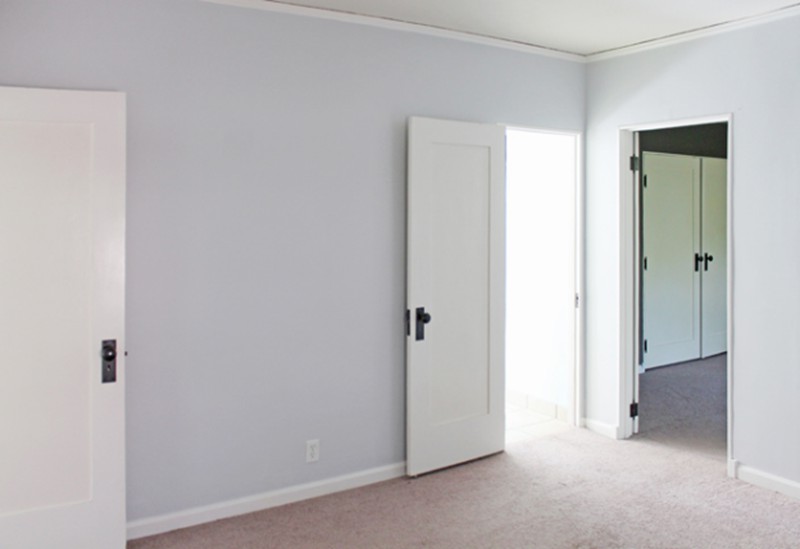 7. Silver Feather BWC-29
Light and neutral gray paint color
While this color may give off the look and feel of a cool gray, neutral. It is a very light and balanced shade with an LRV of 71. However, this is a plus because you can easily balance your coordinating color palettes with it without clashing with them.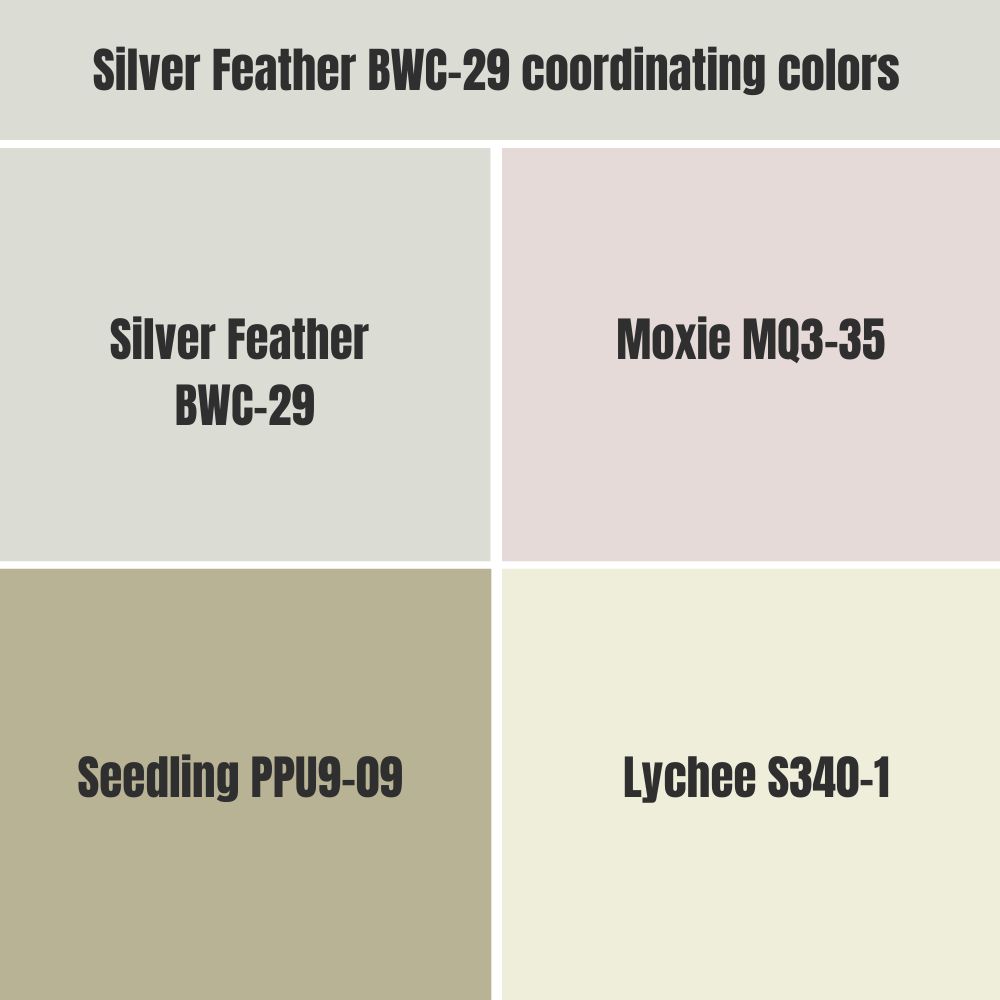 It has an RGB of 219, 220, and 211. The color has a wide array of coordinating colors, such as Moxie MQ3-35, Seedling PPU9-09, and Lychee S340-1. Here is a bedroom decor that makes the gray paint color work with white and black: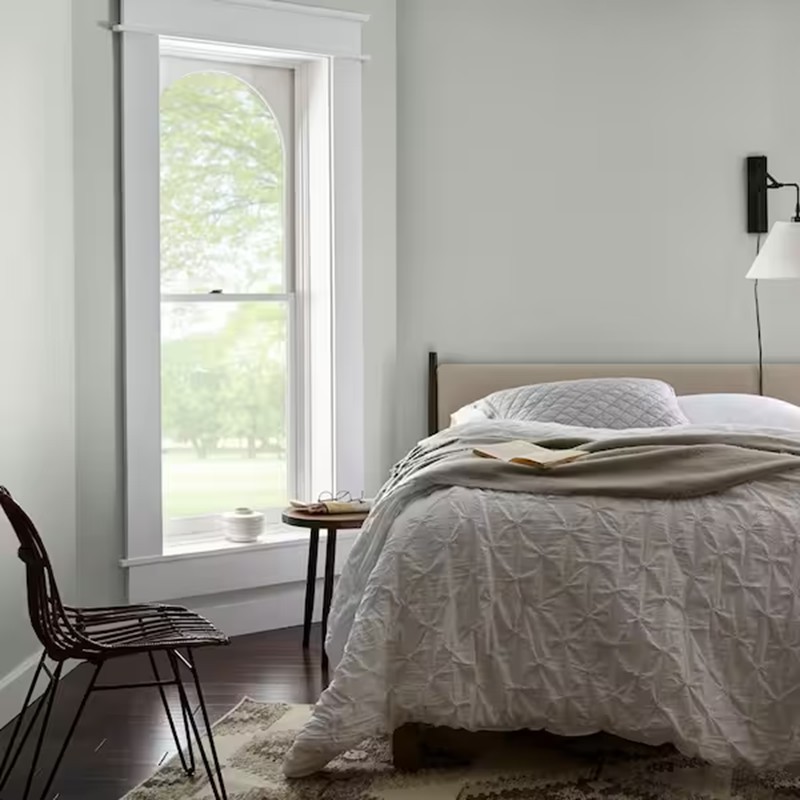 Or this living room with an amazing fireplace and a backdrop of Silver Feather gray paint:
8. Platinum PPU26-11
Light and cool gray paint color
This is one of those paints that makes any room look larger than it is. It is a perk that decorators harness to create the look that a few other paint colors can achieve. Its light shade with an LRV of 65 also makes it complementary to many other color options.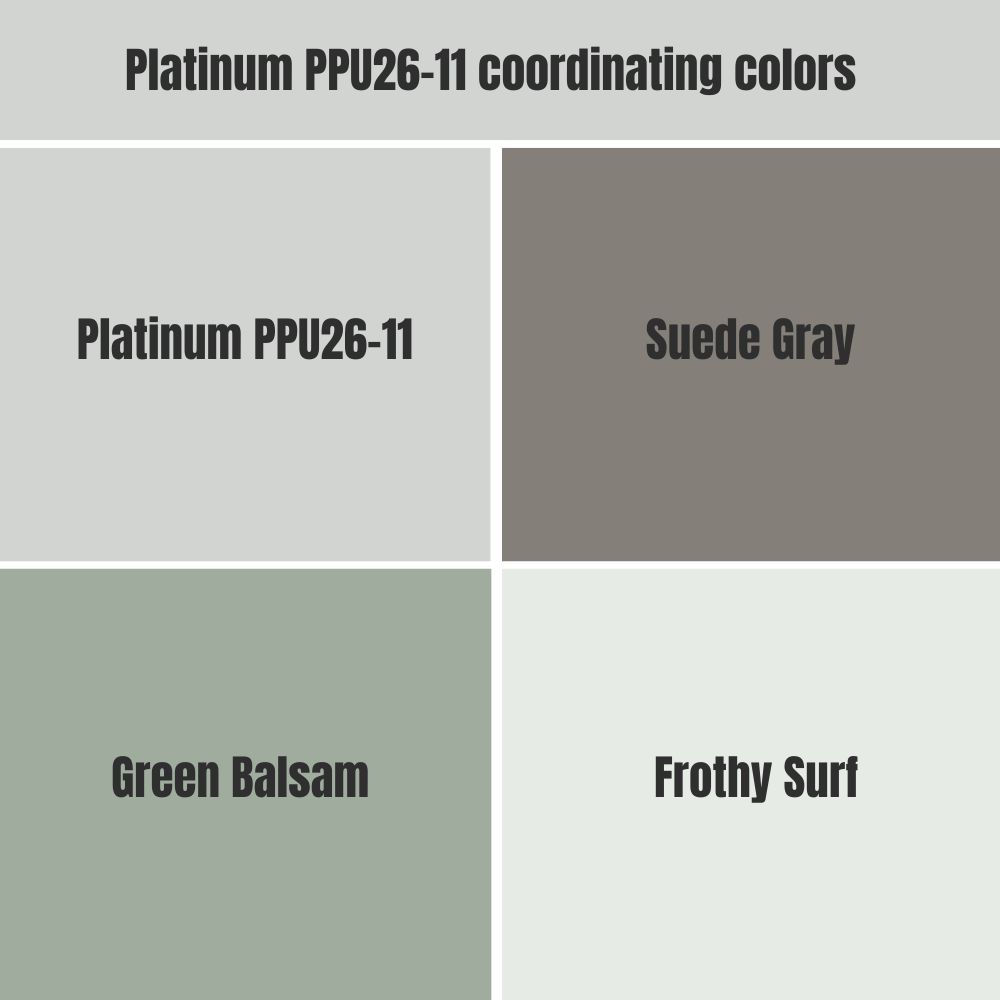 You can combine it with darker grays or whites to create a cool and sophisticated look. But if you want some character in the room, throw in bits of your favorite vibrant colors. The shade has an RGB of 209, 212, and 209 respectively, and coordinating colors of Suede Gray, Green Balsam, and Frothy Surf.
Here is an entryway painted exclusively with Behr's Platinum: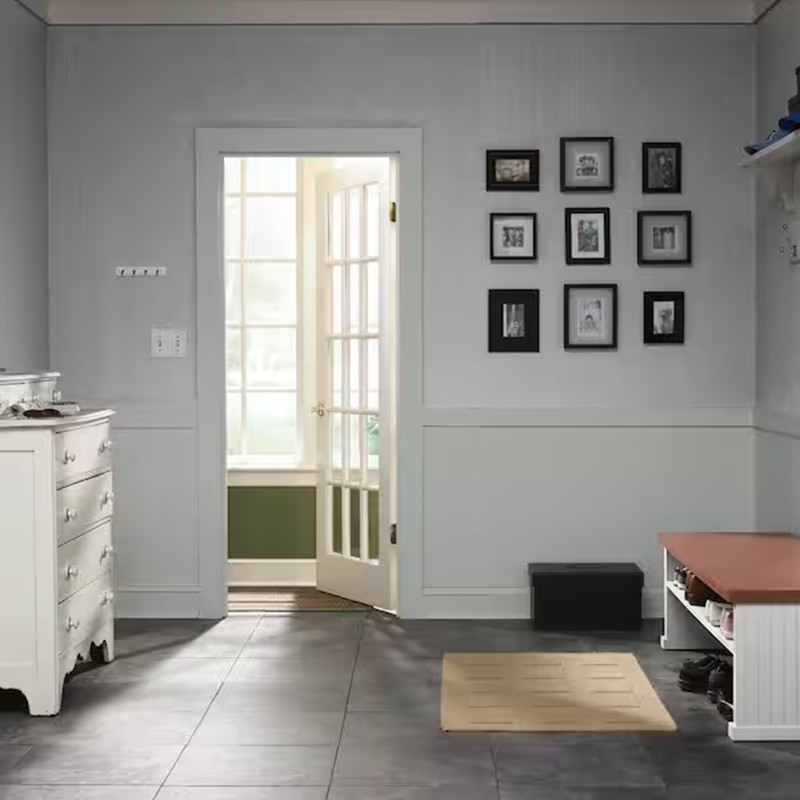 And check out this room with a touch of dark brown against the Platinum gray paint color: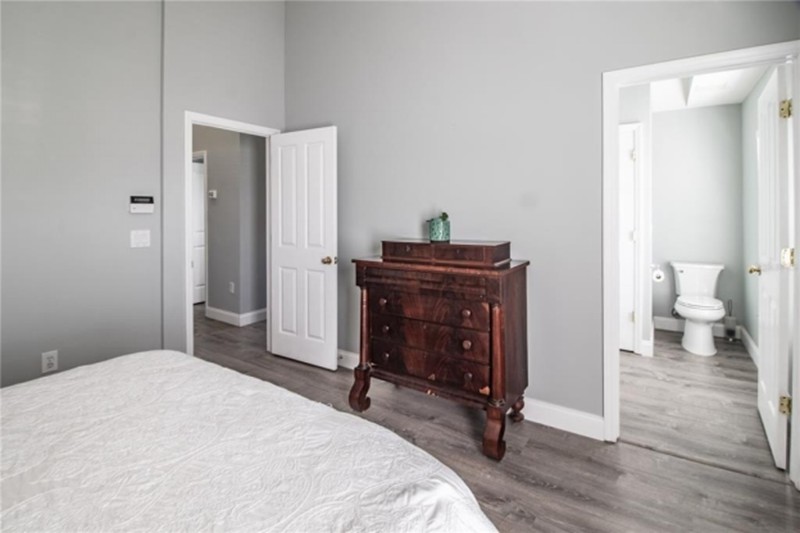 9. Astronomical N450-7
Dark and warm gray paint color
This dark gray paint color from Behr is one of the darkest you will find with the brand, with an LRV of 7. It works perfectly for the exterior of a building, although you can choose to use it in your living room. However, ensure you have adequate lighting, whether natural or artificial, to avoid having a gloomy room.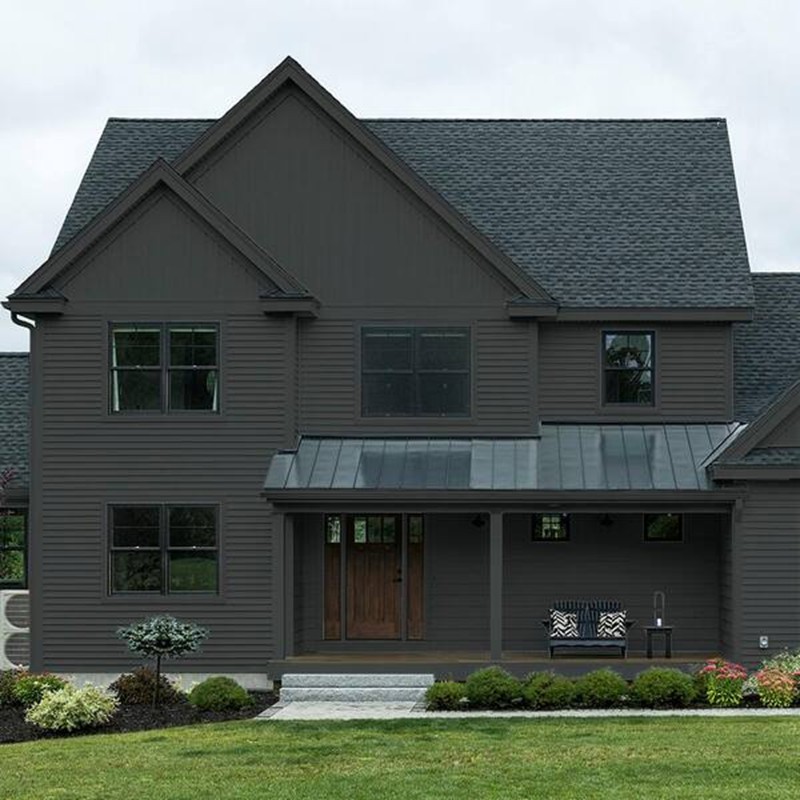 Astronomical has an RGB of 71, 75, and 74 respectively, and its best-coordinating colors are Potting Soil N360-7, Sycamore Grove S420-5, and Tinsmith BL-W11. Here is a peek of what Astronomical looks like in a well-lit living room: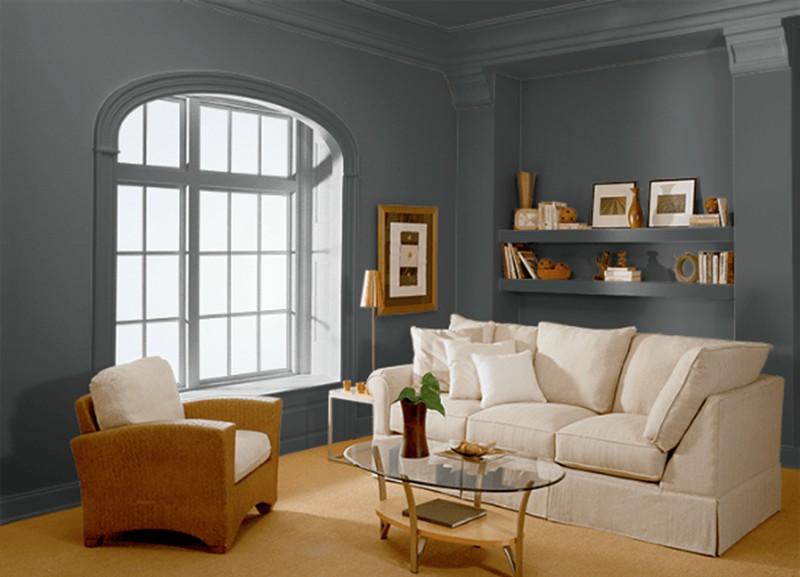 10. Cracked Pepper PPU18-1
Dark and cool gray paint color
This is a deep charcoal gray color that has an LRV of 8 and an RGB of 79, 81, and 82 respectively. It has deep blue undertones, which contribute to its feel in any space. Although it is quite dark, Cracked Pepper is powerful on its own. However, you can consider using it as the perfect backdrop for vibrant colors.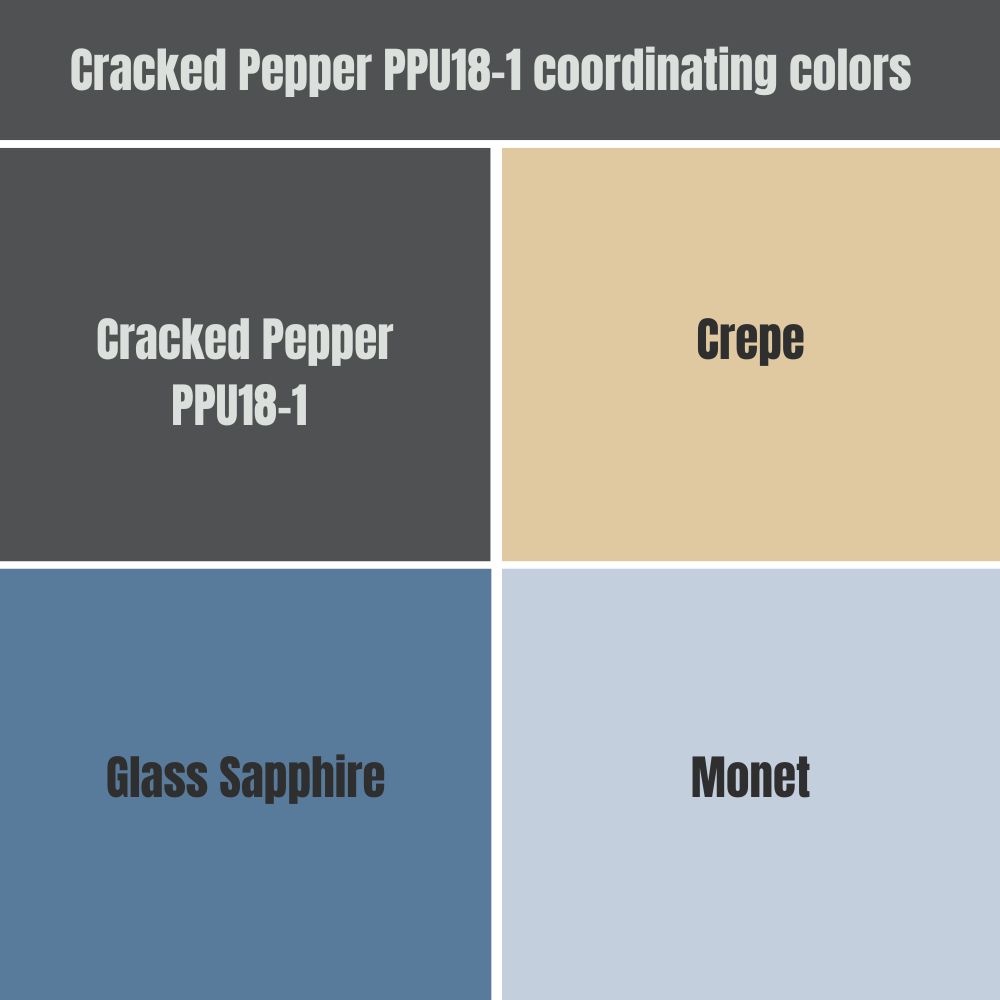 Some of its favorite coordinated colors are Crepe, Glass Sapphire, and Monet. The dark gray shade fits well on front doors and cabinets, especially if there are lighter colors around it as you can see in this decor: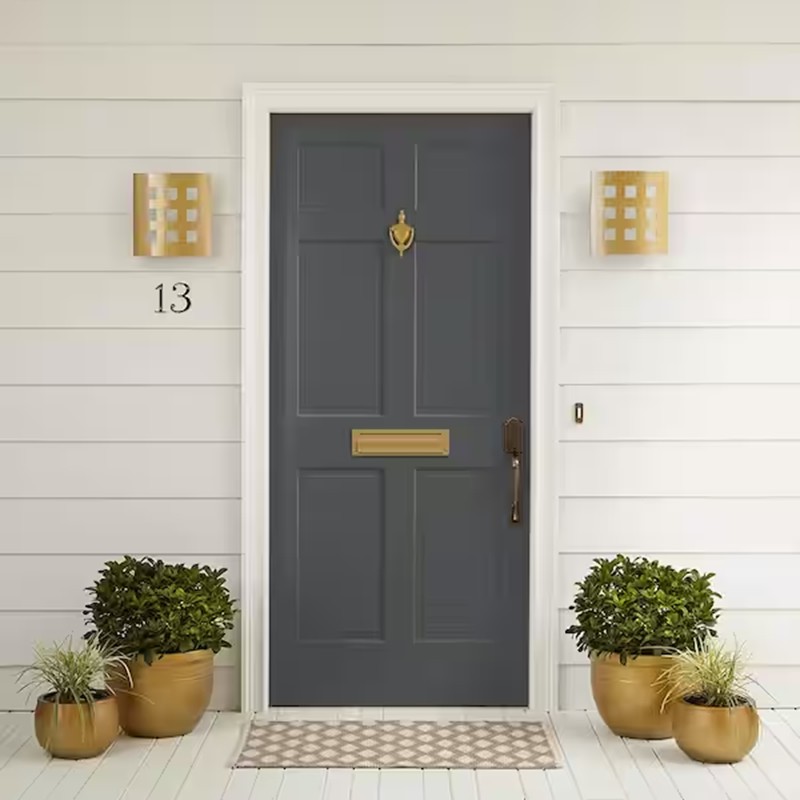 Or this kitchen setting: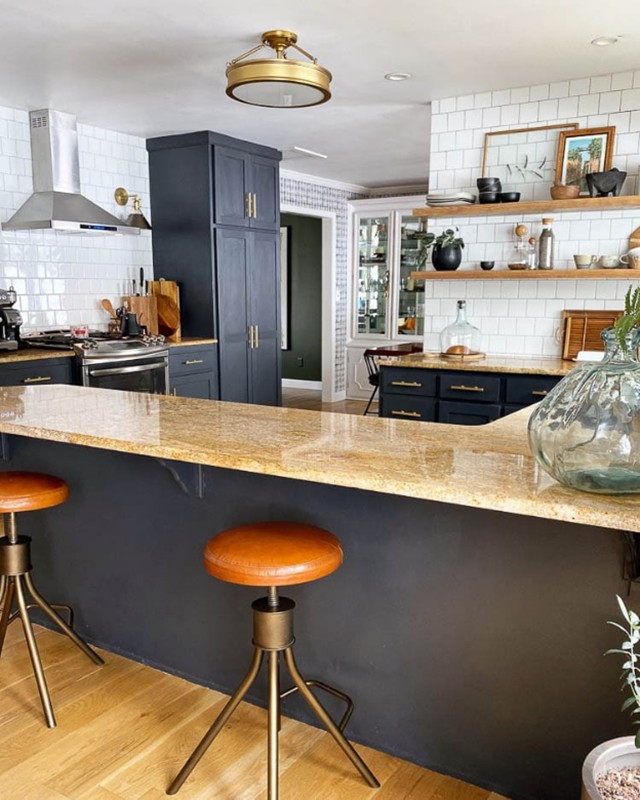 11. Falcon Gray PPU26-04
Medium to dark and warm gray paint color
This is, perhaps, one of the most popular dark gray paint colors from Behr. It has a neutral undertone, meaning that it can fit into any environment without wilting or looking overwhelming. However, it is a warm gray, and combined with its neutrality, its versatility makes it popular among interior decorators.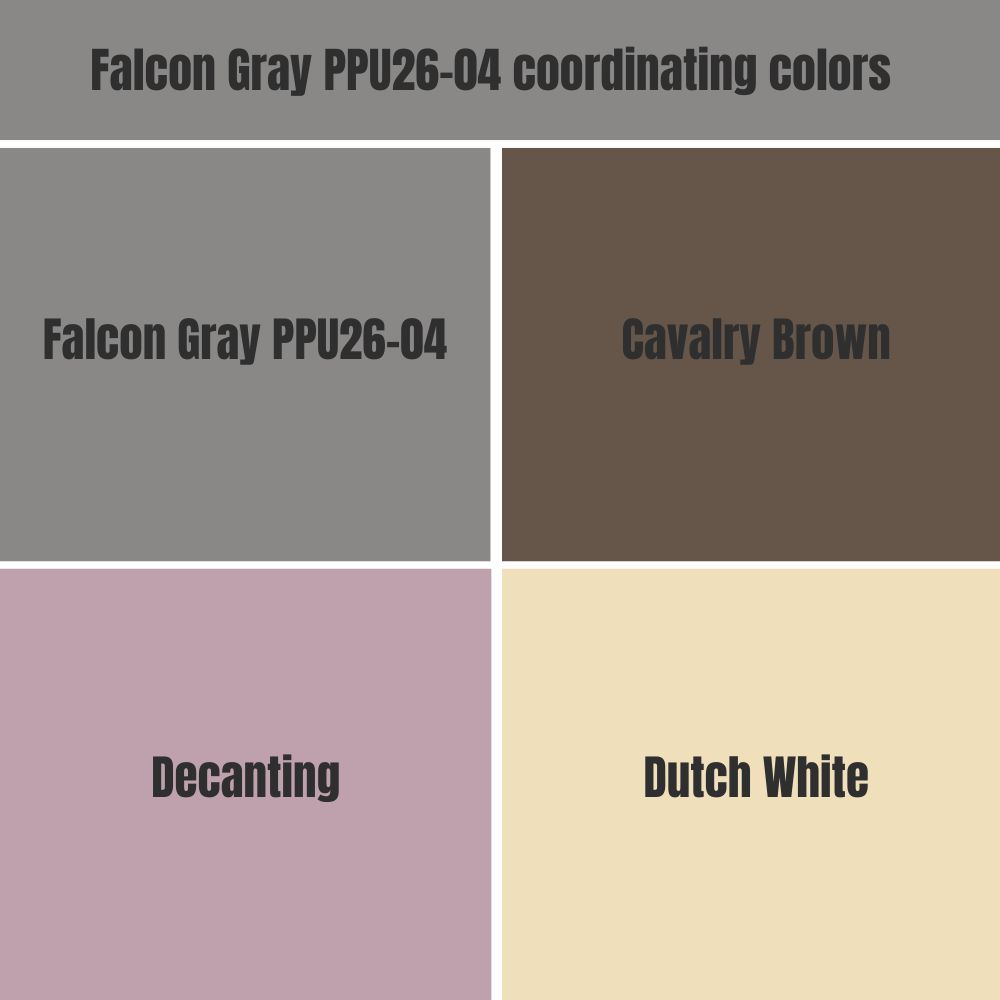 With an LRV of 25, you can see the gray paint color is not so far from the dark end of the color spectrum. But it is also light enough to work in living spaces. Consider combining it with off-whites and whites. Its coordinating colors are Calvary Brown, Decanting, and Dutch White. And its RGB is 137, 136, and 135 respectively.
You can use this hallway idea to decorate or redecorate your living rooms if you are considering using Falcon Gray:
You can use this room idea if you have a similar setting: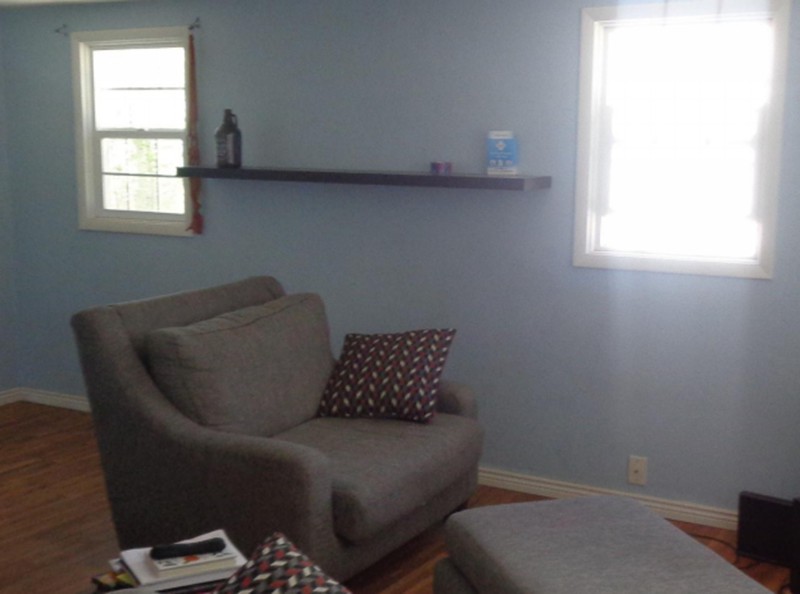 12. Mined Coal PPU18-18
Dark and warm gray paint color
If you are ever in the market for a cool color for the exterior of your house, consider the Mined Coal dark gray paint from Behr. It has an LRV of 15, which is close to the darkest end of the color spectrum. Yet, it is not as dark as others we have on this list.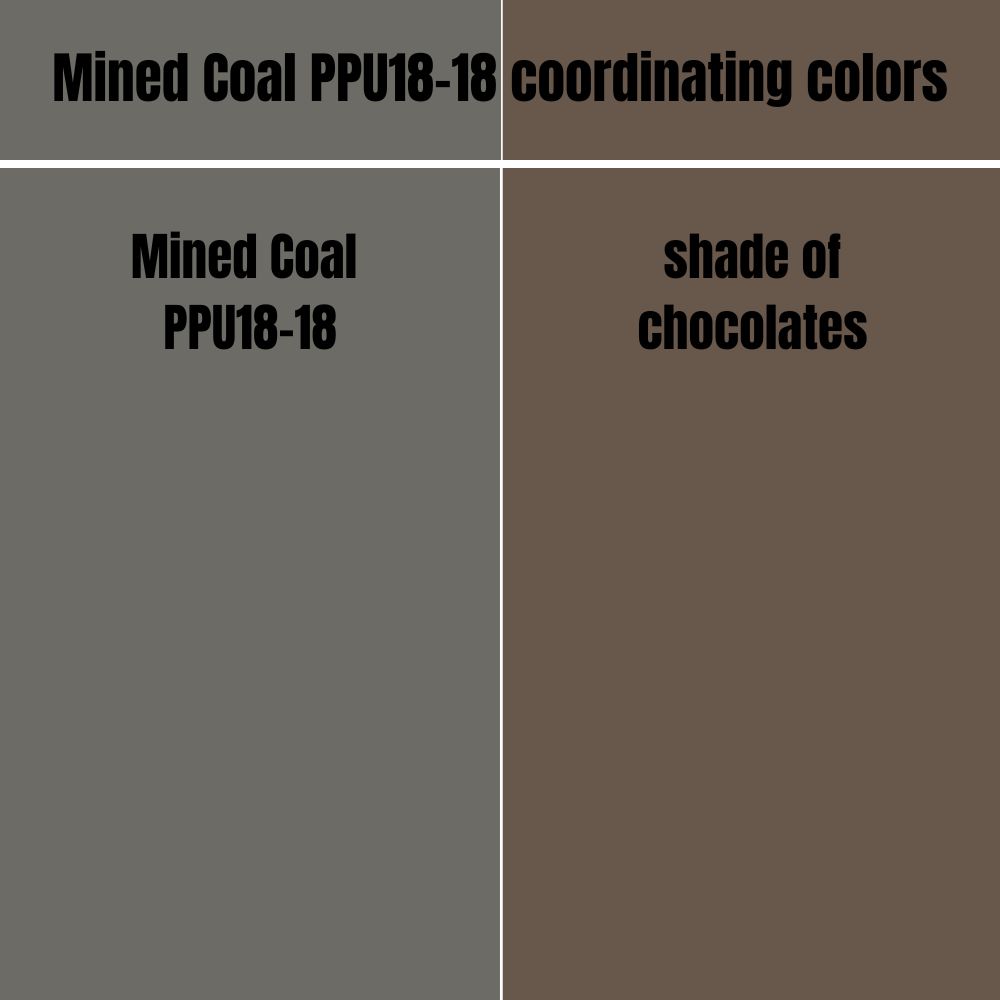 With an RGB of 108, 107, and 101, Mined Coal is warm and has undertones close to the shade of chocolates. Because of this, this shade of dark gray is best for cabinets and focal walls. It also works for accents and exterior walls since it has such depth, as you can see in this house's exterior:
Or this beautiful house with light-colored trimmings: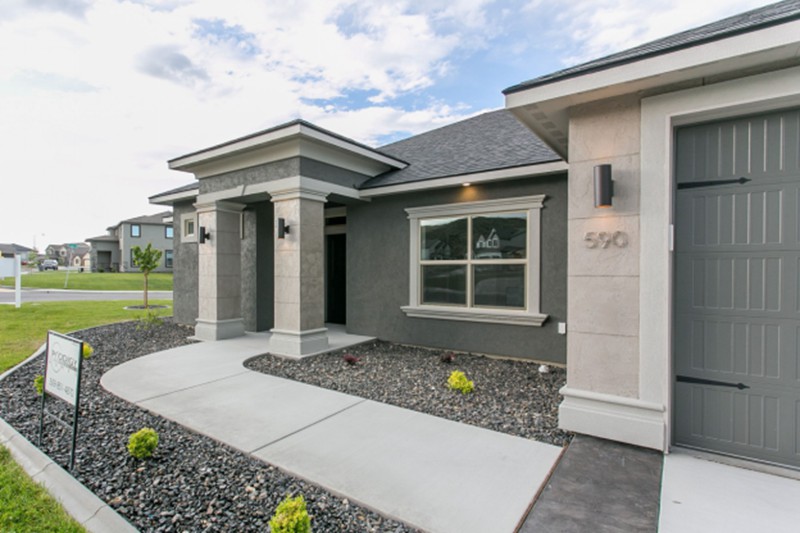 13. Graphic Charcoal N500-6
Dark and cool gray paint color
Graphic charcoal is a heavy and deep shade of dark gray. It has enough character to add sophistication to any room, but some people call it moody. It has blue undertones, so soft colors will reflect well on it.
With an LRV of 11, Graphic Charcoal is quite the contrast against lighter colors, including grays. However, if you have an eye for colors, you will find the best trimmings and fit for it, whether you use the paint inside or outside the house.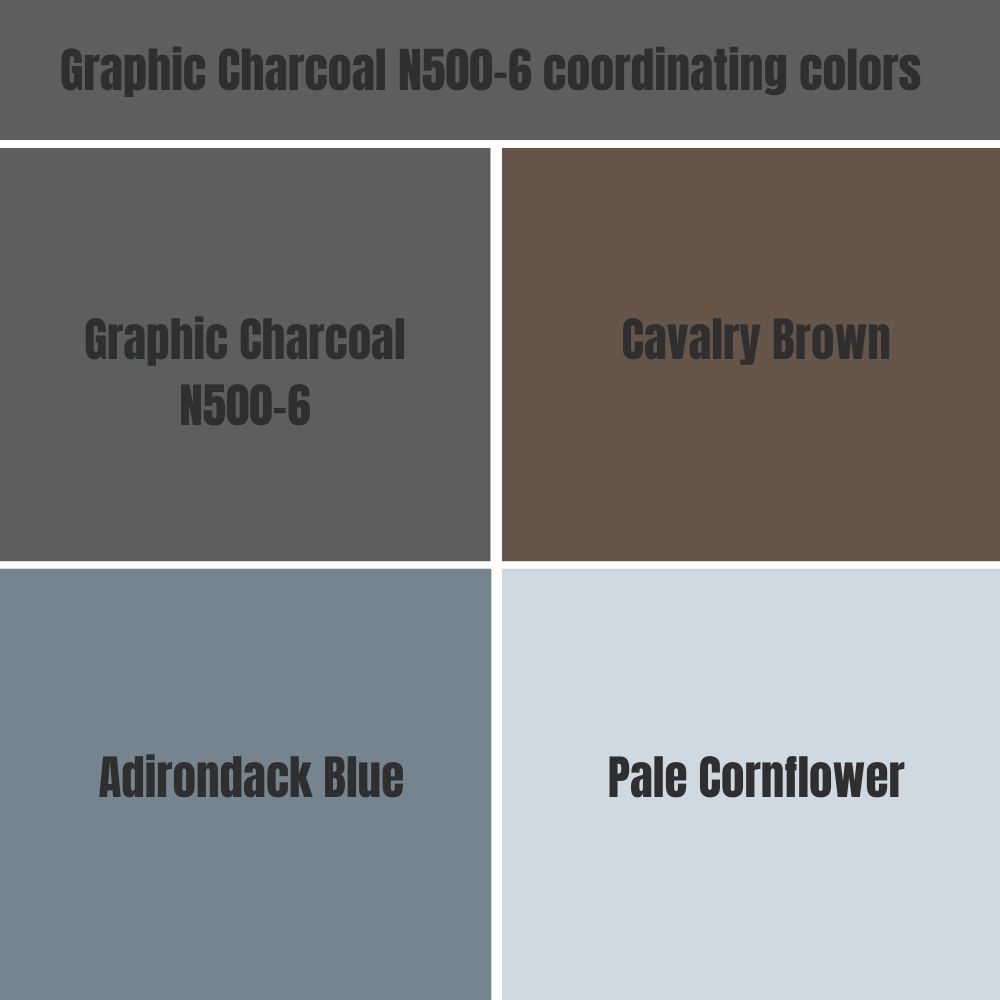 It has an RGB of 92, 94, and 95 respectively, and its coordination colors include Calvary Brown, Adirondack Blue, and Pale Cornflower. Check out how the color is combined with these dark and muted tones in a kitchen:
Also, see how it works in this cozy room with a fireplace:
14. White Metal N520-1
Light and cool gray paint color
White Metal is easily one of the most popular Behr gray paint colors on the market because of its pristineness and lightness. It mimics white and can work with off-whites or other muted tones. It has an LRV of 63 and an RB of 209, 209, and 207 respectively.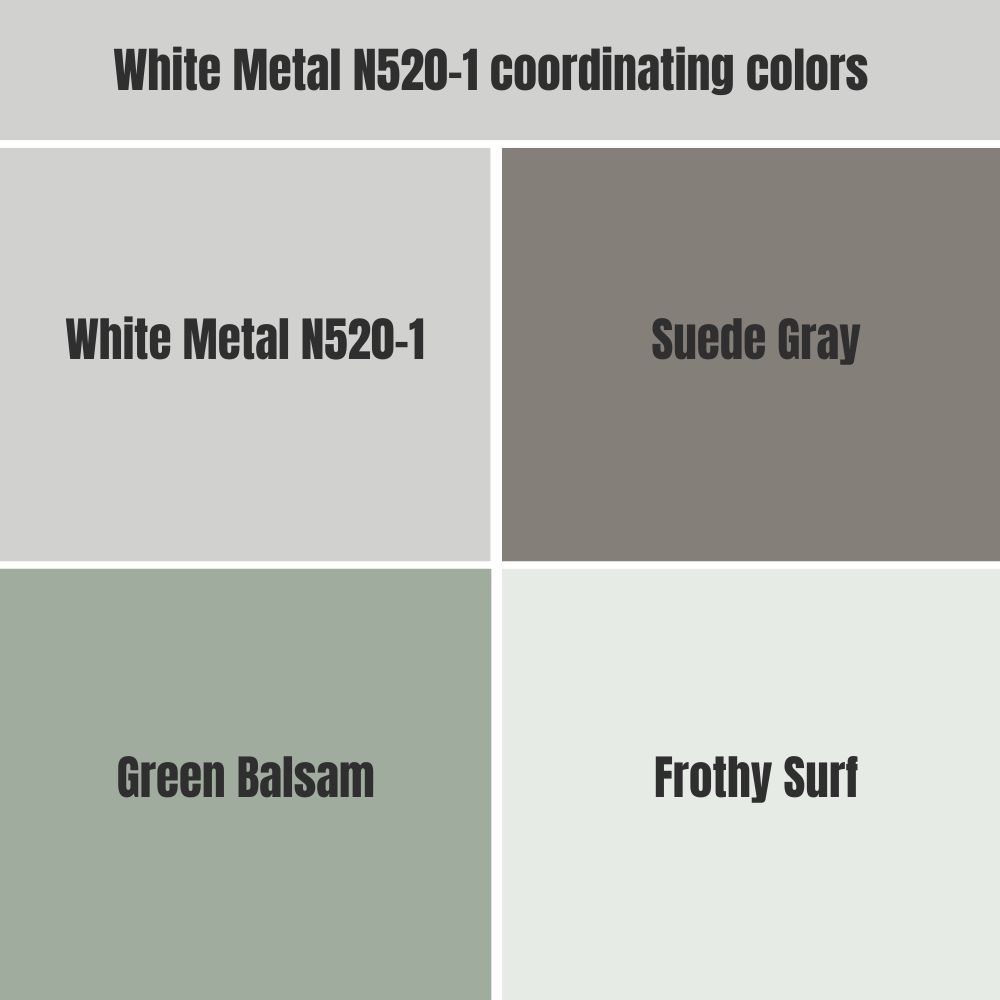 The paint has subtle dusty lavender undertones, which means it works best with dark colors. Its coordinated colors include Suede Gray, Green Balsam, and Frothy Surf. How you combine White Metal with other colors will determine whether or not the room looks washed out or spectacular.
Take a look at this bedroom decor and how White Metal is combined with deep red hues and other soft colors:
How about this entryway with soft colors blended with White Metal? It gives you other ideas of what colors fit this light gray paint color.
15. Dark Pewter PPU18-4
Mid-to-dark and cool gray paint color
Dark pewter is a medium gray shade with blue undertones, which makes it a cool gray. It can lean a little toward the stormy gray family, but this depends on how you use it. Dark Pewter has an LRV of 29 and an RGB of 141, 147, and 150.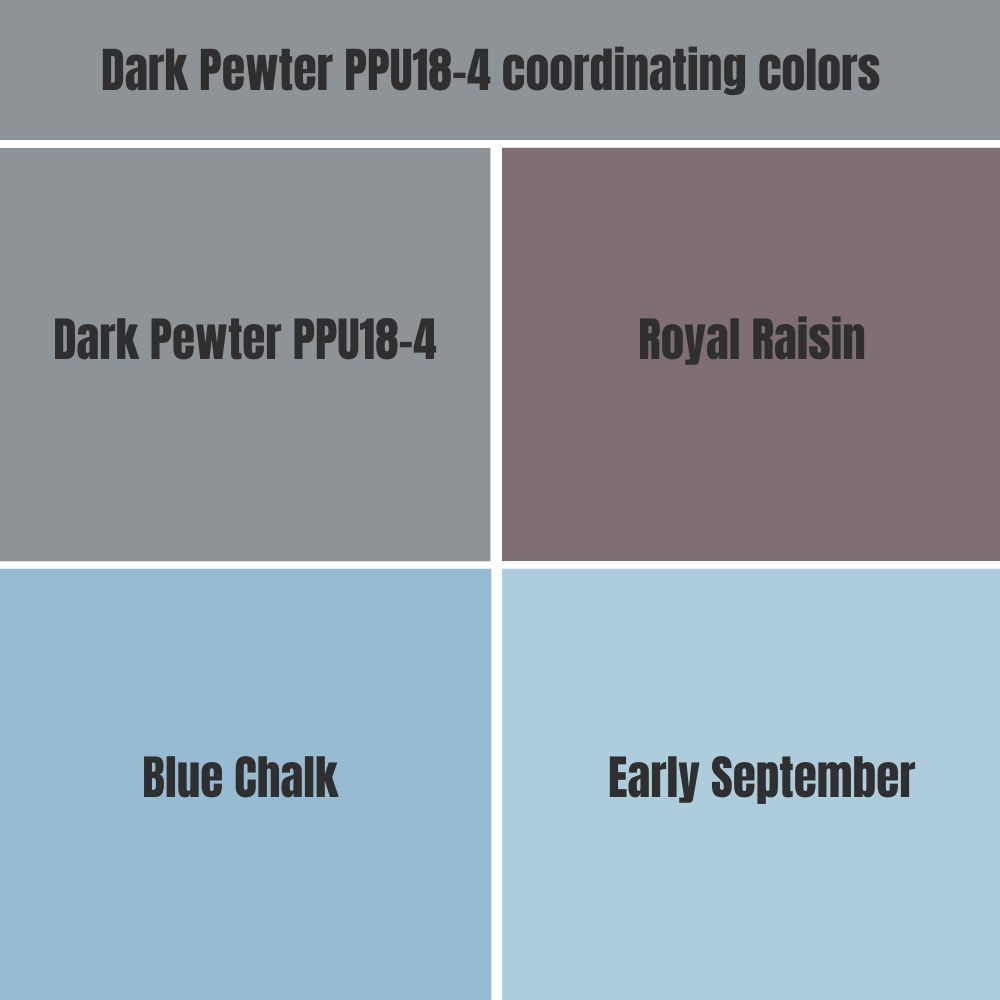 This shade of gray works well in restrooms or powder rooms. It is also a delightful color to use in a sitting room if you can combine it with soft blues and browns. Its coordinated colors include Royal Raisin, Blue Chalk, and Early September.
Consider using it as a front door color, like this beautiful doorway with some touches of brown:
Also, check out this elegant setting with a backdrop of Dark Pewter and other shades of brown: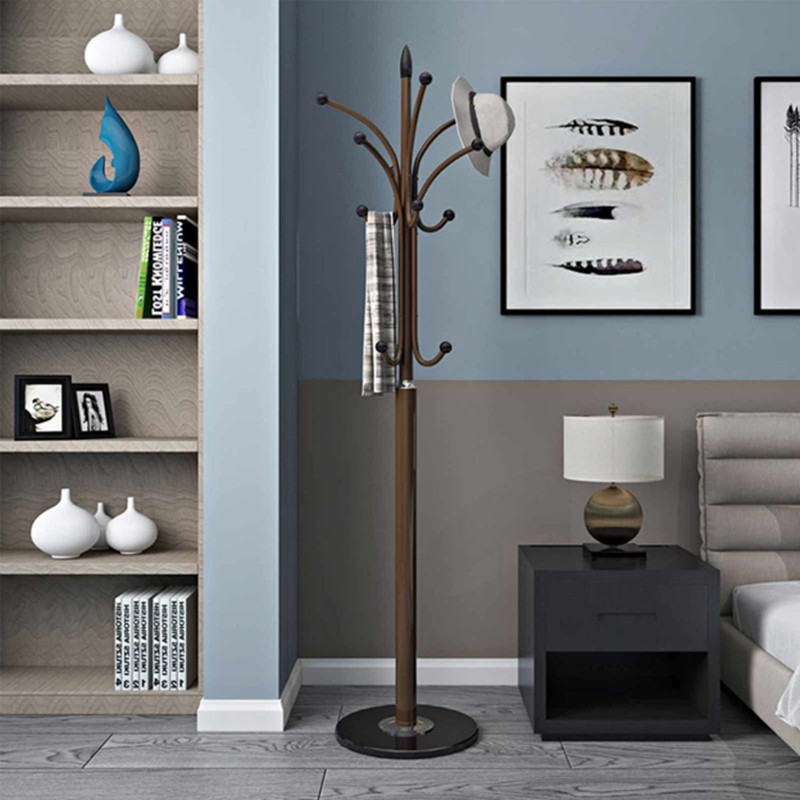 Conclusion
There are so many beautiful shades of gray paint colors from Behr, ranging from light to dark. This list has some of the best ones in the market to make selection easier for you. Consider, White Metal, Platinum, or Silver Drop if you want light grays, or select Dark Pewter and Falcon Gray for mid-range gray shades.
But if you want dark gray paint colors, select from options such as Mined Coal, Cracked Pepper, and Astronomical. The options are numerous, and the choice is yours. Let us know your thoughts in the comment section.