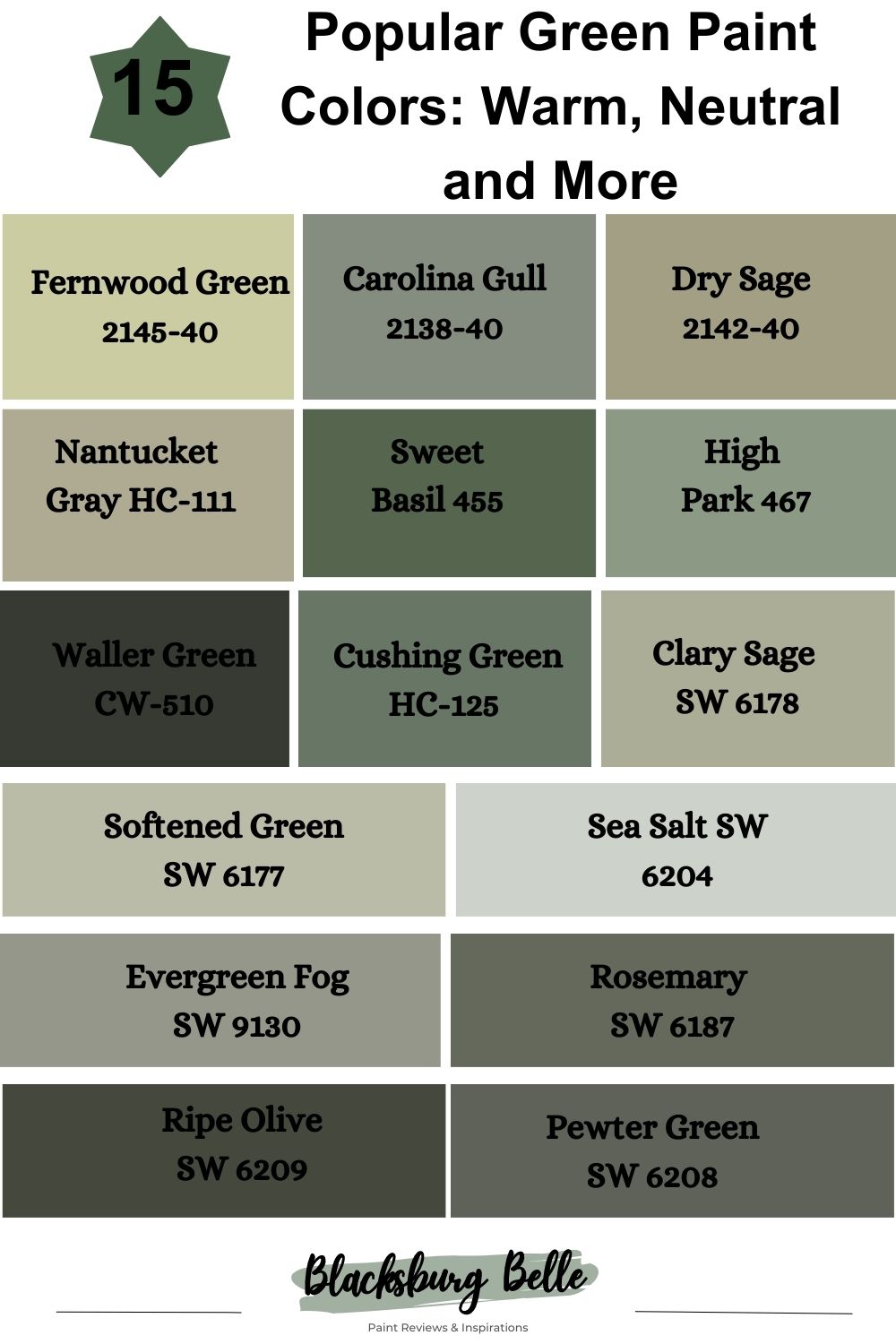 With so many green paint colors available on the market, how do you pick the best ones? Various brands, including Sherwin Williams and Benjamin Moore, produce a wide array of green paint colors. But you must know how to select the best ones for your needs.
The good news is that we have gone through the best ones and narrowed the list for you. All you have to do is go through our list of 15 popular green paints, going from warm to neutral and cool. We have selected these paint colors from Sherwin Williams and Benjamin Moore.
What Makes Green Paint Color Popular?
Green is a color of growth, restoration, and new things, so it is becoming popular with decorators and designers. Incorporating it into your decor makes a room refreshing, but you must know what colors work well with green. And we are not just talking about your green plants or herbs.
Does Green Paint Have Any Undertones?
You must understand that the undertones of any paint determine whether or not the paint is cool or warm. The same is true for green paint colors. In other words, green paint can be cool or warm, depending on the existing undertones.
Green paint typically has undertones of blue and yellow. This is because these two colors are within the same color family as green. That also means some greens are cool while others are arm. If a green paint color is warm, it should have a yellow undertone.
Blue undertones mean the green paint is more cool than warm. Sometimes, green paint has gray undertones, but in such cases, you may also find a hint of blue or violet. However, this is not a common occurrence.
You may also find some green paint colors with blue-yellow or blue-gray undertones. If the paint has a blue-yellow undertone, it puts the green paint in the midzone. It is not too warm or cool but is in the middle. But if it has a blue-gray undertone, the paint color becomes cool, although not crisp.
On a few occasions, you may find green paint with a soft brown undertone. It may be beige or greige, but this changes the tone of the green paint and makes it warm. The undertone also adds some meat and depth to the paint, making an impact on how it interacts with the existing decor.
What Is the Best Color to Pair with Green Paint Color?
Yellow and blue are some of the best colors that pair well with green. However, it can be tricky to combine other colors with green because of how earthy and rich it can be. It is always best to check the undertones in that particular green paint shade before determining what goes best with it.
Apart from blue and yellow, green goes well with neutrals such as white, black, brown, and gray. You can also pair it with pink, coral, and orange, among other vibrant colors. If you use a dark green paint color, consider complementing it with lighter greens and vice versa.
Where Is the Best Place to Use a Green Paint Color?
Green paint colors are excellent choices for exteriors when they are dark or for the interior when they are dark or light. There are several places where you can use green paint colors, such as accent walls, cabinets in your kitchen, ceilings, the walls of any room, or a piece of your furniture.
However, you can get creative and find new places where green paint works. How you use it depends on your taste and style, so we do not have any restrictions, especially if you want some uniqueness.
15 Popular Green Paint Colors to Bring Your Decor Alive
The following are the best and most popular green paint colors from Benjamin Moore and Sherwin Williams to inspire your creativity:
8 Best Green Paint Colors from Benjamin Moore
1. Fernwood Green 2145-40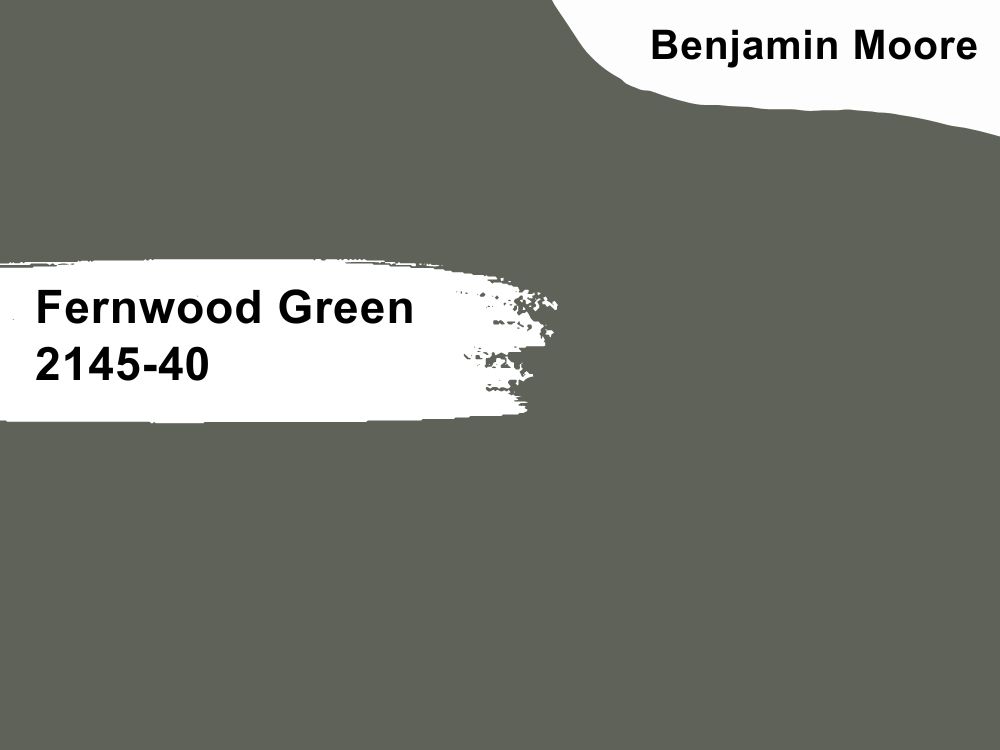 Warm green paint colors with a little yellow hue
If you want a light and warm green paint color, consider going for the Fernwood Green from Benjamin Moore. It is a truly beautiful light green paint color?that becomes even warmer if you use it in a room that faces north. The extra light changes the look and feel of the paint.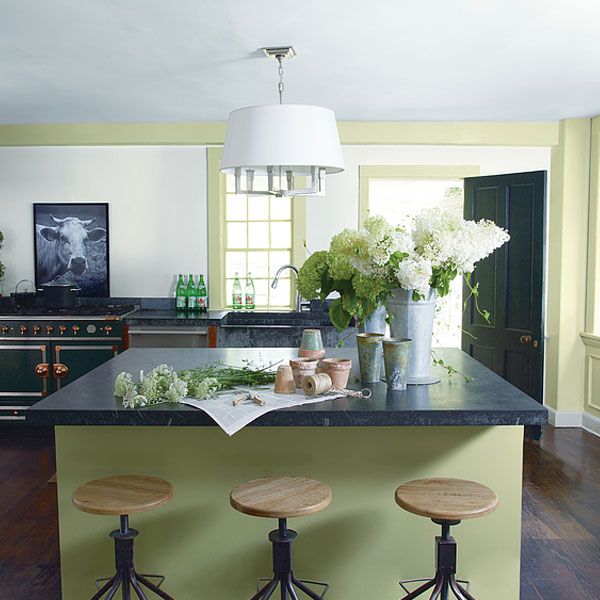 With an RGB color code of 204, 204, and 163 respectively, this color has more green and red in it than blue. This explains its obvious warmth and greenness. It has an LRV of 56.76, which means it is bright enough to reflect enough light. Coordinate it with colors such as Wild Flower, Dark Linen, Chantilly Lace, and Distant Gray.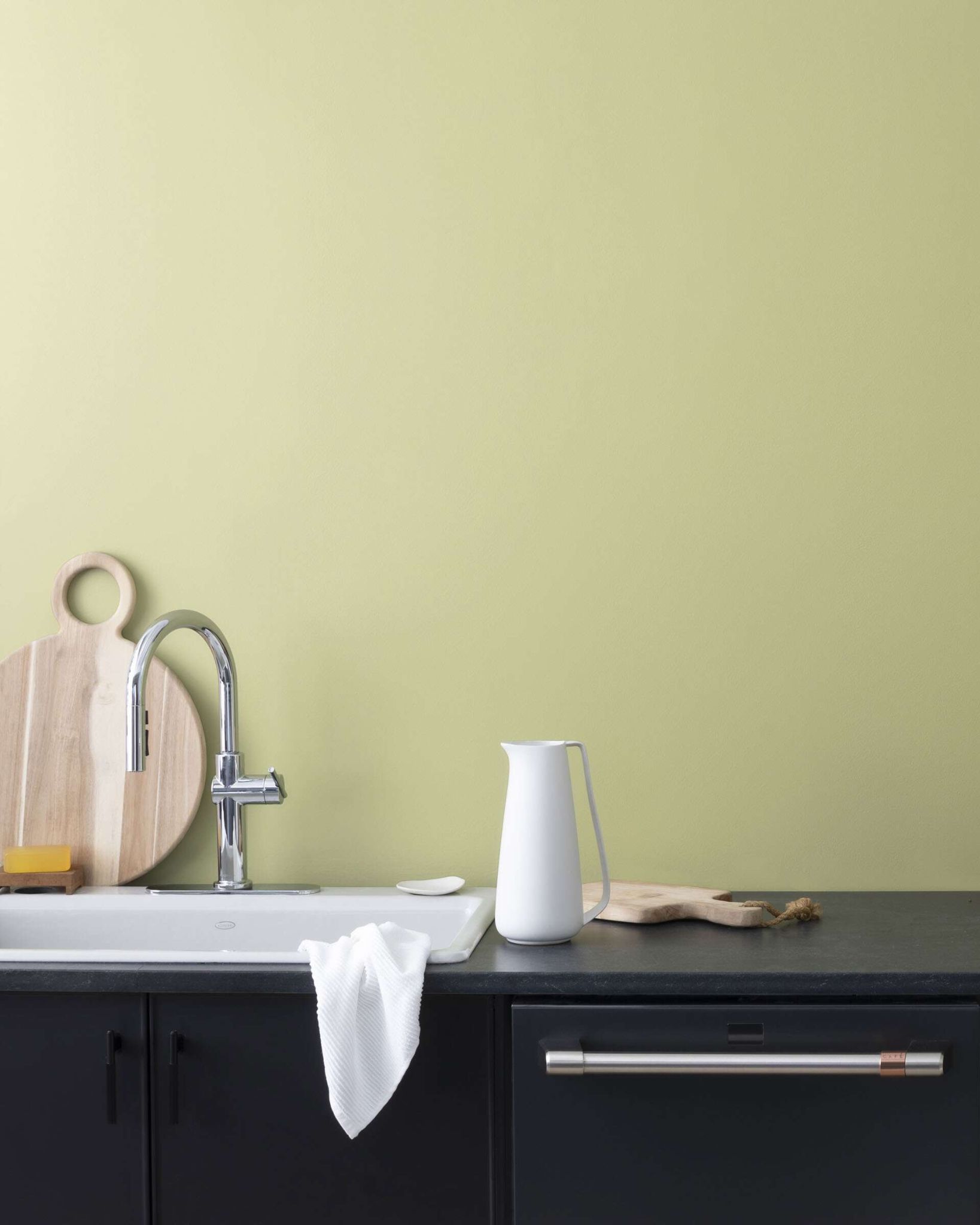 2. Carolina Gull 2138-40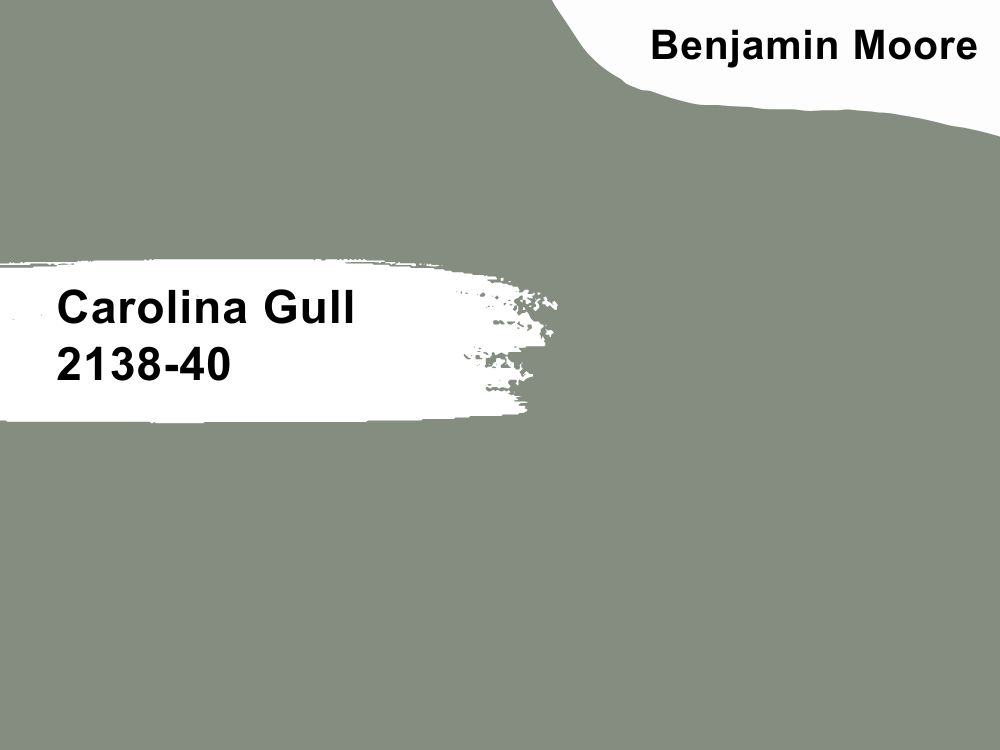 Cool green paint color with blue-gray undertones
So, we are not just about giving you the regular green colors but also shades of green that make your eyes pop. Carolina Gull is an amazing shade of green that fits any and every room. Whether you use it in the kitchen, living room, bedroom, bathroom, accent walls, trims, or stairwell, this color will add a serenity and coolness that bring sophistication.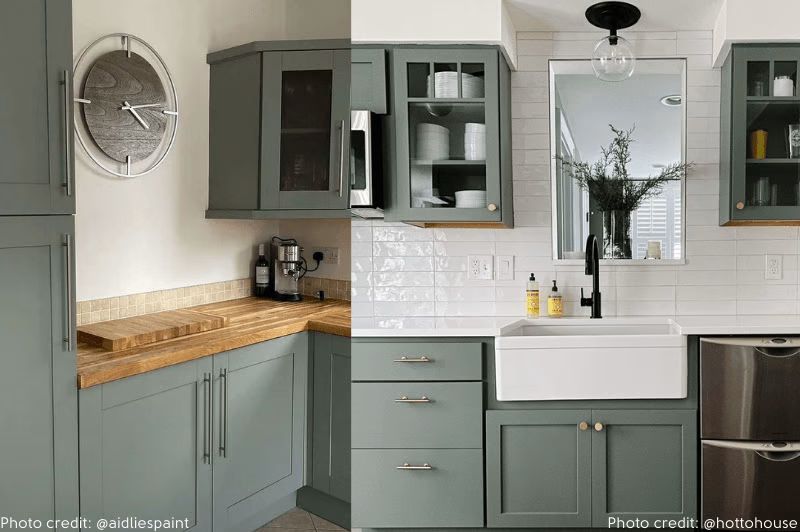 It has an RGB of 133, 141, and 121, with an LRV of 27.1. Carolina Gull may look cool, but it pulls some weight when it comes to depth. Consider coordinating it with Nantucket Gray, Light Khaki, Soft Chamois, and Mountain Peak White.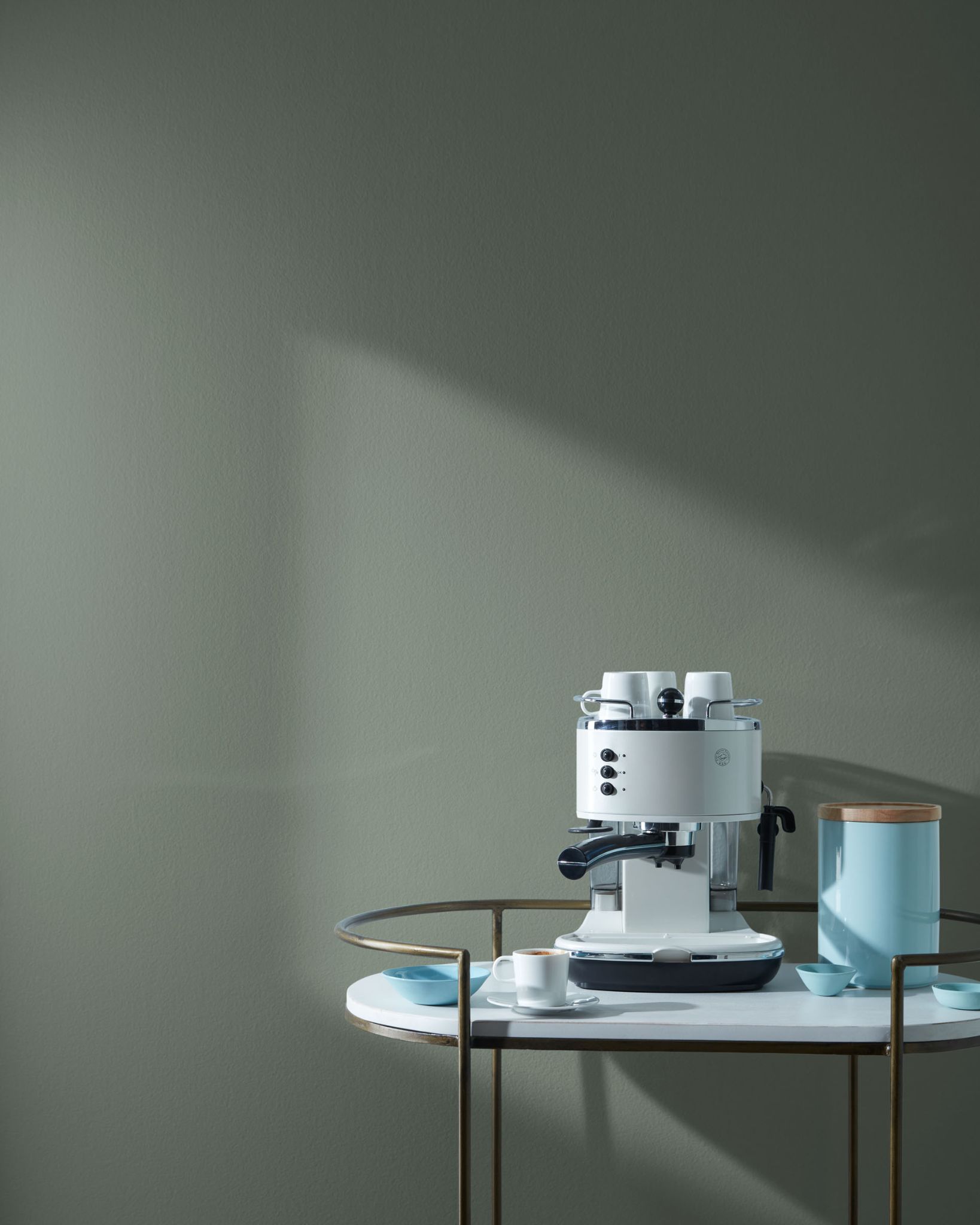 3. Dry Sage 2142-40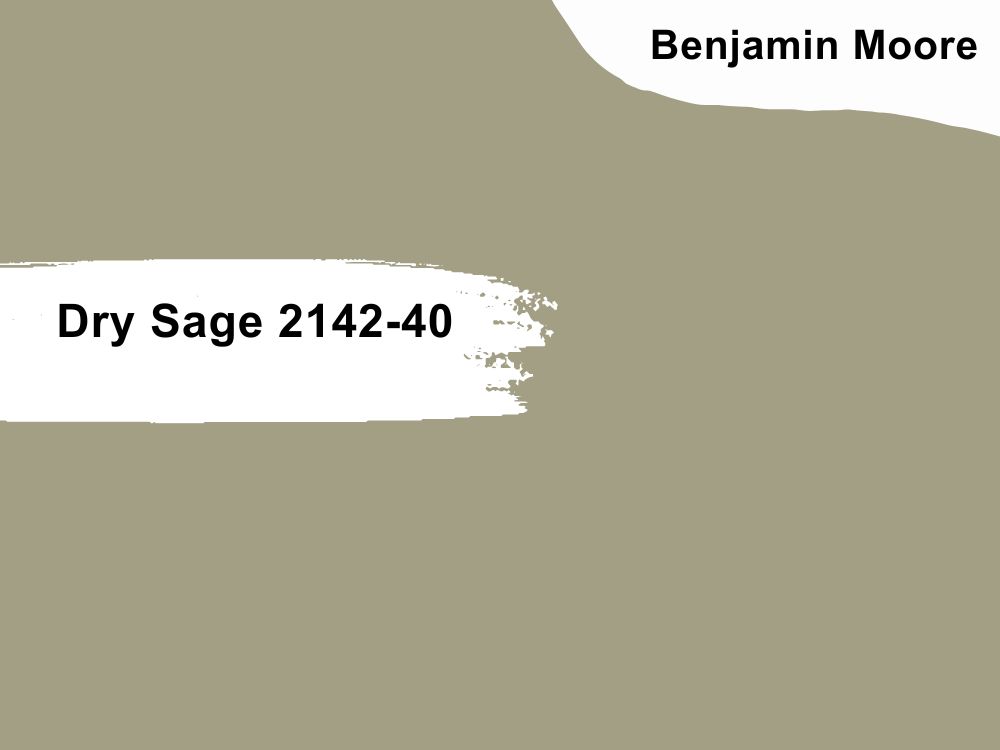 Cool green paint color with gray undertones
This is another cool-toned green because of the obvious gray in it. But it has more of an olive tone than any other color, which makes you want to run your hands over the walls. It is even better when combined with lighter grays or white.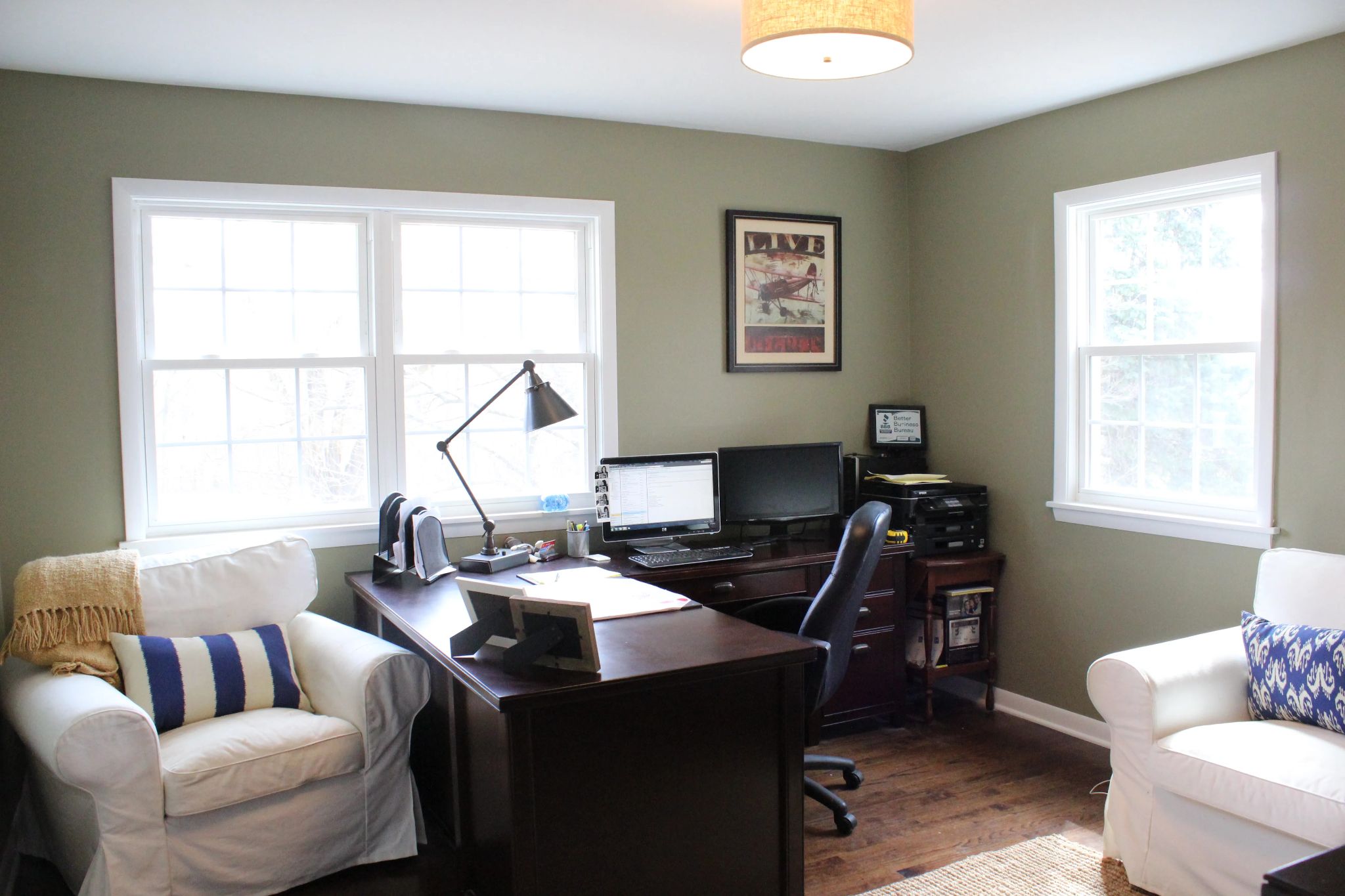 Dry Sage has an RGB color code of 163, 159, and 132 respectively, with an LRV of 34.63. You can add some dark brown furniture to your decor if you paint your walls this color. The choice of how you want the room to look is up to you. However, consider coordinating it with Witching Hour, Sea Wind, Moonlight White, or Icicle.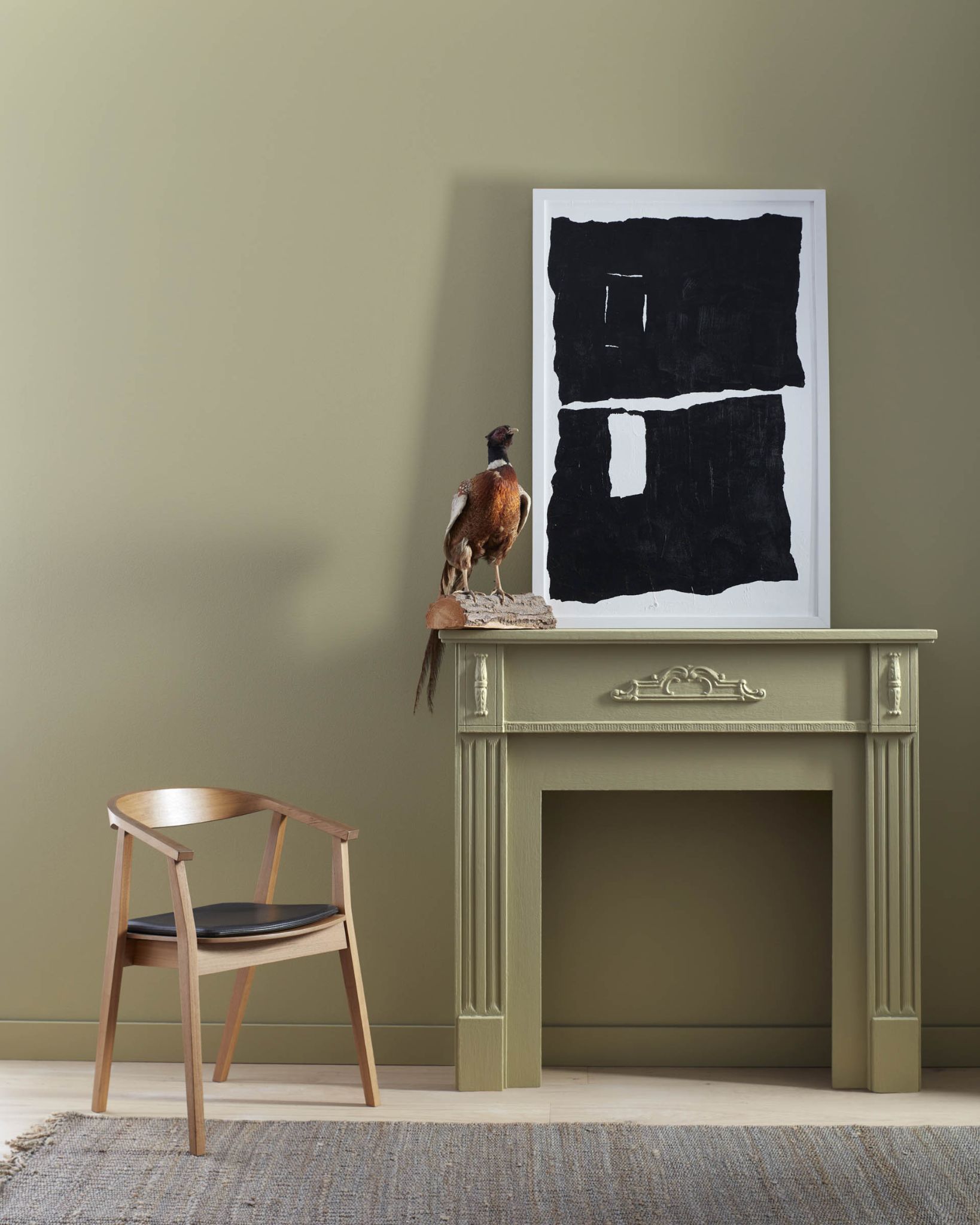 4. Nantucket Gray HC-111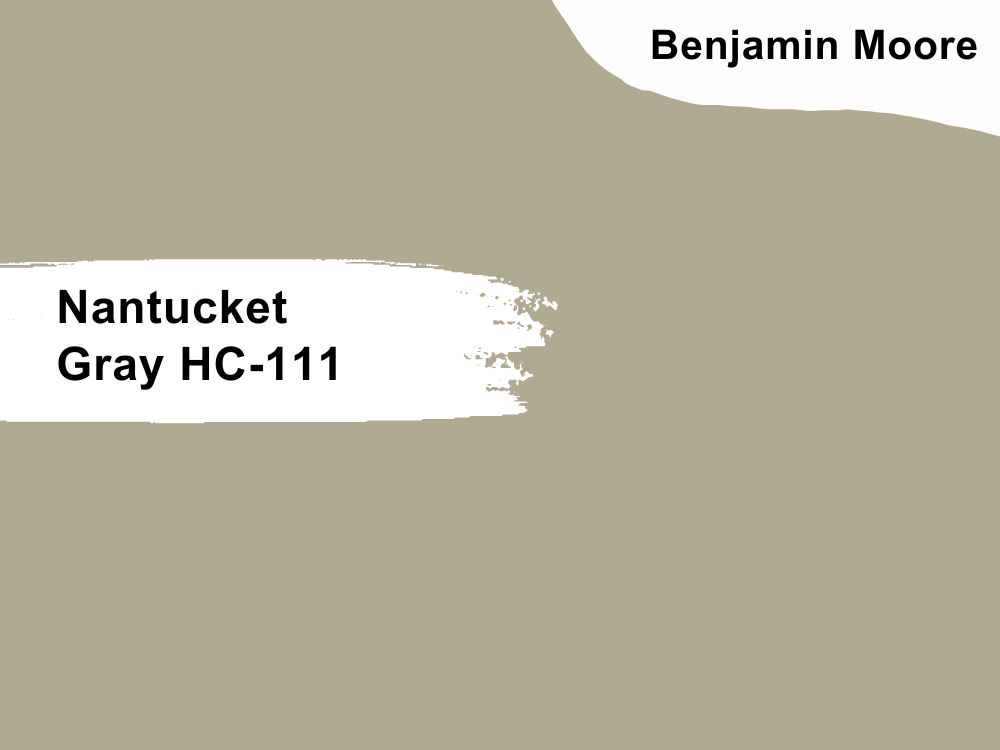 Cool green paint color with gray tones
It may not look like it, but Nantucket Gray is one green paint color you want to try if you want a unique look. It is a mild green paint color with gray undertones, and this color fits any room if you use the right decor.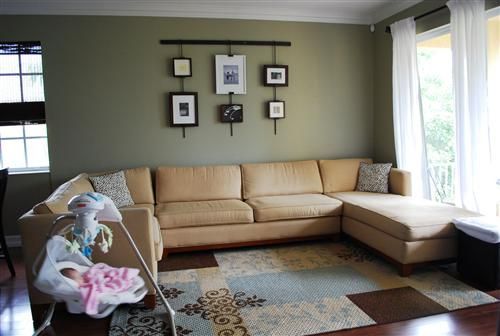 Nantucket Gray has an LRV of 39.83 and an RGB color code of 175, 171, and 147 respectively. The best-coordinating colors include Kendal Charcoal, Tapestry Beige, and Creamy White.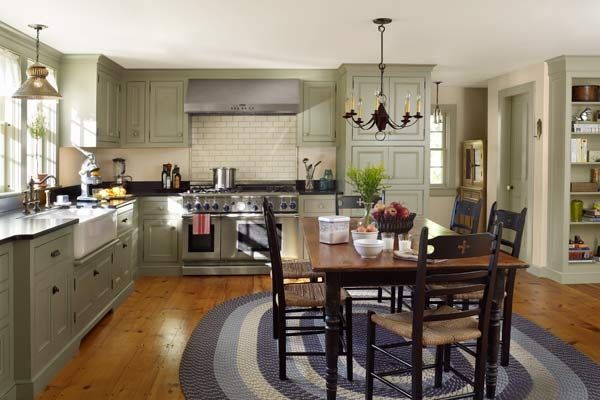 5. Sweet Basil 455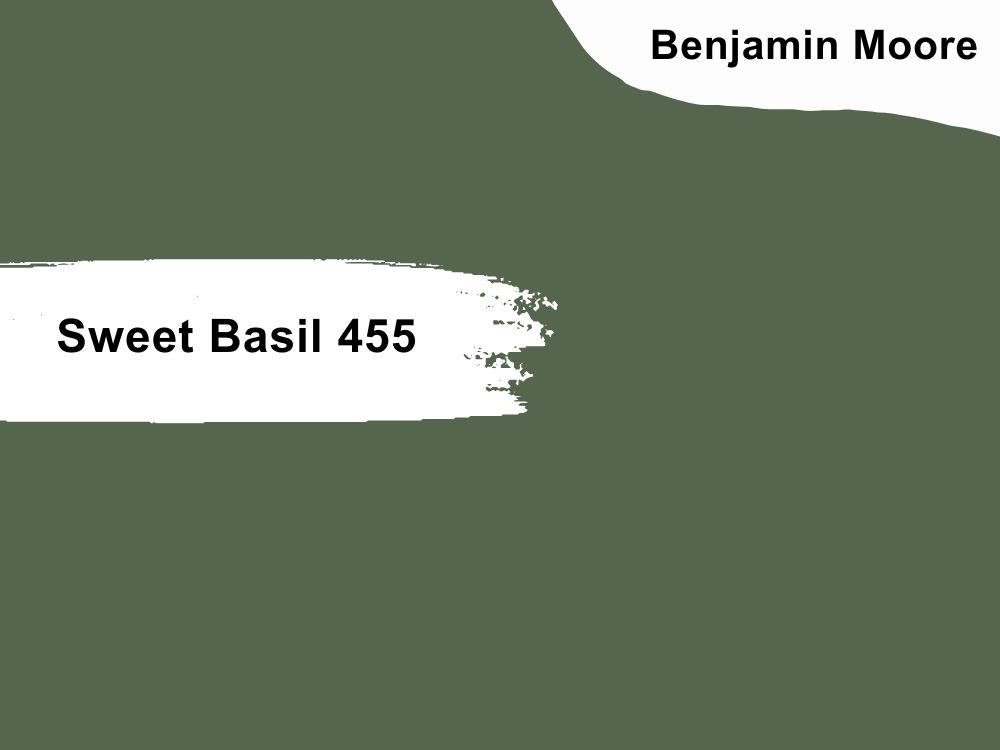 Warm green paint color with deep green undertones
This color is undoubtedly green, bringing to mind the fertile forest or green field around you. Its deep green is so warm that you can feel the coziness and intimacy it delivers, inviting you into its embrace.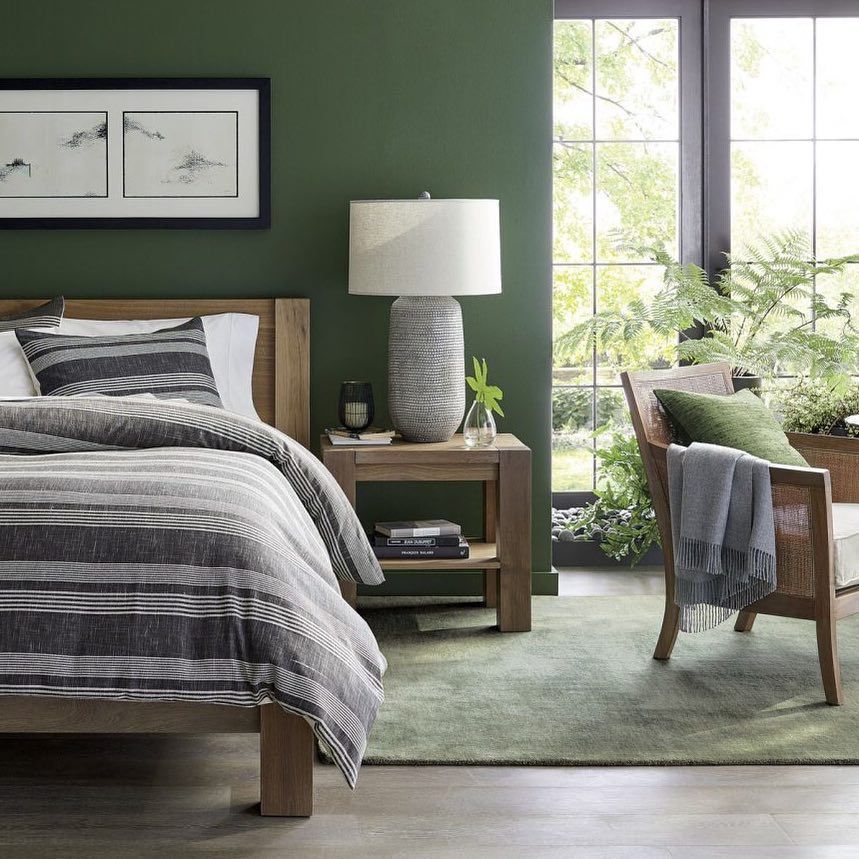 Sweet Basil is such a wonderful shade of green that you can pair it with lighter greens, grays, browns, and yellows. You can also coordinate it with Gray Wisp, November Rain, Swiss Coffee, and Cotton Balls. These colors work because of the color's LRV of 13.51 and its RGB color balance of 86, 102, and 78 respectively.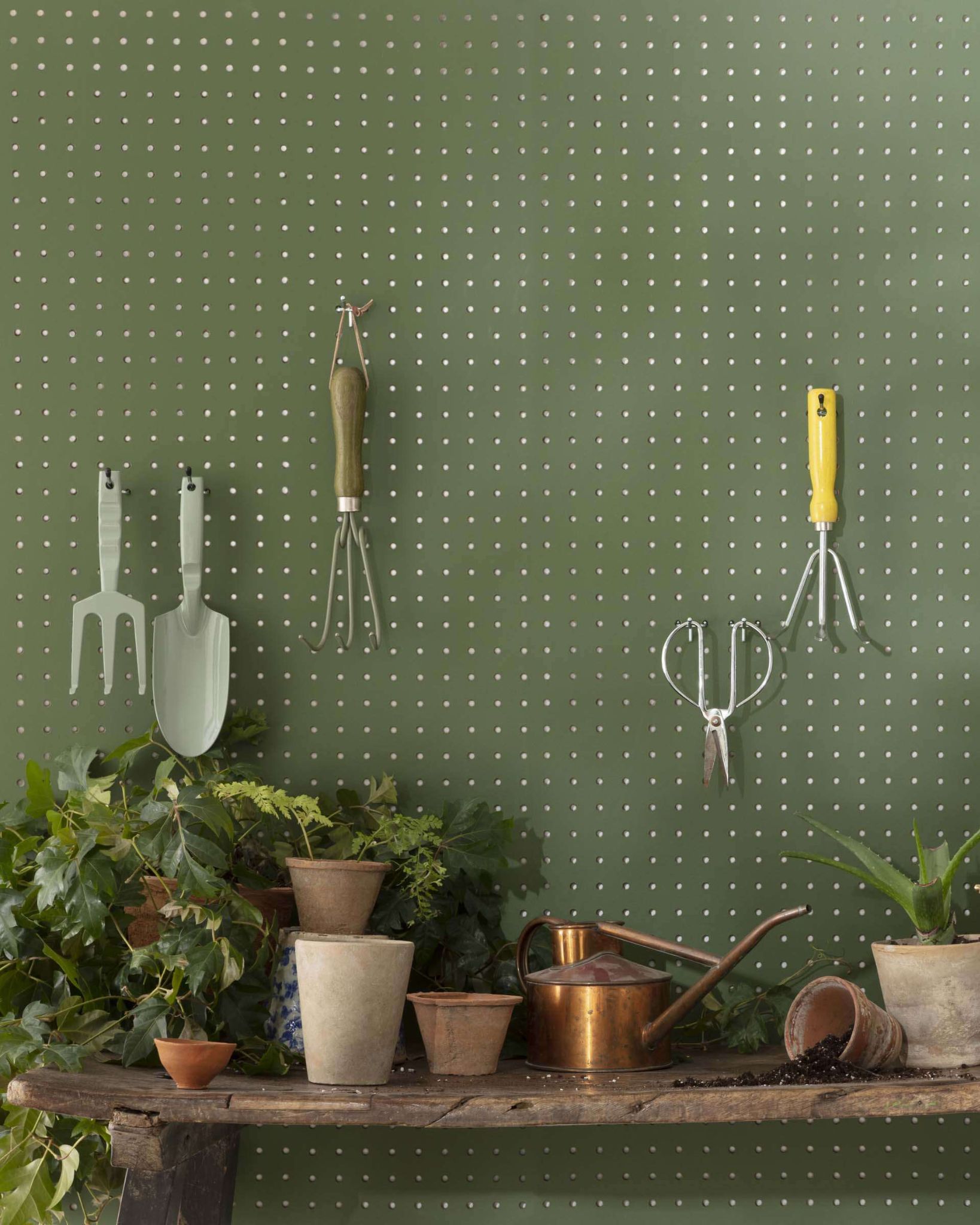 6. High Park 467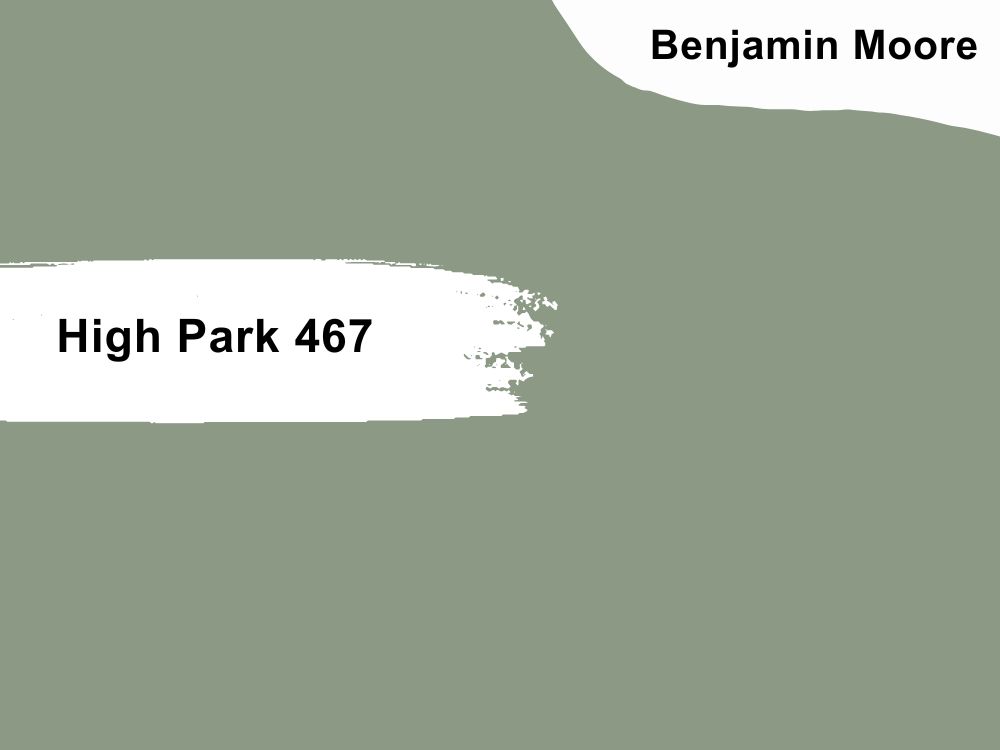 Cool green with gray undertones
Looking for an earthy or herby green paint color for your home? Look no further than High Park because it reminds you of green herbs and gardening. You do not even have to do much to spice this color up. Just a touch of white and brown?will change the entire look of the room.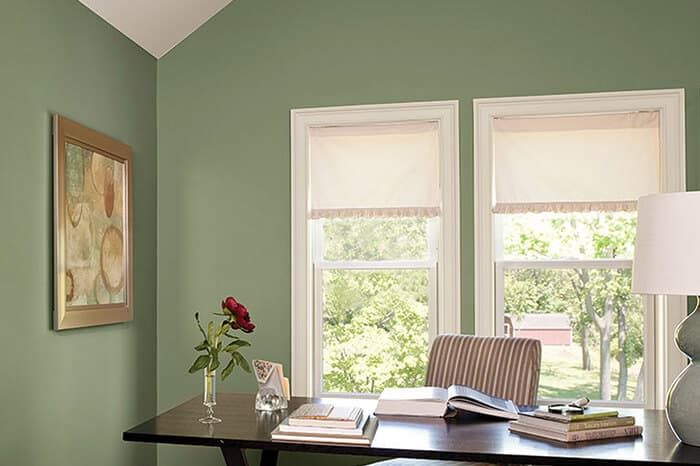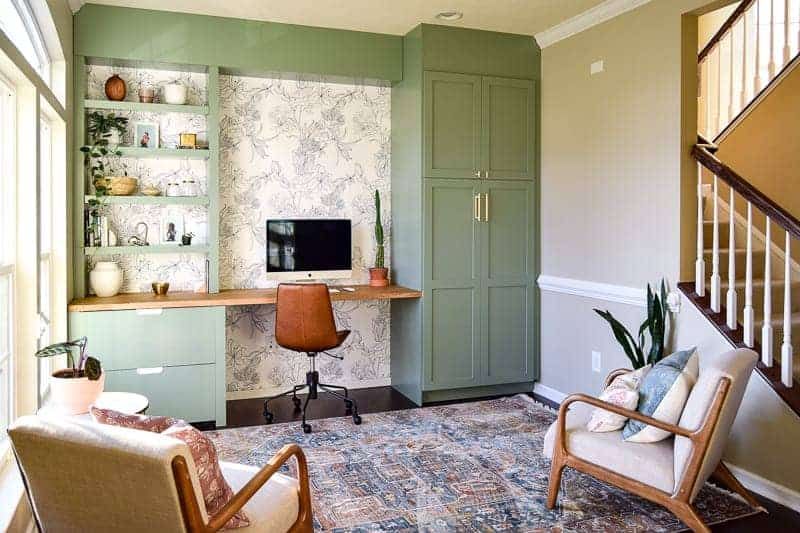 High Park has an RGB color code of 140, 153, and 133 respectively, and an LRV of 30.43. The colors that match it best include Venetian Portico, Steam, Kensington Blue, and Cascade Mountains.
7. Waller Green CW-510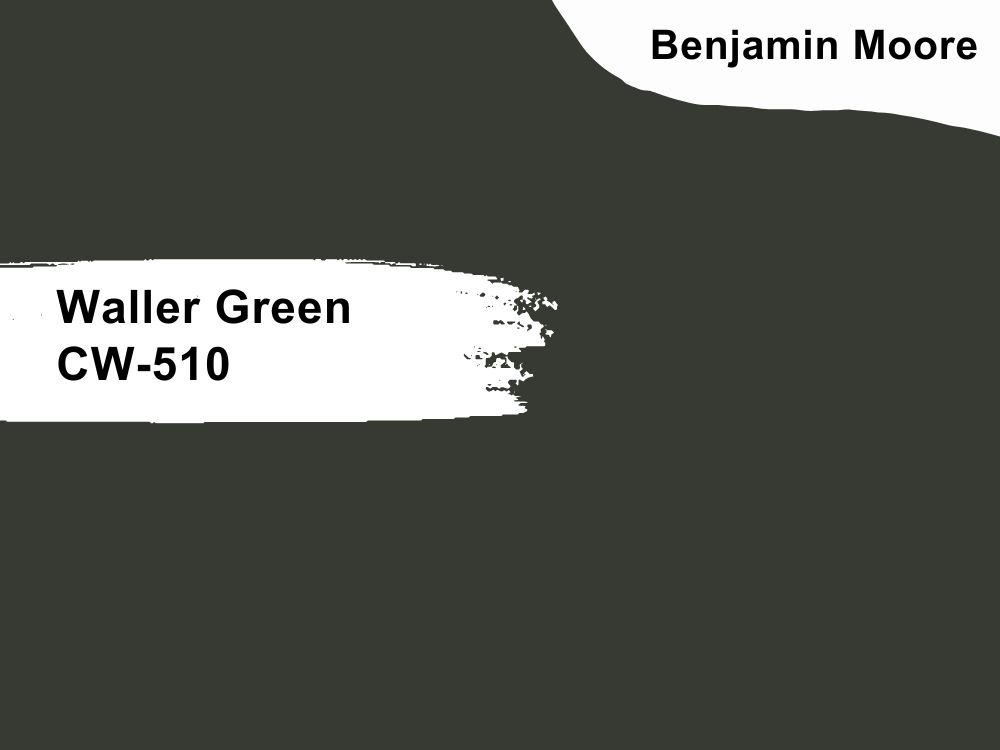 Deep green paint color with gray tones
Now, this is what we call a full-bodied green that owns its name. Waller Green is a deep green color that can take the place of black in some settings or lighting. It is the perfect color for the exterior of your house or even your bedroom if you like deep tones. Consider pairing it with lighter and neutral colors for the best effects.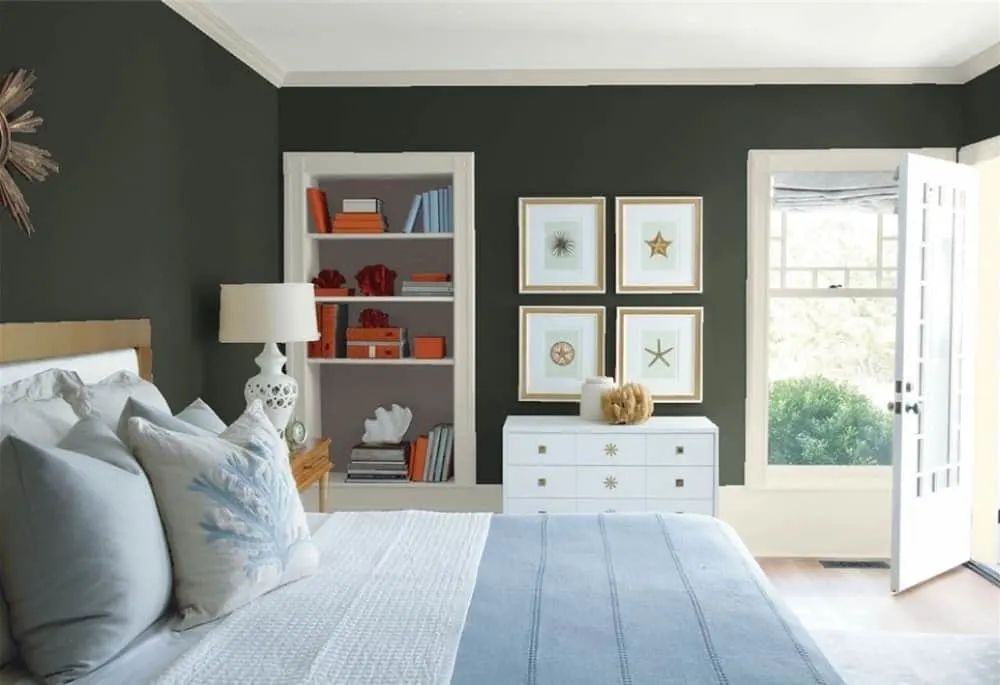 It has an RGB color code of 54, 58, and 50 respectively, and an LRV of 6.14, which explains the deep color. Some of the best colors to coordinate with it include Sea Wind, Parish White, Hampshire Gray, and Bassett Hall Green.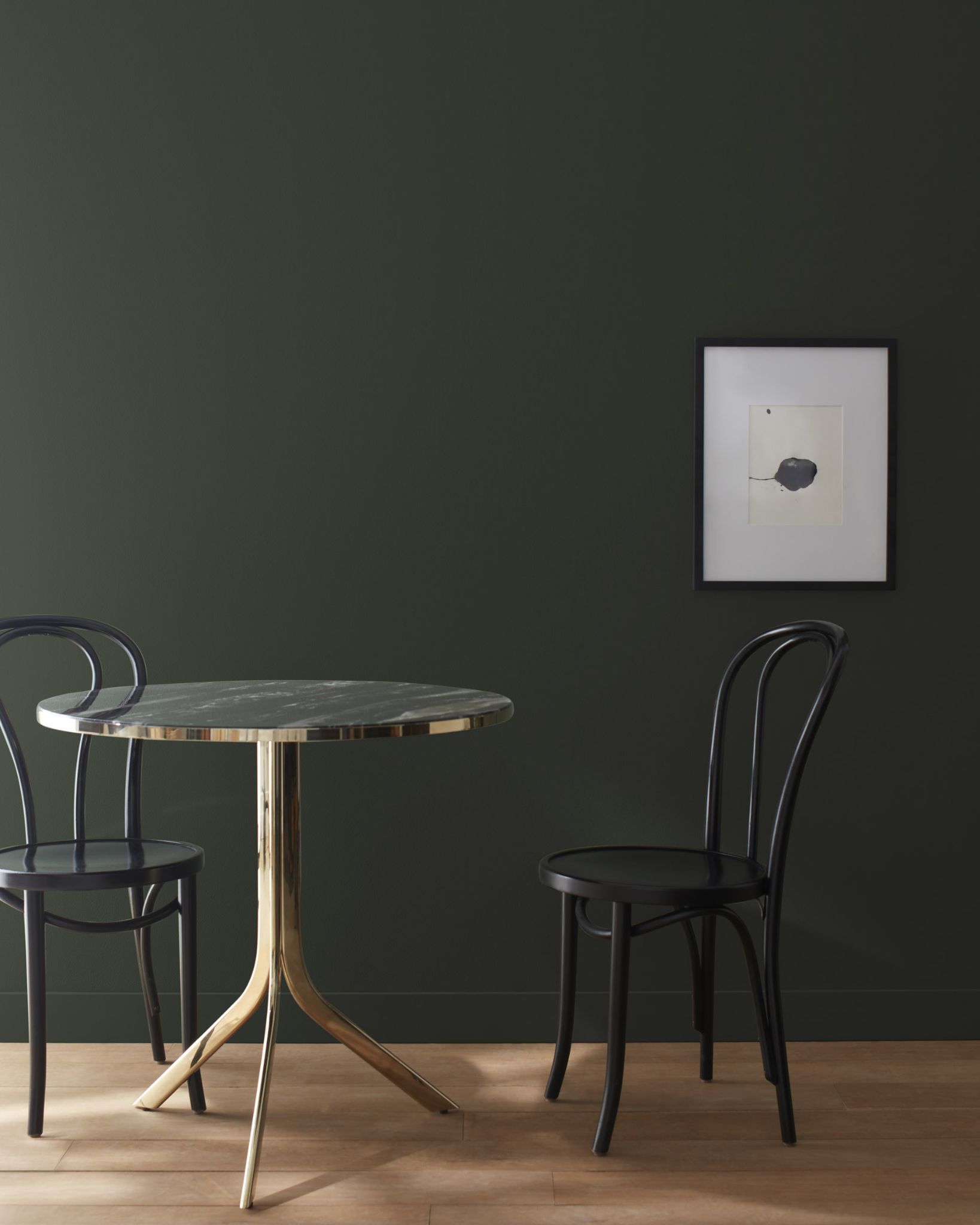 8. Cushing Green HC-125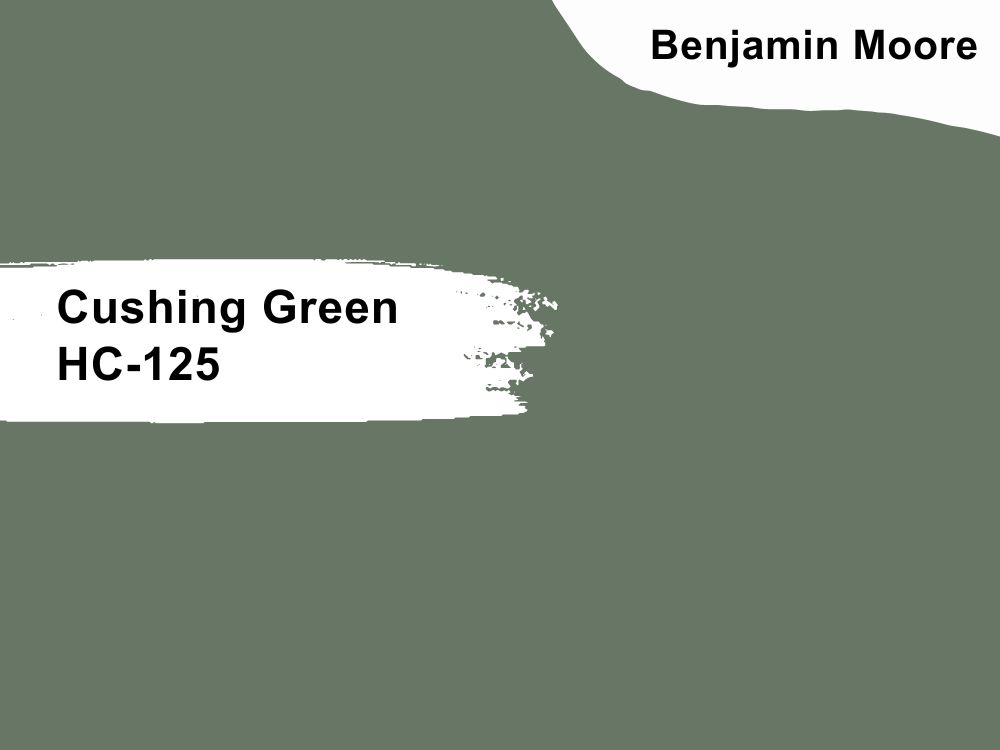 Cool green with blue undertones
If you want to go for a deep green for any room, it is best to select one that does not make the room smaller. The deeper and fuller a color is, the more likely it is to create the impression that a room is smaller than it is. That is one good feature of Cushing Green; while it is dark, it is not too dark or light. So, it does not reduce the size of a room. Therefore, it fits any room size.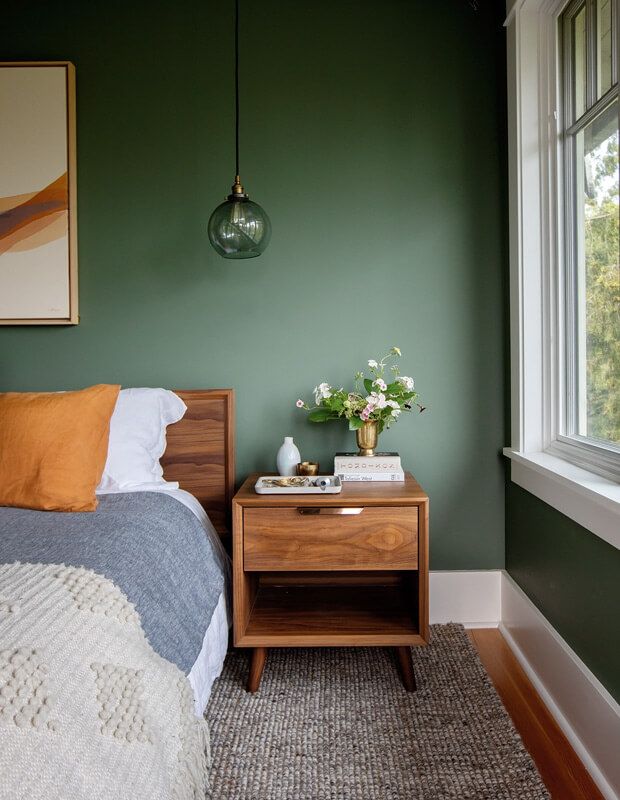 With an RGB of 104, 118, and 102 respectively and an LRV of 17.98, this color is best paired with light colors. Therefore, consider pairing it with colors such as Crystalline, Bennington Gray, Edgecomb Gray, and White Heron.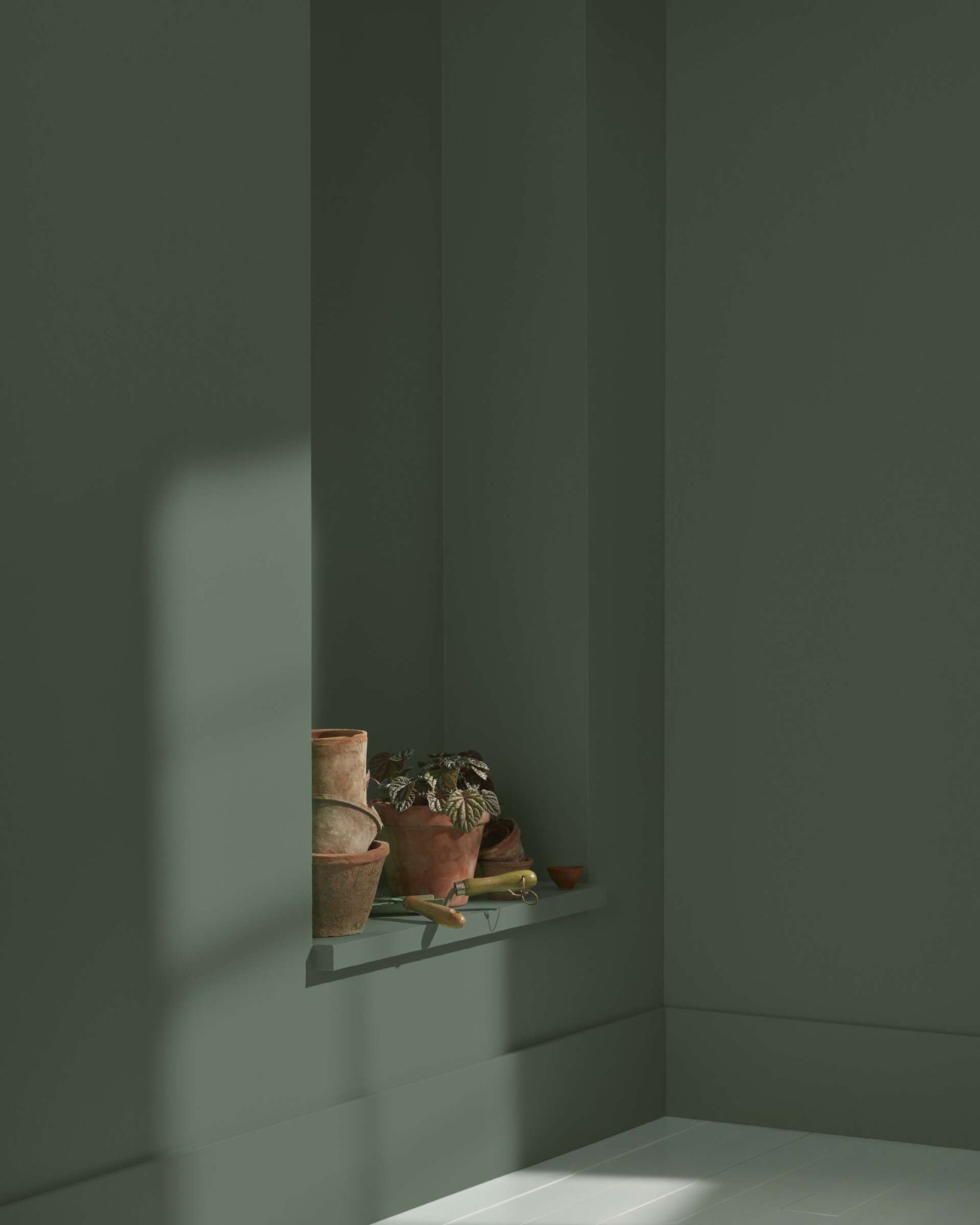 7 Best Green Paint Colors from Sherwin Williams
1. Clary Sage SW 6178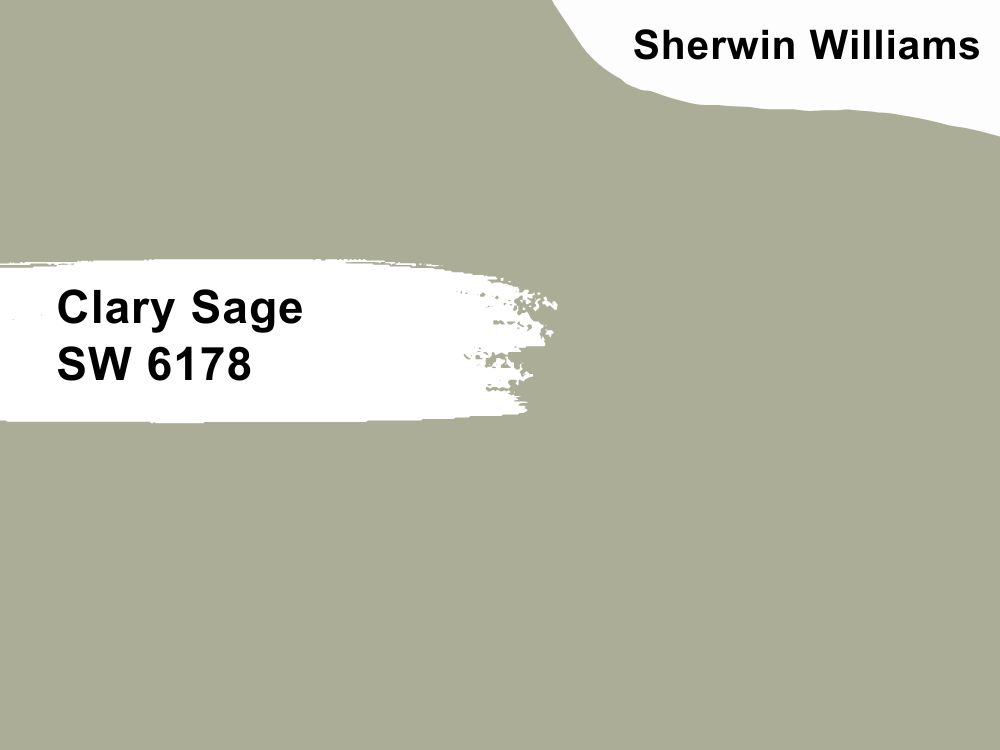 Warm green paint color with yellow undertones
Warm paint colors change the feel of any room, making it cozy and inviting. And that is what you get if you paint your bedroom, sitting room, kitchen, or entryway?a Clary Sage green. This soft and warm color brings to mind gardens and healthy herbs, so it has a calming and refreshing effect.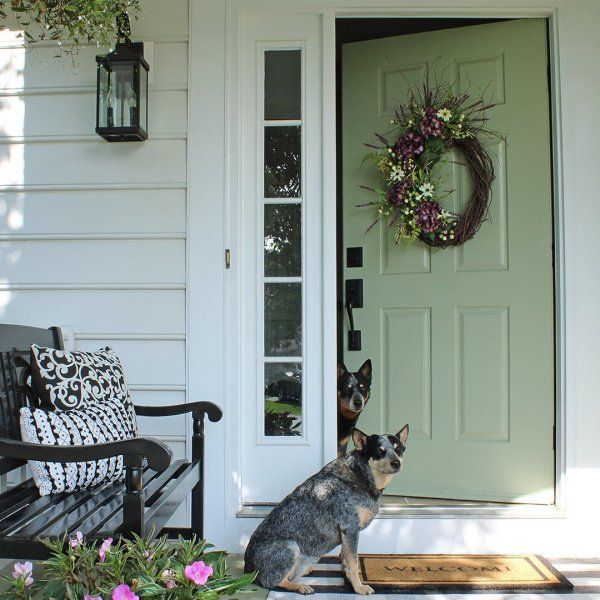 Consider coordinating it with Tumblin' Tumbleweed, Dover White, and Sagey because of its RGB color code of 172, 173, and 151 and LRV of 41. Pure whites and dark colors like browns and blacks?also work well with it.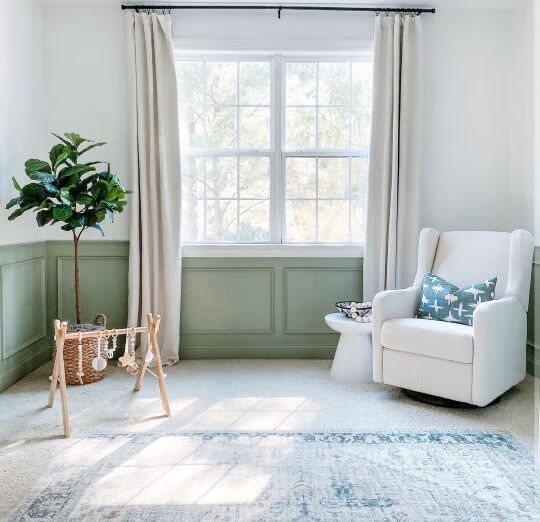 2. Softened Green SW 6177
Warm green paint color with gray-yellow undertones
Softened Green is a warm green paint color that has subtle gray and yellow undertones. The type of lighting you use in any room with this paint will determine its brightness. It will appear lighter if the room is well-lit?with natural or bright light.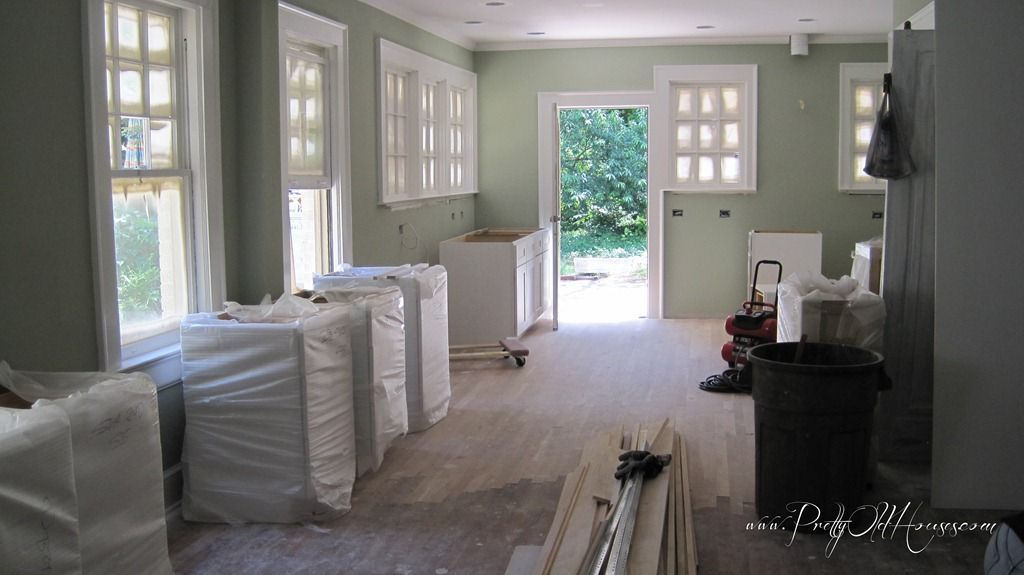 A lighter color with neutral tones?will work well with this color. So, pair it with Dirty Martini, Queen Anne's Lace, and Sagey if you want some diversity. Alternatively, select other light colors like white and light yellow to pair with it. It has an RGB of 187, 188, and 167 respectively, with an LRV of 49.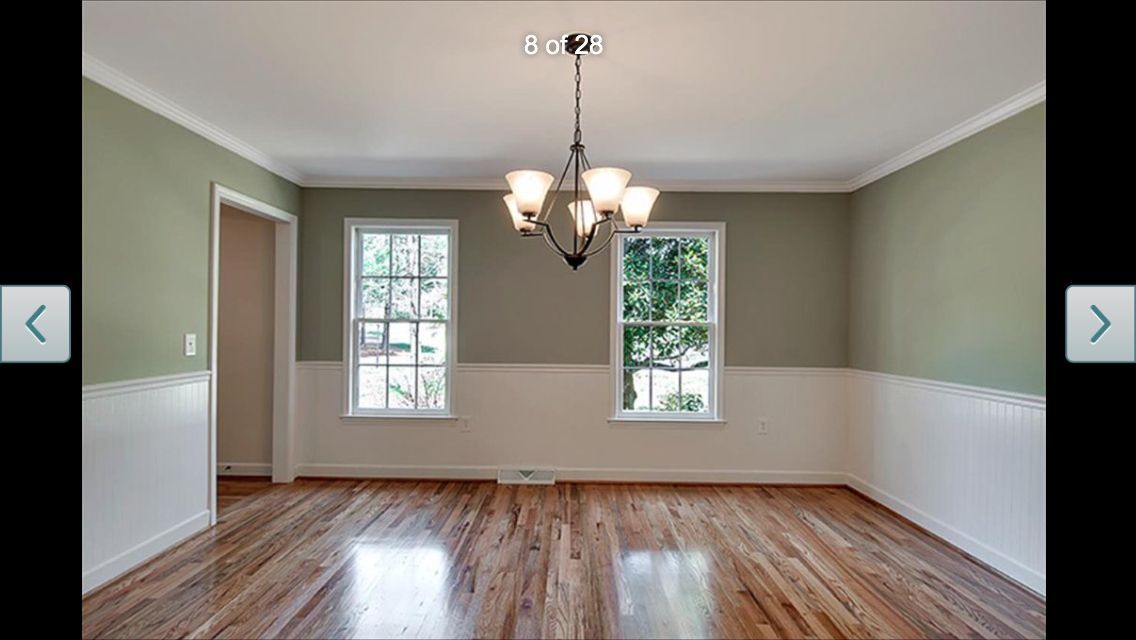 3. Sea Salt SW 6204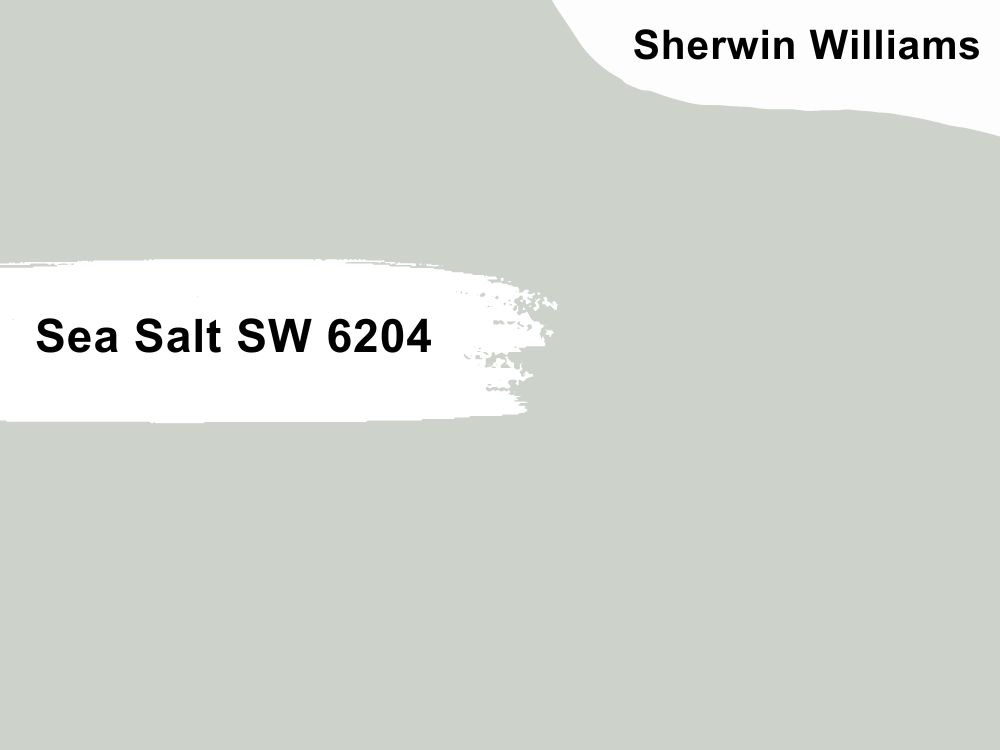 Neutral green paint colors with blue-gray undertones
This paint color is so light that it can work in the place of white. Its neutrality is an added advantage if you want a pop of color with your neutral shades. It has a bit of gray undertones but also shows a hint of blue in some lighting.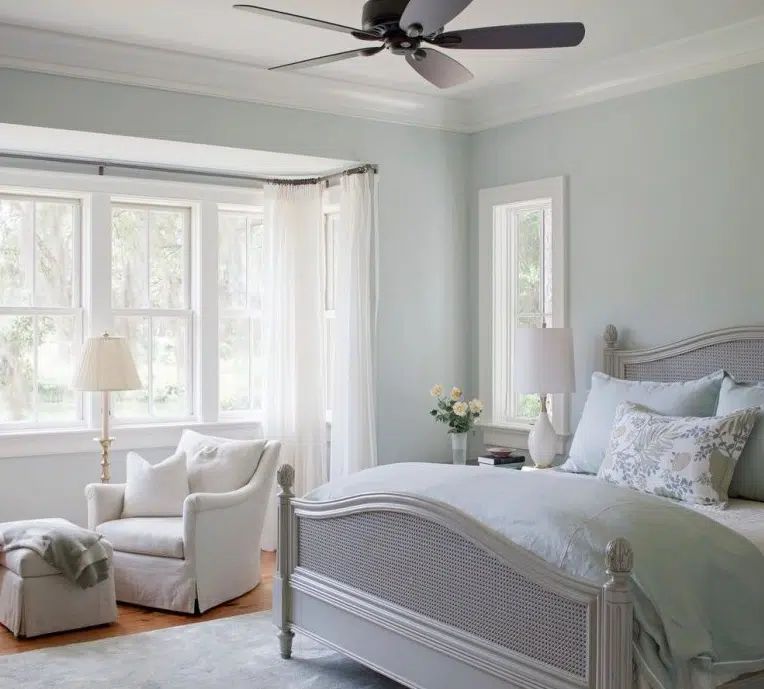 With an LRV of 63 and an RGB color code of 205, 210, and 202, Sea Salt works well with white, especially as a trim. But you can also coordinate it with Summit Gray, Fleur de Sel, and Spare White from Sherwin Williams. It is a splendid color for bathrooms, powder rooms, and nurseries.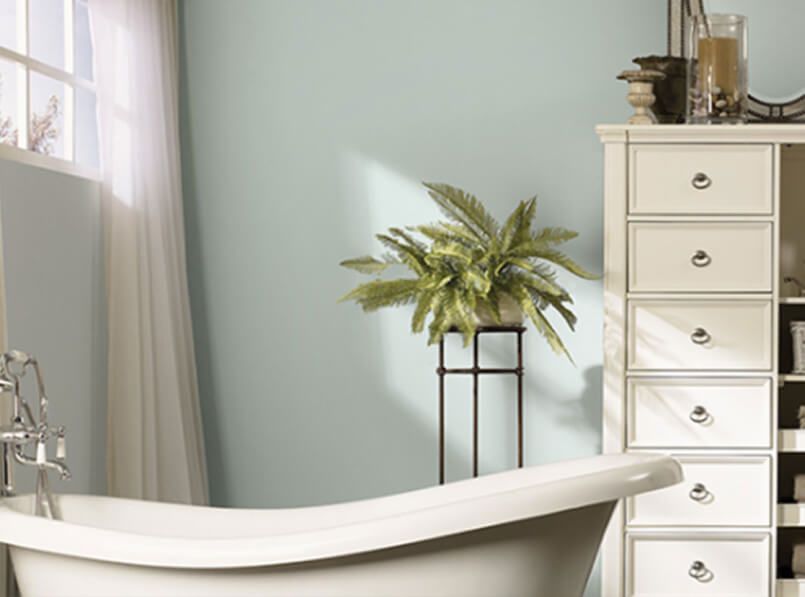 4. Evergreen Fog SW 9130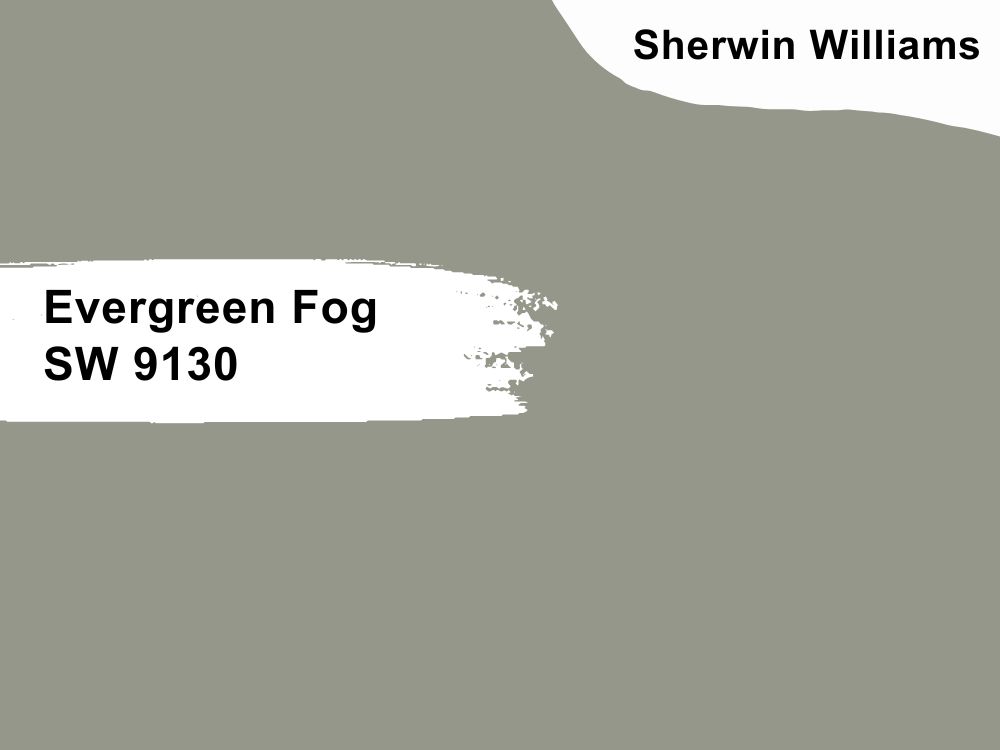 Cool green paint color with green-gray undertones
We can all agree that normal is boring, right? The good news is that Evergreen Fog is anything but boring; it is an earthy tone with some character to it. While it may look light in pictures, we would like you to know that the actual color may be lighter. Because of this, you can use it as a neutral color or trim with it.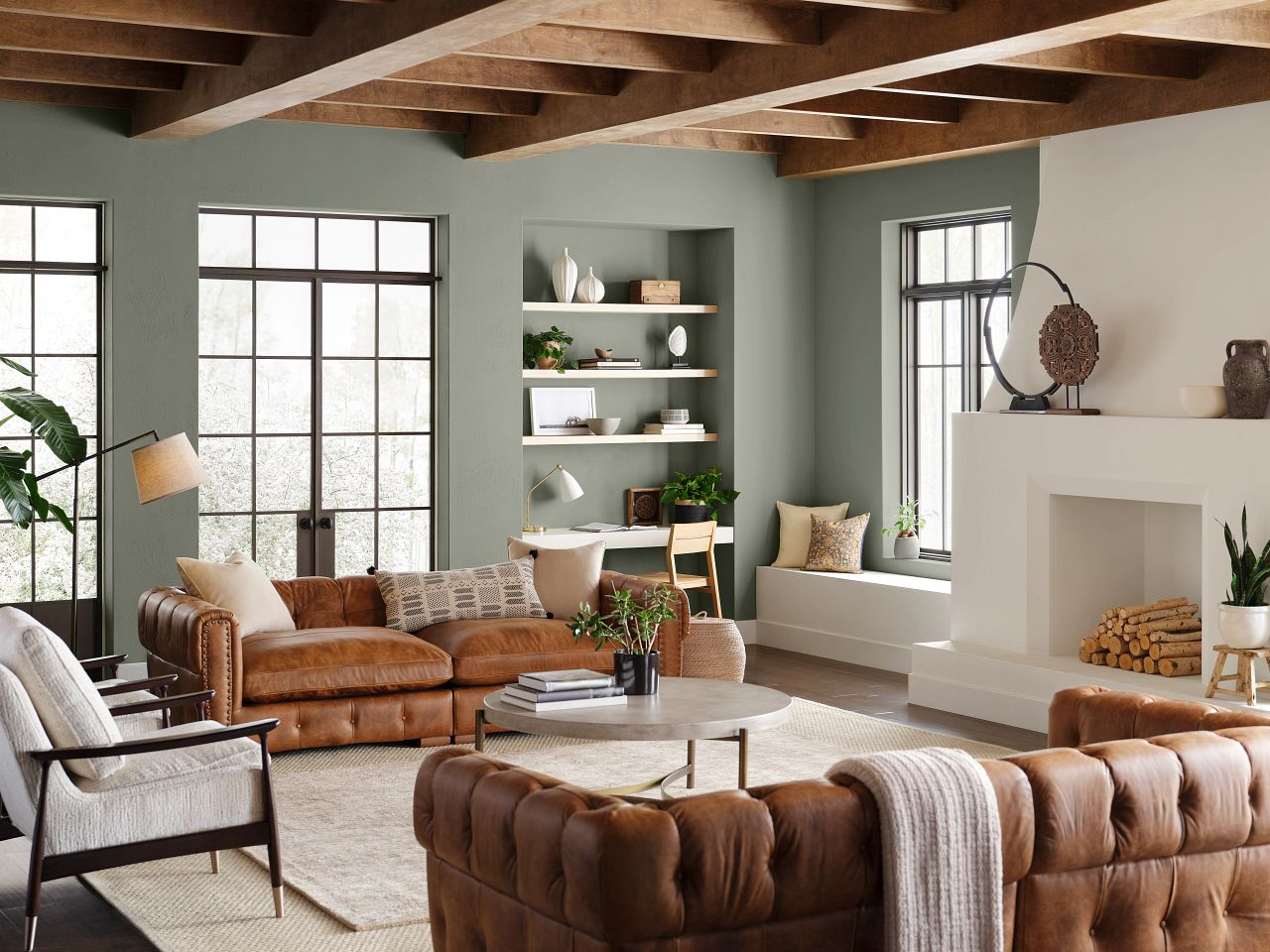 The best part of it is that it can change its look with different lights. The darker a room is, the darker the paint appears. This may have something to do with its LRV of 30 and RGB color code of 149, 151, and 138. However, it is best to use it with a lot of light?and coordinate it with colors such as Dried Edamame, Neutral Ground, and Ethereal White.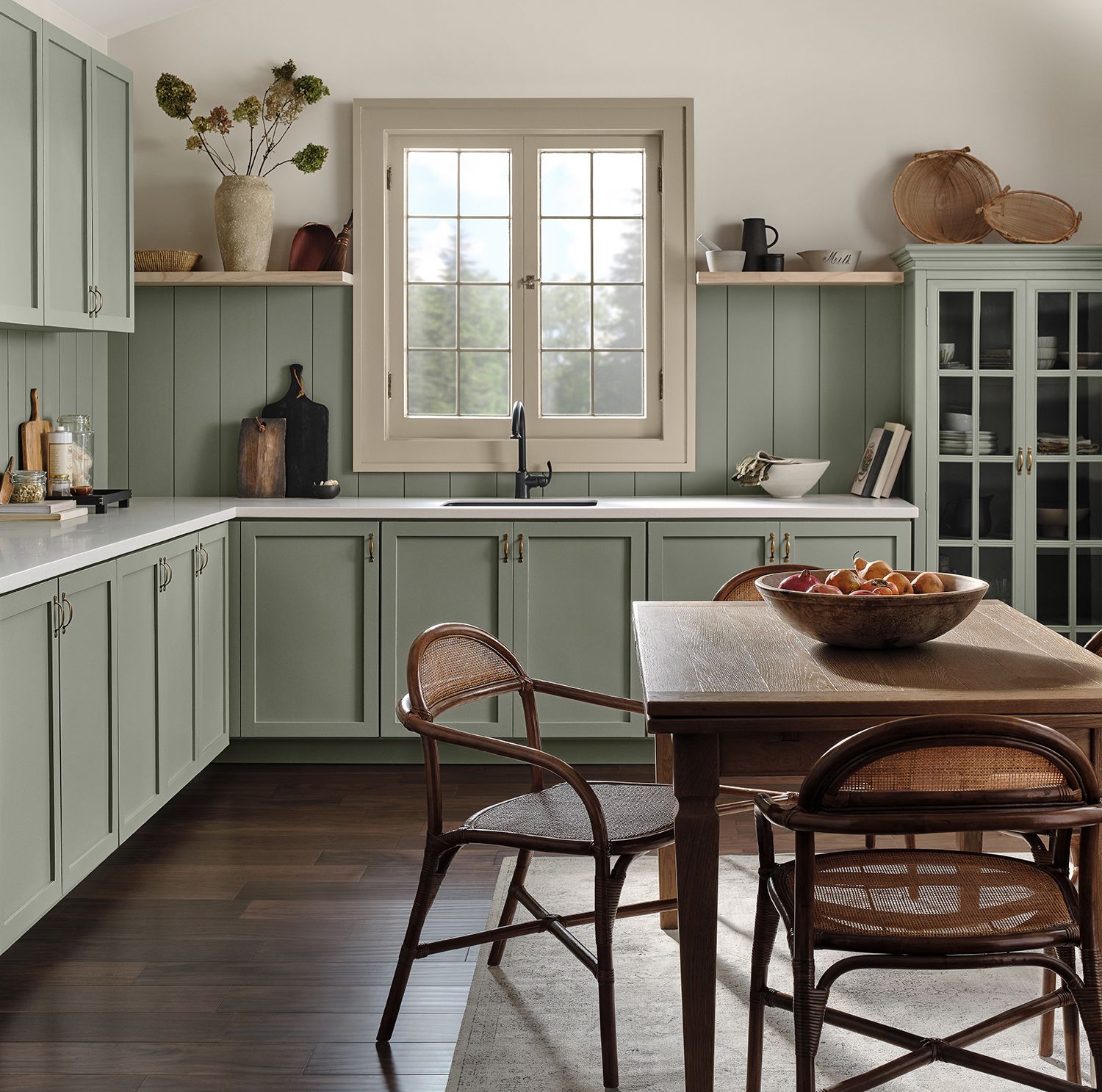 5. Rosemary SW 6187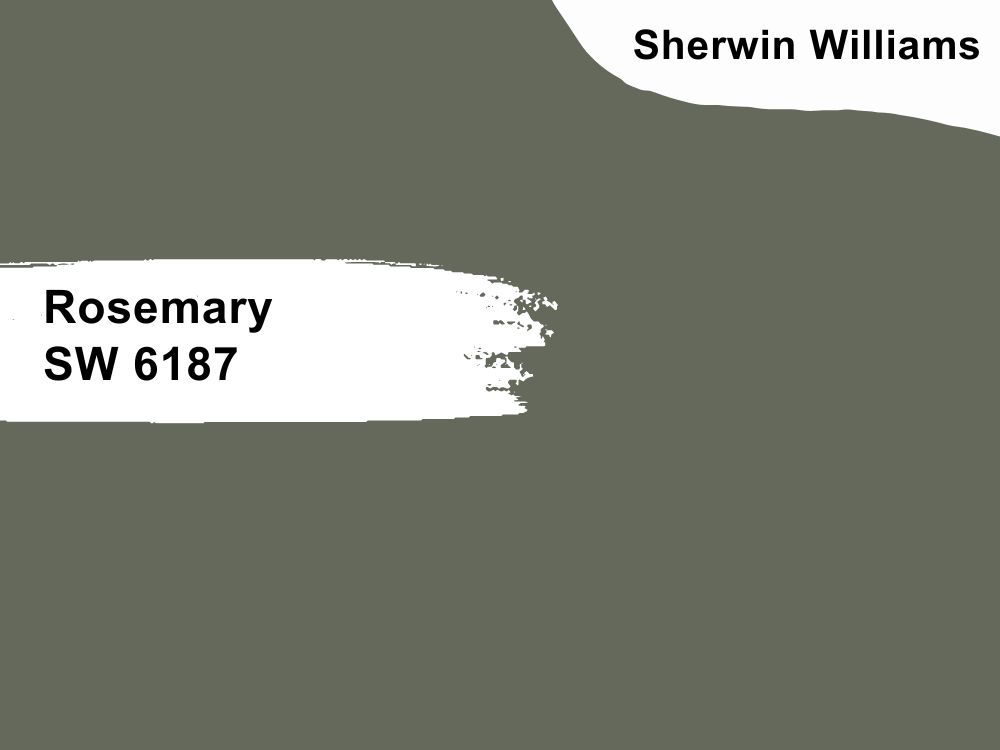 Cool green paint color with slightly gray undertones
This shade of green paint is on the dark side but not too dark as to make a room broody or small. Its unique shade lightens a room, especially if you have good natural lighting. Its LRV of 14, however, makes it a bit dark, so you may want to pair it with light colors like white.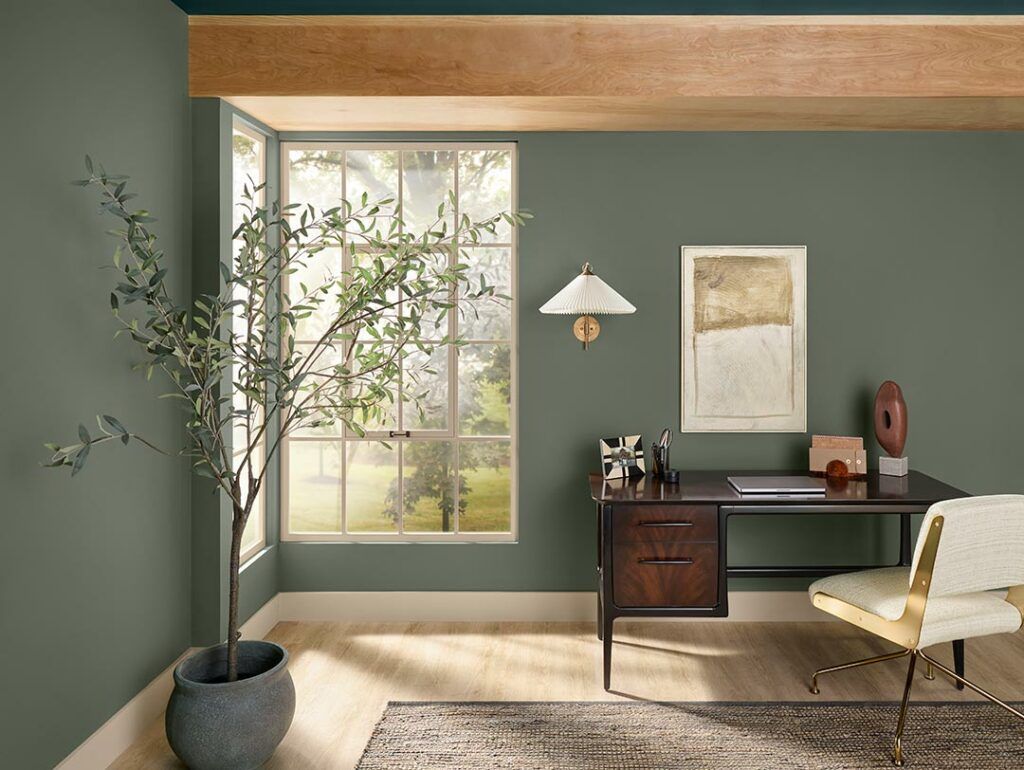 It has an RGB color code 100, 105, and 92 respectively. Coordinate it with Deep Forest Brown, Oyster White, and Ethereal White?for the best results.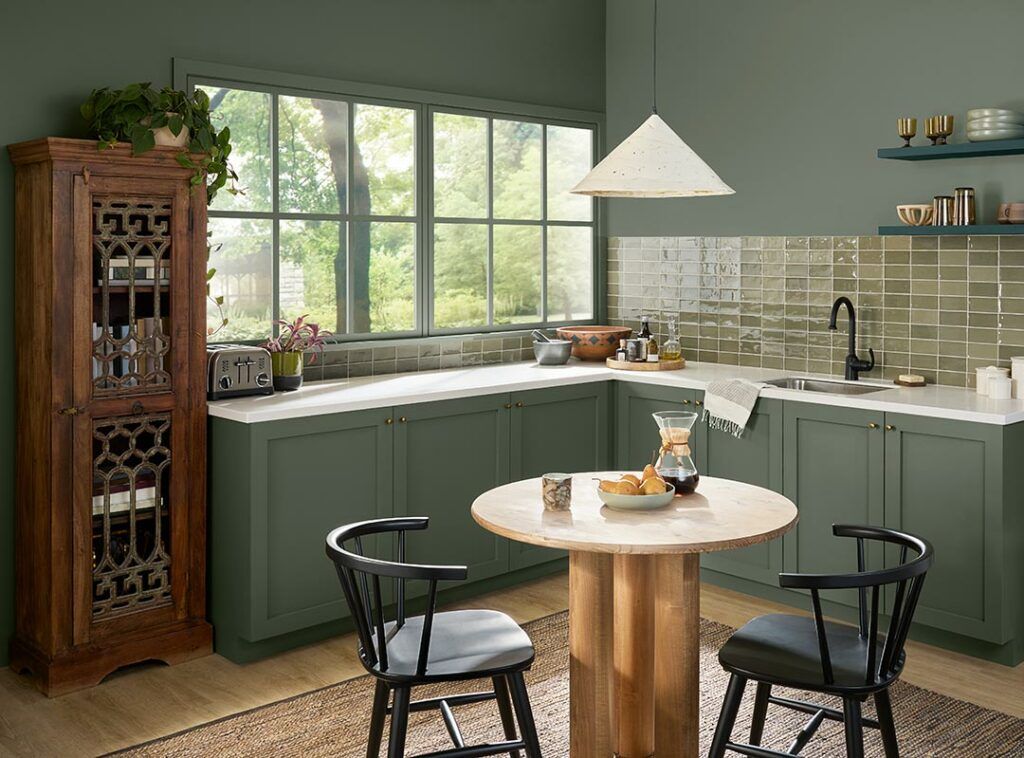 6. Ripe Olive SW 6209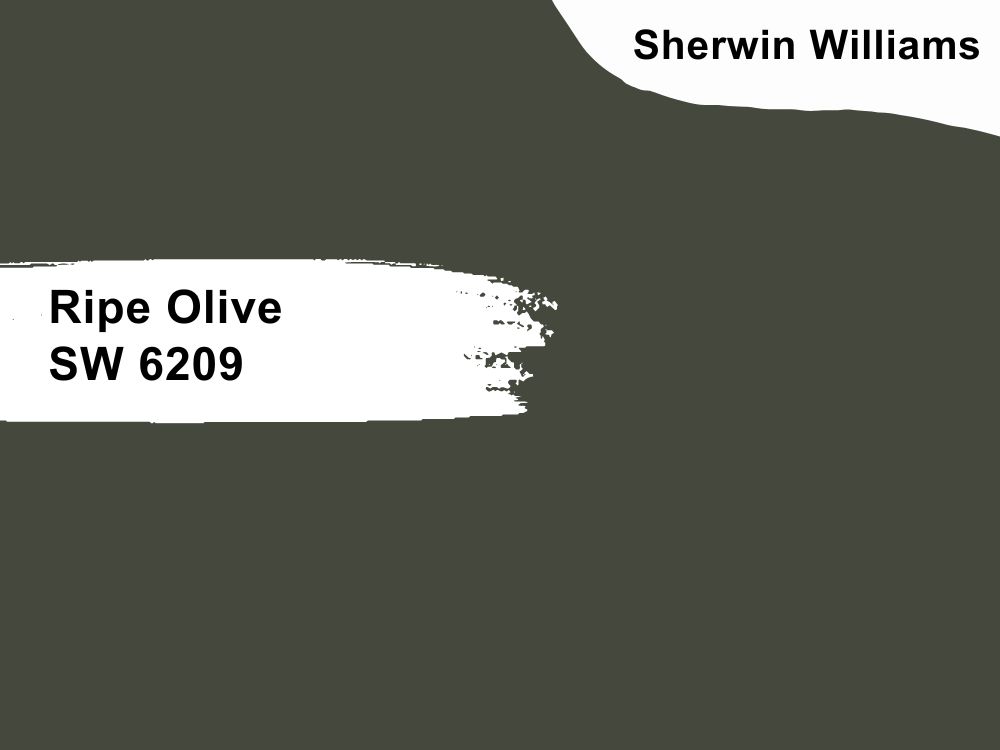 Warm green paint color with blue-gray undertones
Did you know that a color with gray undertones can be warm? Ripe Olive is a deep green color with warm gray undertones. It is one of the best Sherwin Williams green paint colors because of how well it sits on different walls, cabinets, or ceilings.

Coordinate it with Green Onyx, Oyster White, or Spare White to bring out the deep green tone. Proper lighting makes all the difference, especially because the color's LRV is 6, and an RGB color code of 68, 72, and 61 respectively.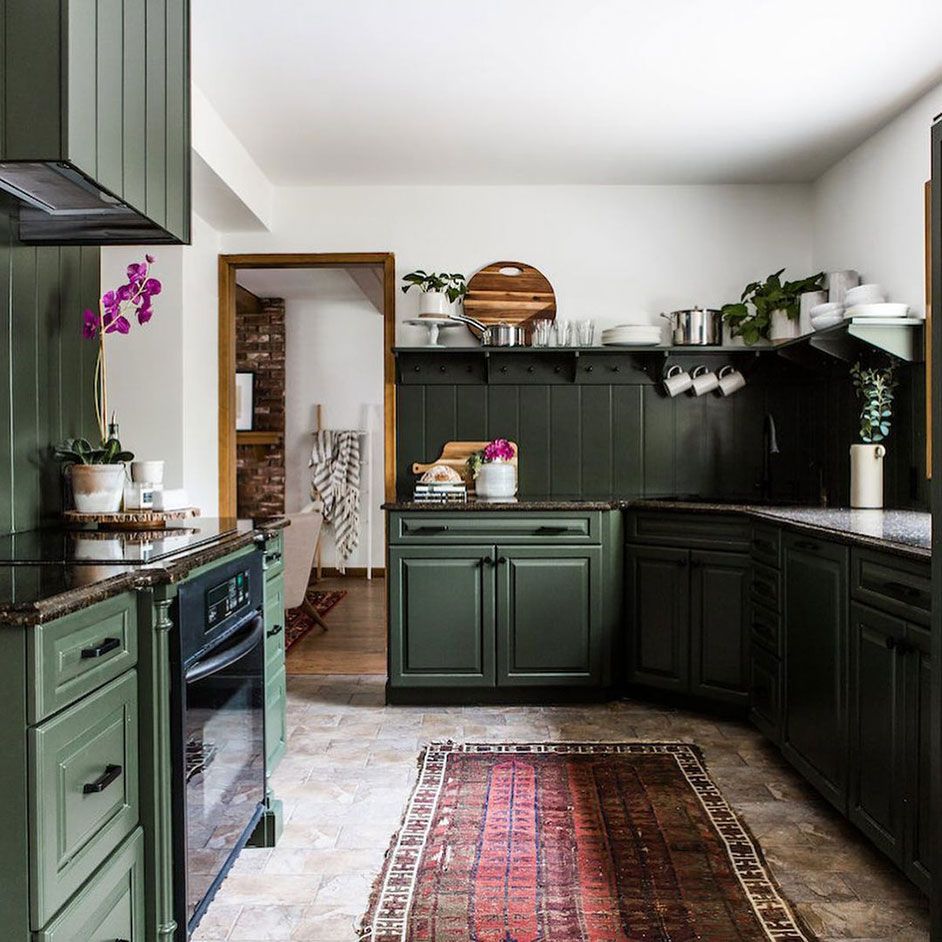 7. Pewter Green SW 6208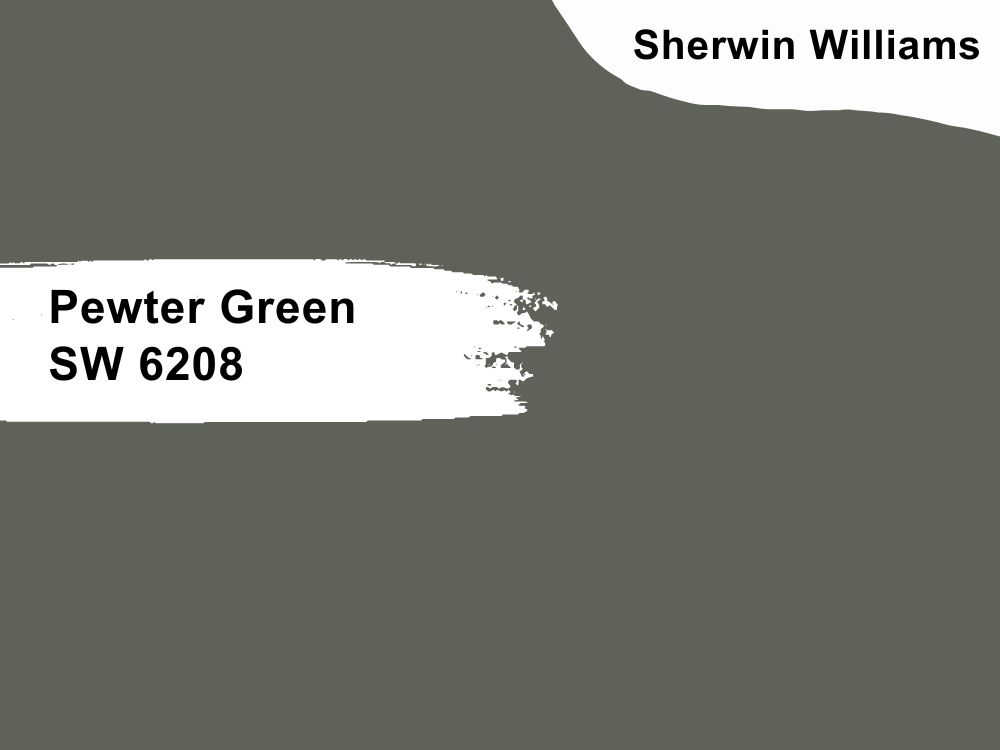 Cool green paint color with blue-gray tones
Dark yet comforting, this green paint color is an excellent way to make your home feel inviting. It does not matter where you use the paint; the result is always amazing. If you are unsure about using such a bold color in an open place, try your workspace or laundry.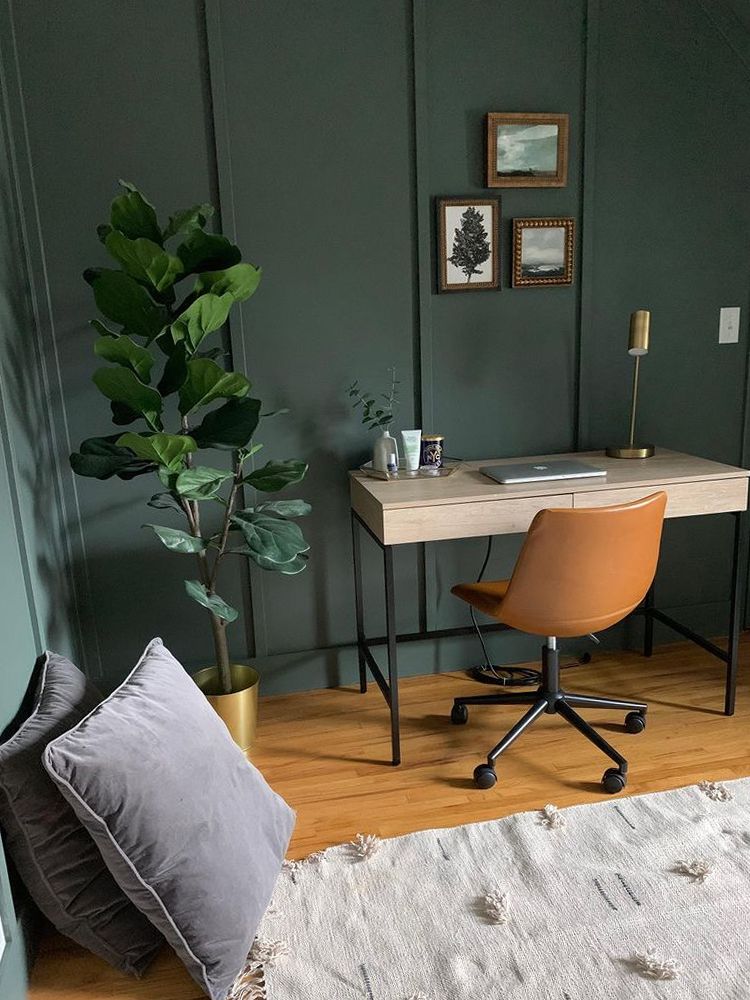 It is also ideal for cabinets, especially when surrounded by whites or light grays. However, you can coordinate it with Silvermist, Shoji White, or Spare White. Pewter Green has a low LRV of 12 and an RGB color balance of 94, 98, and 89 respectively.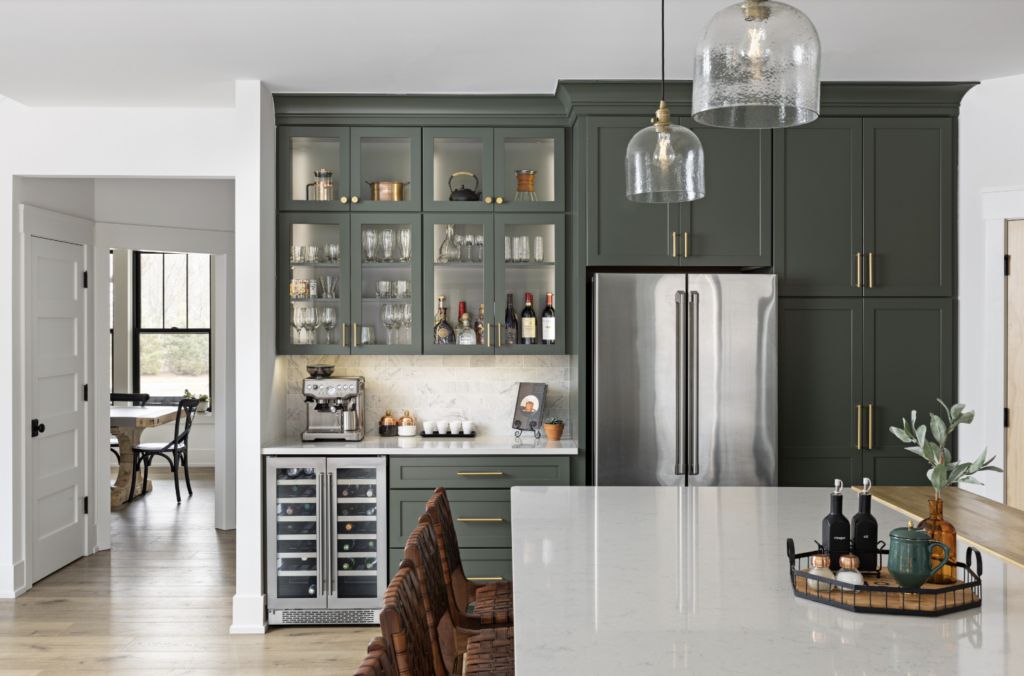 Conclusion
Green is such a beautiful color and is always timeless. You will always get it right if you consider the existing or intended decor while pairing it with whites and light grays. But another superb combination is wood color with greens, regardless of the shade.
Many colors work with green paint colors, and you just need to know the undertones. Benjamin Moore and Sherwin Williams make some of the best green paint colors, and we picked a few popular ones. But do not take our word for it; try one or more for yourself.
Do you already have an experience with any of the green paint colors on our list? It would be splendid if you share your experience with us in the comment section.