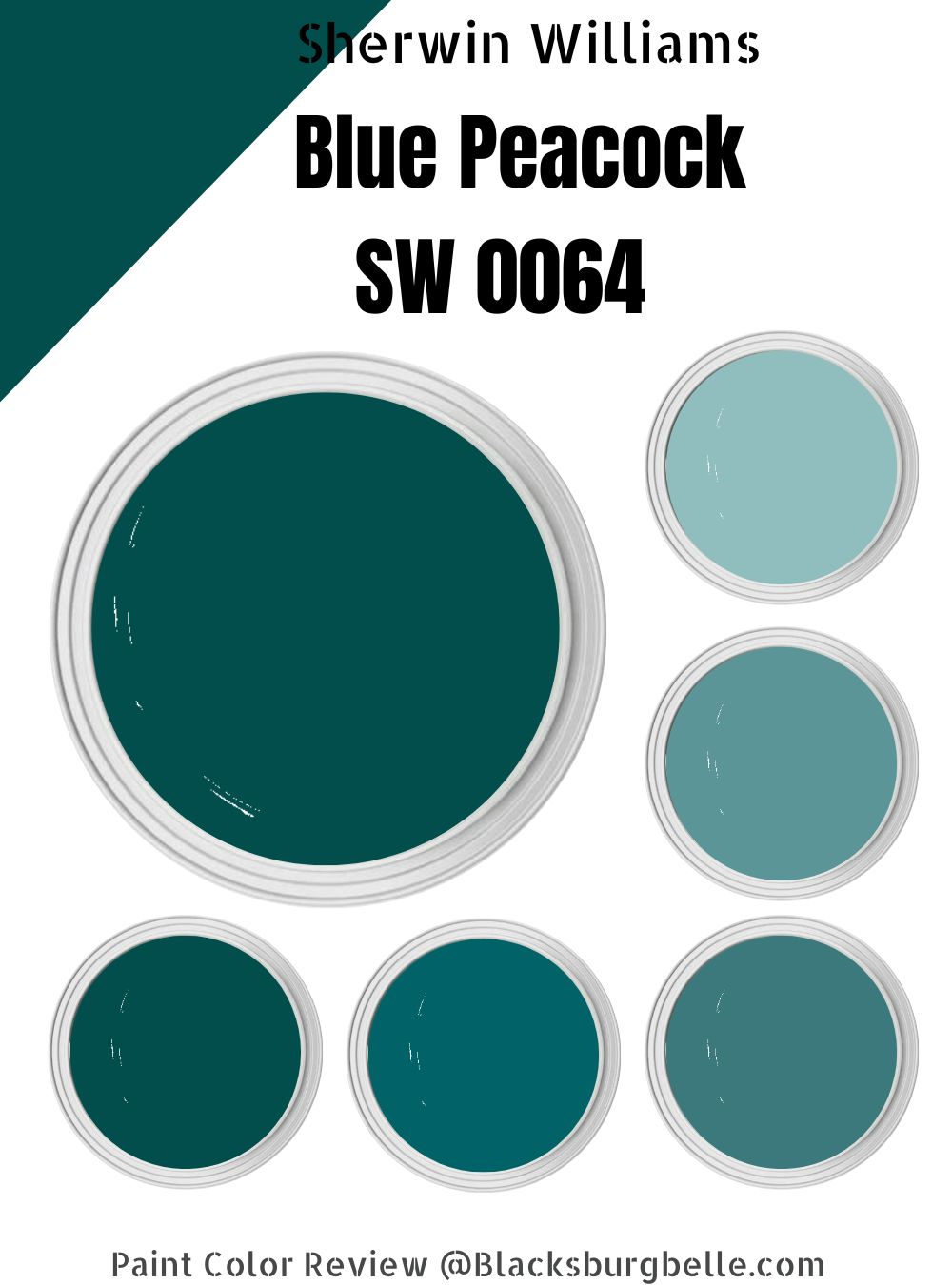 Sherwin-Williams Blue Peacock is a historic green-blue hue made by the brand for interior coloring. The name makes you think it's a bright cobalt blue, but it's more of a mix of the colorful peacock plumage, giving you a balance between green and blue.
Discovering this exclusive shade reminds me why I fell in love with interior decoration. It's neither a warm nor cool color because its two elements have contrasting auras. You'll learn to use these elements to your advantage and get the best possible décor from them.
Before we delve into the creative aspect of this guide, let's get the technicalities out of the way.
What Color is Sherwin-Williams Blue Peacock
| | |
| --- | --- |
| Manufacturer | Sherwin Williams |
| LRV | 6 |
| RGB | Red 1 | Green 78 | Blue 76 |
| Hex Value | #014e4c |
| Color Collections | Curiosity, Historic Interior Color Wall, The Jazz Age (1920s) |
RGB of Sherwin-Williams Blue Peacock
Sherwin-Williams Blue Peacock has low LRV levels making it a dark tone. To create the color, mix Red 1, Green 78, and Blue 76 into a true black paint. The hex value thus comes to #014e4c, so you can use that to customize the paint.
You'll notice that the red is almost non-existent while the green and blue content are almost equal but which shade is brighter?
Light Reflective Value (LRV) Of Sherwin-Williams Blue Peacock
The Light Reflective Value of paint means its ability to retain or reflect natural and artificial light, and Sherwin-Williams B has 6. The Blue Peacock LRV scale isn't a typical 0 to 100 percentiles because no paint is truly pure white or black (there are always undertones.)
With its low LRV, there's no hope of Blue Peacock ever reflecting bright lights into its surroundings unless you introduce other colors. You'll learn more about teasing out the undertones and introducing brightness into the dark hue later.
Is it a Warm or Cool Color?
View this post on Instagram
Blue Peacock is both a warm and cool color due to its equal parts green and blue contents. Green is a naturally warm color that produces feelings of positivity and optimism in a room, while Blue is a cool tone that induces calmness and relaxation in its surroundings.
Let's get into the secondary tones and how they show.
What are the Undertones?
Undertones are the most interesting components of any paint because they sneak out when you least expect them. With Sherwin-Williams Blue Peacock, the two dominant colors are the undertones because the lighting decides which color stands out – green or blue.
It's a deep teal tone, and you can see how the color presents in the examples below.
Check out the different colors for the undertones.
Sherwin-Williams Blue Peacock Color Strip
A color strip is a group of related colors ranging from light to dark gradients, which often comes in handy during monochrome decoration. Because Blue Peacock is a dark paint, the lightest color on its strip is a medium-dark tone.
If it crosses the median mark, it'll be too bright and tacky for the tone.
| | | | | |
| --- | --- | --- | --- | --- |
| Color Code | Color Name | Location Number | LRV | Color Tone |
| SW 9052 | Blithe Blue | 171-C3 | 46 | |
| SW 6487 | Cloudburst | 171-C5 | 26 | |
| SW 6488 | Grand Canal | 171-C6 | 16 | |
| SW 6489 | Really Teal | 171-C7 | 10 | |
| SW 0064 | Blue Peacock | – | 6 | |
Sherwin-Williams Blithe Blue (SW 9052)
Blithe Blue isn't dark like Blue Peacock, and it barely has traces of other colors as its undertone. This medium-dark shade with an LRV of 46 has equal levels of green and blue at 189 contained in its makeup.
It's one of the top Sherwin-Williams blue paints that coordinate its darker blue-green, and Blue Peacock fits the bill. Blithe Blue is a beautiful soft baby blue hue underneath a natural light and sometimes artificial.
Sherwin-Williams Cloudburst (SW 6487)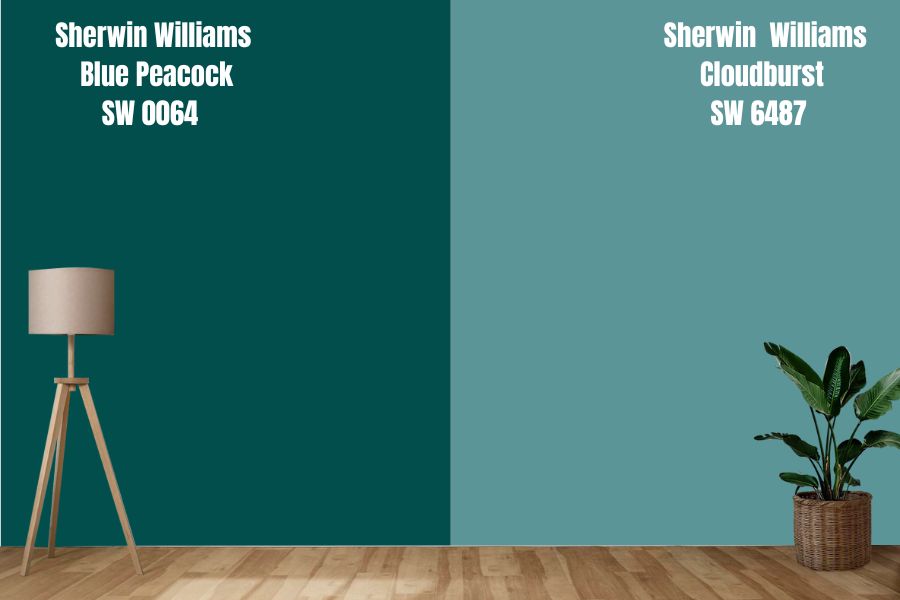 As the name suggests, Cloudburst gives the vibe of a misty blue cloud. It's a medium-dark hue closer to its dark end than medium, unlike Blithe Blue but brighter than Blue Peacock. Look no further than this hue if you need an accent color in a monochrome palette.
It has a slight green undertone but is suitable for exterior coloring. So, you can coordinate a Blue Peacock door against an exterior-painted Cloudburst for a colorful look. Although its glory days are far behind, this paint can come back.
Sherwin-Williams Grand Canal (SW 6488)
Sherwin-Williams Grand Canal makes you feel like you're veering off to the deep end of a vast ocean but not there yet. It's a sweet spot between medium-dark and dark without being shadowy. This color is also a blue-green but needs light to highlight its green.
Placed against a Blue Peacock wall, Grand Canal would highlight the green hue embedded in its genetics. It's good paint for exterior and interior coloring, so there are no restrictions.
Sherwin-Williams Really Teal (SW 6489)
What I like about Really Teal is that the color is bright and inviting despite being cool. It's sure to stand out no matter where you place it making it a great accent for the otherwise dark Blue Peacock.
Also, Really Teal inspires warmth and coziness despite being blue because of its green undertone. Don't use this color if you're afraid of being loud, as it's a statement shade.
Sherwin-Williams Blue Peacock (SW 0064)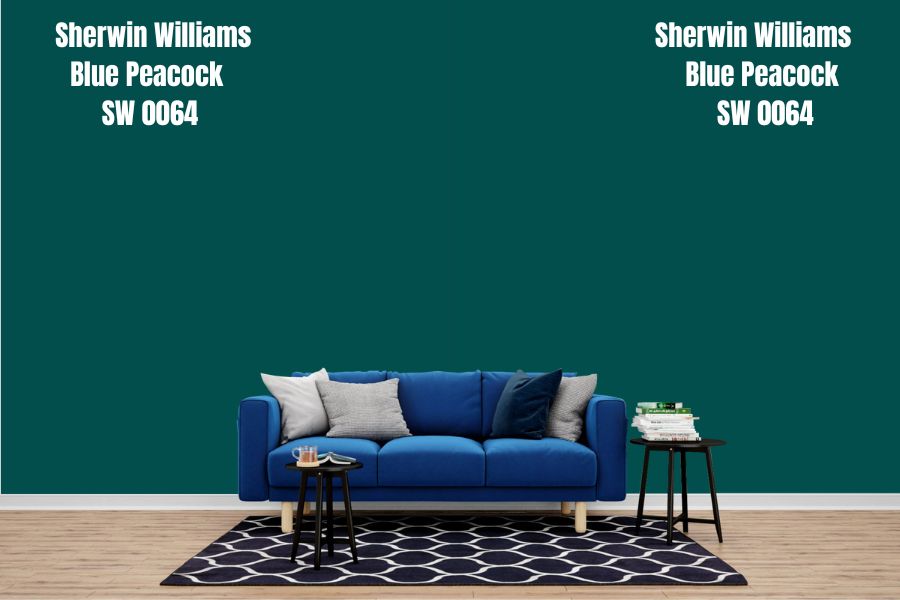 Blue Peacock is a historic paint from Sherwin-Williams and has been popular since the first time the brand launched it. No matter how much you fall in love with this hue, know that it's restricted to interior coloring, as placing it outside would be too much.
Its other two collections, The Jazz Age (1920s) and Curiosity, make Blue Peacock the shade for adventurous designers. After all, the Roaring 20s was filled with letting loose and experimenting with forbidden substances, a.k.a. alcohol.
Unlock your inner Picasso with this paint and transform your space from a basic neutral theme to this sophisticated two-toned color. Let's get to the interesting part of this guide – decoration.
Sherwin-Williams Blue Peacock Color Palette
A color palette is a range of colors used in curating a design as its guides you through a defined theme. Even when you think a professional created a space with inspiration and instincts, there's always a central theme like Contrast at the center.
Check out the top three color palettes for paints and how to use them in your space.
Coordinating Colors for Blue Peacock
You can coordinate a Blue Peacock paint in four ways, but here are three of the most popular Color Palettes – Monochrome, Contrast, and Complementary Decorations.
Monochrome Decoration with Blue Peacock
Monochrome Palettes are the simplest of the three to curate because you'll work with an anchor color – Blue Peacock – and build your space around it. Hardly do people ruin this theme, but it's possible if you use the wrong group of colors. Keep reading to avoid finding that out.
This palette is for people with a taste for minimalist designs, as it helps your space look centered and decluttered. However, there's a method to this style to avoid becoming monotonous and boring.
Move up and down the gradient scale when choosing your other teal hues. It'll introduce brightness and balance, giving the space a range of colors despite its anchor shade.
Pro Tip – Use the Color Strip.
Triadic Decoration for Blue Peacock
Triadic Decoration is new to me, but I immediately fell in love with it. If you think the complementary decoration is creative, wait till you try triadic designing. It involves pairing colors within an equal triangle on the Color Wheel so they're all equally spaced.
Blue Peacock is the anchor color, while the other two in the triad are accents and highlights. As a Blue-Green paint, its accents are Red-Violet and Yellow-Orange. You can use these accents on walls or other accessories like furniture, flooring, bedding, and upholstery.
Remember to choose warm shades as your accents to avoid dulling the vibe of your space, as Blue Peacock is already a dark color. It doesn't have to exceed 50 on the LRV scale, but it should at least double this blue-green paint's six.
Some Sherwin-Williams Red-Violets include Reddish, Salon Rose, Rembrandt Ruby, and Alaea, a timeless color. Yellow-Oranges from the brand include Brittlebush, Sunny Veranda, and Butter-Up.
Blue Peacock Contrasting with Complementary Colors
Complementary color palettes are good for highly creative people because they let you explore a wide range of colors. It's also easy to mess it up if you get the pairings wrong, as that'll make each piece stand out like a sore thumb.
Using this theme means choosing colors opposite Blue Peacock on the color wheel. Since the standard color wheel doesn't contain that shade, explore an expanded option with gradient colors.
The tertiary color blue-green has red-orange on its opposite end, so that's a deep tan for teal.
Choose hues with hints of orange but lean towards the warm end of the color. Some examples from Sherwin-Williams include Limón Fresco – a green paint with yellow and orange undertones meant for interior coloring.
Other warm oranges are Cut in the Mustard, Bakelite Gold, Carnival (very bright), Honeycomb, Mellow Mauve, and Golden Rule.
What Trim Colors Go With Sherwin-Williams Blue Peacock?
The best trim for Blue Peacock is wood, especially those with orange hues, because they complement the color seamlessly. You can also use gold and bronze as they're equally warm enough to accent the dark shadowy aura from the paint.
Pairing Blue Peacock with bright neutrals like white, cream, and beige is a good idea for non-cluttered spaces. You can introduce style into the space with printed home accessories like throw pillows, blankets, chair headrests, and rugs.
Sherwin-Williams Blue Peacock Color Comparisons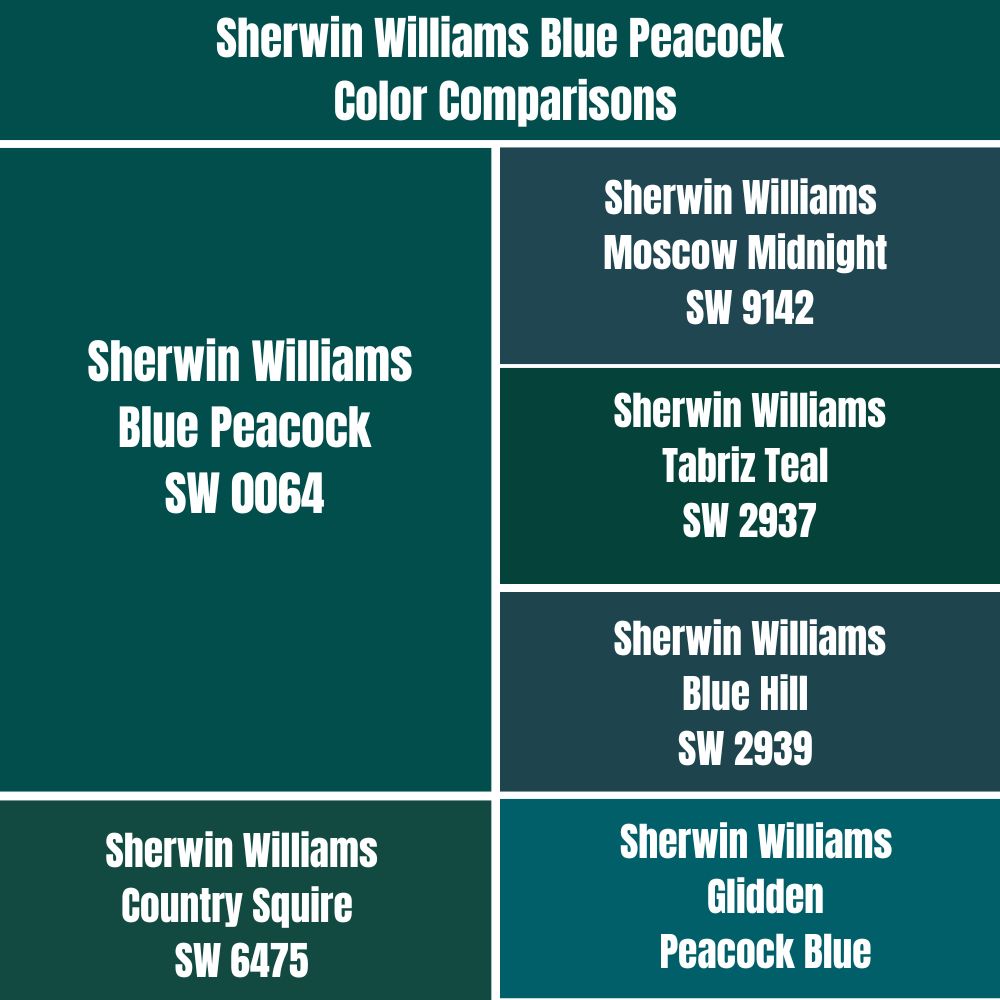 What if Blue Peacock is too dark for you, or you've run out and need an alternative? What other options are there? Here's a short list of blue-green teal hues made by Sherwin-Williams compared to Blue Peacock.
Review it and decide if you need a switch or pairing or would stick to your original choice.
Sherwin-Williams Blue Peacock vs. Sherwin-Williams Country Squire (SW 6475)
With Sherwin-Williams Country Squire, you'd get an overpowering green tone making it a dark teal color, unlike Blue Peacock. Like any other true blue-green hue, this paint has a beautiful navy undertone waiting to shine with the right conditions.
Its components have 74 Green and 66 Blue mixed with 18 Red, giving it a Hex Value of #124a42. Country Squire is as dark as Blue Peacock, with the only difference being the degrees of Green and Blue.
Sherwin-Williams Blue Peacock vs. Sherwin-Williams Moscow Midnight (SW 9142)
Moscow Midnight is a sophisticated dark blue paint that can work in any space, from interior to exterior. Its rich shade that's sure to elevate its surrounding's outlook whether you use it sparsely or generously. The Hex Value is #204652.
With this paint, the blue tone overpowers the green, although it has the same LRV as Blue Peacock. If that color is too glum for you, try this shade instead.
Sherwin-Williams Blue Peacock vs. Sherwin-Williams Tabriz Teal (SW 2937)
Tabriz Teal has an overpowering army green color overlayed on its navy-blue color, but it has a zero LRV value. It has almost equal parts green and blue, but the extra two drops of the former make it a neutral paint.
Tabriz Teal still gives an either/or vibe like its counterpart Blue Peacock but has a more solid resolution due to its lack of light reflective value. Get the shade with its Hex Value – #005553.
Sherwin-Williams Blue Peacock vs. Sherwin-Williams Blue Hill (SW 2939)
Blue Hill has a zero light reflective value making it a truly neutral solid color. There's no fear of an alternate tone jumping out of nowhere when the sun shines from a different angle. Choose this shade if you want an uncompromising neutral tone with spunk.
Its Hex Value is #1e45d.
Sherwin-Williams Blue Peacock vs. Glidden Peacock Blue
Glidden Peacock blue is more of a cyan tone than the teal shade of Sherwin-Williams' Blue Peacock version due to its extra blue tone. Most people think of this shade when the words "peacock blue" come up, so it's no surprise that it's more popular than its counterpart.
Unfortunately, it's no longer available in the Glidden directory, but you can create yours using its scientific values – Red 0, Green 37.5, and Blue 41.18, which makes a Hex Value #005f69.
Blue Peacock Benjamin Moore Color Comparison
No two paint brands have the same colors across the board, as one or two percentages would differ in the RGB or LRV values. Also, you can't find two exact colors within the same brand, but you can explore similar shades.
Here are some Benjamin Moore teal colors you can use as alternatives to Sherwin-Williams Blue Peacock. All pictures from Benjamin Moore.
Teal (2055-10)
Benjamin Moore Teal is the closest shade to Sherwin-Williams Blue Peacock, as they have almost the same LRVs. While the former is 0.49 brighter than the latter, they're as similar as colors can get across brands.
BM's version is an elegant hue that's almost navy, but for the warming of the sharp green undertone, it's a smoky vibe.
Caribbean Teal (2123-20)
With Caribbean Teal (2123-20), you have more of a silver-blue gray that exudes a moody ambiance. It has an LRV of 19.84, so it's a medium-dark tone that leans more on the dark end. Get this paint to introduce a cool evening vibe into your space.
Teal Ocean (2049-30)
Think of the feeling you get when you're in the middle of the ocean, and you have Benjamin Moore's Teal Ocean. It's a bold color, so if you'd rather have a muted space, avoid this hue. However, its tone and undertones make it ideal for creative people.
Slate Teal (2058-20)
Decadence, drama, and elegant energy exude from this teal color with a dominant blue and subtle hints of green. It's a solid dark color like Sherwin-Williams Blue Peacock but a few percent lighter with an LRV of 9.08.
Peacock Blue Benjamin Moore Version
Benjamin Moore's Peacock Blue (2049-40) version is brighter than Sherwin-Williams' dark tone. The color reminds you of the depths of an open sea because its blue overpowers the subtle green undertone.
Unlike its solid dark counterpart from Sherwin-Williams, Benjamin Moore's Peacock Blue has an LRV of 36.65. That means it reflects some light into its surroundings even though it's not very bright. Use this color to bring an oceanic aura into your space.
How Does Light Affect the Color?
Since Blue Peacock is a teal color with green and blue content, your lighting plays the most part in its dominant tone. You need a compass to choose which rooms and spaces would help the color shine brightest, as some rooms receive less light than others.
South-facing rooms receive the most natural light and have the highest chance of highlighting the faintest undertones. Blue Peacock appears green in the dark and its natural state due to the extra two drops of that color in its makeup.
Under direct bright lights, the paint's blue hue overwhelms its natural color, and you get an exotic shade.
Best Rooms To Paint Blue Peacock
Firstly, Sherwin-Williams Blue Peacock is an interior paint, so there's no question of using it outside, or is there? The color is sophisticated and dark, meaning you can't afford to use too much unless you're prepared to coordinate with warmer tones.
Check out some of the best.
Blue Peacock Bedroom
Create a retro style in your bedroom with Blue Peacock by painting your walls in color. Then, soften it with a texture like wool, cotton, and linen. To create a regal aesthetic, use silk, satin, or percale weave beddings as their luscious shine would highlight the teal.
Introduce prints with your flooring and upholstery to avoid a monotonous and overwhelming teal tone. Remember to coordinate the décor and not use Blue Peacock throughout the bedroom. You may emphasize a cool vibe with a monochrome style or bring warmth with contrasts.
Blue Peacock Living Room
You can go wild with your living room decoration because it's the part of the house with the most windows and natural light. So, there's no fear of the Blue Peacock coloring overwhelming you. However, don't use only one color there.
Bring the space alive with green houseplants sitting in colorful pots. Accent the wall with other colors based on your chosen palette and take advantage of your furniture.
To highlight the Blue Peacock teal, make your chairs and walls in its color, then accent them with accessories like throw pillows, carpets, wall art, and curtains. See some ideas below.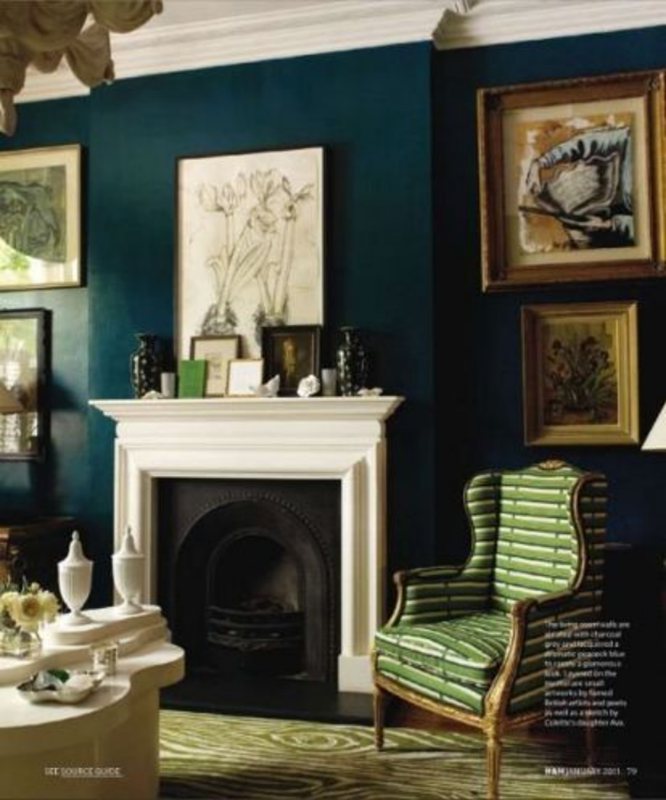 Blue Peacock in the Kitchen
Blue Peacock in the kitchen seems like an overkill, but that's hardly true when decorated right. Due to its dark tone, use it only as an accent or half wall. In some places in the kitchen, this teal tone works best, including – cabinets, fridges, islands, and storeroom/backyard doors.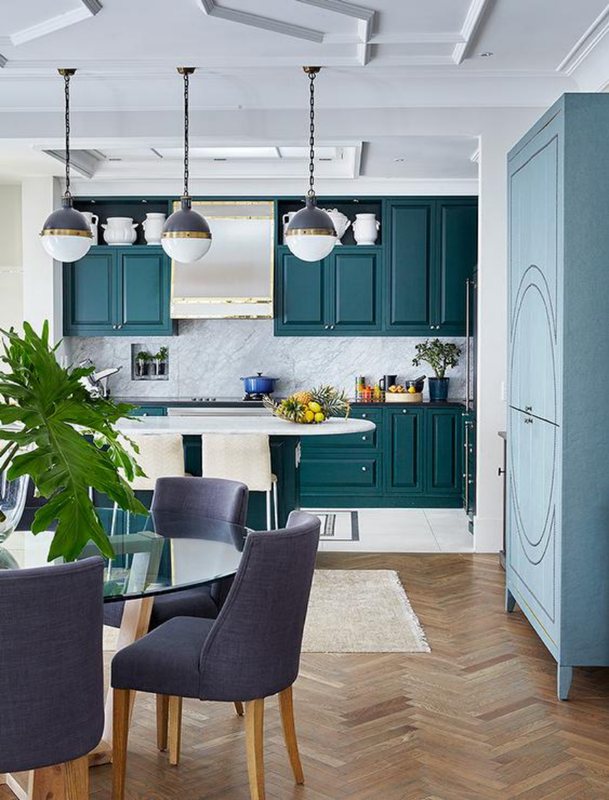 Blue Peacock Dining Room
Once you've decorated your kitchen with Sherwin-Williams Blue Peacock, you can use it as an anchor for your dining room. If you painted the kitchen walls Blue Peacock, then use it for your dining furniture – credenza, tables, and chairs.
However, if the kitchen has a different wall color with Blue Peacock accents on the furniture, you may use it for your dining room wall. Then, accentuate it based on your palette.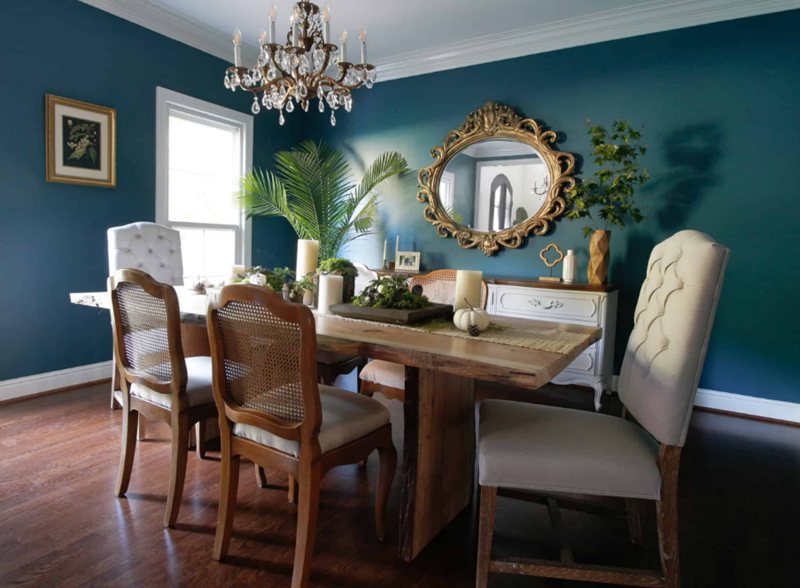 Blue Peacock Bathrooms
White. You can never miss with White and Blue Peacock paint in the bathroom, especially when the walls are in the teal tone and the accessories are in the pastel color. For a little more razzle-dazzle, introduce gold accessories like Towel Holders, hooks, soap dishes, and bathtubs.
Using white would give the bathroom a modern vibe, while gold, wood, or bronze would transport you back to the Jazz Age. Choose wisely.
Blue Peacock Exteriors
Remember how I opened this section saying Sherwin-Williams Blue Peacock is exclusively for interior painting? Well, there's a loophole. Accents. If you must use this teal tone on your exterior, look no further than your door.
A beautiful Blue Peacock door against a white wall is contemporary, while a wooden wall gives a rustic vibe.
View this post on Instagram
Sampling Blue Peacock
Sherwin-Williams offers three forms of sampling for all customers – Color-to-Go, Color Chip, and Peel-and-Stick. The first option is the most accurate of the three choices, as the other two may appear lighter or darker based on lighting.
Final Thoughts
Sherwin-Williams Blue Peacock is an exotic color; you'd not regret using it if you're into daring aesthetics. There are several ways this can go, but the most common palettes are – contemporary or rustic.
Whichever you choose, remember that the coordinating colors influence the overall aura. So, what would it be? Monochrome, Triadic, or Complementary Contrasting colors.