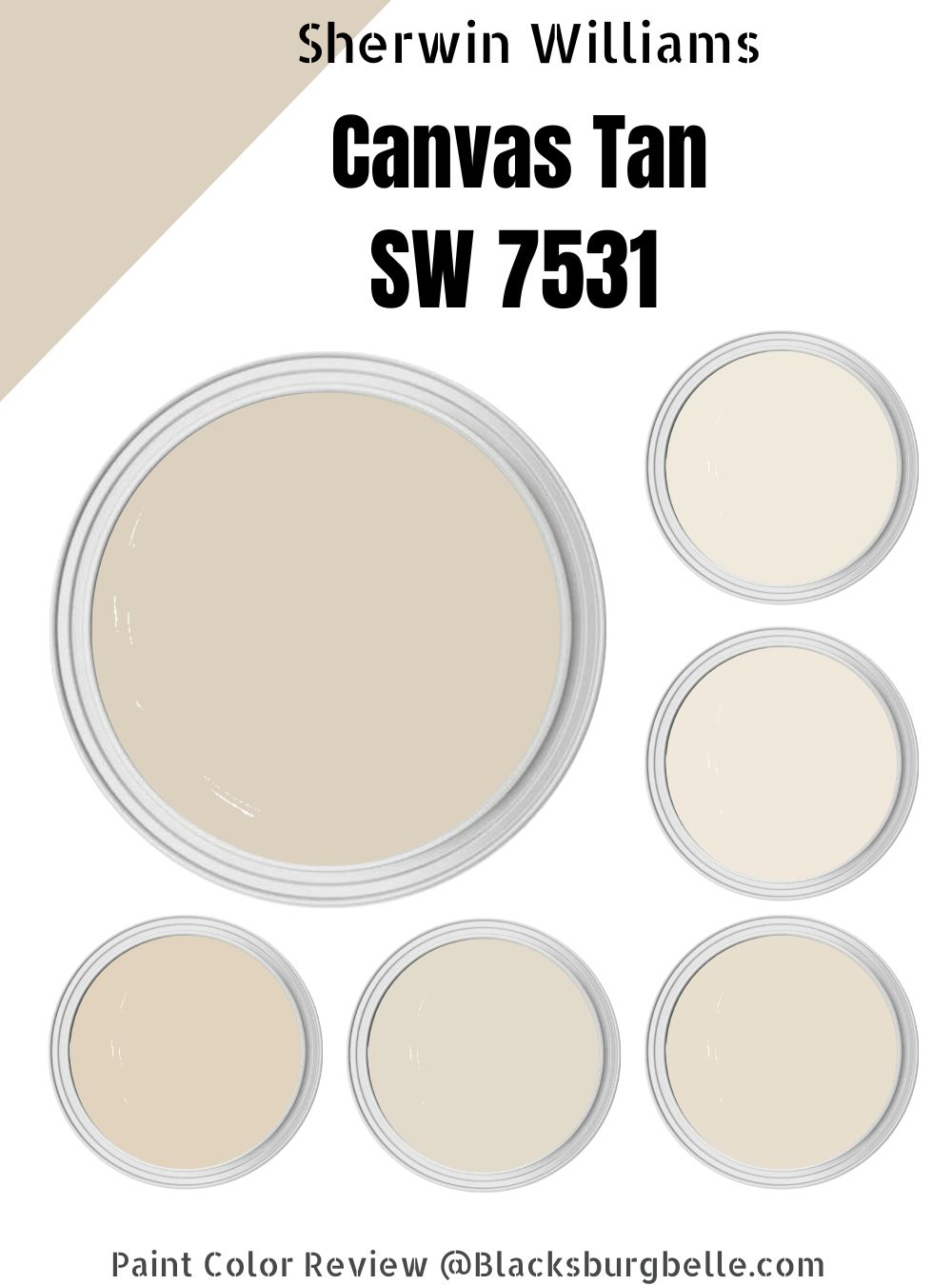 Sherwin-Williams Canvas Tan takes you back to the original neutral roots before contemporary designs. You'll love this color if you're a traditionalist with a flair for rustic, vintage, and antique décor.
Sherwin-Williams logs the color under its "White" collections, which is interesting considering it's not an obvious pure white shade. What are this paint's nuances that qualify it as a neutral tone?
This guide breaks down everything you need to know about Sherwin-Williams Canvas Tan, from its undertones to LRV, Color Strip, and Palette, and how best to use it. Let's start with a scientific analysis of the paint.
What Color is Sherwin-Williams Canvas Tan?
Sherwin-Williams Canvas Tan is a medium-light neutral tone with hints of yellow, cream, and pink at its base. Check the table below for a summary, and scroll down for an in-depth analysis of the paint.
| | |
| --- | --- |
| Manufacturer | Sherwin Williams |
| LRV | 64 |
| RGB | Red 220 | Green 209 | Blue 191 |
| Hex Value | #DCD1BF |
| Color Collections |  White |
RGB of Sherwin-Williams Canvas Tan
The RGB paint content means the amount of red, green, and blue paint mixed into an absolute black color. You can use knowledge of the RGB to recreate the color if you're ever out of supply. The HEX Value is DCD1BF.
For Sherwin-Williams Canvas Tan, the red drops are the highest, followed by the green and blue. Hence the pink undertone is hidden in its DNA.
Light Reflective Value (LRV) Of Sherwin-Williams Canvas Tan
Canvas Tan, a medium-light paint, reflects some light into its environment but nothing too bright since its Light Reflective Value is 64. That makes it a suitable neutral tone for warmth and retro decoration.
You don't need too much artificial light to make it bright, as natural sunlight would do the heavy lifting. Scroll down for more information on how light affects Canvas Tan.
Is it a Warm or Cool Color?
Sherwin-Williams Canvas Tan is heat-colored due to its fiery undertones (pink, yellow, and cream). Nothing's icy or cool about the color makes it suitable for a homely and cozy vibe.
What are the Undertones?
Canvas Tan is a true neutral paint with an almost invisible cream base and faint tinges of yellow and pink. You can't have cream without yellow, but pink is the surprise waiting to pop out underneath the brightest sunset or sunrise.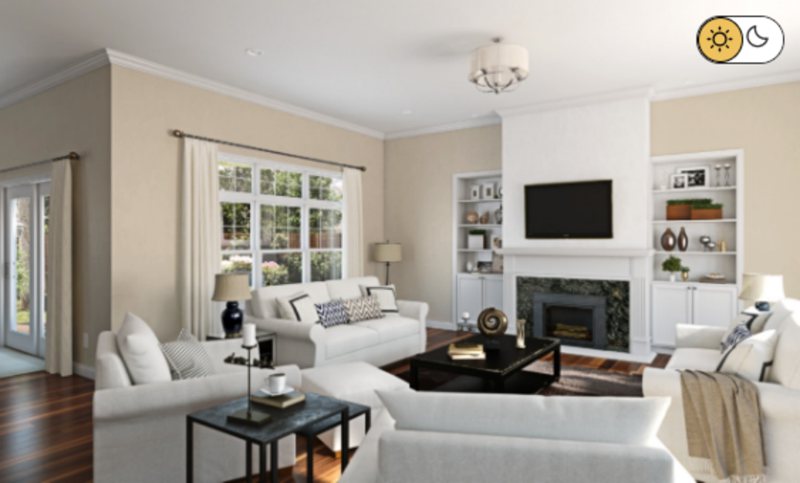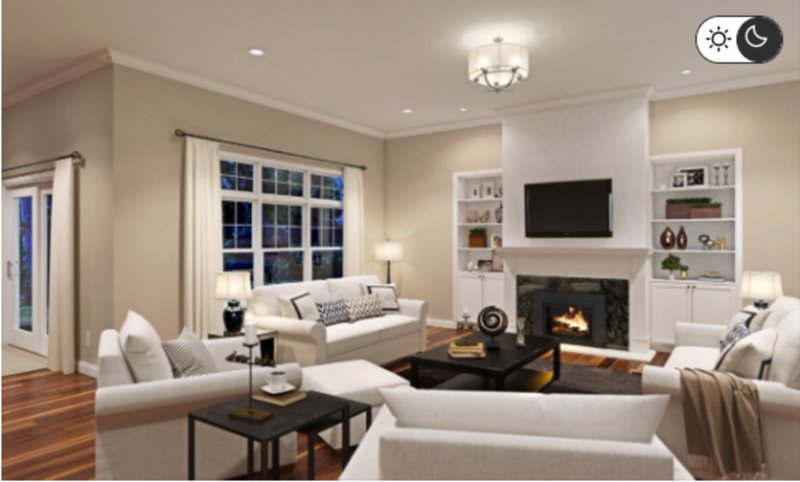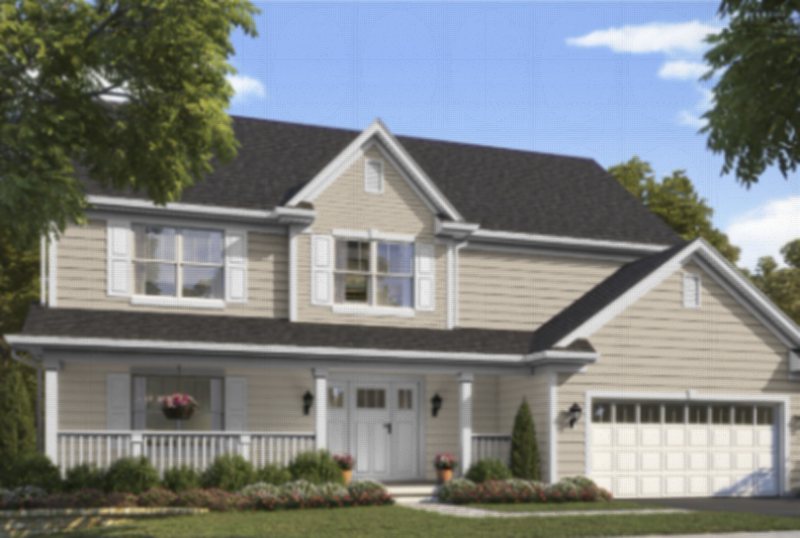 An Exterior with Canvas Tan Walls  (Source: Sherwin-Williams)
Sherwin-Williams Canvas Tan Color Strip
A color strip is a group of colors within the same base note with slight variations based on shading and undertones. It's the perfect reference for a monochrome decoration.
| | | | | |
| --- | --- | --- | --- | --- |
| Color Code | Color Name | Location Number |  LRV | Color Tone |
| SW 7103 | Whitetail | 261-C1 | 86 | |
| SW 6385 | Dover White | 261-C2 | 83 | |
| SW 7012 | Creamy |  261-C3 | 81 | |
| SW 9180 | Aged White | 261-C4 | 74 | |
| SW 7568 | Neutral Ground | 261-C5 | 70 | |
| SW 7555 | Patience | 261-C7 | 67 | |
| SW 7531 | Canvas Tan | 261-C6 | 64 | |
Sherwin-Williams Whitetail (SW 7103)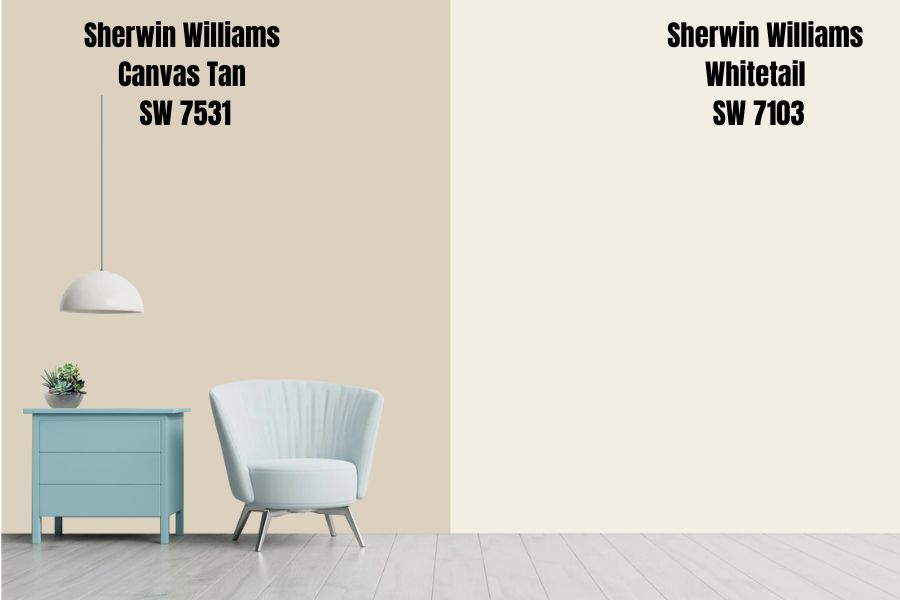 Sherwin-Williams Whitetail is a creamy white paint with strong yellow undertones. It's a very bright color with an LRV of 86, which makes your room space appear larger and wider than it is.
Choose this paint in small spaces or as an accent (wall or trim). If you must use it as an overall paint, add texture and shrink the space with darker neutrals from flooring to beddings and tapestries.
Whitetail is a good trim choice for a Canvas Tan wall.
Sherwin-Williams Dover White (SW 6385)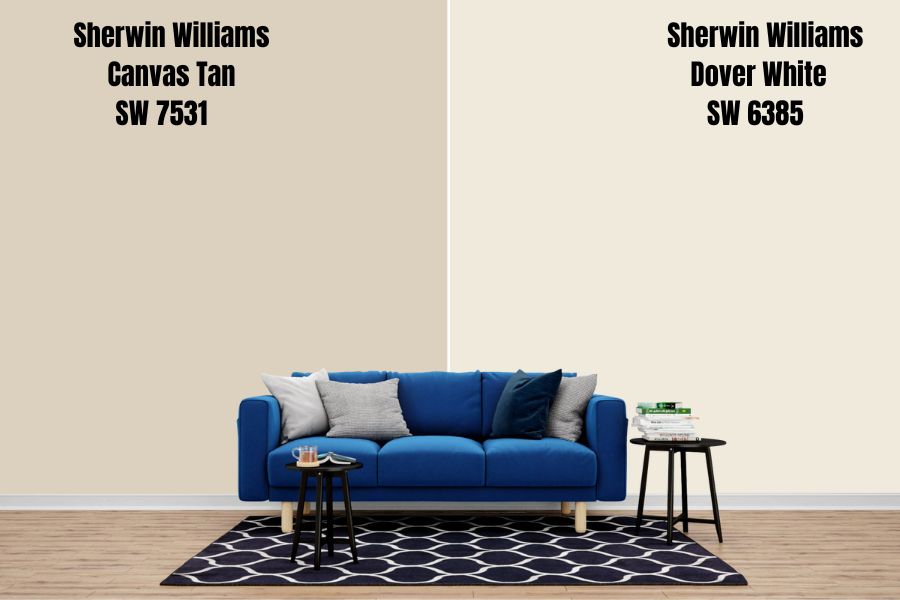 Dover White is another bright pastel white color with a creamy base that makes for a breezy aura. This color is a good pair for Canvas Tan, at a ratio of 90:10 or 80:20, with the latter being more.
If you use it in reverse, paint your cabinetry and furniture Canvas Tan against a Dover White wall.
Sherwin-Williams Creamy (SW 7012)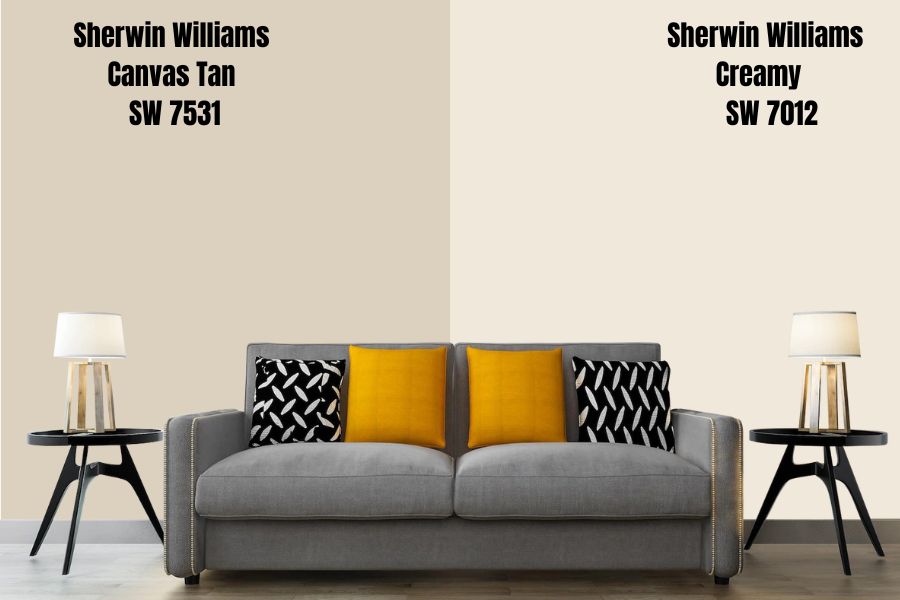 Sherwin-Williams has many white paints with yellow undertones, but Creamy is one of its best-sellers. It's amongst the Top 50 colors and the Finest whites of the brand. This hue is unique for its cool and warm properties, which is rare for a creamy white.
Typically, these colors are purely warm, but Creamy can cool its surroundings, making it a versatile neutral. Pair this paint with a woody brown tan paint and see it shine beyond your imagination.
Sherwin-Williams Aged White (SW 9180)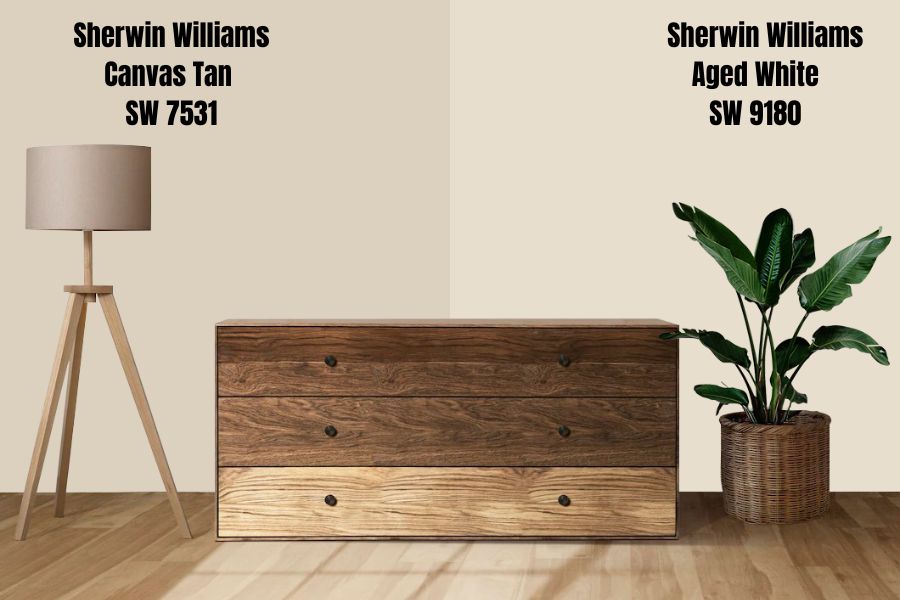 Aged White would make a great wall paint for a vintage-themed house thanks to its retro vibe and nude-white tone. It's not quite as bright as the first three colors on the Canvas Tan strip, but it does well as a neutral paint.
Be warned that its warm yellow base note thrives in the dark with direct artificial lighting. If you want its natural state, use the paint in a naturally-lit room with Northern-facing windows.
Sherwin-Williams Neutral Ground (SW 7568)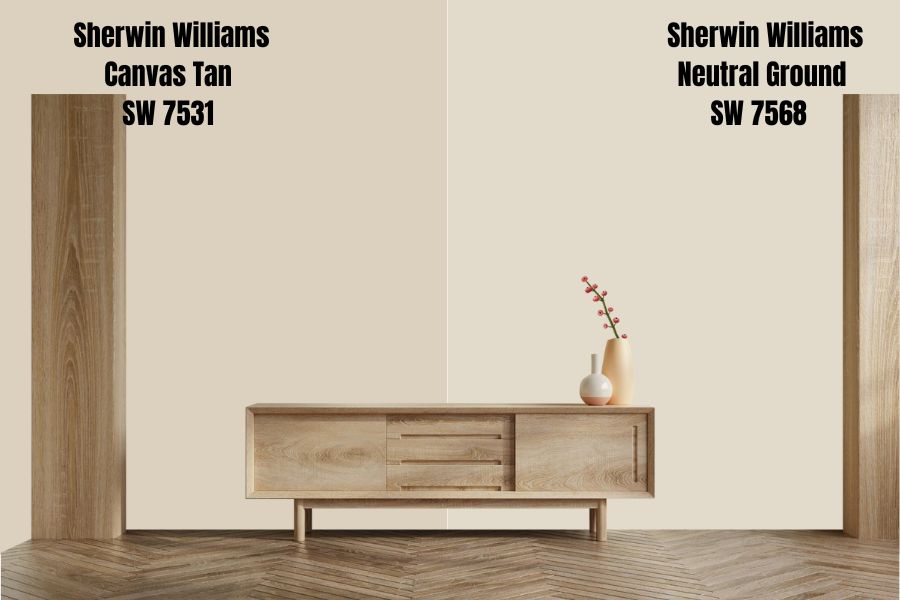 Rather than have a yellow undertone like the last light colors on this strip, Neutral Ground is more like Canvas Tan with its khaki shade. People often favor this paint for spa-themed bathrooms and living rooms because it highlights other colors seamlessly.
You can use almost any color for your interior décor if Neutral Ground is your wall paint. Don't be shy to use this paint on your exterior walls too.
Sherwin-Williams Patience (SW 7555)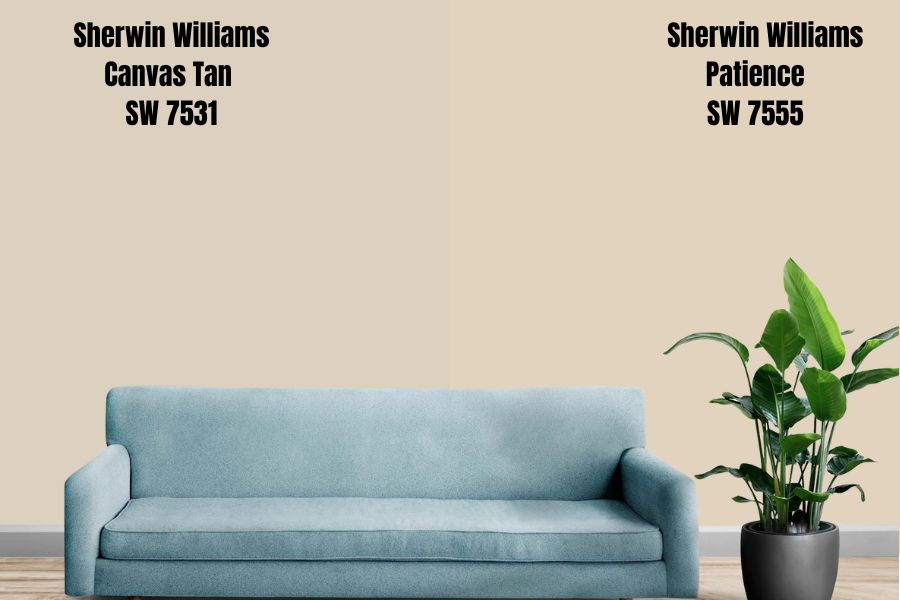 Sherwin-Williams grouping Patience as white paint is beyond my understanding because it looks more like an eggshell tan. It reminds me of swatching makeup and color-testing it on fair-tanned skin.
So, if it's "white," like the brand says, it has an overwhelming tan undertone fighting to be its overlay.
Sherwin-Williams Canvas Tan Color Palette
I'm glad we're done with the technicalities of Sherwin-Williams Canvas Tan and can get into using it to create the perfect space. The creative part of interior decoration starts with a color palette, as it's the anchor for the entire design.
Do you prefer the simplicity of a well-curated monochrome theme? Or are you a daring creative with a penchant for color? That's where the color palette comes in. Choose what suits your taste and move further to your dream space.
Coordinating Colors for Canvas Tan
Monochrome, Triadic, or Complementary? These words all seem unnecessarily complicated to the untrained reader, but knowledge of color coordination is what stands between a masterpiece and a failed school project.
Let's get into the three design styles so you can decide on a theme.
Monochrome Decoration with Canvas Tan
There's beauty in simplicity as you'd learn as you grow older. Many often leave the colorful home décor in their youth and opt for muted monochrome designs in their old age. I know I did, and that's not to say color splashes are wrong.
The monochrome decoration uses the main paint (Canvas Tan) as the anchor shade, then build the rest of the home's pieces around it. You can move a shade or two, lighter or darker, to keep a synergy or one color in your space.
That way, there's no aura clash as everything fits together. For Canvas Tan, you can explore other colors in its peripheral, like Urban Putty (SW 7532), Khaki Shade (SW 7533), Outerbanks (SW 7534), and Barcelona Beige (SW 7530).
Pro Tip – Use the Color Strip.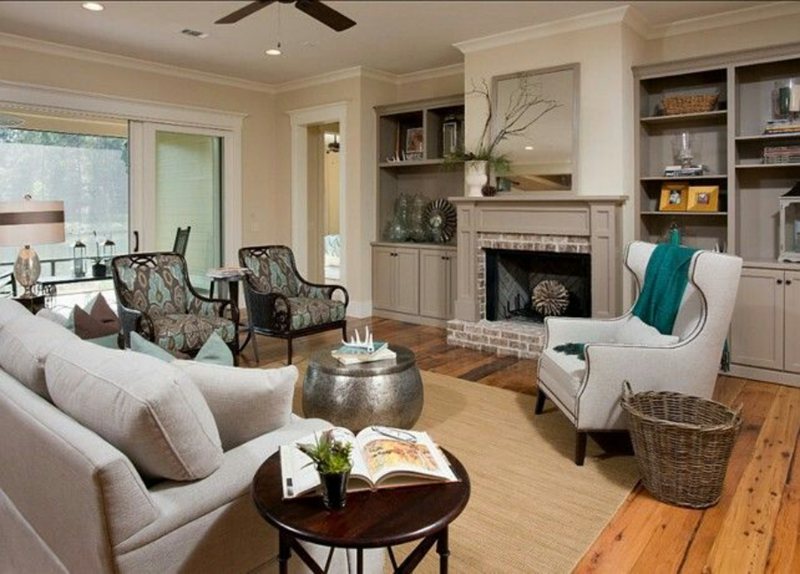 Triadic Decoration for Canvas Tan
Tan is a pastel yellow shade, so use that as your starting point for finding a triadic palette. As a primary color, yellow's triad consists of red and blue, and since we're talking in pastels, that means rosy pink and blue-gray.
Mix colors like Rose Pink (SW 9693), Rose Colored (SW 6303) with Storm Cloud (6249), Naval (SW 6244), Smoky Blue (SW 7604), and Salty Dog (9177). Check out the examples below.
Contrasting Canvas Tan with Complementary Colors
Complementary design is best for people bursting with youth and creativity as it entails pushing the envelope of designs as far as it'll take you.
You can still stick to a minimalist design by coordinating complementary tones based on a neutral palette. Or you can get the whole shebang and mix the most unexpected contrasting colors.
Cool blue is the opposite of warm yellow, making it a contrasting color. You can use blue-gray or teal-blue paints when complimenting Canvas Tan in contrast.
A good option is to get multicolored carpets or rugs and choose one of its colors as your anchor for the rest of the furniture and accessories.
Check some samples out below.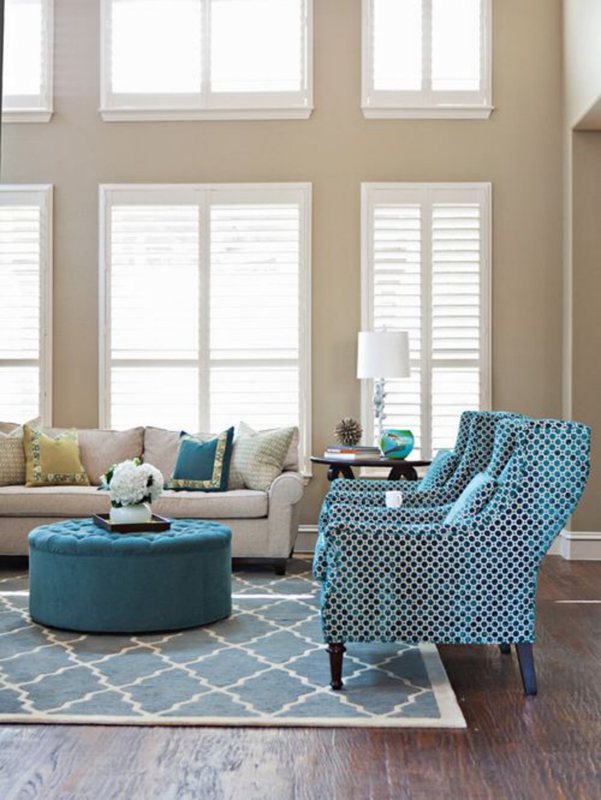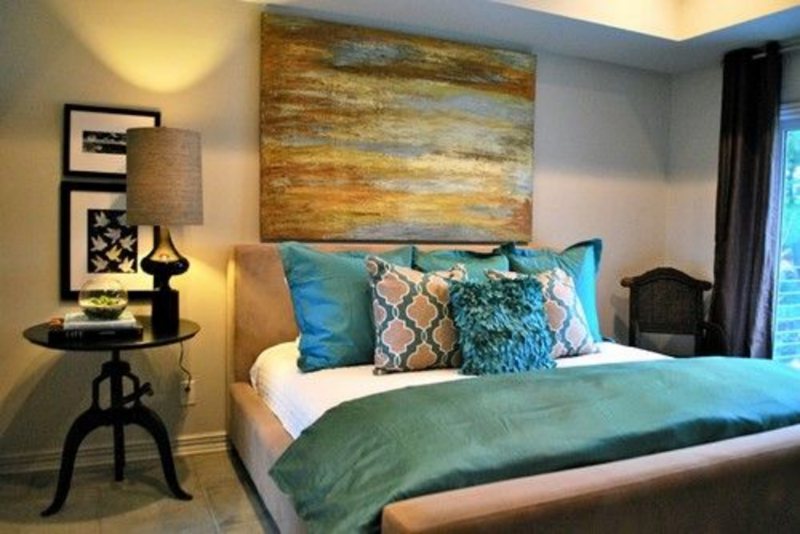 View this post on Instagram
What Trim Colors Go With Sherwin-Williams Canvas Tan?
Think warm and neutral when choosing a trim for Sherwin-Williams Canvas Tan. I love how wood feels on this color with white trims and accents for extra color pop. Avoid black because it'll be too much of a clashing contrast.
Instead, use dark wood like chocolate brown or golden oak to embrace the warmth in Canvas Tan.
There's nothing wrong with adding bright or dark colors to this neutral paint, but you'd do best with natural retro décor. Capitalize on the undertones using gray, blue-gray, or cream as your coordinating trims.
Sherwin-Williams Canvas Tan Color Comparisons
Sometimes you need an alternative to Canvas Tan, like when you run out of paint or want another option. I've done the heavy lifting for you, so you don't have to. You can evaluate some of the most popular similar colors to Canvas Tan below. Then, decide to stick or change.
Sherwin-Williams Canvas Tan vs. Softer Tan
Softer Tan is a beautiful beige paint with bright yellow undertones giving it a warm outlook. Unlike its counterpart, Canvas Tan, Softer Tan's singular undertone makes it easy to decorate. Throw in sturdy cocoa brown wood and white trims, and you will have a vintage home.
Sherwin-Williams Canvas Tan vs. Natural Tan
Natural Tan differs from Softer Tan and Canvas Tan in that it has no beiges but a tan hue that appears like it. It's hardly warm like its counterparts with bright yellow undertones but has enough personality to brighten your space.
On first look, Natural Tan appears grayish, but you'll get its tan tone untainted under adequate lighting.
Sherwin-Williams Canvas Tan vs. Agreeable Gray
Agreeable Gray is Sherwin-Williams' most popular gray and best-selling paint because it's a true neutral. It's medium-light like Canvas Tan but has lesser amounts of undertones threatening to surface at the sign of light.
Sherwin-Williams Canvas Tan vs. Sherwin-Williams Maison Blanche
Maison Blanche is the closest alternative to Canvas Tan, with a similar khaki overlay on a vibrant yellow base. The color is brighter than its counterpart, with an LRV of 66, making it a timeless shade for classic-themed spaces.
Don't use them together unless necessary, as Canvas Tan and Maison Blanche would blend into each other.
Sherwin-Williams Canvas Tan vs. Neutral Ground SW 7568
Neutral Ground is a lighter shade of creamy white than Canvas Tan, so it shines brighter without lighting. It also has an overpowering gray undertone that makes it a greige paint. Neutral Ground has an earthy vibe without the golden hue of its counterpart, Canvas Tan.
Sherwin-Williams Canvas Tan vs. Sherwin-Williams Patience
On the surface, Sherwin-Williams Patience looks white underneath a natural or artificial light, but its tan undertone prevents it from being a pristine paint. It's for the sophisticated taste and if you'd rather have a simple design, avoid this color.
Patience is brighter than Canvas Tan and has two fewer undertones.
Sherwin-Williams Canvas Tan vs. Accessible Beige
Forget the name when you think of Accessible Beige and focus on its features instead. You'll realize it's a greige paint meaning it's a sweet spot between gray and beige. This paint thrives best with earthy tones and other neutrals with gray undertones.
Sherwin-Williams Canvas Tan vs. Olive Green
Sherwin-Williams has a wide range of olive green paints, but only Ripe Olive has that word in its name. SW 6209 is a dark green paint with a low LRV of 6 and hints of bluish-gray in its undertone.
It's another sophisticated paint best suited for an acquired palette due to its bold statement.
Canvas Tan Benjamin Moore Color Comparison
Options are good because they remind you of the vast possibilities of every painting. A lack of Sherwin-Williams Canvas Tan shouldn't dissuade you from continuing your interior and exterior decoration. Benjamin Moore has some interesting alternatives, and I've sourced them for you.
Sherwin-Williams Canvas Tan vs. Yosemite Sand (AC-4)
Yosemite Sand is one of those colors that arrest your attention upon first sighting. This rich golden beige paint is one of Benjamin Moore's best sellers. It's brighter and warmer than Canvas Tan and the perfect color for a baby's nursery.
Canvas 267
Benjamin Moore's Canvas is like its name suggests – a blank canvas for the painter to transform into their best artwork. It's a rich off-white paint with a creamy note and bright LRV at 80.42.
I love it because it's not clinically white, yet it's neutral enough to suit a minimalist style.
Yorkshire Tan (HC-23)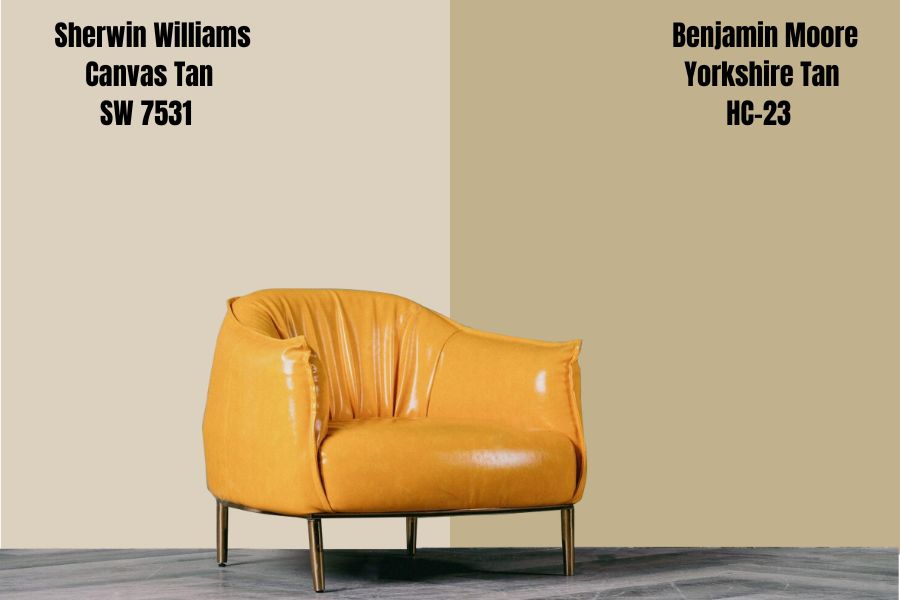 Yorkshire Tan is a rich neutral tan with brown and gray undertones, and I've seen it morph in real time due to lighting changes. The first time I saw the color, it appeared as a khaki hue, so I was surprised by the strong gray tinge in the dark.
This is your paint if you want a medium-dark khaki neutral from Benjamin Moore.
Pashmina (AF-100)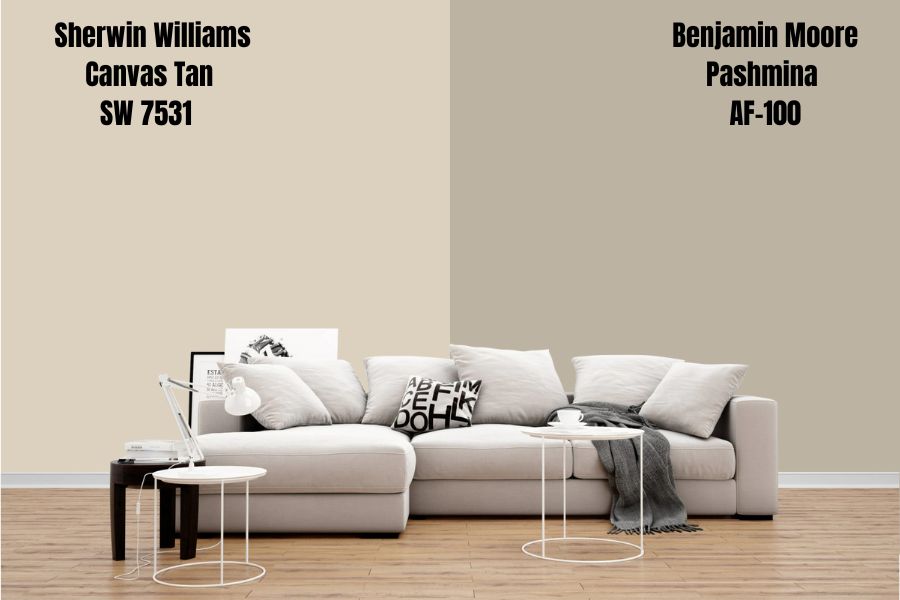 Pashmina is an unpretentious greige paint that balances between two worlds – warm and cool. The beige shade comes out with light, while its gray side thrives in the dark. What's better than a chameleon neutral that gives you the best of both worlds?
Grant Beige (HC-83)
Unlike Pashmina, which strikes a balance between gray and beige, this greige has an overwhelming tan beige hint. Grant Beige is also a medium-light tone making it brighter than Pashmina but not as bright as Canvas Tan.
You can rely on this paint color for muted retro themes without fear of it becoming too bright for comfort.
Shaker Beige (HC-45)
If you want a Benjamin Moore beige with muted undertones such that they seem non-existent, then go for Shaker Beige. It's a few percentages from the median mark towards the light spectrum end.
It's neutral and works perfectly with other neutrals, especially browns, for monochromatic décor.
Canvas Tan Benjamin Moore Version
Benjamin Moore doesn't have any Canvas Tan color, but it has variations of Canvas or Tan. One of the paint's similar colors to Sherwin-Williams' version like Manchester Tan and Bare Essence.
Behr has a version of Canvas Tan (UL170-40) slightly different from Sherwin-Williams' muted greige tone. They have similar undertones, although Behr's version is lighter, with an LRV of 67 and stronger gray notes.
Based on its LRV, Behr Canvas Tan is more like Sherwin-Williams Patience.
How Does Light Affect the Color?
Canvas Tan is at its most neutral state underneath North-facing light because that's where the least natural light enters. If you want to highlight its creamy tone, paint it in a room with South-facing light, which gets the most natural sun rays.
The coordinating colors also influence the undertones you'd get from this hue. Don't expect much if you pair it with darker LRV paints.
However, if you dare to use brighter colors based on the palette analyzed above, you'll get Canvas Tan in all its glory. Use yellow lighting with golden sconces to add character and highlight the color, as white light would be a sharp contrast – not the good kind.
Best Rooms To Paint Canvas Tan
Canvas Tan is a cozy paint that fits anywhere, whether as the main wall paint or an accent. Its creamy base and white overlay give the illusion of a wider and more spacious room wherever you use it. Small rooms can benefit from this effect.
However, if your room is already spacious, use Canvas Tan as an accent wall, cabinetry, or furniture. It'll add enough pizazz to the space while you make it cozy with darker paint. Check out the example with the pictures below.
Canvas Tan for Interior
Canvas Tan is a great interior paint, whether it's in large or small sections, and you'll see how it can turn out below.
Canvas Tan for Cabinets
A Canvas Tan cabinet against a white wall (simplistic design), blue wall (complimentary), or pink wall (triadic) is a great accent color. Use the last two in your living room, bedroom, or study, while the first would work in a bathroom or kitchen.
Scroll down for an in-depth description of how to use Canvas Tan in each room.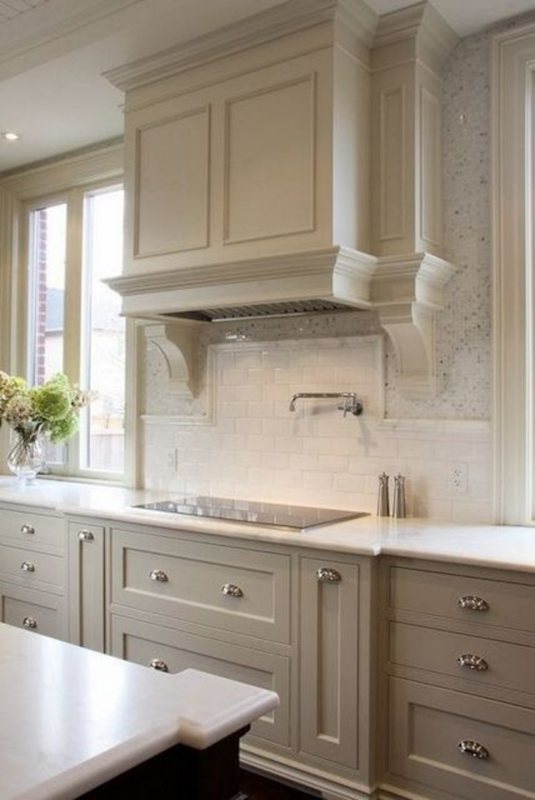 Canvas Tan Bedroom
Canvas Tan brings warmth into the bedroom when you use it on the walls. You can then tame its brightness with a darker paint like one of the dark blues on your beddings, tapestries, and flooring.
If blue is too cool for you, use another warm color, especially for children's rooms.
View this post on Instagram
View this post on Instagram
Canvas Tan Living Room
Canvas Tan is a great backdrop for the living room as it sets the tone for the rest of the décor. Using this neutral paint on your walls means you can go any direction for the rest of the living room décor.
Refer to the Color Palette above and the pictures below for inspiration.
View this post on Instagram
View this post on Instagram
Canvas Tan in the Kitchen
You don't want to overwhelm your kitchen with too much color so stick to a monochromatic design here unless Canvas Tan is an accent and not the main wall paint. Then, you can use it for your cabinetry, island, pantry, or backyard door.
View this post on Instagram
View this post on Instagram
View this post on Instagram
Canvas Tan Dining Room
The best cheat code for decorating a Dining Room is using your kitchen as a reference. Whatever design you use for your dining room should be an inverse of your kitchen for the best outlook.
Hence, Canvas Tan cabinetry in the kitchen needs paint on the dining room walls, while Canvas Tan walls in the kitchen mean the furniture and tapestry in the dining room get the color.
View this post on Instagram
View this post on Instagram
View this post on Instagram
Canvas Tan Bathrooms
Sherwin-Williams Canvas Tan can go either way in the bathroom. It's vibrant enough to be a cabinet and warm enough to be on the wall. It depends on your preference, as there's no wrong placement except with the accessories.
Use gold, bronze, or honey oak wood as accent trims for Canvas Tan in the bathroom. If you're into marble, settle for a neutral tone to blend seamlessly into the golden-beige background.
View this post on Instagram
View this post on Instagram
View this post on Instagram
Canvas Tan Exteriors
Canvas Tan outside is a great choice for a Victorian-era home or any other classic and vintage-style house.
View this post on Instagram
View this post on Instagram
Sampling Canvas Tan
Get a Samplize Peel & Stick strip or any sampling options from Sherwin-Williams. The brand offers three of those – Color Chips, Peel & Stick Strips, and Color-to-Go paints. You can also use its online visualizer to try out the different palettes before choosing one.
Final Thoughts
There are vintage and contemporary home styles, and Canvas Tan thrives best in the former. However, you can incorporate it sparsely in your contemporary home by using it as an accent.
Whichever choice you make, this is one of those colors that'll have you in awe for the rest of your days because every day will bring out a new side you didn't envision. What are you waiting for? Go, get your dream home and share pictures with me.