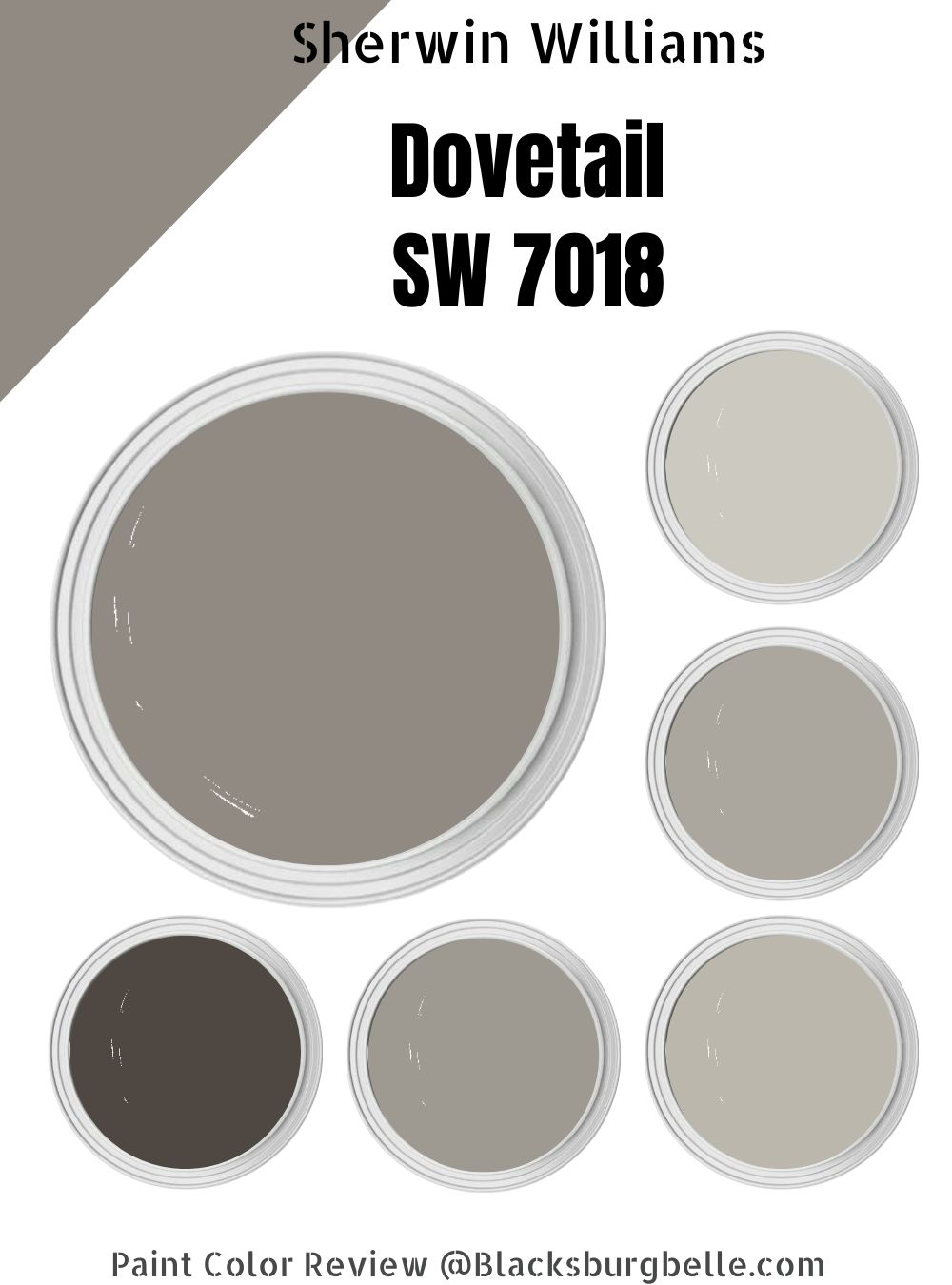 Are you looking for a versatile neutral color that'll bring warmth into your space? Then the Sherwin Williams Dovetail is the right choice. If you've heard of "greige" paints but never really understood its inference, we'll enlighten you on what they mean.
Greige is a marriage of two neutrals, beige and gray, which comes in different resolutions. Some paints make one side of the two-in-one hue brighter than the other, while others create a perfect mix.
Sherwin-Williams Dovetail has an overwhelming gray side and a strong beige undertone, ready to pop out at the sight of light. Keep reading to learn the scientific and creative aspects of this paint.
This guide will show you how best to pair the paint and possible alternatives from Sherwin-Williams and other quality brands.
What Color is Sherwin-Williams Dovetail?
Sherwin-Williams Dovetail is a warm gray paint with slight red, violet and taupe undertones making it appear greige in certain conditions. Check out its scientific details below.
| | |
| --- | --- |
| Manufacturer | Sherwin Williams |
| LRV | 26 |
| RGB | Red 144 | Green 138 | Blue 131 |
| Hex Value | #908A83 |
| Color Collections |  Top 50 Colors, Finest Whites & Neutral (Cool Neutrals) |
RGB of Sherwin-Williams Dovetail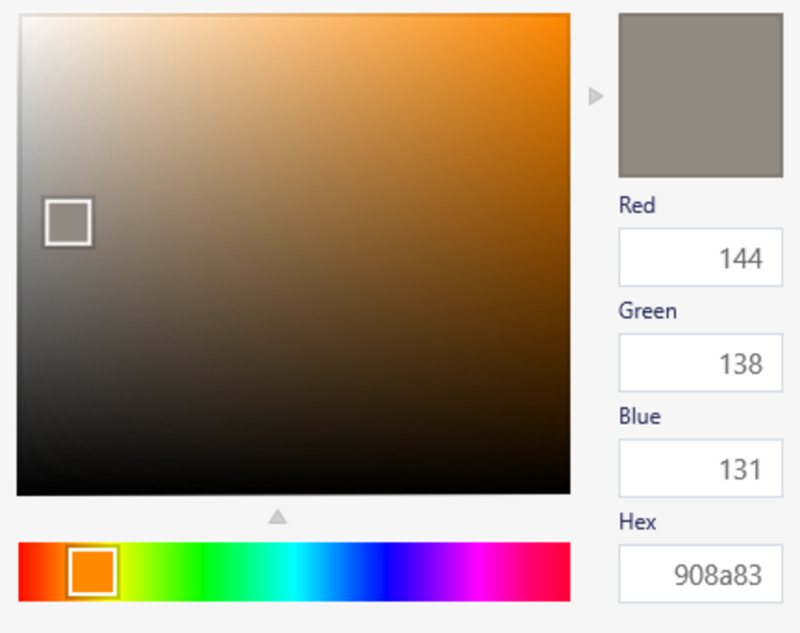 Sherwin-Williams Dovetail has the highest content of red in its RGB makeup. Every paint comes from a mix of three colors, red, green, and blue, into an absolutely black color.
This mixture forms a Hex Value (908A83 for Dovetail) that helps recreate the exact shade.
Light Reflective Value (LRV) Of Sherwin-Williams Dovetail
How well a paint reflects light into its environment depends on its LRV. You can measure it on a scale of 0 – 100 (truly 3 – 99.9 since there's no pure black or white), with black being 0 and 100 being white.
Is Dovetail a Warm or Cool Color?
Despite being medium-dark, Dovetail is a warm greige paint due to the high content of earthy brown and beige in its makeup. They warm up the surroundings underneath the right light, whether artificial or natural.
Scroll further down to learn how light reacts with Dovetail in this space.
What are the Undertones?
Earlier, I mentioned Dovetail having beige and brown undertones, a.k.a. secondary colors with the tendency to shine based on lightning intensity. The brown note is a result of its high red content, as that's the primary color of the neutral tone.
Hence, bright light teases out the warmest brown/beige from Dovetail, while consistent dim lighting shows its gray overlay. Unveiling the undertones in Dovetail works like magic, and I can never get tired of seeing it transform.
Try it out by sitting by the painted surface during sunrise or sunset and experience Nirvana or see some static representations below. All pictures from Sherwin-Williams.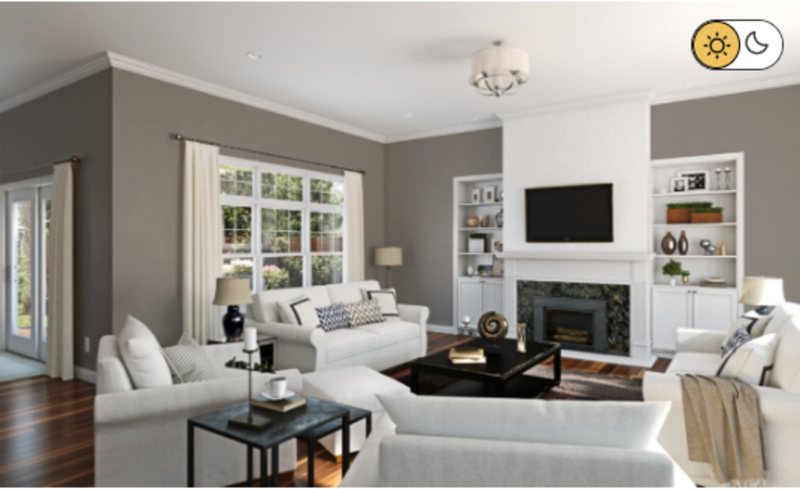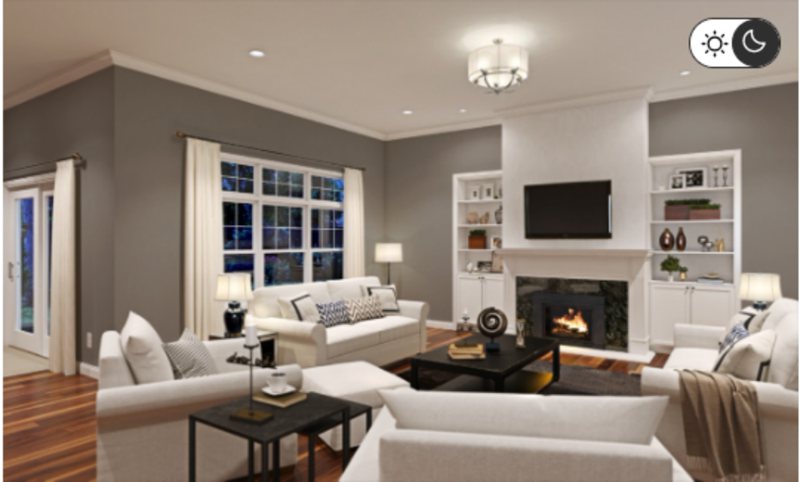 A Dark room with Dovetail Walls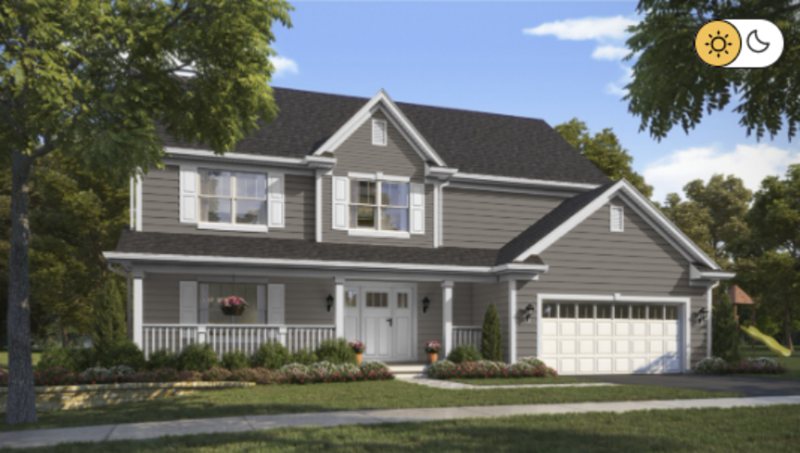 Sherwin-Williams Dovetail Color Strip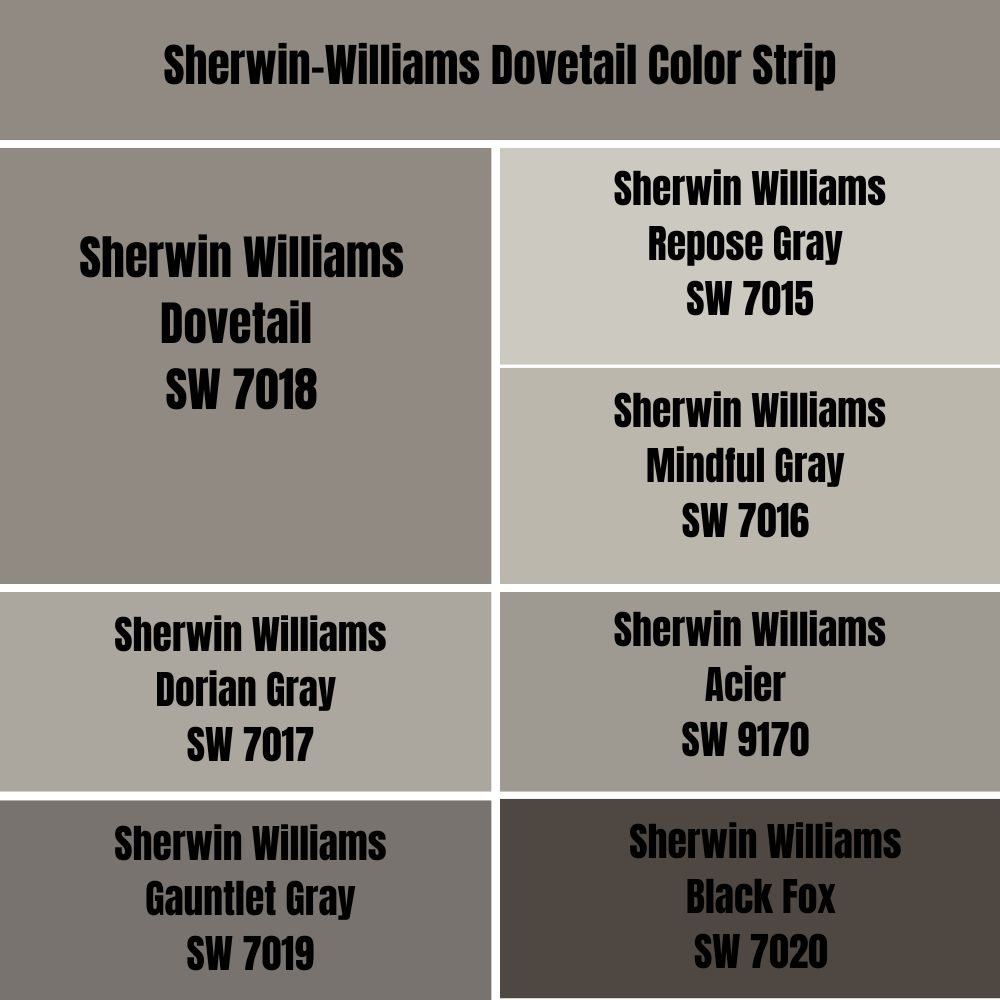 Dovetail's color strip contains shades of gray ranging from light (almost white) to black with strong brown undertones. It combines three or more colors related to the anchor hue but differs based on shading and LRV.
Check out Dovetail Color Strip, alongside a description of their distinct features.
P.S. They come in handy for monochrome themes.
| | | | | |
| --- | --- | --- | --- | --- |
| Color Code | Color Name |  Location Number | LRV | Color Tone |
| SW 7015 | Repose Gray | 244-C1 | 58 | |
| SW 7016 | Mindful Gray | 244-C2 | 48 | |
| SW 7017 |  Dorian Gray | 244-C3 | 39 | |
| SW 9170 |  Acier | 244-C4 | 32 | |
| SW 7018 | Dovetail |  244-C5 | 26 | |
| SW 7019 | Gauntlet Gray | 244-C6 | 17 | |
| SW 7020 | Black Fox | 244-C7 | 7 | |
Sherwin-Williams Repose Gray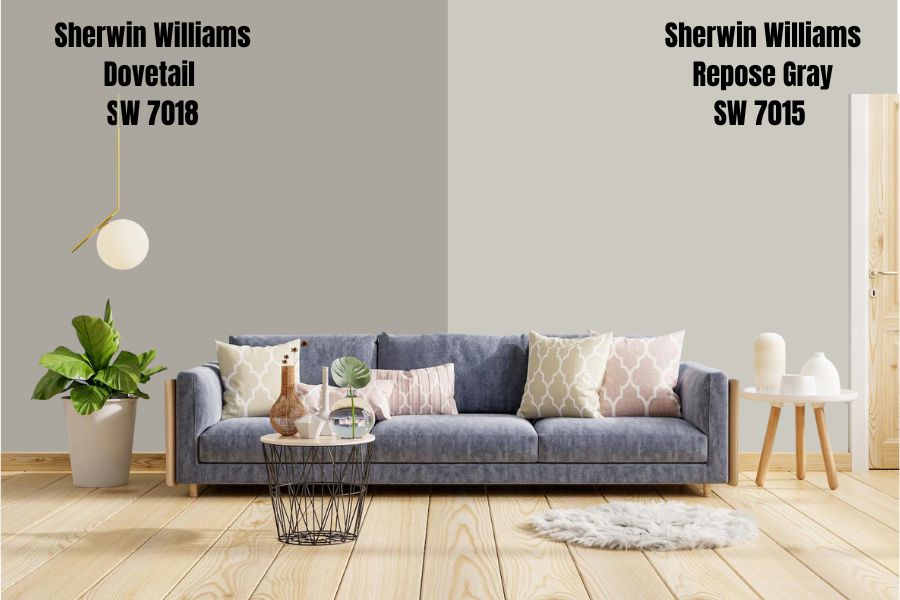 You're inching slightly away from the LRV median with Repose Gray and towards the realm of whites. This color holds icy blue and violet undertones, making it a cool gray perfect for relaxation and refreshment.
Don't hesitate to use it in areas requiring rest, like the bedroom, bathroom (for a spa-like outlook), living room (for minimalists), and lounge.
Sherwin-Williams Mindful Gray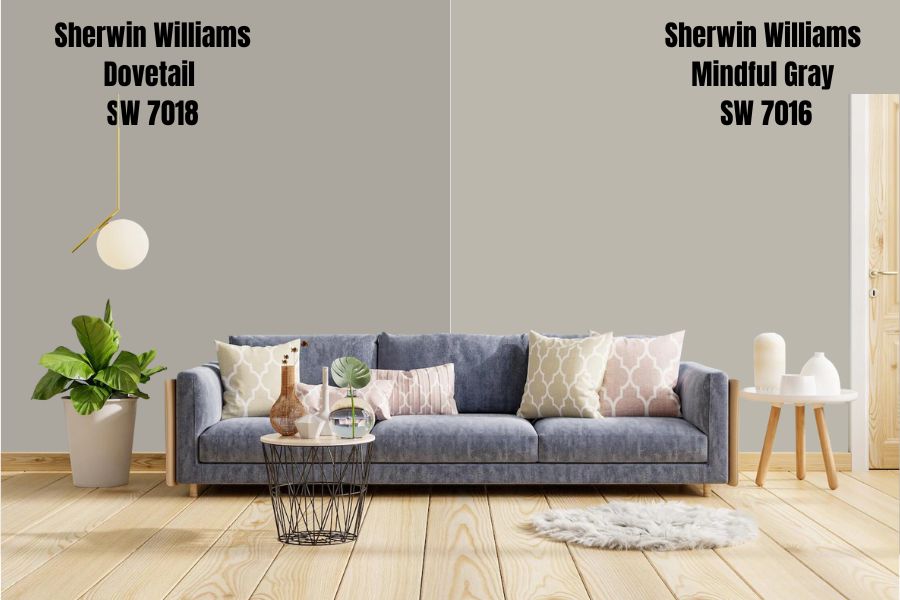 Relax, Recharge and Renew your energy daily with a Mindful Gray wall paint in your bedroom, bathroom, and living room. You can mix it with the coolest whites, like Pearly White, to lull out its calming aura.
Mindful Gray keeps you grounded with its earthy green undertone while adding spunk to your surroundings with its slight violet hints. Think of it as a misty cloud over a lavender field.
Sherwin-Williams Dorian Gray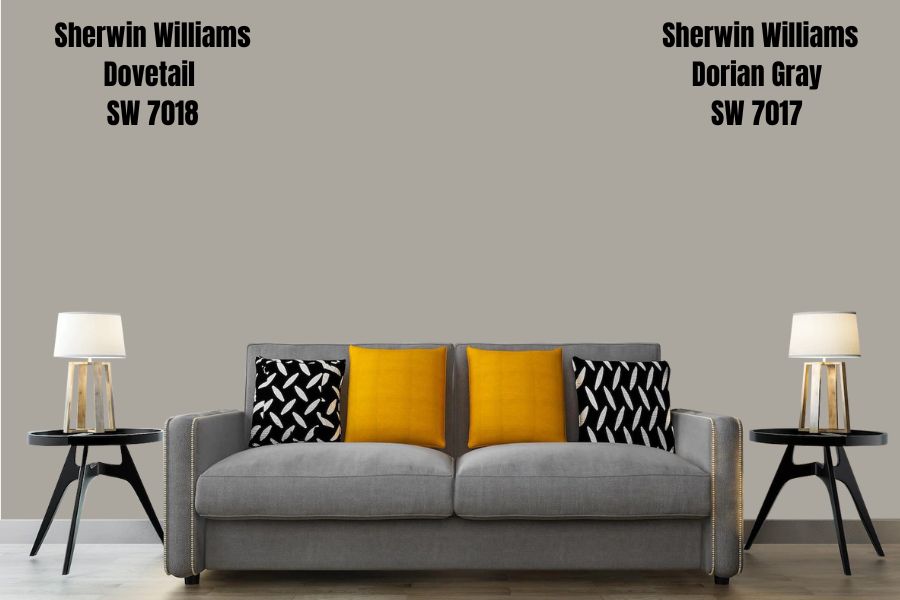 Get the best of neutrals with Dorian Gray, which has a soothing brown undertone to create a lively environment. The color remains gray on its overlay, but a pretty taupe hue emerges once you shine a light on it.
Like Dovetail, Dorian Gray also has high red content in its RGB makeup hence the strong brown hints lurking beneath the surface. It's earned its spot on Sherwin-Williams' Top 50 colors.
Sherwin-Williams Acier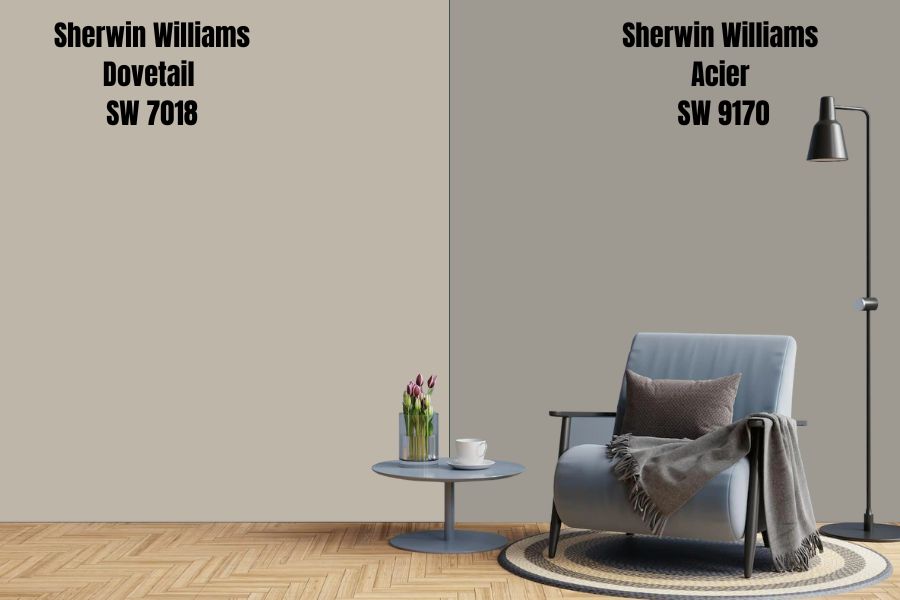 Acier doesn't look like it, but the medium-dark neutral color has a rich red undertone. It's a beautiful mid-tone color that's not too dark. It'll absorb all the light, but it's not bright enough to warm up the room without lighting.
Using Acier with Dovetail isn't advisable because they'll get lost in each other and clash shades. However, a significantly darker gray like Black Fox or a bright paint like Repose Gray and White would highlight the color.
Sherwin-Williams Gauntlet Gray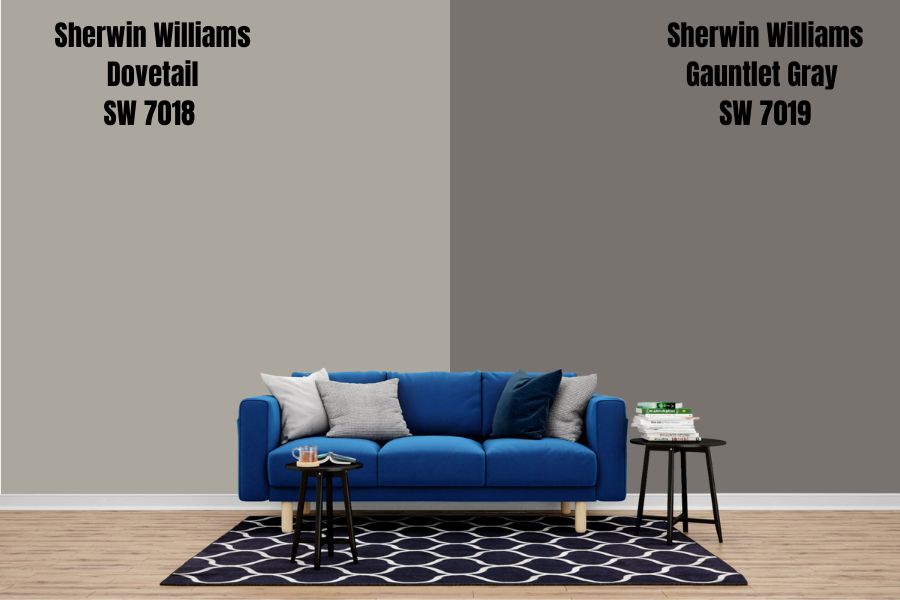 Take it back to the era of knights and royals with Sherwin-Williams Gauntlet Gray. The cool neutral paint reminds you of chainmail armor. It's not too dark and lacks personality, yet it's understated enough to fade into the background.
What's not to love about Gauntlet Gray, with its medium-dark tone at 17.20 LRV and nuances? The paint switches from violet to sage green and taupe, making it a great balance with the lighter Dovetail if you want a moody vibe.
Sherwin-Williams Black Fox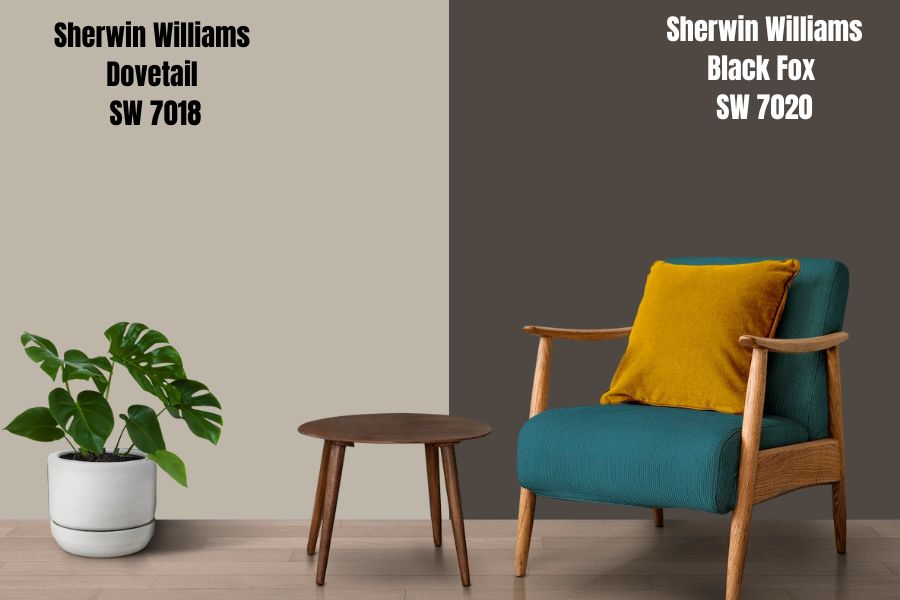 Lovers of sophisticated colors would appreciate Black Fox's strong greige and brown undertones. The color is great for serious spaces like offices, boardrooms, studios, studies, and showrooms.
Despite having an LRV of 7, Black Fox is a warm backdrop for your brighter neutral paints like Repose Gray and Mindful Gray.
Sherwin-Williams Dovetail Color Palette
Now that you've explored the Dovetail color strip, it's time to learn how to curate a befitting color palette. Each individual has a personality that should reflect in your space, whether at home or work.
A color palette helps you set the mood by combining coordinating colors based on your interest.
Coordinating Colors for Dovetail
Coordinating Colors can come in various forms, from the minimalist's monochromatic theme to the adventurous triadic and analogous decoration. For this color review, we're sticking to monochrome, triadic and complementary decorations.
Monochrome Decoration with Dovetail
Using one color in your space can be sickening and boring, but not when you spruce it with diverse shading. That's where the color strip comes into play.
You've learned about the colors surrounding Dovetail from Sherwin-Williams; it's time to see how they fare with each other in space. You can open Dovetail up with brighter paints as a medium-dark paint leaning closer to the dark end of the spectrum.
However, that's not to say you should use overly bright tones with LRVs inching toward 100. Use the median as your anchor, then move up or down in five measured shades depending on your interest. Anything from six would become too contrasting.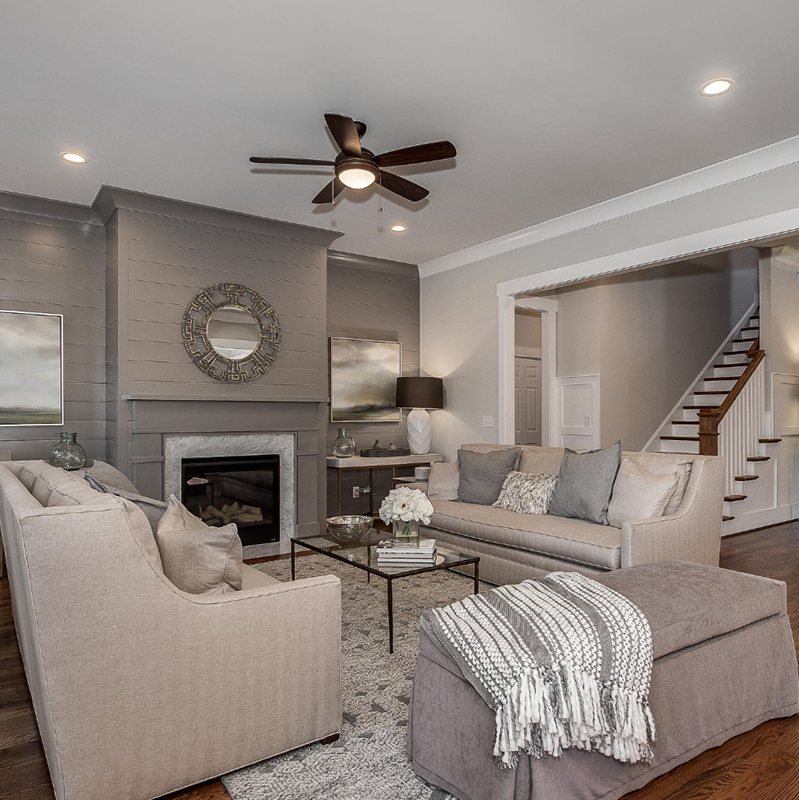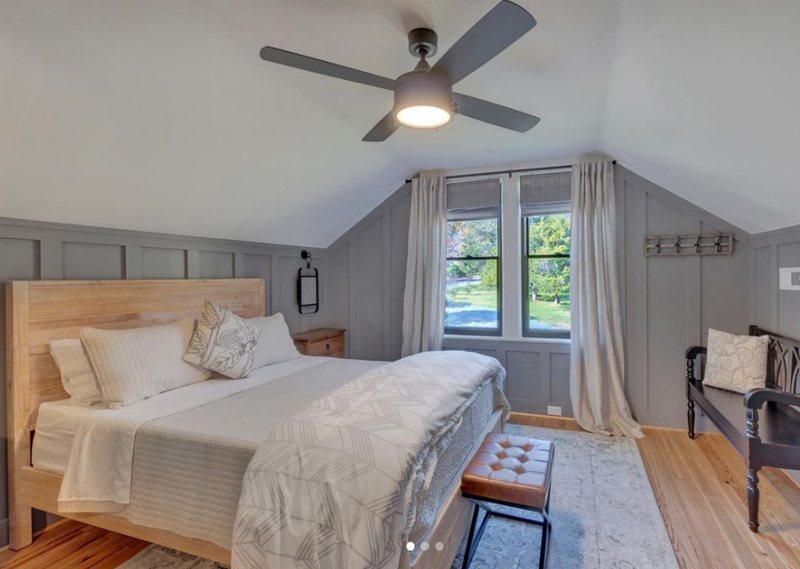 Triadic Decoration for Dovetail
Dovetail's triadic theme includes blue-toned and yellow-toned paints. You can use them as neutrals or choose the colors within the LRVs of the Dovetail color strip.
Triadic decoration for any gray paint isn't easy for novice designers because it's not a primary or secondary color. However, when you use a comprehensive color wheel that includes tertiary and neutral colors, then it becomes a piece of cake.
Take the dominant undertones into account, as it'll help decide which primary or secondary colors to use as the triad's peak. A triadic theme uses three colors chosen based on their proximity, spaced in an equilateral triangle on the color wheel.
Note that the other two colors are highlights or accents, while Dovetail remains the primary shade. Include red-orange in the triad to spice things up.
See some examples below.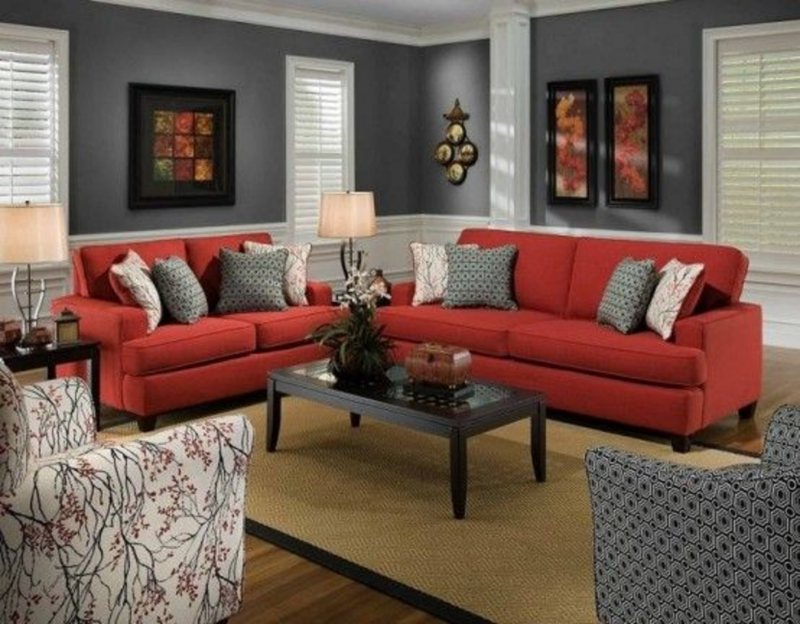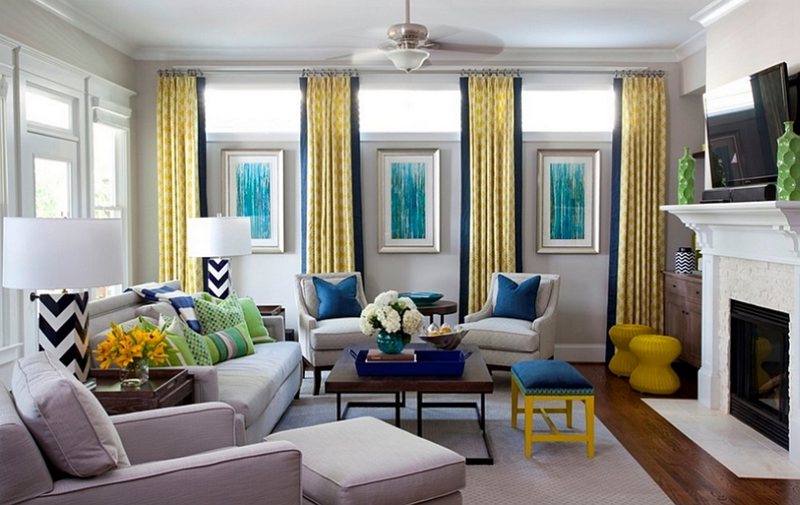 Contrasting Dovetail with Complementary Colors
Contrasting with complementary colors is for adventurous homeowners as it contains vibrant opposite hues in one space. If you pair it properly, it doesn't have to look like a clown threw up in the space.
Use the contrasting color as a highlight or accent while Dovetail remains the main coloring. The opposite of red is green, so find neutrals with green tinges or mild sage green paints like Clary Sage which has a 41 LRV.
You can also go big and use warm green paint like Lime Granita (SW 6715), Gleeful (SW 6709), and Dancing Green (SW 6716). See some examples below.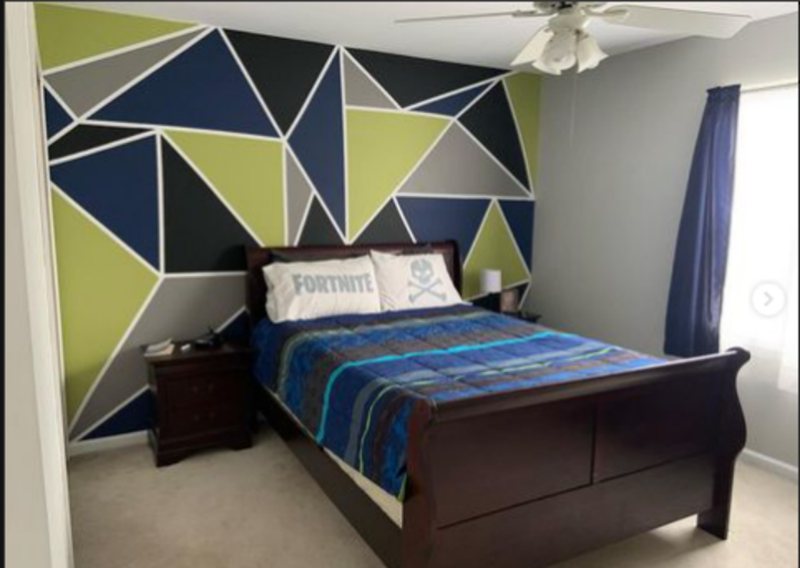 What Trim Colors Go With Sherwin-Williams Dovetail?
The best trim color for Dovetail per Sherwin-Williams Expert Pick is Alabaster. It's white paint with a high LRV at 82 and strong blue-violet and blue undertones.
Its brightness serves as a great contrast for Dovetail, making it the exception to the "no sharp contrasts" rule earlier laid out. However, for other accessories like flooring, paneling, and islands, try light gray marble, white wood, and beige and tan wood.
Many people use dark brown wood, but I find it unflattering instead. I favor beige and tan woods due to their warmth and ability to blend with the undertones in Dovetail. You can also explore painted woods for children's bedrooms, classrooms, and exteriors.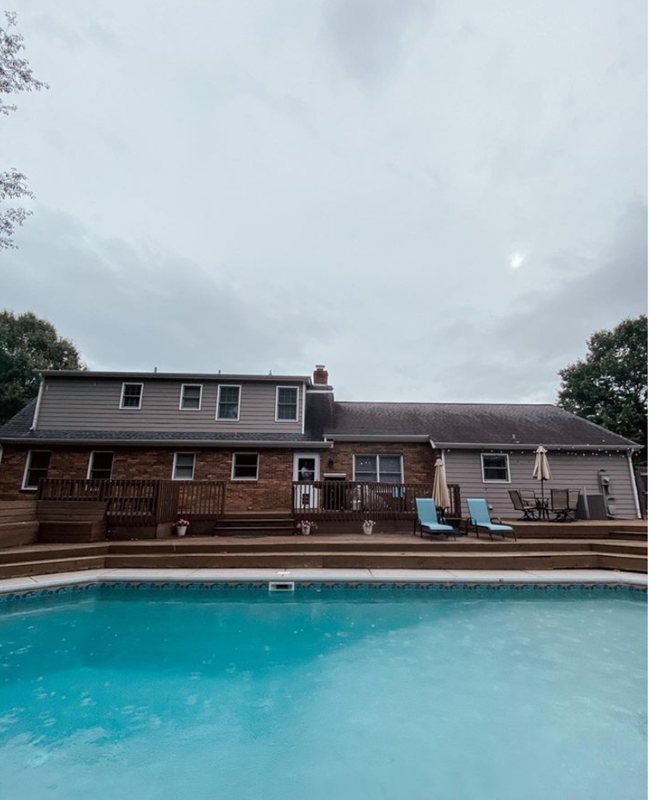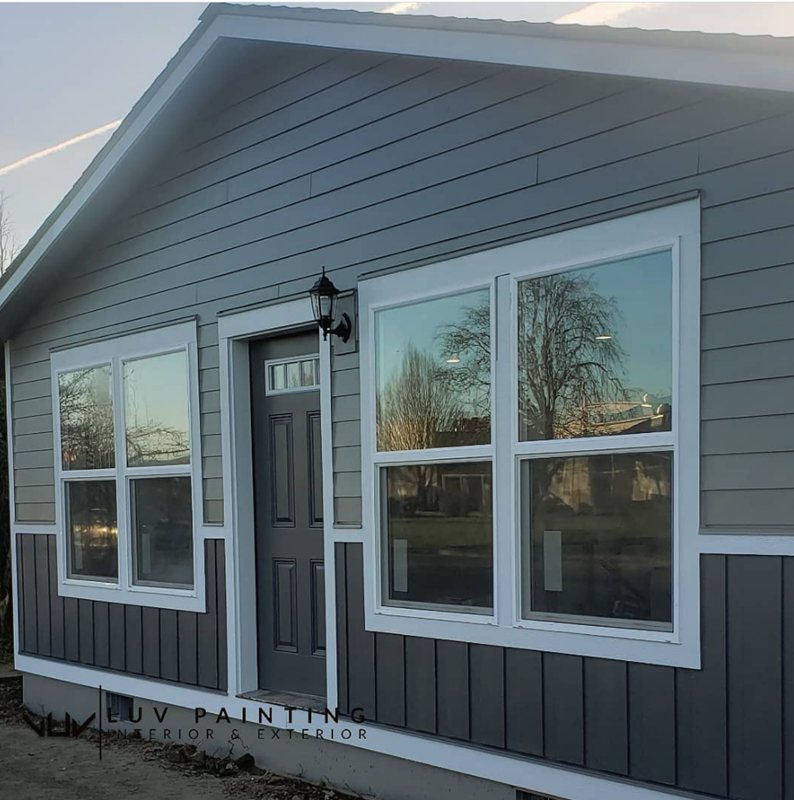 Sherwin-Williams Dovetail Color Comparisons
Dovetail may be too dark for your palette or not bright enough despite your need for dark gray paint. Then you'll love these comparisons. Sherwin-Williams has a wide range of gray paints to pick from. Here are some with similarities to Dovetail.
Sherwin-Williams Dovetail vs. Chelsea Gray (SW 2850)
Chelsea Gray is a brighter neutral than Dovetail and best suited for exterior paintings despite being listed as both (interior/exterior) by Sherwin-Williams. It's one of the brand's historic colors and is a bestseller in suburban homes.
It has a subtle green undertone and a 47 LRV making it an almost perfect neutral paint. Chelsea Gray is a warm tone that rarely changes, so choose it if you want something stable.
Sherwin-Williams Dovetail vs. Gray Matters (SW 7066)
If you want a neutral gray paint with a brighter resolution than Dovetail but not too bright, it sits on the median of the LRV scale; Gray Matters is for you. The paint blooms best in Fall and Winter due to the cool and often cloudy weather.
The color mimics a rain-pregnant cloud begging to let the showers down. At night, it lets out an almost invisible sage-green hue.
Sherwin-Williams Dovetail vs. Serious Gray (SW 6256)
Firstly, get the name out of your mind because Serious Gray doesn't mean "solemn gray." Yes, it is a serene neutral with a dull blue undertone giving it a charcoal overlay, but that's as far as its seriousness goes.
The color is a great soothing tone with a low LRV like Dovetail, but unlike the latter, Serious Gray is three percent darker and thus retains more light. If you want medium-dark paint with grit, this is the best shade.
Sherwin-Williams Dovetail vs. Ellie Gray (SW 7650)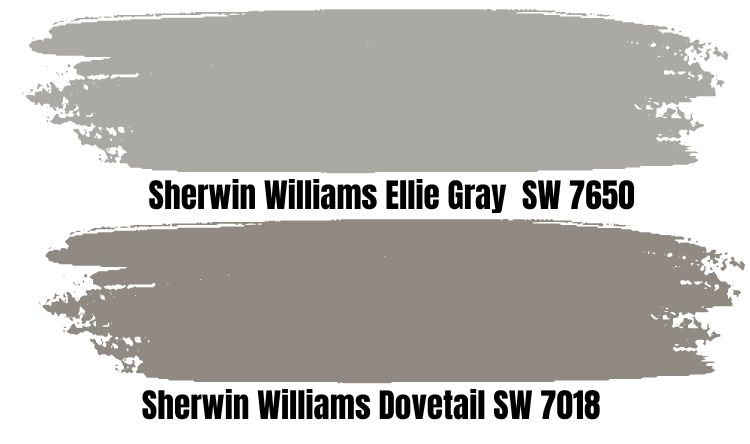 Picture a granite stone in your mind to understand what Ellie Gray looks like. It appears bright underneath white lighting, but in its natural state, the paint appears earthy.
Unlike Dovetail, Ellie Gray's undertone is a faint green; hence its coordinating colors include Stay in Lime, a medium-dark green.
Dovetail Benjamin Moore Color Comparison
You won't always get Sherwin-Williams Dovetail, especially if you live in an area where it's a top seller. In that case, you can get alternatives from other high-quality paint brands like Benjamin Moore.
Here's a comparison of Benjamin Moore's gray paints similar to Sherwin-Williams Dovetail to help with your decision.
Picture sources from Benjamin Moore
Evening Dove (2128-30)
Benjamin Moore's Evening Dove is more like Sherwin-Williams Serious Gray than Dovetail, as it has a strong blue undertone. It's darker than Dovetail; that's certain since it has less than half of its counterpart's LRV at 12.02.
La Paloma Gray (1551)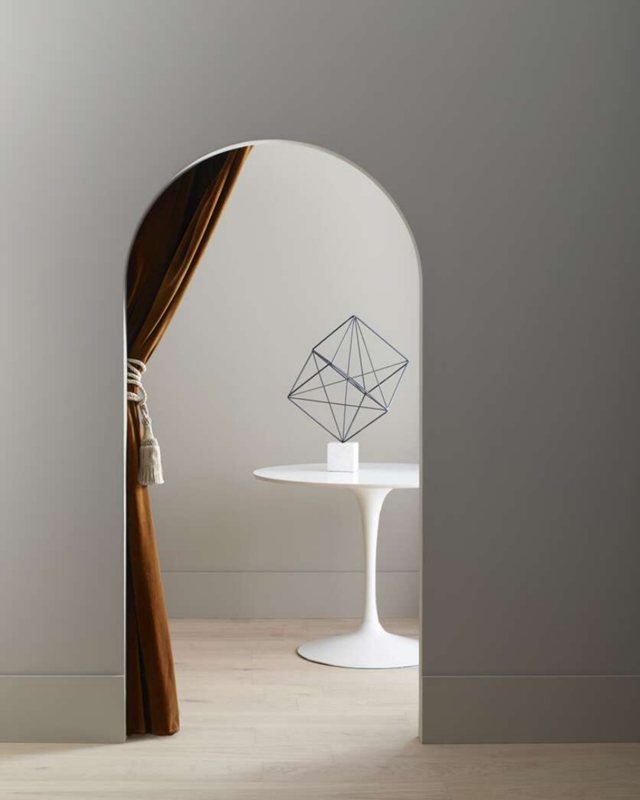 We're reverting to earthy gray tones with Benjamin Moore's La Paloma Gray. The color takes inspiration from a dove's feathers, but it's almost doubt the LRV of Sherwin-Williams Dovetail at 45.62.
Gray Wisp (CC-670/1570)
Get a warm green-gray developed from Benjamin Moore's Aloe Green with Gray Wisp. It's a sage tone with an almost perfect neutral LRV, 54.43.
Metropolis (CC-546)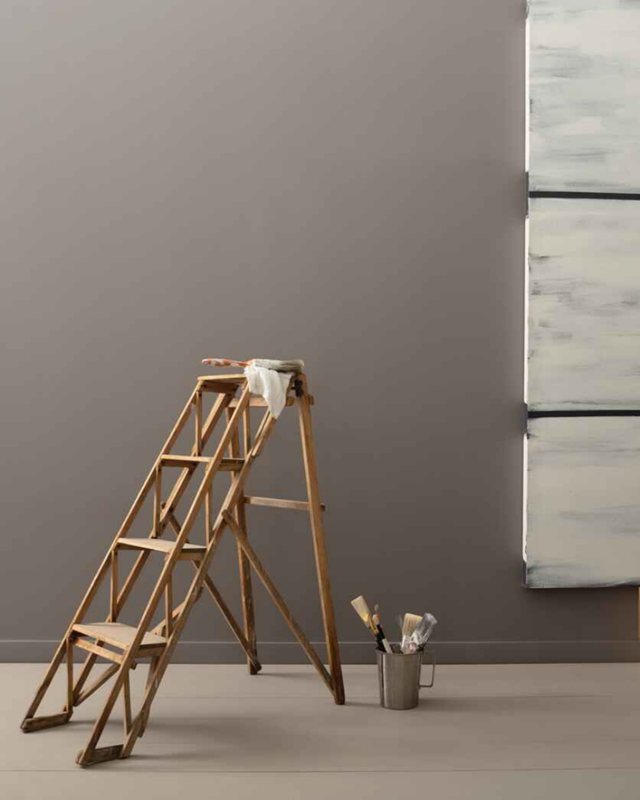 It's never easy to find a perfect match across brands, but Benjamin Moore's Metropolis is as close to Sherwin-Williams Dovetail as you'd ever get. They have an almost two percent difference in LRV, making Benjamin Moore's version lighter than its counterpart.
Metropolis also shares the same taupe and violet undertones as Dovetail.
Revere Pewter (HC-172)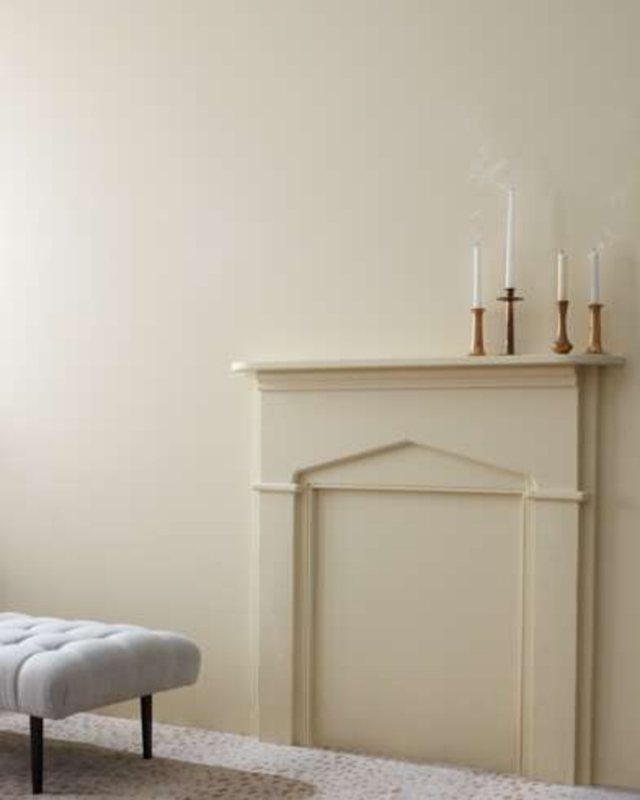 Benjamin Moore's Revere Pewter is a cool gray paint with interestingly beige undertones. The brand makes it in Vinyl texture, one of the best-selling greige paints. Revere Pewter has an LRV of 55.05, making it an almost exact neutral shade.
It's one of Benjamin Moore's historical colors for creating classic designs. You can also use this shade for contemporary styling.
 Dovetail Benjamin Moore Version
Benjamin Moore has a paint called White Dove but none with the name Dovetail. Unlike Sherwin-Williams' version, BM's White Dove (OC-17) is a clean, crisp white paint with a slight gray undertone.
It's worlds apart from Sherwin-Williams Dovetail, which is a medium-dark tone, as it has an 83.16 LRV.
How Does Light Affect the Color?
How best can you reveal Dovetail's undertones? Which shade would you prefer to highlight? It's all in the lighting, and that's what I'm about to break down.
North-facing lights show the most consistent and truest shades, so use this if you want your paint to remain gray.
Use Dovetail in a West-facing window room to get the best morning until late afternoon light – for office and school spaces. It'll appear beige and warm.
East-facing windows get the least light so consider this to keep your paint intact and unchanging. You might get a shadow or two during sunsets, but that's all.
Best Rooms To Paint Dovetail
Thankfully the theoretical part is out of the way, and it's time to put all you've learned into practice. Once you've chosen your preferred palette, you must decide on the decoration mode. Do you want to center the Dovetail, or would you rather use it as an accent?
Scroll down to see how the paint fares in different spaces and rooms.
Dovetail for Interior
Dovetail is a good interior paint as the medium-dark shade can work as an accent wall, cabinet, or full wall paint.
Dovetail for Cabinets
Using Dovetail on the cabinet is a great way to add color to a plain wall, especially one with white or cream paint. It's also great for large spaces as the dusky color does well to eclipse the space.
The cabinetry can be in the kitchen, bedroom, bathroom, or any other room around the house or office.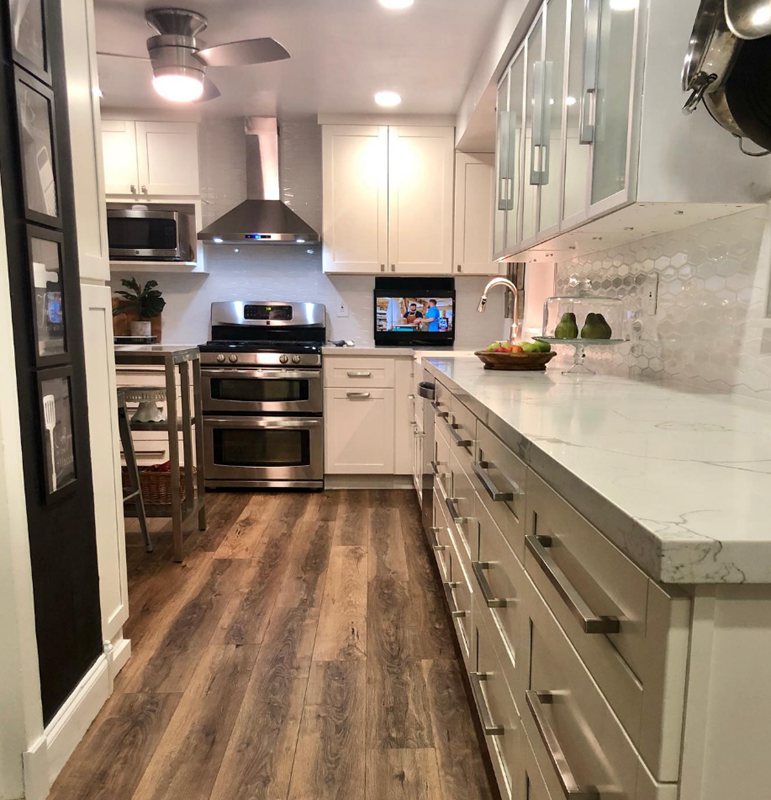 Dovetail Bedroom
Since it's a dark color, Dovetail would be too much as bedroom wall paint unless you pair it with a lighter tone. If it's the only option, you can brighten it with lighter tones and textured accessories from curtains to bedding, floorings, and art.
I prefer it as an accent wall as it'll help you appreciate the hue best.
Dovetail Bathrooms
Dovetail in bathrooms works best when paired with a bright paint like Alabaster (a high LRV white), Eider White, or a light gray like Skyline Steel. You can add style with black accessories like wall art and flooring.
The color would also pop with a marble tabletop, particularly if it has beige and tan swirls. That'll highlight the beige in its undertone.
Dovetail Living Room
This is a room where your Dovetail paint can shine on the walls, especially if it's a wide space. However, if your living room space is small, use the paint as either an accent wall or make it appear wider with light paint based on your palette.
Since kitchens often have two tones – the wall and the cabinetry – they're a great room to use Dovetail. You can make the Dovetail the star of the show by highlighting the space with the cabinetry or blend it in the back by using it on the walls.
Dovetail Dining Room
Draw inspiration from the kitchen to design the Dining Room so both rooms can complement each other. If your kitchen cabinets are Dovetail, use it on the Dining Room's walls and vice versa. That way, you'll get a harmonious style.
Dovetail as an Accent Wall or Full Wall?
You've seen the color, so you should be able to guess this bit, but I'll help you out. Dovetail can work either as an Accent or a full wall, depending on where you're painting.
You can go full for wide spaces as it'll make it cozier but stay minimal for small spaces unless the Dovetail would drown the space out.
Dovetail Exteriors
Dovetail is a great outdoor paint because of its color-shifting abilities. You can decide to paint a concrete wall or a wooden side panel. Alternatively, Dovetail can also be a great accent door against a wall – wooden, brick, or cement.
Sampling Dovetail
It's best to sample your preferred paint before buying it because digital appearance often slightly differs from reality. Sherwin-Williams Dovetail samples come in Peel & Stick Strips, Color-to-Go coloring, and Color Chips.
You can also get a peel & stick strip from Samplize, the most popular sampling brand.
Final Thoughts
Sherwin-Williams Dovetail is a best-selling neutral paint from the brand for good reasons. You've learned about its versatility and potential alternatives from Sherwin-Williams and Benjamin Moore.
Now, use everything you've learned to create the dreamiest space. Take pictures, and feel free to share them here.