Are you looking for a versatile color to partner with you on your journey toward transforming your entire space? Check out Sherwin Williams Magnetic Gray today. While it may be very difficult to make up your mind on one color due to various options in the market, this should have proven itself over the years to be the answer you're looking for.
It's important to review this color thoroughly to have all the necessary information and arrive at a final decision. This guide has the answers you seek and more on Sherwin Williams Magnetic Gray.
What Color Is Sherwin Williams Magnetic Gray
| | |
| --- | --- |
| Manufacturer | Sherwin Williams |
| LRV | 46 |
| RGB | 178, 181. 175 |
| Hex Value | #b2b5af |
| Color Collections | Simplified, Minimalist, Living Well |
Sherwin Williams Magnetic Gray is a very soothing and calming muted blue-green, gray shade. It works best in a room with enough natural light and surely picks up on surrounding colors in the house.
Light gray tones help add enough richness to a space without overwhelming the owner or distracting people from other essential décor details or styles you have going on. Sherwin Williams has always made unique paints; this color is no exception.
Sherwin Williams Magnetic Gray is the epitome of versatility and fine craft. Its ability to give off different tones under varying light conditions has widened its use in even the unlikeliest places by homeowners. You'll find this shade on kitchen cabinets and front porches these days.
RGB Of Sherwin Williams Magnetic Gray
Believe it or not, all existing colors are created by a mixture of Red, Green, and Blue, so much so that when these hues are mixed in equal intensity, the result is a pure white color. HEX color, on the other hand, refers to how color is denoted, especially by Graphics designers. It's a six-digit code and basically a shorthand reference to RGB color values.
The RGB of Sherwin Williams Magnetic Gray is Red (178) , Green (181), Blue (175) and a HEX value of #b2b5af
Light Reflective Value Of Sherwin Williams Magnetic Gray
The LRV of a paint color measures the percentage that a particular hue can reflect. It's measured on a scale of 3-97 because there's no pure black or pure white. For Sherwin William Magnetic Gray, the LRV is 46, putting it on the darker end of the scale, meaning it reflects less light.
LRV helps designers understand how much lighting a space will need and how well-illuminated a space will be to make a correct prediction as regards color. You can paint a dark hallway the purest of white, and nothing will really change without proper lighting.
Is It A Warm Or Cool Color
All colors fall under the warm or cool category, and you can tell where they belong by observing their undertones. If you're getting orange, yellow, or red while staring at your anchor color, it belongs in the warm category.
You'll get green, blue, or purple variations for cool colors. These colors, even on the color wheel, instantly have a cooling effect and the ability to absorb light and heat.
Now that you have a perfect understanding of these two terminologies, Sherwin Williams Magnetic Gray belongs to the cool category because of its soft Cyan undertone. The play between elements of greens and blue will pull in the walls and light in any space.
If you're coming in from a hot sun and immediately enter a house painted with Magnetic Gray, your eyes feel the effect as a large difference in color intensity occurs.
What Are the Undertones?
Undertone is such an important area when it comes to choosing preferred paint colors. They're hints of colors inside your anchor color that you see after you've finished painting your room (allow me to sneak in on the importance of sampling your paints before taking the big dive).
Magnetic Gray is such a lovely paint with a few undertones that are subject to lighting. It can appear silvery blue or have a green undertone depending on the time of day, but nothing changes the fact that it's still the most preferred neutral for modern-day minimalist master bedrooms and interiors.
Its cool undertone makes it look very neutral, and it appears bluish-gray in the direction of lower light and a bit grayer in more direct light.
Sherwin Williams Magnetic Gray Color Strip
For a Sherwin Williams Magnetic Gray color strip, you must add equal amounts of black and white to the anchor color to get a realistic result. All colors have different intensities regardless of how you may confuse them on the color strip.
There are two kinds of color strips when picking up paint. You get the light color strip by going three shades up from the anchor shades, and for a dark color strip, you go three shades lower.
Light Color Strip
| | | | |
| --- | --- | --- | --- |
| Color Code | Name | Location Number | Color Tone |
| SW 7049 | Nuance | 258-C7 | |
| SW 7056 | Reserved White | 258-C2 | |
| SW 7057 | Silver Strand | 237-C1 | |
Sherwin Williams Nuance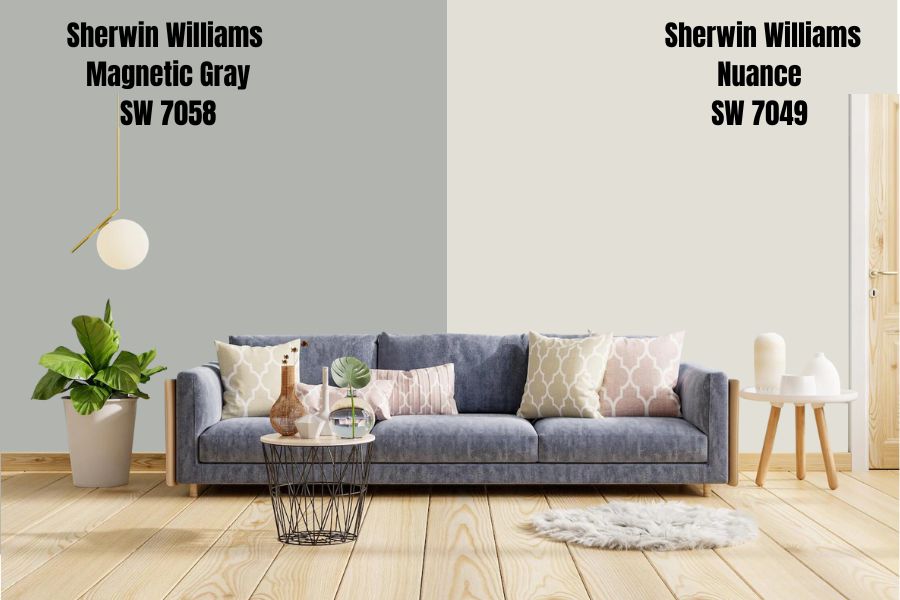 Sherwin Williams Nuance is a cool, bright white with a very subtle green undertone, which provides a calm sophistication and is perfect for a master's bedroom as it'll aid a good night's sleep.
If you have lots of natural light in your room, this color is the best idea for you- you'll end up with a gray wash, and in a room with less light, it'll look shadowy and dingy. You can pair it with a more saturated color to prevent an underwhelming result.
Sherwin Williams Reserved White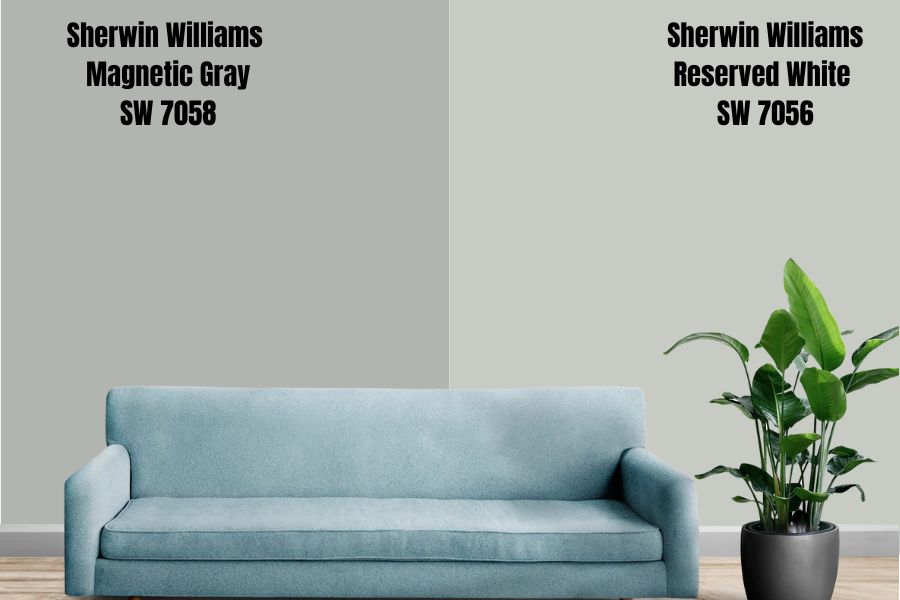 This is such a gorgeous color! It's a white with a subtle gray tone to it which also finds a way to show off green undertones that adds a touch of quiet and tranquility to any space. Go ahead and pair this versatile color with a bold shade, whether it's in dark or pastel hues.
Sherwin Williams Silver Strand
This hue is just a shade lighter than magnetic gray and has this pale silvery blue green that just instantly lights up your space, introducing airiness into a small space while letting light bounce off it perfectly.
Its cool undertones and a hint of blue make it a good choice for any room looking for a subtle modern touch; it can give you a subtle and muted feel or produce a bold contrast when you pair it with darker tones.
I recommend this color for kitchens, bathrooms, and bedrooms, especially if you're a bit on the small side. It's soothing and calming and pairs well with shades of gray, espresso, black, white, and cream.
Dark Color Strip
| | | | |
| --- | --- | --- | --- |
| Color Code | Name | Location Number | Color Tone |
| SW 7059 | Unusual Gray | 237-C3 | |
| SW 9164 | Illusive Green | 237-C4 | |
| SW 7060 | Attitude Gray | 237-C7 | |
Sherwin Williams Unusual Gray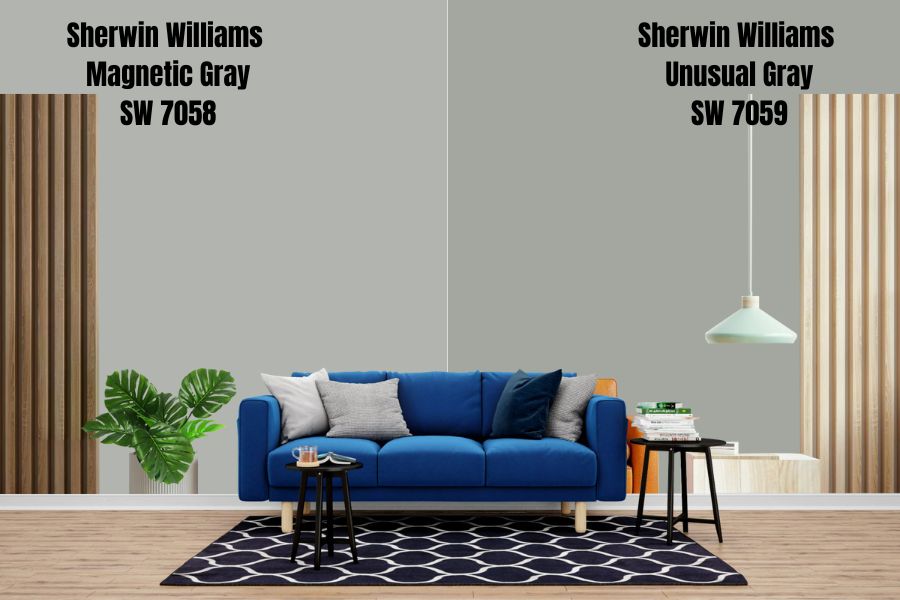 Unusual gray is a medium gray with significant depth with undertones of cyan and green, which is very versatile, enough to pair with different hues and create a library of colors in your new space.
It's part of the Honed Vitality Paint Color collection inspired by both nature and time to produce colors that imitate raw surfaces of old farmhouses, shutters, mineral residues, and sea-polished stones.
Unusual gray is a cool-toned color with obvious crispy notes that people can spot even under the warmest lighting. However, these warm undertones find a way to come up to the surface, giving off a green feel.
It's a great color for your kitchen, bedroom, bathroom, and even exterior; just bear in mind that you'll get different results under different lighting, and this doesn't mean you got a fake paint; that's just the way it is.
Sherwin Williams Illusive Green
This color has an LRV of 29, which puts it at a very dark end of the scale, and it's from the Nurturer color collection. It's a neutral, dark and reflective green softened by cyan and gray undertones.
This cool-toned color is an excellent choice for bedrooms and home offices. You can also use them for exteriors. Throw in some dark-colored furniture and dark gray bedding to create a sweet contrast in your space.
Sherwin Williams Attitude Gray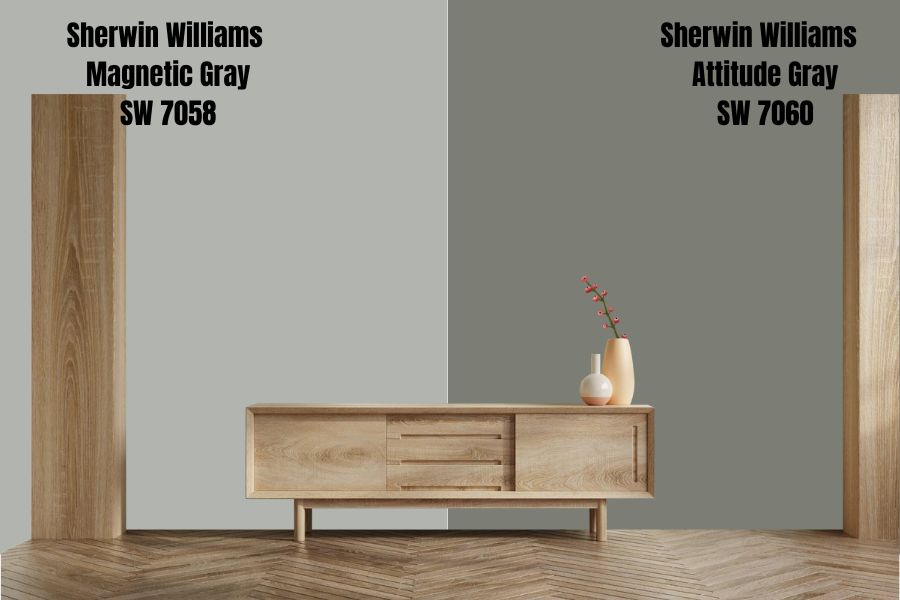 With a darker LRV of 20, attitude gray is the one gray with deep green undertones that burst forth even in the absence of plenty of natural light. This color creates a deep, calming sanctuary with its undertones, ensuring you feel welcome in any space it enters.
It's your best bet for a small space as it introduces a cool cozy feeling thanks to its depth and intimidating deep shade.
Sherwin Williams Magnetic Gray Color Palette
It's very important that you find a color palette that is perfect for your mood and work with your personality. Apart from this, it must also match your anchor color, working hand in hand to create a balanced outcome.
Coordinating Colors For Magnetic Gray
There are two categories under coordinating colors. You can go for the monochrome palette or contrasting palette depending on your pick and the overall style of your home.
Monochrome Decoration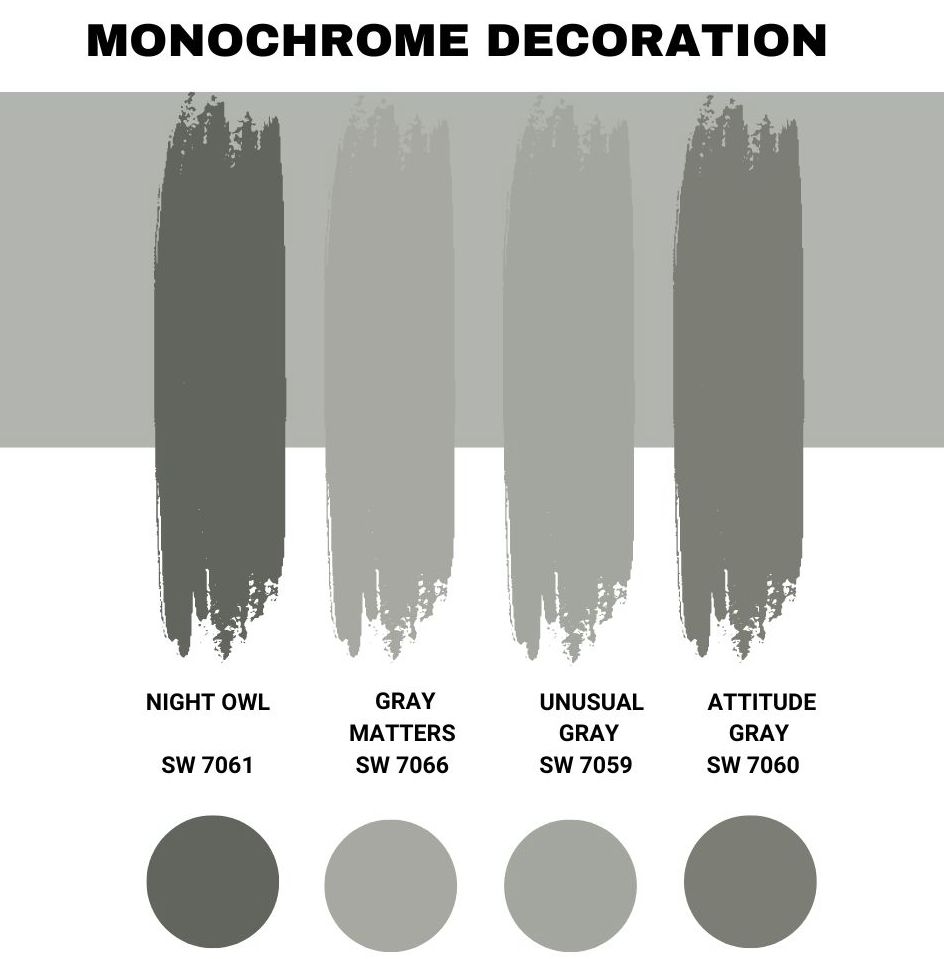 Are you a more modern and minimalist person? Do you feel like less is more when it comes to decorating your space or picking colors? Then the monochrome decoration is your answer. Colors like Night Owl, Gray Matters, Unusual Gray, and Attitude Gray go beautifully with Magnetic Gray, keeping the effects moderate and controlled. They're also from the same color family, which means the similarities are not so strong, but they still get the job done.
Contrasting Palette
Contrast is the secret weapon that gives any space a memorable impact. In a contrasting palette, the anchor color is very pronounced because the other colors are significantly different from the rest. Try pairing it with Neutral Ground or Amazing Gray
Sherwin Williams Magnetic Gray Complementary Colors
Complementary colors are those hues that, when mixed, cancel each other out by producing a grayscale tone like white or black, and when you place them next to each other, they create a strong contrast.
They're created by using two opposite colors on the color wheel. So for Magnetic Gray, the best complementary color options are Evergreen Fog, Austere Gray, Midnight, and Ruby Violet .
What Trim Colors Go With Sherwin Williams Sea Salt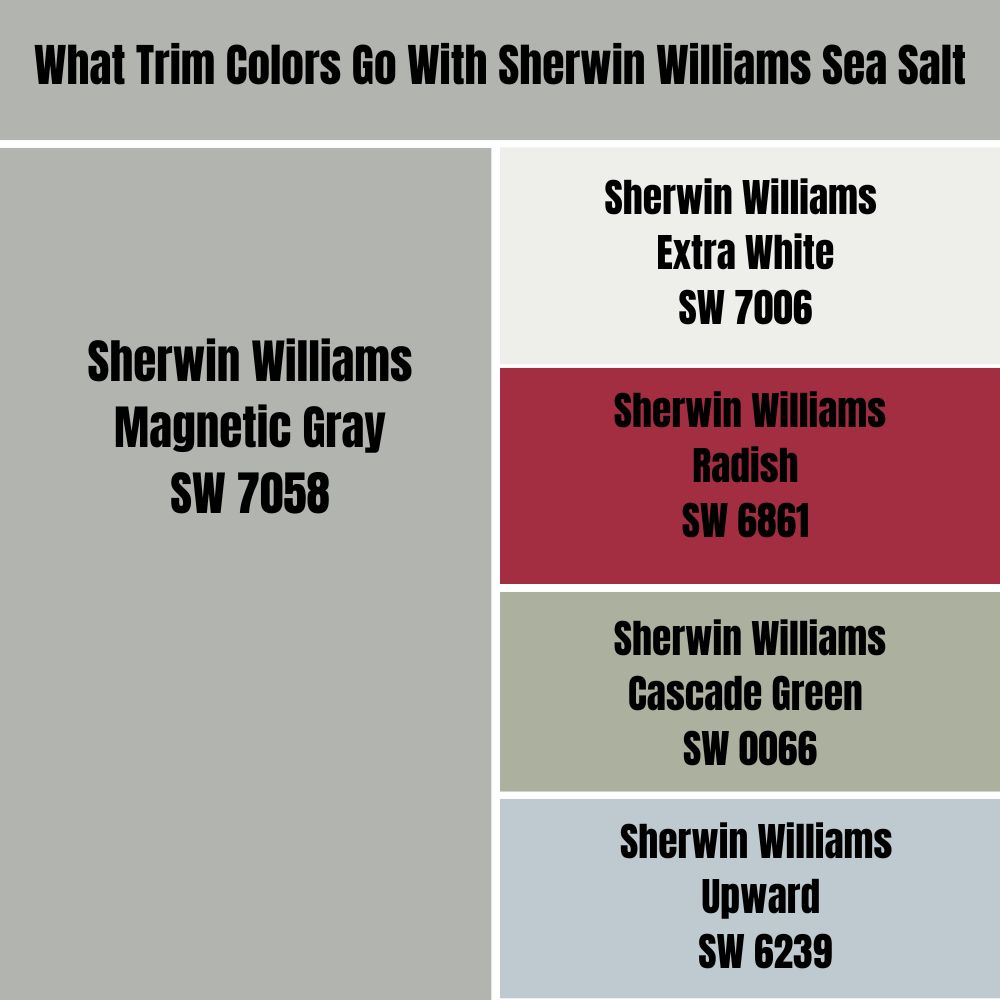 White colors are usually the most preferred option for paint trims and that's what I'll advise. Pair your Sherwin Williams Magnetic Gray with Sherwin Williams Extra White, Pure white or go bold with colors like red (Sherwin Williams Radish).
Sherwin Williams Cascade and Upward are also amazing choices for an extra layer of brilliance in your home.
Magnetic Gray Benjamin Moore Version
It's not strange to see that some shades of Benjamin Moore grays can improvise perfectly for Sherwin Williams Magnetic Gray. This is possible because of similarities in the formula. I'd be reviewing a few colors which can substitute for Sherwin-Williams if you want to do something different.
Benjamin Moore Platinum Gray
This one is a muted grayish blue with undertones that give a crisp and inviting look without disappearing in the mix or doing too much. This color creates a great backdrop for any space and can be paired up with crisp whites, ashy grays, and a pop of black details for a more modern look. It has an LRV of 39.64.
If you're looking towards traditional, pair it with warm wood tones and sunny yellows after throwing in some cozy fabrics to add a bit of life to the color.
Benjamin Metropolitan
This versatile color was named Benjamin Moore's color of the year in 2019. At first look, this color appears as a neutral gray, but when you look deeper, you find green undertones that give it a hint of warmth and its bright spaces; this green undertone helps it adapt perfectly and not take on a cool blue cast.
It's a soft, soothing gray with an LRV of 49.96, which means it stays right in the middle and works well with white trims and bright upholstery colors while adding modern elegance that invokes a calming effect in any space.
Benjamin Moore Baltic Gray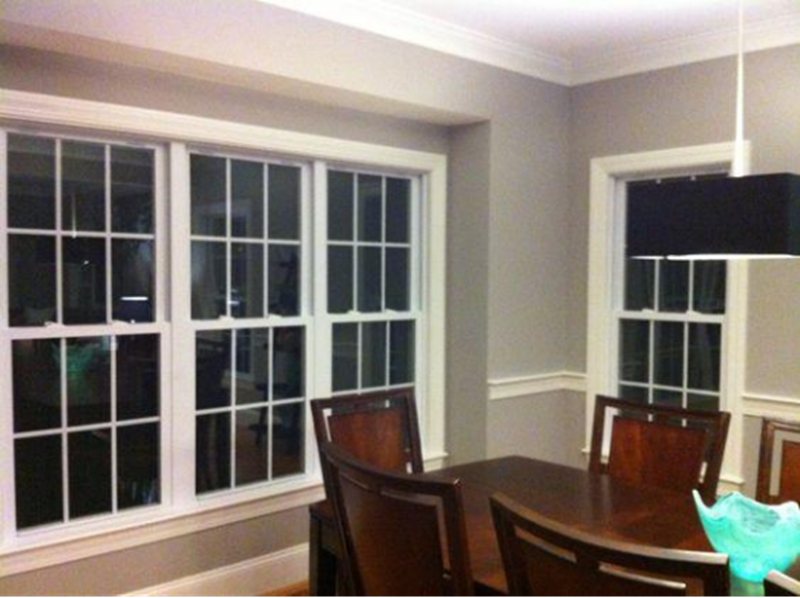 This refined mid-tone with a dash of greige introduces versatility into your space. This classic color works with any traditional or modern décor and maintains its own individuality in the process.
With an LRV of 44, it looks amazing paired with white trims like the Benjamin Moore Chantilly Lace and dark furniture like black and brown. You can use it in a wide space to bring the walls closer or incorporate it with other light tones of gray for a sweet contrast.
Sherwin Williams Color Comparison
Two to more great colors can surely coexist. All the colors in this section have one or two similarities with Sherwin Williams Magnetic Gray, and it's important to highlight their features to educate you fully and also aid your decision-making should you decide to pair.
Sherwin Williams Magnetic Gray Vs. Comfort Gray
Comfort gray has an LRV of 54 and is the perfect blend of gray, blue, and green. It's not a nosey color so expect it to stay just how you applied it- enough to uplift your space and let other details shine through beautifully.
It also has a hint of beige that delivers warmth to any space while still blending with the surrounding grays.
Due to its light-medium LRV, this color is an obvious choice for bright and even darker rooms as long as your expectations are low for many colors. This color is gorgeous, and it finds a way to balance its busy undertones and deliver a great ambiance for you.
The best trim colors we can come up with for Comfort Gray are Sherwin Williams Pure White, Chantilly Lace, and Alabaster (one thing you must expect with Alabaster is that its strong yellow undertones may clash against Comfort Gray, so use it responsibly.)
Sherwin Williams Magnetic Gray Vs. Mindful Gray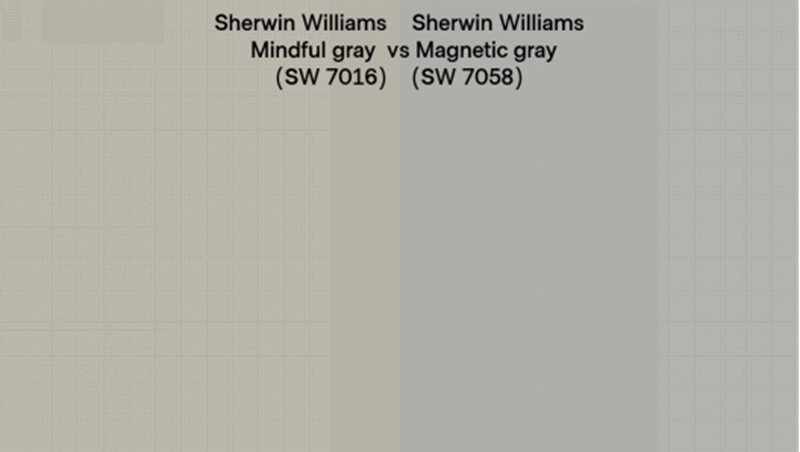 Mindful Gray is one of the most popular and versatile colors out there for so many good reasons, the first of which is that they work excellently in any design situation. It has an LRV of 48 and falls on the darker end of the scale.
Like Magnetic Gray, this color also has subtle blue and green undertones that keep this color from getting too warm and chilly simultaneously- talk about a neutral champion. Mindful Gray is perfect for your kitchen walls and cabinetry, especially when you pair it with black details and off white countertop with touches of light brown and warm light.
Best Rooms To Paint Magnetic Gray
Below are the best locations for Sherwin Williams Magnetic Gray in your home. See this section as a mini mood board as you'll also get suitable styling tips for your home.
Sherwin Williams Magnetic Gray Cabinets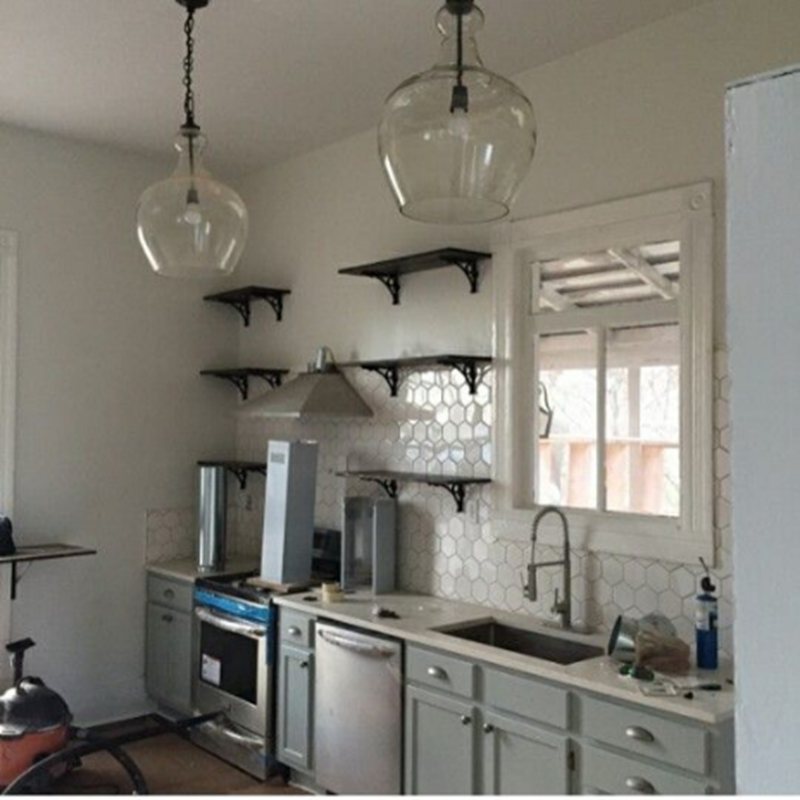 This color looks amazing on your kitchen or room cabinet, especially against stained wood. Incorporate some bit of brown or black handles in there to create a balance and open the same to fit into more personalities. You can incorporate some faux fruits on your kitchen table for a pop of color.
This pretty gray with its green undertones gives your room that homey and cozy feel, helping to close space and bring depth. Ditch the whites and try this out today!
Sherwin Williams Magnetic Gray Exterior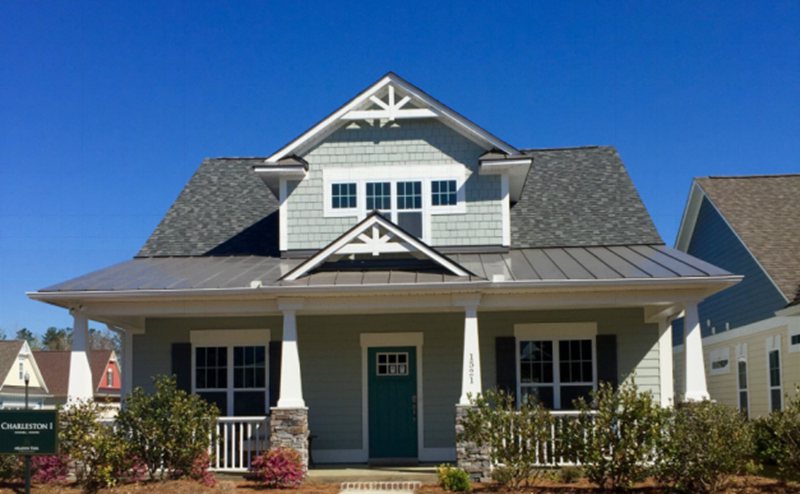 All thanks to its low LRV, this color will absorb all the sunlight when you use it outside your building. That's one advantage dark colors have over light colors. They flourish in spaces with excessive light without looking too washed out.
Sherwin Williams Magnetic Gray Bathroom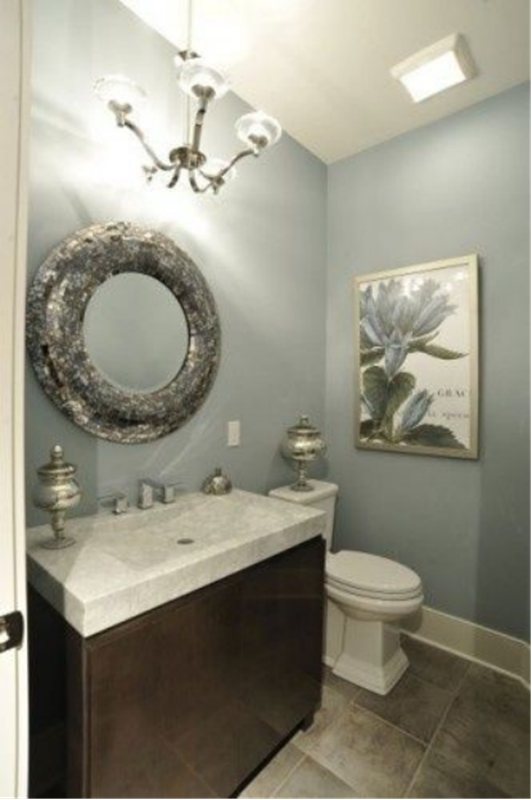 Magnetic Gray is absolutely perfect for your bathroom walls. Pair this cool color with warm lights, brown wooden shelves, or cabinets, and throw in those white towels for a great contrast. This color will let the details in your bathroom shine and give an intimate feel suitable for relief after a long day.
Imagine taking a bath in a room decked in muted gray with rich green and blue undertones peeking through. Yes! I completely board this ship!
Sherwin Williams Magnetic Gray Oak Trim
Magnetic oak trim comes in handy if you decide not to paint your entire room with this shade. Throw the decorative piece in your bathroom or your floors for a unique touch and pop of color in your space.
Just make sure that spot has an endless supply of natural light during the day and warm light at nighttime.
Sherwin Williams Magnetic Gray Living room
Sherwin Williams Magnetic Gray is a reliable and stylish choice for a living room and can be paired with a variety of accent colors to create the perfect look for your home. Homeowners can use magnetic Gray on the walls, trim, or furniture in a living room to create a cohesive look. It pairs well with both warm and cool accent colors, making it easy to incorporate into any space.
Sherwin Williams Magnetic Gray Bedroom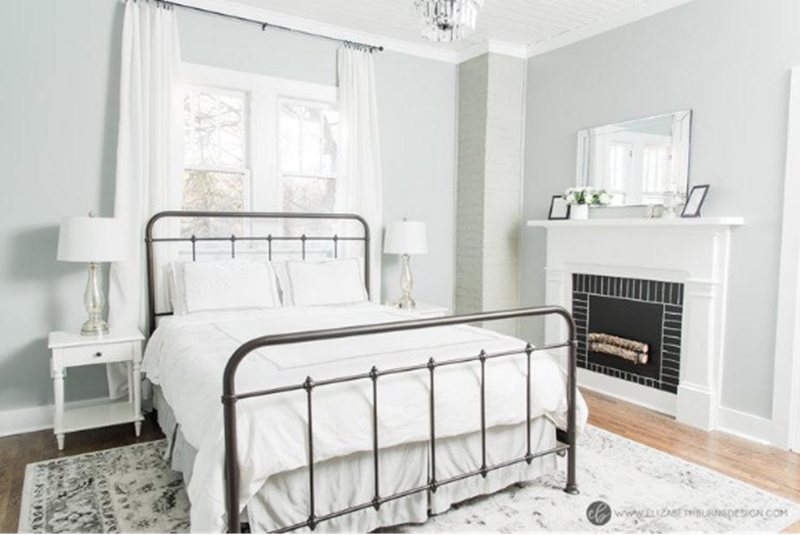 SW Magnetic Gray is just perfect for a cozy bedroom décor, especially when you pair it with white bedding and room lamps. You can go further with your details by throwing in metallic bed frames and letting the shiny silver detail on the metal pop.
Combine white window trims, white curtains, and a touch of black and white fireplace décor to make it all come together.
Sherwin Williams Magnetic Gray Kitchen Walls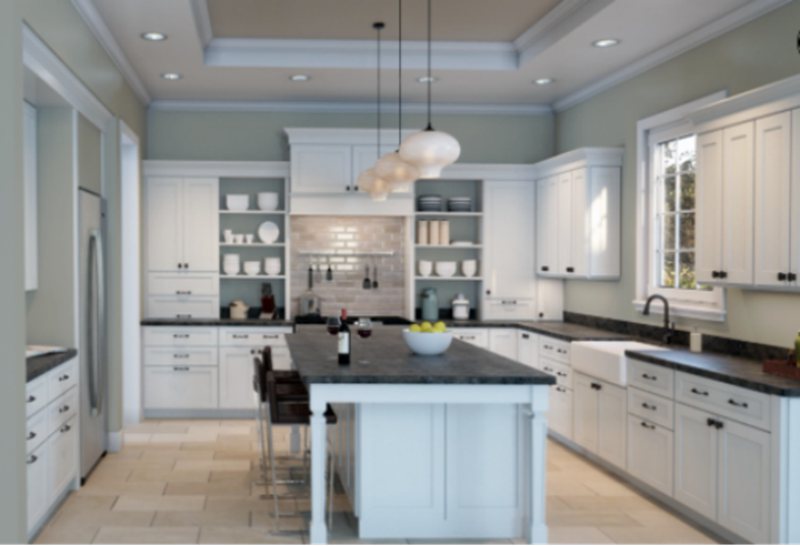 This color is what your kitchen needs for that touch of difference and class. While gray isn't the most conventional color for a kitchen, Magnetic Gray will improve your cooking experience by offering familiar warmth to you and your guests.
It's a great choice for your kitchen if you use light natural wood or white flooring, cabinetry, and splash tops with brown and white details. Create a mood by incorporating white elements on countertops, ceilings, window trim, and even the sink.
Sampling Your Paint
Sampling your paint is a great way to make up your mind and also begin a journey towards beautifying your space, and the good thing is it won't cost you so much time and money to get things done. All you need to do is get pieces of stick-on from Samplize and get working.
The best way to sample your color is to put your strip on a clean slate and do them in separate sections of the room to see how they react under different light situations, including daytime and nighttime.
Completely avoid putting the samples in your old color, as it'll distract you and lead to further confusion (the older color will likely get in the way). Don't line your colors up next to each other, too, should you decide to use more than one color, as the undertones will be drawn out, and you may not like any of them.
I also advise that you avoid using more than 2-3 colors at a time and observe a color for more than 24 hours to help you in an effective elimination process.
Parting Words
The Magnetic Gray color of the Sherwin-Williams collection is perfect for creating a cohesive look in your home, as Homeowners can use it on walls, cabinetry, and even furniture. It also pairs well with both warm and cool accent colors, making it easy to incorporate into any space. Overall, Sherwin Williams Magnetic Gray is a reliable and stylish choice for any home.