Its 2022 and neutral paint colors are still the MVP. Not a surprise?
Despite neutrals being seen by some as easy and dull, we know for a fact that that isn't entirely the case. A room's wall paint is its base and the undertones from neutral paint colors echo the surrounding and tie up all the design elements perfectly. While the range of neutral shades is boundless, the basic neutral color palette comprises black, white, brown, and gray. White paint is especially popular as it attracts natural light and bears a classic and timeless appearance.
The Sherwin Williams origami white (SW 7636) paint is the white paint you want to have on your walls because it is smooth with a creamy color that makes it an amazing neutral.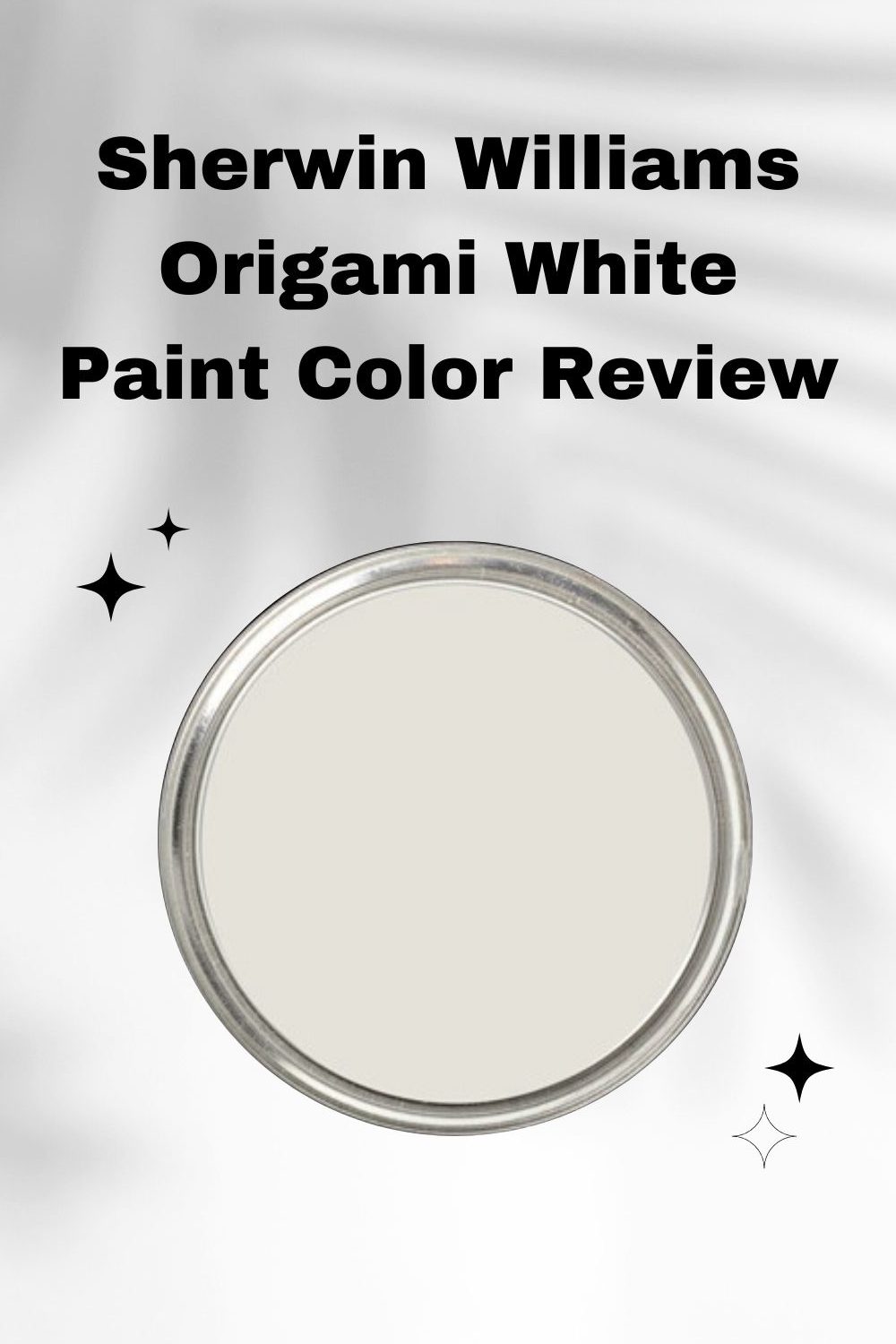 Sherwin Williams Origami White (SW 7636) Paint Color Review and Pics
You know that color that's always the inbetweener? It doesn't lean towards gray or tan that much either so it's like in the middle.
Don't dismiss the SW 7636 at face value though because a house update with it is the ultimate flex. The good thing about this paint color is its tendency to take on different looks in different lightings.
What Color is Sherwin Williams Origami White (SW 7636)?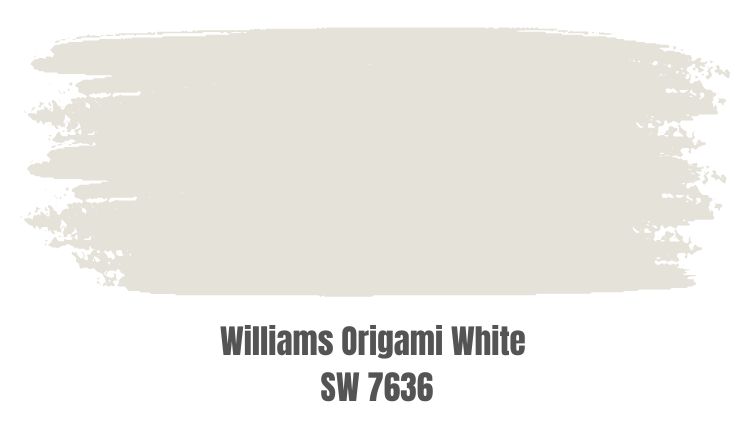 | | |
| --- | --- |
| Manufacturer | Sherwin Williams |
| LRV | 76 |
| R | 229 G:226 B:218 |
| Hex Value | #e5e2da |
| Color Collections | 2019 Wanderer, Living Well, Top 50 Colors, Cool White, Finest Whites |
The Sherwin Williams Origami White is a warmer white and pastel that's not too creamy or crisp. Its LRV of 76 makes it such a good neutral or base and when you want your space to seem larger.
RGB of Sherwin Williams Origami White
Origami White is made up of Red 229, Green 226, and Blue 218.
LRV of Sherwin Williams Origami White
The LRV is an indication of how much light the color does or doesn't reflect on a scale of 0-100 i.e ranging between true black to pure white but since there is no such thing as true black or white, the range falls between 3-93.
The LRV of Origami White is 76.
Is It a Warm or Cool Color?
Origami white is more of a warmer white and pastel.
Its 9.00 value and 0.61 Chroma makes a light near neutral color and so it's no surprise that it is on the upper end of the Light Near Neutral range for Value. This means it is a safe space for both bright and light whites despite having more chroma than the normal whites range. Some may even argue that Origami white is too dark and too colorful for the whites/off-whites category and can only qualify for Light Near Neutral.
You can easily categorize a color by its hue, chroma, value, and LRV. Light Near Neutrals have a value of 8.12 up to 9.12 and chroma of between 0.1 to 1.00. Your north facing room or just any room in your home that gets little natural daylight will thank you for loving on its walls with origami white.
What Are The Undertones?
The SW Origami White has tan and gray-ish undertones. It makes for such a great interior neutral wall color thanks to these less dominant undertones.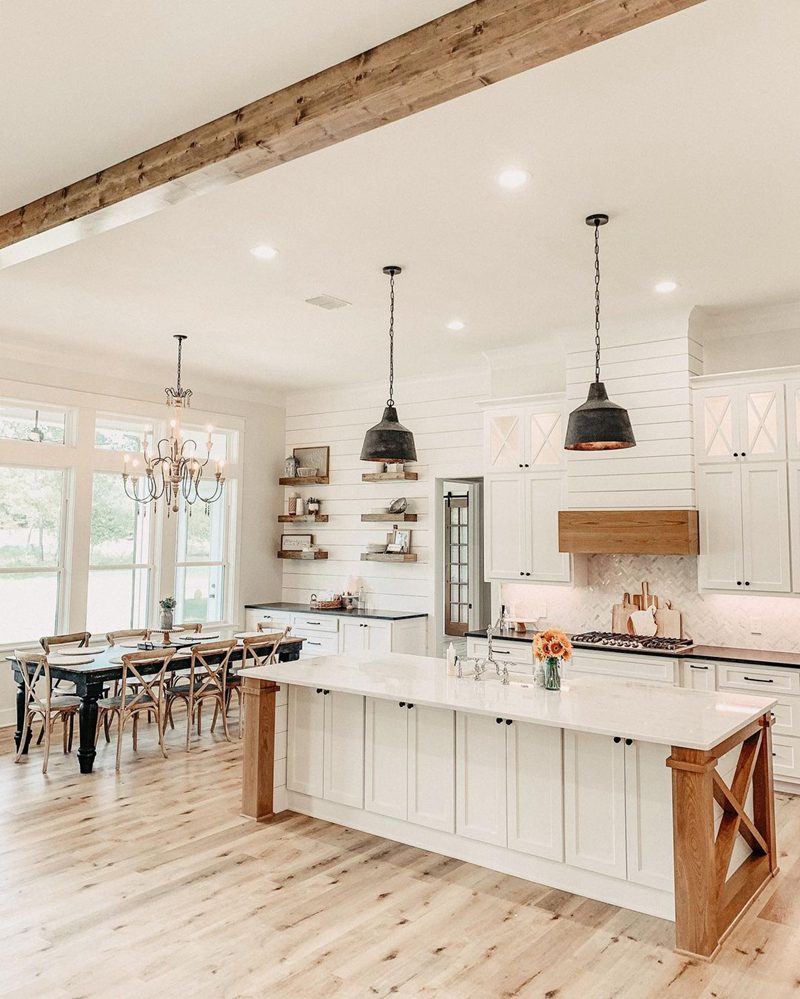 Sherwin Williams Origami White Color Strip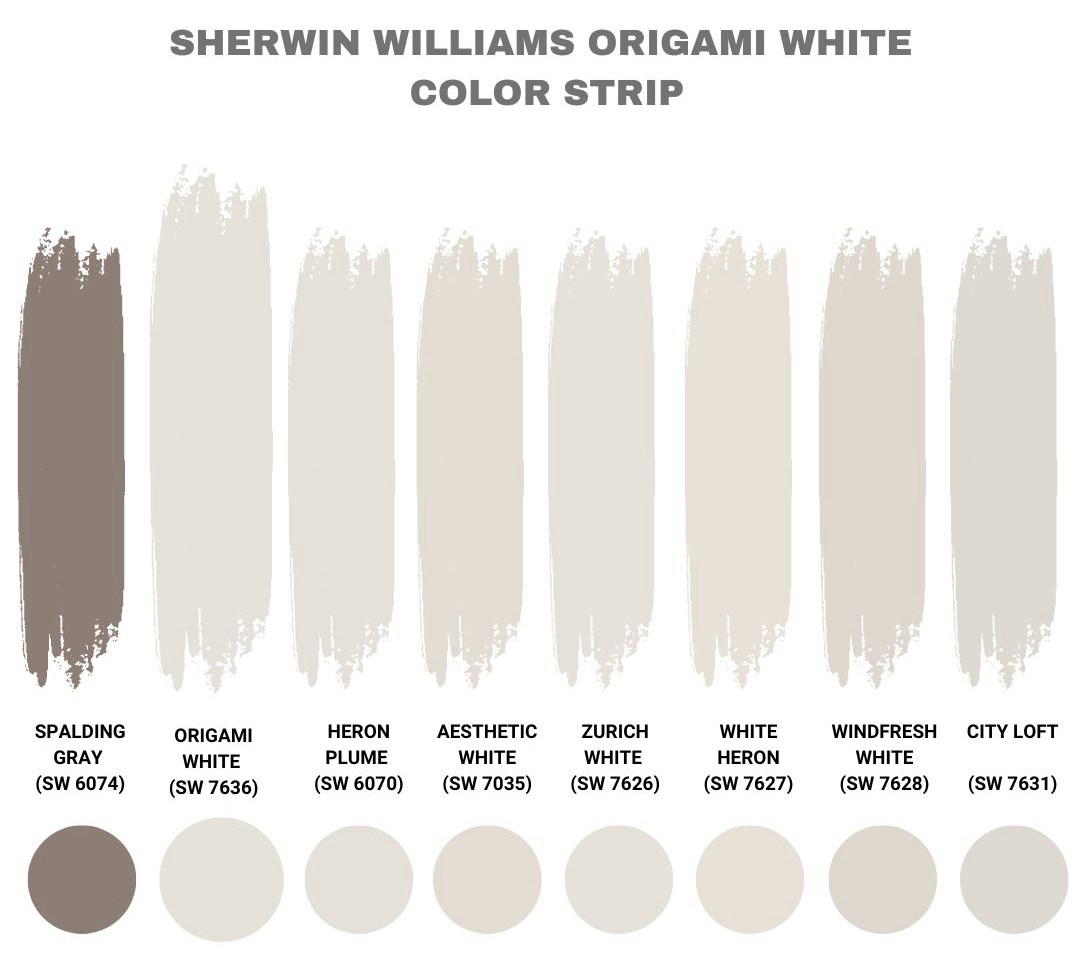 Sherwin Williams Spalding Gray (SW 6074)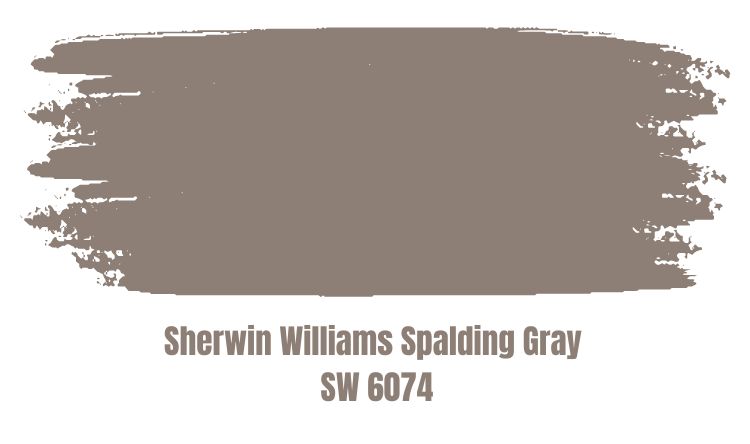 Spalding Gray is a neutral color that's one shade lighter than Origami White on the same color strip.
Sherwin Williams Origami White vs Heron Plume (SW 6070)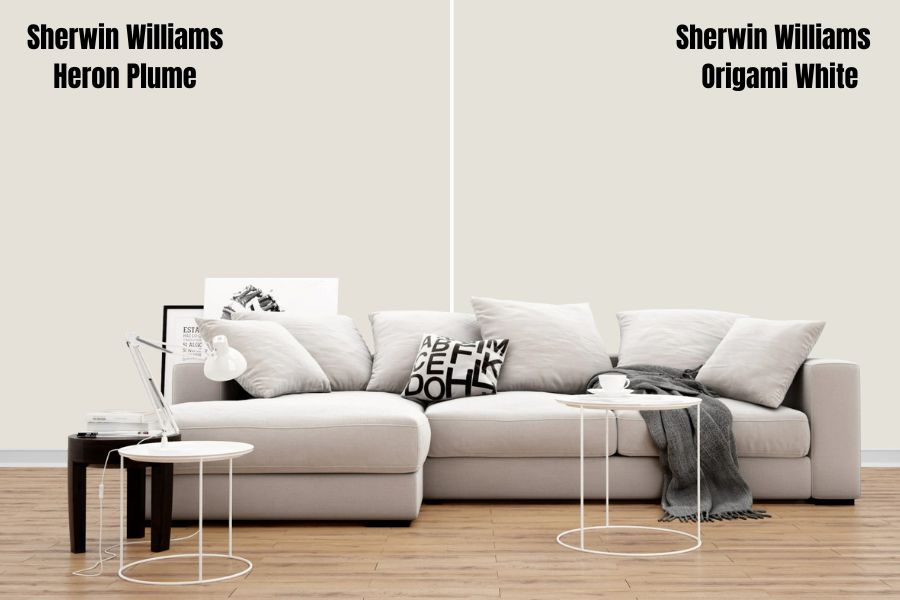 Like Origami white, the SW Heron plume is a soft warm neutral with whisper-like undertones. It is a soft taupe or beige-gray with pretty sneaky undertones that make Heron plume appear warmer in a south-facing room or in western afternoon sunlight. In a north or east-facing room, the color's warmth is a bit passive.
Sherwin Williams Origami White vs Aesthetic White (SW 7035)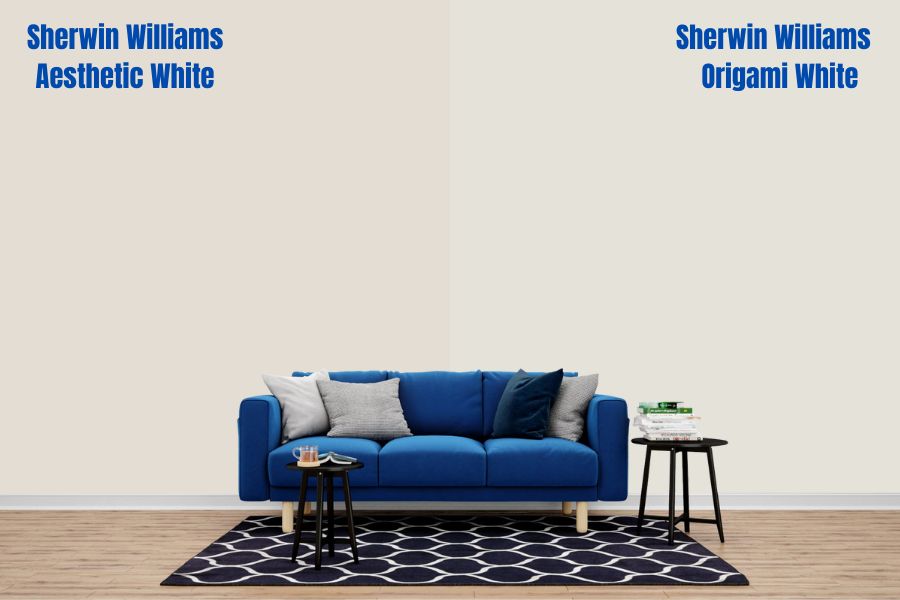 The SW Aesthetic White is a soft, off-white paint color. Like Origami white and other whites in the range, this color is an in-betweener. It isn't gray and neither is it a beige many people would reach out for first but it's perfect! Even better, its prospects of getting onto the 'trendy' train are high up there with this paint color's disputable disjunction to a grayish-beige.
The SW aesthetic white is able to transform any space into looking brand-new, with such ease you won't believe it. It should also be noted that this color will appear more greige with its usual warmth shining through.
Sherwin Williams Origami White Vs Zurich White(SW 7626)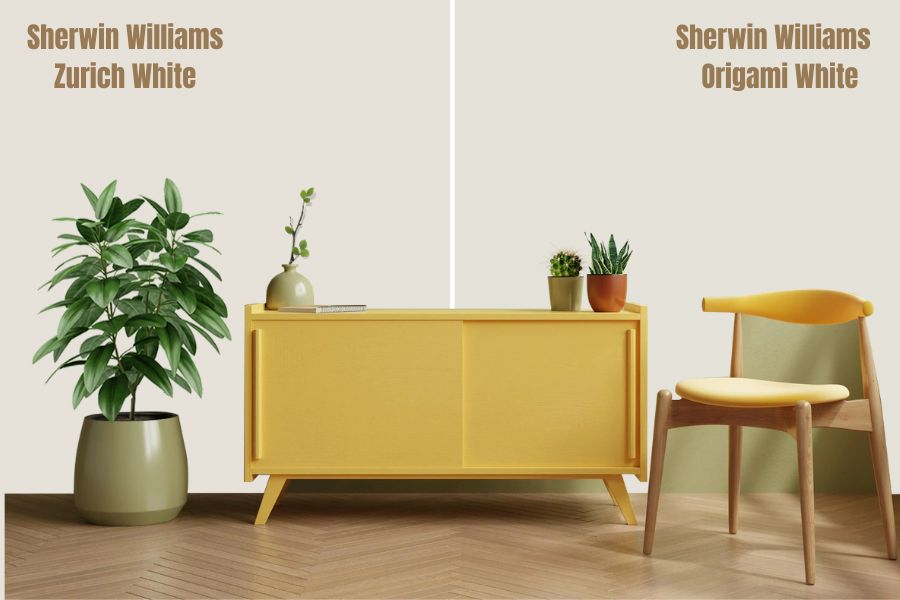 Trust us, you want Zurich White on your walls because of how versatile this white is. It's almost like anything and everything will go well with SW's Zurich white paint color as its versatility allows for a range of elements.
The SW Zurich white's undertones aren't too yellow or gray which makes it good for both warm and cool lighting and accents. This places it at a higher spot on SW's top white colors, higher than origami white which leans more towards the warmer end.
Pair zurich white with deep grays, navy blues and greens for the most beautiful color combinations and use it on walls, trim & doors, cabinetry, furniture, and exteriors.
Sherwin Williams Origami White vs White Heron (SW 7627)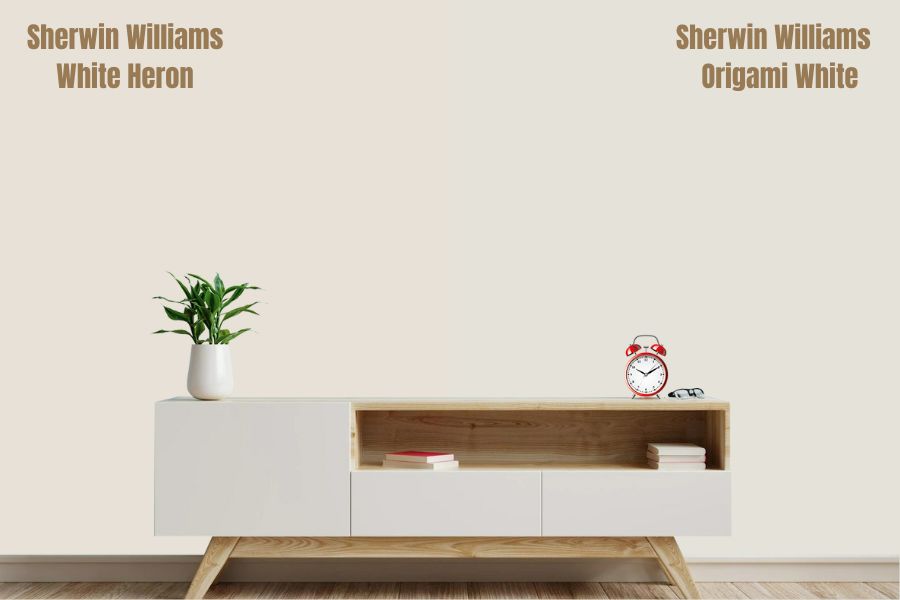 If you are looking for a white paint that isn't white but one with a splash of color to it, the SW white heron is your mystery color. We love it for its versatility as it is a category crossing neutral.
White Heron is a light or pastel greige color whose LRV is similar to that of Origami white. It's important to note that you'll need a very brightly lit room to see this color as white thanks to its pink and purple undertones.
Sherwin Williams Origami White vs Windfresh White (SW 7628)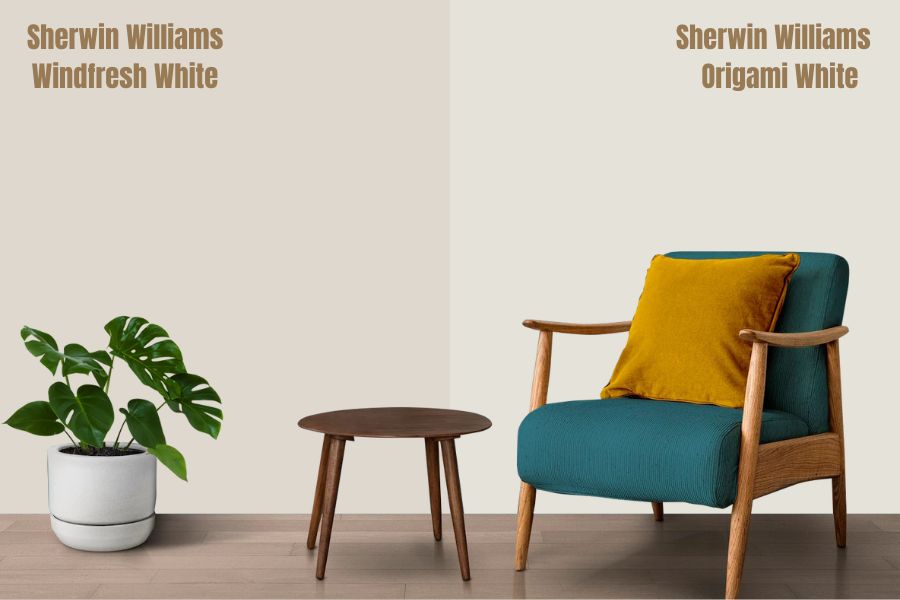 When not sure about the lighting in your space, go Windfresh white. This SW white paint color changes color depending on  the amount of natural light and the other colors in that room. Like the Origami white, this soft off-white will go perfectly with cream and greige.
Sherwin Williams Origami White vs City Loft (SW 7631)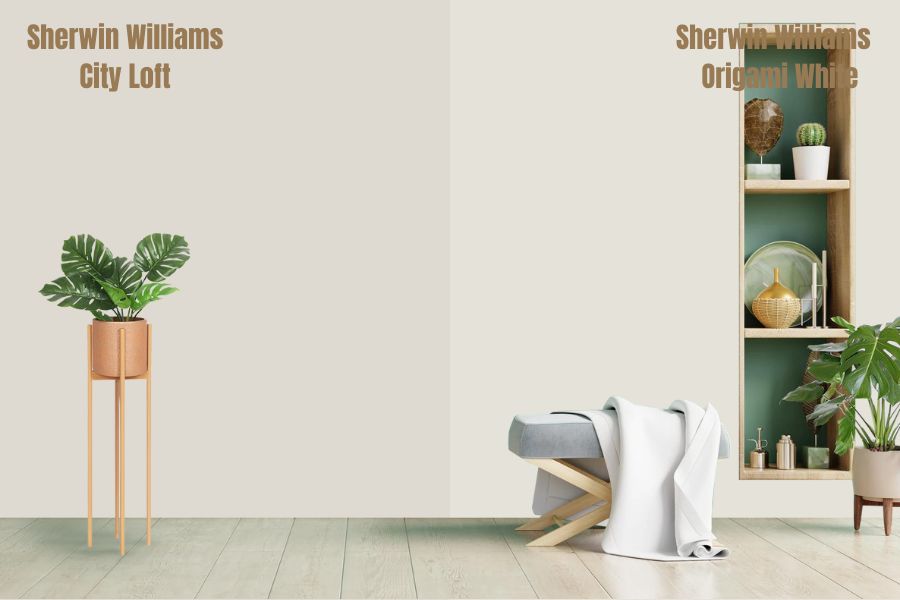 The SW City Loft is a transitional or chameleon color that is greatly influenced by the lighting and surrounding colors in the room. Like Origami white, it is a warm color but will read cool at times. Its undertones include gray, brown, beige, and red-pink which may cause it to appear taupe, beige, gray, peach, purple or pink.
Sherwin Williams Origami White Color Palette
You must be wondering what colors mix well with Origami White and so let's look at its coordinating colors.
Coordinating Colors for Origami White
Due to its fun and ease, SW's origami white is a versatile paint color that works well in both warm and semi-cool palettes. It goes well with greiges, beiges, browns, bronze, taupes, and warm gray. It might also work with sage green and grayish-blue!
Consider matte black or chrome metallic accents for this wall paint color.
If you are looking to create a monochromatic palette or color scheme, the colors that you can use along with the origami White are Ethereal Mood, Fawn Brindle and Jogging Paths.
●       Sherwin Williams Ethereal Mood (SW 7639)
●       Sherwin Williams Jogging Path (SW 7638)
●       Sherwin Williams Fawn Brindle (SW 7640)
For a contrasting palette or color scheme, go for African Gray, Tricorn Black and Macadamia.
●       Sherwin Williams African Gray (SW 9162)
●       Sherwin Williams Tricorn Black (SW 6258)
●       Sherwin Williams Macadamia (SW 6142)
Origami White Complementary Color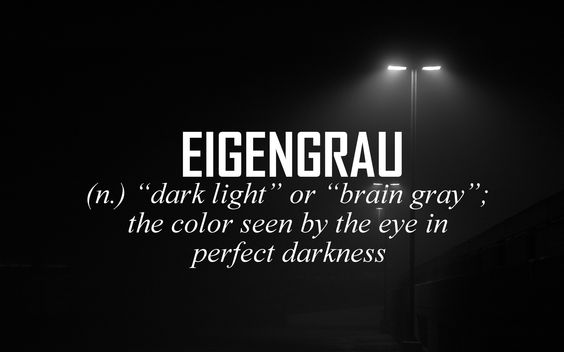 Origami White's complementary or opposite color is the Eigengrau, also called Eigenlicht, iIntrinsic gray, Dark light, or Brain gray. Eigengrau is from the black color family and is seen as a uniform dark gray in the background when there is no light. This color's RGB is 22, 22, 29.
What Trim Color Goes With Sherwin Williams Origami White?
SW Pure White (SW 7005)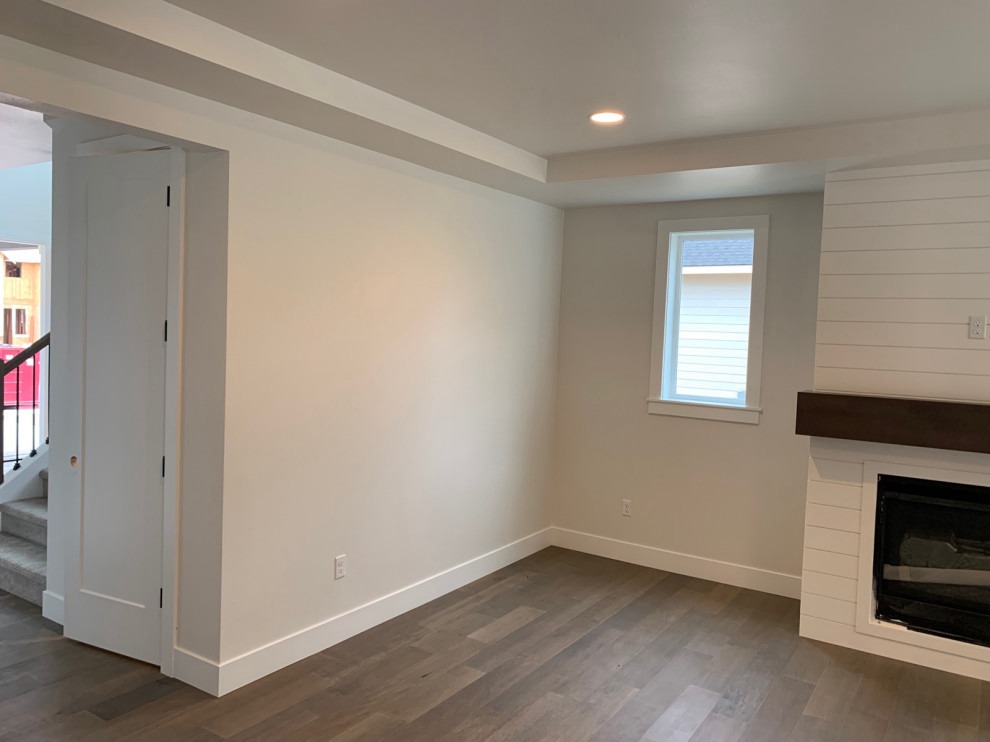 A brighter white for the trim in your house is the best choice as it gives such a subtle difference with origami white on the walls and pure white on the ceiling, baseboards,  fireplace, shelves and doors. The results will be a pretty soft look that you want to have in your home!
Sherwin Williams Origami White Color Comparisons
Sherwin Williams Origami White vs Alabaster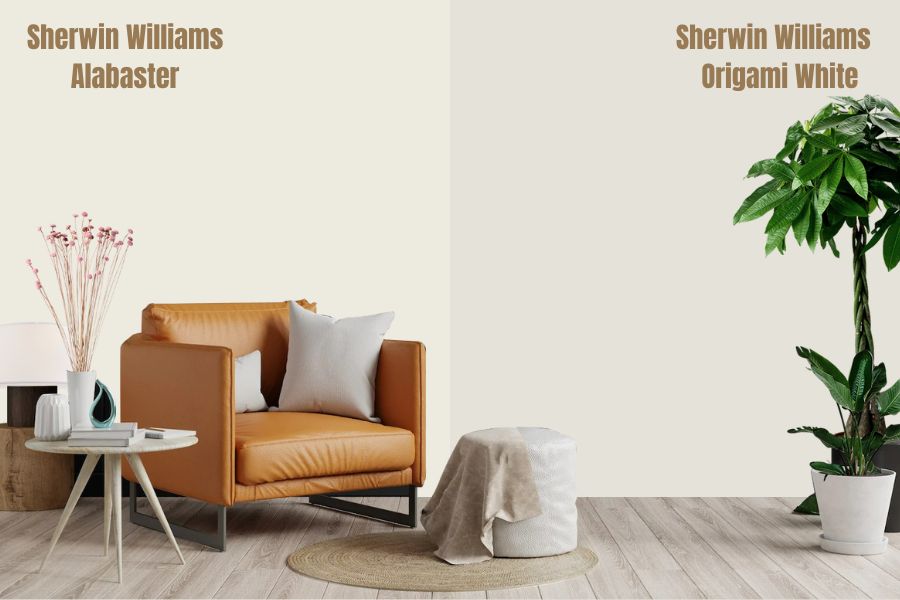 Now that you know how yum the Origami paint would look on your wall, let's see how this particular paint color compares to other white SW paints like alabaster. The alabaster is one of this brand's most popular paints. It has a creamy warm tone with deep yellow-beige undertones. If you want your space looking larger than it already is, this paint color is it. It will push those walls and ceilings away thanks to its 82 LRV.
Alabaster white from Sherwin Williams is the color you want to cozy up your space and need a great base that's neutral because its RGB and HEX values R: 237 G: 234 B: 224 and #edeae0 respectively. It goes extremely well with the warmer Modern Farmhouse, Bohemian, French Country, and Japandi interior design styles.
Unlike origami white which leans more towards the darker colors, alabaster has more of an off-white vibe.
Review of the Alabaster (SW 7008) paint color
Origami White vs Sherwin Williams Pure White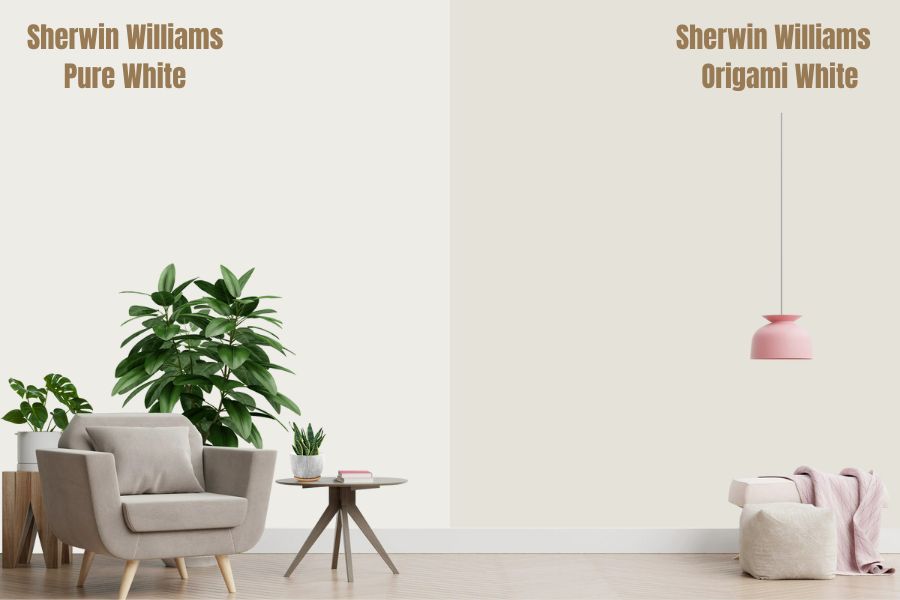 If you find yourself wanting a white that's truly white unlike SW 7636 which has a  warmer tone, the Pure White color is calling your name. This paint is extremely light with an LRV of 84. Pure white's RGB values are R: 237, G: 236 B: 230  and the HEX value is #edece6. It is especially a great choice for moldings, trims and ceilings as it helps highlight the accent and base paints.
Origami White Vs Sherwin Williams Shoji White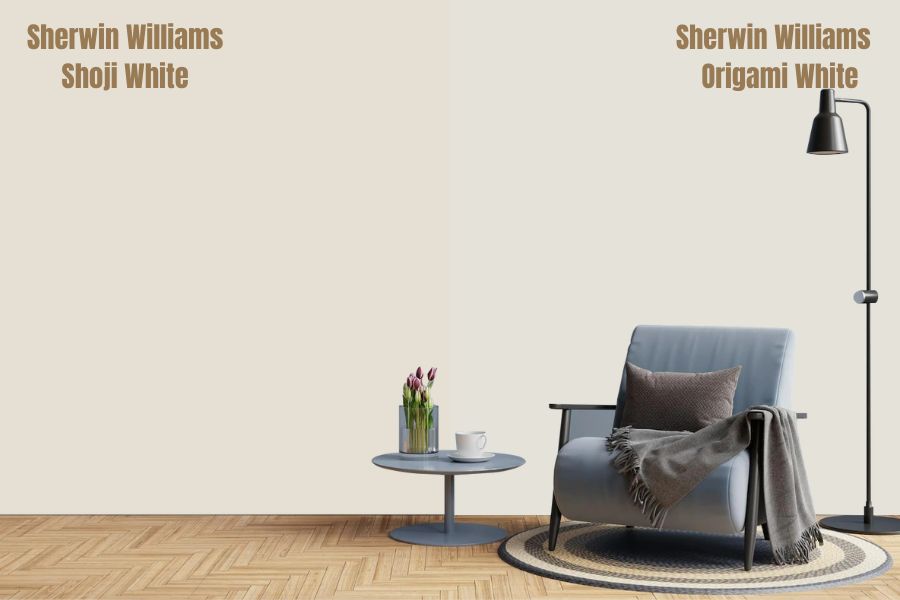 If you're looking for a white paint with a delicate pink touch to it, then the SW shoji white will be your go-to feminine paint color. Think subtle and sensible interior design styles. Also, since this color has an LRV of 74 making it the perfect base where browns, blush colors and earthy tones are accents.
The Shoji white isn't so far removed from origami white as their LRV difference is only two.
Origami White Vs Sherwin Williams Eider White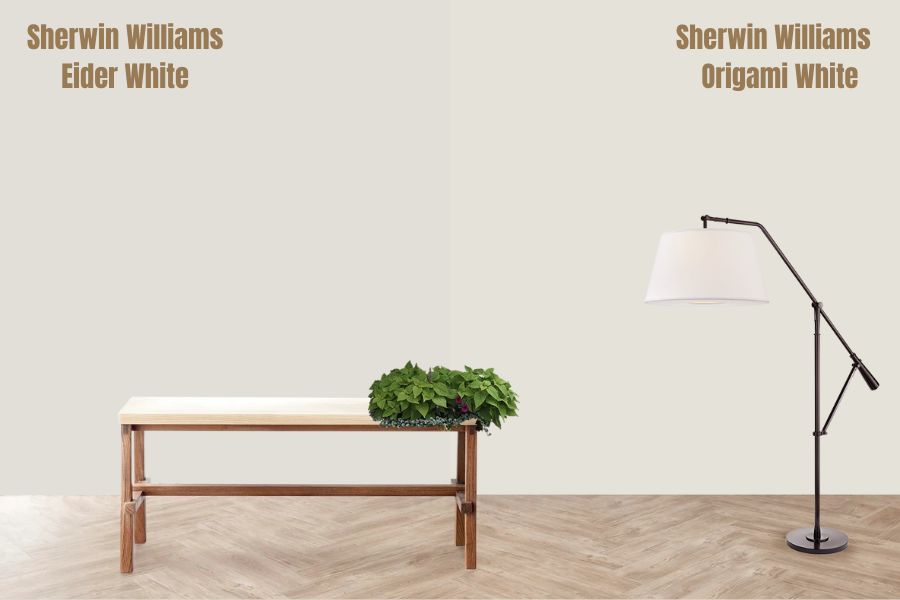 Where the Origami white is warm, the eider white paint color has a cool tone. Whenever you feel like adding some fresh and clean vibes to your indoors, this is the white color to bring home with you at the paint store.
This color is a great choice as an all-around white paint color that will brighten up any space with its 73 LRV including those in dire need of lighting and airiness. The only catch is, you will have to first try out its gray and subtle pink undertones in different places before you find the perfect spot.
Pair eider white with deeper grays, dark charcoal colors, the Filmy Green SW 6190, Blustery Sky SW 9140 and Chinchilla SW 6011 are good to pair with Eider White, as are dark charcoal colors.
Origami White Vs Sherwin Williams Toque White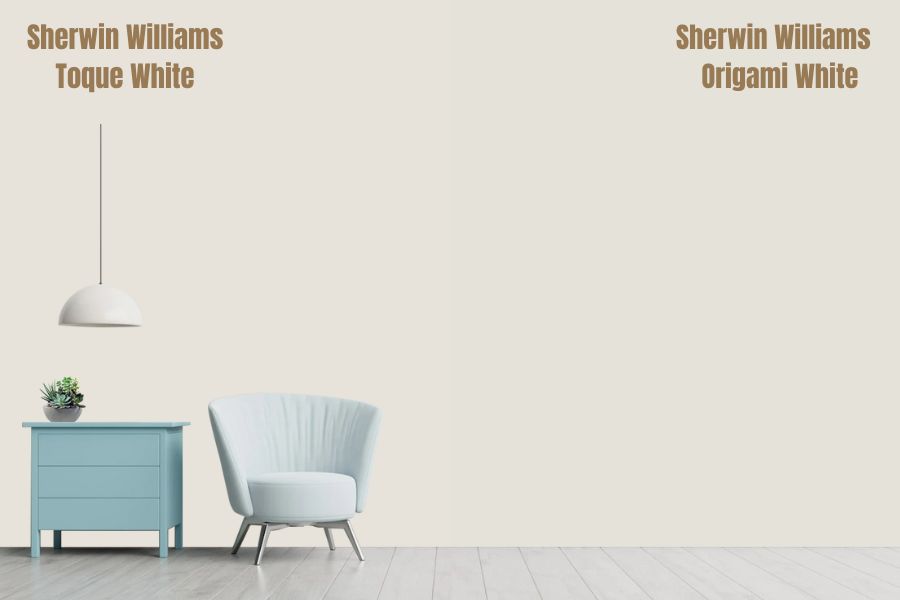 The toque white is quite similar to Sherwin Williams' origami white as it is a warmer white and pastel too. This white paint color is also not too crisp or creamy and folks love it for this balance. Like origami white, toque white is a great neutral and base seeing it has a Light Reflectance Value of 76, which comes towards the lighter end. Its RGB is R: 231, G: 226 and B: 218 while its HEX value is #e7e2da.
While it may bore you easily and fast, Toque white will have your space feeling larger, and airier. Pair the SW Toque White with beiges, steely blues, creamy and crispy whites, and lighter blues as well as matte black or chrome metallic accents!
Origami White Vs Sherwin Williams Dover White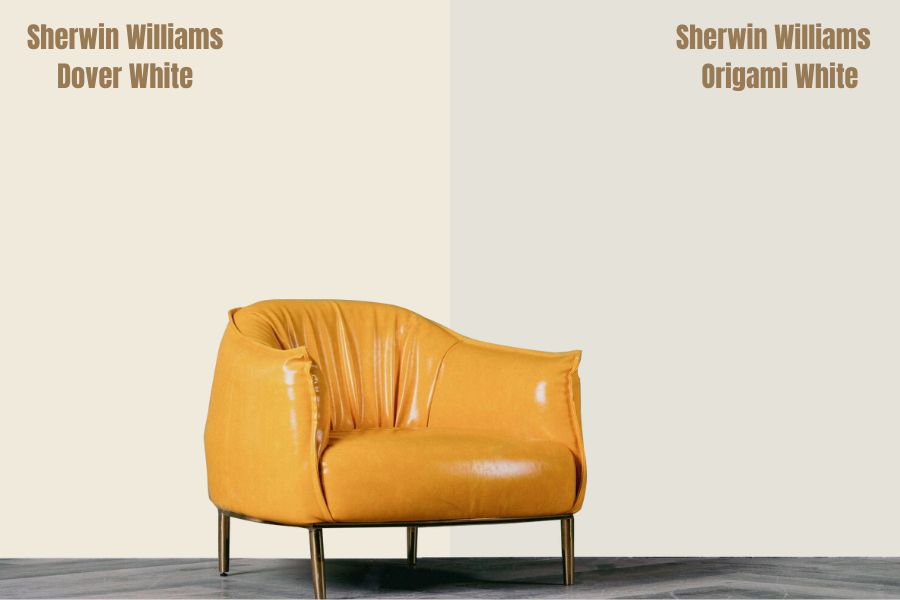 Though considered a soft white by some, the SW dover white isn't a pure white. Like origami white, it is warm and thus may be limited in the spaces and ways it can be used. It's not the best for a main color when it comes to those ceilings, doors and trim and nor does it go with as many paint colors and products.
The Dover white has an LRV of over 82, and has more warm colorant compared to other more popular warm whites like the origami white. This is due to its cream yellow base which stands out the most when paired with cool tones.
If modern farmhouse style with soft blues and greens sound like your jam, this is the white paint color you want to have in your home!
Origami White Vs Sherwin Williams SnowBound
Like Origami white, Snowbound is a warm, soft white paint color. It will appear warmer in south-facing light or the warm afternoon western sun and a bit mute but still warm looking in the north-facing light.
Snowbound's LRV is 83 which places it in the white range but not bright white seeing most of the popular whites' range falls between 84-94. Origami white is definitely a lot more softer and has more limiting undertones than this white paint but snowbound has its perks too. Which perks are these?
It comes out so beautifully in single or multiple rooms with relatively bright white trims, ceilings and doors. It's perfect for walls, cabinets and trims all together.
This paint color will go well with warm gray paint colors that have a purple undertone, several taupe paint colors with violet or violet-pink undertones, clean whites, some grays with a stronger blue or blue-green undertone, and darker charcoal grays with ANY undertone.
It doesn't go well with stronger taupe paint colors, cream, tan or beige paint colors and green paint colors that aren't mixed heavily with gray and blue.
Origami White Vs Sherwin Williams Simple White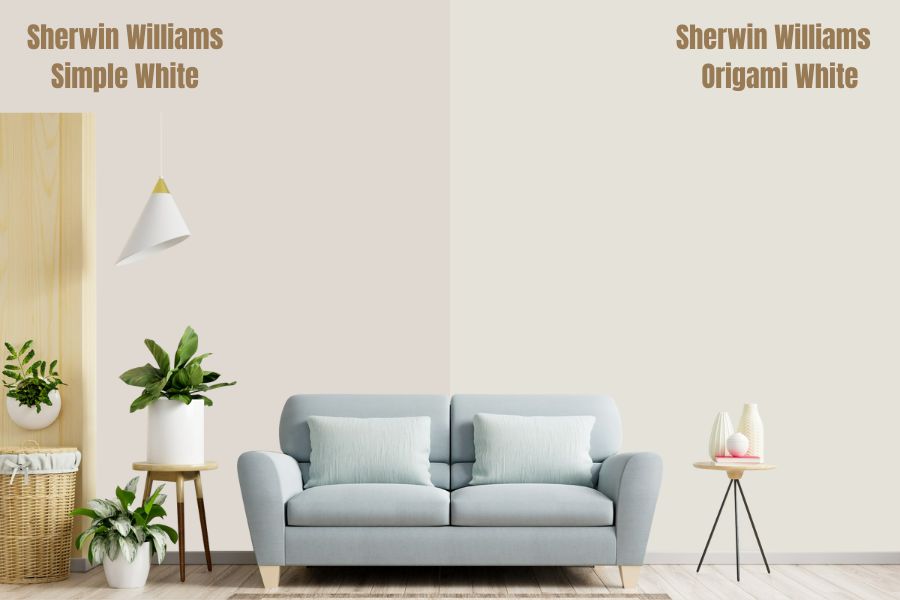 Sherwin Williams' simple white color paint is a white and pastel color just like the origami white! It is also similar to snowbound, functional gray and pure white with an RGB of R: 223 G: 217 B: 210, Hex Value: #dfd9d2 and LRV of 70.
You know how you want something because it's simply simple and elegant? This is it. This SW paint color is the color you didn't know you needed in your home.
Origami White Benjamin Moore Version
The Benjamin Moore version of Origami White is Silver Satin. Gray and greige colors won't be going out of fashion anytime soon and BM's light and refreshing silver satin is one of those grays that are likely here to stay. The color brings an airy vibe to dark rooms and will also give a subtle contrast to bright whites with its very light gray or off-white with silver traces.
If you're looking for a light and refreshing color to uplift a room, Silver Satin is a great choice.
How Does Light Affect the Color?
SW Origami white is affected by both natural and artificial light. Direct natural light washes away its undertones but still the color will appear lively and exceptional. Depending on the compass direction, north facing rooms will have it looking neutral or grayish while south and west facing rooms have it feeling and looking warm and creamy.
To be sure about the hue and different looks in different lightings, temporary wall samples from Samplize will come through for your space. The peel and stick samples come hand painted with two coats of real paint and they are super easy to peel, don't leave a mess and you can see the color on different locations and in various lightings without leaving any marks on the surfaces.
Best Rooms to Paint Origami White
You can have Sherwin Williams Origami White on any corner of your home but more so if the interior design style is transitional, contemporary, Modern farmhouse, bohemian, Shabby Chic or traditional like already mentioned.
In Living and Dining Rooms
SW Origami White brings a monochromatic vibe to your living room walls. Another option would be to choose a contrast and go deep blue or deep gray with the accent wall for the perfect end result.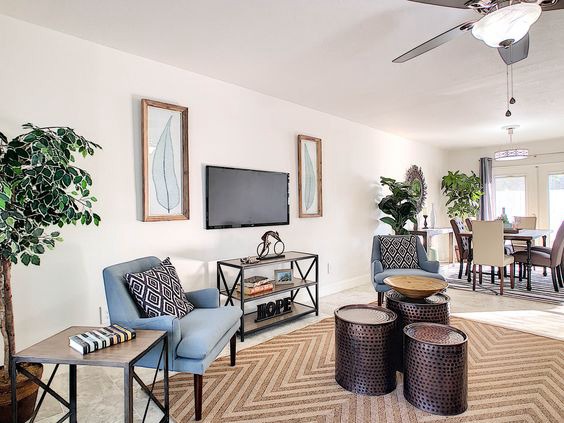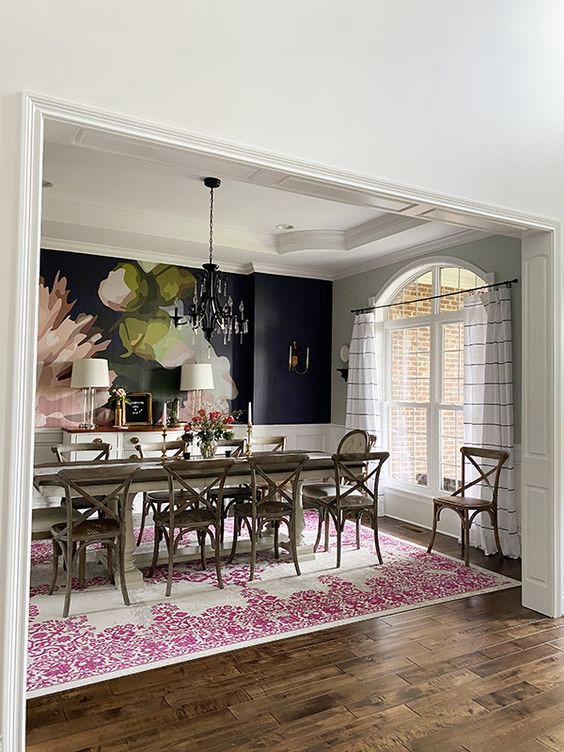 In Bedrooms and bathrooms
The SW origami white on all of your bedroom and bathroom walls will be a sight for sore eyes. Especially if you are working with matteblack furniture frames or wooden texture on display shelves and beams. It's the touch your bedroom and bathroom have been needing all along!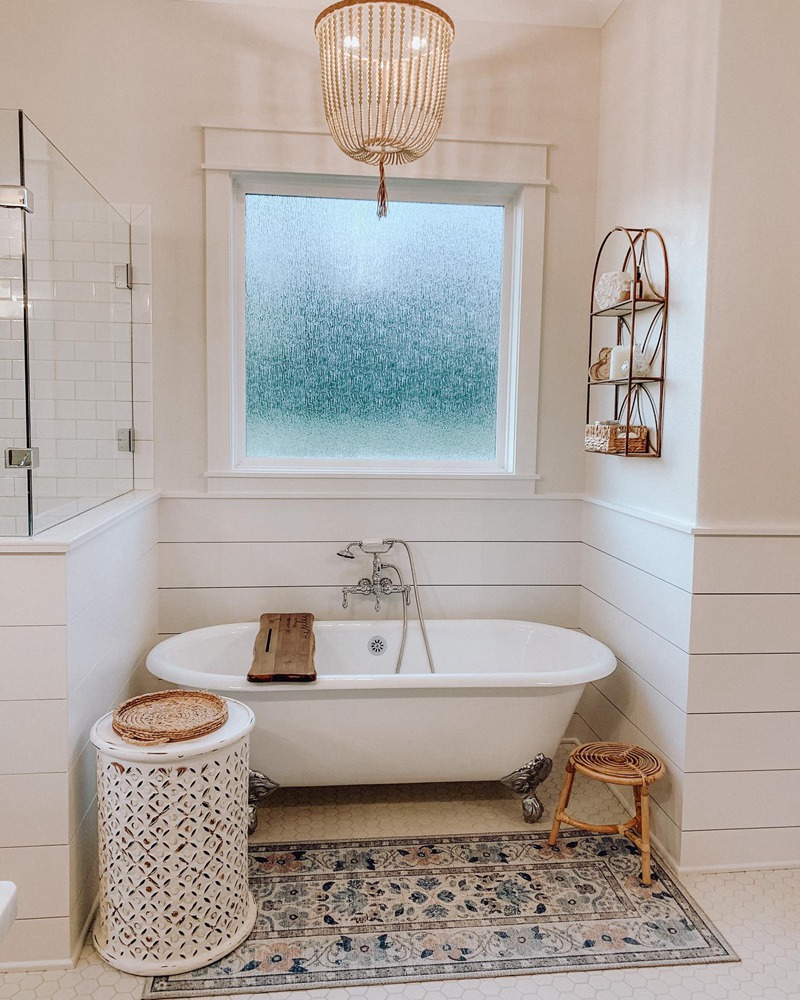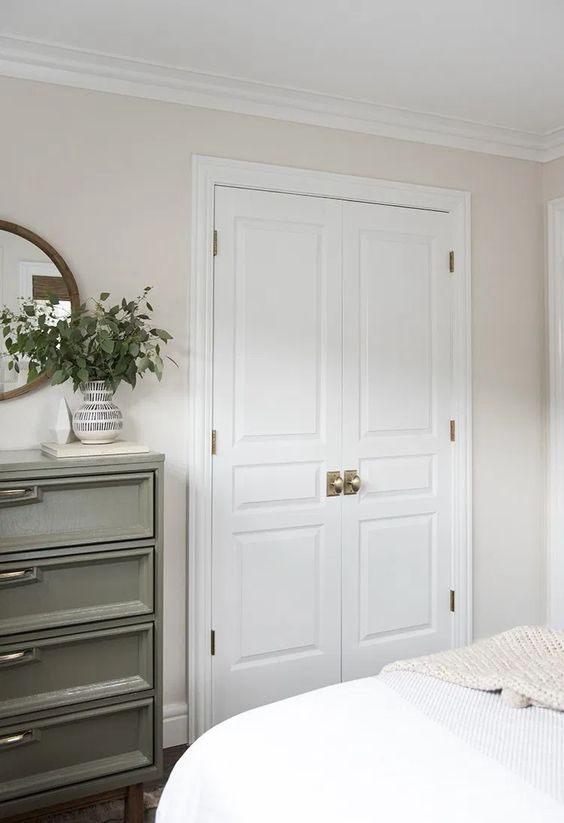 In the Kitchen
The SW Origami white on the kitchen cabinets is probably the best decision you will make. Throw some satin brass pull handles into the mix and a clean white backdrop wall and you will be spending a good chunk of time staring at your kitchen walls with utter admiration.
On Exteriors
As for exteriors, origami white makes for a timeless statement whether you decide to go the traditional, craftsman, mid-century modern, transitional or ranch design style. It is especially a great choice for shiplap walls and works perfectly with natural stone or exposed red brick.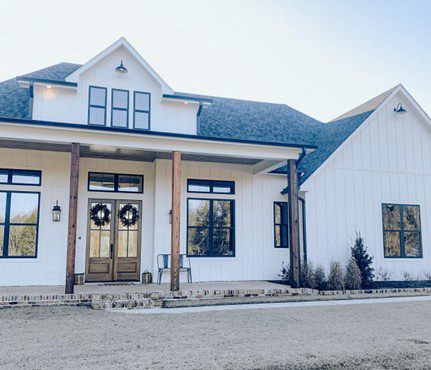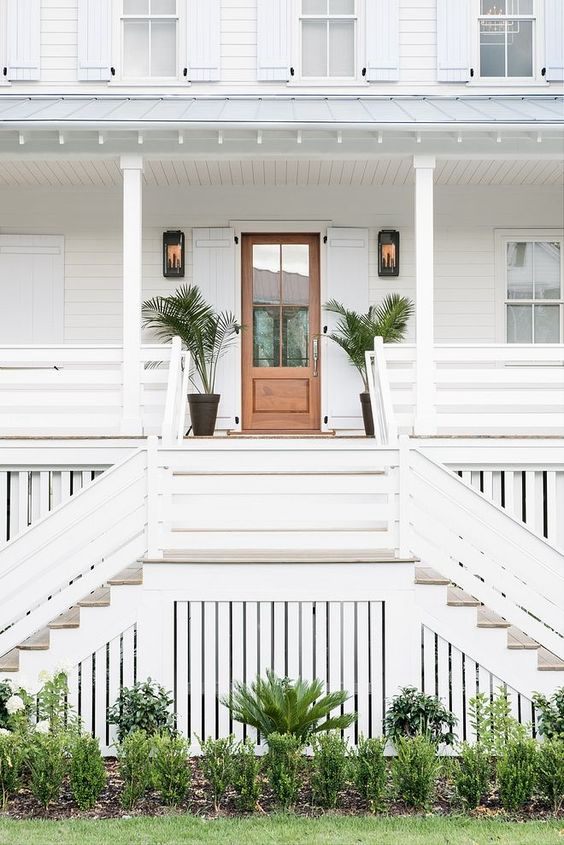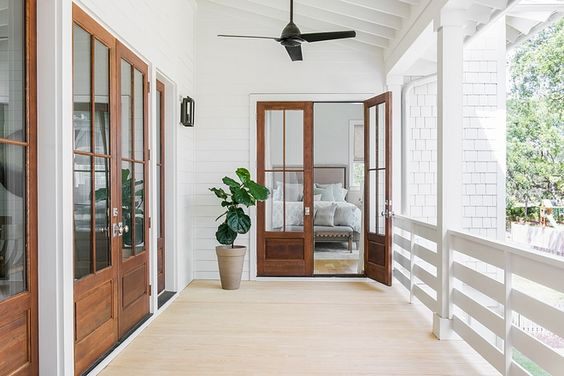 Already convinced? Buy your origami white or any of the paints mentioned above here.
Final Thoughts
We have looked at Sherwin Williams Origami white paint color in depth and compared it to similar whites. White is such a great paint color choice for your house and we would be more than pleased if we helped you narrow down to the specific white shade. If you forget everything you've read, don't forget that you can never go wrong with the origami white paint color because we're talking extra warmth, versatility with different lightings and a small space that looks larger.
Let us know, would you still prefer the origami white to the other similar paints and what's your reason for the preference or disinclination?