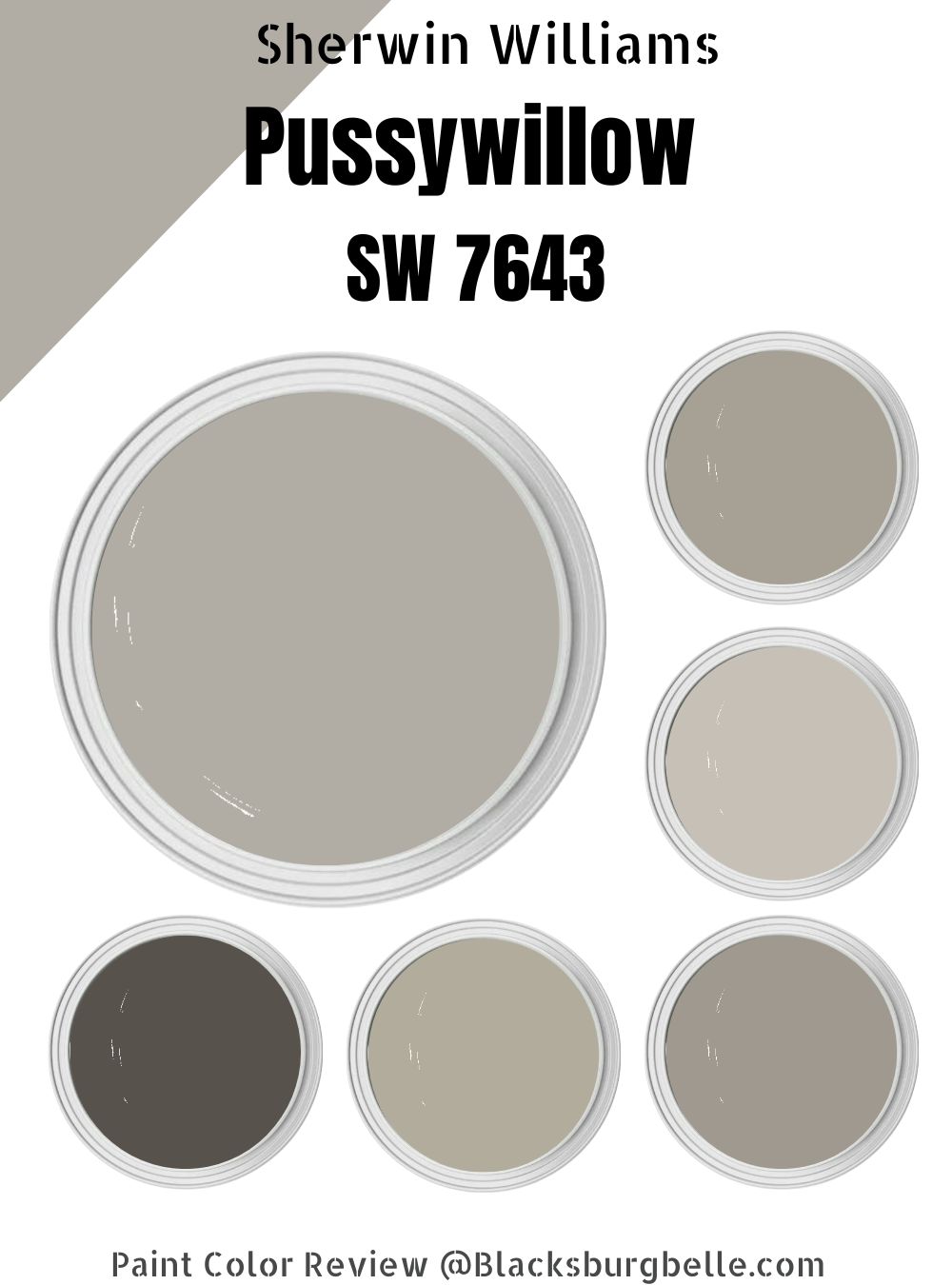 Is the Sherwin-Williams Pussywillow truly timeless as people claim? Does it offer the warmth  that your space craves? Well, if you are interested in finding out the answers to these questions or worried about how the Sherwin Williams Pussywillow paint will look in the different rooms in your home, read on as we unveil all there is to know about this Sherwin Williams paint color.
What Color Is Sherwin-Williams Pussywillow (SW 7643)
The Sherwin-Williams Pussywillow is a warm, smooth gray hue that changes its tones depending on the light source. This means, depending on the lighting, it could appear gray or light beige. This color is a new paint in the interior design industry and without a doubt, it packs a soothing appeal that allows it to deliver the most beautiful results when combined properly.
From all we can see, the Pussywillow is dark in tone with deep gray and brown undertones, this can sometimes give off a flawless grainy feel. Don't fret, there is a solution. You can control this by blending it with natural interior elements in your home to create a perfect balance and a welcome space.
| | |
| --- | --- |
| Manufacturer | Sherwin Williams |
| RGB | Red (178), Green (173), Blue (164) |
| LRV | 42 |
| HEX Color Name | Cloudy |
| HEX Code | #B2ADA4 |
| Color Collections | Creative, Teen Space, Living Well- Unwind, Timeless Color Wall |
RGB Of Sherwin-Williams Pussywillow
The RGB content of Sherwin Williams Pussywillow Red= 178, Green =173, Blue =164. The HEX value = #b2ada4
LRV of Sherwin-Williams Pussywillow
The LRV scale runs from zero to a hundred, with the darkest at 0 and the brightest, pure white, at 100. LRV of any paint determines how much the undertones will peep through under good lighting conditions.
It's important to examine the Light Reflectance Value of Sherwin-Williams Pussywillow to find out how light or dark the paint color is. Since the Sherwin Williams Pussywillow LRV stands at 42, you can find it on the darker point of the scale. Always remember the lesser the number, the darker the color.
What Are The Undertones?
Pussywillow has a blue and slightly cool undertone. It is similar to Mindful Gray but is a bit more pronounced. You can pair it with soft cream colors and other warm hues to create a balance. It's one of the grays that can complement and soften a warm space making it more accepting to the eyes
Sherwin-Williams Pussywillow (SW) Color Strip
You add white and black to the anchor shade to get a definite color strip. In this case, Sherwin-Williams Pussywillow is SW 7643, meaning the lighter variations are shades SW 7640-7642 and SW 7644-7646 for darker tones. Check out the table for their names and shades.
Light Color Strip
| | | | |
| --- | --- | --- | --- |
| Color Code | Color Name | Location Number | Color Tone |
| SW 7640 | Fawn Bridle | 247-C5 | |
| SW 7641 | Colonnade Gray | 283-C2 | |
| SW 7642 | Pavestone | 283-C5 | |
Dark Color Strip
| | | | |
| --- | --- | --- | --- |
| Color Code | Color Name | Location Number | Color Tone |
| SW 7644 | Gateway Gray | 247-C3 | |
| SW 7645 | Thunder Gray | 278-C1 | |
| SW 7646 | First Star | 256-C6 | |
Sherwin-Williams Fawn Bridle (SW 7640)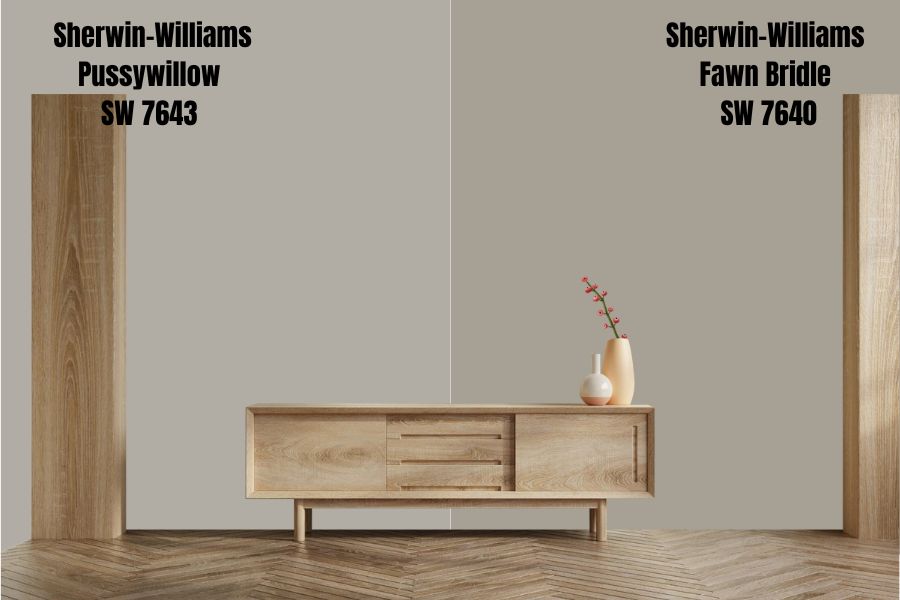 Sherwin-Williams Fawn Bridle is a warm gray color with soft green undertones, which makes it a GREIGE paint color (The greige is a mixture of gray and beige with stints of green undertones.)
The hue depends on the lighting. So if you're facing the southern light (Early afternoon sunlight) or western light (early morning sun), there's a chance that this sweet hue will warm up without any beige tone in sight.
Fawn Bridle has an LRV of 36, possessing the perfect medium depth. If you have a dark room, you'll get a warm/deep tone; if you have a well illuminated room, it won't fade out as much. The best white trim for Fawn Brindle is usually the Sherwin Williams Alabaster; you can also look into other whites that aren't extremely creamy and warm.
Wondering if Fawn Brindle will make a good paint for the exterior of your home? I absolutely agree. Your stone, brick, or concrete exterior can exude amazing beauty with the green undertones of this hue.
To address if Benjamin Moore has a similar color to Fawn Brindle. You should consider getting it in Rockport Gray but remember that no two colors are exactly similar, as each has its personality and vibe.
Sherwin-Williams Colonnade Gray (SW 7641)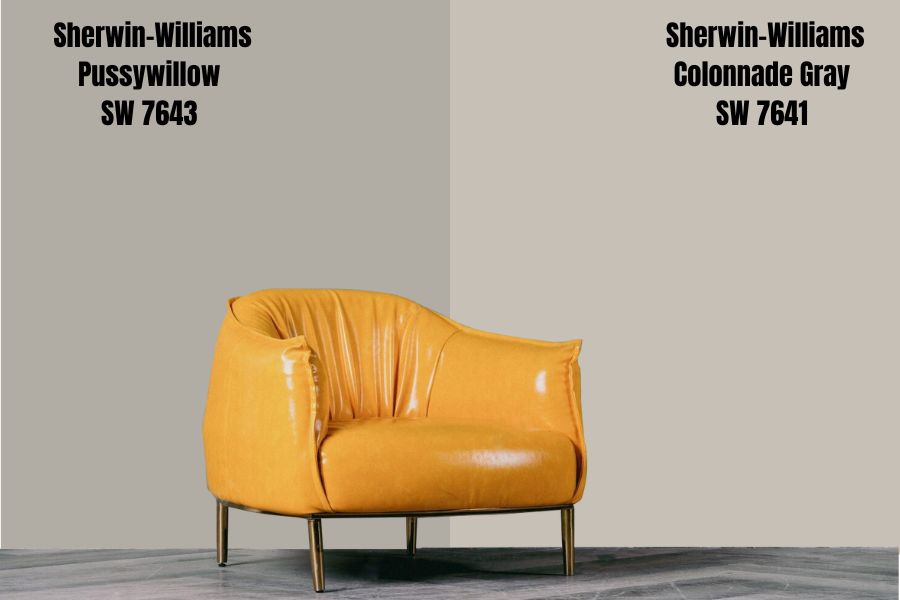 Colonnade Gray is a very popular hue from the stables of Sherwin-Williams. It's a warm greige tome and the perfect mix between Agreeable Gray and Repose Gray, both popular Sherwin Williams gray.
It's best applied in areas where you don't want it to appear too warm or cool and has a light to medium depth, making it excellent for large and small spaces. The paint color in rooms with natural light will look lighter than in rooms with less intense light.
Colonnade Gray has a striking resemblance with Benjamin Moore's Revere Pewter, and it has brown undertones, which can look a bit bluish, especially if it's facing the northern light.
Its LRV is 53, considered light, and very versatile as you can use it in bathrooms, bedrooms, living rooms, and even outside your house. It blends well with dark furniture, brown fabrics, and white and wood trims. All you need to do is find the best shade of these colors and turn your home around.
The best white trim I'll recommend for Colonnade Gray is Alabaster and Benjamin Moore's White Dove, but I advise that you sample these colors before committing.
Sherwin-Williams Pavestone (SW 7642)
Sherwin-Williams Pavestone has a bit more depth and is unlike the light colors homeowners generally prefer. It's a warm gray paint color edging dangerously close to the greige category without taking it literally.
I'll say exposure matters in determining the hue for this color because if you have north-facing light, Pavestone may look grayer than warmer without looking too icy. Under an afternoon western sun, it may appear warmer (lean towards) greige. So don't expect the colors to look identical in individual rooms.
Pavestone has a medium depth range of 32 and a soft green undertone that's passive, but you can feel it. The best colors white paint colors I personally recommend for the trim are Sherwin Williams Pure White and Benjamin Moore Oxford White if you're considering purchasing from another brand.
Tip: The more yellow undertones your white has, the more likely it is to complement and activate the subtle green undertones in Pavestone.
Yes, you can use Pavestone for the exterior of your home. However, I advise you make sure your roof is in unison with the passive green undertone. Slightly darker gray-blue blends, subtle cream paint colors, and light greige paint colors with similar green undertones are excellent matches for Pavestone.
Sherwin-Williams Gateway Gray (SW 7644)
Sherwin-Williams Gateway Gray is a neutral paint color with an LRV 41 and RGB 178, 172, 156, and a Hex Value of #b2ac9c and is perfect for interior and exterior painting. Four complimentary colors for Gateway Gray are Virtual Taupe SW 7039, Useful Gray SW 7050, Grays Harbor SW 6236, and Samovar Silver SW 6233.
Sherwin-Williams Thunder Gray (SW 7645)
Thunder Gray is a popular color among interior designers and paint manufacturers and looks like a medium dark shade of brown or a dark grayish orange color with an RGB of 87, 83, and 76, which indicates that it's a warm color.
Sherwin-Williams First Star (SW 7646)
The first star is a cool, light gray shade with subtle blue undertones, so much so that when you use it in your home, people will read it as white, but it's gray. This pleasant confusion produces a cozy hue for any space. It adds the right amount of contemporary touch to any traditional space.
The LRV of this color is 69, which is very light for a gray paint color, which means it may not necessarily shine in a space with dominant natural light. It looks best paired with Chantilly Lace, a pure white color without any tinge.
You can pair it with darker grays and blacks with blue undertones or navy blue hues. Its coordinating colors are Extra White SW7006, Ellie Gray SW 7650 for a darker vibe, and Deep Forest Brown SW9175 for a strong contrast.
The Sherwin-Williams Pussywillow Color Palette
There are two options available to pick from when it comes to picking the best coordinating colors for Sherwin-Williams Pussywillow. They include the
Monochromatic and
Contrasting palette
However, no matter your choice, always ensure that you crucially analyze the colors to create the perfect harmony.
Monochromatic Color Palette
Using monochromatic colors with your anchor color means you're decorating your Pussywillow space with other shades of gray that range from the lightest to the darkest shade.
These monochromatic hues didn't fall from the sky, neither were formed from thin air by designers; they're colors that lie within the LRV spectrum and are no more than two to three shades lighter or darker to get a flawless combination.
Try using the SW 7017 Dorian Gray, SW 7018 Dovetail, SW 7020 Black fox, and the Skyline Steel SW 1015.
Contrasting Color Palette
For a party involving different colors in your space, coordinating contrasting colors is the way to go. Bear in mind that Pussywillow is the anchor color which means every other color must be in tune with your anchor tone.
Like the monochromatic color palette, you need a darker or lighter LRV than your main/first color. I recommend trying out the SW 6211 Rainwashed, SW 9156 Gris Morado, and SW 6993 Black of Night. These bright colors will open up your space and complement and bounce off the light instead of absorbing and overwhelming it.
Pussywillow Complementary Colors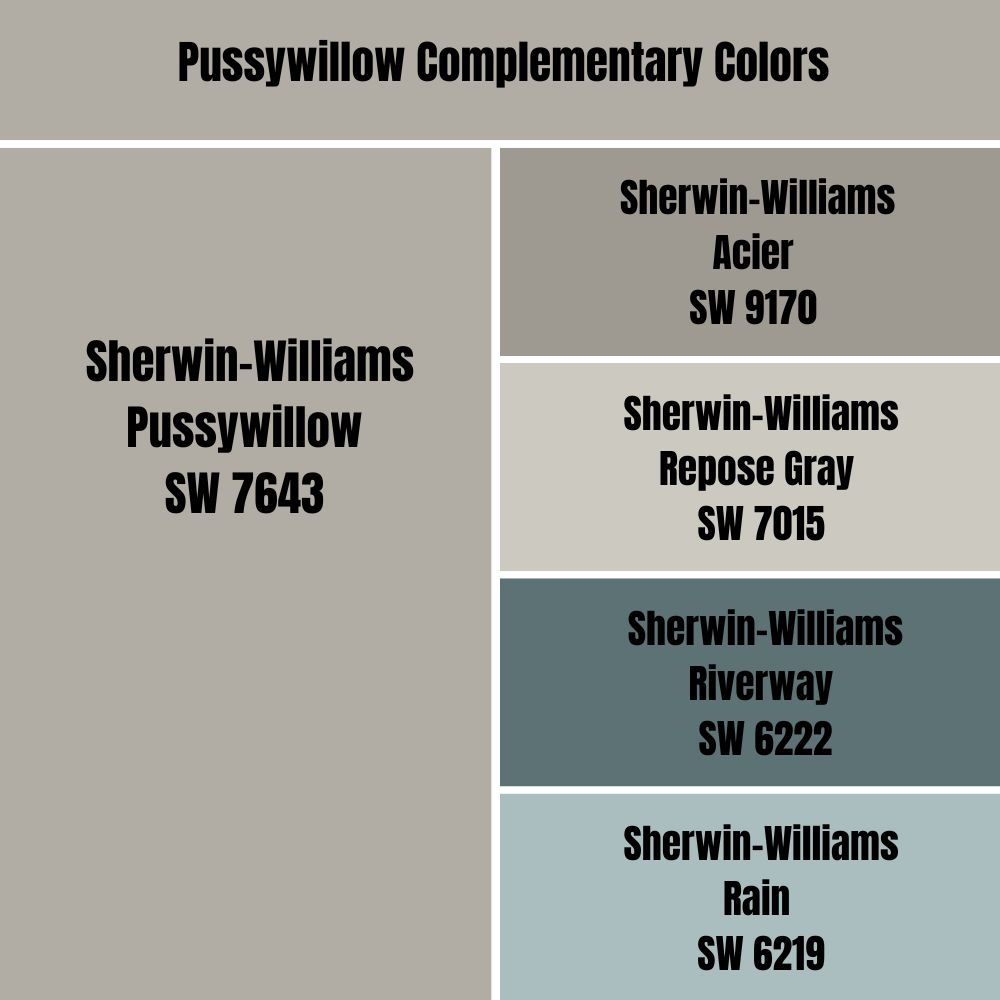 Complementary colors are shades found on the other end of the anchor color on the color circle. With Pussywillow, the complementary colors are tones of blue and gray. Colors like Acier SW 9170, Repose Gray SW 7015, Riverway SW 6222, and Rain SW 6219.
What Trim Colors Go With Sherwin-Williams Pussywillow?
The best trims are also the coordinating colors recommended by the Sherwin-Williams website, which includes Origami White, Gauntlet Gray, and Vintage vessel. They beautifully contrast the gray tones adding a flawless highlight on the host area.
Sherwin-William Pussywillow Color Comparisons
If your favorite Pussywillow isn't available now, I've gathered a few reliable alternatives for you. They equally give your space an instant facelift and go perfectly with white and gold accents.
Pussywillow vs. Agreeable Gray (7029)
It leans towards beige hence the name "Greige." Agreeable Gray is a subtle greige with few warm accents in it. Check out the properties below.
| | | |
| --- | --- | --- |
| Indicators | Agreeable Gray | Pussywillow |
| HEX Code | #D1CBC1 | #B2ADA4 |
| HEX Color name | Swirl | Cloudy |
| RGB Decimal | 209, 203, 193 | 178, 173, 164 |
| RGB Float | 0.82, 0.796, 0.757 | 0.698, 0.678, 0.643 |
| CMYK Percentage | 0, 3, 8, 18 | 0, 3, 8, 30 |
These colors look excellent on white painted tops and pretty wood plank floors in the kitchen and living room. It's a very versatile shade and gives ample opportunity for experiments. It has an LRV of 60, making it the perfect pick for those who want depth and not an entirely white wall.
Pussywillow vs. Anew Gray
Anew Gray is a warm greige paint color but looks cool compared to warm colors like tan, cream, or beige. Again, if your space is facing the morning western or afternoon eastern light, Anew Gray may look more like gray, but Anew Gray will give you a flawless soft greige paint color under the afternoon western light.
It has an LRV of 47, putting it in the light-medium category, and it manages to stay as neutral as possible but with stints of a very subtle violet or green undertone. I'll personally advise you not to expect many undertones from this shade.
Combine it with white trims, and you can make the most out of these flexible colors due to their flexibility and amazing depth. I'll advise you to avoid too yellow or creamy trim. It's also a good color for the exterior of your home but will differ under different light exposure.
| | | |
| --- | --- | --- |
| Indicators | Anew Gray | Pussywillow |
| HEX Code | #ACA79E | #B2ADA4 |
| HEX Color Name | Cloudy | Cloudy |
| RGB Decimal | 172, 167, 158 | 178, 173, 164 |
| RGB Float | 0.675, 0.655, 0.62 | 0.698, 0.678, 0.643 |
| CMYK Percentage | 0, 3, 8, 33 | 0,3,8,30 |
Pussywillow vs. Dorian Gray (SW 7643)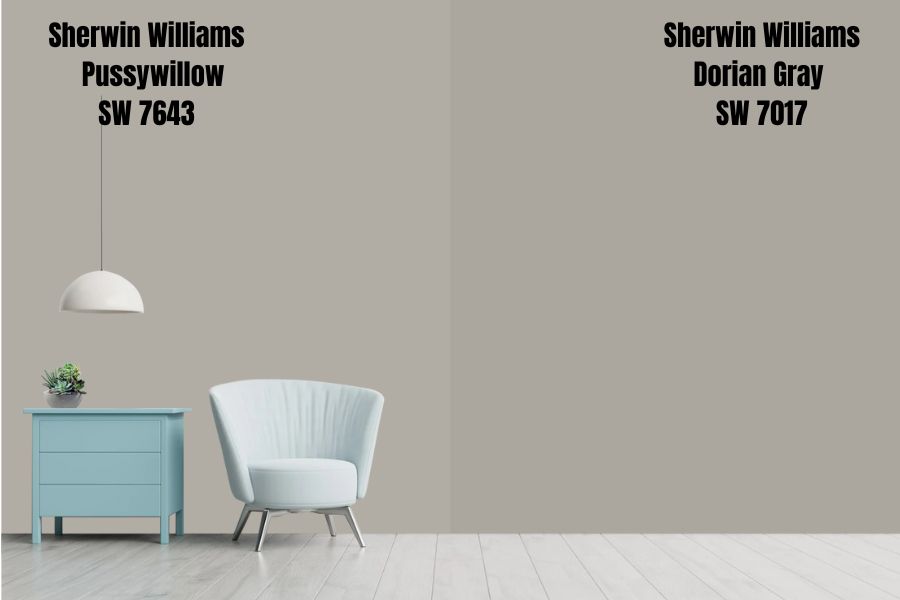 Dorian Gray is a warm gray paint color that brings out gray at night and tilts towards beige during the daytime. This shade has an LRV of 39 and is a bit darker, so it'll be best if you pair it with light neutral colors and beige. It's also a popular color among home builders.
Below are the properties of Dorian Gray with the Sherwin-Williams color code SW7017
| | | |
| --- | --- | --- |
| Indicators | Dorian Gray | Pussywillow |
| HEX Code | #ACA79E | #B2ADA4 |
| HEX Color name | Cloudy | Cloudy |
| RGB Decimal | 172, 167, 158 | 178, 173, 164 |
| RGB Float | 0.675, 0.655, 0.62 | 0.698, 0.678, 0.643 |
| CMYK Percentage | 0, 3, 8, 33 | 0, 3, 8, 30 |
Pussywillow On Exteriors
This paint looks just as good on exteriors as on interiors because it gives the same warm gray with a cool effect, making it the right fit for white trim. The color will also work on any trim paired with a light white main color for a brilliant country home or farmhouse look.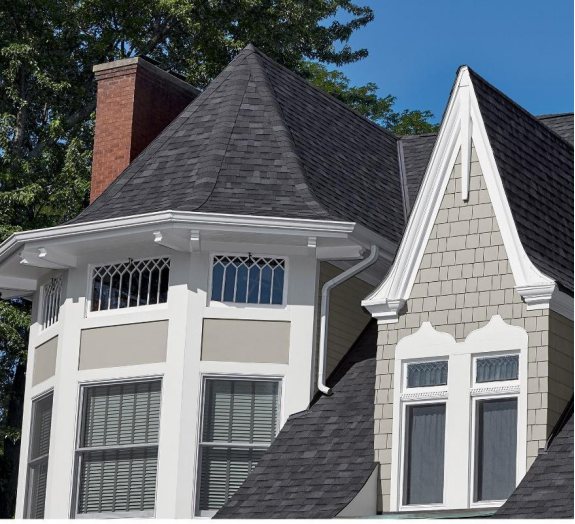 Pussywillow In Interiors
You can use Sherwin-Williams Pussywillow in your bedroom, kitchen, living room, and almost any other place inside your house, especially if you're all about the minimalist lifestyle. This hue is perfect for modern kitchens.
Let me show you other places you can incorporate this lovely shade.
Pussywillow In The Livingroom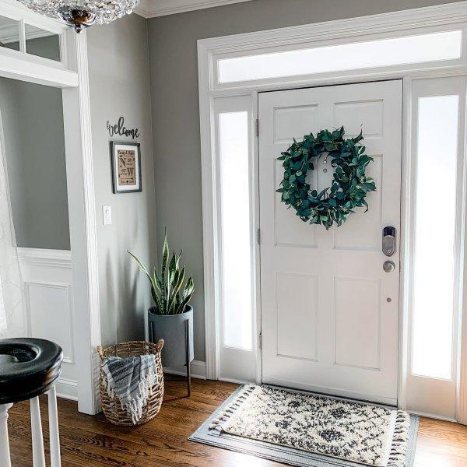 Pussywillow in the Bedroom
Your bedroom should be the epitome of rest, peace, and quiet which makes Pussywillow the perfect guy for the job. The rich gray tones of this color
Add matte black or brass details on your bed frame, rug pieces, artwork, and other items in the house to elevate the look. You can also incorporate white center rugs to add a cooler touch to your living space. Using white or off-white thick curtains will help you balance the general appearance.
It's perfect for a large living room, and you can pair it with white and beige upholstery, sheer cotton curtains, and a velvet pillow, preferably in the shade of brown. Homes with hardwood floors are also excellent matches for this color.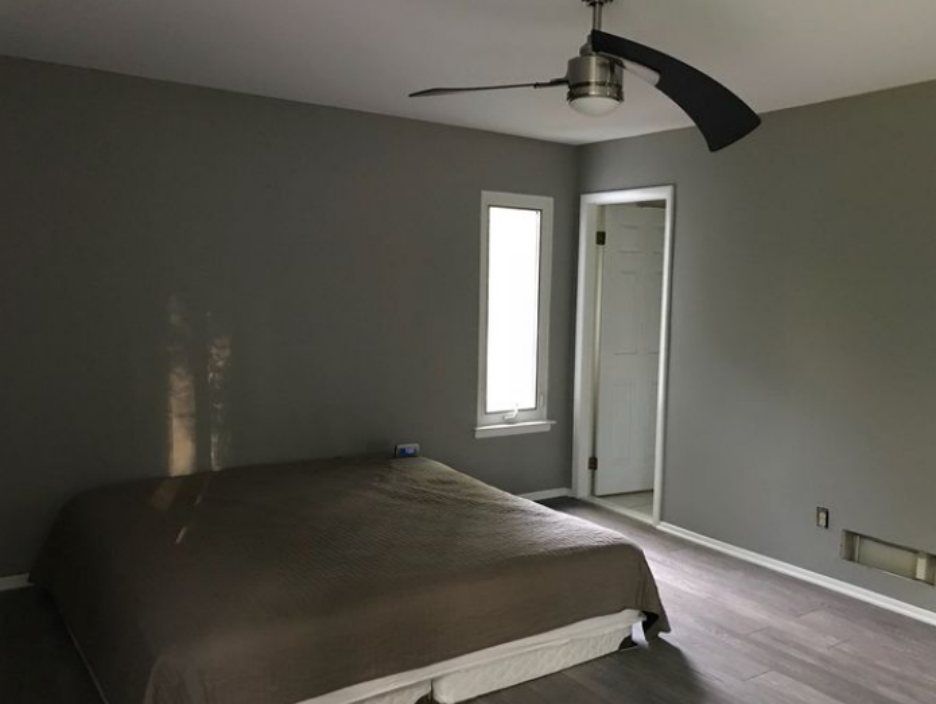 Pussywillow Kitchens
Nothing's more fun than cooking in a space where you feel alive. Colors have been known to help lighten the mood, refresh energy, and improve everything. In a busy environment like your kitchen, you should consider switching to Pussywillow.
You can paint the cabinets in Pussywillow and pair them off on the walls and ceiling. Add depth by adding a darker-toned beige marble countertop, white backsplash tiles, and brass accents to your drawers and cabinet handle.
Another reason why Pussywillow is perfect for your kitchen, especially a large kitchen, is that color gets to embrace the depth and create a calm cooking ambience.
View this post on Instagram
Other Brand Alternatives to the Sherwin WIlliams Pussywillow Paint
There're a few warm gray alternatives that you can choose from when looking for the perfect gray color. Bear in mind that they may differ in undertones and reflectivity. Check below for my preferred alternative if you can't find Sherwin-Williams Pussywillow on the aisle.
Farrow & Ball Hardwick White
Hardwick white, also known as the traditional gray, has a rich and chalky hue perfect for modern homes and historic spaces. It was created to touch up the old limewash at Hardwick Hall.
This color has enormous amounts of natural pigment, and the color can change according to different light sources.
Fired Earth Oak Apple
This delicate and neutral color instantly brings a sense of natural peace to any area. It has a rich dark gray tone with an LRV of 46, Hex code: #B8B4AA and RGB: 184; 180; 170.
Little Greene French Grey Dark (LG 163)
This warm, neutral shade is one of the most popular paint colors from the French Gray family. It's suitable for use in traditional and modern houses- a great choice for calm living spaces, bathrooms, bedrooms, and hallways.
French Grey Dark is also an excellent neutral color for floor paint and a backdrop for brighter highlight colors from the brand. It's a versatile, classic, and timeless shade that'll give you the same effect or near as Sherwin-Williams Pussywillow and is water-resistant, leaving a matte finish on a painted surface.
Johnstone's Evening Shore (PPG1008-3)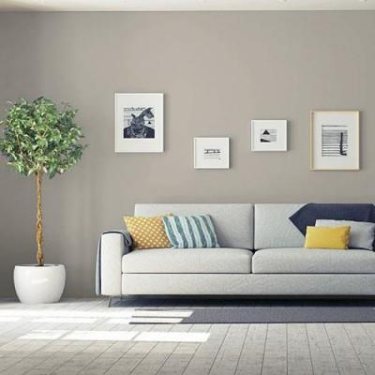 This paint is a soft gray with a reddish-beige undertone and makes a great choice for the main walls or any space in your bedroom, kitchen, and bathroom. Pair it with deep teal accents for a more dramatic effect.
Benjamin Moore Smoke & Mirrors (CSP-105)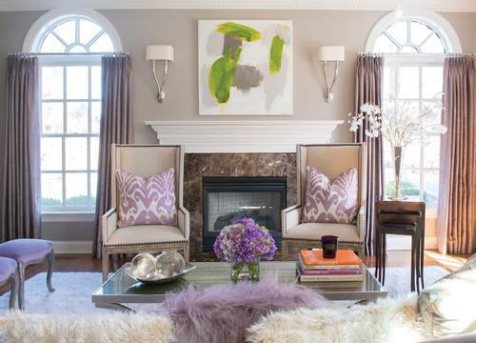 This soft-toned gray and purple paint from Benjamin Moore with LRV 41.62% is excellent for your living room and work area. It's a great alternative for Sherwin William Pussywillow, pair it with bright white accents and a flawless wooden interior, and you have a traditional space with hints of a modern vibe.
Best Way To Sample Sherwin William Pussywillow
As we say, for every paint color, you can sample your paint with traditional sample pots, Samplize, or get test trips from Sherwin-Williams. Reusable adhesives are cost-effective and save you the stress of making a wrong or mediocre purchase, and they all come in the same format as liquid paint.
Parting Word
Sherwin-Williams Pussywillow is an impressive color from the company. I'm excited at its flexibility, making it a suitable choice for your exterior and interior painting.
Combine it with the recommended trims, and you're in for a gorgeous ride, making your space the cynosure of all eyes. Pussywillow is the right partner in making your home look the best it has been in ages. Décor will be fun with this one.