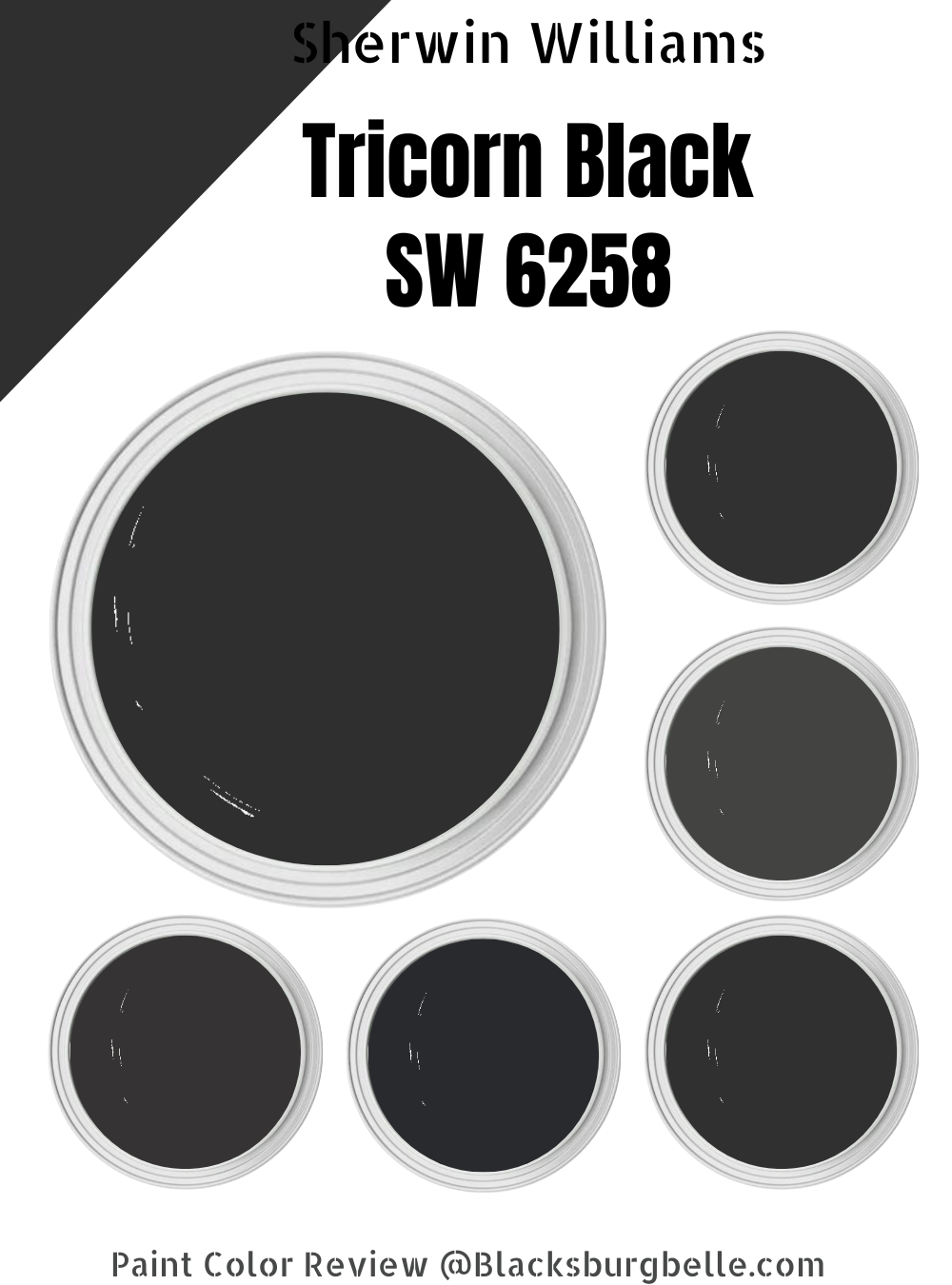 Unsure of the color you should use for your next big project? Are you confused by the sea of options in front of you? You should give Sherwin Williams Tricorn Black a chance, and I'm sure you won't regret it.
Since black never goes out of style, the Sherwin Williams Tricorn Black is one color that you can almost never go wrong choosing. This review is important to indoctrinate you into the charming world of Tricorn Black, and its excellent, numerous abilities to turn your space into a mecca of black goodness.
| | |
| --- | --- |
| Name | Sherwin Williams Tricorn Black |
| LRV | 3 |
| RGB | 47, 47, 48 |
| Hex Value | #2F2F30 |
| Location Number | 251-C1 |
| Color Collection | Color ID (Trendsetter), West Elm, Colormix Forecast 2021 (Tapestry), Top 50 Colors |
What Color Is Sherwin Williams Tricorn Black
Tricorn Black is a unique color, popular for its bold touch and dramatic appeal on surfaces, in homes, and everywhere else. This black is arguably the darkest black you'll find on the Sherwin-Williams shelf.
It's not a secret that black is a timeless color that has transcended through ages and time to become one of the most sought-after hues in the world and décor sphere. Tricorn Black will serve as the perfect backdrop for bright accent walls.
However, it's important to note that this color has relatively low reflectivity, which means it won't perform well in a small space as you may feel suffocated and too moody for comfort. But if you have enough space to spare, by all means, proceed with this gorgeous color.
Light Reflective Value of Sherwin Williams Tricorn Black
Every paint color made by man and used by the human race possesses a specific Light Reflectance Value assigned to it within the range of 0-100. 0 represents the darkest shade on the scale, while 100 is pure white, meaning it has excellent reflectivity.
A much easier way to look at things is that a darker shade has a lower LRV value, while a lighter shade has a higher LRV value. Having a clear understanding of light reflectance value will ease your indecision and turn around your interior décor game.
The LRV of Tricorn Black is 3, meaning that this paint's reflectivity is terribly low and will only reflect 3% of the light that shines on it.
RGB of Sherwin Williams Tricorn Black
Every color comes from three dominant primary colors, Red, Green, and Blue, which means that when you mix these three colors together in equal proportion, you get pure white. It's important to understand the concept of RGB in order to help you fully find your way around undertones in your color when you see them.
With that out of the way, the RGB of Sherwin Williams Tricorn Black is 47, 47, 48 with an HEX Code of #2F2F30.
Is It a Warm Or Cool Color
Well, considering the status of Tricorn Black as a true black, it's safe to say this one belongs in the warm category. It's a tricky one, but our conclusion is not far-fetched. Pure white is a cool color. It's only right black takes the warm side.
What Are The Undertones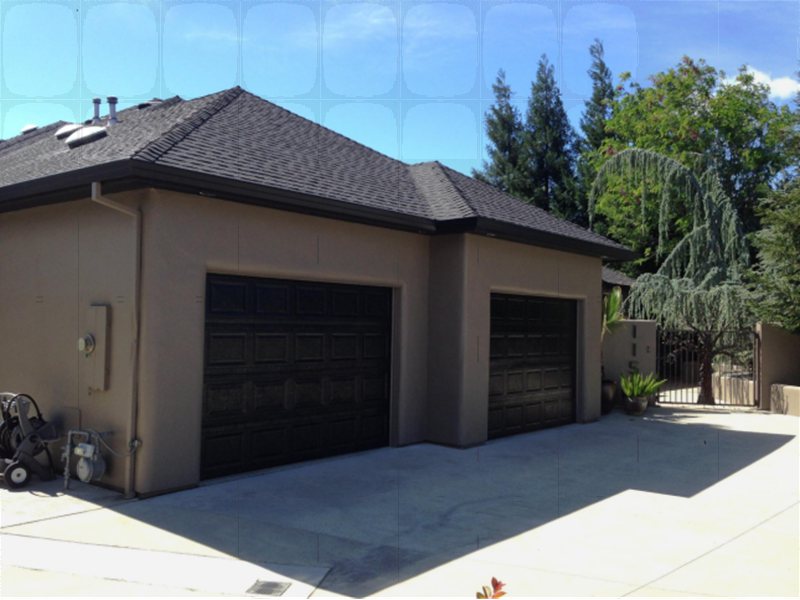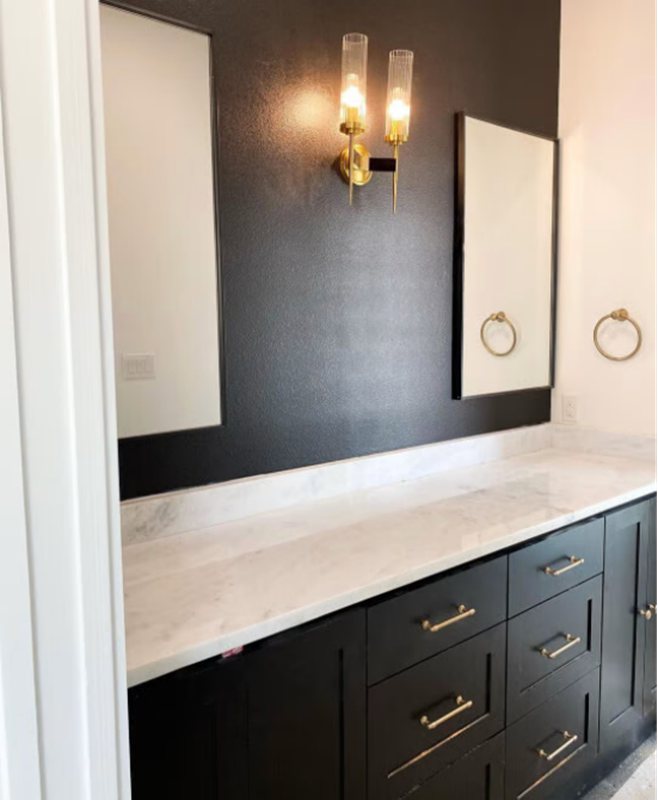 I understand how tricky it may be to spot undertones in dark colors like Tricorn Black, but in some situations, you might catch a soft glimpse of gray, blue, and brown undertones under specific lighting conditions.
Not to worry, this analogy has nothing to do with Tricorn Black as it's a true black, rich and bold in all its black glory! An original black.
Sherwin Williams Tricorn Black Color Strip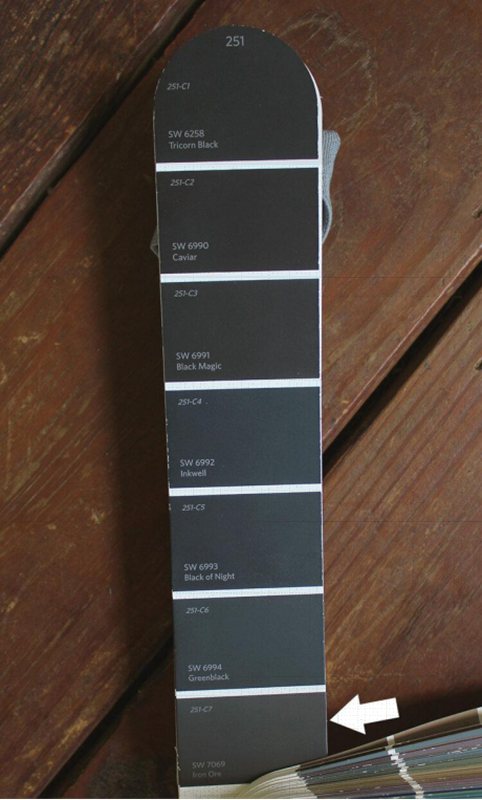 Sherwin Williams Caviar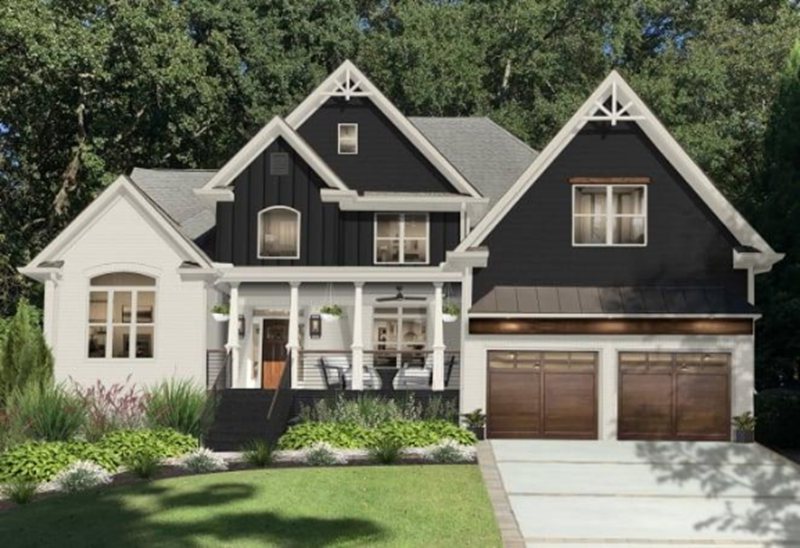 Caviar is a rich dark black that belongs to the neutral paint group. While it's similar to Tricorn Black with its LRV, this one has a little more brown in it, but this also depends on the material you pair it with. Like if you pair this color with wooden textures and brass, it draws out the browns in it. Concrete and blue stone hardscapes also work beautifully with this one.
It's an excellent option for your home exteriors, too but be careful not to use it in a small space as it'll only make it appear tighter.
Sherwin Williams Black Magic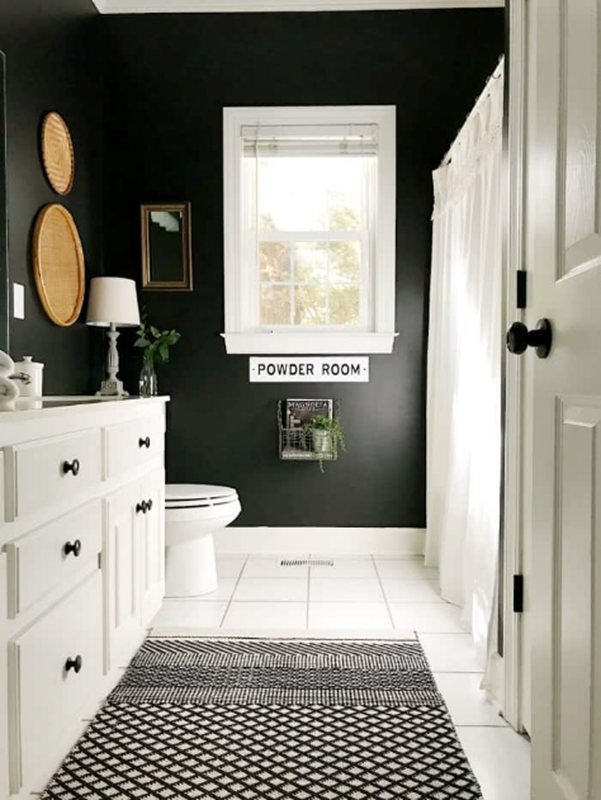 Black Magic belongs to the same Light Reflective Value category as Tricorn Black and Caviar, all of them are true dark blacks, but there's a hint of red in Black Magic that makes it appear warmer than Tricorn Black. The RGB of Black Magic is 50, 49, and 50, respectively.
This color works well as a neutral hue for your homes and is perfect for use in your kitchen and bathroom cabinets. Introduce white hues to create a fresh, sharp, and modern contrast- I recommend Benjamin Moore White Dove or Sherwin Williams Snowbound for this purpose.
Sherwin Williams Inkwell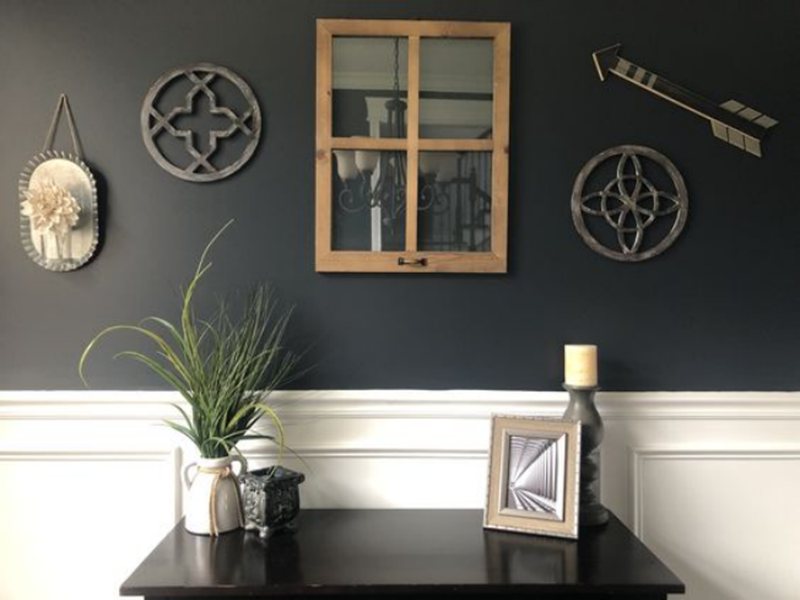 Sherwin Williams Inkwell is referred to as a deep blue color that gets darker depending on where you apply it. Due to its ability to shift between black and blue, people call it a blue-black color.
It has an LRV of 4 which means it has a relatively low reflectivity and is perfect for rooms with a healthy amount of sunlight for its beautiful blue undertones to peep through. Putting it in a room with no natural light will make it appear darker than it really is.
Sherwin Williams Black Of Night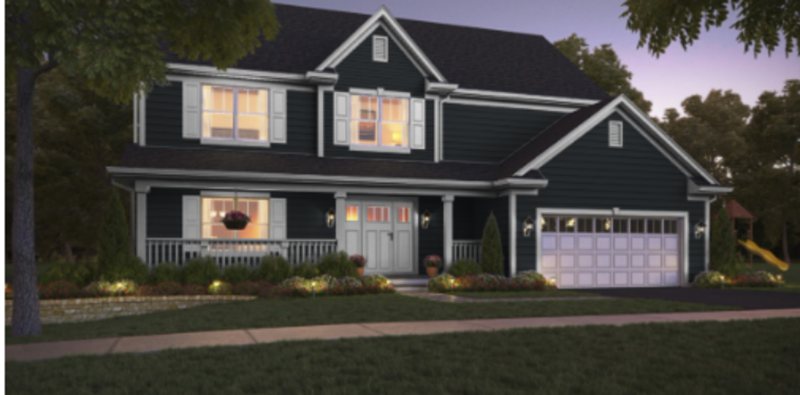 Black of Night is your late-night companion with its rich black tone with a touch of cool green undertones perfect for sophisticated accent walls. It has an LRV of four and works well with crisp whites and beige.
This one is very close to Inkwell as they share dark gray and blue undertones, but Black of Night has an LRV of 3.52.
Sherwin Williams Greenblack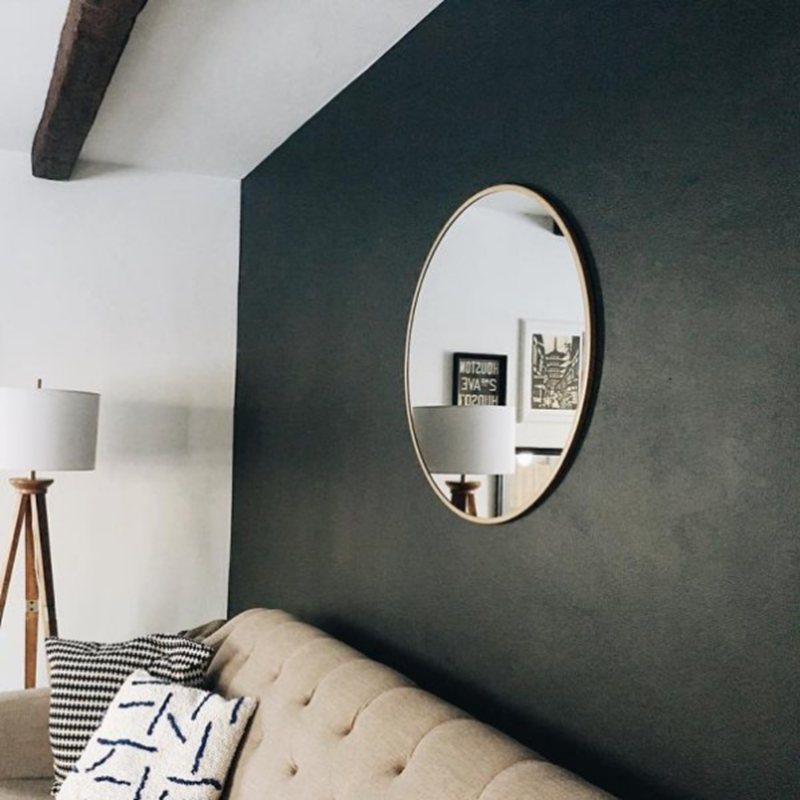 This one is a modern blend of black and green and is lighter than Caviar, Black Magic, and Tricorn Black. It's a cool black with hints of green undertone, excellent for a statement-making accent wall or cabinets in homes.
Its LRV of 4 makes it just as dark as any true black, but the green looks cozier and more interesting, especially when you pair it with other greens. Pair this with creamy whites and beiges for a nice contrast.
Sherwin Williams Iron Ore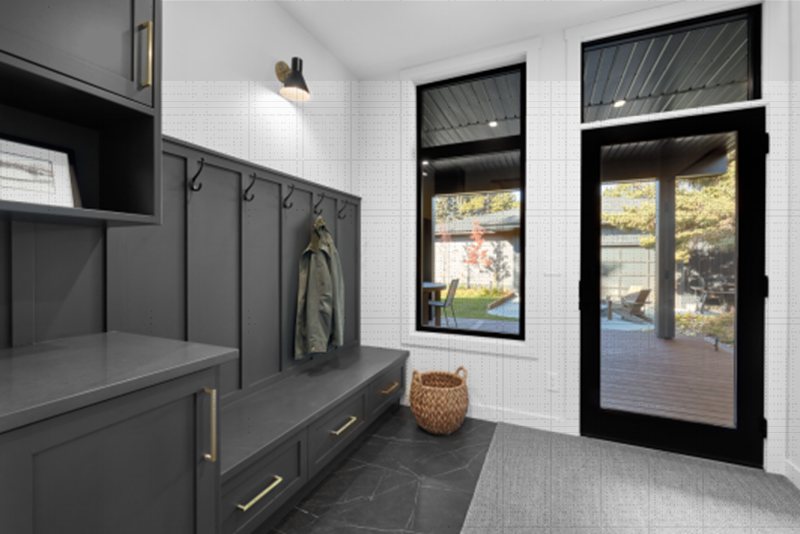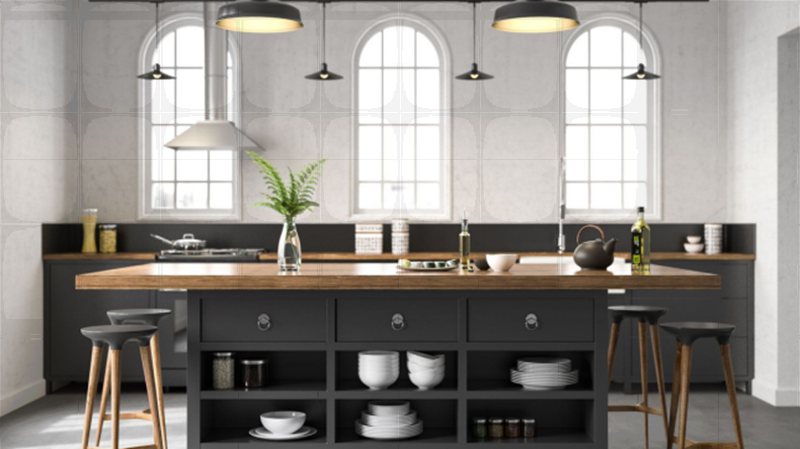 Sherwin Williams Iron ore has an LRV of 6, which is 3 points away from Tricorn black but stays on the same 251-C color strip. It's a popular dark gray charcoal paint color for use on doors, furniture, accent walls, and exteriors.
It has an RGB of 67/67/65 and belongs to the Pottery Barn Spring/Summer 2020 color collection.
Sherwin Williams Tricorn Black Color Palette
Creating a color palette is fun and refreshing and gives you different insights into incorporating other colors into your home like a pro. Check out this classic palette I have curated for homeowners willing to go the mile with Tricorn Black.
Coordinating Colors For Sherwin Williams Tricorn Black
As indicated on the Sherwin Williams official website, the coordinating hues for Tricorn Black include Sherwin Williams Ice Cube, Classic Light Buff, and Blithe Blue. This is not where it ends; coordinating colors are further divided into two subcategories, which include monochrome and contrasting decoration.
Monochrome Decoration
This decoration helps you play it safe as it doesn't stray away from the theme of the day. Sherwin Williams Tricorn Black monochromatic color palette is made up of light blacks and grays that give you different intensities all at once.
I recommend Sherwin Williams Inkwell, Black of Night, Dovetail, and Dorian Gray as worthy members of your curated monochromatic decoration. The graduation and movement of colors when you use them together leave a sweet taste in my mouth every time. Who knew black and gray could look so good together?
Add textures like copper and satin brass for personality, and always make sure you use it in bright spaces if you decide to go all in with Tricorn Black.
Contrasting Decoratio
The contrasting decoration isn't for the faint-hearted. There's a level of boldness, risk, and understanding of colors that goes into curating a palette for this one. The golden rule of contrasting decoration is that the colors you've decided to work with must go with your anchor color (color blocking is a good idea, as long as you know what you're doing.)
For cool contrasting decoration, I recommend trying out Ice Cube, Waterloo, and Coral Clay. This palette is easy on the eyes and will grab attention should you decide to use it as an accent wall or accessory.
The warm contrasting decoration combines the warmth of beige and the coolness of black to build the perfect traditional vibe in your home. Think Sherwin Williams Navajo White, Mudslide, and Gris Morado for this palette, then throw in a twist with copper or brass for a more exaggerated effect.
Sherwin Williams Tricorn Black Complementary Colors
Complementary colors are those that you find opposite your anchor color on a color wheel, and when you pair them the right way, you get an artistic result because even their undertones work together.
For Sherwin Williams Tricorn Black's complementary color palette, I've decided to stick with Mink, Essential Gray, Gauntlet Gray, and Black Fox.
What Trim Colors Go With Sherwin Williams Tricorn Black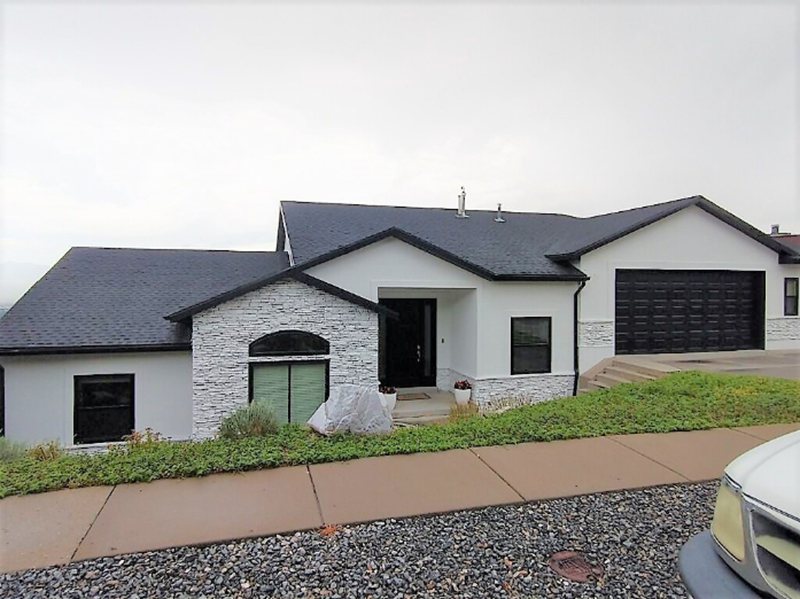 This place gets a little bit tricky, but it's all for the right reasons. Due to the true black nature of Tricorn Black, you must apply extra caution when picking the trim color; not to worry, I've picked a few suitable colors for you that ensures amazing contrast while giving you a new level of personality.
Sherwin Williams Extra White with an LRV of 86 will totally change your trim game. It's not news that the LRV is insanely high, which means to a greenhorn, that contrast is highly seen, felt, and admired. Its slight blue undertones will soothe your eyes and introduce a fresh vibe.
Other excellent options I recommend are Sherwin Williams Reflective White and Pure White. You can also try Decorator's White from Benjamin Moore, Behr's Polar Bear, and Valspar Ultra White.
 Sherwin Williams Color Comparison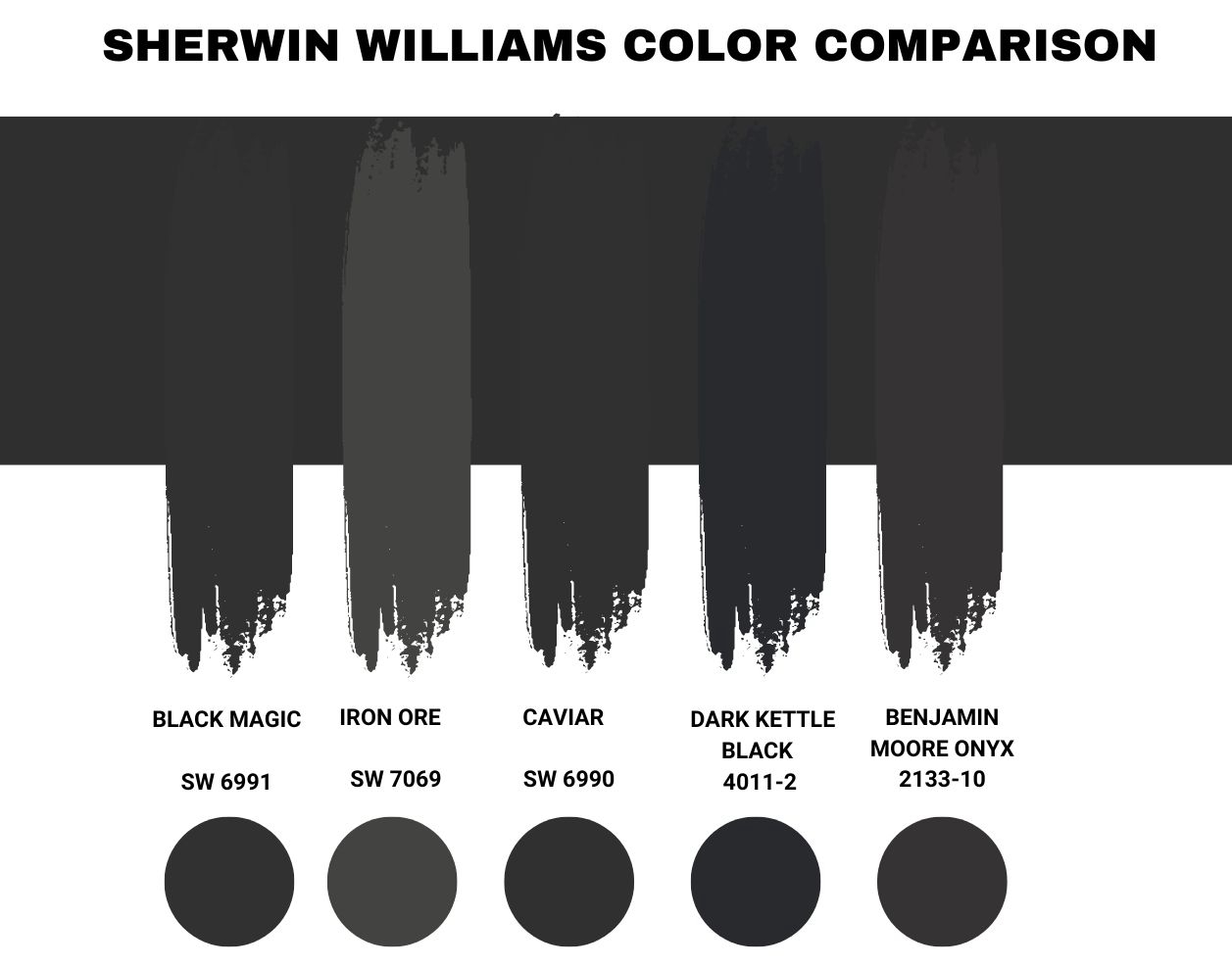 All the colors you find in this section have one or more similar traits with Sherwin Williams Tricorn Black which makes it important to study their differences and find where their similarities end.
Sherwin Williams Tricorn Black Vs. Black Magic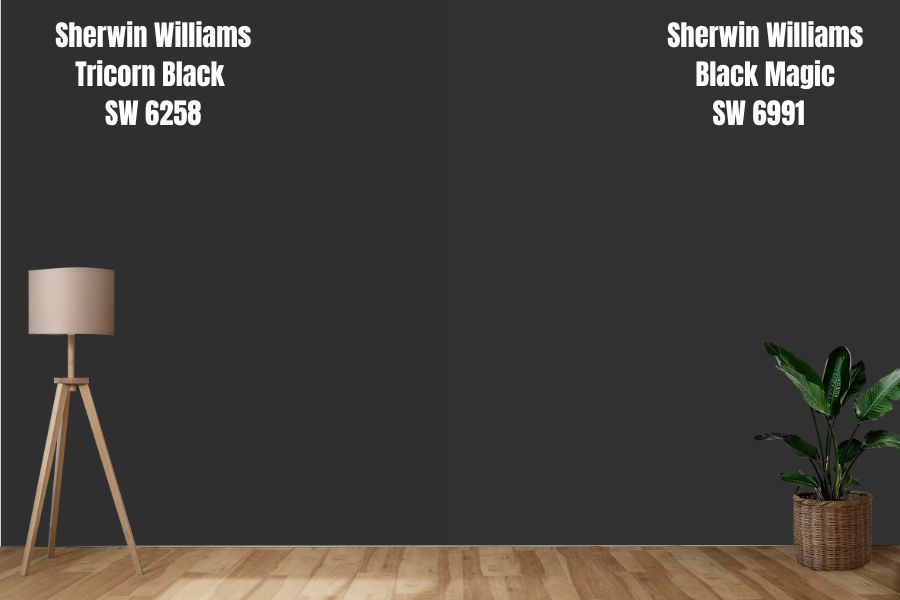 While many people may be quite averse to using dark and moody paint colors in their homes and spaces. Black magic has shown that it can be a great alternative for daring and innovative people who are not afraid of experimenting with colors in their homes, especially in kitchen and bathroom cabinets.
Unlike Tricorn black, it is warm and has a black undertone, making it unique if your choice is a color with no discernible undertone. With an LRV 2.88, RGB: 48 47 49; HEX: #302F31, it is second only to Tricorn black, which has an LRV value of 3 and is regarded as the truest black tone paint available. Black magic is one of the truest three black tones in addition to Caviar and Tricorn black.
Sherwin Williams Iron Ore Vs. Tricorn Black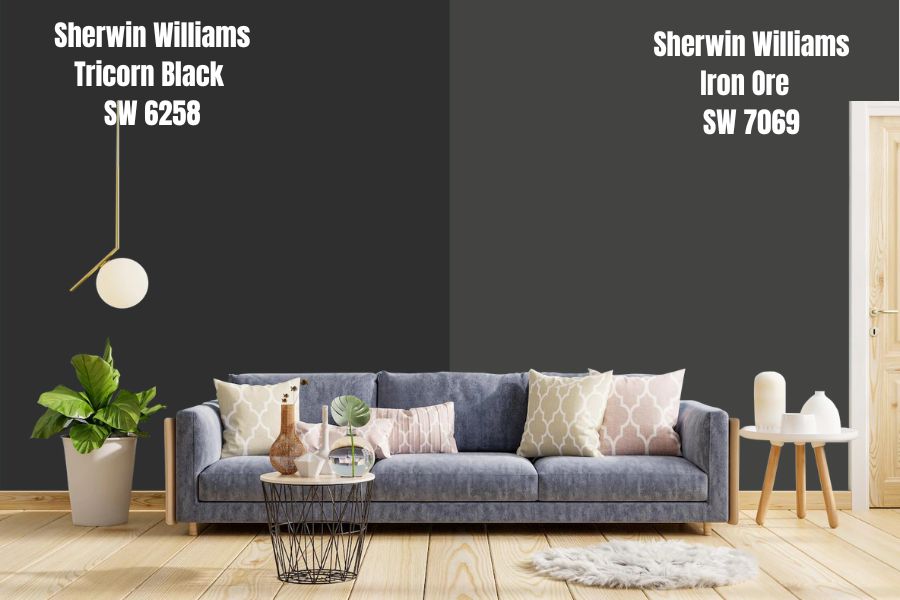 Tricorn Black is an awesome black shade and a true one at that, unlike its iron ore counterpart, which is considered a false black with a greenish and grayish undertone. Needless to say that Tricorn black is devoid of undertone. It completely floors iron ore in the true black category.
However, it's not all doom and gloom for iron ore as it holds its own and can easily pass for a black shade. It is a color of choice in exterior walls and furniture paintings, especially when it's the only available option. Iron ore has an LRV of 6, an RGB decimal of 67, 67, 65, and a HEX code #434341.
Sherwin Williams Caviar Vs. Tricorn Black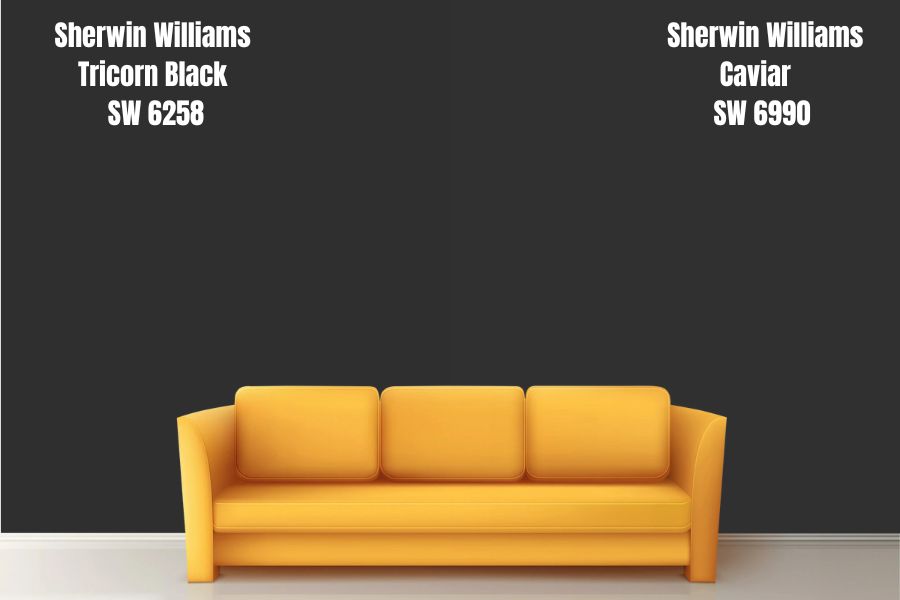 It is incredible how similar Sherwin Williams Caviar is to Tricorn black. Having the same LRV value of 2.94 makes Caviar a close alternative to Tricorn black when the goal is to attain some true black status. Like Tricorn Black, it belongs to the trio of true black, making it well-positioned for exterior surfaces.
However, Caviar is poised with unique sophistication and richness that singles it out as being dramatic.
Also, unlike Tricorn black, it often gives off a faint degree of undertone when examined closely. Caviar has a unique reference ID SW 6990, and unlike Tricorn Black has some undertones, though not serious ones. Overall, when it comes to exterior designs, Caviar always seems the preferred option.
Dark Kettle Black Vs. Tricorn Black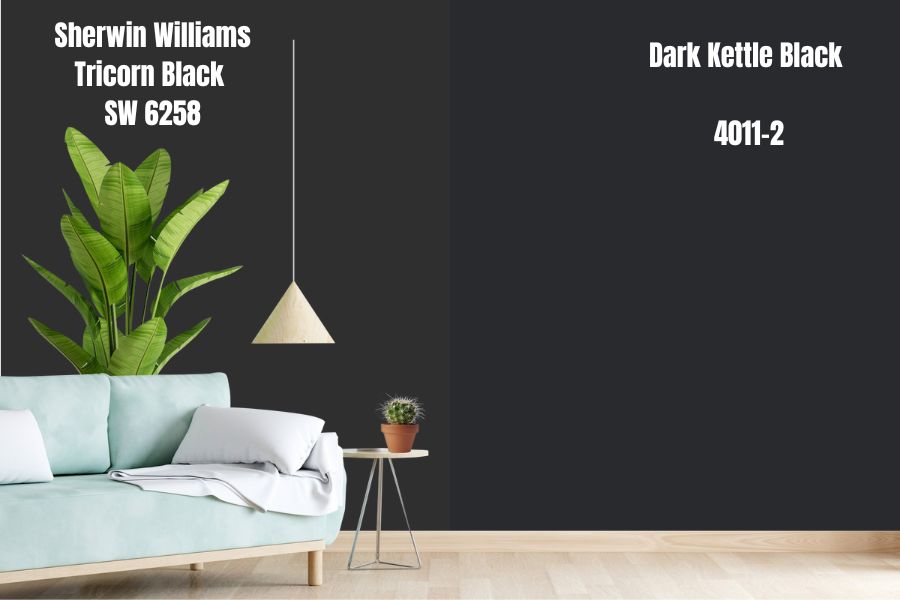 While there exist impressive similarities, they actually differ in certain respects. Let me break them down into as many details as possible.
Dark kettle black is a typical true black with an LRV of 2.328, making it incredibly closer to the actual "True" black even when compared to a relatively black shade like Tricorn black. Like Tricorn black, it also serves as a great alternative for exterior and interior surfaces and spaces.
This hue doesn't have an actual undertone but may come off as cool, and unlike Tricorn, it has a soft appeal to its essence. Dark kettle black has a HEX value of #3F4043 and RGB 63, 64, and 67.
Sherwin Williams Tricorn Black Vs. Benjamin Moore Onyx
There are times when the decision to choose a black shade over the other becomes uncharacteristically tasking; if such situations require picking between the Benjamin Moore Onyx and Tricorn black, then this exercise will provide the necessary clarity needed to make an informed judgment call.
Believe it or not, black paint colors have cool and warm undertones and can be soft or dark.
Onyx is a dark black with little or no pronounced undertones, unlike Tricorn black, which is widely regarded as pitch black without any known undertones. It's a great paint color for a front door, an accent wall, a cabinet color, or a dramatic office or living room.
Onyx, like Tricorn, is a neutral paint color. Onyx is sometimes considered a warmer version of Tricorn black. It has an LRV of 4.99
Benjamin Moore Tricorn Black Version
You can work with any of these Benjamin Moore colors if you can't find Sherwin Williams Tricorn Black in the store. It's not rocket science that most of these companies use similar formulas and i'll be leaving a review to intimate you on their specifications.
Benjamin Moore Wrought Iron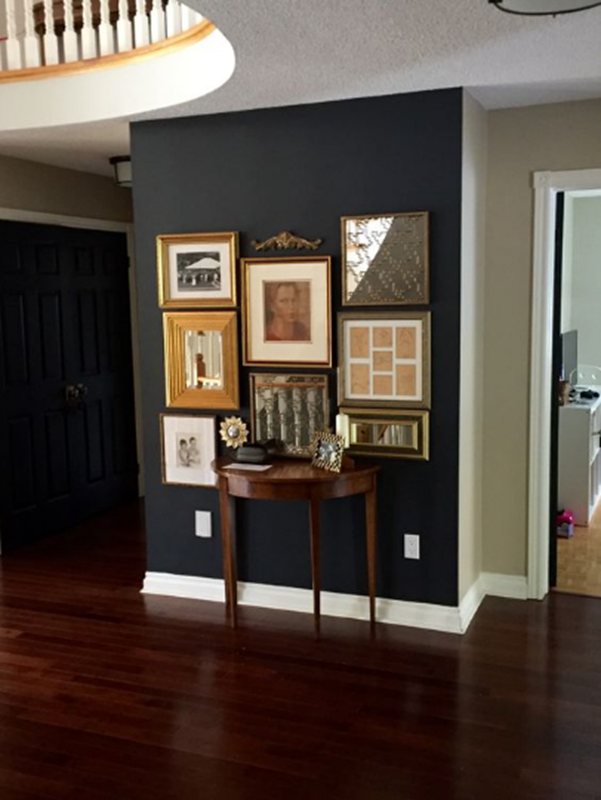 Benjamin Moore went all out with this color, and you can see with its versatility that it combines blacks, grays, and dark blue tones. It carries an LRV of 8.17, putting it in a light category of blacks.
Its dynamics are a perfect fit for people who crave a black that's not so "one-way traffic" because it will display unique undertones under certain lighting conditions.
Benjamin Moore Jet Black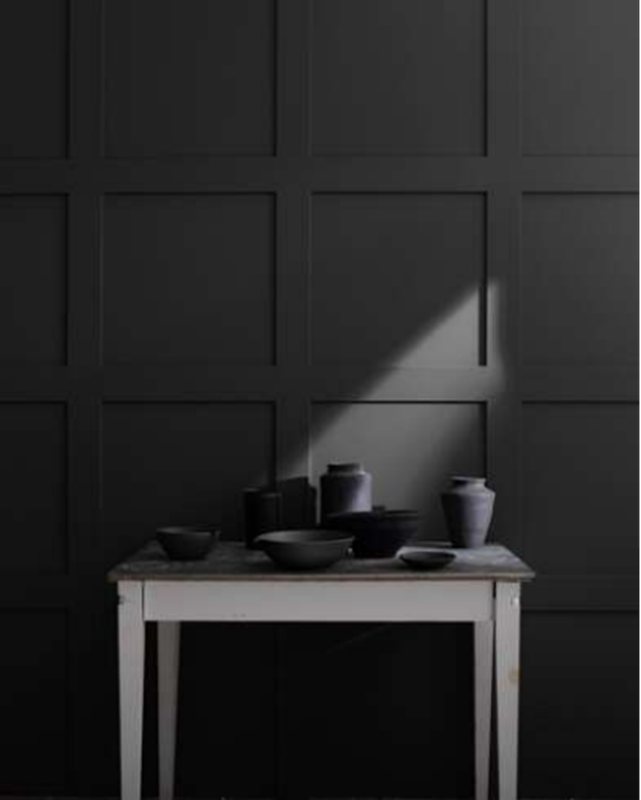 This one is a peep of blue mixed into a jet-black color to give an inky hue effect when applied on the wall. It comes at an LRV of 4.71, which is a bit higher than that of Tricorn Black, but if you crave a smoky black in your space, this is your guy.
 Sherwin Williams Tricorn Black in Spaces
Elevate your home with Sherwin Williams Tricorn Black. I can't stress the uniqueness of this color enough. While I agree it's a bold choice for some rooms in the house, I can't completely remove the possibility of it producing one of the most aesthetically pleasing results.
Sherwin Williams Tricorn Black Living Room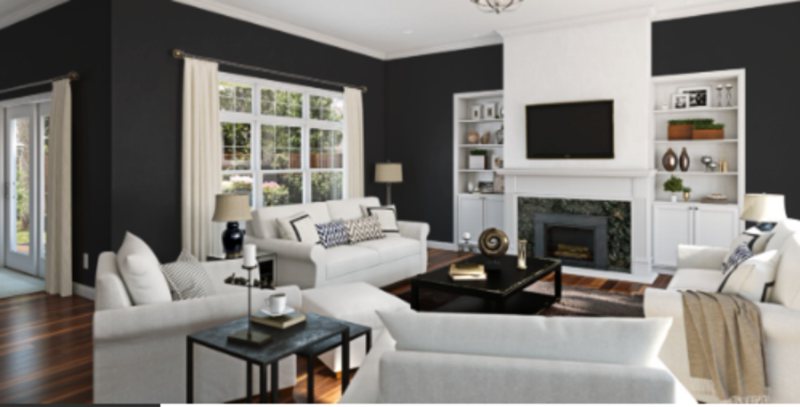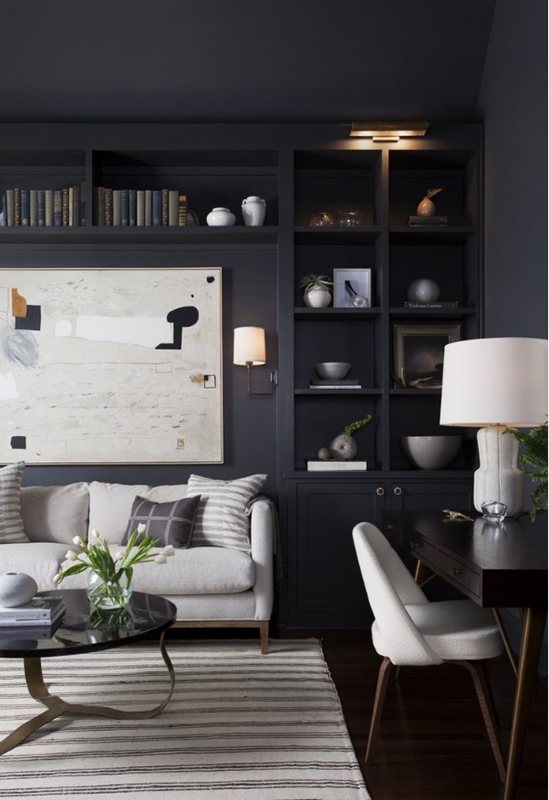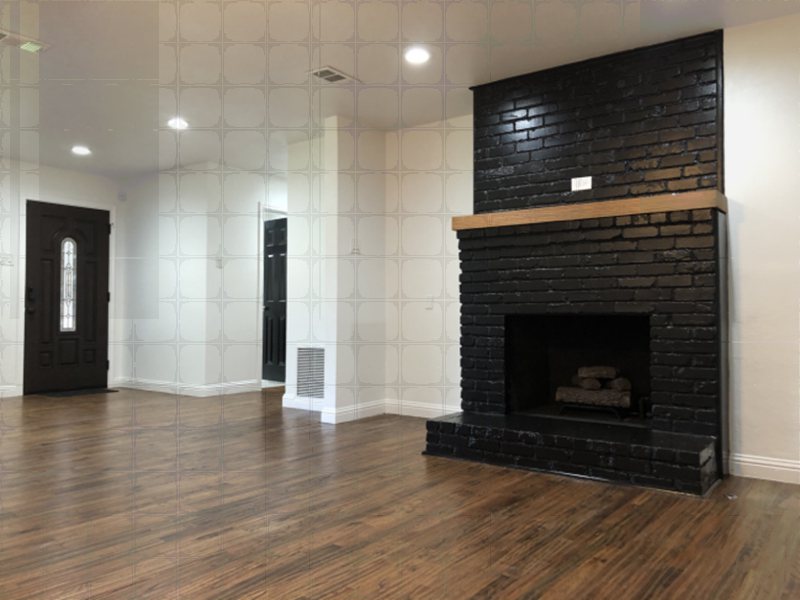 This is one of the most important spaces in any house that demands extra attention, welcomeness, and comfort with the right amount of attention-grabbing decoration, including your paint.
Take the giant leap with Tricorn Black in your living room; if it's a large space, please go all out. However, if you're working with a small space, reconsider your options and use this one in tiny amounts- it can appear as an accent wall or a fireplace décor.
Pair with greiges, white, and other colors from the monochrome palette to give it an extravagant, complex touch.
Sherwin Williams Tricorn Black Kitchen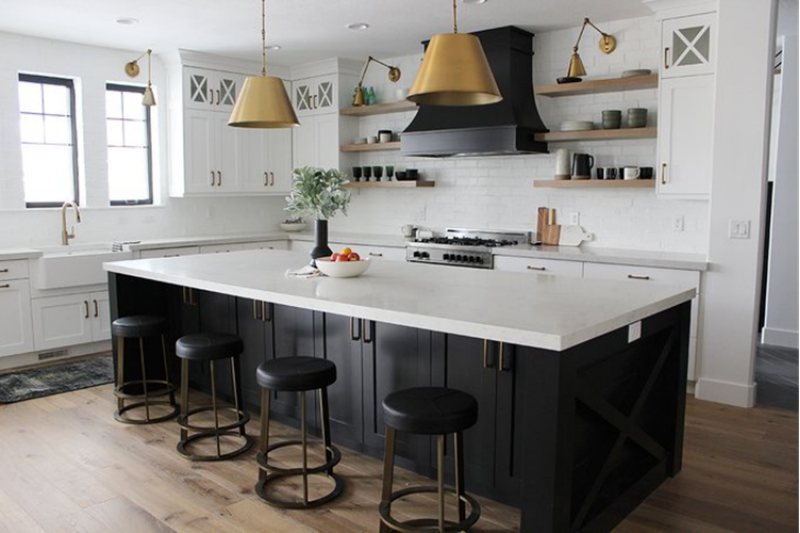 From time immemorial, black and white kitchens have been a staple in luxury homes. Take this as a sign you need to use Tricorn Black for that kitchen. The monochromatic effect you'll achieve when you pair it with white trims or the other way around is refreshing.
Sherwin Williams Tricorn Black Bedroom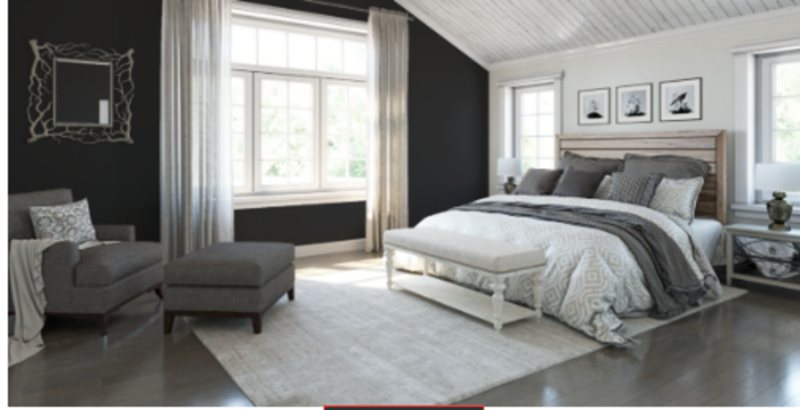 Your bedroom carries your personality more than anything. Hence when anyone walks into it, they should feel a reflection of your style, character, and lifestyle. It's also a place of comfort and coziness, especially if you're a disciple of the minimalist movement.
This color performs well in a modern bedroom setting, and when paired with white beddings, curtains, or even grays, you'll see the lengths it can go.
Sherwin Williams Tricorn Black Bathroom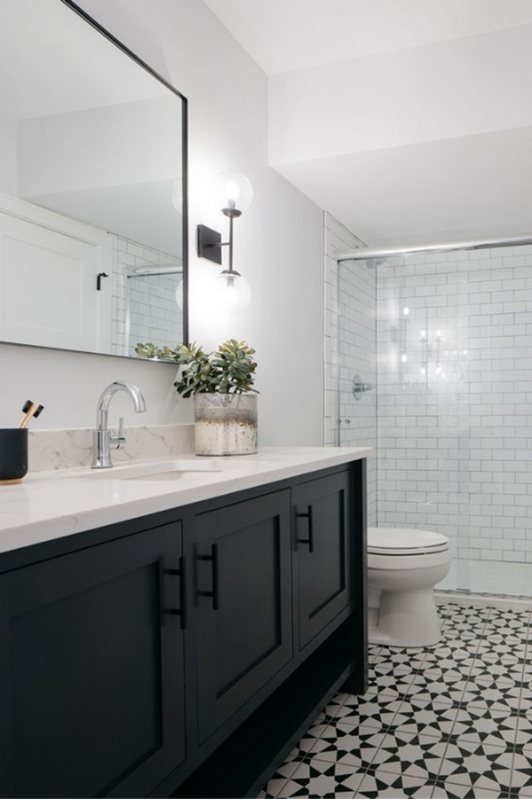 Do you crave a masculine vibe in your bathroom? Then this one is your top choice. A Tricorn Black bathroom screams luxury, peace, and versatility because you can then decide to accessorize with bright-colored mirrors, towels, and other bathroom items.
Leave your bathroom floor in white tiles or beige-colored flooring to give it a pleasing facelift and feminine touch.
Sherwin Williams Tricorn Black Exterior
If you crave an ultra-bold exterior in your home that'll be the cynosure of all eyes, then use Tricorn Black for your walls and immediately pair it with pure white accents, window frames, doors, and moldings to bring balance.
It may be a bit challenging to settle on a roof of choice when using this color because it also doesn't go well with a lot of natural stones, which is why you must tread with caution and take everything I've recommended with all seriousness.
While homeowners do not widely prefer this color for their exteriors, you can be the odd one out in a good way.
 Sampling Sherwin Williams Tricorn Black
You must wonder why I always encourage readers and homeowners to sample their colors before deciding. Well, the first answer is that it's a really simple way to confirm if the option you're going for will really give your space what it needs.
The quickest way to know this is to use SAMPLIZE, a peel-and-stick sample that's easy to apply to your space. You can move them from one room to the under and apply them under different light conditions and different times of the day to see how Tricorn Black will fare in your space.
Another good news is you can use SAMPLIZE over and over again, which means that you have the liberty to try out more than one color if Tricorn Black is not doing it for you, but the most important line you'll cross is getting a first look at your forever decision.
SAMPLIZE is affordable, accessible, and your promised partner towards achieving your desired space without hassle.
 Parting Words
Sherwin Williams Tricorn Black is the only black you'll need to bring back that timeless feel into your home. If you're going to do black, you might as well do it correctly. Combine this intense color with bright blues, super crispy whites, and yellows for a perfect play of colors in your home, and remember to sample before committing.
If you're looking forward to introducing drama into your space, you should really lean toward this one, and you won't regret it.