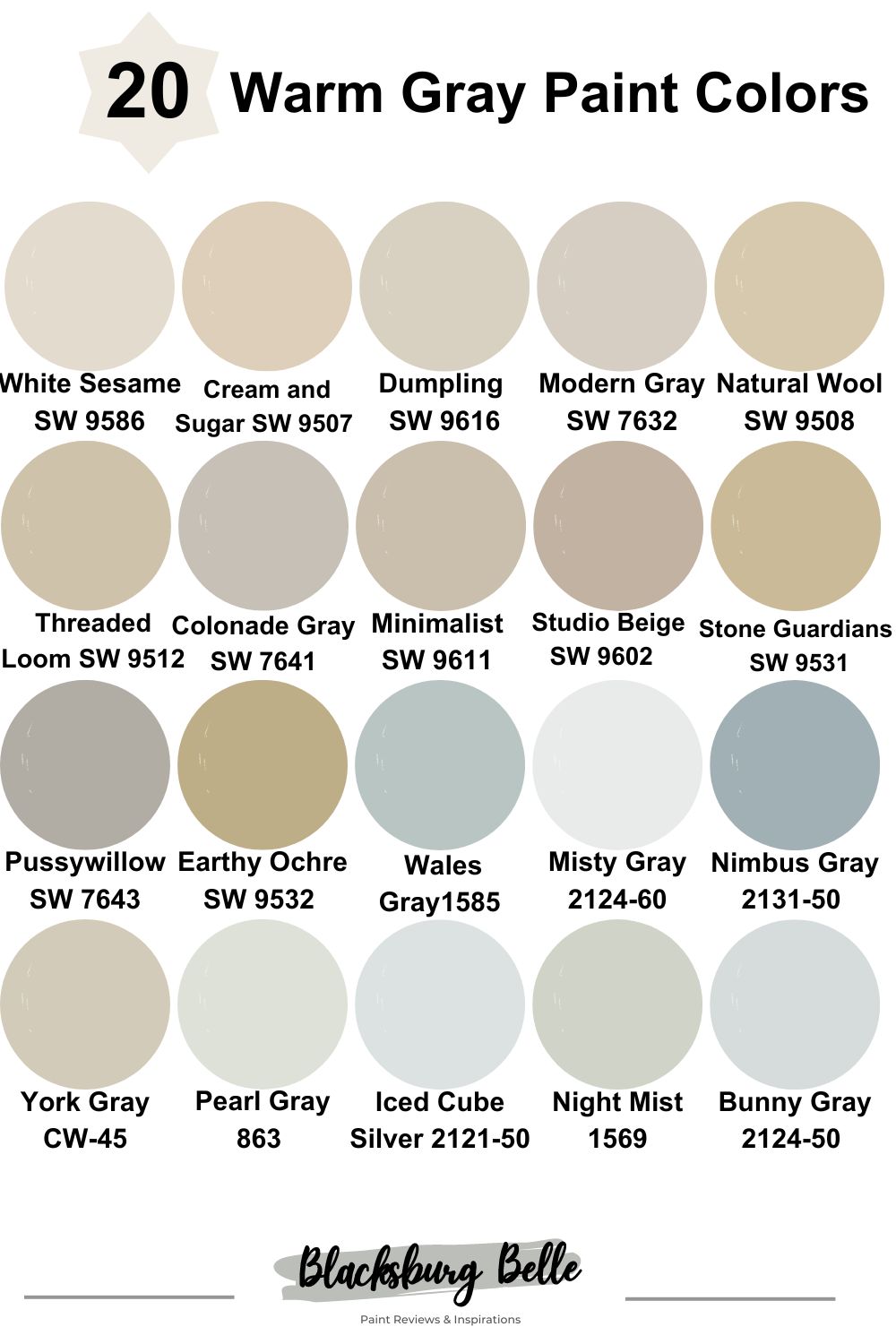 There is a wide spectrum of warm gray colors which affords versatility and unique color properties to its paint.
Warm gray paint colors possess a sophisticated air that easily blends with other colors on the warm spectrum, while also reserving its ability to form an inviting relaxed contrast with deep warm bolder colors that are vibrant.
It exudes a sober type of energy that leans towards a reserved fine elegance. As with other warm colors close to the white color family, it is easy to fall into a boring and bland approach. But the warm gray color jumps over this limitation because of its depth-inducing property.
It does not have the brilliant excellence of white, but it makes up for that with its rich warm emotion provoking depth.
Additionally, it boasts of the mellow and mild accentuating effect it carries. Warm gray color tones are frequently used in homes, office space building interiors, and a list of many other spaces because of their two-dimensional look when compared to white. In this article, the 21 best warm gray colors for use will be discussed:
How Are Warm Gray Colors Formed?
The gray color tone is a mixture of white and brown or black. White color, which is a major component of gray, is formed by a combination of equal amounts of all colors on the color spectrum.
This gives it a highly reflective property which has the effect of brightening up a space or infusing it with an illusion of enlargement. Because of this reflective property, white does not appear to have strong depth-creating qualities. Black color on the other hand is described as an absence of color. While white is the presence of all colors, the opposite is the case of the black color shade.
A combination of these two colors will create the gray color tone we love. Reflective, but not flat because of its present black roots. To get the warm gray color tone, more white must be present in the color mixture.
Other qualities can then be added to create distinct unique colors by the subtle introduction or increase of intensity of vibrant tones like yellow, green, red, orange, and more. These subtle colors that seem to catch the light from underneath the base color are called undertones. It is these undertones that are responsible for creating a variety of warm gray colors.
Choosing The Ideal Complementary Color
When choosing complimentary colors for gray, it is important to note that uber-vibrant tones will overwhelm the gray hue, reducing its presence, while colors with less intensity may make gray appear washed out.
The right complementary color needs to be bold while simultaneously allowing the gray paint to calm its exuberance. It is not difficult for warm gray paint colors to appear lackluster if the undertones present are dull dim colors.
However, it is easy to circumvent this detracting quality by picking warm gray colors with vibrant undertones. Below, you will find the 21 best warm gray colors handpicked for your pleasure because of their outstanding qualities and appearance.
List: 21 Best Warm Gray Colors
1. Sherwin Williams White Sesame SW 9586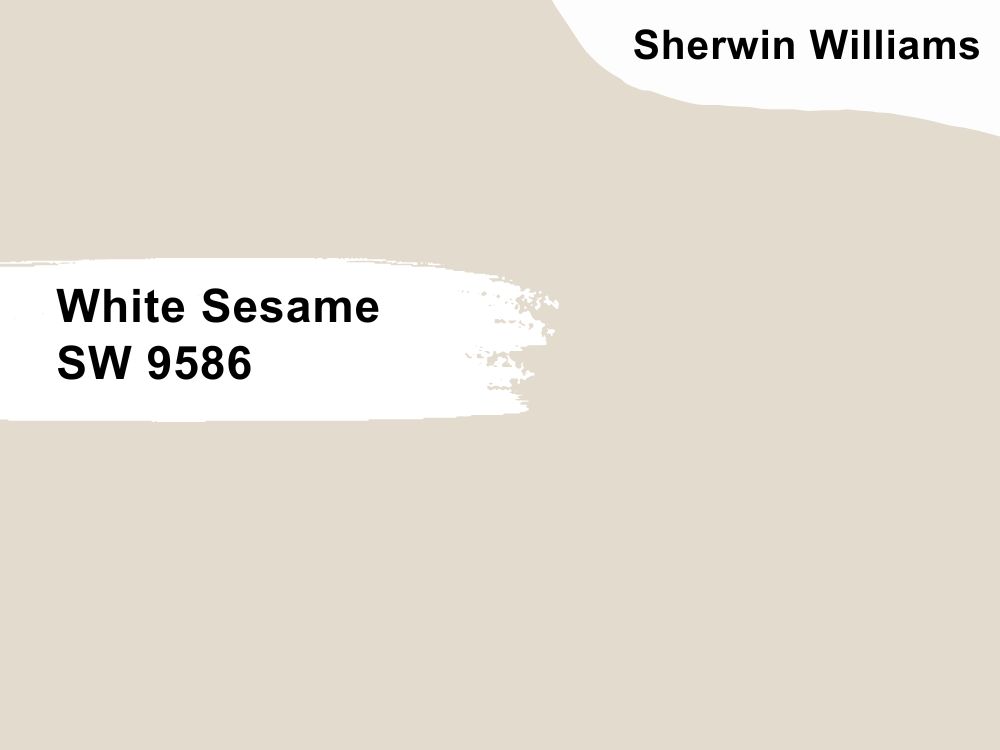 | | |
| --- | --- |
| RGB | 227 219 205 |
| LRV | 71 |
| Matching color | Pacer White |
| Undertones | Gray and Green |
The White Sesame color evokes a fresh calm emotion in any space that it coats. It is a warm gray color that still appears lively because of its green undertone. The green undertone in White Sesame projects vitality into its muted gray color easily giving it that lovely active feel it possesses.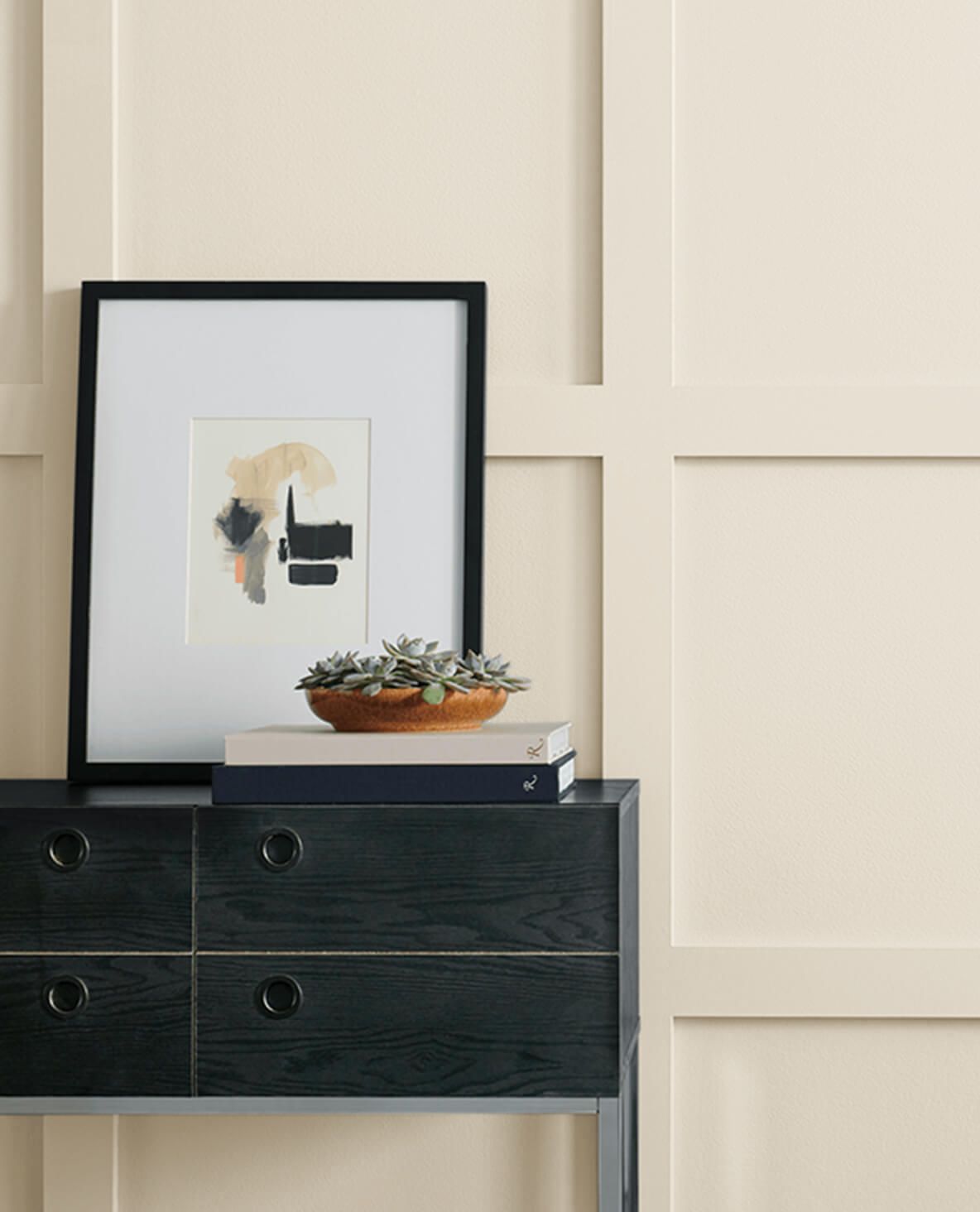 For a gray color, White Sesame has a relatively high LRV (Light Reflective Value) at 71. If there is a need for a gray paint with a brightening effect, then this color will fill in perfectly. The Pacer White paint is a matching color that can be used for decors to form a complimentary balance.
2. Sherwin Williams Cream and Sugar SW 9507
| | |
| --- | --- |
| RGB | 221 207 185 |
| LRV | 64 |
| Undertones | Yellow |
| Matching color | Oyster Bar, Maison Blanche |
With an LRV of 64, this warm gray color is the best choice for a slightly dim color effect. The Sherwin Williams Cream and Sugar paint provides an elegant low-tone color for any space. Another attribute to look out for is its yellow undertone. This will create a subtle sense of openness and infuse a soft fun feel into the space. Cream and Sugar paint can be used in open spaces and kitchens.
3. Sherwin Williams Dumpling SW 9616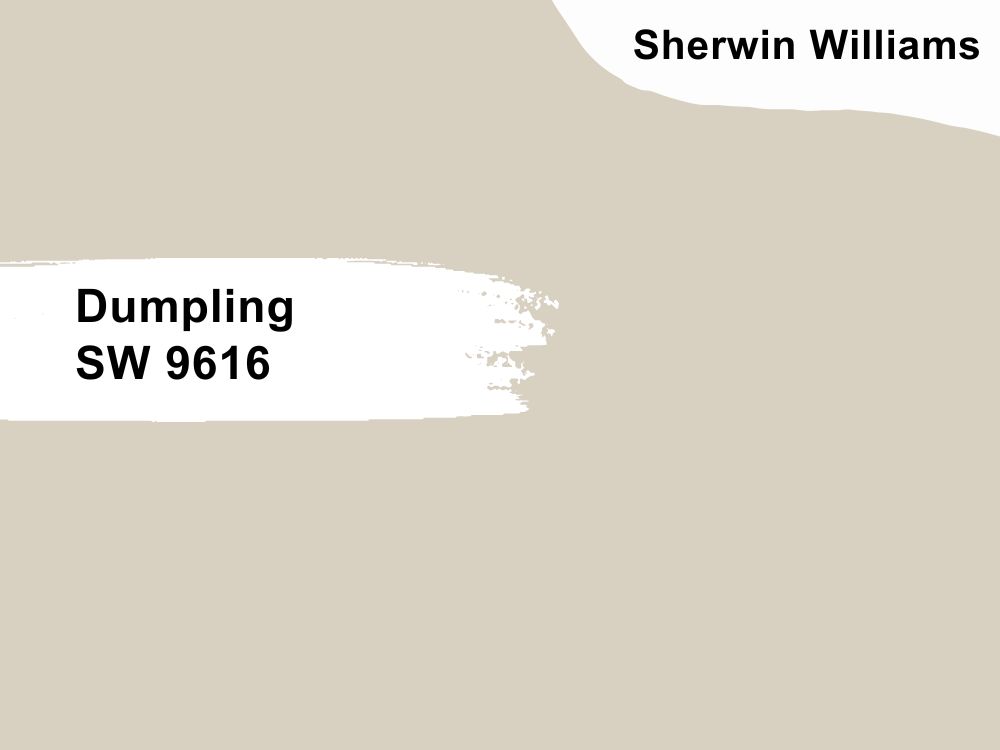 | | |
| --- | --- |
| RGB | 216 208 193 |
| LRV | 64 |
| Undertones | Green and Black |
| Matching color | Taupe of the Morning, Accolade |
Paint colors with green and black undertones exude a distinctive sober arboreal quality to the spaces they cover, and the Sherwin Williams Dumpling paint is no exception. With its LRV at 64, this paint color retains a low-tone reflective ability making it a great pick for spaces like the study, kitchen, offices, and more. It has Taupe of the Morning paint as one of its complementary matching colors.
4. Sherwin Williams Modern Gray SW 7632
| | |
| --- | --- |
| RGB | 214 206 195 |
| LRV | 62 |
| Undertones | Purple |
| Matching color | Taupe Tone, Snowbound, and Plum Dandy |
Taupe Tone, Snowbound, and Plum Dandy are matching colors of the Sherwin Williams Modern Gray color. These colors create a sharp solid contrast that is inviting. Modern Gray color has a subtle purple undertone that gives it a whimsy feel which at the same time appears strong and balanced. In a variety of lighting types, the Modern Gray color looks good.
5.  Sherwin Williams Natural Wool SW 9508
| | |
| --- | --- |
| RGB | 215 201 174 |
| LRV | 59 |
| Undertones | Green, Yellow, Grey |
| Matching color | Emberglow, Iron Ore |
The Natural Wool Color is a beautiful choice if a natural clean rustic vibe needs to be infused into a space. This paint's clean feel of nature is present because of its undertones; green, yellow, and black. For a cool calming sense of natural tone, this color is the best pick. It looks great in natural light and matches well with colors that present its undertones as primary color sources. The LRV of this paint's color at 59 shows it holds a cool dim appearance.
6.  Sherwin Williams Threaded Loom SW 9512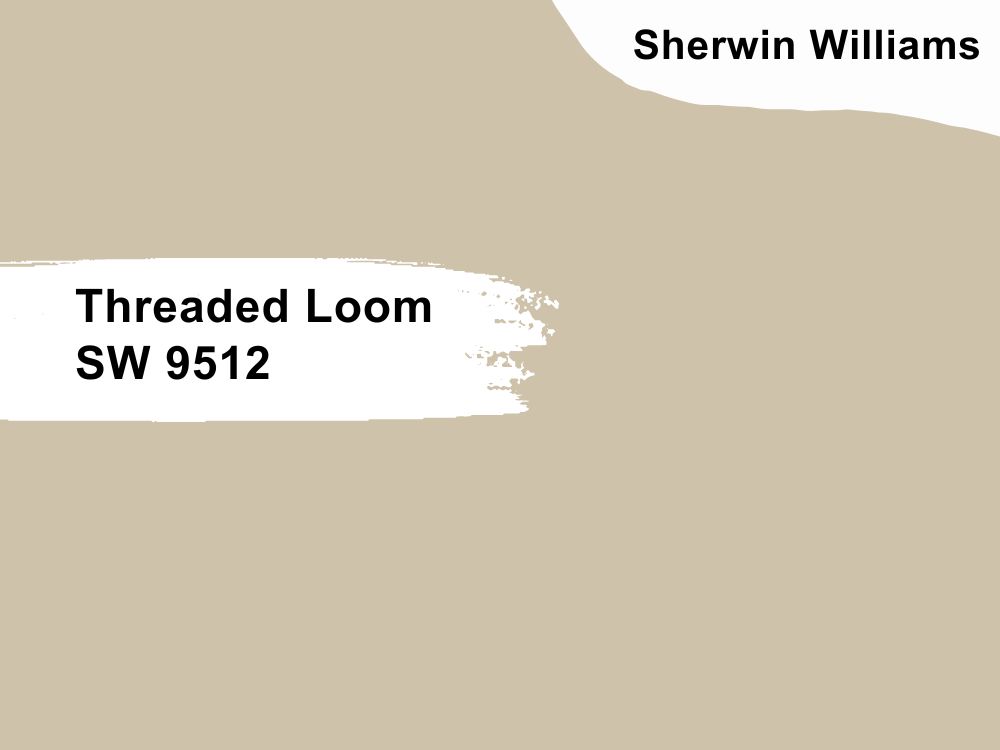 | | |
| --- | --- |
| RGB | 206 194 170 |
| LRV | 54 |
| Undertones | Brown and Green |
| Matching color | Black Magic, Iron ore |
This paint color has a brown and green undertone which makes it appear peculiar. It holds a strong presence which it bestows on any space that's occupied by it. An LRV at 54 shows that the Sherwin-Williams Threaded Loom embraces the light-absorbing darker toned hues more. Spaces that require a unique, modern style and décor can make the best use of this paint.
7.  Sherwin Williams Colonade Gray SW 7641
| | |
| --- | --- |
| RGB | 198 192 182 |
| LRV | 53 |
| Undertones | Black |
| Matching color | Origami White, Pewter Tankard, and Resounding Rose |
Colonade Gray, with an LRV of 53 is a fabulous elegant mid-toned paint color. It appears warm even with an imposing dark undertone color, black. This black undertone creates a deeply rooted sense of opulence and refined grace, bestowing it on any surface that it covers.
It can be paired with matching colors like the Resounding Rose which will create a distinct contrast and add vibrancy to this warm gray color that if not paired well will appear bland. The Colonade Gray paint color has a reduced tendency of appearing stoic and to avoid that, the colors of decors in its shared space can have matching colors; Origami White and Pewter Tankard.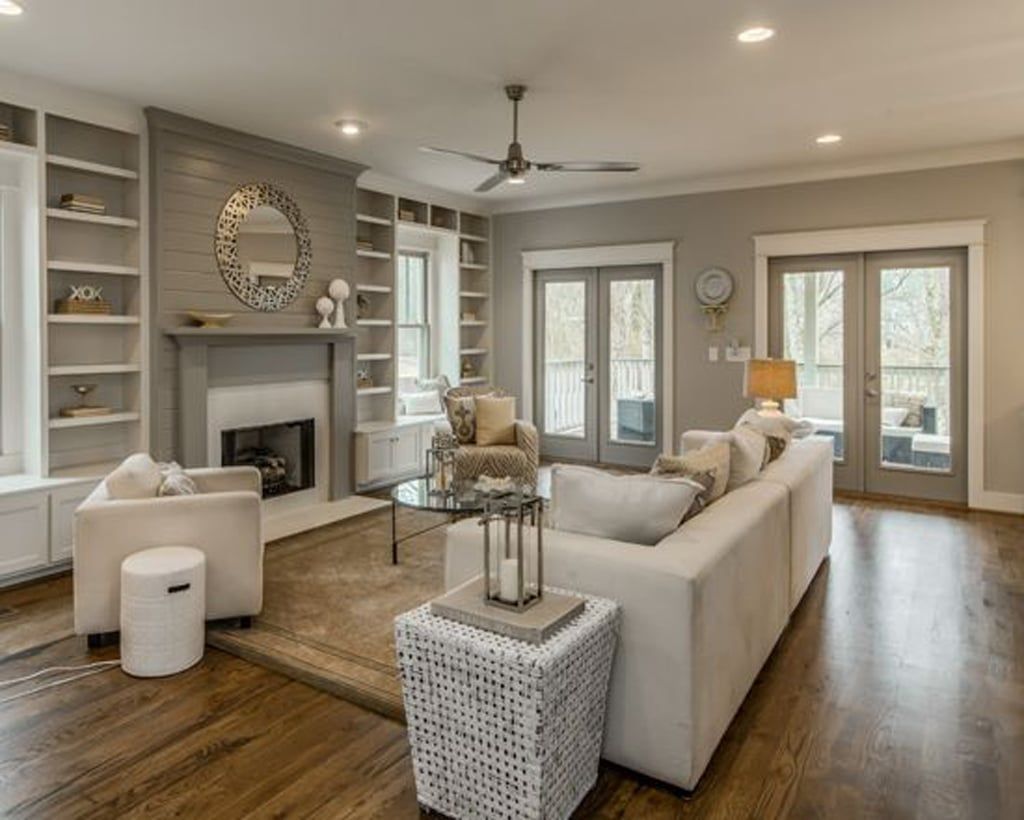 8. Sherwin Williams Minimalist SW 9611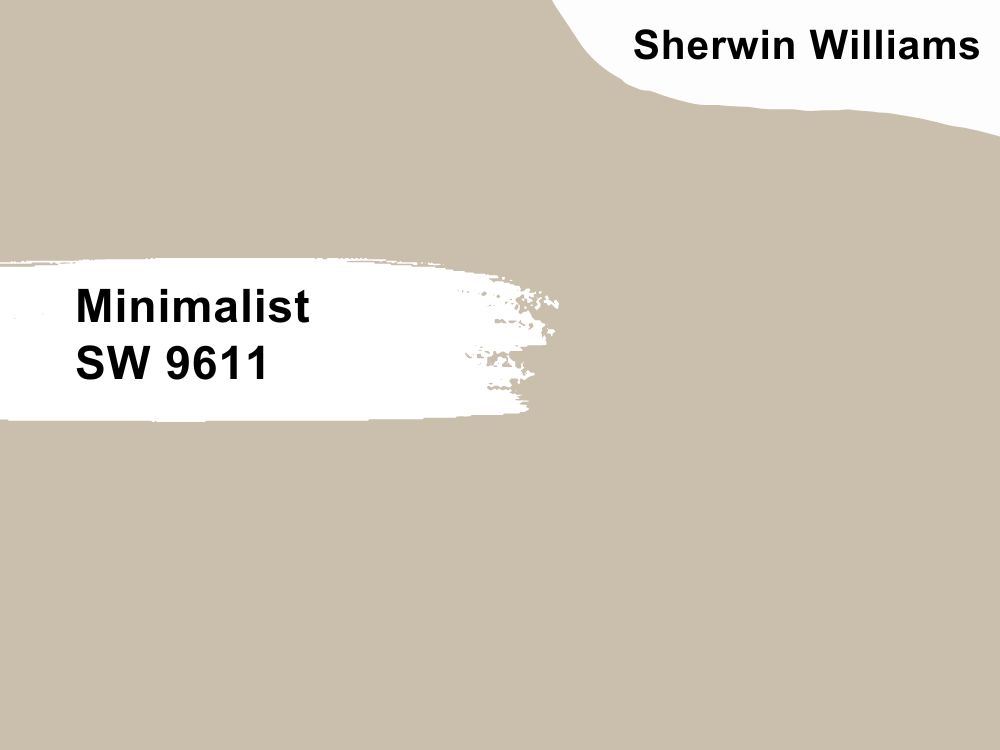 | | |
| --- | --- |
| RGB | 202 190 173 |
| LRV | 52 |
| Undertones | Green and Black |
| Similar color | Shitake, Sandbar and Bungalow Biege |
The Sherwin Williams Caribbean Coral paint is a beautiful matching color for the Minimalist paint because of how striking their combination will appear. The Minimalist paint color is one of the most versatile warm gray tones.
It is able to fit fluidly into any theme, be it modern, clean, deep dark, natural, or even rustic themes. With an LRV of 52, this mid-toned paint is a favorite amongst homeowners and businesses because of how easily it compliments almost any décor color shade.
9. Sherwin Williams Studio Beige SW 9602
| | |
| --- | --- |
| RGB | 193 178 161 |
| LRV | 46 |
| Undertones | Brown |
| Similar color | Logia and Renwick Biege |
The Sherwin Williams Studio Beige paint color has a calming quality that's best for creating a relaxed minimalist style. This neutral paint with a deep sense of effect because of its LRV at 46, creates a laid-back effortless feel. Its brown undertone is responsible for the warm coffee-gray appearance.
This neutral gray shade will fit into a minimalist, modern, or rustic-themed space décor. Logia and Renwick Beige are a few paint colors with similar qualities. Studio Beige would, however, match effortlessly with deep-toned shades of green, red, and brown.
10. Sherwin Williams Stone Guardians SW 9531
| | |
| --- | --- |
| RGB | 202 186 151 |
| LRV | 50 |
| Undertones | Yellow and Brown |
| Similar color | Lemongrass, Crewel Tan |
For an easy warm toned natural aesthetic, the Stone Guardians color fills the role perfectly. This warm neutral with a yellow and brown undertone is a classic paint with an underwhelming effect that lets the other décor colors stand out.
It will create a strikingly balanced look if placed in a rustic décor setting with brown or off-white matching colors. Because of its LRV of 50, this mid-toned paint color does not appear too warm or cold. Similar colors that can be used as alternatives are Lemongrass, Crewel Tan, and Tumblingweed.
11.  Sherwin Williams Pussywillow SW 7643
| | |
| --- | --- |
| RGB | 178 173 164 |
| LRV | 42 |
| Undertones | Blue, Black, Gray |
| Matching color | Origami White, Gauntlet Gray |
The Pussywillow paint color has a deep, inviting, and relaxed quality that allows it to promote a sense of opulence and depth. This paint color with its green and black undertone easily creates bold emotions of balance and richness. It is a warm gray color tone that acts as a low-toned color because of its LRV of 43.
When used with matching décor colors like Origami White, it creates a soft complimentary balance; but when used with matching colors like the inviting green-hued Vintage Vessel paint color, it forms a comforting contrast that is easy on the eyes.
12. Sherwin Williams Earthy Ochre SW 9532
| | |
| --- | --- |
| RGB | 190 174 136 |
| LRV | 43 |
| Undertones | Green |
| Similar color | Harmonic Tan, Garden Sage |
The Earthy Ochre paint color presents a cool earth-toned color that easily adds a reassuring depth to spaces. The LRV at 43, allows this low-toned color to evoke a cool refined lustrous look.
This color with its striking green undertone is versatile enough to form a perfect balance when mixed with similar colors in décor like the Garden Sage or Harmonic Tan. It is the best paint choice if your space décor consists of nature-themed elements or rustic vibes.
13. Benjamin Moore Wales Gray1585
| | |
| --- | --- |
| RGB | 187 196 194 |
| LRV | 54.0 |
| Undertones | Blue and Green |
| Matching color | Aruba Blue 2048-30, Ashland Slate 1608 |
The Wales Gray color is a classic that can be seen on buildings and interiors of old. Its mid-toned light reflective value of 54.0 gives this paint color a steady reliable color presence. Depending on how light strikes its surface or the type of lighting, Wales Gray gives off a blue or green-toned appearance.
This is because of the bluish-green undertone present in the paint. For a silky-smooth complimentary feel, pairing it up with the Aruba Blue helps achieve that. If you need a more minimalist approach, then matching it with the Paper White paint color creates a simple elegant theme. However, if you want a more cohesive calm studious look, pair it with the deeper shade of Britannia Blue.
14. Benjamin Moore Misty Gray 2124-60
| | |
| --- | --- |
| RGB | 233 2355 233 |
| LRV | 82.33 |
| Undertones | Light green |
| Matching color | Cheating Heart 1617, Silver Lining 2119-60 |
Misty Gray paint retains a soothing calm quality that makes it a favored choice for relaxation spaces like bedrooms, living rooms, lounges, and more. Its super light warm gray tone creates a soothing atmosphere for people. It has a light green undertone which combines well with earth or nature-themed settings.
It is a soft, warm, and delicate color choice that can be used in a variety of spaces. Some matching colors used to highlight Misty Gray's tender soothing quality are Cheating Heart, Silver Lining, and Sweatshirt.
15. Benjamin Moore Nimbus Gray 2131-50
| | |
| --- | --- |
| RGB | 162 174 180 |
| LRV | 41.95 |
| Undertones | Blue |
| Matching color | Desert Tan 2153-50, and Falcon Brown 1238 |
The Nimbus Gray creates a cool relaxing ambiance because of its blue undertone and warm light appearance. This paint color has an LRV of 41.95 which while close to mid-toned hues, still leans towards a dimmer warm gray color.
This color matches well with wood-themed decors and brown hues whether light or dark. Examples of matching brown-hued colors are Baked Cumin, the lighter Desert Tan paint, and Falcon Brown which has a darker tone.
16.  Benjamin Moore York Gray CW-45
| | |
| --- | --- |
| RGB | 211 201 184 |
| LRV | 59.65 |
| Undertones | Yellow, Green |
| Matching color | Yellow 2022-10, Abstracta 322 |
The York Gray color has a yellow-greenish undertone depending on what angle and type of light falls on it. This paint color has an LRV of 59.65 which makes it possess a reflective brightening property that creates an uplifted stable feel. Benjamin Moore's York Gray paint matches well with vibrant or calm-toned yellow colors like the Abstracta 322, Majestic Yellow 355, and Yellow 2022-10.
17.  Benjamin Moore Pearl Gray 863
| | |
| --- | --- |
| RGB | 221 224 215 |
| LRV | 74.85 |
| Undertones | Green |
| Matching color | Neon Lime 2031-10 and Green Thumb CSP 870 |
For a light modern minimalistic approach to your space, the Pearl Gray paint color is the best choice. It holds a warm light masculine energy infused to spaces it coats because of its LRV at 74.85.
The Pearl Gray paint color has a light mild green undertone which lets it exhibit a mellow reflective vibrance. These exciting intense green hues provide a good color match to the Pearl Gray paint; Neon Lime 2031-10 and Green Thumb CSP 870.
18.  Benjamin Moore Iced Cube Silver 2121-50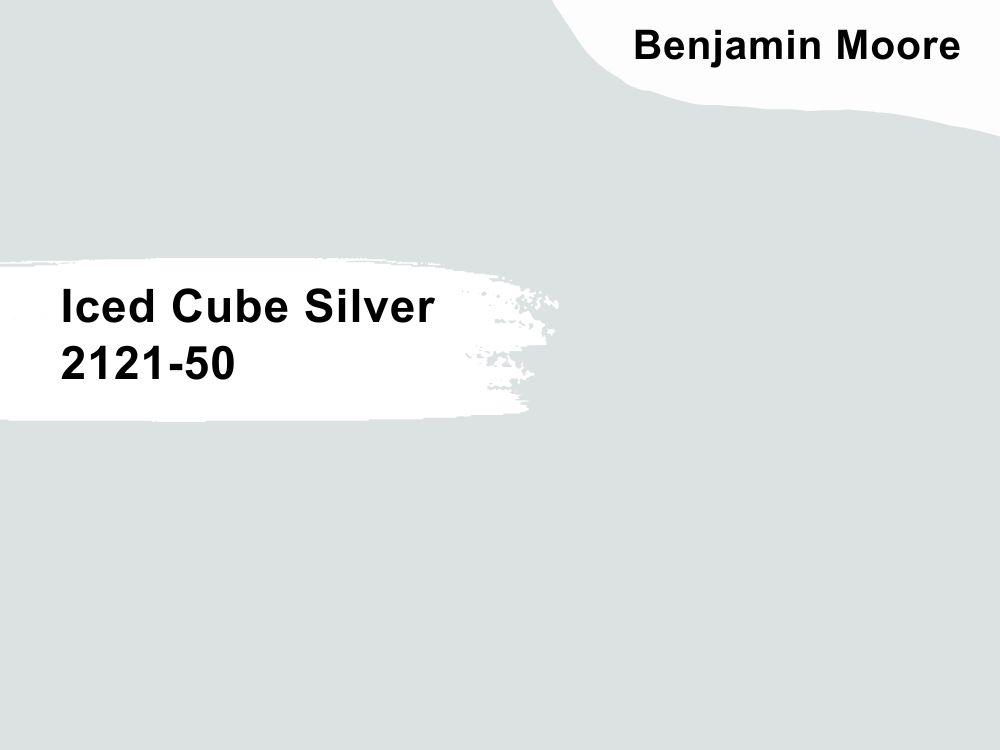 | | |
| --- | --- |
| RGB | 221 224 224 |
| LRV | 75.08 |
| Undertones | Bluish-green |
| Matching color | Galaxy 2117-20, Midnight Blue 1638 |
Iced Cube Silver is a sharp warm-toned gray color that may appear frail but still holds a sense of strength. This color gives off a royal elegance with a "steel under the wool" evoking emotion. This is a marvelous choice for a unisex space.
It leans towards masculine or feminine depending on what color is matched or paired with it. For a more feminine feel, pair Iced Cube Silver with the Exhale AF-515 paint color. And for a stronger masculine sense, pair it with the Midnight Blue 1638, the Galaxy 2117-20 or the Dash of Pepper 1554 paint color.
19. Benjamin Moore Night Mist 1569
| | |
| --- | --- |
| RGB | 208 210 199 |
| LRV | 63.86 |
| Undertones | Green |
| Matching Color | Spanish Red 1301, Deep River 1582 |
Night Mist's paint color holds a wispy tender quality that is both lovely and serene. It has an LRV of 63.86 which allows it to retain the light warmth property. Night Mist has a green undertone which is mild and creates a refreshing feel in any space it covers. If you need to create a fabulous color contrast, then matching Night Mist with the Spanish Red 1301 paint color generates that.
However, for a less vibrant contrast, pairing Night with Deep River is the best choice. A good choice for a complimentary tone is the Delray Gray 1614 paint color. Night Mist can be used with minimalist, ornate, or classic décor themes.
20.  Benjamin Moore Bunny Gray 2124-50
| | |
| --- | --- |
| RGB | 214 218 219 |
| LRV | 70 |
| Undertones | Green |
| Matching Color | Shadow 2117-30, Cabin Fever 1540 |
Bunny Gray is a warm gray paint that reflects a natural inviting tone that matches seamlessly with ornate décor themes.  It has a green undertone that peeps through the dominant gray hue allowing it to possess a clean rich natural feel.
Its matching color Shadow 2117-30 which has a purple undertone creates an embellished finished look when paired. Another matching color is the Nightfall 1596 which is a dark gray shade. This color forms a comforting complementary match when paired with Bunny Gray. You can also match Bunny Gray with Cabin Fever 1540 which has a greenish-brown undertone.
Conclusion
Seeing how versatile, rich, and intriguing the many different fabulous warm gray colors can be, knowing the best pick for your personal needs supersedes any inviting refined quality. The 21 best warm gray paint colors described above will provide a guide to help reach an informed decision about the best color choice for your space.
Whether the objective is to create a modern space with a minimalist approach, or it is to create a cozy homey vibe, the best warm gray color pick can easily be found above. LRVs, undertones, RGB values, and matching colors of all 21 best picks have been provided to help aid the decision-making process. Each description is short, concise, and detailed enough to lead to a quick decision on the best color choice for a space. So, go ahead and get the best warm gray paint color pick that is needed.