Sherwin-Williams Repose Gray used on the wall blends with a bluish-gray front door and windows during winter
Neutral gray paints have become the leading interior and exterior color for designers, and Sherwin-Williams offers enough variants. Whether your interest is contemporary or vintage decor, the top American paint brand has a shade or two.
Why should you switch to gray paints when classic neutrals like white, cream, and beige exist? The answer is simple — balancing light and dark themes is the best way.
Sherwin-Williams gray paints are suitable for all types of coloring, from walls to furniture and trims. All you have to do is pick the right shade for your purpose; therein lies the complexity.
This guide helps you identify the trending Sherwin-Williams gray paints in 2023 and how best to use them.
Steps for Choosing the Right Sherwin-Williams Gray Paint
Seeing a Sherwin-Williams gray paint and falling in love with its shade isn't enough reason to buy it. Knowing the proper gray color to create a cozy, cool, or moody ambiance influences your overall theme.
You must ensure it suits the purpose of purchase by following these next six steps.
Step 1: Analyze The Space and Lighting
The intensity of gray paints depends on their light interaction, so designers must analyze the space and lighting. Knowing the amount of natural light your desired area receives tells you how to design it.
High Light Reflectance Value (LRV) Sherwin-Williams gray paints can brighten a space, while low LRV shades accentuate or dim it.
Step 2: Measure The Room Size And Position
Room sizing and position matter when choosing a gray paint, especially one with several nuances. Getting this step right is the difference between utilizing your paint's tints to the fullest and wasting a beautiful Sherwin-Williams neutral hue.
Use tape and pencil to measure your room's size, then determine if it's small, medium, or large.
Standard rectangular bedroom sizes are about 132 x 244 sq. ft. per Bustling Nest, large sizes are approximately 200 x 250 sq. ft, and small rooms are at least 100 x 150 sq. ft.
The next move is studying the sun's position relative to your Sherwin-Williams gray-painted space (room or furniture). You'll get the brightest hue in South-facing rooms, consistent but medium glow in North-facing rooms, and the dimmest morning glow in West-facing rooms.
Step 3: Evaluate Your Lighting Options
Does poor natural light reception mean you should change your mind about your chosen Sherwin-Williams gray paint? No. Instead, augment the hue with artificial lighting. Your only dilemma should be choosing the light's color and number.
Although most gray paints are cool, a few shades have warm undertones. Hence, the option to use warm light still stands as it'll intensify the fiery tints in the said gray paint, while cool lighting would present a dim glow.
Step 4: Conduct Sample Area Testing
Always get samples from Sherwin-Williams before settling on a paint shade. It helps visualize your color palette in real-time.
The brand offers three options – Color Chips (small colored coins,) 8" x 8" Peel & Stick Strips (reusable adhesive stickers), and lightweight, washable paint (Color-to-Go.)
Watch the color's transformation under natural and artificial light to determine its undertones and nuances. They'll influence your overall theme and color palette. Scroll down to learn more about that.
Step 5: Analyze the Long-Term Value of a Paint Color
Choose low LRV gray paints for places with heavy traffic, as they're the most economical option. They barely retain dirt and stains; when they do, it's easy to clean. Meanwhile, high LRV gray paints attract dirt and prove challenging to clean despite their beauty.
However, being light or dark isn't the only factor for determining the long-term value of a Sherwin-Williams gray paint. The finish also matters as soft surfaces like matte are easier to clean than shiny outlooks like gloss or luster.
Step 6: Apply Finishing Touches
Knowing that a gray paint's finish determines its long-term value beyond its outlook and ability to beautify a space, you must choose carefully. Use a matte finish for general coloring, as it's economical and durable.
Finishes like luster, silk, satin, and gloss are shiny and great for accentuating spaces. Use them sparsely as trims, accent walls, half-walls, and furniture coloring against matte walls.
Understanding Gray Paints
As the leading neutral color in America this year, deciding on which gray paint color shade to choose can be overwhelming for non-designers or first-timers. The multiple shades available translate moods and vibes, from warmth to coolness.
This section analyzes the different types of gray paints, from undertones to usage.
What Are The Undertones?
Depending on the undertones, your gray paint can change from smoky to cool bluish clouds within seconds. These tints occur due to the mixture of red, green, and blue colors into a truly black pigment to form a unique Sherwin-Williams gray shade.
Each gray paint thus has an LRV that leans towards white (97), black (3), or stays neutral (50). The LRV tells you the likelihood of your gray paint's undertones revealing itself or staying hidden until lighting teases it out.
Types of Sherwin-Williams Gray Paints
There are four main types of Sherwin-Williams Gray paints based on their undertones and overtones. You'll learn about the shades that encourage creativity due to their many tints and those that work for minimalist themes due to their stable nature.
All pictures are from Sherwin-Williams 
Cool Gray Paints
Cool gray paints can have high or low LRV, but one thing that unifies them is their mellow and calming tones. These gray shades are reminiscent of dusky skies and pregnant clouds.
You'd often see flashes of cool colors like purple, blue, and green. Cool gray hues are ideal unifiers, serving as pretty, neutral background tones for brighter decor. Use this gray in your bedroom, bathroom, and living room for a relaxing atmosphere.
Popular Sherwin-Williams cool gray paints include Sweater Weather, Drift of Mist, and Homburg Gray.
Warm Gray Paints
Warm gray paints are tricky to identify since most of them look like greige or taupe. However, upon careful inspection, you can distinguish them by their warm undertones ranging from red to yellow and sometimes green.
This type of gray paint produces a cozy and fuzzy feeling that is an excellent template for fiery coordinating colors. Use warm gray paints in your kitchen, living room, hallways, and front doors.
Sherwin-Williams warm gray paints include Forged Steel, Western Reserve, and Terrain.
Light Gray Paints
Any gray paint with an LRV of 60 – 85 qualifies as a light shade ideal for exterior and interior coloring. This gray color illuminates a space without lighting and is often the best option for full-wall pigments and trims.
Many light gray paints have other colors as their overtones due to the high LRV, so expect a lot of blue-gray and green-gray shades. Popular Sherwin-Williams options include Intrepid Gray, Glacier Bay, and Windchill.
Dark Gray Paints
Dark gray paints need no introduction as they're the most common type of this color. Technically, hues with LRVs of 30 to 3 qualify as dark as they lean further toward the black end of the scale.
Dark gray is an elegant alternative to the classic black and navy blue hues used in vintage decoration. Use this type of gray as an accenting furniture piece, accent wall, or half-wall. Try the following shades from Sherwin-Williams – Cyberspace, Forged Steel, and Peppercorn.
Best Sherwin-Williams Gray Paint Colors (2023 Trends)
Light, Soft, Dark, Cool or Warm, the trending 2023 gray paints come in different shades but have one thing in common — versatility. You'll find that many of them are dual and triple-toned neutrals making them Sherwin-Williams bestsellers.
We've curated this list in descending order of light reflectance value to make it easy.
1. Drift of Mist (SW 9166)
Drift of Mist (SW 9166) is an excellent alternative to traditional white and off-white paints. It illuminates your space without being too bright at an LRV of 69. This color pairs excellently with other neutrals in bedrooms, bathrooms, and kitchens.
You can use Drift of the Mist to accentuate your window, door, and half-wall trims.
2. Agreeable Gray (SW 7029)
Agreeable Gray (SW 7029) is the second-most-popular neutral paint from Sherwin-Williams due to its overwhelming greige tone. This warm two-toned neutral has an LRV of 60, making it a versatile medium-light color.
Despite being a greige paint, Agreeable Gray has flashes of red tints that pair seamlessly with other red pigments and violets for a beautiful contrast.
Use this color anywhere in your home, whether it's the living room, bedroom, or kitchen, and highlight its beauty with wooden furniture and accents.
3. Sweater Weather (SW 9548)
Keep your space perpetually cool and pretty with the upbeat presence of Sweater Weather (SW 9548). It's bright at 60 LRV yet maintains a subtle aura due to the violet and green undertones.
You can highlight either of its undertones by pairing Sweater Weather with purple, lilac, or green interior decor. Use this Sherwin-Williams paint in your living room, bedroom, and bathroom for an airy vibe.
4. Grayish (SW 6001)
Preserve Grayish (SW 6001)'s clean, cool, and nuanced outlook by using it in a cool room. This color doesn't need much lighting to highlight its red, pink, and bold purple undertones — its 60 LRV holds its own in any condition.
Use Grayish with reddish-purple themes to accentuate its beautiful tints in your bedroom and hallways.
5. Useful Gray (SW 7050)
Useful Gray (SW 7050) is rich in creamy undertones making it a clean and soft shade for interior painting. This color doesn't need additional lighting to shine and illuminate your space. Its green tint pairs beautifully with other cool gray, blue, and green paints.
Choose Useful Gray, which has an LRV of 59 for Victorian-era and other vintage-themed decorations. A Useful Gray wall shines with brick walls and wooden trims, whether inside or outside.
6. Repose Gray (SW 7015)
Repose Gray (SW 7015) is in the top two most popular Sherwin-Williams neutral shades due to its versatility. This gray paint is pregnant with warm undertones from brown to beige and flashes of violet.
With an LRV of 54, Repose Gray maintains a mid-tone that blends with other neutrals. You can pair this color with soft red paints like Coral Clay for a beautiful contrast in your living room.
Use Repose Gray as your primary interior color to highlight its neutrality.
7. Mindful Gray (SW 7016)
Keep your exterior interesting and neutral with the warmth of Mindful Gray (SW 7016). This almost perfect neutral hue (48 LRV) appears off-white under natural sunlight. It serves as a beautiful backdrop to cool white paints like Pearly White.
You can also keep your hallway/entryway interesting with Mindful Gray, as it keeps guests guessing what to expect from the rest of the interior.
8. Essential Gray (SW 6002)
If you need a one-color-fits-all gray paint, look no further than Essential Gray (SW 6002). Although this color has a faint lavender tint, its 48 LRV outlook makes it a clean neutral slate that exudes warmth in its environs.
Use Essential Gray all over your home and offices and pair it with other neutrals like white and black for a classic theme.
9. Mineral Deposit (SW 7652)
You'd never want to leave your bedroom after painting the walls with Mineral Deposit (SW 7652). It's a zen color with a medium LRV of 43 and flashes of green and cyan undertones. The nature-toned tints make Mineral Deposit an ideal gray shade for nature-themed decor.
Pair the color with cream, off-white and white accents with green undertones in your living room and on the front porches. Also invest in home plants for extra greenery.
10. Pussywillow (SW 7643)
Muted warm neutrals like Pussywillow (SW 7643) create timeless cozy vibes. It's rich in brown and red undertones that overtake the color during the hottest Summer despite having a medium-dark LRV of 42.
Pussywillow's two-toned goodness makes it ideal for traditional and vintage themes, as it pairs excellently with tan and nude paints. Use this color for your exteriors and lounges to give your guests a welcoming presence.
11. Western Reserve (SW 9597)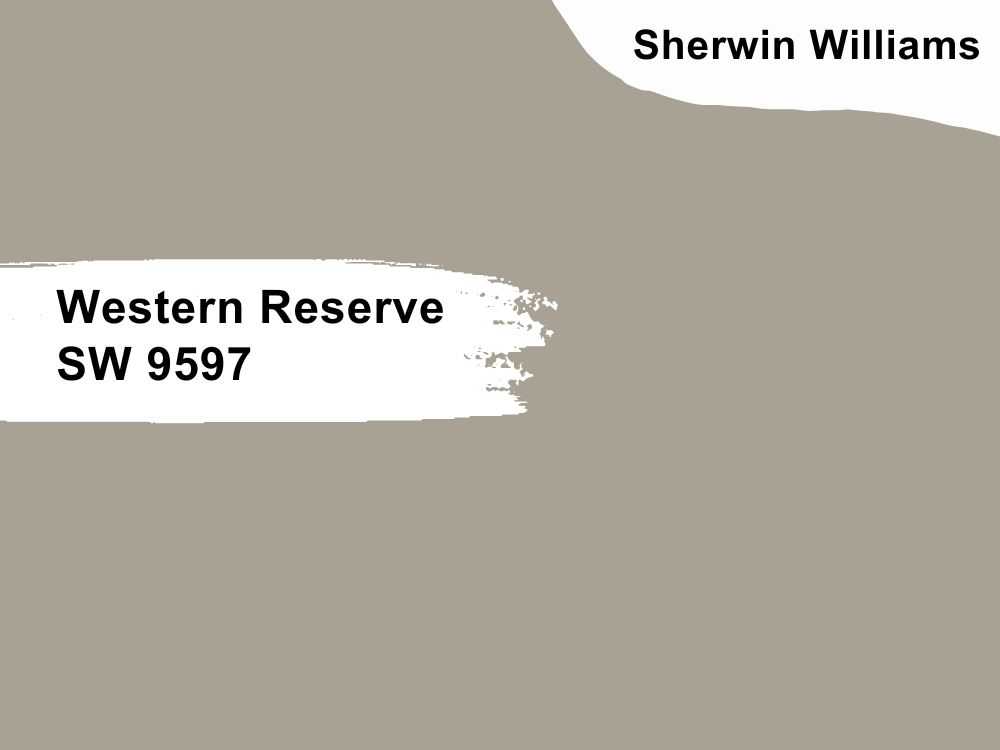 You can't leave your walls bare with plastered cement, but using Western Reserve (SW 9597) maintains that outlook. This 36 LRV medium-dark gray paint is soft with hints of brown tan waiting to bloom in the dark.
The tan undertones in Western Reserve make it an ideal paint for a nature-themed decor centered around wooden trims and furniture. Elevate the muted tones with off-white, cream, and green on your set, from curtains to carpets.
12. Dovetail (SW 7018)
Dovetail (SW 7018) proves that dark gray doesn't have to be moody to be warm. With its 26 LRV, this neutral shade keeps your space grounded while you get creative with brighter hues on your decor and designs.
Dovetail is another taupe gray because its brown top note dominates its subtle gray undertones. You'll need the brightest lighting situation and high LRV colors (blue, white, and beige) to highlight its cool gray shadows.
The color accentuates furniture like kitchen cabinets and islands, living room credenzas, and dining tables.
13. Terrain (SW 9613)
Terrain (SW 9613) is a dark tan, gray paint with a warm and welcoming vibe for your exterior walls. Its earthy tone works excellently with brown and yellow decor, highlighting its dark tan undertones.
This gray shade has an LRV of 23 making an undeniably dark brown paint which qualifies as a taupe hue in dim lighting.
14. Spalding Gray (SW 6074)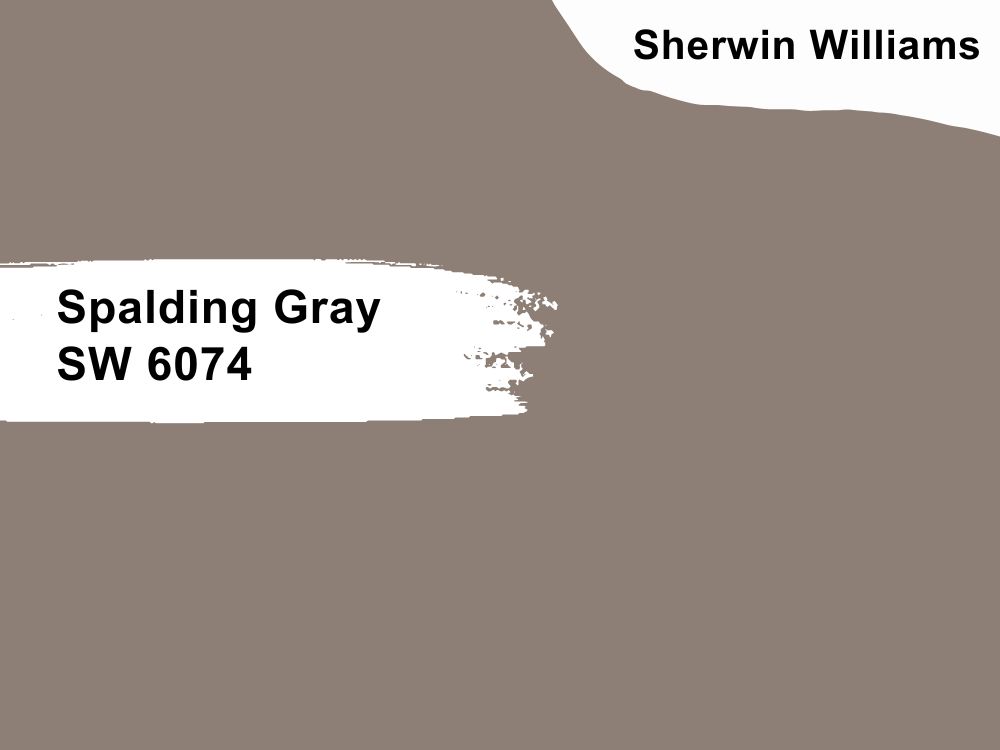 Create a classy and timeless vibe with the moody tone of Spalding Gray (SW 6074), a purplish-gray paint with a rich tan undertone.
Despite its dark 22 LRV tone, this color works as an interior paint whether it's a bathroom cabinet or kitchen half wall paired with stone tiles.
15. Downing Slate (SW 2819)
Although Downing Slate (SW 2819) is technically darker than Spalding Gray, it's a cooler historical color. This paint has a high blue content making it a two-toned gray color ideal for minimalist and Victoria designs.
Accentuate Downing Slate walls with rich brown leather chairs and lighter tan walls in your living room or study.
16. Attitude Gray (SW 7060)
Activate your confidence while transacting business in your office with Attitude Gray (SW 7060). Although this shade is dark at 20 LRV, it's soft and cool with a cyan tint. You can highlight its nuances with high LRV blue paints like Lullaby (SW 9136).
17. Gauntlet Gray (SW 7019)
Keep the mood warm and muted with the 17 LRV dark gray paint that's Gauntlet Gray (SW 7019). This shade is the one to choose when you want to go dark but maintain a cheery vibe to keep your space cozy and homely.
Gauntlet Gray pairs excellently with bright wooden floorboards in the kitchen and furniture on the dining table. It's an attractive gray paint because its undertones blend brown and black seamlessly.
18. Grapy (SW 7629)
Purple–gray tones like Grapy (SW 7629) are always a hit due to the contrasting blend of the two colors. The violet hue in this 16 LRV color is more than a flash as it takes over underneath bright and natural sunlight.
It's a timeless color for interior and exterior painting and works best when paired with tan and off-white.
19. Homburg Gray (SW 7622)
Homburg Gray (SW 7622) is a two-toned neutral shade that flits between warm and cool overtones due to its strong cyan and faint pink tint. This gray paint is right at home in a cool Fall/Winter weather and has an LRV of 15, making it medium-dark.
Pair Homburg Gray with light tan and pink paints to highlight its pink nuance.
20. Peppercorn (SW 7674)
Peppercorn (SW 7674) settles the dilemma between warm or cool dark gray as it blends both tones. It's a timeless green-gray paint with an LRV of 10 used for trims and accent colorings from front doors to roofings and furniture.
Use Peppercorn for vintage and classic designs.
21. Forged Steel (SW 9565)
Let go of black for the warm gray tone of Forged Steel (SW 9565) to create a centered minimalist palette. It has an LRV of 10 with subtle flashes of red and green appearing underneath its charcoal exterior.
As a warm gray shade, you can pair Forged Steel with white paints and off-white furniture in your study. Alternatively, make Forged Steel a half wall or an accent with white and off-white complementary walls and cabinets for an eclectic look.
22. Prelude (SW 9620)
Brownish-gray paints like Prelude (SW 9620) deserve more recognition due to their versatility. This hidden gem has unique undertones ranging from green to indigo and gray, while its top note is brown.
Prelude is warm and cozy despite having a low LRV of 9. Highlight its dark tone with bright yellow, cream, off-white, and brown paints.
23. Cyberspace (SW 7076)
Techies and futurism enthusiasts would love Cyberspace (SW 7076) for its eclectic dark overtone. Use this 6 LRV charcoal gray paint instead of black for your exterior walls and interior accents.
Without a doubt, use Cyberspace in your study or library with dark brown leather and wooden furniture.
Conclusion
Gray comes in different shades and doesn't have to be boring, as you've seen. You could keep it cool with blue-gray, charcoal-gray, and green-gray, or keep it natural with earthy grays, taupes, and greige.
Whichever tone you choose, pair it with the right decor and color palette.