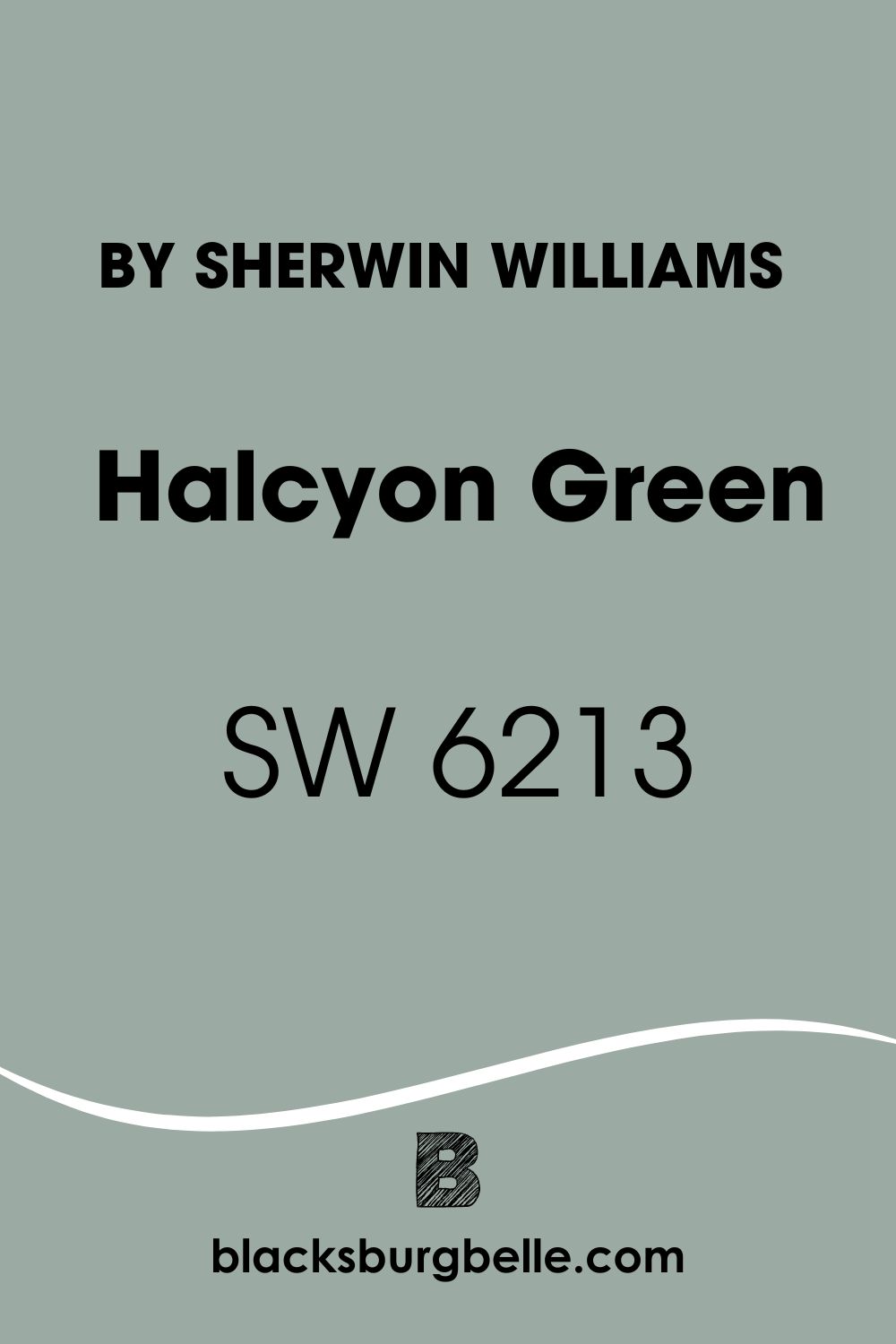 Ever looked at Sherwin Williams Halcyon Green and wondered where it would work best? I understand if there are several similar colors, and trying to decide if Halcyon Green is ideal or if you should go with another color can be challenging.
So, I'm going to show you every aspect of this paint color. You will learn about important parts such as undertones and LRV, and how they affect your usage.
You will be better informed on when and how to use this paint color. I'm excited to take you on this journey, so without further ado, let's get to it.
When to Choose Sherwin Williams Halcyon Green
Green is such a wonderful color if you get it right. And when you pick one with undertones that make it unique, you may have hit the jackpot. However, how do you know Halcyon Green is the better choice for your decor? I've got a few ideas.
Looking to create a quiet haven?
Halcyon Green brings a feeling of peace and calmness that turns any room into a quiet haven. So, it may be ideal for your bedroom or private study to give off the right vibes.
Thinking of redoing your bathroom?
White may be your go-to color for your bathroom, but consider adding Halcyon Green in splashes. Use it on accents for that bit of color and a tranquil feeling.
Want a nice accent or ceiling color?
Away from the bathroom or private room, use Halcyon Green on accent walls and pair it with cool whites, darker greens, and blues. Add a bit of gray to complete the look. If you're bold, this paint color looks amazing on the ceiling if the walls are white.
The truth is that Halcyon Green works well in any part of your home. You just have to know how to combine it with other colors to get a striking result. Stick around and I'll show you how. For now, let's explore the origin of this color's name.
What Color Is Halcyon Green?
Are you curious about the unique paint for this paint color? You're not alone because it is not a name many people have heard. Halcyon means several things, chief among them being a mythical bird with a floating breeding nest at sea and found during the winter solstice. This bird is said to charm the waves and wind into a peaceful state.
It can also mean an idyllically happy and peaceful period in the past or a brightly-colored tropical African or Asian kingfisher. The common factor between these meanings is peace and happiness. And that is the vibe you get from the paint color.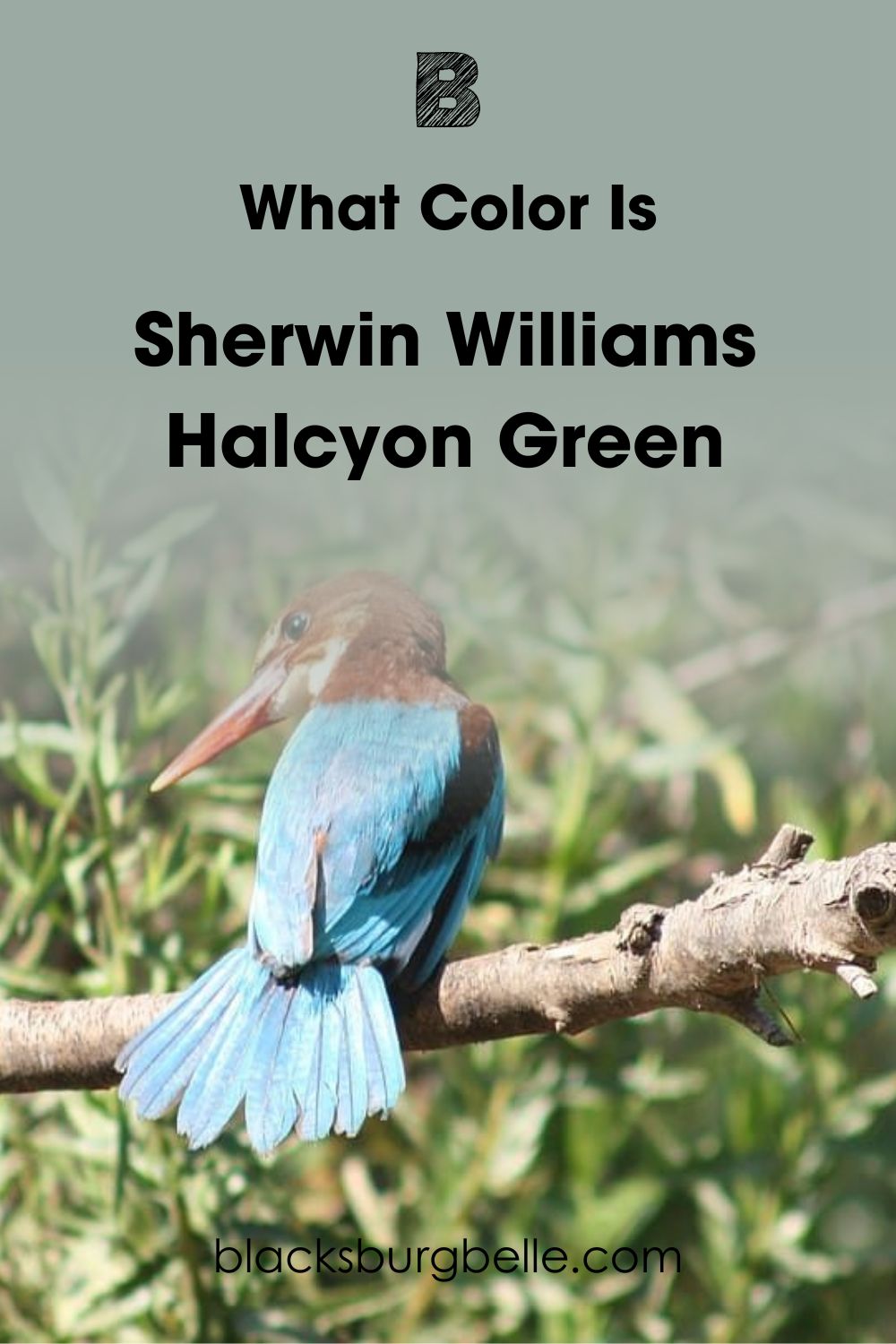 Sherwin Williams Halcyon Green SW 6213 is a muted green paint color with cool undertones. This color brings a happy and peaceful vibe to any decor or room, so you can use it anywhere, including on the exterior.
A Snapshot of the Specifications of Sherwin Williams Halcyon Green
Certain characteristics make every paint color what it is. These characteristics include undertones and LRV of the paint color. Let's go ahead and see how they apply to this color.
| | |
| --- | --- |
| | Sherwin Williams Halcyon Green |
| RGB | 155, 170, 162 |
| LRV | 39 |
| Undertone | Blue and gray |
| HEX Code | #9BAAA2 |
The LRV of Sherwin Williams Halcyon Green
LRv is the light reflectance value of color and refers to, on a scale of 0 to 100, how much light the color reflects. Some colors are bright and thus, reflect a lot of light. Some are dark and saturated and reflect little light. Others are in the middle and reflect just enough light.
In other words, pure black has an LRV of 0, while pure white has an LRV of 100. However, paint colors don't have pure blacks or pure whites, so their LRVs are measured on a scale of 2.5 to 94. The brighter the paint color, the higher the LRV, and vice versa.
Sherwin Williams Halcyon Green has an LRV of 39. This makes it a slightly mid-tone green, and it doesn't reflect a lot of light. As greens go, this paint color is bright enough without looking washed out.
The Undertones of Sherwin Williams Halcyon Green
Every paint color has undertones, regardless of how true or pure it looks. Some have obvious undertones, while others have minimal ones, only appearing on special occasions. Halcyon Green has blue and gray undertones, which give it a cool tone.
The gray mutes the green from being too bright. And the blue adds some depth so it's not a bland or superficial color. In this bedroom picture, Halcyon Green shows more of its gray undertones than any other color.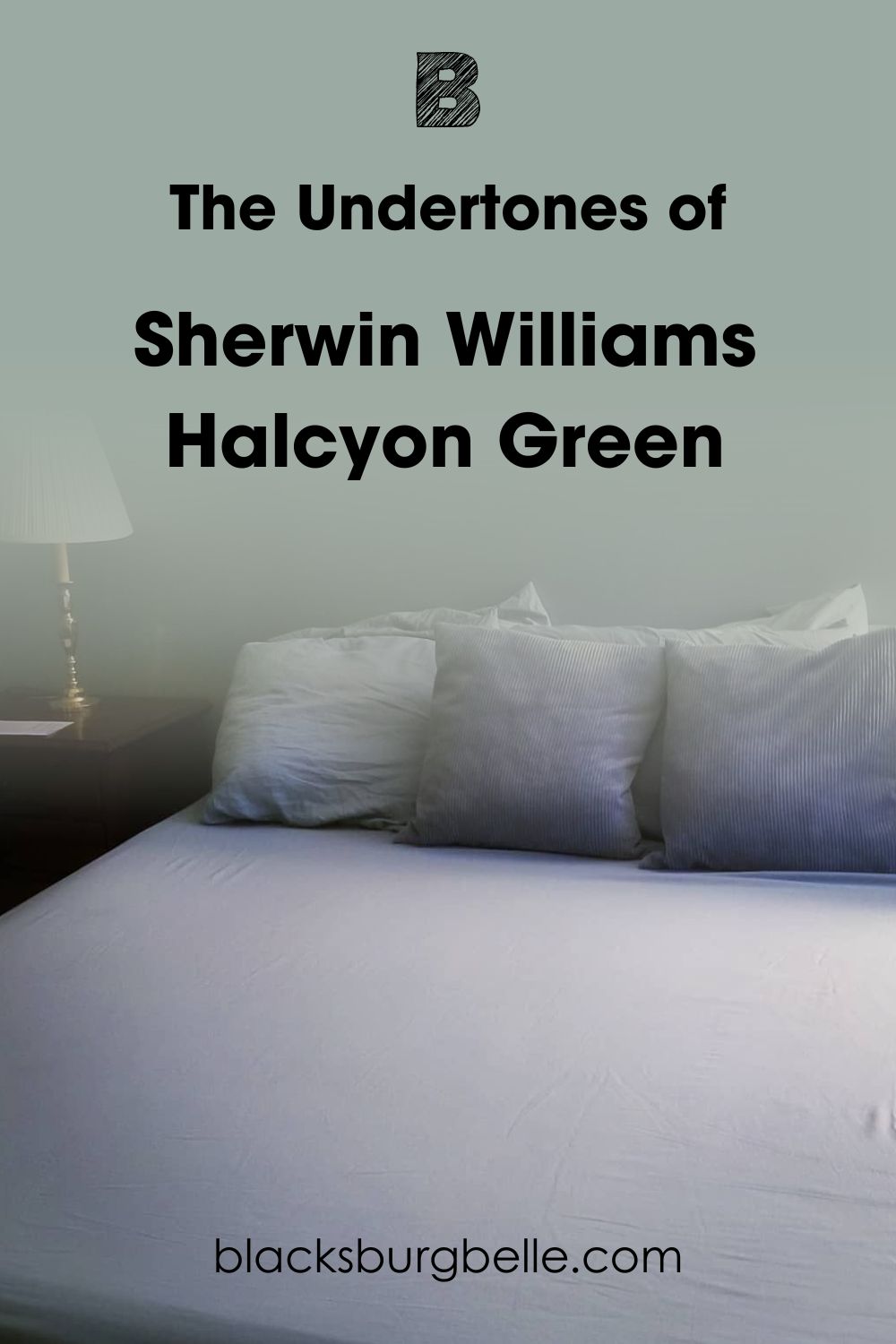 And here, Halcyon Green shows its true green color with a bit of gray and blue peeking through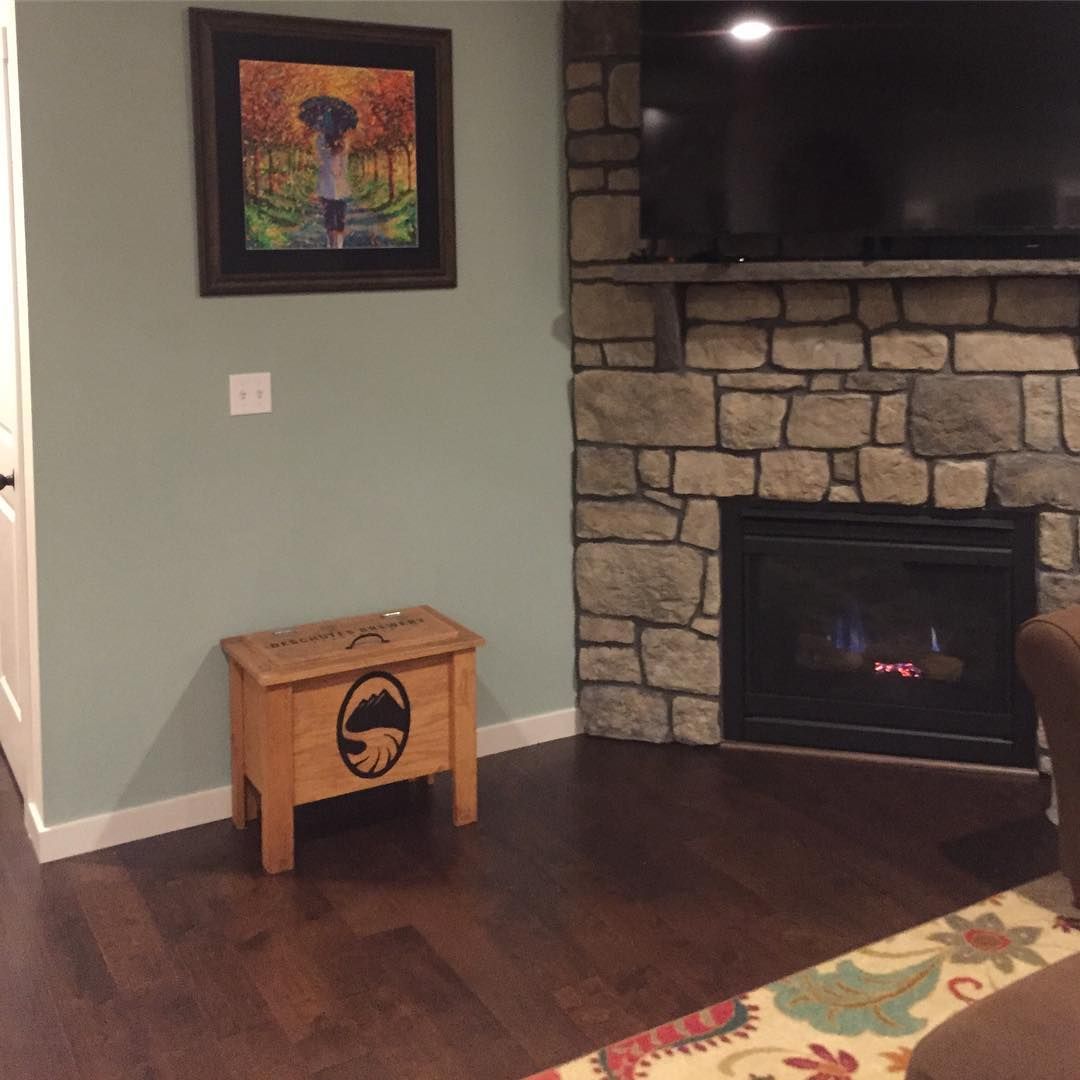 But this next picture is the true representation of the green paint color. You can see its gray undertones with just a hint of blue: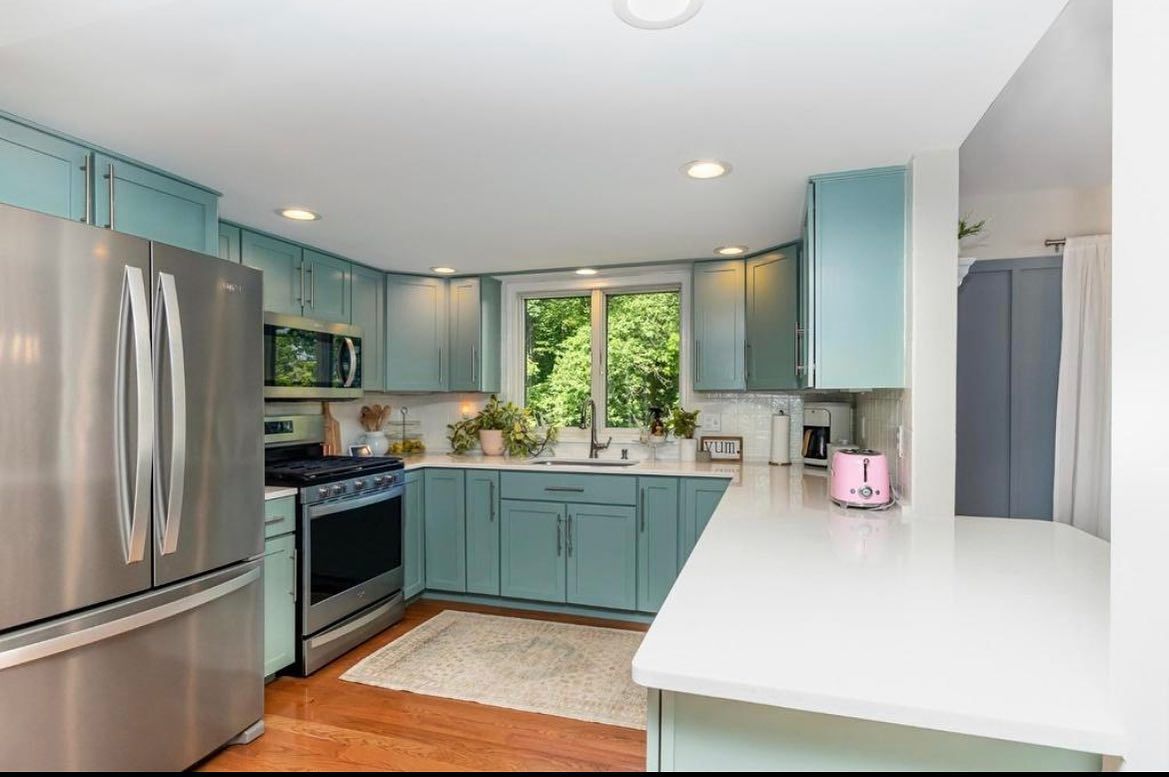 How Does Lighting Affect SW Halcyon Green?
You can say that lighting is the most crucial decider of where you use this paint color. Because Halcyon is a muted color, it usually requires a good amount of light to make it shine. Therefore, bright natural light works best. But if that is not always possible, use bright white artificial light.
This room has cold light, which may mean it faces north or there's no sunlight. As a result, Halcyon Green looks darker and colder than usual.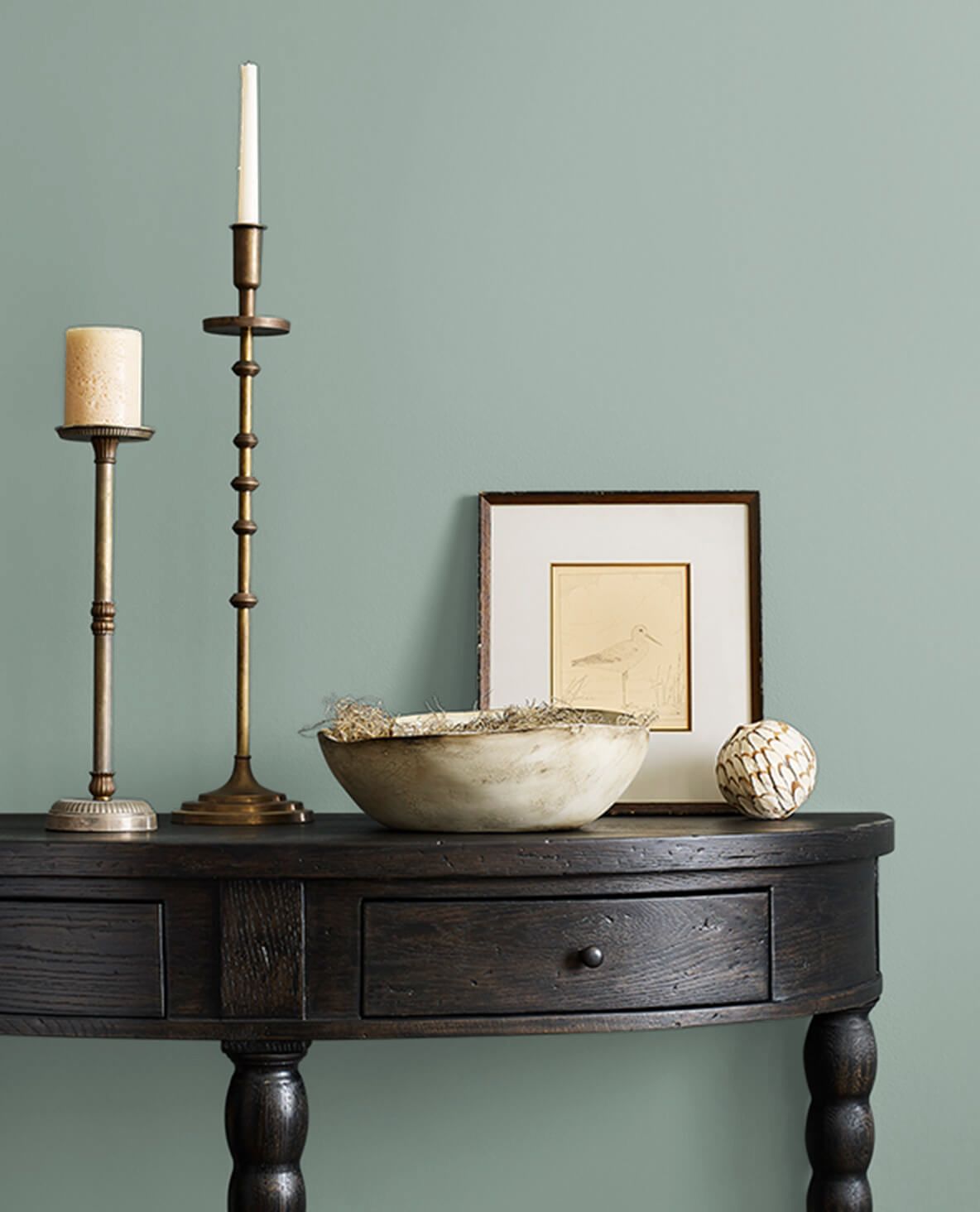 But here, the natural light is bright, turning the color to a pretty light shade: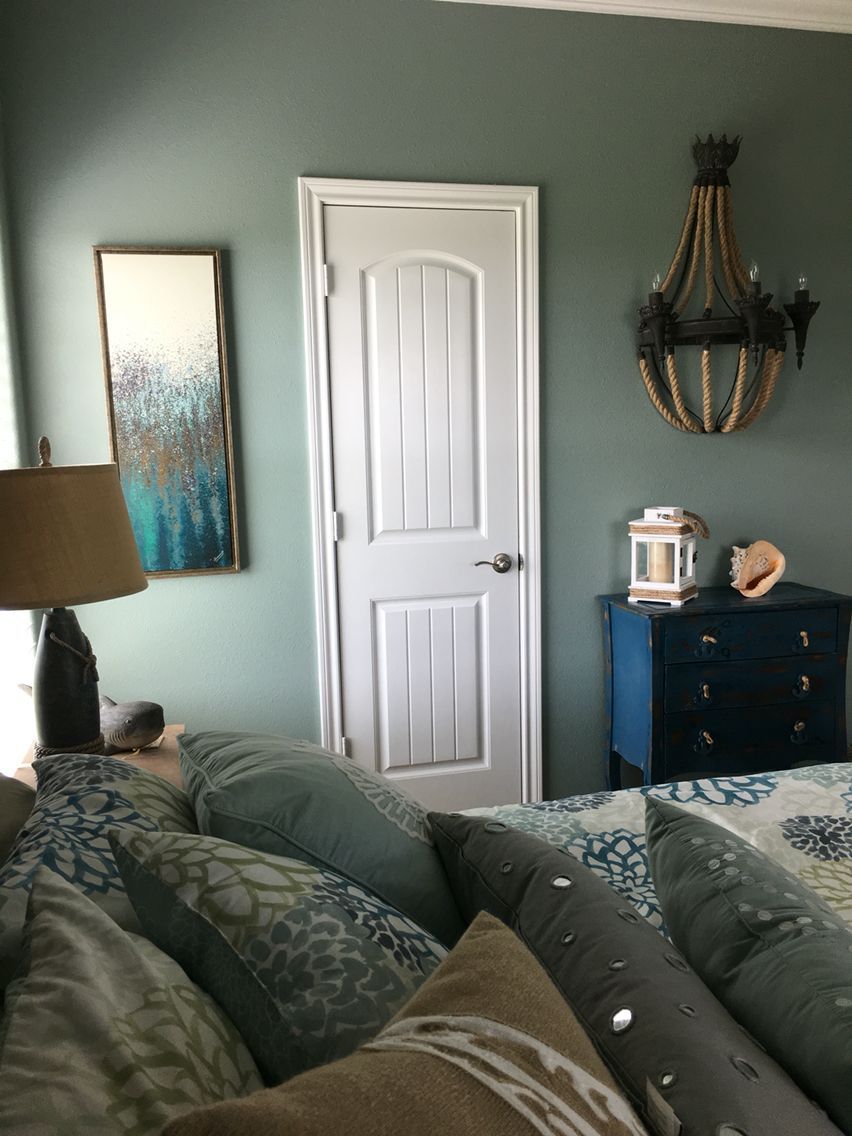 Yellow lighting can also turn Halcyon Green into a slightly warm-looking color. But I guess that is applicable to many other paint colors. It helps to keep this in mind if you know the type of light you plan to use with the paint color.
How Does Halcyon Green Feel in a Room?
It is a gentle color that makes you feel calm and peaceful. If you want to change your decor completely without creating chaos or going with the norm, Halcyon Green may be one of the best colors to use.
And since it's a gentle and cool color, Halcyon Green brings serenity. It's not highly saturated, so it may make a room look slightly bigger than usual, especially when paired with light neutrals.
Sherwin Williams Halcyon Green: Warm or Cool?
Halcyon Green is a cool color. Green is typically cool color, although you may find some warm greens if there is a bit of yellow in them. Examples include olive green and sage green.
However, this paint color has blue and gray in it, and both are cool colors. So, if a cool color that presents calmness is what you need, try Halcyon Green.
Sherwin Williams Halcyon Green Color Strip: Lighter to Darker Exploration
If you find that Halcyon Green is slightly darker or lighter than you want, no worries! I've picked colors, from light to dark, from the same strip for a wider selection. There are other similar colors that give you room to navigate.
Sherwin Williams Rainwashed SW 6211
Sherwin Williams Quietude SW 6212
Sherwin Williams Halcyon Green SW 6213
Sherwin Williams Jasper Stone SW 9133
Sherwin Williams Underseas SW 6214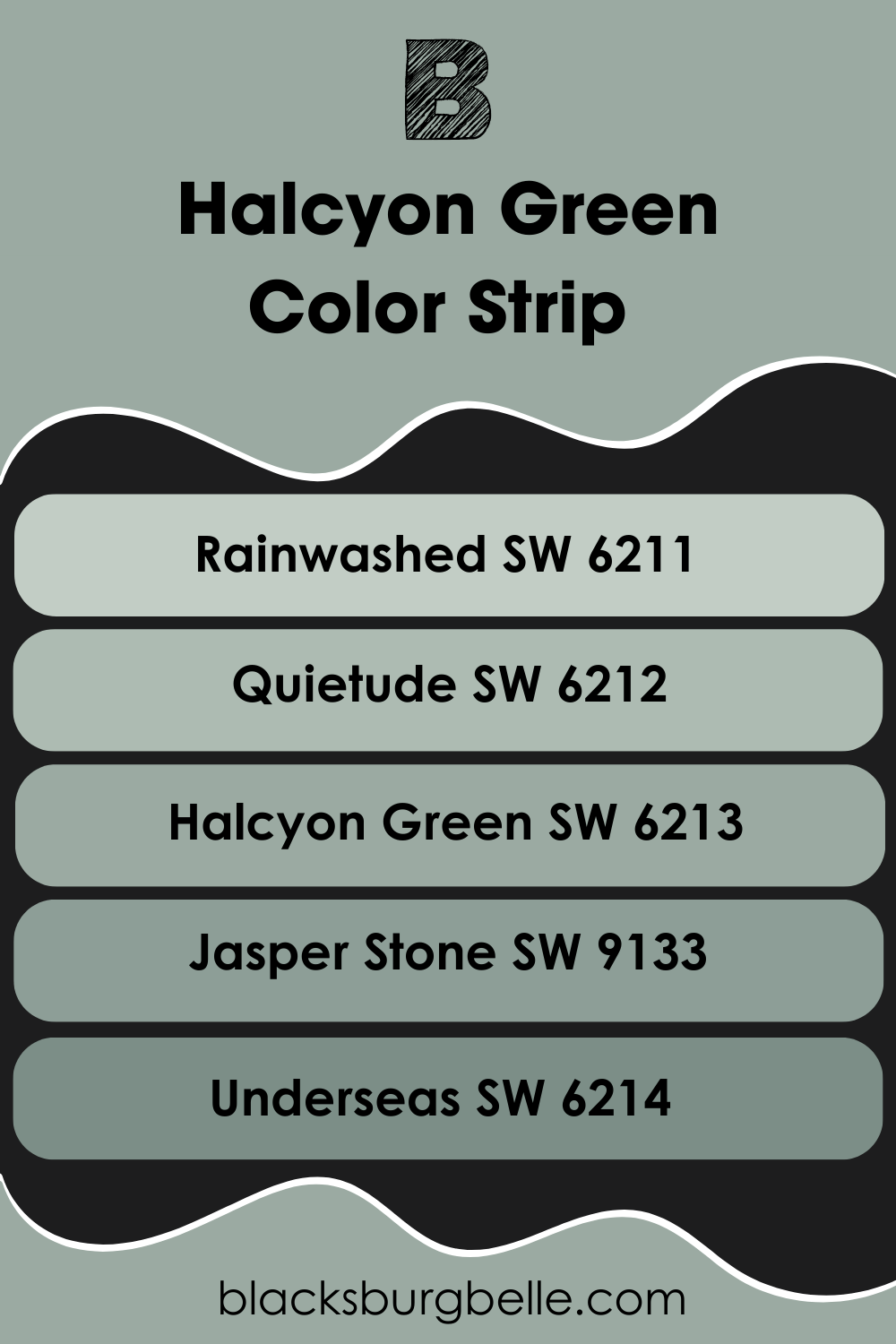 Sherwin Williams Halcyon Green Complementary Colors
If you look at a color wheel, you will see that colors appear in a circle. Interestingly, they are not randomly placed; each color faces another, and these are complementary colors. In other words, complementary colors face each other or are opposite each other on the color wheel.
Green has red as its complementary color, but in this case, it is not very obvious. For Halcyon Green, the complementary is a shade of purple with some red in it. And the best Sherwin-Williams color to match that shade is Thistle SW 6283 or Rosé SW 6290.
Sherwin Williams Halcyon Green Coordinating Colors
These colors pair harmoniously and complement superbly in a color scheme. This is because they usually have some similarities that make it easy for them to flow seamlessly when used together. They may not appear to have anything in common until you use them.
Some of the coordinating colors for Halcyon Green are Henna Shade, Kestrel White, and Window Pane.
Sherwin Williams Henna Shade SW 6326: A deep clay-like color, rich with earthiness, for a saturated color to match Halcyon Green.
Sherwin Williams Kestrel White SW 7516: A warm white whose slightly pink undertone brings out the soft beauty of Halcyon Green.
Sherwin Williams Window Pane SW 6210: A soft pastel whose blue-green hue deepens the Halcyon Green shade.
Sherwin Williams Halcyon Green Color Palettes
Apart from complementary and coordinating colors, color palettes create a useful flow of colors in your decor. They allow you to match colors and create the type of color scheme you envision. So, I'll show you three types to get you going.
Contrasting Color Palette
In the Navy SW 9178: A deep blue paint color whose cool undertones match those of Halcyon Green, although the color is different.
Extra White SW 7006: A bright white paint color with cool tones, and it can work as a trim color when the walls are done in Halcyon Green.
March Wind SW 7668: A light shade of gray that perfectly complements the gray in Halcyon Green for neutrality.
Monochromatic Color Palette
Jasper Stone SW 9133: A deeper shade of green than Halcyon Green and create make the main hue appear lighter.
Quietude SW 6212: Just one shade lighter than Halcyon Green, Quietude may be the perfect alternative if you want something brighter.
Rainwashed SW 6211: This mix of blue-green can be the trim color if you are not keen on white or other light colors.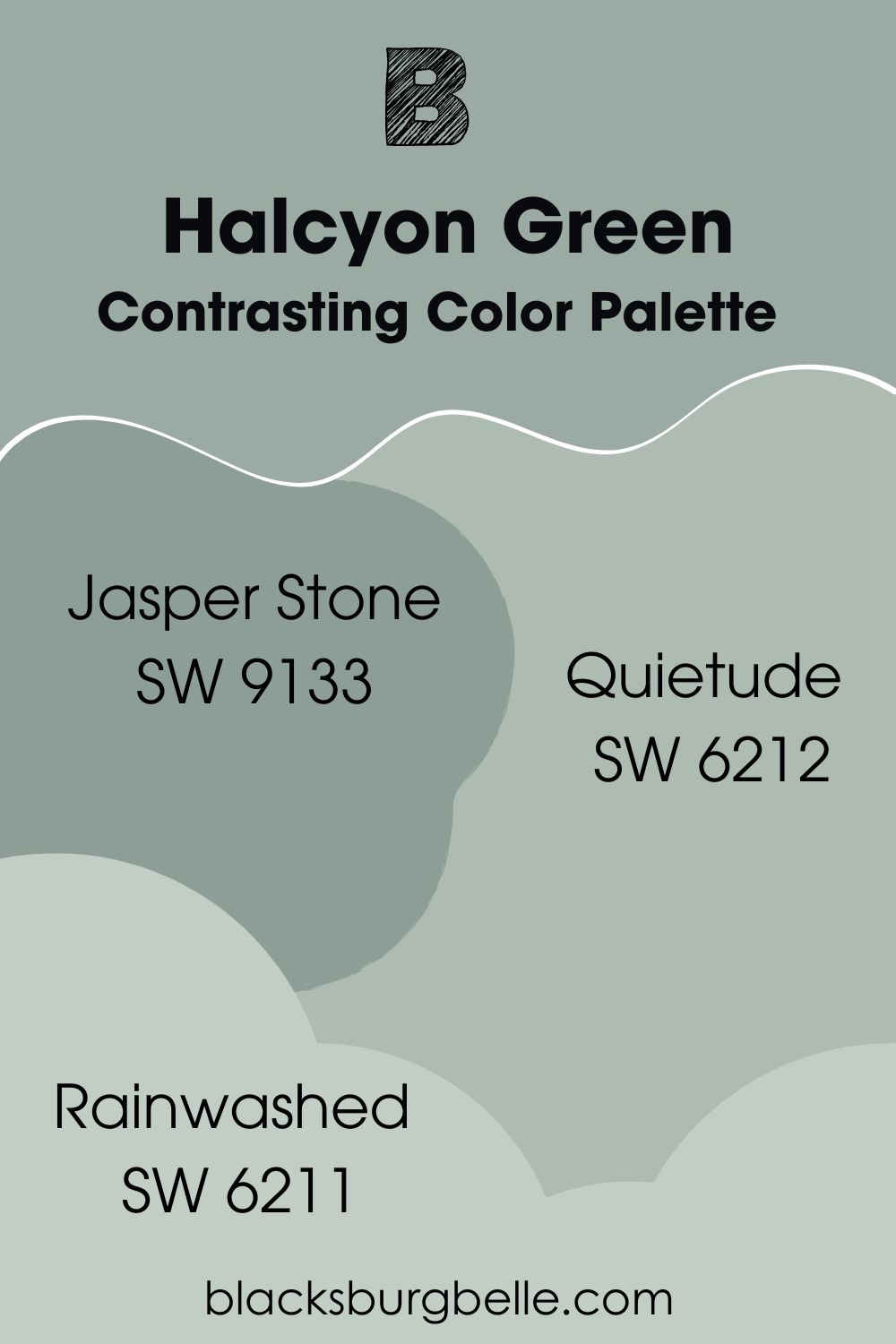 Coordinating Color Palette
Kestrel White SW 7516: Paint your walls in this warm white with pink undertones and pair it with Halcyon Green on the accent.
Row House Tan SW 7689: A medium tan paint color that brings something natural to the decor.
Window Pane SW 6210: A blue-green paint color with softens the slightly muted Halcyon Green.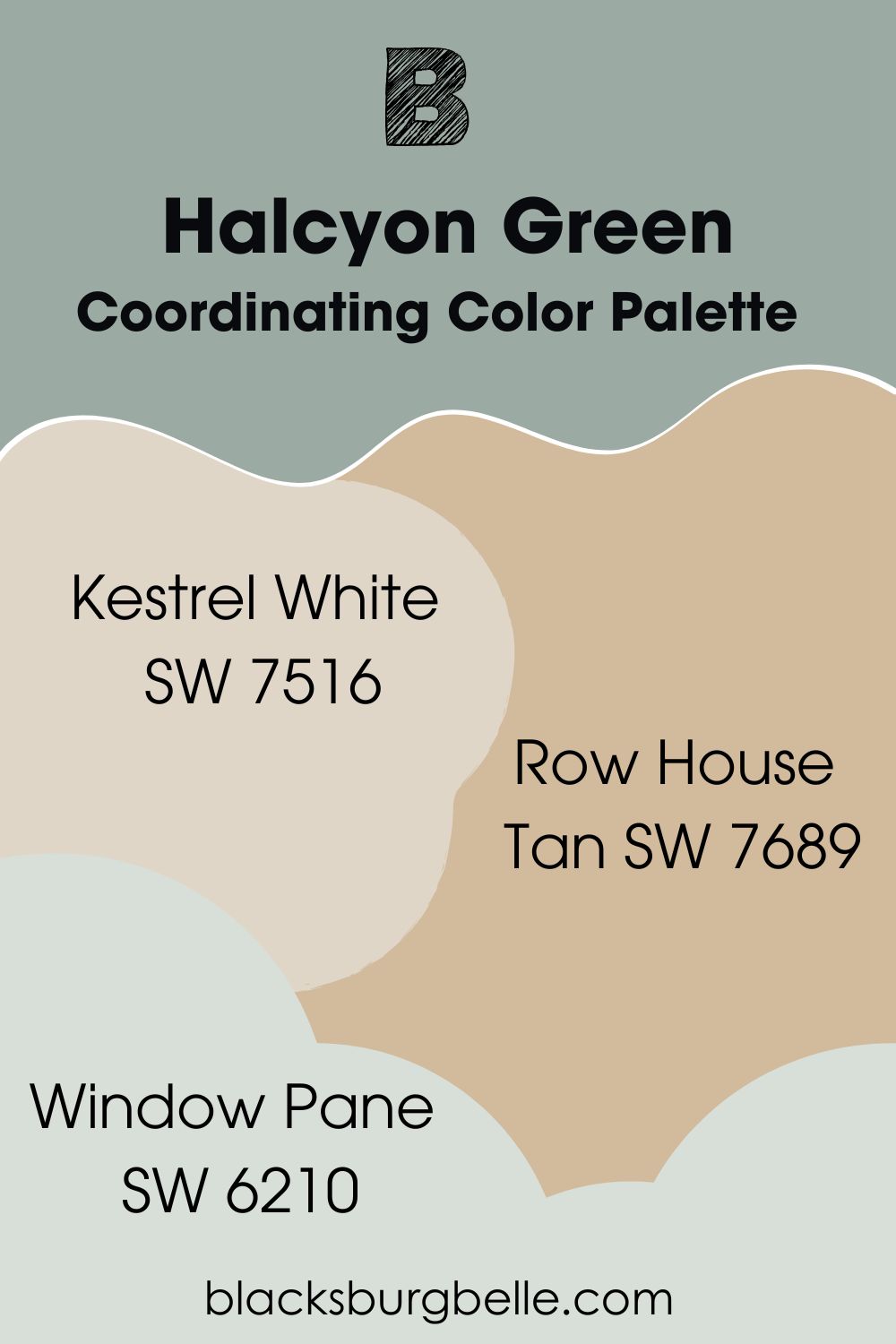 Sherwin Williams Halcyon Green vs Similar Paint Colors
Let's see how Halcyon Green compares to similar colors. Will they be close enough to act as suitable alternatives? You can decide for yourself by looking at them side by side.
BM Stratton Blue vs SW Halcyon Green
These colors are pretty similar, especially if you compare their red, green, and blue (RGB) codes. However, Stratton Blue has less gray showing through to the surface than Halcyon Green and is slightly darker.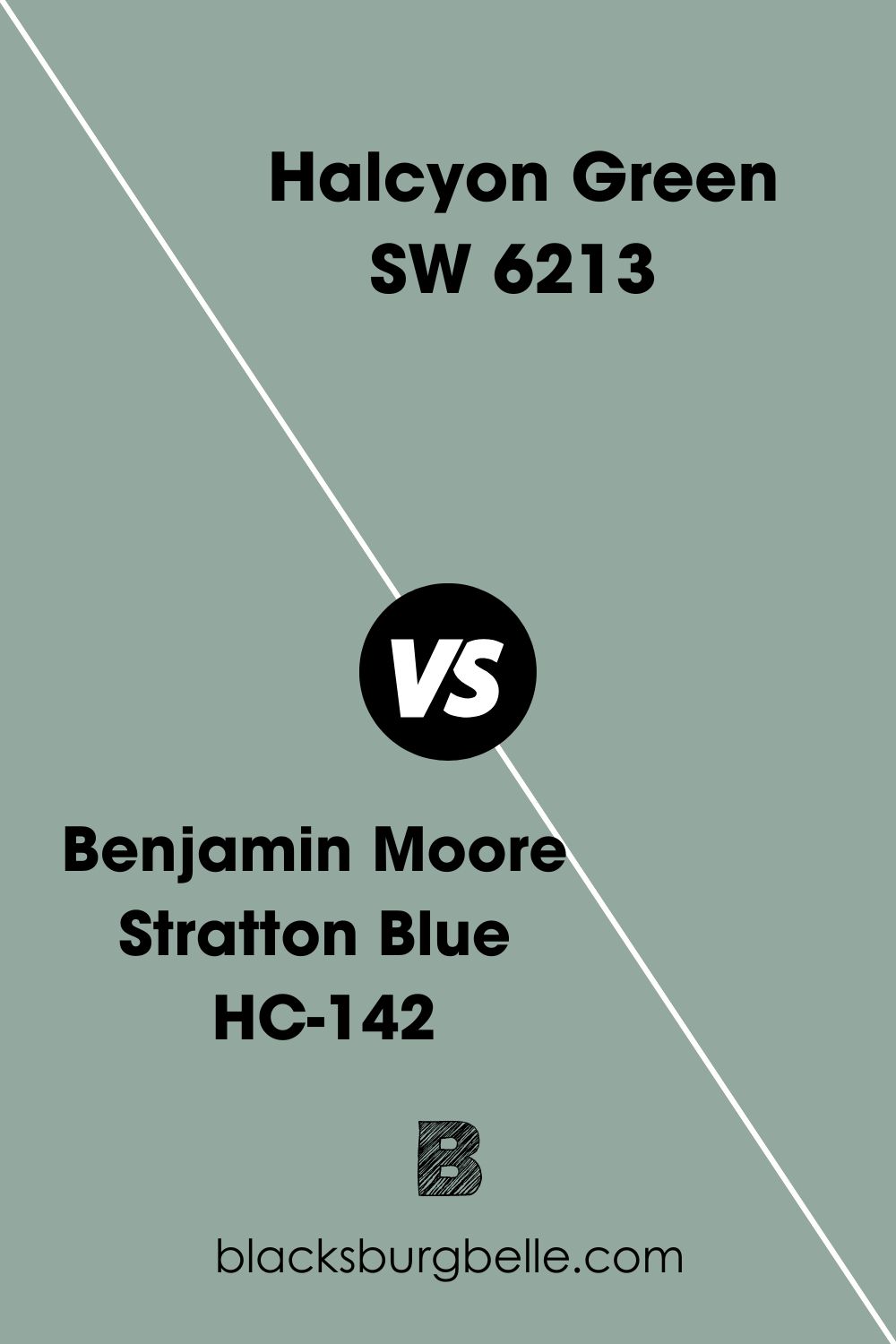 SW Jasper Stone vs SW Halcyon Green
Jasper Stone is darker than Halcyon Green, with an LRV of 32. So, it's considerably less reflective than the main color.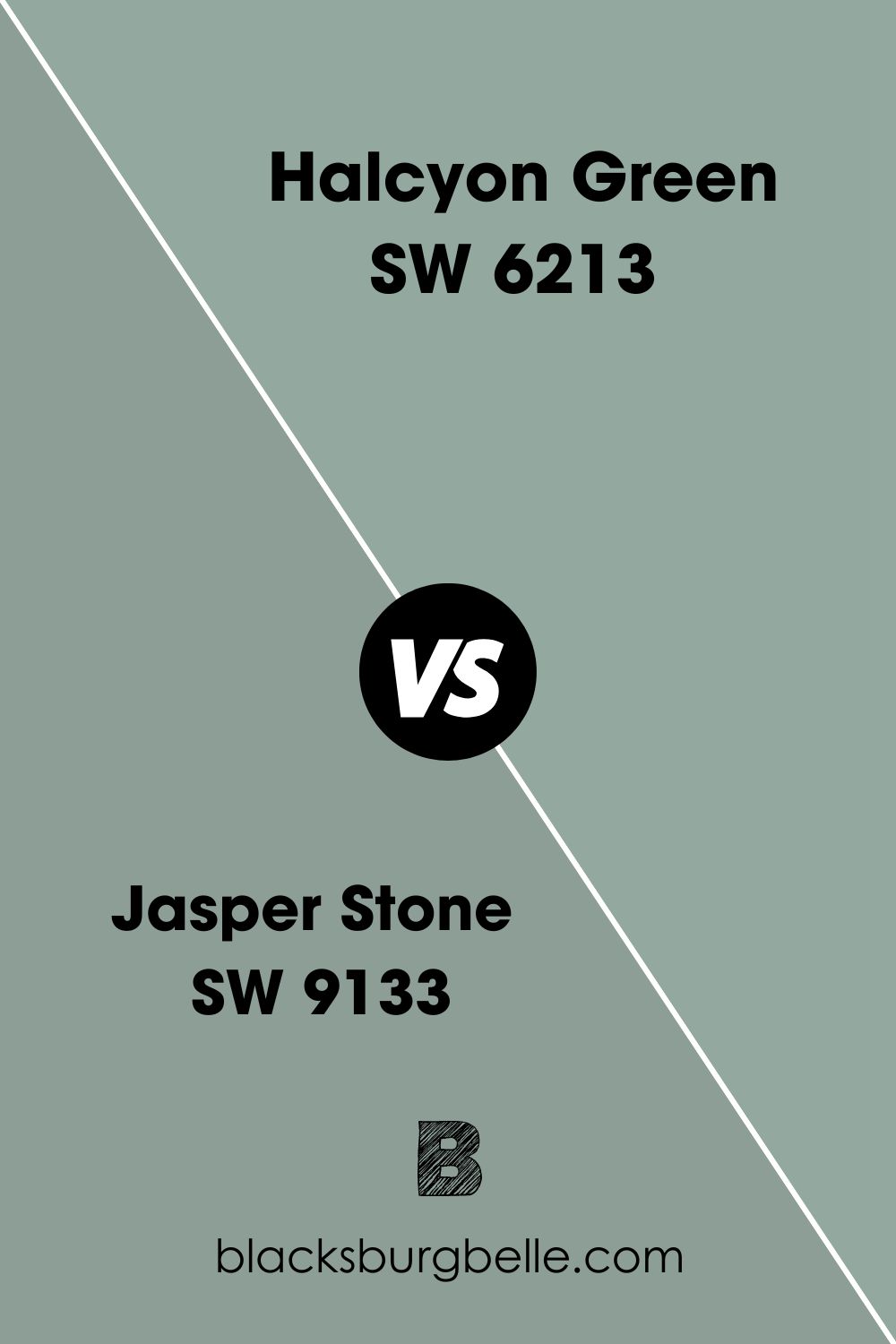 SW Quietude vs SW Halcyon Green
Quietude shows a bit of gray and is more neutral than Halcyon Green. It is also lighter than Halcyon Green with an LRV of 48.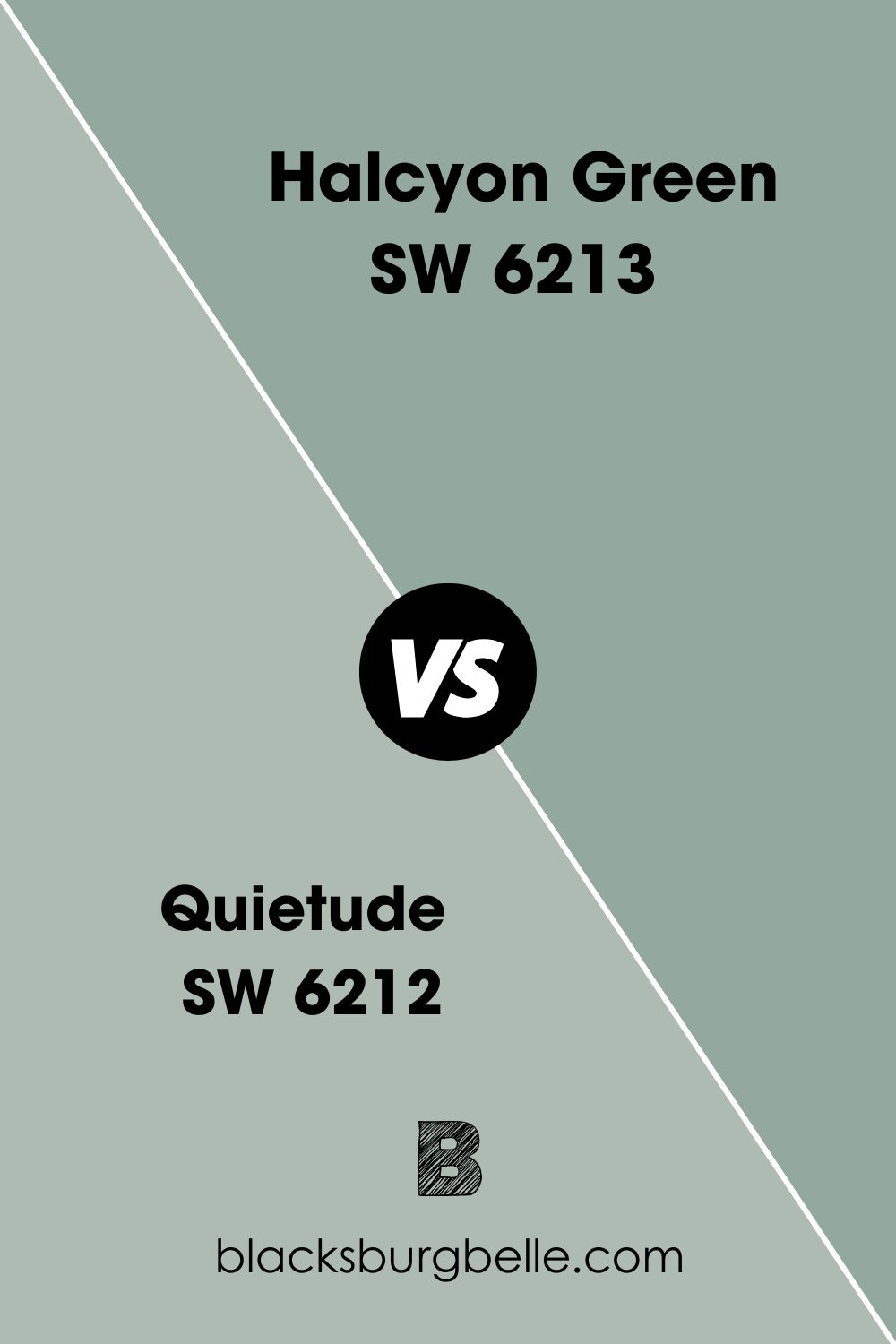 BM Castle Walls vs SW Halcyon Green
Castle Walls shows more gray and is lighter than Halcyon Green, with an LRV of over 40. However, both colors are similar in many other ways.
Benjamin Moore Paint Color Equivalent to SW Halcyon Green
You may not find an exact equivalent to Sherwin Williams Halcyon Green from Benjamin Moore's paint colors. Each paint color is unique, and all you may find are similar colors. That said, Benjamin Moore's Stratton Blue HC-142 is almost the same as Halcyon Green. You can also compare Raindance 1572 to Halcyon Green.
Where Can You Use Sherwin Williams Halcyon Green?
Your bedrooms, bathrooms, cabinets, doors, and exteriors are some of the places where Halcyon Green looks excellent. Want proof? Let's look at some real pictures.
Sherwin Williams Halcyon Green on Kitchen Cabinets
If the walls are white or light gray, Halcyon Green is one of the best cabinet colors. You can use it with white, black, or stainless steel appliances.
Sherwin Williams Halcyon Green on a Door
As mentioned, you can create something unconventional by using this paint color on your front door. But if you're not that bold, try it on interior doors.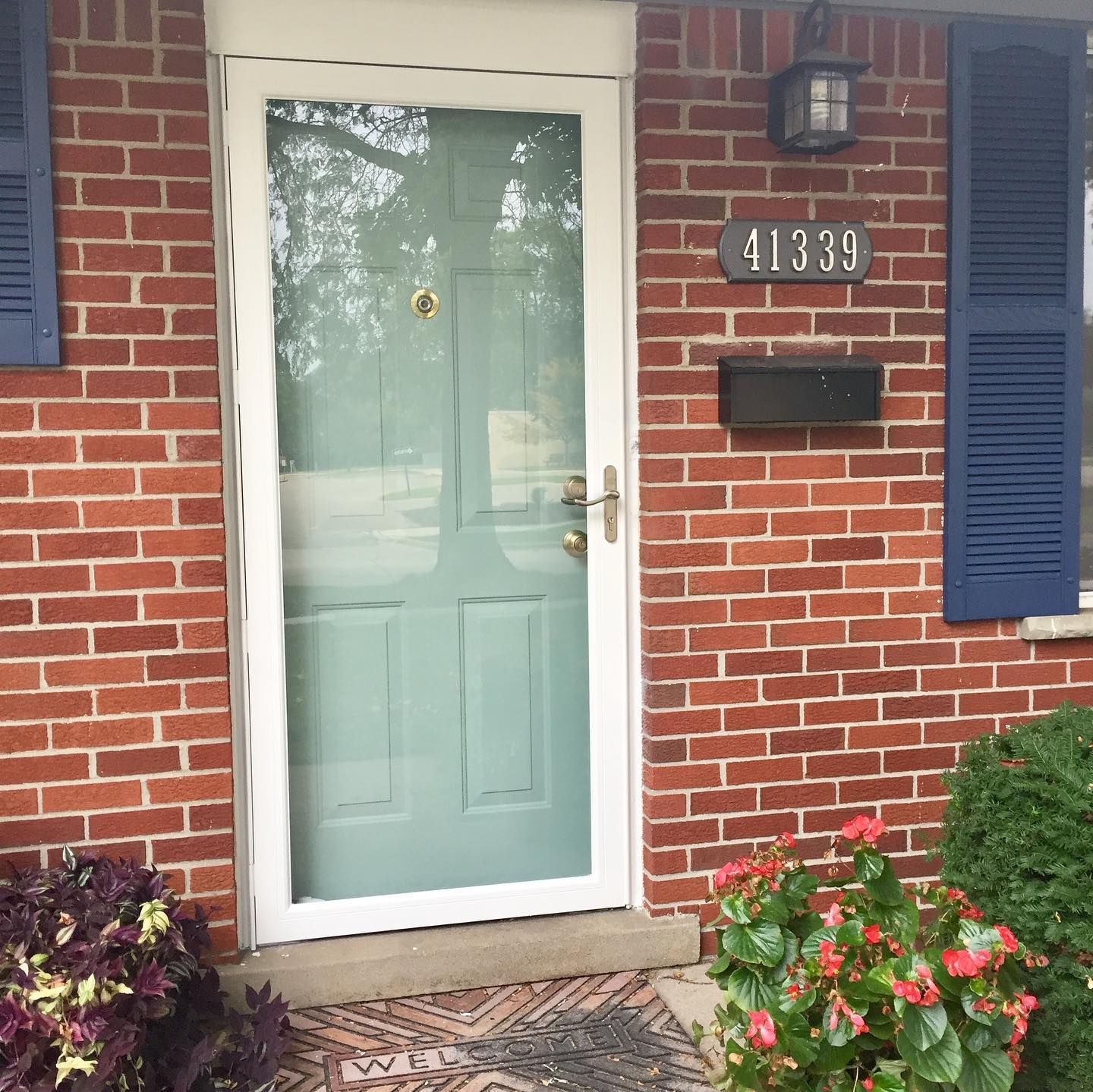 Sherwin Williams Halcyon Green in a Bedroom
If you're not open to using this paint color all over the bedroom, try it on one wall or the accent. You will be glad because of the cool and serene vibe it brings.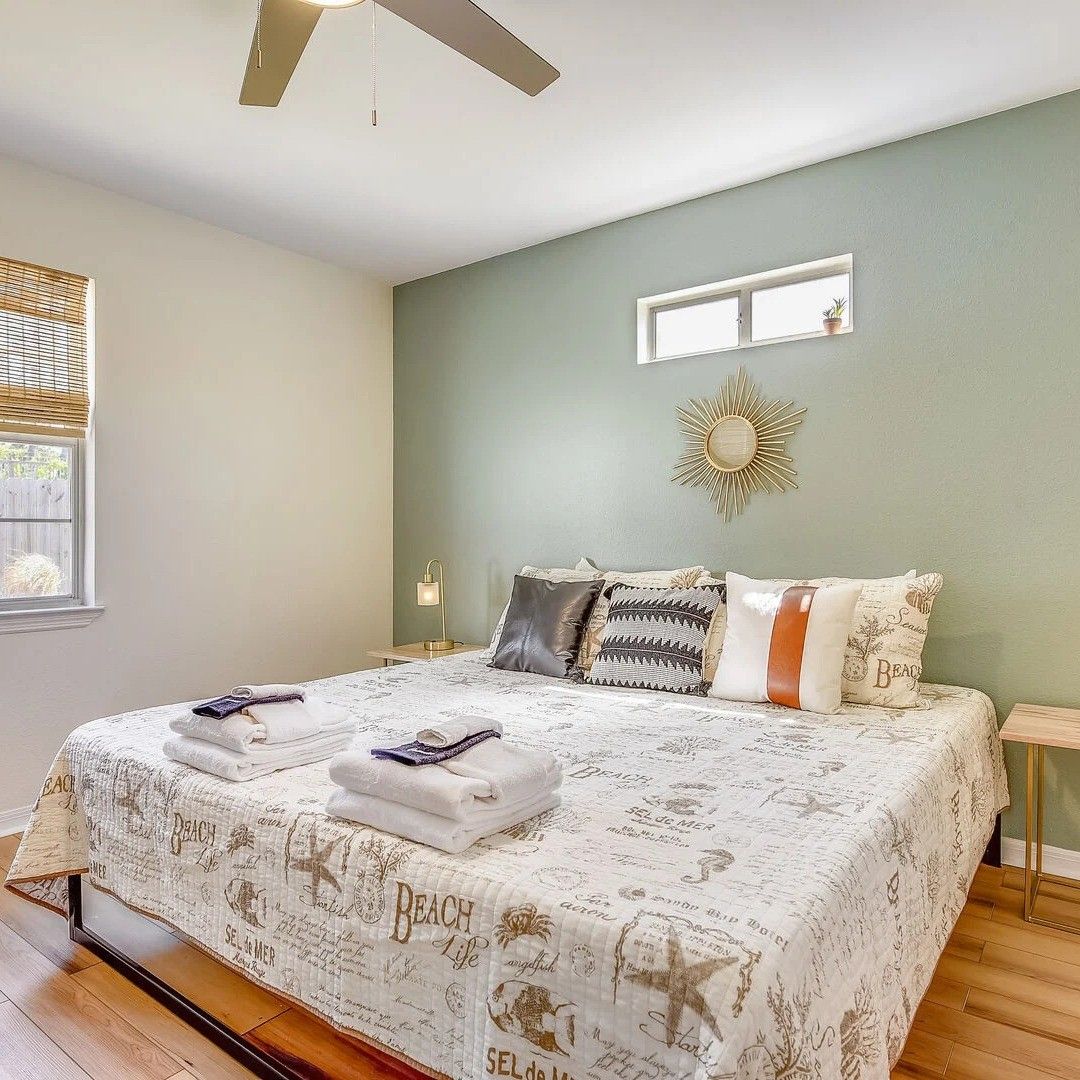 Sherwin Williams Halcyon Green in a Dining Area
Much like using it in a kitchen, you can try Halcyon Green in a dining area, especially if it's attached to the kitchen. Check out this next picture for ideas.
Best Trim Color for SW Halcyon Green Walls
White or light gray will make Halcyon Green walls pop. It is best to play it safe, especially if the room doesn't have a lot of natural light.
Best Ceiling Color for Halcyon Green Walls
Again, like the trim color, white is one of the best ceiling colors for Halcyon walls. Gray is also an option, but it may make the walls appear muted or dull in a low-lit room.
Sherwin Williams Halcyon Green in a Bathroom
With warm artificial light, Halcyon Green looks slightly warm and inviting. It doesn't appear dull or muted, which is good if you plan to use it in a similar manner.
Sherwin Williams Halcyon Green with Various Colors
Halcyon Green is a laid-back color that easily complements other colors. So, how does it perform against them? Here is an example in the next picture.
Source: https://www.mydomaine.com/calming-colors-5072537
Sherwin Williams Halcyon Green in a Living Room
The accent wall in your living room can beautifully showcase Halcyon Green and be a conversation starter.
Source: https://www.houzz.com/photos/query/sherwin-williams-halcyon-green
Sherwin Williams Halcyon Green on Exterior
Sherwin Williams makes this paint color for interiors and exteriors. Although it is not the usual color, you will find it's great when you use it with light wood tones or white.
Conclusion
Sherwin Williams Halcyon Green is a muted green paint color with blue and gray undertones. With an LRV of 39, this paint color is mid-toned, so it doesn't reflect a lot of light. You need to use it where there is an abundance of light, whether artificial or natural.
Use this guide to create a suitable color palette. You will need it with this unique color. I've unpacked everything you need to know about Halcyon Green, but if you have questions, don't hesitate to reach me in the comments section.
I know you can't wait to see the results of this color. But ensure you use samples on different walls and under different lighting to know how it performs. Get creative with your decor and don't hold back.