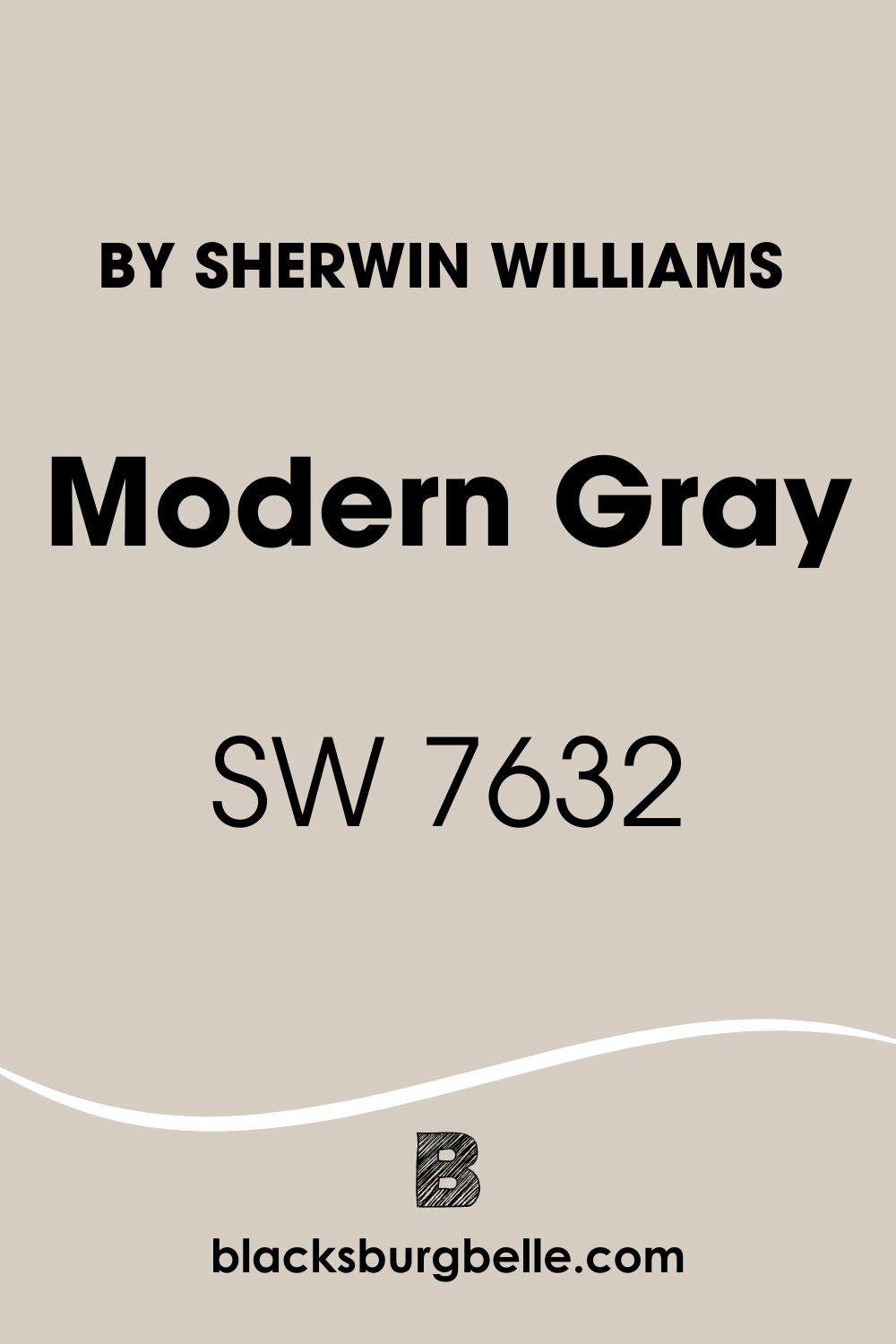 Are you undecided on Sherwin Williams Modern Gray SW 7632 as a great light gray paint color? It is not strange that you want to know how this paint color performs because it's not as popular as a few others.
However, you may have hit the jackpot if you know how to pair it with other colors. So, why should you pick Modern Gray over other similar grays? The question should be why shouldn't you?
There's a reason this particular paint color made it to the top of your list, and I'm here to help you seal the deal on this choice. Don't go anywhere as we explore every aspect of SW Modern Gray to see how well it works.
When to Choose Sherwin Williams Modern Gray
If you have light gray paint colors similar to Modern Gray and are torn between choices, this section can help you choose. I know how alike these paint colors can look, and knowing which to choose can be a challenge.
Need trendy coziness?
Modern Gray is a medium gray with enough brightness and freshness to make a room look trendy since neutrals are in vogue. At the same time, it has some warmth that keeps the room cozy.
Issues with lighting?
This paint color looks taupe – pink-purple under the gray – when a room has a lot of lighting. That means the gray may look off-color if direct sunlight hits it. If you don't mind this appearance, Modern Gray performs excellently. In cooler or low light, the paint color looks neutral, which may work better for your decor.
Looking for a soft backdrop?
Neutrals make the best backdrop for any setting, especially light neutrals. Modern Gray is one of those light grays that make an ideal backdrop because of how much it mimics a perfect neutral paint color.
Thinking of a new kitchen look?
Your kitchen can look and feel new with just another paint color. You can change the paint color on the cabinets, and the vibe in the kitchen will change. If you are not keen on white or a bold color, try Modern Gray because of its softness and warmth.
Gray paint colors don't have to be boring, as you'll see with this option. Come along because there's more to explore with Modern Gray to draw inspiration.
What Color Is Modern Gray?
In nature, most gray colors we are accustomed to are bland and without beauty. In fact, we usually describe despondence and a lack of color or life with the color gray. However, if we pay close attention, we'd discover that there are different shades of gray, and not all of them are bland.
Again, paint manufacturers like Sherwin-Williams tend to create shades of popular colors to show that they don't have to be boring. And Modern Gray is one such color. The name alone is a testament that it is a shift away from the old understanding of the color gray.
Modern Gray SW 7632 is a medium-toned gray paint color with soft warm undertones. Like many other colors, it can change its hues, depending on the lighting conditions and elements around it. However, this paint color performs exceptionally well in many settings, which is why it's quickly gaining popularity.
A Snapshot of Sherwin Williams Modern Gray Specifications
Paint colors typically have certain attributes that set them apart from others. While some may appear similar, an understanding of these attributes or characteristics will help you decide whether it is the right choice for you.
| | |
| --- | --- |
| | Sherwin Williams Modern Gray |
| RGB | 214, 206, 195 |
| LRV | 62 |
| Undertone | Pink-purple |
| HEX Code | #D6CEC3 |
Sherwin Williams Modern Gray: Understanding the LRV
It may seem foreign, but LRV simply means the light reflectance value of color. It indicates, on a scale of 0 to 100, how much light any color reflects. Pure black typically has an LRV of 0, while pure white has an LRV of 100. In other words, the higher the LRV, the brighter the color.
However, paint colors don't have pure blacks or true whites. As a result, the LRV scale is 2.5 to 94. It helps to understand better how bright or how much light any paint color of choice is or reflects.
Modern Gray has an LRV of 62. Since the middle point of the scale is 50, this value surpasses it and indicates that this gray is relatively bright. It performs well in a room with low light but not excessively so. It is slightly muted compared to some other colors.
Sherwin Williams Modern Gray: Explaining the Undertones
What are the undertones of paint color? These refer to the hues that underlie the main color on the surface. They may be the base colors on which the paint color is built. They may also result from the red, green, and blue (RGB) colors used to make the paint – every color has a specific amount of these primary colors.
Modern Gray has slightly pink undertones that may sometimes read purple. The undertones may also show a bit of green, depending on the lighting and other factors like the color scheme. These undertones explain the warmth you feel from the paint color.
Here is a picture of Modern Gray as it usually appears without any visible undertones:
Now, here is another picture of the paint color showing hints of pink that also looks a bit purple:
These undertones can deepen and become more obvious with different lighting conditions. This is just to help you understand how much color Modern Gray can show in a space.
How Much Does Lighting Affect It?
Lighting is the biggest determinant of how this paint color appears. It tends to look different with various lighting conditions. In a room with low light or lots of shadows, Modern Gray may look neutral and without visible undertones. Or it may appear to have more pink purple in it than you want.
This is Modern Gray looking more light tan or dark beige than light gray:
And here is the same paint showing just a wink of green under bright artificial lighting:
In a different setting and under the same bright artificial lighting conditions, this paint color can look totally different. Can you believe it is the same Modern Gray paint color in this living room? It looks almost off-white:
Because of the bright light, you can see a little pink in the paint color. But in this next picture, Modern Gray looks neutral, without a wink of color except for gray:
That's how much Modern Gray can change with lighting. You may also notice this with other paint colors.
How Does Modern Gray Feel in a Room?
It is a soft gray paint color that brings warmth and coziness into any room. Although it can look gray and neutral in low light, it doesn't exactly become cool or crisp. In other words, it retains some of its warmth. Also, Modern Gray can have a balanced feel, making it work with even cool color schemes.
Sherwin Williams Modern Gray: Warm or Cool?
Modern Gray is a warm gray paint color. Its warmth derives from the pink undertones and the hint of green that shows through sometimes. The paint color can also show some neutral tones, balancing between warm and cool to fit any space.
And because of this promise of neutrality, Modern Gray is becoming a go-to color for interior designers that want something different from the norm. Keep your space simple yet classy with this gray paint color.
Sherwin Williams Modern Gray Color Strip: Lighter to Darker Exploration
Modern Gray may not exactly meet your demands for a gray paint color. If you want a shade that is slightly darker than this option, I've picked a few for you to test and take it from there.
Sherwin Williams City Loft SW 7631
Sherwin Williams Modern Gray SW 7632
Sherwin Williams Colonnade Gray SW 7641
Sherwin Williams Skyline Steel SW 1015
Sherwin Williams Pussywillow SW 7643
Sherwin Williams Modern Gray Complementary Colors
Every color has a complementary, and you can easily identify it by checking the color wheel. Complementary colors sit opposite each other on the color wheel.
They typically cancel each other to produce a grayscale color when mixed and don't usually match at face value. Examples include red and green, blue and orange, and purple and yellow.
The complementary color for Modern Gray is a light shade of cyan blue. And the best color to match it from Sherwin Williams is Icy SW 6534. Benjamin Moore's Angel's Wings 1423 is also a shade similar to this complementary color.
Sherwin Williams Modern Gray Coordinating Colors
Many paint colors are designed to work alone. However, you may not see their true beauty until you use coordinating colors. These are colors that pair well with each other in any given color scheme.
This is because there are some similarities between them, making it easy to create a seamless flow with the colors. They may not immediately look like it, but some of the best-coordinating colors for Modern Gray are Plum Dandy, Taupe Tone, and Snowbound.
Sherwin Williams Plum Dandy SW 6284: This is a plum shade of purple with depth and color to make the decor look striking.
Sherwin Williams Taupe Tone SW 7633: Balanced between beige and gray, Taupe Tone is the perfect shade to complement Modern Gray.
Sherwin Williams Snowbound SW 7004: A beautiful white paint color that needs no introduction but works well as trim color for Modern Gray.
Sherwin Williams Modern Gray Color Palettes
I explained how colors can make each other work if you know how to pair them. However, colors can also make or mar each other. This is where color palettes come into the picture. They allow you to pair colors with the same tone and other similarities.
Monochromatic Color Palette
City Loft SW 7631: This is a lighter shade of Modern Gray with a noticeably higher LRV and softens any space.
Taupe Tone SW 7633: A darker shade of Modern Gray that brings depth and a difference to the decor.
Tony Taupe SW 7038: You can add this to a monochromatic color palette as a middle buffer and create a balance between the dark Taupe Tone and lighter Modern Gray.
Coordinating Color Palette
Snowbound SW 7004: A cool white paint color whose gray undertone blends well with the Modern Gray shade.
Insightful Rose SW 6023: This dusty rose shade is a soft pastel that brings some versatility to the decor and complements the pink undertone of Modern Gray.
Moth Wing SW 9174: A mid-beige paint color with a gray hint that makes it perfect for Modern Gray.
Contrasting Color Palette
Breathless SW 6022: A blush paint color with cool violet undertones that bring a difference and a certain softness to the decor.
High Reflective White SW 7757: One of the brightest shades of white on the market to contrast the slightly muted shade of Modern Gray.
Accessible Beige SW 7036: A beautiful shade between gray and beige that makes Modern Gray appear softer than usual.
Sherwin Williams Modern Gray vs Similar Paint Colors
As mentioned, there are other paint colors that are alike to Modern Gray. But just how alike are they? I want to compare this paint color to others like it and see what happens.
SW Modern Gray vs SW Agreeable Gray
Modern Gray is slightly warmer and brighter than Agreeable Gray. Also, the undertones are different; Agreeable Gray has gray-green undertones, while Modern Gray has pink-purple ones.
SW Modern Gray vs SW Accessible Beige
Modern Gray is brighter with an LRV of 62 against Accessible Beige's LRV of 58. Moreover, Accessible Beige appears warmer with its undertones of green and brown.
SW Modern Gray vs BM Edgecomb Gray
The primary difference is in the undertones, although Edgecomb Gray is lighter than Modern Gray. Edgecomb Gray has slightly green-brown undertones, which make it appear warmer than Modern Gray.
SW Modern Gray vs SW Repose Gray
Modern Gray is a little warmer and shows more color than Repose Gray. However, these two colors are pretty similar, although their undertones are not the same.
SW Modern Gray vs SW Popular Gray
Modern Gray has a slightly higher LRV of 62 than that of Popular Gray at 61. Apart from this, both colors look almost the same.
SW Modern Gray vs SW Gossamer Veil
Both paint colors have the same LRV of 62. But Gossamer Veil has obvious green undertones and appears more beige than Modern Gray.
What Trim Color Goes with SW Modern Gray?
White is the best trim color for Modern Gray, although you can get creative or adventurous with colors. If you opt to go with white, choose SW Pure White or SW High Reflective White for the trim.
Benjamin Moore Paint Color Equivalent to SW Modern Gray
No two paint colors are the same, regardless of how many similarities they have. That is why you cannot find any specific equivalent for any paint color, including Modern Gray.
However, you can find a color that is really close to Modern Gray. The Benjamin Moore paint color that is most similar to SW Modern Gray is Edgecomb Gray HC-173. Although the Benjamin Moore paint color is lighter, both colors are pretty similar and perform well in a space.
Where Can You Use Sherwin Williams Modern Gray?
This paint color works in almost any space. It depends on your style and preference. Also, consider the lighting conditions if you're not a fan of the undertones.
Sherwin Williams Modern Gray on Kitchen Walls
Your first thought is that Modern Gray would look better on the cabinets in a kitchen. But you would be surprised at how well it performs on the wall if the cabinets are white. In this picture, the kitchen walls are Modern Gray, while the cabinets are Snowbound.
What Trim Color Goes with SW Modern Gray Walls?
If you opt for Modern Gray walls, Pure White or High Reflective White are some of the best white paint colors for the trim. Their undertones don't clash with those of Modern Gray, and this keeps the colors flowing seamlessly.
What Ceiling Color Goes with SW Modern Gray Walls?
Again, white is the best color because of the shade of gray. However, you can always be brave and try a bold color or something unconventional, as long as it doesn't clash with the wall color.
Best Trim Color for SW Modern Gray Exterior Walls
Black or white is ideal for the exterior trim because of the abundance of natural light but this next picture is a beautiful combination of Modern Gray and white trim color on the exterior.
Sherwin Williams Modern Gray in Bathrooms
Gray is one of the best paint colors to use as the central hue in a bathroom. It has the neutrality of white without losing all its color. This bathroom is a perfect example.
Sherwin Williams Modern Gray on Cabinets
Modern Gray is a great color for cabinets, whether in the kitchen, laundry room, or any other room.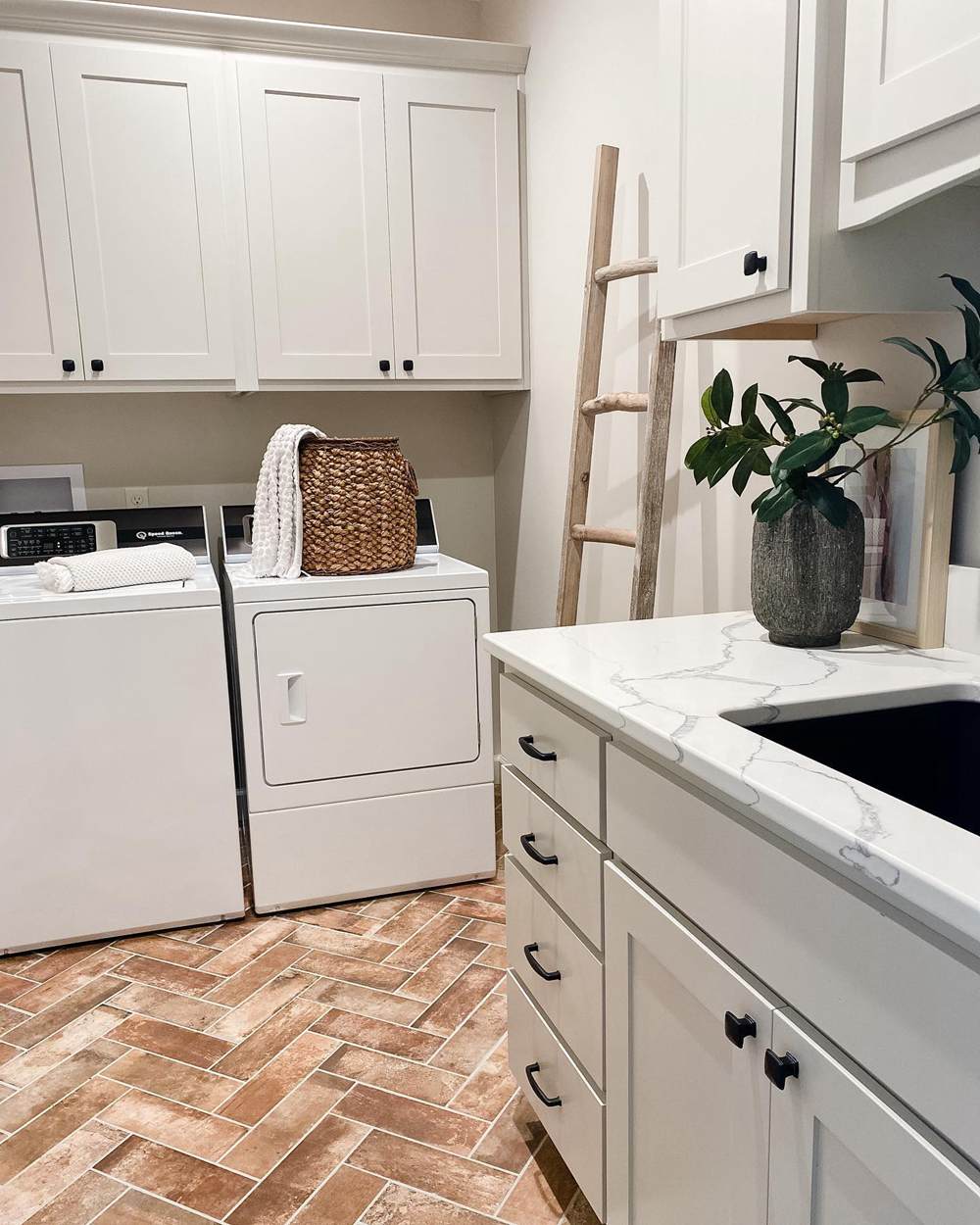 Sherwin Williams Modern Gray in Living Rooms
Keep your living room cool, coordinated, and sophisticated with this light gray paint color. It pairs well with other neutrals, especially white and black.
Sherwin Williams Modern Gray in Bedrooms
Instead of white, you can use a light gray paint color in your bedroom to keep it cool, calm, serene, and welcoming. As a warm gray, it turns the room into a haven.
Sherwin Williams Modern Gray in Dining Areas
If your family room opens up to a dining area, using this paint color can create a beautiful flow of color. But it can also work as the right paint color for a separate dining area.
Sherwin Williams Modern Gray on Vanity
Apart from using this paint color on the walls, your vanity can also enjoy its beauty. If you use white on the walls, Modern Gray will look great on the vanity.
Conclusion
If you want to be practical with your decor while maintaining beauty and elegance, try Sherwin Williams Modern Gray. It is light, soft, relatively bright, and shows a bit of color. It can also show a neutral face when used in low light, which makes it work well with other colors.
With an LRV of 62, you are sure it doesn't appear dull or boring. And with pink undertones that sometimes read purple, Modern Gray spices up a space. You can use it anywhere, whether it is inside or outside the house. White is the best trim color for Modern Gray if you want to make the gray color pop.
Ready to get going and make the best of this color? I'm rooting for you to create an excellent color palette and bring out the true beauty of SW Modern Gray. Let me know your experience and thoughts in the comments section.