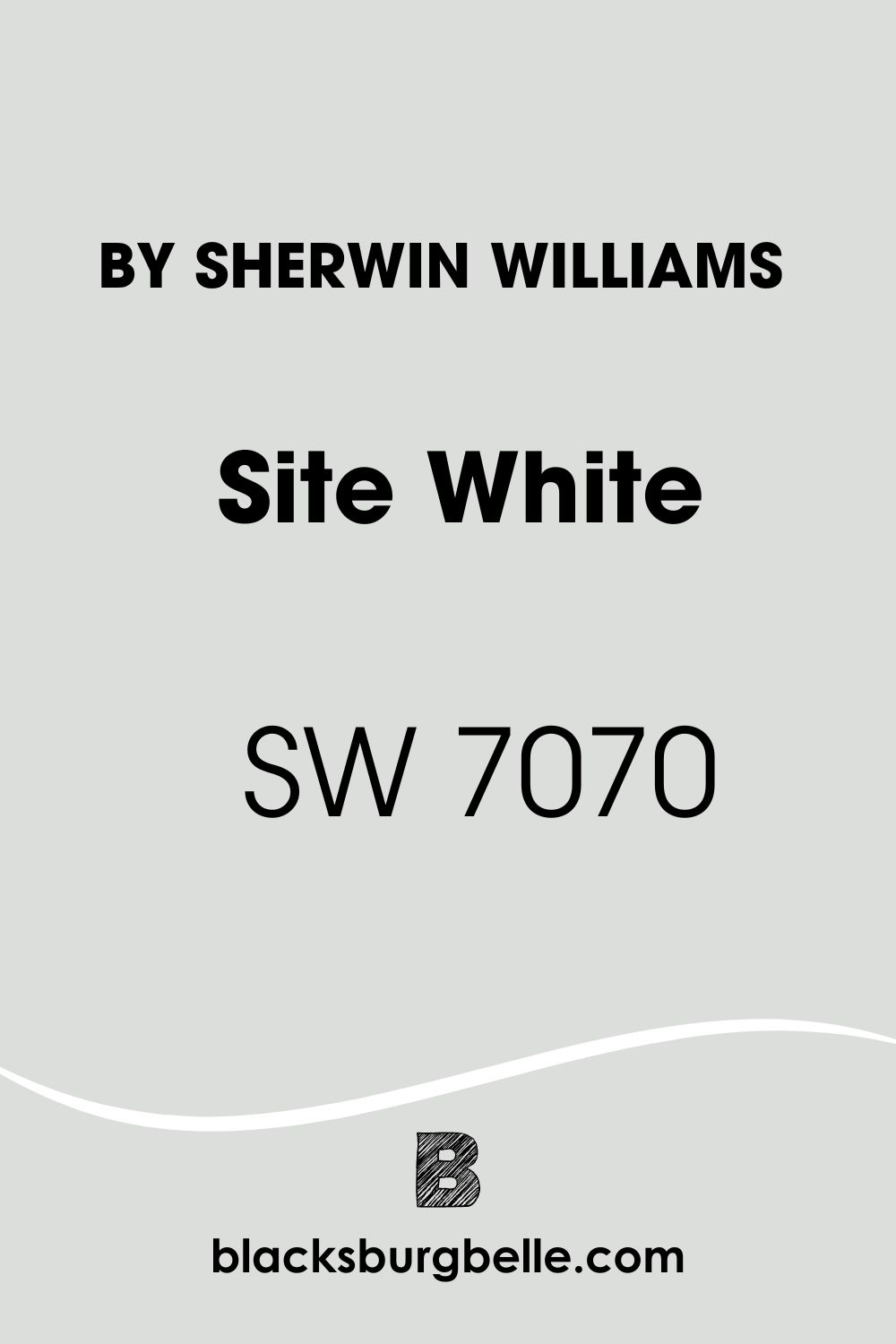 The category is gray, and I'll introduce you to Sherwin Williams Site White- a phenomenal light gray that works well in an array of spaces and leaves a cool trail in the process.
While it's relatively popular to many, I must bring unsung paint color heroes like the Site White paint to you and, most importantly, dissect every piece of information on this color and how to make it work in your space with the help of real-life pictures.
Experience is the best teacher, and with that being said, let's dive into the day's contents.
When to Choose Site White (SW 7070)?
A lot of confusion comes with working on a clean slate, whether in your new home or office. You need to be sure about your reasons for choosing a particular shade; anything less than sure may negatively affect the entire outcome of your redecoration or new project.
However, I also understand how dicey the situation may be for newcomers, so I'll walk you through situations where Site White is the best choice for your home.
Do you Love a Cool Light Gray?
Sherwin Williams Site White is filled to the brim with iciness and interprets this directly in your space too. If this is your vibe, then you should absolutely consider using this color.
Do you Love the Ocean?
Yes, the blue undertones in Site White instantly bring a coastal vibe to your space. If you don't mind this, then the world is your oyster.
You Don't Mind Blue Undertones in Your Space?
The blue undertones in Site White are not subtle and may be all in your face under some lighting conditions. If this is a commitment you're willing to make, then Site White is the one for you.
Do you Want a Versatile Neutral?
Because this color can also pass a bright white color when completely washed out or used at a certain degree/percentage, this makes it easier to pair with more colors.
Even when used alongside more darker grays, it may settle in the background and pass for a neutral.
What Color Is Sherwin Williams Site White?
Site White is not your regular gray. This reminds you of early mornings by the seaside before the fog clears off. It's an excellent color for indoors and outdoors as it can lean backward and accommodate vibrant and darker colors.
Light grays are also chameleonic in nature, and as much as they have their own traditional undertones, they can also mirror surrounding elements, so if you use this in a space with lots of greens and reds, you may see hints of them in your Site White.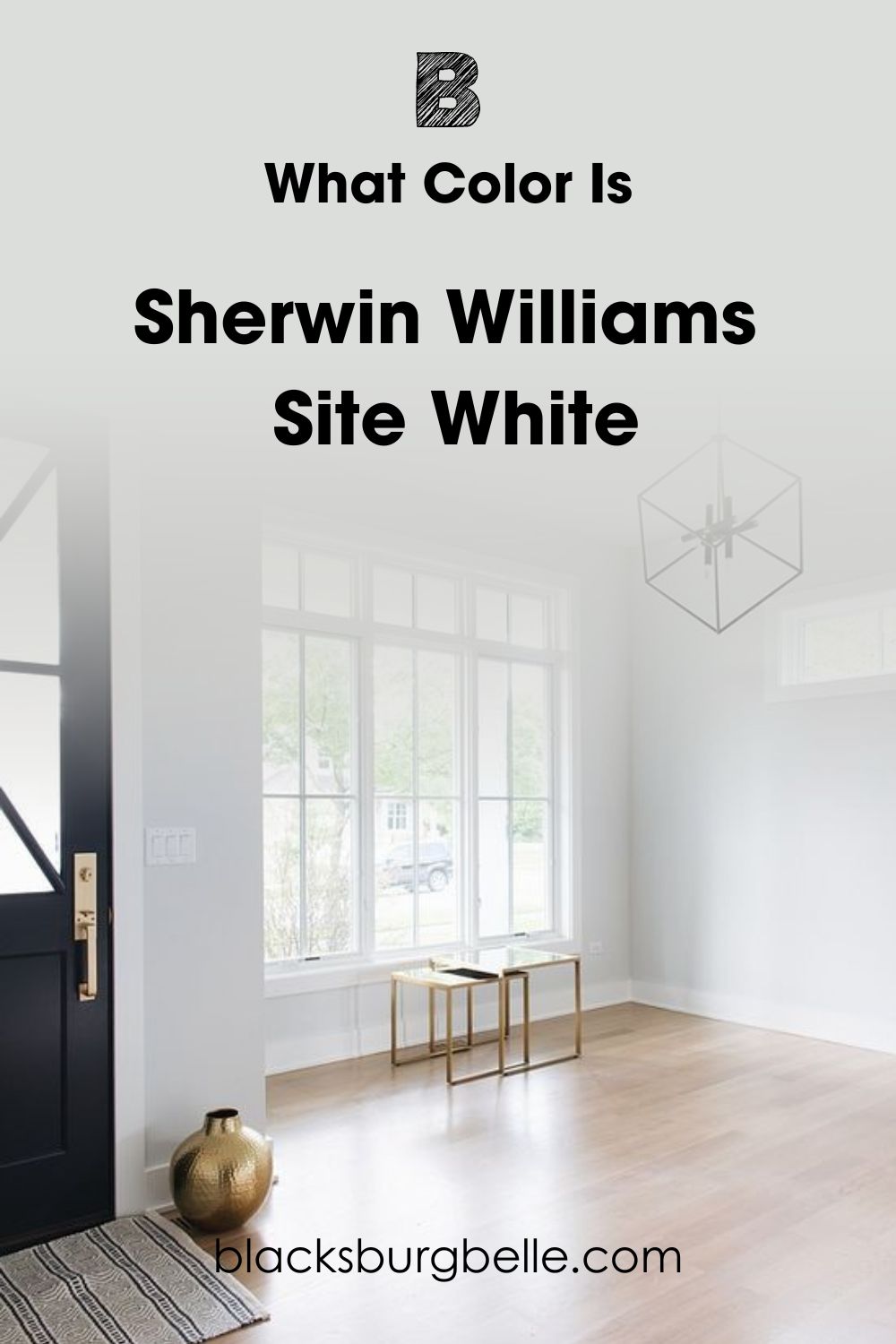 This color introduces a unique, new and very fresh touch to your space, and it is the go-to for homeowners who want to transition from a traditional palette to a modern one. However, you can also stay right in the middle of contemporary and modern style by pairing Site White with some unique and nostalgic tones.
Site White has endless possibilities, and you'll see just why as you read deeper into this guide.
Snapshot of Site White Specifications
Understanding the specifications of your preferred color is as important as the final application process.
In this section, you'll see Site White's statistics and numerical aspects, like the RGB, LRV and Hex Value.
| | |
| --- | --- |
| Color Name | Sherwin Williams Site White |
| RGB | 220,222,220 |
| LRV | 73 |
| Hex Code | #DCDEDC |
| Undertones | Blue. |
The LRV of Sherwin Williams Site White
Light Reflective Value plays a huge role in any color's makeup as it largely determines its ability to reflect or absorb light and impact your space.
Shortened and mostly described as LRV, this feature is duly represented with a scale that runs from 0-100. 0 represents the darkest shade, while 100 represents the lightest.
However, experts have adjusted this shade to run from 3-97 as there's no proven true white and black, and every color in the universe comes with a truckload of undertones, determining if they're cool or warm hues.
The LRV of Sherwin Williams SIte White is 76, which means it's a very light color and reflects a great amount of light when used in a space.
However, this also means it'll appear washed and put in a space with too much light, but most importantly, you can safely use it in a small space without fear of your walls caving in.
Undertones of Sherwin Williams Site White
Undertones are an integral part of any color, and they somehow decide the entire course your color will take, especially when it comes to accessorizing and layering more colors according to your artistic preference.
Being a cool white, Sherwin Williams Site White comes with a pack load of cool undertones that work hand in hand with the main shade. You'll find a prominent blue undertone in this light gray color.
You'll learn all about Sherwin Williams Site White undertones in the sections below.
Does Lighting Condition Affect the Appearance of Site White?
Lighting is the most important factor that ultimately decides the outcome of any color, indoor or outdoor.
Site White is not excluded from their phenomena as its undertones largely depend on the light intensity surrounding it.
When Site White is applied in a northern-facing room, you get to witness a very dark side of this color (well, I don't mean black, I just mean a side with more depth); hence a more defined gray color appears. This also applies to Site White under warm lighting.
However, it's a different situation in the early morning for east-facing rooms between 7 to 9 AM; the bright light that hits before the morning sun draws out the oceanic blue in this color.
While blue is a very cool color, bright light makes them appear more pigmented or rather washed out, but either way, this is a very good thing.
Does Sherwin Williams Site White Appear Blue
Absolutely! Sherwin Williams Site White reads blue when paired with brighter whites and cool lighting. The intensity of the light is directly proportional to the amount of blue you'll get in this color.
Thanks to the bright white trims in the image below, you can easily spot the difference between the Site White and an actual white paint. Most importantly, you can almost hold this color's icy feeling to the vanity room.
Finally, it's essential to sample your paint color to better grasp and understand these undertones and prepare to use other colors and elements that match.
Sherwin Williams Site White: Is It a Warm or Cool Color?
All colors are divided into cool categories- warm and cool.
You'll find warm colors in shades of reds, yellow and oranges, while cool colors are blues and greens and light purple. However, a color that combines both characteristics, sometimes a main hue or undertones, is described as neutral.
Site White is a very cool color thanks to its cool undertones of gray and blue too. This color is perfect for people in hotter regions as the cool breeze from Site White will calm the strong tones from the sun or surrounding colors.
Sherwin Williams Site White Strip: Lighter or Darker Exploration
To get the perfect sense of what a color strip means, you must also understand that colors work in a certain arrangement for it to fully make sense, including their undertones, light reflective value, tint and shades.
These colors slowly graduate from dark to light or vice versa. For Site White, it's tucked amid fellow whites with hints of blue and gray with them.
You'll get a balanced monochromatic result if you follow the color strip arrangement in your interpretation. Sherwin Williams Site White is the last color on its strip with location number 257-C7. That said, let me list other colors on this strip.
Sherwin Williams Extra White SW 7006
Sherwin Williams Ceiling Bright White SW 7007
Sherwin Williams Ice Cube SW 6252
Sherwin Williams Rhinestone SW 7656
Sherwin Williams Nebulous White SW 7063
Sherwin Williams Rock Candy SW 6231
Sherwin Williams Site White SW 7070
Complementary Colors for Sherwin Williams Site White
Complementary colors are at the heart of the color wheel and theory. You can locate them on the opposite sides of the color wheel, and they're highly regarded for their impressive contrast and sharp color combination.
You'll mostly find them on catchy ads as they can grab and sustain attention. When mixed, complementary colors cancel each other out by producing a grayscale color, i.e., white or black.
That said, the perfect complementary color for Sherwin Williams Site White is a light purple paint color with subtle blue and gray undertones, and Sherwin Williams Blue Iris fits right into this category.
Sherwin Williams Site White Coordinating Colors
Coordinating colors find a way to work with one another, no matter the situation or surrounding accessories. But this will not happen overnight or without proper guidance. Some themes exist and guide your color combination.
Split Complementary Theme: This theme has three colors. One base hue and two adjacent colors of your main hue's opposite color.
Complementary Theme: These tones are directly opposite each other on the color wheel.
Monochromatic Theme: The most straightforward of the bunch and currently in trend- this theme contains 1 base color with different saturation (tints and shades). It's perfect for people who love the simple side of life.
Analogous Theme: Study the color wheel closely, and if you see three or more colors right next to each other, you have the perfect example of the analogous color theme.
Triadic Color Theme: Like their name, the triadic color theme contains three evenly spaced colors on the color wheel.
Tetradic Color Theme: Tetradic color harmony consists of 4 colors. In simpler terms, these 4 hues are two sets of complementary colors. This theme is quite straightforward and also easy to work with.
Coordinating Colors for Sherwin Williams Site White
These chosen gems work with Sherwin Williams Site White, with their undertones and even main shade. The idea behind coordinating color is like bread and butter- they work together to achieve one main goal (a uniform result).
Doesn't matter if they're also darker or lighter than Site White, these colors will introduce an entirely new touch to your colors, and you can use them as an accent or main wall color.
Sherwin Williams Gray Screen (SW 7071): A light gray with blue undertones and an LRV of 59, perfect for use in a Sherwin Williams SIte White bedroom and bathroom.
Sherwin Williams Cadet (SW 9143): A hardworking, cool gray-blue with an LRV 31. Pair this color as an accent wall with Site White and throw in cool white trims for that monochromatic/minimalist effect.
Sherwin Williams Pure White (SW 7005): Remember how yellow stands directly opposite blue on the color wheel? That's perfectly interpreted in Pure White, especially as a coordinating color with Site White.
This bright white has subtle yellow undertones and an LRV of 84, which means it'll work as a good trim wall in a Site White space.
Sherwin Williams Site White Color Palette
Colors on a palette work harmoniously together, so either one you opt for amongst the five variants listed here and you'll get a satisfactory result. There's something for everyone on this palette I've painstakingly created.
It's also a great stepping stone for new homeowners just starting the tedious process of picking the right decor for your home.
Monochromatic Palette
Sherwin Williams Autonomous(SW 9557): A unique and cool neutral with an LRV of 57 and deep blue and gray undertones. Perfect for your kitchen cabinetry and island in a Site White kitchen.
Sherwin Williams Extra White(SW 7006): Highly reflective white with a high LRV of 86 and mild gray/blue undertones. Use this with Site White as trim or ceiling paint.
Sherwin Williams African Gray(SW 9162): The darkest on this strip, African Gray has an LRV of 31 with deep gray and blue undertones.
Pair with Site White to add depth and a serious side to it, especially as an outdoor color.
Analogous Palette
Sherwin Williams Spatial White (SW 6259): Embrace the soft blue undertones in this light violet pastel color. It'll blend perfectly with Site White as their LRVs are also very similar.
Sherwin Williams Rock Candy (SW 6231): With an LRV of 75, this color resembles Site White with cool blue and gray undertones. Use in a nursery or bathroom.
Sherwin Williams Nebulous White (SW 7063): A cool bright white with an LRV of 74 and blue/gray undertones. It will work smoothly with Site White in the kitchen or vanity room.
Tetradic Palette
Sherwin Williams Intrepid Grey (SW 9556): A breathtaking neutral with tantalizing gray and blue undertones bound to add more shine to your Site White bathroom or bedroom.
Sherwin Williams Blue Iris (SW 9687): Yes, you're seeing this for the second time on this strip. Blue Iris is a soft bright violet color with blue and gray undertones. It has the same LRV as Site White but would still pop when used side by side.
Sherwin Williams Spatial White (SW 6259) :Another soft purple color with gray and blue undertones and an LRV of 72. Paint your furniture and movables with this color to complement your Site White wall.
Sherwin Williams Site White vs. Rock Candy (SW 6231)
Rock Candy is on Site White's paint strip and shares similar undertones. It's brighter than Site White with an LRV of 75, but you may not notice much difference when you use them side by side.
Sherwin Williams Site White vs. Spare White (SW 6203)
Spare White is a cool light gray with soft blue, green and gray undertones (the green might be the only difference between Site White and Spare White).
Sherwin Williams Site White Equivalent in Benjamin Moore and Other Brands
Other brands have formulated light grays with blue undertones similar to Sherwin Williams Site White. As an alternative, check out Benjamin Moore Pearl River, Valspar Grey Morn, PPG Thin Ice, and Dulux Pearl Gray.
While they vary in LRV and intensity, they can also make your space look good and also work well with sharper colors.
Where can you use Site White SW 7070?
One of the strengths of Site White is its versatility and mind-blowing range. What this means is that you can use it anywhere you please in your space and even pair it with colors and elements that tickle your fancy.
Site White on an Entrance
The most striking part about this color is how you instantly notice its cooling effect when you step into a space with it. I love how Site White shows off its blue side on the walls, and this also goes to show that I was right about my claims that the blue in this color pops out when there's a bright light in sight.
Pair this color with cool, brighter whites and some solid black for a very monochromatic space.
Site White in Kitchen
The kitchen is one of the most important spaces in the house, and whichever paint you choose to go for can make or break your cooking experience.
Sherwin Williams Site White adds a very edgy but cool touch to this kitchen wall and also opens up the space due to the influx of incoming light. I love the matching dark gray island and crispy white cabinetry.
Add some warm gold and black center lamps to give the monochromatic effect a facelift and warm things up.
Sherwin Williams Site White Living Room
I've earlier established that Site White may appear gray when in contact with warm lighting or when used in a dark space.
A perfect example is this living room which looks very gray, especially when paired with dark flooring and other warm solid colors.
This picture gives you an idea of the shades likely to work with Site White. I advise that you shouldn't be scared to express your creative and wild side regarding accessorizing and pairing colors; after all, it's your space.
Sherwin Williams Site White Bedroom
Achieve the coziest bedroom with a Sherwin Williams Site White wall. If your room gets a healthy dose of light, you get the blue side, and if otherwise, you get the grays. Whichever way, a good night's rest is assured.
Throw in some dark browns, blacks, white beddings and gray accessories to create a monochromatic effect in your bedroom.
Sherwin Williams Site White Exterior
Every color you possibly use appears washed out in the sun and may show undertones you didn't even think existed. This fact applies to Sherwin Williams SIte White, at least according to the image below.
The blue undertones in this color really came out to play, and I can't complain., first because it creates a cool cast on the building against the sun's hot rays. The dark gray roofing also adds a dynamic style to the arrangement.
Pair your exterior with bright white trims to further lessen the warming effect of the daylight sun on Sherwin Williams Site White.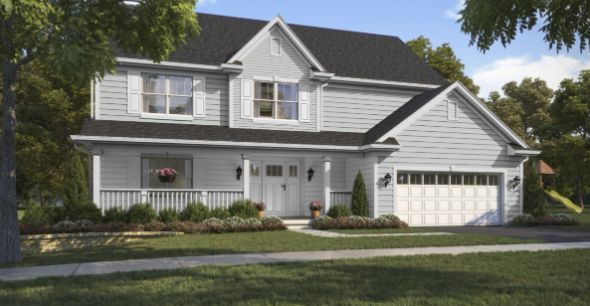 What Colors Go With Site White 7070?
Another fact about Site White is that it's also widely regarded as neutral, which means it can work as a beautiful backdrop for you to layer more colors. However, don't use this information as an excuse to add clashing colors; let me help you with ideas.
The usual style of pairing for cool grays matches them with other cool colors like blue, pale greens and cool whites.
Pair your Site White with bright whites or deeper grays for a monochromatic touch. Light purples and violets are also great ideas to complement your Site White wall. You can also introduce yellow, mint, terracotta, orange, navy and red for a traditional palette.
Conclusion
One striking quality of light gray is the versatility, timelessness and beauty it brings into a space. They also blend beautifully into any interior design palette, so you can fully express yourself with Sherwin Williams Site White.
Here're a few things you should remember about this color
It's a cool gray with blue undertones
Site White has an LRV of 73
It can work in a traditional and modern space.
Please leave your suggestions, questions and comments in the box below. They go a long way to make me give better and more informed reviews.