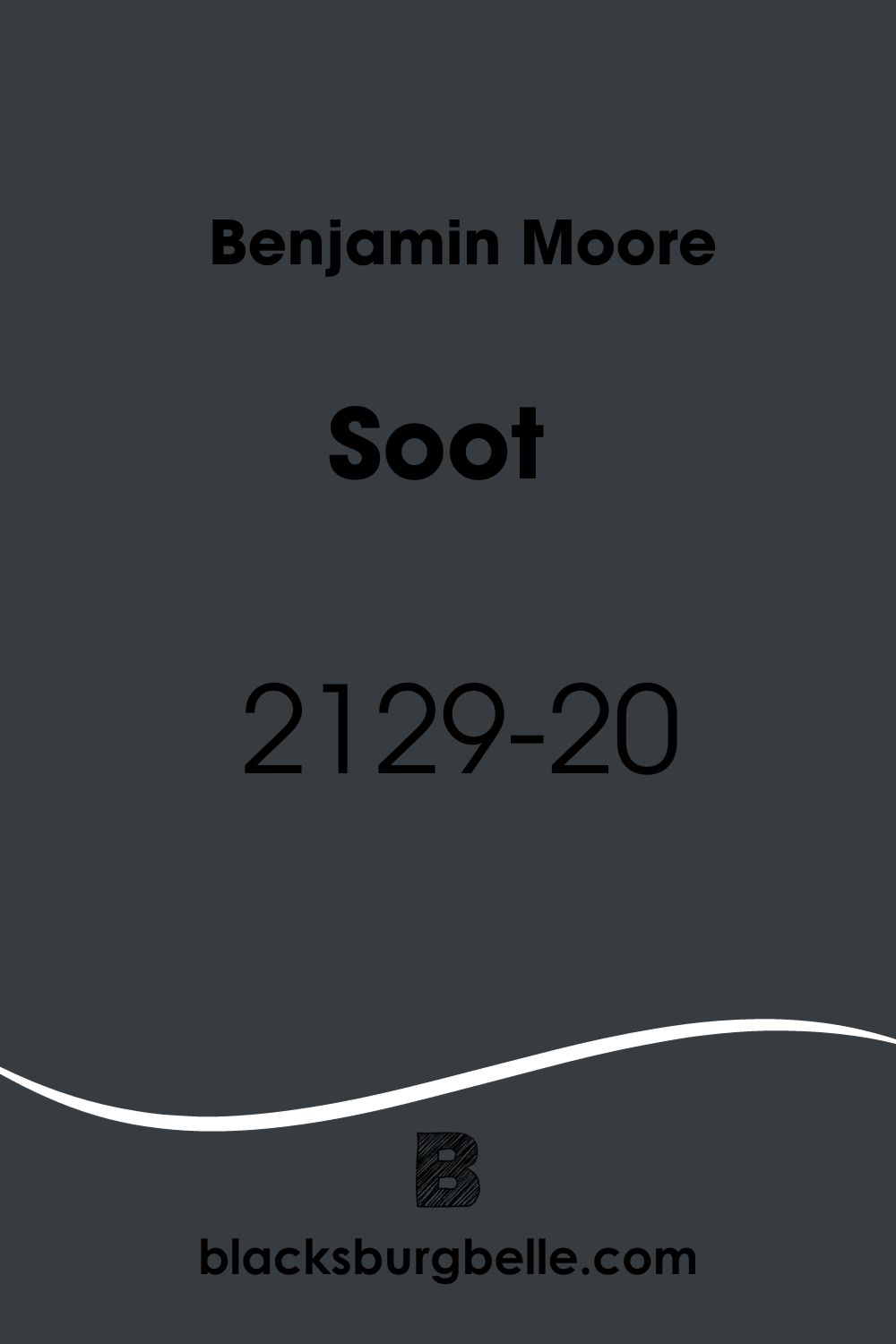 Black can be an intense color, overwhelmingly somber, feeling larger than life. But when you pick a back paint color with a hint of softness, the color becomes easier to use. That's why I bring Benjamin Moore's Soot to ease your search.
Like navy blue, black can transform a room from boring to exciting and mysterious. That's one of the reasons the color is becoming very trendy with decorators. You can use Soot for different purposes, including on trim and cabinets.
Let's find out how this paint color works, if it's a true black, and how to use it in any decor.
When to Choose Benjamin Moore Soot
As the brand says, Soot is a black paint color with endless uses, and truer words have not been said. This paint color fits just about anywhere; you only have to know how to pair it to get the best results. So, let's get a few helpful ideas in this regard.
New trim color?
Soot looks amazing on trims, whether on window frames or walls. It works inside and outside the house, so you don't have to choose.
Looking for a new accent or feature color?
Use Soot as the feature or accent color when the rest of the room is light-themed. The paint color looks great with light blues, grays, and whites.
Need a striking contrast in your bathroom or kitchen?
And if your bathroom vanity or kitchen cabinets need a new color, be adventurous and try Soot. The contrast and regal look will surprise you in a good way.
These are only a few ideas for using Soot to maximize its effect. You can start using the color in your decor, but don't go yet because I want to show you more. Know about LRV and undertones? You're about to learn about them.
What Color Is Soot?
The name already gives it away. Soot is defined as a deep, black, flaky, or powdery substance you find after something burns. It consists mainly of amorphous carbon derived from the lack of complete burning of an item.
However, there's a slight but crucial difference between the usual soot and this paint color, and that's the hue in the color. But I'll get to that later; we need to dedicate time to it because of its importance.
Benjamin Moore's Soot 2129-20 is a soft black paint color with effortless charm, sophistication, and endless uses. It looks a little like charcoal and may mimic it sometimes, depending on the lighting conditions.
A Snapshot of the Specifications of Benjamin Moore Soot
A chart that shows the summary of Soot's specific and important details will save you some time searching for information. So, check out the details below to learn more about this paint color.
| | |
| --- | --- |
| | Benjamin Moore Soot |
| RGB | 55, 60, 65 |
| LRV | 6.19 |
| Undertone | Blue |
| HEX Code | #373C41 |
The LRV of Benjamin Moore Soot
LRV means the light reflectance value of color and indicates how much light the color actually reflects on a scale of 0 to 100. The darker the color, the lower the LRV on the scale. And the lighter the color is, the higher the LRV goes on the scale.
However, paint colors use a slightly different scale, 2.5 to 94, because they don't have absolute blacks or pure whites. This is because of undertones that change the colors in many ways.
Benjamin Moore's Soot has an LRV of 6.19. Going by the scale explained above, this paint color is pretty close to the darkest end of the paint color scale. That means it doesn't reflect much light if any at all.
The Undertones of Benjamin Moore Soot
Undertones are those colors or hues you see in all paint colors. Some are more obvious than others, while a few don't show any undertones. But know that every color has another hue under it, regardless of how subtle it is, because of the base colors.
Soot has an obvious navy blue undertone, but this doesn't mean the blue overwhelms the black mass tone. However, the undertone gives this soft black more depth and makes it more striking and mysterious than other blacks, like an ocean at night.
You can see it's not as black as other black paint colors you can name. There's a subtle charcoal hue to it.
But in some settings, it can look like a true black, showing nothing of its undertone.
In other settings, it can show a bit more blue than usual.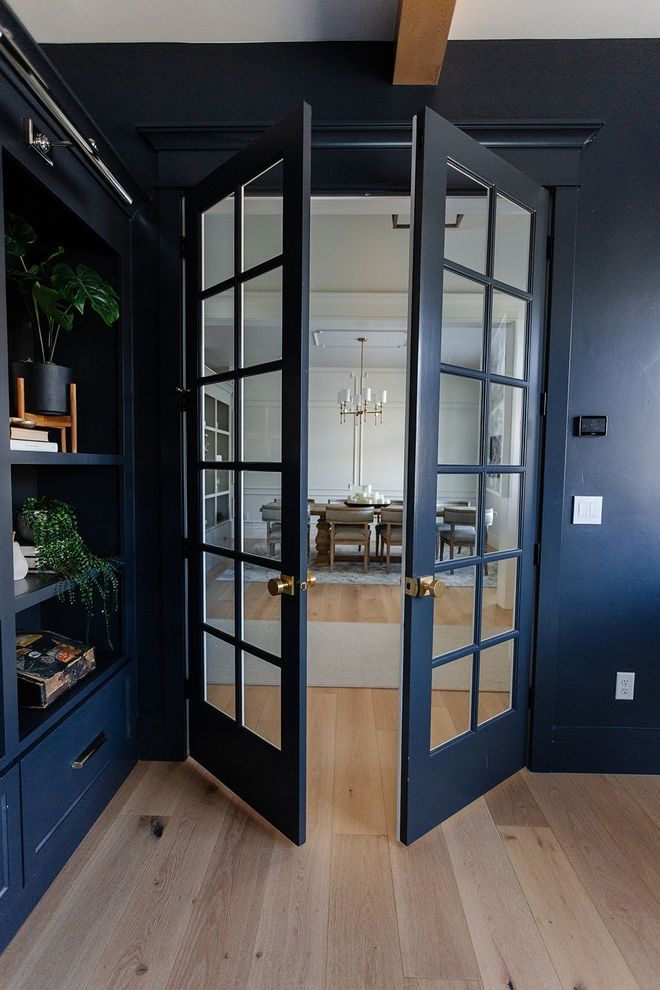 How Does Lighting Affect Soot?
The lighting conditions in a room can transform the color. Other factors, such as the strength of the color and surrounding elements, can make it look different. For example, you may opt to use Soot with 75% strength, and the result will differ when the strength is 100%
But lighting is the most crucial factor affecting the color. Soot may look darker than usual if the lighting is dim or cool, such as in a north-facing room. Such rooms don't have direct sun exposure, so the lighting is usually cold.
Soot may look like a charcoal paint color if the lighting is bright without warmth.
In warm light, Soot reveals its true self, and that's when you see it's not as black as you may think. It loves light and doesn't feel as overwhelming when you have a lot of natural light. Little wonder it loves the outdoors.
You may see the same result or slightly different indoors when the artificial lighting is bright and white instead of warm and yellow.
How Does Soot Feel in a Room?
Color is subject to the viewer, and people see colors differently. The same applies to Soot, but everyone can agree that it's a regal, sophisticated, and beautiful color. It instantly turns a room into a refined and sleek space and can bring freshness because of the undertone.
Benjamin Moore Soot: Warm or Cool?
You can say that Soot is a cool color but not crisp or even close to icy. The reason is the undertone; blue is typically a cool color, but the mass tone dulls its effect on the overall color. That means Soot leans just a little cool but can balance warm and cool when the setting is right.
Benjamin Moore Soot Color Strip: Lighter to Darker Exploration
The paint color may feel a little too blue for your taste or look too dark to fit the picture in your mind. If that's the case, you're in luck because I've picked colors from the same strip as Soot and arranged them from light to dark for easy reference.
Benjamin Moore Winter Lake 2129-50
Benjamin Moore Normandy 2129-40
Benjamin Moore Blue Note 2129-30
Benjamin Moore Soot 2129-20
Benjamin Moore Midnight Dream 2129-10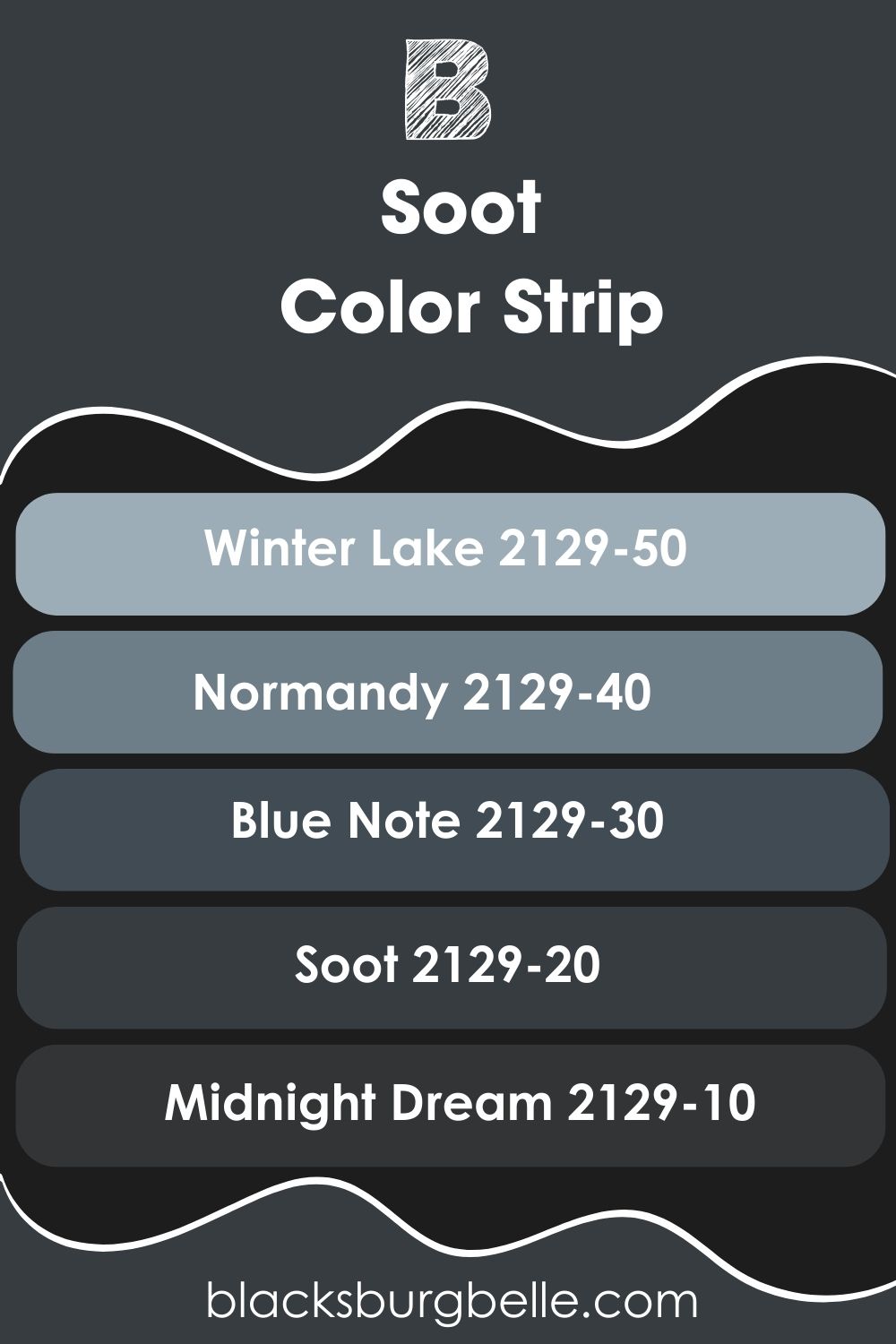 Benjamin Moore Soot Complementary Color
When you look at a color wheel, you will see that every color is arranged with a specific color directly opposite it. This arrangement is not random but is done to show the relationship between these colors. Complementary colors are those that face each other on the color wheel.
Soot is a black paint color, but it's not the usual black because of its navy blue undertone. Therefore, you may not find its exact shade on the color wheel, but I've done the work of finding the complementary color.
It's a black color with a hint of brown, making it warm. Benjamin Moore's Night Black Bean Soup 2130-10 closely matches this color. The same is true of Sherwin Williams' Clove SW 9605 if you want something different.
Benjamin Moore Soot Coordinating Colors
These are colors with similarities that make it easy to work together, no matter how different they may look. Cumulus Cloud, White Dove, and Gray Cashmere are coordinating colors for Soot.
Benjamin Moore Cumulus Cloud 1550: A slightly warm gray with neutral tones that enhance the beauty of Soot.
Benjamin Moore White Dove OC-17: One of the most popular white paint colors because of its beauty and versatility, which make it pair well with dark Soot as a trim or ceiling color.
Benjamin Moore Gray Cashmere 2138-60: A soft gray paint color with a bit of blue and green to add style and color to blend with colors like Soot.
Benjamin Moore Soot Color Palettes
You may feel a little stuck if you want to create a fitting color palette for Soot. So, follow this guide to pick and create one or more palettes.
Contrasting Color Palette
La Paloma Gray 1551: A cool gray paint color that brings peace and calmness, brightening the room when paired with Soot.
Icicle 2142-70: A bright paint color that adds a sparkle to the decor and makes using Soot easier.
Desert Tan 2153-50: A truly warm tan paint color with a hint of yellow, bringing earthiness to the decor when used with Soot.
Monochromatic Color Palette
Rainier Gray 2129-60: A crisp color with surprising brightness that adds something different and sparkly to match Soot.
Normandy 2129-40: A beautiful gray-blue paint color with a stylish look that pairs well with the elegant Soot.
Silver Cloud 2129-70: A silvery blue-gray paint color with enough brightness to create a striking contrast with the much deeper Soot.
Coordinating Color Palette
Gray Cashmere 2138-60: A soft gray paint color with a bit of blue and green to add style and color to blend with colors like Soot.
White Dove OC-17: One of the most popular white paint colors because of its beauty and versatility, which make it pair well with dark Soot as a trim or ceiling color.
Cumulus Cloud 1550: A slightly warm gray with neutral tones that enhance the beauty of Soot.
Benjamin Moore Soot vs Similar Colors
The following are colors that are similar to Soot and how they compare to it. You may also find great alternatives on this list.
BM Witching Hour vs BM Soot
Witching Hour is slightly lighter than Soot, with an LRV of 8.71, although this difference is not immediately apparent when they are apart.
BM Wrought Iron vs BM Soot
Wrought Iron has a gray undertone and is slightly lighter than Soot, which has a blue undertone.
SW Iron ore vs BM Soot
With a lot of gray in it, Sherwin Williams' Iron Ore is different from Soot. It also has a slightly lower LRV of 6 compared to Soot, which is 6.19.
BM Midnight vs BM Soot
Midnight looks similar to Soot, although it has a little green hue and is less saturated.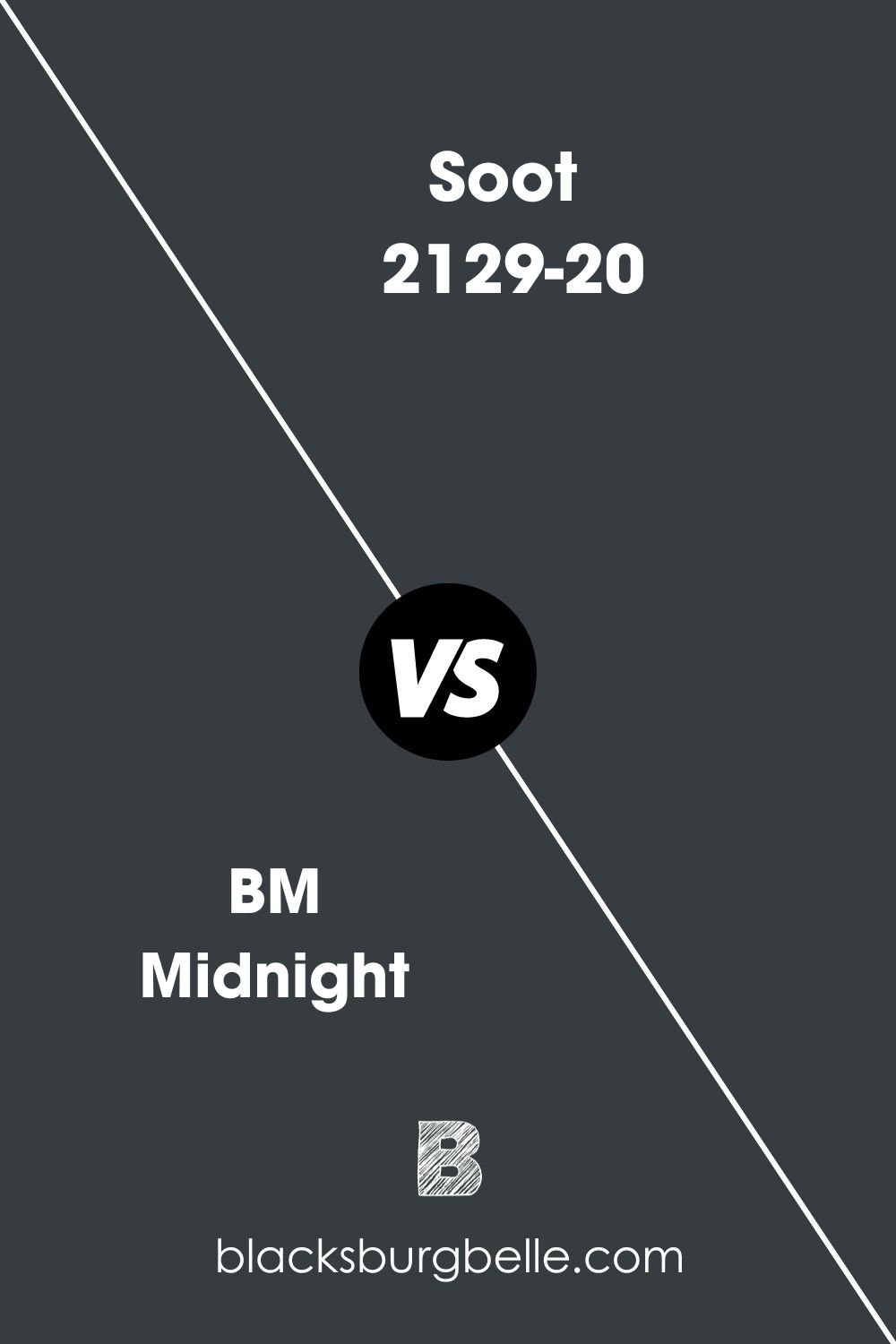 BM Black Ink vs BM Soot
Black Ink has an LRV of 5.81, lower than that of Soot. It's also not as soft as Soot.
BM Black Berry vs BM Soot
Black Berry has the same blue undertone as Soot, this time indigo. Its LRV is also close to that of Soot.
BM Ebony King vs BM Soot
Ebony King is a cool black color with a lower LRV of 5.69. It may reveal the blue in Soot when placed side by side.
Sherwin Williams Paint Color Equivalent to Benjamin Moore Soot
As with every other paint color, you're unlikely to find an equivalent paint color from Sherwin Williams to match Soot. The reason is simple: every paint color is unique.
That said, Sherwin Williams' Black Swan SW 6279 is very similar to Soot. You can also compare it to Inkwell SW 6992, although it's a more saturated black paint color than Soot.
Where Can You Use Benjamin Moore Soot?
I've already established that Soot can be a versatile color, so you can use it anywhere if you keep it minimal. However, this depends on your style; some can use the paint color on walls and ceilings.
Benjamin Moore Soot in an Office
Oh, this office is stunning! If you like dark colors like I do, you can totally rock this look. The ceiling is also done in black, and I like the overall moody appearance.
Benjamin Moore Soot in a Mudroom
We tend to overlook beautifying some rooms, such as the mudroom. Mudrooms don't have to be ugly, as this picture proves.
Best Trim Color for Benjamin Moore Soot Exterior
White or light gray will do justice to this gorgeous color. You can also try a pale blue, although it's not a popular color for trims. But normal is boring, right?
Benjamin Moore Soot on Kitchen Cabinets
Ok, so this is my kitchen love right here. Why wouldn't I be tempted to cook up a storm? The color combination is perfect, down to the wood used in bits around the room.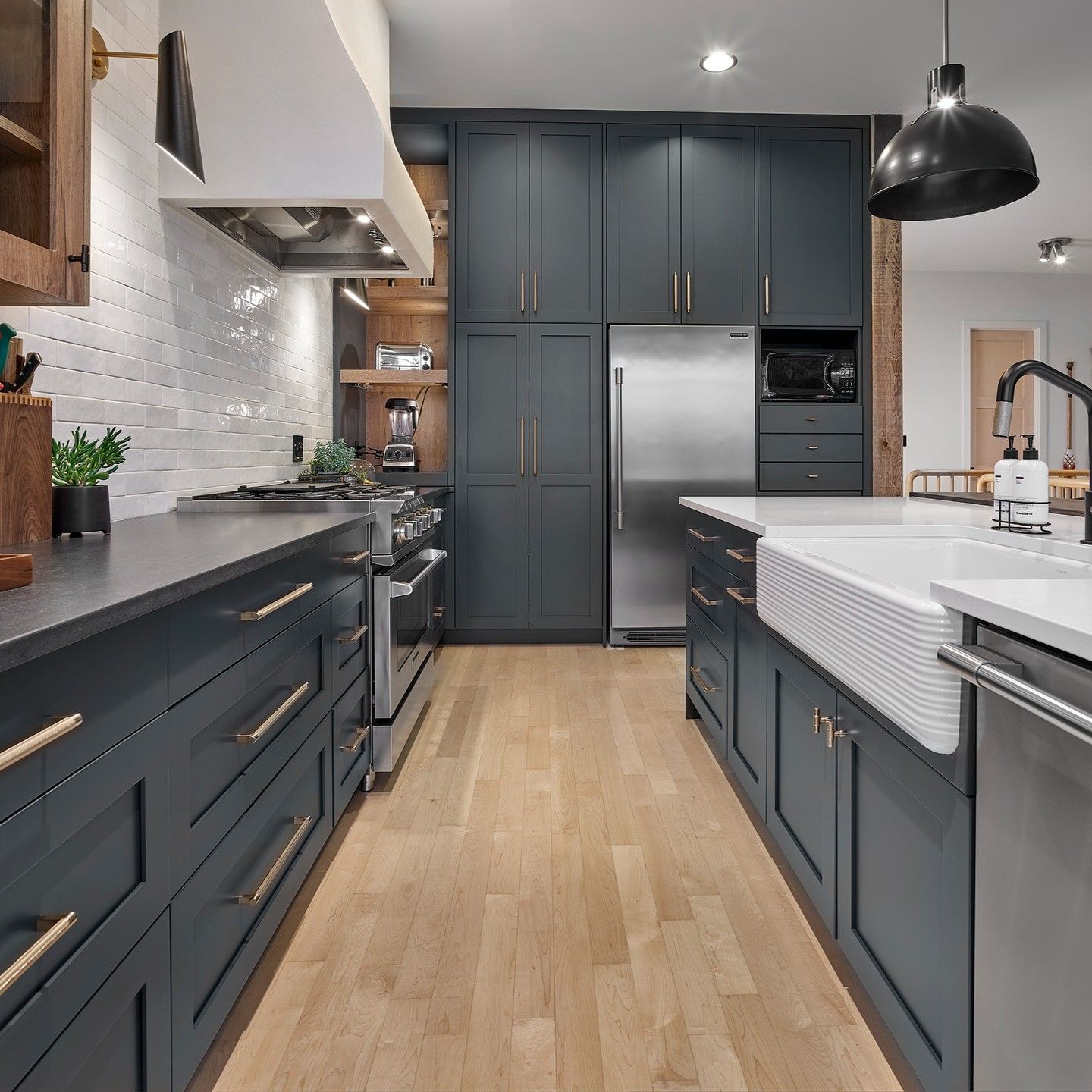 Benjamin Moore Soot in a Bathroom
As I said, the color works best on feature walls, like in this bathroom. It contrasts sharply with the rest of the room but beautifully.
Benjamin Moore Soot on a Door
This timeless color brings some drama to this hallway, and I like to see it.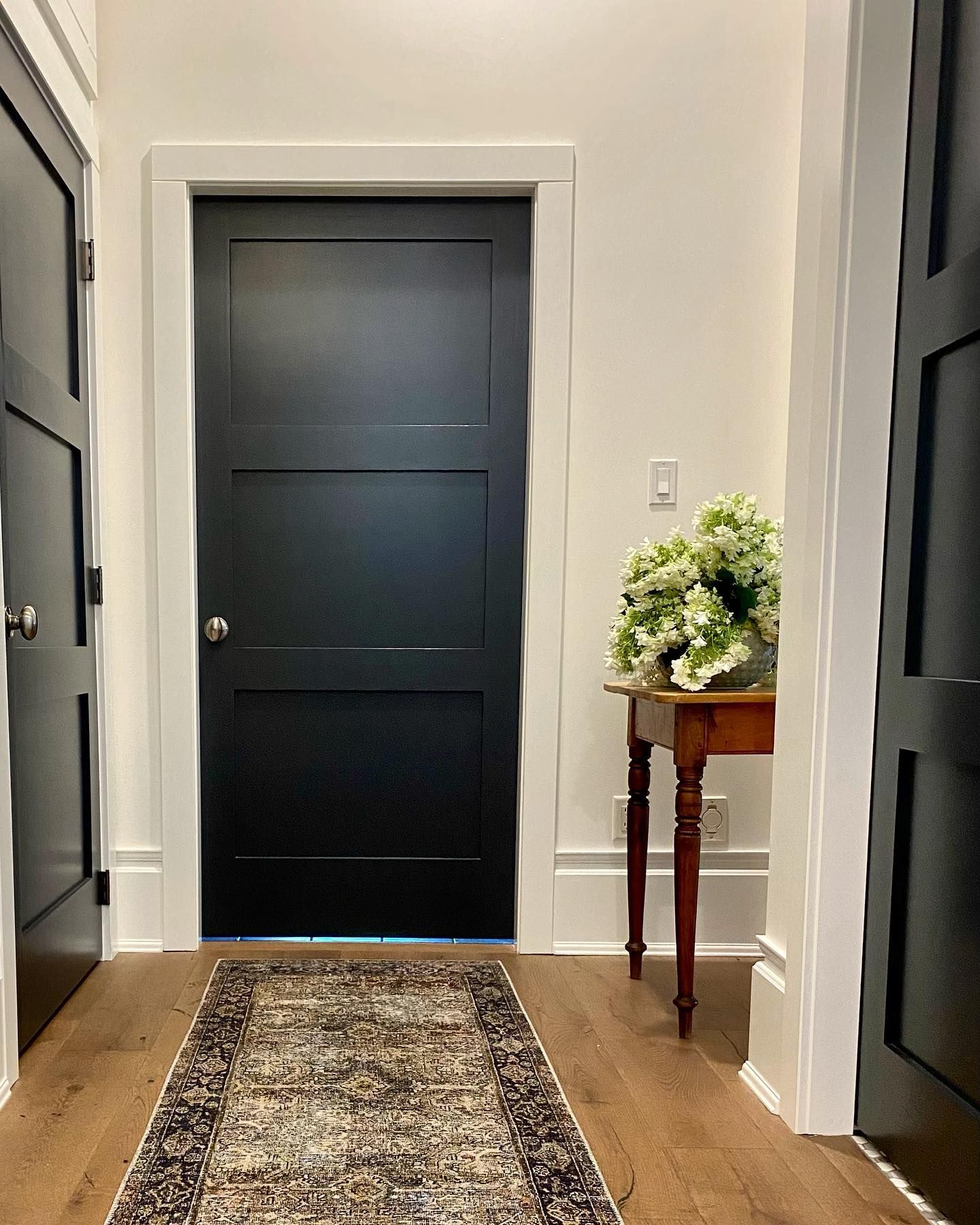 Benjamin Moore Soot in a Bedroom
The warm yellow light doesn't reduce the beauty of this color. And the neutral colors make everything better.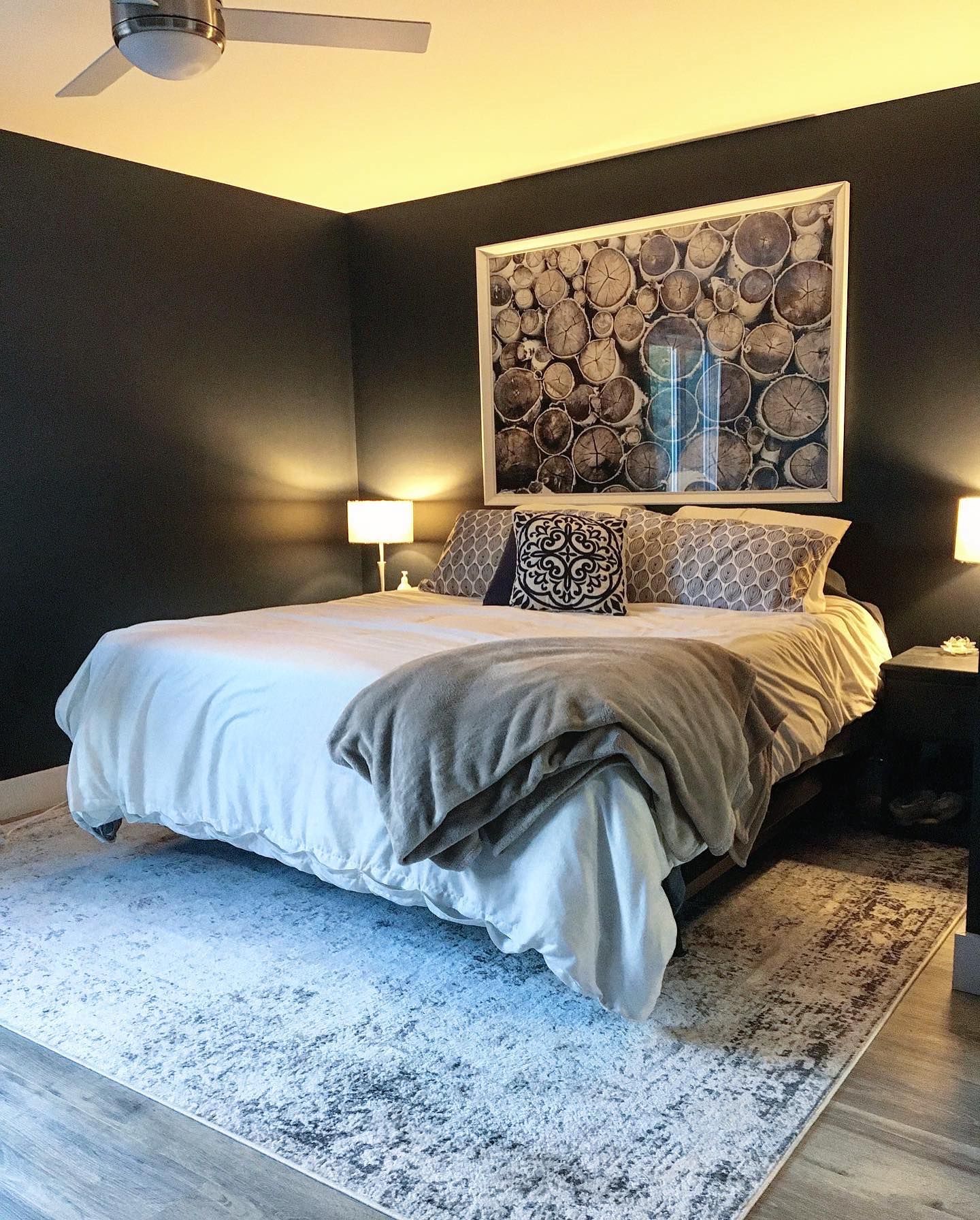 Ideal Color for the Trim for Benjamin Moore Soot Walls
You know you can do the entire room in Soot, but it may feel too much after some time. However, the somberness lessens with white, like White Dove or Cloud White on the trim.
Best Ceiling Color for Benjamin Moore Soot Walls
If you are already considering using Soot, you might as well go all the way. White is what I recommend, but why not try something else? You may like it.
Benjamin Moore Soot on Exterior Walls
This is what Soot looks like on exterior walls without a white trim. The window frames are black but look slightly different.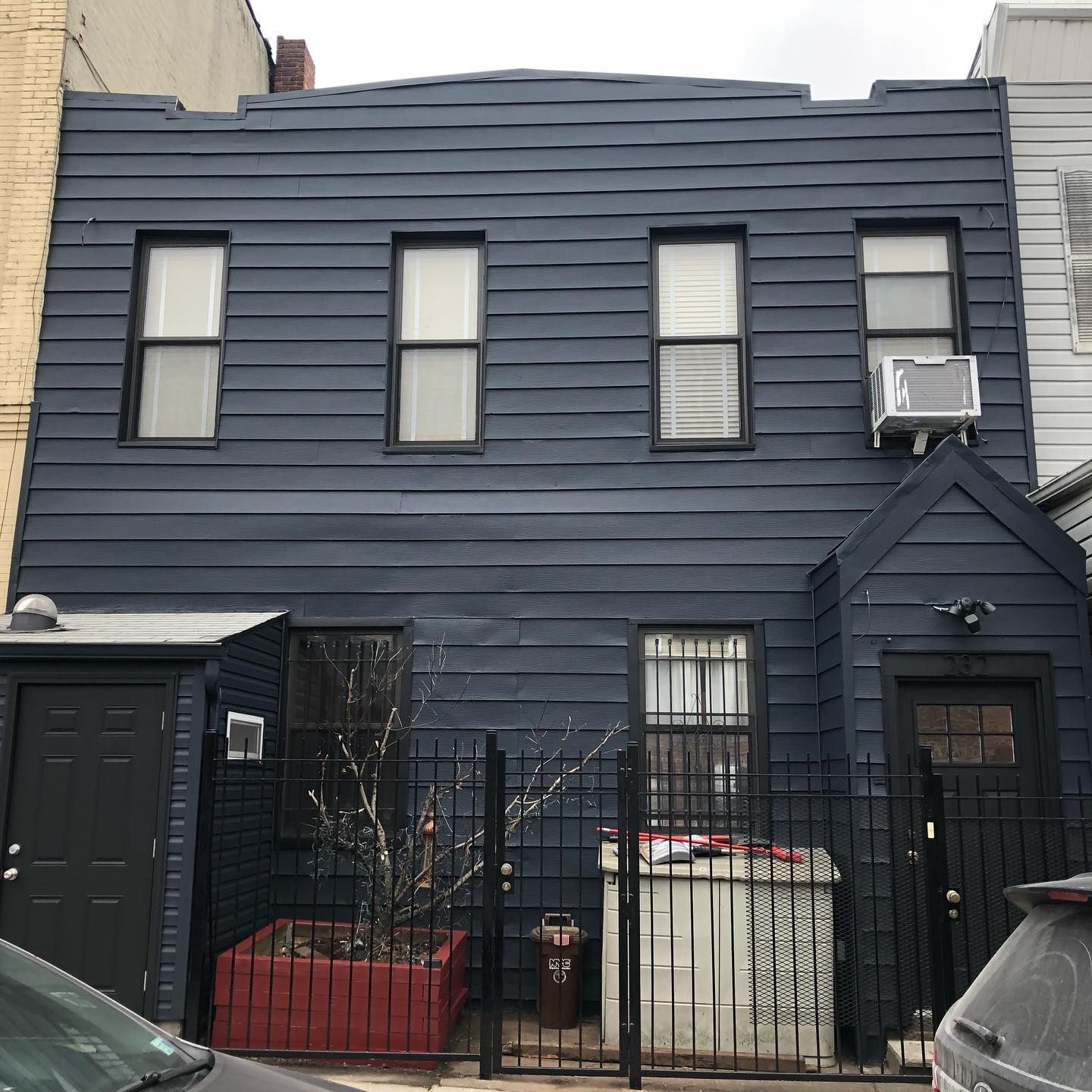 Conclusion
For good reason, Benjamin Moore Soot is one of the most popular black paint colors. It presents a soft face and works well in any space because it's not heavy. With its blue undertone, you can easily pair it with light gray, blue, and white.
You will find a guide to creating color palettes for this dark color and getting it right. But you don't have to stick with the colors I used; swap them for others that make you more comfortable. But remember to use Soot samples before committing because the paint on the screen is not the same as in real life.