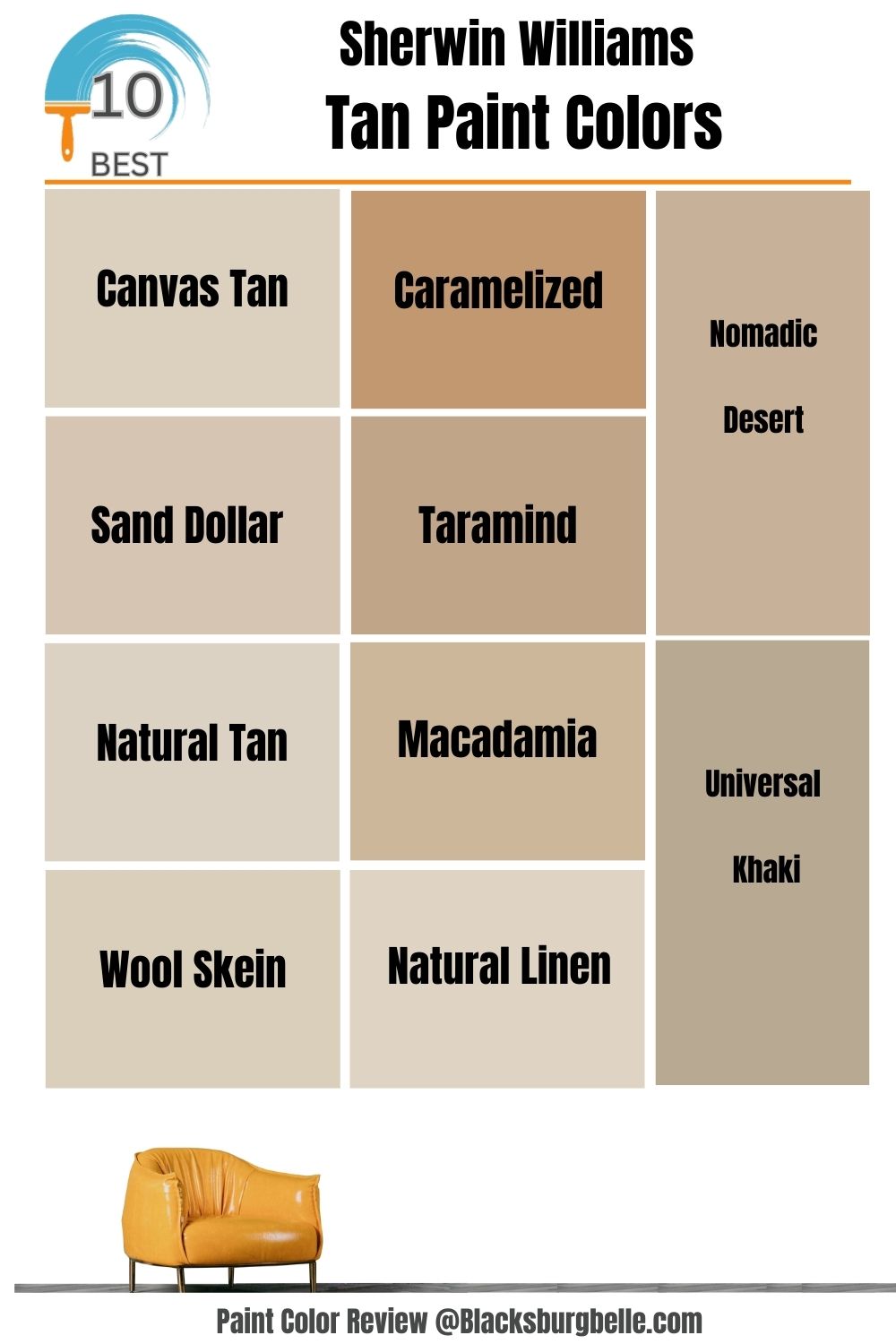 With a growing trend of "less is more" in home design, tan paint colors work wonders. They offer more than just their timeless appearance but also a neutral and inviting backdrop that can easily complement any decor style.
Are you looking for the best tan paint colors to add warmth and depth to your space without being too overwhelming? Look no further because Sherwin-Williams has some of the most stunning options on the market, including Canvas tan, Nomadic Desert, Universal Khaki, and Natural Linen, among many others.
In this blog, we'll look at the best 10 Sherwin-Williams tan paint colors to consider and highlight everything you need to know to create the perfect setting for your home. Stay tuned as we break down each section into simple bits for a more informed decision.
How to Select the Best Sherwin Williams Tan Color Paints for Your Home Decor
If you have a specific color scheme in mind, how do you choose the perfect tan color paints to complement it?
In this section, we'll discuss how to select the best tan shades that will harmonize your chosen color scheme, taking into account factors such as lighting and undertones. With our detailed guide, you can confidently select the ideal tan color paint for your home.
Without further ado, let's get right into the details.
Understand What Tan Paint Colors Are
Tan and Beige are perhaps the most mixed-up colors, even by famous brands like Sherwin-Williams and Benjamin Moore, but they have subtle differences. While beige is a neutral color with warm yellow-orange undertones, tan colors have a wider range of undertones, including pink, gray, ash, and even blue-green.
This diversity makes tan colors more adaptable to different lighting conditions and room styles. You will discover that tan colors can be used as a neutral base for various color schemes, from earthy tones to bold and bright accents. They also create a warm and cozy atmosphere in any space, making them a popular choice for home decor.
Recognize the Different Tan Paint Types
Now that you understand the versatility of tan paints, the next step is to become acquainted with their varieties. This will assist you in selecting the appropriate shade and finish for your project, whether for interior or exterior use.
Tan colors come in various shades and finishes that can create different moods and effects in your space. From warm and inviting to cool and sophisticated, there is a tan color that can suit your style and taste. They are available in light and medium-dark tones, as well as the most popular finishes, such as matte, eggshell, and satin.
The light tans are ideal for creating a warm and inviting atmosphere, whereas the medium-dark tans with a satin finish can add a touch of elegance and refinement to any room. This will become practical when reviewing the Sherwin-Williams tan paint colors, we'll provide in the following section for better understanding.
Select the Best Tan Paint Type for Your Needs
When choosing the right tan paint color for your home, there are a few things to keep in mind. The following are important factors to consider when selecting a tan paint color that complements the style, lighting, and intended design theme of your home.
● Consider The Space and Lighting of Your Home
The right tan color for your space is heavily influenced by the setting and natural lighting conditions. First and foremost, before anything, ascertain the purpose of the room setting, whether it is a bedroom, bathroom, kitchen, or otherwise. Once this is determined, you can picture the particular theme you're after.
The lighting conditions, on the other hand, will affect how the color appears on the walls and interacts with other elements in the room. Before committing to any tan paint color, test it in the intended room under different lighting conditions to ensure the desired outcome.
● Think About Undertones and Finishes
Tan colors have undertones that influence how they appear on the walls and their interaction with other elements in the room. Since tan is a neutral color, it can create a warm and inviting ambiance when paired with other warm colors, or a calming ambiance when paired with cool colors, so consider your desired mood before purchasing.
NB: It is vital to correlate the correct paint surface, whether interior or exterior, with a specific finish. Sherwin Williams recommends a glossy finish for walls and interior designs, while a matte finish is better for exteriors and fixtures because it hides flaws better.
● Visualize How It Will Look in the Room
Visualizing how a tan color will look in your room can be tricky, especially since lighting conditions and other elements can affect the color's appearance. However, with the advancement of technology, virtual tools that can simulate how a specific color will look in your space are now available, making the process much easier and more accurate.
Additionally, many paint companies like Sherwin Williams offer sample sizes or swatches that you can test out in your room before committing to a full paint job.
● Check Out Reviews and Test Samples
Before making a purchase, it's also essential to check out reviews and test samples to ensure the quality and durability of the paint. Simply relying on the brand name or price tag may not always guarantee a satisfactory outcome, so taking the time to do research beforehand can save you time and money in the long run.
Purchasing the Best Tan Paint
Once you've chosen the perfect tan paint color, it's time to make your purchase. Start by deciding on a budget and calculating how much paint you'll need for your project. You might consider getting extra to account for mistakes or touch-ups.
Then, you can shop at local home improvement stores or online retailers to find the best deals and options for your needs. Whether you choose to buy from Sherwin-Williams or a third-party seller, make sure to do your research and read reviews before making a final decision.
Pro Tip: Before making your purchase, compare prices among different brands and look for any promotions or discounts to help you save money in the process.
Putting It All Together
In review, choosing the right tan paint color for your home can be a fun and rewarding process with the right tools and knowledge.
To wrap up this section, here are a few tips to keep in mind when searching for the perfect tan paint color and finish for your home:
Consider the mood you want to create in the room. Do you want it to feel warm and cozy, or light and airy?
Think about the existing color scheme in the room and how the tan paint color will complement or contrast with it.
Experiment with different finishes to see how they affect the look and feel of the room.
Don't be afraid to seek advice or opinions from friends or family members who have previous experience with home decorating.
Above all, enjoy the process of transforming your space into a beautiful and comfortable place to call home.
Sherwin Williams 10 Best Tan Paint Colors
In this section, you will find a curated list of Sherwin Williams' 10 best tan paint colors, ranging from warm and inviting to cool and sophisticated. These colors will be exactly what you need to transform any room in your home to meet your desired theme, whether interior or exterior designs.
Sherwin Williams Canvas Tan (SW 7531)
Sherwin Williams Canvas Tan is a versatile and timeless paint color that has long been a favorite of homeowners and designers. If you want to design a warm and relaxed space in your home without too many contrasting colors, this is the right pick for you.
One of the reasons why Canvas Tan is so popular is its universal appeal. Its neutral hue does not overpower other colors but rather creates a monochromatic theme that balances other elements in a room. It can inspire a soothing atmosphere when paired with the right accents, and its unique shade will never go out of style.
Canvas Tan has an LRV of 64, indicating that it is a mid-tone color that reflects a lot of light. With RGB values of 220 / 209 / 191, it can be used in consonance with other warm-toned colors, such as pale yellows or soft pinks, to create a unified color scheme throughout any space.
See how Canvas Tan can be used as a neutral base color for a cozy and inviting room in the design ideas below.
Sherwin Williams Nomadic Desert (SW 6107)
Inspired by an earthy neutral hue, Nomadic Desert creates a scenery that resembles the astonishing arid landscapes of the desert. It evokes a sense of adventure and wanderlust, making it a popular choice for home decor and fashion.
One charming feature of Nomadic Desert is how its warm undertones of pink and orange add depth and complexity to any design theme. When combined with neutral colors like beige or gray, this warm hue blends perfectly to add a touch of elegance and sophistication. It has an LRV of 46 and RGB values of 199/177/152.
The warm tones of Nomadic Desert also complement neutral color palettes, making it a versatile choice for modern design ideas. Additionally, incorporating plants and textured fabrics can enhance the natural feel of the space, as you can see in the images below.
Sherwin Williams Caramelized (SW 9186)
Sherwin Williams' 2019 November Color of the Month, Caramelized, has a stunning allure that is just what you need to transform your space. Its rich, golden tones can add sophistication to a traditional design or warmth to a modern one.
Caramelized has a rich and complex warmth that distinguishes it from other warm neutrals. With LRV: 35 and RGB: 194 / 152 / 113, it appears to be a mid-tone color that can work well as a neutral backdrop or as an accent color in various interior design styles,
Caramelized works well in a variety of spaces, from living rooms to bedrooms, and can also be an excellent choice for accent walls or furniture pieces. Check out the designs below for more inspiration.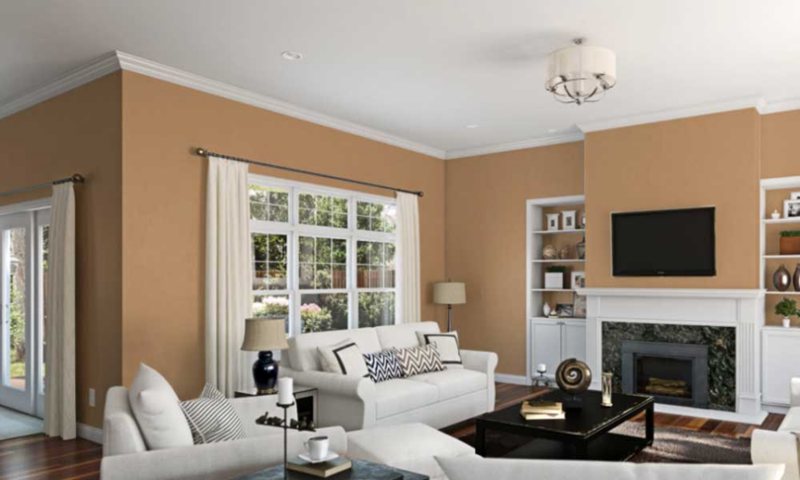 Sherwin Williams Sand Dollar (SW 6099)
Sand Dollar is a versatile color that sparks up a gentle atmosphere. It has a lot of depth and is an excellent backdrop for other warm colors.
With an LRV of 58, it is a bright and airy color choice. It has 215 / 197 / 179 RGB values, which give it a soft and subtle tone. Its warm undertones of yellow and beige blend its texture for a natural feel.
Sand Dollar complements indoor and outdoor decor to create a variety of moods and atmospheres. Here are a few examples:
Tip: For a cohesive and sophisticated look, pair Sand Dollar with other warm neutrals or bold pops of color.
Sherwin Williams Taramind (SW 7538)
Sherwin-Williams Tamarind is a dreamy color that goes with just about everything. It's a warm and earthy tone that can be used as a neutral base color or accent color to add depth and richness to any space.
Tamarind's distinct appeal stems from its warm yellow and orange undertones, which make it an excellent choice for creating a relaxed and inviting atmosphere. It has 42 LRV and RGB values of 192/165/136.
When designing with Tamarind, keep in mind the other colors and textures in the room. It complements natural materials such as wood, stone, and woven fabrics, as well as metallic accents such as gold and brass.
The pictures above show how Tamarind can be used as a statement piece in a room, adding warmth and texture to the overall design.
Sherwin Williams Natural Tan (SW 7567)
If simplicity and a touch of warmth are what you're looking for, Natural Tan will serve you the best of both worlds. This versatile shade pairs well with cool and warm tones, making it a fantastic choice for interior design ideas.
Natural Tan is a light, airy, classy, and relaxing color. With an LRV of 65 and RGB values of 220/210/195, it works well as a backdrop for a variety of decor styles, from traditional to modern.
Natural Tan's unique appeal lies in its versatility. It's especially well-suited for living rooms, bedrooms, and entryways where you want to create a sense of relaxation and comfort, as shown in the images below.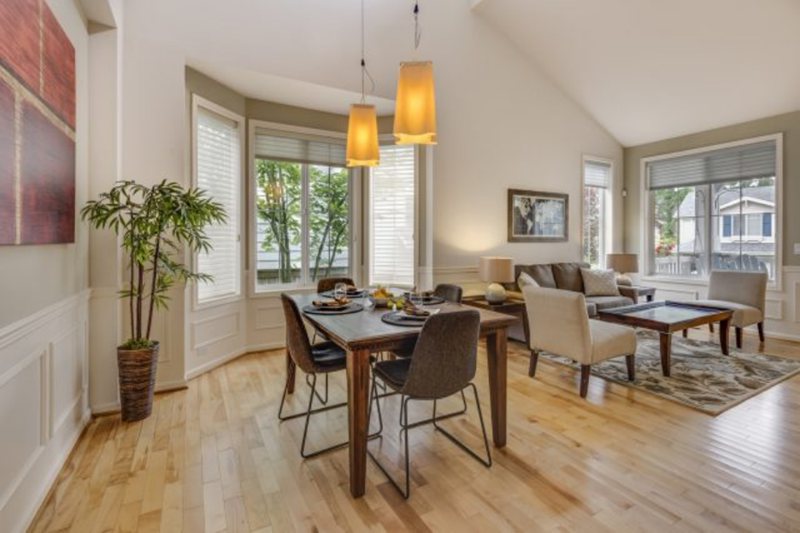 Sherwin Williams Macadamia (SW 6142)
When we think of Macadamia, we sense a neutral color that defines a rich, elegant effect in any home setting. Its unique appeal lies in its complex undertones of yellow and beige, which give it a distinctive and modern edge.
Macadamia is a medium-light color with an LRV of 49 that reflects a moderate amount of light. Its RGB values of 204/183/155 give it a warm and refreshing tone reminiscent of natural wood and earthy tones.
This color is commonly used in interior design to create a refined and welcoming environment, especially in living rooms, offices, and bedrooms.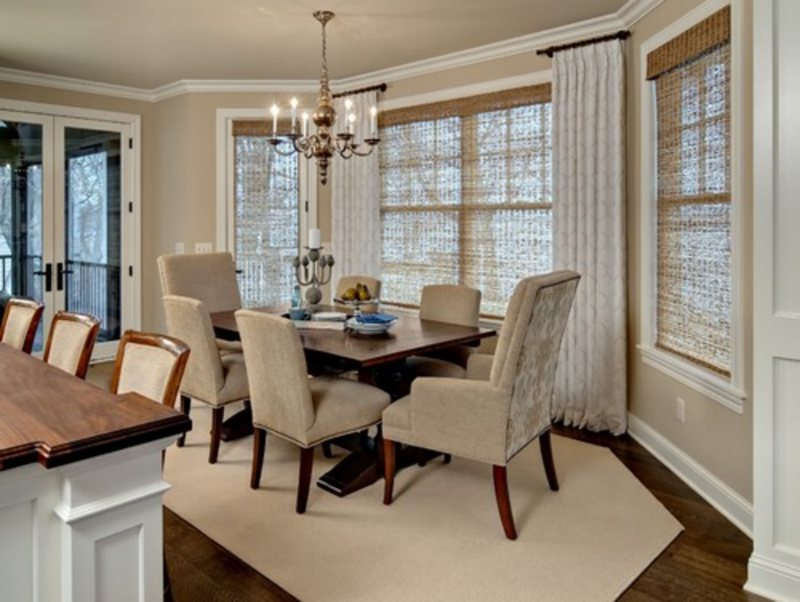 In the images above, you can see how Macadamia's versatility helps to achieve a classic and elegant space.
Sherwin Williams Wool Skein (SW 6148)
Oh, you'll love this! Wool Skein is a neutral paint color that looks great in traditional and modern settings. With its distinct beige and gray undertones, this color can create a serene and calming atmosphere that is both classy and timeless.
One outstanding quality of this color is its versatility, which works well as a backdrop for a myriad of decor styles. It also looks stunning with various other colors, such as soft blues, greens, pinks, and bolder accent colors like navy and black. It has an LRV of 63 and RGB values of 217, 206, and 186.
In the design ideas below, see how you can use Wool Skein to brighten up your home decor, whether modern or traditional.
Sherwin Williams Universal Khaki (SW 6150)
When it comes to home decor, Universal Khaki can fit any design theme and style. This hue has a 40 LRV and RGB values of 184 / 169 / 146, reflecting its mid-tone color, and its subtle yellow undertones inspire an earthy and welcoming feel.
It can be paired with a variety of accent colors, ranging from bold jewel tones to soft pastels, and it can complement both traditional and modern accessories. Universal Khaki is also available in a variety of finishes, ranging from flat to high gloss, allowing you to customize the look and feel of your space.
Whether you're going for a rustic look or a modern, minimalist vibe, this color can work its magic. The images below show Universal Khaki's versatility in various settings, from a cozy living room to a sleek home exterior.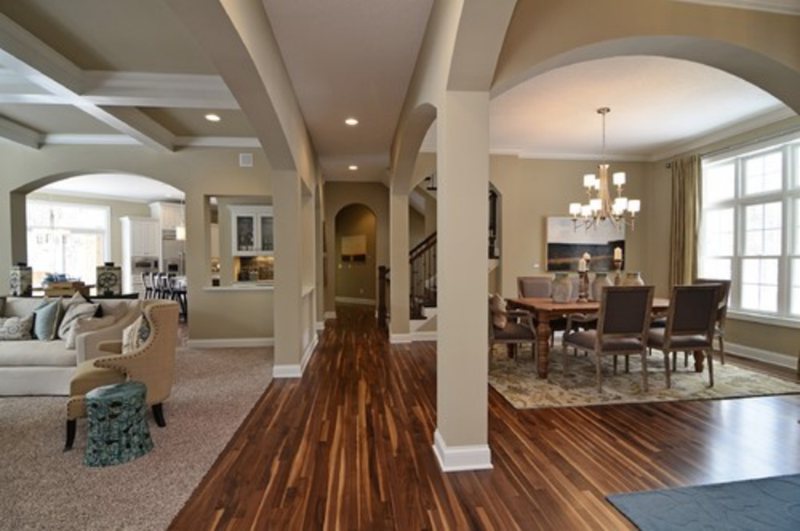 Sherwin Williams Natural Linen (SW 9109)
Save the best for last, they say, and this picturesque Natural Linen is no exception. Its dynamic hue complements warm and cool color schemes, and its neutral tone allows easy accessorizing with pops of color or texture.
What sets Natural Linen apart from other tan paint colors is the subtle greige undertone that gives it a one-of-a-kind finish. It has an LRV of 66 and RGB values of 223/211/195, which bring its calm and soothing appearance.
In terms of application, Natural Linen is a joy to work with. It has a smooth and creamy consistency that glides effortlessly onto walls and dries quickly to a beautiful, soft finish on bathroom walls, living room, or any applied surfaces. See the images below for more design inspiration.
NB: In the previous section, we discussed light and medium-dark tans. Light tans have LRV values greater than 50, while medium-dark tans have LRV values of 30-50 as they reflect a moderate amount of light. When selecting a tan color for a space, it is critical to consider the LRV values because they can significantly impact the overall look and feel of the room.
Final Thoughts
Tan paint colors range from warm and cozy to cool and sophisticated, with plenty to suit every taste and style. Whether you're looking to refresh your living room or add a unique ambiance to your space, these 10 Sherwin-Williams tan paint colors are sure to inspire your next home project.