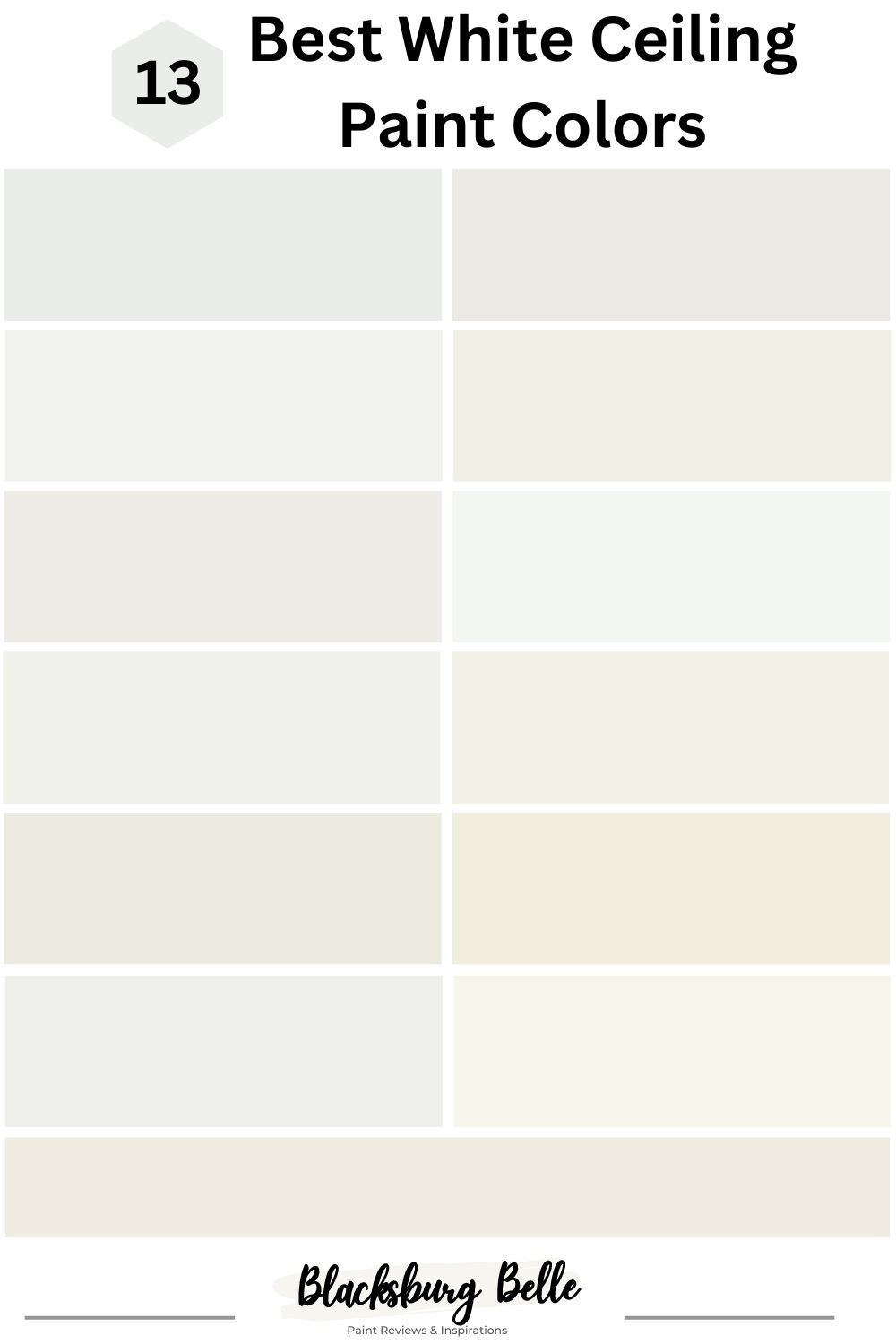 White! The timeless, beautiful, and cool color we all love. White is unarguably one of the most versatile and popular colors we can find, and this comes as no surprise at all.
For years, this color has continued to dominate the design world as the top choice for an array of painting projects. As a whole house color, for bathroom vanities, kitchen islands, cabinets, and of course ceilings.
Believe it or not, your ceilings are and should be a focal point in your mind whenever you're thinking about embarking on a painting project. This is because it takes up a large chunk of your room and can have an impact on the overall effect in your room.
Should I Use White Ceiling Paint?
Is white really an ideal color option for our ceiling? Whites are often considered the best colors for ceiling projects because of the modern and clean feel they bring into the room.
Before using white color for any of your projects, especially your ceilings, you should know that not all whites are created equally. In fact, there are several categories of whites and each of these colors has its unique undertones, and peculiarities.
While Whites make rooms appear brighter, spacious, and airier, choosing what white works suitably for your ceiling project would depend on a number of factors. Such as preference, matching colors, and more.
This is why we have curated this special guide on the things you should know before painting your colors and the best white colors for the job.
How To Choose The Best White For Ceilings
We've listed a couple of factors that would serve as a guide for anyone choosing white for their ceilings, these should help you make an ideal choice for your home.
Match Your Ceilings With Your Walls
An important rule of thumb is to never, ever start painting your ceiling without considering the architectural makeup of your house, especially the room being painted.
For angled ceilings, it's usually best to take the wall colors up into the ceilings, this is because stopping at the walls alone can make it appear as though the room has been cut in half, thereby making your room appear smaller.
What this means is that you choose white colors that work for your walls and ceilings as well. It's important to make sure your whites are matching, a simple reason for this is that you don't want one white to appear moody or dull when compared to the other.
Consider The Undertones
Undertones are important! This goes without saying because whether the white you have chosen will work for your ceiling depends on the kind of undertones it has. Undertones occur for a variety of reasons but mostly as a result of the other color elements in the room, the lighting, and the makeup of the color itself.
Not a lot of people want to use whites that are stark or feel sterile, and that's fine because knowing the undertones can help you decide which white colors best work for you and your space.
List Of 13 Best White Ceiling Paints
1. Decorator's White by Benjamin Moore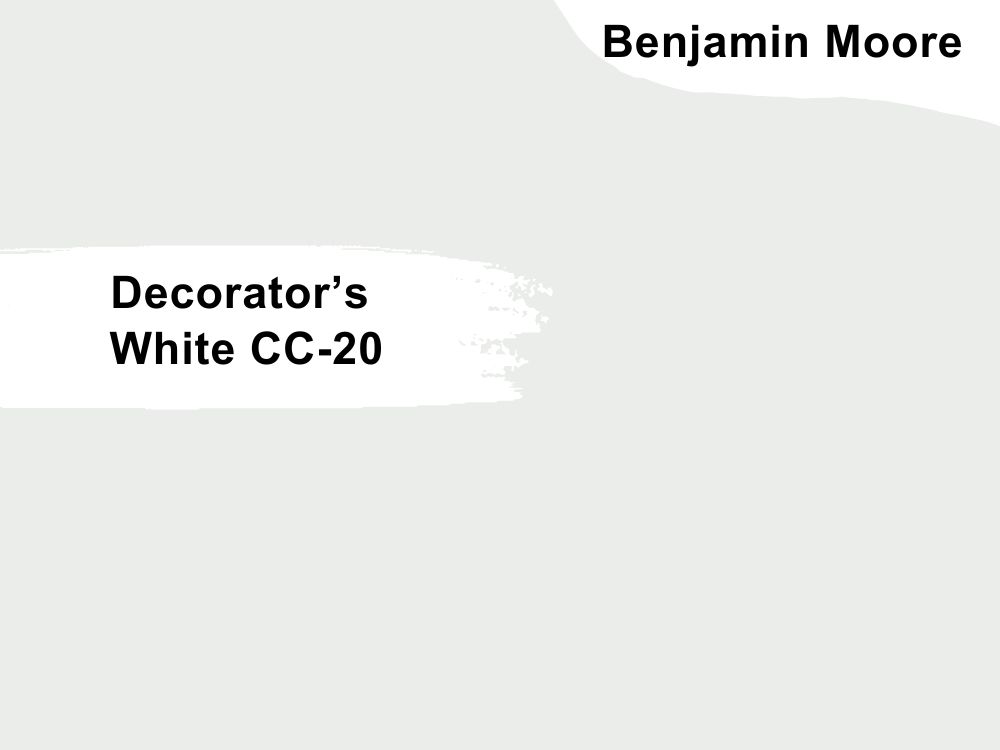 | | |
| --- | --- |
| RGB | 236 237 234 |
| LRV | 82.68 |
| Undertones | Gray, slight purple, blue |
| Matching colors | Oxford White, Raindance, Chantilly Lace, Blue White |
When it comes to white ceiling paints, very few colors come close to this elegant Benjamin Moore color. Sweet, cool, and elegant, Decorator's white is everything you need to make your room appear bright and crisp without stress.
This white color is on the cooler end of the scale and works amazingly well with different decor styles. It would work with a modern or coastal decor style and even a traditional-styled room. Place it in any setting, and watch it work in the best way for you.
Use Decorator's white for your ceilings if you're searching for a delightful cool white with slight grayish Undertones.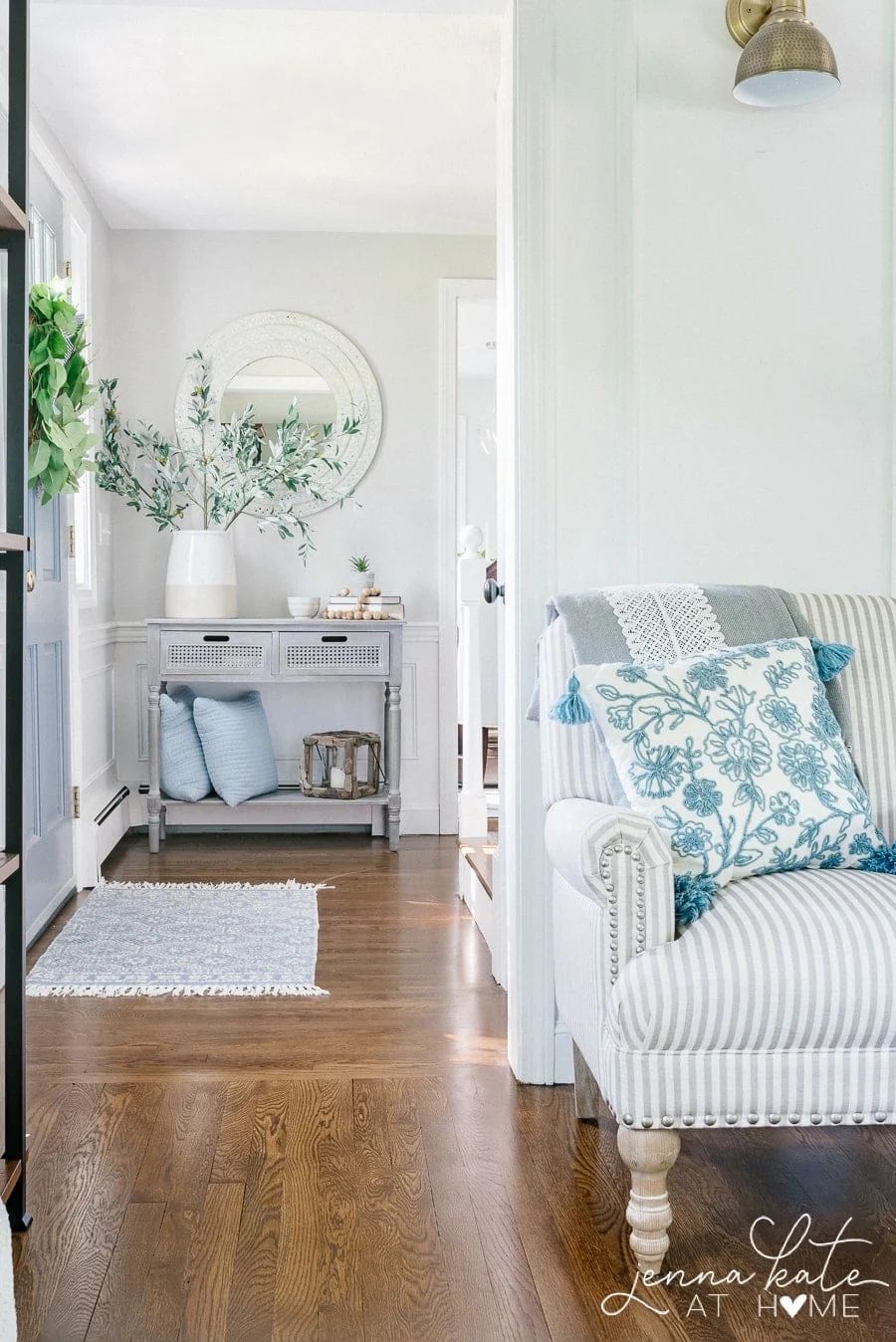 2. Snowbound by Sherwin Williams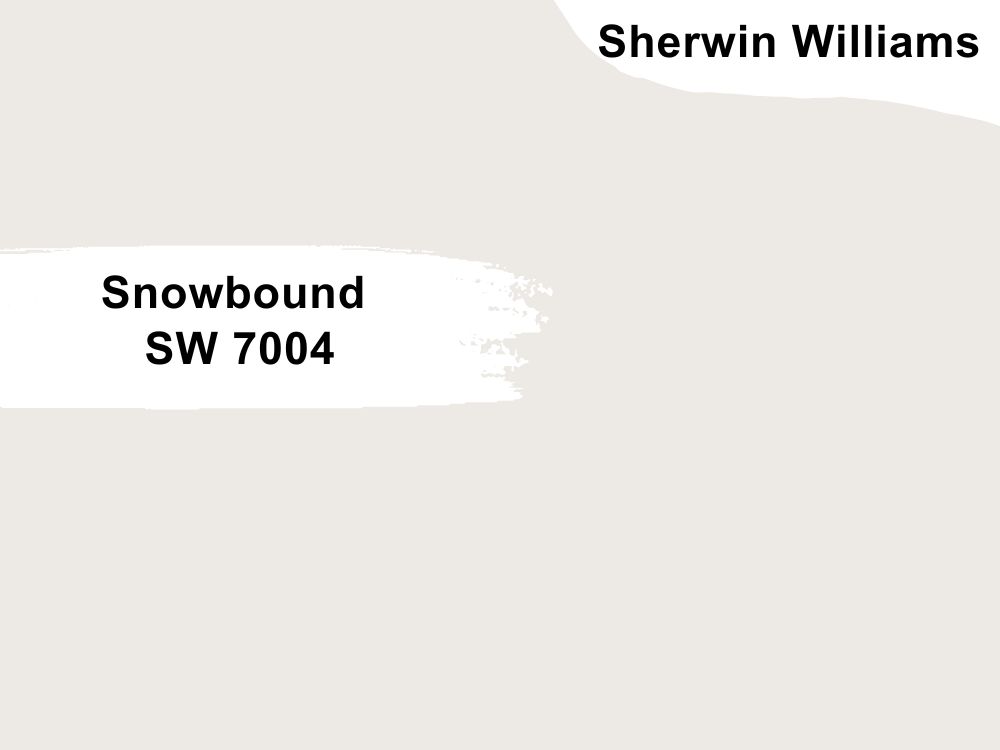 | | |
| --- | --- |
| RGB | 237, 234, 229 |
| LRV | 83 |
| Undertones | Slight gray, violet-pink, cream |
| Matching colors | Autumn Orchid, Colonnade Gray |
Despite not being a true white, this color makes up for it in beauty, softness, and warmth. Snowbound is an incredibly white color that helps your space to look and feel inviting. Closer to the warmer end of things, Snowbound will make your room appear brighter, warmer, and richer. If you've been searching for that perfect warm white to use for your ceiling, then you should add Snowbound to your list of favorites.
Although not a cool white, you can expect it to come out looking cool under northern light exposure even though it belongs to the yellow family.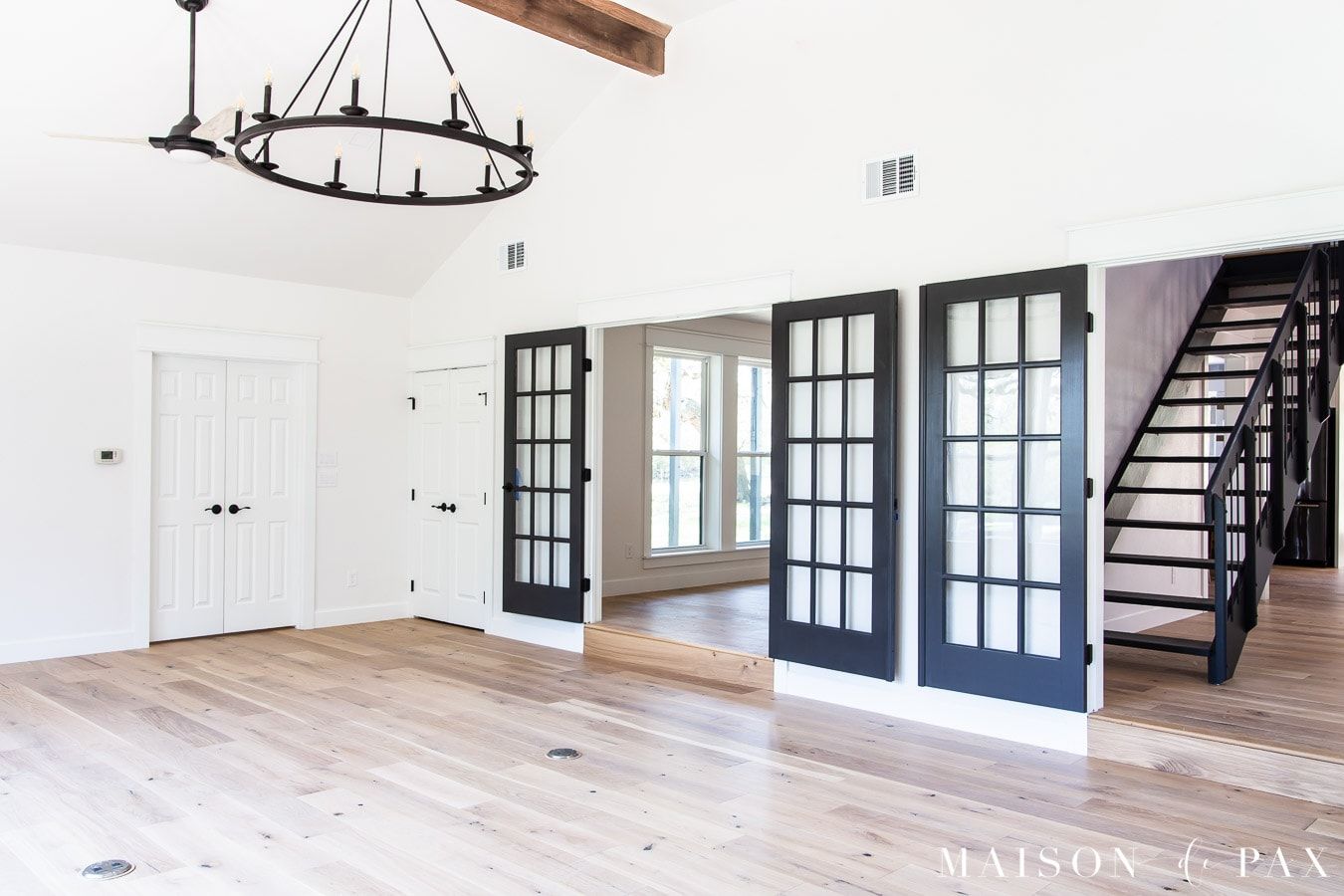 3. Super White by Benjamin Moore
| | |
| --- | --- |
| RGB | 255, 255, 255 |
| LRV | 83.76 |
| Undertones | Blue |
| Matching colors | Pure White, Hale Navy, Juneau Spring, Horizon |
Another Benjamin Moore white color for the win! This popular white color is an easy choice for most designers because of its great ability to reflect light into a room. Super White will charge up your room with a simple elegance that is both gentle and refreshing to observe. Highly versatile, it would make your space come to life in a clean, and crisp way. Expect Super White to keep things looking sharp in your room.
Many people whose homes or rooms are styled in modern decor have used Super White for their ceiling projects and usually end up impressed. Give this beautiful white color a chance to refresh your home and give it a subtly classy feel.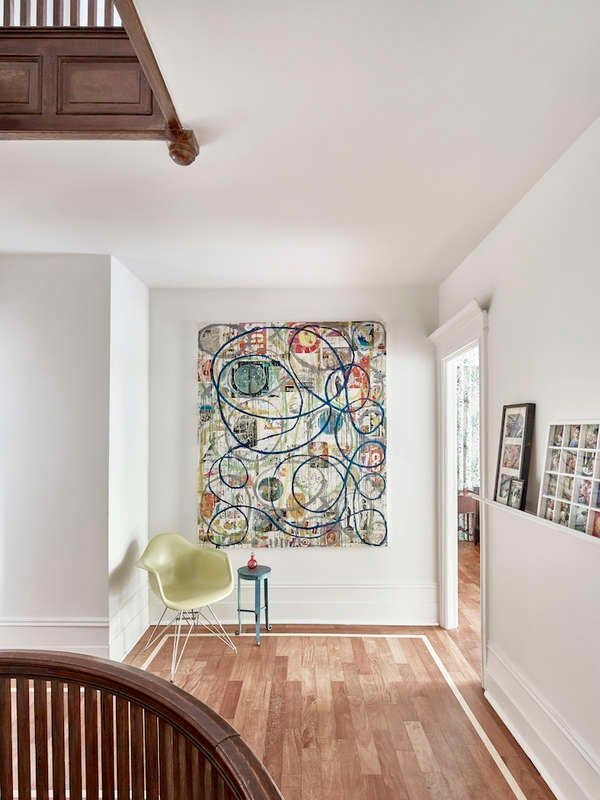 4. Atrium White by Benjamin Moore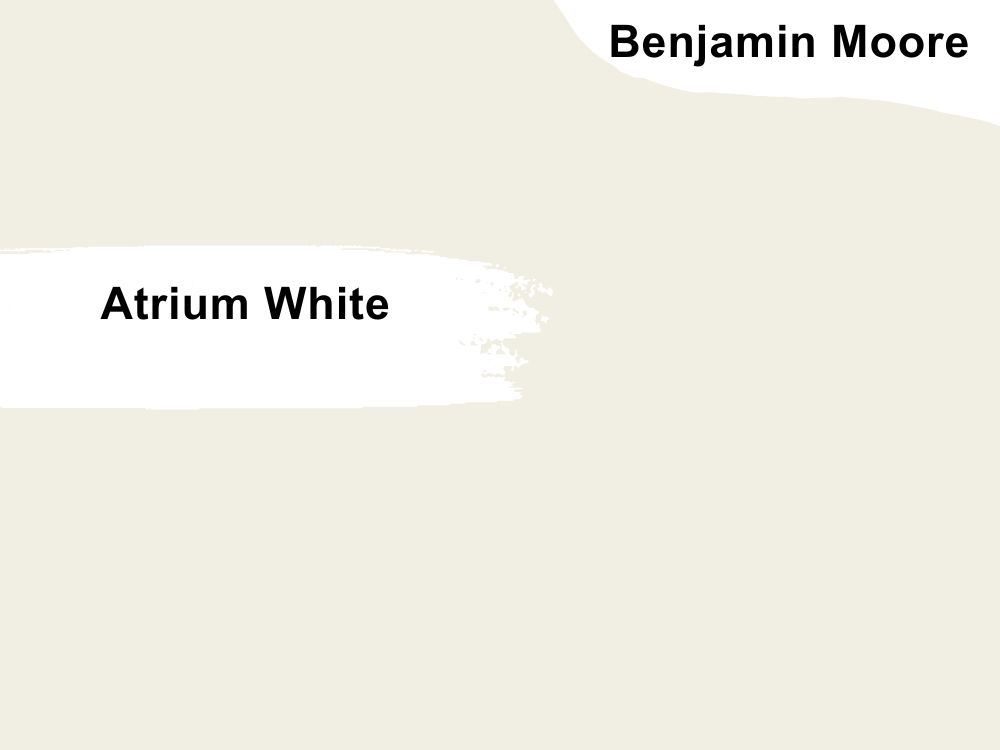 | | |
| --- | --- |
| RGB | 241, 238, 228 |
| LRV | 85.08 |
| Undertones | Pink(rarely), Sandy |
| Matching colors | Muslim, Aegean Teal, Tate Olive, Elmira White |
Atrium White is a delightful white color that is almost off-white. It's beautiful and has a rich hue which gives it some extra pizzazz and makes it a great choice if you're looking for a white color with some color.
In certain instances, Atrium white has a bit of a pink undertone, and can even flash purple sometimes. If you decide on Atrium White, you have to ensure it coordinates well with the other colors in the room.
Although this white can be a little tricky to manipulate because of its pink undertone, it can be great in some cases as long as you don't mind the undertone or already have pink in your home. It would be especially great to use in a room with northern light exposure.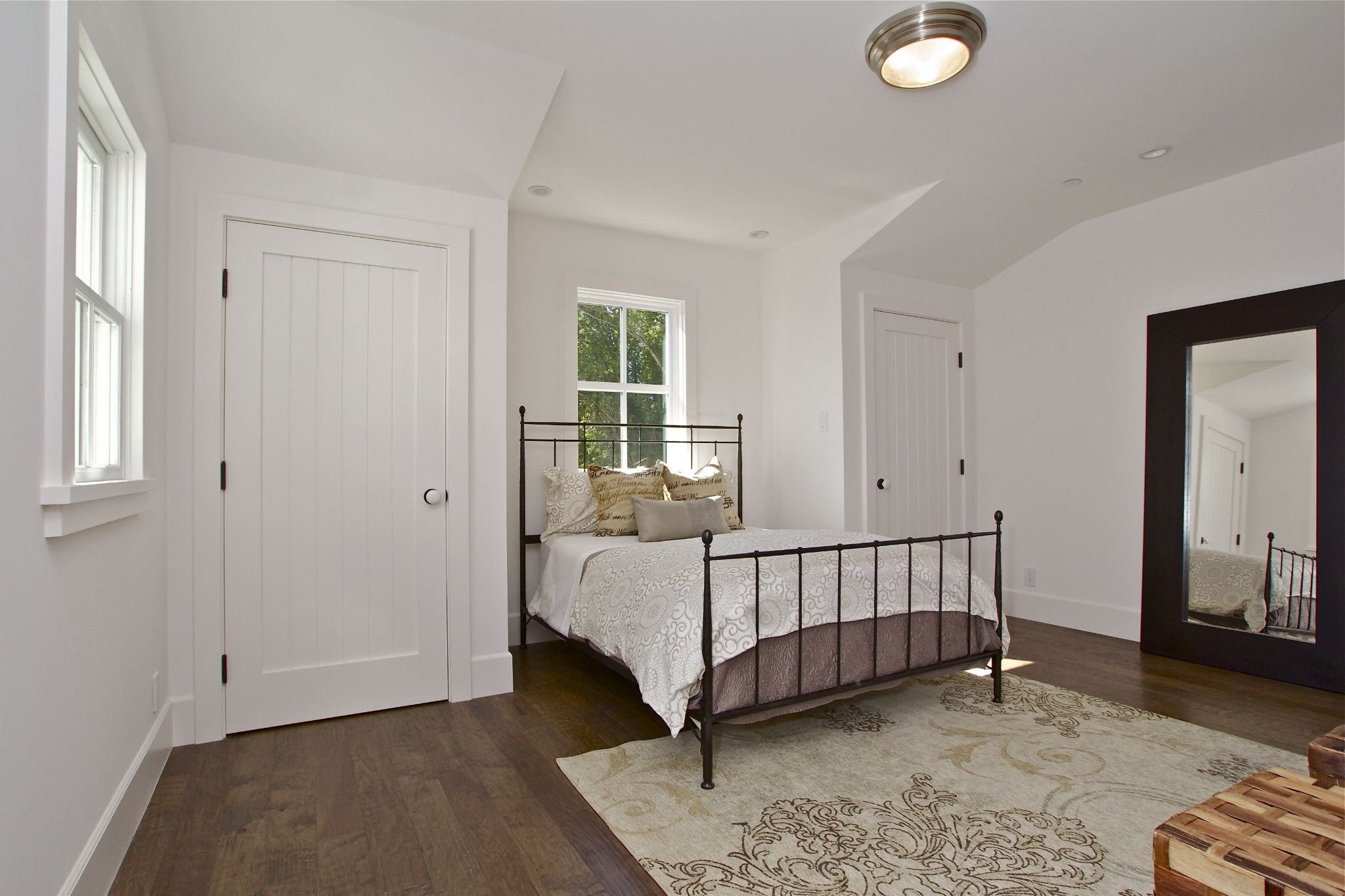 5. Pure White by Sherwin Williams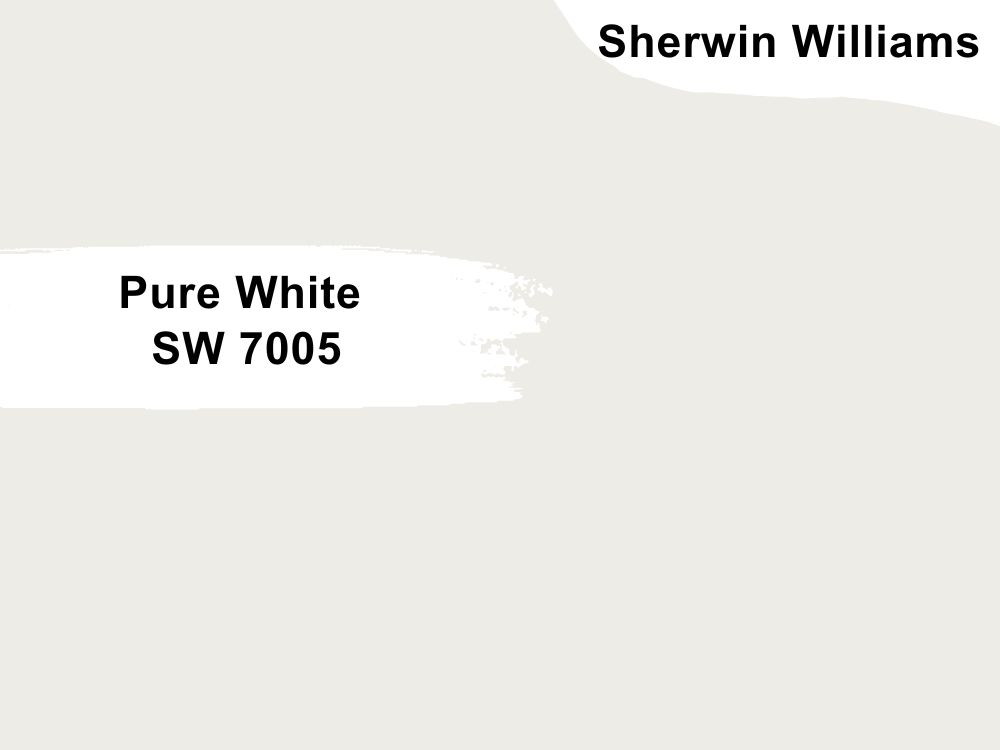 | | |
| --- | --- |
| RGB | 237,236,230 |
| LRV | 84 |
| Undertones | Slight yellow |
| Matching colors | March Wind, Perle Noir |
If you have a small room, that would love to appear spacious and airy, then you definitely should use this perfectly balanced white color for your ceiling project. Pure White is a great choice because it's somewhere between stark and creamy and offers a shade that's bright and crisp with some warmth, but not overly warm.
It's also a highly versatile paint that's easy to use and in most cases, a safe bet for your ceiling. Under Southern light exposure, your room would get tons of natural warm sunlight and this would cause pure white to lean into its warmth and come out looking a little yellowy.
Under northern light exposure, your room would typically get cooler natural lighting. Pure white in this instance would lean into its cooler side, looking clean and crisp, and have its softness tampered down as well.
It's worthy of note that this is one of Sherwin Williams's most popular white colors.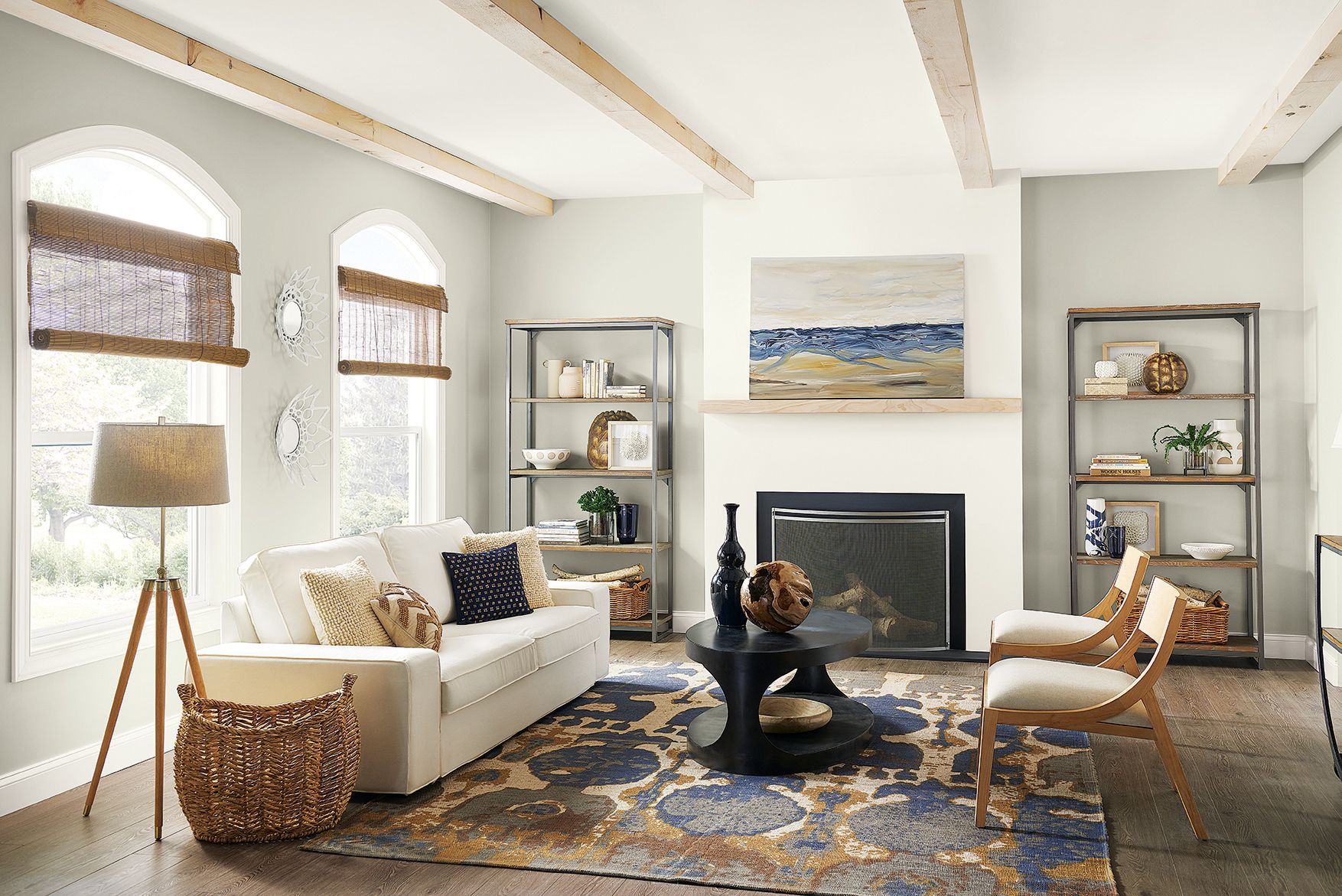 6. Chantilly Lace by Benjamin Moore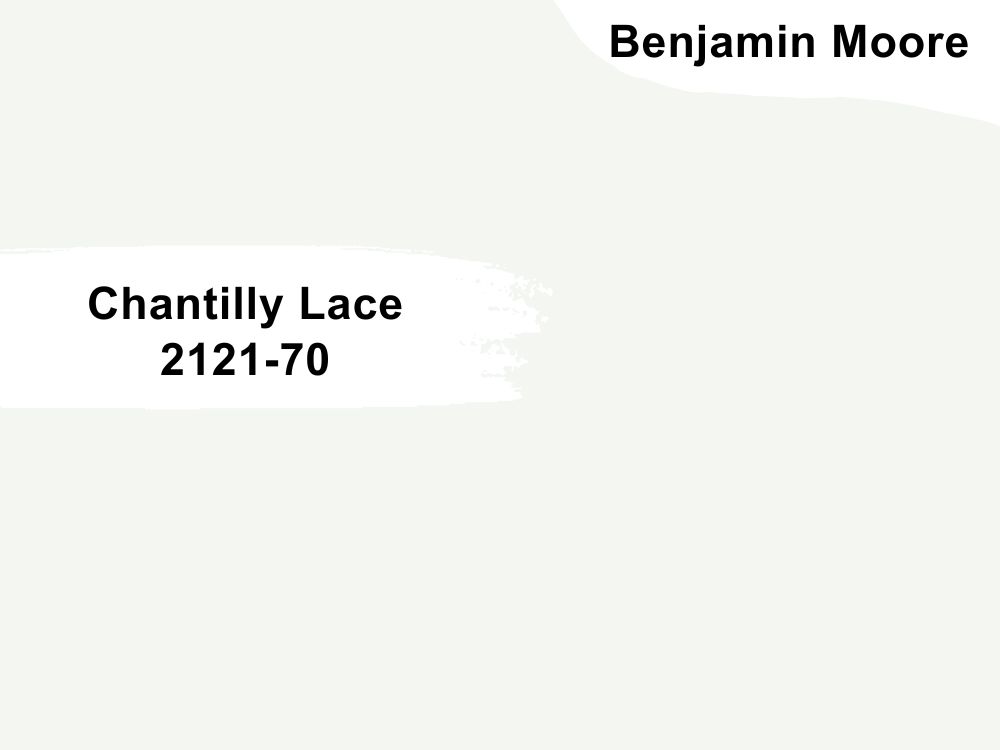 | | |
| --- | --- |
| RGB | 245, 245, 239 |
| LRV | 92.2 |
| Undertones | Slight gray/blue (Northern light exposure) |
| Matching colors | Edgecomb Gray, Seapearl, Horizon, White |
This silky white is one of the best choices you can make. Chantilly Lace is a soft, cool white color that many designers love to use for ceiling and cabinet projects. Are you searching for that perfect white that would do justice to the other elements in the room by enhancing their beauty?
Then you've got your answer with Chantilly Lace. It's a delightful color that helps to showcase the beauty in the room without overstating itself. Use chantilly Lace for a timeless ceiling color that would never quite an age. Not a fan of yellow undertones?
Then definitely go with this white color as it has no yellow undertones at all. Chantilly Lace would bring a refreshing look to your space by making it look bright, spacious, clean, and crisp without feeling sterile.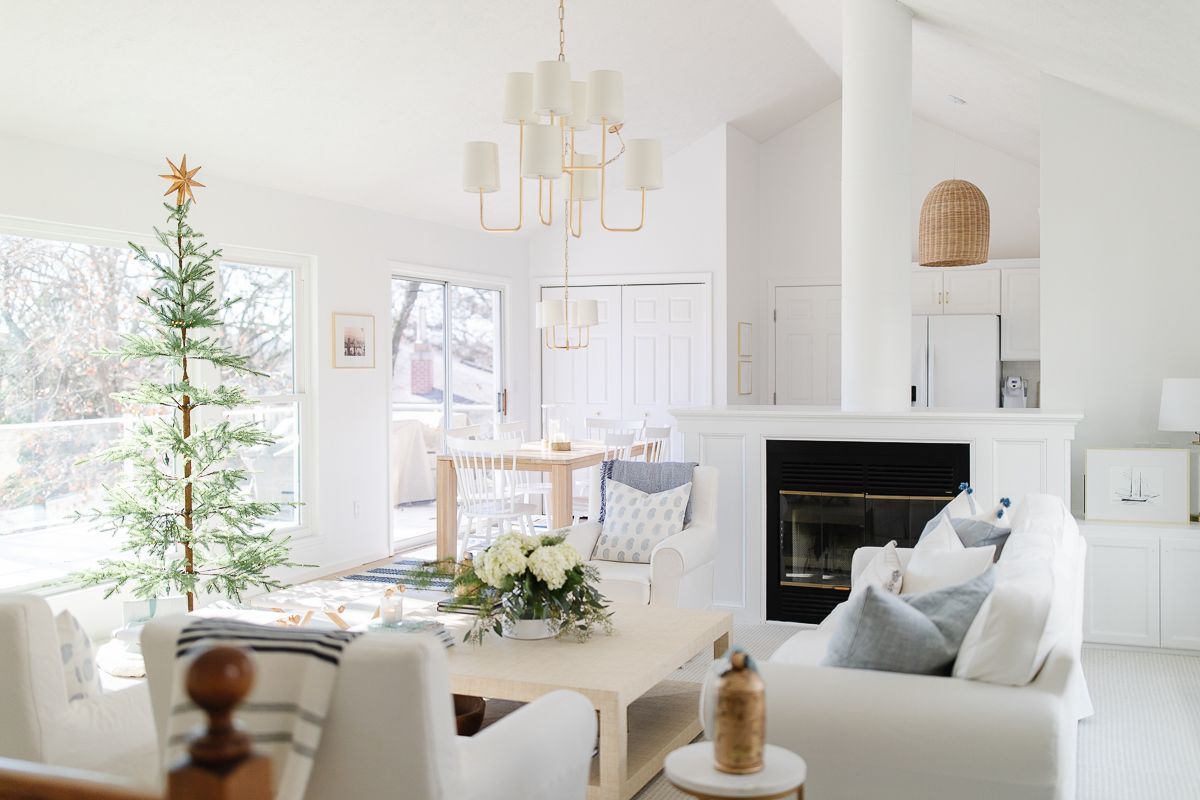 7. Oxford White by Benjamin Moore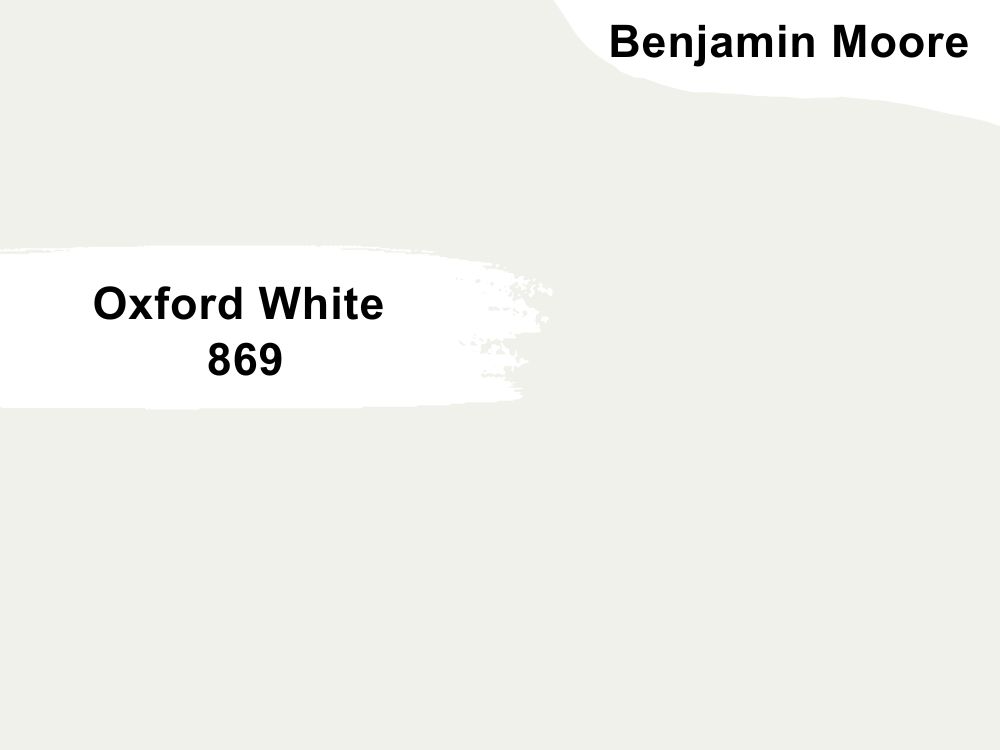 | | |
| --- | --- |
| RGB | 240,231,234 |
| LRV | 86.69 |
| Undertones | Yellow, Warm |
| Matching colors | Horizon, Raintree Green, Chantilly Lace, Wickham Gray |
We couldn't resist adding this splendid, slightly warm Benjamin Moore White color that's becoming a fast favorite with designers. Oxford White isn't your average overly warm color but will lean very nicely into its warmth under certain lighting conditions.
Under southern light exposure, it would come off as quite warm because of the natural sunlight boost it would get. If you're looking for a white that's not likely to pick up any dramatic undertones, then you may want to be careful with how you use it.
Oxford White is so incredibly awesome because it's one of the white colors you can use both as a ceiling and trim color and have no issues at all. Use this color to introduce a clean and modern look to your home.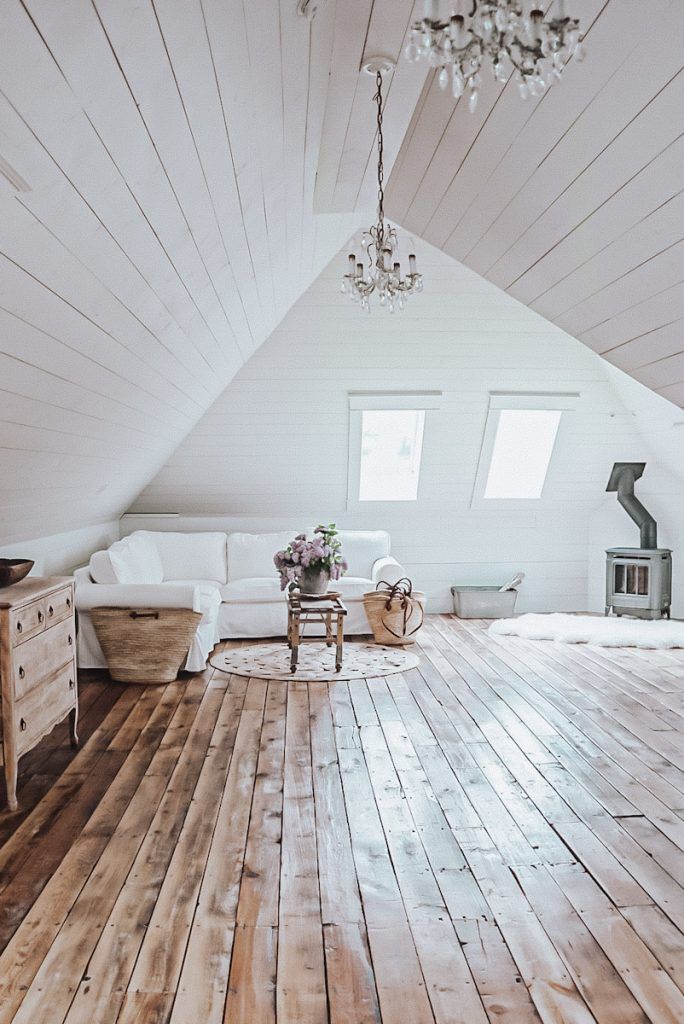 8. Cloud White by Benjamin Moore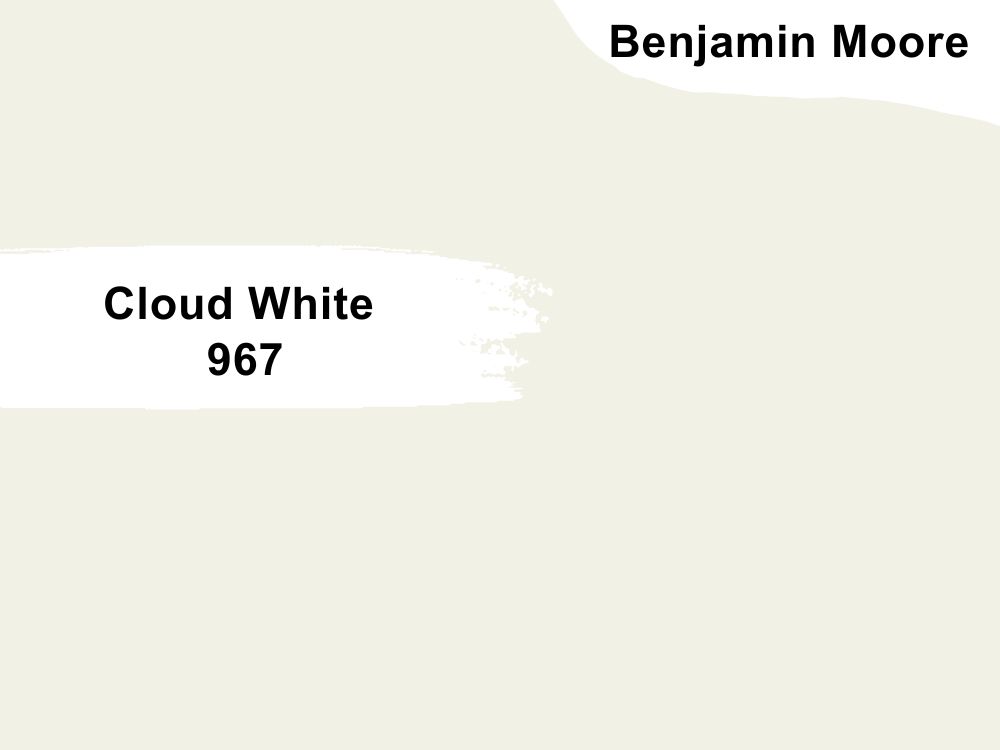 | | |
| --- | --- |
| RGB | 243, 238, 225 |
| LRV | 85.05 |
| Undertones | Slight taupe |
| Matching colors | Pale Oak, Champion cobalt, Yosemite Yellow, White Down |
If your fancy is a soft and warm white without color, then cloud white is just the thing you need. It's not a true white and won't come out looking stark or anything, but will rather feel like a toned-down white color.
Cloud white is a creamy white color but won't readily feel like a clean and crisp white. If you're okay with an elegant, subtle white color then use cloud white for your ceiling project.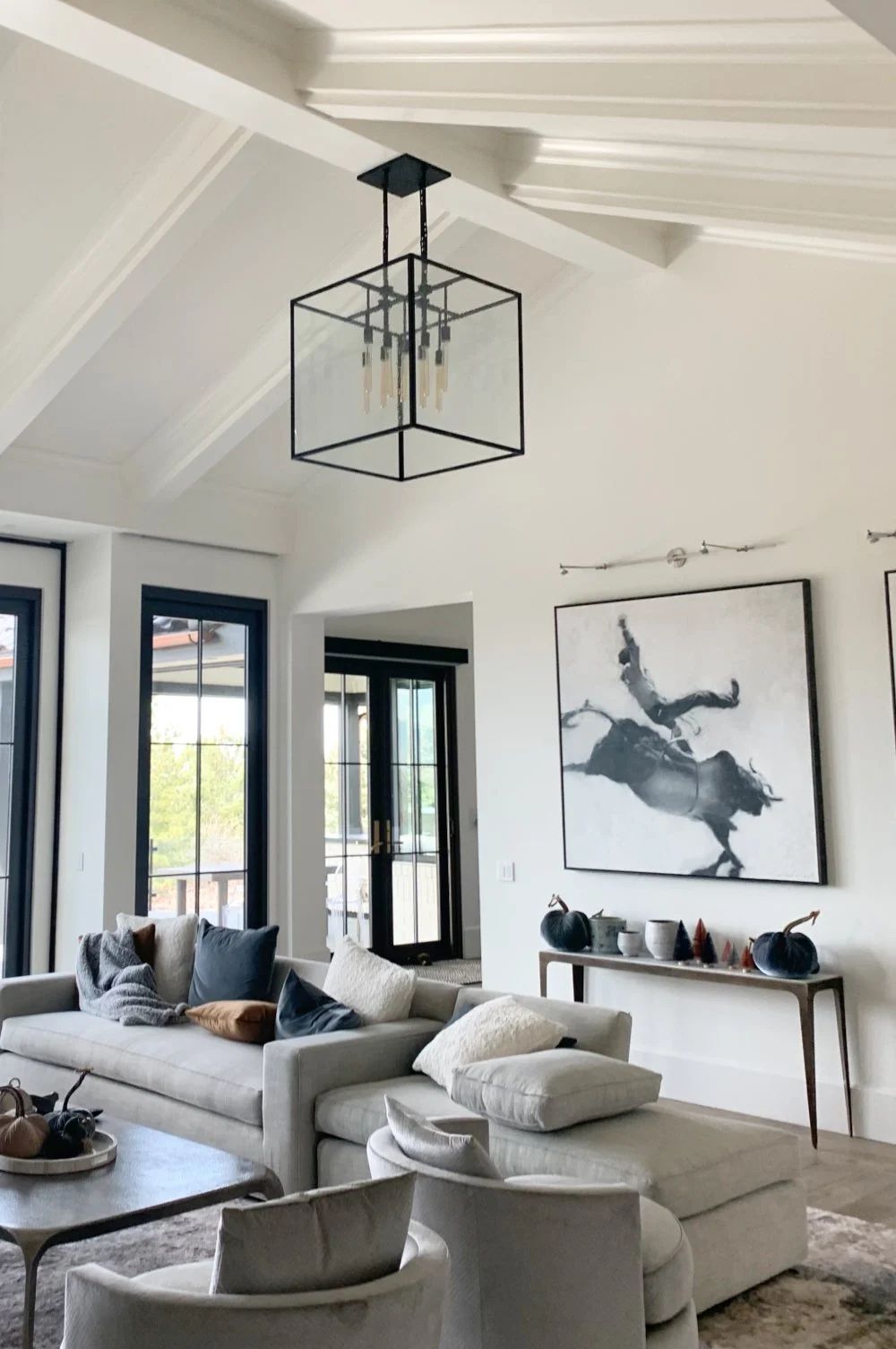 9. Alabaster by Sherwin Williams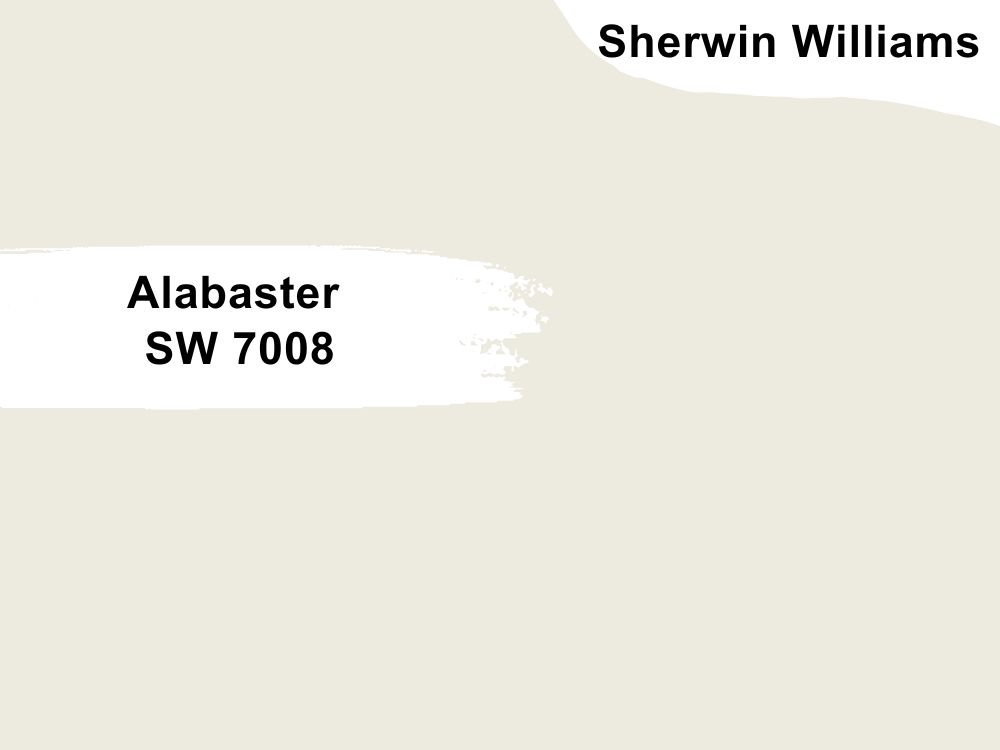 | | |
| --- | --- |
| RGB | 237, 234, 224 |
| LRV | 82 |
| Undertones | Subtle beige |
| Matching colors | Townhall Tan, Dakota Wheat |
This SW white color is absolutely to die for. A perfect white that subtly warms up your room and brightens it without making it appear too stark is definitely something to rave about. Alabaster is a soft white color that can help your home achieve a modern vibe.
Alabaster is also ideal if you're looking for a white color that is warm but doesn't appear overly creamy or yellow. If you have gray and black elements in your room, Alabaster can be a fine choice for achieving a beautiful contrast. Give this white a chance to brighten and freshen things up in your home.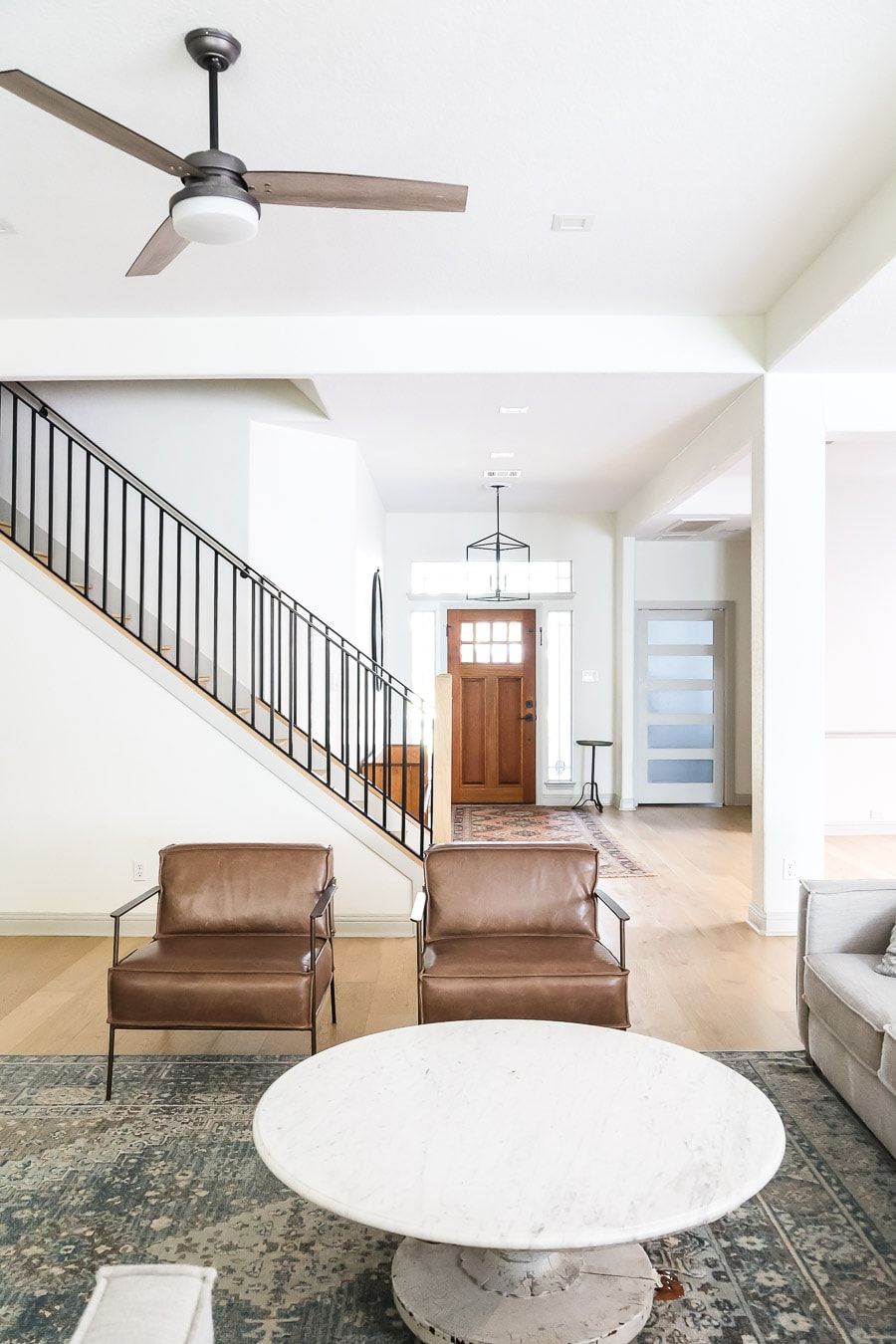 10. Timid White by Benjamin Moore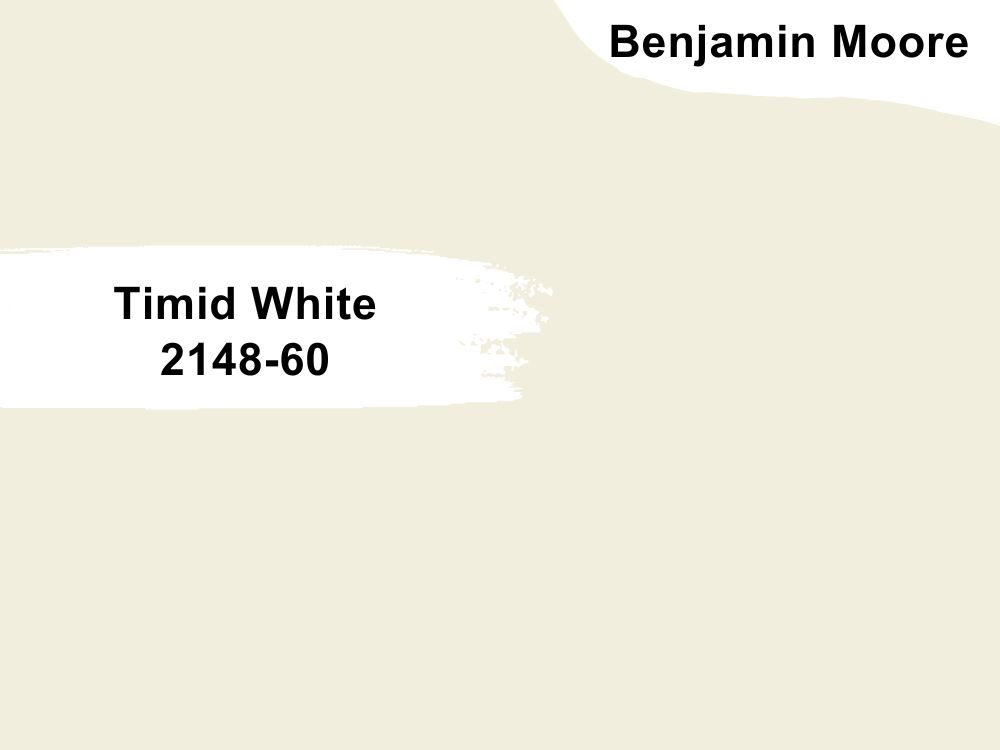 | | |
| --- | --- |
| RGB | 244, 236, 220 |
| LRV | 82.45 |
| Undertones | Lavender |
| Matching colors | Gentle Cream, Ashwood Moss, Monroe Bisque, Sharkskin |
Pull off a classy, and gentle look with this pleasant off-white color from Benjamin Moore. Despite the name, this white is one of the best colors you can use for your ceilings.
It has some slight gray in its makeup which makes it quite versatile, neutral, and able to contrast nicely with other whites. Use this color for your ceiling if you're looking for a light, warm white that would look great and work easily in any setting.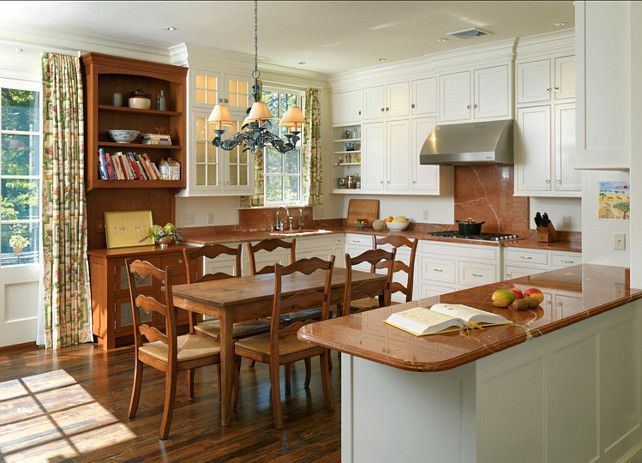 11. Extra White by Sherwin Williams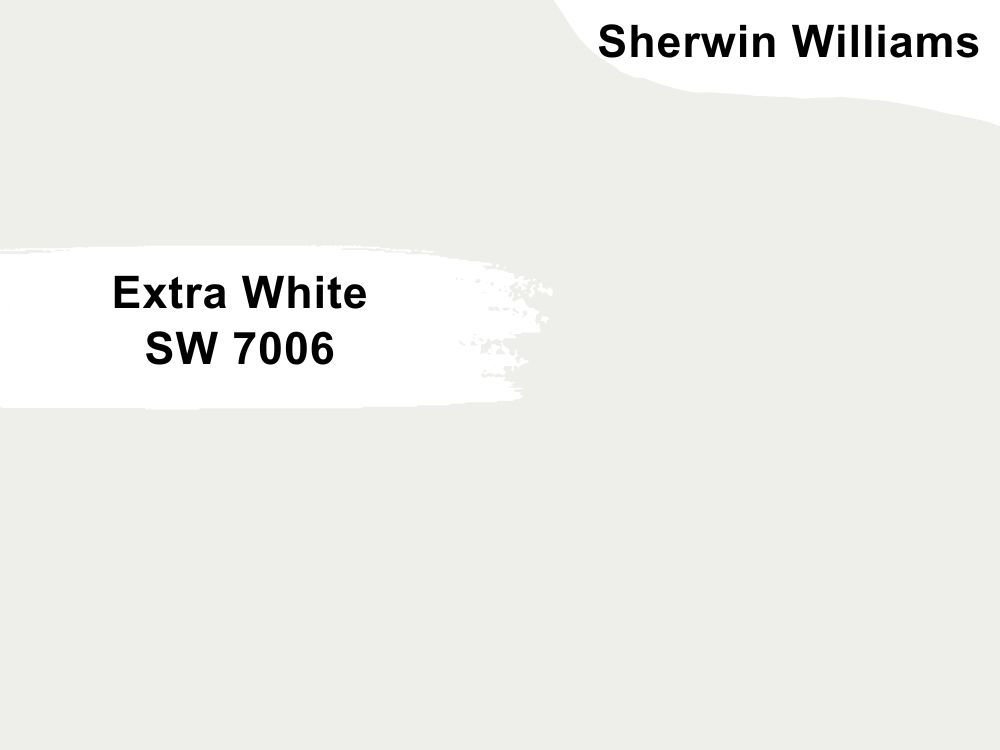 | | |
| --- | --- |
| RGB | 238, 239, 234 |
| LRV | 86 |
| Undertones | Slightly blue |
| Matching colors | Smoky Azurite, Charcoal Blue |
Want a warm, creamy white and want a white that looks cool, feels a tad moody, and doesn't have any yellow undertones? Then Extra White is the color you seek. It is an awesome color to use because of its muted tones but still retains its simple elegance.
Under northern light exposure, extra White will hold its own and still come off looking very cool, with Southern light exposure, the naturally warm sunlight will cause it to lean into its warmth without feeling overly warm or even turning yellow or creamy.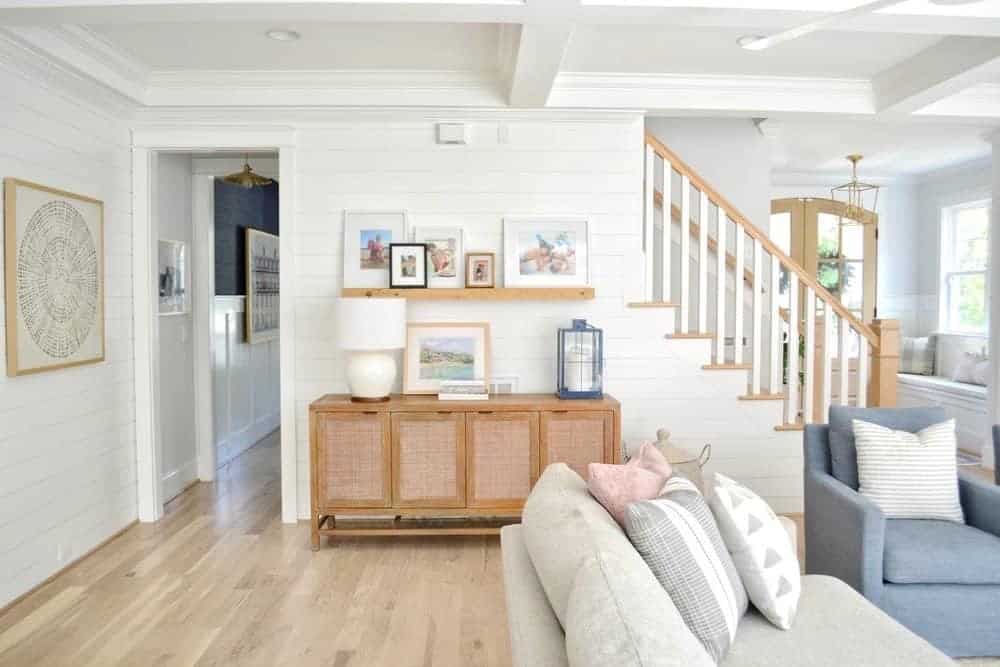 12. Simply White by Benjamin Moore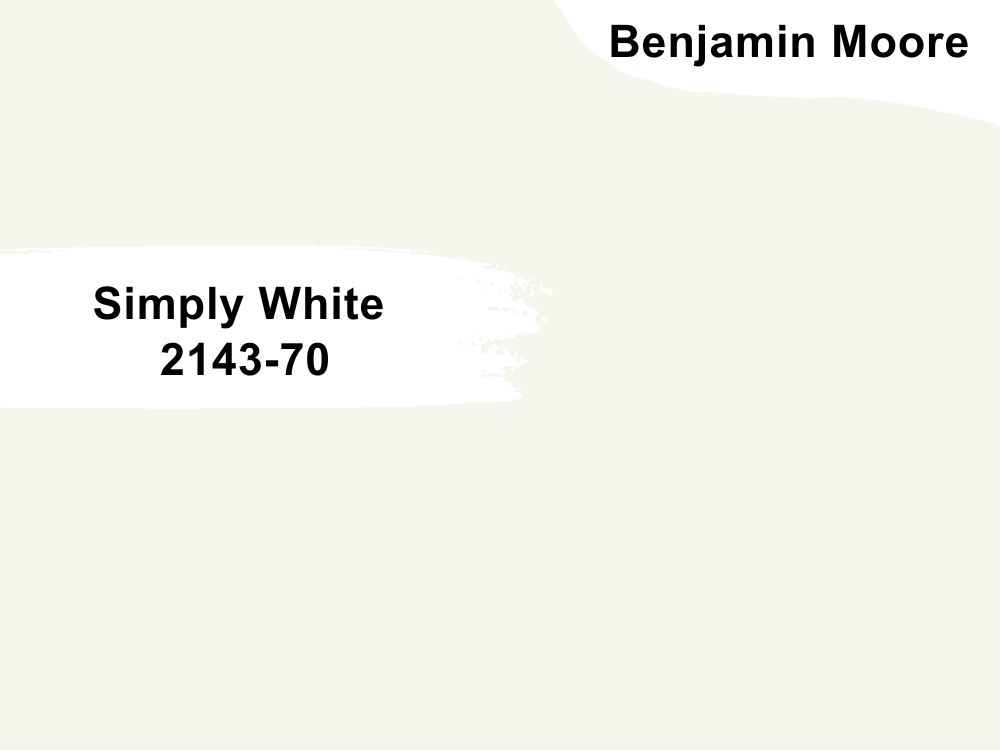 | | |
| --- | --- |
| RGB | 247 244 235 |
| LRV | 89.52 |
| Undertones | Slight yellow |
| Matching colors | Dove Wing, Summerville Red, Silver Satin, Casco Bay |
This delectable 2016 color of the year is one of the most popular whites from Benjamin Moore, and to be honest it deserves all the hype it gets.
Use this color for your ceilings when you're angling for a beautiful white color that has enough warmth that shines through. With simply White, you can expect to see the color leaning into its warm, yellowy side.
Simply White is especially exceptional in rooms with Northern light exposure because it would have just enough warmth under the cool light, under southern light exposure however, it tends to come off a tad too creamy and so be careful to test and see if it's something you are comfortable with before doing your ceilings.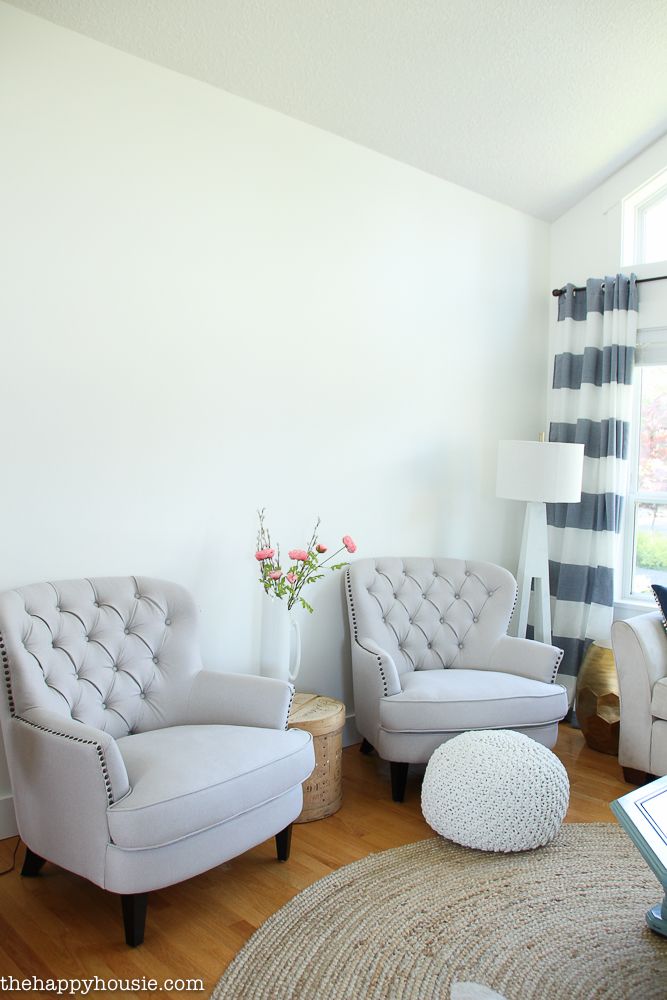 13. Greek Villa by Sherwin Williams
| | |
| --- | --- |
| RGB | 240,236,226 |
| LRV | 84 |
| Undertones | Subtle yellow, gray, beige |
| Matching colors | Illusive Green, In the Navy |
Elevate your room's look with this beautiful Sherwin Williams white color. Greek villa works well
for your ceiling because it's quite easy to use and highly versatile. It has beige undertones that would make any space you put in it come to life in a warm, cozy, and inviting way.
Not to mention the fact that it does really well with a ton of other colors and will work well even with warmer whites.
Conclusion
We believe that while painting your ceiling might not be easy, it should be fun and not a hellish chore that you dread. Most of the colors on this list are Benjamin Moore white paint colors because tons of designers agree that Benjamin Moore white paints are often the best for ceiling projects.
Ideally, ceiling paints should have a matte finish and slow drying time and Benjamin Moore white paint often has these qualities. Again, like other colors, it's important to test the white color you intend to use across various lighting levels. If your space isn't really well-lit, opting for warmer whites would do you a world of good, especially because of the pink undertones.