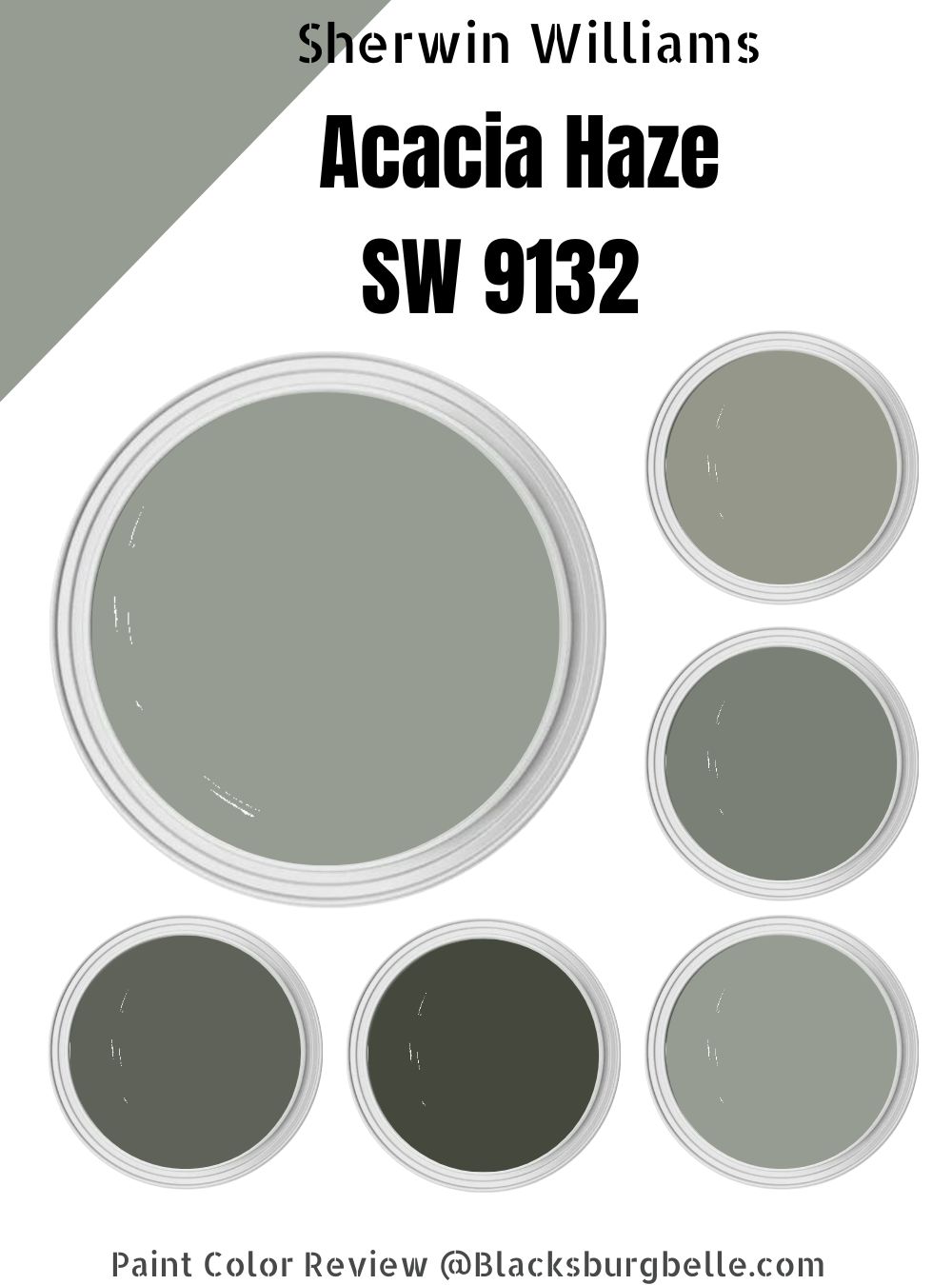 Sherwin-Williams Acacia Haze (SW 9132) is a shade of sage green that's making a comeback in interior decoration five years after its peak. It's a timeless color for classic, modern and retro décor thanks to its warm neutral tone.
I stumbled on this shade while searching for unique sage green hues and couldn't believe the beauty. Acacia Haze was Sherwin-Williams color of the month in February, 2018 thus opening more people to the possibilities of the neutral tone.
If you're looking to inspire serenity yet add a stately aura into your space, then Sherwin-Williams Acacia Haze is for you. Here's everything you need to know about the color from its Light Reflective Value to its RGB, Hex Value, undertones, and the color palette.
What Color is Sherwin-Williams Acacia Haze
| | |
| --- | --- |
| Manufacturer | Sherwin Williams |
| LRV | 32 |
| RGB | R 150 | G 156 | B 146 |
| Hex Value | #969c92 |
| Color Collections | 2020 Haven, 2018 Sincerity, Color of the Month (February 2018) |
RGB of Sherwin-Williams Acacia Haze
Sherwin-Williams Acacia Haze has red, green, and blue values of 150, 156, and 146, respectively. That means on a scale of 0 – 226, it takes that amount of RGB mixture in a true black paint to produce this exact sage green hue, and its hex value is #969c92.
You can use this information when searching for a custom-made Acacia Haze alternative without Sherwin-Williams paint.
Light Reflective Value (LRV) Of Sherwin-Williams Acacia Haze
Acacia Haze is a medium-dark tone that balances light absorption and reflection effortlessly with an LRV of 34. Every paint sits on a light reflective value spectrum between 3 – 93 (darkest to lightest), which tells you how well they retain or reflect light into their surroundings.
There's no true black or pure white paint because it's impossible to get those perfectly without undertones compromising their authenticity. However, truly black paint has an LRV of 3 and the purest white possible caps at 93.
Is it a Warm or Cool Color?
With Sherwin-Williams Acacia Haze, you get a two-in-one deal because it's warm neutral. It's a predominantly warm color, but the gray undertone gives a cool aura. The warmth does wonders to open up your space and accommodate other colors.
Do you struggle with anxiety or always have a busy schedule? Then use Acacia Haze by Sherwin-Williams to bring relaxation and nature into your home or office.
Keep reading to find the best ways to use your Acacia Haze paint, including maximizing the undertone.
What are the Undertones?
Have you ever bought a paint based on a pictorial reference only to use it on your desired spot and discover it's nothing like the advertisement? That is the effect of undertones in paint colors, and every paint has them.
Some paints have more than one depending on the colors mixed to create a unique hue. With Sherwin-Williams Acacia Haze, the predominant undertone is gray – the neutral kind that's silver and reminds you of a clear evening cloud.
There's also a hint of brown underneath the gray, making Acacia Haze a good pair with earth tones.
See how the undertones reflect under these unique conditions below.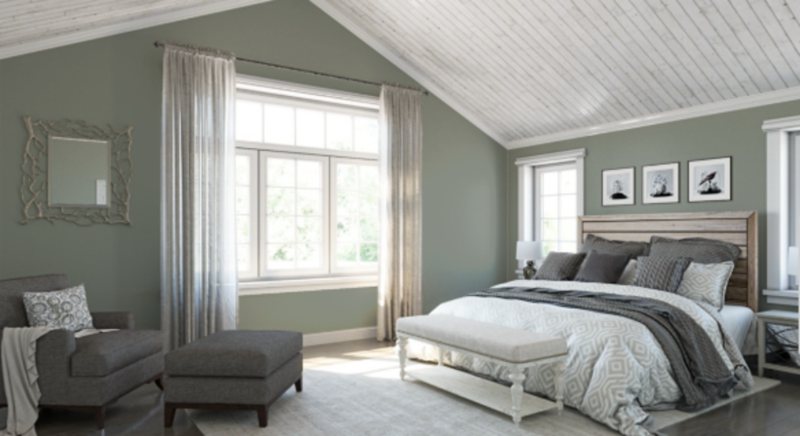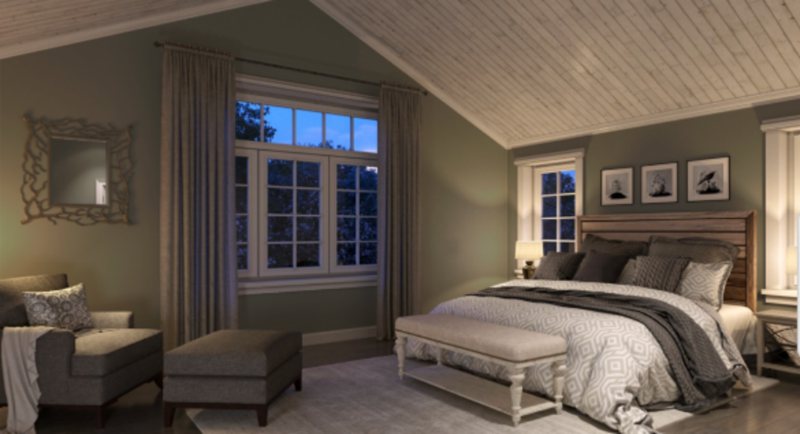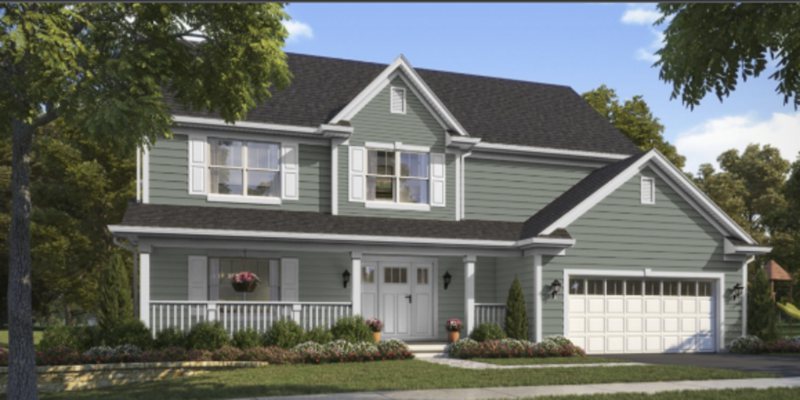 Sherwin-Williams Acacia Haze Color Strip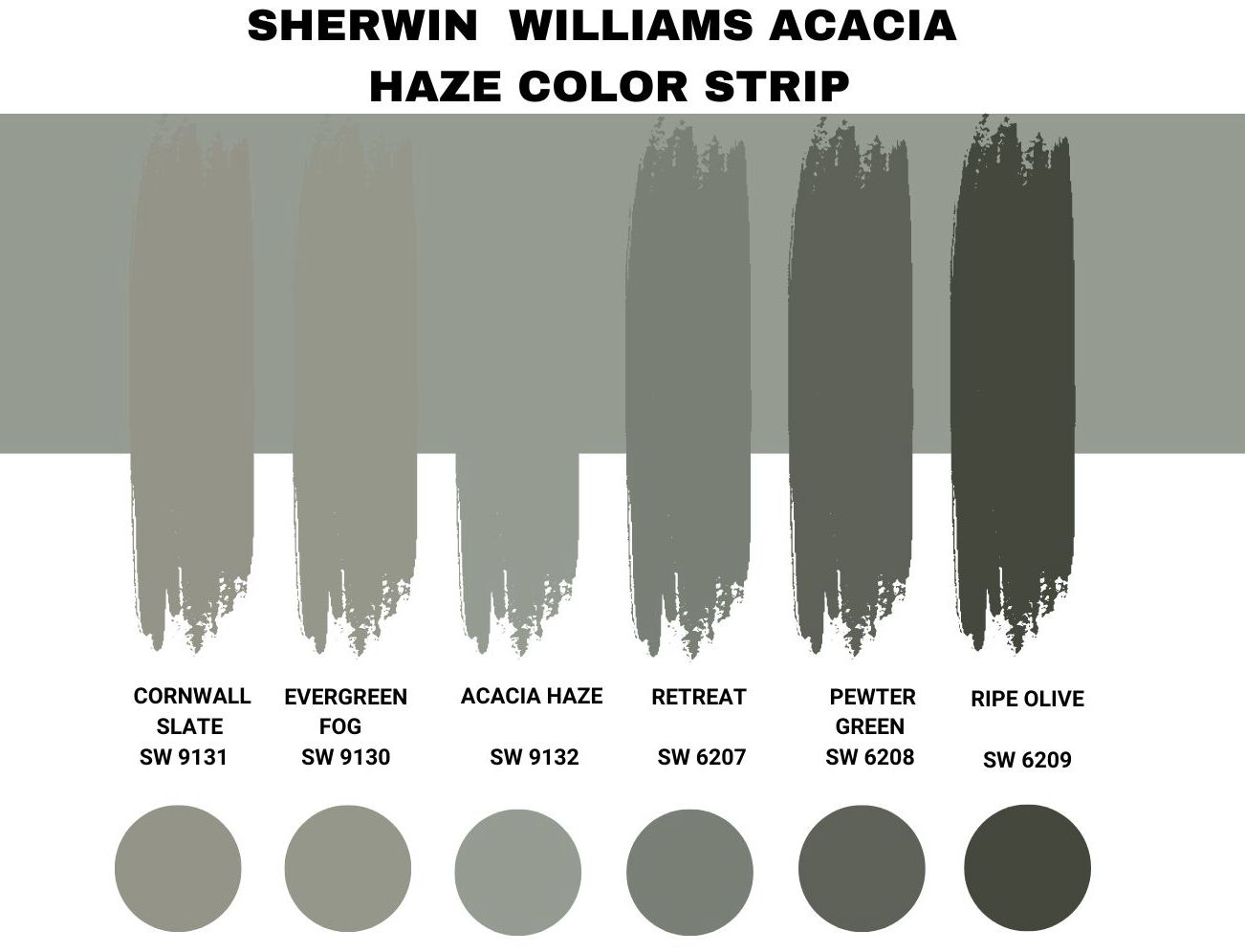 A color strip is a group of colors related to the anchor color based on a gradient from lighter to darker tones. It comes in handy when decorating with monochrome styles and is often a group of four colors.
With the wide range of greens and gray greens Sherwin-Williams offers, I've decided to expand the strip to accommodate all design interests. See the tables below for the Acacia Haze color strip and decide which vibe you'd prefer in your space.
My motto is simple. "The possibilities are endless. Why settle?"
| | | | | |
| --- | --- | --- | --- | --- |
| Color Code | Color Name | Location Number | LRV | Color Tone |
| SW 9130 | Evergreen Fog | 215-C4 | 30 | |
| SW 9131 | ?Cornwall Slate | 216-C4 | 29 | |
| SW 9132 | Acacia Haze | 217-C4 | 32 | |
| SW 6207 | Retreat | 217-C5 | 21 | |
| SW 6208 | Pewter Green | 217-C6 | 12 | |
| SW 6209 | Ripe Olive | 217-C7 | 6 | |
Sherwin-Williams Evergreen Fog (SW 9130)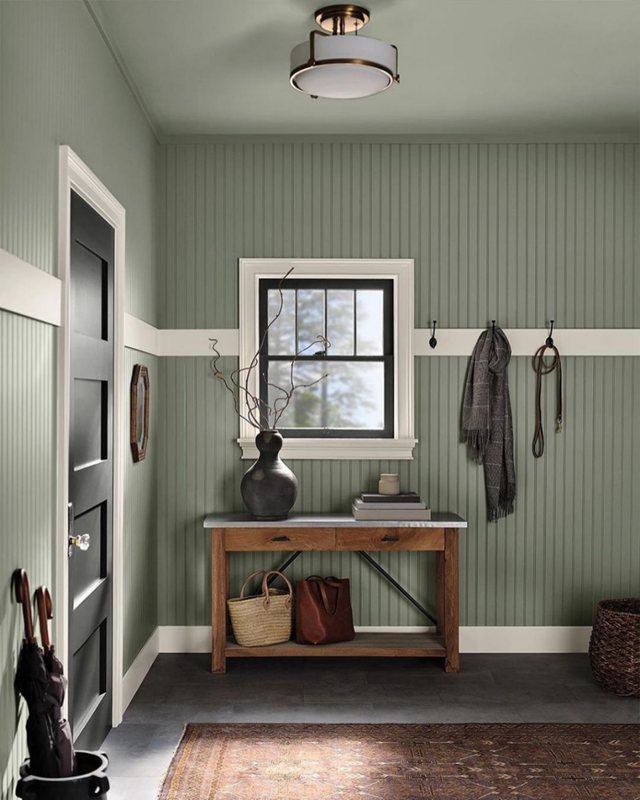 The soothing, gray hue Evergreen Fog is Sherwin-Williams' color of the year for its versatility and unique dual undertone. It appears green or blue depending on the lighting angle, making it a multi-neutral tone perfect for all seasons.
It has an LRV of 30 and coordinates well with lighter neutrals like Ethereal White and Neutral Ground.
Choose Evergreen Fog if you want a gray color that reminds you of the open seas while keeping you grounded like the earth's green tone. You can use this neutral tone anywhere from interior walls to furniture (cabinets and credenzas) and exteriors (doors and walls).
This color pairs best with bold neutrals like Bakelite Gold, a light tan; Shoji White which has purple and blue undertones; or Urbane Bronze, a dark gray with brown undertones.
Sherwin-Williams Cornwall Slate (SW 9131)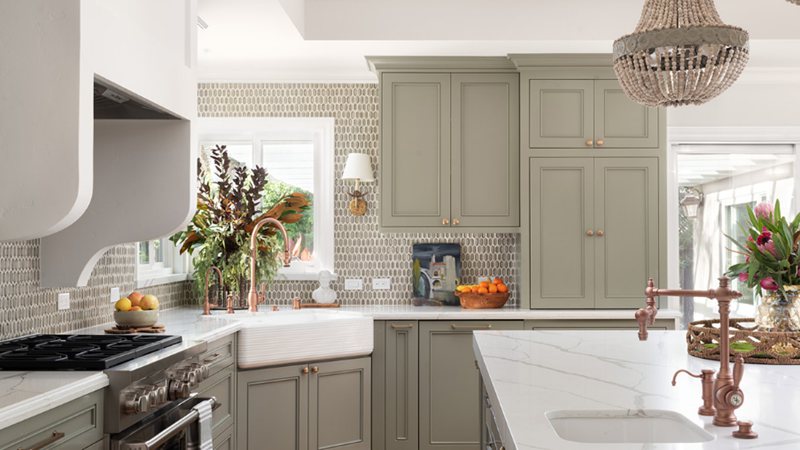 Sherwin-Williams Cornwall Slate is another gray hue with a low LRV (29), making it appear less green than expected. However, its sage green undertone shines through under the right lighting conditions.
You can use this tone for your whole house without it feeling overwhelmed because it provides a good backdrop for other colors. However, when you use it this way, add some zhug to the space with lighter neutrals like wooden tones.
Also, try purple shades like Coquina (pastel lavender) or whites with violet undertones like Gossamer Veil and Frosty White. They work well as accents, trims, or interior décor from throw pillows to rugs and wall art.
Sherwin-Williams Retreat (SW 6207)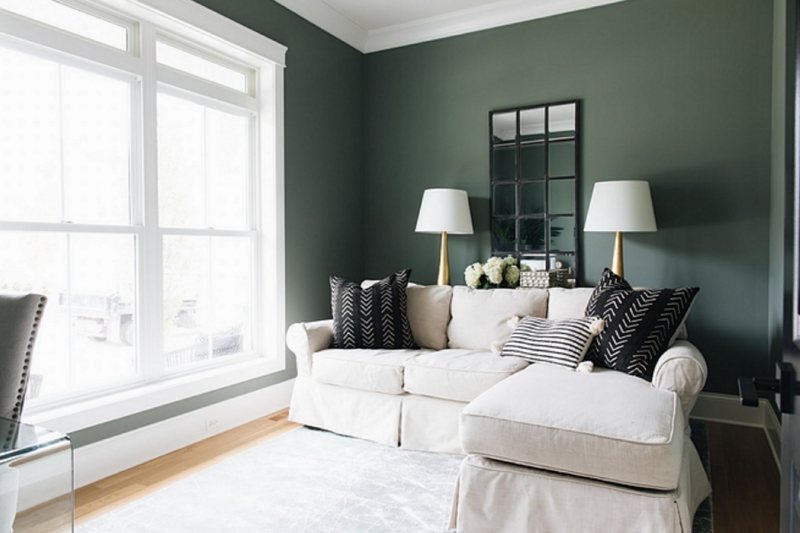 With Sherwin-Williams Retreat, this strip is already opening up into its green tone despite having a low LRV at 21. This color was popular during Spring/Summer this year due to its refreshing aura. Retreat is the shade you want if you're looking for something with a relaxing vibe.
It also pairs well with other colors, especially shades with high LRVs like Spare White. You can lean into monochromatic decoration using Verdigreen (SW 9042) to brighten the space or stick to neutrals with Origami White.
The best part about Retreat is that it's Green-Gray, meaning it's greener than gray despite its shadowy tone.
Sherwin-Williams Pewter Green (SW 6208)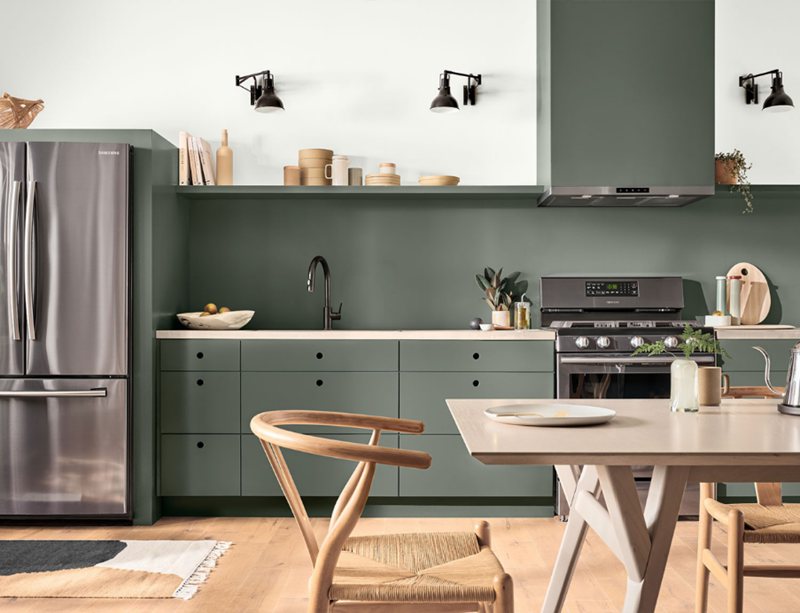 Khaki lovers would appreciate Sherwin-Williams Pewter Green, the current trend for Fall/Winter 2022. It's a dark color, no doubt, but it inspires feelings of calmness, like being stuck in nature, thanks to its yellow undertone.
Use Pewter Green as a highlight or exterior wall paint to enjoy the color. If you must use it inside, d so sparsely – there's such a thing as too much.
A little bit here and there is the spice of this olive-green tone. I'll warn you now that Pewter Green is a deceptive color, and it appears lighter on paper or digital representation than in real life. So, take my advice and leave the "more is better" mantra for the sage greens.
Pewter Green comes alive with brighter colors like White (with warm undertones) or grays with high/medium LRVs like Silvermist (LRV 47).
Sherwin-Williams Ripe Olive (SW 6209)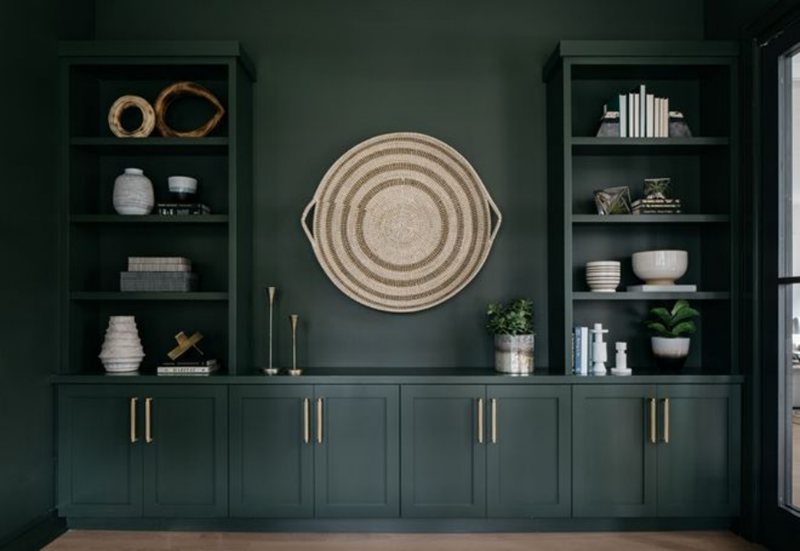 Sherwin-Williams Ripe Olive?is a deep green that's so 2020, but there's no reason it can't make a comeback. The warm-neutral color will douse any bubbly spirit you had entering into a room painted in its hue, so do yourself a favor and use it sparsely or decidedly.
It's nice in a reading room or any space you want to promote seriousness. Picture this – a Spare White interior wall coordinated with a Ripe Olive accent credenza or bookshelf. You could also decorate it in reverse and place a wooden bookshelf against a Ripe Olive accent wall.
Whatever you decide, you'd get a pop of color in an otherwise clinical environment. Add other colors through furniture and artwork, and you have a masterpiece.
Sherwin-Williams Acacia Haze (SW 9132)
We've established how Sherwin-Williams Acacia Haze is a perfect neutral to ease anxiety and bring nature into your environment. It's also a warm tone that works seamlessly with other neutrals and possibly brighter or darker colors.
You can mix Acacia Haze with wood, marble, gold, silver, copper, brass, steel, or black slate. There are so many options, but first, let's explore the color palette.
Sherwin-Williams Acacia Haze Color Palette
A color palette is necessary when decorating your space because it's the thin line between a cohesive style and a child's project gone wrong. You'll realize there's such a thing as organized chaos, which is lovely.
Even the most "offhand" color mixtures follow a pattern that makes everything look perfect. Here's how interior designers do it.
Coordinating Colors for Acacia Haze
Coordinating colors means you must find other hues that fit into your anchor color, often the predominant paint in the space. With Acacia Haze, you may use the green overlay or the gray undertone. How does that work?
Designing a space has three cardinal styles – you can coordinate with complementary, contrasting, or monochrome palettes.
Monochrome Decoration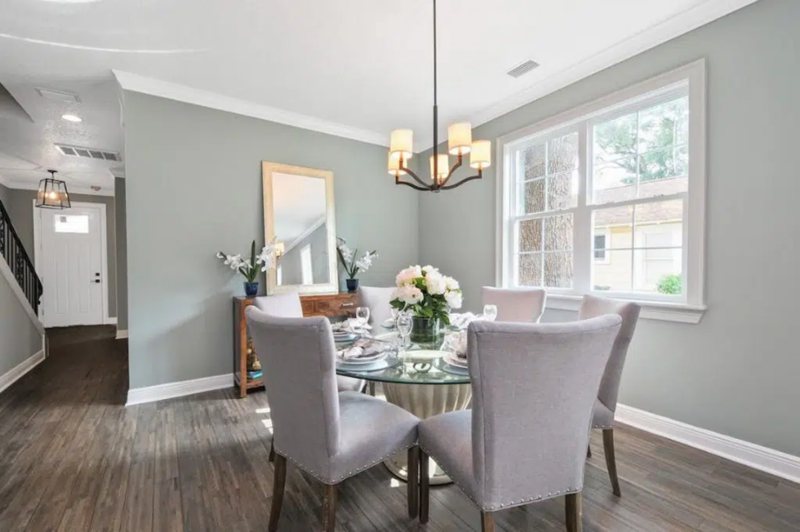 Monochrome decoration means using one color throughout the home, but the beauty is that every color comes in different shades. You can do it easily and mix every shade of green that catches your eye or deep dive if you're thorough like me and choose specific greens.
Pro Tip:Use the Color Strip.
The color strip tells you the green shades close to Sherwin-Williams Acacia Haze, guaranteeing a more cohesive result than "just any shade."
If you don't have access to a color strip, add a true black or pure White in one – three parts to Acacia Haze, and you have your monochrome palette. It's always best to stick to the one to three-part rule. Anything over or under knocks it out of the range.
Check out these ideas below.
Contrasting Decoration
A good contrast is a great way to make your anchor paint stand out, as the opposite color highlights its nature. With Acacia Haze being green-gray, the colors opposite the spectrum include shades of red.
Mix an Acacia Haze wall with light reds such as Crystalline, Cotton Candy, and Alyssum, or warm reds like Smoky Salmon, Gracious Rose, Hopeful, and Bella Pink. For warmth, lean into the cool reds like Memorable Rose, Dragon Fruit, and Coming up Roses.
It doesn't have to be walls against walls; you can add these contrasts through other home décor like furniture, art, rugs, and accents. See some examples below.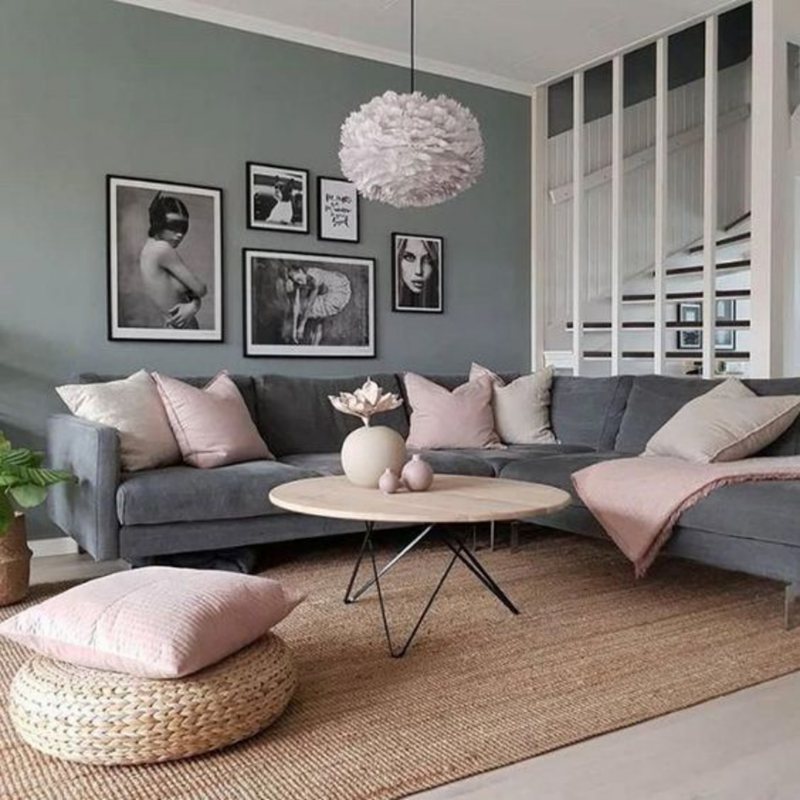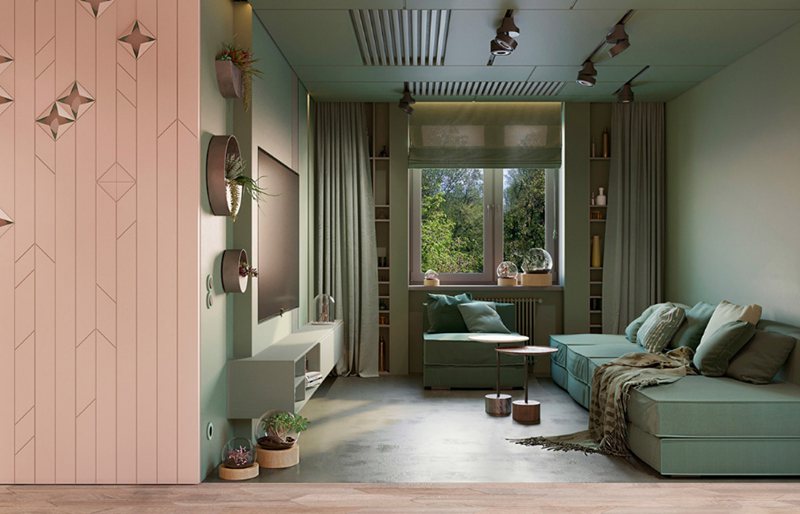 Acacia Haze Complementary Colors
Complementary colors are shades that produce grayscale tones (white to black) when mixed. For Acacia Haze, a green-gray hue, that color is red/orange.
Since red already provided the contrasting design, let's lean into the orange side of the palette for this part. Acacia Haze by Sherwin-Williams has an earthy aura, so you need oranges that liven the environment with their warmth and grit.
Your watchword should be "the brighter, the better." Go for oranges like Obstinate Orange, Invigorate, Knockout Orange, and Navel. Use Spicy Hue, Earthen Jug, or Cavern Clay to embrace the rusty aspect and tease out the earthy vibe.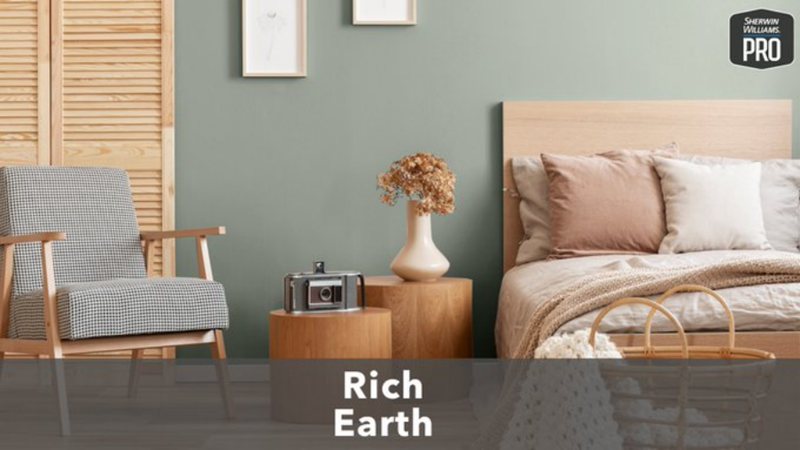 Purple shades also do well with Acacia Haze, especially those with red undertones like Merlot, Rookwood Red, Kirsch Red, Luxurious Red, and Red Clover.
The best complementary color for Acacia Haze is gray since the undertone is already there, begging you to let it out. You can also lean into its brown hints and use wood to elevate the color.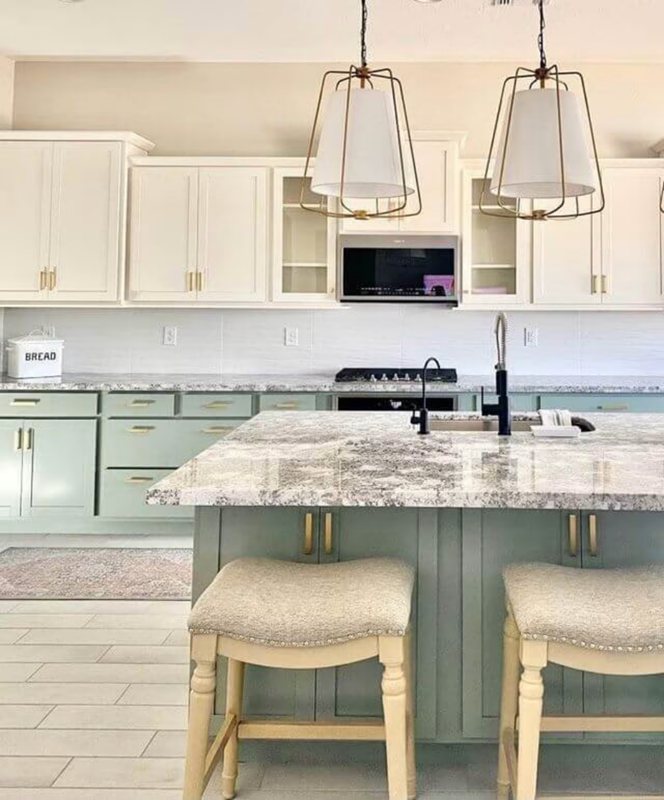 What Trim Colors Go With Sherwin-Williams Acacia Haze?
Trimmings, highlights, and accents help elevate the aesthetic of your home, and choosing the right tone can make a world of difference. The basic step to getting it right is realizing that contrasting LRVs work best.
Sherwin-Williams Acacia Haze has a 34/93 LRV, meaning you should use lighter tones to make the wall pop. You can use a darker tone, but that'll get lost, and you won't get the best out of the accent.
Sherwin-Williams suggests Dover White, Favorite Tan, and Spare White as the top three coordinating colors. Dover White has an LRV of 83 and is a pastel shade with purple undertones.
Favorite Tan is closer in LRV to it at 44 with a yellow undertone and brown overlay. Choose it if you're going for a darker accent. With Spare White, you'll have a bright accent that can anchor another décor in the home if you'd rather leave the Acacia Haze alone.
Sherwin-Williams Acacia Haze Color Comparisons
What if you can't find Acacia Haze? A dozen green grays are available at Sherwin-Williams, which you can use alternatively. Also, you may choose them deliberately over Acacia Haze if it needs to be cooler or warmer for your taste.
Check them out below.
Sherwin-Williams Acacia Haze (SW 9132) vs. Sherwin-Williams Evergreen Fog (SW 9130)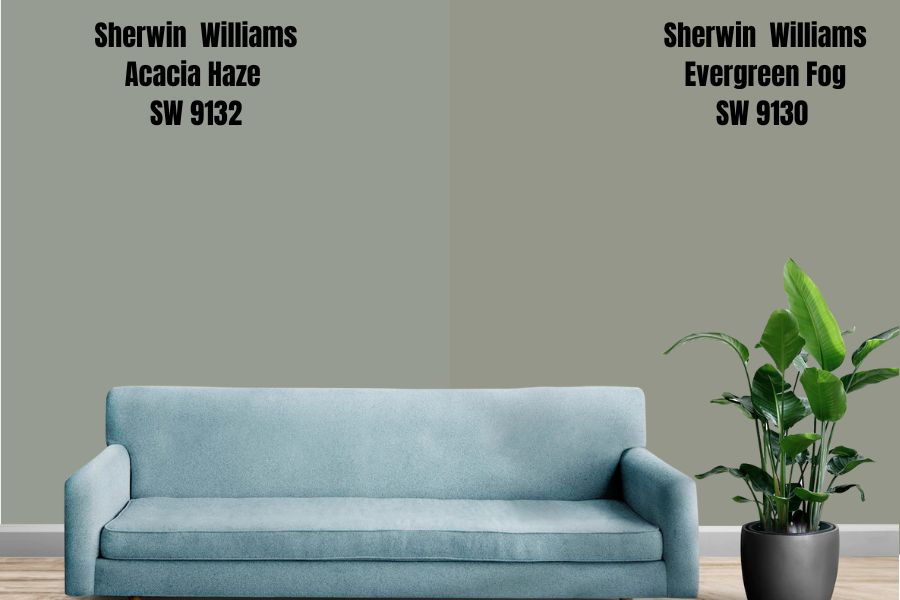 Evergreen Fog and Acacia Haze are so similar in resolution, with only a 2 percent LRV difference between them, making them good alternatives for each other. The former is a cool tone, while the latter is a warm color due to its undertones.
So let's get into the differences.
Depending on your primary interest, one is greener while the other is grayer, so pick Acacia Haze for the gray tone while Evergreen fog satiates the green need. Now for the not-so-obvious differences – Evergreen Fog is a greige tone meaning there's a beige tone begging for release.
Decorate your Evergreen Fog space with beige and green tones to see the undertones shine. For Acacia Haze, however, stick to light gray and white neutrals for the best result.
Sherwin-Williams Acacia Haze (SW 9132) vs. Sherwin-Williams Oyster Bay (SW 6206)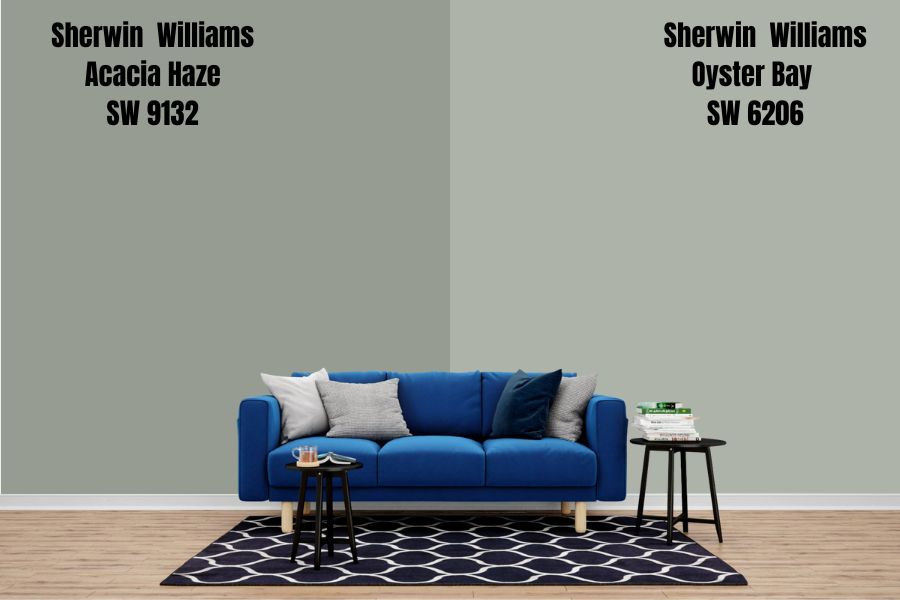 The difference is clear with Acacia Haze and Oyster Bay, with the latter shining way brighter than the former from a distance and up close. Oyster Bay leans towards a silver gray, making it a cool tone rather than its warm counterpart.
Oyster Bay would open up your space more than Acacia Haze, and it's more accommodating of other tones with a less overpowering undertone. It contains hints of mint green that appear icy blue under the right conditions.
Sherwin-Williams Acacia Haze (SW 9132) vs. Sherwin-Williams Jade Dragon (SW 9129)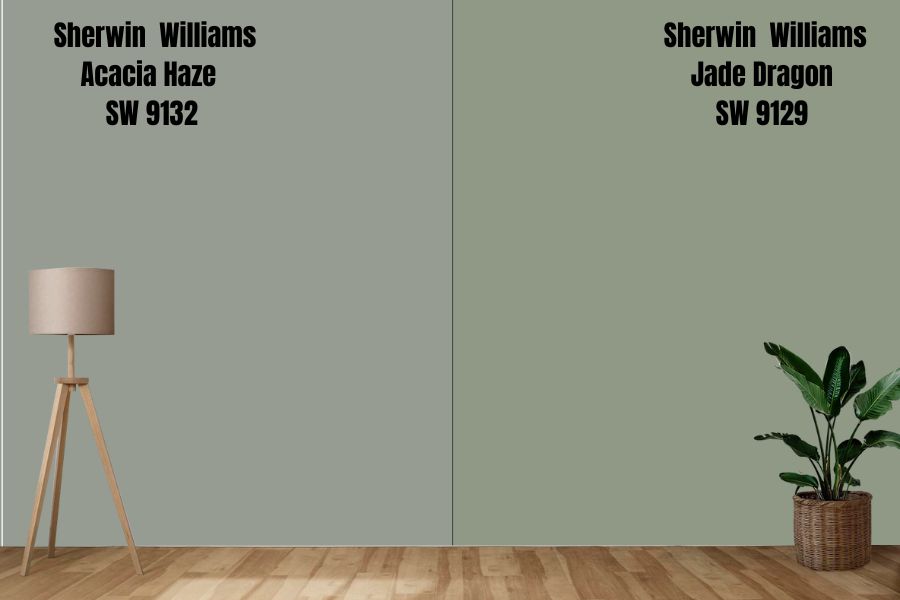 Jade Dragon is such a beautiful warm shade of green with a medium-dark resolution meaning it doesn't absorb too much light nor reflect enough. This tone isn't a popular paint color, but you'd recognize it as a vintage dishware and tea set color.
With Jade Dragon, you can transport yourself to ancient Asian society, but it's not as vibrant as the imperial tone from that era.
Acacia Haze Benjamin Moore Color Comparison
Benjamin Moore paints with similar resolutions to Acacia Haze: Scenic Drive, Dolphin, Cos Cob Stonewall, and Chelsea Gray. They're not perfect alternatives, but they'll do just fine.
Scenic Drive (697)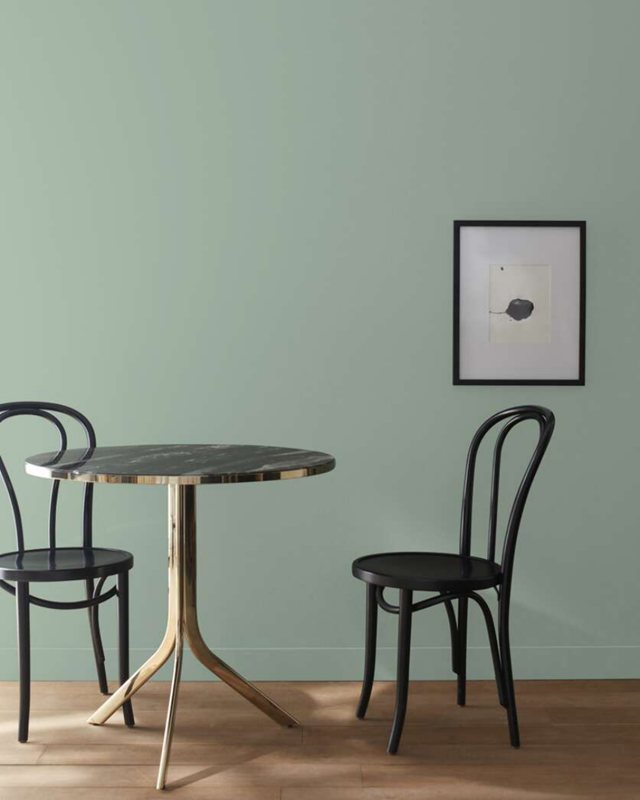 Do you want to paint that reminds you of a cloudy night? Then try out Benjamin Moore's Scenic Drive. The color has an astounding green tone fused seamlessly with its gray overlay such that the two colors appear simultaneously. It's fascinating.
It's a solid hue with a medium-dark LRV meaning the green is enough to reflect some light into your surroundings.
Dolphin (AF-715)
This silver gray is unlike Acacia Haze, as its dusky hue barely has a beige undertone. It's so faint you can miss it unless you decorate your home, office, or room with complimentary or contrasting colors to tease out the subtle undercurrents.
Benjamin Moore's Dolphin is a solid dark color with an LRV of 23.71.
Cos Cob Stonewall (1483)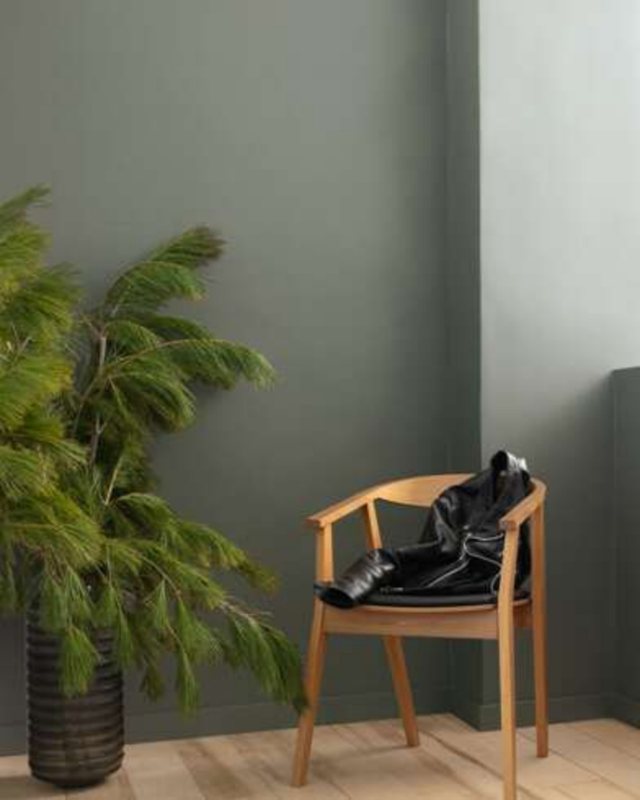 Cos Cob Stonewall is the closest Benjamin Moore paint to Acacia Haze that I found, yet they're very different. Cos Cob has tinges of green and even more subtle blue lurking underneath its surface. It has an LRV of 26.16, closer to the spectrum's dark end.
Chelsea Gray (HC-168)
Chelsea Gray gives you the earthy side of gray as it has a strong brown undertone like Sherwin-Williams Urbane Bronze. It also has hints of violet that soften its rather masculine dark shade and add a soft tone ready to shine underneath the brightest lights.
Acacia Haze Benjamin Moore Version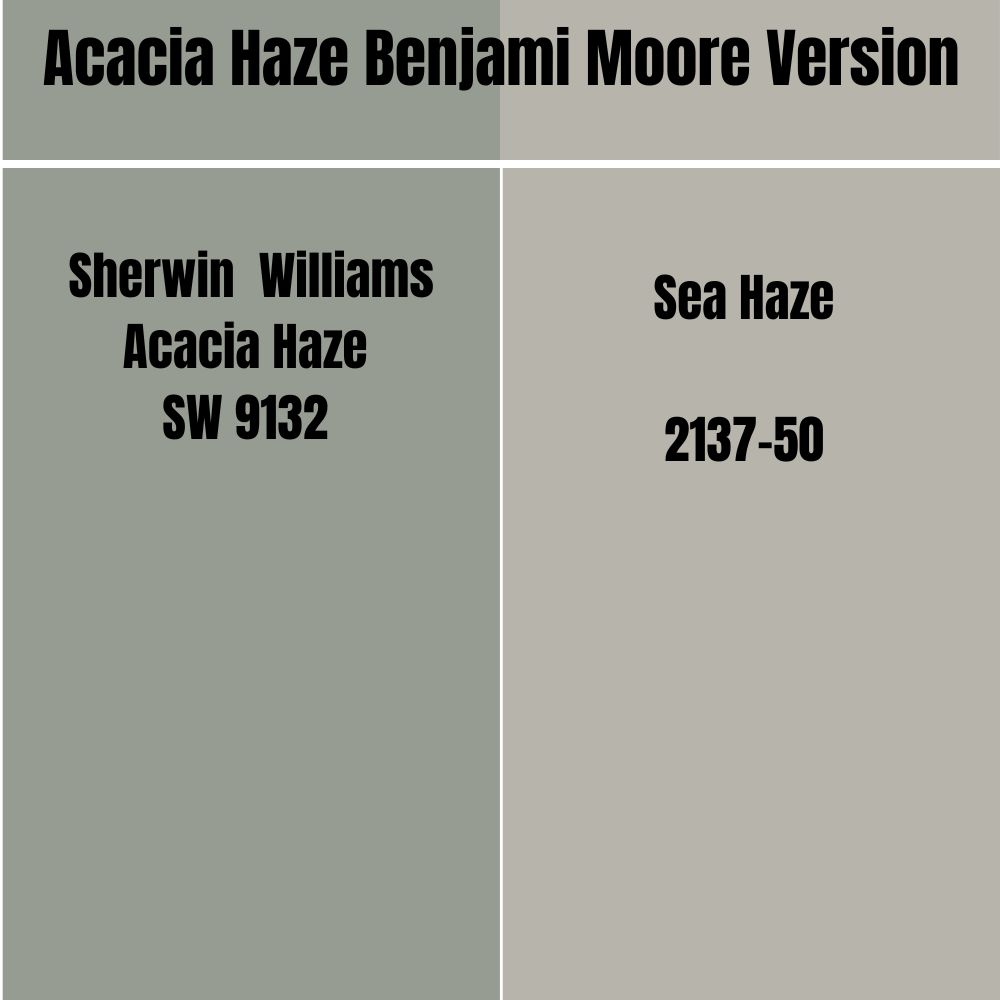 Benjamin Moore doesn't have paint by the name Acacia Haze, but it has one called Sea Haze (2137-50). Sea Haze is a comforting gray hue with subtle green undertones and gained its name from its similarity to polished sea glass.
It's brighter than Acacia Haze with a high LRV at 45.36
How Does Light Affect the Color?
Two colors appear when light reflects on Sherwin-Williams Acacia Haze – Gray and Brown. The color you get depends on the angle receiving the light, as south-facing windows receive the most light.
If you'd rather retain the natural color of your Acacia Haze paint, use it in a North-facing light room, as that's the weakest reception and coolest area. Rooms with West-facing windows shine brightest at noon, unlike East-facing windows, which thrive in the morning.
Best Rooms To Paint Acacia Haze
Matching your Acacia Haze paint to the perfect rooms is an art and my favorite part of decorating. Based on your new knowledge of LRVs, undertones, color palettes, and strips, you know certain colors thrive the most in unique environments.
Let's get into it.
Acacia Haze Bedroom
Go ahead and paint your entire bedroom wall Acacia Haze and get ready to have relaxing nights and even better mornings. The soothing aura from the shade is perfect for the room where you lay your head at night.
If you're into lighter walls, you may use the Acacia Haze for your furniture, from the credenza to the vanity table and wardrobe.
View this post on Instagram
View this post on Instagram
Acacia Haze Living Room
Sherwin-Williams Acacia Haze in the living room? Yes, please. It's a mature color that shows your guests you have your act together. It's even better when you pair it with the right coordinating colors depending on your decoration theme.
Bright neutrals work well here as accents and trims. Then you can top it with matching or complementary furniture and décor.
View this post on Instagram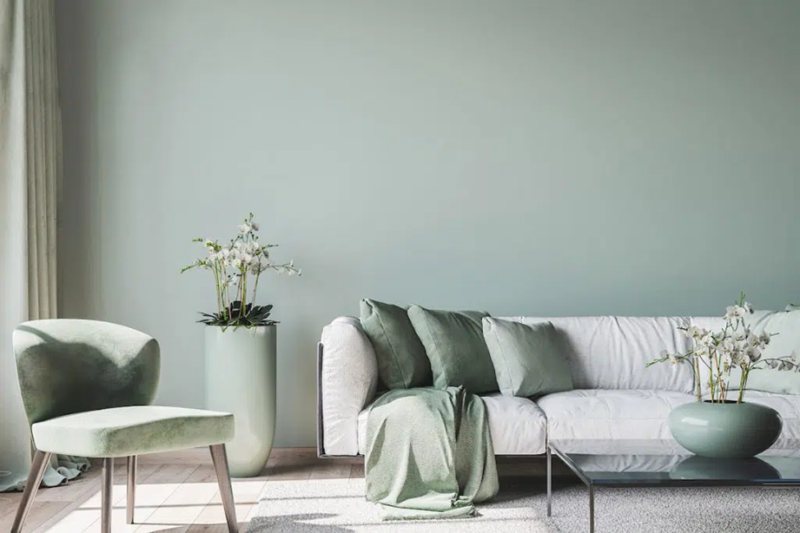 Acacia Haze in the Kitchen
An Acacia Haze wall is a stately backdrop for a white kitchen, and you get the bonus of color blending with every kind of material. What slab do you prefer for your island?
Wood (warm tones, please), marble, stainless steel, or brass attachments – make your choice, and it'll fit right in.
View this post on Instagram
View this post on Instagram
View this post on Instagram
Acacia Haze Dining Room
The dining room is often an extension of the kitchen so if your walls are Acacia Haze, balance it with neutral dining room walls. You can now add Acacia Haze furniture like a dishware organizer and dining table with chairs for a well-coordinated style.
View this post on Instagram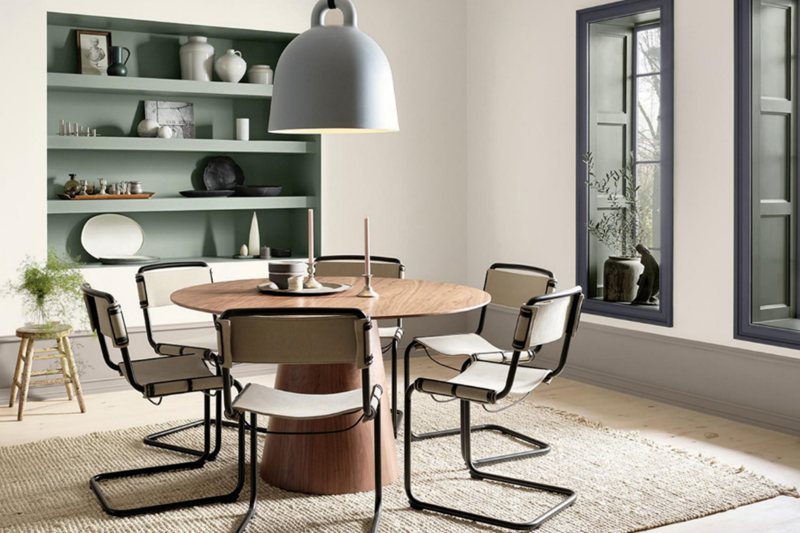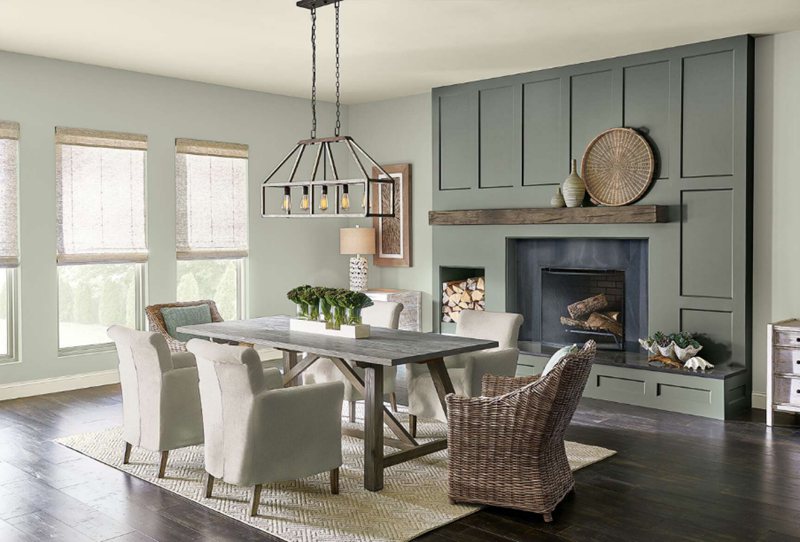 Acacia Haze Bathrooms
You can use it on your cabinets against a wooden wall or blend a marble countertop with an Acacia Haze wall. It'll give you the feeling of a five-star hotel or resort in the comfort of your home. What's better than that?
View this post on Instagram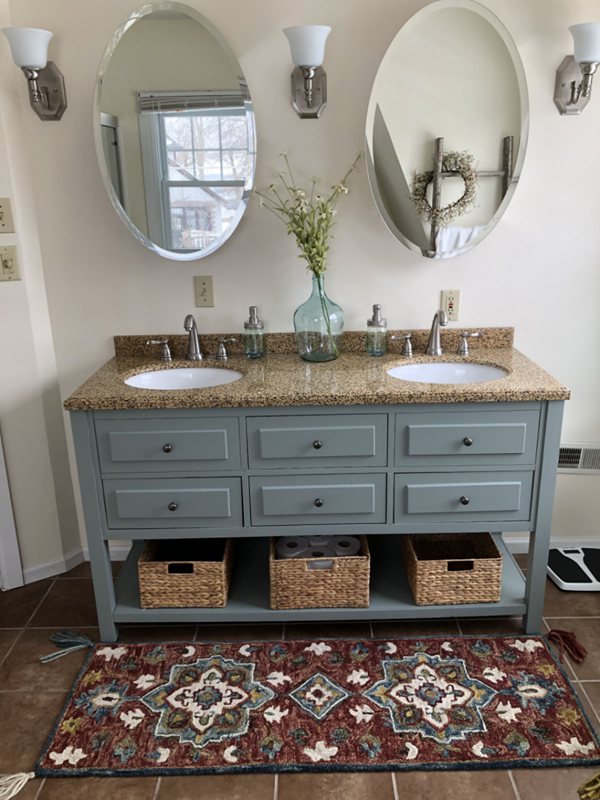 Acacia Haze Exteriors
Acacia Haze on your exterior is a no-brainer. It's dark enough not to draw unnecessary attention yet bright enough not to look like an Addams Family home. Add a well-cultured garden to the surroundings, and you'd enjoy nature like never before.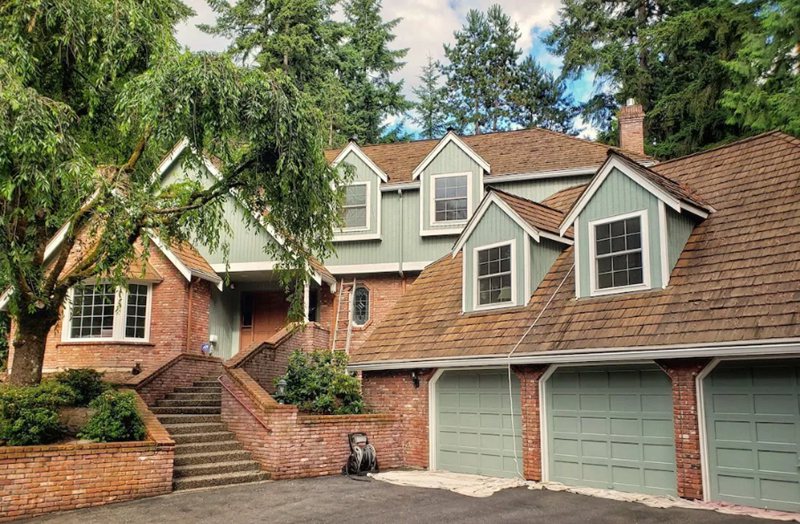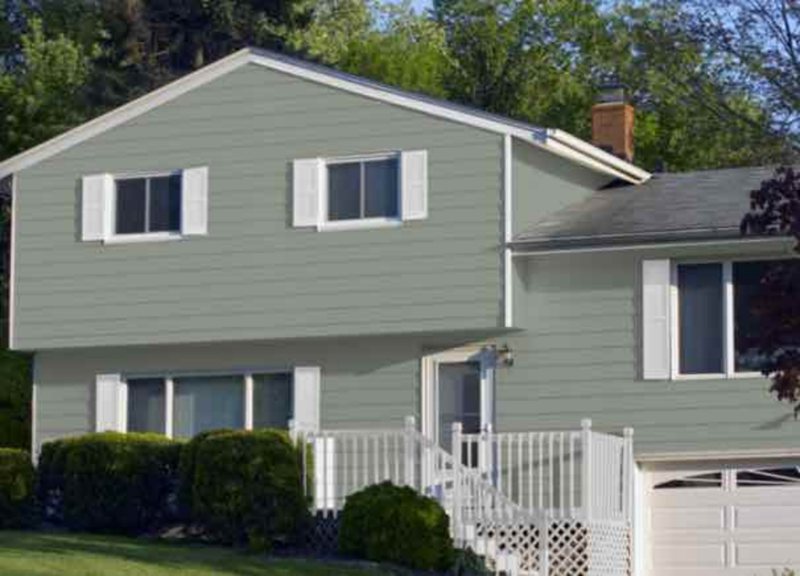 Sampling Acacia Haze
Use Samplize or any of the sample options on the Sherwin-Williams website, from the color chips to the peel & stick sample or color-to-go thin paint to get the exact texture and color of your paint. The first three options aren't 10/10 accurate, but the last one is.
Final Thoughts
Acacia Haze is a beautiful natural color guaranteed to bring much-needed peace into your life. It's inherently soothing and ruled the Sherwin-Williams shelves throughout this year. We needed it after the last two hectic years.
Remember, the key to a seamless decoration is finding a theme and sticking to it. The color codes are;
Monochrome
Complementary
Contrast