Finally, you've got a new home, and you're thinking about colors that go well on your cabinets. Or maybe you're trying to renovate your old cabinets into something intriguing and no color comes to mind.
You may have heard of neutral colors, or maybe you're just tired of white, beige, greige, and the like of it. You crave a change.
One of the colors that best suit your desire among many is the color Green.
Now, you'll agree with me that the color green breathes freshness and naturality. The mere sight of green gives off a luxurious and unexplainable positive vibe.
You don't need to worry about which particular green will soothe the most because there are varieties you can choose from, especially from popular brands like Benjamin Moore and Sherwin Williams.
I'm sure you want to give your cabinets a colorful and satisfactory coating. Well, not to say it's pride, but that's why I'm here. Always anyway!
In this blog post, we will be reviewing 21 of the best green paint colors you can use for cabinets in 2023.
21 Best Green Paint Colors for Cabinets in 2023
Here are the 21 best green paint colors for cabinets in 2023 that can never go wrong on your cabinets at any point.
1. Benjamin Moore – Saybrook Sage Green HC-114
| | |
| --- | --- |
| RGB | 178, 180, 161 |
| LRV | 45.46 |
| Matching colors | Paper White, Copley Gray, Tapestry Beige, Smokestack Gray |
| Undertones | Gray |
A color you would definitely admire on your cabinets is this Benjamin Moore classic vibrant Saybrook Sage green; it has just a hint of silver-gray and a heavy green undertone that gives it a cool and soothing look.
It is kind of magical and versatile because it can work in traditional and contemporary interior designs. While sage green has a good amount of gray in it, it's a warm color but stays fresh and alive by not being overly yellow.
Sage green found its way as one of the best colors for cabinets in 2023 because of its timeless elegance, versatility, and its ability to evoke a sense of calm and harmony, making it a great choice for designers and homeowners.
2. Sherwin Williams – Retreat SW 6207
| | |
| --- | --- |
| RGB | 122, 128, 118 |
| LRV | 21 |
| Matching colors | Verdigreen, Spare White, Origami White |
| Undertones | Green, Gray |
One thing is for certain, Retreat is as versatile as it is beautiful, making it an easy choice when choosing paint colors for cabinets. This muted green with a blue-gray undertone feels calming, soothing, and at the same time bold when used on cabinets.
With an LRV of 21, it falls in the middle to the darker end of the scale and should be paired with colors that have over 80 LVR.
This color is quite trendy so don't hold back from using it.
3. Benjamin Moore – Tarrytown HC-134
| | |
| --- | --- |
| RGB | 68, 88, 82 |
| LRV | 9.71 |
| Matching colors | Dove Wing, Collingwood, Grant Beige, White Dove |
| Undertones | Blue, Gray |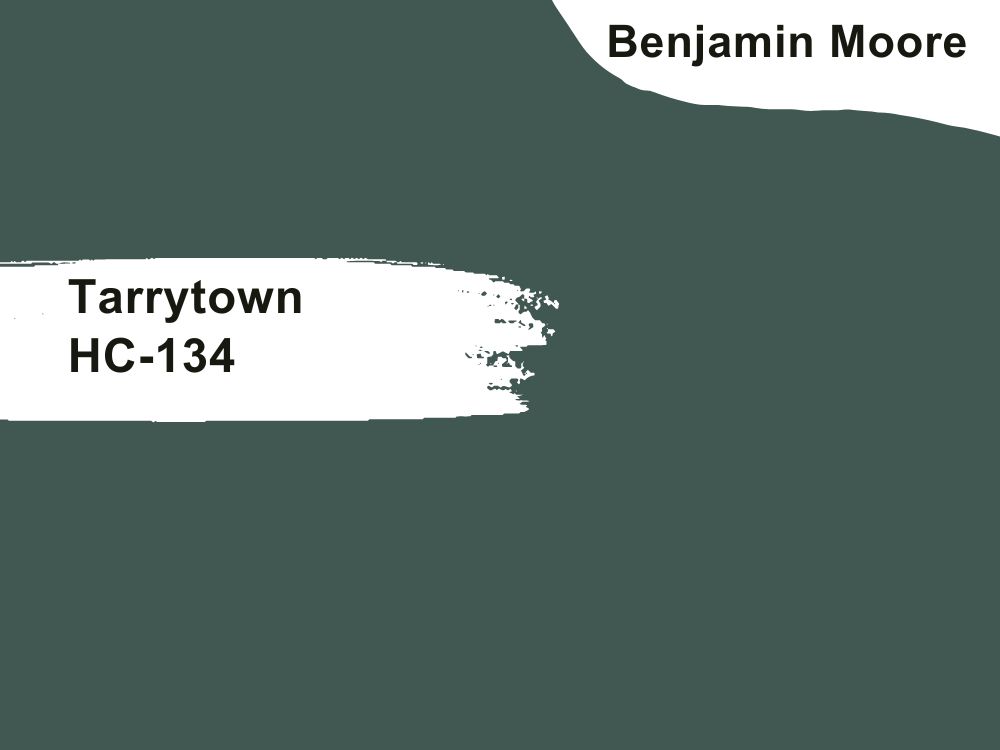 Green is a great choice for producing positive emotions. And the most appropriate way to describe Tarrytown green is refined and elegant. It can also be tranquil and relaxing.
This paint color is perfect for rebranding and modifying old cabinets. Its low LRV of 9 makes it dark but notwithstanding, Its deep pine green gives a vintage charm that can complement any other assisting color. Tarrytown is the ideal color for establishing a pleasant and tranquil ambiance on kitchen cabinets.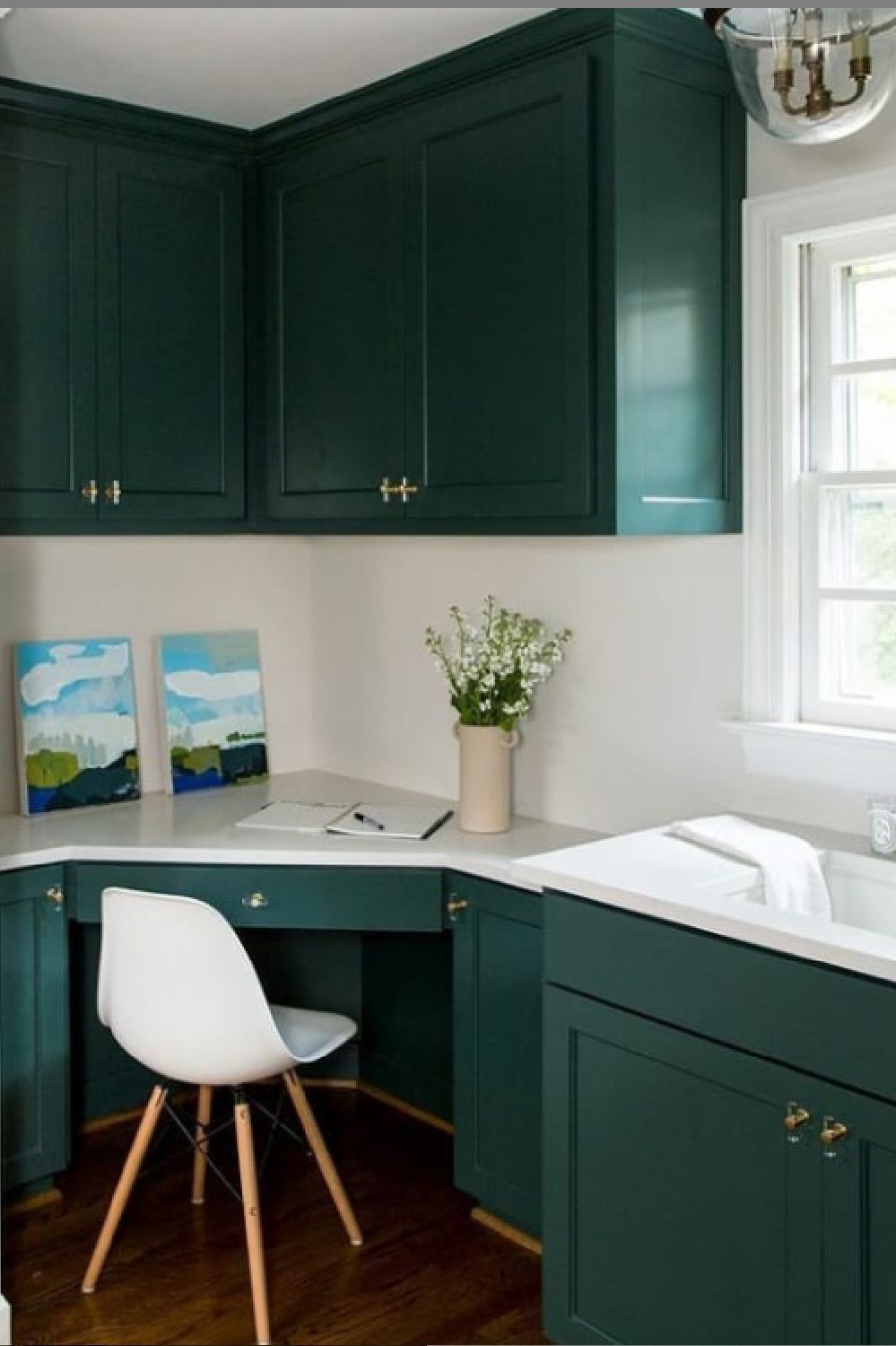 4. Sherwin Williams – Nurture Green SW 6451
| | |
| --- | --- |
| RGB | 152, 176, 146 |
| LRV | 40 |
| Matching colors | White Mint, Pure White, Pineapple cream |
| Undertones | Blue |
Here's an idea; if you're flirting with the idea of painting your kitchen cabinets and you love a wintry green. Feel the cool, serene glow of this mid-tone Nurture Green and it's blue undertone.
This color is not quite dark nor bright due to its LRV which is moderately 40. You'll get the best out of Nurture green when paired with brighter and cooler colors.
5. Benjamin Moore – Hillside Green 49
| | |
| --- | --- |
| RGB | 166, 157, 116 |
| LRV | 33.81 |
| Matching colors | Moonlight White, Meadow Mist, Lancaster White, Devonshire Green |
| Undertones | Yellow |
The fresh coat of this Benjamin Moore Hillside Green on your kitchen cabinets will tush up your entire kitchen space, especially when there's a backsplash of brighter colors. This lush and warm color belongs to the green family and has an LRV of 33. I'm sure you know where that stands.
You can decide to pair it with other colors but brighter colors will be advisable so your kitchen doesn't have to look too dull or shabby.
6. Sherwin Williams – Reclining Green SW 6744
| | |
| --- | --- |
| RGB | 153, 218, 191 |
| LRV | 63 |
| Matching colors | Verdigreen, White Mint, Cityscape |
| Undertones | Blue, Yellow |
Sherwin Williams Reclining Green may be on the bright side due to its slightly high LRV of 63, but trust me when I tell you that this beautiful bright color will do great justice to your cabinets.
This natural color with a bluish and yellowish undertone has many moods, that notwithstanding, it is balanced and refreshing. When it leans toward blue it becomes crisp and cool and when you add a little yellow it becomes livelier.
Reclining Green works well in most spaces but your cabinets are a perfect place to try out this hue.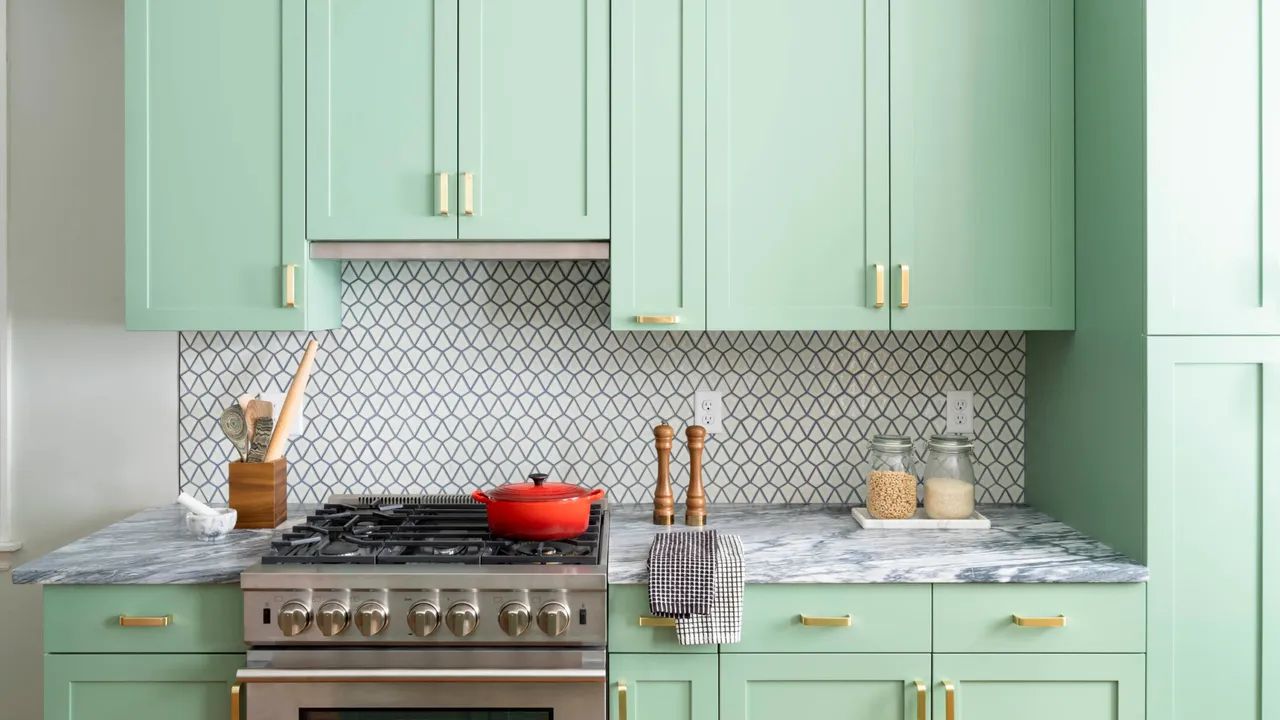 7. Benjamin Moore – Enchanted Forest 700
| | |
| --- | --- |
| RGB | 98, 109,98 |
| LRV | 15.96 |
| Matching colors | Snow on the Mountain, Senora Gray, White Heron, Feather Gray |
| Undertones | Blue, cool black |
The name may sound scary but the color isn't. This distinguished gray cast dark green with a cool black and raven undertone brings to mind a magical deep forest vibe.
Because of how dark it is with an LRV of 15, Enchanted Forest gets excited when it comes in contact with enough natural or artificial light. Then you get to see its fresh coat and natural glow
Pairing it with other colors isn't an issue. You can check out its matching colors or similar colors so you can get the enchantment you're looking for.
8. Sherwin Williams – Oh Pistachio SW 9033
| | |
| --- | --- |
| RGB | 171, 202, 153 |
| LRV | 53 |
| Matching colors | Attitude Gray, Sprout, Alabaster |
| Undertones | Yellow, Gray |
Oh Pistachio sounds exciting, right? Well, this is an exciting and vibrant green that creates a cheerful vibe. Its light reflective value is 53 and its yellowish and light gray undertone gave it a unique hue.
It's easy to create a palette that goes with green, but that's the case for Pistachio. Due to its bright and delicate nature, one must be careful and follow harmonious proportions when pairing, so you don't get an overly annoying end result.
Pistachio is slightly more grounded, mature, and timeless than other green colors, which makes it easy to work with on any surface, especially on cabinets. Now you see why it's among the best green paint colors for cabinets in 2023.
9. Benjamin Moore – Essex Green HC 188
| | |
| --- | --- |
| RGB | 41, 53, 46 |
| LRV | 3.53 |
| Matching colors | Jackson Tan, Storm, Shaker Beige, Whitestone |
| Undertones | Deep black, Blue, and Gray |
Yes, this is dark. Very dark which is why its LRV is just 3 and it has a deep black undertone. But that doesn't stop this Benjamin Moore Essex Green from giving a happy ending to your cabinets.
Essex Green gives a rich depth that exudes earthy elegance from your walls or cabinets. It's a moody deep emerald green that gives a calm feel wherever it's used.
This color is unique in its kind and can create a perfect gorgeous cabinet outlook. Having gold or brass hardware, wooden metal or glass countertop combined with enough lighting will most definitely make your Essex green cabinet look exquisite.
10. Sherwin Williams – Pewter Green SW 6208
| | |
| --- | --- |
| RGB | 94, 98, 89 |
| LRV | 12 |
| Matching colors | Silver Mist, Spare White, Shoji White |
| Undertones | Gray |
Sherwin Williams Pewter Green is a dark but calming cool green that compliments natural elements like wood and metal. Its gray subtle green and gray undertone made it softer and more neutral than most dark greens.
Although it looks more like a dark gray than it is green, it is a perfect green color for your cabinets. It will also interest you to know that the Pewter green does not fade over time, rather it changes to a more antique appearance. It's an adaptable shade that coordinates well with warm tones like Beige. Which is why it is still designers' and homeowners' favorite till date.
With Pewter Green on your cabinets, you would not think of changing your cabinets' color for a very long time.
11. Benjamin Moore – Peale Green HC-121
| | |
| --- | --- |
| RGB | 91, 104, 84 |
| LRV | 14.15 |
| Matching colors | Revere Pewter, Soft Chamois, Simply White, Camouflage |
| Undertones | Gray, Blue |
The perfect deep saturated forest green paint color with rich warm undertones has enough blend to make your cabinets look stunning. Peale Green is warm and fresh with blends of olive and saga enough to remain muted so it can fit any neutral palette and also maintain balance.
With an LRV of 14, you can tell it's on the not-too-dark part. It has enough light to look particularly sophisticated and lovely on cabinets especially when paired well. Benjamin Moore Pale Green is one proud color that doesn't mind if it's dark but brings out the great desired result you would love.
12. Sherwin Williams – Avocado 2861
| | |
| --- | --- |
| RGB | 133 124 93 |
| LRV | 20 |
| Matching colors | Tricorn Black, Medici Ivory |
| Undertones | Sage |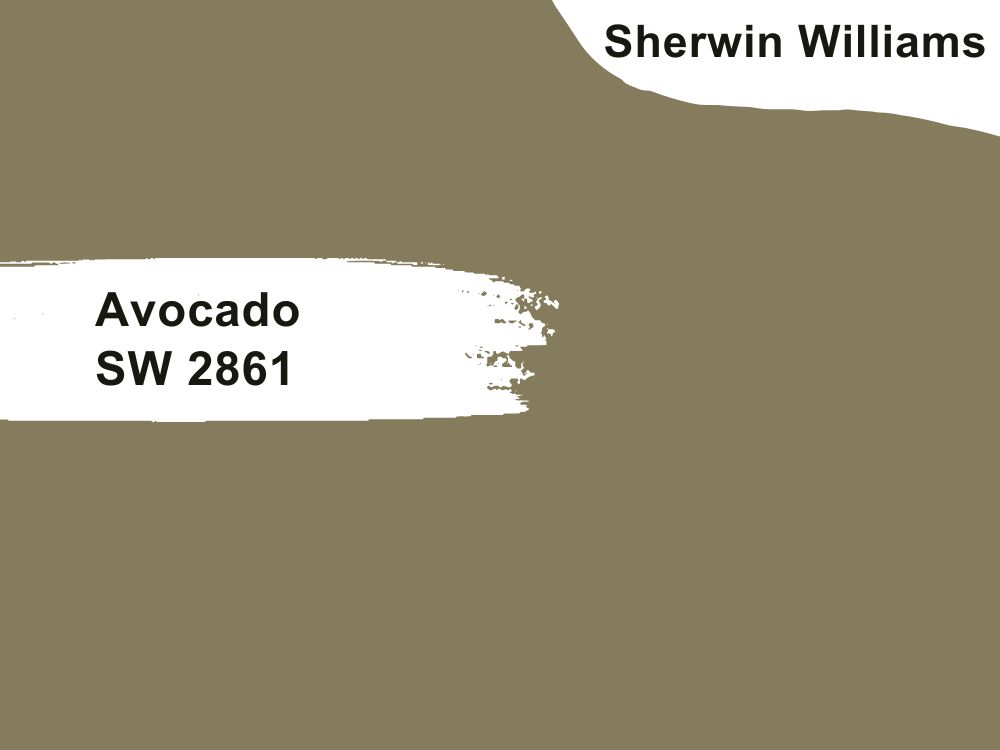 Avocado is one favorite fruit most people love. Apart from being a fruit rich in calories and proteins, it has a pretty nice color, you know.
Avocado by Sherwin Williams is one of the coolest green paint colors you will definitely love to use on your cabinets.
It has a very low LRV of 20 which puts it in the category of darker colors. When I say darker colors, don't take my word for it, Avocado is practically a calm, green color that's not too bright or too dark for a cabinet.
Using this green paint color on your cabinets can give your entire space a feeling of relaxation, quietness, and a little boldness to top it off. Since this is not the best color if you want something extremely bright, you can comfortably use this color with a moderate or high amount of light.
13. Benjamin Moore – Yellow Green 2033-10
| | |
| --- | --- |
| RGB | 39 132 45 |
| LRV | 18.35 |
| Matching colors | Tuscani Green, Cloud Cover, Cedar Grove, Titanium |
| Undertones | Yellow |
Yellow Green by Benjamin Moore is another perfect green paint color that can be used on cabinets. This green paint color has yellow undertones, that is where it got its name, Yellow Green.
Although it has some subtle yellow undertones, it's a sure way of replicating a grassy green hue on your cabinet.
Although this color looks bright, it has an LRV of 18.35 which is not quite high if you need a color that can reflect a lot of light. If you need more ideas on which color to pair this with, you can check out some matching colors like Tuscani Green, Cloud Cover, Cedar Grove, and Titanium.
14. Sherwin Williams – Evergreen Fog SW 6447
| | |
| --- | --- |
| RGB | 64 88 64 |
| LRV | 30 |
| Matching colors | Aged White, Sawgrass Basket, White Mint |
| Undertones | Blue, Gray |
Let me introduce you to Sherwin Williams Evergreen Fog, another cool color for cabinets that can connect you to nature and give your space a relaxing, and refreshing ambiance.
Evergreen Fog is a medium-toned gray-green cool shade of green due to the presence of blue undertones. It has hidden gray undertones as well and doesn't look shiny like most major green colors.
The LRV of Sherwin Williams Evergreen Fog is 30 which puts it on the darker to medium end of the scale. It's not too dark, but even if this color falls on the medium to darker end – it feels totally light and refreshing at all times.
When used properly on cabinets or any other space, Sherwin Williams Evergreen Fog will give your space bold, calm, natural, and rejuvenating vibes.
It's not a light paint color to create an illusion of a larger space.
15. Benjamin Moore – Kennebunkport Green HC-123
| | |
| --- | --- |
| RGB | 145 157 130 |
| LRV | 31.32 |
| Matching colors | Hampton Green, Monterey White, Icicle, Monroe bisque |
| Undertones | Blue, Gray, Yellow |
If you watch closely, this color has a kinda unique LRV, as if you're counting the numbers. But that's not the point.
Benjamin Moore's Kennebunkport Green HC-123 is a deep green that can easily bring a dramatic look to a space. If you have intentions of using it for your cabinets, which is why you are here, sure, it works particularly well for cabinets in a variety of styles.
This color has a subtle blue, and cool gray undertone, which adds depth and complexity to the hue. It pairs well with warm wood tones and metallic finishes like brass or gold.
Another notable characteristic of this color, specifically, is its ability to appear slightly different depending on the type and amount of light.
With an LRV of 65, this color falls on the light but not too light section. You must also ensure to pair this color with the appropriate complementary colors.
16. Sherwin Williams – Honeydew SW 6428
| | |
| --- | --- |
| RGB | 219 221 189 |
| LRV | 71 |
| Matching colors | Sprout, Extra White, Subdued Sienna |
| Undertones | Yellow, Blue |
Honeydew is another popular green paint color from Sherwin Williams. If you're wondering if this color is practically suitable for cabinets in your home, here's what I have to say.
Sherwin Williams – Honeydew is a light green paint color with some subtle blue and yellow undertones. With an LRV of 71, it's easy for this color to reflect light.
If your space or where your cabinets don't have plenty of light, using a beautiful and bright green paint color like this on your cabinets can pour in some more light.
You can pair it with other matching colors like Sprout, and Subdued Sienna.
17. Benjamin Moore – Pine Brook
| | |
| --- | --- |
| RGB | 106 125 84 |
| LRV | 17.55 |
| Matching colors | Hale Navy, White Down, Simple Pleasures, Linen White |
| Undertones | Yellow, Gray |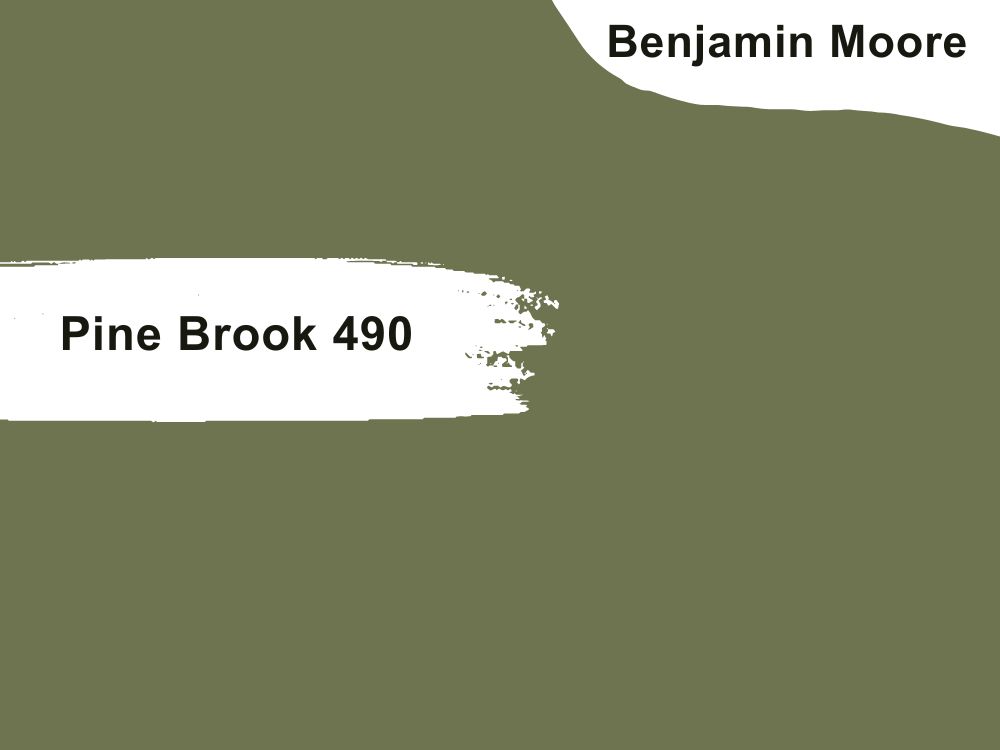 Benjamin Moore – Pine Brook is yet another gorgeous color that brings the lively vibes of a green forest to your home. It is a medium green with warm yellow undertones.
It has an RGB value of 106, 125, 84, and an LRV of 18 which puts it in the slightly darker section of green paint colors.
As I previously said, this has a lot of forest green hues. It can be a great option for cabinets if you're looking for a color that is not too bold but still adds some depth and character to the space. This earthy green hue is a great choice for nature-inspired color schemes. It pairs well with warm wood tones, whites, and other greens and works well in outdoor spaces.
If you're considering using this for your cabinets, you should not have second thoughts.
18. Sherwin Williams – Ripe Olive SW 6209
| | |
| --- | --- |
| RGB | 68 72 61 |
| LRV | 6 |
| Matching colors | Spare White, Oyster White, Green Onyx |
| Undertones | Blue-gray |
Ever looked at an Olive tree and adored its beautiful green? Well, you can bring that color home if you love it that much.
Sherwin Williams – Ripe Olive is a neutral, bold, and yet colorful deep green paint color that can bring a sophisticated outlook to a well-lit space.
Attention should be given to the fact that this is a deep green with a scaring low LRV of 6, so it needs some good lighting to get the most out of it. You can pair it with whites or shades of green, e.g., Spare White, and Green Onyx.
19. Sherwin Williams Underseas SW 6214
| | |
| --- | --- |
| RGB | 124 142 135 |
| LRV | 25 |
| Matching colors | Windowpane, Muslin, Ecru |
| Undertones | Blue |
This is one of the really lovely green paint colors on this list. I actually have a soft spot for colors that are cute.
Well, Underseas by Sherwin Williams is a beautiful and versatile green paint color that can work well for cabinets. It is a muted green with blue undertones, giving it a unique and calming quality.
Talking about the LRV, it has an LRV of 25 which makes it not one of the brightest colors, but still not a really dark color, if that's an issue. When paired properly with other design elements, it can create a fresh and modern look.
20. Sherwin Williams – Sprout SW 6427
| | |
| --- | --- |
| RGB | 228 228 206 |
| LRV | 77 |
| Matching colors | Baize Green, Gray Screen, Pure White |
| Undertones | Blue, Yellow, Gray |
Just like Sherwin Williams – Honeydew, Sprout is another light and fresh green hue that can bring a touch of nature to your kitchen cabinets. Also, it pairs well with both light and dark countertops, creating a clean and modern look.
The color has a subtle gray undertone, which can add depth and sophistication to the overall design. Sprout is also a versatile color, suitable for both traditional and modern kitchen styles.
You can match it with a lot of other colors like Pure White, Baize Green, Gray Screen etc
21. Benjamin Moore – Georgian Green HC-115
| | |
| --- | --- |
| RGB | 185 183 144 |
| LRV | 45.15 |
| Matching colors | Carrington Beige, Hampshire Gray, Swiss Coffee, Mountain Ridge |
| Undertones | Green, Yellow, Gray |
Georgian Green is a rich and elegant shade of green that is perfect for adding a touch of elegance to any space. It works particularly well on cabinets, especially when paired with warm brass hardware or sleek, modern fixtures.
For undertones, Georgian Green has a muted, almost gray and yellow undertone, which gives it a more subdued, refined look than other greens. It also pairs well with a variety of other colors, including white, gray, and natural wood tones as we noted in the table above.
It has a moderate LRV of 45.15 which makes it not too light green and not even dark enough to be called a dark green. Not only that, but it's a timeless and versatile green paint color for cabinets that will stand the test of time. You should definitely give this one a try as well.
Conclusion
These timeless, classic, and elegant green colors can guarantee you that perfect look you've so much anticipated on your cabinets. These paint colors offer endless possibilities, they have quality and are sustainable as well.
You can trust that each shade is not only beautiful but also looks responsible on any surface they are used on. Having Green all through is not so much of a bad idea if you ask me. So, go ahead and give your cabinets a fresh coat of green paint that'll transform your space into a welcoming oasis!
But before embarking on your painting spree, be sure to test samples to know your preference. Check for lighting depending on the location of your space and most importantly, make sure you get the original paint colors from certified sellers, so you don't end up losing out at all ends.
Don't forget to comment and share if you found this post useful.