Our laundry rooms are almost as hardworking as the kitchens, but they do not usually as much attention. Many times, they are dark and dingy; even if they are large, they may not have enough lighting. So, what paint colors work best in laundry rooms to make them bright and beautiful?
There are many paint options to consider when thinking about decorating your laundry room. It does not have to look neglected, and while you may not take anyone on a tour of the room, keeping it cheery can make all the difference. Follow us as we review the best laundry paint colors from Benjamin Moore and Sherwin Williams.
Factors to Consider When Picking Paint Colors for Your Laundry
It may be beyond your budget to decorate your laundry, but a fresh coat of paint can make everything look new. However, before settling for a specific color, there are some things to keep in mind:
1. Lighting
Paint colors react differently to lighting. This will depend on the undertones in the color, as some will appear muted in artificial lighting, while others look sharp. On the flip side, some undertones appear toned down in bright natural lighting. But in dim light, they become more obvious.
Many laundry rooms do not have a lot of natural light. So, they have to d expend on artificial lighting. And because paint colors look different in different lighting, ensure you check the color you select under artificial lighting before using it in the entire room.
2. Surrounding Decor
If your laundry room has accessories, they may affect how the paint color of choice turns out. Typically, warm colors look best with warm decor and cool with cool. However, in some cases, warm colors complement cool colors to create striking decor.
The picture you have in mind should correspond with the final result. Therefore, check the surrounding decor and elements in the room. And if you are only painting the walls and not the cabinetry, the color of the cabinets should match the wall color.
The same applies to the flooring. Stained wood or tiling may make it a little difficult to pick the right color, so stick to light neutrals to avoid overwhelming the room.
3. Appliances
The color of the appliances should also inform your decision on the wall color paint. Stainless steel appliances typically work with every color, some pair better with them than others. However, appliances with distinct colors are less likely to be as versatile as stainless steel, even if they are white. Do not overlook the appliances when picking a paint color for your laundry.
23 Best Paint Colors for Laundries in 2023
The following are the best paint colors from Benjamin Moore and Sherwin Williams to keep your laundry trendy in 2023
12 Best Benjamin Moore Paint Colors for a Laundry Room
1. Blushing Brilliance 009
Pink paint color with hints of orange
You can turn your laundry from drab to fab in no time with this paint color. Blushing Brilliance is a bright and warm color that fits well in any room, whether or not they are well-lit. You do not have to use the color alone; add white, off-white, or another soft pastel to balance the decor.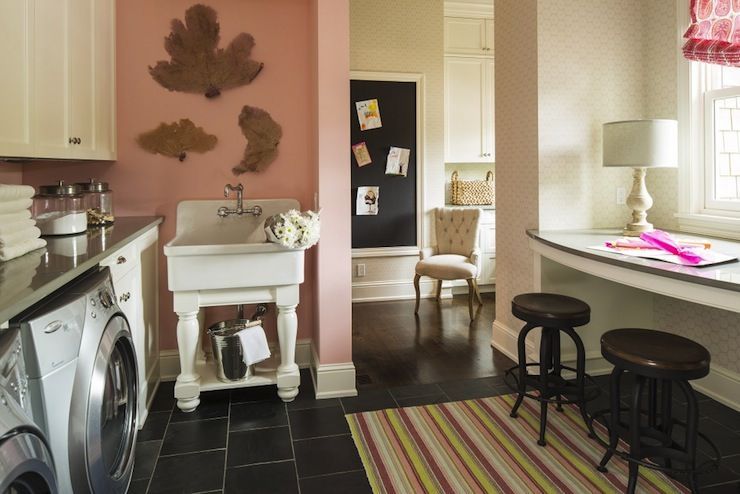 Blushing Brilliance has an LRV of 63.08 and an RGB color code of 248, 201, and 192 respectively. Match it with Super White and Comet or White Dove and Silver Fox.
2. Dark Royal Blue 2065-20
Blue paint color with a hint of violet
There is a reason it is called royal blue; it is one of the most vibrant and vivid blues you will find in the market. What gives it depth is not just the vibrance but the hint of violet peeking through. It makes the color deeper and fuller. And while it is vibrant, it is a color that works in a laundry. Use it with light neutrals for the best results.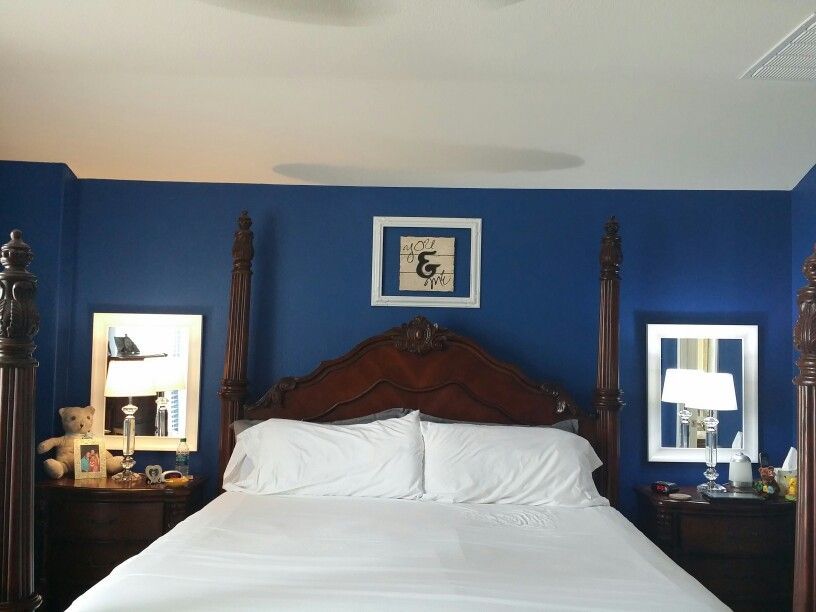 Dark Royal Blue has a low LRV of 9.25 and an RGB color code of 21, 76, and 135 respectively. Since it is such a bright color, try matching it with light colors like Winter White and Moonshine or White Heron and Under the Big Top.
3. Angelica AF-665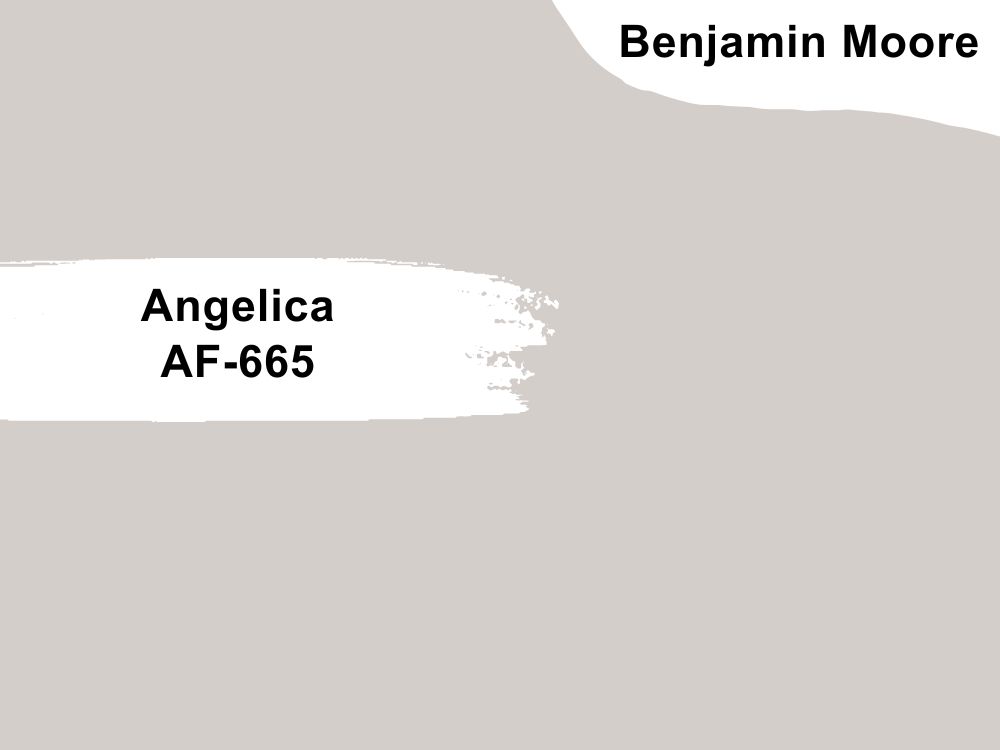 Pale gray paint color with hints of lavender
At first glance, Angelica looks like a barely-there purple paint color. But it is a pale gray that shows lavender hints. Now, gray does not have to be bland; the notes under it can make all the difference. And because it is a bright neutral, even a dimly-lit laundry room will look great with this color.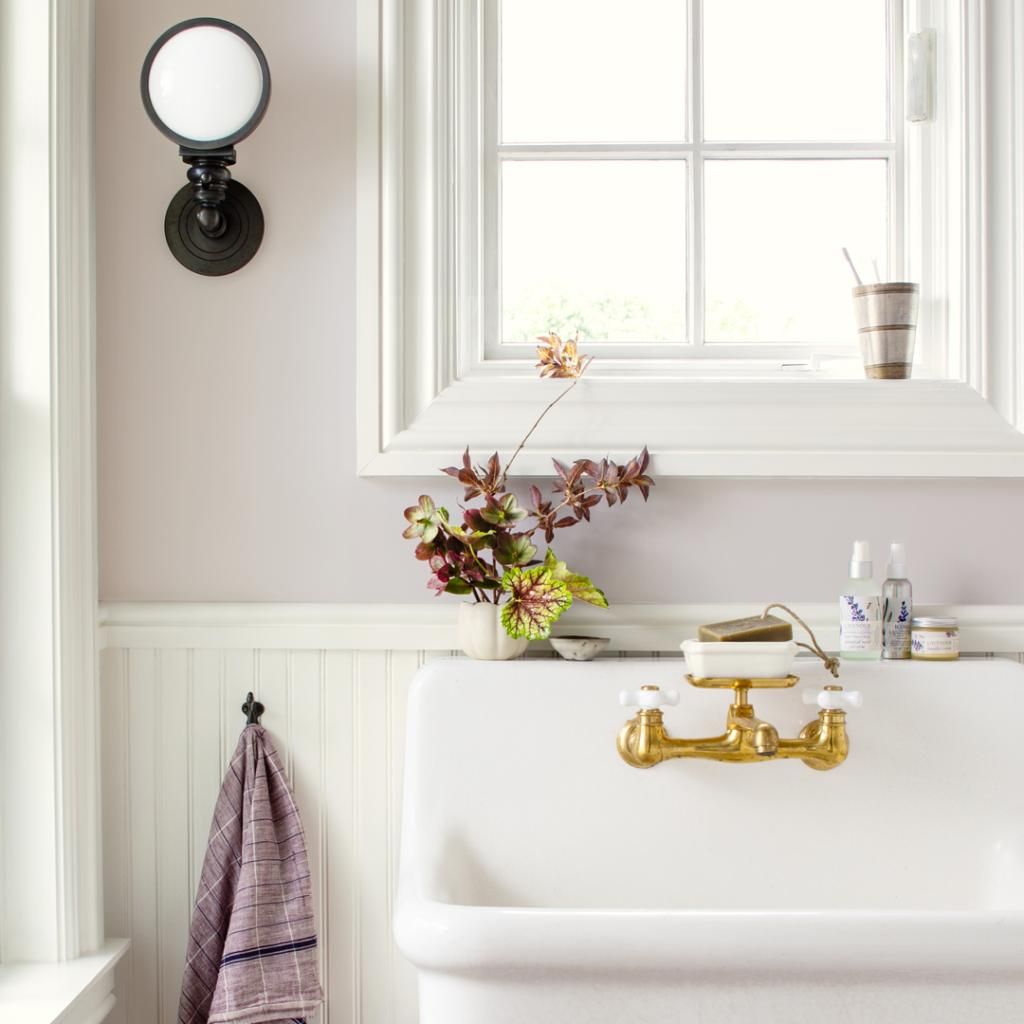 Angelica has an LRV of 61.82 and an RGB color value of 212, 206, and 203 respectively. The paint color works with dark as well as light neutrals, so pair it with Gardenia and Fusion or Calm and Midnight Blue.
4. Breath of Fresh Air 806
Light blue paint color with green undertones
While this paint color from Benjamin Moore has been around for some time, it has not stopped being popular. Breath of Fresh Air is a quietly soothing color that throws hints of warmth and coolness. You can lighten the mood in your laundry room with this color.
It goes without saying that the paint color is also ideal for bathrooms and powder rooms. Pair it with Paper White and Rock Gray or Frostine and Violetta. Breath of Fresh Air has an RGB color code of 201, 221, and 229 respectively, with an LRV of 69.09.
5. Simply White OC-117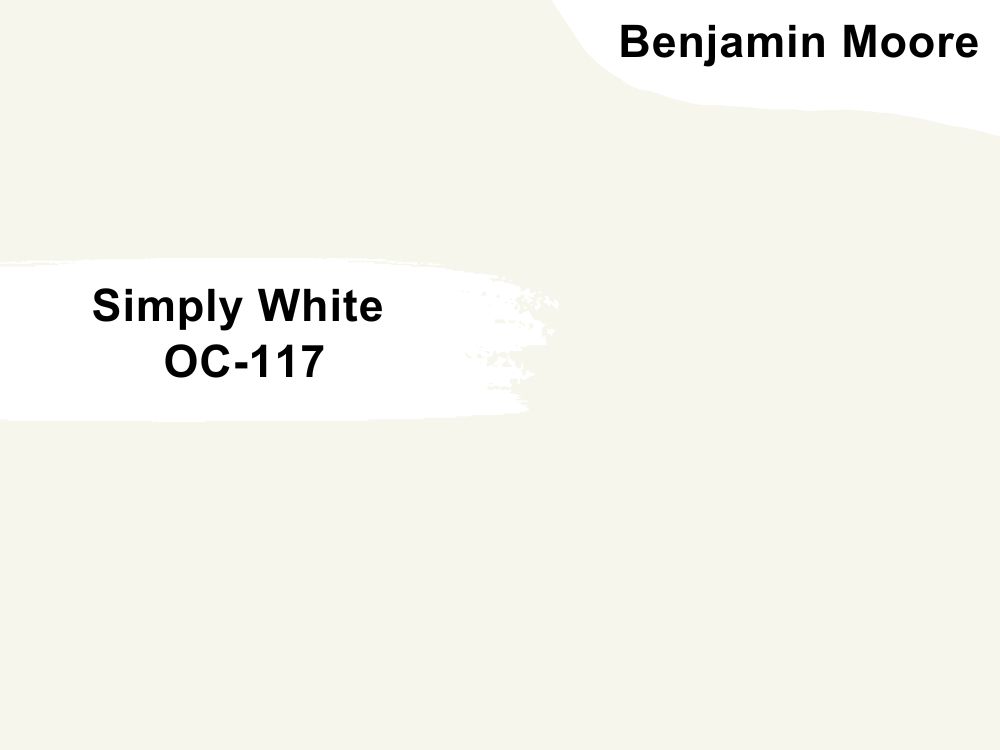 Warm white paint color with slightly yellow undertones
This white paint color is not bland but shows a hint of warmth because of the undertones. Simply White is one of the most popular and well-used paint colors by Benjamin Moore, whether as a coordinating color or a standalone one. It is sure to make your laundry sparkle without compromising warmth.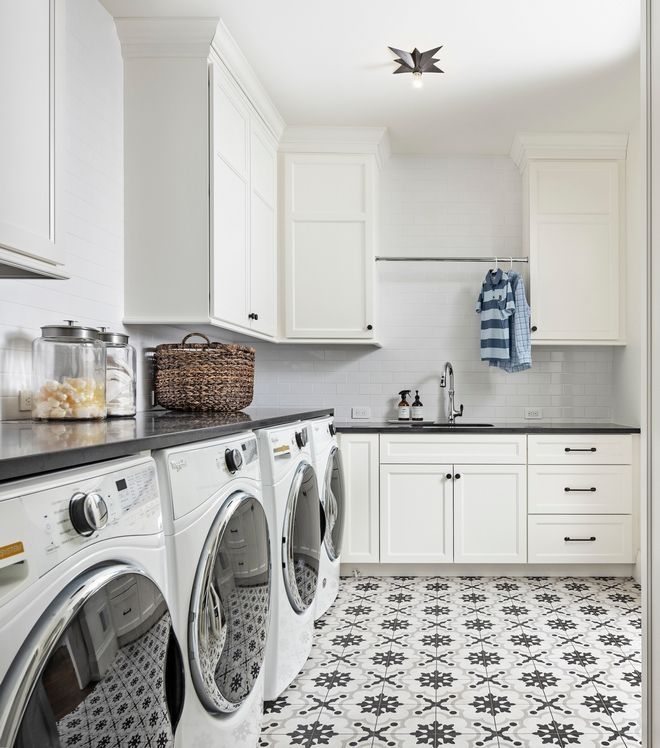 With an RGB color code of 246, 246, and 237, and a high LRV of 89.52, consider coordinating Simply White with Dove Wing and Somerville Red or Silver Satin and Casco Bay.
6. Iced Cube Silver 2121-50
Pale gray paint color with a slightly blue cast
As mentioned, light paint colors, especially neutrals, are best for a dimly lit laundry room. Even if you opt for a deeper color, adding a light neutral is still ideal. And that is where Iced Cube Silver comes into play. It is an extremely light gray shade but has a hint of blue that adds freshness to the room.
Because of its lightness and ability to match other colors, coordinate it with Pike's Peak Gray and Black Panther or Chantilly Lace and Hazelwood. Iced Cube Silver has an LRV of 73.74 and an RGB color code of 220, 225, and 225 respectively.
7. Van Deusen Blue HC-156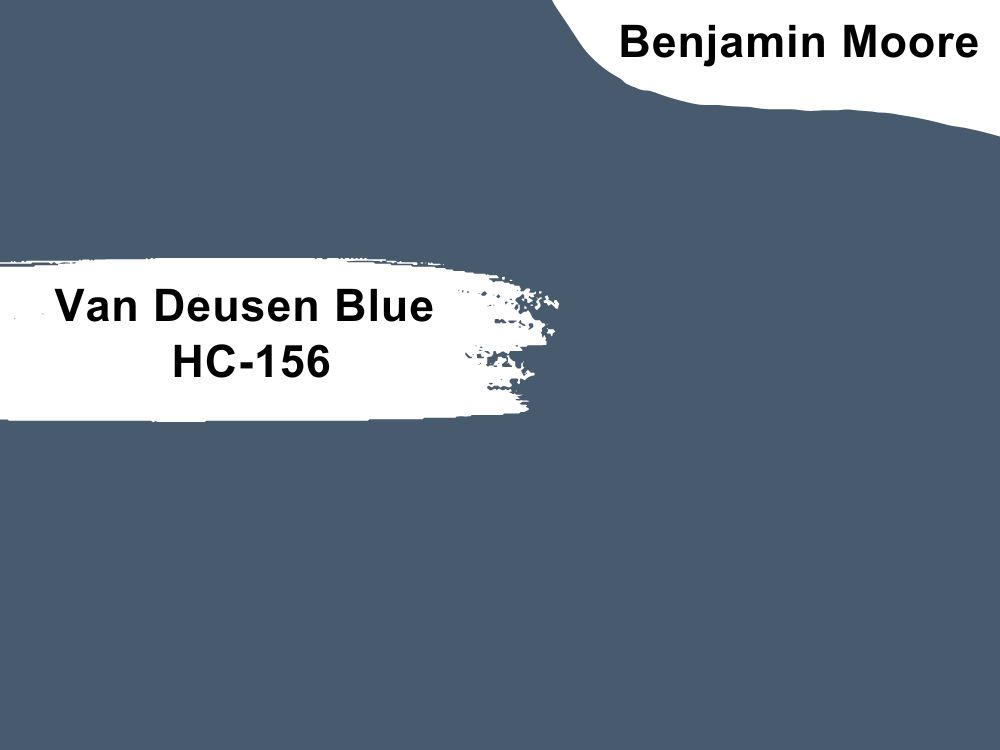 Dark blue paint color with gray undertones
This color is striking, unique, and unforgettable. It may not be the first choice for a laundry room, but believe it we tell you that you will not regret it. It is practical and makes the room interesting, especially if you add a bit of vibrance in colors and round it up with light neutrals.
Since it is a deep hue, it is best to match it with Castleton Mist and Alpine White or Thunder and Cotton Balls. Van Deusen Blue has an LRV of 11.97 and an RGB color code of 70, 93, and 110 respectively.
8. Stonington Gray HC-170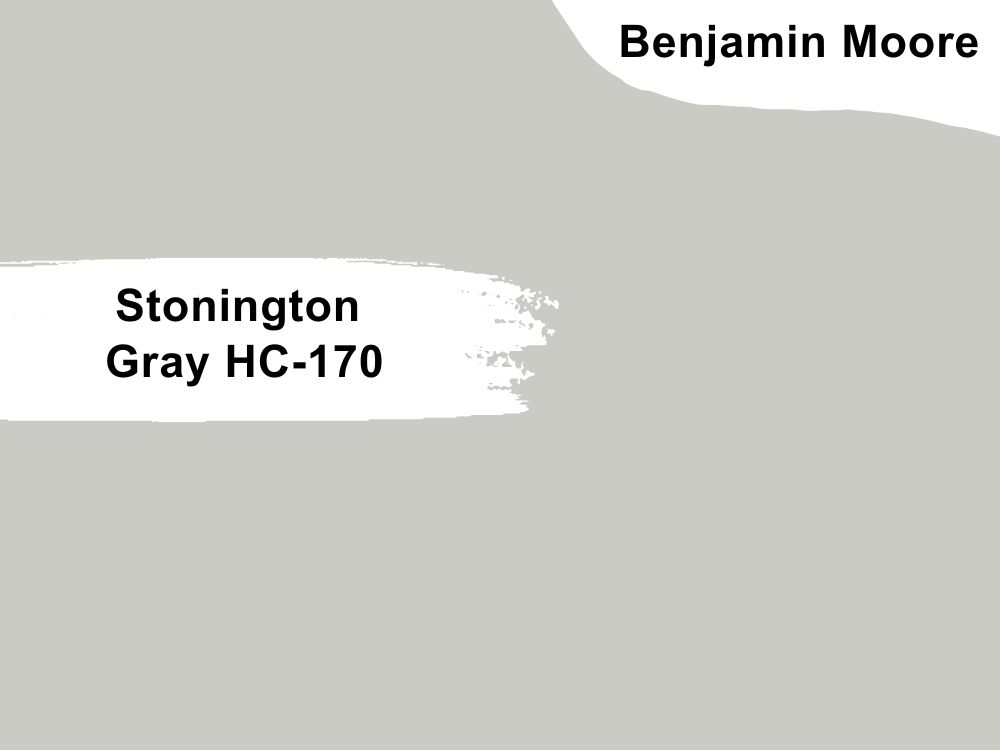 Gray paint color with neutral undertones
One of the reasons we like Stonington Gray is its relative neutrality. It has no discernible undertones, so it can match any color or decor. Also, it is bright enough not to absorb light, making it ideal for a laundry room. Keep it light, simple, and fresh with this color.
With an LRV of 59.36 and an RGB color code of 201, 201, and 194 respectively, match Stonington Gray with other Benjamin Moore colors like Puritan Gray and Chantilly Lace or Lychee and Decorator's White.
9. Titanium 2141-60
Pale gray paint color with blue-green undertones
Titanium is another light gray paint color that keeps the laundry room from looking too dingy or cramped. While saturated colors typically make a room appear small, light colors give the impression of a big room. Therefore, Titanium is one color to try for your laundry, especially if it is small.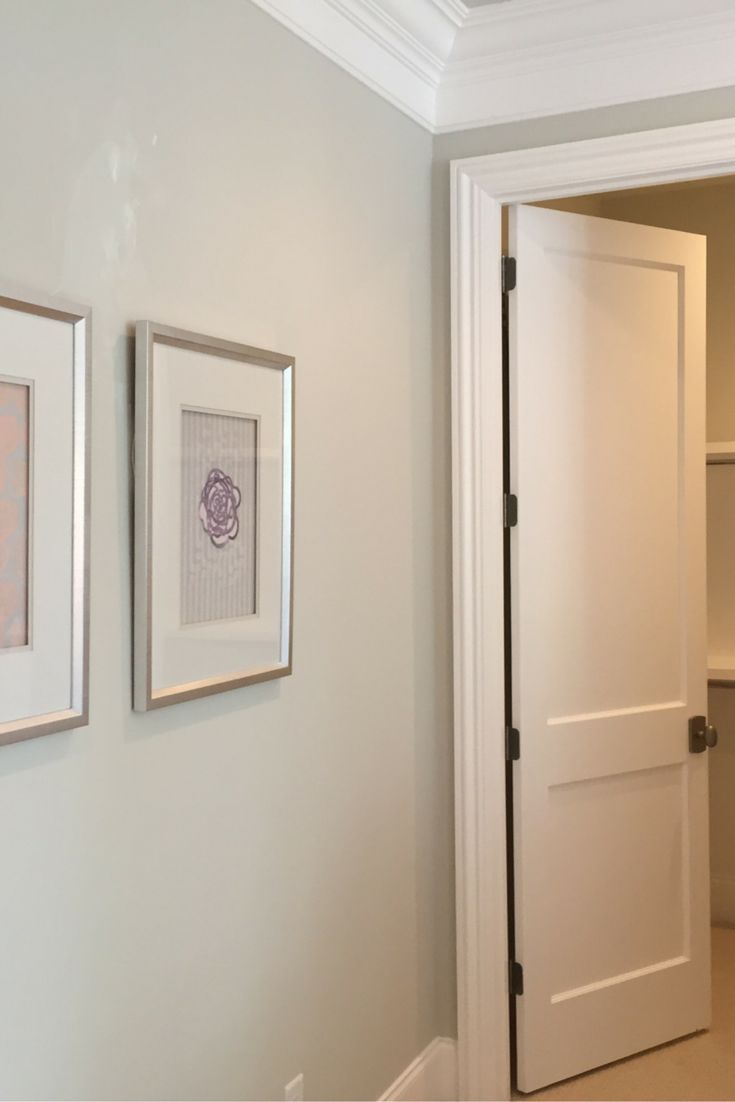 This light gray shade has an LRV of 68.41, a decent value to throw enough light into the room. And with an RGB color code of 218, 219, and 207 respectively, the best colors with which to match it include Chantilly Lace and Louisburg Green or Chantilly Lace and Flint.
10. Chantilly Lace OC-65
Bright white paint color
Chantilly Lace is another popular Benjamin Moore paint color. It is a classic white that works with everything because it has almost no undertones. Its neutrality draws other colors to it, and since it is bright, a laundry room will look great with it.
With an LRV of 90.04, which is one of the highest light reflectance values you will find, and an RGB color code of 244, 246, and 241 respectively, coordinate Chantilly Lace with White and Horizon or Seapearl and Edgecomb Gray.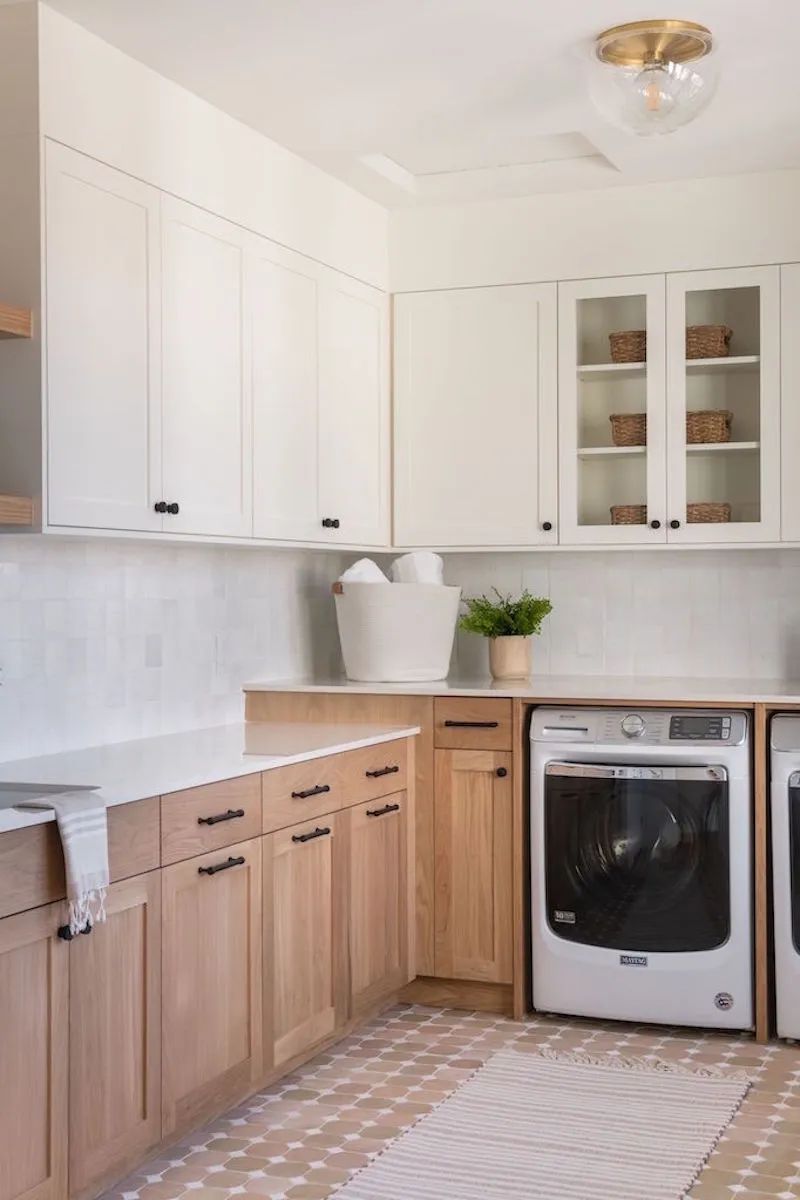 11. Santorini Blue 1634
Blue paint color with gray undertones
Imagine using this paint color in your laundry room with pure white wainscoting. Would it not turn the decor into something out of a designer's magazine, and it is only just the laundry room? Santorini Blue is reminiscent of the place its name represents. It is a color that will keep the room crisp, airy, and fresh.
Santorini Blue has an RGB color code of 162, 180, and 186 respectively, with an LRV of 44.67. Match it with Cloud White and White Sand or Distant Gray and Wolf Gray.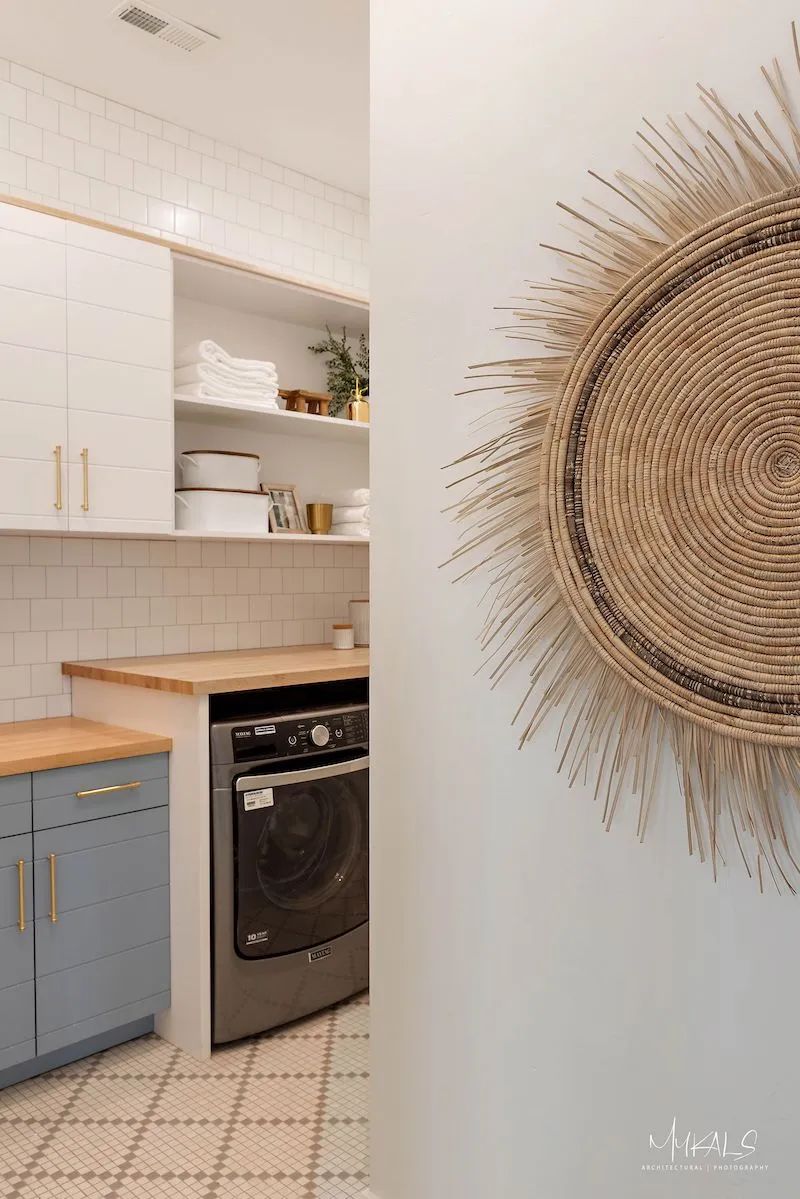 12. Black Panther 2125-10
Black paint color with blue and green undertones
The undertones are barely there because Black Panther has an inky and rich depth. We know it is not a conventional color to suggest for a laundry room, especially based on the other colors before now. However, we always recommend that you combine rich colors like this one with white for a striking contrast.
Also, white will ground the black and keep it from overwhelming the room, particularly if it is small. Alternatively, use it on the cabinetry and paint the walls with Chantilly Lace.
Black Panther has an RGB color code of 61, 63, and 64, making it an almost-perfect neutral. And with an LRV of 6.51, coordinate it with White Wisp and Sea Haze or White Heron and Boothbay Gray.
11 Best Sherwin Williams Paint Colors for a Laundry
1. Rainwashed SW 6211
Blue-green paint color with gray undertones
Your clothes are not the only things that need freshening sometimes. Rainwashed will make you feel great about doing laundry, even on days you do not feel like it. The paint color can transform under different lighting, so keep that in mind if you opt for it.
It has an RGB of 194, 205, and 197 respectively, with an LRV of 59. Consider coordinating Rainwashed with Pewter Cast, First Star, or Window Pane.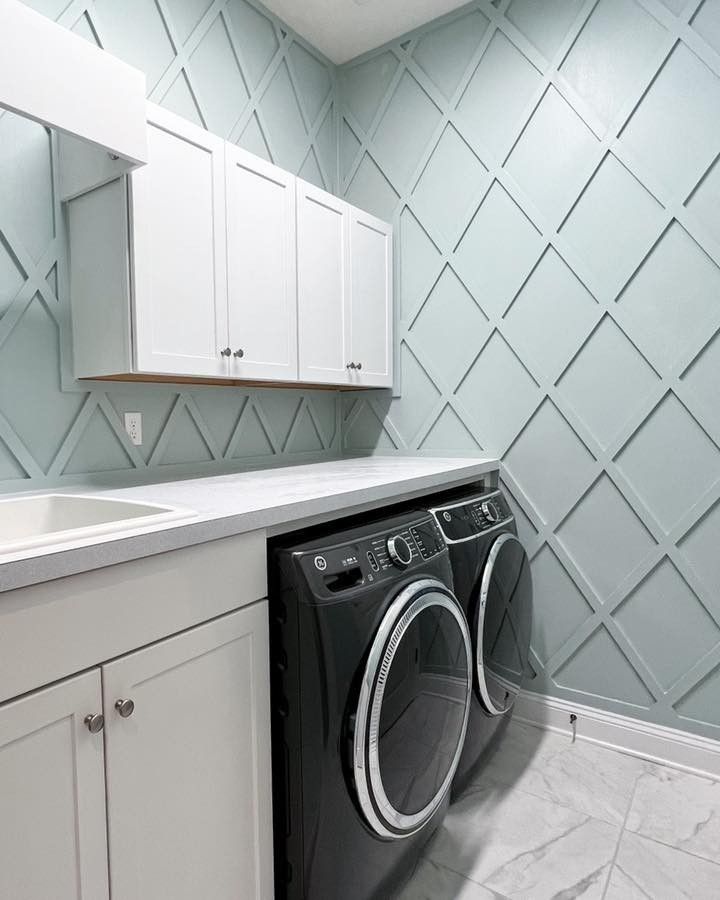 2. Evergreens SW 6447
Dark green paint color
Green may not be your first thought for a laundry room paint color. Even if you do think of that color, you may want a lighter shade or mint. But Evergreens is a unique shade that brings the deep rainforest with its freshness home to you. It is a calming color, although saturated.
Light colors like Sawgrass Basket, Aged White, and White Mint work best with this color because of its intense saturation. You can also select other matching light neutrals, especially with its LRV of 8 and RGB color code of 64, 88, and 64 respectively.
3. Agreeable Gray SW 7029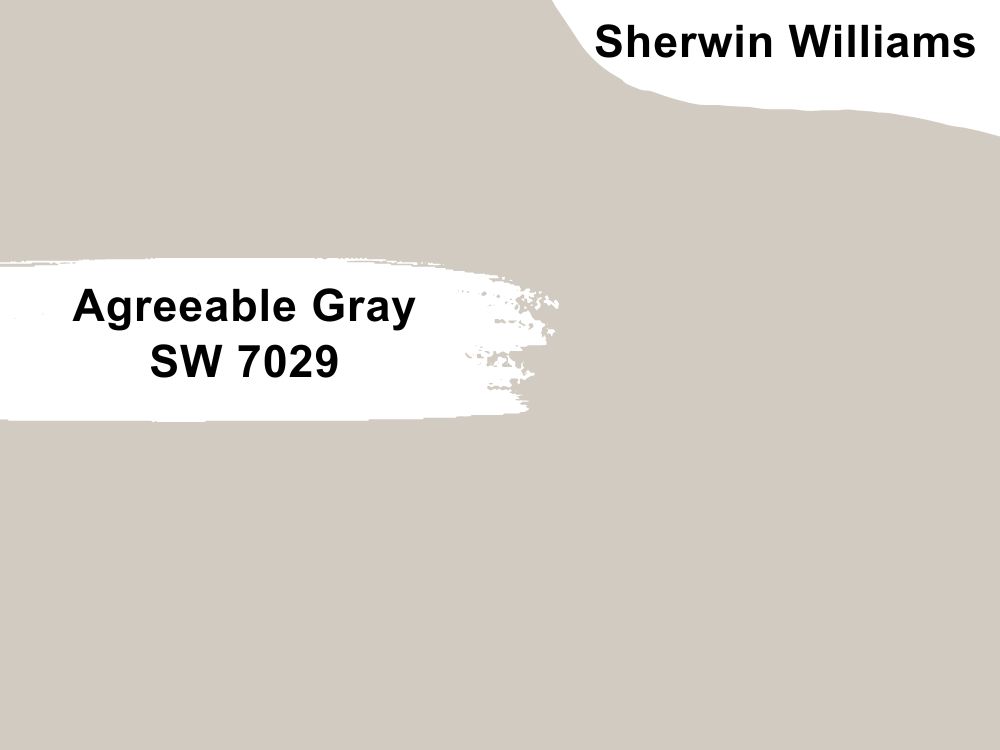 Gray paint color with a beige undertone
What is your home decor without a touch of Agreeable Gray? Even if you have not used it, your laundry is a good place to start. And we say this not because it is the best-selling and most popular Sherwin Williams paint color but because it is a fitting neutral for a small room.
Agreeable Gray is a light color with an LRV of 60. So, while you can use other light colors like the picture above, consider pairing it with darker shades like Coral Rose or go light with Incredible White and Extra White. The paint color has an RGB color code of 209, 203, and 193 respectively.
4. Online SW 7072
Pale blue paint color with blue-gray undertones
Keep your laundry cool and fresh with Online paint color. Whether you use it on the cabinets, walls, or both, Online makes the room feel crisp and serene. This is especially true when paired with white.
With an RGB color code of 176, 181, and 181 respectively, Online has equal amounts of blue and green. And with an LRV of 45, pair this color with Connected Gray, Alabaster, or Site White.
5. Retiring Blue SW 6763
Light blue paint color with hints of green
By now, you can tell how much we like blue paint colors for laundry rooms. They are alive, beautiful, fresh, and have too many shades to count. Retiring Blue is one of the many shades that brighten any room, even a dingy laundry.
Retiring Blue has an LRV of 79 and an RGB color code of 213, 234, and 232 respectively. Consider matching it with Favorite Tan and Westhighland White.
6. Urbane Bronze SW 7048
Deep brown paint color with gray undertones
Urbane Bronze is an unusual shade of brown, probably because of the gray undertones. It may not be a bright color, but it may be what your laundry needs to become transformed. Besides, it perfectly blends with light colors and neutrals.
Urbane Bronze makes a room look stately and sophisticated. It has an LRV of 8 and an RGB color code of 84, 80, and 74 respectively. Coordinate it with Ivoire, Extra White, or Shoji White.
7. Front Porch SW 7651
Gray neutral paint color with cyan undertones
When combined with white, Front Porch creates a relaxing atmosphere anywhere, including the laundry room. Believe it or not, it will make your laundry easier and gentler.
Coordinate it with Exclusive Plum, Shell White, or Eider White. Front Porch has an LRV of 60 and an RGB color code of 204, 204, and 197 respectively.
8. Repose Gray SW 7015
Light gray paint color with slightly violet undertones
Repose Gray is another popular gray paint color from Sherwin Williams. And it is the perfect shade for your laundry room to keep it light and airy. Whatever color of appliances you have. Repose Gray will match it.
Pair Repose Gray with Coral Clay, Pavestone, or Eider White for the best results. The paint color has an RGB color code of 204, 201, and 192 respectively, and an LRV of 58.
9. Redend Point SW 9081
Light coral paint color with blush undertones
So, Redend Point is the Sherwin Williams color of the year 2023, and it only makes sense that it fits any room. It is a warm blush-beige color that brightens any room, especially with light colors and wood tones. Use it on one wall and light neutrals on other walls to see how the decor turns out.
You may want to pair it with Canyon Clay, Kestrel White, or Polite White, especially because it has an earthy tone to it. Redend Point has an LRV of 30 and an RGB color code of 174, 142, and 126 respectively.
10. Dover White SW 6385
Bright white paint color with yellow undertones
Our list would not be complete without including white paint color. Dover White is a warm white that features a slightly yellow tone that makes it warm. If you do not have enough lighting in your laundry room, this paint color may be one of your best options to brighten the place.
Coordinate Dover White with darker colors like Waterloo and Dakota Wheat. The white paint has an RGB color code of 240, 234, and 220 respectively, with an LRV of 83.
11. Lullaby SW 9136
Light blue paint color with slate gray undertones
This cool neutral paint color lifts the mood in the laundry room. You do not even need to combine colors; it is enough to stand alone in the room. But if it seems a bit much or want a little diversity, use darker and saturated hues or blend bright white into the decor.
With an LRV of 65, surprisingly lower than the paint color appears, and an RGB color code of 203, 212, and 212 respectively, you may want to coordinate Lullaby with Honed Soapstone, Extra White, or Mountain Air.
Conclusion
Your laundry room does not have to be less beautiful than the rest of the house. You can include it in your decor plans if you are only just beginning to decorate. However, as mentioned, a fresh paint coat can change the look of the room if your house is already decorated and you just want to uplift the face of the laundry room.
We have included a lot of light colors, most of them neutrals. But we also have some dark and saturated shades for some versatility. Try Urban Bronze from Sherwin Williams or Van Deusen Blue from Benjamin Moore with any of the light colors for a striking effect.
We would love to share your real-life laundry from paint colors to inspire others. Share them with us in the comments section.