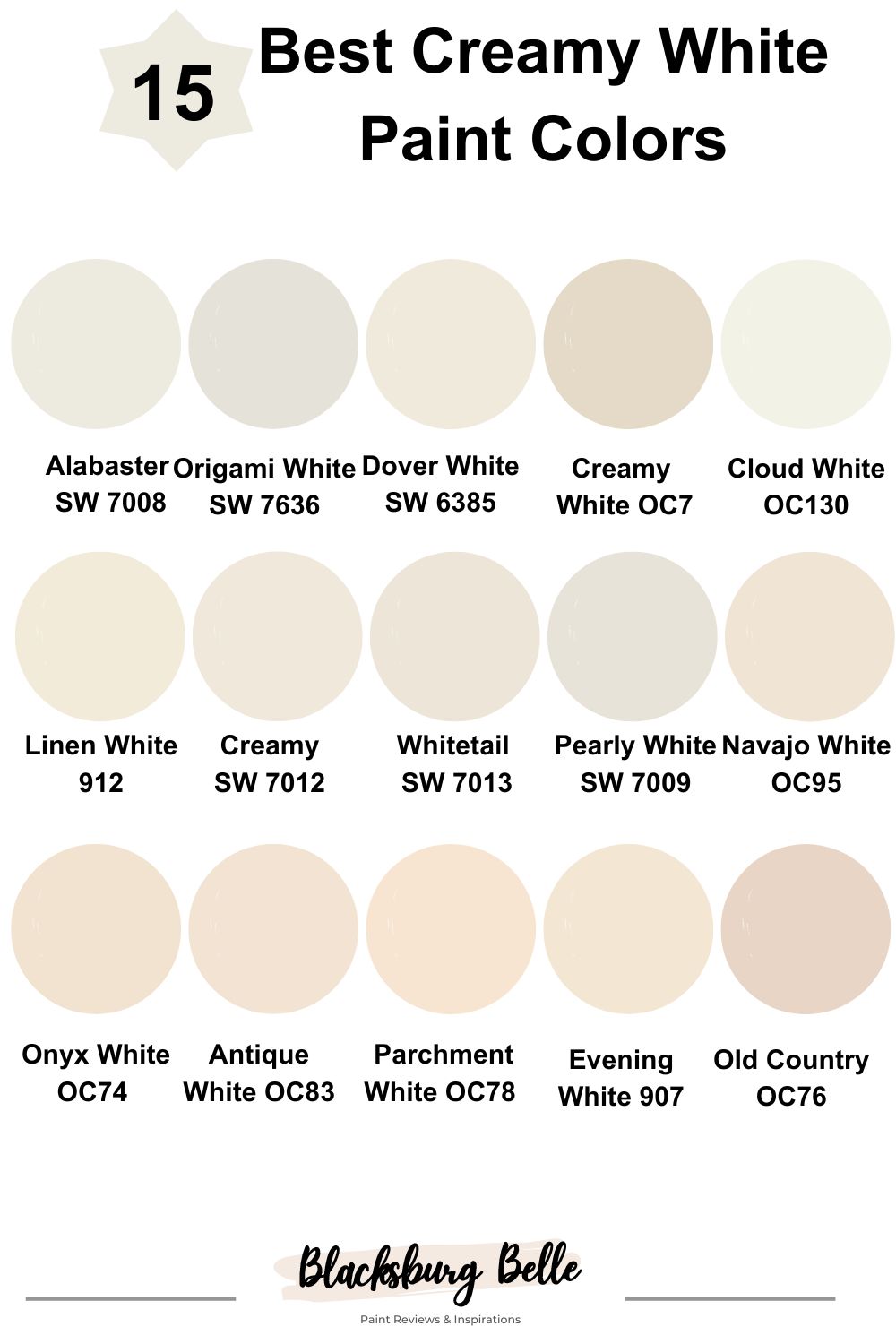 So, you have decided this year you want a white paint that straddles the two worlds of cream and white? That's Awesome.
Everyone you know is not just painting their homes "pure white"  because it is limited in the variety of colors you can pair it with. Besides, with colors like absolute white, you have to worry about the lighting—north facing, south facing or any other direction. With creamy colors, these considerations are reduced drastically. You can just paint away, whole rooms, portions of rooms or the length of your hallway.
If you are having a hard time choosing which creamy white to use, let us show you 15 of the best creamy white paints all your neighbors are using so you are not left out.
Before You Buy
When it concerns choosing a creamy white paint for your living space, there are various factors you should take into account to ensure that you pick the most fitting shade. The right pigment can emanate a sense of serenity and calmness in a room, while an inappropriate one can leave it appearing lackluster and uninviting.
Room Lighting
The lighting in a room is one of the most significant factors to take into account when selecting a creamy white paint. The amount and kind of light in a room can drastically affect the appearance of a color.
For instance, natural light can make a pigment appear distinct during the daytime, in comparison to artificial light at nighttime. It is, therefore, crucial to take into consideration the lighting in the room before selecting a creamy white paint.
Room Function
The function of the room is another crucial factor to take into account. Different rooms in a house have different functions, and, therefore, require different pigments.
For bedrooms, you ought to consider using creamy white colors with warm undertones. These pigments will create a warm and welcoming atmosphere, perfect for unwinding and relaxing after a long day.
For kitchens and bathrooms, you ought to consider using creamy white colors with cool undertones. These shades will create a spotless and refreshing atmosphere, perfect for cooking and grooming.
15 Best Creamy White Paint Colors For 2023
1. Sherwin Williams Alabaster SW-7008
| | |
| --- | --- |
| RGB | 238 234 224 |
| LRV | 82.28 |
| Matching Colors | Taupe, White, Gray |
| Undertones | Subtle Beige |
Meet Alabaster from Sherwin Williams, a creamy white paint otherwise called off white because it isn't exactly white. It is a paint you need in rooms and living rooms for the appealing, soothing atmosphere. The alabaster pairs perfectly with other white paints, taupes and even other warmer cream colors. It depends very much on your objective with a particular wall or room.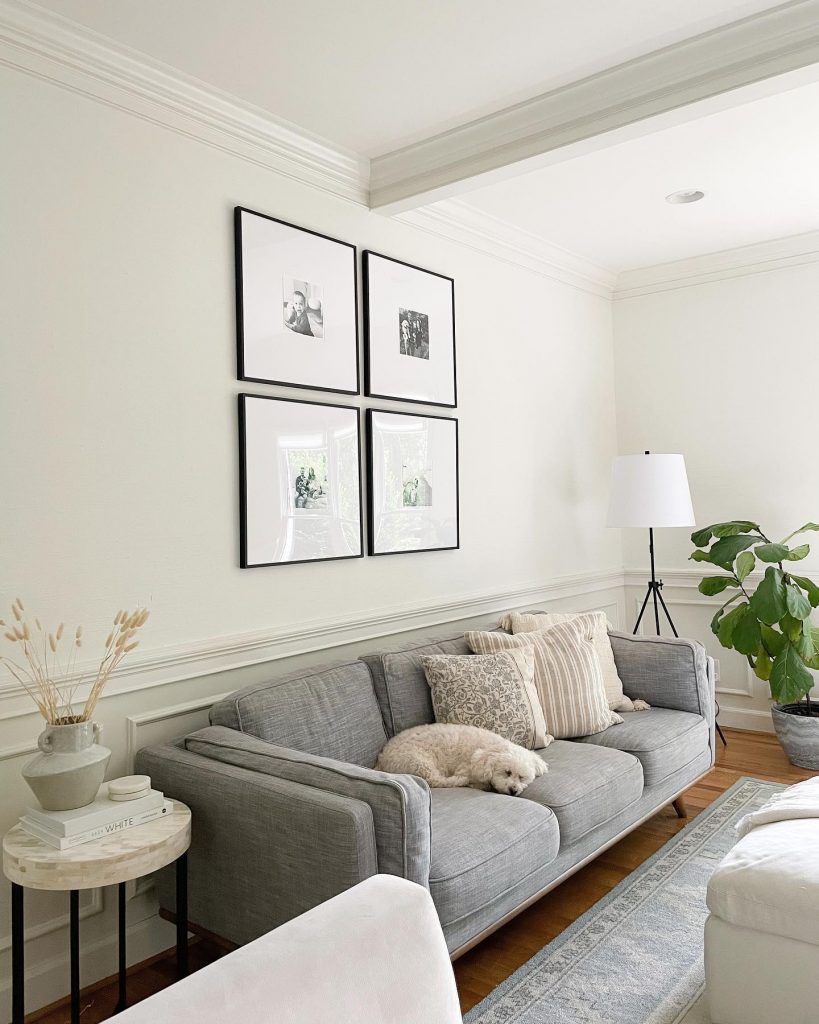 In 2023, people are ditching the excessive use of different colors in the home. People are going for a minimalist look and this alabaster creamy white from Sherwin Williams is one of the best for this purpose.
2. Sherwin Williams Origami White SW-7636
| | |
| --- | --- |
| RGB | 239  232 219 |
| LRV | 81 |
| Matching Colors | Reynard |
| Undertones | Yellow |
Although the Origami White has cool violet undertones in certain lighting conditions, this White is recommended as a creamy white. If you have more muted colors in your decor that you need to toughen the space, the Origami has got you. The best place to display this beautiful creamy white is in the living room where sufficient light will hit it all day giving that space the kind of soothing aura you need.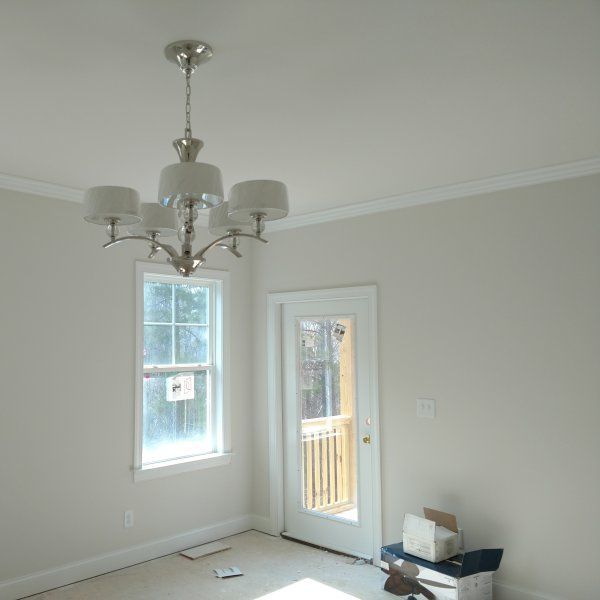 The Origami also have sufficient warmth to enliven your rooms, and to make kitchens a delight to cook in. You can paint with this color on exterior and interior walls. This creamy white matches with Reynard also from Sherwin Williams.
3. Sherwin Williams Dover White SW-6385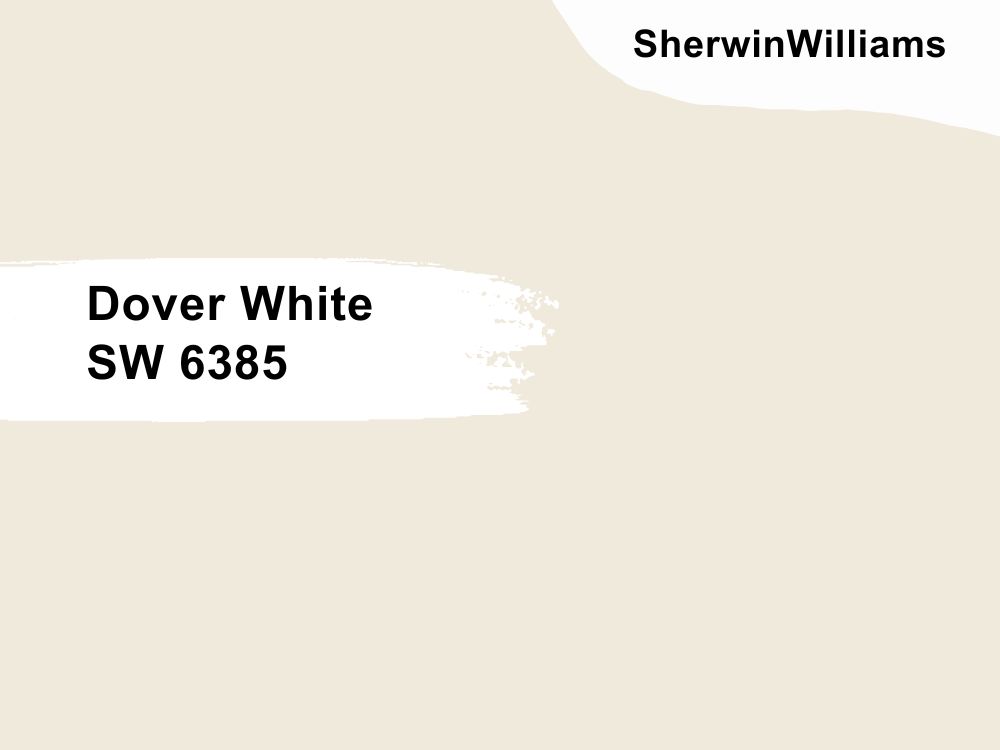 | | |
| --- | --- |
| RGB | 240 234 220 |
| LRV | 83 |
| Matching Colors | Organdy, Light Classic Stuff |
| Undertones | Golden yellow |
Your kitchen cabinets and cupboards are about to get the best treatment yet with this Dover white, a creamy white made by Sherwin Williams. Its creamy white and yellow undertones allows it to pair well with darker colors and even some whites in the kitchen.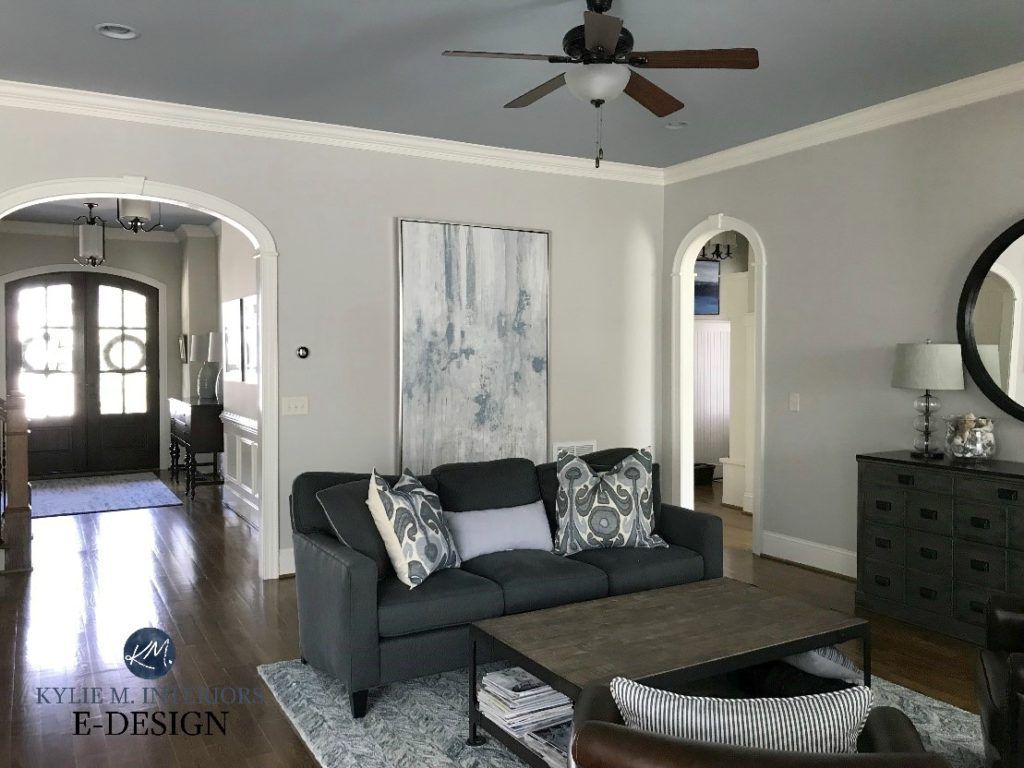 If your room faces the west expect to see a cool yellow undertone and if it faces north you will be impressed by the neutral tone. This creamy white is a warm color that sets off the mood in the living room. All you need is to select darker colors or softer ones to match it up.
4. Benjamin Moore Creamy White OC-7
| | |
| --- | --- |
| RGB | 228 218 199 |
| LRV | 90 |
| Matching Colors | Benjamin Moore's Timid White, Swept Away |
| Undertones | Slight Gray |
It's pretty straightforward what this paint color is all about. If you aren't sure about the color of the paint you need, simply approach your paint dealership and ask for the Benjamin Moore Creamy White OC-7.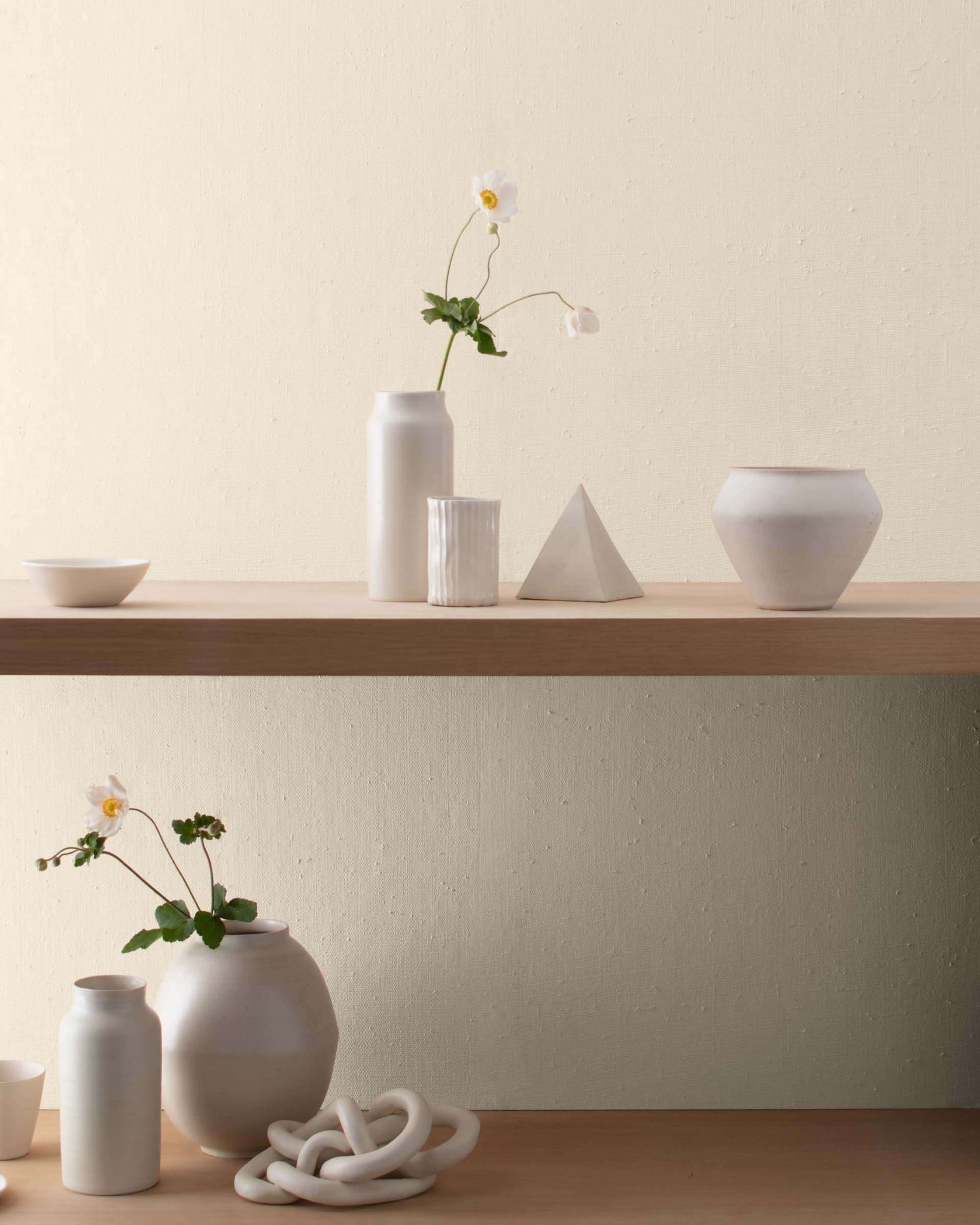 Paints don't get creamier than this color. The vibe from this creamy white is bisque and it will transport you to a medieval European room. It has undertones that relaxes and in rooms and living rooms. This paint can be used on any wall. Its LRV of 90 is what gives it this off white shade.
If your cabinet top is granite then this Creamy White then painting the cabinet with this color will give your kitchen an earthy aura.
5. Benjamin Moore Cloud White OC-130
| | |
| --- | --- |
| RGB | 243 238 225 |
| LRV | 85.49 |
| Matching Colors | Pale Oak, Champion Cobalt, Yosemite Yellow |
| Undertones | Yellow |
This paint has a warm neutral white with a solid cream undertone. It won't show as white in a room with good and bad light. It is a white people resort to when they need the warmth of white without using a white paint—if you get what this means. It means, disregard the white attached to the name of this paint and get on the Creamy White train.
To know how much of a creamy white this paint is, you only have to see it near a pure white from any paint brand. The Cloud White from Benjamin Moore is great for cabinets and doors, especially if you trim it with Champion Cobalt, Yosemite Yellow, and Pale Oak all from Benjamin Moore.
6. Benjamin Moore Linen White 912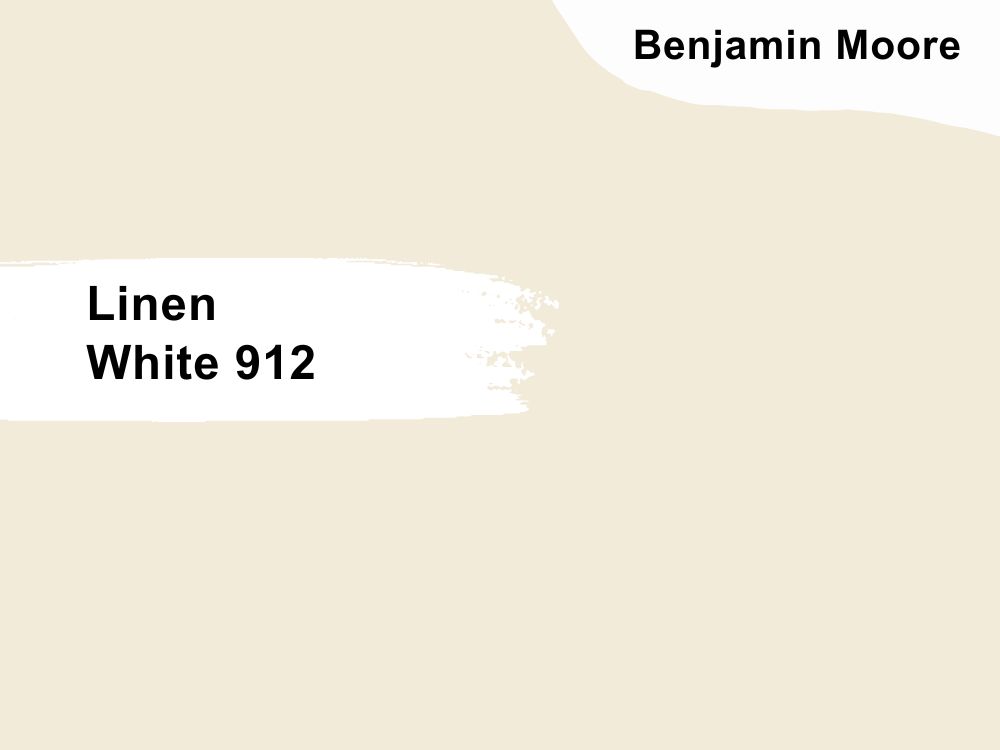 | | |
| --- | --- |
| RGB | 243 236 219 |
| LRV | 80.94 |
| Matching Colors | Benjamin Moore: Vapor Trails, Night Train |
| Undertones | Yellow and orange |
This is one of the off-white paints with a rich creamy undertone that everyone from homeowners and designers are using in 2023. It's got a versatility that makes it cool to use in all types of room and light. It doesn't matter what type of house you have, from modern to traditional homes. The undertone of this creamy white is between yellow and orange, though it tilts more in favor of orange than the other creamy whites on this list.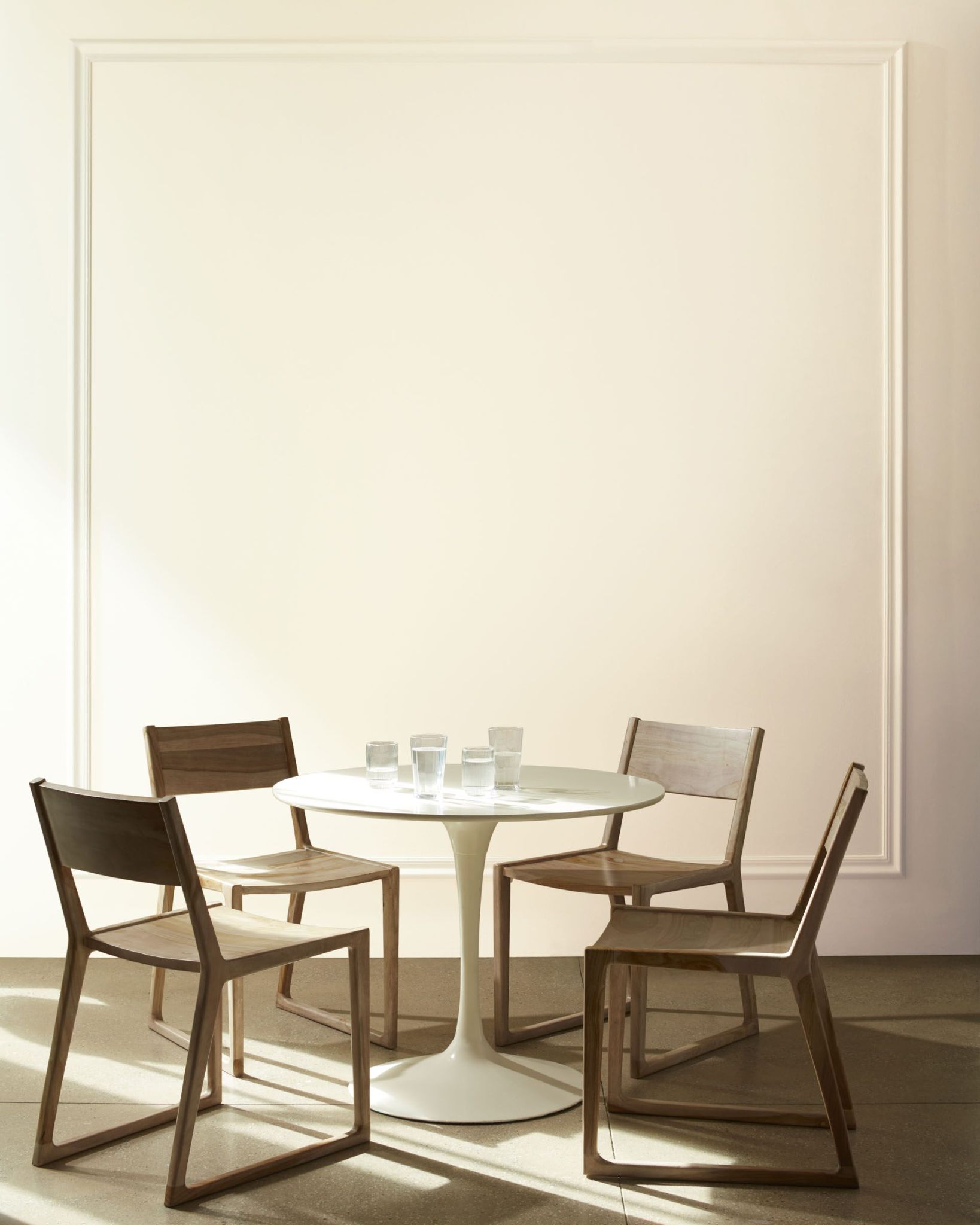 If you don't fancy the yellow undertone coming out too hard, then it's best to not use this paint in a north facing room. This paint is warm in undertone because of the shades of yellow and orange, making the room soothing for you. Some of the best places to use this creamy white is in doorways, living rooms, bedrooms, even basements where light can be stifled.
7. Sherwin Williams Creamy SW-7012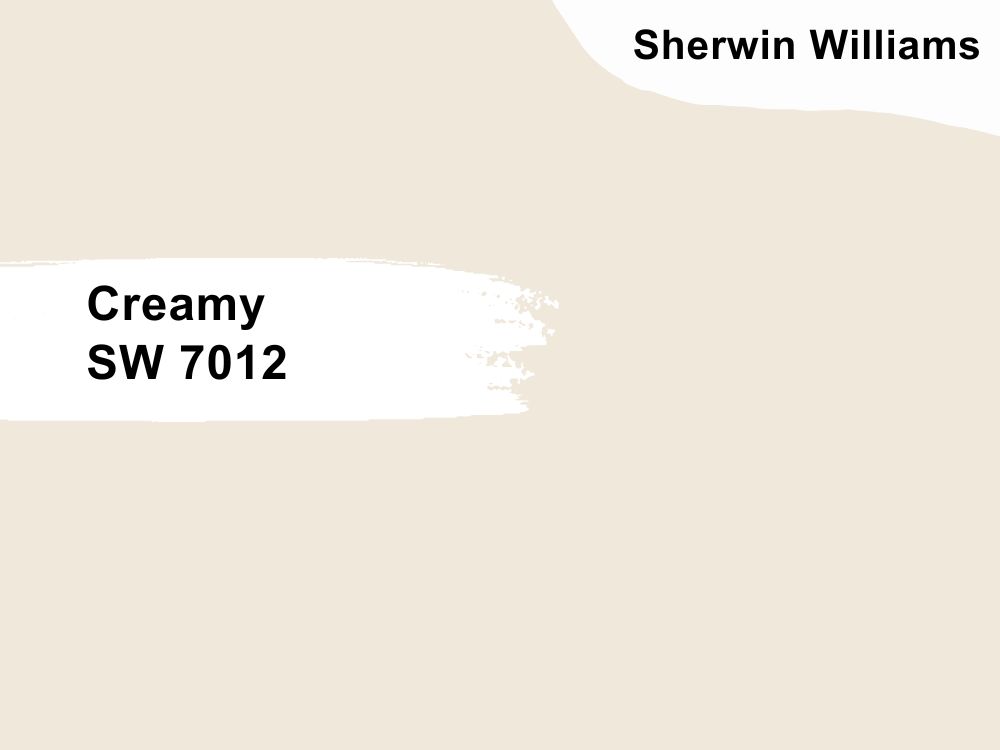 | | |
| --- | --- |
| RGB | 239 232 219 |
| LRV | 81 |
| Matching Colors | Tricorn Black, Intellectual Gray, Worldly Gray |
| Undertones | Yellow |
Like most cream colors, the Sherwin Williams Creamy comes with a soft yellow undertone for a warm appearance in rooms. This color pairs well with Raynard from Sherwin Williams. Use this color in places in the home where the light is not so good, or around stairways in the home that are far from windows of source of natural light.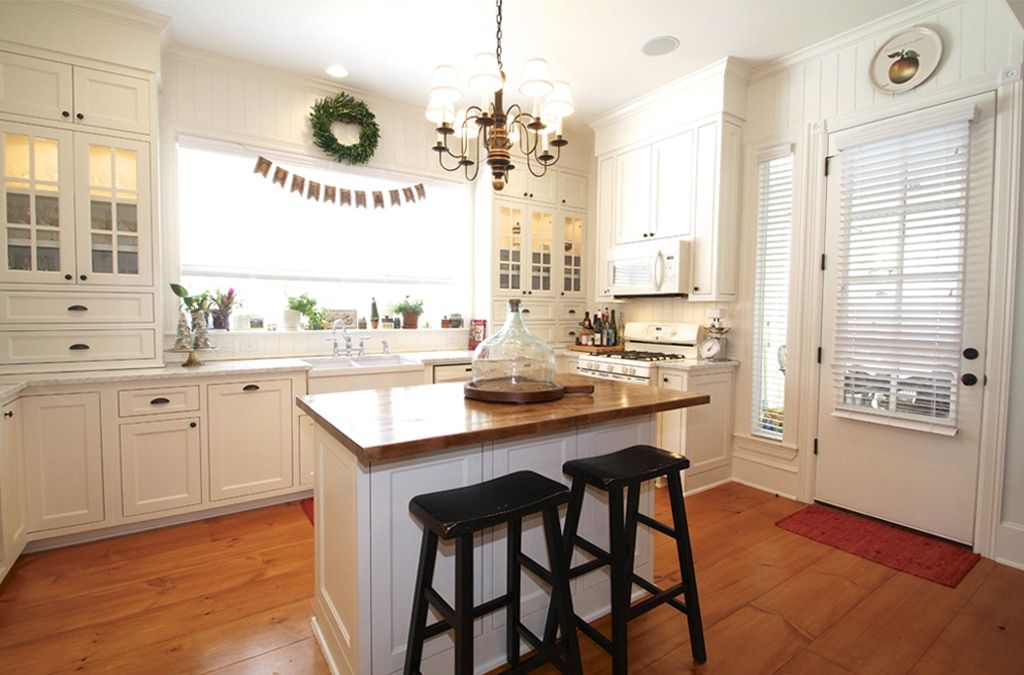 You will find the Creamy color as a light color. It is an airy off white color. It balances its yellow tone well so that it doesn't dominate the space or other colors. It is a color for when you are trying not to make the room or space too dark. It is also the paint to replace gray or other colors. Beige, greige, taupe, rust, charcoal gray and brown are colors that match this Sherwin Williams Creamy well.
8. Sherwin Williams Whitetail 7013
| | |
| --- | --- |
| GRB | 245 238 227 |
| LRV | 86 |
| Matching Colors | Capitol White, White Chip, Pale Bloom |
| Undertones | Yellow |
This paint is a very creamy pant that's not talked about enough. The yellow tone in this paint is popping out of it anywhere it is used, whether it is interior or exterior. It is a warm white, for sure. It surprisingly has a high LRV of 86 and yet is able to deliver such a bright whiteness while being creamy.
It is also a creamy white that can be used when you don't want too many yellow undertones and the reason once again is the high LRV. So if you're remodeling and wish to tone down on undertones, use this Whitetail for all your exterior with a trim of Stonewash Pink, Capitol White, White Chip, Pale Bloom.
9. Sherwin Williams Pearly White SW-7009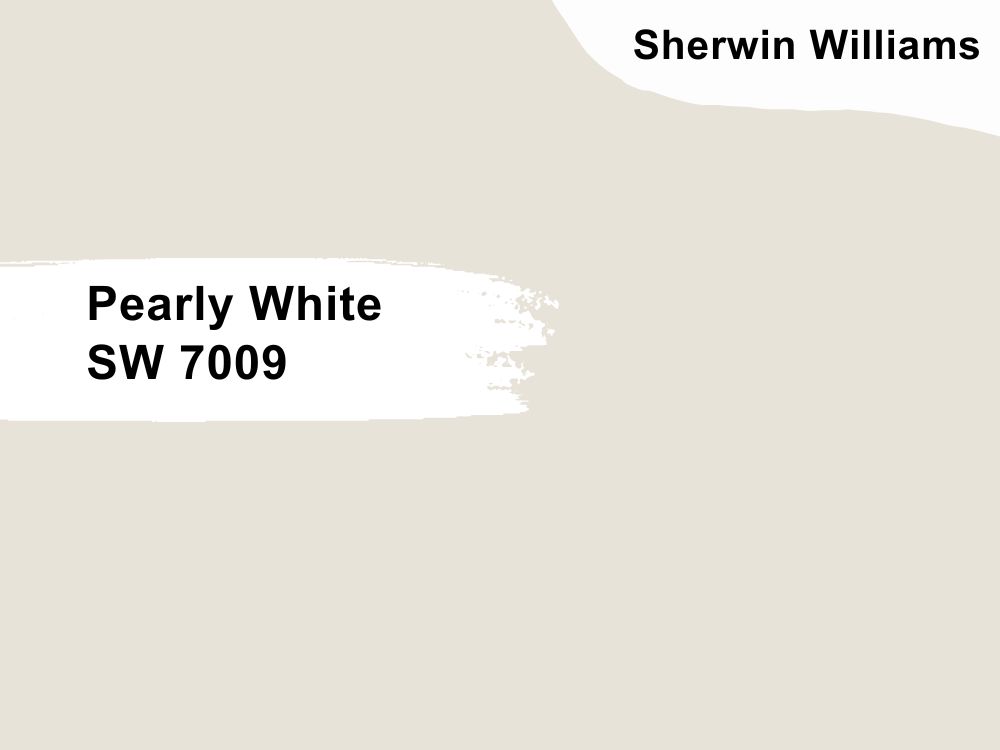 | | |
| --- | --- |
| RGB | 232 227 217 |
| LRV | 76.5 |
| Matching Colors | Celery, Haven, Restoration Ivory |
| Undertones | Soft green |
This creamy white color from Sherwin Williams comes with a solid cream undertone. It is one of the few creamy whites without a yellow undertone. It's great for almost all manner of lights conditions, dark and lit rooms. It has a subtle green undertone which makes it the best paint for pairing with most colors.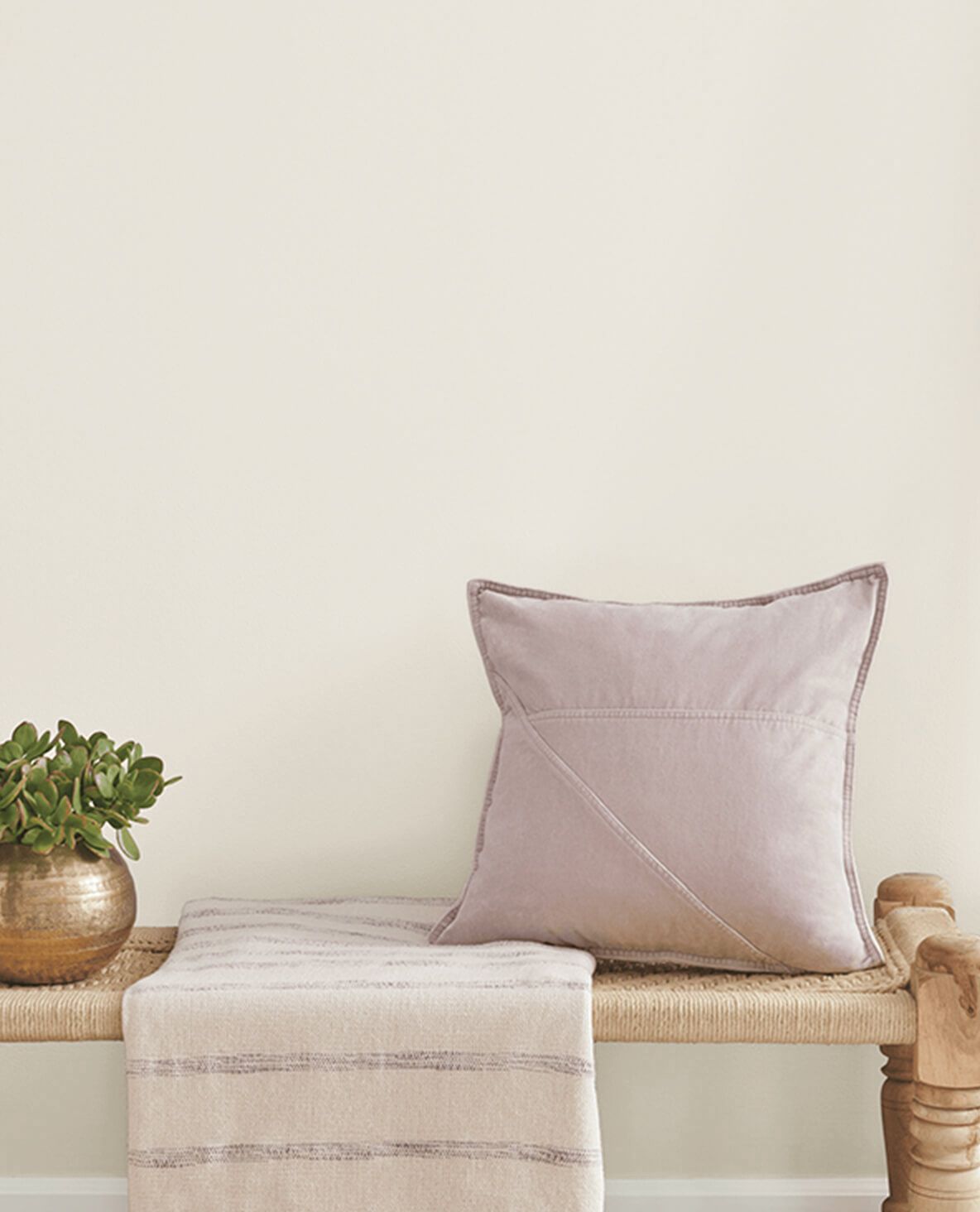 The LRV of Pearly White is 76.5 which gives it the creamy look more at daytime. This paint is great for rooms that ordinarily have low light and you'd like to give it some warmth. Also in living rooms with dark corners this paint can help to put some lively aura in those places.
10. Benjamin Moore Navajo White OC-95
| | |
| --- | --- |
| RGB | 255 222 173 |
| LRV | 78.26 |
| Matching Colors | Thicket, Chantilly Lace, Bennington Gray |
| Undertones | Yellow |
For timeless you should definitely use this Benjamin Moore Navajo white. It is off-white and creamy with a touch of orange undertones. Some designers contend that the Navajo White is not a white paint, that it's a cream colored paint. At any rate, we are going to the take word of the producers, Benjamin Moore, for it. They say it's white, so it is white. Only that this is off-white and it is creamy. And it's a great paint for it.
This paint will cast a yellow undertone in every room. It can also be your all round color which means you can paint your whole apartment with the Navajo White. To make things less boring you can match with Simply White, Thicket, Chantilly Lace and Bennington Gray for trims.
11. Benjamin Moore Onyx White OC-74
| | |
| --- | --- |
| RGB | 242 227 208 |
| LRV | 76 |
| Matching Colors | Mountain Peak White, Brookline Beige, Butter |
| Undertones | Yellow |
The onyx is a creamy paint that's barely white. But since Benjamin Moore says it is, then it is white. Like the Navajo White, it is laden with strong yellow-orange undertones. It is part of Benjamin Moore's off-white collection.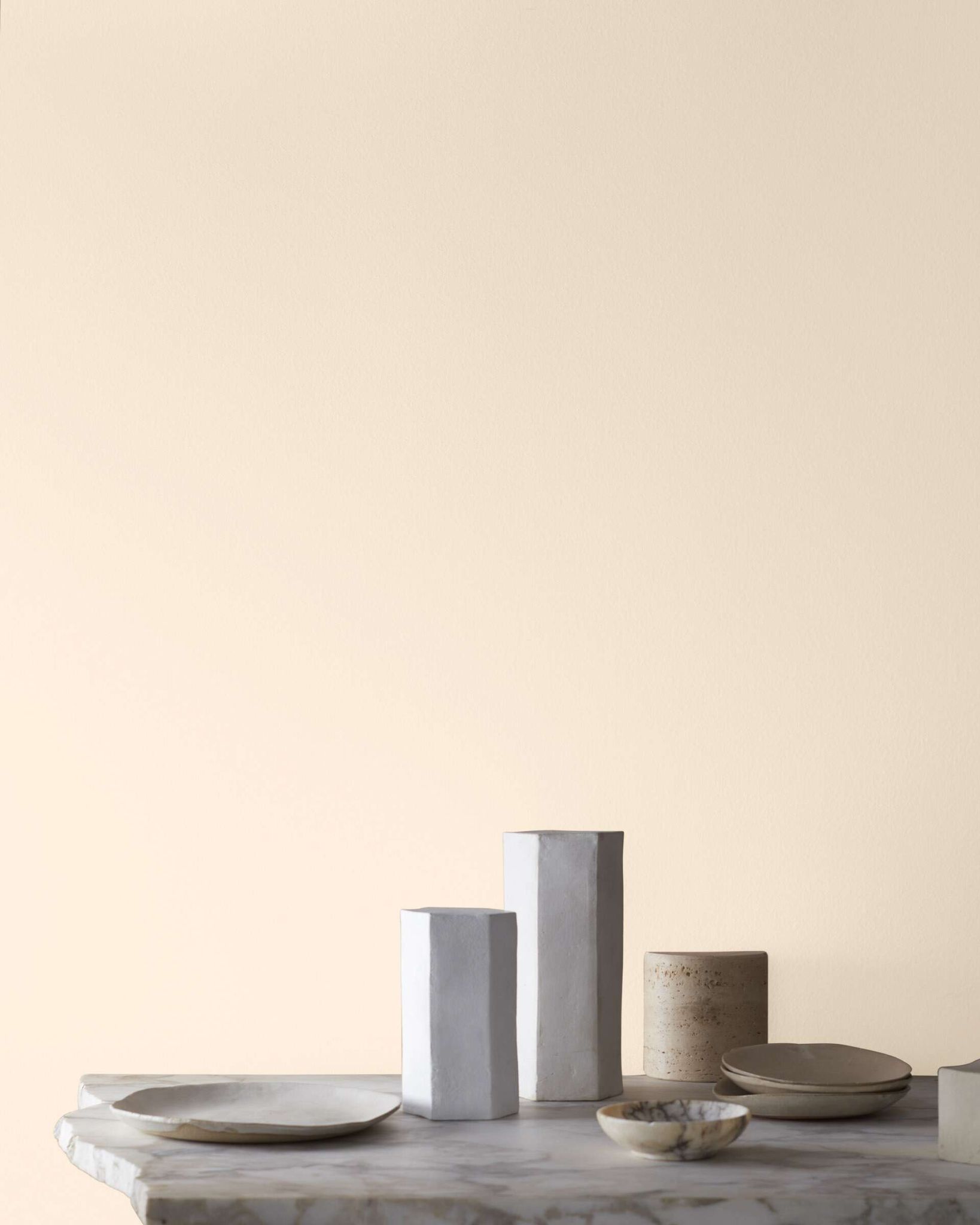 In some lights, you will get subtle white in the hue. It is a tranquil color with shades of white and cream at the same time. The onyx has an LRV of 76 and matches quite well with colors like the Butter Pecan, Brookline Beige, Mountain Peak White, and Mayflower Red.
Like the Navajo, the Onyx can be used all over the house. And it can also work well for exteriors along with trims of Mountain Peak White.
12. Benjamin Moore Antique White OC-83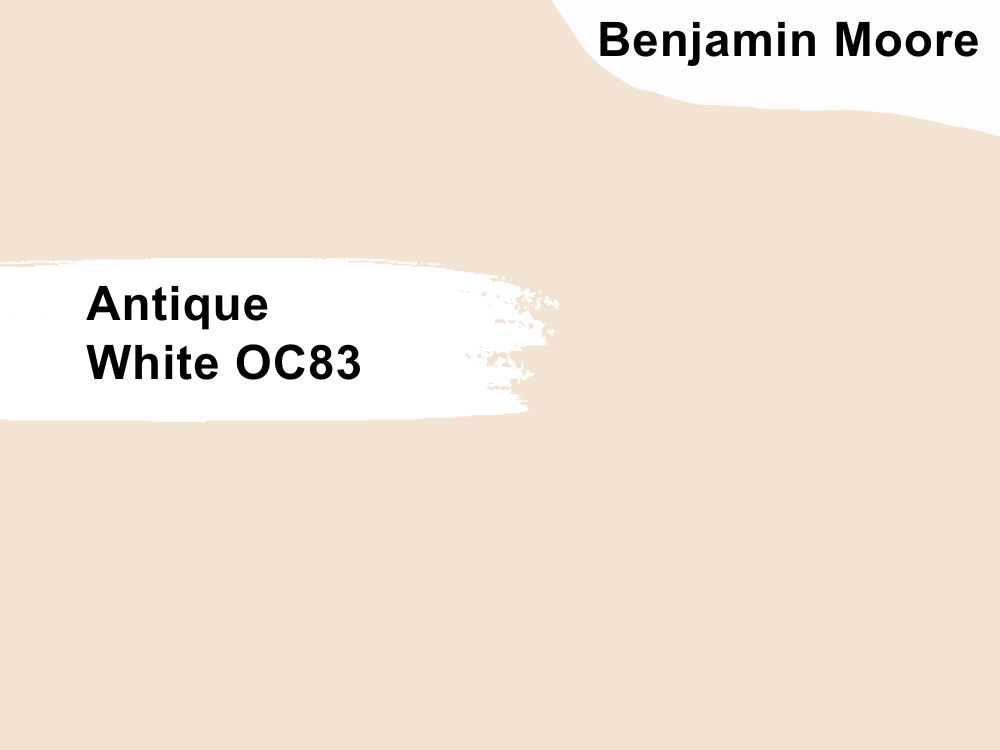 | | |
| --- | --- |
| RGB | 242 227 210 |
| LRV | 77 |
| Matching Colors | Mayonnaise, Texas Rose, Chantilly Lace |
| Undertones | Peach |
Paint your living room of study with this paint color and get a vintage vibe from the beautiful hard cream color. This color matches beautifully with your antique decor like the floorboards, and other wood features. Unlike the other colors, this off white color gives peachy undertones that makes it so cool and easy to match.
You will enjoy matching this paint color in your kitchen, living room, and exterior with colors like Mayonnaise, Texas Rose, Chantilly Lace, and Alexandria Beige.
13. Benjamin Moore Parchment White OC-78
| | |
| --- | --- |
| RGB | 247 229 210 |
| LRV | 79 |
| Matching Colors | Mountain Peak White, Hancock Gray, |
| Undertone | Peach |
The peach undertones in the parchment white are muted. It is enough however to give any room an elegant, pale look. Admittedly, this is not a very popular paint and so you would hardly find reviews about it. The reason is, it's just gaining traction with designers and homeowners now. You can be among the first users who admire the classy color in your home.
This creamy white can be matched with Mountain Peak White, Hancock Gray, Mayonnaise and Harmony.
14. Benjamin Moore Evening White 907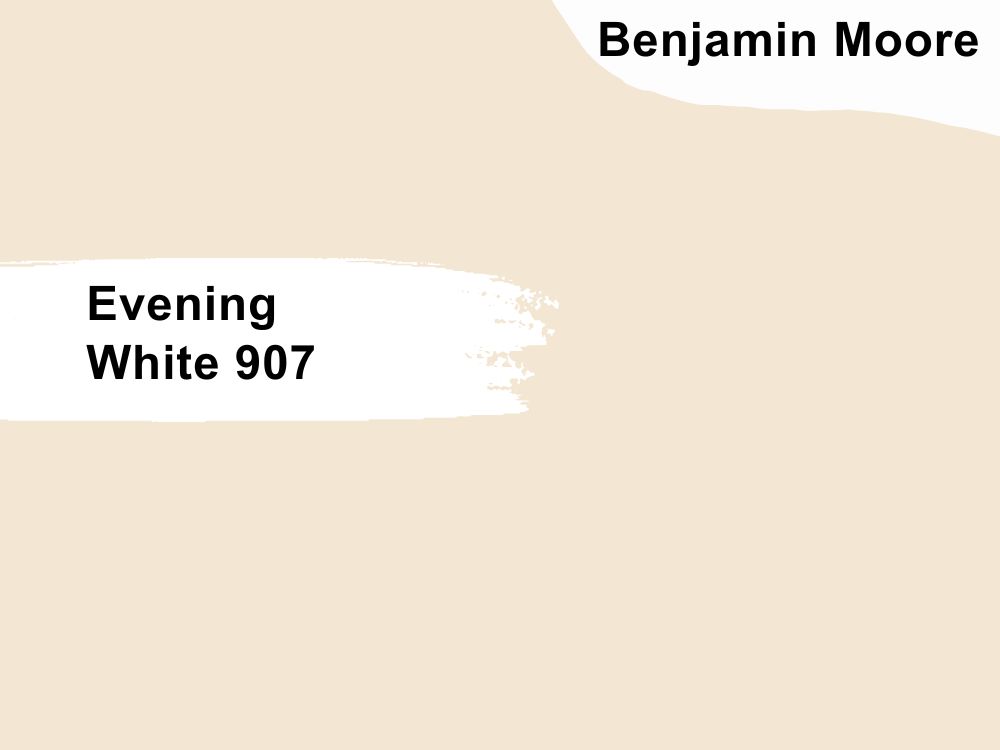 | | |
| --- | --- |
| RGB | 243 228 209 |
| LRV | 78 |
| Matching Colors | Weimaraner, Rainy Afternoon, Nature's Symphony |
| Undertones | Peach |
This paint is known to give woodworks a softness that is peculiar to the dialed down hues of peach in it. This color is part of Benjamin Moore's off-white collection. The muted peach allows surrounding colors to match softly with the walls.
When it comes to matching, the peachy undertones help this color to match with colors with Nature's Symphony, Rainy Afternoon, Mountain Peak White, and Weimaraner.
15. Benjamin Moore Old Country OC-76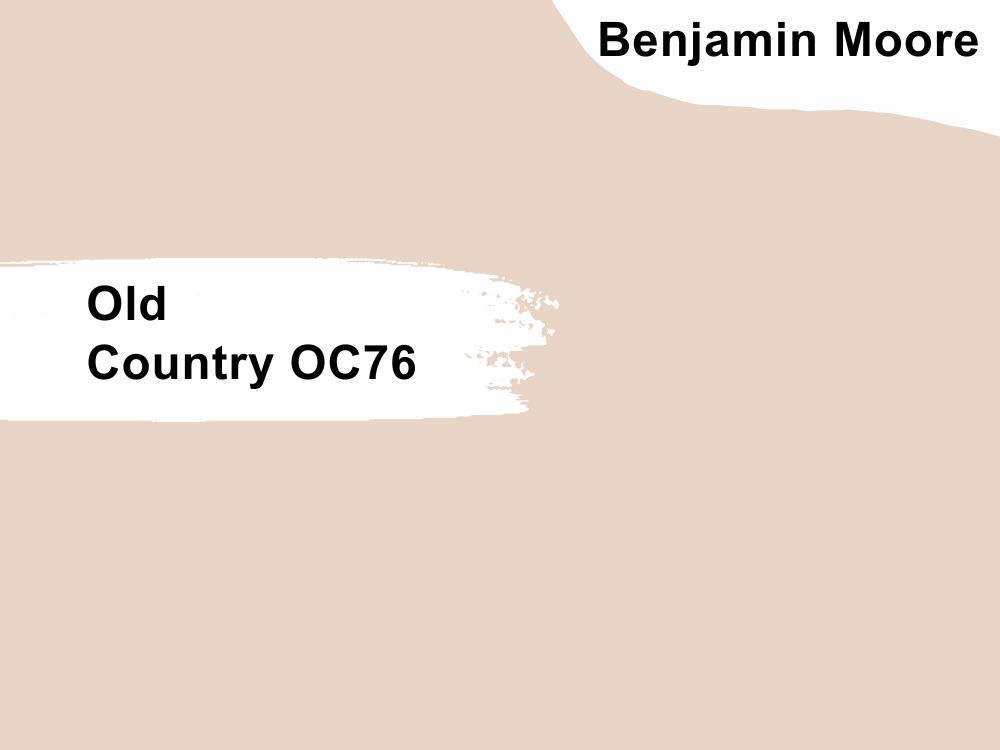 | | |
| --- | --- |
| RGB | 233 213 197 |
| LRV | 68 |
| Matching Colors | Kingsport Gray, White Brush, Tate Olive, Cloud White |
| Undertone | Peach |
There's so much cream here it is peachy. The peach here is dusty. With an LRV of 68, this off white color is supposed to be lighter than the Evening White but it isn't. The Old Country OC-76 will present you with exquisite tones in different light directions. This color matches well with Cloud White, Kingsport Gray, White Brush, and Tate Olive.
Conclusion
It's the turn of creamy white colors. Creamy white colors are the new face for homes. This list has presented the most important things to check when buying any of the paints here. They include the LRV, which is the Light Reflectance Value of colors. Also take note of what direction your wall is facing which determines the intensity of light hitting your walls, which in turn affects the undertones. So get painting with creamy white.