How much thought do you put into your bathroom decor? Is it just another functional space or an aesthetically curated room for refreshing baths, showers, and dumps? Whichever motivation drives you in choosing a bathroom color it never hurts to stay on trend.
Using bold colors to make a statement is the trend for 2023 and that creativity doesn't stop with the exterior and living rooms. Colors are emotive and as such you can use each hue to create the perfect atmosphere in your bathroom.
Take note however that the selection for small bathrooms is limited because of the science of color theory. You'll need bright hues to make the space appear spacious but you can also add some dark coloring on accents for elegance.
Follow the steps in this guide to best understand color theory for small bathrooms including how to use lighting and size to your advantage.
Benjamin Moore Pensacola Pink used on bathroom walls with white accents
Steps for Choosing the Right Paint for a Small Bathroom
Using nature to your advantage when painting a small bathroom is about preparation and foresight. It's important to understand the space you're working with to determine the most ideal color shade to accentuate its design.
Step 1: Analyze The Space and Lighting
Small bathrooms often make its users feel claustrophobic but you can flip that feeling with the right wall and cabinet paint. First you want to note the pieces in the bathroom like whether it has a shower or a bathtub, wall cabinets or floor cabinets, closet size and sink style.
These accessories determine whether the small bathroom is clustered and needs a paint with high Light Reflectance Value (LRV) to create a wider illusion or can thrive with medium dark to mid-tone shades.
Step 2: What's The Bathroom's Position?
The next step is determining the amount of natural light that enters the bathroom through the windows.
What wing of the house is your small bathroom's position? Answering this question is important because that'll determine the amount of sunlight the space receives at all times.
North-facing bathrooms receive steady light throughout the day thus keeping the wall paint in its natural hue. South-facing windows have the highest sun reception giving the small bathroom the brightest glow for the spacious illusion.
West-facing windows get the least amount of sunlight until it's time for sunset while East-facing bathrooms become hot in the late afternoon. Regardless of the bathroom's position, the window placement influences the sunlight intensity.
The Constructor says bathroom windows should be 60 in. high and above for privacy and security. At that angle, the light hits the shoulder level and creates a beautiful glow in the space whether small, medium, or large.
Step 3: Evaluate Your Lighting Options
Small bathrooms with dark paint colors need artificial lighting to illuminate their space and highlight their undertones. It becomes an opportunity to beautify your bathroom with light fixtures ranging from wall sconces to chandeliers and fluorescents.
Use white lights to create a receding effect on your bathroom paint's reflection. Warm lighting, however, advances and makes the space look smaller.
Step 4: Conduct Sample Area Testing
Clean the surface you want to paint before placing the sample on it. Samples come in multiple forms from small chips to adhesive peel & stick strips and easy-to-clean temporary paints.
Sampling helps you explore all the nuances of your chosen color from the undertones to its complementary features with the existing bathroom accessories.
Step 5: Analyze the Long-Term Value of a Paint Color
As much as you may love high LRV colors for your small bathrooms, it may not be the best option depending on its purpose.
If the bathroom belongs to a child or is in a high-traffic area like public restaurants, train stations, and motels, it's best to choose mid-toned to dark colors. However, if you prioritize aesthetic pleasure over functionality, feel free to choose any shade of your choosing.
Step 6: Apply Finishing Touches
Most paint manufacturers create special lines for each room like Benjamin Moore's Aura Bath & Spa, Sherwin-Williams Emerald Interior Acrylic Latex Paint, and Farrow & Ball Modern Emulsion.
Despite being from different manufacturers, the common sheen for bathroom painting is matte because of its soft and accommodating nature. Using such flat dollops creates an airy presence fit for setting the mood during personal time.
Understanding Paints for Small Bathrooms
Regular colorways for small bathrooms include high LRV and pastel colors because they need to make them appear spacious. However, expert designers know how to manipulate dark colors and make them work in compact bathrooms.
The trick is to pair low LRV colors with brighter hues to create balance in the space. What's LRV, and how does it work?
What Are Undertones and LRVs?
Light Reflectance Value (LRV) is the potential of a color to absorb or reflect light (natural and artificial) into its surroundings. You can measure this on a scale of 3 – 97, where black paint is "3" and white is "97" because of undertones.
Undertones are extra colors existing beneath a paint's surface with the potential to show when in contact with light. Paint colors are mixed with true red, green, blue, and black in varying quantities, so the RGB value often influences the tints/nuances.
The LRV scale caps on 3 – 97 because the RGB prevents paints from being absolute black or white without faint undertones, whether green, yellow, orange, blue, purple, or red.
Types of Paint Colors
Paint colors portray emotions, so choosing a shade for your small bathroom is more than a mindless chore. Bathrooms in spas should give a different vibe from those in gyms, as the former should make you feel relaxed while the latter should pump your energy.
Here's a short list of different types of paints and how they'll work in small bathrooms.
Cool Paints
Daily baths are calming and soothing with the green-gray blue shade of Sherwin-Williams Sea Salt on your bathroom walls
Stay calm and relaxed during your bathroom run with cool paints, which are receding colors that make small spaces look wider. Depending on the shade, they can be light or dark, but they often have cool colors as their dominant hue or undertones.
Calming paints include blue, green, and purple, especially those with green and blue undertones. Cool purples are a hard sell because of the warm red in their composition, but shades leaning towards violet and indigo have higher blue contents making them qualify.
Use cool paints in spas, hotels, home bathrooms, and anywhere that prioritizes peaceful energies. Examples include Benjamin Moore November Rain (2142-60), Wrought Iron (2124-10), Sherwin-Williams Cool Beige (SW 9086), and Gossamer Veil (SW 9165).
Warm Paints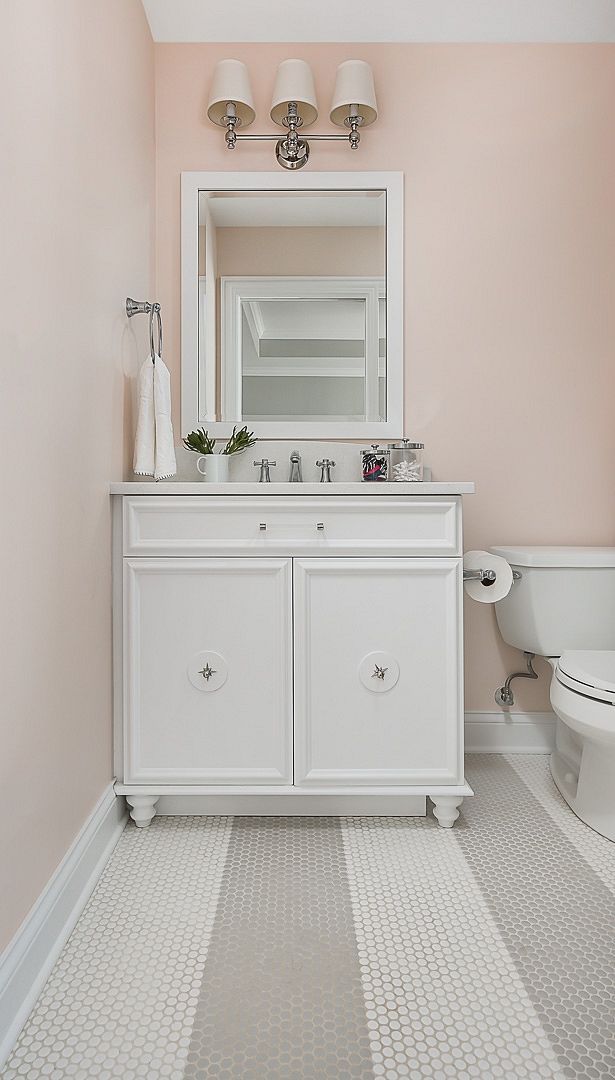 Benjamin Moore Pensacola Pink is a warm blush tone ideal for opening up small bathroom spaces in spas, retreats, and nurseries
Highlight the natural sunlight in your small bathroom with warm colors ranging from red to yellow and orange.
Sometimes you'll get warmth in the most unlikely colors like Sherwin-Williams Carambola (SW 9667), Gratifying Green (SW 6435), and Center Stage (SW 6920), all green colors.
These cheerful hues infuse small spaces with energy, positivity, and sunshine. Use warm paints in spas, hotels, gym showers, and massage bathrooms.
Popular warm paints include Benjamin Moore's White Dove (OC-17), Mellow Pink (2094-70), Sherwin-Williams Minimalist (SW 9611), Moroccan Spice (SW 9050), Rojo Dust (SW 9006) and Tassel (SW 6369).
Soft Paints
Farrow & Ball Elephant's Breath is a soft blush pink that can appear white with open windows and natural lighting
Pastel (Soft) paint colors are the traditional choices for small bathrooms because they're receding and have subtle shades. You'd love having these matte sheens in your bathrooms as they are often humidity tolerant and won't cave under mildew.
This paint type is ideal for total wall colorings and as half walls in zen areas. Pastels are laidback shades, so use them only when curating a soothing space. Try Farrow & Ball Wimborne White, Pavilion Blue, Sherwin-Williams Breaktime, and Cavern Clay.
Light Paints
Benjamin Moore Mannequin Cream is a traditional light yellow paint that appears brighter with artificial lighting and natural sunlight
Brighten your small bathroom with high LRV paints ranging from 75 – 97. The best part about light colors is that they're not restricted to walls. You can use high LRV paints on the ceiling to accentuate the walls and tease out the undertone in your wall and furniture paints.
Light paints are warm, cool, or both when they look the most interesting. Check out some of these bestsellers from Sherwin-Williams Serendipity, Crystalline, Benjamin Moore Mannequin Cream, White Heron, and Behr Cupcake Pink.
Dark Paints
Make your bathroom elegant and eclectic with Sherwin-Williams Hunt Club
Let's discuss accents in small bathrooms and how to use dark paint colors with low LRVs to your advantage. These tones emphasize dramatic flairs with hints of mystery and luxuriousness.
You can pair these dark paints on your bottom walls with lighter tones on the upper half. They're also excellent accents on furniture and partial walls as they infuse bright-walled small bathrooms with extra drama and style.
Navy tones (SW Naval) are great for home spaces, dark green (SW Hunt Club) works for introspection in hotels, retreats, and spas, and wine and burgundy (BM Dinner Party) are excellent in restaurants.
28 Best Small Bathroom Paint Colors (2023 Trends)
Whether it's staying refreshed with cool blues and whites or walking the fine line of elegance with burgundy, blossoming with blush, energizing with tan and yellow, or highlighting with eclectic navy, black, and gray tones, here's how to style your small bathroom.
Sherwin-Williams
Sherwin-Williams experts suggest pastel tones for bathrooms to create the right atmosphere for daily showers and toilet visits. Depending on the sheen, you can get a gallon for $60 or more.
1. Window Pane (SW 6210)
Window Pane (SW 6210) is a bright medium-light white paint with a soft blue and green undertone, making it a refreshing choice for small bathrooms. This 72 LRV pastel tone gives the space a spa-like look while infusing playful energy with its green tints.
Taking baths, showers, or doing a number two become peaceful activities with Window Pane walls surrounding you. Use this shade in hotels, guest rooms, and en suite bathrooms with white tubs and glass shower doors.
2. Passive (SW 7064)
Dove gray tones like Passive (SW 7064) would always be in small bathrooms because of their neutral and beautiful look. This mid-toned 60 LRV gray paint has a calming blue undertone, exuding a calm aura in your bathroom.
Passive is ideal for hotels, restaurants, and guest bathrooms because it makes each space appear regal and airy. Pair this color with darker gray shades to accentuate its neutrality.
3. Napery (SW 6386)
Napery walls accented with mid-toned furniture like this blue cabinet open up small bathrooms
(Source: Pinterest)
Feel the coziness and warmth from the pastel yellow tone of Napery (SW 6386), which appears as a rich cream tone under the dark, despite being medium-light with a 74 LRV. This color doesn't consume the entire space making it suitable for small bathrooms.
Napery adds life and vibrance to your space like a sunflower on a Summer morning, inspiring exciting ideas and thoughts. Accentuate this color with white tiles and gold accessories with a side of silvery gray doors.
4. Kind Green (SW 6457)
Kind Green (SW 6457) is an airy green paint with a soft blue-gray undertone creating a soulful bathroom space. This mid-toned sage green pairs excellently with taupe, tans, gray, and other neutrals.
Use Kind Green on your bathroom walls with marble countertops and white tiles to create a zen-like vibe.
5. Veiled Violet (SW 6268)
Use muted light hues like Veiled Violet (SW 6268) on your ceilings, half-walls, or full-wall, depending on your taste. As a creation of red, blue, and white, this LRV of 47 infuses small bathrooms with its warm vibrance, which fades into coolness as the lighting dims.
Veiled Violet is a beautiful complimentary color for red-tinged white (Pale Pink SW 9696), yellow-tinged white, and purple-tinted white paints like Zurich White.
Pastel tones like Pink Shadow (SW 0070), Rose Pink (SW 9693), Wishful Blue (SW 6813), Mystical Shade (SW 6276), and Silver Peony (SW 6547) are also good pairs.
6. Double Latte (SW 9108)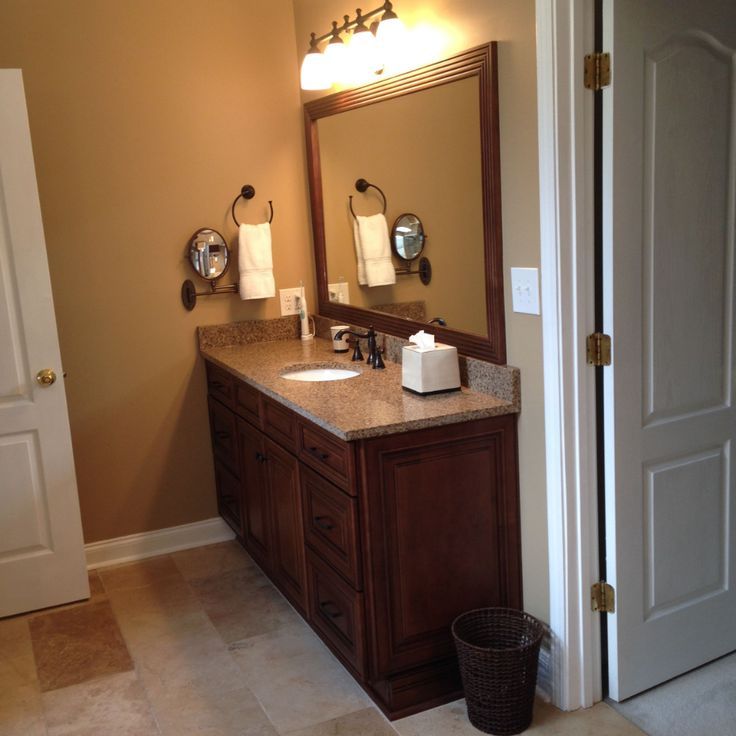 Medium-dark tans with 28 LRV-like Double Latte (SW 9108) create homely and warm auras in small bathrooms. The zen-like vibe of this neutral paint and its rich orange undertone fits all toilets but is best in gyms to keep your morale up after an energizing session.
Double Latte is dark with a 28 LRV, so lightening it with mid-toned half walls, accents, and cabinets is best. Using dark wooden furniture dials up the intensity.
7. Rock Candy (SW 6231)
White paint in small bathrooms is a natural first choice, but you can switch it up with exciting shades like Rock Candy (SW 6231). The medium-light 75 LRV in this blue-tinted white paint is a game changer when setting a sweet and calming mood for your space.
Dim lighting makes Rock Candy appear soft and warm, so it's suitable in your main bathroom, living room en suite, nursery bathrooms, and hotel suites bathrooms.
When used in children's spaces, pair this color with mellow yellow paint and stick to green for mature inhabitants.
Benjamin Moore
Benjamin Moore's AURA Bath & Spa matte paints are made explicitly for bathrooms because they withstand humidity. You'll need that soft texture for your small bathroom as it blends seamlessly with its accessories, including tiles and mirrors.
Having a Benjamin Moore AURA Bath & Spa paint ensures durability as it's made to retain color regardless of bathroom humidity or mildew. You can get a gallon for $40 – $60. Check out the trending BM hues for your small bathroom below.
8. Chantilly Lace 2121-70
Pure white paints like Chantilly Lace (OC-65) adhere to traditional classic themes highlighting elegance and regality. It's one of the highest reflecting shades at 90.04, meaning it'll illuminate your space without holding back.
Chantilly Lace goes with every other color and is often used as a trim. However, it's excellent with gray tones for a relaxing and soothing look. When painted on entire walls, Chantilly Lace pairs excellently with other colors as adjacent walls and cabinets to avoid a clinical look.
9. Cream Puff (2174-70)
When you want a sophisticated space with a bright and warm glow, choose Cream Puff (2174-70) with an 82.08 LRV. Its blush pastel tone soothes you while you take a bubble bath with scented candles and essential oils.
Small bathrooms painted in Cream Puff work in family homes merging modern and traditional themes, hotels, spa retreats, and high-end restaurants. Its chalky tone blends with tan, rose, and red colorways, including warm wooden floorboards and furniture.
10. Fruit Shake (2088-60)
Fruit Shake (2088-60) is a mid-toned feminine pink shade with a rich orange undertone giving it a warm and vibrant glow. It has an LRV of 56.58, meaning it's not too dark to soak in all the natural sunlight nor too bright to overwhelm any small bathroom.
You can pair this pink tone with orangish-red tans like Strawberry Field (2088-30) and Red Oxide (2088-10) for monochrome themes and green for a beautiful contrast. So, you can add a potted green plant to increase its natural appeal.
11. November Skies (2128-50)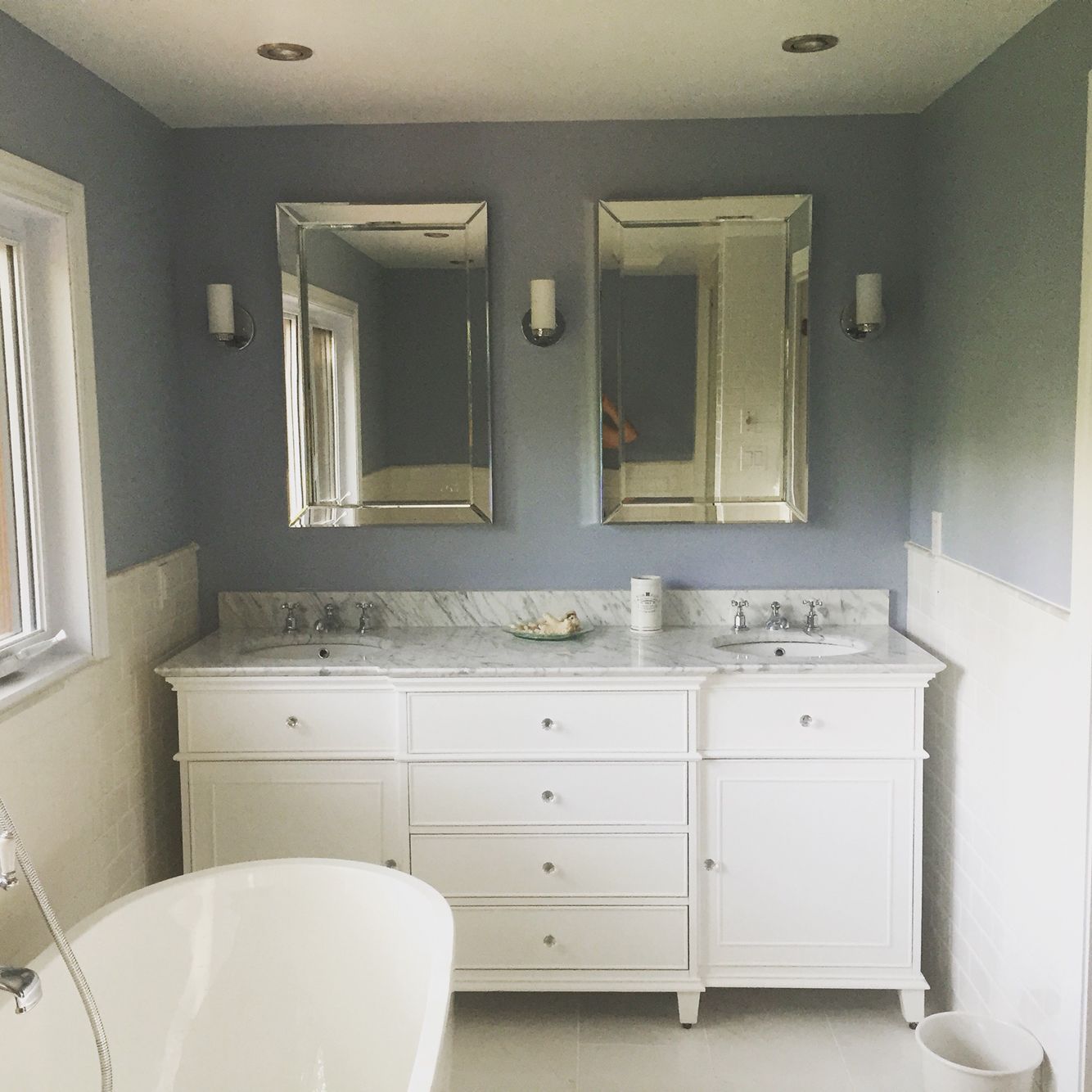 Nothing says bathrooms like blue paints, and the soft, airy gray-tinted November Skies (2128-50) from BM is what you need in small spaces. It's a mid-toned dreamy shade with an LRV of 48.55 to cheer you up whenever you enter the bathroom.
November Skies is an optimistic hue ideal for calming anxious minds, so it's best used in spas and wellness resorts. You can recreate the feeling in your home and highlight the color with white trims and accents or add some sophistication with black cabinets and tiles.
12. Old Claret (2083-30)
Don't shy away from dark tones just because your bathroom is tiny. Explore saturated pastels like Old Claret (2083-30) with energetic purple undertones for brightening the space.
Although its 14.21 LRV wouldn't reflect the most natural light, Old Claret's soft tone draws from the sunlight and gives your bathroom warmth. Hence, it's a lovely shade in guest, restaurant, and hotel bathrooms.
13. Black Ink (2127-20)
Bathroom coloring isn't confined to entire walls, as accents and furniture require thought. Consider using a dark gray tone like Black Ink (2127-20) on your insets, accent walls, and cabinets.
Its 5.81 LRV makes the color appear black until there's lighting or high LRV paints to highlight its gray undertone.
14. Windmill Wings (2067-60)
Bright lighting can come from the roof when using medium-light blue paint like Windmill Wings (2067-60) as your ceiling coloring. It's a cheerful blue tone that adds a charming vibe to your small bathroom, especially one with white or light gray walls.
This dreamy infusion is ideal for small bathrooms anywhere, whether in the house or at a spa, hotel, or restaurant.
Behr
Behr paint colors are ideal for painting bathrooms on a budget despite their dull looks after application. Most of its collections require multiple coats for a vibrant appearance, but the brand promises pastel color longevity.
Picture sources: The Home Depot
15. Sand Dance (S190-2)
Beige tones like Sand Dance are classic small bathroom hues because of their warmth and neutrality. Although it's a pastel peach color in its natural state, sunlight, and white light changes its shade into a soft pink hue.
Sand Dance creates room for introspection, making it an ideal tone in relaxation centers like resorts and hotels.
16. Ultra Pure White (PPU18-06)
Behr's twist on classic white paint is the high LRV Ultra Pure White which works as a complete bathroom coloring or trim, depending on your interest. Using this color in your small bathroom accentuates every texture, from the flooring to the accessories.
Also, patterning those accessories is best to avoid making your bathroom look too clean.
17. Breezeway (MQ3-21)
Breezeway is a calming pastel green tone that is great for retreat spaces and makes you feel centered. You can highlight its nature-toned green tint with wooden cabinets and off-white ceramic countertops.
Add white, yellow, and cream flowers in the space for a cozy ambiance and accentuate its blue undertone.
18. Seaside Villa (S190-1)
Recreate the beauty of the Pink Sands Beach from the Bahamas in your bathroom using the pastel tone of Seaside Villa. It's a peachy pink tone with a high LRV that makes your bathroom look like it's stuck on a sunny summer morning.
Use Seaside Villa in hotels and beach houses to simulate the whole ocean view experience.
19. English Channel (PPU14-19)
Pastel blue can be metallic, as seen on English Channel when mixed with a dusky plum and gray undertone. Its dignified blue color keeps you thoughtful mid-work, so use it in your office bathroom.
Use black, gray, and dark brown accents to complete the stoic vibe of English Channel walls in your office toilet.
20. Dark Pewter (PPU18-04)
Medium-dark gray neutrals like Dark Pewter give bathrooms a mysterious air because of the forest green undertone, which flashes underneath natural sunlight. Use it in south-facing windows to get the best of both tones, and accentuate it with white trims for a classic finish.
21. Fresh Artichoke (M340-5)
Green screams prosperity and gives refreshing energy, bright and warm or muted and leafy like Fresh Artichoke. Sunlight and warm lighting tease out the subtle yellow undertone in this medium-dark color.
Use Fresh Artichoke at home to complete a traditional theme like Victorian-era bathrooms with dark brown cabinets, organizers, bathtubs, and floral motif rugs.
22. Tart Orange (HDC-MD-27)
Make your bathroom look sexy and passionate with the vibrant hue of Tart Orange. Its burst of energy hits you everytime you enter the space which is necessary for people struggling with depression and low moods.
You can tone down the warmth with white tiles and light wooden furniture.
Farrow & Ball (F&B)
Farrow & Ball has only 140 paint shades as an eco-friendly paint brand, so it's an acquired taste. One gallon of emulsion sheen costs about $60, while eggshell luster is cheaper at $35 or more.
Besides its limited options, F&B paints are often pastel and faint on application because it lacks the chemicals used in other brands to make shiny sheens like gloss and luster.
All pictures are from Farrow & Ball
23. Elephant's Breath (No. 229)
Elephant's Breath is a unique pastel gray tone with a bold pink undertone making it appear blush when paired with white and natural west-facing light. You can highlight its gray note with lighter gray trims and accessories or use dark neutrals like charcoal and taupe.
24. Pavilion Blue (No. 252)
Sometimes you must break into the archives to get your dream bathroom painted in your preferred color, like Pavilion Blue.
Its subtle teal tone fluctuates between green and blue, making it ideal for poolside shower shacks, wellness centers, and guest bathrooms in the entryway.
25. Brinjal (No. 222)
Use Brinjal, a deep aubergine purple to create a mysterious aura into your small bathroom. You can highlight the color with white ceramic sinks, especially those made in vintage style.
If the intense dark tone is too much for your taste palette you can use it as an accent bathroom organizer like the image below.
26. India Yellow (No. 66)
Mustard yellow is a unique shade of the popular sunny hue that tethers on the brink of tan and brown. Although it's a moody and intense color, India Yellow is an excellent energizer for small bathrooms in gyms.
Highlight it with a bright white tub and other bathroom accessories, from the sink to the tubs, toilet seats, water closets, and tiles. The white trims and accents would prevent India Yellow from being oversaturated.
27. Sulking Room Pink (No. 295)
Sulking Room Pink is a soft medium-dark rosy hue that adds a zen and sexy aura to small bathrooms, especially when highlighted with indoor plants. Its pastel tone accommodates deeper shades on the doors, floor tiles, and complementary walls.
Use higher LRV paints like tinted white on the ceiling to infuse brightness into the small space. Check out the image above.
28. Paean Black (No. 294)
Add an elegant aura to your small bathroom with Paean Black accents by painting this dark tone on your bathtub, cabinets, and doors. Underneath the right light, this black color flashes hints of grape purple, thus adding a modern twist to a certified classic.
Conclusion
With your new knowledge of color theory and painting small bathrooms, choosing a theme for your compact space should be as easy as the alphabet. However, we can't leave without advising you that there's an exception to the "matte paints for humidity" rule.
If your bathroom walls have leaking walls, you can deviate from the standard matte sheen to gloss which works better for sealing moisture. Also, remember not to be shy and explore dark tones in measured quantities for a unique bathroom space.
Happy painting.