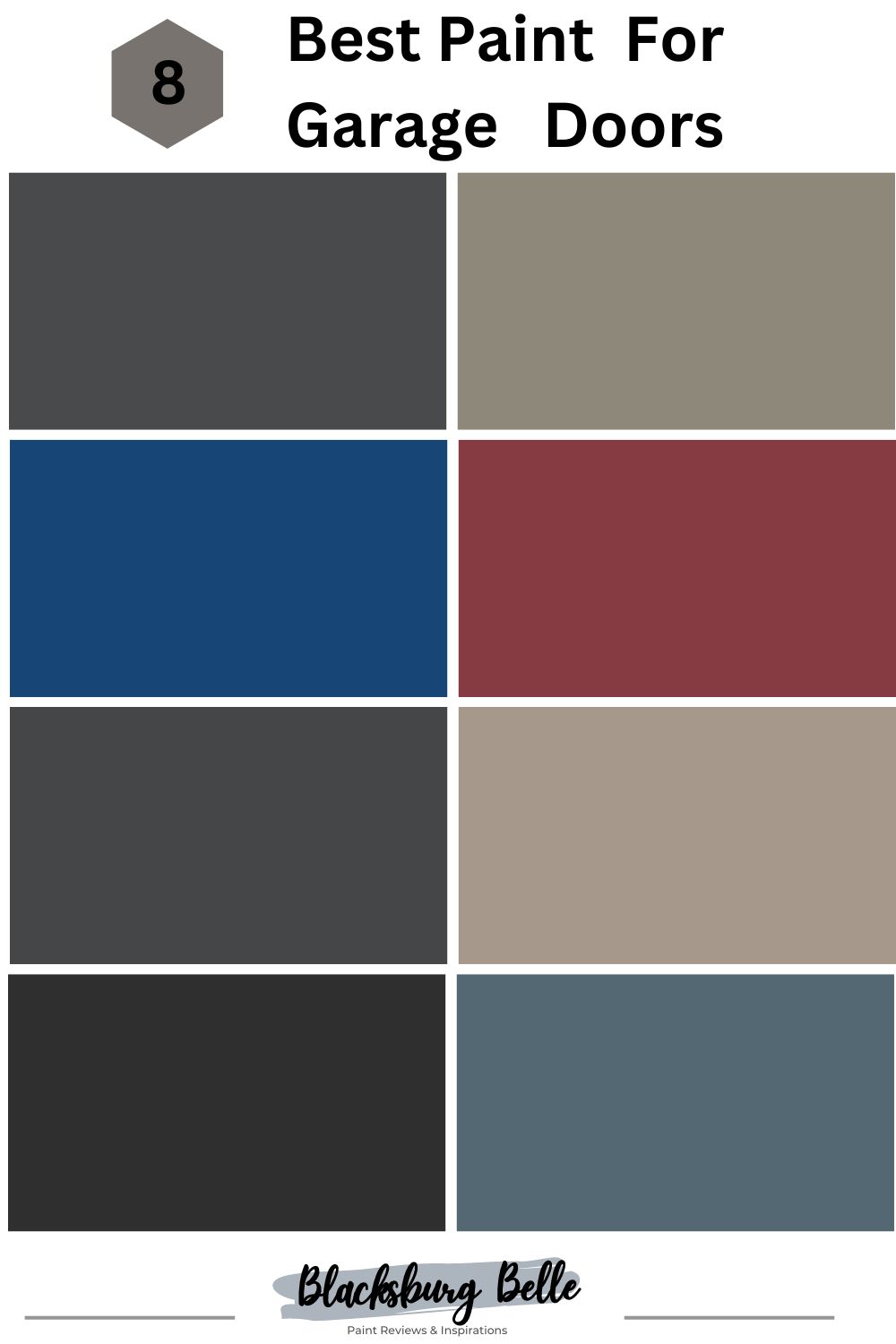 A beautiful garage door is as important as the garage or what you keep in it. Especially considering the fact that most garages are lined up with the front of most homes. Most homeowners simply paint their garage doors the same paint colors as the rest of their exterior. The reason for some is that it is that they do not know how to choose a paint color for their garage door.
Painting doors is becoming a popular thing to do now. If you paint your front door a distinct color, you should definitely paint your garage door a befitting color too. Is your garage facing the street? Are you wondering what color to use? Do you wonder if garage doors are painted the same way as walls? Then this article is for you. Read this article to the end to see, first, the best paints for garage doors.
Frequently Asked Questions
What is the best color to paint a garage door?
The following are popular colors people paint their garage doors: beige, white, taupe, dark gray, black, and soft gray. The most popular of this color is white. Most people prefer white color for their garage door because white reflects more sunlight and doesn't absorb much heat. White is best for steel garage doors because it doesn't absorb much heat. Also, the crisp white color adds curb value should you want to sell your property.
Should garage door paint be glossy or flat?
Semi-gloss or gloss paints are best for garage doors. The reason for this is that gloss or semi-gloss harden when dried, and they don't scratch easily like flat paints. Also, gloss finishes are moisture-resistant.
8 Best Paint For Garage Doors
1. Benjamin Moore Wrought Iron 2124-10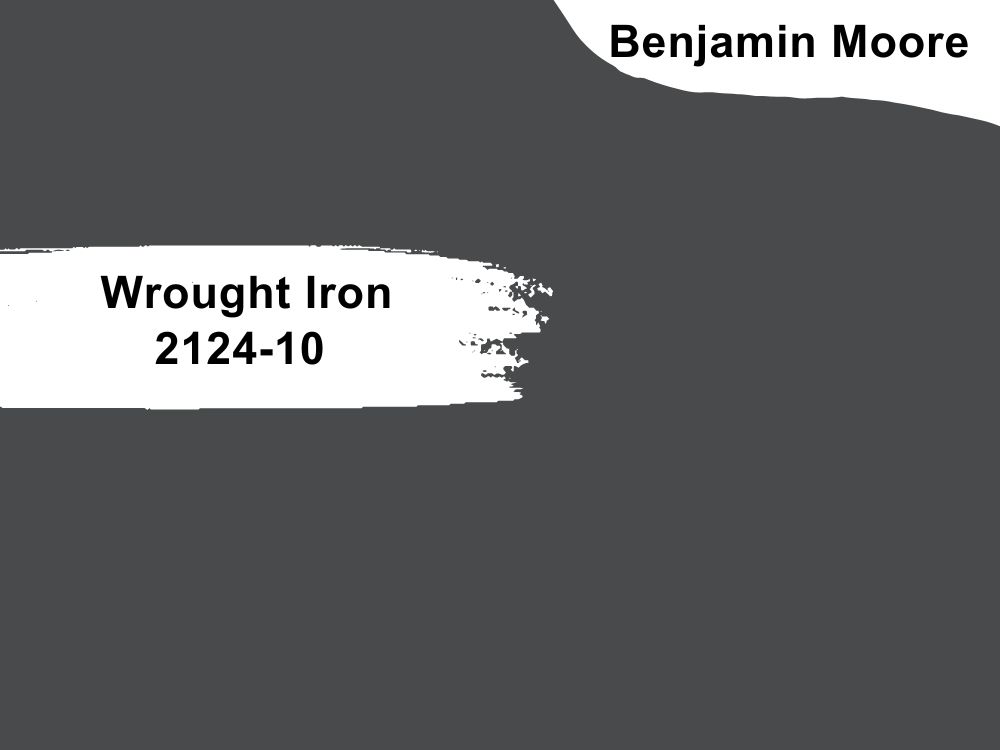 | | |
| --- | --- |
| RGB | 74 75 76 |
| LRV | 8 |
| Matching Colors | White Cloud, Jack-o'-lantern, White Ice, Wedgewood Gray |
| Undertones | Navy Blue |
Since garages are usually associated with parked vehicles and workshops, we recommend this Benjamin Moore paint called Wrought Iron. If your garage represents a place where you fulfill your DIY dreams, then this soft black paint is what you need.
It is a paint that emits a strong aura. It has undertones of navy blue that are more obvious in bright light, and some gray too depending on the light and the colors surrounding it. Wrought Iron is perfect for windows, frames, and even garage doors. Take a stroll down your street and you just might find a garage door with this paint on it. Follow the instructions you will find in this article for the best result with using this paint on your garage door.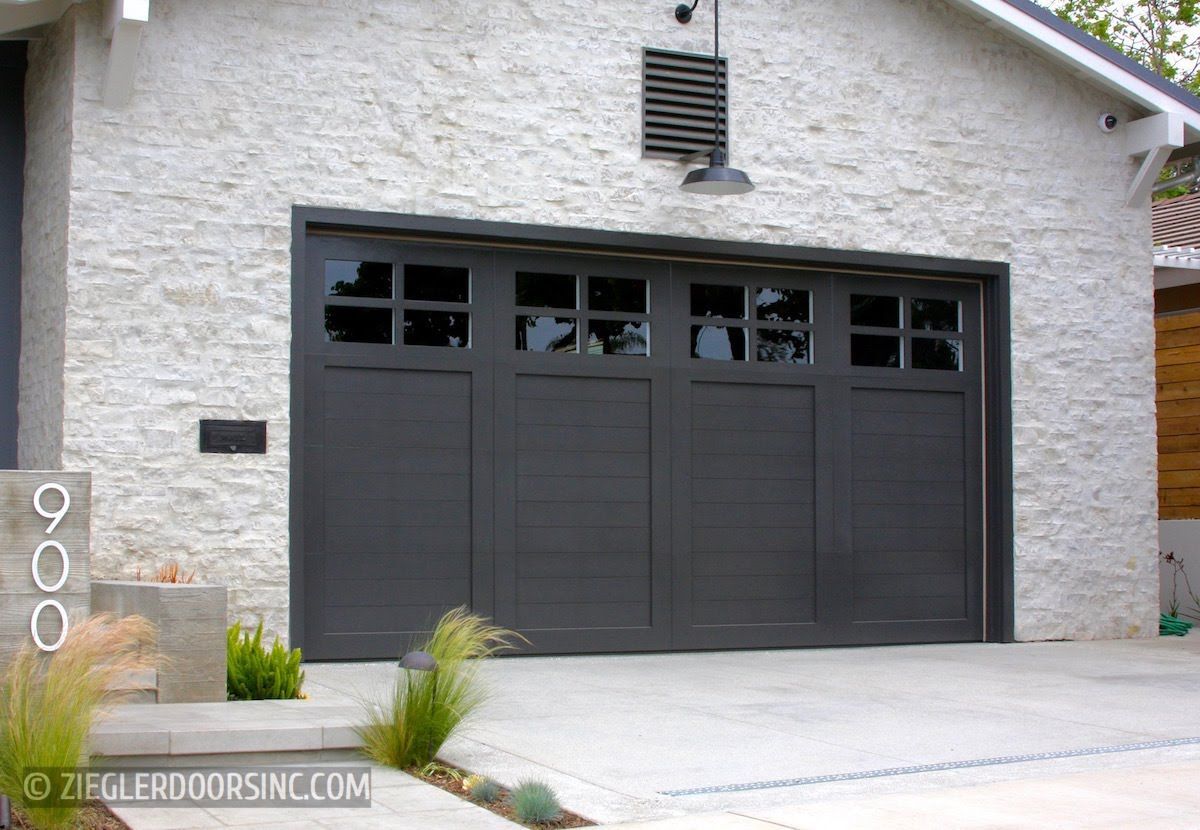 2. Benjamin Moore Squirrel Tail 1476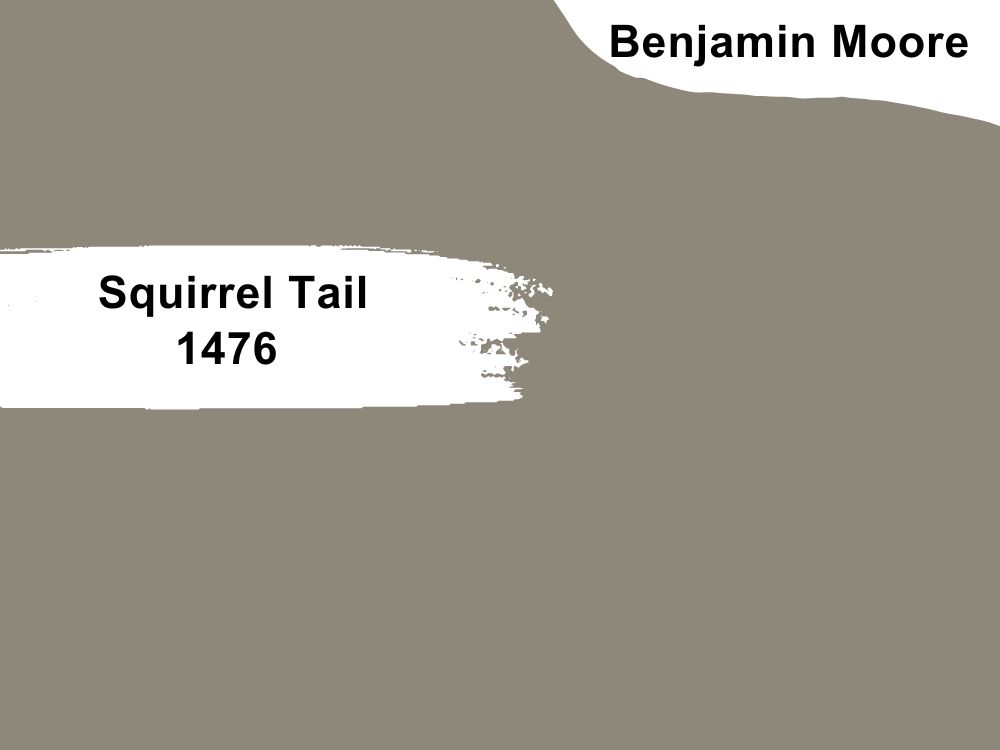 | | |
| --- | --- |
| RGB | 141 134 121 |
| LRV | 25 |
| Matching Colors | Going To The Chapel, Polaris Blue, Collector's Item |
| Undertones | Toasted brown |
Here's another hard color fit for garage doors of any kind. You won't have difficulties using this paint on your garage door because it is a neutral color with a toasted brown undertone. The LRV of 25 makes this paint a dark brown. This is not a catchy color like most but strong enough to mark your garage out in the landscape of your street. If you want to make a spectacle out of your exterior, match this color with Going To The Chapel, Polaris Blue, or trim with Collector's Item.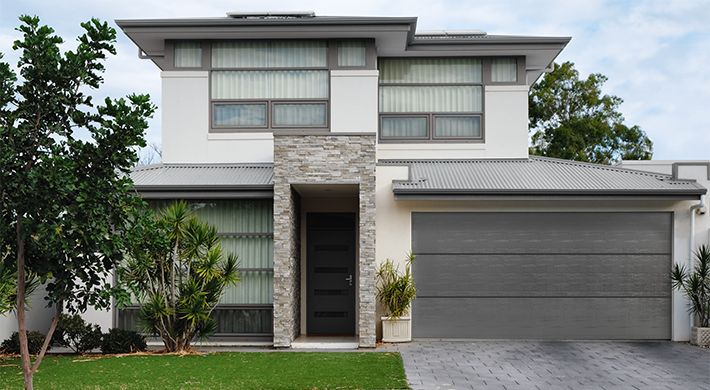 3. Sherwin Williams Honorable Blue SW 6811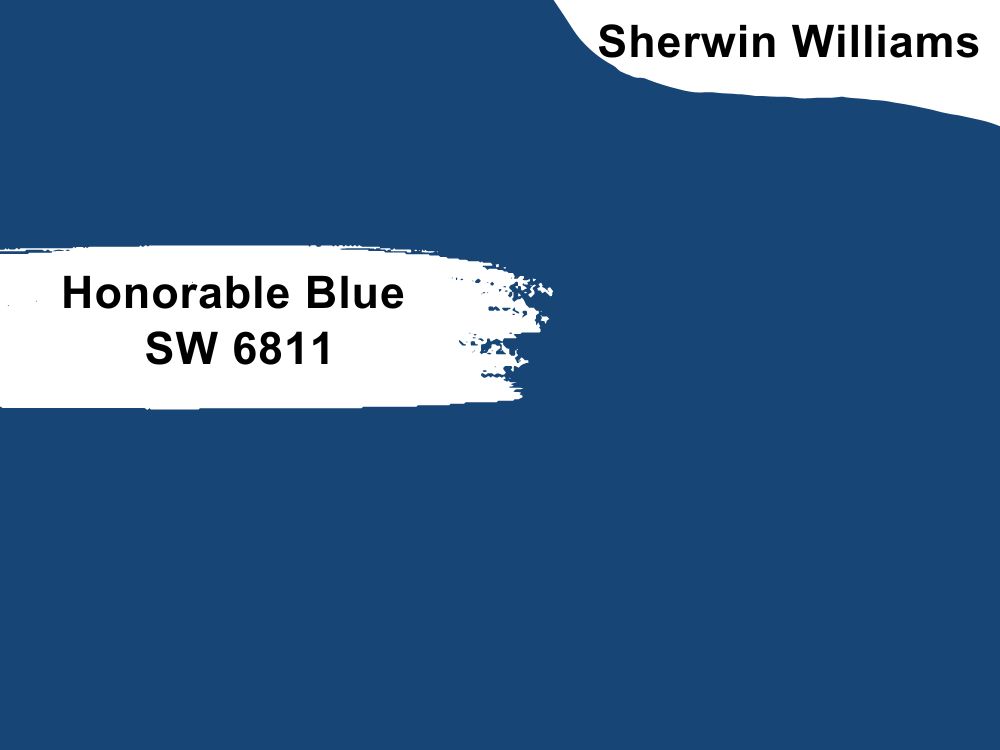 | | |
| --- | --- |
| RGB | 22 / 69 / 118 |
| LRV | 6 |
| Matching Colors | Shell White, Rarified Air |
| Undertones | Cool periwinkle |
This blue paint color is going to have people turning their heads. This saturated violet from Sherwin Williams is used by most in rooms but others have used it on garage doors and it is so beautiful to behold. There is a cool undertone of periwinkle in this color when exposed to natural light. Paint the rest of your exterior with Sherwin Williams Shell White and then let this Honorable Blue stick out majestically.
4. Sherwin Williams Luxurious Red SW 6314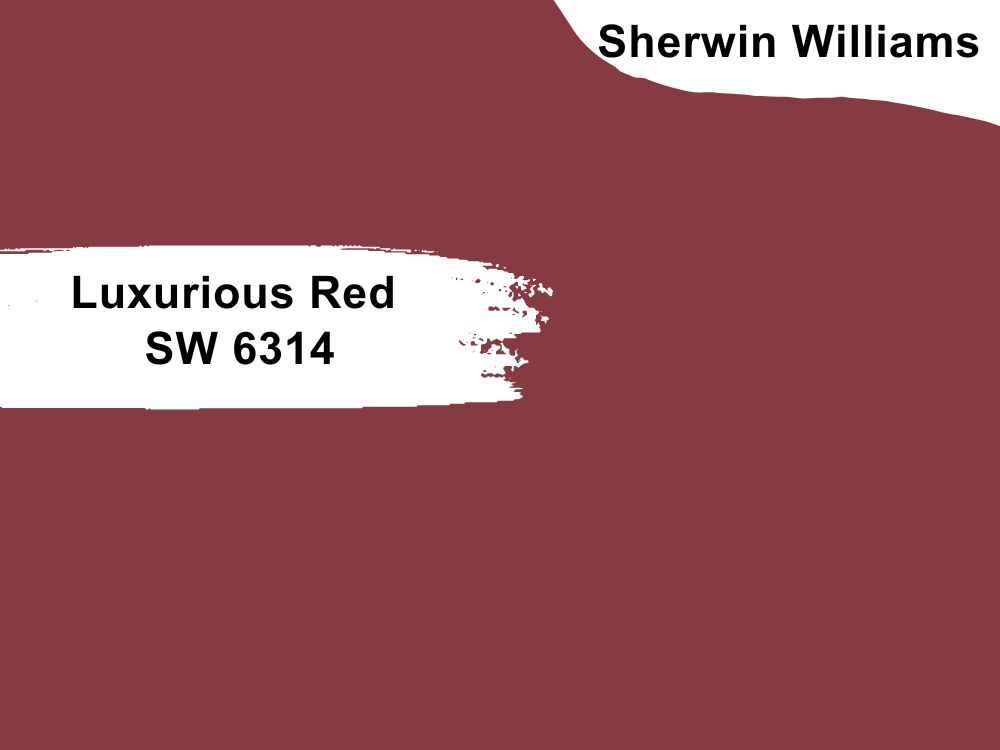 | | |
| --- | --- |
| RGB | 134 / 58 / 66 |
| LRV | 9 |
| Matching Colors | Ibis White, Natural Linen, Song Thrush |
| Undertones | None |
Your garage is going to look like a part of a movie set with this Sherwin Williams Luxurious Red. This paint sticks out so well no matter what color you pair it with. This paint is from the group of Sherwin Williams red paints. Luxurious Red is a bold color with a striking presence. Since it's going on your garage door, you should not worry about the lack of natural light. The LRV of 9 makes this luxuriant red color a deep one. To make it stand out even better, paint the rest of the front of the house with Ibis White or Natural Linen also by Sherwin Williams.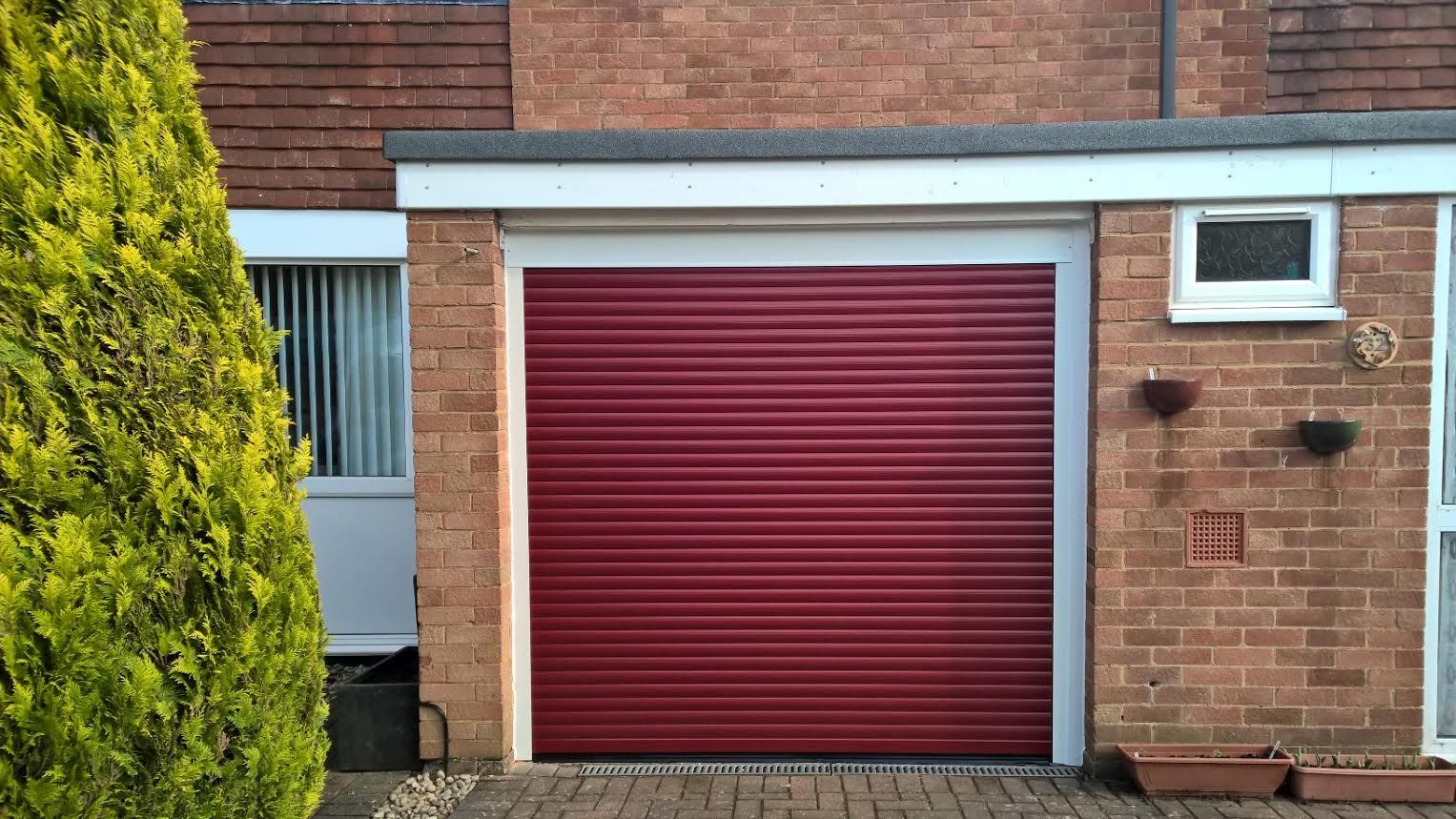 5. Benjamin Moore Graphite 1603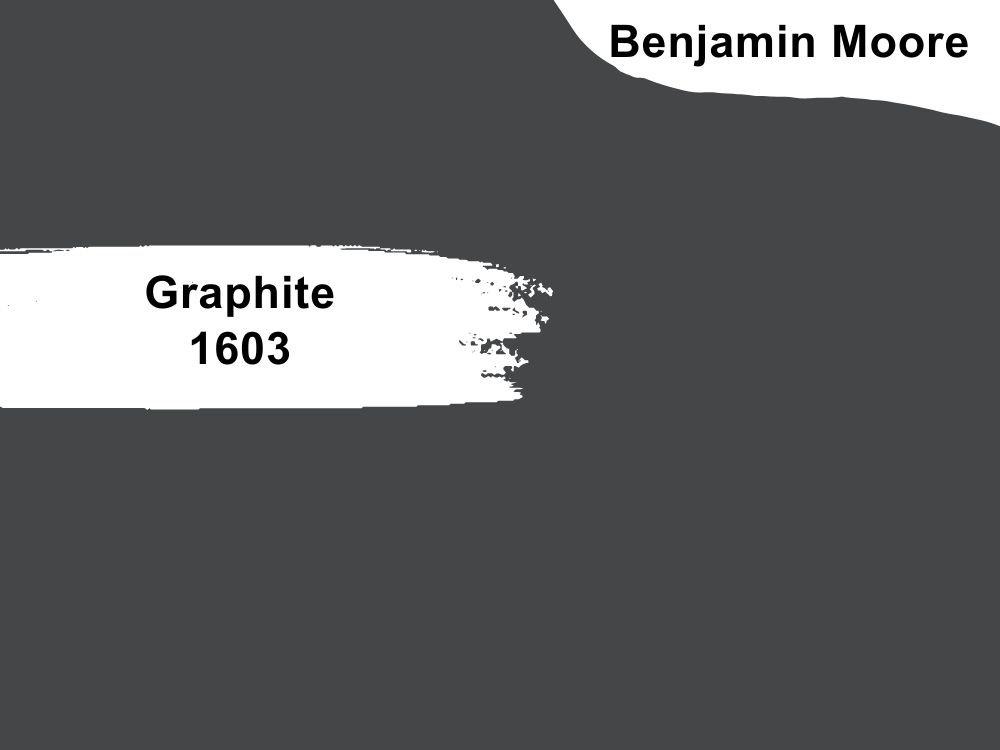 | | |
| --- | --- |
| RGB | 68, 70, 71 |
| LRV | 7 |
| Matching Colors | Chantilly Lace, Blue Veil, Super White |
| Undertones | None |
On a lighter note, garage door colors should be bold. This is the only way it's worth it. Hence we present to you this deep gray paint for that wide, imposing garage. Graphite is a deep gray from Benjamin Moore, it has an LRV of 7 which gives it depth.
There is some drama as well, which makes this color so good for garage doors. People use this color in rooms and other parts of the home. Your garage door sticks out with this rich gray color. For a more dramatic effect, have everywhere else painted with Chantilly Lace, Blue Veil, or Super White. This color is a true charcoal gray. In some lights, it could be mistaken for black paint but on a garage door, this is not likely to occur.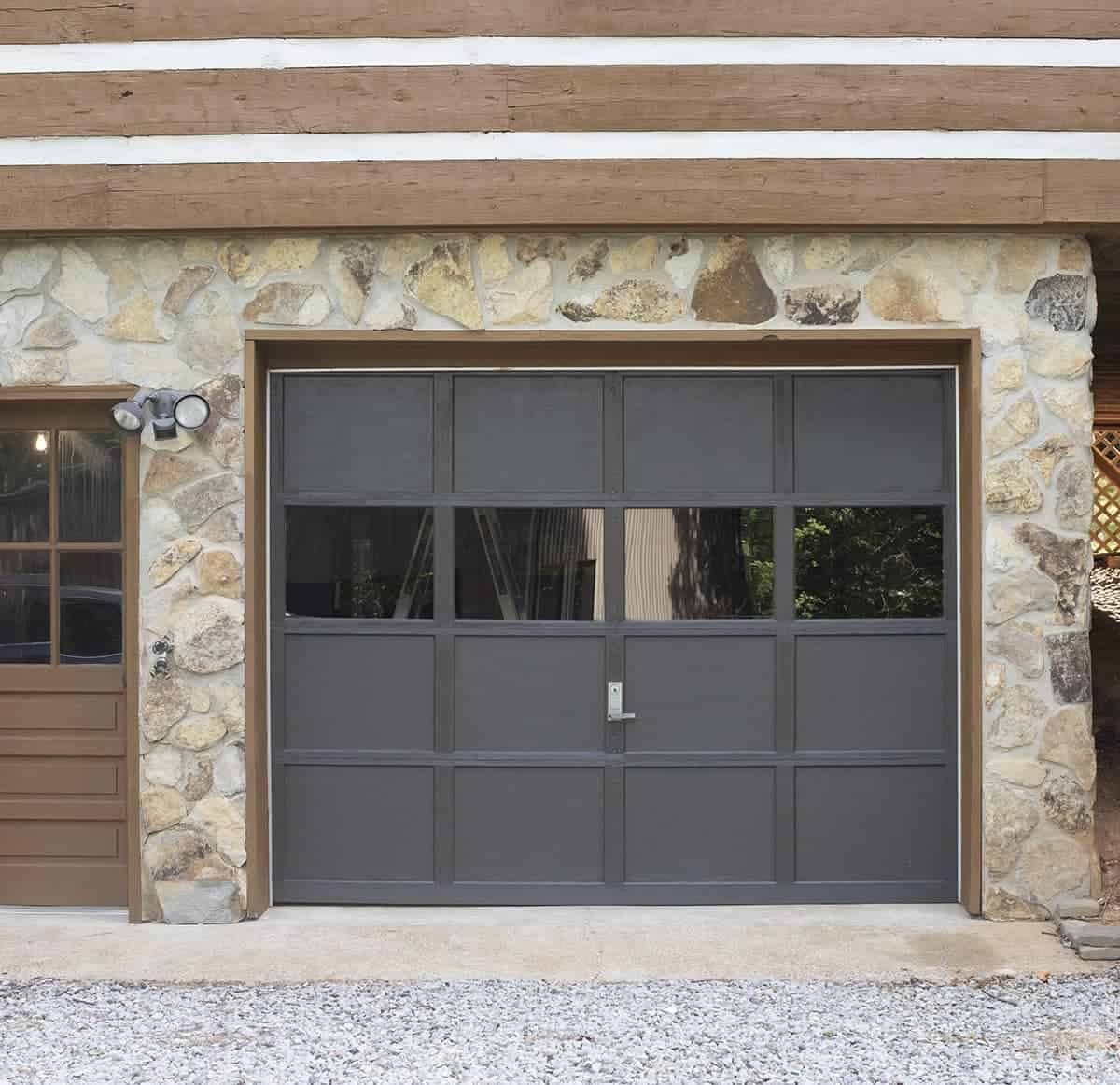 6. Benjamin Moore Waynesboro Taupe 1544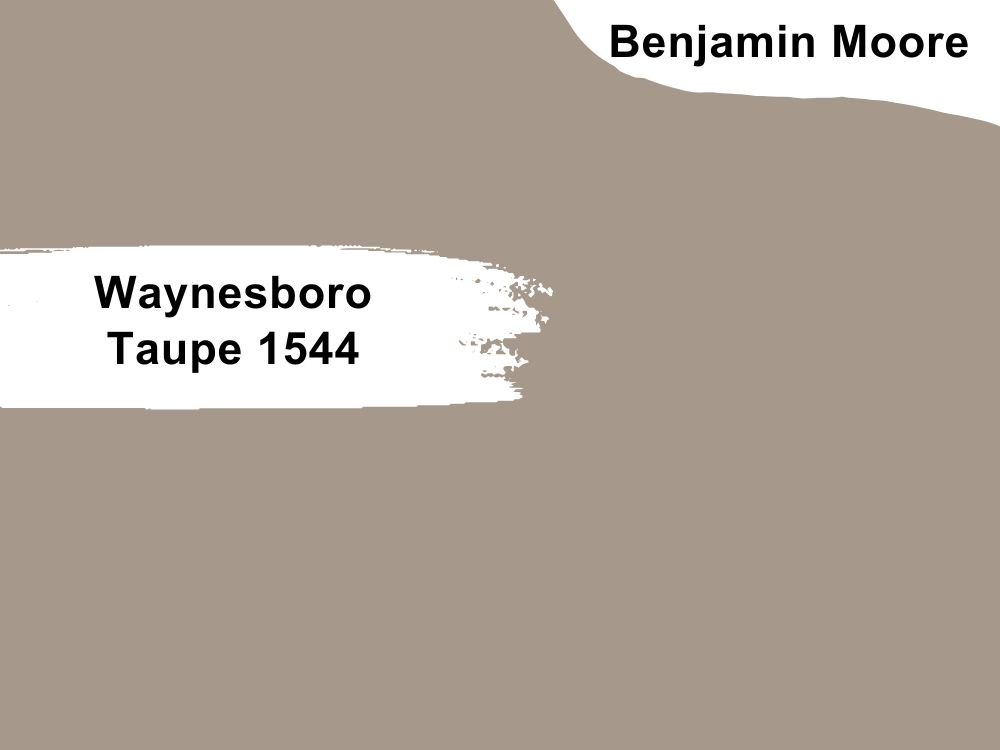 | | |
| --- | --- |
| RGB | 166 153 140 |
| LRV | 32 |
| Matching Colors | Distant Gray, Violet Pearl, Winds Breath |
| Undertones | Violet |
Gray is always an option when it comes to creating a great impression without overdoing it. Garage doors are usually larger and framed into the front of buildings. For this reason, a light gray like this Waynesboro Taupe with a violet cast completes the look.
Like the Graphite, this Taupe should be trimmed or paired with lighter colors that reflect light well. Colors that would help balance out this gray color include Distant Gray, Violet Pearl, and Winds Breath. For a stronger effect on exterior walls with garage doors, we suggest Distant Gray.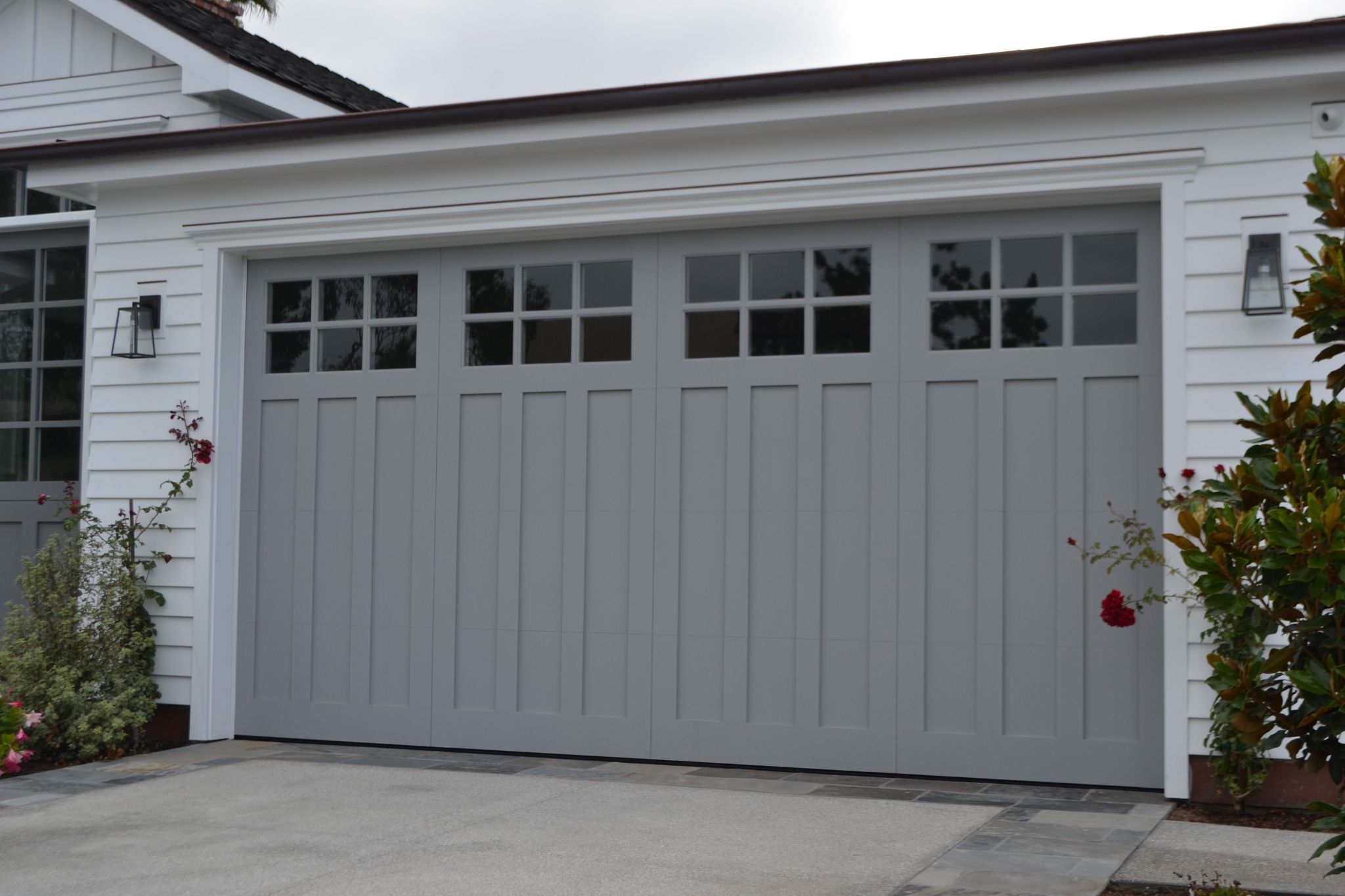 7. Sherwin Williams Tricorn Black SW 6258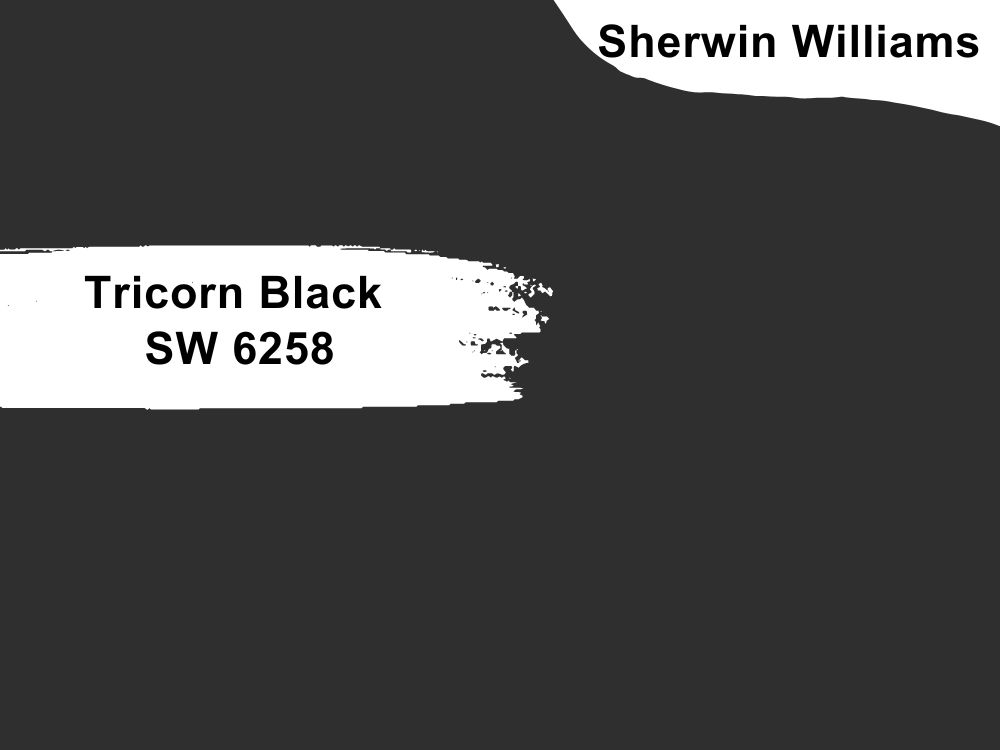 | | |
| --- | --- |
| RGB | 47 / 47 / 48 |
| LRV | 3 |
| Matching Colors | Ice Cube, Classic Light Buff, Blight Blue |
| Undertones | None |
Deep, dark confidence meets garage doors in this Tricorn Black from Sherwin Williams. First, this black paint has an LRV of 3, which means it reflects almost no light at all.
This doesn't make it a boring black color by the way. It is a true black with almost no undertone. It works with any other color you might want. This paint is recommended for when you need to give your home a facelift without changing anything but the color of your garage door. Homeowners whose garages double as their workshops would love the smart look of this black.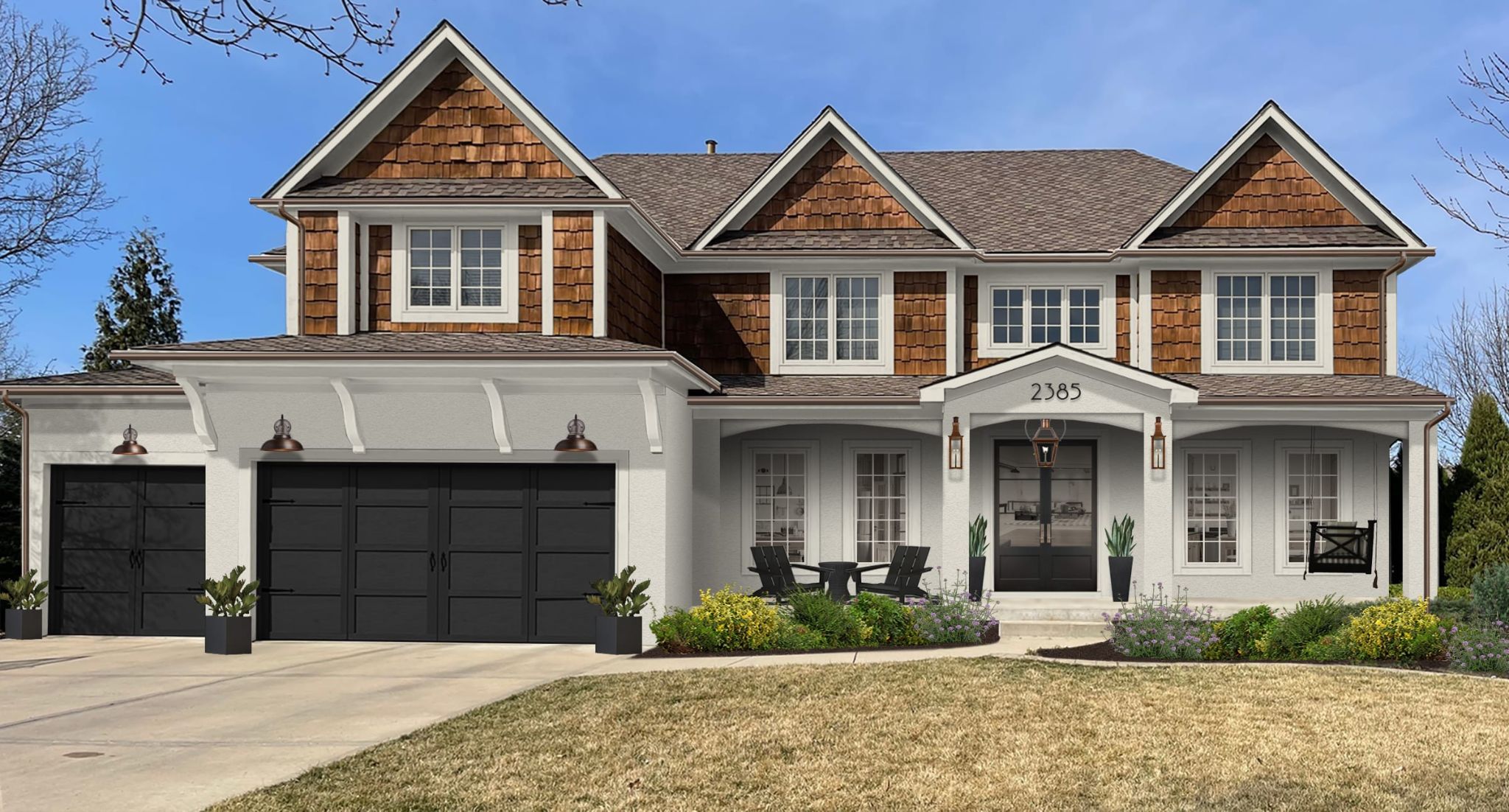 8. Sherwin Williams Waterloo SW 9141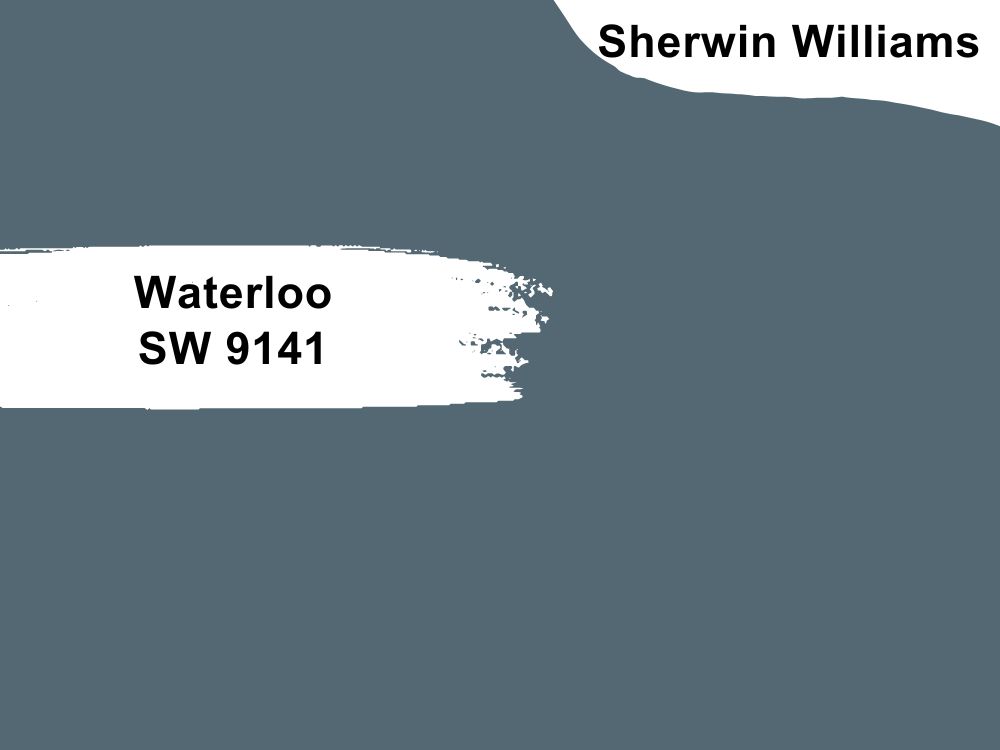 | | |
| --- | --- |
| RGB | 83 / 104 / 114 |
| LRV | 13 |
| Matching Colors | Mountain Air, Kestrel White, Coral Clay |
| Undertones | Gray |
Try this peculiar blue on your garage door while pairing it with off-white like Kestrel White. The outcome would surely amaze you. The LRV of this blue paint is 13. It is a deep dark blue with a strong presence. You will detect undertones of gray in it when the sun is high.
Knowing the fine colors that would look good on your garage door is only half of what it takes to achieve a garage door status that makes you proud and turns heads. This is not to scare you though. All the paints on this list are suitable for garage doors, whether it is wooden or metal doors.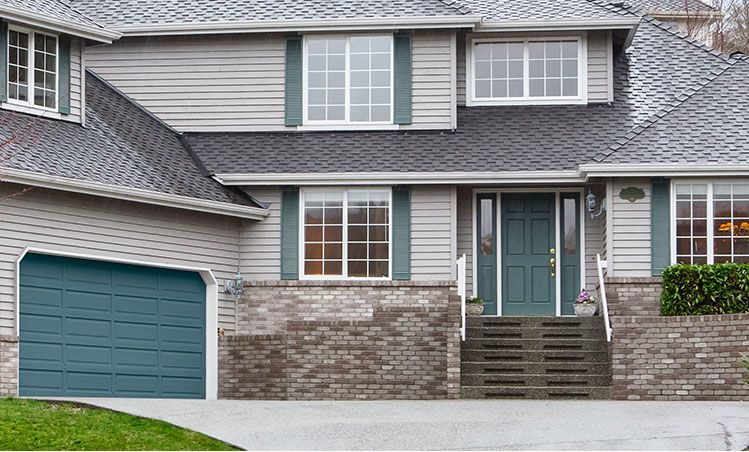 How To Choose The Best Paint Color For Your Garage Door
Before choosing an appropriate color for your garage door, naturally, you want to consider the following:
What's The Existing Exterior Color On Your Building?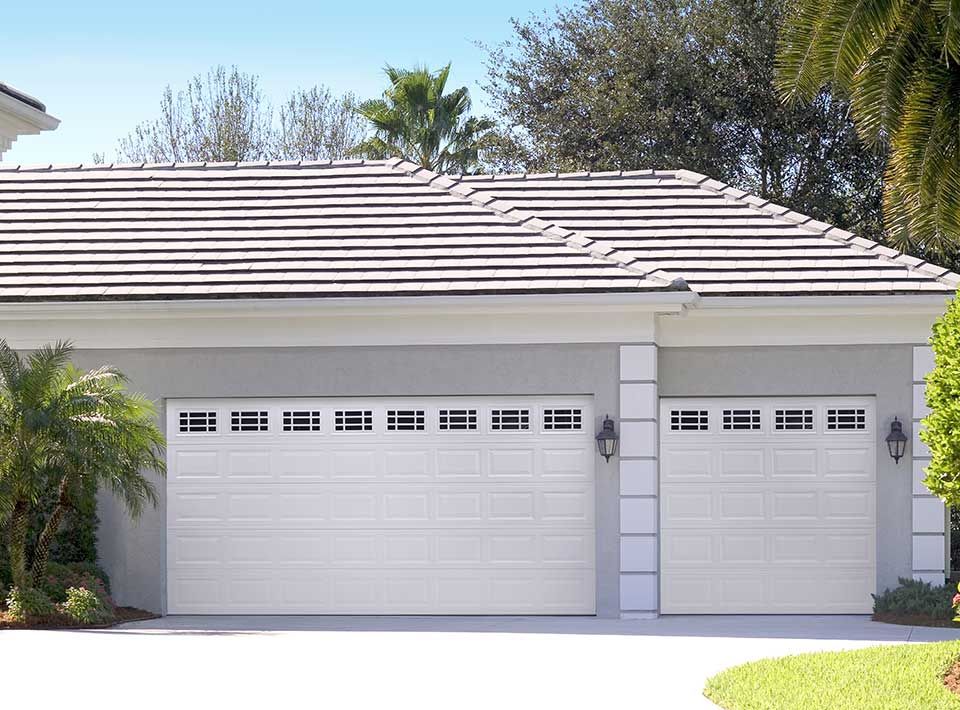 There are many theories when it comes to choosing a color for garage doors. Some say white is the best color for garage doors. But what if you already have white paint on your exterior walls and you really want your garage door to stand out?
White color hardly stands out, even though it is an easy color to match with other colors. If you want a door that stands out the most, you should choose colors like red, black, yellow/orange, blue, purple, or dark gray. Some of these colors stick out more than others while some of them need the help of accompanying contrasting colors to achieve prominence.
Some colors are complementary to each other on the color wheel. For example, green and red are complementary colors. So your garage door can be red but the rest of the house can be a light green. The stark difference in color makes the red on the garage door stand out. It's the same for a purple garage door and yellow exteriors, two complementary colors.
Furthermore, avoid using monochromatic colors, that is, colors with little difference in their hues. For example, painting your garage door red and the rest of the exterior pink only creates a bland look. Most designers would suggest painting the rest of your house a neutral color. This allows you to choose a bright color for your door without much hassle.
What's The Garage Door Made Of?
Doors made of wood have different preparations from those made of metal. Old garage doors made of wood may need to be replaced entirely. If not, the portion that is bad must be worked on. Metal doors don't require so much preparation as wood. Further, the door surface may need a layer of primer before you paint. So determine what kind of door you have, and whether you need to scrape the former paint off the surface.
Some wooden garage doors are exceptionally beautiful. They have natural colors that no paint can match. In that case, you may consider not painting off this beauty. Instead, apply a finish. Aluminum doors would need a layer of oil-based primer before painting. Steel doors require latex paints.
Do You Want Your Garage Door To Fit In With The Neighborhood?
This is a question many fail to consider. Where you live matters to the color of your building and your garage door. While aiming at a unique color, you may want to think about how this color fits in with the rest of the houses on your street. You don't want your garage door to constitute an eyesore.
Consider The Front Door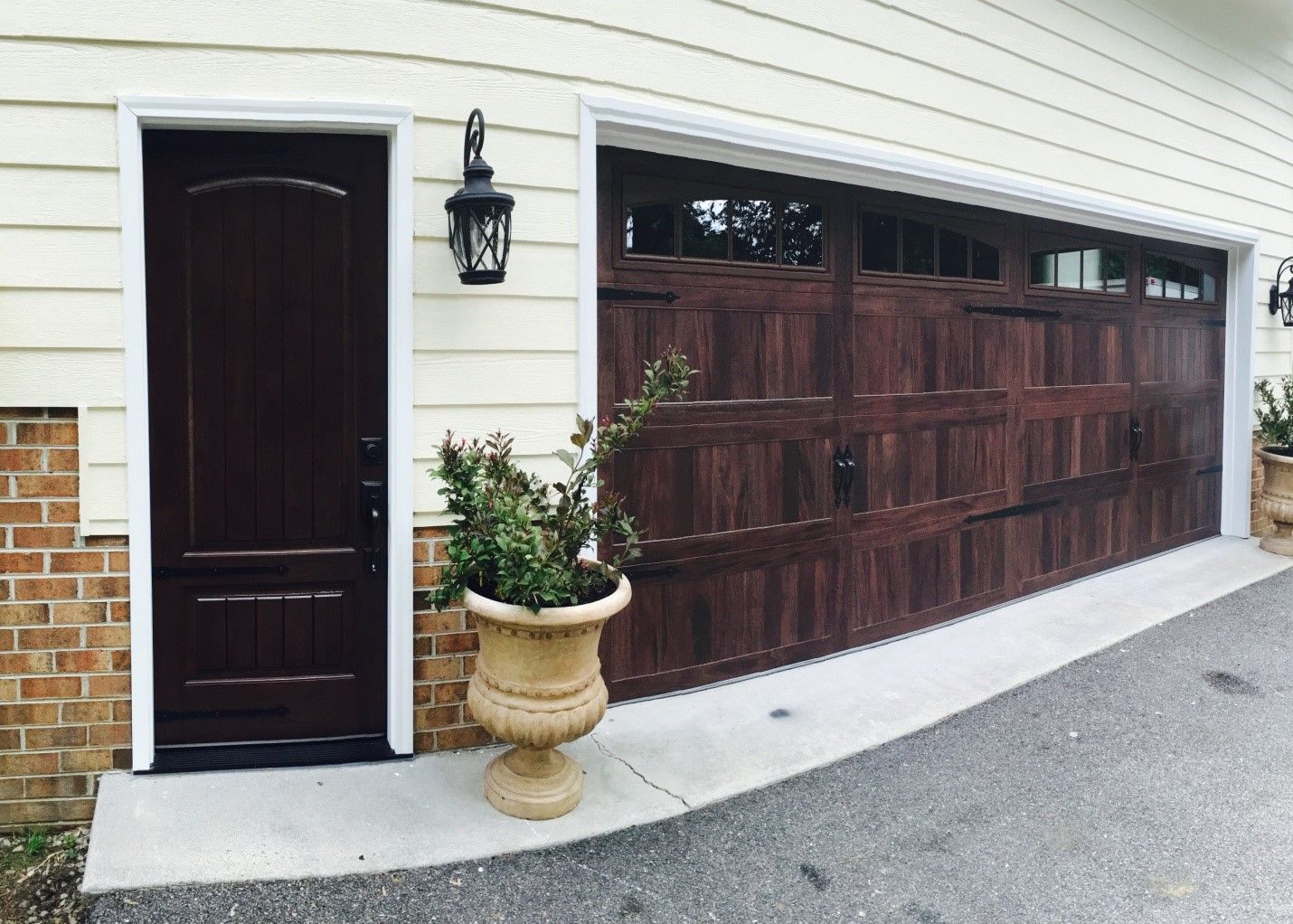 Some folks use the same color for their front door and garage door. Especially where the front and the garage door can be seen from the street because they line up together.
Avoid doing this by all means. Your front door is the entrance to your home, it ought to have a color of its own. Of course, the two doors can complement each other when they are lined up together.
But never use the same color if that's not what's happening generally on your street. However, there are cases where this may appear like the ideal thing to do. For example, if your house stands alone in the woods, on an island.
Dark Color Or Bright Color Paints?
If you have complaints about your garage being too hurt, it could be the result of the paint and material of your door. Dark paints like black or red absorb heat while bright colors like white or gray don't. It has been estimated that black-painted garage doors absorb as much as eighty percent of heat from sunlight while white paint colors absorb thirty or twenty percent.
If you spend extended time in your garage all year round, consider installing some heatproof in the garage door before painting with a dark color. Some people plant trees around their home which block most direct sunlight in summer.
Decide On The Focal Point Of Your House
Some want the front door to be the center of attraction, others prefer the porch, or the hedges in the driveway. Some want their garage door, the two panels, to be the focal point of attention. If your garage door is what you want to attract attention to, then use any of the bold colors on this list, use a less bold one for the front door. This way people's eyes go to the garage door first. If you want the front door to be the focus then do the reverse.
A Color Combination That Sells Your House
This factor is fast becoming a strong one when choosing a color for garage doors. One of the most important things to avoid when choosing a paint color for garage doors is using more than one color on the same door.
It is amazing how mismatched or too many colors can turn people away from fancying a house. Painting with too many colors makes your home look dated. Also, you can paint your garage door a bold color, but don't let the color overshadow your front door.
The Position Of Your Home
Take a walk and do a survey of the homes with the best colors on your street. You might notice the difference between the homes that are set way off the road and the ones with trees around them.
The farther off from the road your house is, the better for your garage door to have a bright color. And if there are trees around your home that casts shadows on the house, then a bright garage door color is better. If your home is standing alone on a property that has no trees around it, then a paint color with a darker hue is the best.
Take advantage of the optical illusion of the color white like Chantilly Lace from Sherwin Williams. This white can make your house look more imposing and bigger than it actually is making it look closer to the sidewalk.
The three cardinal colors of your home, According to most designers, a home should have three major colors:
the main color,
the one that is used to trim places like awnings and window frames,
the one painted on doors and shutters.
You can choose a color that compliments any of these main colors. For example, the main color of the house can be white, the trims orange and the garage door can be white, making the house appear bigger.
Conclusion
Investing some time in researching colors for your garage door is worth it. The best paints like Benjamin Moore and Sherwin Williams can be pricey. And your garage door is an important feature of your home. The article has cut down how much time you need to spend looking for tips on how to choose the best paint colors. Choosing the best paint is only half the work as you have learned. Know the material your door is made of, the three main colors on your exterior walls and what's going on in your street when it comes to paint colors generally.