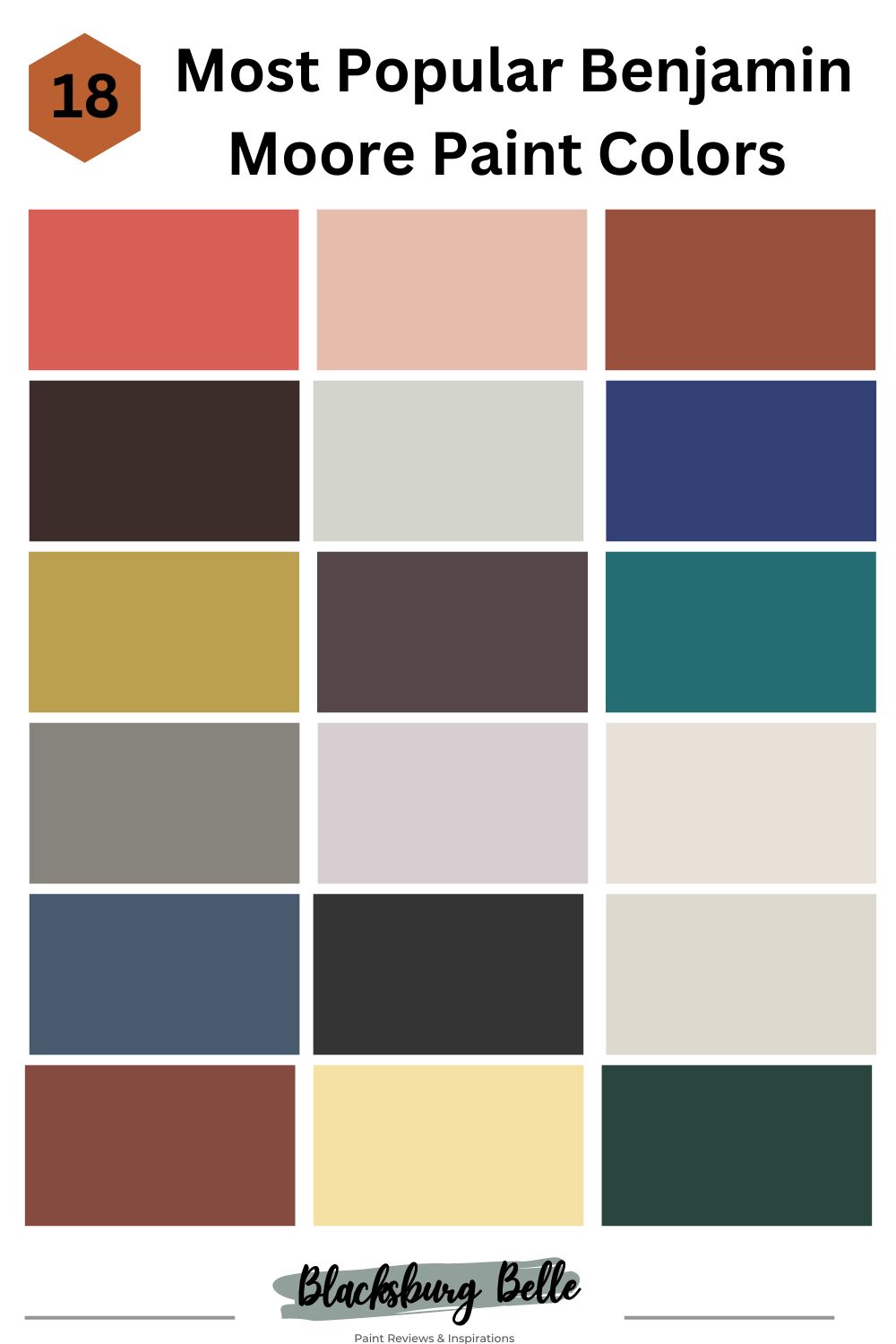 America's favorite paint company is noticing that people are ready to step out of their comfort zones and try new paint choices. Benjamin Moore certainly features some incredible shades to try, but which ones are the best?
If you're tired from the same old grays and whites – you're in the right place! Today, I will cover 18 ravishing paints of Benjamin Moore in 2023 that you should try out.
1. Raspberry Blush 2008-30
Benjamin Moore brings back a popping, vibrant red-orange color for those homeowners looking for a new splash of color in their homes. It has been rightfully declared Benjamin Moore's 2023 Color of the Year for multiple reasons.
The use of statement colors such as raspberry blush will give your room a pleasant, bright personality, transforming it completely.
But what exactly can you paint this gorgeous rosy hue? An archway, a mantelpiece, a kitchen wall, or a small room. Honestly, anything can be brought to life with raspberry blush!
The RGB values for Benjamin Moore 2008-30 Raspberry Blush are 210, 95, 87, with an LRV of 22.68. You can get this shade by mixing a deep orange with a dash of pink. You'll find that this color features red, coral, pink, and orange undertones!
If you are worried about making your room too orange, think about using this shade to color your accent wall!
2. Conch Shell 052
A dusty hue with shades of sepia explores new dimensions of beauty, the kind of which you have never witnessed before. This grown up tone of millennial pink will add significant comfort to your eyes with its neutrality and lightness.
You can use this color to make smaller rooms appear bigger, give a classic dusty shade to your fireplace wall, or give a touch of pink to your toddler's bedroom.
Conch shell features undertones of peach and beige which has a grounding aura that welcomes you. The color works perfectly to relax and remind you of pleasant memories! With an LRV of 54.99, this earthy color is mid-tone.
You can use this cozy color to paint your bathroom walls, an entryway that you want to keep towards the lighter side of the spectrum, or even your living room. Complement this neutral shade with stronger hues or retain its breathiness with shades of white and light brown.
3. Cinnamon 2174-20
If Wenge AF-180 was too dark and hostile for you, I bring to you a warmer shade of brown. With the exact shade of ground cinnamon, this gorgeous brown with orange undertones will make you feel cozy and snuggled!
With an LRV of 11.2, it is on the darker side of the spectrum but not as dark as Wenge AF-180. This might be too dark in the bedroom, but for kitchens and living rooms, Cinnamon 2174-20 is a perfect choice.
4. Wenge AF-180
Wenge AF-180 is a velvety shade of brown that is associated with everything rich and luxurious. It features undertones of brown, black, and violet. The deep chocolate brown can make a strong statement in any room where you need boldness and elegance.
Use Wenge AF-180 to amp up the saturation of any room where you can complement it with different neutral colors. The dramatic shade of brown has an LRV of 2.65.
This makes it ideal for bedrooms, dining rooms, and accent walls. Combining it with 2-3 different colors can really bring out its uniqueness.
Add a luxurious touch to your house and put up decorative pieces such as plates, bicycle, or gold frames to get the ravishing vibe of a good taste. You can also use it to paint the exterior of your house in a gorgeous brown.
5. Gray Owl OC-52
Gray Owl OC-52 is hands down one of Benjamin Moore's best neutral gray paint. With its warm aura, you won't even catch that it has green undertones. In fact, in bright sunlight, it may even appear slightly cool to you.
However, I believe that it serves as a unifying color throughout the house. My favorite place to paint with this soothing color are the kitchen cabinets. Pair it with blue or yellow countertops and you will be good to go!
6. Starry Night Blue 2067-20
One of my favorite Benjamin Moore paint colors in 2023 is the starry night blue 2067-20. With an LRV of 5.52, this color is on the darker spectrum and an amazing choice to make a bold statement.
The inky hue comprising a radiant navy blue and a bright violet creates a bedroom oasis that transports you to the deep ocean or a pretty sky. Make this dark indigo of dusk a romantic addition to your living room.
This captivating blue brings serenity and playfulness to a room at the same time. Use it to bring a romantic touch to your bathroom, kitchen, or living room. Add yellows, whites, and lighter shades of blue to bring out the best from this Starry Night Blue 2067-20.
7. Savannah Green 3250-30
Savannah Green is a unique ochre shade in the palette, with undertones of green and yellow. This artsy color brings an almost autumn leaf vibe to the place. You can make a lovely room out of this color if you love earthy tones with woody architecture or furniture.
Imagine a savannah green wall with black and white monochrome floors. The vibe of the place screams artistic and is excellent for people who don't fear thinking and doing out of the box. It's charismatic and dynamic for a daring personality.
With a 35.2 LRV, savannah green falls somewhere in between the spectrum of colors – neither too dark, nor too light. A little whimsical shade with a dash of drama complementing with white is exactly what you need in 2023. This season, don't be afraid to go all out!
8. Vintage Wine 2116-20
Vintage Wine 2116-20 is a self-expression that invites people to step out of their comfort zone and dare to do what they dream of.
The violet and brown undertones of this color look exceptionally luxurious, making it hard to resist. Make it your entryway color and see how it excites your guests to see what more you have to offer.
With an LRV of 8.2, vintage wine will surely appear darker in your room. Make it an accent wall and pair it up with ochre, white, or beige to get the desired effect.
9. North Sea Green 2053-30
Among my favorites, North Sea Green tops the list with its saturated teal hues that instantly catch your eye. The color gives off a very soothing vibe. You get everything from it – engagement, depth, serenity, and delicacy.
With gray undertones, North Sea Green can never be overwhelming. What makes it more fun is that you can pair it up with a myriad of colors such as lilac, yellow, sand brown, cider brown, and white. Every color will make it pop out!
As an accent wall, this shade of green will do wonders – be it your bathroom wall, living room, or entryway. Coordinate it with tiles, concrete, metal accents, and wooden pieces. Add chrysanthemums, baby's breath, or pampas grass to enhance its beauty.
10. Chelsea Grey HC-168
With brownish-violet undertones, Chelsea Grey is somewhat medium on the spectrum. It works perfect since the color is not too over-the-top.
In bright sunlight, it will give a gray-brown appearance which makes the room warmer. In darker spaces, you will notice that the color transforms into charcoal gray. This fascinating feature of Chelsea Grey is definitely a welcoming sight!
Pair this one up with warmer colors to make your urban interior embrace its modernness.
11. New Age 1444
I would recommend picking the New Age 1444 for your bedroom walls. It brings a certain level of sophistication and calmness to a room that is ideal to fall asleep in. Paired with a white heron ceiling and a beige bed, this color will make all your bedroom fantasies come true!
While you can make this shade of purple with gray an excellent accent wall, it will also do well if painted throughout the room. You will love the soft addition of color without the overwhelming dark shades of purple or gray alone.
The ethereal purple can instantly make the room airy and light. Use it in your bedrooms, in your bathroom, and in the living room if you have furniture in earthy tones. A touch of black furniture would also go well with the bluntness of light purple, so feel free to experiment.
12. White Heron OC-57
One of the most charming neutral colors in Benjamin Moore's 2023 color trends is White Heron OC-57.
With a slightly overcast touch and the whitest tone, this one remains a fan favorite. It is a bestseller in the off-white collection of Benjamin Moore and never fails to disappoint if you want a white that isn't too stark.
You can judge its whiteness by checking its LRV which is a whopping 87, closer to being a true white color. The White Heron has gray and yellow undertones, both of which contribute positively to the color. The gray undertone provides softness while the yellow undertone gives it warmth.
So where can you use this versatile color? Well, pretty much everywhere! Use it on your walls, trim, cabinets, and house exteriors. It works well with any color you can imagine.
13. Van Deusen Blue HC-156
Benjamin Moore's Van Deusen Blue celebrates life as we know it and invites you to fall in love with your home.
It has an LRV of 11.97 and happens to be one of Benjamin Moore's best-selling colors! You can combine this with white and cream-ish tones to bring out its true essence.
At the cusp of tradition and modernity, this foundational blue color will bring comfort and innovation to your house in no time.
14. Onyx 2133-10
If you are looking for a color that works best as the backdrops for your paintings, art pieces, or colorful furniture, there couldn't be a better choice than Onyx 2133-10.
This black color has little to no undertones which means that it can act as an excellent color for your front doors, cabinets, offices, or an accent wall. With an LRV of 4.99, Onyx 2133-10 proves to be dark enough to get close to pure black.
Somehow, it appears both luxurious and grounded!
15. Pale Oak OC-20
As majestic as the tree this color is inspired from, Pale Oak OC-20 is one of the best-selling neutrals in the Benjamin Moore collection. With its warm gray undertones and quiet presence, this color can go well with anything.
Since it has an LRV of 70, you will find it on the lighter side of the spectrum. In bright light, it will appear a creamy white and in dark spaces, it will take on a light warm gray/taupe. Use this sophisticated and harmonious hue to brighten up your house and display your statement pieces!
16. Boston Brick 2092-30
Boston Brick 2092-30 is a bold, saturated color that is definitely out of the box. The versatile undertones of red, gray, and orange make for an excellent accent wall! Additionally, the understated grandeur of the color seems luxurious for both traditional and modern houses.
At a glance – Boston Brick is both striking and extraordinary!
17. Hawthorne Yellow HC-4
If you are looking for a balanced yellow that gives warmth to your living room or office, Hawthorne Yellow HC-4 is a great call. It's bright but not jarring, warm but not suffocating, and it pops without being overwhelming.
Almost appearing like raw silk, Hawthorne Yellow works best for rooms that are exposed to a little natural light. Consider pairing it with a crisp white or a darker shade of gray to complement its beauty.
18. Hunter Green 2041-10
One of my favorites on the dark side of the spectrum, Hunter Green 2041-10 brings with it a kind of depth and elegance like no other. It gives the luxurious vibe without even trying and would work best as a statement wall.
Make it your living room wall to bring a little bit of drama and a lot of strength to the room!
Conclusion
These 18 colors will add flavor and personality to any room you pick. If you are ready to revamp your house, test any of these lovely colors in your house and go wild with what you like. Let us know what you think about our charismatic color palette picks!
Remember, there is no foul in experimentation!