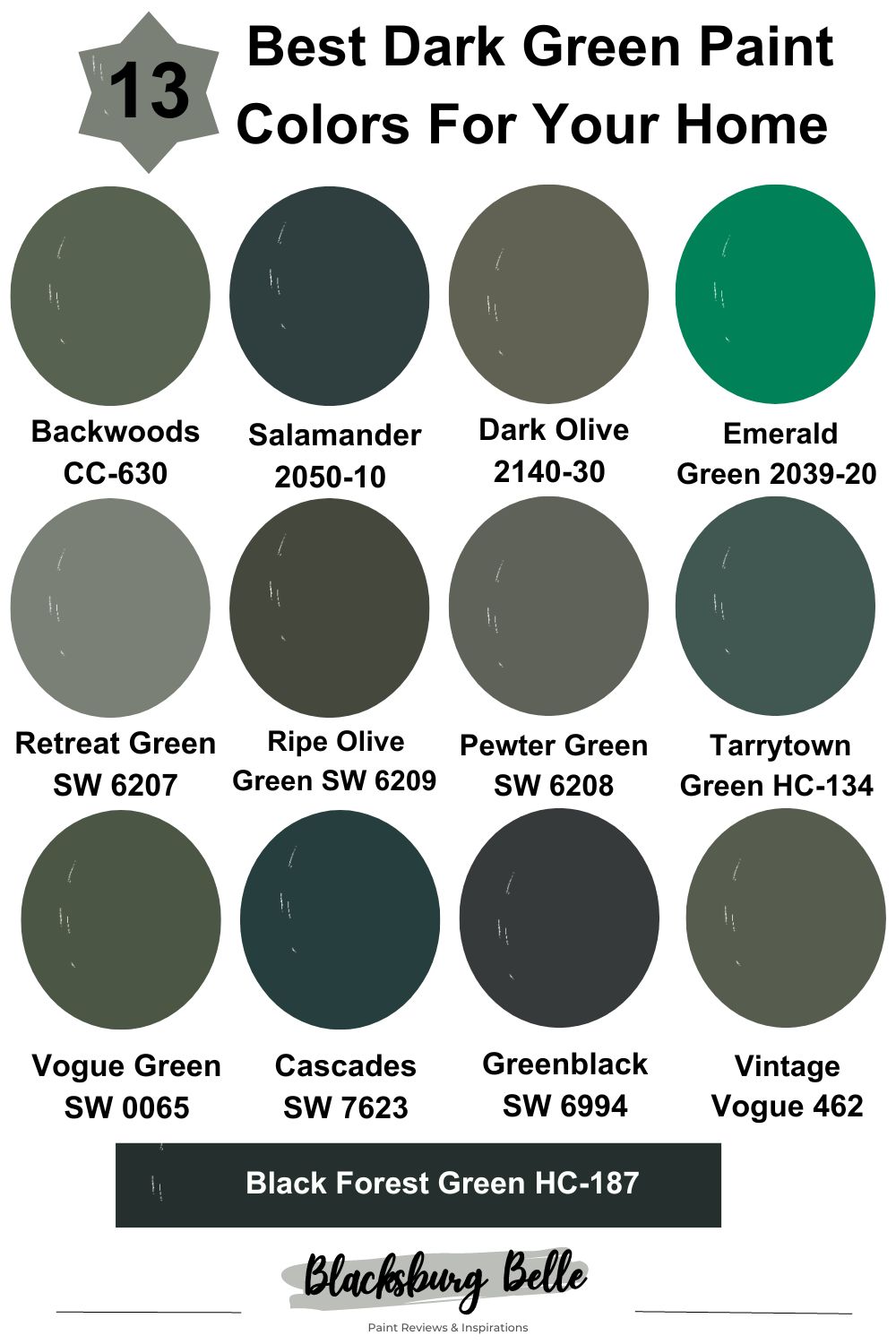 When setting up or building your home, there are lots of important decisions that require careful planning. We try as much as possible to make the right choices and make sure all the details come to life.
Your home is where you would spend more time, get a good sleep every day, work, relax, welcome visitors, raise kids, and a lot more. So, there are too many reasons why making the right decision, especially regarding the appearance of your home, is very crucial.
As an artist, dark green has always been one of my favorite paint colors. Using dark green color in your home can add a lot of depth and richness to the entire space, not to talk about the natural feeling it brings like visiting a rainforest.
Now, to make sure we're prepared for this colorful journey, let's quickly go through some benefits of using dark green paint colors for your home. 
What Makes Dark Green Paint Colors Great For Homes?
 Below are some of the reasons why most homeowners will pick a dark green paint color for their home over other major or regular colors.
Relaxation
Apart from some white colors, dark green has the ability to spread a wide aura of calmness and relaxation anywhere it's used, especially in a noticeable space. Unlike regular light or bright green, dark green is like adding spices to your food; it brings out this perception of peace and comfort in the entire space, and this is why it's never going to be a mistake if you choose it for your home, especially bedrooms and other relaxation spaces.
Versatility
Another great reason why picking dark green paint colors for your home is its versatility. Dark green, just like white, can be a versatile color that works well in various styles, from traditional to modern. So no matter how your home design is, using dark green paint colors will always align. It can serve as a neutral backdrop or as a bold accent color wherever it is used.
Sophistication
Like I previously mentioned, one of the advantages of using dark green paint color is that it could naturally add a more sophisticated and elegant look, unlike lighter or brighter green. You'll always be greeted by the refined and upscaled perception it brings to your home. If you want your home to get an always-on-point outlook, slash it with some of the best dark green paint colors, which we will review in the next section. 
13 Best Dark Green Paint Colors For Your Home
 Below, we have carefully handpicked and reviewed 13 of the best dark green paint colors for your home. The list combines the best and most popular dark green paint colors from Benjamin Moore and Sherwin Williams. And that's for a good reason!
You have many practically lovely options to choose from the list below, and you won't be disappointed with your choice. Shall we? Let's go! 
1. Benjamin Moore Backwoods CC-630
| | |
| --- | --- |
| RGB | 89, 99, 82 |
| LRV | 12.68 |
| Matching colors | Dune White, White Dove, Boothbay Gray |
| Undertone | Green, Gray, Yellow |
Benjamin Moore's Backwoods CC-630 is a classic and timeless green that has the warmth and welcoming aura of a forest. Imagine being surrounded by the peace and tranquility of an African rainforest.
The freshness and refining energy of this color makes it a great choice when looking for a paint color for your home. Its calming undertones and light reflective value of 12.68 makes it the most commonly used dark green among design professionals. This supper and amazing color pairs perfectly well with white, gray, brass, and wood tones. What a perfect color choice for lovers of reserved countryside homes.
This classic and timeless dark green paint color can be combined with other colors like with white, and gray. Because of its masculine, serious, and elevated ambiance, it could be splashed on your farmhouse, utility room, kitchen, bathroom, bedroom, laundry cabinets, or even the children's room. The BM Backwoods CC-630 is always a sure bet for an excellent vintage vibe.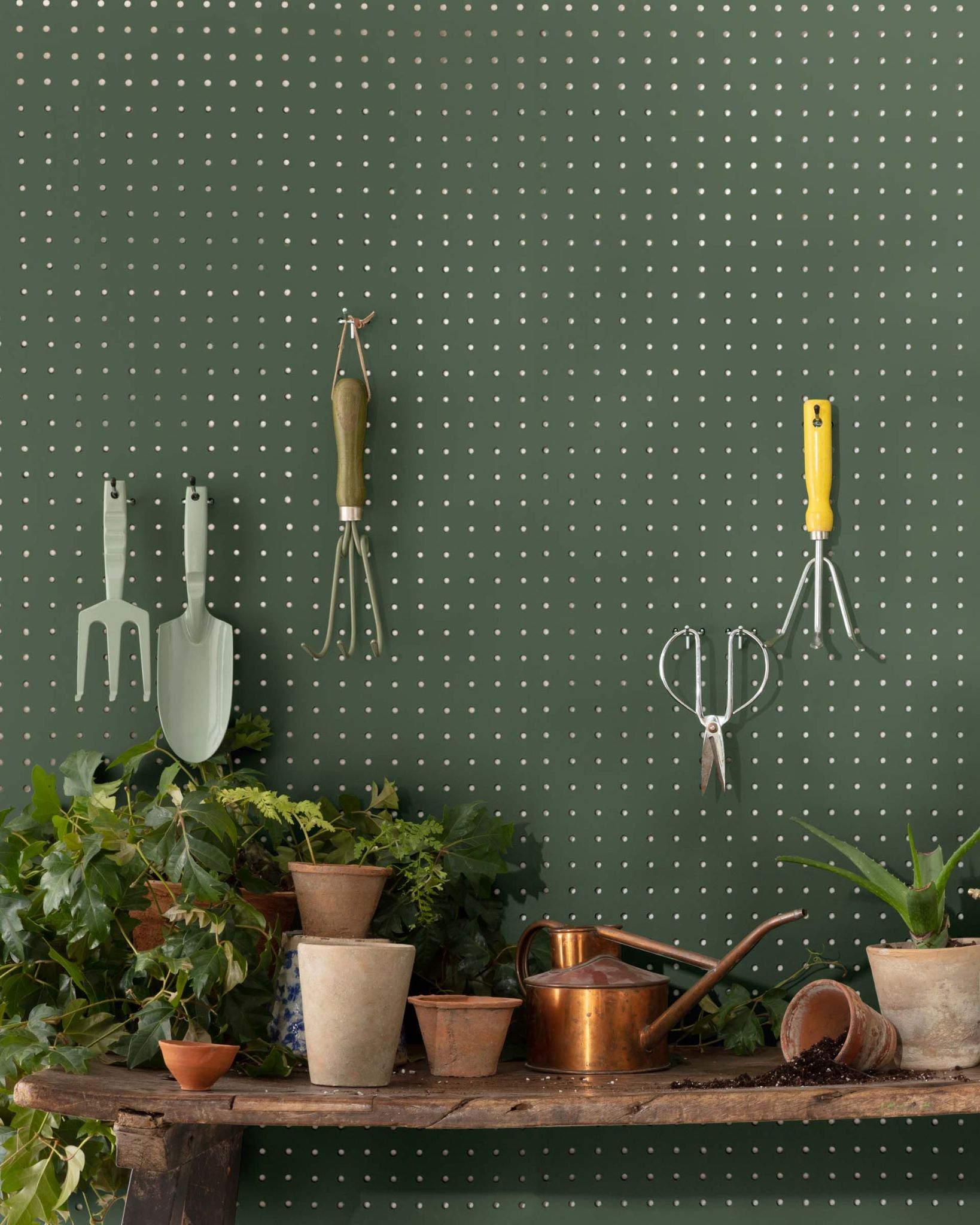 2. Benjamin Moore Salamander 2050-10
| | |
| --- | --- |
| RGB | 47, 62, 60 |
| LRV | 5.72 |
| Matching colors | Sebring White, White Dove, Silver Marlin |
| Undertone | Black, Cyan, Blue, Green |
For interior and exterior use, this gorgeous rich dark green has come to serve its versatile purpose.  With a dark mix of blue, black, and green; this paint color can never go wrong, any day. Always ready to make your home pop.
Passion, immortality, and the ability to withstand flame are what Benjamin Moore's Salamander 2050-10 dark green paint color entails. This color is best used in a room with lots of natural light.
This makes it suitable for wood and metal finishes. For comparisons, Benjamin Moore's Salamander green paint is a bit lighter than the Black Forest green.
With a Light Reflectance Value of 5.72, this color is so calming at night, has a soothing feel during the break of a new day, and is a solemn pacific reflection of light in the afternoon.
No matter the intensity of light, this paint color has a brilliant way of balancing it. This is why it's one of the most popular dark green paint colors chosen by decorators, designers, and homeowners.
3. Benjamin Moore Dark Olive 2140-30
| | |
| --- | --- |
| RGB | 186 184 108 |
| LRV | 13.52 |
| Matching colors | White wisp, Sea haze, Swiss Coffee |
| Undertone | Yellow, Red |
 Benjamin Moore's Dark Olive 2140-30 is another popular dark green paint that can give you a long-lasting ambiance of freshness and familiarity.
This super-saturated shade of olive immediately adds dimension to any living space. Neutrals such as beige, gray, or yellow compliment this paint color, and bring out all you need to see and know about it. But I'll tell you more. Earthly elegance best describes this dark-yellowish green with a touch of red. Little wonder, it is one of the best green colors your house would love to have.
When paired correctly and used on an accent wall or any form of furniture, your home can't help but look sophisticated; leaving zero mess even when worn out.
4. Benjamin Moore Emerald Green 2039-20
| | |
| --- | --- |
| RGB | 31, 78, 47 |
| LRV | 15.84 |
| Matching colors | Ice mist, Alaskan husky, Decorators White |
| Undertone | Blue, Green |
Another sleek and catchy green paint for your home is this palatable deep green with soft and subtle blue undertones. Benjamin Moore's Emerald Green is one of the brand's most popular paint color collections.
As its name suggests, it symbolizes royalty and works best with its green color family, whether the light or dark shade. When matched with neutral colors like Beige or Peach, it creates a fresher look. Its light reflectance value of 15.84 makes it a perfect choice for spaces intended for relaxation.
The Emerald green can never go wrong on the walls of your living room, bedroom, or even your bathroom, thereby giving your home a touch of elegance and calmness like a royal home. Pantone rated the BM Emerald Green as the color of the year (2013) with a short description; "Lively, radiant, and lush.  A color of elegance and beauty that enhances our sense of well-being, balance, and harmony."
Finally, Emerald green is a dark green paint color that requires a little bravery from the user. You have to choose other complimentary colors carefully, but in the end, Emerald green literally goes a long way to make whatever is in your space bold and prominent.
5. Sherwin Williams Retreat Green SW 6207
| | |
| --- | --- |
| RGB | 122, 127, 117 |
| LRV | 20.61 |
| Matching colors | Verdigreen, Origami White, Spare White |
| Undertone | Blue |
If you're looking for a mountain air kind of space, you sure are talking about the Sherwin Williams Retreat green. This quiet green with blue and gray undertones creates a refreshing atmosphere within the home walls.
The soothing nature of this paint allows it to align with either bright or dark colors. This paint color makes extremely large spaces feel closer, smaller, and more confined.
If you're thinking of where this dark green color properly fits in your home, well, it's practically suitable for the kid's room, kitchen, living room, and even bathroom.
6. Sherwin Williams Ripe Olive Green SW 6209
| | |
| --- | --- |
| RGB | 112, 134, 114 |
| LRV | 22 |
| Matching colors | Maison Blanche, Latte |
| Undertone | Yellow, orange, coral, brown |
Another great dark green paint color for your home is the Ripe Olive Green, which is from Sherwin Williams, a reputable company known for quality paints.
No piece of furniture, cabinets, or interior or exterior walls will look bad on this neutral hunter green. Though, people often think of it as a pale bright green color with gray as an alternative.
Its light reflective value of 22 balances strictly with its undertone, which is why it mixes perfectly with everything within it. The Ripe olive green can pass with other neutrals.
To crown it all, the Sherwin Williams Ripe Olive is a color that symbolizes a subtle but perfect balance between comfort, style, and practicality.  If you're an admirer of nature, you should definitely consider trying this Sherwin-Williams dark green paint color in your home.
7. Sherwin Williams Pewter Green SW 6208
| | |
| --- | --- |
| RGB | 94, 98, 89 |
| LRV | 12 |
| Matching colors | Silvermist, Shoja White, Spare White |
| Undertone | Gray |
You've been thinking and contemplating on what interior or exterior paint will give you a down-to-earth elegance and complement natural elements such as wood and metal, this calming cool dark pewter green is the answer to your worries.
You might confuse it with rich Gray, but with a closer look, you'll discover it's a muted dark green. Creamy and soft whites, gray, blue, brown, and lighter beige are colors that best suit the pewter green.
Having your home, especially your kitchen, exterior doors or even trims painted in this stunning neutral green paint adds calmness and eloquence to your home.
For the sake of perfection, you actually don't necessarily have to do too much for it to turn out fine, it's a color that says, little things matter.
8. Benjamin Moore Tarrytown Green HC-134
| | |
| --- | --- |
| RGB | 68, 88, 82 |
| LRV | 9.71 |
| Matching colors | Dove Wing, Grant Beige, White Dove |
| Undertone | Blue, Gray |
If you're looking to have a classic, elegant, and radiating interior or exterior, then Benjamin Moore's Tarrytown is one you should consider. This deep pine green with a slightly cool cast has found its way among one of the top paint predictions for homes due to its vintage charm, especially on window trims and kitchen cabinets.
Tarrytown green is a lifesaver when it comes to modifying old walls and rebranding old furniture. It's a great fit for traditional and modern space decor.
9. Sherwin Williams Vogue Green SW 0065
| | |
| --- | --- |
| RGB | 79, 90, 74 |
| LRV | 9.49 |
| Matching colors | Cocoa Whip, Alabaster |
| Undertone | Yellow, Brown |
You may be wondering if this paint color is in vogue, well the answer is yes. This color is a bit simple and lighter in the green family. Sherwin Williams made the Vogue green in a way that you can't find offensive or annoying.
A glance at this paint on your walls gives you a natural feeling of likeness and satisfaction. Its LRV is 9, hence the lightness. It can be paired with warmer colors as well as cool ones.
The way this color reacts to light will help you apply it properly in the right space. Well, one can also say it is versatile.
10. Sherwin Williams Cascades SW 7623
| | |
| --- | --- |
| RGB | 44, 65, 65 |
| LRV | 4.72 |
| Matching colors | Oak Creek, Hearty Orange, Extra White |
| Undertone | Blue, Yellow |
The Sherwin Williams Cascades SW 7623 is one of our favorite dark green paint colors, and that's for a reason. Because of its swirl of blue, gray, and yellow undertones, Cascades gives a sophisticated and mysterious personality to any space.
 In a well-lit room, this cascade is an option to consider. You may be thinking if this is an entirely black color due to its blue undertone; well it is not. Its LRV which is 4 is the reason behind it.
This color is a bold choice, especially when paired with Alabaster or any good amount of white. Its yellowish-blue undertones also give a stunning disposition.
It's a perfect dark green paint color, suitable for both exterior and interior paint projects. You would definitely love it anywhere around your house.
11. Sherwin Williams Greenblack SW 6994
| | |
| --- | --- |
| RGB | 55, 58, 58 |
| LRV | 4 |
| Matching colors | Rave Red, Snowbound, Extra White |
| Undertone | Green, Black |
Another great alternative to other dark green paint colors mentioned on this list is the Green Black SW 6994 from the palette of Sherwin Williams.
If you are a strong-footed fan of black color and wouldn't want to miss it in your home design, well, the best color that can replace or resonate with black is this Greenblack from Sherwin Williams. Though it is naturally mute, this shade of green inspires luxury and elegance.
The cool-toned Green Black paint color sits between green and black, thereby making it a great choice for overly bright large and small rooms.
Its tinge of green undertones easily makes a point on wherever it's used in your home.  It leaves a richer and more sophisticated outlook when paired with matching colors. Black can be overly gray sometimes, but this color never has to make you worry.
12. Benjamin Moore Vintage Vogue 462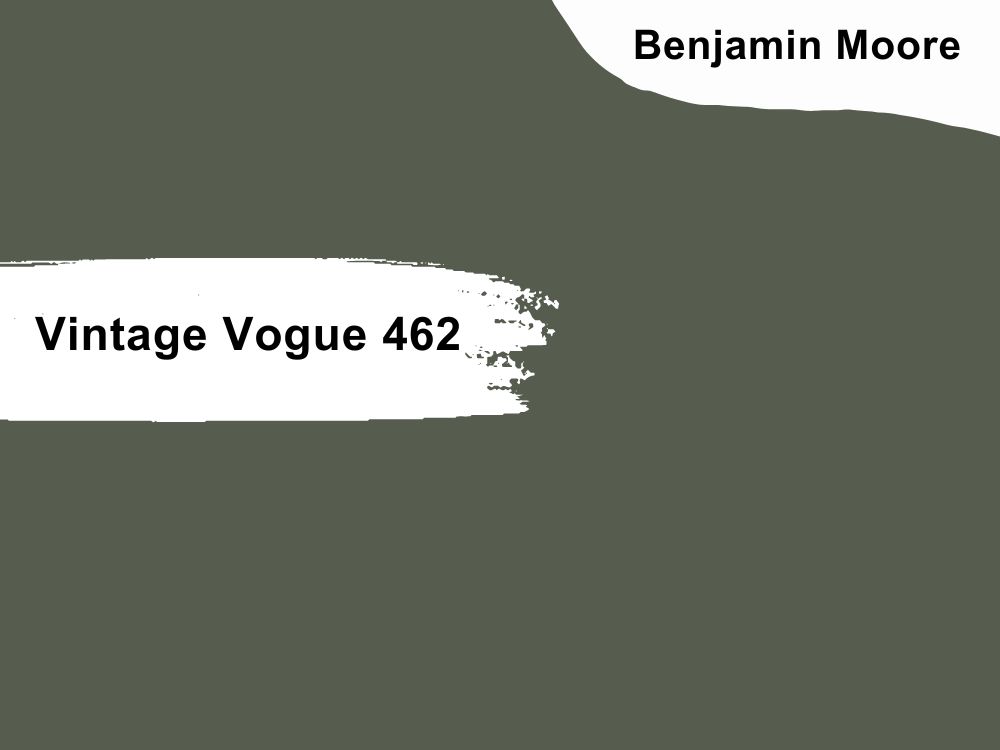 | | |
| --- | --- |
| RGB | 86, 93, 79 |
| LRV | 11.85 |
| Matching colors | Dewdrop, Tea Light, Beach house Beige, |
| Undertone | Black, Blue |
You probably must have heard of the Vintage Vogue green, but if not, perfect! This dark and lovely green is often used in place of green or black. When it comes to an excellent dimension to any living space, the accuracy of the Vintage Vogue is top-notch. This color does wonders for offices, libraries, and homes.
It's a dignified, aristocratic dark green with a warm undertone that goes well with metals. Let's not forget its masculine consistency and texture, leaving memories throughout the home. This is as a result of its catchy undertones.
13. Benjamin Moore Black Forest Green HC-187
| | |
| --- | --- |
| RGB | 49, 59, 57 |
| LRV | 4.85 |
| Matching colors | Ashwood, Creekside Green, Clarksville gray |
| Undertone | Blue, Green |
You could actually call this color a black green, or more like a darker green if you want something a bit further than the usual dark green.
This shade of green gives a sense of assurance. The Black Forest green can be used for big or small interiors or exteriors, depending on what you want and how you want it in your home. Its blue-green-black undertones make it look almost like dark steel.
You just might not be able to see the beauty of this color in low lighting, but direct natural sunlight can do justice to it. This color can be paired well with Chantilly lace, November rain, Clarksville Gray, Beige, and a host of others. In the mornings, afternoons, or evenings, this color gives a consistent flash of calmness no matter the intensity of light, thanks to a low light reflectance value of 4.85.
FAQs
How Do I Choose The Ideal Dark Green Paint Color?
When choosing your favorite paint color, it's very important to not just pick the dark green paint color because we recommend it from the list or because it's number one on the list.
Firstly, give your preferred color a second, third, or even fourth look and imagine it in your home. Your device or screen might not be representing the actual colors well, so it's a good idea to view it on one or two screens to help you get a glimpse of what you're going to be surrounded with.
Secondly, do you like the color? Whether your answer is yes or no, it's okay to move to the next one and compare or contrast between your most preferred choices. 13 super cool dark green paint colors are a lot to choose from if you ask me, and I wouldn't rush over something like this.
What Is The Best Brand For Dark Green Paint Colors?
There are a lot of paint dealers or vendors online and offline, but as usual, it's always going to give you satisfaction as a customer if you buy from trusted companies.
We advise that you buy the paint from tried and trusted paint and coating brands like Benjamin Moore or Sherwin Williams. These are some of the most popular choices when it comes to coatings and paints.
Picking from Benjamin Moore or Sherwin Williams wouldn't be an issue though because the list above is a mix of carefully selected dark green paints from these two reputable brands.
Conclusion
Choosing the perfect color for your home is actually not as easy as it sounds. From picking the colors, matching colors, and comparing them, it's always a hard decision to make and sometimes doesn't end well.
But, we have made it a lot easier by selecting 13 of the best dark green paint colors from some of the best dark green paint colors out there that will practically give you a satisfying look.
In conclusion, after all the sorting and selection process, let's hear your thoughts. Why did you choose a dark green paint color for your home? Is there a cooler dark green paint color we didn't include, or probably you want to tell us something else but still related to this, kindly use the comments section, we would really love to hear from you.
Ciao. See you in our next blog post !