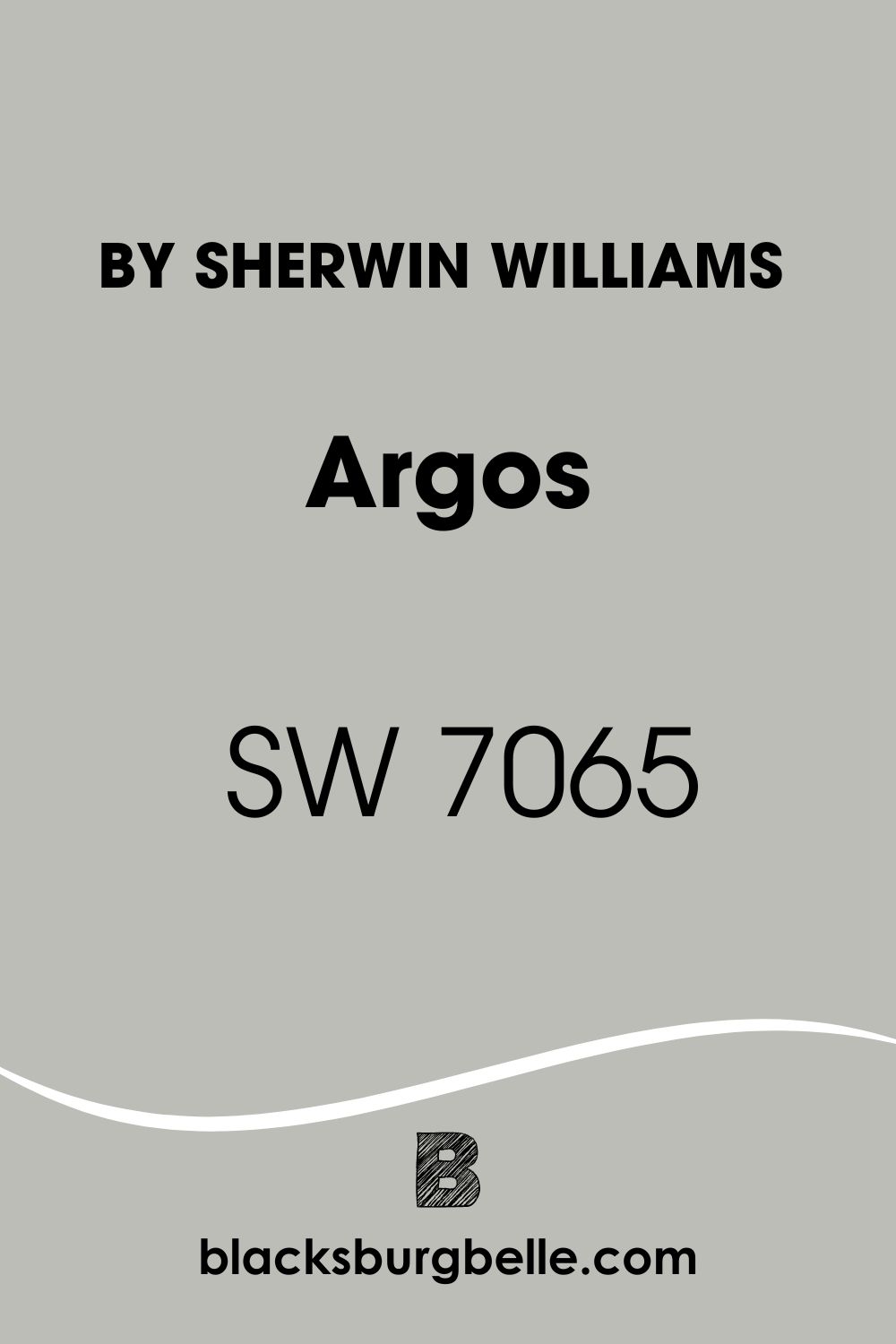 When you pick a neutral color like gray, your first thought may be to find out how it performs in a room. Grays can be stark or bland like the usual whites, but not all are drab. If you want a gray paint color with some character, try Sherwin Williams Argos.
This paint color is not muted or dark but will bring brightness into your space. So, I want to show you all about this color to help you decide whether or not it's ideal for your decor. You'll learn about its LRV, undertones, and colors that work with it. Ready? Let's go!
When to Choose Sherwin Williams Argos
If you have picked this paint color, it's only fitting to wonder when to use it and what other colors work well with it. You don't want your decor to look plain or use colors that clash with its undertones. So, here are a few ideas of when to use Argos in your decor.
Want a versatile neutral with some color?
Argos is perfectly balanced and performs well as a neutral in any space. The upside of using it is that the paint color shows a bit of color. In other words, it doesn't look stark like many neutrals.
Is white too bright and stark?
Argos may be one of your best options if you want a paint color that performs like white without looking too bright. It is undoubtedly gray but light enough to replace white to create something different.
Looking to merge warm and cool colors?
As a neutral, Argos allows you to pair warm and cool colors in your decor without looking out of place. It acts as the bridge, bringing the colors together, or as the perfect backdrop. Try it with warm brick or stone tones.
New cabinet color?
This creamy gray can look delicious on cabinets, changing the look and feel of your bathroom or kitchen. It blends with dark-colored appliances and light-colored walls.
Argos is an excellent interior and exterior paint color, and you can use it with bold and vibrant colors, wood tones, and soft pastels. There's much more to discover about this color, so let's get right to it.
What Color Is Argos?
There's nothing to point to what drove Sherwin Williams to give the name Argos to this particular shade of gray. It may be reminiscent of the ancient city of Argos in Greece, reminding the user of the old stony roads and architecture.
However, the paint color has something different from the landscape of the ancient city. It has a bit more color and character, with nothing bland.
Sherwin Williams Argos SW 7065 is a mid-tone gray paint color with balanced tones that make it neutral. Use it in any space to make it comfortable and easy on the eyes.
A Snapshot of the Specifications of Sherwin Williams Argos
Now, we move to the crucial aspects of the paint color. The chart in this section details characteristics of Argos, such as LRV and undertones, to give you a quick summary of what to expect.
| | |
| --- | --- |
| | Sherwin Williams Argos |
| RGB | 18, 18, 183 |
| LRV | 51 |
| Undertone | Blue-green |
| HEX Code | #BDBDB7 |
The LRV of Sherwin Williams Argos
LRV means the light reflectance value of color and refers to the amount of light that color reflects on a scale of 0 to 100. Some colors are said to absorb light, while others reflect light.
Pure white throws much light into a room, so it typically has an LRV of 100. However, pure black doesn't reflect light, so it has an LRV of 0.
There are no paint colors with an LRV of 0 or 100 because none is black or white. Therefore, the scale for checking the LRVs of paint colors is 2.5 to 94.
Sherwin Williams Argos has an LRV of 51. This value is at the middle point, meaning the paint color reflects a fair amount of light.
The Undertone of Sherwin Williams Argos
The undertone of any paint color is, perhaps, the most crucial aspect. It can change how you see the color, especially in different lighting conditions. Argos has slightly blue-green undertones, leaning more toward blue than green in specific lighting and more toward green in others.
This image represents how Argos typically looks when the lighting is proper.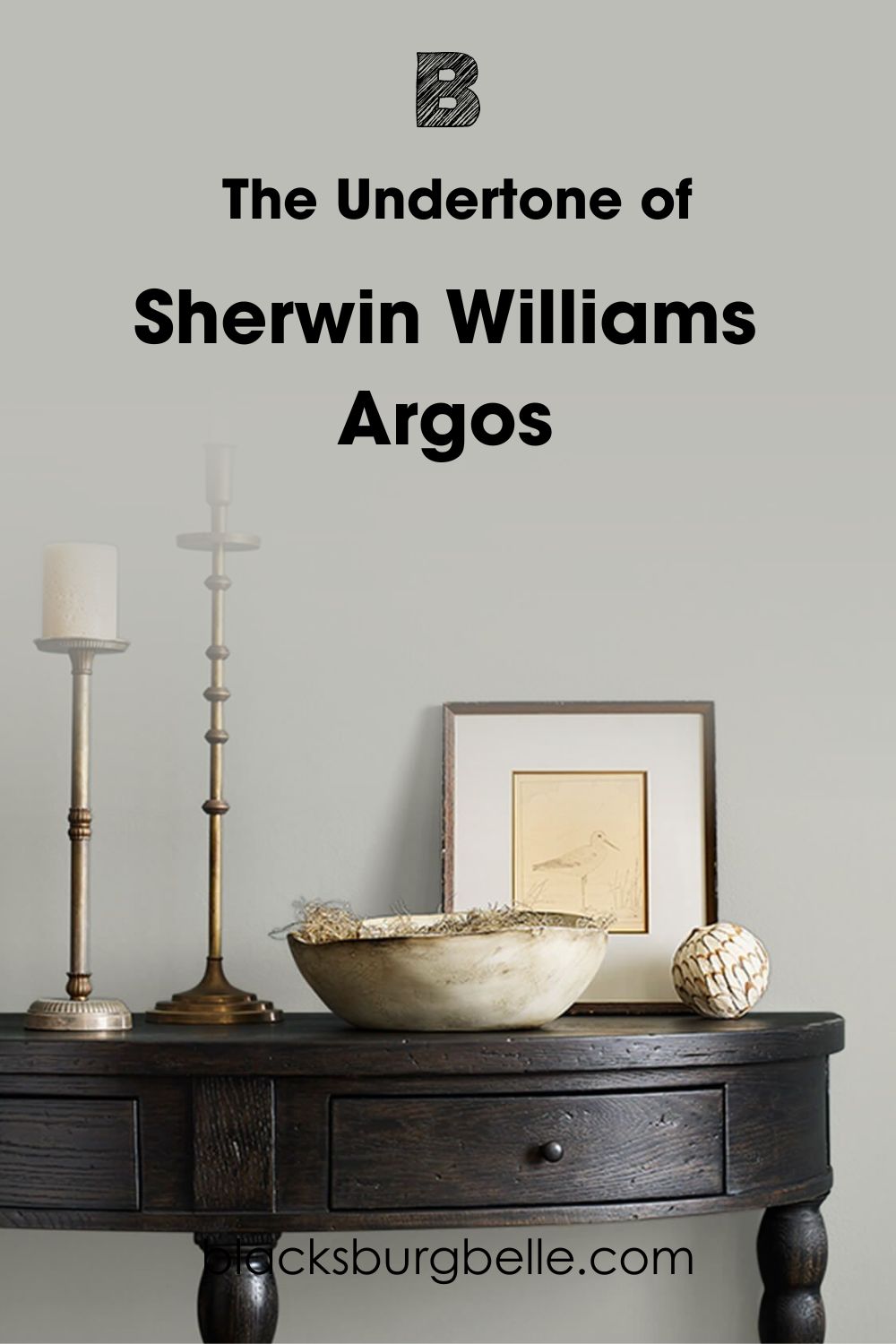 It looks a little boring, doesn't it? However, this is Argos showing a bit of its blue-green undertones.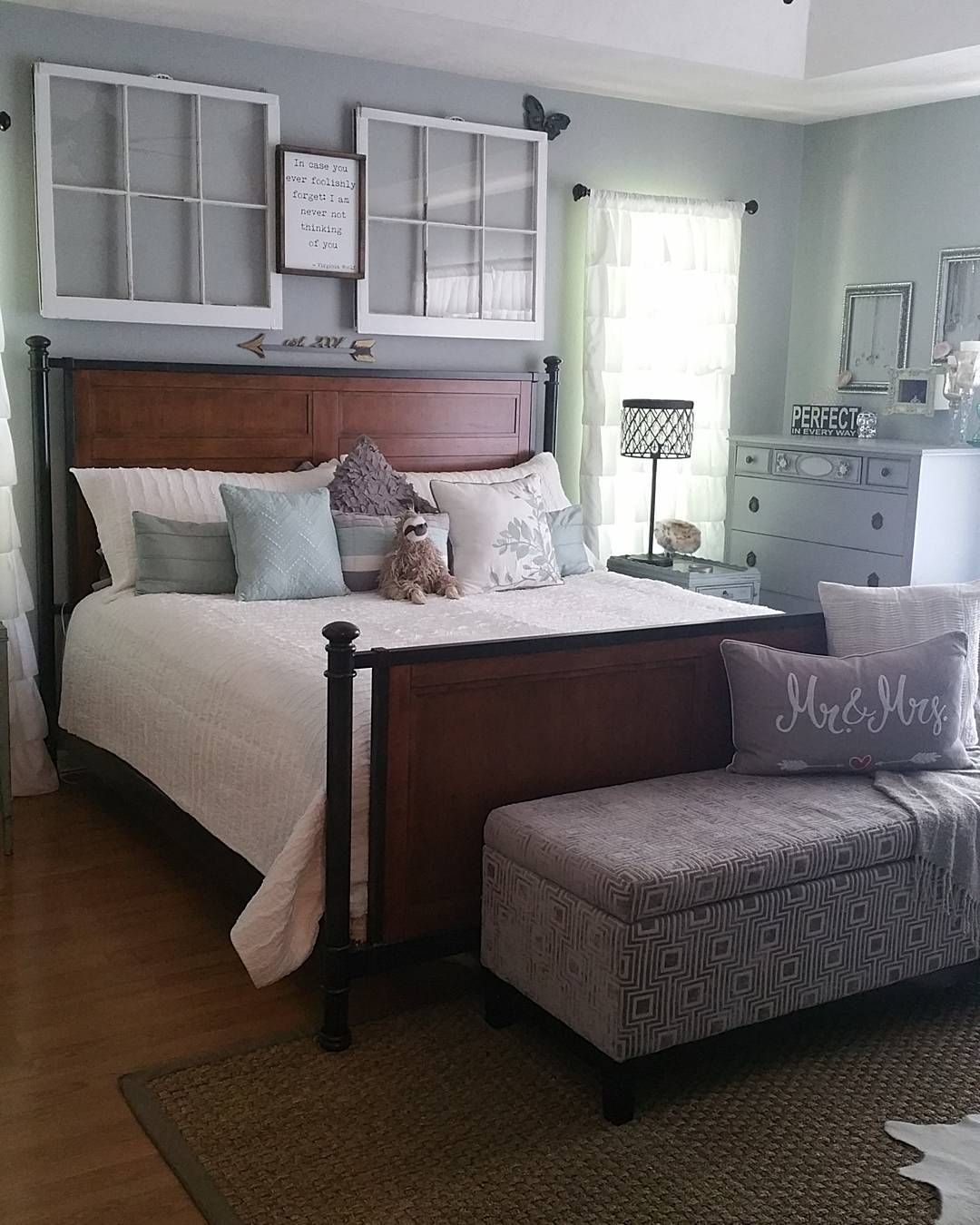 Does Lighting Affect Sherwin Williams Argos?
Like many other paint colors, lighting affects how Argos appears in a room. Rooms with northern exposure have no direct sunlight.
So, while the lighting may be bright, it has no warmth, and you may notice the paint looking a little cool because of the blue in it. The same applies to an east-facing room.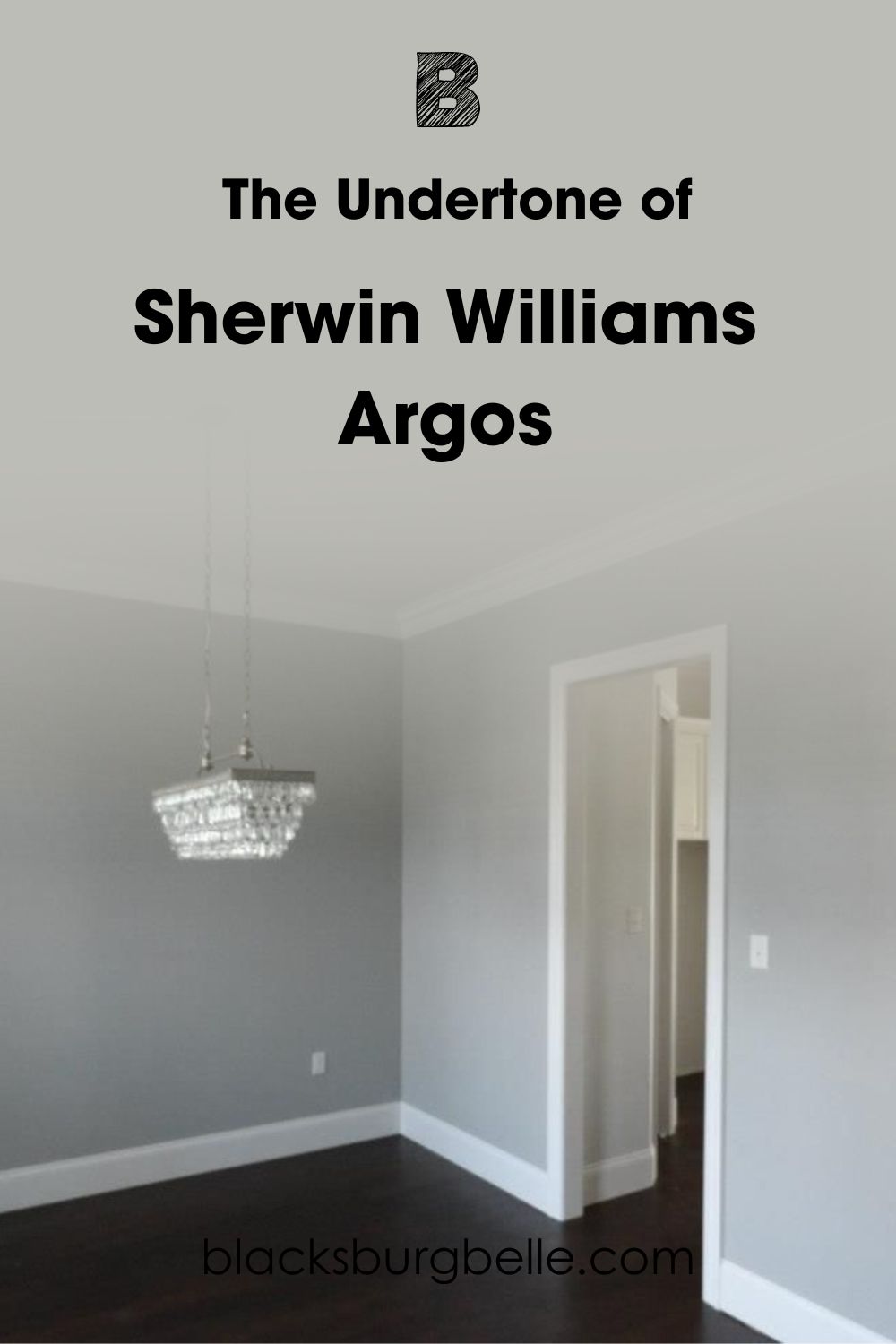 However, it never looks crisp or icy because it has a bit of green. And the color can turn warmer and brighter in a room with southern exposure because it has warm light. A room with western exposure may also make the paint color look a little warm.
Warm yellow artificial lighting can also transform the color, making it look different from when you use white artificial lighting. The next picture is Argos under white artificial lighting.
It looks very bright, almost like an off-white. Now, here is the same paint color under warm yellow artificial light. It seems more bodied and darker.
How Does Argos Feel in a Room?
Argos looks creamy and feels welcoming in a room. It gives a relaxing and laid-back vibe, making it ideal for any room where you want to unwind and let go of the day's stress. It doesn't overwhelm other colors, appearing soft and calm and allowing brighter colors to draw attention.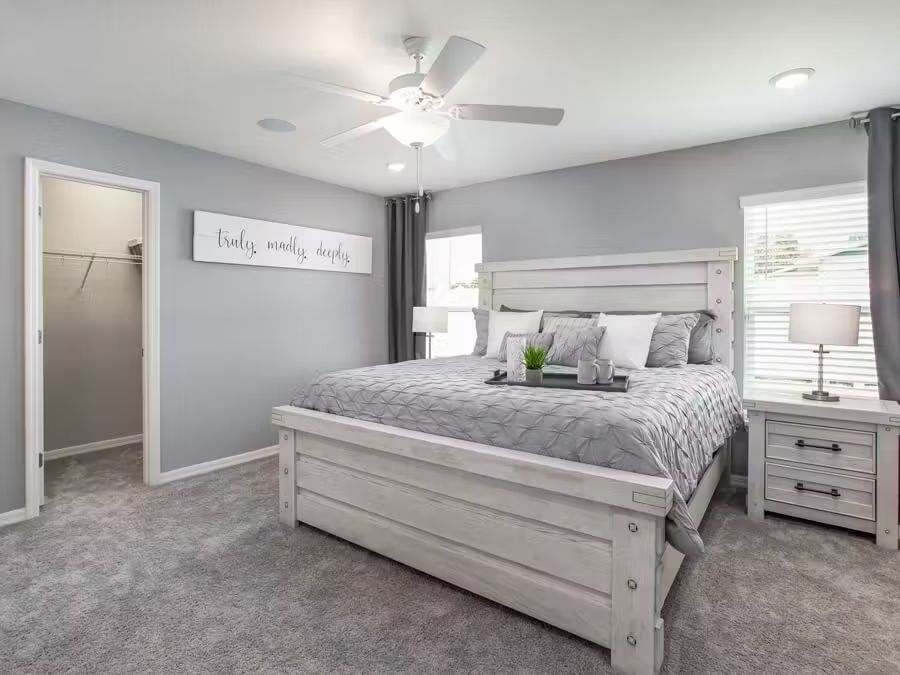 Sherwin Williams Argos: Warm or Cool?
Argos is not warm or cool but perfectly balanced. As I explained above, the tone you see depends on the room's exposure. While it has blue undertones, Argos also has a little green that keeps it from being entirely cool. In other words, it has warm and cool properties.
In warm light, Argos can bring a little warmth to the room. You won't notice the blue undertone, at least not immediately. But the blue undertone becomes obvious in cold light, making the paint color appear cool.
Sherwin Williams Argos Color Strip: Lighter to Darker Exploration
If Argos doesn't meet your neutral gray color needs, I have a few alternatives to offer. They come from the same color strip as Argos, but I arranged them from light to dark for easy reference.
Sherwin Williams Passive SW 7064
Sherwin Williams Argos SW 7065
Sherwin Williams Gray Matter SW 7066
Sherwin Williams Tin Lizzie SW 9163
Sherwin Williams Cityscape SW 7067
Sherwin Williams Argos Complementary Colors
Every color has another that complements it. The color wheel carefully arranges colors based on the relationships between them and how vibrant they appear together.
Complementary colors are opposite each other on the color wheel and cancel each other when mixed to create a grayscale color such as white or black.
Sherwin Williams Argos is a mid-tone gray, and grays don't technically appear on the color wheel. However, it is not a stark gray, so it has a complementary color, which is a blue-gray color slightly darker than Argos. Sherwin Williams Colonial Revival Gray SW 2832 is close to the shade.
Sherwin Williams Argos Coordinating Colors
These are colors that have similarities when paired in any color scheme. They may not have much in common at first glance, but they flow seamlessly to create a pleasing appearance. Coordinating colors can be any shade as long as they agree to some degree. Pale Moss, Tin Lizzie, and Nebulous White are coordinating colors for Argos.
Sherwin Williams Pale Moss SW 9027: A mid-tone yellow that throws a slightly green hint and complements the green in Argos.
Sherwin Williams Tin Lizzie SW 9163: A neutral and versatile gray, Tin Lizzie brightens the mid-tone Argos.
Sherwin Williams Nebulous White SW 7063: This cool white is the perfect trim color for Argos, especially because of its slightly blue undertone.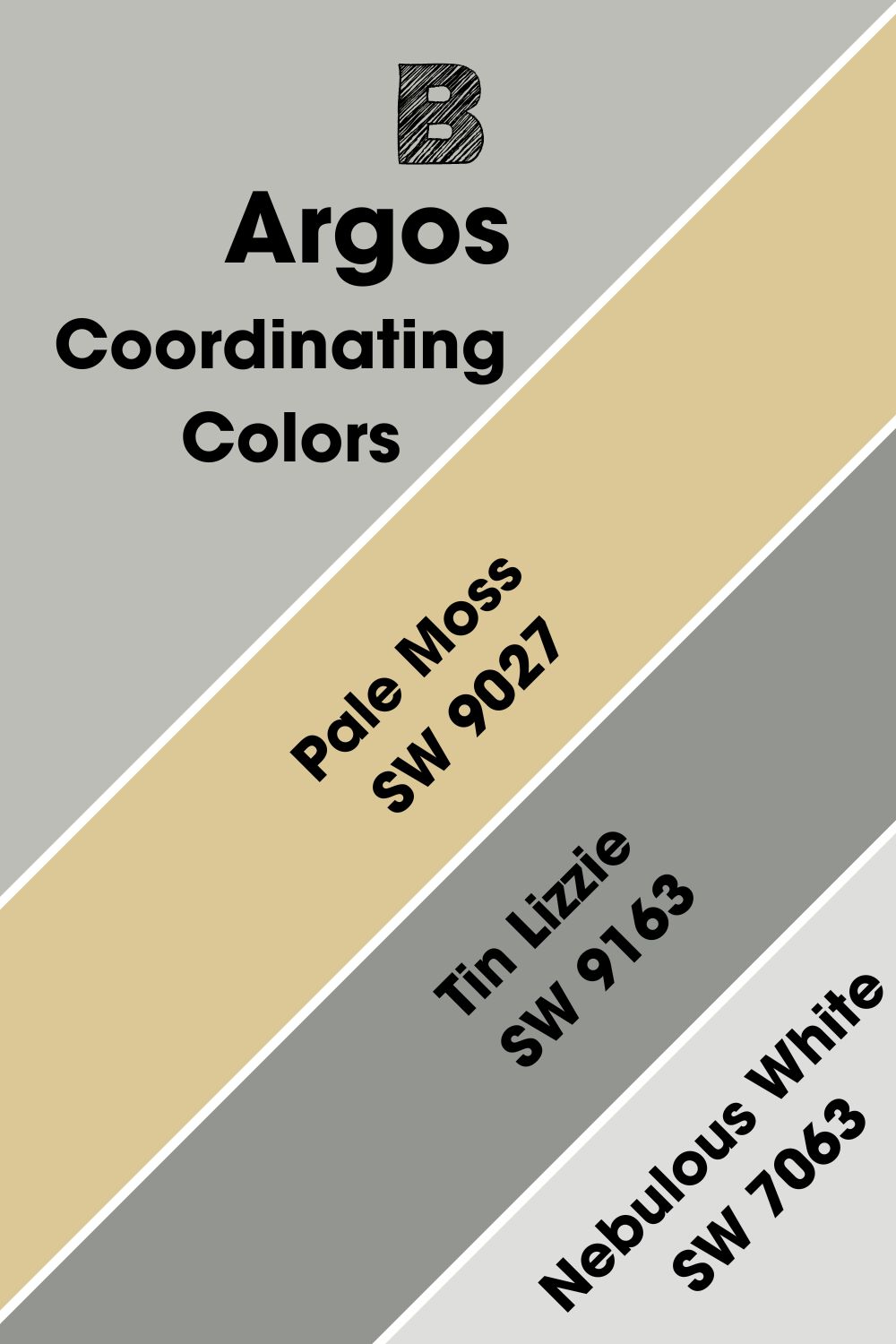 Sherwin Williams Argos Color Palettes
When you create the right palette, Argos can look spectacular. White and light gray are not the only colors that pair well with it. You will find that blues, greens, wood tones, and browns also complement this neutral paint color.
Contrasting Color Palette
Rock Candy SW 6231: A bright white with a cool blue undertone that works well as a ceiling or trim color when the walls are done in Argos.
Naval SW 6244: A cool navy blue shade with gray-green undertones that perfectly contrast with the much lighter Argos for a striking effect.
Natural Linen SW 9109: A warm beige that goes against the rest of the cool colors but blends with the neutral Argos.
Monochromatic Color Scheme
Cityscape SW 7067: A neutral paint color with a deeper shade than Argos, bringing out the lighter color's beauty.
Gray Matters SW 7066: A slightly darker shade of Argos that balances everything out when paired with Argos and other neutral colors.
Passive SW 7064: A much lighter gray neutral with a slightly blue tint that can work as a trim color for darker neutrals.
Coordinating Color Palette
Nebulous White SW 7063: This cool white is the perfect trim color for Argos, especially because of its slightly blue undertone.
Tin Lizzie SW 9163: A neutral and versatile gray, Tin Lizzie brightens the mid-tone Argos.
Pale Moss SW 9027: A mid-tone yellow that hints slightly green and complements Argos's green.
Sherwin Williams Argos vs Similar Colors
Are there colors that are similar to Sherwin Williams Argos? Only a few colors come close to this sweet shade of gray, although none is exactly its shade. Let's compare them to see how they perform side by side.
SW Silverpointe vs SW Argos
Silverpointe is much lighter and brighter than Argos, with an LRV of 64. It is also crisp because of its light shade with a hint of blue.
SW Passive vs SW Argos
Passive is a lighter shade of Argos, with an LRV of 60. It has the same blue undertone and is a perfect replacement for Argos if you want something lighter.
SW Silver Strand vs SW Argos
Silver Strand has an LRV of 5, making it lighter than Argos, with an LRV of 51. Both colors have a hint of green, so they can be interchangeable.
Benjamin Moore Paint Color Equivalent for Sherwin Williams Argos
You won't find an exact equivalent paint color to match Sherwin Williams Argos. This is because every paint color is unique, presenting a specific appearance in any decor.
However, some Benjamin Moore paint colors are pretty close to Argos, and Coventry Gray HC-169 is at the top of the list. La Paloma Gray 1551 is also close to this color.
Where Can You Use Sherwin Williams Argos?
You can use Sherwin-Williams Argos in any room because of its versatility. Try it in your bathroom, bedroom, living room, kitchen, on cabinets, and exterior walls. Let me show you some photos to boost your creativity.
Sherwin Williams Argos on Kitchen Cabinets
Give your cabinets some love with Argos. It looks creamy and pairs well with this kitchen's white and black walls.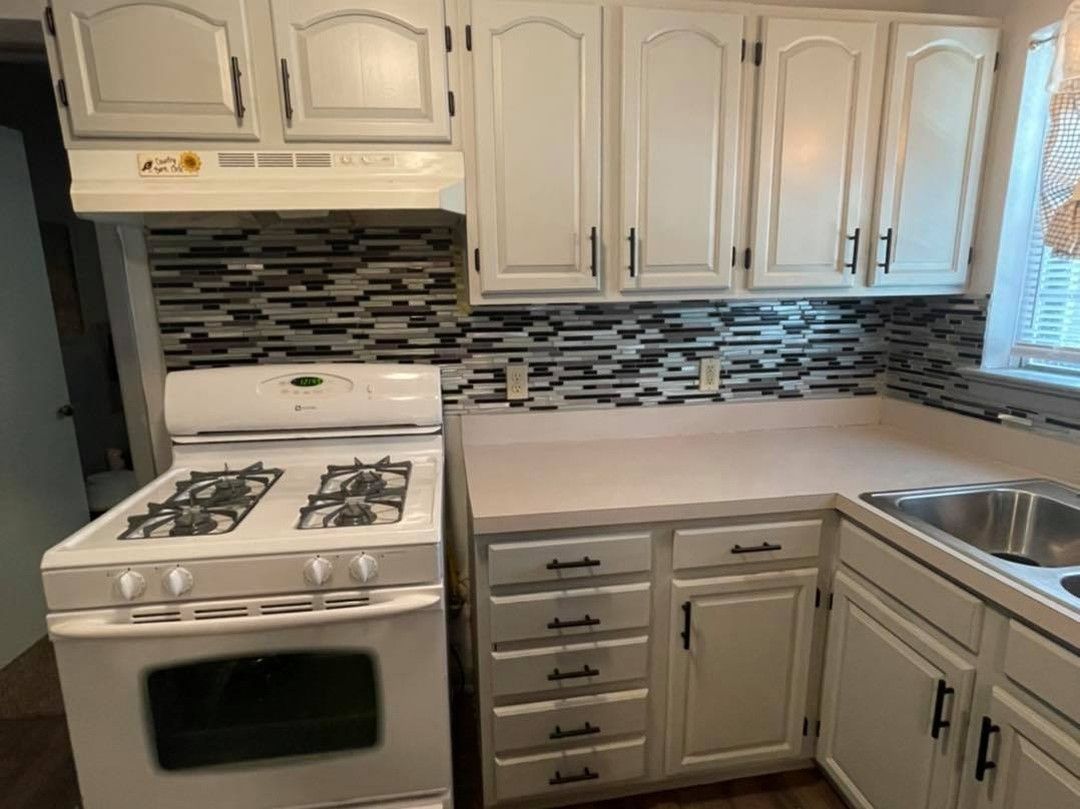 Sherwin Williams Argos in a Living Room
Whether you want to use splashes of colors or keep the color scheme neutral, Argos is the perfect backdrop for your living room.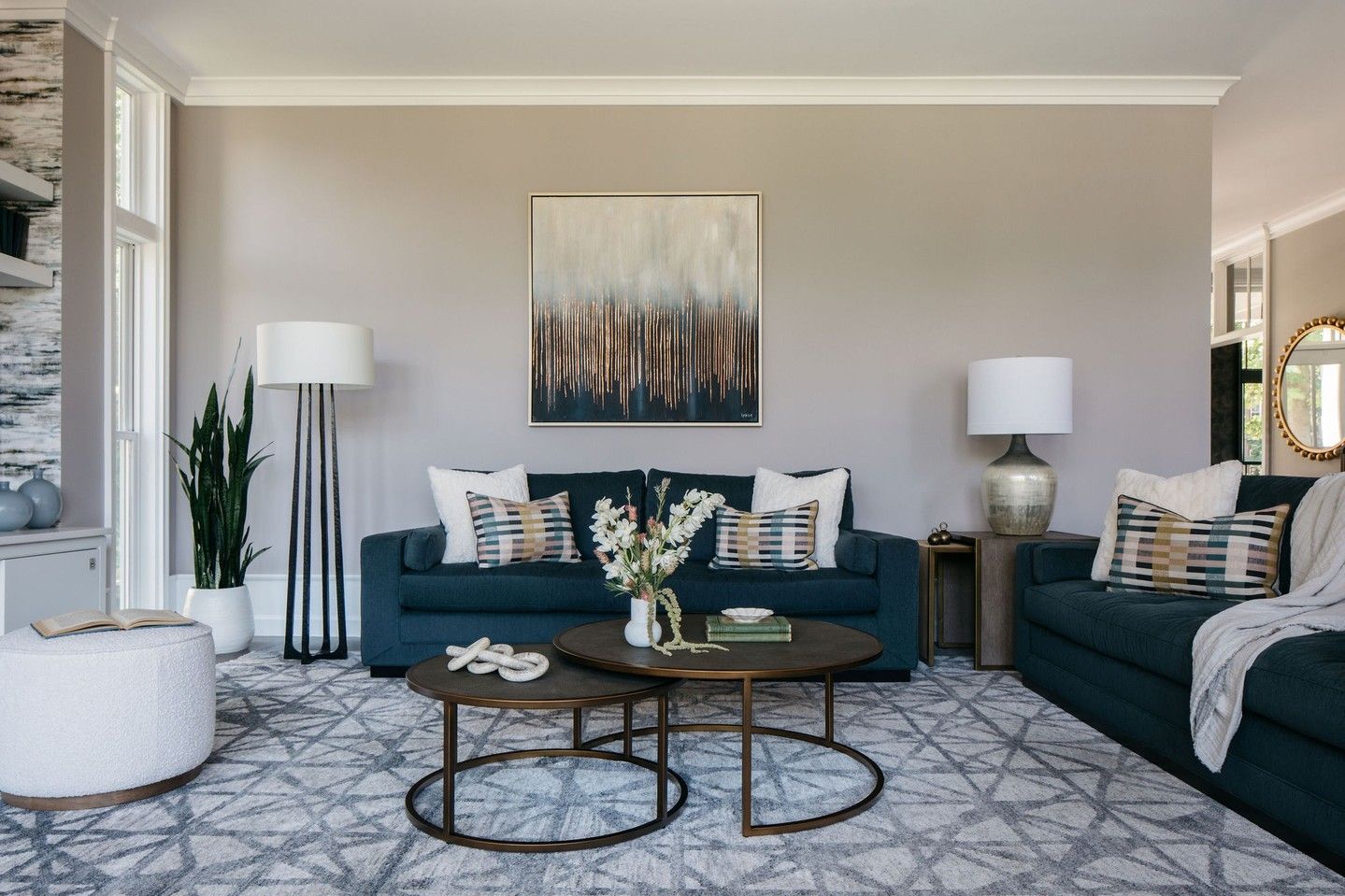 Sherwin Williams Argos on Trim
The fireplace trim and beams on the ceiling are painted with SW Argos. The same color is on the small shelves with double doors. Paired with the creamy white, the combination looks delicious.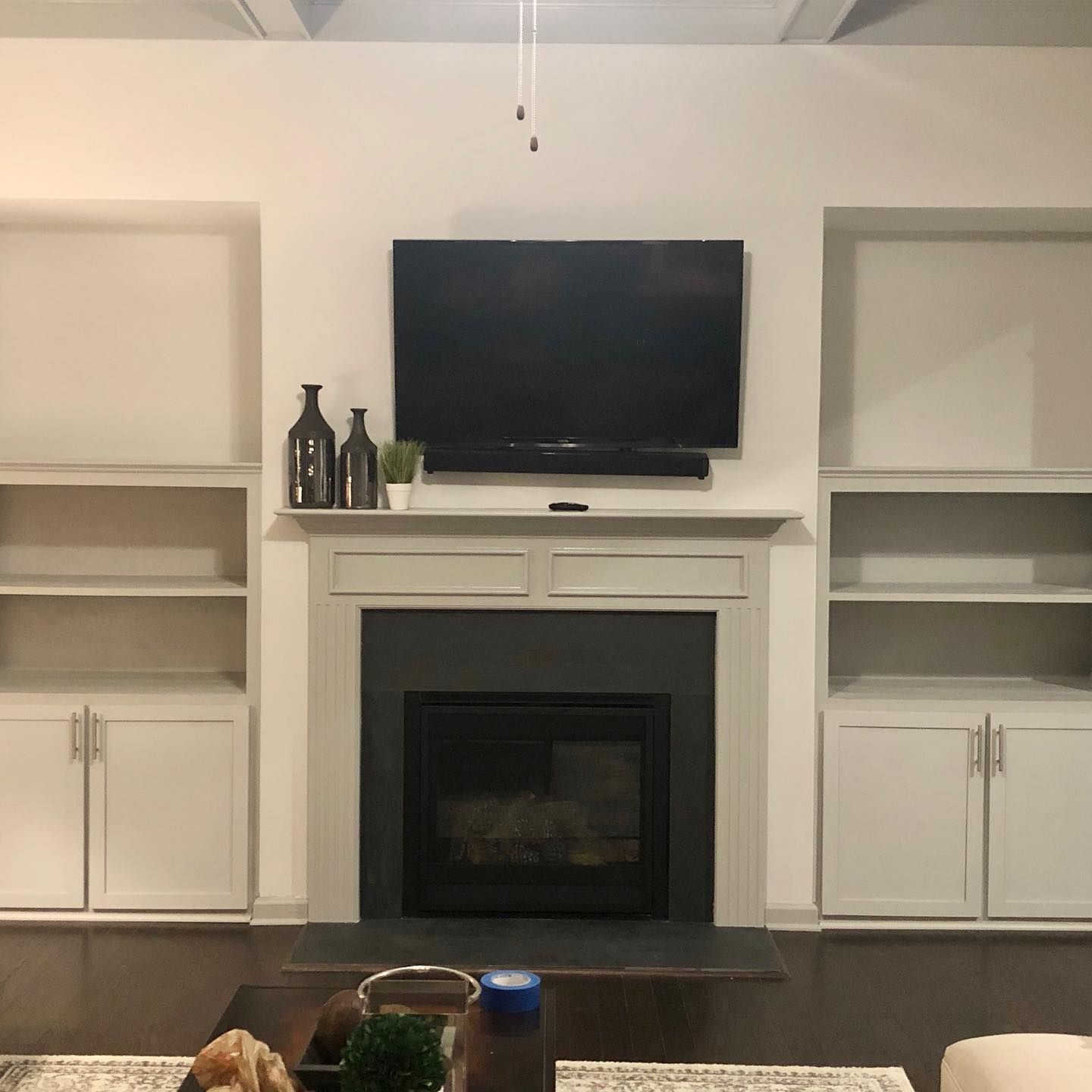 Sherwin Williams Argos in a Bedroom
Argos is one of the best paint colors to use in a bedroom. It allows you to use other colors around the room without overdoing the combination in the decor.
Best Trim Color for Sherwin Williams Argos Walls
White looks great with Argos because it deepens the color and doesn't clash with it. Use SW Pure White for the trim if you want a warm white or SW Nebulous White if a cool white is ideal.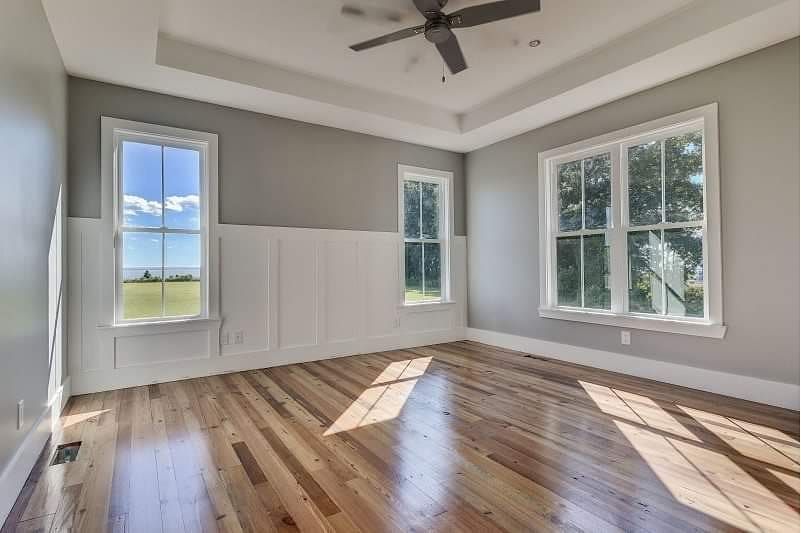 Sherwin Williams Argos on a Door
White is usually the first paint color choice for doors, and it is one of the best colors to use. However, gray is a great alternative, and Argos performs well in this aspect.
Sherwin Williams Argos in a Laundry Room
Laundry rooms are often neglected, and this can create a dingy look in the room. Use a color that attracts a fair amount of light, preferably a neutral that's not white. See how Argos performs in this space.
Best Ceiling Color for Sherwin Williams Argos Walls
I would choose white for the same reasons as the trim color. White pairs well with any color, so consider Pure White for the ceiling. Alternatively, try a pale gray shade if you want something different.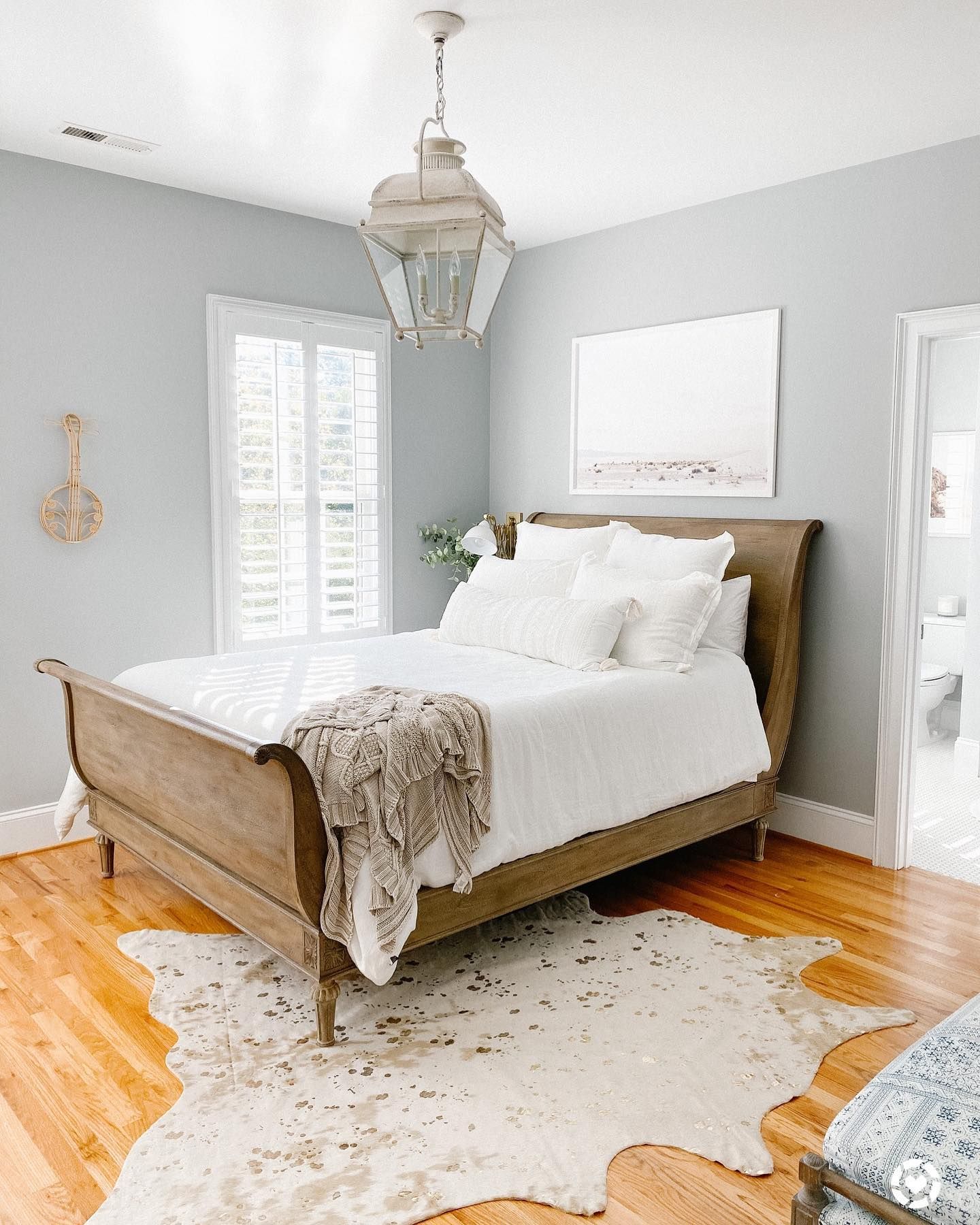 Sherwin Williams Argos in a Bathroom
This next photo makes me want to have a bathroom remodel. Everything is just right, including the walls painted in Argos by Sherwin Williams.
Sherwin Williams Argos in a Nursery
The nursery in this next picture proves that Argos is perfect for any room. Nurseries usually are painted in soft pastels, but a laid-back color like Argos changes everything.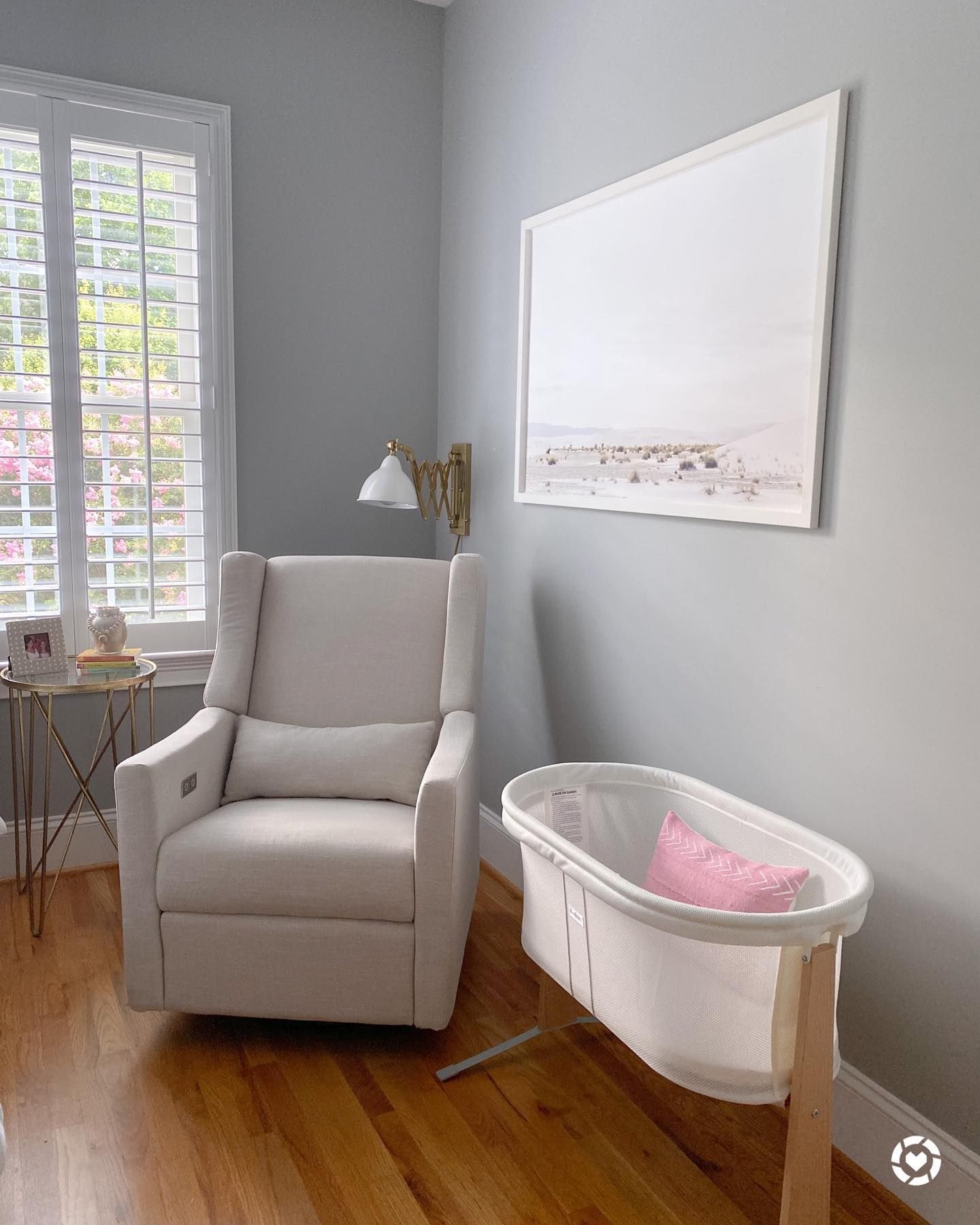 Sherwin Williams Argos with Various Colors
This bedroom holds different shades of blue, gold, and wood tones. The bright natural light also adds to the overall beauty of the room.
Best Cabinet Color for Sherwin Williams Argos Kitchen Walls
You can try a dark gray or navy blue to match the Argos walls. But white is still the best option; go for a warm or cool white for the best results.
Sherwin Williams Argos on Exterior Walls
When you pair Argos with a white trim color on the exterior of your house, you will love the gray color. It looks great whether or not there's direct sunlight and doesn't look washed out in bright light.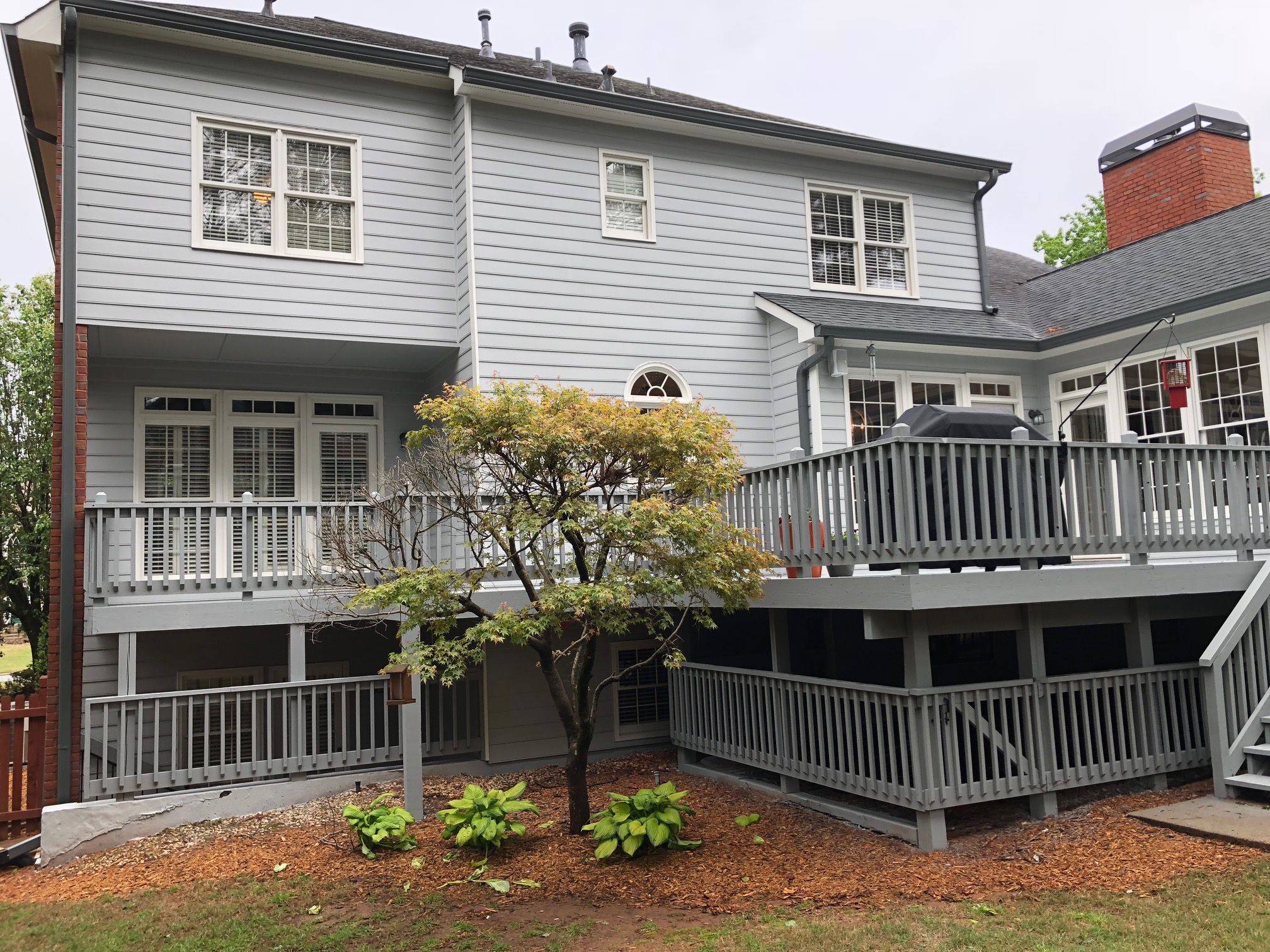 Final Words
Sherwin Williams Argos is a mid-tone gray neutral with slightly blue-green undertones. It has an LRV of 51, which means it reflects a fair amount of light. The paint color works well inside and outside the house as long as you know how to combine it with other colors.
Because it's neutral and versatile, Argos accommodates different colors and schemes. Warm and cool colors blend with it as the bridge. Use the color palette guide to determine the shades to choose if you are unsure of how to select colors.
I'm sure you're eager to see how this paint color works in your decor. Remember, I'm rooting for you, and share photos of your decor with me in the comments section. Happy painting!