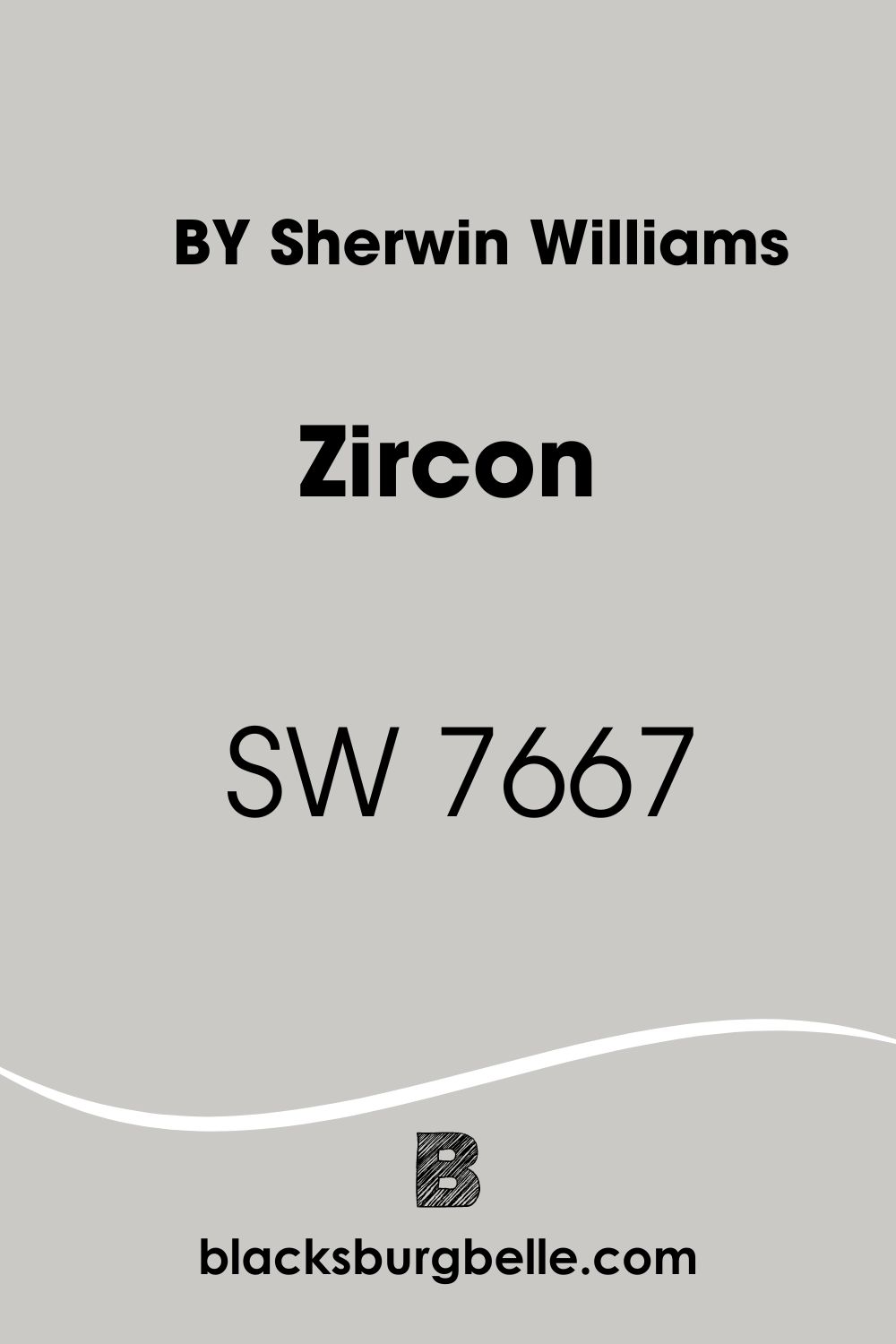 If you are looking for a soft and slightly cool gray, then this paint color from Sherwin Williams will likely be right up your alley!
In this review, I am looking at Sherwin Williams Zircon SW 7667, a light gray with a subtle purple undertone that really ups the softness of a space.
I personally love this paint color. For me, it's got everything that I want in a gray, gentle, light, and cool-toned but not too cold.
So, let's explore Sherwin Williams Zircon together!
When to Choose Sherwin Williams Zircon?
I have been doing a full deep-dive with this paint color to find out all I can about Sherwin Williams Zircon Gray for you in this paint color review. This has involved scouring the internet for the very best information and inspiration from other designers, as well as getting stuck in with a pot or two of this paint myself. So, here are my top tips for using Sherwin Williams Zircon SW 7667.
A True Shapeshifter
Although its undertone is a warm purple, Sherwin Williams Zircon can seem like an entirely different paint color depending on how it is used and the lighting in a space. In some areas, it can seem warm and almost have a warm glow about it, and in other spaces it leans into the cool gray to become bright and refreshing. It's always best to try this paint out to see how it could work for you in a scheme.
Brighter than it Seems
Despite being in the midtones with its LRV, Sherwin Williams Zircon is actually deceptively light. This means that it shouldn't be discounted in larger spaces where you might be apprehensive about using a dark shade. Sherwin Williams Zircon also thrives in natural light, making a room feel bright and refreshed.
A Great Supporting Actor
Although Sherwin Williams looks amazingly when used as the main color across a space, it's also perfectly happy to let other colors take center stage. This means if you are looking for an accent color to go with a statement feature wall or piece of furniture, then Sherwin Williams Zircon could be a great choice. It's able to work with both warm and cool colors, too, so treat it like a trusty friend for your design dilemmas.
Very Versatile
Although it is a cool-toned color, Sherwin Williams Zircon toes the line of this and as a result, this has granted it some amazing versatility when used with a variety of colors and shades. It can make for the perfect partner for warm and cool colors, light tones, and even the most saturated of paint colors!
Chilled-Out Vibes
With its soothing purple undertone, Sherwin Williams Zircon is perfect for creating chilled-out vibes in a space for you. This means it is ideal for bedrooms, nurseries, living rooms, and basically anywhere that you want to kick back and relax!
Of course, this is only the beginning when it comes to how Sherwin Williams Zircon SW 7667, and I have a lot more to show you in this paint color review! So, sit back and relax as I take you on a color journey with Sherwin Williams Zircon.
What Color Is Sherwin Williams Zircon?
Sherwin Williams Zircon SW 7667 is a light gray color with a purple undertone to it. But, why would Sherwin Williams want to name it Zircon? I think I have the answer for you.
Zircons are transparent crystals that can come in a whole host of colors, although I think the inspiration behind the name "Zircon" actually comes from a metal named Zirconium. It is a shiny silver-gray metal, which fits perfectly with the gray hue of Sherwin Williams Zircon. For an idea of what I mean, take a look at this image below.
See how this chemical element has a luster to it that is akin to that of Sherwin Williams Zircon? If you look closely, you can see the subtle purple notes, too.
Snapshot of Sherwin Williams Zircon Specifications
I know some of you need a bit more information than me just describing what this color looks like. If I am describing you, then you might find this table below helpful!
Sherwin Williams Zircon SW 7667
RGB
R: 202 G: 201 B: 198
Hex Value
#CAC9C6
LRV
59
Undertones
Purple
The LRV of Sherwin Williams Zircon
For those unfamiliar with the term, LRV simply means Light Reflective Value. It's used to measure how much light a color reflects. The scale goes from 0 to 100, with a true black being 0, meaning it reflects no light, and a pure white being 100 with the maximum reflectiveness.
When it comes down to it, no color is truly black, or white. There is always some sort of pigmentation due to the manufacturing process and just general everyday life! As a result of this, paint is measured using LRV values between 2.5 and 94.
The LRV of Sherwin Williams Zircon is 59. This puts it on the lighter end of the scale, but if you expect it to be more off-white, you'd be very much mistaken! One of the best ways to describe it would be a mid-tone gray.
Undertones of Sherwin Willams Zircon
I know I mentioned it earlier and praised how it helps it to be soft and calming, but the undertone of Sherwin Williams Zircon is purple. While I see this as more of a reddish mauve, others see the purple as being more blue thanks to the cool nature of this paint.
I'll let you make your own mind up by taking a look at this picture below.
The shifting gradient provided by the lighting levels in this photo helps you to be able to see how the different levels of Sherwin Williams Zircon come through. I can definitely see the cooler blue notes towards the top, but as it mellows out in the brighter light that softer purple I was telling you above takes the spotlight.
Is Sherwin Williams Zircon Too Dark to Use as a Main House Color?
With an LRV of 59, you may be wondering whether although it is a neutral paint color, if Sherwin Williams Zircon SW 7667 might end up being too dark to use as an overall color for your home.
Although the LRV number might seem discouraging, I am happy to let you know that Sherwin Williams Zircon isn't too dark, and is deceptively bright for its LRV number! To give you some reassurance, take a look at this photo below.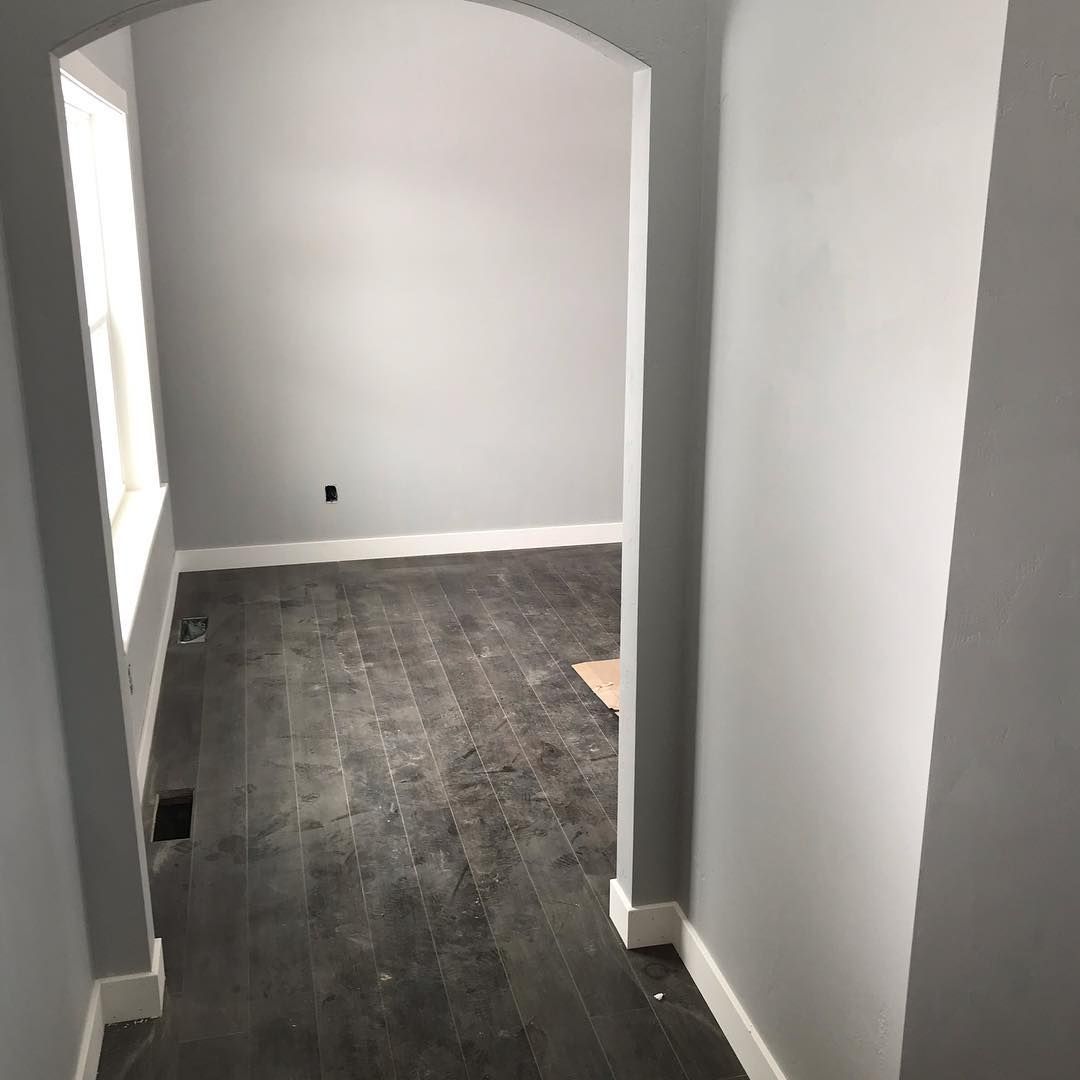 Here you can see that Sherwin Williams Zircon is a very light gray. Even the areas that pick up shadows around the doorway don't look all that dark.
Hopefully, this helps to instill some confidence in how amazing this paint color can be for a space!
Sherwin Williams Zircon is Warm or Cool Color?
Gray paint colors can often lean either way, but Sherwin Williams Zircon is a cool-toned color. That being said, it is far from being the coolest color out there, which helps it retain its neutral status and its ability to be used in lots of different ways in your home.
Cool-toned colors are great for creating an atmosphere of tranquility and relaxation, and that's certainly the vibe that I get from Sherwin Williams Zircon SW 7667.
Sherwin Williams Zircon Color Strip: Lighter or Darker Exploration
It might be that Sherwin Williams Zircon ends up being just a little bit too light or too dark for the project that you have in mind, but you still love what this color has to offer. If this is the case, then don't worry! I have taken a look through the Sherwin Williams paint catalog to find similar colors for you. My list below runs from light to dark with Sherwin Williams Zircon in the middle for a measure.
Sherwin Williams Fleur De Sel SW 7666
Sherwin Williams On the Rocks SW 7671
Sherwin Williams Zircon SW 7667
Sherwin Williams Knitting Needles SW 7672
Sherwin Williams March Wind SW 7668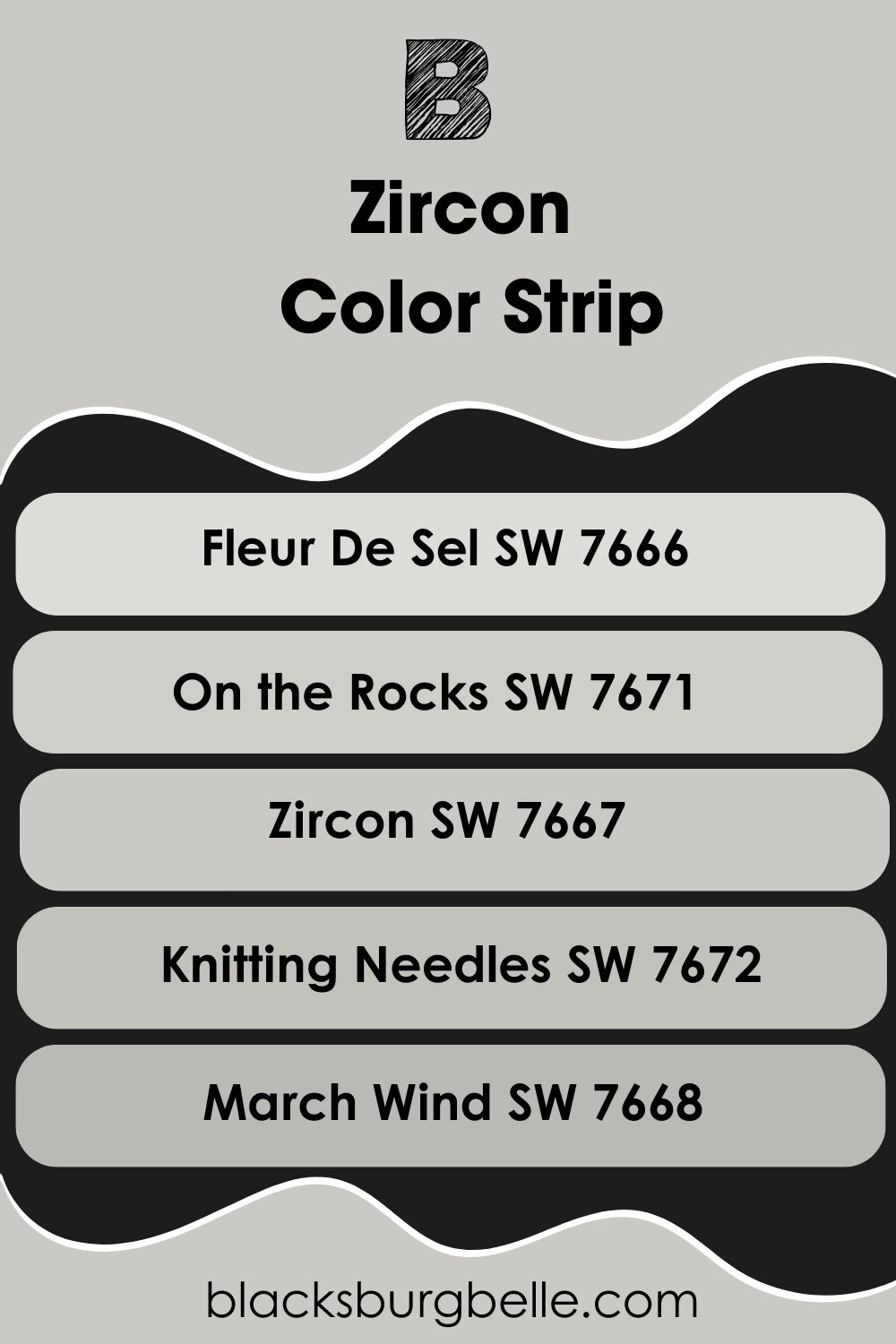 Sherwin Williams Zircon Complementary Colors
Going forward, you may want to think about what paint colors you are going to pair with Sherwin Williams Zircon. A great way to start is to find the complementary color.
This is the color that is on the opposite side of the color wheel and an equal distance away from the original color. The complementary color is usually a contrast to the qualities of the original paint color, but in a way that often looks appealing rather than being a clash.
If this sounds tricky to find, I have gone ahead and found the complementary color for you. In the case of Sherwin Williams Zircon, this is a much cooler gray with blue undertones.
A great paint to match this from Sherwin Williams is Evening Shadow SW 7662.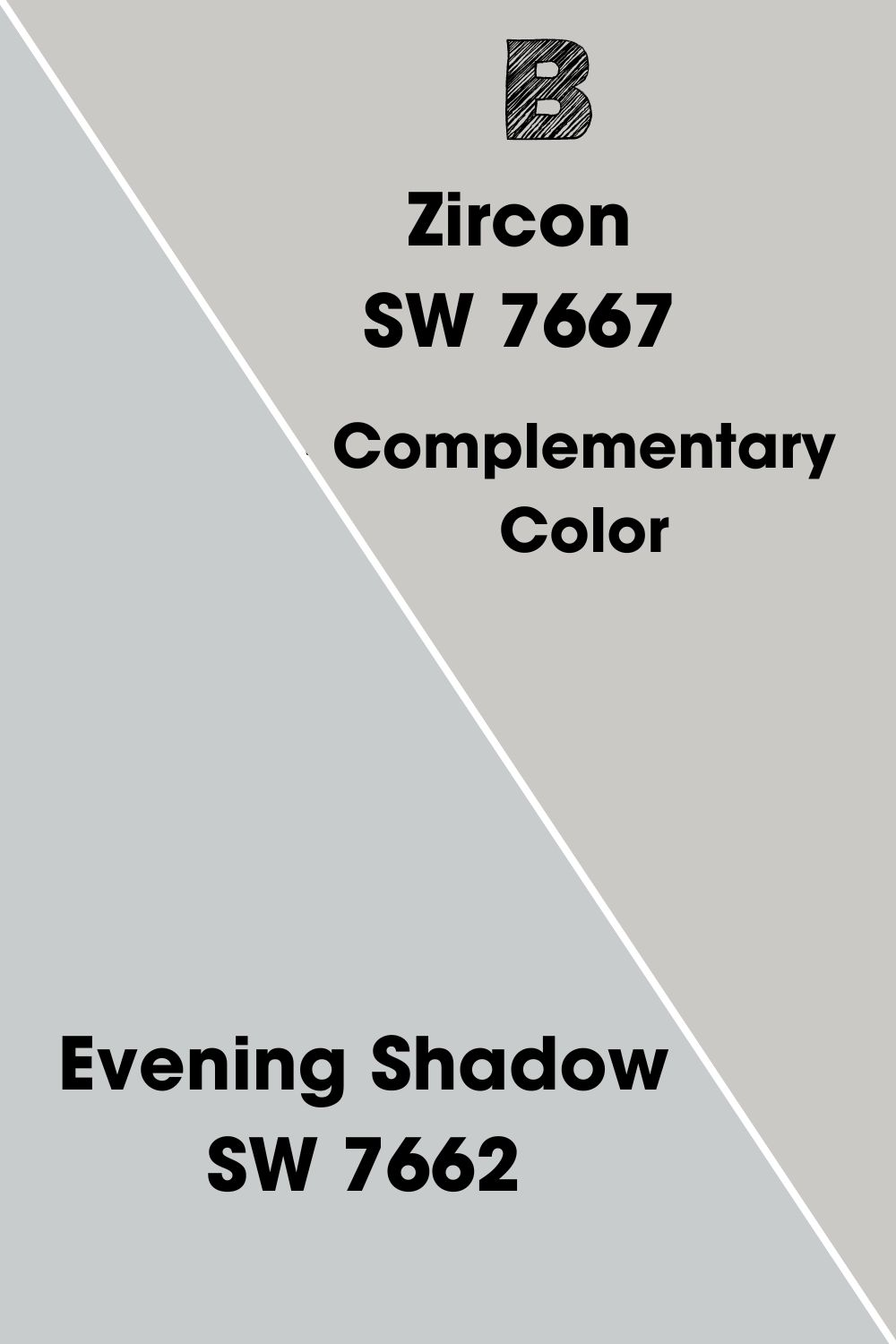 Sherwin Williams Zircon Coordinating Colors
If you don't want to go for a contrast, the more harmonious nature of coordinating colors might be something you may want to consider. These colors often have similar qualities to the original paint color helping you to create cohesion in a space.
You can find my top 3 coordinating colors for Sherwin Williams Zircon SW 7667 below.
Sherwin Williams Extra White SW 7006: This crisp and cool white picks up on the cool tones within Sherwin Williams Zircon. This paint color works fantastically as a trim or ceiling color to really make Zircon pop.
Sherwin Williams Summit Gray SW 7669: This dark gray with its purple undertone is the perfect partner for Sherwin Williams Zircon, especially in a monochromatic scheme.
Sherwin Williams Grapy SW 7629: This purple-gray picks up on the undertones of Zircon and helps you add a splash of more color and warmth.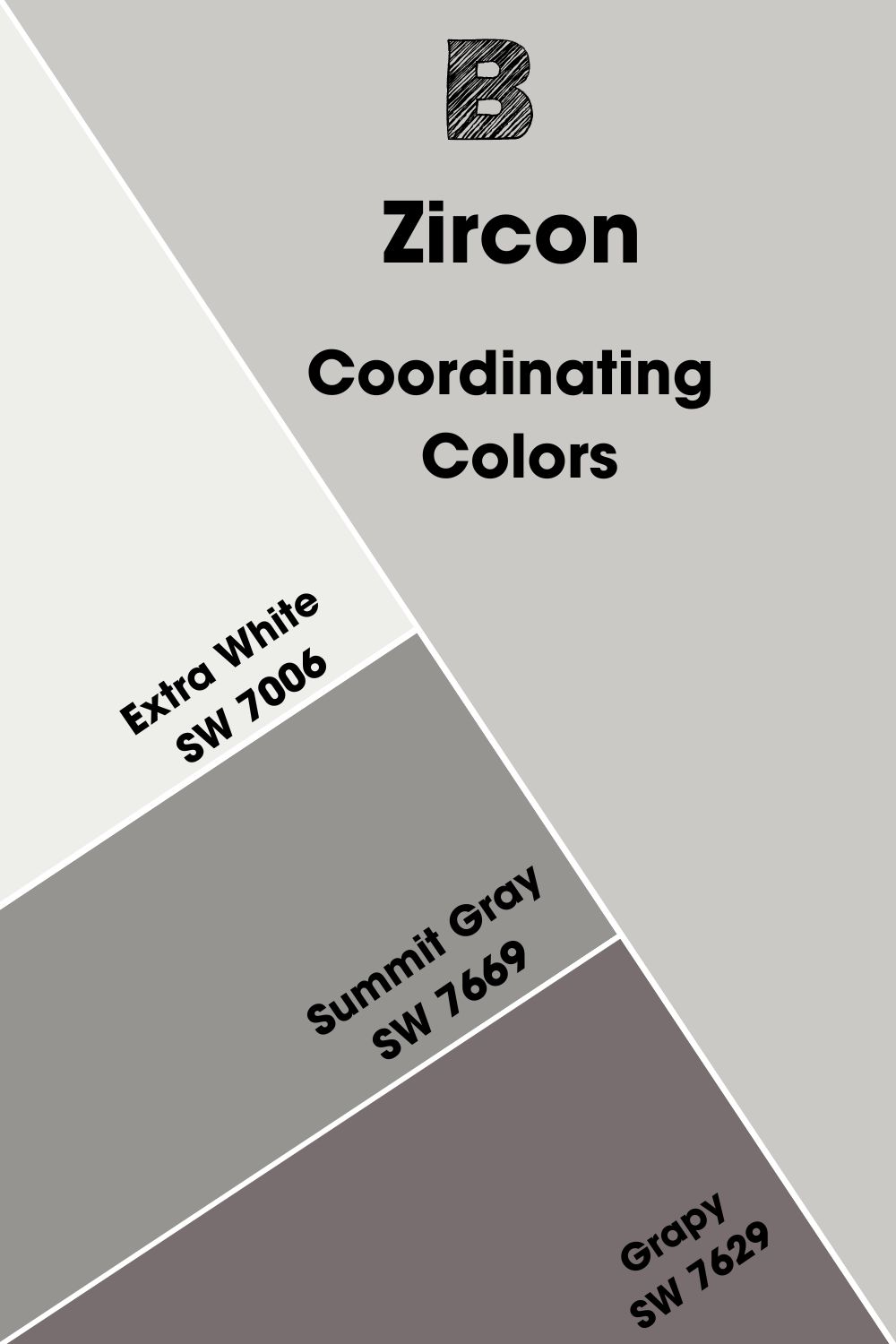 Sherwin Williams Zircon Color Palettes
Let's keep our color journey going with a few color palettes that work amazingly with Sherwin Williams Zircon. All of these paint colors are from Sherwin Williams, and all of them have something different to offer when you pair them with Zircon.
Contrasting Color Palette
Sherwin Williams Moscow Midnight SW 9142:This deep and cool blue with green undertones is the perfect antithesis to Sherwin Williams Zircon. It makes for an eye-catching feature wall or a way to spice up your furniture.
Sherwin Williams Evening Shadow SW 7662:The complementary color to Zircon, Evening Shadow picks up on the blue notes within Moscow Midnight while providing a pleasing contrast to Zircon.
Sherwin Williams Pure White SW 7005:While the rest of the colors in this palette lean on the cool side, finishing up with a color like Pure White with its slight warmth on ceilings and trim is never a bad choice.
Coordinating Color Palette
Sherwin Williams Grape Harvest SW 6285:This rich purple loves to work with the purple undertones in Sherwin Williams Zircon. It can also be a fantastic way to help bring in warmer wood tones into your scheme.
Sherwin Williams Ibis White SW 7000:This warm and bright white has a violet undertone that complements perfectly with Zircon and Grape Harvest.
Sherwin Williams Majestic Purple SW 6545: This dark purple picks up on the cooler tones within Zircon thanks to it leaning on the bluer side, while lending itself to the overall purple theme of this palette.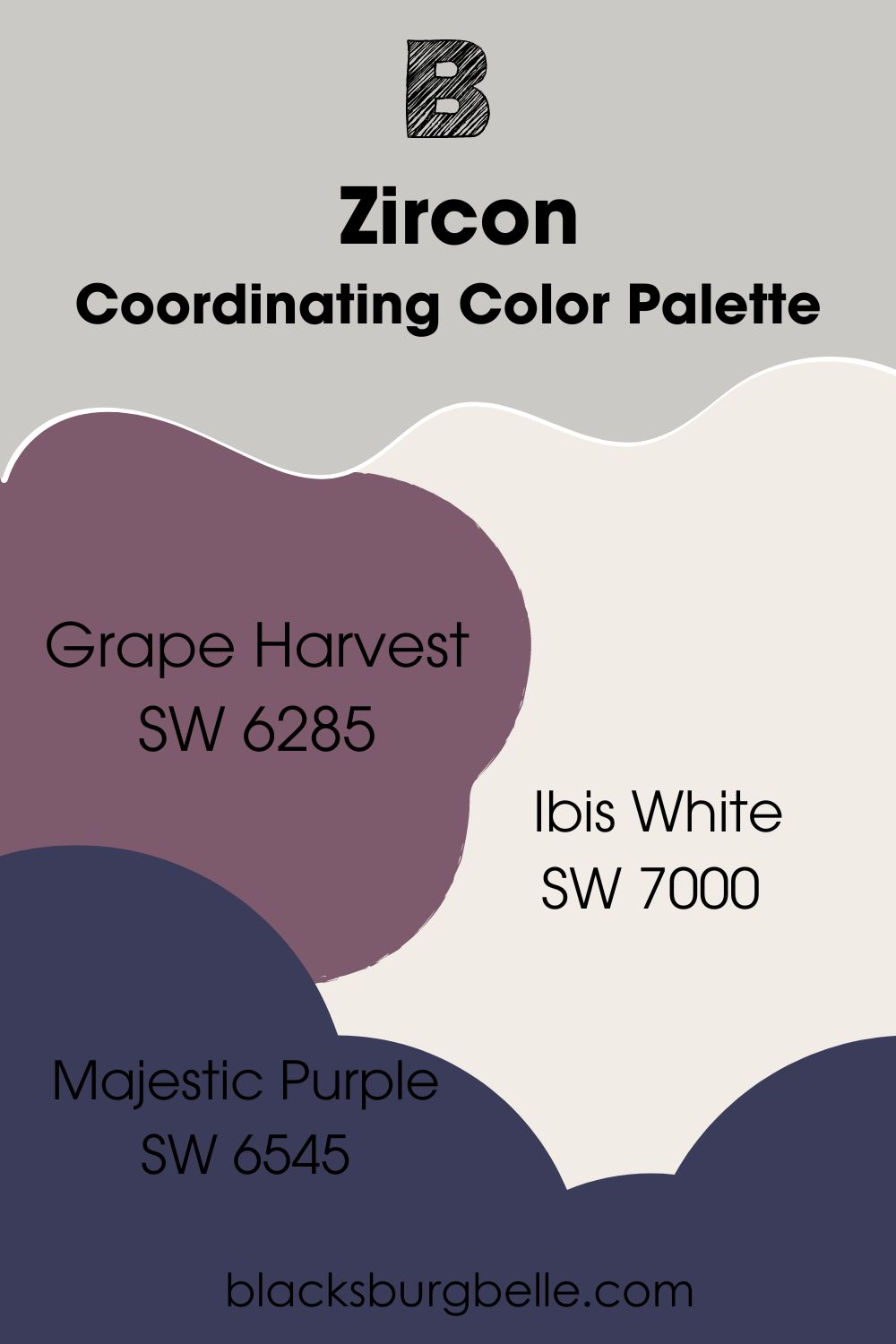 Monochromatic Color Palette
Sherwin Williams Cloak Gray SW 6278: This dark purple gray makes for a great backdrop for the other colors in this scheme. Consider using it as a feature wall or as an outside trim or door color.
Sherwin Williams Mystical Shade SW 6276:This color is just as magical as its name sounds, providing a subtle purple-gray that blurs the line between warm and cool.
Sherwin Williams Snowbound SW 7004:This white has a cool gray undertone, helping it to mesh with the other grays in this palette. Use it as a trim, ceiling, or cabinet color to help the other paint colors pop.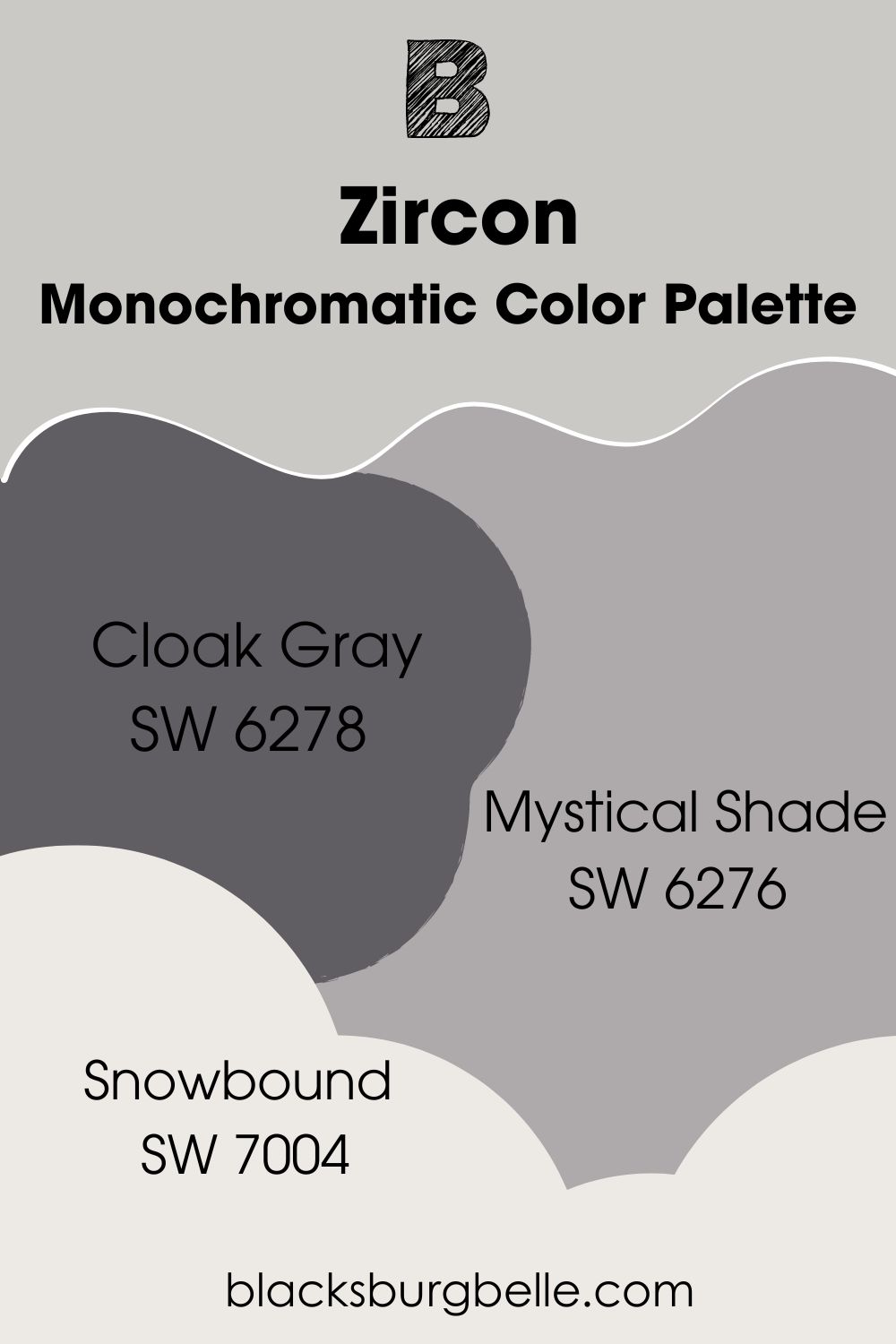 Sherwin Williams Zircon Benjamin Moore Equivalent
If you like Sherwin Williams Zircon but just wish it was in a Benjamin Moore paint tin then I have you covered! I've had a look through the Benjamin Moore paint catalog and although there isn't an exact match to Sherwin Williams Zircon I have managed to find a paint color that is incredibly similar.
The Benjamin Moore equivalent to Sherwin Williams Zircon is Metro Gray. There isn't much difference in these two paints that I need to warn you about, in fact, the main thing I can spot is that the LRV for Benjamin Moore Metro Gray 1459 is just 0.5 lower! That's definitely not enough to make a huge difference or even one that is noticeable at all.
That means you can happily use Benjamin Moore Metro Gray and get all the benefits of Sherwin Williams Zircon SW 7667.
Where Can You Use Sherwin Williams Zircon SW 7667?
Sherwin Williams Zircon Open Living Space
Thanks to the light nature of this neutral paint color, it's a fantastic choice for use across an open-plan living space. In this example below you can see how Sherwin Williams Zircon SW 7667 is able to mesh with the different colors and textures in each corner of this space.
Not only that but although it is leaning more into its cool tone here, the room doesn't feel too cold and instead has an invigorating feel about it.
So, instead of going for a safe white paint color across the main body of your home's interior, shake things up with Sherwin Williams Zircon.
Sherwin Williams Zircon Living Room
This next inspiration picture is a bit more of a close-up, but it helps to illustrate how Sherwin Williams Zircon works as a living room color. It has a really soothing feel about it, and I love how it makes the red armchair in the center not feel out of place at all despite both colors being so starkly different.
Sherwin Williams Zircon Dining Room
Sherwin Williams Zircon SW 7667 also makes a fantastic choice for your dining room as a neutral but calming backdrop to your meals and dinner parties. Another thing to notice about this room is how Sherwin Williams Zircon is such a shapeshifter, while in the previous examples, it has leaned into the cool gray tones, here the warmer purple undertone is easily visible!
This dining room also shows how a more monochromatic and neutral scheme with Sherwin Willaims Zircon can be just as effective as pairing it with a splash of color.
Sherwin Williams Zircon Entryway
Make a great first impression for anyone entering your home by using Sherwin Williams Zircon in your entryway or hallway. Its soft tones will help any guest to feel at ease and also provide a timeless feel to the space meaning that you can easily switch up the look without having to repaint it all.
Sherwin Williams Zircon Nursery
This really calming gray makes the perfect choice for a little one's room. Because it is neutral, it's perfect for prepping even when you don't know what your bundle of joy will be, and it works perfectly with pale pink, blue, and yellow accessories.
This room below is for a little girl, but you can easily imagine what it would be like with the colors swapped out a little.
It bears remembering though, although this color has soothing vibes, whether your baby sleeps through the night or not is completely unrelated!
Sherwin Williams Zircon Bathroom
Sherwin Williams Zircon works amazingly in bathrooms too, especially those with white cabinetry and white or light gray tiling.
This example of a bathroom also highlights the way that Sherwin Williams Zircon SW 7667 works with warmer metallic notes, helping them to really pop. You'd be lying if your eyes didn't immediately get drawn to the bronze mirror and faucet in this picture!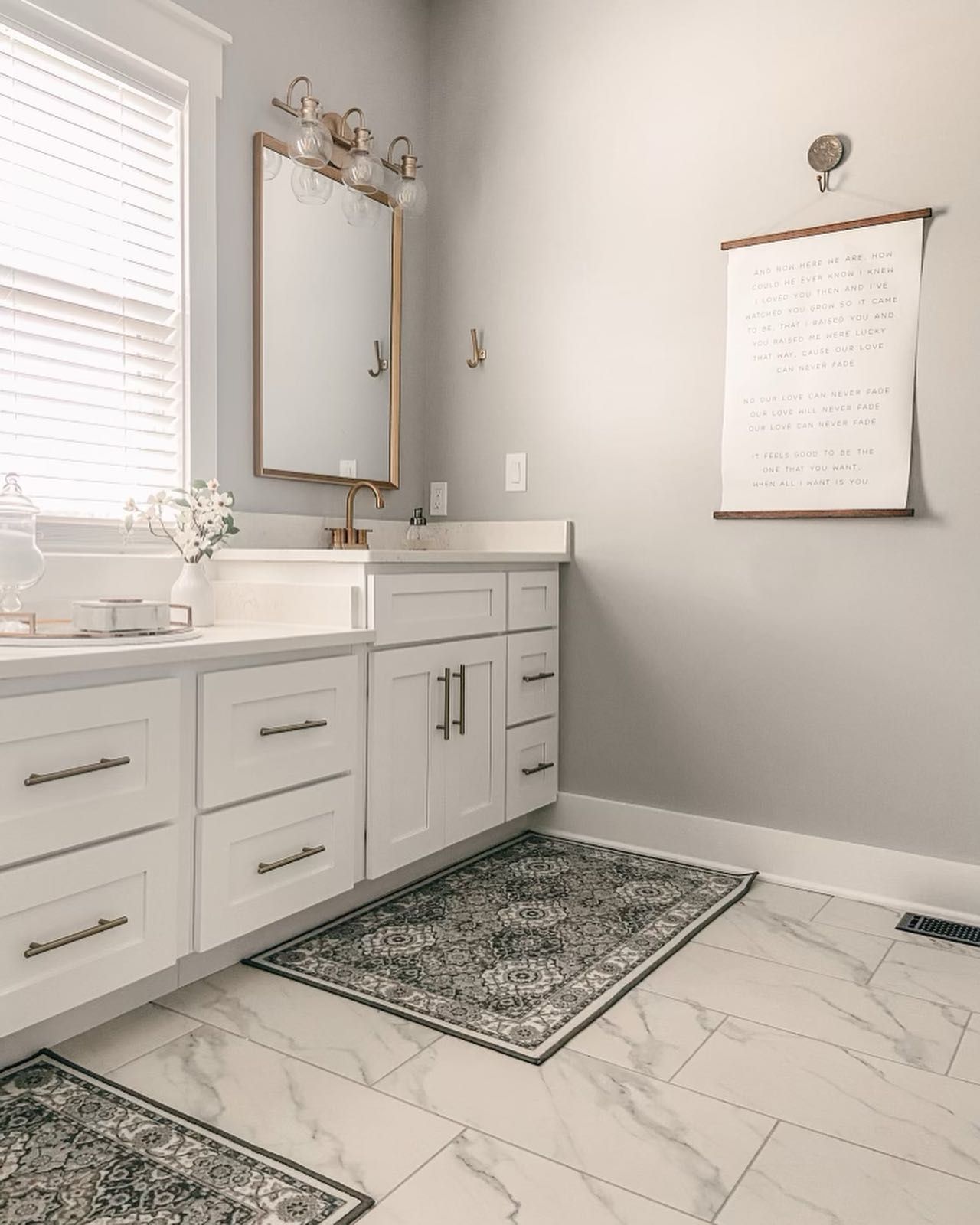 Sherwin Williams Zircon Breakfast Nook
For a bit of tranquility when enjoying your morning coffee, you really can't go wrong with Sherwin Williams Zircon. This paint color sets the perfect backdrop without ending up feeling like too dark of a corner in your space.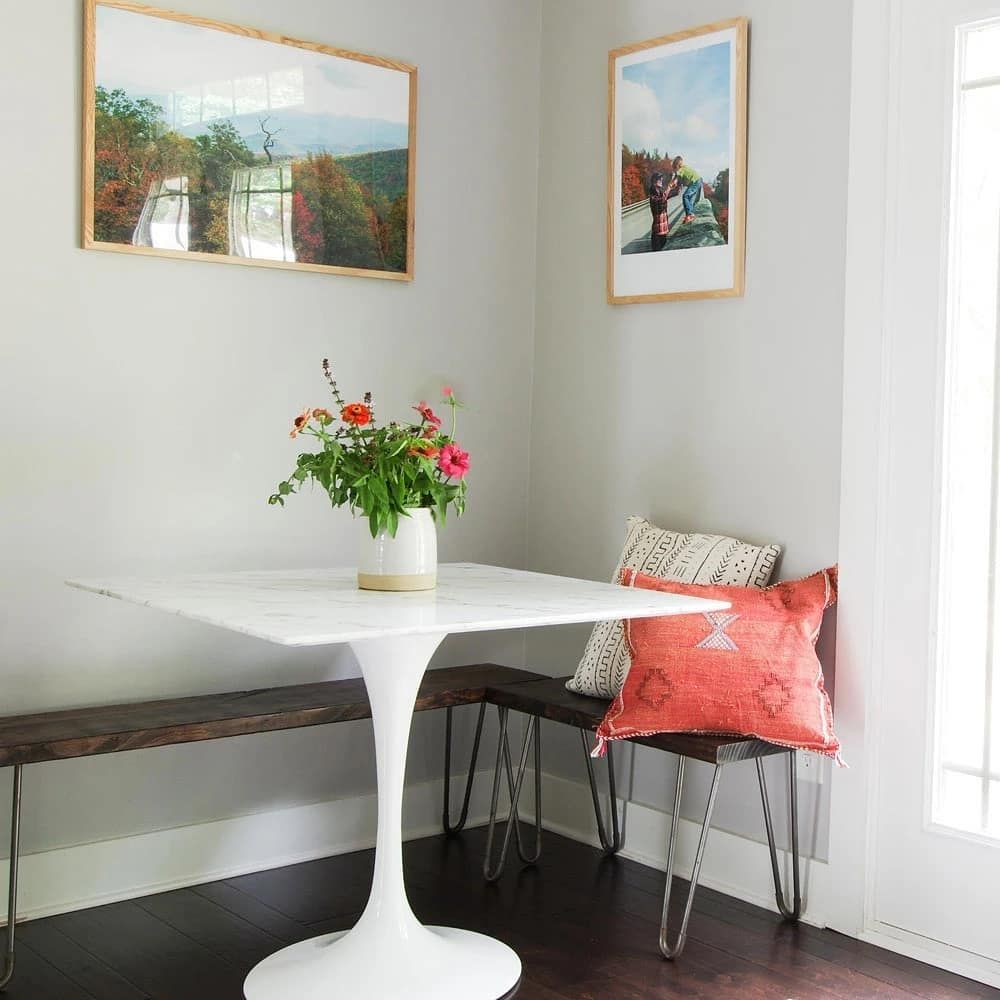 Sherwin Williams Zircon Bedroom
Don't just reserve Sherwin Williams Zircon for the kids' room, it works beautifully for a master bedroom too. Here it allows the wooden headboard to take center stage, but that is completely OK. The beauty of Sherwin Williams Zircon is the fact that it is a great background player to stronger hues, yet still lends something in its own right thanks to its calming vibes.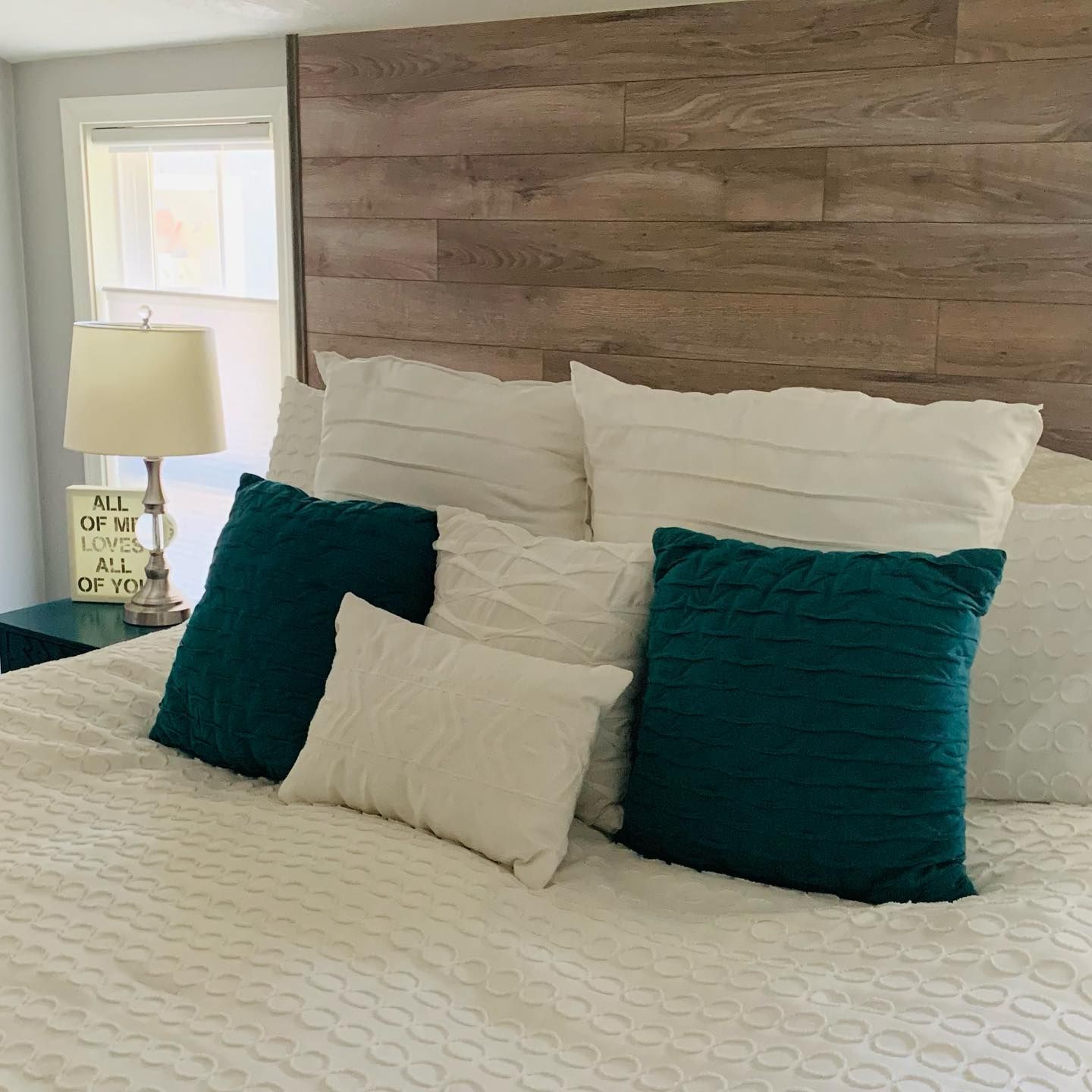 Conclusion
So, if you are looking for a tranquil gray that can do almost anything you ask of it, from brightening a space, complementing and boosting other colors, to being a true undertone chameleon, then Sherwin Williams Zircon SW 7667 is definitely the way you want to go!
I adore the way that this paint color defies all expectations, elevating itself above being just a typical gray to be a real home hero.
Don't just take my word for it though, go out there and pick up a sample pot of Sherwin Williams Zircon SW 7667 to try.