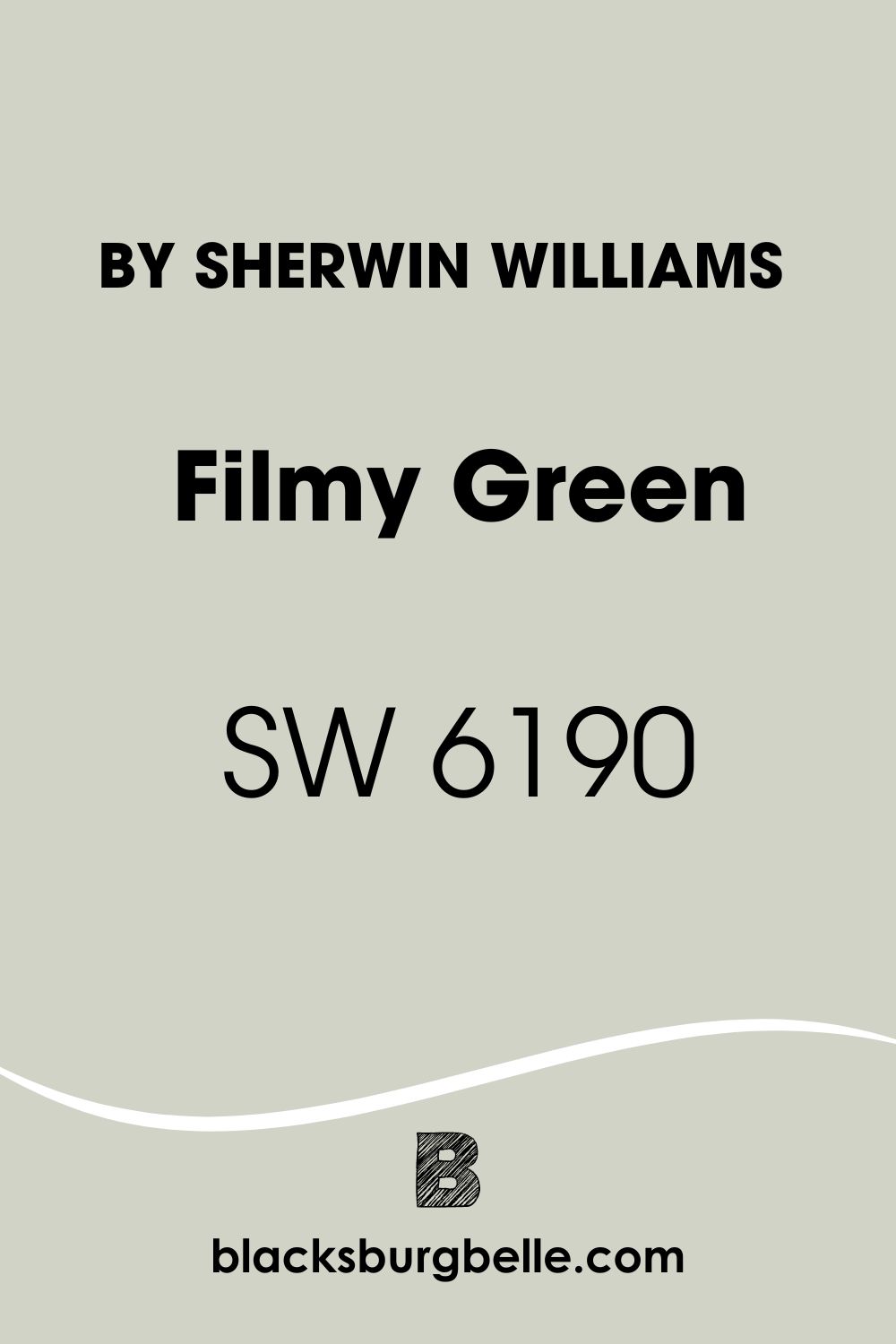 Is Sherwin Williams Filmy Green the paint color you want but you don't know if you should go for it? There are several aspects of the paint color, and all are interesting. I picked this paint color to review because it doesn't get the attention and accolade it deserves.
Interestingly, a few similar paint colors are very popular. And if you already like colors like Sea Salt, you may be pleasantly surprised at the result you get with Filmy Green. So, let's review this paint color and see if it's what you want in your decor.
When to Choose Sherwin Williams Filmy Green
If you are skeptical about the best use for Filmy Green, you have come to the right place. You can put it to different uses, but when is it ideal to choose it over similar colors? Let's take a look.
Looking for a soft and light green?
Filmy Green, just as the name suggests, is a light green color that plays the role of a soft pastel. You can use it to soften dark colors in your decor, and it's bright enough for a room with relatively low light.
Want to decorate a south-facing room?
This paint color is light and bright for a green color, but it has cool tones. Therefore, it works best in a warm room. In rooms facing north or east, the lighting may make it look too cold.
Thinking of a new bathroom or bedroom color?
This soft color is ideal for bathrooms and bedrooms because of the tranquility and calmness it brings. It also pairs well with other colors, so you have a field day decorating.
Do your cabinets need a new color?
Cabinets enjoy the best colors, and Filmy Green is one such color. It looks amazing on cabinets and turns the vibe and look of a kitchen into something positive. If you are thinking of a kitchen redo, start with the cabinets and try this paint color.
You are off to a good start if you pick Filmy Green as your pastel color of choice. And these ideas can help you decide on other places where the color works. But that's not all; I've got much more to show you, starting with a brief definition of the color.
What Color Is Filmy Green?
Filmy generally means gauzy and fine or thin and light, according to Dictionary.com. When something is said to be filmy, that object or substance is pretty light and transparent. It can show the beauty and substance of other things around it, which can be a positive attribute.
With this in mind, Sherwin Williams Filmy Green SW 6190 is a light green paint color with cool undertones. It brings something playful and light to any decor, pairing well with many others.
A Snapshot of the Specifications of Sherwin Williams Filmy Green
To take you further in this guide, I'll show you specific details about Filmy Green that make it a great color. I know how crucial undertones and LRVs are to your decision, so I'll show them in the chart below and explain them after that.
| | |
| --- | --- |
| | Sherwin Williams Filmy Green |
| RGB | 209, 211, 199 |
| LRV | 64 |
| Undertone | Gray |
| HEX Code | #D1D3C7 |
Sherwin Williams Filmy Green: Understanding the LRV
You may not know it, but colors can reflect light. Some have a higher ability than others, and that is what the LRV is. It is the light reflectance value of color and refers to the amount of light the color reflects.
The value uses a scale of 0 to 100, and the closer to 0 the value is, the darker the color becomes. On the flip side, the closer to 100 the color is, the lighter it becomes. So, pure black cannot reflect light and has an LRV of 0.
Pure white, on the other hand, reflects a lot of light and has an LRV of 100. However, paint colors don't have absolutes, so the scale is from 2.5 to 94.
Filmy Green has an LRV of 64, which is a good value for a green paint color. This means it can reflect a good amount of light even in a cool room. But be careful with the undertones as they may cause the color to appear too dull.
Sherwin Williams Filmy Green: Examining the Undertones
The undertones are, perhaps, the most crucial aspect of any paint color. While some paint colors have minimal undertones, others have obvious ones that change the look of the main colors. This is especially true under certain lighting conditions.
Sherwin Williams Ffilmy Green has a gray undertone. The undertone doesn't fully interfere with the green color, but it sure contributes to the muted tone and fresh look of Filmy Green.
This is Filmy Green in all its glory, the way it should be:
Now, here is the paint color with its gray undertone showing:
How Does Lighting Affect SW Filmy Green?
Lighting is important to how you use any paint color, including Filmy Green. It can change the color from light to muted in an instant, even for bright colors. The only difference is the degree t which the color changes.
For colors with gray undertones, the lighting can make them look dull and cold. Filmy Green is ideal for rooms with bright warm light, like in this picture:
But in low light, it appears darker than usual. Check out this next picture to see how Filmy Green looks in slightly dull natural light and artificial light:
Artificial light is another issue to consider. If you don't have a lot of natural warm light, you may have to rely on this type of lighting. And green tends to appear a little yellow in artificial light, especially greens that lean a little toward yellow.
And here is Filmy Green in bright artificial lighting, with no yellow tint to it:
How Does Filmy Green Feel in a Room?
This paint color is soft and light, airy and fresh. It brings a calm vibe and air into a room, making it easy to relax and unwind. It is also versatile for any decor, so use it anywhere you like.
However, I usually recommend it for bathrooms and bedrooms because it has a certain glow and easiness about it. Nevertheless, you can get creative and use it uniquely.
Sherwin Williams Filmy Green: Warm or Cool?
Filmy Green is a cool color, so it is best to use it in a room with a good amount of warm light. Green is a cool color, but you will find warm greens if they lean toward yellow, such as sage green.
But because Filmy Green has cool gray undertones, the main hue is a cool color. So, if you want to create a serene environment without making it crisp or icy, Filmy Green is one color to try.
Sherwin Williams Filmy Green Color Strip: Lighter to Darker Exploration
You may find that Filmy Green is not exactly the shade you want – it may be too light – you're safe here. I've picked some other colors from the same strip to give you a broader spectrum for color selections. So, make your choice below for a Filmy Green alternative.
Sherwin Williams Filmy Green SW 6190
Sherwin Williams Contented SW 6191
Sherwin Williams Coastal Plain SW 6192
Sherwin Williams Jade Dragon SW 9129
Sherwin Williams Filmy Green Complementary Colors
If you pick any color, it helps to find its complementary color if you want to make the most of it. Complementary colors are opposite each other on the color wheel and usually cancel each other when mixed to create a grayscale color like white or black.
Filmy Green is a green color, and the complementary color for green is red. However, this green paint color is not the common shade, so the complementary color is not exactly red. It's a shade of lavender gray, and Sherwin Williams' Enchant SW 6555 is the best match for it. Benjamin Moore's Easter Ribbon 1381 is also a close match.
Sherwin Williams Filmy Green Coordinating Colors
Every color has others that work well with it, and these are called coordinating colors. They complement each other because they have some similarities that make them flow seamlessly. You can get coordinating colors through different means, and that's why coordinating colors can be any color. I picked three coordinating colors for Filmy Green according to Sherwin Williams: Parisian Patina, Pure White, and Opaline.
Sherwin Williams Parisian Patina SW 9041: A mid-tone green with a cool blue undertone that brings sophistication and beauty to the decor.
Sherwin Williams Pure White SW 7005: With a bit of yellow, Pure White is a bright white paint color that introduces something different to the cool decor.
Sherwin Williams Opaline SW 6189: A blue-green color that is a paler shade of Filmy Green for a softer feel.
Sherwin Williams Filmy Green Color Palettes
These palettes allow you to incorporate different colors that pair well with the central hue. A good color palette must consider the tone and color scheme, but you can take a different route and get creative. But I'll guide you on how to start using three color palettes.
Monochromatic Color Palette
Jade Dragon SW 9129: A mid-tone green paint color with blue-gray undertones. Its depth makes Filmy Green light enough for the trim.
Coastal Plain SW 6192: Elevate elegance in your decor with this paint color, which is a darker version of Filmy Green.
Contented SW 6191: A shade darker than Filmy Green, Contented can stand in for the main color if you want something slightly darker.
Coordinating Color Palette
Opaline SW 6189: A pale blue-green paint color that blends well with Filmy Green, especially as a paler color.
Extra White SW 7006: A cool white with slightly blue undertones that pair well with the gray in Filmy Green.
Parisian Patina SW 9041: A beautiful shade of green with a cool tone for a deeper color in the decor.

Contrasting Color Palette
Pewter Green SW 6208: A dark green paint color with gray undertones that match those of Filmy Green.
Pure White SW 7005: A slightly warm white, which is different from the cool Filmy Green but matches well with it.
Baize Green SW 6429: A sage green paint color whose yellow undertone complements the soft Filmy Green.
Sherwin Williams Filmy Green vs Similar Colors
You're not alone if you are wondering whether or not Filmy Green has alternatives. And that's why I've packaged this section to give you options if you want to compare it with other colors.
SW Sea Salt vs SW Filmy Green
Sea Salt and Filmy Green are close in color and LRV. But Sea Salt shows more blue and gray, and Filmy Green reads more green.
SW Liveable Green vs SW Filmy Green
Liveable Green is just a smidge greener than Filmy Gray. But apart from this, both colors are practically the same.
SW Softened Green vs SW Filmy Green
Softened Green is greener than Filmy Green, being more saturated than the gauzy and fine light green color.
BM Hollingsworth Green vs SW Filmy Green
Benjamin Moore's Hollingsworth Green shows more green than gray, and this makes it different from the light and gray Filmy Green.
Benjamin Moore Paint Color Equivalent to SW Filmy Green
You will hardly ever find an equivalent paint color for Filmy Green because all colors are unique. However, there are close colors from Benjamin Moore that can replace it. One is Night Mist 1569. It has almost the same RGB as Filmy Green and can easily replace it. Another is Hollingsworth Green HC-141. Compare them side by side, and you will see the similarities.
When Can You Use Sherwin Williams Filmy Green?
This paint color is sweet in different rooms. It all depends on your style and color scheme. If you pick Filmy Green as part of your cool color palette, ensure you have a lot of light to make it lovely.
Sherwin Williams Filmy Green in a Bathroom
One of the best places to use Filmy Green is the bathroom. While it usually doesn't have a lot of natural light, you can use artificial white light for the same effect.
Sherwin Wiliams Filmy Green in a Bedroom
Like a bathroom, Filmy Green also looks amazing in a bedroom. The good part of using it here is that you have better access to lots of natural light, so the color comes out beautifully.
Sherwin Williams Filmy Green on Kitchen Walls
Filmy Green may not be your first choice for the kitchen walls. But it is a cool color, and if you have white cabinets, consider this paint color for the wall. Use it in the place of gray if you want an alternative to the usual neutrals.
Sherwin Williams Filmy Green on Cabinets
If it looks good on the walls, it should look great on the cabinets. Even if you don't want to use Filmy Green on your kitchen cabinets, try it on other cabinets like this user in their laundry room.
Sherwin Williams Filmy Green in a Sitting Room
Consider using this color in a small sitting area or the entire living room. But ensure you have a lot of light to get the most out of it.
Best Trim Color for Sherwin Williams Filmy Green Walls
If you want to make this paint color pop, use white for the trim. Not only is it the best color but also the ideal neutral to pair with soft pastels.
Best Ceiling Color for Sherwin Williams Filmy Green Walls
White, such as Extra White or Ceiling Bright White, should be the best option. But you can stencil the ceiling or use green. Alternatively, try a dark green or light gray if you are feeling bold.
Sherwin Williams Filmy Green on the Exterior
If you are not a fan of using FIlmy Green on the entire exterior of the house, try it on the stucco or another small part. You may be pleasantly surprised by the result. In this next picture, the window frames are done in SW Creamy, while the entire exterior is done in Filmy Green.
Conclusion
If you want a soft green that doesn't overshoot its place but brings all the right vibes, try Sherwin Williams Filmy Green. It is a light and fine color with obvious gray undertones, although they are not overbearing.
With an LRV of 64, Filmy Green reflects a good amount of light so it doesn't look dull. However, it is best to use it in a room with warm natural light to get the best out of it. You will also find a guide to creating the right color palette for this unique color.
Let me know your thoughts and experience in the comments section. I'm rooting for you, so share your final results with me!