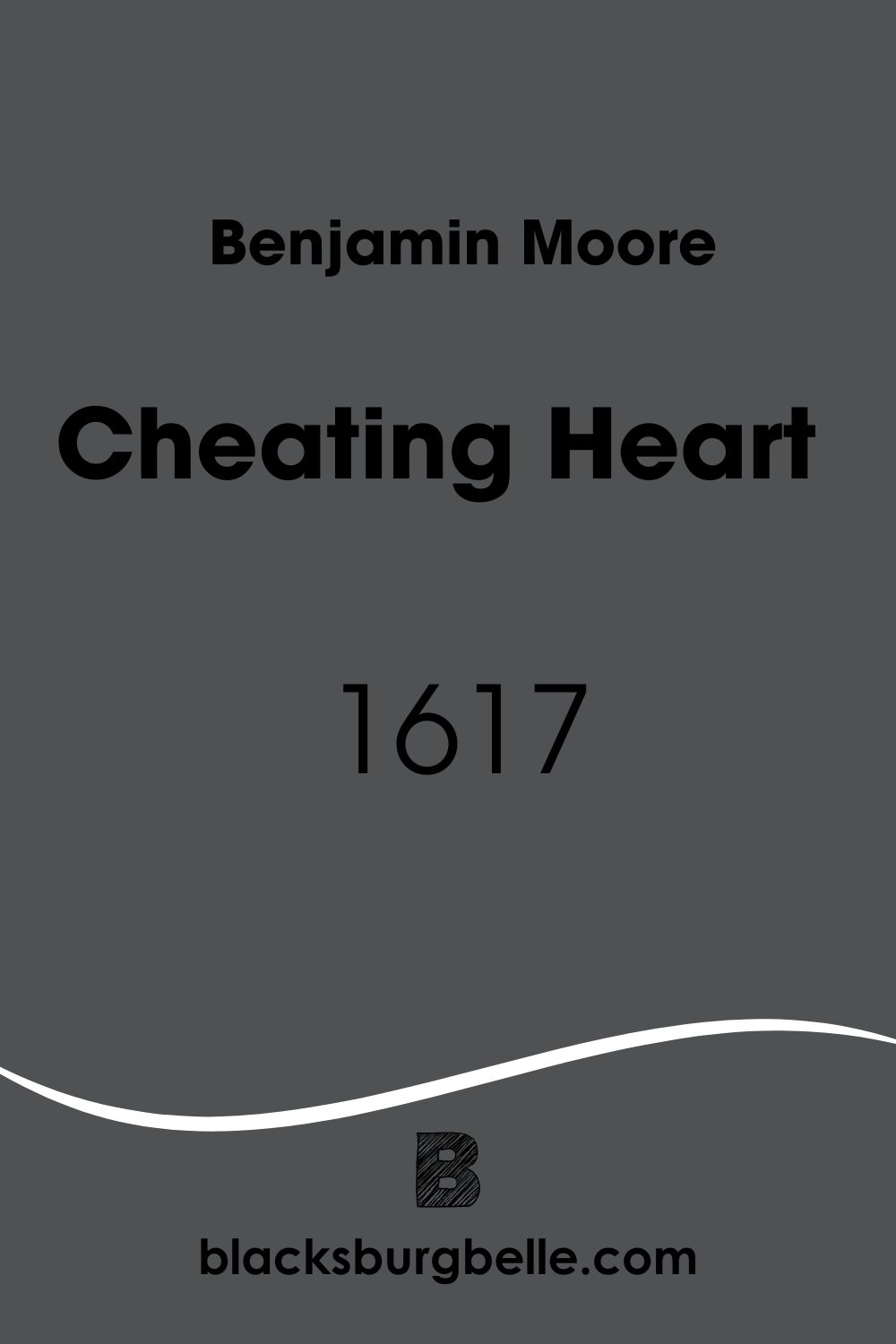 Often, homeowners decide to be bold and absolutely daring with their color choice, which may mean adding Benjamin Moore Cheating Heart to their palette.
Benjamin Moore Cheating Heart is all it says it is: a cool, multifaceted black that packs so much personality and exceptional properties. The chameleonic nature of this color has endeared it to so many hearts.
So, ditch all your reservations about black colors, as I'm here to guide you on how to make the most of Benjamin Moore Cheating Heart in your space with this in-depth review involving real-life images.
When to Choose Benjamin Moore Cheating Heart 1617?
It can all be so simple, but only with the right guide. This section will nudge you toward the ultimate goal of making Benjamin Moore Cheating Heart deliver peak performance in your space by drawing up situations that permit it.
Do You Have a Large Space?
If you desire to make your ample space feel more intimate and balanced, look no further than Cheating Heart.
Do You Love Making Bold Statements With Colors?
You already know Benjamin Moore's Cheating Heart is a dark color, and if you're into sending strong messages with your color choice, this right here is your color.
Are You Into Blue-Grays?
There are cool blues and grays tucked deep into Cheating Heart, and they come out under given conditions.
What Color is Benjamin Moore Cheating Heart 1617
Do not let its name startle you. Cheating Heart by Benjamin Moore is a rich black hue with interesting undertones that give it a sterling twist and versatility.
Benjamin Moore Cheating Heart absolutely breaks the stereotype attached to black colors and how they make spaces read too warm with its lush, calm, and very respectful undertones that do nothing but keep you relaxed all day.
My favorite thing about this color is how it doesn't stay monotonous, which means you'll see different sides to it at other times of the day – a balanced hue in every sense.
I recommend Benjamin Moore Cheating Heart to those living in the warmer states. This color comes to the rescue when the heat goes up outside- you're sure your home will stay cool, calm, and absolutely gorgeous all day.
Snapshot of Benjamin Moore Cheating Heart Specifications
Get familiar with the numerical details of Benjamin Moore Cheating Heart, from its LRV to RGB and Hex Code.
Understanding the statistical makeup of your color answers some questions you may have about it while also preparing you mentally for things you should expect when you apply it in your space.
| | |
| --- | --- |
| Color Name | Benjamin Moore Cheating Heart 1617 |
| RGB | 79,81,83 |
| LRV | 8.79 |
| Undertones | Blue, Gray |
| Hex Code | #4F5153 |
The LRV of Benjamin Moore Cheating Heart
A color's reflective prowess is represented by its Light Reflective Value.
The LRV of any color stands on a scale that runs from 0-100, with the latter being the least value and 100 the highest, but this scale has since been tweaked to work from 3-97 as there's really no true black or white (HELLO UNDERTONES!).
Benjamin Moore Cheating Heart has an LRV of 8.79, which means it is well grounded in the dark range of the LRV spectrum and would perform poorly in a space with low lighting.
Take this as a cue to NEVER use Cheating Heart as the main wall color in a small space as it'll make the room look smaller; instead, use it as an accent or trim wall alongside much brighter hues.
Undertones of Benjamin Moore Cheating Heart 1617
Like your skin, undertones are also present in colors. They're the subtle differences in hues that stay behind due to mixing different paint colors, and the RGB present in the focus color primarily determines these undertones.
For instance, in the RGB setup of Cheating Heart, Blue and Green take the highest percentage, meaning you'll likely find one or both.
Benjamin Moore Cheating Heart has blue and gray undertones that keep the color grounded and increase the versatility.
Now, these undertones don't go about showing themselves unprovoked, which also explains why you may not readily see them. They're influenced by certain lighting conditions that I'll talk about as you read on.
Does Lighting Condition Affect the Appearance of Benjamin Moore Cheating Heart?
Like every color out there, Cheating Heart shows off different sides under different lighting conditions, whether natural or artificial. Benjamin Moore Cheating Heart reads very cool for Northern-facing rooms and may lean deep into its black roots.
You may also come across a soft navy blue hue heavily induced by the incoming blue tint from the north.
East-facing rooms get the warm, yellow light in the morning, which may cast a golden shadow on Benjamin Moore Cheating Heart but is not strong enough to create any impact.
You'll get a soft blue in the mornings right before sunrise and a passive gray in the afternoon when the sun is at its peak.
The warm touch from the Southern light will cause Benjamin Moore Cheating Heart to show off a blue-gray tint, which I totally love. You'll almost forget how black this color can get.
West-facing rooms are usually passive in the mornings and have a lot of warm lighting towards the evening. Therefore, Cheating Heart will shift from a deep gray to blue-gray as the sun prepares to set in the west.
Does Benjamin Moore Cheating Heart Read Gray?
Absolutely Yes! As I explained earlier, the gray in Benjamin Moore Cheating Heart puts it in a neutral category, especially when faced with warm lighting.
This doesn't mean it's a warm color; it just means that sometimes gray can display a certain degree of warmth as it's a fickle color heavily influenced by its surroundings.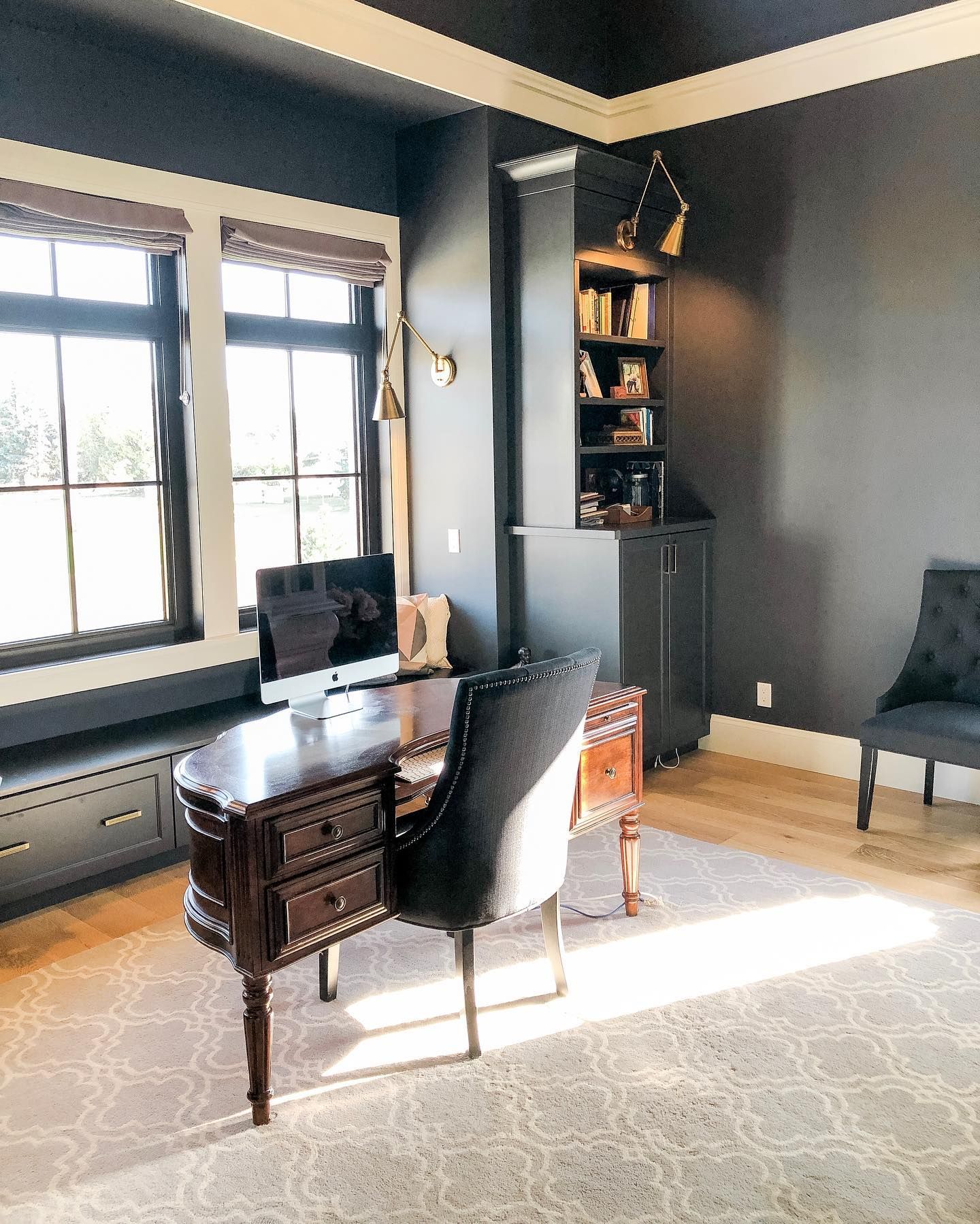 Can I Get Blue in Benjamin Moore Cheating Heart Paint Color?
I get giddy looking at this image alone and the magic that Cheating Heart is unfolding right before my eyes. I would have sworn this was just another rich navy blue if I didn't know what I knew about Cheating Heart.
The gold accessories further push the hidden blue undertones in CH out, and I love how it complements the wooden floor and gray backsplash tiles.
Image Credit: @bluegrasstraditionalhome
Side Note: It's necessary to sample your preferred paint color before committing fully to the deal. This helps you see firsthand how it performs under different lighting conditions and with accessories in your home.
Benjamin Moore Cheating Heart: Is It a Warm or Cool Color?
Benjamin Moore Cheating Heart isn't even trying to step out of the cool zone, thanks to its undertones that give my claim a two-factor authentication. Cool colors generally have blue-based undertones, so think Purple, Lilac, Green, and blue-grays.
If our focus colors were warm, they would have red-based undertones such as orange, yellow, indigo, violet, or red.
Cool colors have a cooling and relaxing effect on the room they grace and show impressive depth, as they're usually dark and muted.
Warm colors, on the other hand, have very intense, vibrant, and sharp feedback- they light up any space and require minimal effort to light them up.
Now, to lighten up the coolness of Benjamin Moore Cheating Heart, it's best to pair it with warm tones. I'll help you with that later in the article.
Benjamin Moore Cheating Heart Color Strip: Lighter or Darker Exploration
There're light and dark variations of your anchor color, popularly called the color strip. All colors on your anchor color's strip share the same undertones, and while they can exist independently, they can also work together to create a monochromatic result.
Typically, a color strip follows the same numbering or lettering pattern, but I'd love to burst that myth by assuring you that it doesn't have to. Just be meticulous enough to pick closely related colors per the above criteria and watch the magic happen.
Benjamin Moore Englewood Cliffs 1607
Benjamin Moore Ashland Slate 1608
Benjamin Moore Temptation 1609
Benjamin Moore French Beret 1610
Benjamin Moore Rock Gray 1615
Benjamin Moore Stormy Sky 1616
Benjamin Moore Cheating Hearts 1617
Pair any of these colors with warmer whites to open up your space and, most importantly, create a balance.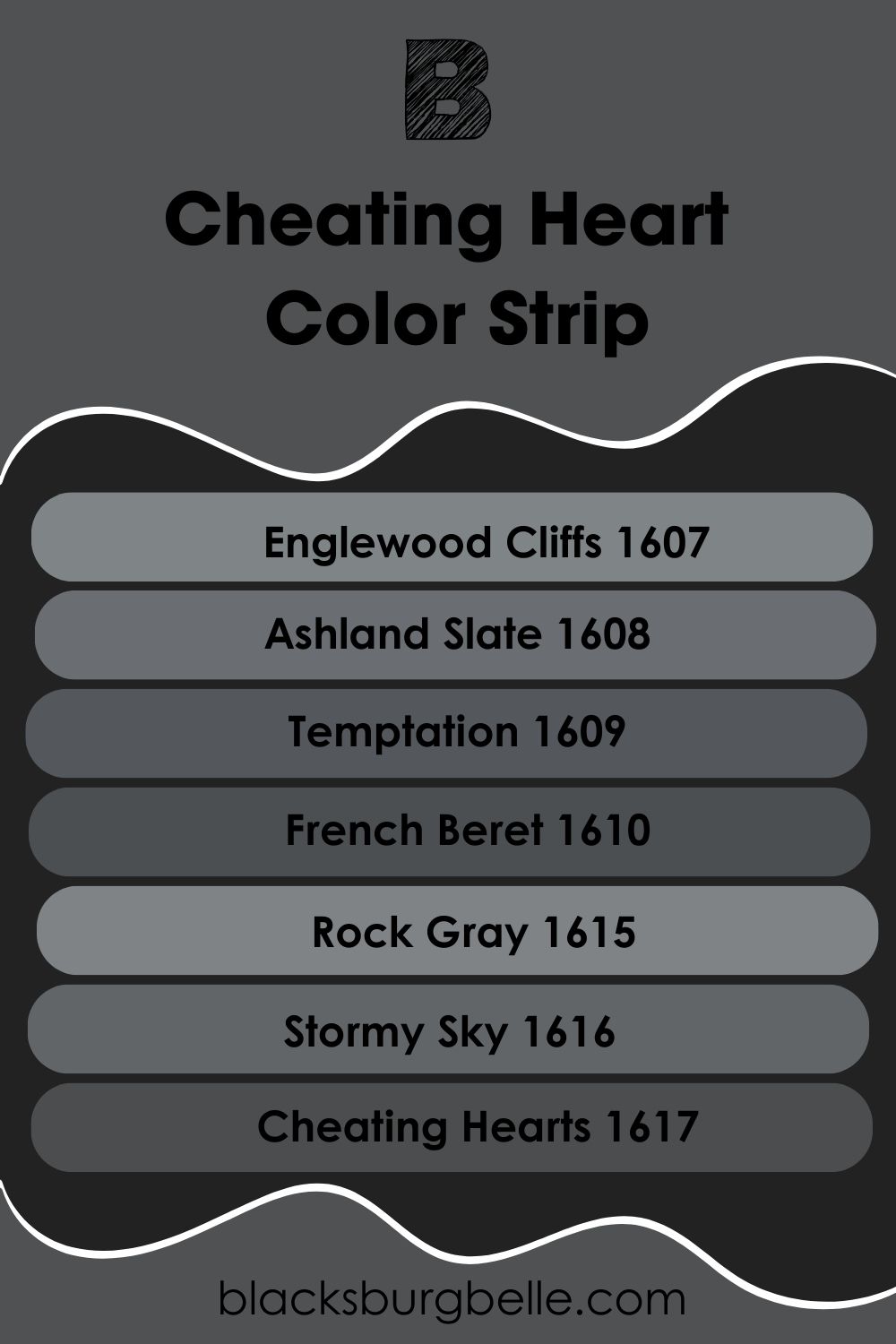 Benjamin Moore Cheating Heart Complementary Colors
The concept of Complementary colors is one of the most mind-blowing discoveries made by color experts. The analogy is that when you mix two seemingly contrasting hues on the color wheel, you arrive at a grayscale color (black or white).
Complementary shades are located directly opposite each other on the color wheel. For example, you have blue directly opposite orange, green opposite red, and purple opposite yellow.
A union of any of the pairs I identified above produces vibrant feedback on whichever platform you choose to apply it. A typical complementary coupling includes a warm and cool color. So, if your anchor color is warm, expect the complementary to be cool and vice versa.
Benjamin Moore Iron Mountain 2134-30 perfectly fits Benjamin Moore Cheating Heart. Iron Mountain is a warm dark gray paint with winks of brown and violet undertones.
Benjamin Moore Cheating Heart Coordinating Colors
Coordinating colors follows the principles of color theory. This framework guides the use of color by experts for arts and designs to aid the practical interpretation of design work on an aesthetic and psychological basis.
This arrangement exists in 6 themes that spell out how colors can be combined to make things work. The color wheel is instrumental to this phenomenon; after studying this section, you'll find it easier to understand the concept.
Analogous Theme: The analogous color theme consists of three colors next to each other on the color wheel. It's the best idea for people with little to no contrast on their palette.
Monochromatic Theme: This theme is widely accepted among designers, and it's formed by applying different tints and shades to one base color.
Split Complementary Theme: The significant difference between split complementary and complementary is the wide range of color options. This split complementary palette consists of two opposite colors on the wheel and the color right next to them.
Complementary Theme: This arrangement carries the highest contrast in all the arrangements. You can identify complementary colors by their opposite position on the color wheel. Refer herefor better context.
Tetradic Theme: Tetra as in four. This theme is popular, known as the double complementary or rectangular color scheme. Just like its name, you'll find four colors consisting of two sets of complementary hues in this arrangement,
Triadic Theme: The triadic color scheme is perfect for people exploring outside the confines of one hue. You can combine three evenly spaced colors on the wheel with the triadic color scheme.
I can't leave you without giving you a golden tip on interpreting these arrangements. Except for the monochromatic color scheme, it's best to use one main color and the remaining hues as accent walls and trims for the remaining themes.
Coordinating Colors for Benjamin Moore Cheating Heart
These colors perform brilliantly when paired alongside Benjamin Moore Cheating Heart as they share one or more undertones in common. The idea behind coordinating colors is to create a palette that portrays balance, skill, and a perfect understanding of your anchor color's setup.
Benjamin Moore Simply White OC-117: A warm white with soft yellow undertones and LRV of 89.52 to help you brighten up the coldness of Cheating Hearts in any space, whether trim or accent.
Benjamin Moore Gray Huskie 1473: This one is a rich gray with blue undertones and an LRV of 45.51. Gray Huskie works as a cabinetry or trim color with Cheating Heart.
Benjamin Moore Caliente AF-290: A radiant and energetic red with an LRV of 8.82 that'll instantly uplift the space your Benjamin Moore Cheating Heart graces. If you're bent on making a statement, I recommend this combination in the nursery, art room, or dining space.
Benjamin Moore Cheating Heart Color Palette
Your color palette is unique once you understand the concept of color themes. While there's a basic rule to applying these themes, you can decide to go a shade lower or higher for more diversity.
I've added one neutral/white as the third color on the analogous and triadic schemes for balance and more range. You can apply it in real life through trim and molding colors.
Monochromatic Color Scheme
Benjamin Notre Dame CSP-570: A rich black with blue undertones and one point darker than Cheating Heart. You may not see a great contrast between them, but when you break it with a much brighter gray, it comes to the fore.
Benjamin Moore French Beret 1610: A deep dark gray with navy blue undertones and an LRV of 9.06. You can spot the difference when you pair this one with Cheating Heart, as it's pretty bright.
Benjamin Moore Graytint 1611: The brightest gray on the palette, this one has an LRV of 68.58 with a soft blue undertone to cool things down.
Analogous Color Scheme
Benjamin Moore Nightfall 1596: Very similar to Cheating Heart, especially regarding undertone and LRV. Pair with Nightfall outdoors so the bright light can help draw out these undertones and give much-needed contrast if there's any really,
Benjamin Moore Day's End 2133-30: A black with a soft, warm cast and red undertones that works with the blue in Cheating Heart. It has an LRV of 9.34, and I would recommend it as a cabinet color in a CH kitchen.
Benjamin Moore Delray Gray 1614: The perfect candidate to help break the ice. Delray Gray is a neutral with gorgeous blue undertones and an LRV of 34.93; ideal as a trim or accent color in the bathroom or bedroom.
Triadic Color Scheme
Benjamin Moore Almost Black 2130-30: This one is softer and slightly brighter than Cheating Heart with an LRV of 9.34. Its warmth will definitely complement CH's coldness in a space.
Benjamin Moore Deep River 1582: The hints of green in Deep River work with the blue in Cheating Heart to create a balanced space and a lovely backdrop for much brighter colors.
Since they both have red-based complementary colors, you can pair them with orange, red, wine, and yellow for better contrast.
Benjamin Moore Baby's Breath 873: A versatile white paint with blue undertones and an LRV of 81.5 to ease the tension and dark aesthetic of the previous two tones.
Pair these colors in your bedroom, living room, and literally anywhere else, and you'll get a mind-blowing result.
Benjamin Moore Cheating Heart vs. Wrought Iron 2124-10
Wrought Iron is definitely the darkest of the pair when Benjamin Moore Cheating Heart is involved, as it has an LRV of 6.16.
Benjamin Moore Urbane Bronze SW 7048 vs. Cheating Heart
Sherwin Williams Urbane Bronze is another gorgeous black color with dark brown and bronze undertones, or even green when feeling generous.
Benjamin Moore Cheating Heart Equivalent in Sherwin Williams and Other Brands
If you need a safe and equally functional alternative to Benjamin Moore Cheating Heart from other brands, you should check out the one I've listed below.
Please remember that no two colors on planet Earth will give you the same exact result. So, while these colors are similar to Cheating Heart, they may provide different intensities and saturation on your wall.
Where can you use Benjamin Moore Cheating Heart 1617?
Benjamin Moore Cheating Heart is one color I recommend everyone should have on their list because it works everywhere, even as a ceiling paint. Don't believe me? Well, the pictures below will do an excellent job of convincing you and giving you the final push to look into Cheating Heart.
Benjamin Moore Cheating Heart in the Living Room
I adore everything about this space as it's carefully curated to make a statement. It also combines the simplicity of minimalism and extravagance of traditional decor courtesy of that bright yellow flower pot.
While Cheating Heart clearly enjoys the goodwill of bright light in this space, I can't ignore the catch center rug with exciting patterns that add life to the wall, making it look like a backdrop. The white trims and wooden floor help soften the impact of this color.
Benjamin Moore Cheating Heart in the Kitchen
A lot is happening in the kitchen, and painting your wall with a dark color may become overwhelming; hence, a better way to use Cheating Heart is on your cabinet.
This color will surely pop against any wall when used on the cabinet, plus it's the ultimate monochromatic enthusiast, going by the picture below. Accessorize with Carrara marble tops and fresh plants.
For lighting, I'd use a cool white light in the evenings to ease tension and draw out the soft blue undertones in it.
Benjamin Moore Cheating Heart on an Exterior
We all have reservations about dark colors outdoors, but Cheating Heart is worth a trial. This color appears washed out when used on home exteriors, which means you get more navy blue feedback like this image.
I love how intentional the curator is in pairing Cheating Heart with light brown trims to match the surrounding greenery. The pure black roofing wraps things up nicely. This image right here is an absolute masterpiece!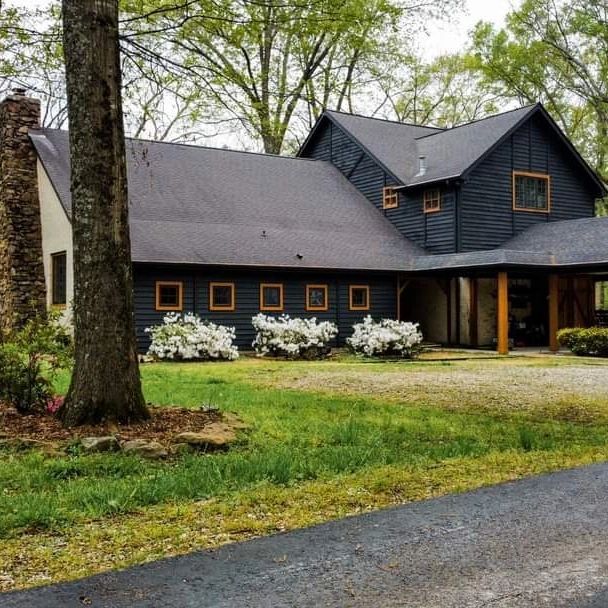 Benjamin Moore Cheating Heart in the Bedroom
Cheating Heart performs well as accent walls in bedrooms especially if your room isn't getting a TREMENDOUS amount of light or is fully equipped with bright-colored upholstery and minimal furniture.
The image below is a perfect representation of my idea. It still doesn't displace Cheating Heart as the main character. If anything, the surrounding white walls draw more attention to its power and beauty.
Keep all other accessories in the bedroom neutral and light-toned for better balance and a good night's sleep.
Benjamin Moore Cheating Heart in the Bathroom
Use Benjamin Moore Cheating Heart for a relaxing bath, then pair it with crisp whites for trims and moldings to help soften the edginess. Use Moroccan pattern tiles, white countertops, and other neutral elements as accessories to give Cheating Heart a facelift.
What Colors Go With Benjamin Moore Cheating Heart 1617
Being the ultimate backdrop, Benjamin Moore Cheating Heart goes with a wide range of warm and cool colors. You can pair this dark color with bright, crispy whites, light and dark blues, bright red, olive, sage green, grays, beige, violet, and orange tones.
Light and dark wooden floors, patterned tiles, and white marble are a great addition to your Benjamin Moore Cheating Heart palette.
Conclusion
Whew! It's been an exciting ride down here. Benjamin Moore Cheating Heart is a bold, daring, and intense color that adds edginess to your space, and it's been thrilling reviewing this unique color that's so soft yet rich.
I'd love to reiterate the versatility of Cheating Heart with these few points.
Cheating Heart has blue and gray undertones.
It works best in large spaces with lots of lighting.
Benjamin Moore Cheating Heart looks super chic on woodwork.
Don't forget to leave your comments and suggestions in the box below, as they help me give better reviews.