The surface similarity between Benjamin Moore's Pale Oak and Balboa Mist causes a never ending debate amongst neutral paint lovers and it's time to help clarify the difference.
Most people use both these warm gray paints alternatively, but a closer look will show you in-depth differences like Pale Oak's beige tint and Balboa Mist's violet flashes. Balboa Mist's violet undertone makes it warmer and more exciting than Pale Oak which has muted beige nuances.
Keep reading for more visual, creative, and technical differences between these Benjamin Moore warm gray paints.
When to Choose Pale Oak or Balboa Mist?
Here we'll highlight the differences between Pale Oak and Balboa Mist to prepare you for the detailed review later on. This way you can visualize different scenarios involving any of these warm gray paints and make decisions on which shade suits your space best.
Choose Pale Oak when:
You want your neutral gray paint to have only one warm undertone
You have soft white trims to create a warm, creamy aura
You're stuck choosing between beige and gray. Its greige tone solves this dilemma
You want a cozy alternative to bright white paints as the mixture blends into an off-white tone.
Painting a family room, bedroom, bathroom, and kitchen for a cozy and intimate aura.
Choose Balboa Mist when:
You want a cooler vibe from your warm gray paint
You want your room to have more depth and intensity
Your home or office has modern themes, as it's more likely to open up your space while keeping it intimate
Painting your floor wood, interior walls, or cabinets in open kitchens
Beige neutrals like Pale Oak are ideal for family rooms, kitchens, and dining spaces, while greige tones like Balboa Mist suit relaxation spaces like bathrooms, bedrooms, and patios.
To accentuate the warmth in Pale Oak with warmer tones, all you need to do is include tan neutrals and bright yellows. Finally, Balboa Mist pairs excellently with cooler hues like pastel blues and purples with a hint of warmth.
Pale Oak and Balboa Mist: Visualizing the Differences
Before we dive into more technicalities, let's observe the visual distinctions between Pale Oak and Balboa Mist. To achieve this, we'll be placing side-by-side images of both paint colors.
See Benjamin Moore Pale Oak used in a sitting room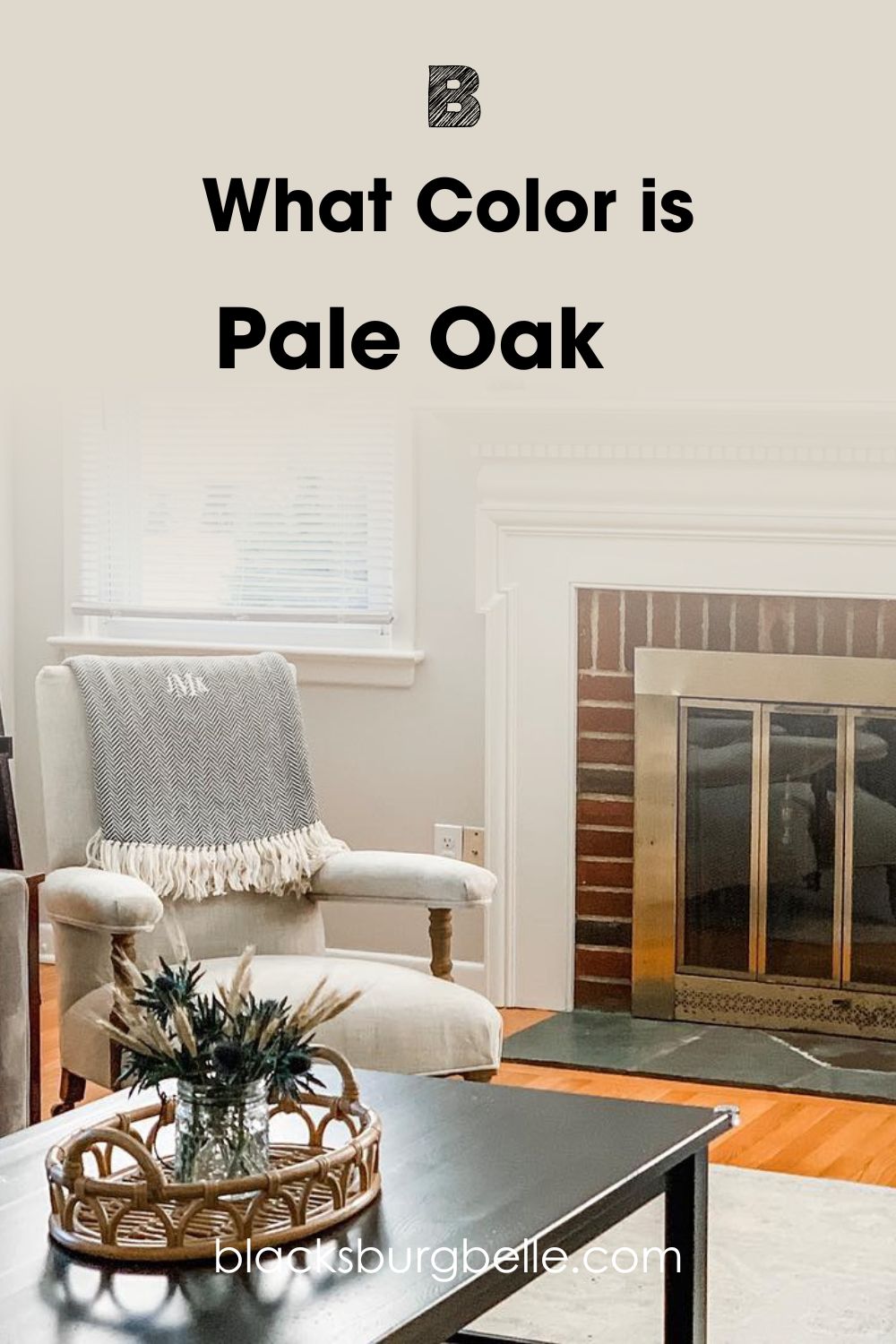 See Benjamin Moore Balboa Mist used in a Kitchen
Here, we used pictorial examples of similar-looking spaces to show you both neutrals underneath natural light. You'll notice Balboa Mist appears grayer and breezier than Pale Oak which has a golden glow.
So, we recommend using Pale Oak for an intense beige reflection to make your room look cozier and more personal. Balboa Mist is best for relaxed beach vibes, especially when paired with cool pastel tones.
Ultimately the choice comes down to vintage vs. modern themes, where Pale Oak fits the former and Balboa Mist is for the latter.
A Quick Comparison of Benjamin Moore Pale Oak and Balboa Mist
Are you still unsure about which neutral paint to use? Here's a detailed breakdown of the differences between Pale Oak and Balboa Mist. This table includes both colors' Light Reflectance Value (LRV), RGB, Hex Code, and Undertones.
You'll learn more about each element after seeing the comparison at a glance.
| | | |
| --- | --- | --- |
| | Pale Oak | Balboa Mist |
| LRV | 68.64 | 65.53 |
| RGB | Red 222 | Green 216 | Blue 205 | Red 218 | Green 213 | Blue 204 |
| Hex Value | ded8cd | dad5cc |
| Undertones | Beige | Soft Violet, Beige |
Emotional Effects of Pale Oak and Balboa Mist
If you didn't know why you entered some rooms and immediately became cheerful or moody, you're about to find out in this section.
Colors create emotions based on their shades, so choosing a shade or more for your room is more than aesthetic compatibility.
Neutral paints are typically mood stabilizers, but their undertones create more emotions. Pale Oak and Balboa mist both give off intimate energy, but one is breezier than the other.
With Pale Oak, you'll get warm and cozy energy suitable for familial spaces, while Balboa Mist flits between vibrance and a relaxing aura, making you feel like you're in the presence of a lifelong friend.
I recommend using Pale Oak to make a room feel homely, while you can use Balboa Mist for a slightly unattached mood.
Light Reflectance Value (LRV) of Pale Oak vs. Balboa Mist: Which Color Reflects Brighter?
LRV tells you the potential of your paint to illuminate your space in natural lighting and fits on a scale of 3 (pitch black) to 97 (pure white) for paints. The existence of undertones prevents them from having 0 LRV for absolute black and 100 LRV for pure white.
Pale Oak has an LRV of 68.64, meaning it's not exactly on the median (50), but it's not close to the end that categorizes bright, pure white (100). So, Pale Oak's beige tone is reflective in its natural state but needs additional lighting for a radiant glow.
Balboa Mist has an LRV of 65.53, almost 4% lower than its counterpart. Like Pale Oak, Balboa Mist is pretty reflective in its natural state and with artificial lighting, but compared to its counterpart, this color has a deeper shade.
Although both colors are medium-light gray tones, Balboa Mist is slightly darker than Pale Oak.
Undertones of Pale Oak vs. Balboa Mist: Are They Similar?
The similarity in Pale Oak and Balboa Mist's RGB combo makes them look alike on the surface, but they have different undertones. Both colors have beige tints, while Balboa Mist has an additional violet flash making it appear cooler.
Ultimately, the question is, "Would your neutral paint look more beige than gray?" Once you've answered that, the next decision involves choosing the best position to highlight each color's undertone.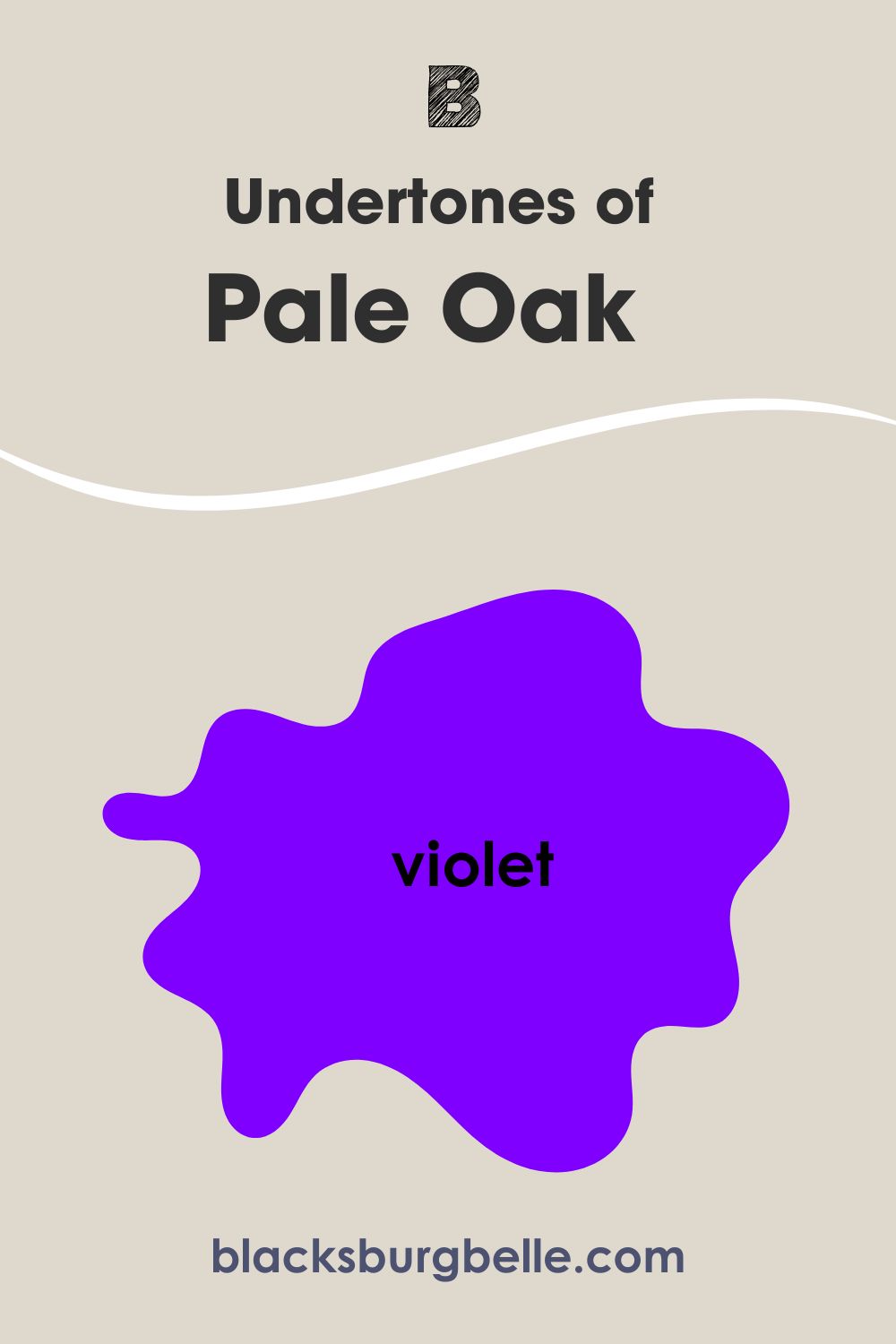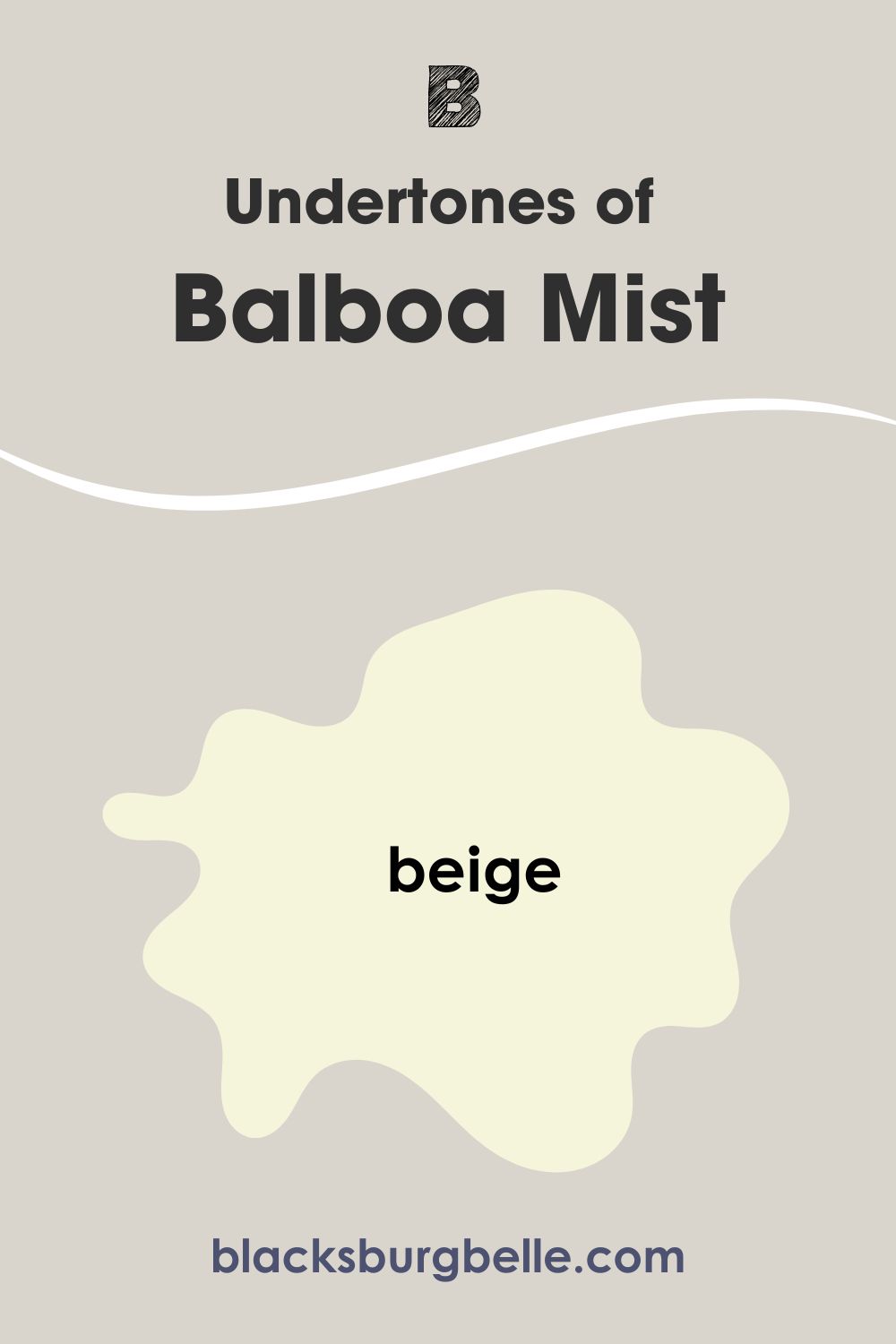 A Closer Look at Pale Oak's Undertone
Pale Oak is the choice neutral if you want a muted beige with the soul of vintage style mixed with enough modern decor. Using it under south-facing sunlight would show why it's named Pale Oak, as its hue mimics an off-white tone.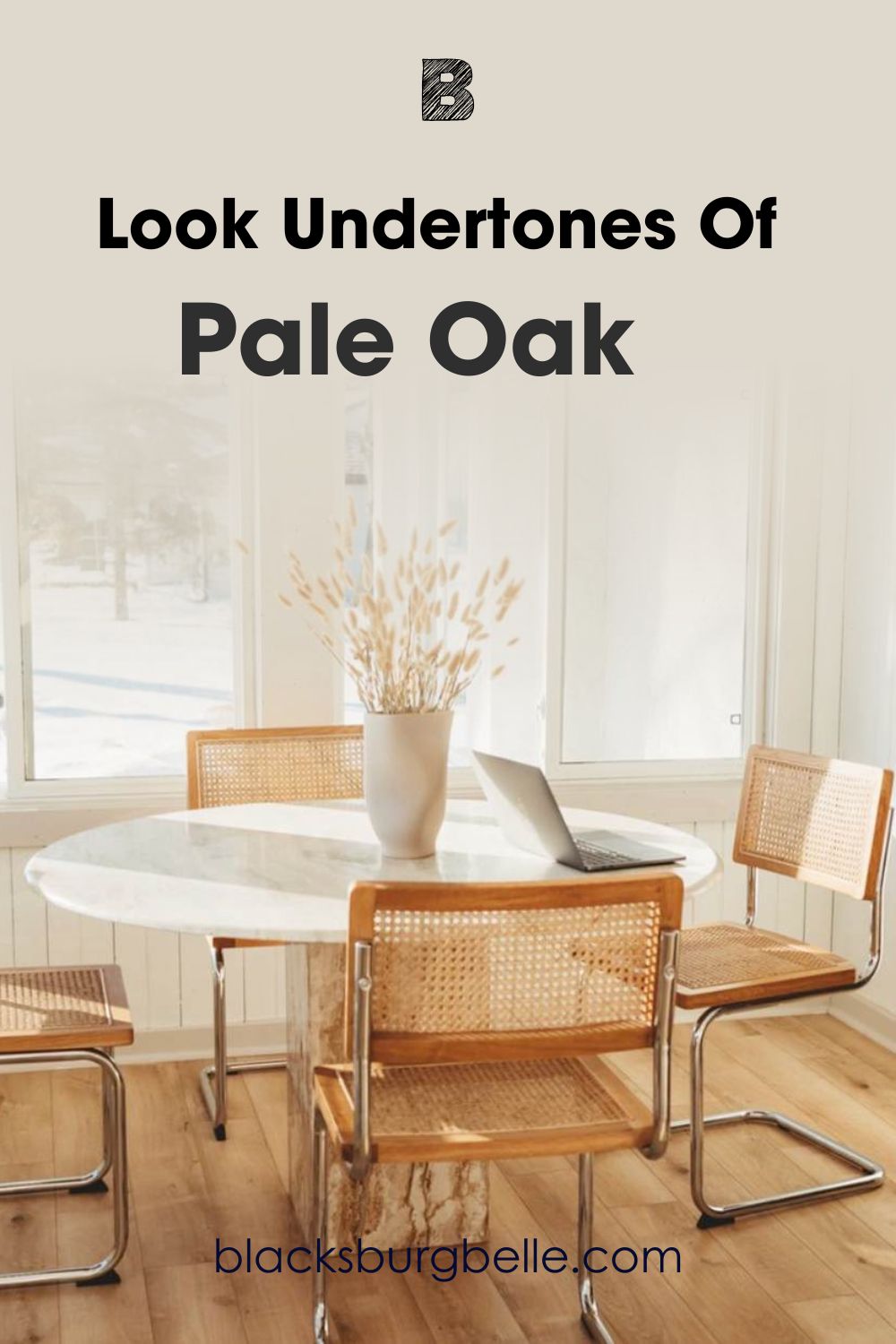 With Pale Oak, you'll get a soft beige hue that turns the gray overtone into a golden hue as seen in this breakfast nook.
A Closer Look at Balboa Mist's Undertones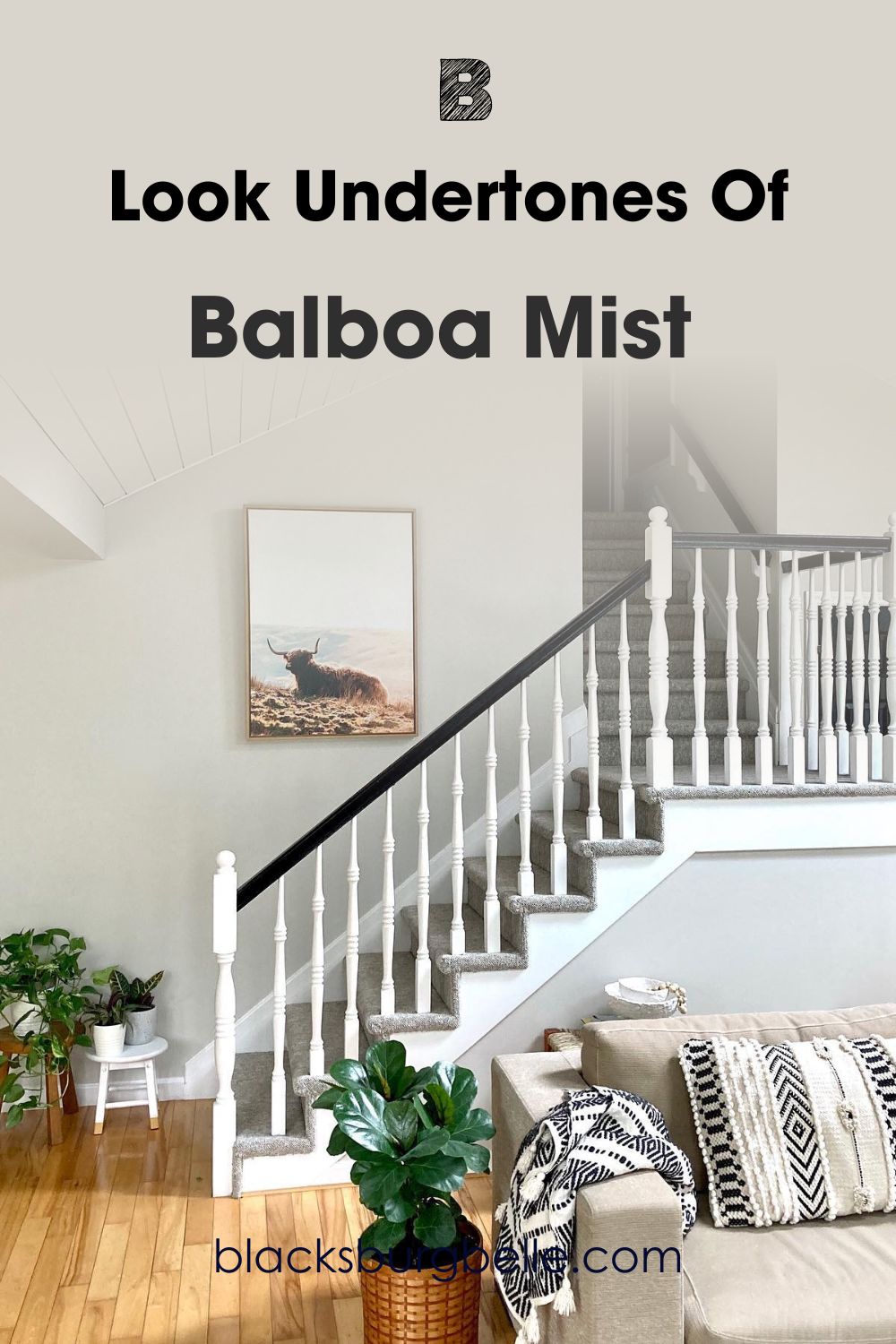 South-facing lighting, which gives the brightest reflection, highlights the cool violet tint in Balboa Mist's greige tone on this staircase wall.
Pale Oak vs. Balboa Mist – Are They Warm or Cool?
Pale Oak and Balboa Mist are warm colors due to their warm undertones of beige and violet (for Balboa Mist). However, the blue tone in Balboa Mist's violet undertone adds a faint coolness to the color, making it have two temperatures.
Differentiating them at face value is challenging because of their undertones, but you'll notice that Pale Oak's beige tint makes it more intense than Balboa Mist. Dim lighting intensifies the color while north-facing light creates a calmer vibe.
On the other hand, Balboa Mist is more relaxing, mainly when used with large glass windows that receive bright light. Also, remember that the colors you pair with Pale Oak or Balboa Mist will influence its warmth or potential coolness.
Complementary Colors for Pale Oak and Balboa Mist
How would you decorate your space with Pale Oak or Balboa Mist as the focus? If you want complementary colors emphasizing neutrality, you must look closer at the undertones because both hues are neutral grays.
Complementing Pale Oak
Complement Pale Oak's warmth with the zen aura of Timber Wolf's warm gray. Bright white light will tease out the steely blue undertone in Timber Wolf and create a cool base for Pale Oak's energetic beige tint.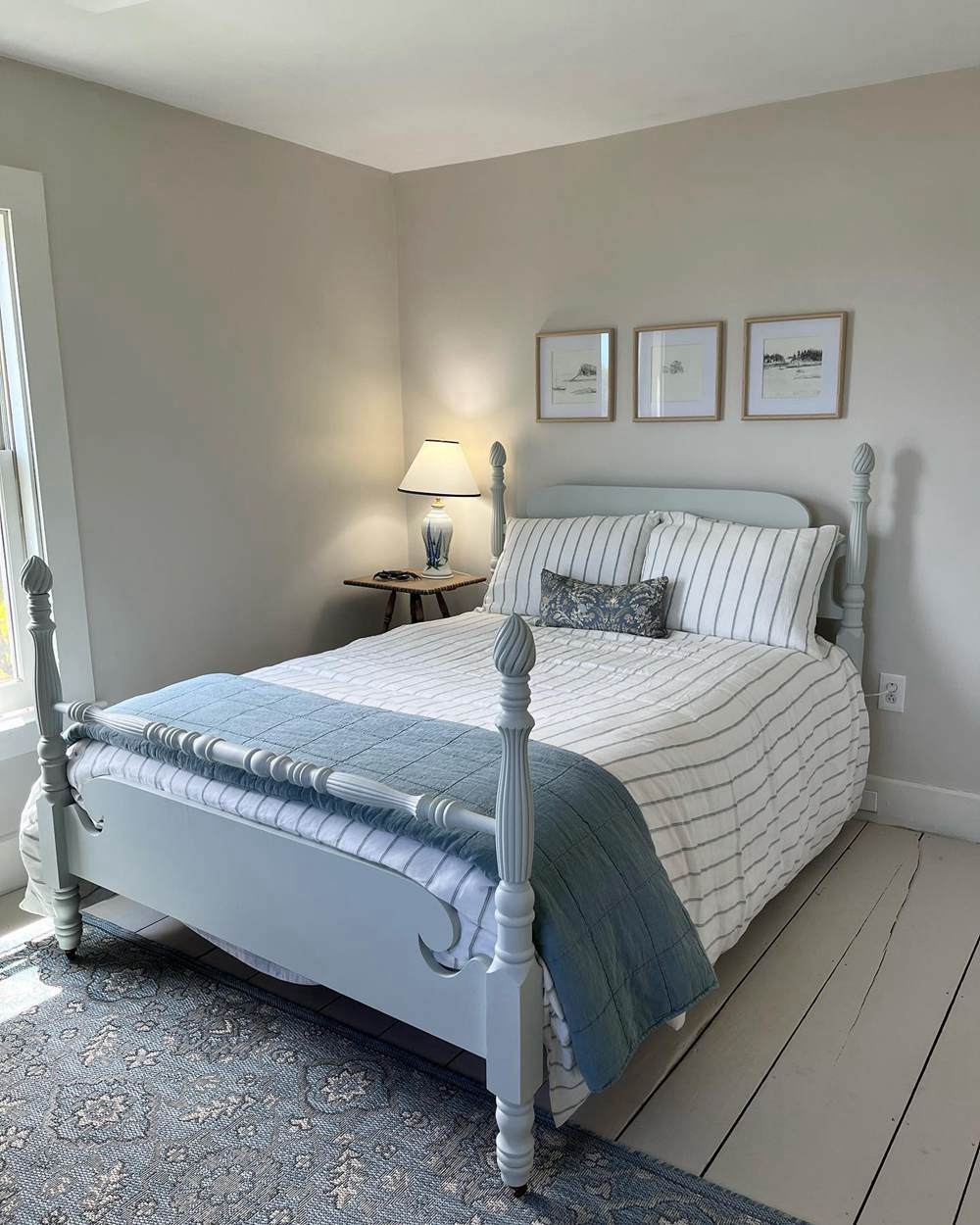 Complementing Balboa Mist
Use airier colors to lighten Balboa Mist's intensity by pairing this greige tone with a pastel foggy blue like Wales Gray or neutral white like White Heron. Use complementary colors with contrasting tones like Wales Gray and Eagle Rock as accents for harmony.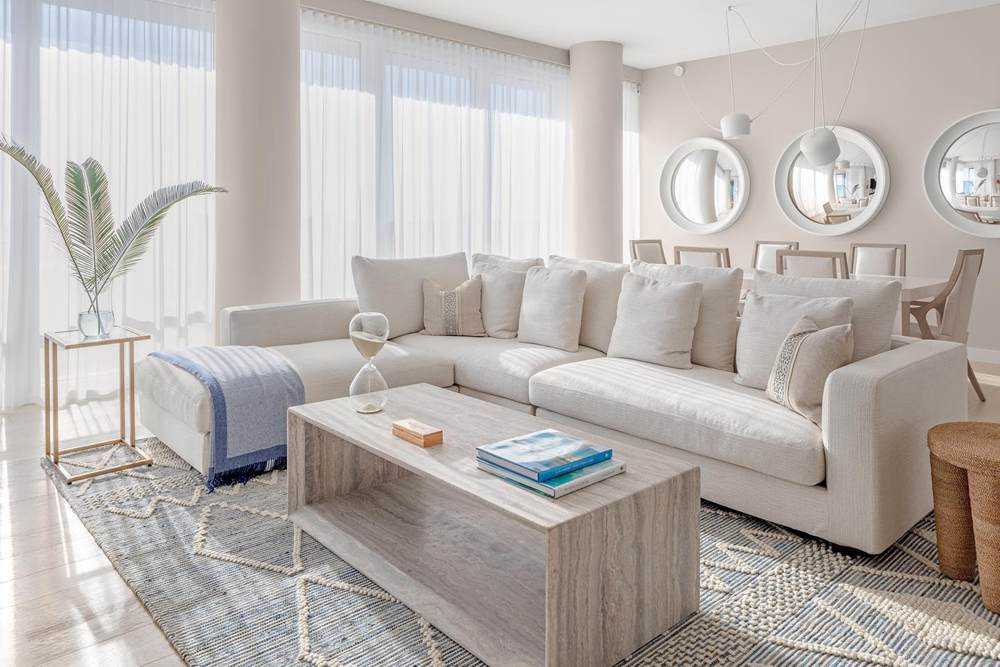 Benjamin Moore Pale Oak vs. Balboa Mist Color Palette
Let's get creative and explore the color palettes for Balboa Mist and Pale Oak. Color Palettes and themes reflect the homeowner's emotions, so thoughtfully curating yours is essential.
Benjamin Moore Pale Oak Color Palette
Depending on your vibe, you can choose from several palettes ranging from monochrome to contrasts and analogs.
Monochrome palettes use one color as the focus and build the rest of the interior and exterior around it by manipulating shadows and lighting. Contrasting palettes use opposite colors in one space to channel dual energies of warmth and coolness.
Analog palettes pair colors within the same range (one to the left and right), while complementary themes use two colors that create neutral white or black when mixed for balance.
See how to use Pale Oak and Balboa Mist in these color palettes;
Coordinating Colors for Pale Oak
Styling Pale Oak is about maintaining its warmth and creating a cozy aura guaranteed to cheer you up daily.
Glacier White:This soft white paint creates a monochrome theme and emphasizes the stabilizing energy of Pale Oak walls in your room.
Baked Clay: Baked Clay is an earthy orange to highlight the beige undertone in Pale Oak.
Head Over Heels: Head over Heelsis a pastel blush pink with a creamy overtone that blends with Pale Oak's beige.
Hidden Sapphire:Use the deep navy tone of Hidden Sapphire for a contrast to make your space intriguing.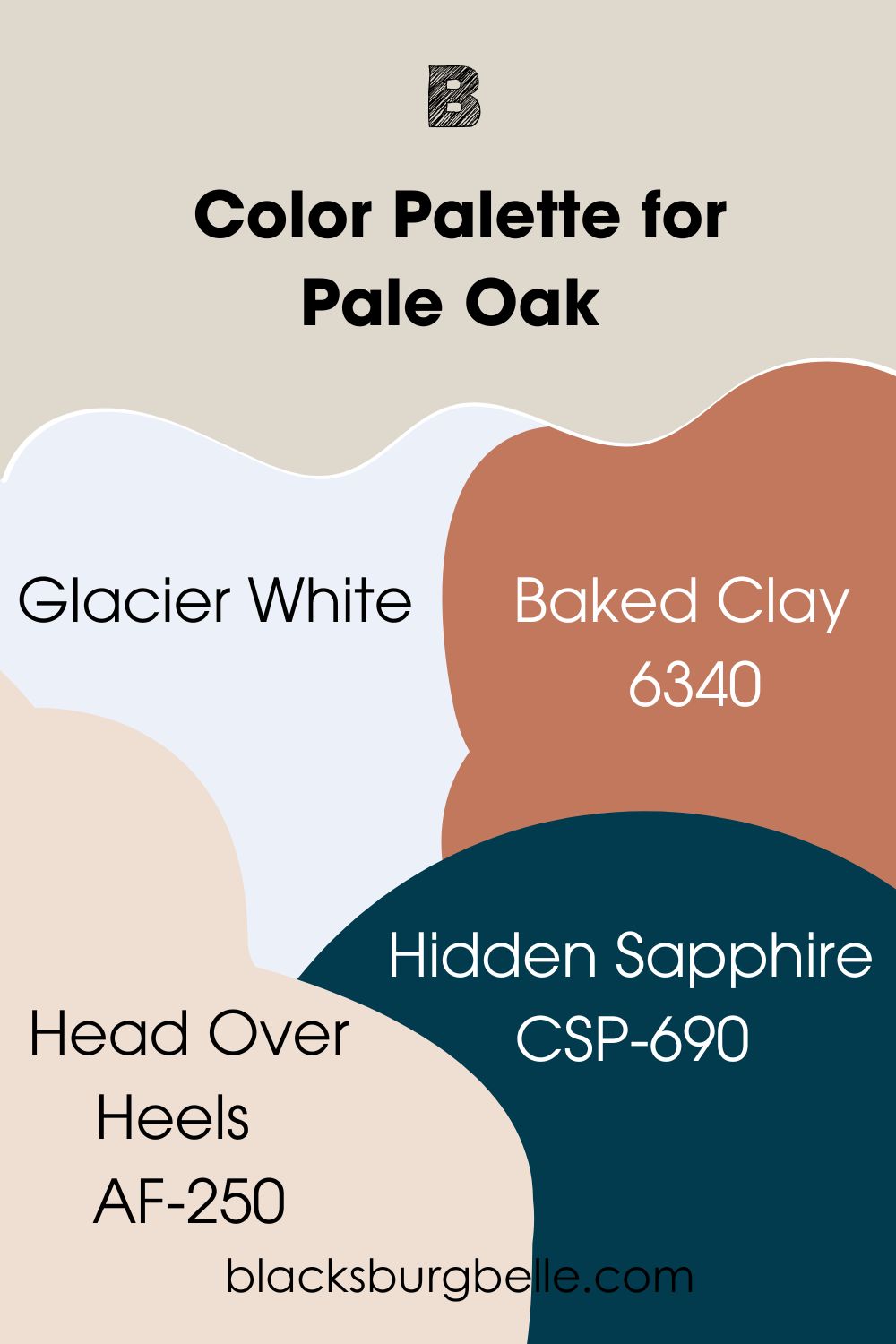 Coordinating Colors for Balboa Mist
Because of the taupe and purple undertones in Balboa Mist, its color strip contains dominant taupe colors and purple-tinted gray paints.
Classic Gray: Classic Gray is a true light gray paint that'll make Balboa Mist cooler.
Camel: It's a golden tan yellow that creates a contrast for the violet undertones in Balboa Mist
Yellow Raincoat:Use this cheerful and sunny yellow for an energetic space especially in kids' rooms and classes.
Orange Ice: This color is a soft orange tone that reminds you of an orange popsicle on a hot summer afternoon.
Woodlawn Blue: Use the pastel light blue tone of Woodlawn Blue to create a beachy vibe.
Charmed Violet:This dreamy purple paint fuses a soothing and wistful vibe in your space.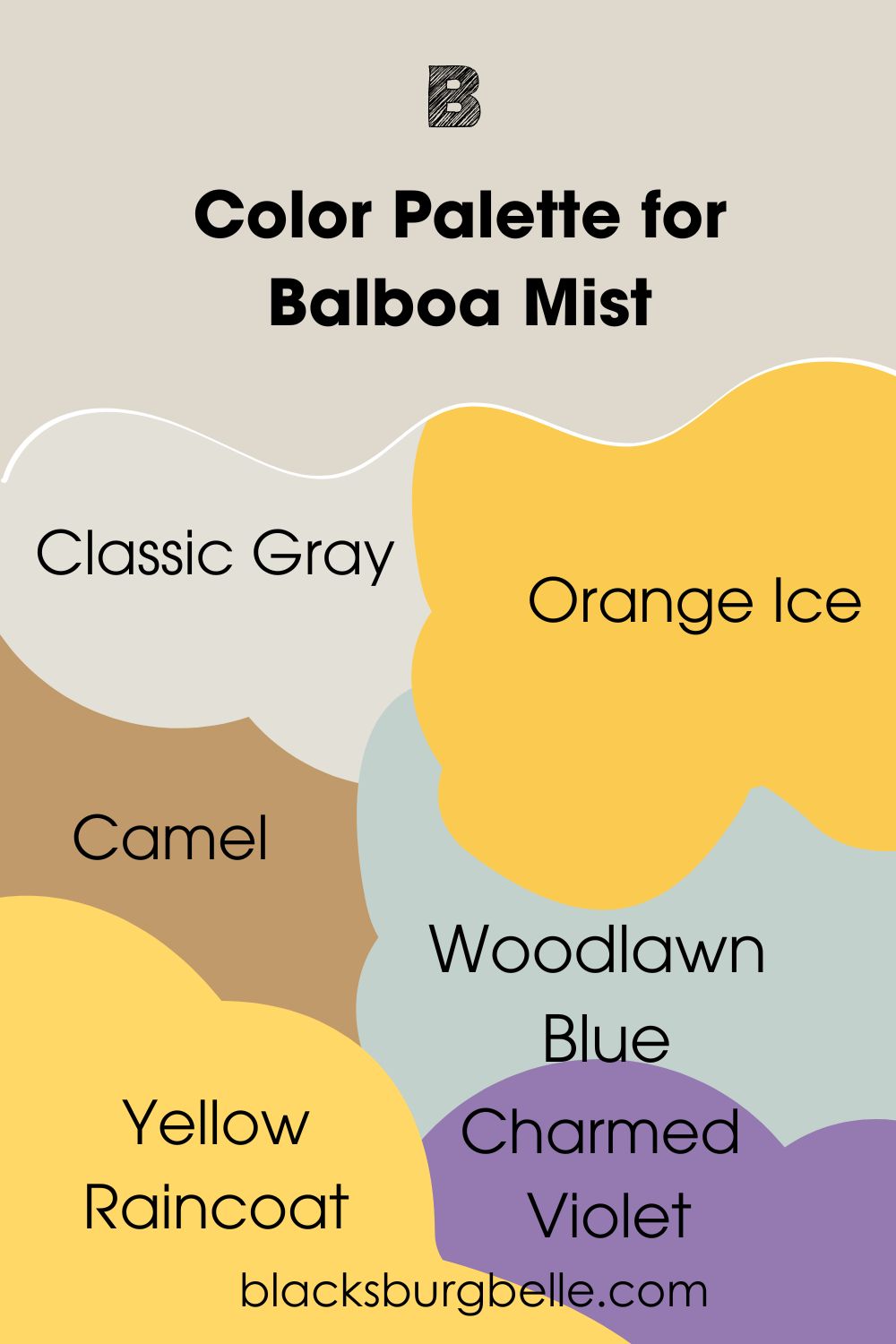 Can you use Pale Oak with Balboa Mist?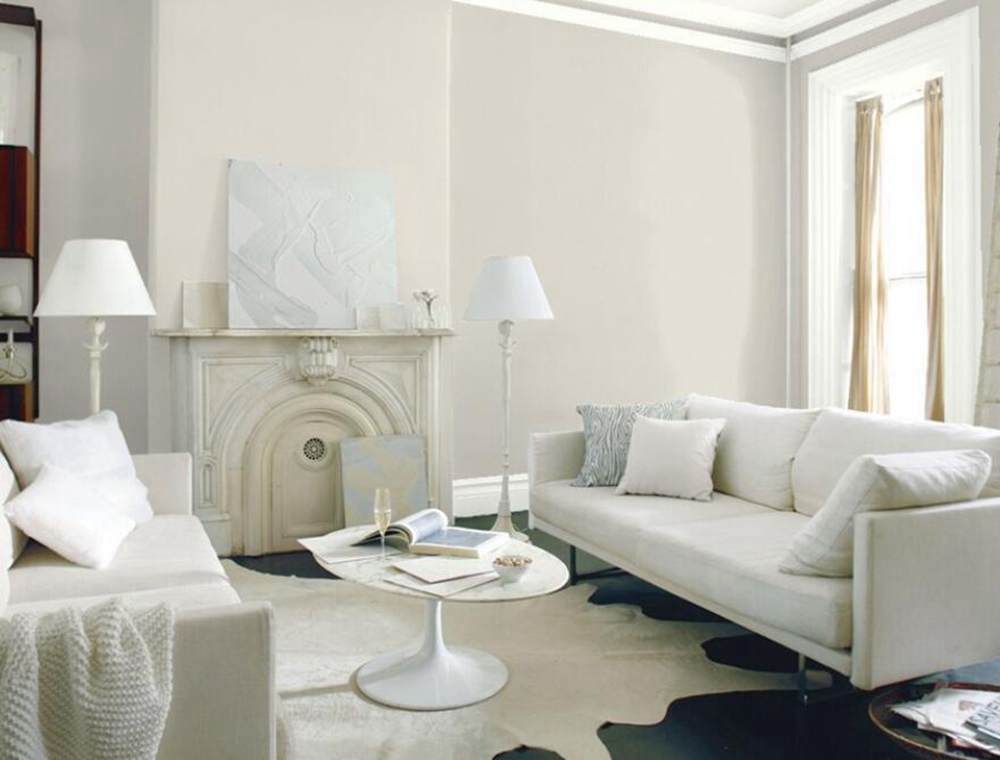 Yes, you can use Balboa Mist and Pale Oak together in one space without fear of both colors blending into one giant glob. Because Pale Oak is lighter and warmer, you can use it as your accent in large rooms while the taupe Balboa Mist graces your entire walls.
We recommend highlighting both gray paints with crisp white trims like White Heron used in the picture above when you pair both gray colors. You can also invert the style by making your whole wall Pale Oak and accent Balboa Mist, especially in small rooms requiring more light.
Notice that the furniture in the living room above also blends with the neutral theme by playing on shades ranging from beige to gray and white.
However, you can use your furniture and interior decor to introduce color into the space, like the black flooring in this living room. It makes the area look homely rather than impersonal.
Pale Oak vs. Balboa Mist on Walls
Wall paints are the center of every interior and exterior decoration, and staying neutral is necessary to maintain balanced energy. You get that vibe with neutral gray paints with warm beige undertones like Balboa Mist and Pale Oak.
The question is, "Which one is better for your walls?"
Pale Oak on Walls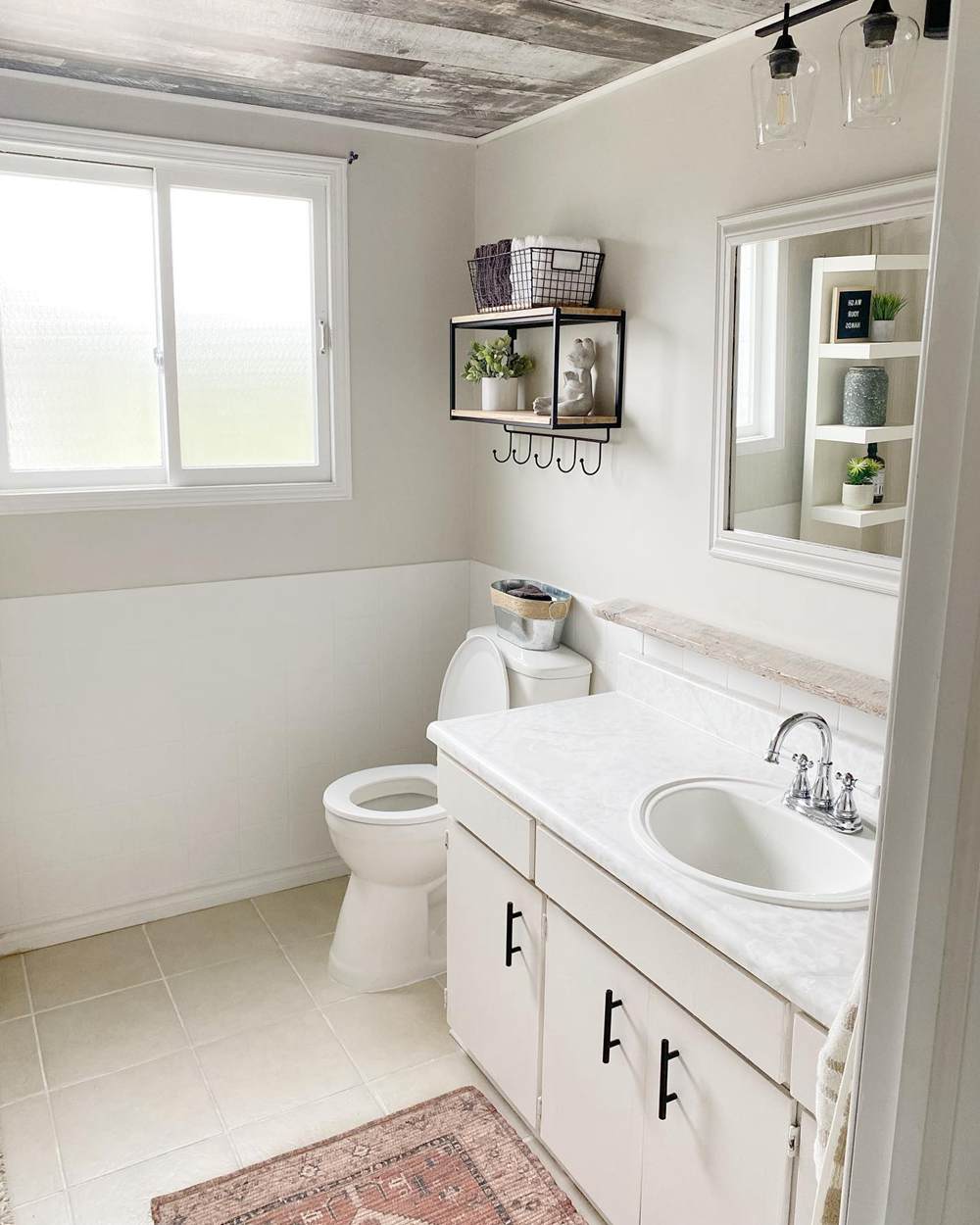 When you use Pale Oak on interior walls, you'll need bright warm colors to highlight its warmth, while cool and pastel tones would create a relaxing aura.
Balboa Mist on Walls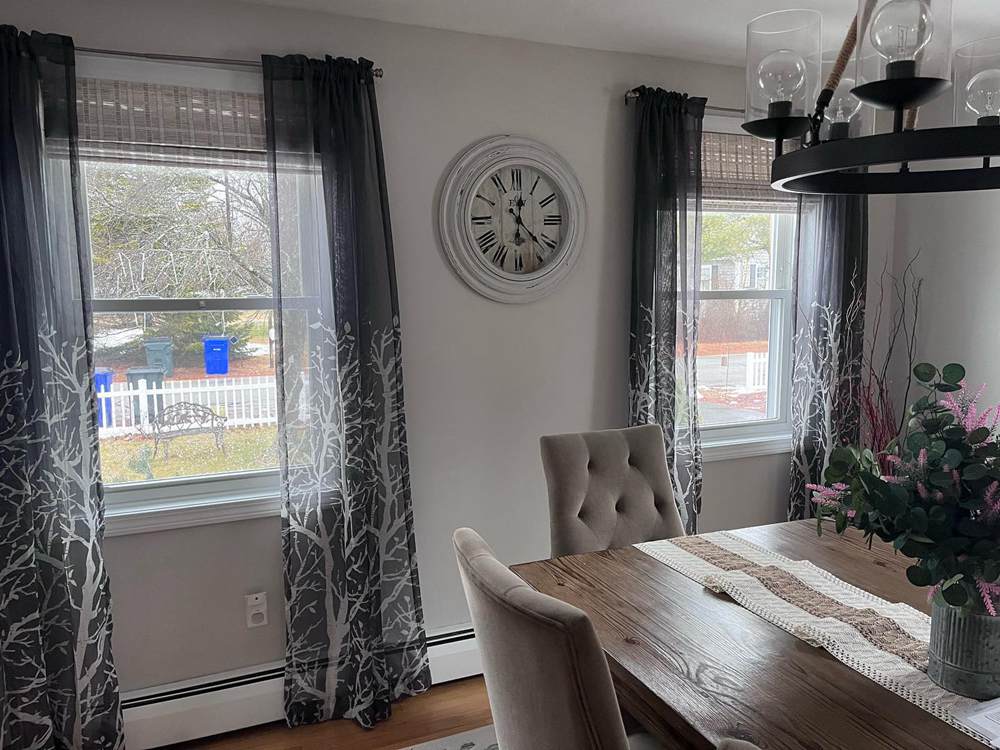 Pair Balboa Mist with violet doors and light gray trims when painted inside.
Use your interior decor to complete your chosen aura, like accentuating the violet tints with blue and purple-toned furniture and carpets or tan and gray decor to make it relaxing.
Pale Oak vs. Balboa Mist on Cabinets
Gray neutrals on cabinets are no-brainers because of their versatility. Deciding between Pale Oak and Balboa Mist becomes a dilemma when considering their similar LRVs and RGB components.
Balboa Mist on Cabinets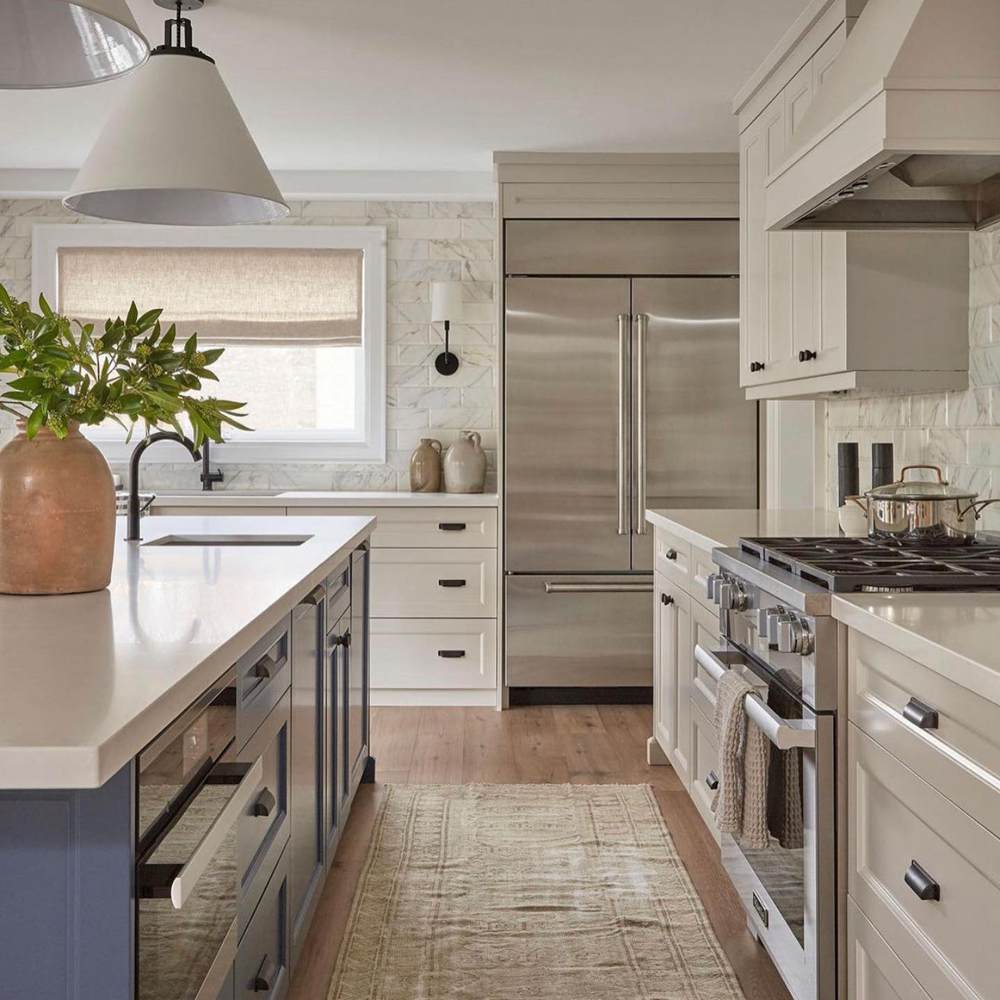 Balboa Mist has a cool edge that makes it pop on cabinets against calming colors like blue, gray, and green grays. Use it on kitchen cabinets, bathroom cabinets, dressers, living room organizers, and office file cabinets.
Pale Oak on Cabinets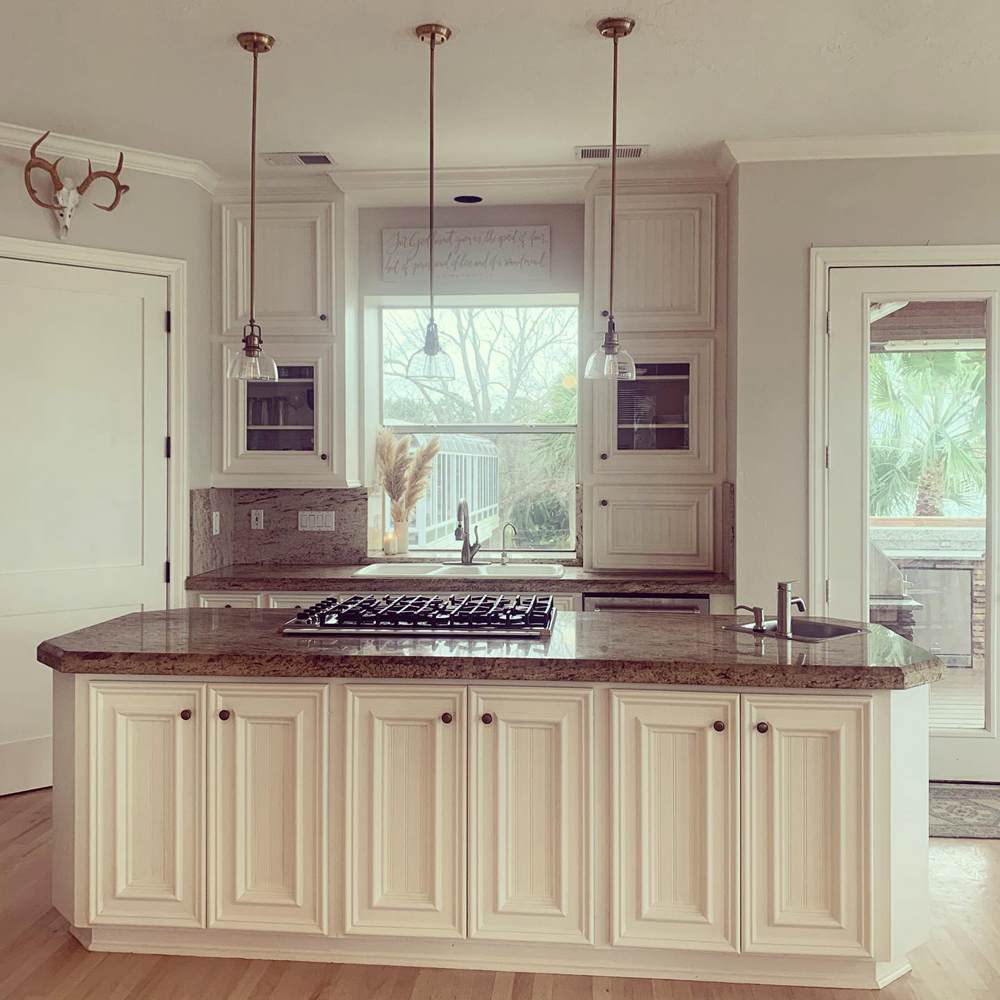 Pale Oak is the warmer gray paint between the two neutrals, and it tends to appear off-white when paired with darker gray color and brown wooden floors.
Pale Oak vs. Balboa Mist Exteriors
Sunlight, greenery, weather, and the environment influence the shade of a paint color when used on exteriors. Whether it's a wall, trim, or adjoining woodwork shed, Pale Oak and Balboa Mist appear differently than the neutral warm gray hue in the sample.
You won't regret using either medium-light neutral, but see how they work below to pick your preferred shade.
Pale Oak Exteriors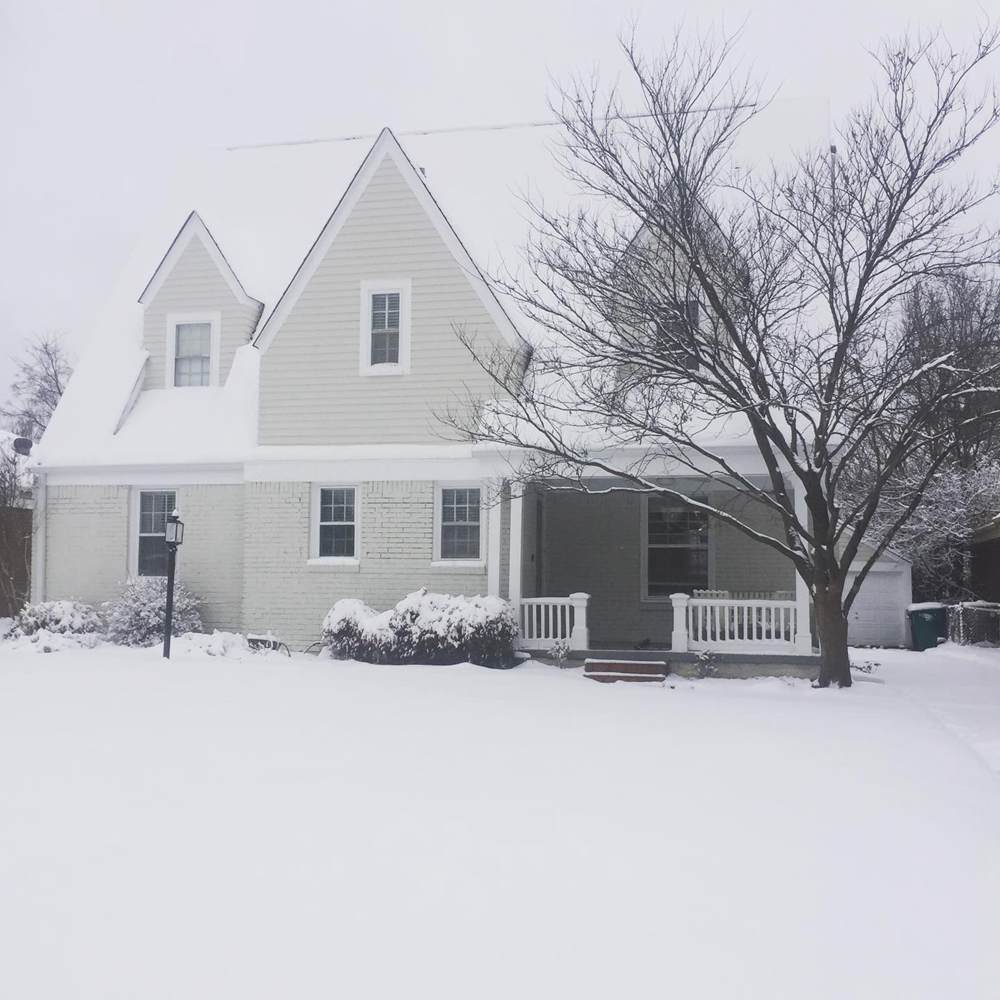 Your exterior walls will benefit from the two-toned goodness of Pale Oak which's beige undertone shines in the morning sunlight. As the sun sets in the evening, the walls would transform into a cooler gray shade.
Balboa Mist Exteriors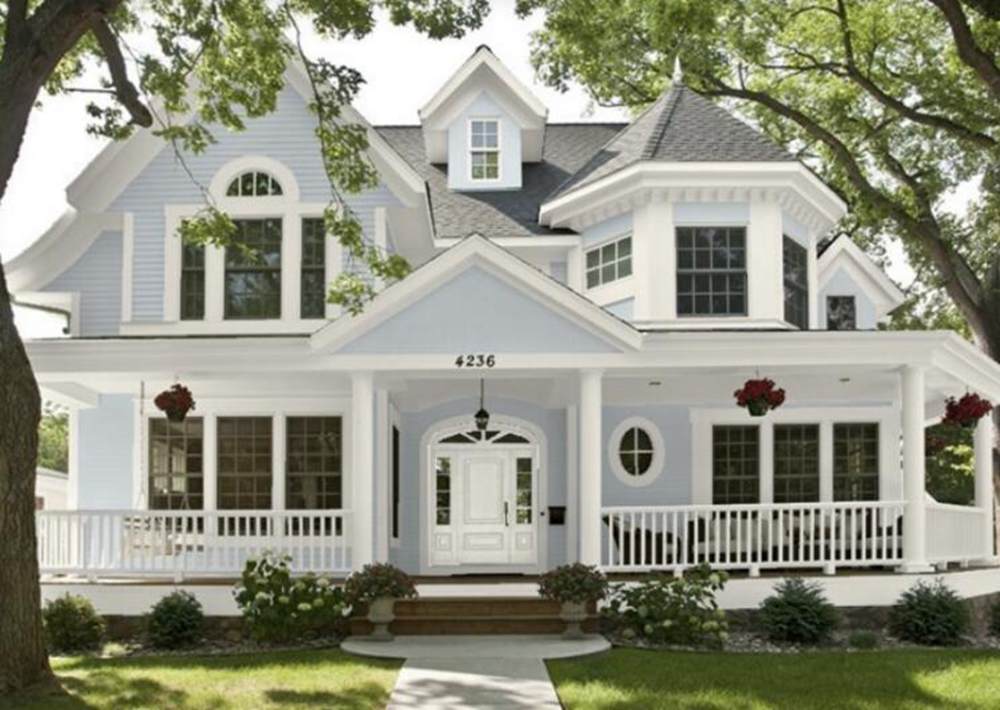 Balboa Mist on outside walls gives your building a faint gray look with a warm cast. Use taupe front doors with earthy hardwood floorings to highlight the undertone. It's also a great alternative to traditional white front doors and trims against deep taupe and violet.
Pale Oak vs. Balboa Mist on Furniture
Medium-light gray paints like Pale Oak and Balboa Mist work best as accent furniture against contrasting LRV walls, whether high or low. The almost mid-toned shade would create a balance and tone down high LRV colors or brighten soft LRV hues.
Pale Oak on Furniture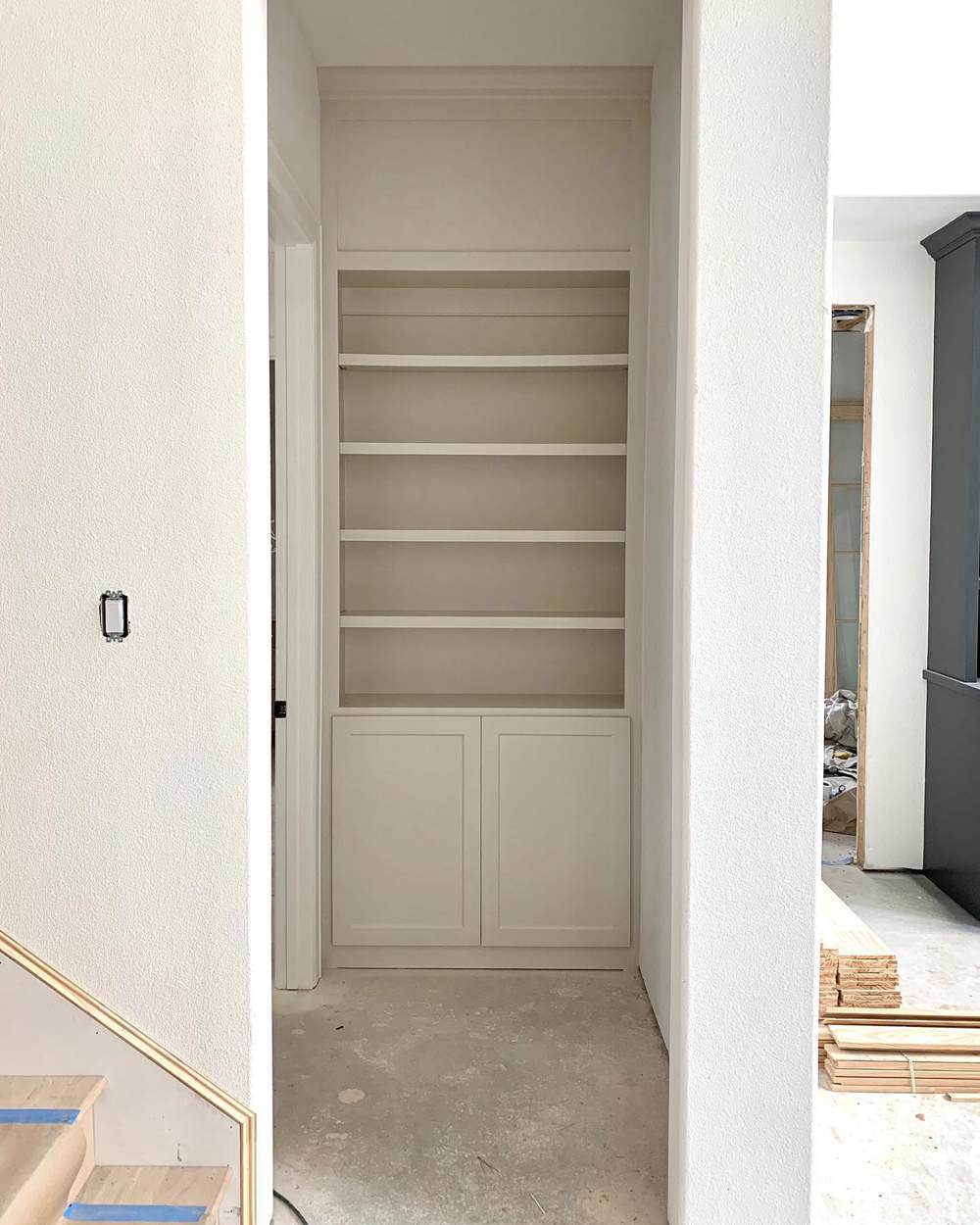 Use Pale Oak as an Accent against rich tan painted walls and matching hardwood floorboards. You can paint it on your mantel, credenza, gadget wall, or furniture because its neutral shade makes it versatile for any space.
Balboa Mist on Furniture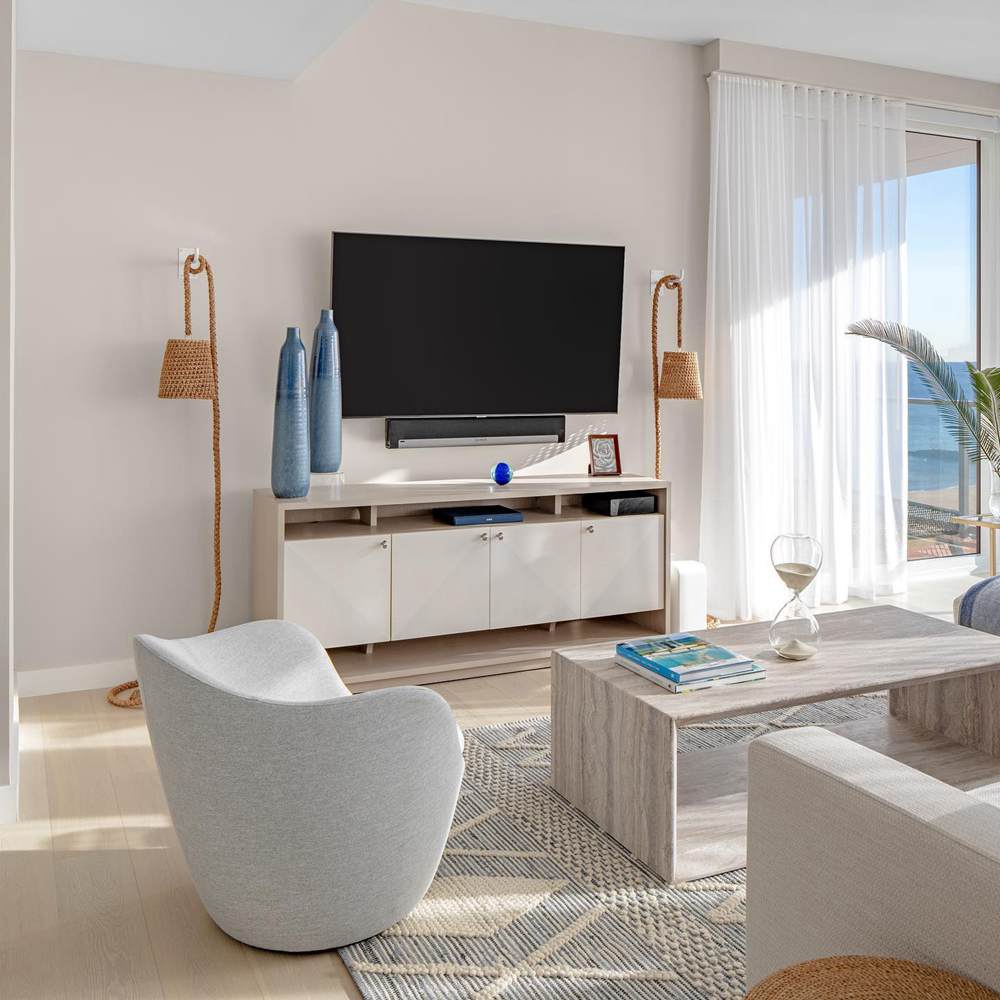 Balboa Mist accents shine in breakfast nooks, porch walls, and furniture, mainly used around open window rooms that receive enough light for teasing the undertones.
Pale Oak vs. Balboa Mist on Woodwork
Painting woodwork requires extra care because woods have natural colors in varying shades of brown. You'll need more than one coat for full coverage unless you use a high-quality brand like Benjamin Moore.
Pale Oak on Woodwork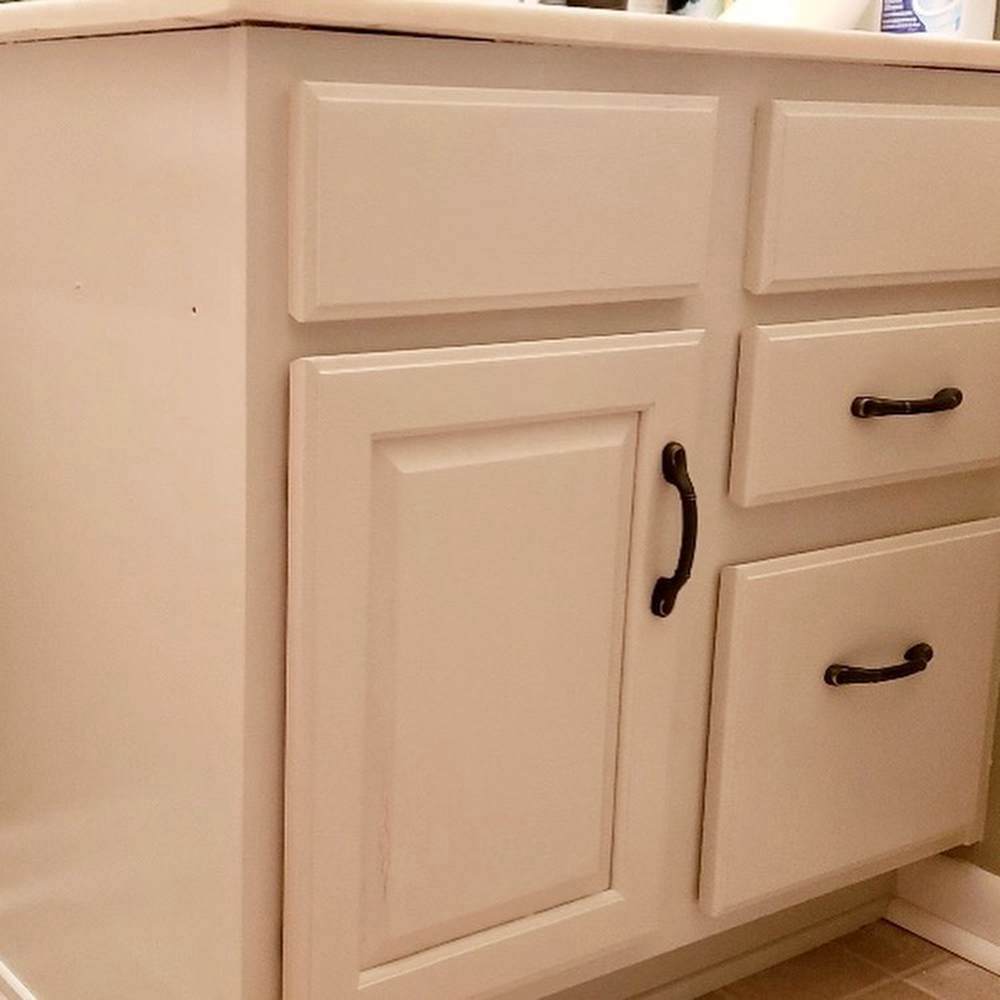 You can use Pale Oak on interior paneled doors, front doors, window panes, staircase railings, and any other woodwork you desire.
Ensure that it matches the theme of your space, and highlight it with warm polished woods unless it's outside in a shed.
Balboa Mist on Woodwork
When using Balboa Mist on your woodwork, consider its beige and soft violet undertone. You can use it on your wooden ceiling, paneled walls, and doors, while your whole wall takes the color of the sea or a light violet shade.
Pale Oak vs. Balboa Mist on Doors
Front doors make the first impression on guests and give them a glimpse of what to expect once they enter your space. Once inside, the connecting doors for your bathrooms, kitchens, bedrooms, study, and backyard also hint at what's on the other side.
Use these nuanced paints on your door instead of the typical black, white, or finished wood unless your door is made of steel or glass.
Pale Oak on Doors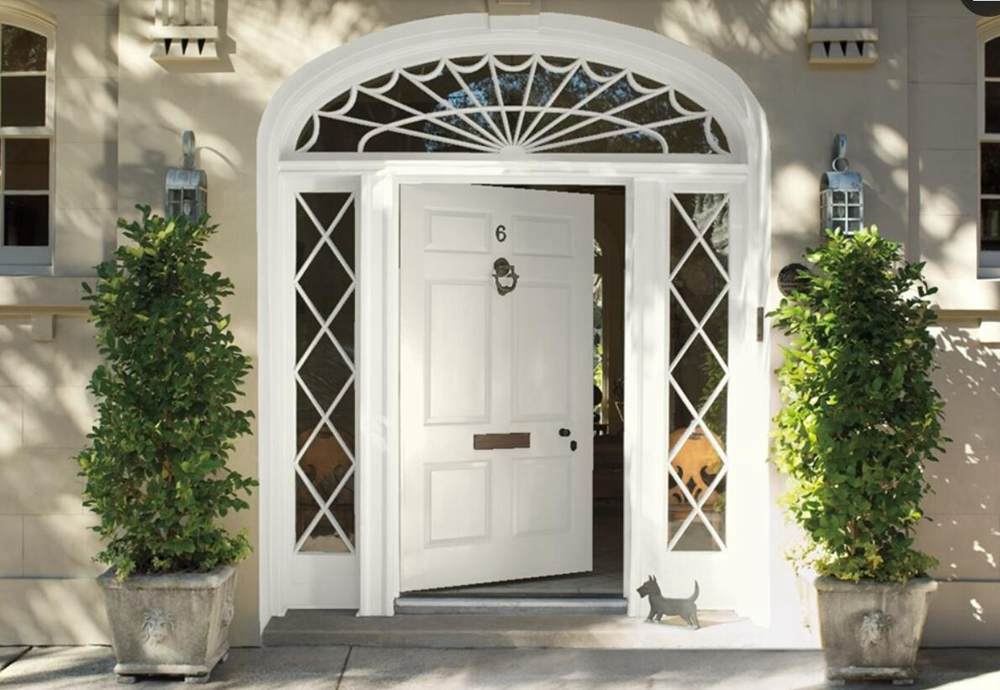 A Pale Oak front door with White Dove trims creates a less pristine look to make the house appear homely.
Balboa Mist on Doors
Balboa Mist front doors against pastel blue or violet walls emphasize its cool base. Notice that the color appears white underneath bright sunlight.
Pale Oak vs. Balboa Mist on Window Frames
Window frames painted in neutral tones add character to walls rather than white, black, or brown which often looks impersonal.
Pale Oak on Window Frames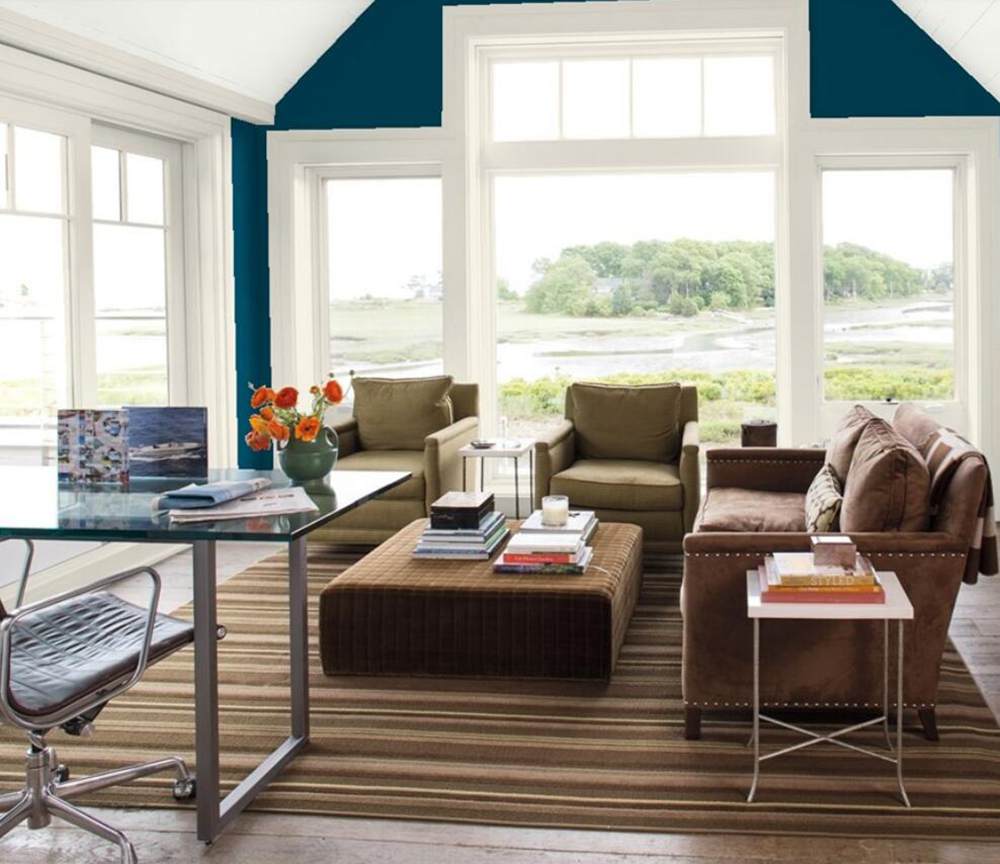 Pale Oak window frames add a muted warmth to the exquisite navy walls of this office.
Balboa Mist on Window Frames
The duality of Balboa Mist's gray tone balances with the warm and cool elements in French Lilac walls.
Pale Oak vs. Balboa Mist on Fences
Forget the classic white picket fence and explore the possibilities of a homely beige Pale Oak or the misty Balboa Mist.
Pale Oak on Fences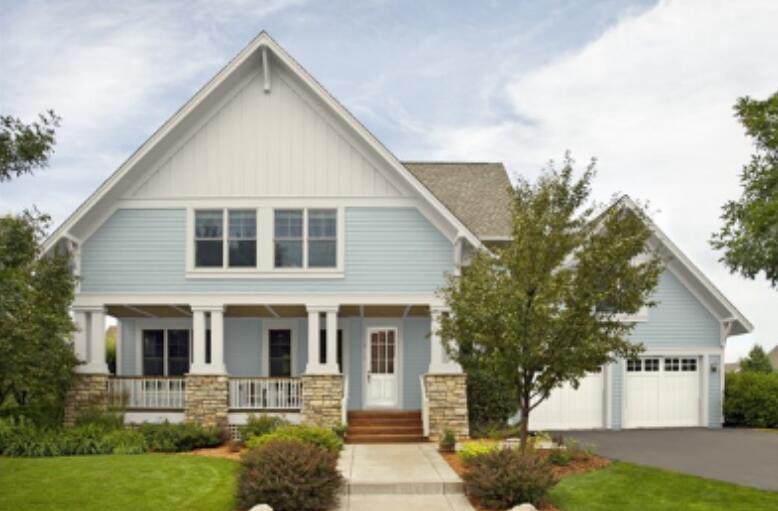 Pale Oak fences and pillars add warmth to the steely presence of cool blue walls and classic white doors.
Balboa Mist on Fences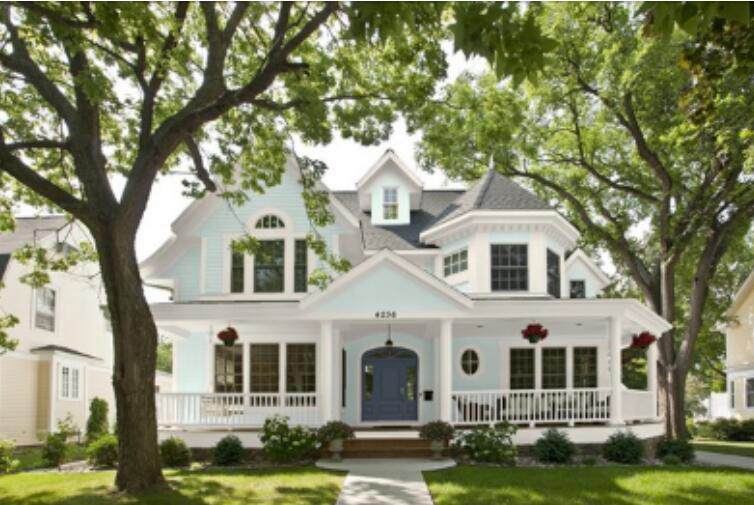 Use Balboa Mist fences and pillars to harmonize soft blue exterior walls and create a modern view of a classic American home.
Pale Oak vs. Balboa Mist on Trims
Neutral trims are ideal for creating
Pale Oak Trims
Pale Oak trims are elegant and create a laid-back vibe for your dining room.
Balboa Mist Trims
Balboa Mist trims work well with taupe and beige walls for a cozy yet breezy space like in this dining room.
Conclusion
Benjamin Moore's Pale Oak and Balboa Mist could pass as the same color until you pair them with the right coordinating hues to highlight their undertones. Choosing one is about preference and purpose as Balboa Mist is cooler than Pale Oak.
Sample both colors for a comparative swatch and share your thoughts with us to help other designers. Follow these steps before choosing between Balboa Mist and Pale Oak;
Analyze your space and lighting
Measure your room size
Explore your lighting options
Sample your paint
Choose your sheen
Design your space
Please leave a comment about your experience using this guide and feel free to ask questions. Happy styling.